July 16-22 2023: Issue 590
Bus Timetable Changes from Monday 17 July 2023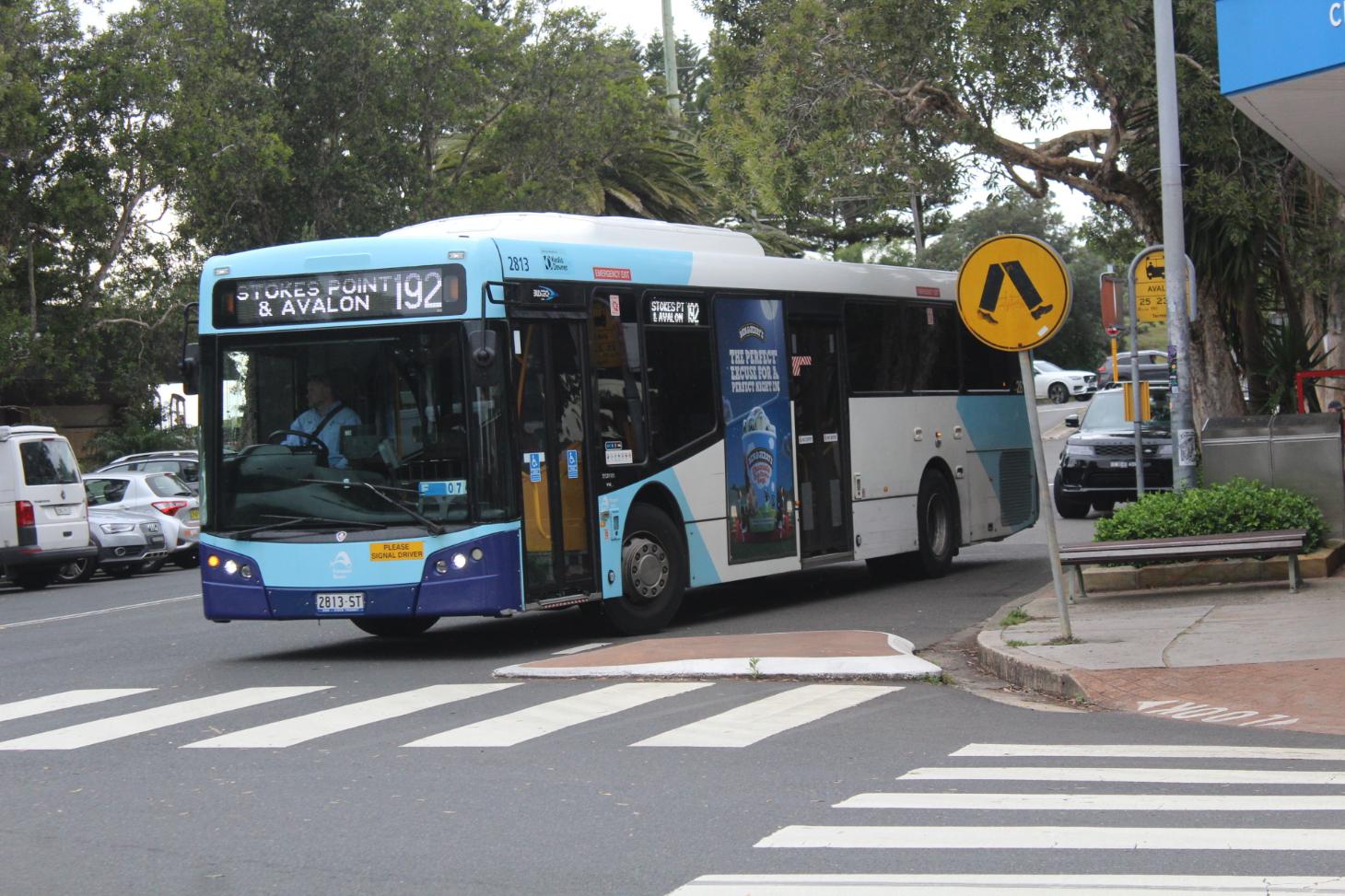 Statement released by Keolis Downer Northern Beaches:
To provide passengers with a more reliable timetable, from Monday 17th July 2023 Keolis Downer Northern Beaches has been approved to adopt a temporary, adjusted timetable for bus services in the Northern Beaches and Lower North Shore.
In response to industry-wide driver shortages, Transport for NSW has approved a temporary change to the timetable to reduce the number of ad hoc bus cancellations.
The temporary reduced timetable has been designed to improve the predictability and visibility of available services, allowing passengers to better plan their journey using online trip planning.
Transport for NSW will work with Keolis Downer to monitor performance and driver numbers to ensure the return the full timetable as soon as possible.
Keolis Downer Northern Beaches are committed to returning to a full timetable and is taking active measures to attract new drivers to address the industry-wide shortage.
"We know that our services are not meeting passenger expectations and we are working hard to get more drivers safely on to the road to return services to where they need to be," a Keolis Downer spokesperson said.
"The changes are focused on high-frequency route corridors and mainly affect peak hour routes to the CBD and North Sydney.
"The adjusted timetable also allows us to shift services during peak hour, so our passengers will have a more reliable frequency."
In addition to the temporary changes being introduced across the network, there will also be some permanent changes to services in Avalon in response to recent road and traffic upgrades. These include routes 191, 192, 190X and the 199.
The only changes to school services are Northern Beaches Secondary College Manly Campus and route 177 which will now accommodate new bell times set by the campus.
"To help our passengers with the changes, we will have Customer Service Officers at key bus stops during peak times to provide information on alternative services, other than the B-Line, that will get customers to their destination," the spokesperson said.
Notification posters will also be placed on affected bus stops.
"Keolis Downer Northern Beaches acknowledges the impact that bus cancellations have had for our passengers. We appreciate their patience and understanding whilst we work through the challenge of the current bus driver shortage and encourage anyone interested in becoming a driver visit getbehindthewheel.com.au." the spokesperson said.
Passengers are reminded to check the Trip Planner before they travel.
Visit: https://transportnsw.info/routes/bus
__________________________________________________________________________________

On Saturday July 15 the NSW Government issued a statement that it had ''launched a bumper bus driver recruitment campaign to address the driver shortage – completing the final of four urgent recommendations designed to improve driver recruitment.''
The new Labor government states that in just over four weeks it has:
acted to slash red tape to make it cheaper and easier to get a Driver Authority
held a Bus Industry Summit with more than 100 industry leaders
commenced work with bus companies to make temporary adjustments to improve reliability of timetables.
NSW Transport Minister Jo Haylen launched the new campaign on Saturday morning at the Ryde bus depot after meeting with trainee and experienced bus drivers.
Region 7, which includes Ryde and Lane Cove, is the worst impacted by the driver shortage, with 99 vacancies.
New bus drivers are being urged to jump on board in the most targeted bus driver recruitment campaign to date, focusing on areas hardest hit by the driver shortage, including:
Ryde/Lane Cove, Region 7 – 99 vacancies
Inner West, Region 6 – 89 vacancies
Northern Beaches, Region 8 – 58 vacancies
Eastern Suburbs, Region 9 – 36 vacancies
North Shore, Region 14 – 33 vacancies
South-West Sydney, Region 13 – 13 vacancies
Hills District, Region 4 – 12 vacancies.
The campaign will run until September and aims to attract new drivers to the profession, filling the 370 vacant roles across the city.
Real bus drivers are at the heart of the campaign that will appear on websites, digital media, social media, and radio. The campaign will encourage job seekers to find jobs in their area.
The Government states has already made it quicker, easier, and cheaper for drivers to get their bus driver authority by waiving the $70 application fee for the next 12 months, allowing drivers over the age of 25 to apply if they hold a current unrestricted Australian driver licence, and have held any kind of Australian driver licence, or a nationally recognised overseas driver licence, for at least three years, enabling electronic issue of documents, scrapping duplicated paperwork requirements and streamlining the application process.
However, what attracts people to a job, a decent salary, has not shifted and remains at between 70-90k fulltime in this area. At 70k people would make just over $55 thousand, or just over $1000.00 per week or $26.31 per hour and $68 and a half thousand at the top rate, translating to $1316.00 per week for those with more qualifications, or $34.63 per hour.
In 2015 the award rate for State Transit Authority bus drivers was $24.78 per hour for trainees and $26.653 per hour once qualified. Casual public bus drivers received $28.273 per hour. Private bus companies paid as little as $22.50 per hour with fewer benefits, due to Workplace Agreements.

In 2018 they advertised a $70k starting salary as well as $80k once you're passed your training.
However, even then a lot of bus drivers moved into truck driving instead once they'd got their licenses and a bit of experience, as it can pay a lot more - a 'living' salary.
Add that to the fact that a lot of bus drivers work split shifts, which can be difficult unless you live close to a depot, and Sydney Buses depots tend to be in areas that wouldn't be affordable for someone earning $70k unless they lived in share houses. The average rent for a house in this LGA is $950 per week.
Bus Passenger Forums will continue later this month in Newcastle after the first forum kicked off in the Northern Beaches LGA as the Government puts passengers first in delivering better bus services for the state.
NSW Minister for Transport Jo Haylen said:
"We are seeing a solid increase in bus driver applications since the beginning of the year, and we need to ramp this up to deliver a better service for our communities."
"We will be targeting areas that are experiencing the worst shortages like the Sydney's northwest, Northern Beaches, Eastern Suburbs and the Inner West to get more people into the role."
"This campaign is just one more step the Minns Labor Government is taking to be able to deliver reliable bus services across the State."
"We are getting great feedback from industry and passengers through the Bus Industry Taskforce and Bus Passenger Forums that will shape recommendations for the Taskforce to present to the Government."
"Bus driving is a noble profession, and integral to keeping Sydney moving. The bus drivers I've been chatting to love their jobs and are wonderful advocates for the profession."
Busways driver John Davis said:
"Having a job as a bus driver keeps me healthy and focused – its more active than an office job and is hands on, which I enjoy. Every day is different, and it allows you have a sense of freedom and to be outside."
"I love interacting with the locals every day. They remember you and you remember them. The passengers are really sweet. It makes you feel good that you can be of service to people and your community."
"If you need a healthy change in lifestyle, I definitely suggest becoming a bus driver. If you like being of service to the community, then this is the career for you!"
__________________________________________________________________________________
Background - by PON
On April 12th 2023 Minister Haylen, NSW Minister for Transport, exposed a root cause of the massive number of bus cancellations that have plagued Sydney bus passengers in recent times.
In briefings the minister learned that when the previous government sold public bus services off to private operators they created contracts that gave these companies financial incentives to cancel services.
The contracts imposed financial penalties on the companies for failing to meet 'on time running' targets. However, Minister Haylen found bus services that are cancelled do not count as late.
There are penalties for cancellations also, but only up to a certain number. Once that threshold is reached the companies make more money if they cancel a bus that might run late.
Since privatisation, these provisions have left millions of passengers stranded at bus stops waiting for buses that never come.
Regarding the failure to attract bus drivers and the clear loss of the same since privatisation: sources state the privatised services struggle to attract drivers as they are expected to work for reduced wages and benefits - wages that make it financially unfeasible to do such a job.

And now, the private contractors for previously Public Transport have received official permission to cancel services and still be paid.
In June 2023 the new NSW Government announced a Bus Industry Taskforce, established by the Government, has identified six immediate actions to help address the bus driver shortage and get more services running.
A major change will be introduced to make it quicker, easier, and cheaper for drivers to get their bus driver authority by:
waiving the $70 application fee for the next 12 months
allowing drivers over the age of 25 to apply if they hold a current unrestricted Australian driver licence and have held any kind of Australian driver licence, or a nationally recognised overseas driver licence, for at least three years
enabling electronic issue of documents
scrapping duplicated paperwork requirements and streamlining the application process.
The Bus Industry Taskforce will also hold an urgent bus industry roundtable on 21 June 2023, where current operators, drivers and industry representatives can suggest practical solutions to workforce shortages.
Bus Passenger Forums, chaired by Parliamentary Secretary for Transport Marjorie O'Neil, will also capture community feedback on bus services from members of the public and representatives from community groups, local businesses and non-government organisations.
Forming a key part of the work carried out by the Bus Industry Taskforce, the forums will provide a much-needed opportunity for the commuting public to have their say. One was scheduled for the northern beaches on Saturday June 24th, 2023 at Dee Why from 12 to 2pm.
On June 21st 2023 the Government announced that following the tragic bus incident in the Hunter Valley, the taskforce will now also look at a number of current concerns around safety management, seat belt use and regulatory arrangements.
Specifically, the taskforce will examine the following:
The adequacy of retrofitting seat belts on school buses in regional NSW over the past 10 years.
Consideration of expanding seat belts on buses to other areas of the state, and enforcement of seat belt laws.
Whether any changes should be recommended to the Australian Design Rules for buses and coaches.
Bus and coach operator safety management systems, including driver training and fatigue management.
The taskforce will also review Transport for NSW's oversight of operators and their ability to actively manage, monitor and implement safety management systems; as well as engaging the National Heavy Vehicle Regulator (NHVR) to review if any gaps in risk management of bus safety exits between the 2 agencies and bus and coach operators.
Transport for NSW is working with NSW Police and will seek their recommendations on the implementation of any necessary measures to ensure the safety of the travelling public.
NSW Transport Minister Jo Haylen has also appointed Darren Lane as a member of the Taskforce to provide independent safety advice on bus operations in NSW.
Mr Lane has more than 20 years of experience assisting major Australian organisations in government and the private sector improve safety systems, including the former State Transit Authority.
The taskforce will deliver any early findings on increasing bus and coach passenger safety by 31 July 2023.
Currently the Bus Taskforce has options for residents to provide feedback as it investigates key factors relevant to bus operators' performance and make recommendations to the Minister on options to address these performance issues.
The Terms of Reference include:
the service delivery and asset management models, including the contract and performance management framework, transparency in activities and the related capabilities required.
service planning, including equity of services across the community, and related community engagement.
infrastructure and technology that supports the effective delivery of bus services, including the transition to clean energy.
arrangements relating to the employment of drivers, mechanics, and other key personnel other steps to improve performance including legislative amendments, regulatory changes, contractual or other related actions.
the adequacy of retrofitting seat belts on school buses in regional NSW over the past 10 years.
consideration of expanding seat belts on buses to other areas of the State, and enforcement of seatbelt laws.
whether any changes should be recommended to the Australian Design Rules for buses and coaches.
bus and coach operator safety management systems, including driver training and fatigue management.
whether any gaps or duplication in risk management of bus safety exist between the National Heavy Vehicle Regulator, Transport for NSW and bus operators.
To have your say please make a submission to the Taskforce using the form here by 31 March 2024.
The cancelation of services is worth contrasting to that announced in October 2020, when decreased routes and services under the auspices of the Covid lockdowns when only emergency services staff (nurses etc.) may have been those still using buses to go to work, transpired into pensioners being unable to catch a bus from a backstreet to where they buy food. Local residents who relied on these routes expressed a sense of being 'cut off' and isolated' by the changes.
In October 2020 it was announced that ''The popularity of the B-Line, the launch of new routes such as the 199 between Palm Beach and Manly, the introduction of the Keoride on-demand service, and the COVID-19 pandemic have seen significant shifts in how and when people are using public transport.
To respond to the changes, network updates will be introduced by the NSW Government to simplify the timetable, reduce service duplication, improve choice of travel time, and better use the empty buses currently travelling across the network.
Amendments to the network timetable, to be introduced later this year, included:
B-Line to run 24 hours a day, 7 days a week

. Late night services will also be extended to the QVB to assist passengers travelling home from the city.

The 199 service (Palm Beach/Avalon Beach to Manly) will run 24 hours a day, 7 days a week

. The service will be boosted to operate at a 10 minute frequency across the day to Palm Beach and at least every 20 minutes overnight to Avalon Beach.

Improved 10 minute frequencies during the peaks for the 191 service (Avalon-Clareville-Bilgola Plateau loop)

,

185 service (Warriewood-Narrabeen), and 182 service (Mona Vale-Elanora Heights-Narrabeen).

190X (Avalon Beach to City) reconfigured service to operate on a 10 minute frequency during the weekday peaks. This service will replace the current 188X.
New 181X service operating between Narrabeen and the City every 10 minutes during the peaks.
New 160X high frequency rapid service (Dee Why to Chatswood) using Warringah Road every 10 minutes throughout the day.
Changing passenger travel patterns, the addition of all-day services operating along the main transport corridor and the introduction of high frequency feeder services mean certain routes will be replaced or reconfigured. These will include the 154X, 183X, 185X, 188X and 189X.
"These changes reflect the significant shifts we're seeing in how people are using our public transport network," the MP for Pittwater said then
"A lot has changed recently with new routes, new technology, new on-demand services and new travel habits. It's important these factors are echoed in timetable updates.
"The sight of empty buses trundling along back streets obviously isn't responsible or sustainable. We need to see more buses allocated to where they're needed most, and more people given flexibility to travel at different times of the day.
"Almost 3 years since its successful launch – these changes will be a big birthday boost for the B-Line. The uptake of Keoride among commuters has certainly exceeded all expectations and the B-Line is now firmly established as our community's go-to service.
Even before COVID, Opal card data was showing a gradual shift in people commuting outside the usual peak periods, and the rising appeal of high-frequency, turn-up-and-go services.''
TfNSW provided planning approval for the B-Line proposal at Mona Vale on February 2nd, 2017. The Determination Report, was made available for download on the B-Line Mona Vale webpage. It contains Issues Raised and Transport for New South Wales (TfNSW) Responses.
Construction was slated to commence in early 2017 and take approximately 8 months to complete. The projected cost in October 2016 was $600 million.
Trees were removed from Mona Vale Village Park with a requirement that 118 be replanted. Beeby Park, opposite, Crown Land, although then under the custodianship of Pittwater Council, was razed to provide a car park to support the B-Line commencement at Mona Vale.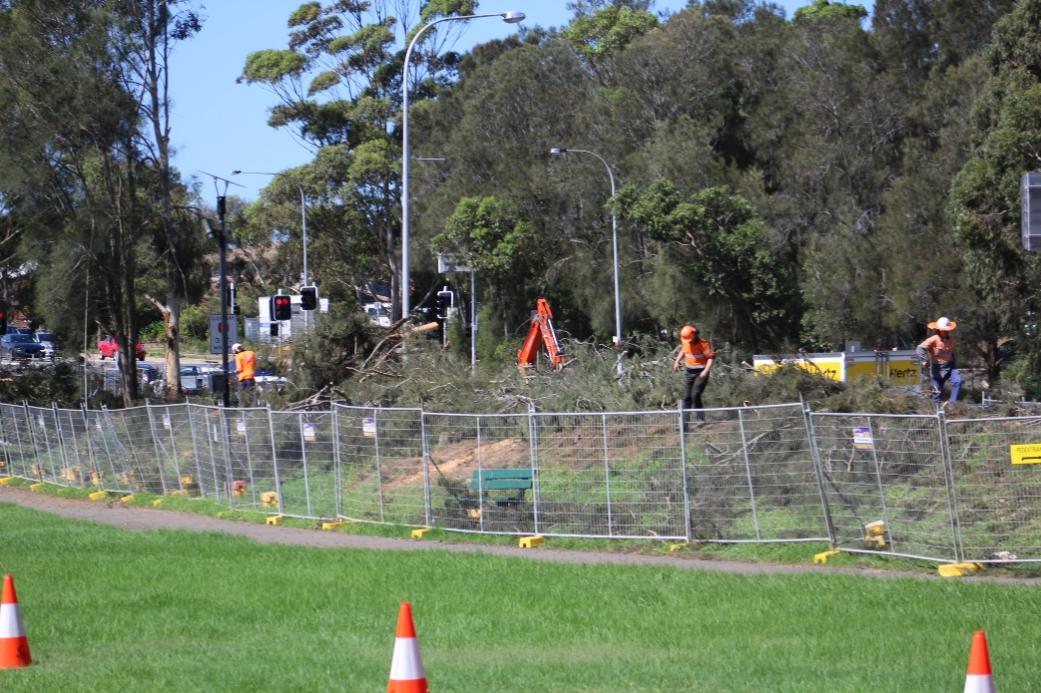 Fenced off area at Mona Vale Village Park in April 2017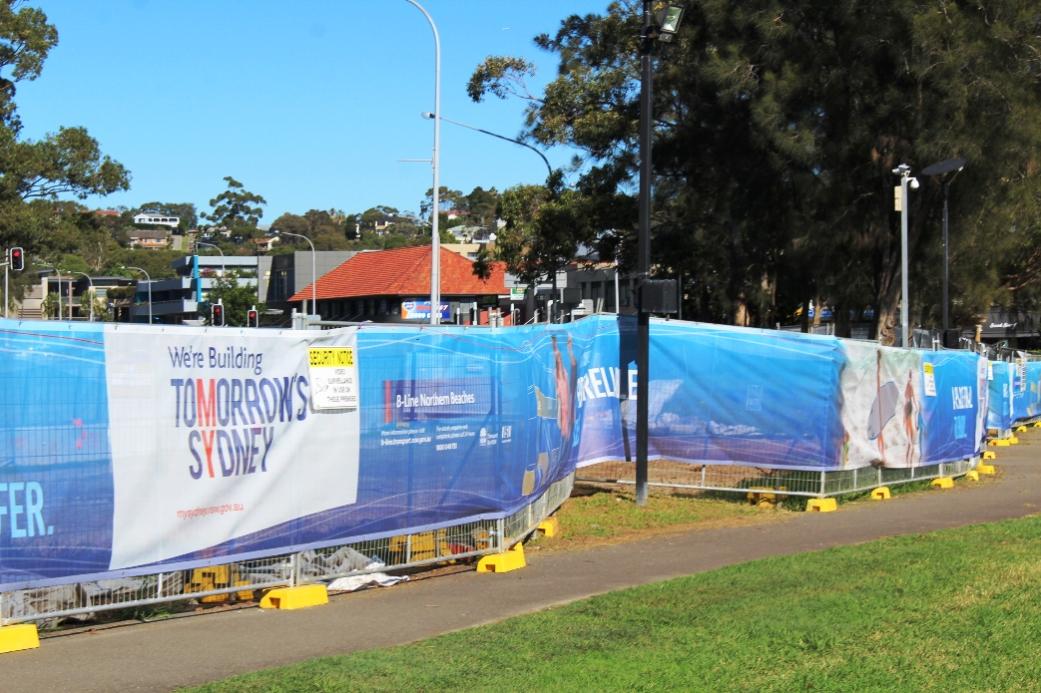 Fenced off and screened work area at Mona Vale Village Park in June 2017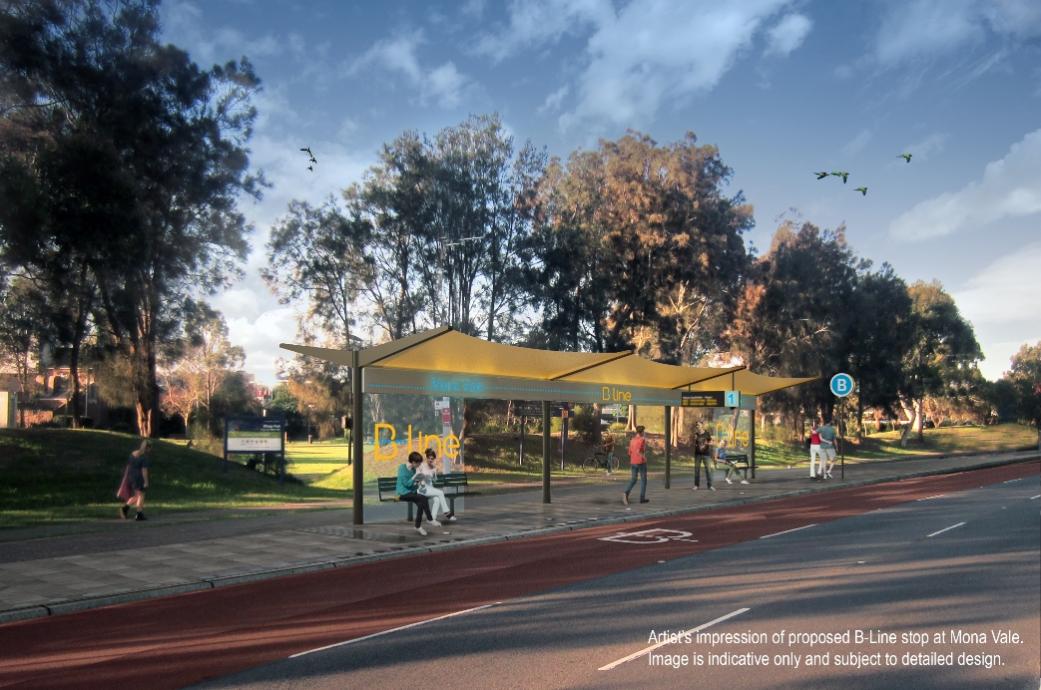 Mona Vale Village Park- February 2017, when B-Line works at Mona Vale approved

B-Line at Mona Vale, heading north stop, February 2023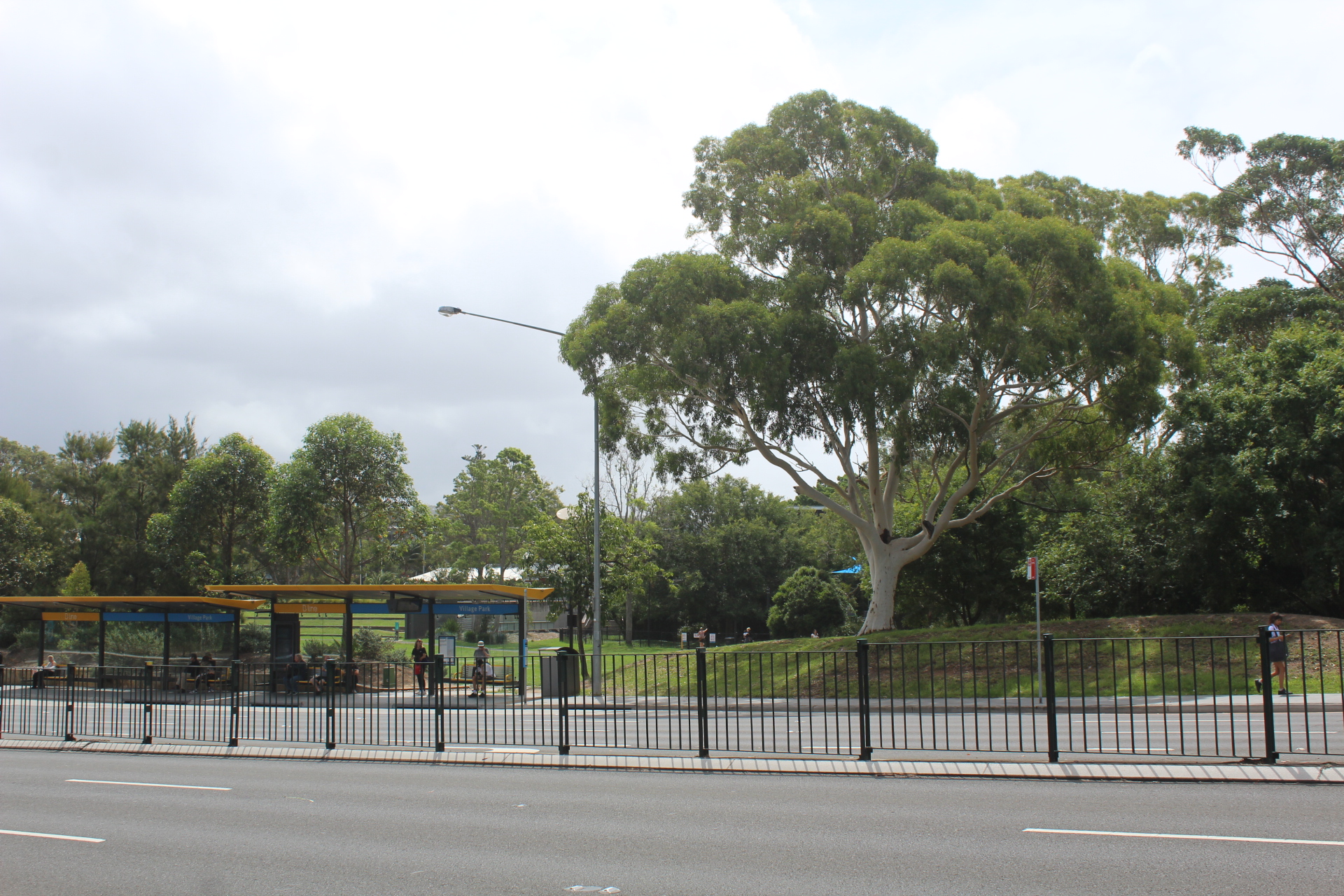 B-Line at Mona Vale, heading north stop, February 2023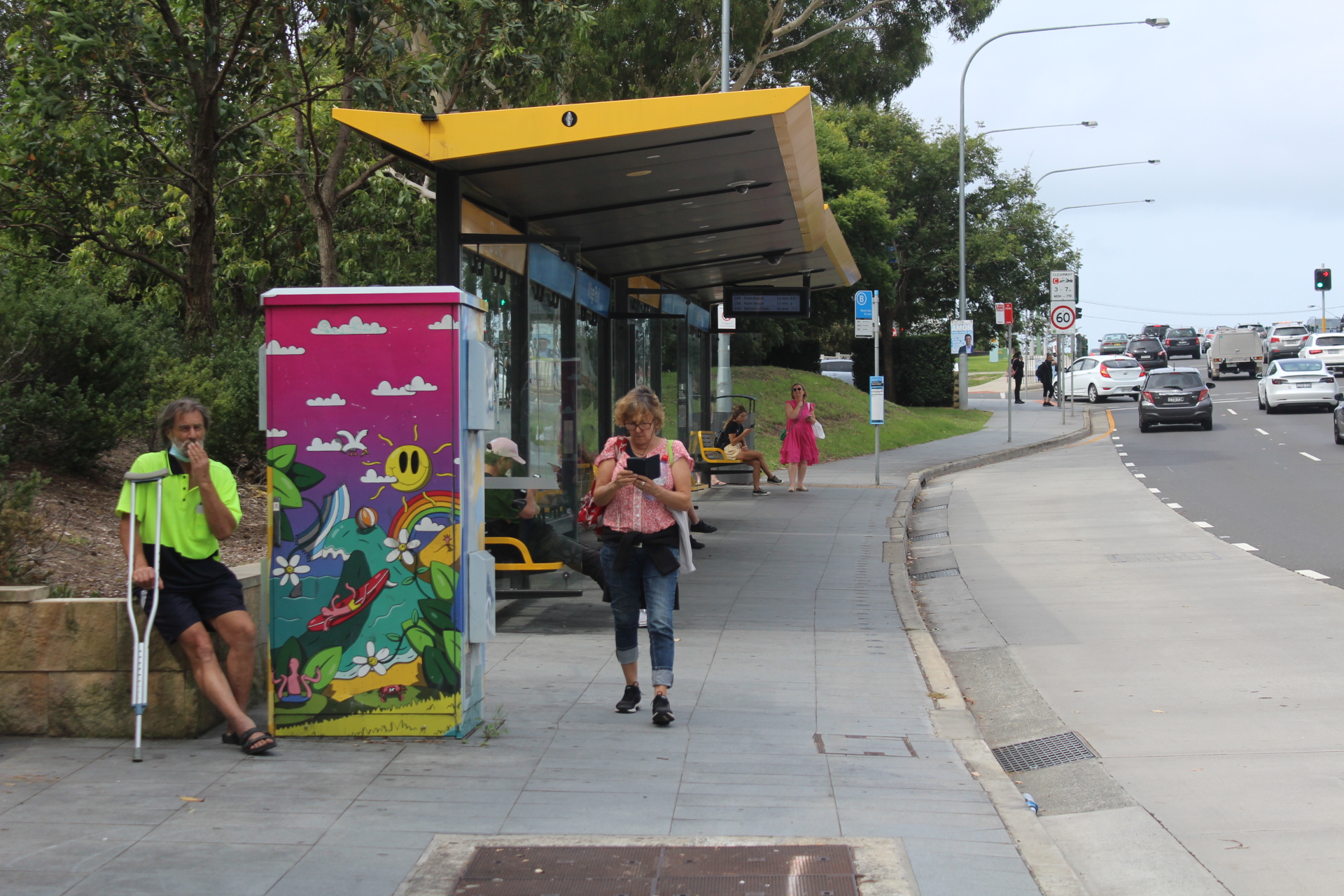 B-Line at Mona Vale, heading north stop, February 2023

Residents quickly found that Golf Avenue, alongside the same, was turned into a car park by commuters as well, impacting on residents of that avenue as well as the Mona Vale Golf Club.
There was also a narrative regarding services north of Mona Vale, to a Newport termination. The
webpage
stated;
'Our planning team is continuing to review services north of Mona Vale as part of the new Northern Beaches Bus Service Plan, which will complement the B-Line. More information about the new plan is expected to become available in March 2017.'
The proposal to extend the B-Line to Newport met with community support from those it would benefit but far more community opposition from residents who saw the mooted plan would create problems in Newport, including excising the beach carpark.
In October 2017
NSW Government's Transport for NSW released an update on their plans for extending the B-Line to Newport, the crux of which was to install a roundabout at the corner of Neptune road and Barrenjoey. The proposal has attracted strong criticism from those who live in Newport and those who experience the bottleneck of the roundabout at Kamikazee corner at the Avalon-Bilgola intersections each morning during weekday peak hours.
The initial reaction is this will only compound a growing traffic problem and extend the amount of time commuters will spend waiting to get anywhere.
"It will be like the traffic jam which occurs during Summer on Sundays that extends from Palm Beach through Avalon to the Kamikazee roundabout, only now this will be an extended stop and sit through Newport as well, meaning people will be going nowhere six days a week." one resident remarked.
Others were asking why the B-Line isn't being extended to Palm Beach, especially since so many see buses turning there easily, without a roundabout, and why the newly touted Route 199, originally stated to be running every 30 minutes on weekdays and every 15 minutes on weekends (
May 2017
) was now just listed as Route 199 with no timing details. Route 199 was designed to fill the gap the L90, which will no longer run in peak-hour, will make. This commenced in November.
Further south people who used the buses once connecting them to Dee Why or Warringah Mall were also distressed about the cancellation of some routes and confused over which or how many buses they will need to get to where they once used to go - some stating they can see themselves walking into Dee Why.
The changing of many buses, and the length of time this will add to commutes continued to be a point of dissatisfaction, as is the added cost those who may need to access the perceived stopgap
On Demand services
to connect those who will be off the main routes will need to use to get to a bus stop
from Sunday 26 November 2017. This meant Newport Loop people, unless they were content to catch the 199 to Mona Vale and then change to a B-Line service, would be impacted.
The other fear was the loss of trees at Newport similar to that which occurred at Mona Vale when the Artists Impression drawings didn't quite fit with what actually happened. It seems unlikely that Mona Vale's Village Park will ever resemble again the Green Common Ground it once was and the planting of the
118 trees planted 'on or near the impacted site'
in such a reduced space means 'near' now more than 'on' is what occurred, with shrubs making up a substantial amount of the replanting - photos above.
Despite Transport for NSW's then announcement that '
No multi-deck car park will be built in the Newport Beach car park', the car park itself would be used by commuters just as every other car park from where the L88 at Careel Bay once left (another changed/cancelled service when privatisation occurred), to the Avalon Beach RSL car park at south Avalon Beach is by morning commuters already.
Residents then asked newly elected
Councillor
for the Narrabeen ward Vincent de Luca OAM to enquire whether the B-Line corridor will be utilised as a means for
facilitating
6 storey developments along the route alike those recently proposed or sent to the NSW Government's Planning
Panels
, such as the very recent;
(
Planning Proposal 9, 11, 12 & 13 Fern Creek Road, Warriewood
: Amend the Height of Building Map to 10.5m and Amend '901A - Not more than 192 dwellings or less than 156 dwellings' as it related to 13 Fern Creek Road and replace with '901A - Not more than 190 dwellings or less than 154 dwellings' - September 2017) or (
Planning Proposal For 2 Orchard St Warriewood
- PP0002/17: Increase the residential dwelling density assigned to the affected properties under Clause 6.1 Warriewood Valley Release Area to permit an additional 102 dwellings. Increase the permitted maximum height of buildings on the western portion of the site from 10.5 metres to 14.5 metres and 17.5 metres.-
Gateway determination - October 2017
) or this week's (2 Macpherson Street Warriewood: Planning Proposal seeks to amend the Pittwater Local Environmental Plan 2014 to increase the number of dwellings from 0 to 22 for buffer area 1m in clause 61 Warriewood Valley Release Area. - that's a creekline readers, already rejected once the proponents seek adjustment due to the new Warriewood bridge being constructed).
Mr de Luca asked Council to enquire of the Greater Sydney Commission whether their template (North District) 'facilitates 6 storey development anywhere there is a B-Line' and whether Council 'has any exemption been applied for in view of our already struggling infrastructure?'.
Council
received
a reply from 'Officers of the Great Sydney Commission (GSC) that verbally advised that the Commission does not have any 'Planning Template' which
facilitates
6 storey development anywhere there is a B-Line. Additionally they are not aware of any GSC document which advocates this.
The only GSC documents applying to the Northern Beaches LGA are the Draft District Plan North and the recently released Directions for a Great Sydney 2017-2056 (which applies to the whole Sydney metro area). Neither of this documents include any planning policy around facilitating 8 storey development along B-Line routes.'
Written confirmation of this position from the GSC has been requested.'
A Plan for Growing Sydney identified
three planning principles that remain current and underpin many of the priorities of this draft District Plan.
Principle 1:
Increasing housing choice
around all centres through urban renewal in established areas
Principle 2: Stronger economic development in strategic centres and transport gateways
Principle 3: Connecting centres with a networked transport system
No B-Line mentioned, nothing about 6 storey plus developments in those words either....
leverage the Mona Vale B-Line stop
to facilitate intensification of uses in the centre, with an emphasis on the provision of housing
a
ffordability to retain 18 to 35 year olds
The
Newport Residents Association
met with Transport for NSW on Monday this week to discuss their Newport proposal updates and came away with a new list of unanswered questions. They held
a Community Rally on Sunday October 22nd at 12.30 p.m. in Newport Surf Club
.
That B-Line to Newport plan was subsequently cancelled due to problems with the drainage pipes where that roundabout was proposed. However on July 18th 2018
Transport for NSW announced it ''is investigating further options to improve bus services for customers living north of Mona Vale following a decision not to pursue a proposed extension of the B-Line route to Newport.
''
"We've listened to the community and it's clear that the most popular solution to improve public transport in the short term is to enhance existing bus services to meet the travel needs of Newport, Avalon Beach and the surrounding suburbs," said a Transport for NSW spokesperson.
"Over the last 12 months Transport for NSW has been investigating infrastructure changes needed to allow the B-Line buses to operate to Newport, and we've discussed with the community a draft concept for a new roundabout at the intersection of Neptune and Barrenjoey Roads.
"From the feedback we received the clear message from our customers was that while they wanted more frequent buses, the preference was to increase capacity and frequency of existing services.
"We remain committed to improving bus services north of Mona Vale and will look at opportunities where we can enhance travel options for customers."
In May 2021 the then Coalition Government announced it had award a contract to Keolis Downer for delivering bus services in this area. The announcement stated;
Transport for New South Wales has announced Keolis Downer was awarded a $900 million contract to operate and maintain bus services in the Northern Beaches and the lower North Shore for eight years, from October 31st 2021.

The contract will see the introduction of 125 electric buses over the next eight years, delivering more sustainable transport options for the local community from two newly electrified depots in Brookvale and Mona Vale.

Keolis Downer will also introduce innovative headway technology to further increase the reliability and quality of service of the successful B-Line. The popular On Demand transport service known as Keoride will also become a permanent part of the network.
That contract subsequently commenced in October 2021, followed by the cancellation of services and students on their way to school and commuters on their way to work being stranded at bus stops, for hours past the scheduled service they turned up to catch not arriving and those running after it not turning up either.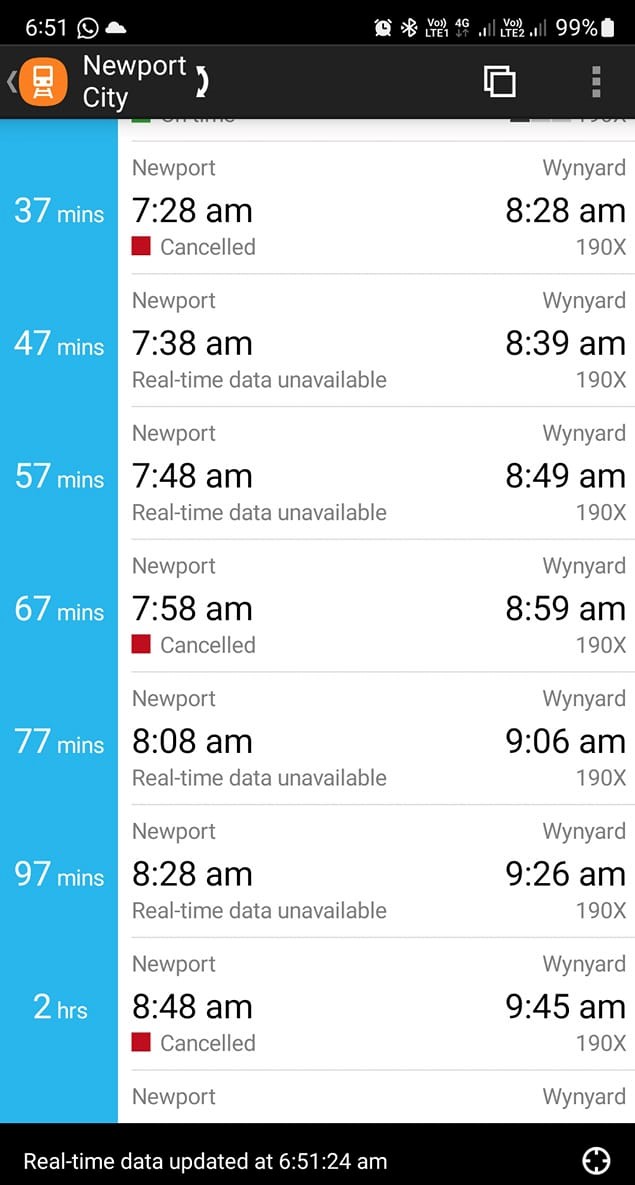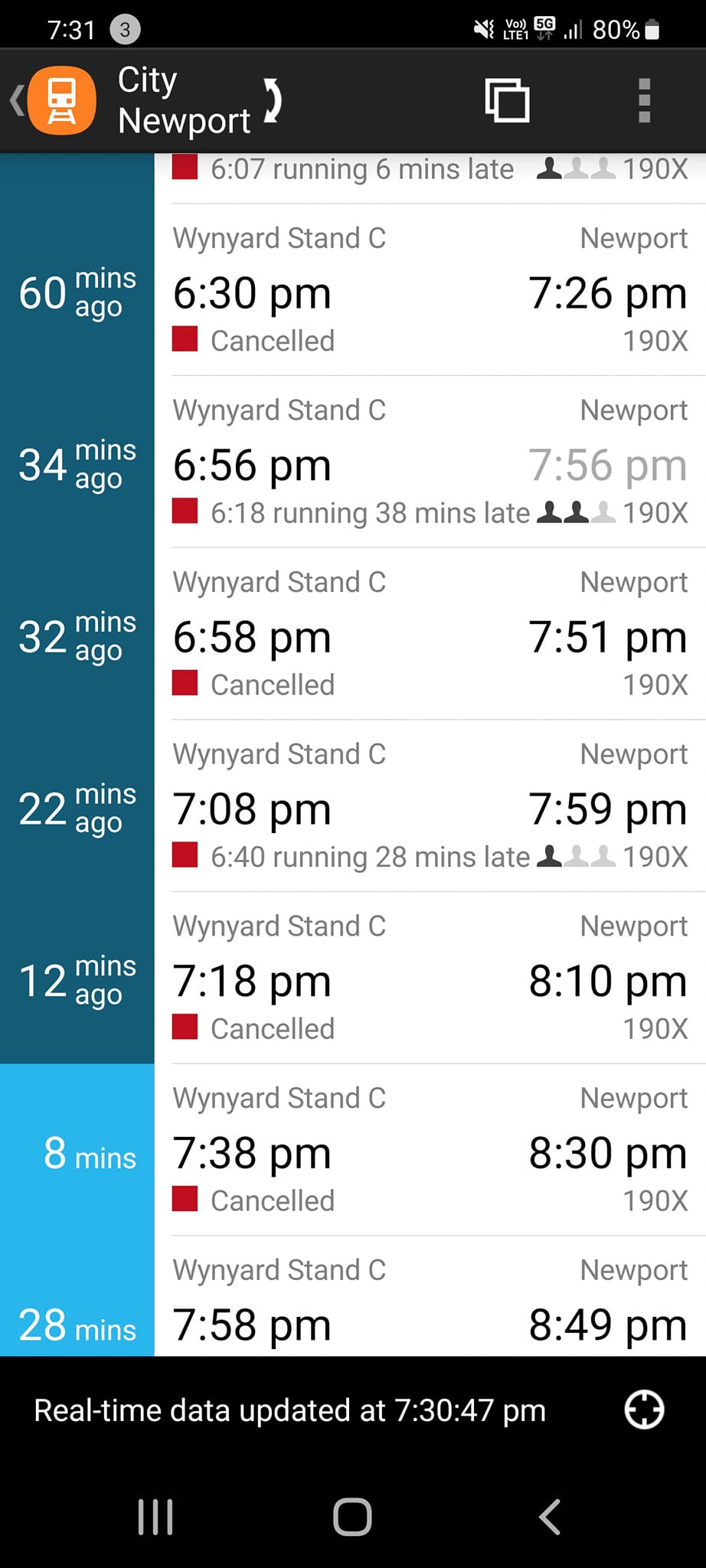 Previously:
''Government Thugs Arrive In Pittwater: B-Line Lie Exposed''
Published on 2 April 2017 by Pittwater Pathways