July 19 - 25, 2015: Issue 223
Daniel Fitzgibbon and Liesl Tesch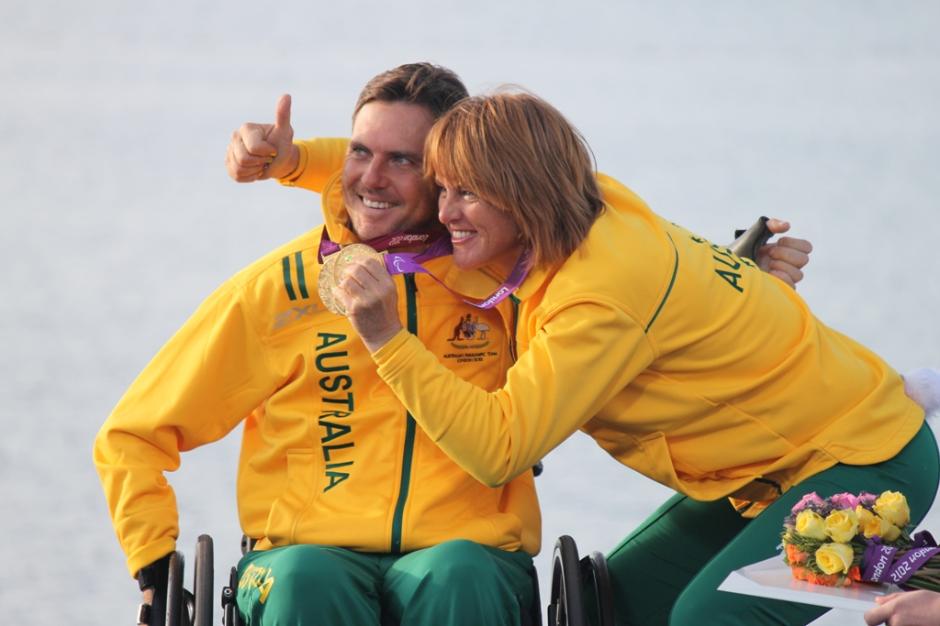 2012 - Paralympic Gold for our Aussie Sailing Duo
In 2012, at the Royal Prince Alfred Yacht Club's Olympics Celebration, then Commodore Rob Curtis, pointed out an evident truth;
"So to our Olympians and Paralympians; as well as your supporters here, the rest of Australia was following you and supporting you all the way. You have shown the rest of the world what Australians can do on top of the water and really led the way, so congratulations."
Freedom On the Water regardless of ability is the mantra of Sailability. In February 2012, Mona Vale gentleman Dan Fitzgibbon, building on and going forward with his own inner promptings of several years, ensured the Integrated disAbled Sailing (IdS) program, established on the physical plane what many of us believe to be another truth inherent in the spirit of all.
An initiative of the Royal Prince Alfred Yacht Club, IdS promotes and supports inclusivity for keen sailors of ALL ages and abilities as well as providing support for the not for profit, volunteer based Sailability organisation.
In establishing IdS at Newport the Royal Prince Alfred Yacht Cub stated:
'Sailing is an inherent part of our culture that provides exhilaration and freedom for all. Sailing is a sport that enables sailors with disabilities to not only excel in, but to equally compete against able bodied sailors.'
The Club aimed to achieve this through a list of 'to do's, one of which was the acquisition, modification and maintenance of a keelboat vessel which can then be easily modified to accommodate sailors with disabilities. Through the generous gift a Sydney 38, Another Challenge, was adapted and launched in February 2014.
Pittwater's Hon. Bronwyn Bishop, Federal Member for Mackellar and Speaker of the House of Representatives, stated, in launching and re-christening 'Another Challenge' for the first of its kind program, "You've proved there are no boundaries – and when we re-christen this boat 'Another Challenge', that's exactly what you will be doing,"
Hon. Bronwyn Bishop MP, Liesl Tesch and Dan Fitzgibbon - photo by Damian Devine
Dan Fitzgibbon was born in The Brisbane suburb of Manly on 15 June 1976. Having sailed since the age of five, he joined the Royal Queensland Yacht Squadron in 1990. On 29 March 1997, an incident occurred at the Middle Harbour Yacht Club jetty, leaving him a quadraplegic. In 2004 he competed in the Disabled Sailing World Championship, which he won in his class, and was jointly awarded the Disabled Sailor of the Year along with Andrew Hartley.
In 2007, he partnered with Rachael Cox in the SKUD International Championships, where they won a gold medal. They later competed in the IFDS World Championships and placed fifth. They were jointly named as Sailors of the Year with a Disability.
The two teamed up again in the 2008 Beijing Paralympics in the SKUD 18 class and won the silver medal. The class, which premiered at the 2008 games, was created when Fitzgibbon convinced the International Foundation for Disabled Sailing to adapt the class to allow two sailors with disabilities to participate. They were again jointly named the Sailors of the Year with a Disability.
After seeing Liesl Tesch in an SBS documentary about the boat Sailors with Disabilities competing in the Sydney to Hobart Yacht Race, Fitzgibbon contacted her in late 2010 and they formed a sailing partnership. He partnered with Tesch at the ISAF World Cup in January 2011 where they won gold, and at the IFDS World Championships in July, where they won bronze. The pair were jointly named as Sailors of the Year with a Disability, the fourth time Fitzgibbon won the award.
At the 2012 London Paralympics, the pair won a gold medal in the Mixed Two Person SKUD18.
Liesl Tesch is one of those girls you just fall in love with immediately, she's feisty, honest, straight up and greets everyone as a friend even if she's meeting you for the first time.
Liesl Tesch, AM was born 17th of May 1969, and participated in basketball, swimming, sailing, windsurfing, and cycling as a child, and was part of the state basketball team in year 11 and 12 at High School. At the age of 19, Liesl became an incomplete paraplegic after a mountain bike accident.
Liesl started playing wheelchair basketball after one of her physiotherapists noticed how skilled she was at shooting with a foam basketball and perspex backboard during her rehabilitation.
During the 2012 Olympics Presentation at the Royal Prince Alfred Yacht Club, Liesl shared the story behind this:
Tommy (Spithill): Dan and Leisel; firstly Leisel. As Rob touched on one of your previous endeavours was far from sailing; this isn't your first Olympics?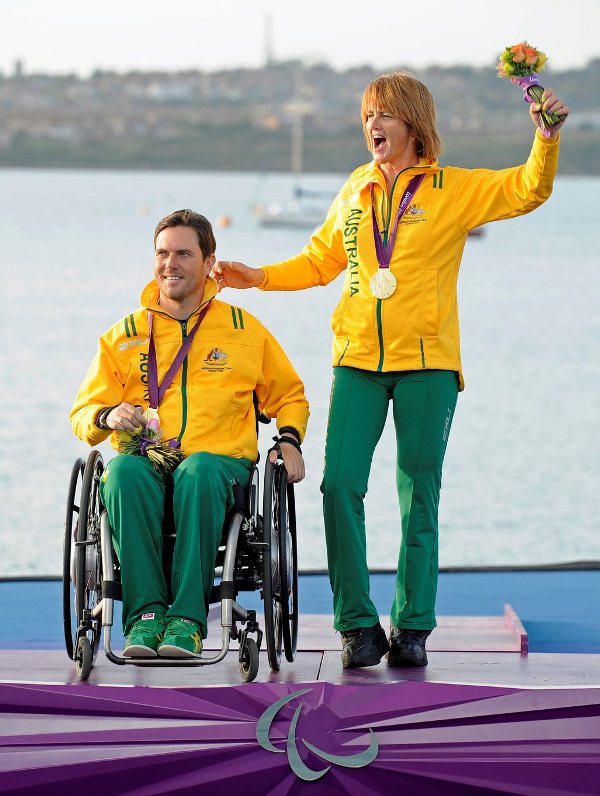 Leisel: Yes, I was a mad sailor on Lake Macquarie and a sportsperson as a basketballer. When I was 19 I came off my bike and broke my back. During the two months when I was lying in bed, and didn't know if I was ever going to walk again, Judy Prince, my physio noticed I was getting into basketball from a small board and ball a friend brought me, and asked if I'd like to get into the basketball team. So they took me into that basketball team and for twenty years they kept me there!
I got back from Beijing and was asked in 2009 to participate in the Sydney to Hobart. Initially I was a little bit unwell ... Two weeks after that another old hand asked if I'd like to come for a Twilight Sail on 54ft yacht on Sydney Harbour and I said "Life!" but got there and there's a camera and person there asking "How does it feel to be a triathlete?" and I said "Not. We're all athletes. And that's the thing we are all athletes."
Tommy: did anyone watch that great documentary on SBS? I saw in one scene that one of the things you have to do is learn how to swim under the boat; you have people who are blind and all sorts of different disabilities, and you have to learn how to, if the boat did turn over, get out.
Leisel: it was pretty full on for a young basketballer out there, or a volleyballer; we can talk to each other. Out there it's different, but in all stages of our preparation learning to swim under the boat was probably the easiest. I can tell you that a blind sailor is probably the best sailor at night!
Shortly after entering the New South Wales state team, Liesl was invited to try out for and made the Australia women's national wheelchair basketball team in 1990, making her national debut at that year's World Championships and her Paralympic debut at the 1992 Barcelona Games. She was named to the All Star Five at the 1994 Gold Cup, where the Australian team won a bronze medal. She was part of the Australian team at the 1996 Atlanta Paralympics, and was named Most Valuable Player at the 1998 Gold Cup. She was the vice-captain of her country's team at the 2000 Sydney Paralympics, where she won a silver medal. During celebrations after the games, some players from Europe invited her to play in professional men's teams there. Liesl accepted this suggestion, and played in Madrid, Sardinia, and Paris for the next five years, and in doing so became the first woman in the world to play wheelchair basketball professionally.
Liesl then became an Australian wheelchair basketball player, competing as part of the national wheelchair basketball team at five paralympics, winning three medals.
Tommy (Spithill: 2012 Olympics Presentation at the Royal Prince Alfred Yacht Club): for three years people have been seeing you training here (since 2009). How has it been sailing out of the RPAYC?
Daniel: It's been great to be based in this club which I can say, having experienced so many other sailing facilities around the world, has great experienced people who have welcomed and supported us. The waters out here are so secret and can be so like a jewel one moment and so tricky the next or all of these at once…
Tommy: With the SKUD Program, the logistics and the shore team, it's quite complicated; get the boat the boat in the water, use the crane to get yourself in the boat and the SKUD as well being such a technical boat explains some of the help you had…
Daniel: we had Tim Lowe and the ABS but Tim mostly working 24/7 on some of the difficulties we faced. We have to take our hats off to him.
Tommy: Dan, In Beijing you won a silver medal what's the secret ingredient to bringing back the gold?
Daniel: it was a whole team effort, starting here at the RPA but everyone all along the way, as well as Leisel's attitude. But I'd have to say it was the whole team, everyone involved.
Tommy: Finally, I heard there was a bit of controversy during one leg; Leisel, you got into trouble for sledging the Pommies; were they a bit soft or what was happening there?
Leisel: well, on a performance boat you have to keep sitting on your seat and when I saw the opposition boats and saw they weren't sitting on their seats I'd call out "get on your seat!". After the fourth race of them doing this they made a complaint and poor old Fitzy had to put up with all of this. At any rate, my mum had just passed away and I was pretty upset anyway but it ended up that they called me into the jury and they told me I'd been reported for harassing the Poms and I was banned from trash talking on the course; I guess it's a hangover from the basketball when we always had to help the referee…
Tommy: Yes, that Aussie 'staring at you' gaze in competition can be deadly!
On Tuesday 23rd of October Paralympic gold medallist Leisel Tesch received the keys to Gosford City. On Friday evening, 26th of October Olivia Price, Nina Curtis and Lucinda Whitty won the Female Sailor of the Year Award at the 2012 Australian Yachting Awards in Sydney.
Daniel Fitzgibbon and Liesl Tesch were awarded the Disabled Sailor of the Year category, the second year in a row they have been recognised for their great athletic abilities on water.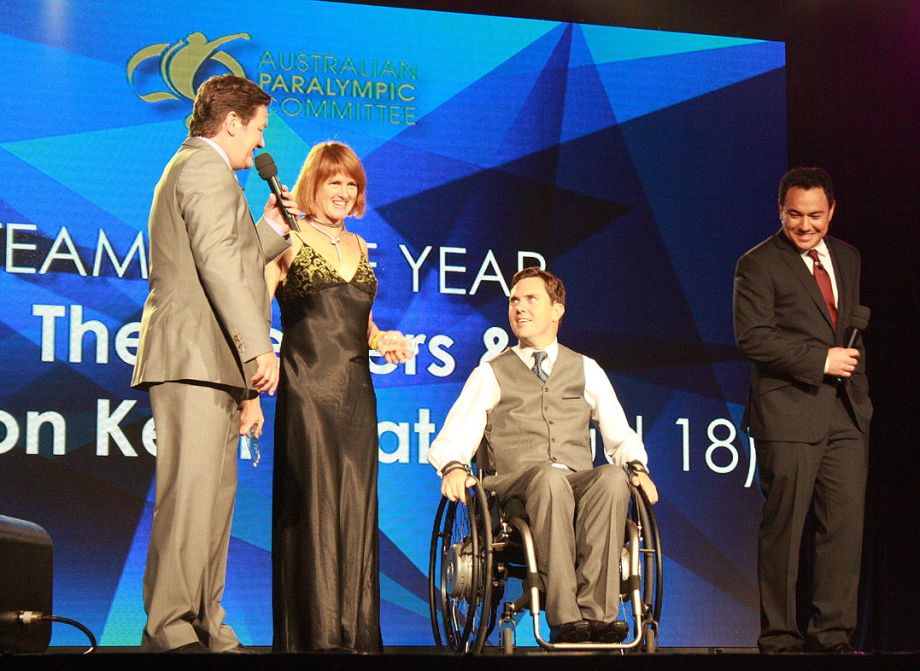 Dan and Liesl receiving the Team of the Year award at the 2012 Australian Paralympian of the Year ceremony at the Hordern Pavilion, Sydney, - photo by Toby Hudson.
This week we share another small insight into two of Pittwater and Australia's finest:
Liesl: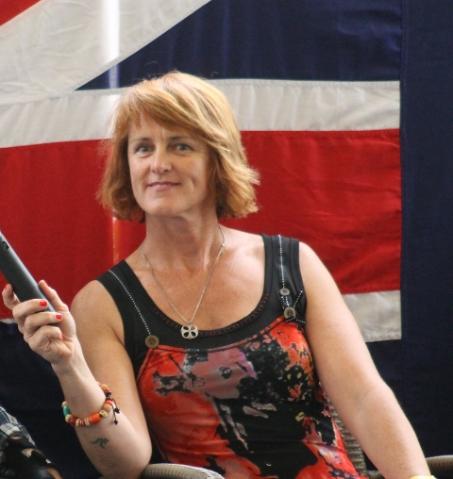 When and where were you born?
Brisbane May 17 1969
Where did you grow up – go to school – what was the area you grew up in like?
I grew up in New Zealand, living on the beach in a caravan with my Mum, Dad, and sister, three goats, five cats, a rabbit and a pig. I didn't really go to school till we moved to Lake Macquarie, Australia when I was in Year 3. I attended Toronto Public School yr 3, St Josephs Primary yr 4-6, Toronto High School yr 7-12, Newcastle Uni Bsc, Dip Ed, and am currently completing Masters in Special Education.
When did you first get in the water?
I paddled on the beach as soon as I could walk and have spent far too much time exploring rock pools
When did you first get on the water?
Learning to waterski with my Godfather at Coal Point, then playing around on an old windsurfer, a Laser, a Skate...
What has been the most challenging aspect of travelling to overseas events and then competing, as you do, year round?
Dragging sailing seats and sails on the plane around the world... They are massive and WAY TOO BIG to try and book in as luggage.. (She says with a smile :). Also, we end up sailing in horrifically cold conditions WAY TOO OFTEN!
How did you come together as a team?
Dan saw a documentary of me competing in the Sydney to Hobart Yacht Race with Sailors with Disabilities, and called me to come and try the Skud. Of course I said yes! The first sail together was loads of fun, and once we returned to the wharf Dan invited me to travel to Miami to compete: the very next week! We won our first three regattas together...and the rest is history...
Liesl, what was sailing in the Sydney to Hobart like – what was the greatest challenge for you – and which was the best day?
LOVED S2H!! It's a huge challenge and an absolute honour to have had the opportunity. By far the best part is the fact I fell in love with one of the able-bodied volunteers in the Sailors with Disabilities program, and now we are living 'happily ever after'. Also, the start is a mega-rush! And the bond that formed with the magically wonderful crew as we rounded Tasman Light together in 2009, sailed across Storm Bay, sipped the 'special coffee' at the Coffee Pot and sailed up the Derwent and over the line....mmmmm.... Oh, and of course, the two cases of Boags and National Scallop Pies derived upon arrival at Constitution Dock, and endless hours of jugs of rum and coke in Customs House afterwards...
What does your training regime involve – individually and when together?
I do my best to keep fit and strong when we are not training or competing - weights, cycling, kayaking (am retired from wheelie basketball until after Rio) - and try to maximise our time together on the water on weekends and during school holidays.
What is your favourite win so far and why?
London GOLD 2012!! ...for oh so many reasons!!!
The Road to Rio 2016 – how are you preparing for this and what are you most looking forward to?
Really looking forward getting over to Rio in September, to play in the light breeze and the tides, with small wafts of sewerage floating past. eeeek!!!
What are your favourite places in Pittwater and why?
Everyone at RPAYC have been incredibly good to us. And Pittwater is the most beautiful place in the world to train! It's fun to be away, but always gorgeous to come back... And the challenging topography offers us all we could ask for in a fickle-wind training environment.
What is your 'motto for life' or a favourite phrase you try to live by?
Live very single day to the fullest! because you can! :)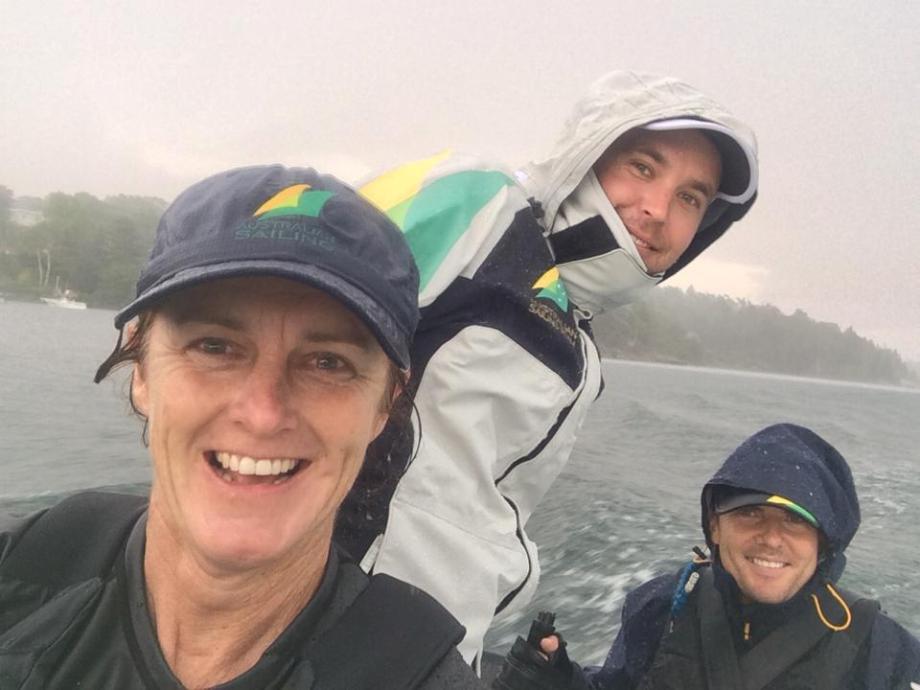 Dan:
Where did you grow up – what was the area you grew up in like?
I grew up in Manly on Brisbane's bayside. It's a village type area much like Mona Vale. It is on Moreton Bay and I sailed every chance I got.
When did you first get in the water?
I swam from a very young age.
When did you first get on the water?
I started sailing at 5. My father bought a yacht and was determined that the family became sailors.
What has been the most challenging aspect of travelling to overseas events and then competing, as you do, year round?
For me there are 3 things that make being an international sailor difficult.
1. Long haul plane flights. They suck and never get any easier.
2. I have to travel with a lot of disability equipment to help with daily living overseas. This is very difficult to manage, get on the plane and can get damaged in transit.
3. The terrible, hostile cold weather in Europe.
How did you come together as a team?
I saw Liesl on a sailing documentary on TV. I tracked her down and asked her to come sailing with me.
What does your training regime involve – individually and when together?
We have training camps during the school holidays, weekend training and international training and competition. We train at the RPAYC when home in Sydney.
What is your favourite win so far and why?
I can't go past the Gold meal in London. I won a Silver before but nothing compares to the Gold medal. I led to so many opportunities and meeting so many people. To see the kids faces light up when they see it is priceless.
Another Challenge – what is the idea behind this and how did it begin?
That is a long story....but the RPAYC has supported me in modifying and racing a 38ft racing yacht. We want to create a pathway for people with disabilities to get out there and enjoy sailing a yacht. The adaptions are very amazing and I've been able to integrate into the normal sailing events culminating in a 7th at the Australian titles!
The Road to Rio 2016 – how are you preparing for this and what are you most looking forward to?
We are undefeated since London. I look forward to continuing our dominance up to Rio and get better every time we sail.
What are your favourite places in Pittwater and why?
I love the Bayview dog park. It has such beautiful views of Pittwater and seeing all those dogs running around so free puts a smile on my face.
What is your 'motto for life' or a favourite phrase you try to live by?
If you are not part of the solution you are part of the problem.
'ANOTHER CHALLENGE' - SYDNEY 38 FOR DISABLED SAILORS AT RPAYC
Published on 7 Aug 2014 by John Illingsworth
Dan Fitzgibbon, Australia's gold Paralympian, starts his yacht racing program that integrates disabled and able-bodied sailors, with or without sailing experience.
Details of RPAYC program at www.rpayc.com.au/ids
Another Challenge ready for Sydney 38 One Design Australian Champs
January 30th, 2015 - RPAYC
The home of one design racing on Sydney's northern beaches, the Royal Prince Alfred Yacht Club, is hosting the once a year showdown over three days, February 20-22, 2015, and five teams from south of the NSW border have the championship in their sights.
The Sydney 38 One Design Australian Championship falls under the overarching Performance Boating Sydney Yachts Pittwater Regatta. Sydney 36s (PHS) and Sydney 32s (PHS) plus an EHC handicap division for any other Sydney Yacht owners who wish to compete complete the box set.
Following on from this month's ISAF Sailing World Cup, Sydney based Paralympic SKUD gold medallist Dan Fitzgibbon will transition to the helm of his Sydney 38 Another Challenge in the run up to his first crack at an Australian class crown.
Fitzgibbon's current world cup campaign in Miami is just one of a raft of international events that takes the busy Australian Sailing Team athlete and 2012 London gold medallist far from home seeking re-qualification with his crew, Liesl Tesch, for next year's Rio Paralympic Games.
Missing the camaraderie that comes with a larger yacht crew prompted the quadriplegic sailor to approach the RPAYC and the class association about purchasing and modifying a Sydney 38 so he and other disabled sailors could integrate into existing club racing programs.
RPAYC not only embraced the concept, they went way beyond, launching their own Integrated disAbled Sailing (IdS) program with the support of a handful of key club members.
"Disabled sailing is usually very segregated," admits Fitzgibbon. "I train by myself and spend a lot of time overseas competing. When I got back from the last Games I realised what was missing. Growing up Bayside in Brisbane I sailed with all my friends, and then again in the 470s and other dinghies. We had a great laugh and I was missing that element.
"I approached the RPAYC about adapting a yacht and spoke to the Sydney 38 Association about fitting into the class' one design rules with the modifications. Both were so accommodating and have to be commended for their open mindedness."
On Another Challenge Fitzgibbon's seat moves to windward through the tack on a roller rail and cants when the boat is tacked. There are handrails throughout and his joystick controls a ram that manoeuvres the boat.
"The Sydney 38 is a great boat for what we need, it's stable and there's plenty of room," the skipper offers. "I'm loving every minute of it. It's the best sailing I've ever done, without any of the pressure of the Paras. We go out every Wednesday RPAYC race and have a laugh and enjoy the camaraderie and on the weekend we train for upcoming regattas, including the nationals."
Victoria and NSW are fielding strong state teams all vying for a rededicated championship trophy named after the much missed grandfather of Sydney 38 racing, Lou Abrahams, who passed away last year. His crew, some now racing with other 38 owners, are the defending national champions and his winning boat is returning to the start line with class newcomer, Chris Mrakas from Sandringham YC, at the helm.
Weather dependent the racing will be run either on a course to the north of Scotland Island, Pittwater, or in the Broken Bay offshore zone. The RPAYC's Steve Merrington is the PRO.
Up to four windward/leeward short course races are scheduled to start daily at 1100hrs. The presentation of awards will take place immediately after racing on Sunday February 22nd at the RPAYC.
A number of sponsors are supporting the upcoming Sydney Yachts Pittwater Regatta including principal sponsor Performance Boating; gold sponsors Pantaenius Insurance, G- Brothers and Coca Cola; and silver sponsors Zhik, North Sails, 316 Fasteners, Quay Marine and Wettons.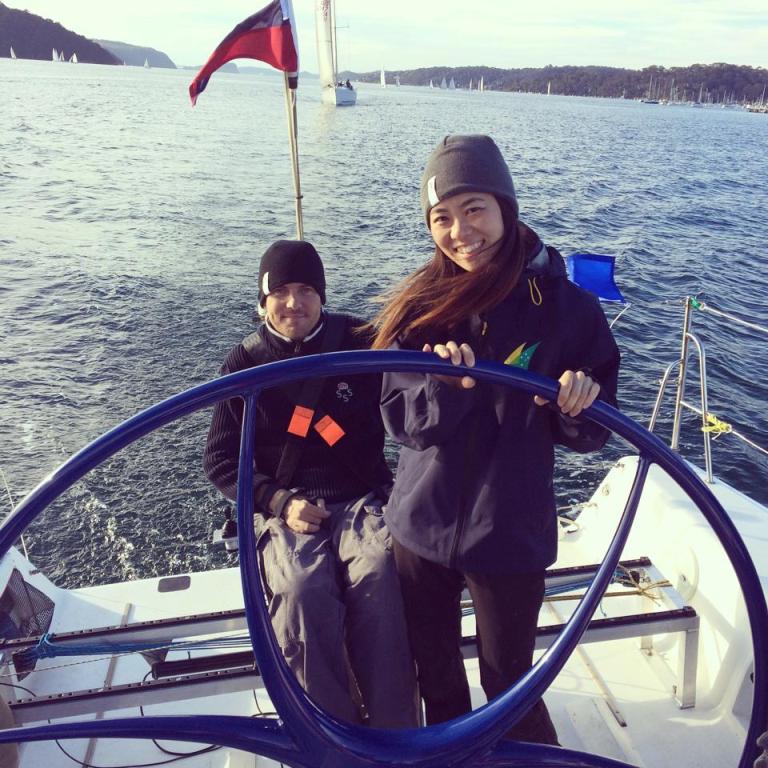 Dan Fitzgibbon and wife Kumi out on Pittwater aboard Another Challenge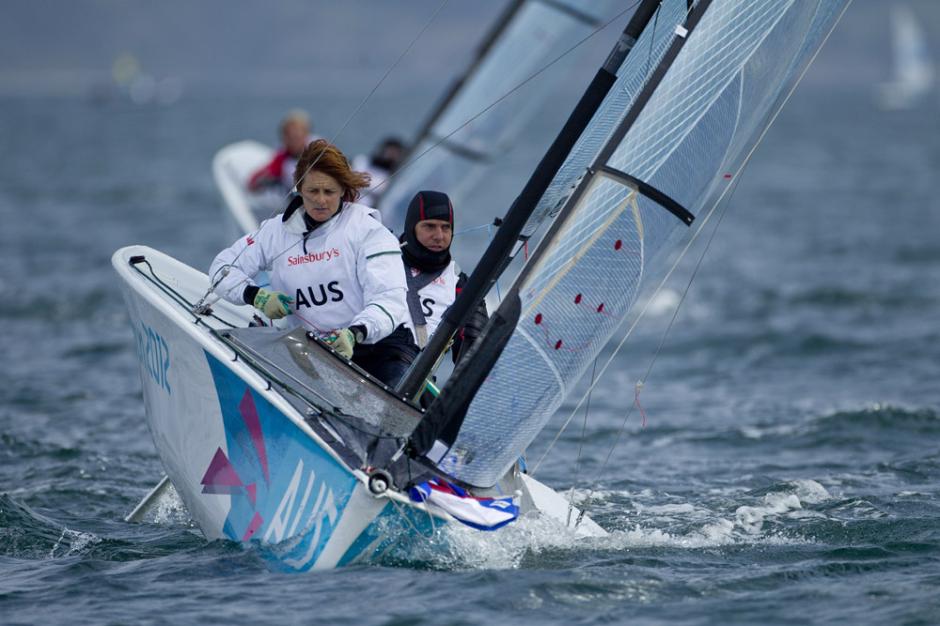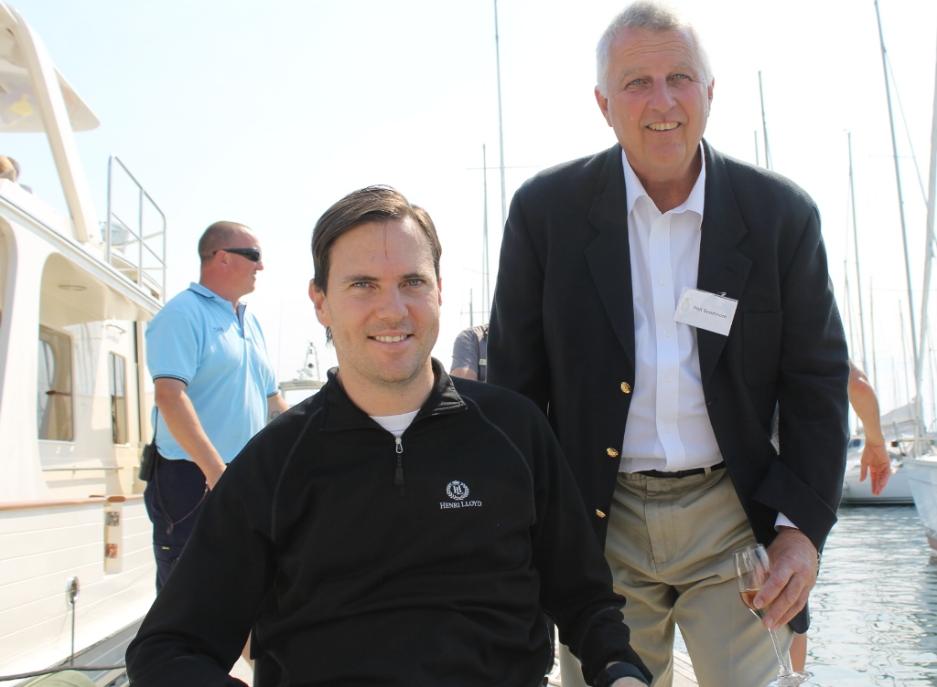 Dan with Phil Smidmore - America's Cup crew winner. Photo; A J Guesdon