December 6 - 12, 2015: Issue 243
Daniel Fitzgibbon and Liesl Tesch win 2015 Para World Sailing Championships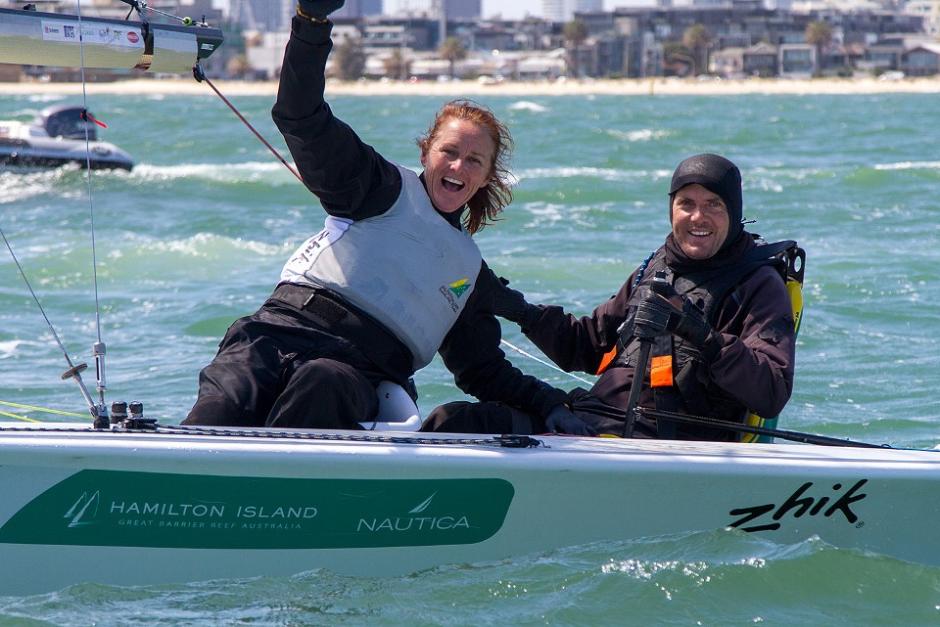 Paralympic champions Fitzgibbon/Tesch win 2015 Para World Sailing Championships with one day to spare
By Australian Sailing Team Comms, December 2, 2015
SKUD18 gold medallists Dan Fitzgibbon (NSW) and Liesl Tesch (NSW) have won the 2015 Para World Sailing Championships in Melbourne on the event's penultimate day (Wednesday, 2 December 2015). This World title win continues Fitzgibbon and Tesch's unbeaten run ever since getting back into competition post their 2012 Paralympic gold medal and after winning last year's World Championship.
Dan Fitzgibbon and Liesl Tesch defended their 2014 title with one day to spare and after a dominant series, winning seven out of ten races with two seconds and a third place as their worst result over the week. With this impressive score line, they secured their second World title with an unassailable fifteen point lead ahead of the second ranked British crew and ahead of the final regatta day tomorrow, Thursday, 3 December 2015.
Tomorrow, two more medals will be up for grabs across the three Paralympic boat classes with Australian Sailing's Sonar Team of Paralympians Colin Harris (WA), Jonathan Harris (NSW) and Russell Boaden currently in silver medal contention and Paralympian Matt Bugg (TAS) ranked third in the 2.4mR.
Two-Person Keelboat – SKUD-18
Daniel Fitzgibbon and Liesl Tesch, coached by Geoff Woolley, went into the penultimate day of racing after a consistent series of top results. Leading the second ranked British crew with a comfortable eleven points lead they sealed the World title win one day early after a dominant last day and winning both races.
"Last worlds we won by one point and coming into this we wanted to make it better and winning by one day is better than winning by one point," Dan Fitzgibbon said laughing.
"With the strong lead we had, we planned to be conservative and just bring it home. The way it worked out, we did a bit more than that and I think got even more points in front. We don't have to sail tomorrow if we don't want to and that's a good situation to be in."
And about the day he added: "It was actually a tricky day, shifty and up and down. We got into the battle and fought our way through the fleet and got away with a win in the first race. In the second race the breeze came in quite hard and the waves starting rolling and it was actually quite an exciting race. We battled to the lead and won the second race too and now we're World Champions and very happy."
Looking ahead to Rio 2016 the dual Paralympic medallist Dan Fitzgibbon said: "This is a good step towards Rio 2016 and we're on the right track. Obviously we've got something there and we just got to keep working and not rest on this. It's a great journey and we have more things to work on to get better and better. Rio is such a tricky place we really want to do as much as we can to be dominant there."
Fitzgibbon and Tesch teamed up after the 2008 Paralympic Games and have proven to be a successful duo ever since they started competing together in 2011. Tesch, who was recruited into sailing by Fitzgibbon, already was a five-time Paralympian and three-time Paralympic medallist in wheelchair basketball before winning gold with Fitzgibbon in London 2012 – a feat they plan to repeat in Rio 2016.
"This is a really nice momentum to be in as we prepare for Rio. It was a real struggle to put space between us and the rest of the fleet coming into last year's World Championships, but this is a nice step towards Rio," Liesl Tesch said.
"I still think we have a long way to go though and in every single race we are learning stuff. We'll have to get it all right for that big event next year which is going to be even more challenging than surfing down these gorgeous waves of Port Phillip Bay."
And about the race win she added: "Winning the World Championships with an unassailable lead is exciting. But we were so focused on just going out there to do race by race that it wasn't until our awesome boat crew handed us the Australian flag that we realised we actually just won the World Championship and its game over. We have another race tomorrow and every single race that we can do against this fleet to practice is another practice for the Paralympics next year."
Fitzgibbon and Tesch have been a mainstay at the top of the podium over the last 12 months after winning the 2014 World Championships in Nova Scotia, Canada in August, followed by gold at Sailing World Cup Melbourne and Miami as well as a win at the Delta Lloyd Regatta in Medemblik, the Netherlands last May.
Australian Sailing's second SKUD18 crew of Ame Barnbrook (NSW) and Brett Pearce (NSW) is ranked seventh ahead of the final race tomorrow after posting a 16th and sixth.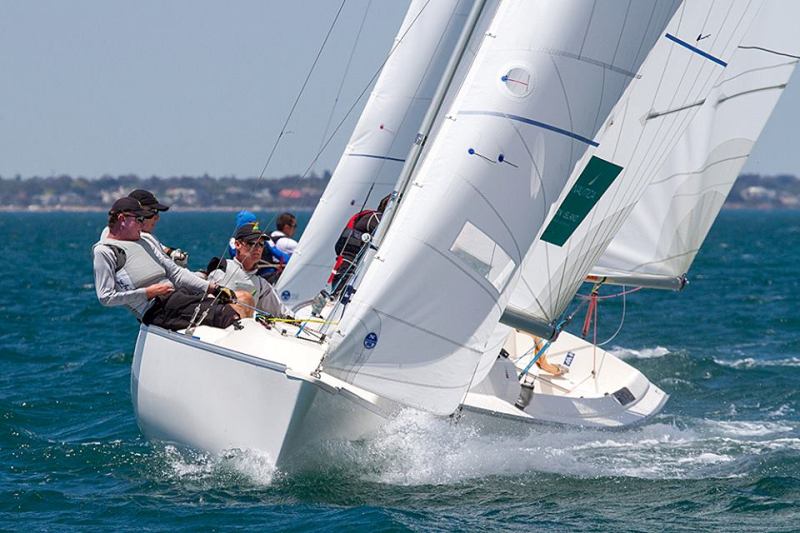 Three-Person keelboat – Sonar
Colin Harrison, Russell Boaden and Jonathan Harris had a tough day, which saw them drop from first into second. Going into Thursday's four points separate them from Great Britain in first and it will all come down to the final race.
One-Person Keelboat – 2.4mR
Australian Sailing Team's Paralympian Matt Bugg defended his third place after a strong day posting and is in medal contention going in the last day.
"Yes, it was a good day for me. I love sailing in Melbourne on days like today so that's why I love coming here. We had lots of wind, big waves, I loved it and I got two pretty good results," Matt Bugg said.
"Tomorrow definitely still counts. I need to have a look at the scores, but I believe I have to finish within ten points of Helena Lucas from England (fourth ranked) to get third and I think Heiko (Germany, second) is still 12 points ahead of me so maybe I can catch him and get into second, but we'll see."
Fellow 2.4mR teammate Neil Patterson (TAS) climbed up into 23rd after a 32nd and 19th.
The last race of the 2015 Para World Sailing Championships is scheduled for 13:00 on Thursday, 2 December.
Sailing out of the Royal Yacht Club of Victoria (RYCV) in Williamstown, all five crews of Australian Sailing Team's (AST) and Squad (ASS) Paralympic boat class sailors are contesting the event and aiming to defend their 2014 Nation's Cup win as the team prepares for the 2016 Rio Paralympic Games (7 – 18 September 2016).
140 sailors from 31 nations are competing across three Paralympic events and over six days on Port Phillip, Melbourne, Australia from 28 November to 3 December. It is the largest Paralympic World Sailing Competition in the lead up to the 2016 Rio Paralympic Games.
With less than a year out from the Paralympic Games the Australian Sailing Team is looking strong after multiple top podium finishes across the international season.
Action video: https://youtu.be/vpW2e3iuLPw
Find out more about the stories behind Australian Sailing Team's sailors here: http://www.australiansailing.org/aus-paralympic-sailors-ready-for-world-championship-challenge/
Australian Sailing crews to race at the 2015 Para World Sailing Championships:
Two-Person Keelboat – SKUD18
Daniel Fitzgibbon (NSW/NSWIS) / Liesl Tesch (NSW/NSWIS) – AST: (2), 1, 2, 1, 1, 1, 3, 1, 1, 1 – 1st
Ame Barnbrook (NSW/NSWIS) / Brett Pearce (NSW/NSWIS) – ASS: 9, (18), 5, 3, 2, 4, 4, 9, 16, 6 – 7th
Coach: Geoff Woolley (VIC)
Profile Daniel Fitzgibbon: www.australiansailing.org/team-members/daniel-fitzgibbon/
Profile Liesl Tesch: www.australiansailing.org/team-members/liesl-tesch/
One-Person Keelboat – 2.4mR
Matt Bugg (TAS/TIS) – AST: 9, 6, 3, 2, 3, 3, 5, (17), 2, 5 – 3rd
Neil Patterson (TAS/TIS) – ASS: (41U), 30, 21, 15, 19, 18, 32, 19, 14, 22 – 23rd
Coach: Richard Scarr (TAS)
Three-Person keelboat – Sonar
Russel Boaden (WA/WAIS), Jonathan Harris (NSW) and Colin Harrison (WA/WAIS) – AST: 1, 1, 2, 2, 1, 2, (12), 5, 13, 10 – 2nd
Coach: Grant Alderson (WA)
All results: www.topyacht.net.au/results/2015/paraworlds/index.htm
Useful Links
Event website - www.foxsportspulse.com/assoc_page.cgi?c=0-10017-0-0-0
Notice of Race - www.foxsportspulse.com/get_file.cgi?id=3486769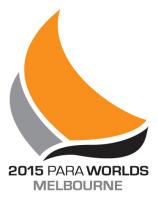 About the 2015 Para World Sailing Championships
The Para World Sailing Championships take place out of the Royal Yacht Club of Victoria in Williamstown, Melbourne, Australia from 24 November to 3 December 2015.
More than 30 countries will be represented with over 200 sailors and coaches registered for the event. The Organising Committee estimates that the event will have an economic impact in the vicinity of $7 million for the Victorian and local economies. The Victorian State Government along with Hobson's Bay City Council are supporting the event.
About the Royal Yacht Club of Victoria
The Royal Yacht Club Victoria (RYCV) was initially founded as the Port Phillip Yacht Club in May 1853, and is one of the oldest yacht clubs in Australia. The Club is situated in Williamstown, Victoria just 13 km away from the centre of Melbourne, with a stunning view of the city skyline, and is steeped in decades of yachting history and tradition. Today RYCV boasts more than 900 members and over 300 yachts on the register making it an ideal club for sailors with all levels of experience.
Follow The Australian Sailing Team
Follow the Team on Twitter @AusSailingTeam, via AST Facebook or on Instagram AusSailingTeam
Photo credit: Teri Dodds
Para World Sailing excellence to the very end
ISAF - Thursday December 3, 2015
Light southerly winds awaited competitors on the last day of the Para World Sailing Championships conducted by the Royal Yacht Club of Victoria in Williamstown, Australia.
Under bright sunny skies, competitors relished the easier conditions on Port Phillip after two very hard days of strong breezes and big waves.
Although Dan Fitzgibbon and Liesl Tesch had the Para Worlds all wrapped up prior to the final race, there was no hint of complacency in the team. During a pre-race delay while the race committee waited for the breeze to settle, the Australians spent their time adjusting the rig for today's lighter weather, testing the result and tuning again. Most other teams took the opportunity to simply relax and sail around the starting area. It was no surprise then, when the Australians burst away from the start line and quickly established a break on the rest of the fleet. They extended that lead throughout to finish well clear – an emphatic conclusion to a brilliant campaign for the World champions.
By Bernie Kaaks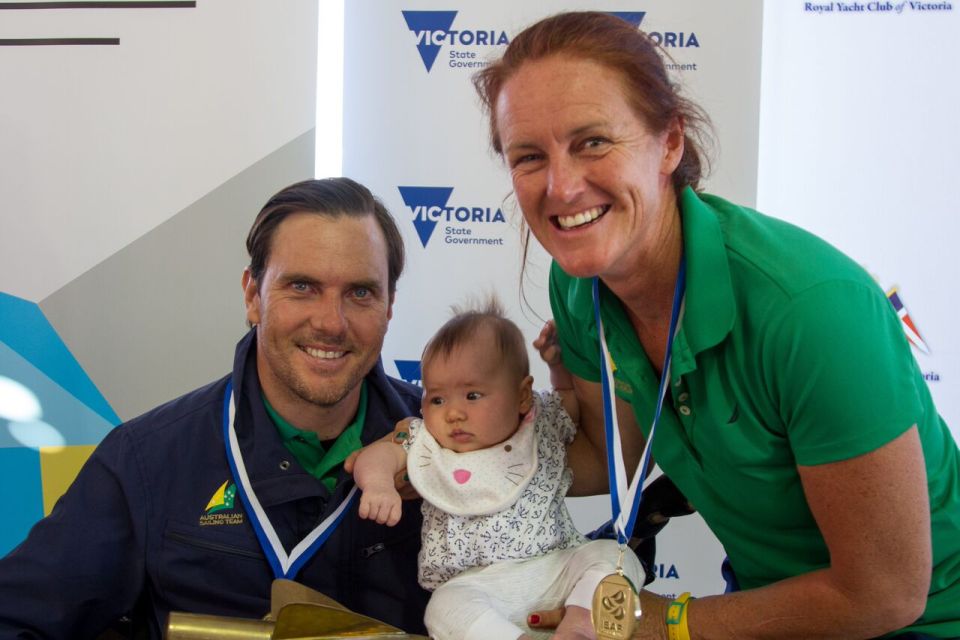 Dan, Dan's daughter Hannah, and Liesl - wonderful athletes who have inspired all in Pittwater with their World Champion attitude throughout 2015 - Medal Day at 2015 Para World Sailing Championships - Teri Dodds picture