October 11 - 17, 2015: Issue 235
MC38 Spring Regatta 2015 on Pittwater Hosts: Royal Prince Alfred Yacht Club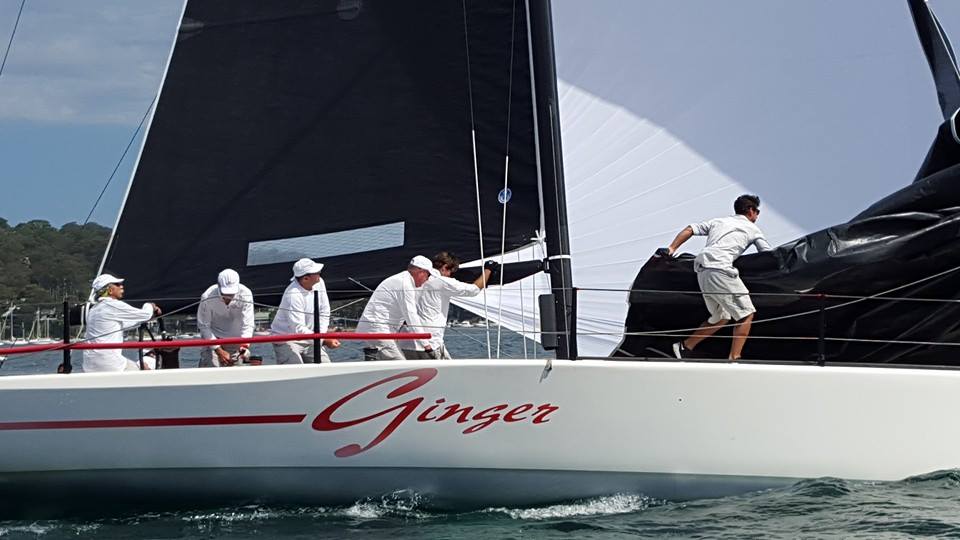 Series leader day 1 MC38 Spring Regatta Ginger on Pittwater 10.10.2015 - photo by Crosbie Lorimer
Pittwater antipasto plate served for MC38 Spring Regatta Day One‏
Event: MC38 Spring Regatta, October 10-11, 2015 hosted Royal Prince Alfred Yacht Club with racing on Pittwater on Sydney's Northern Beaches starting at midday both days
10 October 2015
Pittwater served up its usual antipasto plate of varying wind strength and direction on day one of the MC38 Spring Regatta, the penultimate event of the 2015 Australian season championship.
In light and shifty nor'easters the combination of tactician David Chapman, Colin Beashel on mainsheet and North Sail's Richie Allanson on jib and kite trim, combined with the usual high standard of crew work befitting the current Australian champions, drove Leslie Green's Ginger to the series lead by one point after four races.
"The new combination is a nice starting platform, but we have a lot of work to do before the nationals in February on Lake Macquarie," said Chapman. "We are trialling different crew configurations as we prepare to defend our title and attempt a trifecta."
Conditions-wise a weary Chapman added, "Today wasn't great. It was a long day in the sun with nowhere to hide." He flew in this morning from Los Angles and an extended overseas circuit of mostly Farr 40 racing and leaves Monday for New York and another sailing gig.
Lighter winds slowed everything down and there was less argy bargy than usual on the start line just off the north side of Scotland Island, and at the mark roundings. The two on-water umpires spent an easy day trailing the fleet around the track with whistle and flag at the ready. Only one whistle sounded, for an incident between Hooligan and Assassin at the finish in the last race of the day.
Howard Spencer's Menace (NZL) with Emirates Team New Zealand's Ray Davies another fly-in tactician (Cascais last week and Sydney this weekend), sailed a solid 4-1-3-1 day to be a point off Ginger.
John Bacon's Dark Star in third overall had first pick of the best-tasting olives on the platter in race three, scoring the bullet easily, then sucked on the bitter pips in race four when the long-time and talented Royal Prince Alfred Yacht Club team sailed into a hole on the upwind leg and finished last.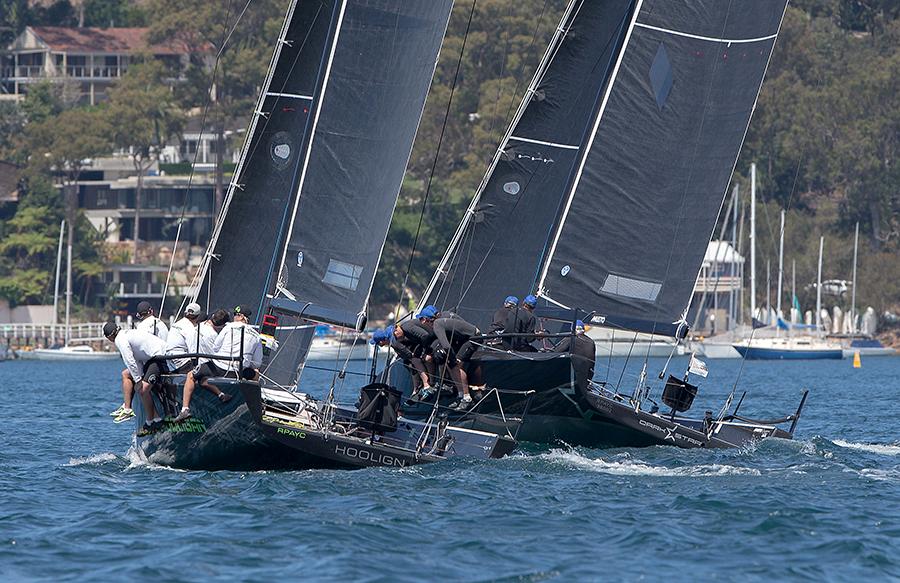 Dark Star & Hooligan MC38 Spring Regatta day 1 - photo by Crosbie Lorimer
Fourth overall this evening, Saturday October 10, 2015, and delighted after one of their best days since joining the MC38 fleet, was Robin Crawford's Assassin crew sailing for the Cruising Yacht Club of Australia. Daughter Clare, who is helming her second only one design regatta said, "Dad will be so pleased; we are continuing to improve."
Tactician Evan Walker and mainsheet Sean O'Rourke have been pushing the Assassin team to mix up the crew roles and study every component of every manoeuvre. "It's really nerdy stuff; we are writing everything down and getting more analytical," said the class' only female skipper back at the host RPAYC after racing.
Walker chimed in, "It's taken us time to sail the boat well enough that we can settle in and work on the rig and some other settings, and develop a guide. Today we weren't going blindingly fast but we weren't slow either. We kept up." He says the job of tactician on an MC38 is hard going, "There were times today that with another metre's distance we could have made the cross, instead we ended up sandwiched and well back. That's how tight the fleet is."
On Crawford's move to the helming role Walker reckons she's shown a lot of promise. "Clare's challenge is the stress level when we get near other boats; she just needs more race practice."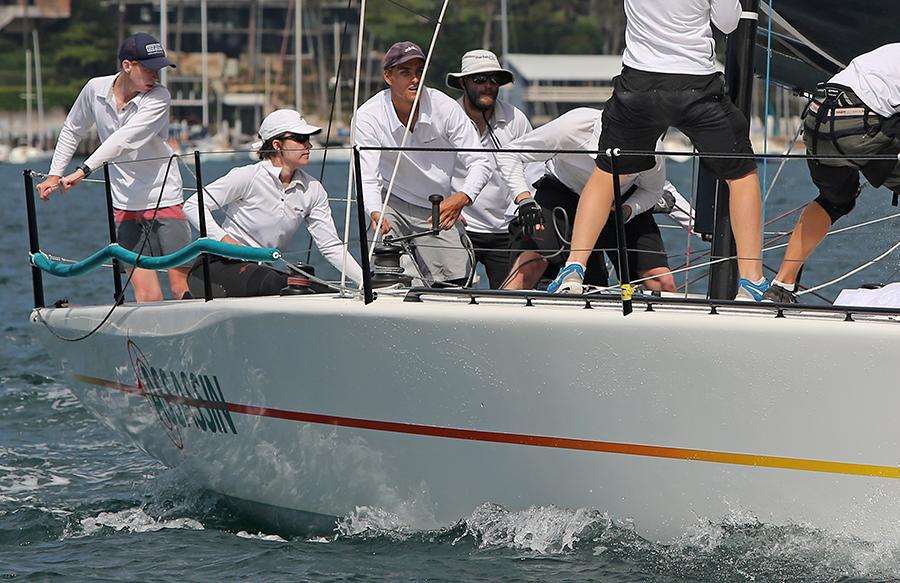 Clare Crawford driving Assassin - photo by Crosbie Lorimer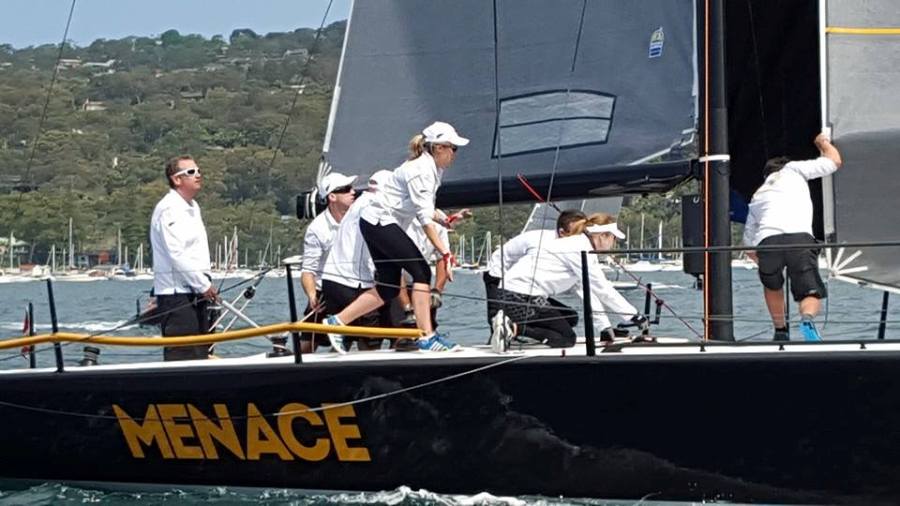 MC38 Menace day 1 Spring Regatta 2015 - photo by Crosbie Lorimer
First-time MC38 guest helmsman, former British Sailing Team Laser gun Chris Dawson, and the regular Hooligan crew finished fifth on progressive results, their best result a third.
Dawson sailed with the Dark Star crew at the class' first speed training weekend back in August and in light of good breeze thought driving an MC38 was "awesome fun. The Spring series will be my first opportunity to do a class regatta with the Hooligan team, and race the boat in anger," he added.
The MC38 Spring Regatta this weekend marks the penultimate event of the class' inaugural Australian Championship. Howard Spencer's MC38 Menace (Royal Akarana Yacht Club) is leading John Bacon's Dark Star (RPAYC) by one point and current class Australian champions, Leslie Green's Ginger (Cruising Yacht Club of Australia), is third by a two point margin, with two events remaining. Fourth and fifth aren't far off, squeezing the top handful and setting up a brilliant showdown for the Spring Regatta and final MC38 Open event, November 14-15 on the harbour out of the Royal Sydney Yacht Squadron.
The 2015 Spring Regatta for MC38s is part of the Royal Prince Alfred Yacht Club's annual flagship fundraising Link Healthcare Islands weekend for its Integrated disAbled Sailing (IdS) program, featuring a gala fundraising dinner on the Saturday evening with live music and a silent auction. Bacon is the IdS program's founder and major sponsor and his Dark Star crew are attending the gala dinner. Ginger's Leslie Green is kindly supporting the MC38 class' Spring Regatta social activities and has made a significant donation to IdS.
As well as keeping the Hooligan program rolling using a guest skipper, local Warriewood businessman Marcus Blackmore has sponsored a table at the gala dinner. MC38 Association president John Bacon said, "I believe that returned injured Australian Defence Force members who are part of the IdS' partnership with the Soldier-On charity will make use of Marcus' gifted table."
Saturday is always busy on the popular waterway. In addition to four windward/leewards for the MC38s inshore, the RPAYC conducted a Sprint Series for Etchells, Melges 24s, Vipers and Stars.
Sunday October 11 will be busy too; two more w/ls scheduled for the MC38s, again starting at midday, then a final passage race fitting around the rest of the Pittwater traffic including the 1100hrs pursuit start of the Link Healthcare islands race, centreboard racing commencing at 1300hrs and all day RPAYC Youth Development training.
Lejen Marine are supporting the MC38 class once again by supplying a high-class Highfield RIB for on-water umpiring. Chief technical adviser to the MC38s, Richard Slater, says "We use RIBs all over the world at many varied venues and nothing compares to a Highfield."
Racing is due to start at midday today, Sunday October 11, and the forecast is for north to north-easterly winds 10 knots increasing to 10-15 knots in the morning then becoming variable in the early afternoon. PRO Steve Merrington is aiming for three more races to complete the schedule on the Northern Beaches waterway.
Spring Regatta information including race results & series score
By Lisa Ratcliff

Ginger earns highest honour at MC38 Spring Regatta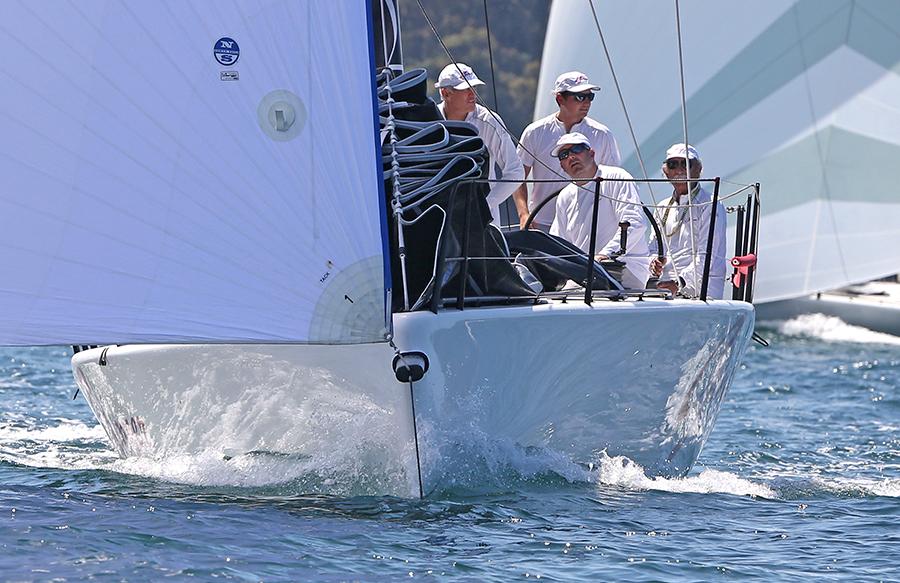 Ginger Spring Regatta winners - photo by Crosbie Lorimer
11 October 2015
Event: MC38 Spring Regatta, October 10-11, 2015 hosted by Royal Prince Alfred Yacht Club with racing on Pittwater on Sydney's Northern Beaches
Ginger took out the MC38 Spring Regatta on Pittwater by two points, earning skipper Leslie Green the highest honour and high praise from one of sailing's greats.
"Leslie is a real inspiration, we don't like losing to him but if we are going to come second then we're glad it's to him. He's a fantastic sailor and to be competing at his age at this level of the sport is remarkable." And so Ray Davies, tactician on Howard Spencer's Menace and part of Team New Zealand's next America's Cup campaign paid tribute to the elder of the MC38 fleet before jetting out of Sydney this evening for the next America's Cup World Series event in Bermuda.
Green has enjoyed a long association with sailing, starting out in ocean racing in the 1950s with the late and illustrious Jack Rooklyn. He switched from his comfortable Swan design to high-voltage one design racing in late 2012, built a winning team and is a two-time and current class Australian Champion, each time with David Chapman as tactician.
Always a gentleman, Green handed over credit for Ginger's result on Pittwater over the seven-race weekend series entirely to his crew."It's because of our really good crew, they never stop trimming, and we are quick through the water. The rest is up to God. It's a very calm boat with calm people….though we have our moments of course. I wouldn't have it any other way on board, sailing is my hobby."
Ginger, sailing for the Cruising Yacht Club of Australia, held a top three spot in every race. Menace had more wins but also two fourths – and that was the difference between the Aussies and the Kiwis from Royal Akarana Yacht Club when all the points were counted up.
"We had a great two days and out of the seven races we had six good ones," Davies recounted. "That last race got a bit wobbly when the clouds came over and shut everything down, but that's Pittwater. We've noticed the fleet has made a big jump since we last sailed together, with the standout being Assassin. The class has tightened up; it now comes down to the boat that sails best on the day."
M38 fleet Spring Regatta - photo by Crosbie Lorimer
Third overall was John Bacon's Dark Star (RPAYC) and fourth Marcus Blackmore's Hooligan with guest skipper Chris Dawson and the RPAYC crew just seconds from victory in the final lucky dip passage race on Sunday October 11, 2015. Earlier the fleet made the most of steady 8-10 knot nor'easterlies and blue skies for their two final windward/leewards, race six being the highpoint in terms of the fleet compacting.
"We got the boat going as the weekend went on, we had a few guys in new positions, including me," Dawson said back at the host Royal Prince Alfred Yacht Club this afternoon. "It was a challenging series and good fun. You never felt like you were completely out of it."
Ginger was named the MC38 Spring Regatta North Sails Boat of the Day at the end of both days.
Last points for the inaugural five-part MC38 Australian Championship will come from the Royal Sydney Yacht Squadron's Summer Regatta next month, November 14-15, on Sydney Harbour.
The class will take a break over Christmas, so many of the crew are free to take up positions in the major bluewater races to Hobart and Coffs Harbour, then reconvene in February for the 2016 MC38 Australian Championship title on Lake Macquarie.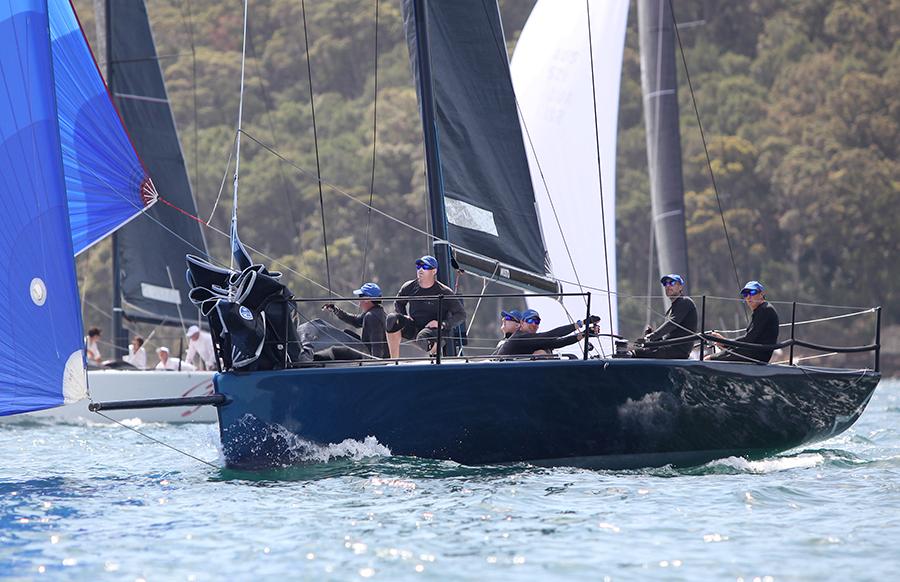 MC38 Dark Star 3rd overall - photo by Crosbie Lorimer
MC38 Spring Regatta results:
1st Ginger (Leslie Green, CYCA) 14 points
2nd Menace (Howard Spencer, RAYC) 16 points
3rd Dark Star (John Bacon, RPAYC) 23 points
4th Hooligan (Chris Dawson for Marcus Blackmore, RPAYC) 28 points
5th Assassin (Clare Crawford, CYCA) 30 points
6th Vino (Chris Hancock, RPAYC) 37 points
Videos and more photos at MC38 Facebook
By Lisa Ratcliff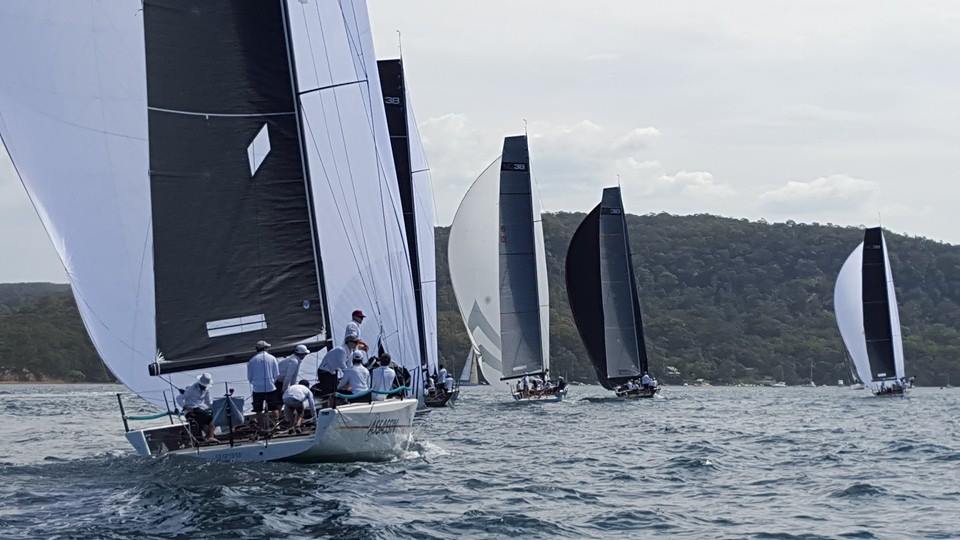 MC38 Fleet on Pittwater 10.10.2015 - photo by Crosbie Lorimer