February 22 - 28, 2015: Issue 203
Let's get Sailing back into the Paralympic Games 2020 – spread the word to #ReinstateSailing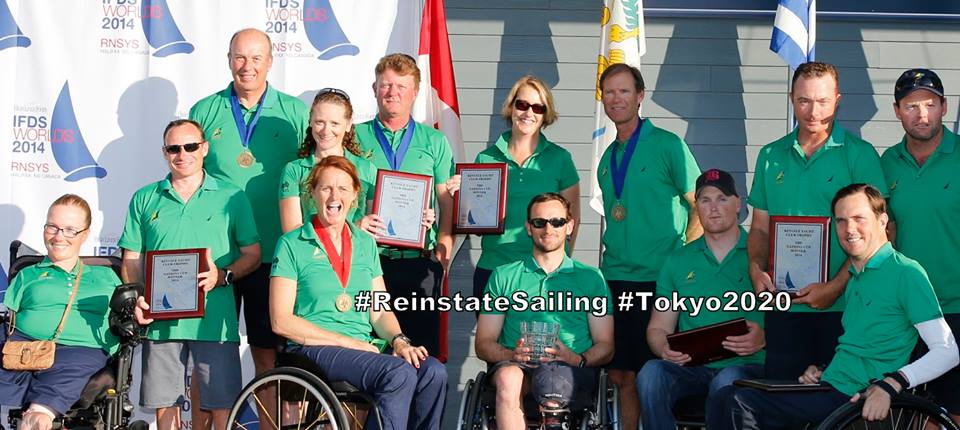 Image courtesy Australian sailing Team.
Let's get Sailing back into the Paralympic Games 2020 – spread the word to #ReinstateSailing
By AST Comms, February 17, 2015
The recent decision of the International Paralympic Committee (IPC) not to include sailing on the Tokyo 2020 Paralympic Games sports programme shocked the international sailing community.
The news was an enormous disappointment for the sport of sailing worldwide, in our country and for our Australian Sailing Team and Squad athletes who are working hard, not only towards Rio 2016, but also towards Tokyo 2020.
We will now work together with ISAF, and the 139 Member National Authorities (MNAs), to fight for sailing to be reinstated at the Paralympic Games and together we believe we can make this work.
Let's feed back information to make IPC want sailing back in the Games. Let's spread the news how important Paralympic sailing is for our sport as well as for an integrated sports world as a whole.
We believe the decision is a loss to Paralympic sport as a whole as sailing provides unique opportunities for athletes with a disability to get involved with and participate in high performance sport and to compete on a world-class and paralympic level. Paralympic sailing caters for athletes with a wide range of physical impairments including those with high-level disabilities such as quadriplegia, allowing sailors to steer and control boats using just a finger, toe or breath.
Or in the words of our dual Paralympian and 2012 London Gold Medallist Daniel Fitzgibbon: "Sailing is the only Paralympic sport that allows quadriplegics, such as myself, to compete against much more able athletes on an even and fair platform. And to take this opportunity away from future athletes in my situation, or worse, is a very disappointing decision."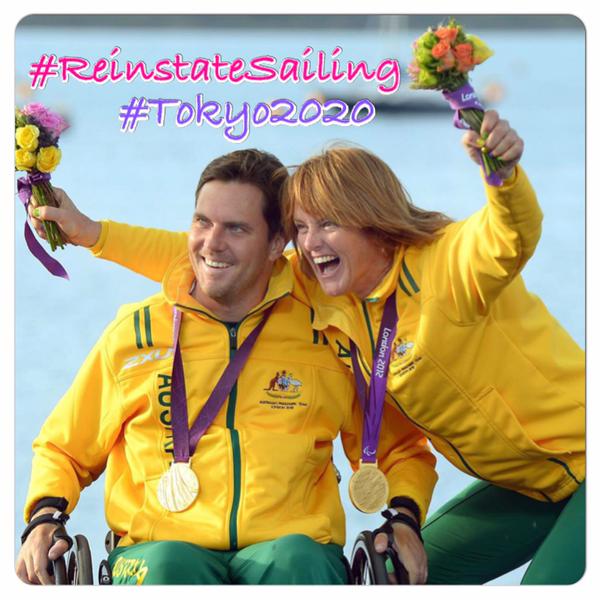 Please share this with your clubs, communities, supporters, media and show the world that Paralympic sailing is a unique sport and one of the most inclusive sports of the Games. Share your compelling letter on the importance of getting Paralympic sailing reinstated.
Find more info from ISAF here: www.sailing.org/news/39733.php
Share, retweet and post your own photos on instagram, inspiring stories within your networks and keep using the Hashtag #ReinstateSailing – let's spread the word, let's get this trending.
Sign the petition here: http://chn.ge/1zbZgqy
Follow the Australian Sailing Team updates via our Paralympic sailors on facebook on @AusSailingTeam and via their crew pages @FitzgibbonTesch-Rio-2016 (Twitter @LieslTesch) , @AusSonarSailingTeam (Twitter @AusSonarTeam), @MattBugg2.4mracing, @neilsailigadventure (Twitter @NeilPatterson24) and Twitter Brett Pearce @bpearce76
You can find all our Australian Sailing Team's Paralympic sailor social media contact details here: www.australiansailing.org/teams/paralympic
We on the Australian Sailing Team and our athletes will be supporting the campaign with our athletes, we will be sharing our stories about our way into sailing, our love for sailing and the opportunities it brings for everyone with or without a disability. And we are hoping for plenty of retweets and sharing over the next few days.
Sample facebook/post – please post and tweet:
International Paralympic Committee @Paralympic #REINSTATESAILING for the 2020 Paralympics! http://chn.ge/1zbZgqy via @UKChange #AusSailing
Thank you for your support to #ReinstateSailing!
See full statement of Yachting Australia with the support of the Australian Paralympic Committee about the decision here: www.australiansailing.org/yachting-australia-australian-sailing-team-statement-on-tokyo-2020-paralympic-sports-decision
_________________________________________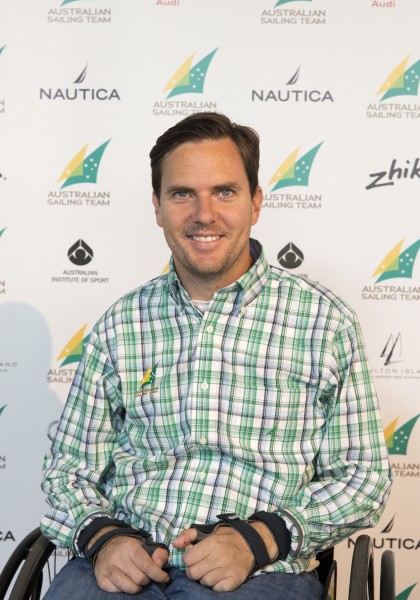 Daniel Fitzgibbon: Personal Mantra / Favourite Quote: All progress takes place outside the comfort zone. Personal Achievements: Many but defending our Paralympic title is one I'm aiming at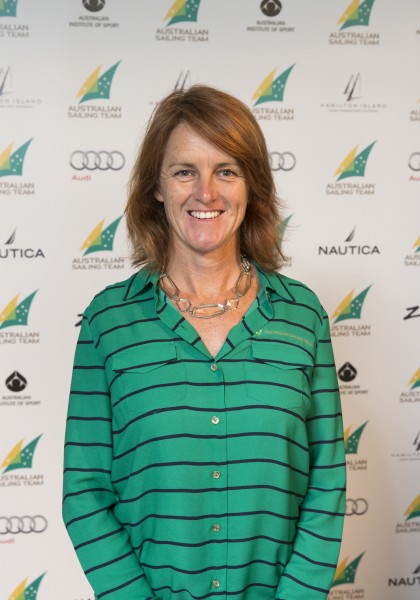 Liesl Tesch Advice to young sailors: Enjoy yourself!
On my day off, I go out on they coach boat to try and learn more!
_________________________________________
Let's get behind supporting this Pittwater - everyone knows how much all of us have benefited from the great work done through
Sailability Pittwater
,
Sailability Crystal Bay
and the wonderful
IdS Program
run through the Royal Prince Alfred Yacht Club - these are our local sailors, our people.
Their strength, diligence and dedication has inspired many to take to the water and excel. Their ability on the water is second to none. We need all our horizons to be expanded, and all our sportspeople to have an opportunity to be included.
Click on the petition and add your voice, tweet, post - use the photo embedded here (right click on and 'save as' before uploading) - let's ensure Fair winds and following seas are all our Paralympic sailors have to wish for.
A J Guesdon – Editor
Pittwater Online News.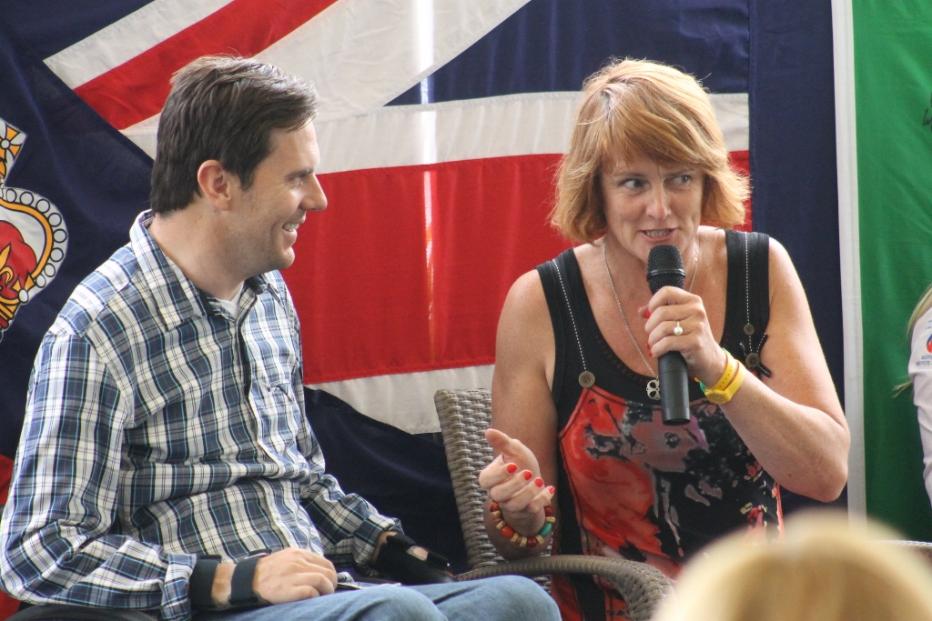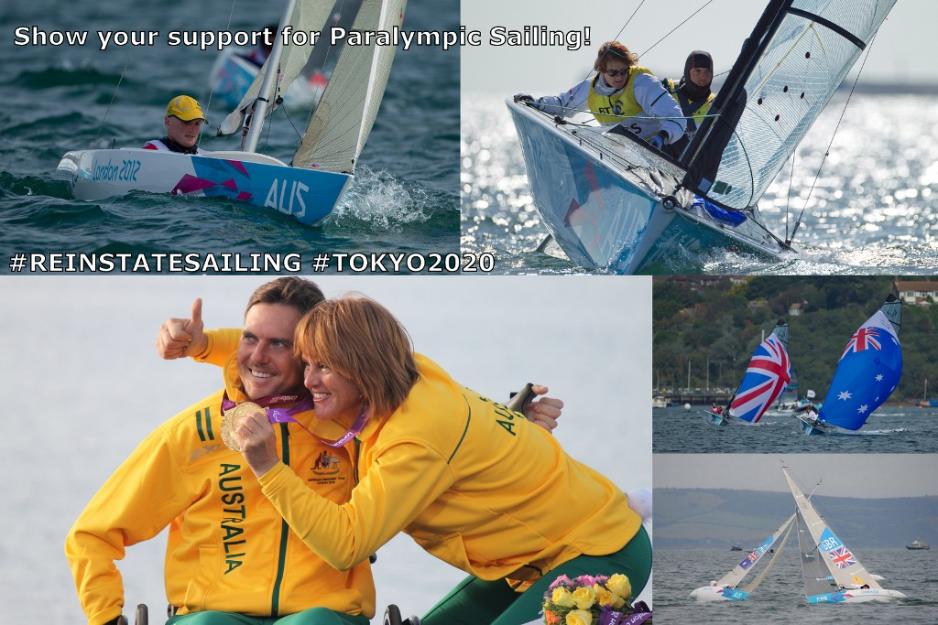 Montage of images courtesy Australian Sailing Team.