November 23 - 29, 2014: Issue 190
New kid on the block for Blackmores MC38 Pittwater Regatta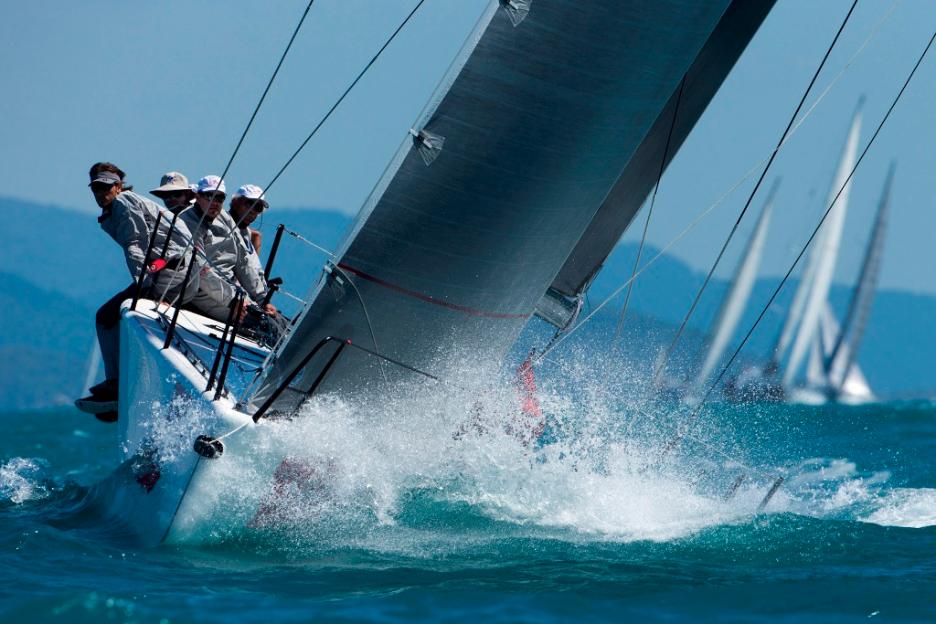 Current MC38 national champ Ginger at AHIRW - photo by Andrea Francolini.
New kid on the block for Blackmores MC38 Pittwater regatta
A noticeable three year absence from competitive sailing will come to an end for fast car and boat aficionado Neville Crichton when he debuts with his new MC38 at the Blackmores 2014 MC38 Open regatta the weekend of November 28 – 30, 2014.
Hosted by the Royal Prince Alfred Yacht Club at Newport on Sydney's northern beaches, the Blackmores sponsored one design event is the penultimate for the Australian MC38 Association's 2014 season.
Eight of the identical and exciting turn-on-a-dime harbour racers contesting an inshore series to the north of Scotland Island are going to add another dimension to the usual sights and sounds of a busy spring weekend on the popular waterway.
Prior to buying Maserati, which was delivered to Crichton by McConaghy Boats in early October, the high profile car distributor successfully crossed the ocean racing, one design and superyacht genres and amassed an astounding 174 victories.
The lead time to Maserati's first competitive appearance might be short, but there's enough know-how between the mixed age crew to preempt a respectable opening bout against the practiced fleet.
"We are the new boys on the block and it will be a steep learning curve," Crichton realises. "We've only sailed one weekend, but it felt pretty good. They are certainly exciting boats. We'll probably go for the odd swim in Pittwater during the Blackmores regatta. We'll learn very quickly. I have missed the competition and am looking forward to my first race with the class and the full MC38 program next year."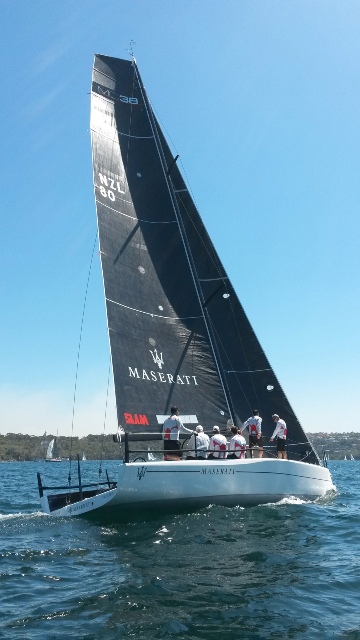 Maserati's tactician, North Sails' Michael Coxon, has re-joined his former boss from the days when Crichton's series of Alfa Romeo boats reigned over the oceans. A bunch of young hot shots being groomed for Maserati's MC38 campaign will add fresh talent.
Maserati's boat manager Wade Morgan says, "The MC38 is a tricky boat to sail first-up. We are working hard on mechanics, but nothing beats race practice. We've done what we can in the time frame and we expect the guys who have been in the class for a long time to be very strong against us."
Right: Maserati -1st training sail photo by McConaghy
Sponsorship from MC38 owners like Marcus Blackmore, who drives Hooligan, has boosted the kitty for the final two regattas and set the class up to deliver a new pointscore series that will run in 2015 from February to November and include the standalone Australian title at RPAYC in April, 10th - 12th.
Australian class president John Bacon, owner/driver of Dark Star, says sponsorship provides the means to expand opportunities for owners and crew on and off water. Resourcing for instant penalties via on-water umpiring and an expanded social program for the Blackmores series are two advantages already in effect.
The president is delighted to announce that Mark Richards from Palm Beach Motor Yachts is putting up a $1000 prize for a 'dash for cash'. Principal Race Officer Steve Merrington from RPAYC will declare which is the dash race after one of the 5 minute warning signals. It could be any race of the regatta so crews will need to be on their toes at all times for the winner-takes-all sprint.
Host club RPAYC is supporting the Blackmores 2104 MC38 Open with race management and an outdoor BBQ and marquee, the base camp for the crews and their families over the weekend. Paralympic gold medallist and ambassador for the club's Integrated disAbled Sailing program, Dan Fitzgibbon, will speak to MC38 crews and present trophies on the Saturday evening, November 29.
New owners with high business and sailing acumen, including Blackmore, Crichton and property developer Lang Walker, have injected plenty of gusto into the owner's group and strengthened the association.
On his time in the class so far Blackmore remarked, "In one-design you all end up back at the same club at the end of the day. Like in the Farr 40s, the interaction and camaraderie is really good, it cements the class. The MC38 is a full-on harbour racer, but limiting the number of pro crew and sails you can carry, and being an owner-driver class keeps the cost down, and that's a good thing."
Blackmore's first year in the class delivered Hooligan's crew third at the MC38 Australian championship at Audi Hamilton Island Race Week back in August.
The company he chairs is proud to support such a fantastic sporting event and will be providing wellbeing product gift packs to all competitors "to help them be their best in health for the MC38 series," says Blackmores PR Manager Amy Wagner. "Blackmores is very proud to support an event that encourages participates to get outside and get active, as well as a little healthy competition!"
Seven races are scheduled for the Blackmores 2014 MC38 Open. One race may be a passage race and all other races will be windward /leewards with each boat's final score the sum of all races.


The format for the Open is as follows;
Friday November 28:
1700-1830 Training session - starting drills and short non-points race
1900- Welcome function in MC38 marquee on RPAYC club lawn
Saturday November 29:
12 noon Four windward/leeward races
Presentation of Blackmores prizes for Boat of the Day and other awards, special guest Paralympic gold medallist Dan Fitzgibbon
Sunday November 30:
12 noon Two windward/leewards and one short passage race
1900 - Bowmen cook the BBQ, families & kids all welcome, live entertainment, trophy presentation
Entries:
1. Assassin, Robin Crawford (CYCA)
2. Dark Star, John Bacon (RPAYC)
3. Ghost Rider, Ross Hennessy (RPAYC)
4. Ginger, Leslie Green (CYCA)
5. Hooligan, Marcus Blackmore (RPAYC)
6. Kokomo, Lang Walker (multiple)
7. Maserati, Neville Crichton (RNZYS/CYCA)
8. Vino, Chris Hancock (MHYC)
Follow the regatta via Facebook www.facebook.com/MC38Class
Video of Maserati's first training sail www.youtube.com/watch?v=TdeMThhsEFE
17 NOVEMBER 2014 – by Lisa Ratcliff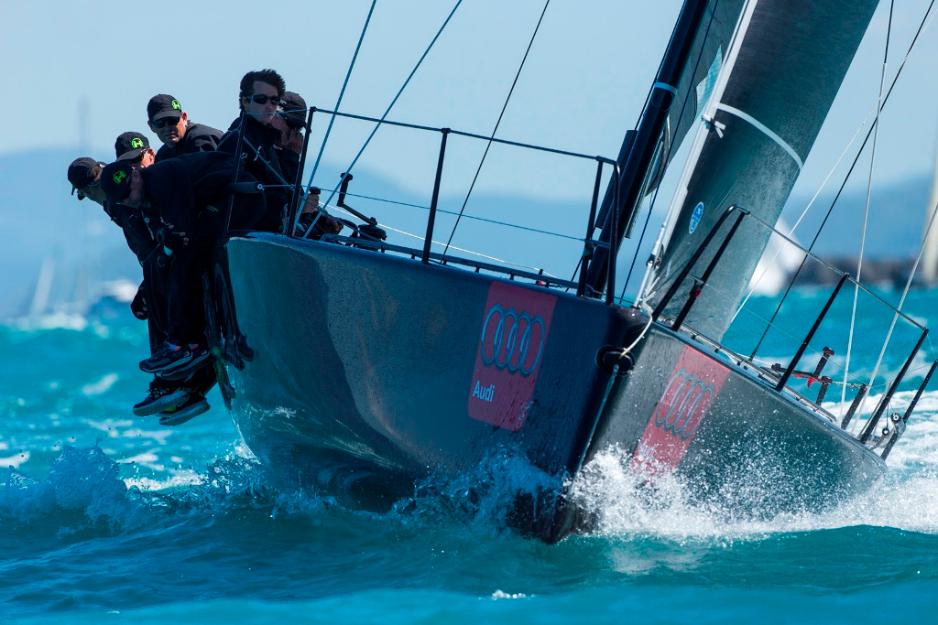 Marcus Blackmore's Hooligan at AHIRW - photo by Andrea Francolini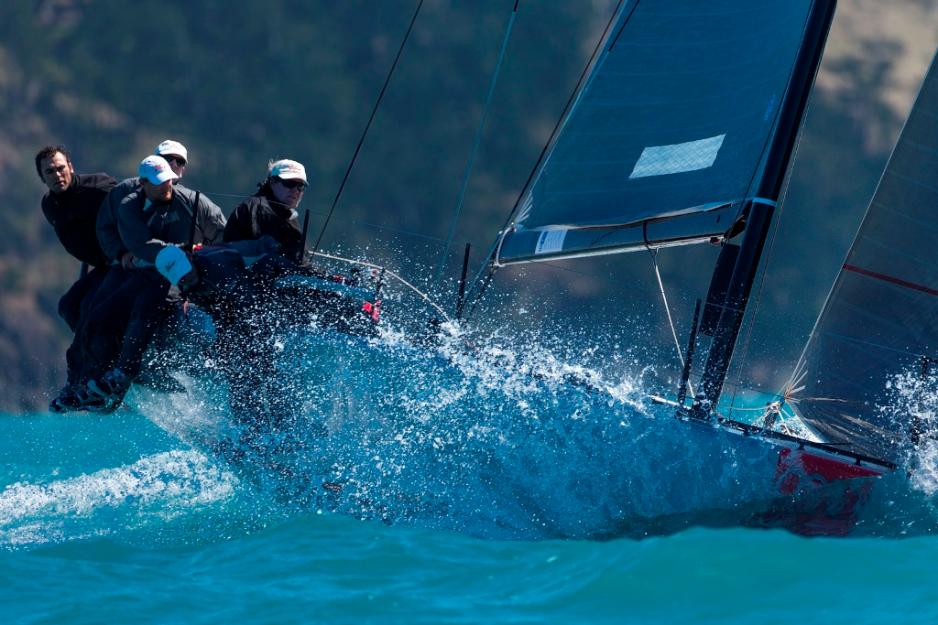 MC38 Vino - photo by Andrea Francolin