March 9 - 15, 2014: Issue 153
Fitzgibbon's charm offensive creates unique opportunity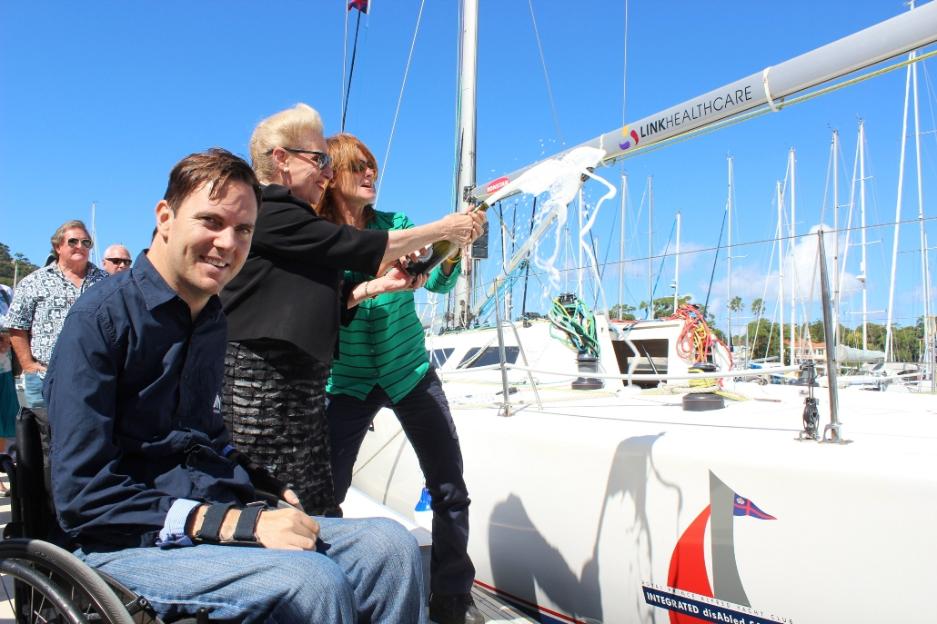 The christening ceremony with the Hon. Bronwyn Bishop MP and Liesl Tesch whilst Dan Fitzgibbon looks on - photo by Damian Devine.
Fitzgibbon's charm offensive creates unique opportunity
By Di Pearson
The Hon. Bronwyn Bishop MP launched the new Integrated disAbled Sailing (IdS) program keelboat, 'Another Challenge', in conjunction with 2012 Paralympic SKUD gold medallists Dan Fitzgibbon, OAM and Liesl Tesch, AM, at the Royal Prince Alfred Yacht Club on Friday 21 February.
In launching and re-christening 'Another Challenge' for the first of its kind program, Mrs Bishop said: "Dan you are a truly amazing person. We all have a range of skills and we all have things we can and cannot do – but we all should reach our maximum potential.
"You've proved there are no boundaries – and when we re-christen this boat 'Another Challenge', that's exactly what you will be doing," said Mrs Bishop, going on to praise all Australians "For holding out their hands to help each other."
The Sydney 38, originally owned by yachting legend Lou Abrahams and sailed in the 2011 Rolex Sydney Hobart by single-handed round the world sailor, Jessica Watson, has been adapted to suit the needs of all sailors with disabilities.
According to Fitzgibbon, a quadriplegic, "Anyone with a severe disability can use this technology. This is the first time it's been used in this way." The steering adaptions are similar to those the Paralympian uses to steer his SKUD. The seat moves on a roller rail from side to side and cants when the yacht tacks.
There are handrails throughout the yacht, and Fitzgibbon says, "We will make more adaptions once we are up and sailing and can see what is needed."
Long term, the sailor hopes similar programs are up and running in other Australian clubs and overseas.
The brainchild of Fitzgibbon, who for some time has wanted the challenge of sailing as part of a mixed able-bodied and disabled crew, the dream has finally become a reality because of his 'charm offensive', according to the program's sponsor Link Healthcare Chairman & CEO, John Bacon.
"Dan cast a spell. When he weaves his magic, you can't say no to him," says Bacon of sponsoring the new IdS program, an initiative of the Royal Prince Alfred Yacht Club, which has been right behind Fitzgibbon and Tesch since they used the Club to train for the 2012 Paralympic Games in London.
"The Alfred's has been very supportive of us. We wanted to get involved in the Club's racing program and social activities – so this is the idea behind the IdS program," explained Fitzgibbon, who also skippered the SKUD to Silver at the 2008 Beijing Paralympics.
"The way to do it was to modify an existing yacht. But to do that, we needed a sponsor and that's where the Club, John Bacon and Simon Grosser (RPAYC directors) got right behind it," he said.
"I came and explained my dream to them and asked them, 'How do I do it?' and John said: 'Let's just make it happen', said Fitzgibbon, who with his SKUD crew Tesch, are IdS ambassadors. "I can't thank them enough," he said.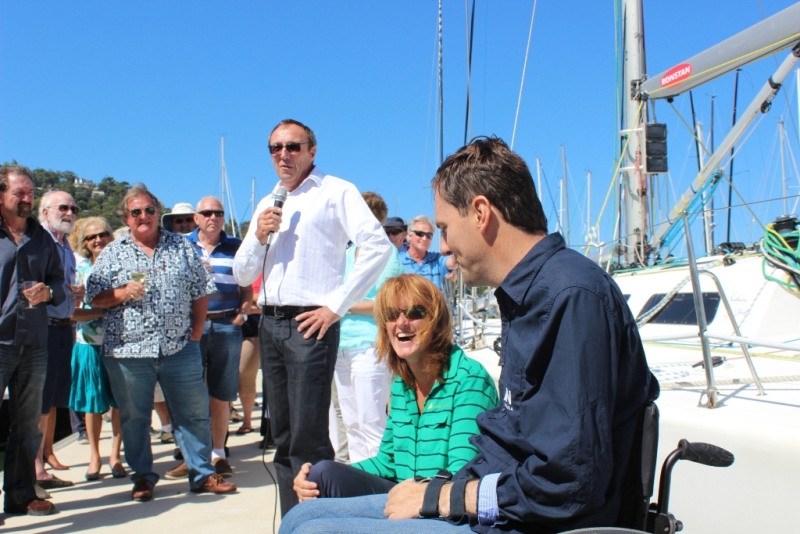 RPAYC Chairman & Link Healthcare CEO & Chairman John Bacon opened proceedings - photo by Damian Devine
For Bacon, "It only took 20 minutes," to decide to sponsor the project. "When it came to paying, I had to swap hats from RPAYC director to businessman," he said laughing.
"Dan is spell-binding. We spent 300 percent of our philanthropic budget for his dream. We just couldn't let it fall apart and so we and the Club are involved for at least the next three years," Bacon, a one-design sailor said.
"We organised a ball and raised $20,000 from that alone. It complemented the funds we had allocated (Link Healthcare, a privately owned Australian-based specialist Pharmaceutical and Medical Technology business).
One of the key objectives of IdS is to integrate sailors with disabilities into regular, inclusive for all, RPAYC club racing. The acquisition and modification of Another Challenge to accommodate sailors with disabilities means this objective has been realised.
Fitzgibbon will skipper the yacht in Wednesday and Saturday inshore and offshore club races and the Pittwater to Newcastle race in April. Others, including another well-known disabled SKUD skipper, Ame Barnbrook, will also take their turn at the helm, according to Liesl Tesch, who also has three Paralympic medals from five Games in Wheelchair Basketball.
"We'll have a mix of sailors, including some of the best in the able-bodied business, like Larry Cargill (ex 18 foot skipper sailor and Performance sailing coach) and disabled sailors. We want to be competitive – we want to be the best," the effervescent school teacher/sportswoman said as she sprayed champagne at the re-christening.
Already some who have come through Sailability (a non-profit organisation that operates internationally and promotes sailing 'for everyone) have put their hands up to try out on the yacht through the IdS program, which aims to promote and support inclusivity for keen sailors of ALL ages and disabilities.
For further information on the program, how to get involved and fundraising, go to: wwwrpayc.com.au/ids or phone the RPAYC on 9998 3700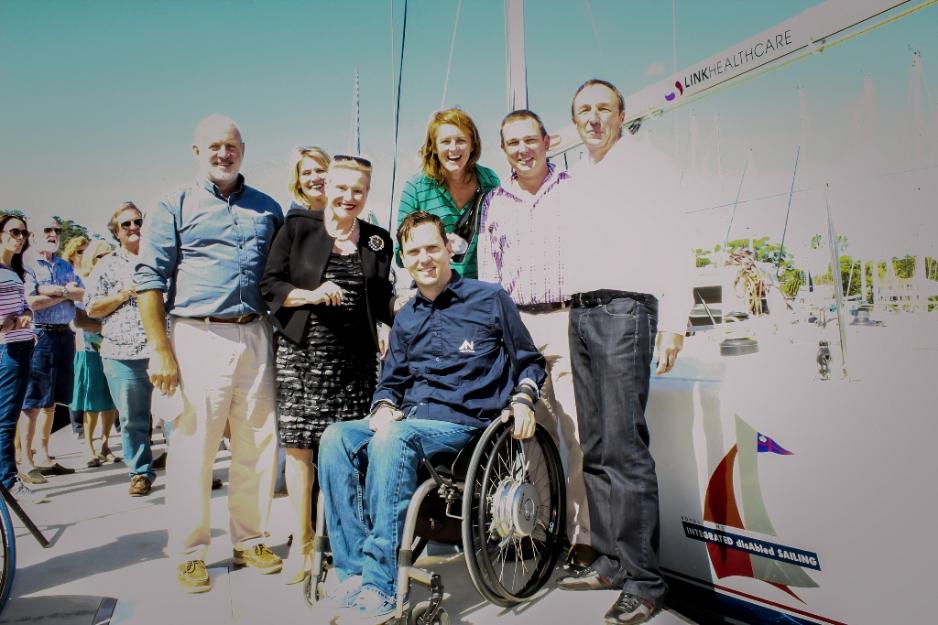 L to R: Simon Grosser - Director RPAYC, Suzanne Davies - General Manager RPAYC, Hon. Bronwyn Bishop MP, Dan Fitzgibbon (OAM), Liesl Tesch (AM), Nic Shortis – Managing Director Link Healthcare, John Bacon – Chairman RPAYC/ Chairman & CEO Link Healthcare - photo by Damian Devine.
Copyright Di Pearson, Photos by Damian Devine, 2014.