November 30 - December 6, 2014: Issue 191
Dark Star Rises Early at Blackmores Pittwater Regatta - 2014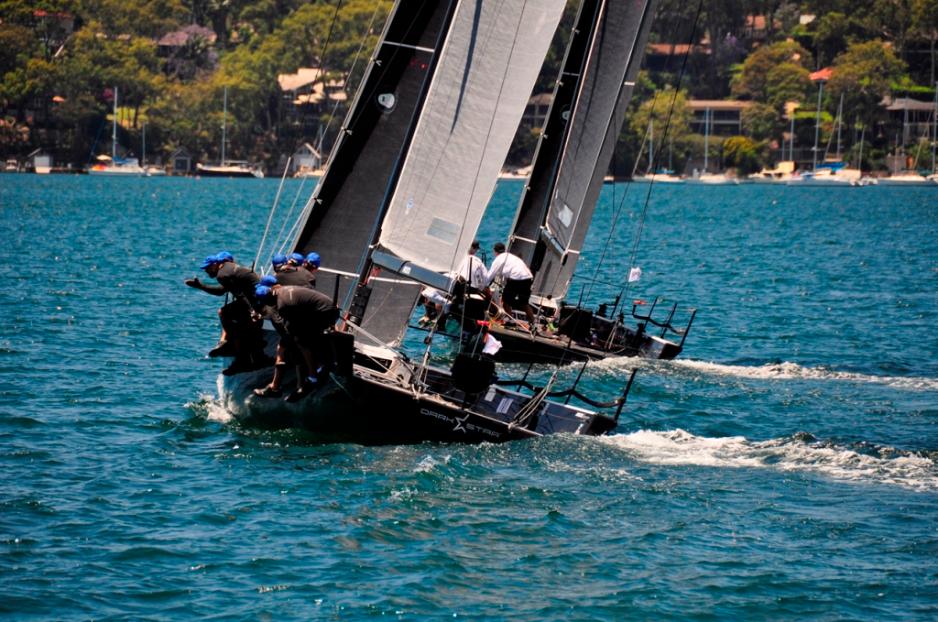 Dark Star rises early at Blackmores Pittwater regatta
29 NOVEMBER 2014
The local MC38 Dark Star took the early series lead on the magic opening day of the Blackmores MC38 Open regatta, a result of tidy crew work rather than local knowledge assures owner John Bacon.
Four races into the seven race series and Dark Star from the host Royal Prince Alfred Yacht Club leads Lang Walker's Kokomo by two points and Marcus Blackmore's Hooligan, another RPAYC boat now third though on equal points with Kokomo.
A tight and busy course area to the north of Scotland Island and variable winds that began at 8 knots and finished up a decent 15-18 knots out of the north east sorted the best from the rest. In the light stuff mistakes could be covered up, under pressure cracks appeared.
Penalty turns, spinnaker twists and a kite trawling under an MC38 plus halyard issues on Assassin changed the dynamics and the order in race three, a key juncture. Dark Star was last in the fleet due to an infringement called by an on-water umpire. Their crew work was their salvation and they climbed back through the fleet to finish fourth. Combined with two thirds and another fourth, this comeback secured them the clubhouse leader badge.
"A bit of patience in race three paid off," admitted Bacon, the newly crowned Melges 24 state champion. Two of his MC38 crew, tactician Cameron Miles and crewman Craig Pocklington, were also part of Roger That's Melges victory last weekend at Lake Macquarie.
Bacon reckons there was no advantage in knowing Pittwater's many nuances. "It was really shifty and there was no benefit being a local. Today was all about crew work. With the new owners joining the ranks the racing is getting faster and more furious, and that's putting the pressure on everyone."
The fleet of eight began tentatively. As the breeze built so did the confidence level and on the final fourth race, announced as the 'dash for cash' race by Principal Race Officer Steve Merrington, the crews unloaded.
Mark Richards from Palm Beach Motor Yachts put $1000 on the table and Neville Crichton's Maserati crew rose to the challenge, scoring their first bullet in their inaugural MC38 regatta. Crichton's boat manager Wade Morgan joked, "We saw a new level of intensity from Neville when he thought he could get a grand off Ricko."
Robin Crawford's Assassin started the final race then headed ashore to successfully repair a halyard problem so they can line up again tomorrow, Sunday November 29, 2014.
"It's great sailing with good people in these impressive boats," said Crawford at the RPAYC this afternoon. "Before we broke the halyard we were mid-fleet and hadn't been spat out the back."
Some in the high-tech MC38 one design fleet have the means to secure the best Australian sailing talent money can buy. Pittwater prodigy and Kiwi America's Cup strategist Adam Beashel on Hooligan, dual Olympic gold medallist Malcolm Page on Kokomo and numerous world champions and the highly skilled among the MC38 crews work hard to improve the owner's chances of coming away numero uno at regattas such as the Blackmores Open.
Proudly Crawford volunteers that his is the true Corinthian crew, "complete amateurs bar one professional and all a bunch of mugs," he says affectionately, nodding towards his long-time crew of friends relaxing at the end of a difficult day.
The RPAYC at Newport is hosting the Blackmores 2104 MC38 Open and is the base camp for the crews and their families over the weekend. Paralympic gold medallist and ambassador for the club's Integrated disAbled Sailing program, Dan Fitzgibbon, spoke to the MC38 crews this afternoon about his hopes for the Rio Games and also his Sydney 38 program and possibly an entry in next January's Club Marine Pittwater to Coffs Yacht Race.
Seven races are scheduled for the Blackmores MC38 Open. The PRO is proposing sending the fleet around Lion Island tomorrow for their passage race and running two remaining windward/leewards with each boat's final score the sum of all races. Nor'easters 15-20 knots are forecast for the concluding day of racing.
Blackmore's MC38 Open Regatta 2014
Updated: 29/11/2014 3:37:22 PM
Series Results [OD] for Mc38 up to Race 4
Place Ties Sail No Boat Name Skipper From Sers Score Race 4 Race 3 Race 2 Race 1
1 38002 DARK STAR John Bacon RPAYC 14.0 3.0 4.0 3.0 4.0
2 38883 KOKOMO Lang Walker CYCA 16.0 6.0 1.0 1.0 8.0
3 521 HOOLIGAN Marcus Blackmore RPAYC 16.0 5.0 3.0 6.0 2.0
4 38011 GINGER Leslie Green CYCA 17.0 4.0 8.0 4.0 1.0
5 80 MASERATI Neville Crichton RNZYS-CY 18.0 1.0 5.0 7.0 5.0
6 403 GHOST RIDER Ross Hennessy RPAYC 19.0 2.0 2.0 8.0 7.0
7 101 VINO Chris Hancock MHYC 19.0 7.0 7.0 2.0 3.0
8 49 ASSASSIN Clare Crawford CYCA 26.0 9.0R 6.0 5.0 6.0
Individual and progressive scores at www.rpayc.com.au/results/2014/events/BlackmoresMC38Open/series.htm
Follow the regatta via Facebook www.facebook.com/MC38Class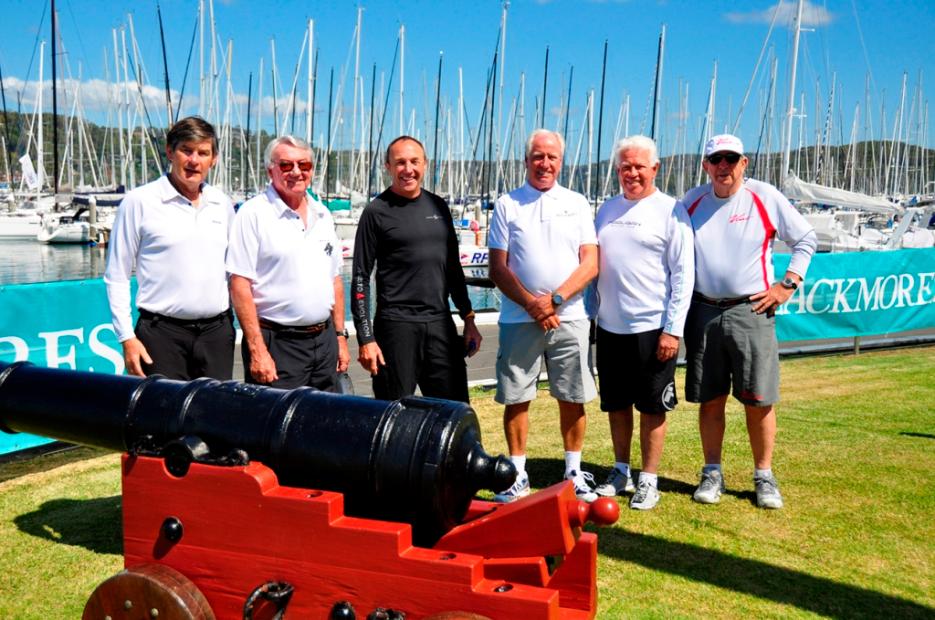 MC 38 Owners - Blackmores Pittwater Regatta - 2014.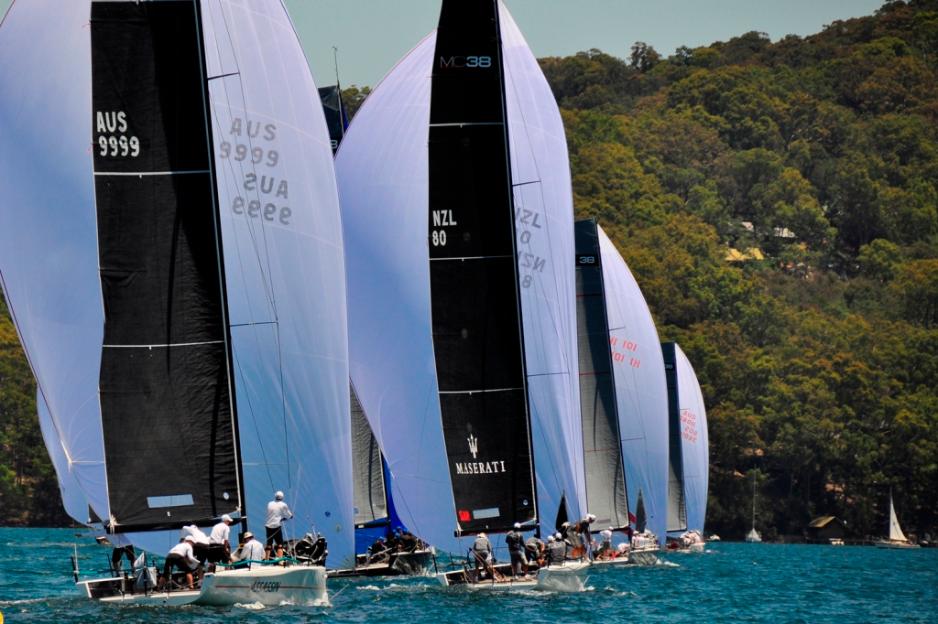 Blackmore's Pittwater Regatta fleet - downwind
Report by Lisa Ratcliff - Photography by Bob Fowler, 2014.