October 25 - 31, 2015: Issue 237
Yachting Australia Awards 2015: Pittwater Sailors Nominees and Finalists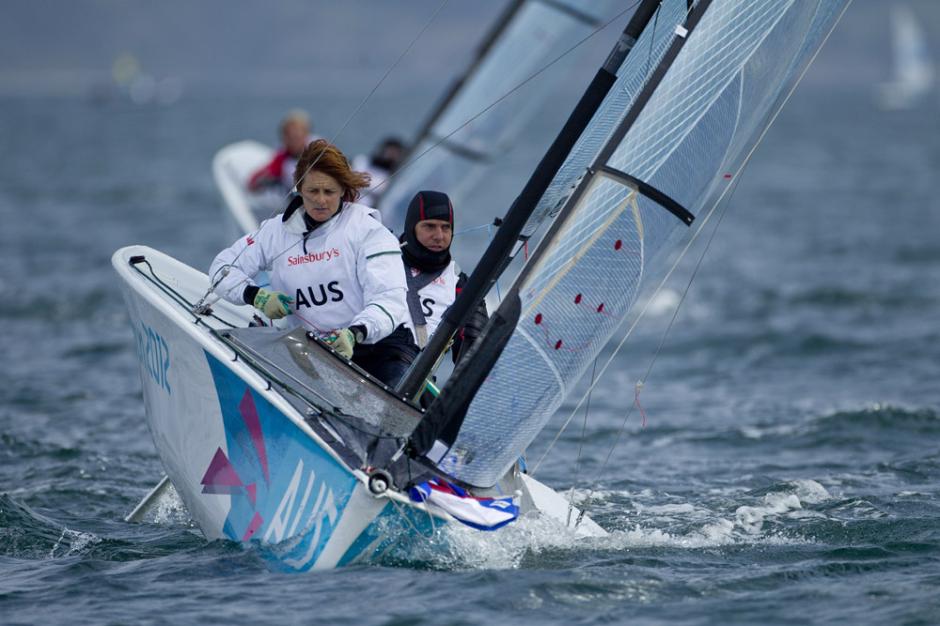 Daniel Fitzgibbon & Liesl Tesch - campaigns aren't always sailed in sunny weather!
Yachting Australia Awards 2015: Pittwater Sailors Nominees and Finalists
October 20, 2015

Recognising the achievements and acknowledging the contribution of members of the sailing community will take place at the annual Yachting Australia Awards 2015 to be held in Sydney on Friday 6 November.
The Yachting Awards date back to 1962 when Jock Sturrock took home the inaugural Australian Yachtsman of the Year trophy and since then, the Awards have continued to recognise sailing achievement as well as acknowledging the contributions made by many who have supported and grown sailing and boating over the years.
Several Pittwater sailors were nominated this year, including James Colley, Annie Wilmot, Natasha Bryant, Shaun Connor and Sophie Renouf in the Youth Sailor of the Year category, while one of our regular Contributors and favourite Pittwater scribes on all things aquatic, Lisa Ratcliff, was nominated by RPAYC for the Sports Promotion Award.
The Royal Prince Alfred Yacht Club's Commodore, Ian Audsley, confirmed early this week that Robert Oatley and Bill Buckle who were nominated by the Club for the Life Time Achievement have been confirmed as Finalists.
Earlier this week Yachting Australia announced t
he 2015 Finalists in 11 categories representing a wide array of sailing achievements, both nationally and internationally, and individuals and Clubs are acknowledged for their skills, dedication and promotion of our sport.

Two individuals will also be honoured with the Lifetime Achievement Award for their involvement in sailing, each having started their sailing careers more than 70 years ago.

Recognising achievements in the period September 2014 to September 2015 - finalists in the Male Sailor of the Year are:
Seven time A-Class Catamaran World Champion and Team New Zealand skipper Glenn Ashby; three-time World Champions in the 470 Mathew Belcher and Will Ryan as a pair and record-breaking six successive titles for Mat Belcher; World Number One over the last year and three-times World Cup winner (Abu Dhabi, Melbourne, Hyères) in the Laser Tom Burton; Volvo Ocean Race champion as bowman/helmsman on the Abu Dhabi Ocean Racing team Luke Parkinson; and Nacra 17 World #1, 2015 Rio Test event winner and two-time World Cup winner (Melbourne, Weymouth/Portland) and World Championship silver medallist and successful helmsman on Team Red Bull at the Extreme 40s Jason Waterhouse.

Finalists for Female Sailor of the Year are:
member of the all-female Team SCA, who placed 6th in the Volvo Ocean Race Sophie Ciszek; Nacra 17 World #1, 2015 Rio Test event winner and two-time World Cup and World Championship silver medallist Lisa Darmanin; member of the 6th-placed all-female team of Team SCA in the Volvo Ocean Race Stacey Jackson; and 49erFX skiff sailor Tess Lloyd who overcame major head surgery three years ago and beat the odds to get back on the water and qualified the boat for Australia for Rio 2016 as the top-ranked Australian at the 2014 ISAF Sailing World Championships.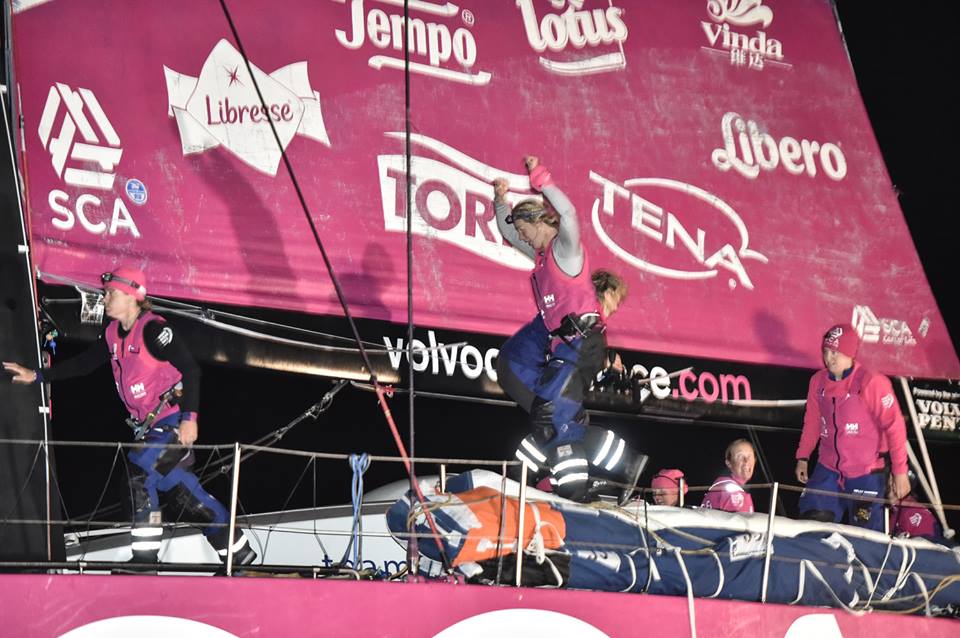 Stacey Jackson and crew member
Sophie Ciszek -
with the all women's SCA Team Team SCA crossing the finish line in Lorient - first time in 25 years an all-female crew wins a leg of the
Volvo Ocean Race.
Photo by Ricardo Pinto / Volvo Ocean Race
Finalists for Sailor of the Year with a Disability are:
Australian Champion and World Cup winner and silver medallist in the International 2.4m class Matt Bugg; Paralympic Champs, the dominating force and dual world cup winners this season in the Skud 18 Daniel Fitzgibbon and Liesl Tesch; World Cup winners and silver medallists in the Sonar Colin Harrison, Jonathan Harris and Russell Boaden; Australian Hansa 2.3 Class Champion and Special Olympic World Summer Games gold medallist in the Laser 4.7 Allister Peek; and Special Olympic World Summer Games gold medallists Alyse Saxby and Melissa Nelson in the Level 3 Cal 20.

Finalists for Youth Sailor of the Year are:
International Cadet World Title winners Sam Abel and Hugo Allison; International Optimist World Championships sailor Otto Henry; World Laser Radial Youth World Champion Conor Nicholas; 29er World Champions and Australian Youth Champions Kyle O'Connell and Tom Siganto; and Laser Radial Australian Youth Champion and Open National Champion Alistair Young.

Finalists for the Sport Promotion Award are:
Kite The Reef – a Guinness World Record breaking kitesurf over 10 days across the Great Barrier Reef by 8 kitesurfers to raise money for Motor Neurone Disease and promote the sport; and the Sorrento Sailing Couta Boat Club for their hosting of the International Moth World Championship with 167 competitors representing 13 nations completing 25 races over ten days.

Finalists for the Sport Professional Award are:
Derwent Sailing Squadron Sailing Manager Michael Denney; Sailing Manager of the Cruising Yacht Club of Australia Justine Kirkjian; and General Manager of the Royal Brighton Yacht Club Eric Wegman.
Finalists for the Volunteer Award are: WA media broadcaster and racing commentator Ed Fethers; Port Vincent Sailing Club's driving force Doug LeFeuvre; and long serving Victorian race manager and judge Paul Pascoe.

Finalists for the Club of the Year are:
Noosa Yacht and Rowing Club for their outstanding youth programs; the Royal Freshwater Bay Yacht Club for their established mentor programs; and the Sorrento Sailing Couta Boat Club for their event management and membership retention.

The finalists for Official of the Year are:
Race Officer, trainer and administrator Alan Carlisle OAM; Race Officer and Race Management professional Andy Curnow; and Victorian Race Officer Geoff Eldridge.

The finalists for Instructor of the Year are:
Sandringham Yacht Club's Riccardo Deghi; Keelboat instructor at the Fremantle Sailing Club Nickie Jones; and Senior Dinghy Instructor and Senior Powerboat Instructor Ashley Stephens.

The finalists for Coach of the Year are:
Fremantle Sailing Club's and Australian Sailing Youth Team coach Tristan Brown who, amongst others, coached Conor Nicholas to the World Title at the Laser Radial Youth World Championships; head coach and life member of the Royal Geelong Yacht Club Tony Bull; and Club Coach and Senior Dinghy Instructor at the Townsville Sailing Club Danny Fuller.
The Yachting Australia Awards will be held on Friday 6 November at Doltone House, Darling Island Wharf Pyrmont Sydney. A limited number of tickets are available to purchase by emailing
awards@yachting.org.au
or calling 02 8424 7413.
Full list of finalists announced with winners to be presented at the Yachting Australia Awards 2015 on Friday 6 November in Sydney.

Male Sailor of the Year
Glenn Ashby
Mathew Belcher & Will Ryan
Tom Burton
Luke Parkinson
Jason Waterhouse

Female Sailor of the Year
Sophie Ciszek
Lisa Darmanin
Stacey Jackson
Tess Lloyd

Sailor of the Year with a Disability
Matt Bugg
Daniel Fitzgibbon & Liesl Tesch
Colin Harrison, Jonathan Harris, Russell Boaden
Allister Peek
Alyse Saxby & Melissa Nelson

Youth Sailor of the Year
Sam Abel & Hugo Allison
Otto Henry
Conor Nicholas
Kyle O'Connell & Tom Siganto
Alistair Young

Sport Promotion Award
Kite the Reef
Sorrento Sailing Couta Boat Club

Sport Professional Award
Michael Denney
Justine Kirkjian
Eric Wegman

State Yachting Associations were invited to submit nominations and these will also be presented at the Awards evening.


Volunteer Award
Ed Fethers (WA)
Doug LeFeuvre (SA)
Paul Pascoe (Vic)

Club of the Year
Noosa Yacht and Rowing Club (Qld)
Royal Freshwater Bay Yacht Club (WA)
Sorrento Sailing Couta Boat Club (Vic)

Official of the Year
Alan Carlisle OAM (Qld)
Andy Curnow (WA)
Geoff Eldridge (Vic)

Instructor of the Year
Riccardo Deghi (Vic)
Nickie Jones (WA)
Ashley Stephens (Qld)

Coach of the Year
Tristan Brown (WA)
Tony Bull (Vic)
Danny Fuller (Qld)