December 6 - 12, 2015: Issue 243
Congratulations
Jason Waterhouse and Lisa Darmanin: Selected for Rio 2016 Olympic Team - Sailing Nacra 17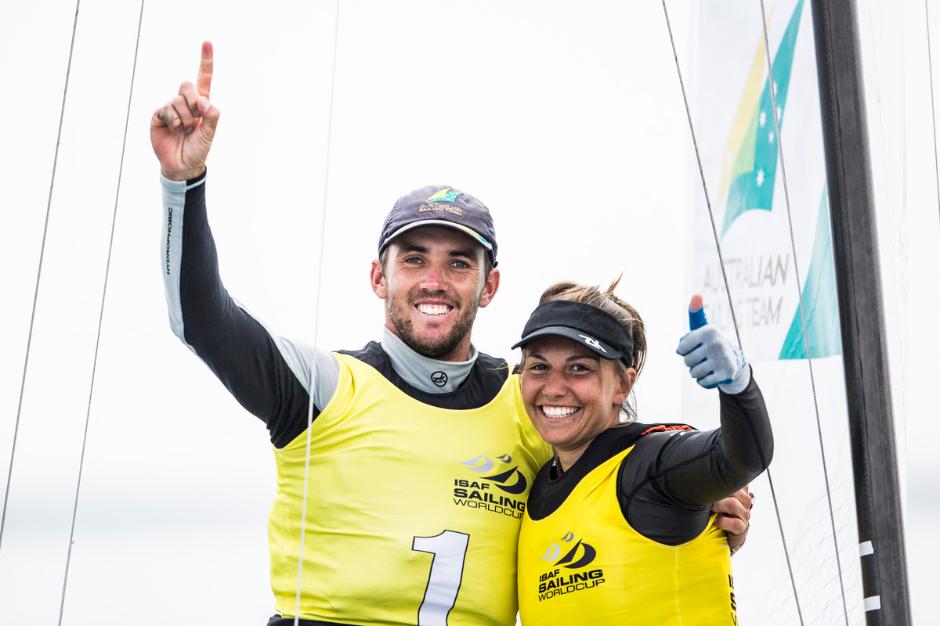 Jason Waterhouse & Lisa Darmanin Gold Medalists at ISAF Sailing World Cup Weymouth 2015. Photo by and courtesy Pedro Martinez Sailing Energy
First sailors selected for Rio 2016 including three defending champions
By AST Comms, December 4, 2015
At the London 2012 Olympic Games the Sailing Section was the shining light of the Australian Olympic Team, winning three gold and one silver medal.
With medallists from 2012 continuing and new crews making podiums around the world, expectations are high for another successful Olympic sailing campaign at Rio 2016.
In Sydney the first six Australian Sailing Team sailors to be selected by the Australian Olympic Committee were announced today, including three gold medallists from London 2012.
Men's Two Person Dingy - 470M
Olympic 470 Champion Mathew Belcher will be looking to defend his title in Rio. Since London he has new crew but the gold medals and awards have kept flowing. Will Ryan, 26, will make his Games debut and as the 470 men's World Champions the pair will be the boat to beat.
Ryan replaced two-time Olympic gold medallist Malcolm Page who retired from the class, with the new combination continuing the golden streak to win three world championships in a row. They have finished on the podium at all major regattas including the Rio Test Event this year.
Belcher, 33, said it's an honour to go to his second Games.
"Anytime you can represent your country is special… ever since I was a kid, going to the Olympics was all I wanted and to go to my second Games is just amazing.
"A lot of people don't realise how much Will was involved in the London campaign. I've seen him grow and to share that excitement and put on the uniform together will be special."
The duo are eyeing gold off Rio from the Marina da Gloria sailing venue.
"Our preparation is getting the best out of our performance and hopefully that's enough to win," Belcher said.
After competing in Rio multiple times over the last four years, Ryan said the Games are going to be spectacular.
"I think Rio 2016 is going be a really special place. The culture is just so special and I think there'll be a lot of energy," he said.
"It's obviously extremely special to make my first Olympic team. It is something that I have been working hard toward for a very long time, and hopefully satisfying for all the people who have helped me on my journey to this point so far.
"There is an unbelievably impressive history associated with the Australian Olympic Athletes and Teams of the past and I feel very honoured to be able to join the likes of their names as being an Australian Olympic athlete."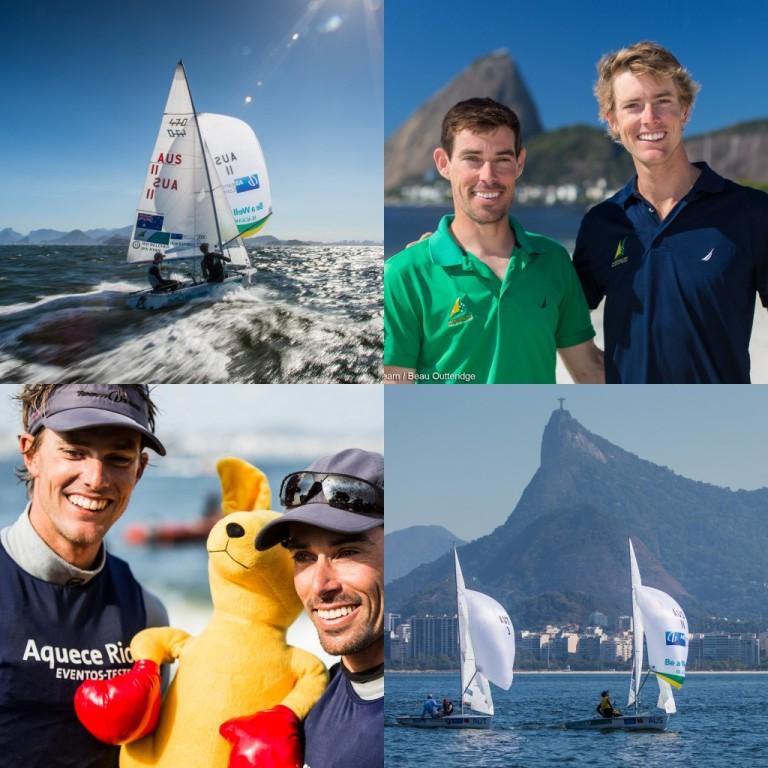 Men's Skiff - 49er
Racing the 49er class will be defending Olympic champions Nathan Outteridge and Iain Jensen. In 2012 the duo from Lake Macquarie in NSW were so successful they were assured of a medal before the medal race, on the waters of Weymouth. Outteridge had overcome a difficult Beijing 2008 Games where he capsized in the final race to finish fifth.
After London the pair joined Artemis Racing for the America's Cup with Outteridge as skipper. The pair are also focused on their Olympic class and posted strong results, including a second at the World Championships in Buenos Aires, Argentina.
Jensen, 27, and Outteridge, 29, are both currently in Bermuda training at their overseas base.
"It's great to be selected for the Rio 2016 Games, to be able to go to Rio and perform and win a medal like we're hoping to do, it's obviously part of the process to get there," Outteridge said.
"I think now securing selection it gives us a bit more to focus on, knowing that you have the spot, and for us heading into Rio in December for another practice event there.. it's all about working together as a team to help us improve."
The pair said they're biggest competition at Rio is set to be New Zealand's Peter Burling and Blair Tuke who are the current World Champions.
"I guess we're in a very different spot than we were four years ago, we had only lost a couple of regattas in the four year cycle last time. At the moment we're really struggling to take a regatta off the Kiwis so it's a completely different place for us at the moment but we're still trying to move forward and get that extra jump required to win," Jensen said.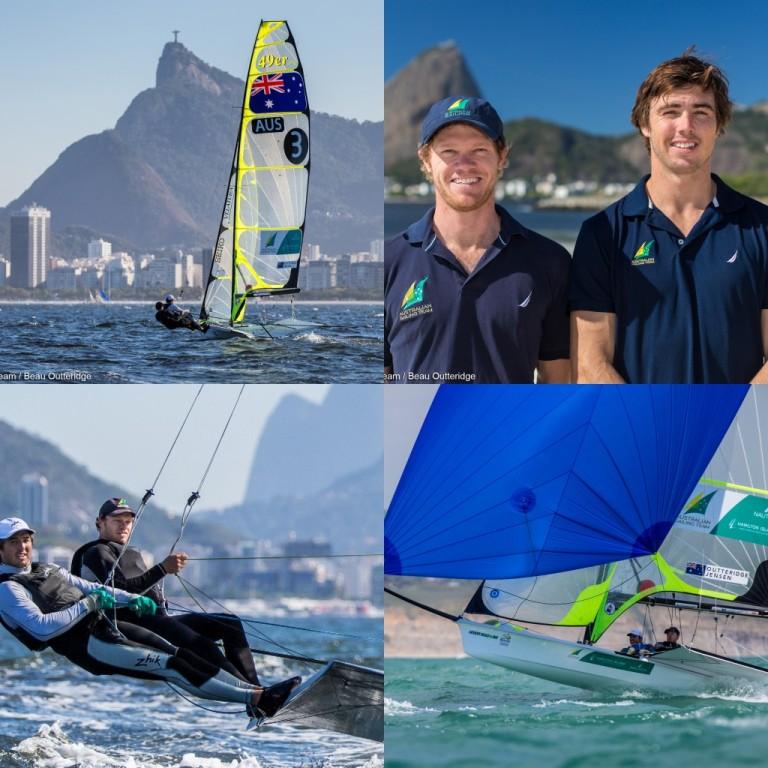 Mixed Multi-Hull - Nacra 17
Cousins Lisa Darmanin and Jason Waterhouse will make their Olympic debut in the Nacra 17 mixed multi-hull, with the event new on the program for Rio 2016.
Both 24 and from Sydney's northern beaches, the pair have been sailing together for eight years.
"To make the Australian Olympic Team is a surreal feeling, it has definitely not sunk in yet," Darmanin said.
"What's even more special is doing it with my cousin Jason, we are only 6 weeks apart and grew up together, we are very different people but we are perfect on the boat together and the best of friends, so to make the Team with him is incredible and it's great that it is also a big family celebration.
"The goal for Rio 2016 is a Gold Medal for Australia. This has been the goal since day one and we don't intend to slow down now that we are getting a tracksuit.
"The preparation is going really well, we've had a great productive three months training in Australia since the Test Event and will head to Rio tomorrow to learn more about the venue and the environment so we are best prepared in eight months' time."
The pair claimed their first overseas medal together in 2009 winning the ISAF Youth Worlds in Buzios, Brazil.
It's been a successful 2015 for Darmanin and Waterhouse, winning the Rio Test Event and finishing second at the World Championships. Darmanin was also named Australian female sailor of the year last month.
"Our focus is strong and going back to Brazil reminds us how it all began and how far we've come. We've won two out of two in Brazil (The Youth Worlds and Test Event) so looking forward to the continuing that strike rate next year," Darmanin said.
Waterhouse said selection brings them closer to the aim of a podium finish next year.
"It's a goal we've been working towards for a long time and it's a relief, it's a stepping stone to gold at Rio," Waterhouse said.
"It's special to get to go to the Olympics with family. Our families support has been amazing."
Further selections to the Sailing Section of the 2016 Australian Olympic Team will take place in May, with a total of 12 sailors expected after nine Olympic boat classes have secured country qualification for Australia.
Australia has secured a spot at the Rio 2016 Olympic Games in the Men's and Women's 470, Laser, 49er, 49er FX, Nacra 17, Finn, Women's RS:X as well as Laser Radial. The men's RS:X is the only boat class Australia did not expect to qualify.
In other classes the nomination process is ongoing and competition super tight. In men's Laser, Tom Burton and Matt Wearn are both ranked in the top three in the world and only one boat can be entered per country.
Sailing at the Rio 2016 Olympic Games will take place from Monday 8 August – Friday 19 August at Marina da Gloria, in the Copacabana region of Rio.
Australian Sailing Team Athletes selected so far to the sailing section of the 2016 Australian Olympic Team:
Athlete Class Age From
Mathew Belcher 470 M 33 Gold Coast, QLD / Hamburg, Germany
Lisa Darmanin Nacra 17 (mixed) 24 Sydney, NSW
Iain Jensen 49er 27 Lake Macquarie, NSW / Bermuda
Nathan Outteridge 49er 29 Lake Macquarie, NSW / Bermuda
Will Ryan 470 M 26 Sydney, NSW
Jason Waterhouse Nacra 17 (mixed) 24 Sydney, NSW
Additional AOC Info:
Modern Pentathlete siblings Max Esposito and Chloe Esposito were the first members of the 2016 Australian Olympic Team named back in July. The addition of these six sailors has the current team now standing at eight athletes. The next selections are expected to be Canoe-Slalom in February. By the middle of July 2016 an anticipated 450 athletes will have been selected.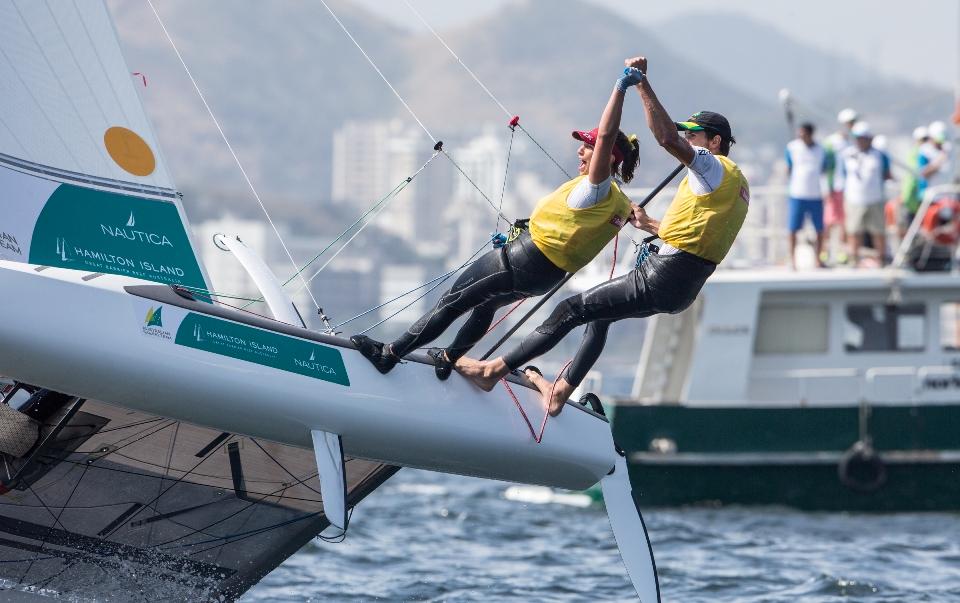 Jason Waterhouse and Lisa Darmanin win 2015 Rio test event - photo ©Jesus Renedo / Sailing Energy / ISAF
Congratulations Objective Future Champions Jason Waterhouse and Lisa Darmanin on your selection to represent Australia in the 2016 Rio Olympic Games.
To go for gold, first one must make the starting line. Today is not the realisation of the goal, today is the realisation of the opportunity to go for the goal. To go for GOLD!
A great deal of literature and examples exist supporting the 10 year/ 10 thousand hours of deliberate practice associated with the achievement of excellence. It's no coincidence that 2015 is the 10 year milestone of your teams commitment towards deliberate practice, towards the achievement of excellence.
Today attention will be centred on the amazing victories that reward you with this opportunity to make the start line.
It would be wrong however to not also celebrate the open minded character, resilience, determination and positive attitude required to overcome the 99 failures you have encountered along the way to achieving each victory.
All young sailors aspiring to follow in your footsteps but constantly falling on their face should take note that its your proven ability to pick yourself up, dust yourself off, take away a lesson and apply it in going forwards that has got you to this point.
There has been nothing easy about your journey and that's why you thoroughly deserve this opportunity to test yourself against the worlds toughest competitors in the worlds toughest competition… The Olympic Games.
You are an inspiration to the Future Champions who today will continue their journey on the water as they strive towards 2024, falling on their faces, dusting themselves off, learning, applying and getting on with the job of achieving excellence.
Well done!
Objective Future Champions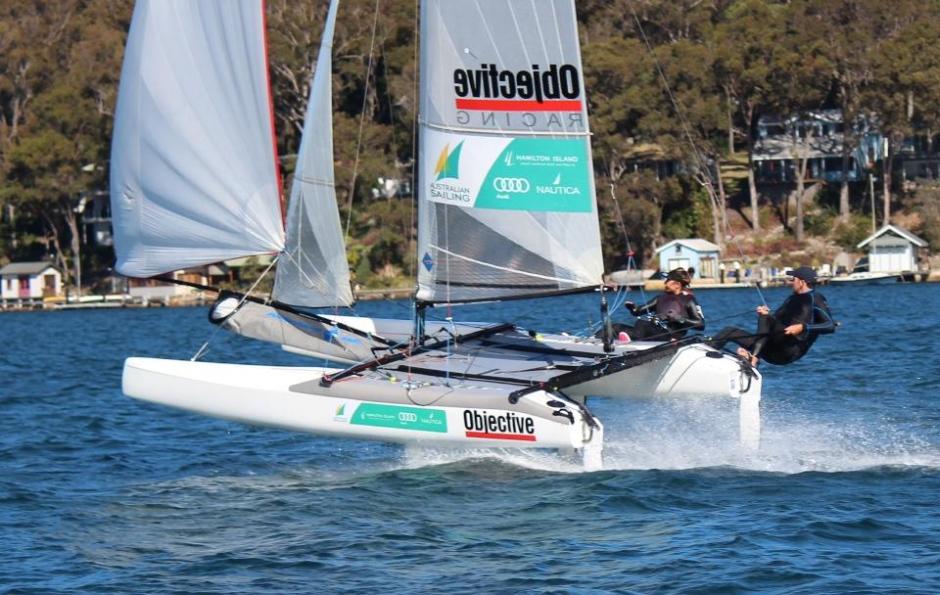 Scotland Island residents have had a 10 year corporate box view of Jason's development. Here learning how to foil (sail airborne) in Winter 2014 with Lisa. Pittwater's gusty and variable direction winds are frustrating to the mere mortal but proven to be the nursery of many of the world's elite sailors. Photo courtesy Traks Gordon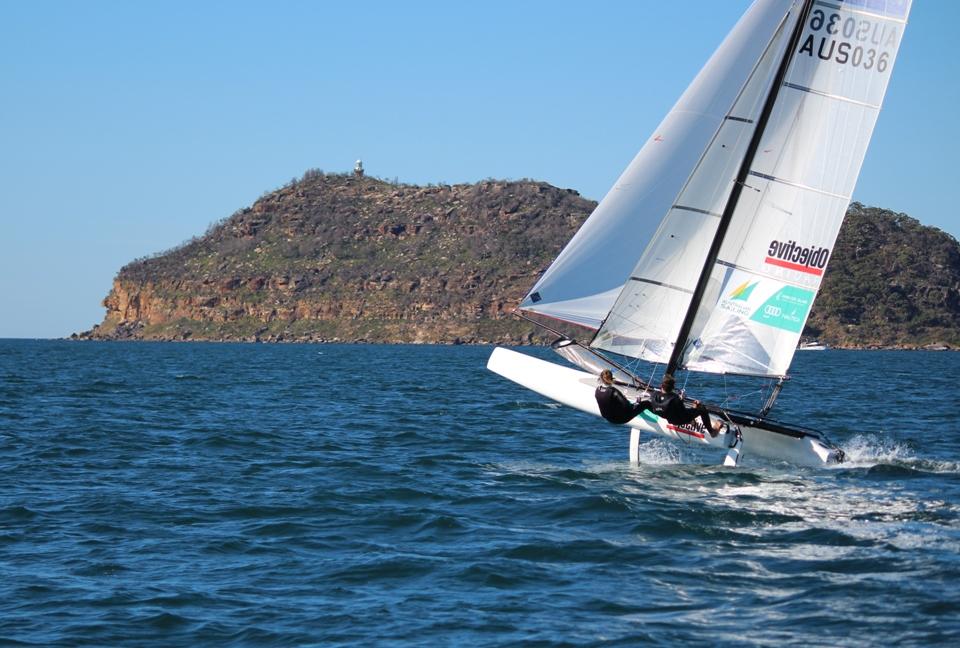 Playing with Whales off Barrenjoey pre 2014 Worlds Santander Spain - Photo courtesy Traks Gordon