November 22 - 28, 2015: Issue 241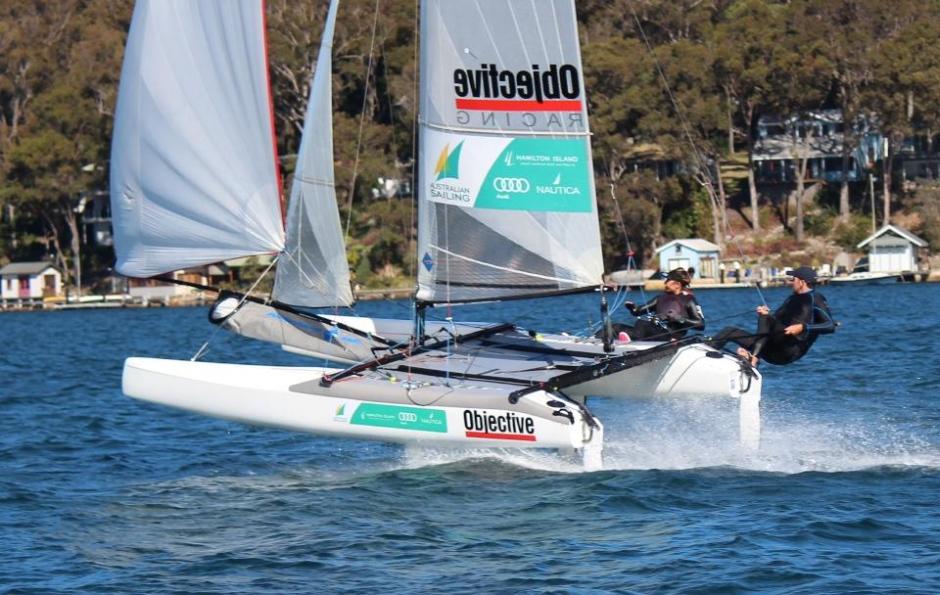 Scotland Island residents have had a 10 year corporate box view of Jason's development. Here learning how to foil (sail airborne) in Winter 2014 with Lisa. Pittwater's gusty and variable direction winds are frustrating to the mere mortal but proven to be the nursery of many of the world's elite sailors. Photo courtesy Traks Gordon
Jason Waterhouse
Jason Waterhouse, current World Number 1 in Nacra 17, with crew mate and cousin Lisa Darmanin, is having a very good year. Debuting in the Extreme Sailing in Austria's Red Bull Sailing Team he was also awarded the Land Rover "Above and Beyond Award" in recognition for his stunning debut performance in February. In August a momentum that began with securing 1st at Weymouth in the ISAF Sailing World Cup, backed up by a 2nd at Aarhus in Denmark, led to another gold at Aquece Rio International Sailing Regatta 2015 (Rio 2016 Test Event) and after a small leap into the air, this crew came home and focused on more training, determined to not take anything for granted.
Around 2007 Jason's focus shifted from winning a World Championship to representing Australia in the Olympics. Preceded by a 1st in the 2006- 2nd Hobie Dragoon Worlds Championships in Cangas, Spain with crew mate Chase Lurati, another 1st in the 2007-Hobie 16 Youth World Championships in Suva, Fiji with Michael McCormick, a 1st again in the 2009 Hobie 16 - Open Volvo Youth Sailing ISAF World Championship in Buzios, Brazil, 1st again at the Hobie 16 World Championships in Weihai, China in 2010 with Lisa, the team of Jason Waterhouse and Lisa Darmanin have proven themselves to be consistent, level headed and passionate about their sailing.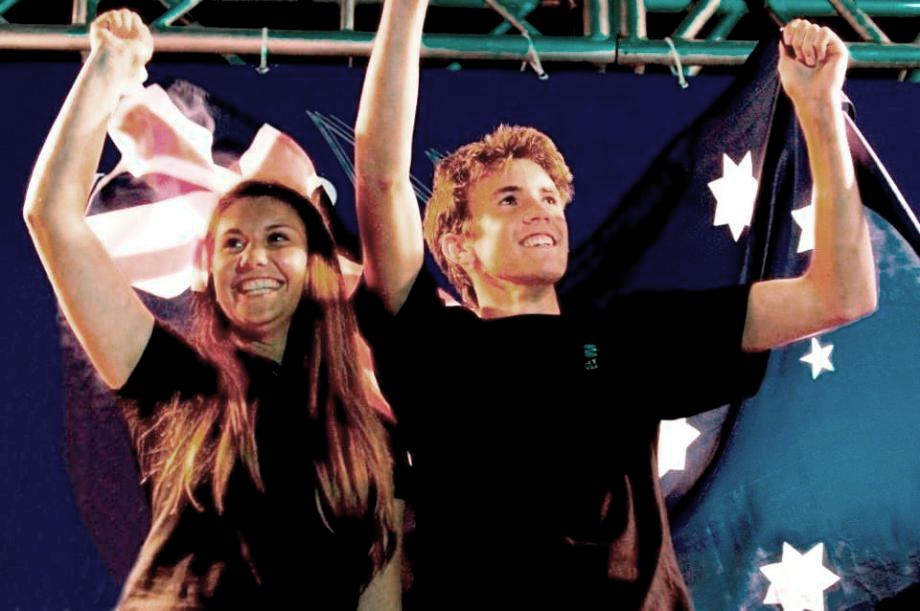 Youth Champions - 2009 ISAF Youth World Multihull Champions
The first event he competed in was the Manly Junior National Titles in Sydney in 2000, the first event won was the ISAF Youth Nationals in 2006 in Queensland. Having sailed and competed in the Manly Junior, Flying 11, Hobie 16, Formula 16, Formula 18, A-class Exploder, GC32, AC45, 18ft Skiff and now the Nacra 17, you may wonder how many miles Jason has sailed since taking to the water at age 4, and what countries and waterways, worldwide, he hasn't been on.
The Waterhouse family epitomise Pittwater sailing in more ways than you could count too - dad Rod and mum Kerry are fellow World Champions and legends of decades standing in sailing, while sister Bridget is a flier too, and whom Jason first competed with.
The Waterhouse's are also people who invest in their passion for sailing and their community and have a strong ethos of giving back and hoping to inspire others to enjoy all that being on the water can bring.
As we head into Summer, a small insight into why and what makes sailing and sailors from Pittwater great in all senses of the word:
When and where were you born?
In St Leonards Hospital on the 8th of the 11th, 1991.
Where did you grow up?
In Newport. I went to Newport Public School and then on to Pittwater High School.
Were you part of the Sailing Program at Pittwater High School?
Yes, I was. I was part of the Teams Racing team which was great fun, I really enjoyed it.
You began sailing as a 4 year old when your parents took you on a yacht around the Pacific?
Yes, we spent about four and a half years at sea and went cruising around the world on three separate trips. When I was 4 we did a year long trip. Then when I was 10 we did a year and a half long trip and then again when I was 13, and that too was a year and a half long trip. We seemed to go every few years, get another yacht and go sailing around the world.
What stays with you most from those trips?
For me the biggest thing that came out of those trips is being quite humble after experiencing what a world we live in and being very lucky to see so much and experience so many places. I remain aware not many other people have been so fortunate to visit these places or experience what's there. So I guess that has produced a mental shift or an inspiration for me that was created through doing that which gave me a stability and also allowed me to see the world when I was still quite young, it showed me what the world is and what's out there.
As to experiences, I remember sailing through cyclones, the Galapagos Islands was really cool , pirate attacks stays with me too – there was always plenty going on the whole time.
What size yachts were they?
They were around the 47 feet mark – two Jeanneau and the one Beneteau. The first one was named 'Basho'* and she was a Jeanneau 44, the second was a Jeanneau 473 Sun Magic called Bridget after my sister and the last was a Beneteau 473 Oceania and that was called Bridget as well.
What was your first sailing boat?
A Manly Junior which I sailed with my sister. We did this through Manly 16foot Skiff Club to begin with then moved to the Royal Prince Alfred Yacht Club.
We won our first year at Nationals in the Novice Division.
And you have been sailing with your sister ever since?
Yes.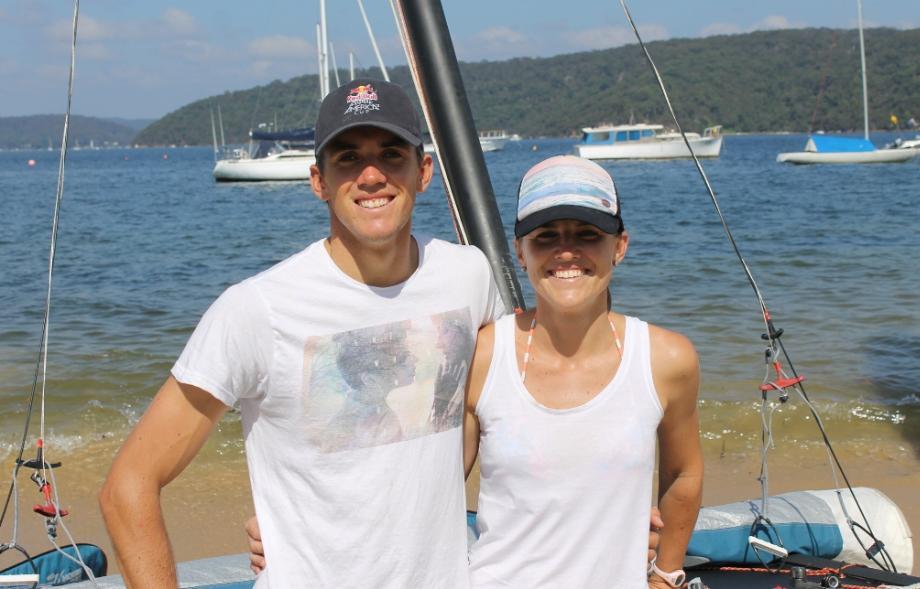 Jason and Bridget Waterhouse - PBSC Bullets Regatta 2013 - AJG pic.
Your dad, Rod Waterhouse, has been a bit of an influence on your sailing and is quite a sailor of renown himself – were you aware of how good a sailor he was while growing up?
Absolutely. I remember spending a lot of time on the weekends following mum and dad around to their Regattas. When I was 8 my sister and I would be three up with dad on the Hobie 16. It was he who taught us how to sail really and introduced us to the sailing community and the lifestyle and the passion for sailing. Ever since and even now he's still a massive influence.
His sailing capabilities are extraordinary – I've never met a person with more seamanship than him, especially on a yacht or in tough conditions, there's no one else I'd rather be with me there in the dark part of a storm than him.
The shift from Manly Juniors to Catamarans – what was the first thing you noticed, the speed, getting up in the air…or...?
Well, the speed was great and the trapezing was good fun. It was also a time when I was sailing with my mates so once dad bought me my first boat I jumped on with Jerry Roberts, who was my sister's boyfriend at that time, and then I got to sail with my bets friend Michael. I could skirt around to Regattas and was not just having fun on the water doing that, I also got to race against my mum and dad which was pretty cool. I could get out on the water and have fun with my mates as well, so there was a independence given with this too.
2006 in Weymouth, your first time representing Australia, when you were only 14 – what stays with you from that experience?
I suppose that was a massive turning point for me, and it still hurts the heart a bit today, because we went from a silver medal to 4th through the last race and missed out on a medal by a point. That was devastating at the time but I learnt a life lesson there that sailing is like this; sometimes you will have your ups and sometimes it will be downs. Then it seemed like the whole world had collapsed around me when really it was all just the start. I remember seeing my dad and running to him to tell him 'this sucks' and that kind of reaction. He just said "Jason, sometimes you win and sometimes you lose. You've got to take it on the chin and keep going forward"
So that's what we did.
In 2009 Jason 'did' win at Weymouth in June of this year ISAF Sailing World Cup
The America's Youth Cup , how did that advance your approach to your sailing?
The Youth America's Cup was a new challenge for me, I was sailing with a bigger team of six blokes on a high performance sailboat. I had to use all the experience I gained through all my Olympic sailing circuit and the F18 circuit just to focus on how I could contribute to the team best and to steer the boat as best I could and try and manage it as best I could.
How was being the skipper of a bigger team?
To be honest, it was really tricky. I was the youngest one there so it was really tough in a lot of ways and I actually took a lot from that experience as in terms of leadership of a team it as a new challenge for me. Unfortunately we got a bit unlucky at the Youth AC but we came together towards the end of it and I was able to put what I'd learned there into the Extreme 40, which improved that too.
You were awarded the 'Above and Beyond' Award in the Extreme 40 this year – are you planning to go back into that once you get past the current Nacra 17 training regime?
Not this current round, I've stepped back off the boat until the Olympics as I've put my head down to focus on that. it's always been my life goal to win a gold medal so now that I have that in my sights through the work we've put in the last few months, I'm really not going to let that opportunity go.
I've had a really great time doing that but they're in really good hands with Roman back on the tiller, so I did the first five events and Roman (Hagara) will finish off the last three.
After the Olympics I would love to go back into some more professional sailing, absolutely.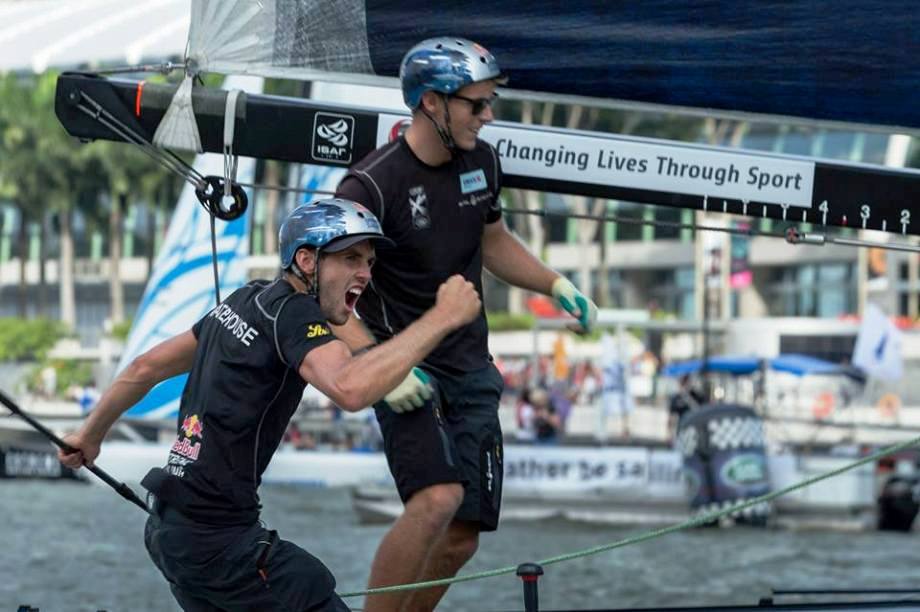 Jason took home the win with his Red Bull Sailing team Sunday 8.2.2015, he was also awarded the Land Rover "Above and Beyond Award" in recognition for his stunning debut performance. Photo Red Bull Sailing Racing, Above&Beyond Award: Mark Teo for Red Bull Content Pool
The F18's, to go to the other 'extreme' – you won the Australian Championship this year there – what's the difference, for novices such as myself, between that and a Nacra 17?
The Nacra 17 is built for the Olympic site and this is a smaller and more refined fleet and a lot harder to race in. what I like about the F18 is that anybody can rock up with their boat and have a crack – at the last Worlds I think we had 200 boats or more on the start line and everyone was having a good time. This is still a tough fleet, you have the beginners having a go and learning to sail competitively besides some of the best sailors in the world racing there. To me it's similar in some ways to sailing a Laser where you can just jump in and have a go against the top guys.
The boat itself; the main difference would be the F18 doesn't have the curved centreboard or the carbon mast and it's a bit heavier so it's not as high performance as the Nacra 17.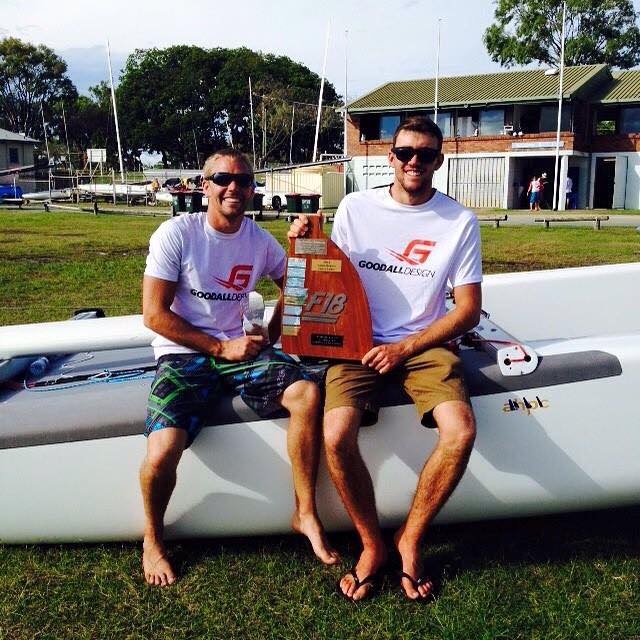 Australian Formula 18 Catamaran Nationals 2015: Jan 26 2015 - with Brett Goodall, at Humpybong Yacht Club, Victoria
Of all the medals and wins to this point, which are your favourites and why?
That's a tough one. I think it was really special wining the pre-Olympics Rio Test event that we won in August. This was a big moment for us because it was part of our Olympic selection and could possibly make the difference between us getting to represent Australia at the Olympics or not.
Lisa and yourself had built a fair amount of momentum by then, there was a clear fluidity in your sailing and a cohesion and solidity with the boat as though it all came together at the right moment – did that and getting a Gold and then a Silver at the Worlds just prior to then gave you two that little bit of a boost in confidence every sailor needs?
Yes, it was a great way to into that event. We went to the Worlds wanting to win and to represent Australia well there and did well in the conditions. In Rio we really wanted to be the World Champions, to beat the team that beat us at the Worlds, the French had been dominating the Class ever since it came out, so it was great to get a victory there.
The second highlight would have to be winning the Aswan in Singapore in the Extreme 40 events as after the Objective Youth Americas Cup experience we had with gear failure it felt like there was unfinished business there for me sailing big boats. Winning the first regatta was also a highlight for me, showing everyone I could do it on this bigger 40 metre cats.
Just on Objective Australia, when you do get some time off and are at home, you're on Pittwater with some of the Objective Australia younger youth members – what's that about?
This is part of the Future Champions Program and it's very special to me because Lisa and I were the first ones in it with Traks Gordon, Tony Walls and Lisa and I.
One of my goals with my sailing is not only to be one of the best sailors in the world but also to leave a legacy behind that has improved sailing, made it better. I like to, when and where the opportunity presents itself, let others know how special sailing is and that now is a really exciting time for this sport. Part of this is to introduce the next generation coming through to the sport, ensure they really enjoy it. I foresee our sport becoming much more accessible in the future and I want to be a part of that. My goal is to give back what I get and have received and as the Objective Future Champions Program has given so much to me I like to give back to this as much as possible so when I have a spare minute and am back in Australia, I take a breath, and then head down to the RPAYC and see Traks and see all the kids coming through and go for a sail or have a chat, wherever or however I can support them.
Sailing on Pittwater, you have decades of experience there now, which is your favourite course for when we run the Jason Waterhouse Regatta 40 years from now?
(laughs) I like the Avalon Circle – I've spent so many hours there training I feel like I know it back to front now. If they ever do name a regatta after me I want it to run in the Winter when there's a few westerlies and the course is really tricky and the winds are really demanding. That's my favourite time – I remember the Winter days of training and having these westerlies hitting you in the face and you're doing everything you can to get around the course and try and beat the shifts.
Are you going to get any time off this Summer, your training regime has been full on since coming home from Rio – and if so, what will you do?
Yes, I think towards the end of November we'll get some time off. I'll go sailing, pretty much. I also really enjoy my surfing so I'll hit the breaks when I get home.
Which are your favourite breaks?
I like Newport on the south end when it's a really big swell, or Bungan, I love Bungan.
50 to 40 years from now, where do you want to be?
Retired I guess.
Ok, 30 years from now – where do you want to be?
I still want to be sailing.
Have you ever though about designing boats – you must have a few ideas after sailing in all these different classes?
Not so much designing boats. I feel like I'm more of a crew work consultant, that's where I have experience. I like someone giving me a boat and I figure out how to sail it best and having or building a great crew is part of that. I'd like to be more of a people and crew builder – we'll see what happens.
What's your favourite place in Pittwater and why?
Obviously Newport is home and I love that little strip of Newport and how you can just go get something for the shops and then walk across to the beach and eat your lunch. Palmy is a favourite too, Sandy Point and I love walking up to the lighthouse, that end part of Palmy is a real favourite.
Church Point is a real favourite too, it's really pretty and that's where my mum grew up and my pop grew up – pop lives on that Church Point side so that's always been another home and it's a great place to just relax. (mum's surname Wood – great sailor – pop sailor too – you have some notes on this under Church Point Files)
What's your 'motto for life' or a favourite phrase you try to live by?
Nothing is given, everything is earned.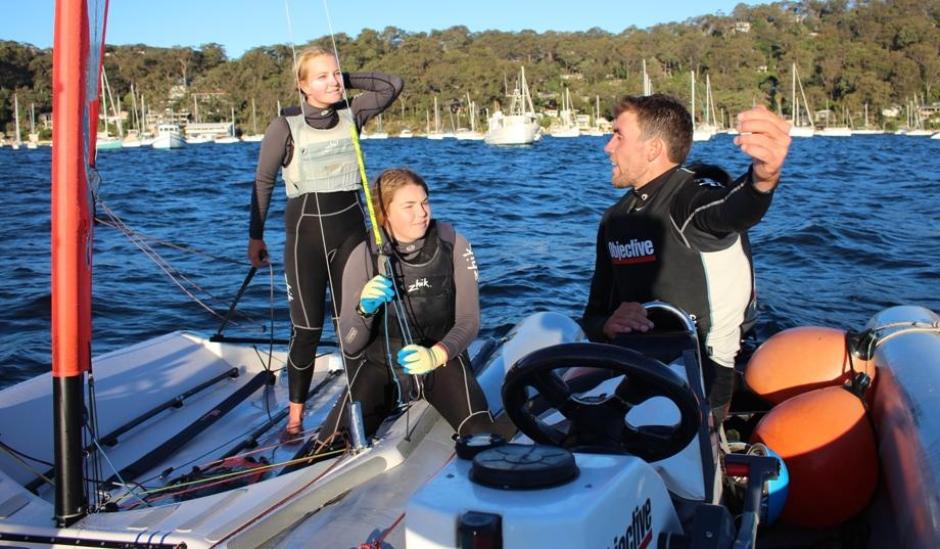 A huge part of Objective Australia is leaving a legacy for your opportunities, experience and success. Jason epitomises this philosophy and this year volunteered his time to help prepare International debutantes Tash Bryant and Annie Wilmot who went on to place 3rd in the European Championships and 4th in the Worlds Jason used to babysit Tash many years ago when they lived over the back fence. - Traks Gordon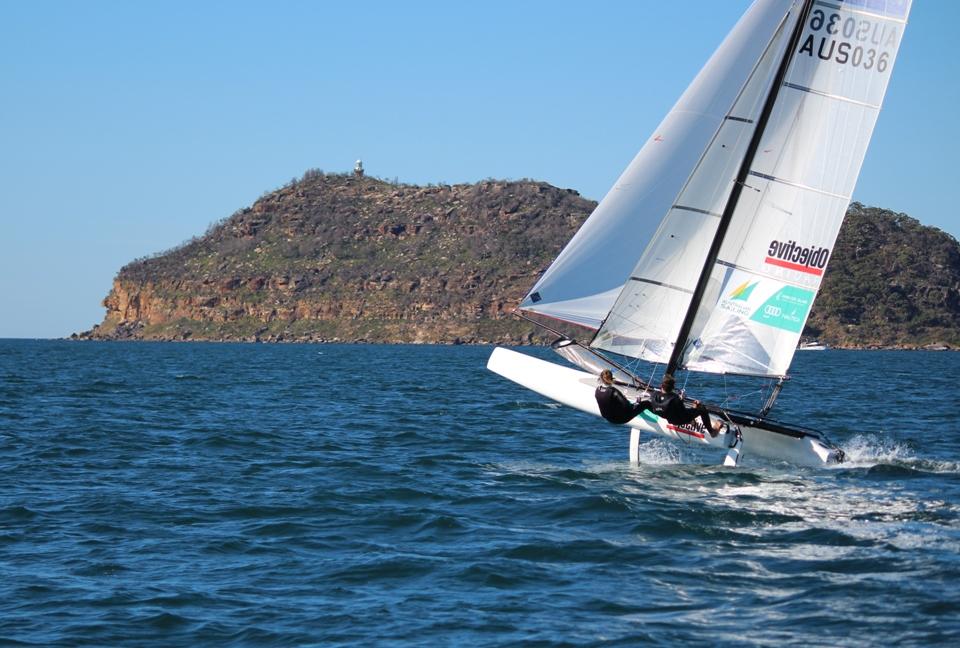 Playing with Whales off Barrenjoey pre 2014 Worlds Santander Spain - Photo courtesy Traks Gordon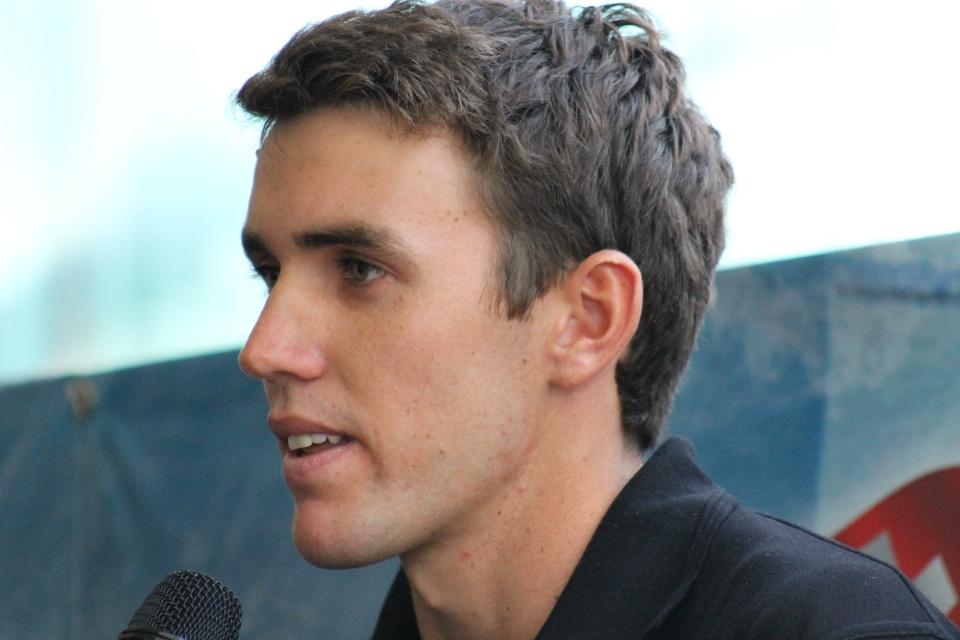 Objective Australia Youth Americas Cup Launch at RPAYC 23.3.2013
Copyright Jason Waterhouse, 2015.