February 15 - 21, 2015: Issue 202
Successful debut for Australian Sailing's Jason Waterhouse at 2015 Extreme Sailing Series winning opening act with Red Bull Sailing Team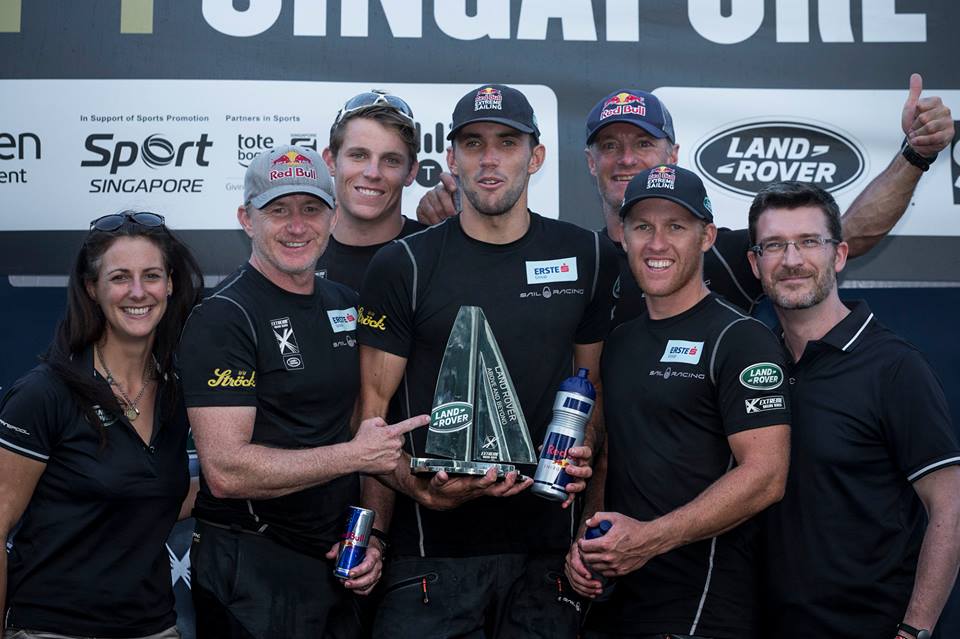 Pittwater's Jason Waterhouse not only took home the win with his Red Bull Sailing team last Sunday (8.2.2015), he was also awarded the Land Rover "Above and Beyond Award" in recognition for his stunning debut performance.
Successful debut for Australian Sailing's Jason Waterhouse at 2015 Extreme Sailing Series winning opening act with Red Bull Sailing Team
By AST Comms, February 9, 2015
Austria's Red Bull Sailing Team secured overall victory on the final day of the 2015 Extreme Sailing Series™ Act 1 in Singapore yesterday (Sunday 8 February). Reinforced with young talent from the Red Bull Youth America´s Cup, including Australian Sailing Team's Jason Waterhouse (NSW), double Olympic champions from Austria Roman Hagara and Hans Peter Steinacher came out on top on the last of the 32 races to edge past SAP Sailing (Denmark) and favourites The Wave Muscat, who finished third.
With six race wins and ten further podium spots, Red Bull Sailing mastered the difficult wind conditions to beat the competition over four days with skipper Roman Hagara, tactician Hans Peter Steinacher, helmsman Jason Waterhouse (AUS), trimmer Stewart Dodson (NZL) and bowman Shaun Mason (GBR) grabbing their maiden win in the Extreme 40 sailing series.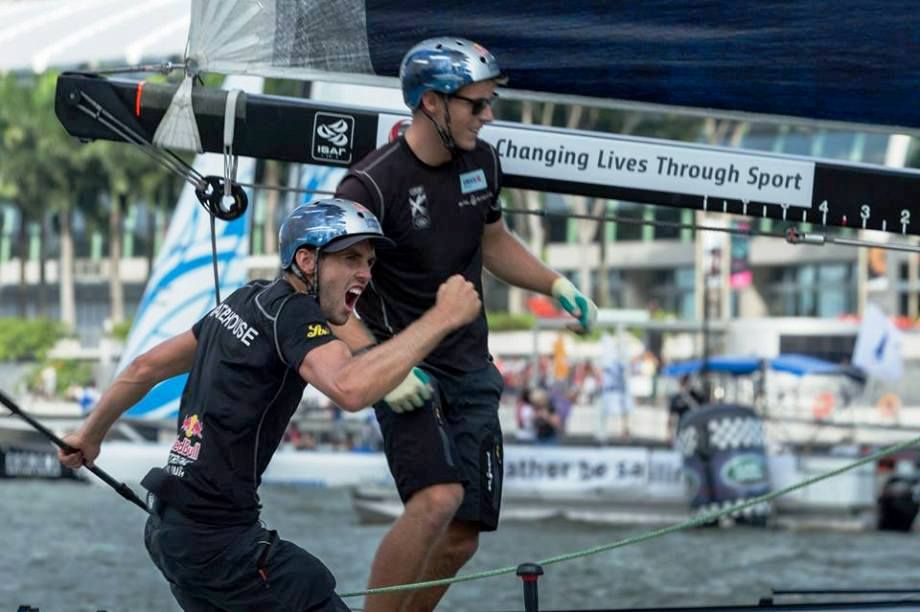 "It is the combined force of our experience and the youthful exuberance of the three guys. We did not expect for this constellation to bear fruit that quickly. So we are even happier," a beaming tactician Steinacher said in Singapore in front of thousands of fans.
Together with skipper Hagara, Steinacher helped launch the Red Bull Youth America´s Cup in 2013 to develop new sailing talent. "Now we have them on our Extreme 40 project. The regatta was extremely hard and exhausting for all of us. With the shifting conditions, the extremely humid heat between these skyscrapers, it was the best tactics coupled with teamwork that made the difference."
Australian Sailing Team's Jason Waterhouse, World #3 in the Olympic Nacra 17 class together with cousin Lisa Darmanin, is one of this up and coming sailing talent. The 23-year old was part of the 2013 Red Bull Youth America's Cup Team and was thrilled to get the opportunity to join the Extreme Sailing Team:
"I feel really fortunate that Red Bull with Roman and Hans gave me the opportunity to come to Singapore and race", he said. "It is a real testament to what the Red Bull Youth Americas Cup has done for myself and my two team mates Shaun and Stu, who also competed in the Cup. It helped us all to transition to more high performance and more professional racing."
"It's been amazing experience here in Singapore. The X40 racing is so intense and the venue is so small and tricky with the surrounding high rises here."
Waterhouse who is also aiming for Rio 2016 believes his Olympic sailing will benefit from this type of racing:
"I think that this type of racing, although unique, brings a lot of benefits to my Olympic sailing. The intensity and high amount of races in such a congested format really pushes my mental strength and builds my boat-on-boat skills. It's always good practice for your nerves when your flying these $500K boats around the course missing each other by inches."
About the plans for the Olympic campaign in the Nacra 17, the mixed-gender multihull class which will be new on the program in Rio 2016, he added: "From here I'm heading back to Australia get some time in with Lisa on the Nacra and to tick some final training goals before we head to Europe in March."
"This year is our Olympic selection and I'm looking forward to improving our racing against the worlds best. We were happy with the bronze in Santander and now we only have eyes for the Gold in Rio."
In Singapore, Waterhouse not only took home the win with his Red Bull Sailing team, but was also awarded the Land Rover "Above and Beyond Award" in recognition for his stunning debut performance.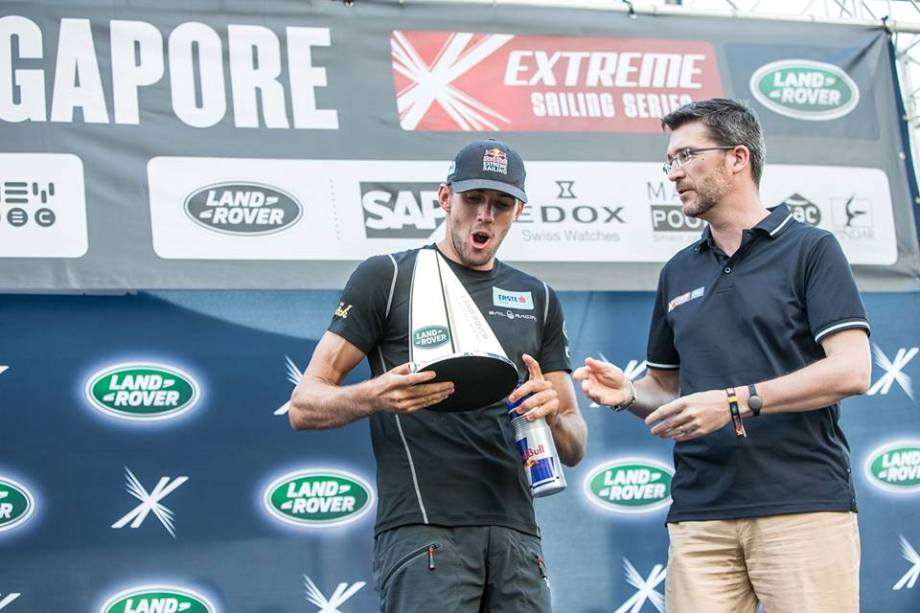 The "Land Rover Above and Beyond Award" recognises sportsmanship, strength of mind and team spirit and Waterhouse received the award from Land Rover Asia Pacific Managing Director, Russell Anderson.
Waterhouse is the second Australian in a row to be presented with this award after former Australian Sailing Team athlete and London 2012 Olympic gold medallist Tom Slingsby received it at the Extreme Sailing Series event in Sydney in December.
Race Director, Phil Lawrence explained the Committee's decision. "Rarely do we see a new helm explode out of the starting blocks as Jason Waterhouse has demonstrated in Singapore. He's one of the youngest sailors on the circuit, and the consistent performance he has put in here, posting a podium finish in half of the races over the four days of combat, is impressive. The other teams are going to be keeping a close eye on him over the coming season."
Red Bull Sailing were dominant in Singapore, recording the highest average speed, the highest downwind speed and the fewest manoeuvres.
Australian Sailing Squad's James Wierzbowski (VIC) finished overall sixth with the all Australian GAC Pindar Team.
Act 2 of the series will be on March 11-14 in Muscat (Oman).
Final standings, Singapore (after 32 races): 1. Red Bull Sailing 232 points, 2. SAP Extreme Sailing Team 227/DEN, 3. The Wave Muscat 220/Oman, 4. GAZPROM Sailing 213/RUS, 5. Oman Air 198/Oman, 6. GAC Pindar 182/GBR, 7. Lino Sonego Team Italia 180/ITA, 8. Beko Team Turx 166/TUR, 9. Team Aberdeen 156/SIN
Teams and skipper: GAC Pindar (AUS/GBR) – Steve Jarvin (AUS), Gazprom Team Russia (RUS) – Igor Lisovenko (RUS), Team Italia (ITA) – Lorenzo Bressani (ITA), Oman Air (OMA) – Stevie Morrison (GBR), Red Bull Sailing Team (AUT) – Roman Hagara (AUT), SAP Extreme Sailing Team (DEN) – Jes Gram-Hansen (DEN), Team Turx (TUR) – Edhem Dirvana (TUR), The Wave, Muscat (OMA) – Leigh McMillan (GBR), Team Aberdeen (SIN) – Nick Moloney (AUS)
Photo credits:
Red Bull Sailing Team / Jason Waterhouse winning celebrations - Lloyd Images
Singapore Skyline, Red Bull Sailing Racing, Above&Beyond Award: Mark Teo for Red Bull Content Pool