October 11 - 17, 2015: Issue 235
Lock Crowther Multihull Regatta 2015: 20th Anniversary of Everyone Wins!!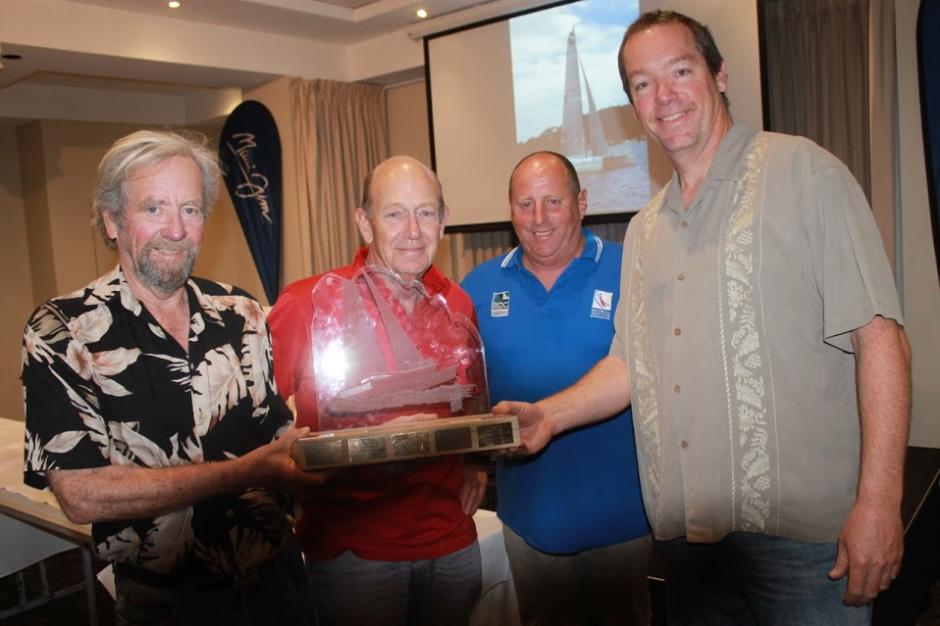 Lto R: Alan Brand (XENA) John Mitchell, Stephen Barton and Brett Crowther
Lock Crowther Multihull Regatta 2015: 20th Anniversary Presentation Dinner; Xena Takes the Trophy – Top Gun wins Overall Line Honours and OMR
The 2015 APC Logistics Lock Crowther Multihull Regatta held 2nd to 4th of October 2015 and hosted by the Royal Motor Yacht Club's Multihull Division was the 20th Anniversary of one of the best fun regattas on the annual multihull race calendar, Australia wide.
On Sunday evening, October 4th, Stephen (Steve) Barton was MC for the Presentation Dinner and prize-giving and had all laughing with his witticisms throughout.
Jason Waterhouse, current international number one ranked ISAF Olympic Multihull Class Nacra 17 skipper and current no 2 ranked Extreme 40 Catamaran Skipper, was Guest Speaker and gave an inspiring insight into his passion for sailing from an early age. He spoke about what he defines as Legacy, attributing his success to a lifetime on Pittwater and in no small part being introduced to sailing by his father Rod Waterhouse, a sailor with decades of experience and part of the Team Oz comprising Brett Dryland, Rod Waterhouse, Evan Darmanin and Chris Way who competed in the 2015 Tour de France à la Voile.
Homage was paid to Traks Gordon, a focus on training to do his utmost to win a place in next year's Olympics and not taking recent successes for granted brought Jason back to his opening point – that sailors, good sailors with a passion for their sport and its craft, may result from passing on knowledge generation to generation.
"If we can get young people involved in and interested in sailing, as my father did for me, and support their will to get better, Australia will not only maintain it's place in world sailing but improve." Jason said in closing.
Passionate words from passionate sailor - Jason Waterhouse at RMYC last Sunday
Brett Crowther, the son of Lock and an acclaimed boat designer in his own right, was another very special guest at this year's LCMR Presentation Dinner and reminded some RMYC members who had known Lock of his dad, towering over most of us in as his father had. Tall men in the Crowther family in many ways other than height. Brett shared an anecdote his father had shared with him about how his father, being a surveyor when they Lock and his brothers were younger and moving the family with his work, allowed them to get away with a few things.
Lock had related to Brett how his uncle Huey and Bruce were purportedly absent without leave from school for several weeks when much younger and were 'messing about with building boats' on Lake Eucumbene near Cooma and getting into other brothers rumbling mischief. After his father had passed away Brett found out from one of his uncles that it was in fact Lock who had absented himself, constructed a boat of sorts, persuaded a brother to get in it while he tested out its 'floatability' by pitching stones from the shore.
The Presentations took place before, after main course (delicious as usual) and after desert (ditto). This program for Divisional wins and a few extras by the generous sponsors of this event, is maintained year in year out as organisers Alan Brand, Stephen Barton, John Mitchell, Jim Geddes and RMYC Multihull Division Captain Robin Ottowa are determined that everyone who attends leaves with something.
This year, the wonderful 20th Anniversary of this Memorial Regatta to one of the world's best Multihull designers, Alan Brand's Xena won the right to have her name etched on the very fine trophy.
Top Gun won Overall Line Honours and OMR, while that flier extraordinaire, sporting new sails, Quickstep was first across the line in the Ocean Race.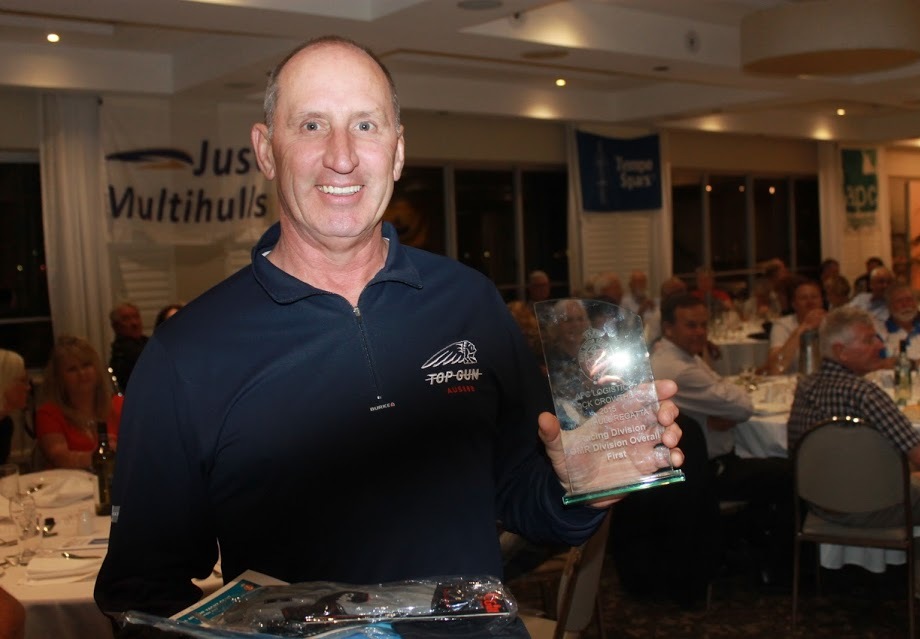 Darren Drew - Top Gun Skipper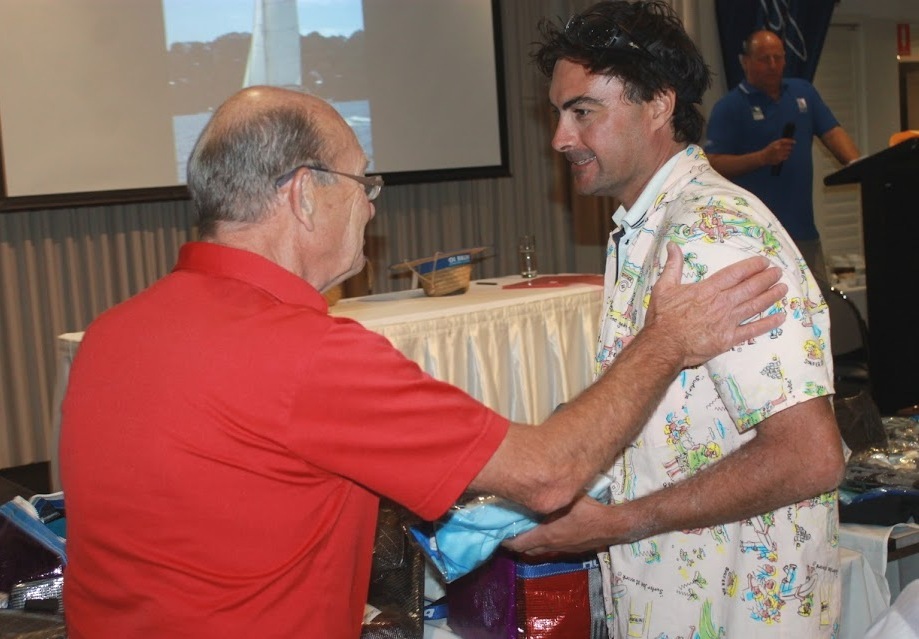 Jason Geddes - Quickstep Skipper
Ron Bickerstaff De Ja Vu took 1st place in PHS for Division 2 and Greg Bridges Windspeed 31 secured Line Honours for Division 2 in 2015.
The RMYC Multihull Division has a Saturday racing fleet comprising both catamarans and trimarans ranging from 24 to around 45 feet and includes designs from the boards of Ian Farrier, Tony Grainger and Lock Crowther. The Division has some of the friendliest sailors on Pittwater as members with a rich heritage connected to saltwater and the estuary.
Good to keep in mind if you'd like to fly on the water and be around people who are pretty relaxed straight afterwards!
You can find out more about the RMYC Broken Bay Multihull division and see all LCMR Results here www.royalmotor.com.au/multihulls
Pittwater Online News Photo Album of 2015 RMYC Multihull Division's Presentation Dinner HERE for attendees