February 16 - 22, 2014: Issue 150
Palm Beach Sailors Win Gold at 2014 - 20th Hobie World Championships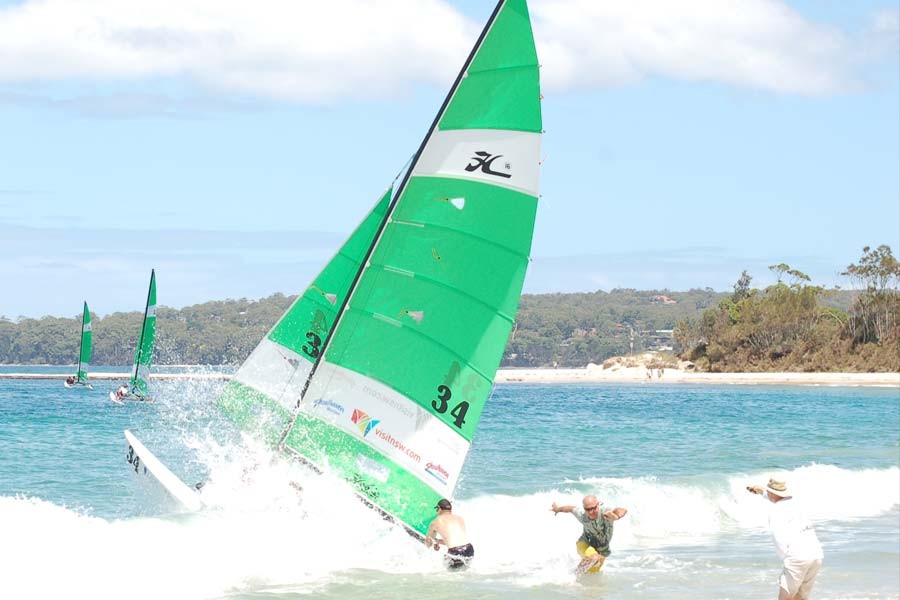 by Linda Renouf
Local catamaran sailors from the Palm Beach Sailing Club are racing with 338 other teams from 27 countries in the Hobie 16 World Championships in Jervis Bay, NSW. Thirteen teams from the local club are successfully representing the Northern Beaches with husband-wife competitors, Rod and Kerry Waterhouse taking gold and Kerli and Ali Corlett in 3rd place in the Grandmasters division this week.
A remaining 6 teams have placed in the top 56 out of 112 after the semi finals Open division and will finish with two days of racing this weekend. "We're really proud of the caliber of sailors that come from our club. We've accumulated more multihull Olympic sailing medals than any other club in Australia" says Dick Clarke, Club Commodore.
Finalists from Palm Beach include America's Cup Red Bull Youth skipper Jason Waterhouse (also member at RPAYC), sailing with sister Bridget Bolewski who was filling in for Lisa Darmanin, David Fisher/Rachel Renouf, Anthony Duchatel/Evelyn Curtis, Upu Kila/Patrick Butler, Sam Wood/Nicole Corlett, Andrew Tuite/Damien Miller and Rod/Kerry Waterhouse. Olympic sailor Nina Curtis, daughter of competitor Evelyn Curtis, is crewing with Swedish skipper Tim Shuwalow.
The fleet of sailors hail from 6 continents and is Hobie Catamarans largest regatta with unexpected record numbers registered. The event managed to attract all levels and ages with their concept of Women, Youth, Masters, Grandmasters and Open divisions. The youngest sailor is 11 from the Central Coast, NSW and the oldest competitor is a 74 years old from Maui, Hawaii.
Palm Beach Sailing Club races every Saturday from Sand Point, off Iluka Road, Palm Beach. For more information on sailing or racing beach catamarans with the Palm Beach Sailing Club, contact Dick Clarke at commodore@pbsc.com.au.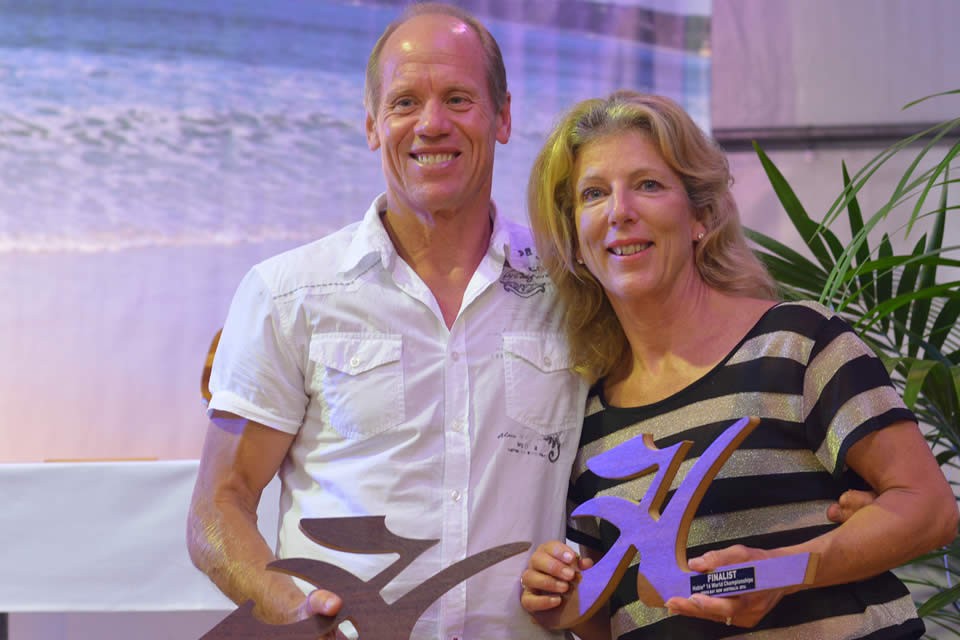 Anthony Duchatel and Evelyn Curtis - Finalists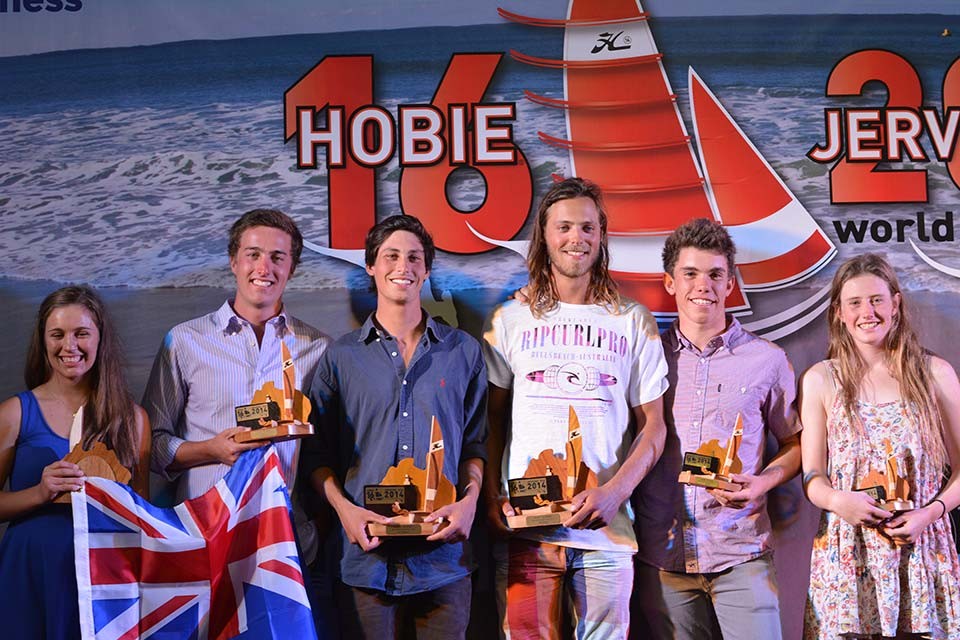 Far right: Paul Darmanin and Lucy Copeland - Finlaists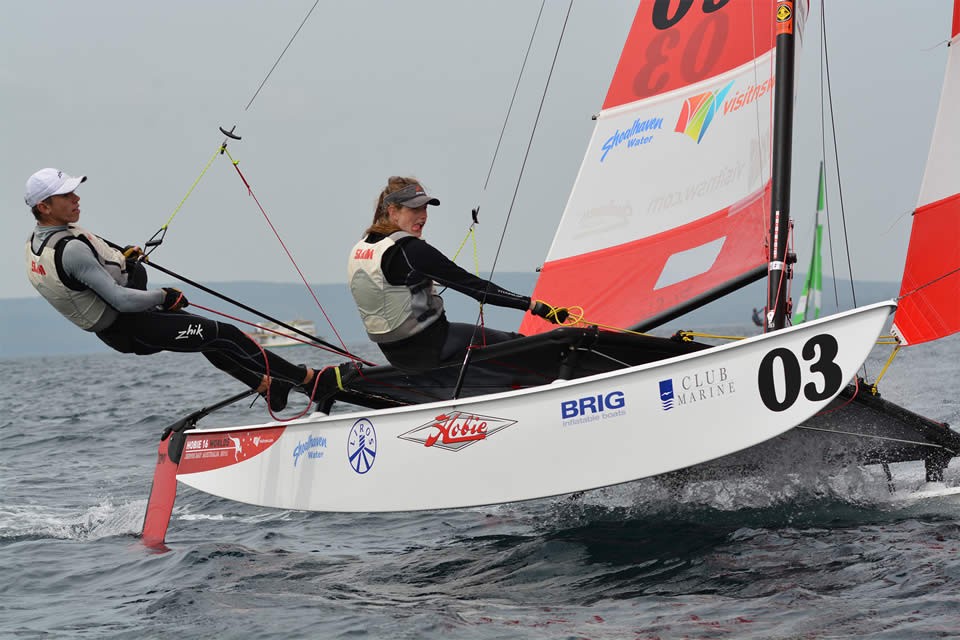 ____________________________________
Palm Beach Sailing Club and Royal Prince Alfred Yacht Club Sailors Shine at 20th Hobie 16 World Championships - New Champions are Crowned
15th of February, 2014
The 20th Hobie 16 World Championships took place at Huskisson Beach, Jervis Bay, this week. Last night the new World Champions, West Australians Gavin Colby and Josie Mark, were announced at the prize-giving event held after the last four races.
The last day of the 20th Hobie 16 World Championships closed a great regatta, with 500 competitors from 27 different nations competing on Sailors Beach, Jervis Bay between Saturday 1 February and Saturday 15 February. Participants and organisers have seen all kinds of conditions, challenging the most steadfast sailors and today was no exception.
In Race 11 what was a somewhat challenging day of stops and starts we saw the winds get up and the boats go out on schedule for the first race of the day. The 12 knot northerly dropped off toward the end of the race but not before we saw a result for Cam Owen and Suzzi Ghent.
The West Australians gave it everything they had and lead wire to wire taking victory followed by Jason Hess and Irene Abascal from Guatemala in second and fellow Aussies Stephen Watt and Arbi Watt from New South Wales picking up third. The drop in wind put a hold on racing but the sailors enthusiasm was not left wanting and they were back on the water at 2:00 for the second race of the day.
Race 12 showed that enthusiasm was evident as Jason Waterhouse and Lisa Darmanin from New South Wales, Australia threw themselves at the line taking the lead and holding it all the way to 1st! Narrowly beating Jason's parents Rod and Kerry Waterhouse also from New South Wales who couldn't be prouder of Jason and Lisa's victory. Coming in third were Koreans Byeongki Park and Haekwang Youn.
The real shake up of race 12 though was current China, Hobie World Champion Jerome Le Gal's Black Flag Disqualification (BFD) placing him 57th for the race and ultimately costing him the title and changing the game for the other competitors in the field.
In Race 13 Jason Waterhouse and Lisa Darmanin again took the top spot in what was a fantastic days racing for the pair as winds freshened and the boats got to stretch their legs giving the sailors some pressure for the last race of the day. Second and third were picked up by Tim Shuwalow from Sweden with Nina Curtis (crew) and Daniel Bjornholt-Christensen and Lachlan White respectively.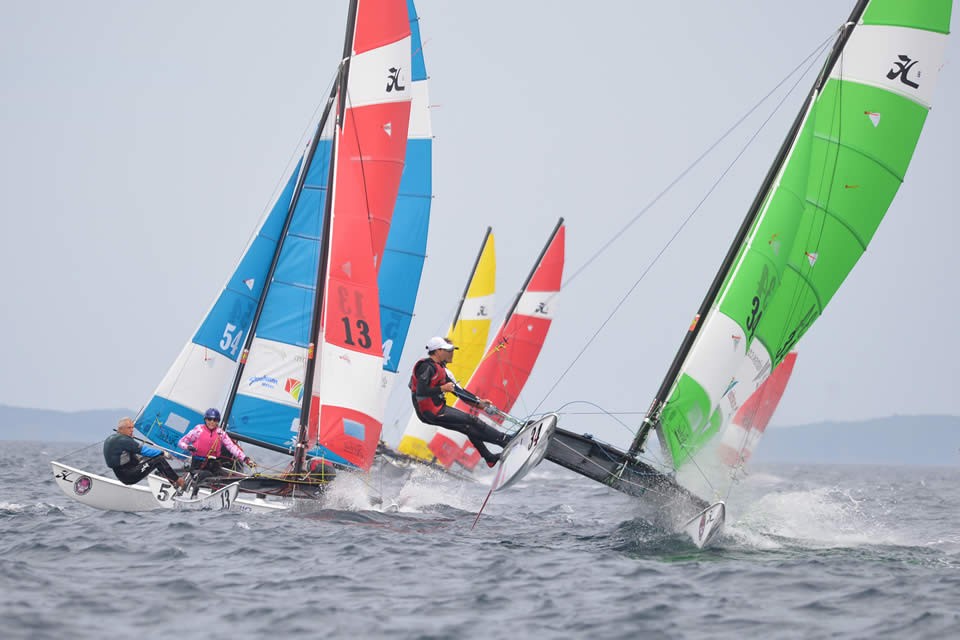 Gavin Colby and Josie Mark gave it their all and placed fourth. Unaware of Jerome Le Gal's BFD the pair unknowingly sealed up the event to ultimately be crowned our New Hobie 16 World Champions!
Congratulations Gavin and Josie on a fantastic regatta! The Celebrations and Congratulations will continue on into the evening as we finish up an amazing 2 weeks and close out what has been biggest Hobie 16 World Championships! Nice work, all involved!
______________
Overall final results at: http://hobieworlds.com/hobie16-worlds/results-2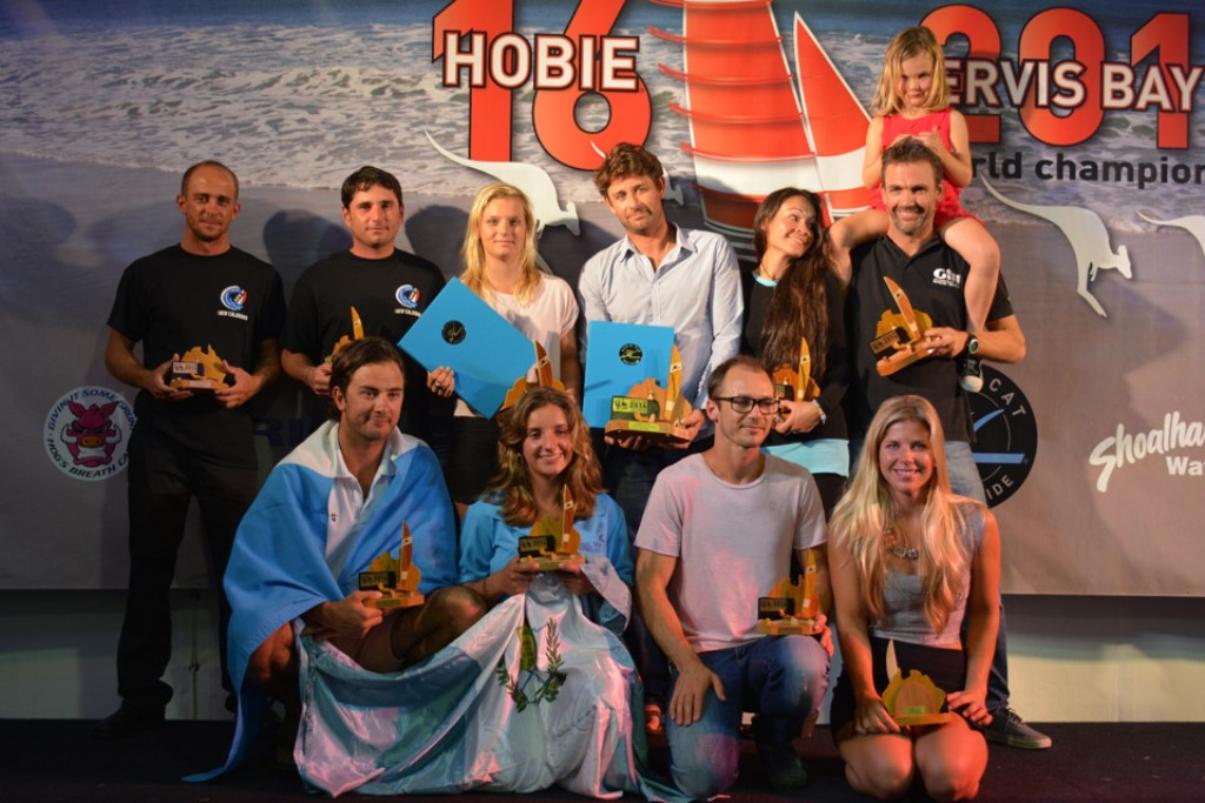 Winners Circle - Olympian Nina Curtis - Lower Right .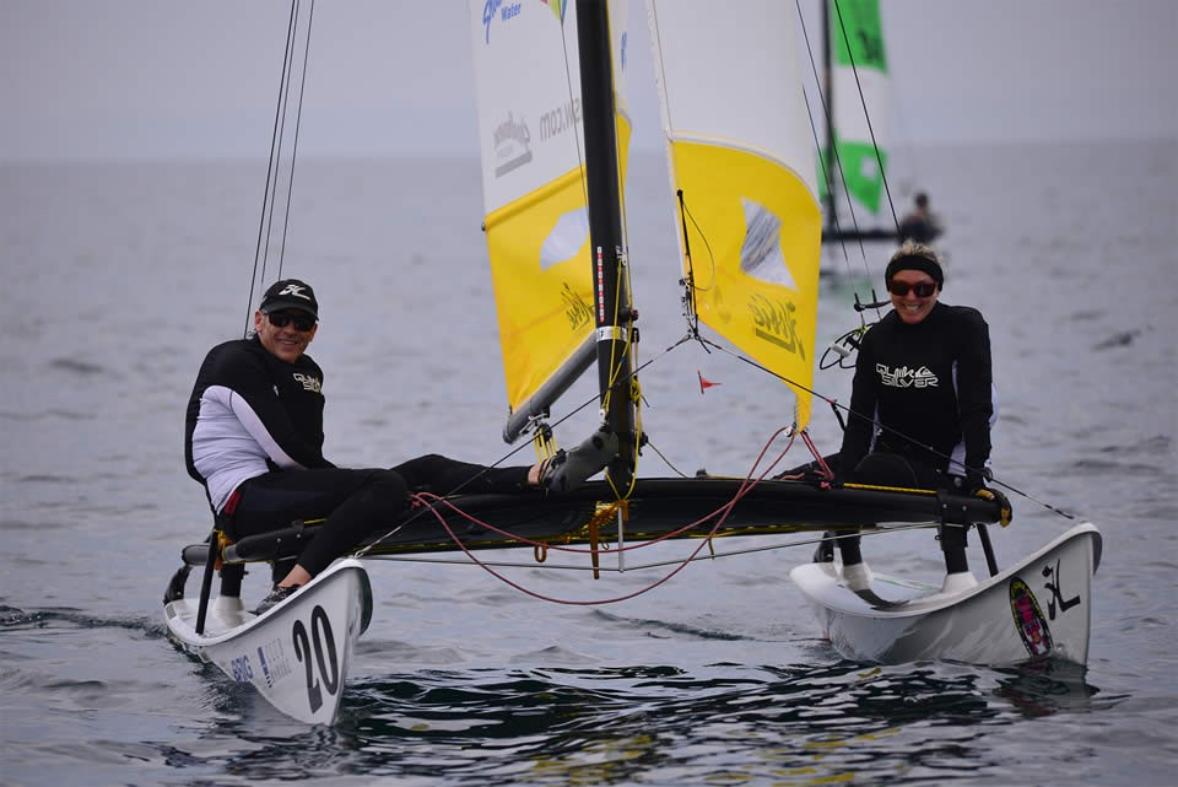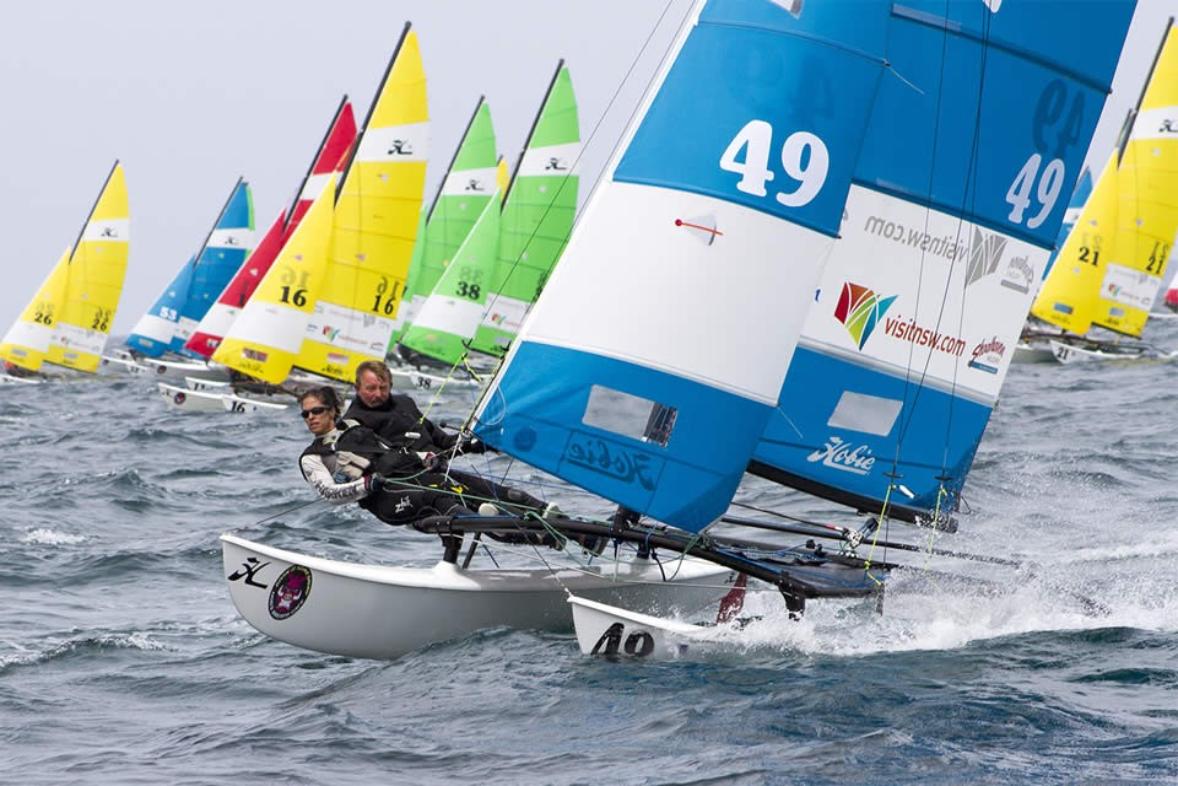 Brett White and Linda Renouf .