August 16 - 22, 2015: Issue 227
Pittwater Sailors Among 339 Set For Second Olympic Test Event in Rio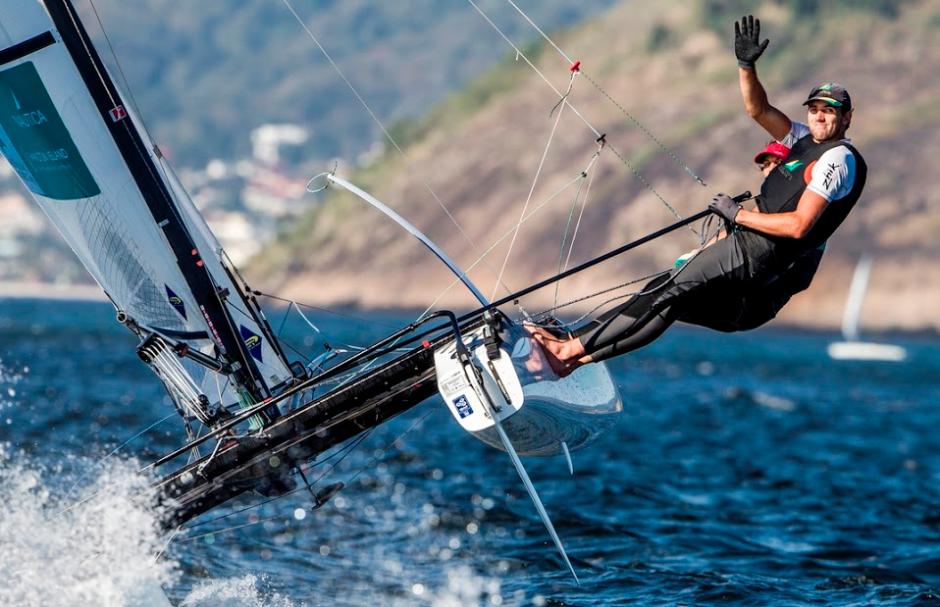 Jason Waterhouse and Lisa Darmanin training in Rio this week - photo ©Jesus Renedo / Sailing Energy / ISAF
Pittwater Sailors Among 339 Set For Second Olympic Test Event in Rio
13 AUGUST 2015: International Sailing Federation (ISAF) & Australian Sailing Team (AST) Media
Rio de Janeiro, Brazil is set to welcome 339 sailors from 52 nations for the Aquece Rio - International Sailing Regatta 2015, the Olympic test event, from 15-22 August 2015
The Aquece Rio is the second sailing test event in preparation for the Rio 2016 Olympic Sailing Competition and sailors will be looking to stamp their authority one year out from the largest sporting event in the world.
Sailing's test event often acts as an indicator into who will be on the podium at the Olympic Games itself. In the build up to London 2012, the one year to go test event saw 18 eventual Olympic medallists finish on the podium with the remaining podium finishers demonstrating the attributes that it takes to become an Olympic medallist.
49er sailors Nathan Outteridge and Iain Jensen (AUS) were one of four crews who won the London test event before claiming an emphatic gold at the main event and they'll be looking to set a similar precedent in Rio even though they've had a mixed year.
After a silver medal at ISAF Sailing World Cup Hyères followed by a couple of results off the podium, including a fourth place at the 49er Open European Championship most recently, the pair are looking forward to build on their performance at the Test Event.
"The European Champs were the last event for us in Europe this year. After a second at the World Cup in Hyeres and sixth in Weymouth we were looking to try and get back up on to the podium, which unfortunately did not happen after a bad last day and dropping from first into fourth. But reflecting on the event as a whole, I think it was really good for us to sail well there, all but the last day, which gives us a lot of confidence for Rio in August," Outteridge said.
The Australian Sailing Team stated during the week:
The Olympic sailing program comprises ten boat classes and last year the Australian Sailing Team secured national qualification for all but three of the nine Olympic classes Australia is expecting to qualify for the 2016 Rio Olympic Games. The selection period for Australian Sailors to compete at the 2016 Olympic Games continues until May 2016.
At the Rio Test Event, Australian Sailing will be represented in all of the six of these boat classes that are already qualified with the following sailors representing Australia:
470M: Mat Belcher (QLD) and Will Ryan (QLD)
49er: Nathan Outteridge (NSW) and Iain Jensen (NSW)
Laser: Tom Burton (NSW)
Nacra17: Jason Waterhouse (NSW) and Lisa Darmanin (NSW)
Finn: Jake Lilley (QLD)
49erFX: Olivia Price (NSW) and Jaime Ryan (QLD)
Racing is scheduled to commence at 13:00 local time on Saturday 15 August (Laser) with racing concluding on Saturday 22 August. Medal Races in the Laser, 49er, 49erFX and Nacra17 are scheduled for Friday, 21 August with Medal Races for the Men's 470 and Finn classes to follow Saturday, 22 August.
Men's Skiff – 49er
London gold medallists Nathan Outteridge (NSW) and Iain Jensen (NSW) were one of four crews who won the London test event in 2011 before claiming gold at the 2012 Games and will be looking to set a similar precedent in Rio even though the pair has had a mixed year so far.
After a silver medal at the ISAF Sailing World Cup in Hyères, France, followed by a couple of results off the podium, including a fourth place at the 49er/FX Open European Championships most recently, the pair is looking forward to build on their performance at the Test Event.
They are managing their Olympic preparation with another America's Cup campaign with their Artemis team but have made their intentions clear on defending their Olympic Gold medal in Rio as well as topping last year's test event result where they finished second:
"We've arrived here ten days ago and it's been good," Iain Jensen said. "It's always been the plan to win Gold in Rio this time next year and we'll be trying to win this event, which would be a big step forward in trying to get one away from the New Zealand guys."
"We came away from the Europeans with a few things to work on and the training here has been really good for us. We've been focussing on those areas and have been taking some steps forward and hopefully that will reflect when the regatta comes around on Sunday."
Asked about the wind and water conditions of the Olympic waters he adds: "It's our second time here and it's a great place to sail with a wide range of conditions. The one who wins the regatta will be the one who can race across a whole range of conditions."
"The water seems to be a bit better than last year. The problem areas are the launching area and the Medal Race course when it rains. Mainly when it rains you get a few things floating out there and you have to be careful, especially on the Medal Race course. We've hit a bag once or twice but nothing major and it's better this year than it was last year."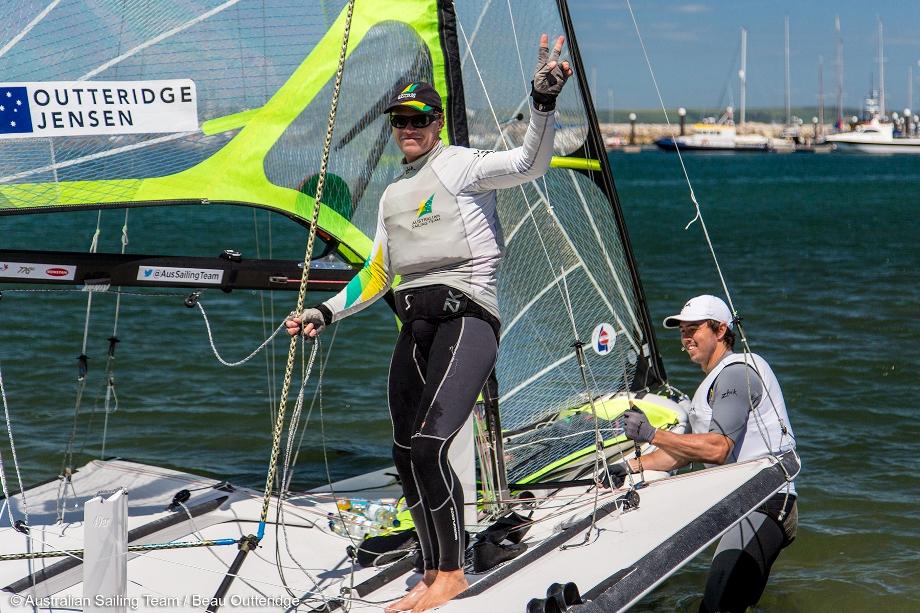 Both the 49er and 49erFX will feature 20 boats at Rio 2016 and with 20 boats on the test event start line conditions will be simulating a Games time competition environment.
Since their victory at London 2012 Outteridge and Jensen have taken somewhat of a back seat as their training partners and Olympic silver medallists Peter Burling and Blair Tuke (NZL) commenced an unbeaten 49er run that includes 2014 test event gold, two world titles and four ISAF Sailing World Cup golds. Burling and Tuke will have the favourites tag pinned on them during the test event and will look to continue their good form.
The Aquece Rio 49er fleet will feature 20 boats, the same number that will be present on the Rio 2016 startline ensuring perfect preparation for all teams involved. Whilst focus can easily be put solely on the Australian and Kiwi teams the fleet is full of exceptional talent that have the capabilities to take gold.
Nico Delle Karth and Nikolaus Resch (AUT) took gold at ISAF Sailing World Cup Miami at the turn of the year and will pose a strong threat across the week. Denmark's Beijing 2008 Olympic gold medallist Jonas Warrer, sailing with Anders Thomsen has the experience and will be at the top of the pack throughout the week.
In addition, John Pink and Stu Bithell (GBR), Manu Dyen and Stephane Christidis (FRA), Ryan Seaton and Matt McGovern (IRL) and Erik Heil and Thomas Ploessel (GER) will all be targeting the podium.
Men's Two Person Dingy – 470M
London 2012 Gold Medallist and five-time World Champion Mathew Belcher together with dual World Champion crew Will Ryan are the current World #1 and have been on the podium at every event they have competed at since they started sailing together at the end of 2012.
They qualified the boat class by winning the World Championships in September 2014 and have had two wins on Rio waters already after winning last year's test event as well as the Copa Brasil de Vela in December.
The Rio test event comes after the recent third place at the 470 Open European Championships and following three consecutive second places at the previous three World Cups, all behind different winners. The 2015 test event will mark an important step in the pair's preparation as Will Ryan explains:
"We've been here a few times now and preparations for the Test Event have been going well. We completed last week's South American Championships as a warm-up event in second place and every time we are here, we make sure it's a valuable time. We're inside of one year to go and we have to make sure that each day we're finalising those things we need to work on and it's about gaining as much experience as we can."
"We're happy with where we are at and looking forward to getting into some racing this week. There's been a lot of controversy about the water and water pollution, but it's something we can't control. It would be great if they fixed it up but we got to go out there and do what we do. Having said that, the water is warmer than in Europe so I can't complain."
Men's One Person Dinghy – Laser
Laser World #1 Tom Burton (NSW) represents Australia at the Rio Test event after recently finishing the Laser World Championship with a Bronze medal.
After winning the Test Event in 2014 Burton is enjoying being back on Rio Waters:
"Last year I won the Test Event and I will be trying to repeat that and win again this year. We had a test regatta last week, which I won as well and it's been good conditions for me here in Rio, so hopefully it all goes well next week."
"I've been here for nearly a month and it's my third time here. The biggest difference this year is that it will only be one boat per country and to not to have other team mates out there. Everyone seems to be a little bit more serious this time around and keeps to themselves a bit more. The weather has been great, the beaches are good and other than the launching area, the water hasn't been too bad."
Australia's second ranked Laser sailor and World #2 Matthew Wearn (WA), who finished fifth at the World Champs, trained with Tom in Rio in the lead up into the regatta, but will not compete as only one competitor from each nation is permitted to race. But Tom Burton appreciates the advantages of having a training partner with him:
"Matt (Wearn) has been here with me for the whole month and we've been training a lot together. He's one of the quickest in the world so it's been good and we can just go out there sailing together and if one of us is having a bad day the other can really touch him up. It keeps us both on our toes and it's good to chat with someone in debriefs and in day-to-day life who speaks your language."
Mixed-multihull – Nacra 17
Cousins Jason Waterhouse (NSW) and Lisa Darmanin (NSW) have been topping the Australian rankings over the past few events in the Nacra 17 and are representing Australia at the Rio Test Event as a consequence.
And after two weeks of training at the venue they are keen for racing to start as Lisa Darmanin says:
"We've been in Rio for about a month testing the Olympic waters together with our training partners Bundy (Darren Bundock) and Nina (Curtis), racing on all the different race courses and checking out how tricky it is out there. Our racing starts on Sunday and we're really excited to get out there and race."
"We are really proud of our second place at the Worlds and are chipping away every day to improve. We're racing well at the moment, making smart decisions and we're sailing fast, so we obviously want to be on the podium and it would be great to be on top at this event."
"The sailing conditions are tricky, but they are good. It's nice, it's challenging and offshore is just incredible with big waves, good sea breezes and being from Sydney Harbour I can't complain."
The pair most recently won the silver medal at the Nacra 17 World Championships at the beginning of July and took home the win at the ISAF Sailing World Cup in Weymouth and Portland in June. They are currently ranked No.1 on the ISAF World rankings and qualified the boat class, which will premier in 2016, by winning bronze at the 2014 ISAF Sailing World Championships in Santander.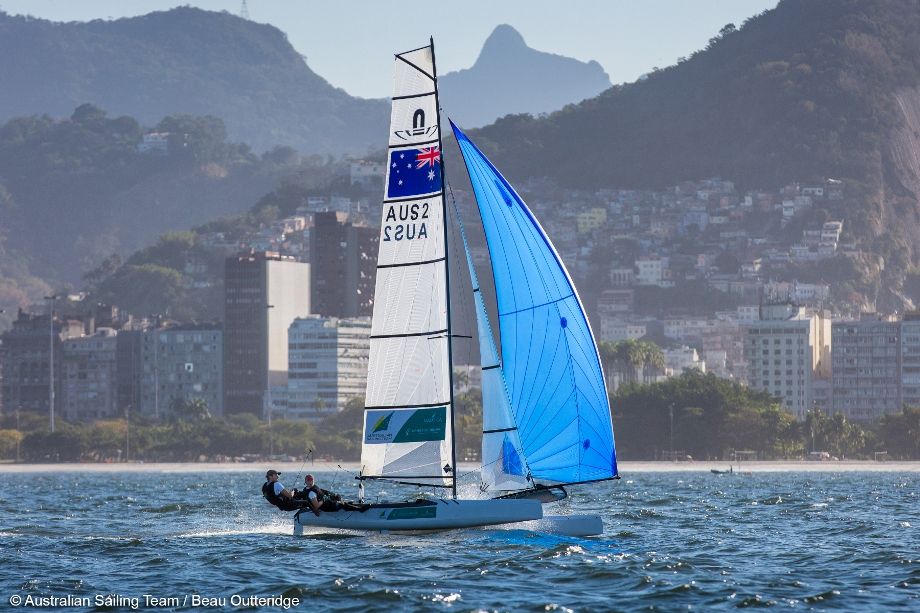 Men's One Person Dinghy (Heavyweight) – Finn
It is the first time on Rio waters for Jake Lilley (QLD) and after settling in, he is looking forward to the racing on Olympic waters:
"It's pretty special to be here and everyone is excited to have the Olympics in Rio de Janeiro. It's a fantastic place for it and next year should be something special."
"It's my first time here and at first, it was a bit of culture shock for me. Everything is a bit different in South America and different to the places in Europe and Australia where we spend a lot of time. But our team is so well prepared and we are so well set up here that you feel comfortable and at home quickly and I think that's important when it comes to going out on the water and getting the job done," he said about his first time in Brazil.
And about the conditions he added: "You have to be a well-rounded sailor to sail here. It's perfect and it's going to highlight a lot of different conditions and in the end the best sailor is going to come out on top, so it's perfect for an Olympic regatta."
Lilley is the up-and-coming Finn Sailor on the Australian Sailing Squad and secured the Test Event spot after convincing performances, including qualifying the boat at last year's World Championships, a bronze medal at the ISAF Sailing World Cup in Miami in January, eighth at the Finn European Championships, as well as sixth place at the recent ISAF Sailing World Cup in Weymouth and Portland in June. 21-year old Lilley joined the class in 2013 and is one of its fastest improvers.
The Finn fleet will see 20 competitors on the start line. All eyes will be on the in-form Giles Scott (GBR). Scott is on a run of 11 straight victories in ranked regattas, including the 2014 test event, and will be hard to beat on the Rio waters that he's become accustomed to. Aiming to upset the run will be Olympic silver medallist Jonas Hoegh Christensen (DEN), bronze medallist Jonathan Lobert (FRA) and home nation favourite Jorge Zarif (BRA).
Women's Skiff – 49erFX
In the 49erFX, the second new boat class on the 2016 Olympic sailing program, Australian Sailing Squad's Olympic medallist Olivia Price (NSW) has teamed up for the Rio test event with Jaime Ryan (QLD) after a knee injury sidelined her regular crew Eliza Solly (VIC).
With Jaime Ryan's Women's 470 skipper Carrie Smith recovering from surgery, Price and Ryan have teamed up to sail this event together in order to gain valuable experience on the Rio waters.
"We've been here for two and half weeks, have been sailing lots and have been enjoying it so far. Jaime and I have been sailing now around 20 times together and have actually sailed more here than we did in Sydney beforehand. It's been really good for us and with really tricky conditions we're switched on the whole time," Olivia Price said.
"We've been sailing on a lot of courses, even ventured outside which was pretty interesting with 28knts gusts. We've explored all the courses inside, especially the Naval course, which has some tricky stuff going on with the tide and we're just trying to get as much information as we can about the place and are looking forward to the racing."
"It's been a little while for me since I last race, so it's awesome to be here and to be in touch with the fleet again and to see how everything is going."
Like the 49er, the 49erFX will feature 20 boats at Rio 2016 and with 19 boats on the test event start line conditions will be similar to Games time. Brazil's Martine Grael and Kahena Kunze took gold at the 2014 test event and will be favourites to take another gold medal. Joining them in the fleet will be 2013 world champions Alex Maloney and Molly Meech (NZL), the consistent Danish duo Ida Marie Nielsen and Marie Olsen as well as Italians Giulia Conti and Francesca Clapcich (ITA).
The Aquece Rio – International Sailing Regatta will be based at Marina da Gloria on Rio's inner harbour. The Aquece Rio - International Sailing Regatta allows the International Sailing Federation (ISAF) to evaluate and make key decisions in advance of making the final decisions that will govern the Rio 2016 Olympic Sailing Competition.
Six race courses will be tested throughout the week, three outside of Guanabara Bay and three inside. Courses outside include Pai, Copacabana and Niteroi whilst the inside courses are Pão de Açúcar, Ponte and Escola Naval. All will be tested throughout the week by the ten Olympic sailing events. Click here to view the racing areas.
Click here for the full entry list.
Results
Results from Aquece Rio will be available here - www.sailing.org/olympics/rio2016/results/index
Links
ISAF Olympic Website - www.sailing.org/olympics/rio2016/home
Aquece Rio Website - www.aquecerio.com/en/
Sailing Instructions - http://www.sailing.org/tools/documents/AqueceRio2015SIFINAL
Rio 2016 Olympic Sailing Competition
The Rio 2016 Olympic Sailing Competition will take place at the Marina da Glória, Rio de Janeiro, Brazil and will feature 380 athletes competing across ten events.
Racing is scheduled to take place from 8-18 August 2016 and the competition format for all events is fleet racing.
Rio Olympic Test Event 2015 - Preview
Australian Sailing Team: Published on 14 Aug 2015
The Australian Sailing Team are in Rio de Janeiro one year ahead of the 2016 Olympic Games. The team have been training hard on the waters of Guanabara Bay. Catch up with Lisa Darmanin (Nacra17), Tom Burton (Laser), Olivia Price (49erFX), Jake Lilley (Finn), Will Ryan (470) and Iain Jensen (49er).
Filmed & Edited by Beau Outteridge / Australian Sailing Team
Full story on our website: www.australiansailing.org
Follow us on
Facebook: www.facebook.con/AusSailingTeam
Twitter: www.twittter.com/AusSailingTeam @AusSailingTeam and I
Instagram: @AusSailingTeam www.instagram.com/AusSailingTeam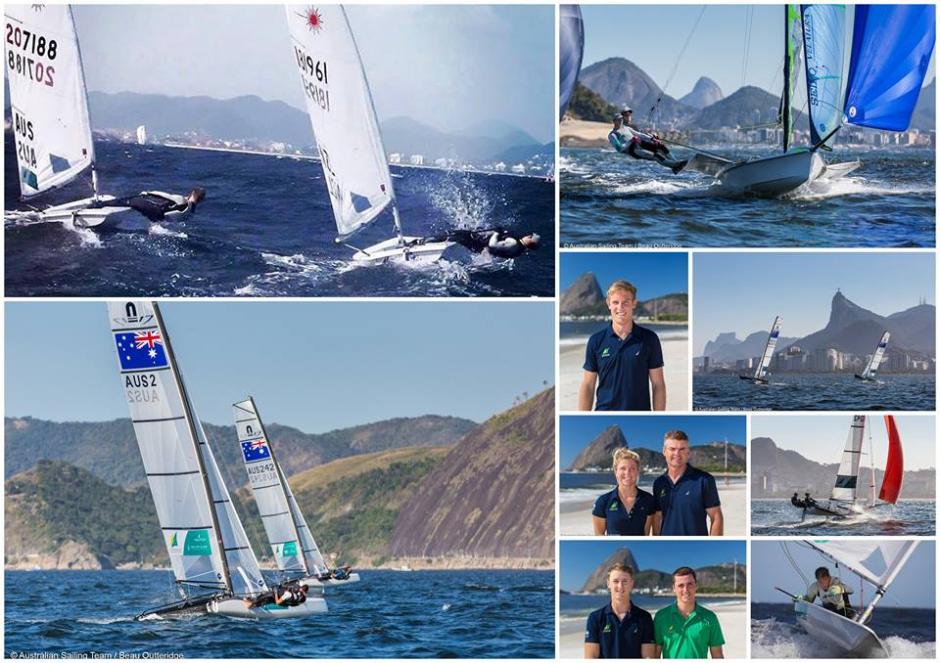 AST Training in Rio - August 2015 - photo collage ©Beau Outteridge / Australian Sailing Team

AST Training in Rio - August 2015 - Full Team photo ©Beau Outteridge / Australian Sailing Team
Australia will be represented at the Rio Sailing Test Event in six events:
Men's 470 (Men's double-handed dinghy) – Mat Belcher (QLD) & Will Ryan (QLD)/ - Coach: Victor Kovalenko
Nacra 17 (Mixed multihull) – Jason Waterhouse (NSW) & Lisa Darmanin (NSW) - Coach: Andrew Landenberger
Laser (Men's single-handed dinghy) – Tom Burton (NSW) - Coach: Michael Blackburn / Jared West
49er (Men's skiff) – Nathan Outteridge (NSW) & Iain Jensen (NSW) - Coach: Emmett Lazich
49erFX (Women's skiff) – Olivia Price (NSW) & Jaime Ryan (QLD) - Coach: Shane Smith
Finn (Men's heavy-weight dinghy) – Jake Lilley (QLD) - Coach: John Bertrand