November 10 - 16, 2013: Issue 136
Palm Beach Sailing Club's Beware the Bullets Regatta 2013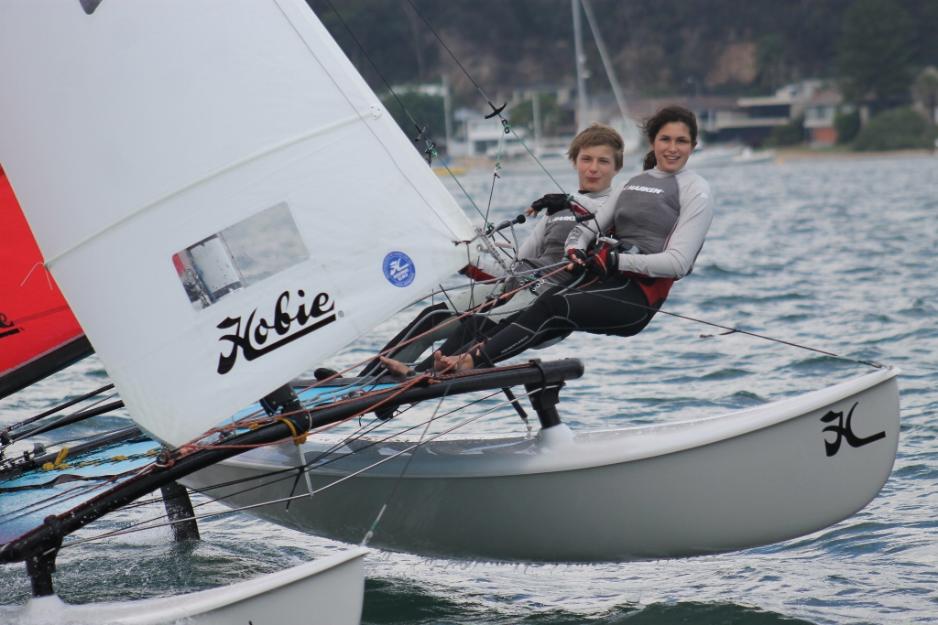 Lachie White and Sophie Renouf. They are competing in the youth division at the Hobie 16 Worlds. Picture by A J Guesdon.
Palm Beach Sailing Club's Beware the Bullets Regatta 2013 – Day One
The second day of the Beware the Bullets Regatta, 2013, is on today off Sandy Point, Palm Beach and with good winds forecast there's bound to be some great action. On Staurday afternoon a few people were enjoying the racing from the green grassy areas adjacent to this popular beach and smiled as we said "nice day for it." on returning from the Rescue Boat.
Teams comprised of younger members, mixed crews and a few masters with youth crews were out literally flying across Pittwater yesterday – underlining that here is a sport and club where families can get out of the workday week and have some fun together.
Some of yesterday's action features as this week's Pictorial and an insight into the focus for this year's Beware the bullets Regatta is courtesy of local sailing lady Linda Renouf, the new publicity officer for the club who was speeding over the water herself all afternoon:
The Beware the Bullets Regatta November 9 - 10 on Pittwater, an open event for all beach catamarans, will give local sailors a chance to prepare for the upcoming Hobie 16 World Championships in Jervis Bay, Friday 31 January to Saturday 15 February 2014.
Hobie sailors from the Palm Beach Sailing Club ("PBSC") are on a mission to defend their world titles early in 2014. Possibly inspired by America's Cup Oracle skipper, James Spithill, who was also a Hobie sailor on Pittwater, the entrants list for this year's Hobie 16 Worlds is record breaking.
Typically an event that requires Aussies to travel to Europe, America, Africa and Asia every year, in 2014 it will now only be hours away. Registration includes 375 competitors from 14 countries. PBSC has over 20 members competing.
The local club has a collection of world champions defending their titles including Anthony Duchatel and Evelyn Curtis as Grand Masters, Rod and Kerry Waterhouse as Masters Champions, and Jason Waterhouse and Lisa Darmanian as Youth Champions. Jason Waterhouse recently represented Australia in the Red Bull Youth America's Cup in San Francisco as a skipper.
"We have a great legacy of Olympic, world and national champions of various multihulls coming from our club. " says Commodore Dick Clarke. "The competition is going to be fierce but the Aussies will represent some of the very best. You can count on them being prepared and passionate about their sailing, and probably having the most fun too - which is at the heart of why we sail."
Thanks go to David Bray Yachts for providing the Start Boat for the Bullets Regatta this year and to Andrew Nelson and Big Fopot Bags and Covers for sponsorship of this year's event.
PBSC Bullets 2013 - Results
Hobie 16 Open
1. Anthony Duchatel / Evelyn Curtis
2. Mick Butler / Sara Copeland
3. Andrew Tuite / Damien Miller
Hobie 16 Masters / Grand Masters
1. Anthony Duchatel / Evelyn Curtis
2. Mick Butler / Sara Copeland
3. Upu Kila / Patrick Butler
Youth
1. Ryan Wilmot / Annie Wilmot
2. Paul Darmanin / Lucy Copeland
3. Lachlan White / Sophie Renouf
Misc
1. Dick Clarke
2. Patrick Boutonnet / Nick Reader
3. Kerrie Kalinin / Cam Russell
F18
1. Brett White / Angus Musgrove
2. Peter Skewes / Bailey Skewes
Palm Beach Sailing Club, (formerly Pittwater Catamaran Club) races every Saturday from Sand Point, off Iluka Road, Palm Beach. All catamaran classes are welcome. Racing commences at 1pm, with current fleet sizes ranging from 10 to 20 boats, consisting of mainly Hobie 16s, Hobie 17s, Hobie 18s, Taipans, A Class and Nacra catamarans. To date, the club has accumulated more Olympic sailing medals than any other club in Australia.
Palm Beach Sailing Club caters for both beginner and experienced catamaran sailors. Experienced members are only too happy to share their knowledge with new sailors, offering advice on boat rigging and tuning, crew techniques and racing tactics. New sailors may start sailing by crewing for an experienced sailor. The club periodically holds Saturday morning sailing schools, where everything from basic knot tying to advanced racing techniques are taught.
The Club sails from Sandy Beach, Palm Beach at the end of Sand Point Lane.
The 2014 Hobie® 16 World Championships will be held 31st January – 15th February 2014 and sailed at Jervis Bay, New South Wales in three (3) world championships disciplines: Women's, Youth, Open with two (2) additional disciplines Masters Cup and Grand Masters Cup. Find out more at: hobieworlds.com
More about Palm Beach Sailing Club is available on their website at: www.pbsc.org.au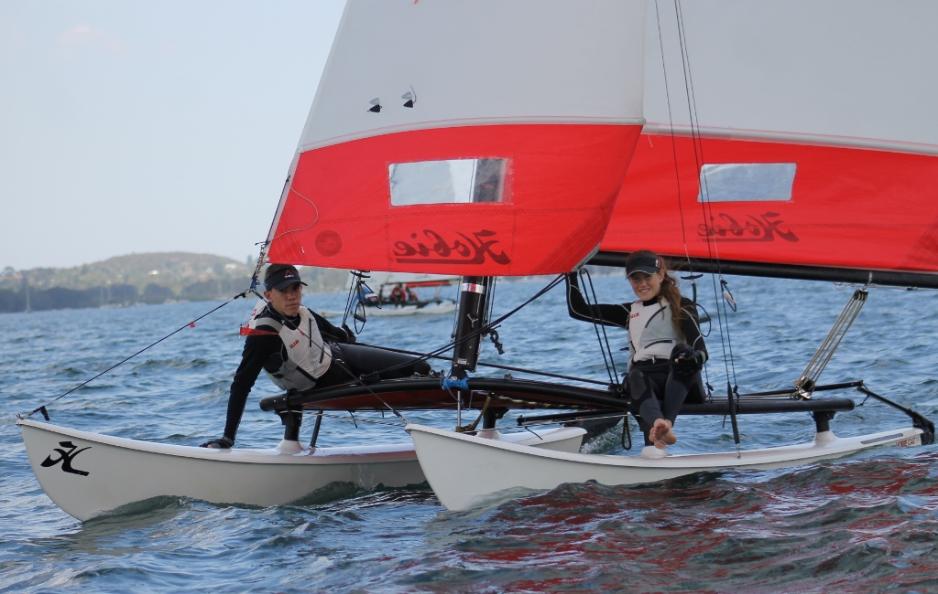 Paul Darmanin and Lucy Copeland - ISAF Youth Sailing World Championship silver medallists. Picture by A J Guesdon, 2013.