MANLY.—Impounded at Manly, on the 18th day of March, 1884, from Mount Brown Estate, Narrabean, by James Wheeler; sum due at date of notice, 10s. each :—
Bay mare, white stripe down face, white near hind foot, J G over D near shoulder, 14 hands.
Bay entire colt, white spot on forehead, unbranded, 18months, 14 hands.
If not released, will be sold at this Pound at noon on the 27th March, 1884.
2095—2b. J. BUNN, Poundkeeper. MANLY.—Impounded at Manly, on the 18th day of March, 1884, from Mount Brown Estate, Narrbean, by James (1884, March 18). New South Wales Government Gazette (Sydney, NSW : 1832 - 1900), p. 1890. Retrieved from http://nla.gov.au/nla.news-article223768456
First advertised in august for a September 10th auction date, no sales meant a re-advertisement
Advertising (1884, August 29). The Sydney Morning Herald (NSW : 1842 - 1954), p. 11. Retrieved from http://nla.gov.au/nla.news-article13569009
Auction Sales.
NEXT TUESDAY, at 11.50 A.M.
Under instructions from FRANCIS MACNAB, Esq., OFFICIAL ASSIGNEE in the Estate of JAMES WHEELER, of NARRABEEN.
BATT, RODD, and PDRVES have received instructions to sell by public auction, at their ROOMS, 88, PITT-STREET, NEXT TUESDAY, 16th September, at 11.30 a.m.,
All the Official Assignee's
RIGHT, TITLE, and INTREST In and to the following Properties,
viz:
Lot. 1.-All that piece of Land situate at ST. LEONARDS, parish of WILLOUGHBY, county of Cumberland, containing 1 acre, 3 roods, 16 perches, or thereabouts, commencing at the Intersection of WILLIAM and MOUNT STREETS, and bounded on the south by MOUNT STREET, hearing westerly 7 CHAINS 88 LINKS to a RESERVED ROAD. 33 feet wide ; on the west by that road bearing northerly 8O LINKS to BERRY'S LAND ; on the north-west by part of the south-eastern boundary of that land, bearing-north-easterly 8 CHAINS 85 LINKS to WILLIAM-STREET aforesaid, and on the east by that street, bearing sotherly 8 chains 90 links to the point of commencement.
Lot 2. 90 ACRES, county of Cumberland, parish of MANLY, near DEE WHY LAGOON, bounded on the east by a line dividing it from JOHN HARPUR'S 40 acres bearing north 18 chains on the north by a line dividing It from W. Cossar's 200 acres, bearing West 49 chains 20 links to the ROAD from PITTWATER; on the west by that road, and on the south by a line bearing east 83 chains 80 links to the south-west corner of JOHN HARPUR'S 40 acres aforesaid. (Lot 20.)
Lot 3.-50 ACRES, at NARRABEEN LAGOON, bounded on the north by a line bearing east 22 chains, on the east by a line bearing south 20 chains, on the south by a line bearing west 29 chains 77 links, and on the west by NARRABEEN LAGOON. (Lot 16.)
Lot 4.-50 ACRES, at NARRABEEN LAGOON, bounded on the east by a line dividing it from a measured portion of 20 acres, bearing south 26 chains; on the south by a line bearing west 20 chains; on the west by a line bearing north 28 chains to a creek, and on the north by that creek to the north-west corner of 20 acres aforesaid. (Lot 15.)
Lot 5.-100 ACRES at NARRABEEN LAGOON, commencing at marked oak tree on a creek running into Narrabeen Lagoon, and bounded on the north by a line bearing east 35 chains, on the east by a line bearing south 58 chains 50 links, on the south by a line bearing west 24 chains 50 links to the north- east corner of a measured portion of 100 acres at the head of a small creek, and on the west by that creek, dividing it from part of that 100 acres and part of R. M'INTOSH'S 100 acres to the commencing north-west corner. (Lot 14.)
Lot 6.-20 ACRES, County of Cumberland, parish of MANLY COVE, at NARRABEEN LAGOON, bounded on the south by a line- from the north-west corner of ROBERT M'INTOSH'S 100 acres, bearing west l8 chains 50 links ; on the west by a line dividing it from a measured portion of 50 acres bearing north 16 chains and 88 links to a CREEK, on the north by that CREEK to Its mouth, and on the east by NARRABEEN LAGOON to the north-west corner of R. M'Intosh's 100 acres aforesaid.(Lot 9.)
Lot 7.-30 ACRES, parish of NARRABEEN, at Narrabeen Lagoon, commencing on NARRABEEN CREEK at the north-east corner at a unnamed portion of 50 acres, and bounded on the south by part of the northern boundary of that land bearing west 25 chains and 50 links, on the west by a line boating north 19 chains to NARRABEEN GREEK, and thence- by that creek to the north-east comer aforesaid.
Lot 8.-86 ACRES, parish NARRABEEN, at Narrabeen Lagoon, commencing at an IRONBARK TREE, being the south-west corner of E. Schaffer's 50 acres, and bounded on the north by that land, being a line bearing east to NARRABEEN LAGOON; on the east by NARRABEEN LAGOON, measuring 20 chains along the bank on the south by a line bearing west 35 chains 77 links, and on the west by a line bearing north 28 chains 75 links to the couth-west corner of E. Schaffer's 50 acres aforesaid.
Lot 9.-14 ACRES, parish of MANLY COVE, at DEE WHY LAGOON, commencing at the south-cast corner, being 4 chains 60 links northerly from the south-west corner of JAMES JENKINS'S 500 acres, and bounded on the east by part of that land, being a line bearing north 17 chains; on the north by Crown land, being a line bearing west 12 chains ; on the west by Crown land, being a line bearing south 8 chains, and on the south-east by a line bearing south 58 degrees east 13 chains 60 link's to a creek, and thence by that creek to the south-east comer 4 chains 60 links northerly from the south-west corner of JAMES JENKIN'S 500 acres aforesaid.
Lot 10.-15 ACRES, county of Cumberland, parish of MANLY COVE, at NARRABEEN LAGOON, commencing at the north-vest corner of James Wheeler's 100 acres, and bounded on the east by a line bearing north 22 chains 50 links ; on the north by part of J. Wheeler's 50 acres, being a line bearing west 7 chains 50 links to NARRABEEN LAGOON and a creek, to the north-west comer of J. Wheeler's 100 acres aforesaid. (Lot 17.)
Lot 11-20 ACRES, MANLY COVE, near DEE WHY LAGOON, commencing at the north-east corner distant 6 chains north from north-west corner at a measured portion of 30 acres, und bounded on the north by a line bearing west 16 chains ; on the wept by a line bearing south 12 chains 50 links : on the south by a line bearing east 16 chains, and partly on the east by part of the western boundary of a measured portion of 30 acres, being a line bearing north 12 chains 60 links to the north-east comer aforesaid.
Lot 12.-2 ACRES 2 ROODS 32 PERCHES, parish of MANLY COVE, village of BALGOWLAH. Suburban portion No. 22, commencing on the north side of WHITE STREET at its intersection with the east side of CONDAMINE-STREET, and bounded on the west by the east side of that street northerly 6 chains; on the north by a line easterly at right angles to CONDAMINE-STREET 4 chains 50' links ; on the east by a line southerly 6 chains parallel to CONDAMINE-STREET, and on the south by 4 chains 50 links of the north side of WHITE-STREET westerly to the point of commencement.
Lot 13.-2 ACRES 1 ROOD, suburban portion No. 26 of section,-commencing at the north-east corner 1 chain west from the north-west commencing at James Jenkins's allotment, and bounded on the ….by WHITE-STREET, being a line bearing west ? chains 50 links; on the west by a line bearing south 4 chains 65 links dividing it from allotment No. 21 ; on the south by the shore of NORTH HARBOUR, and on the east by Boyle-street, being a line bearing north 6 chains 10 links to the north-east corner aforesaid.
Lot 14.-2 ACRES 2 ROODS 32 PERCHES, suburban portion. No. 16 of section-commencing at the north-east corner, and bounded on the north by WHITE-STREET, being a line bearing west 4 chains 50 links ; on the west by allotment No. 10, being a line bearing south 6 chains; on the south by allotment No. 15, being a line bearing east 4 chains 60 links ; and on the east by Condamine-street, being a line bearing north 6 chains to the north east corner aforesaid.
Lot 15.-5 ACRES 1 ROOD 24 PERCHES, suburban portion No. 80, commencing on the north side of White-street, at its intersection with the east side of BOYLE-STREET, and bounded on the west by the east side of that street, northerly 6 chains.; on the north by a line easterly at right angles to BOYLE-STREET, 9 chains to the east boundary of the village of Balgowlah; on the east by that boundary, southerly 6 chains parallel to BOYLE-STREET, divining it from JOHN WHEELER'S 20 acres to White-street and on the south by 9 chains of the north side of WHITE-STREET westerly to the point of commencement.
Lot 16.-15 ACRES, commencing at the south-east corner of the township of BALGOWLAH, on NORTH HARBOUR, and bounded on the west by part of the eastern boundary of the said township, bearing northerly 10 chains; on the north by it line bearing easterly 13 chains; on the east, by a line bearing southerly 17 chains 60 links to the North Harbour, and on the south-west by a line bearing westerly to the point of commencement.
Lot 17-All that PARCEL OF LAND at ST. LEONARDS, at NORTH SHORE, being part of lot 27 of BERRY'S SUBDIVISION, commencing at the corner of Henry Bourne's allotment, and with a frontage to the LANE COVE-ROAD of 40 feet, thence by a line parallel to Bourne's boundary to a watercourse ; thence by that watercourse to Bourne's land, and thence by that land to the point of commencement.
Subject to a lease, as under :
JAMES WHEELER, A. REYNOLDS, and G. H. FRENCH, to Anthony Ebert.
Lease 14 years, at £14 8s.
Lot 18.-Part of Lot 27, BERRY'S SUBDIVISION, commencing at ANTHON Y EBERT'S allotment, and having a frontage to-the LANE COVE-ROAD of 40 feet ; thence by a line parallel to a natural watercourse ; thence by that watercourse at right angles, to Anthony Ebert's boundary, and thence by that boundary to the point of commencement.
Subject to a lease as under :
J. WHEELER, REYNOLDS, and French to JOHN THOMPSON.
Lease, 14 years, £18,
Lot 19.-All the OFFICIAL ASSIGNEE'S RIGHT, TITLE, and INTEREST In and to all the INSOLVENT'S INTEREST under the will of the late GEORGE WHEELER.
Solicitors for the Estate.
Messrs. STEPHEN, LAURENCE, and JAQUES,
81, Pitt-street, ,
from whom all particulars as to TITLE may be obtained.
BATT, RODD, and PURVES, Auctioneers. Advertising (1884, September 13). The Sydney Morning Herald (NSW : 1842 - 1954), p. 20. Retrieved from http://nla.gov.au/nla.news-article13571386
J Macdonald's 30 acres is subdivided for sale;
NARRABLEN LAGOON, MANLY.
WATER FRONTAGE BUILDING SITES.
This Property, only a few miles from Manly, on the main road to Pittwater and new Government Bridge, beautifully situated on the shores of the Narrabeen Lagoon, is now liberally sub-divided In Villa Sites Allotments, from 1/2 to 1 1/4 acre each. The scenery is grand and cannot be surpassed, and as most of the allotments have extensive water frontage, this Sale offers a splendid opportnnity for those wishing to secure really good and large sites for residences In this healthy and favoured suburb. Exceptionally good oppoitunities offers this sale also for Investors and Speculators, as without doubt the value will more than double itself In less than 12 months, as nowhere so near to the city equal advantages for fishing, boating, salt water bathing, and pure air can be found.
TITLE, CROWN GRANT.
Plans will be ready at the Rooms In a few days, Terms-25 per cent, deposit, balance in 12 equal monthly payments, without interest, MESSRS. HARDIE and GORMAN have been instructed to sell at their Rooms, 133, Pitt-street, This splendid property, in 74 large allotments, varying from 1 to 1 1/4 acre each, on WEDNESDAY, 22nd OCTOBER, 1884, at 11. 30 am.
Inspection of the property, the allotments of which are all pegged and numbered, is Invited, as the beautiful situation on the well-known, romantic, and pretty Narrabeen Lagoon will recommend itself favourably to the public. Advertising (1884, September 27). The Sydney Morning Herald (NSW : 1842 - 1954), p. 20. Retrieved from http://nla.gov.au/nla.news-article13564282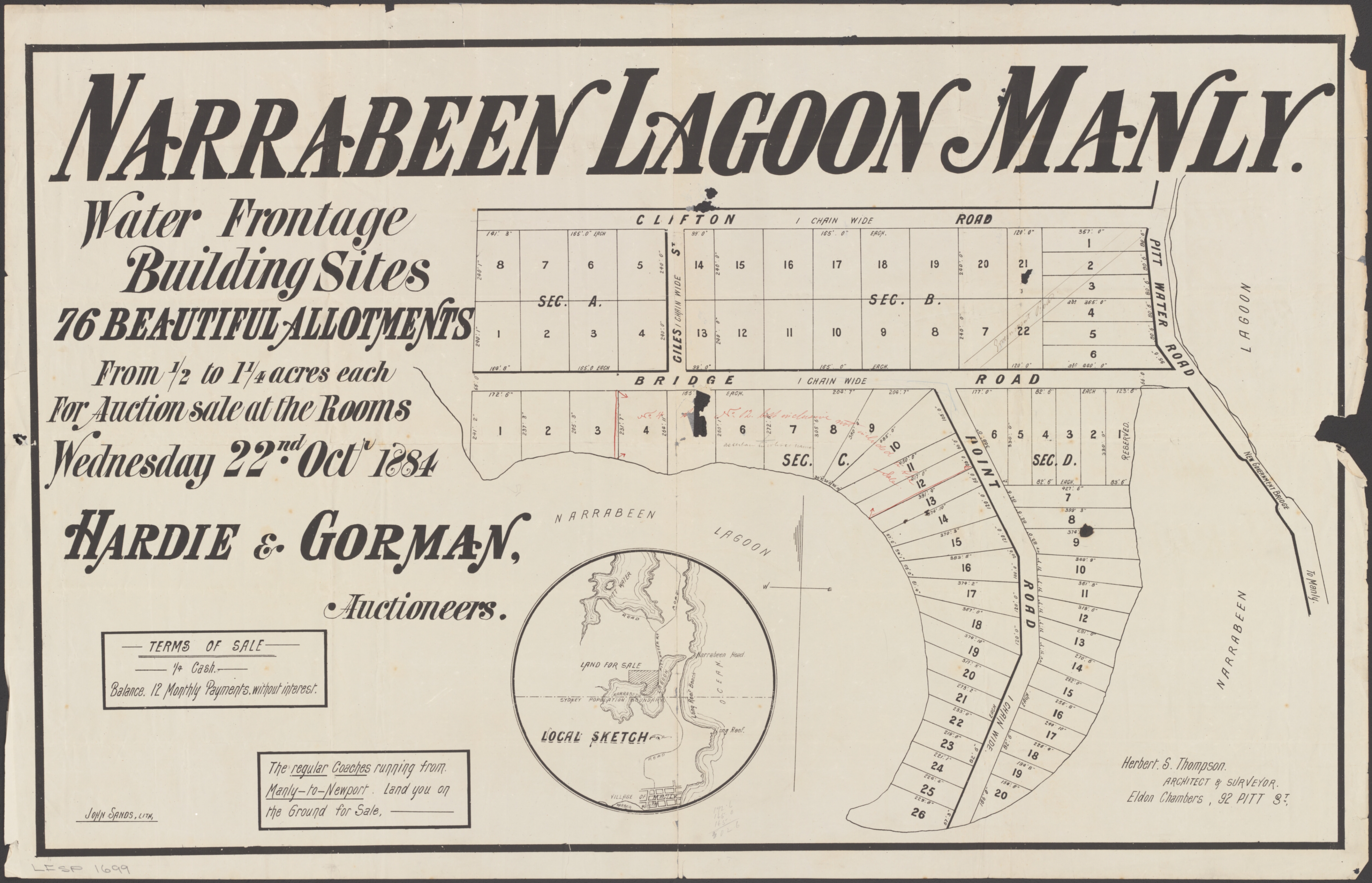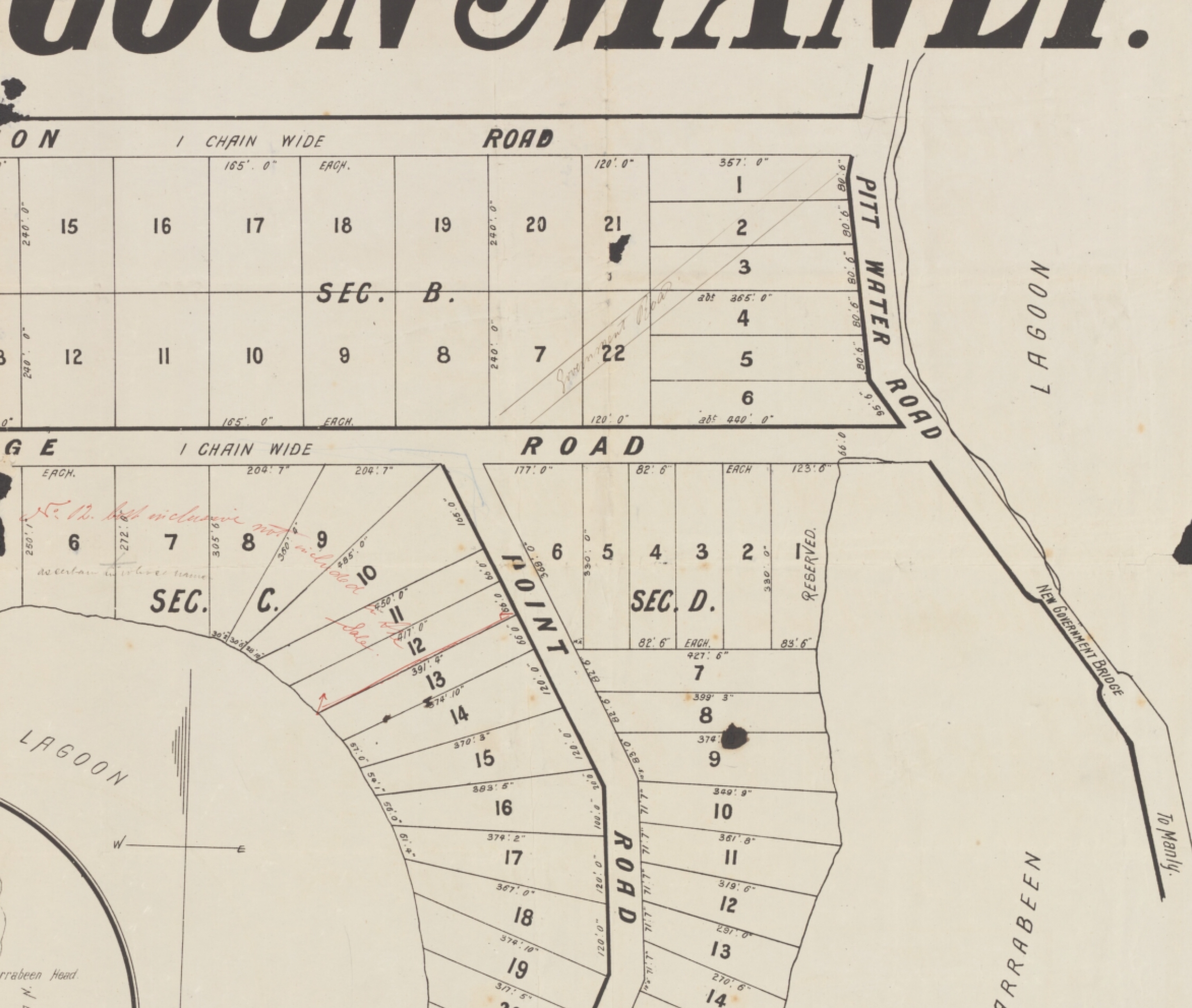 Hardie & Gorman Pty. Ltd & Thompson, Herbert S & John Sands (Firm). (1884). Narrabeen Lagoon Manly water frontage, building sites, 76 beautiful allotments : from 1/2 to 1 1/4 acres each, for auction sale at the rooms, Wednesday 22nd Octr 1884 Retrieved from http://nla.gov.au/nla.obj-230340087

Relics of an Early Settler.
Certainly the most picturesque spot on the road between Manly and Pittwater (Newport) is Narrabeen beach and lagoon, or rather lake, the beach for some time providing a resting-place of the steamship Collaroy. Running behind and parallel with the beach is a strip of level well-grassed land, and from the borders of this rises a pretty ridge, heavily timbered at the southern end, but sloping on the north to the beautiful still waters, the meaning of the native name, of Narrabeen Lagoon. On this slope, commanding a view to the east over a wide expanse of ocean and sea coast, and to the west over Narrabeen, stood some old ruins buried almost in the grassy hillside. The ruins have lain undisturbed for many years, and have formed the subject of many conjectures as to the nature of the buildings which they represented. It is said that in the earliest times a sergeant in His Majesty the King's service, attracted by the beauty of the site, built the place. The escaped convicts were at the time very troublesome, and stealing forth from their hiding places in the rough country between the head of Middle Harbour and the Hawkesbury, gave much trouble to the settlers. The sergeant's house was at one time the scene of an encounter with an ex-convict, in which that officer and his wife were killed, and from that time the house was allowed to fall into ruin, and has gradually been covered by the hillside.
Some little time since, the land was purchased by Mr. Obed West, of Barcom Glen, and on it he had erected a handsome stone cottage. During the course of the work the men engaged dug up a number of coins, both silver and copper all bearing date about 1825. No doubt, it was about this time that the cottage stood inhabited, and it would be then that the tragic event referred to must have occurred. Relics of an Early Settler. (1884, December 13). The Maitland Mercury and Hunter River General Advertiser (NSW : 1843 - 1893), p. 13 (Second Sheet the the Maitland Mercury). Retrieved from http://nla.gov.au/nla.news-article18941705
In the Supreme Court of New South Wales.
IN INSOLVENCY.
In the Insolvent; Estate of James Wheeler, of Narrabeen, near Manly, farmer.
TAKE NOTICE that on the twenty-eighth day of May instant, at 11 o'clock in the forenoon, or as soon thereafter as the course of business will permit, this Honorable Court will be moved that the estate of the abovenamed insolvent be released from sequestration, upon the grounds that the whole of the debts proved in the estate and all claims made by or on behalf of the Official Assignee have been paid and satisfied in full, and on the further grounds disclosed by the affidavit of the insolvent filed herein.—Dated this 13th day of May, 1885.
A. H. M'CULLOCH,
Attorney for Insolvent. 3475 6s. 6d. IN INSOLVENCY. (1885, May 15). New South Wales Government Gazette (Sydney, NSW : 1832 - 1900), p. 3200. Retrieved from http://nla.gov.au/nla.news-article221692340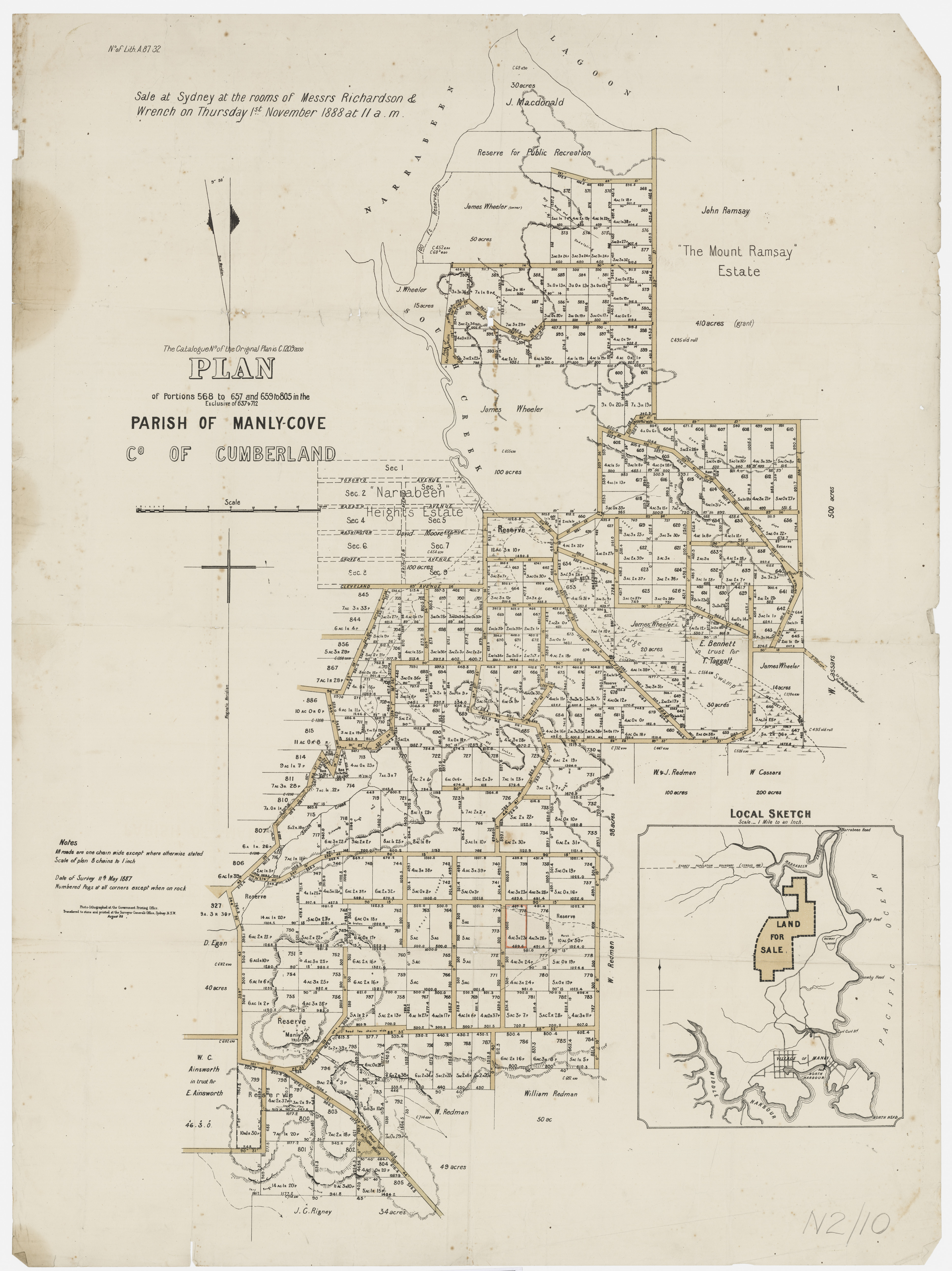 Plan of the Portions 568 to 657 and 659 to 805 in the exclusive of 637 and 712 - Parish of Manly-Cove - No boundaries shown, 1887. Item: c050370010, from Narrabeen subdivision plans, courtesy state Library of NSW - shows Ramsay estate, james Wheeler land holdings and J McDonald eland holdings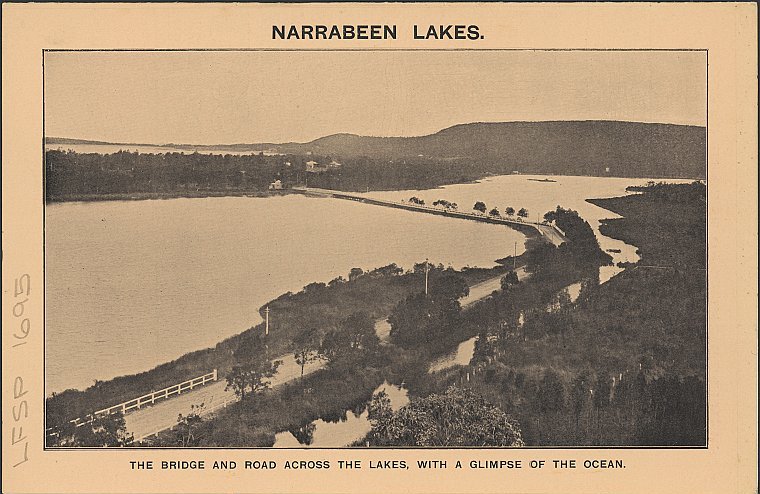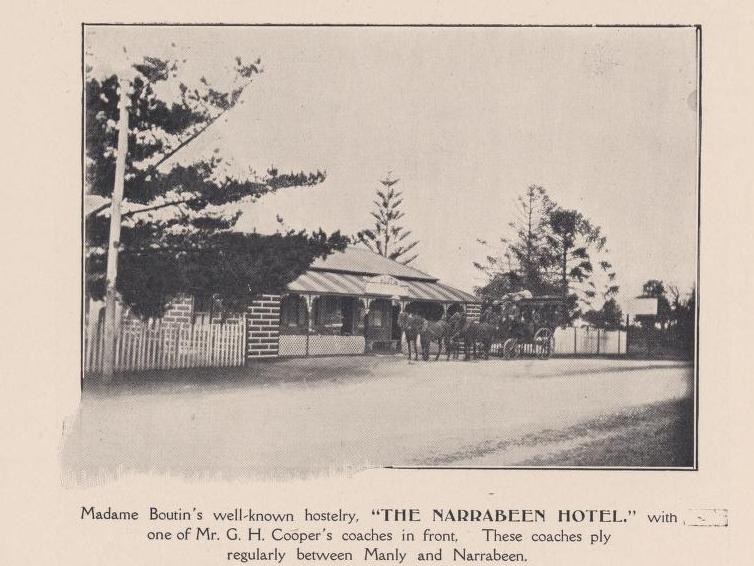 Narrabeen Lakes Estate, 1906 / Arthur Rickard & Co. Ltd Auctioneers. 1906. MAP Folder 114, LFSP 1695 (Copy 1). Part 2. (sales brochure) Image No.: 22704748, courtesy National Library of Australia.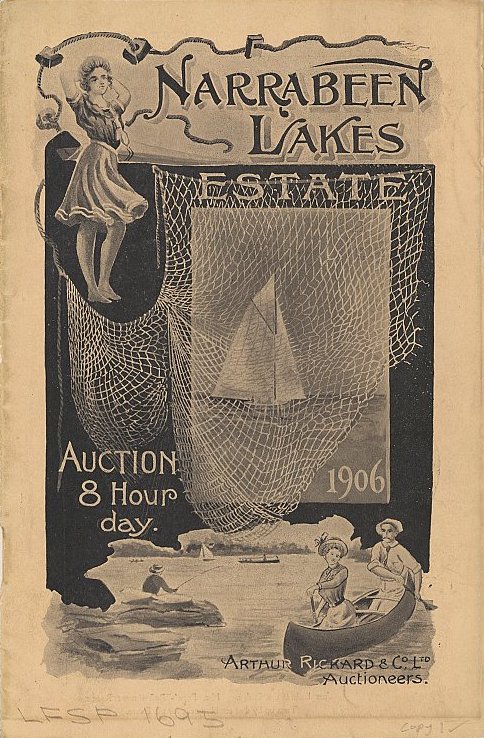 THE NARRABEEN LAKES.
Who does not know of the beauties of Narrabeen Lakes?— that charming 'village by the sea,' seven miles from Manly. On one side the ocean beach — three miles long— a magnificent stretch of clean, hard sand — an ideal spot for bathing. On the other side the picturesque lake, fringed with wattle, fern, and lilli pillys, swarming with fish, and the habitat of the swan and shy waterhen, etc. This fine spot is destined to take a big leap forward very soon, as its manifold charms, attractions, and 'get-at-ableness' are commanding the attention of all sorts of people — people who want a quiet place to loaf at, families who want a safe place to boat, fish, and bathe at; quiet folk who are satisfied to ramble 'midst the hills and dells, and gather the beautiful waratahs, native roses, and other wild flowers; and, last, but not least, 'the keen-eyed man, with his optic fixed. on 'the main chance.' On eight-hours Day, at 2 o'clock, on the ground, Arthur Rickard and Company, Limited, auctioneers, of 84B Pitt-street, will sell a fine estate In subdivision — the Narrabeen Lakes Estate, close. to hotel, -school, P.O., church, stores, etc., fronting both lake and ocean. Full particulars of this important sale and the arrangements to convey visitors to and from it are advertised. THE NARRABEEN LAKES. (1906, September 27). Evening News (Sydney, NSW : 1869 - 1931), p. 3. Retrieved from http://nla.gov.au/nla.news-article114087901
Above, Below and Right: Narrabeen Lakes Estate, 1906 / Arthur Rickard & Co. Ltd Auctioneers, Sales Brochure. 1906. MAP Folder 114, LFSP 1695, courtesy National Library of Australia.
PROPERTY SALES.
Arthur Rickard and Co., Limited, report that at the auction held yesterday, on the ground, of the Narrabeen Lakes Estate, Narrabeen, there -was a good attendance of buyers, and bidding was brisk. One hundred and fourteen lots were sold, totalling £2207 10s. Ocean beach lots fetched from £19 to £23, lake frontages from £30 to £40, main-road lots at £45 each, small interior lots from £9 10s to £15 each, and larger lots from £14 . 10s to £27. The balance is held for private sale. PROPERTY SALES. (1906, October 2). The Sydney Morning Herald (NSW : 1842 - 1954), p. 9. Retrieved from http://nla.gov.au/nla.news-article14827051

The changing of the landscape, the popularity of the waters of the lagoon as a fishing spot, coupled with the extension of the tram line brought even more 'excursionists, and then a clubhouse was needed for equipment and all-season life-savers, many of whom stayed in these original clubhouses over the season;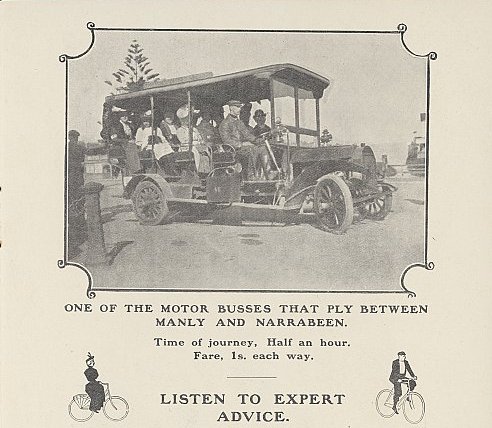 NARRABEEN LAKES. WORKS DEPARTMENT'S SCHEME AGREED TO.
A special meeting of the Warringah Shire Council was held to consider the proposed scheme by the Works Depratment for improving the Narrabeen lakes. The proposal is to cut a channel in the rock at the foot of Narrabeen head from the ocean into the lake, in which the tide will flow. Councillor Quirk moved that the Minister for Works be informed that the Council is prepared to guarantee the following-"To Carry out the work of constructing an opening on the on the lines of the plan and specifications submitted, 18ft wide, at a cost of £580 that the council guarantee to put the work in hand immediately the work of constructing the tram is commenced which will allow it to be completed some months before the tram reaches Narrabeenand that a sufficient number of boats will be provided at four different points on the lake " The motion was unanimously agreed to. NARRABEEN LAKES. (1911, May 11). The Sydney Morning Herald (NSW : 1842 - 1954), p. 3. Retrieved fromhttp://nla.gov.au/nla.news-article15239491
SURF CLUB FOR NARRABEEN.
References and extras
James Wheeler, 1812–1890 (aged 78 years)
Father
George Ayres 1780–1852 - chandler
Mother
Sophie Pope 1784–1871
Marriage Registers Frome St John 1798 - 1815; p. 58, 1803, no. 284
Text:
George Ayres of this parish and Sophia Pope of this parish were published on the three Sundays underwritten: that is to say, on Sunday the 17th July, the 24th and 31st.
George Ayres of this parish and Sophia Pope of this parish were married in this church by banns this 1st day of August in the year 1803 by me [John Pocock]. George and Sophia both made their X marks in the register in the presence of John Deacon and Robert Deacon, who both signed the register
George Wheeler, one of 125 convicts transported on the ship 'Shipley', 20 December 1816.
Sentence details: Convicted at Somerset Assizes for a term of 14 years on 30 March 1816.
Vessel: Shipley.
At the Assizes for the county of Somerset, twenty-six prisoners were capitally convicted, and seven left for execution; one of whom was George Wheeler, for being an accessory to shooting, with intent to kill, W. Blacker, the Earl of Cork's gamekeeper. - Cambridge Chronicle Friday April 19, 1816 p. 4

Date of Departure: December 20th, 1816.
Place of Arrival: New South Wales, April 24th, 1817.
At his late residence, Kent-street, on 3rd instant, after a painful illness, Mr. George Wheeler, aged 76 years. Family Notices (1852, November 4). The Sydney Morning Herald (NSW : 1842 - 1954), p. 3. Retrieved from http://nla.gov.au/nla.news-article12941282
FUNERAL.—The Friends of the late Mr. George Wheeler are requested to attend his funeral, to move from his late residence, Kent-street (a few doors south of Erskine-street), To-morrow (Friday) morning, at a Quarter to Eight o'clock. JAMES CURTIS, Undertaker. Hunter-street, November 4. Family Notices (1852, November 4). The Sydney Morning Herald (NSW : 1842 - 1954), p. 3. Retrieved from http://nla.gov.au/nla.news-article12941278
DISORDERLY.-George Wheeler, charged by constable Smith with disorderly conduct of a most reprehensible nature, was fined, £5, and 2s. 6d. costs, or to be imprisoned during forty eight hours. He paid the fine immediately. SYDNEY POLICE COURT.—SATURDAY. (1852, October 11). Empire (Sydney, NSW : 1850 - 1875), p. 4. Retrieved from http://nla.gov.au/nla.news-article60133100

In the Supreme Court of New South Wales.
ECCLESIASTICAL JURISDICTION.
In the Will of George Wheeler, of Kent-street, in the City of Sydney, in the Colony of New South Wales, landholder, deceased.
NOTICE is hereby given, that Sophia Wheeler, the Executrix of the last Will and Testament of the above deceased George Wheeler, intends to apply to this Honorable Court, after the expiration of fourteen days from the publication hereof, that probate of the said Will of the said George Wheeler be granted to her.— Dated this third day of March, in the year of our Lord one thousand eight hundred and fifty three.
M. CONSETT STEPHEN,
174, Elizabeth-street, Sydney.
Proctor for the said Sophia Wheeler. 268 4s. 6d. ECCLESIASTICAL JURISDICTION. (
1853, March 4
).
New South Wales Government Gazette
(Sydney, NSW : 1832 - 1900), p. 436. Retrieved from
http://nla.gov.au/nla.news-article229115632
DEATH.
On the 18th instant, at her residence, 244, Kent-street, Sydney, SOPHIA WHEELER, relict of the late George Wheeler, of Kent-street, aged 91 years. An old and respected colonist. Family Notices (1871, May 19). The Sydney Morning Herald (NSW : 1842 - 1954), p. 1. Retrieved from http://nla.gov.au/nla.news-article13239104
THE FRIENDS of the late Mrs. SOPHIA WHEELER, relict of the late Mr. George Wheeler, are invited to attend her Funeral; to move from the residence of her son-in-law, Mr. Thomas L. Fusedale, 244, Kent-street North, THIS (Saturday) AFTERNOON, at half-past 2 o'clock. C. KINSELA and SONS, Undertakers, George-street, opposite Christ Church ; South Head Road, near Crown-street ; on Sussex-street South. Family Notices (1871, May 20). The Sydney Morning Herald (NSW : 1842 - 1954), p. 10. Retrieved from http://nla.gov.au/nla.news-article13239148

elder sister
Elizabeth Wheeler 1805–1832
elder brother
John Wheeler 1807–1846
elder brother
William Wheeler 1809–1883
himself
James Wheeler 1812–1890
younger sister
Ann Ayres 1814–
younger sister Ann Wheeler 1824–1898
younger sister
Louisa Wheeler 1825–1892
younger sister
Eliza Wheeler 1827–
younger brother
Henry Wheeler 1830–1833
James Ayres [Jabus Ayres]
Baptism Date:
18 April 1812
Baptism Place: Frome St John, Somerset, England
Phillimore Ecclesiastical Parish Map:
Sophia Wheeler and four children - Elizabeth John William and James - arrived free in NSW aboard the ship Mary Ann, May 24th, 1822.
Sydney Gazette Fri 24 May 1822 p. 2 : On Monday, arrived from England, and last from Hobart Town, the ship Mary Ann, Captain Warington.
1828 census: Wheeler, George, 48, government servant, Shipley, 1817, 14 years, a chandler at Philip Street
Wheeler, Sophia, 45, came free, Mary Ann, 1821
Wheeler, John 22 came free, Mary Ann 1821
Wheeler, James 18 came free, Mary Ann 1821
Wheeler, Ann 6 born in the colony
Wheeler, Louisa 4 born in the colony
Wheeler, Eliza 1 born in the colony
Family with wife Elizabeth O'Brien (1812–1905) - Married at St Philips Church of England Sydney, September 17th, 1832
son
George Wheeler 1833–1835
daughter
Jane Wheeler 1834–
daughter
Sophia Wheeler 1837–1917
daughter
Emma Wheeler 1839–
daughter
Eliza A. Wheeler 1841–
son
William G. Wheeler 1843–1909
daughter
Louisa Wheeler 1845–1864
daughter
Martha Wheeler 1847–
daughter
Matilda Wheeler 1849–
son
James Wheeler 1851–1945
daughter
Elizabeth Wheeler 1853–
son
George Wheeler 1859–1946
A farm recorded by surveyor William Govett (1807-48) as belonging to the Jenkins family was already in the area when the Wheeler family arrived. The Wheeler family built a house of rough hewn timber, which was the house of James Wheeler from 1836 until his death in 1890. He also owned 230 acres in different parts in the south side of the lagoon and made another purchase in 1842, buying 86 acres, known as Fox's Flat, on the northern side, facing Pittwater Road. Wheeler also established a farm and sent produce by boat to Sydney from North Harbour, Manly. The War Veterans Home, reached by Veterans Parade, is adjacent to this small locality and is bounded on the north by parks alongside Narrabeen Lagoon.
James Wilson appeared on remand, charged by James Wheeler with committing wilful and corrupt perjury in a case where Wheeler was convicted for burning a fishing net. Defendant was committed to take his trial at the next sittings of the Criminal Court. Bail allowed-himself in £80, and two sureties in £40 each. Mr. C. Pilcher, instructed by Messrs. Bradley and Son, appearod for the prosecution, and Mr. F. Gannon for the defence.
George Sly was also charged by James Wheeler, with having committed perjury in the evidence given by him in the same case against Wheeler. Mr. Pilcher, instructed by Mosers. Bradley and Son, for the prosecution, and Mr. F. Gannon for the defence The case was concluded at 1 p.m., and Mr. Browne deferred giving his decision until 11 a.m. to-morrow. WATER POLICE COURT. (1871, December 20). The Sydney Morning Herald (NSW : 1842 - 1954), p. 3. Retrieved from http://nla.gov.au/nla.news-article13249425
WHEELER. - June 29, at Prince Alfred Hospital, James Wheeler, Sen., of Narrabeen, aged 83 years. Sydney Morning Herald Mon 14 Jul 1890 p. 7
When James Wheeler died he was buried near his homestead, as was the custom of those times. His death is recorded in the burial register of St Matthews, Manly. Wheeler Creek, named in 1885, is a tributary of South Creek and it also honours this pioneer and his family. there is also James Wheeler Place in Narrabeen.
1294 PITTWATER ROAD
1294 Pittwater Road is located on Lot 2 in DP 84490, being Lot 2 of a re-subdivision of part
of Section 36 of the Mount Ramsay Estate subdivision (comprising Lot 5 and parts of Lots
4 & 9 in Section 3)
In January 1906, James and George Wheeler conveyed the subject land to
Jane Thompson
of Narrabeen, widow, daughter of James Wheeler, for the sum of £110.4
She passed away in
February 1924 aged 89 years at her daughter's (Mrs H J Jackson) home, corner of Goodwin
and Park Streets, Narrabeen. Henry James Jackson conveyed the land in 1940 to Eric
Gordon Hill of Narrabeen, plumber and Katherine Hill, his wife. They promptly lodged an
application to convert the land to Torrens title. At this date, the land (including all
improvements) was valued at £365; they declared the land was in the occupation of
themselves.
The Hills are listed in the 1943 electoral roll at 355 Pittwater Road, Narrabeen. The house is
also depicted in the aerial survey of Sydney that same year. The residence was most likely
erected about 1940. The Hills occupied the property until 1956 when it was sold to John
Cecil Purnell of Mona vale, medical practitioner. It changed hands in 1959 to Henryk
Biezyynski Bernard of Narrabeen, medical practitioner and Evelyn Eleanor Bernard, his wife.
Henryk became sole registered proprietor the following year following his divorce. He and
his wife are listed at 1294 Pittwater Road for the first time in 1958, and again in 1963
(apparently, she did not notify her change of address immediately).
Dr Henryk Bernard continued to occupy the property. In the 1980 electoral roll, he is listed at
this property with Anthony, Fiona and Nicholas Bernard. Dr Henryk Bernard "inspired all three
of his children to become doctors, a combined accomplishment that gave him immense
satisfaction''. Dr Henry died peacefully in his sleep of old age
in 2016. His son, Dr Nicholas
Bernard is a member of the Narrabeen Family Medical practice run at 4 Albert Street.