March 17 - 23, 2019: Issue 397

Pittwater Roads II: Where The Streets Have Your Name - Newport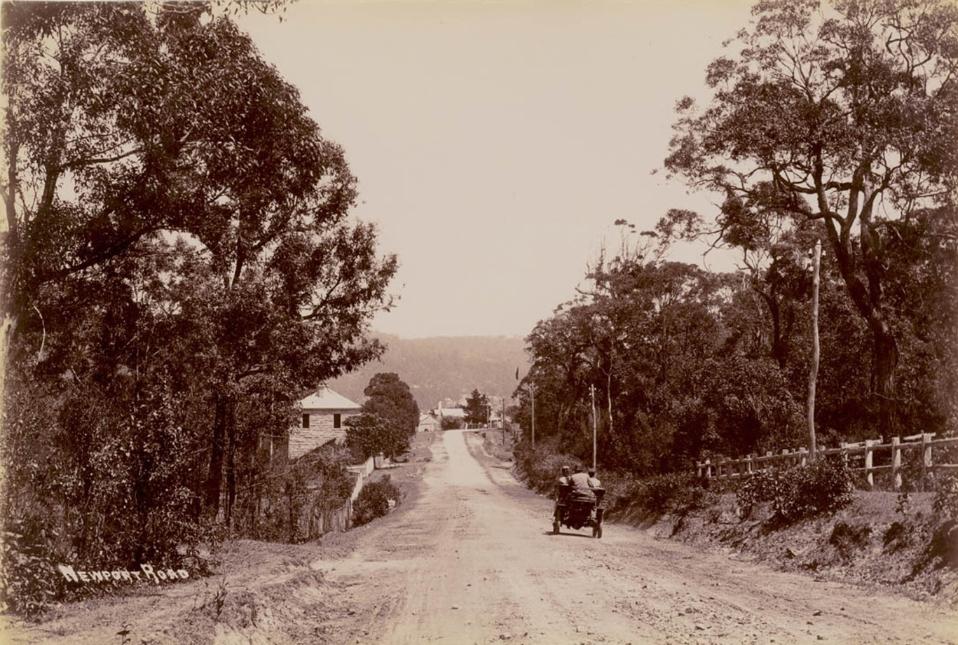 Beaconsfield Street, Newport, Circa 1900 - 'Newport Road', ca. 1900-1910, courtesy State Library of NSW. Image No.: a116490h
Newport is one of the first places by a few decades where names for roads can first be seen to have been allocated - mostly for the selling of land at the Township of Newport:
What today we know as the Newport Wharf at the end of Queen's parade (west) below current Newport Arms hotel began as a pier circa 1879 which was built by Charles Edward Jeannerett in anticipation of developing then heavily wooded and pristine Newport. Although seemingly nameless for this period, it would have been described in terms by those who were eye witnesses early and by advertising material for contractors by real estate developer George Pile, real estate speculator, agent and auctioneer, who was contracted to aid in this venture:
January 1880: TO CONTRACTORS – TENDERS are wanted for clearing roads and about forty acres of land at the new Pittwater Marine Township. Apply Mills and Pile, 112, Pitt Street. Advertising. (1880, January 19). The Sydney Morning Herald(NSW : 1842 - 1954), p. 2. Retrieved from http://nla.gov.au/nla.news-article13450418
But our steamer, the good ship Florrie, owned by Mr. Jeannerett, is in waiting, lying alongside a jetty at the head of the bay, so we immediately embarked for our destination, Barrenjoey, a distance of about eight miles. On the opposite side of the bay is New Port, the property of Messrs. Mills and Pile and Mr. Jeannerett, who are erecting an hotel, for the accommodation of visitors to the bay. It will have a fine situation; and when the place becomes more widely known, as it deserves to be, the hotel will doubtless be largely availed of. LAYING the FOUNDATION-STONE of a NEW LIGHTHOUSE at BARRENJOEY. (1880, April 17). The Sydney Morning Herald (NSW : 1842 - 1954), p. 7. Retrieved from http://nla.gov.au/nla.news-article13458288
Although Piles and Jeannerett did not officially own land here until February 1880, as some sources state, they clearly had rights enough from late 1879, and their words as gentlemen who were already contributing much to the development of Sydney both as standing to represent Canterbury and local MP's or Councillors (Pile was defeated at elections he stood for in November, 1880, only getting 493 votes; two representatives, William Piggott and William Henson were voted in, getting 2,513 (42.11%) and 1,380 (23.12%) respectively). Jeannerett was an alderman of Hunter's Hill and mayor in 1870-71, 1877-78 and 1890. From 1886 he represented Bourke ward in the Sydney City Council. As a magistrate he administered 'strict justice and sound common sense' in the Water Police Court. He was defeated for Central Cumberland in 1875, he represented Carcoar in the Legislative Assembly in 1887-89 and 1891-94 as a free trader. (1.)
Department of Public Works: (Contracts and Tenders;) Sydney May 21st 1880: Road, Manly to Pittwater-Contracts 1 and 1L .Advertising. (1880, May 22). The Sydney Morning Herald (NSW : 1842 - 1954), p. 10. Retrieved from http://nla.gov.au/nla.news-article13460485
They purchased land from the then released Basset-Darley Estate:
At Pittwater the Bassett Darley estate was sold in two parts. In 1880 Charles Edward Jeanneret and George Pile paid 732 [pounds sterling] for 118 acres on which to establish the New Marine Township of Newport, (49) while the remaining land, apart from a one acre lot purchased by the Church of England, was bought by John William Cliff for 8000 [pounds sterling] in 1886. (50)
(49) Land Titles Office, Old System Deeds Book 201, No. 916; Book 224, No. 576.
(50) Land Titles Office, Old System Deeds Book 340, No. 647. (2.)
The development of Newport as a 'resort' was a key factor in seeing the oft called for 'improvements' finally materialise from those earliest days, as was Mona Vale residents determination to see 'Mona Vale go ahead' - first signalled with the opening of Taramatta Park (now known as the Village Green park at Mona Vale) and continuing into the 1920's and 1950's with calls for electricity, for water pipes to be connected to houses. These developments give us the names of 'subordinate roads' - they also show when and where these were built first, and improved. The first of these:
We have received from Messrs. Mills, Pile, and Gilchrist, (who have published it for the proprietors) an interesting pamphlet descriptive and illustrative of the beauties and attractions of Newport, Pittwater, and the celebrated Hawkesbury lakes. The work consists of about eight pages of letter-press and nine carefully lithographed drawings, depicting the more important scenes and places of interest in the locality.
The description is capably written, and the illustrations, lithographed by Messrs. S. T. Leigh and Co., from water colour drawing- by Mr. H. Brees, are very creditably executed, and give excellent ideas of the places represented. Appended is a plan and local sketch of the new marine township of Newport, and altogether the publication is one which will commend itself highly to all interested in one of the most picturesque spots on the New South Welsh coast. NEW'S OF THE DAY. (1880, August 26). The Sydney Morning Herald (NSW : 1842 - 1954), p. 5. Retrieved from http://nla.gov.au/nla.news-article13466890

Barrenjuie Road, Victoria Wharf, about 200 feet south of what is now the Newport public wharf, and Post Office Reserve. The following names were chosen for the 'streets' and wharf as they were: Victoria Wharf, to commemorate the name of Queen Victoria, Queen Street and Queen Parade, named for the same monarch and reason(Queen street was later renamed Kalinya), King Street, after King George III, Gladstone Street after William Ewart Gladstone, British statesman and Liberal Party politician, Beaconsfield Street, after Benjamin Disraeli, 1st Earl of Beaconsfield and another British politician, and Bishop Street after George Bishop, the Surveyor.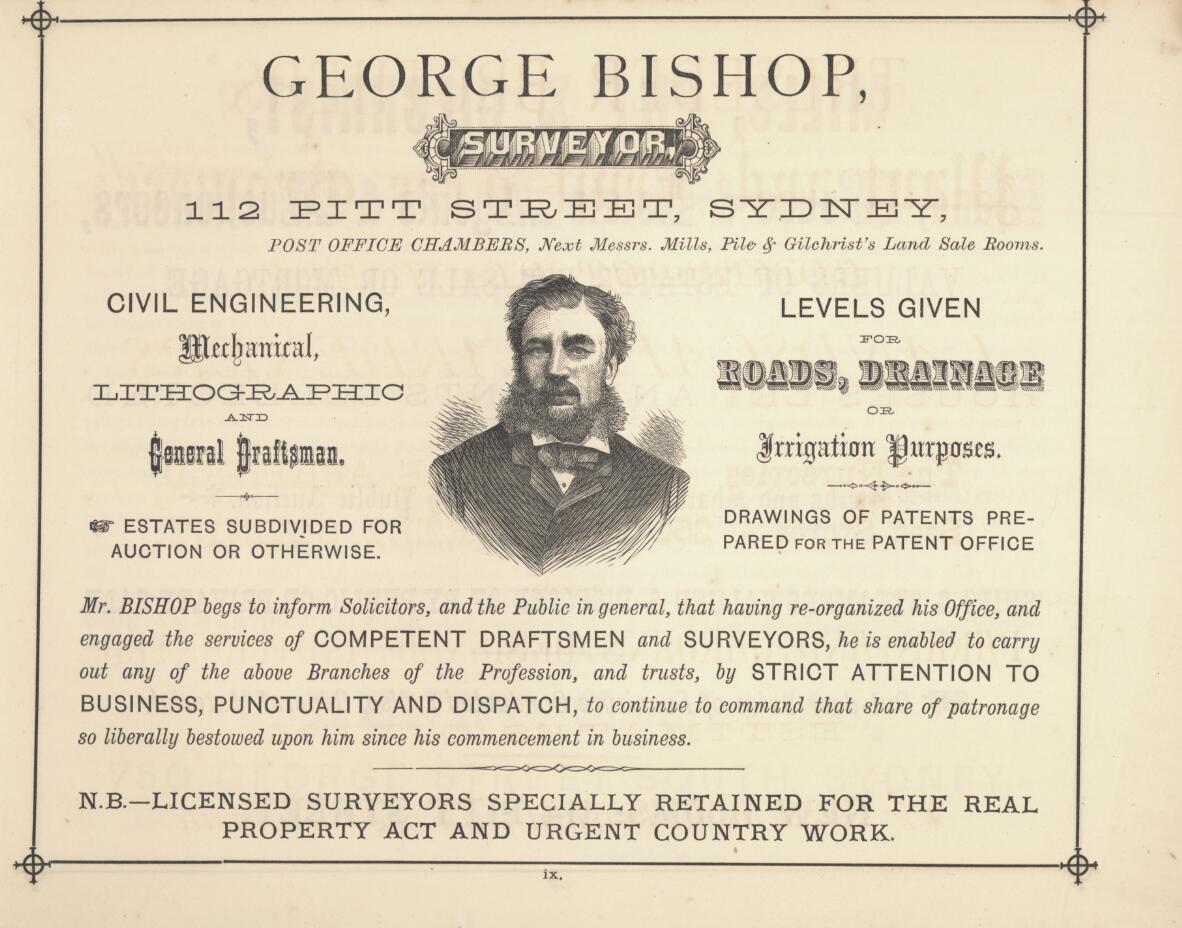 From: Brees, Harold & S.T. Leigh & Co & Mills, Pile & Gilchrist. (1880). The Pittwater and Hawkesbury Lakes album Retrieved from http://nla.gov.au/nla.obj-460123425

Messrs. Mills and Pile have sold by auction and private contracts in last report the following properties, vix - .... Mrs Warrington, 80 allotments, Newport, Pittwater, £150 PROPERTY SALES. (1883, June 23). The Sydney Morning Herald (NSW : 1842 - 1954), p. 11. Retrieved from http://nla.gov.au/nla.news-article13537590

Mattamolla, Joining National Park £660-Mr Jeannerett, lot 19, Lawson Estate, ... Newport Estate, Pittwater, £15-Mr Turner, lots 31 and 32, sec. E, £10-Mr. Boulton , lot 33, sec E Newport, £6- Mr. West, Total amount of sales for week, £13 071 PROPERTY SALES. (1884, September 20). The Sydney Morning Herald (NSW : 1842 - 1954), p. 15. Retrieved from http://nla.gov.au/nla.news-article13562505

NOTICE UNDER REAL PROPERTY ACT.
APPLICATIONS having been made to bring the lands hereunder described under the provisions of the Real Property Act, Certificates of Indefeasible Title will issue, unless Caveats be lodged in Form B of the said Act, on or before the date named opposite each case respectively.
No. 10,712. County of Cumberland, parish of Narrabeen, near Newport, Pittwater, 45 acres 3 roods, adjoining the properties of W. H. Holt, John Farrell, and B. James,—comprises the land granted as 30 acres to James Macdonald
Applicant – Arthur Walker – Mosman
NOTICE UNDER REAL PROPERTY ACT. (1899, February 3). New South Wales Government Gazette (Sydney, NSW : 1832 - 1900), p. 1031. Retrieved from http://nla.gov.au/nla.news-article220990235
NEWPORT PROGRESS ASSOCIATION.
The annual meeting of the Newport Progress Association took place on Saturday night at Greig's Newport Hotel. Mr J Waterhouse, the president, occupied the chair. The annual report showed that improvements had been made in the district during the year-dangerous parts of the roads had been fenced and culverts built. In reply to a letter sent to the Works Department asking among other things that the culvert in Gladstone-street should be made wider, the department said the improvements were small, and might well be carried out by those interested. The sub-committee brought up its report upon the establishment of a polling booth at Newport, and it was decided that a petition be presented to Sir John See asking that this might be done. Mr Hanslow gave notice of his intention to propose a motion dealing with a water supply for Newport. The election of officers resulted as follows: President, Mr Joseph Waterhouse ; vice-president, Mr William Bulfin; hon. secretary and treasurer, Mr. Stuart Greig; council, Messrs H. Bolton, J Baker, F Hanslow, W Bolton. A vote of thanks was passed to the retiring officers and special mention was made of the services rendered by Mr Greig, who had been hon. secretary to the association for the last eight years. NEWPORT PROGRESS ASSOCIATION. (1904, February 10). The Sydney Morning Herald (NSW : 1842 - 1954), p. 5. Retrieved from http://nla.gov.au/nla.news-article14598711
TENDERS ACCEPTED.
Tenders have been accepted for the following public works for the week ending the 22nd instant:— Road Works.— Manly to Barrenjoey, P. M'Carthy, Mona Vale, £59 11s 8d; TENDERS ACCEPTED. (1904, October 25). The Australian Star (Sydney, NSW : 1887 - 1909), p. 3 (FIRST EDITION). Retrieved from http://nla.gov.au/nla.news-article228263997
Land sales and the subdivision maps that accompanied them, along with council records once Warringah Shire Council existed, allow an insight into the roads that began squaring up the rolling fields.
A timeline of some of these, along with the advertisements that ran in the papers of then:
NEWPORT.
At the last meeting of the Newport Progress Association, a letter was received from the Public Works Department, notifying that Mr. W. Boulton's tender for the sinking of a public well at Newport was accepted. Dr. Arthur. M.L.A., notified that the following sums have been granted for the district: — Public well. £50: road at Bushrangers'-hill, £60; quarry work, £60. A vote of thanks was passed to Mr. Stuart Greig for his services as Hon, secretary to the association for the last eight and a half years, and Mr. F. G. C. Hanslow was elected to fill the vacancy. The Works Department wrote, saying that the screwing up of the new wharf, and the stone-work on the Immediate approach would be attended to at once. NEWPORT. (1904, November 8). The Daily Telegraph (Sydney, NSW : 1883 - 1930), p. 7. Retrieved from http://nla.gov.au/nla.news-article237840883
LAND SALE AT NEWPORT.
Messrs. Arthur Rickard and Company Limited, will hold an auction sale at Newport on Monday next, (Eight-Hour Day). This fine estate is known as Scott's Green Point, Comprising 197 absolute water frontage lots, without reservation, over half an acre each, and rich farm blocks of two to eleven acres,- and will be submitted to public competition. Pittwater is indeed a healthy holiday resort, the scenery is very fine and visitors can enjoy the ;pure air; 'boating, bathing, fishing, etc. It is confidently expected that when the motor 'buses start running. Newport will boom. That well-known landmark— Scott's Green Point, a picturesque little peninsula which juts out from about the centre of the estate, is among the water frontages to be sold, and is sure to cause big competition at the sale. The terms are liberal. Special steamer and special 'buses are provided for the convenience of visitors. Full particulars will be found in our advertising columns. LAND SALE AT NEWPORT. (1905, September 28). Evening News (Sydney, NSW : 1869 - 1931), p. 3. Retrieved from http://nla.gov.au/nla.news-article114465134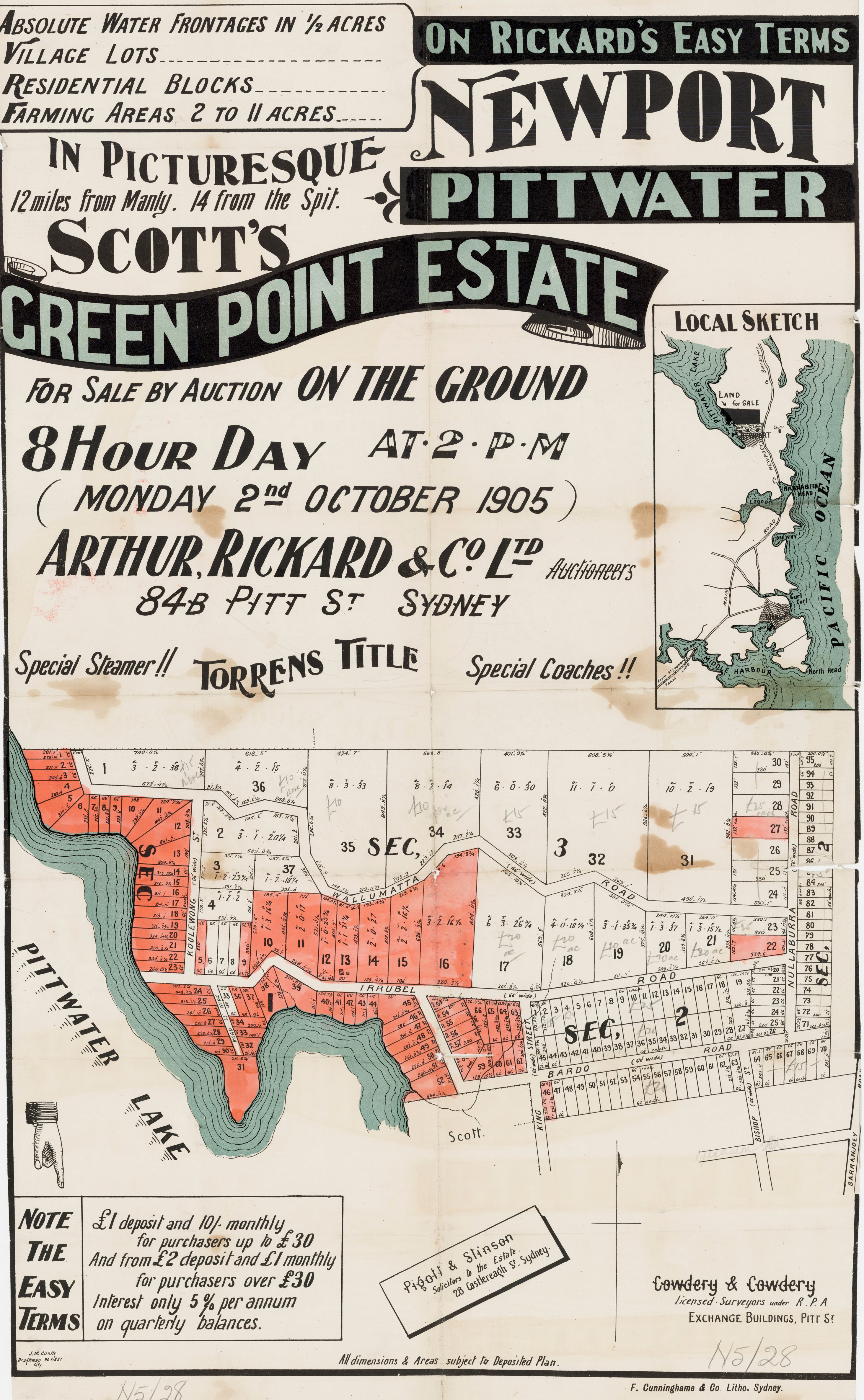 Green Point Estate 1905, Item No.: c050400022, Subdivision Materials, courtesy State Library of NSW

NOTICE UNDER REAL PROPERTY ACT.
APPLICATIONS having been made to bring the lands hereunder described under the provisions of the Real Property Act, Certificates of Indefeasible Title will issue, unless Caveats be lodged in accordance with the Third Schedule to the said Act, ON OR BEFORE THE 30TH MAY, 1906
No. 14,087. APPLICANT :—The Australian Widows Fund Life Assurance Society, Limited. LAND :—County of Cumberland, parish pf Narrabeen, 19 acres 1 rood 20 perches, situated at Newport, Pitt Water,—is part of 60 acres (portion No. 36 of parish) granted to Robert Melville, and part of 50 acres (portion No. 37 of parish) granted to Richard Porter; adjoining the property of D. Scott. NOTICE UNDER REAL PROPERTY ACT. (1906, April 11). Government Gazette of the State of New South Wales (Sydney, NSW : 1901 - 2001), p. 2352. Retrieved from http://nla.gov.au/nla.news-article226476104
Pittwater Pleasuring
An Outing.
By "Phron."
Last Saturday afternoon I got the offer of a free ride to Rock Lily. The cart would pick me up at the E. S. and A. Bank and put me down anywhere I liked. It was very convenient, and so I accepted the offer—partly on account of the pleasant company who were going. Of course I had to walk up the hill opposite the Spit. The new path makes the journey easy. When we got to Brookvale we found that Mr. Bagnall was not at home, and Mr. Miles the postmaster was very busy—so we went on our way rejoicing. At Narrabeen Mrs. McLean, postmistress, was busy as usual. She is always industrious. I wonder if she ever rests. Madame Boutin was just as pleasant as usual—which is saying a great deal. And onward we went. At Rocklily Mr. Houreux proved himself as fully up to his name and title as ever. Of course you know that houkeux is French for happy well, the spelling is slightly different in the Erst syllable, mais n'importe.
In the Rock Lily hotel that evening several gentlemen conversed and arranged with reference to next Saturday's (28) entertainment in Booth's Hall for the benefit of the Church of England Building Fund. It was decided to make a great success of the affair. All present promised to do their utmost to make the show a great occasion. Sunday morning I went out to see a new estate. I am not giving the name of the owner. The last time I did so he didn't like it so I will this time keep it to myself,—just to punish him. But he's all right. Of course you know whom I mean.
Then I went to Newport. At dinner at the Newport Hotel that day there were 122 guests. And Mr. Greig, the proprietor, said there ought to have been 40. The afternoon coach back had me for a passenger. It was beautiful weather. I saw that good old standby Mr. W. Bagnall as we passed. Of course you know he was the pioneer of Manly. We say " the,"—for so we are informed. He built a lot of It, and still owns a good bit. We have heard—please don't tell, as it is secret, — that several gentlemen have recently tried to buy his Manly properties." For many years he ran the Aquarium Hotel in the Corso. What a Change has taken place in Manly since the new liquor law came into force. I do not mean to say that the hotels ever sold drink on Sunday.' But now the whole town is as tight as a pistol. Waiters and housemaids stand at the doors of some of the hotels and when anyone wants to go iu they say,-— " You can't come in here."-However, all's well that ends well, and we cannot find fault with anyone for keeping the law. But I am afraid Dr. Arthur, whom I respect and like, will have to fight hard to keep his end up at the next election. And yet he may be quite right. Is it not a fair thing to shut up the drinking bars when grocers are shut up ?. If you cannot-buy a loaf of bread should you be able buy whiskey? You are not allowed to purchase a pound of butter on Sunday. Why, then, should you be allowed to buy alcohol. ...Pittwater Pleasuring. (1906, July 21). The Mosman Mail (NSW : 1898 - 1906), p. 2. Retrieved from http://nla.gov.au/nla.news-article247014749
THREE FRONTAGES.
We have a SUPERB BLOCK, nearly 34 Acres in area, on SCOTT'S GREEN POINT ESTATE, NEWPORT. NEWPORT, has 3 Frontages, possesses great views, is handy to Pittwater Lake, and is Torrens Title. PRICE FOR THE WHOLE BLOCK, £35. £2 Deposit, 10s Month.
SMALLER BLOCKS, 66 x 212, from £10 each. £1 Deposit, 10s Month.
the ESTATE IS AN IDEAL WEEK-END RESORT. ARTHUR RICHARD and CO., Ltd., 84B Pitt-street, "The Good Land Sellers." Advertising. (1907, September 24). The Sydney Morning Herald (NSW : 1842 - 1954), p. 5. Retrieved from http://nla.gov.au/nla.news-article14897590
No. 14,787. APPLICANT:—Laurence Edward Moss, Sydney. LAND County Cumberland, parish Narrabeen, Shire, Warringah, 1 rood 16 perches, 1 rood 3 perches, 1 acre 2 roods 21 perches, 1 acre 0 roods 28 perches, 2 roods 16 perches, 1 acre 1 rood 21 perches, and 1 acre 1 rood 21- perches, in Gladstone, Beaconsfield, Bishop, and Stuart Streets, Queen's Parade and Barrenjoey Road,—being lot 4. section C, lot 10, section D, lots 1,2, 19 to 22, section F, lots 8 and 9, section G, and lots 1, 2, 11 to 14, and 23 and 24, section I, Newport Estate, and part 700 acres (portion 17) granted to Robert Campbell ; adjoining the properties of trustees of Newport Hall, T. A. Miller, C. Boulton, J. O. Trimble, W. C. Woolcott, J. R. Jones, S. Pile, H. Hogsflesh, J. S. Mulford, Mrs. Jane A. Chisholm, administratrix of late F. A. Strickland, and Kate M. Black, and Crown Land. NOTICE UNDER REAL PROPERTY ACT. (1907, July 31). Government Gazette of the State of New South Wales (Sydney, NSW : 1901 - 2001), p. 4243. Retrieved from http://nla.gov.au/nla.news-article226593878

The resumption of Farrell's Newport Beach by Warringah Council established Newport as a holiday resort and ensured land sales would attract those seeking a place by the sea. The first discussions occurred soon after Mr. Farrell brings his Newport paddocks and land under the Real Estate Property Act:
LAND:—County Cumberland, parish Narrabeen, shire Warringah, 132 acres 2 roods, on McMahon's Creek and South Pacific Ocean,— being lands granted as 60 acres (portion 21 of parish) and 30 acres (portion 23 of parish) to John Farrell, and 50 acres (portion 22 of parish) to Martin Burke, and part 50 acres (portion 38 of parish) granted to Robert Henderson, and also part 1200 acres (portion 20 of parish) granted to the Reverend John Joseph Therry, exclusive of the road 1 chain wide from Manly to Barranjoey, the area of which has been deducted from the total area; adjoining properties of M. Dowling and A. M. Bowman, P. J. Shopee, J. Stevenson, W. C. Woolcott, G. Skinner, J. H. Slater, S. Oliver, M. Eason, J. McGlynn, A. Middows, New South Wales Realty Co., W. S. de Wilde, and H. M. Malcolm and Crown Land. NOTICE UNDER REAL PROPERTY ACT. (1910, February 23). Government Gazette of the State of New South Wales (Sydney, NSW : 1901 - 2001), p. 1112. Retrieved from http://nla.gov.au/nla.news-article227062930
Proposed Resumption of Newport Beach.
At a public meeting held at Newport resolutions were carried urging the Government to have the Newport beach resumed by the Warringah shire council as a public reserve. Speakers representing local residents, tourists to the district, and the Newport Surf Club pointed out that resumption would been easier matter at present than later on, when the beach would probably come under private ownership. The proposal is to resume the whole of the beach from low water-mark to Barranjoey-road, and it was decided to ask tho council to arrange a deputation to the Minister for Lands on the subject. EMPIRE FORESTS. (1910, March 22). The Sydney Morning Herald (NSW : 1842 - 1954), p. 8. Retrieved from http://nla.gov.au/nla.news-article15133762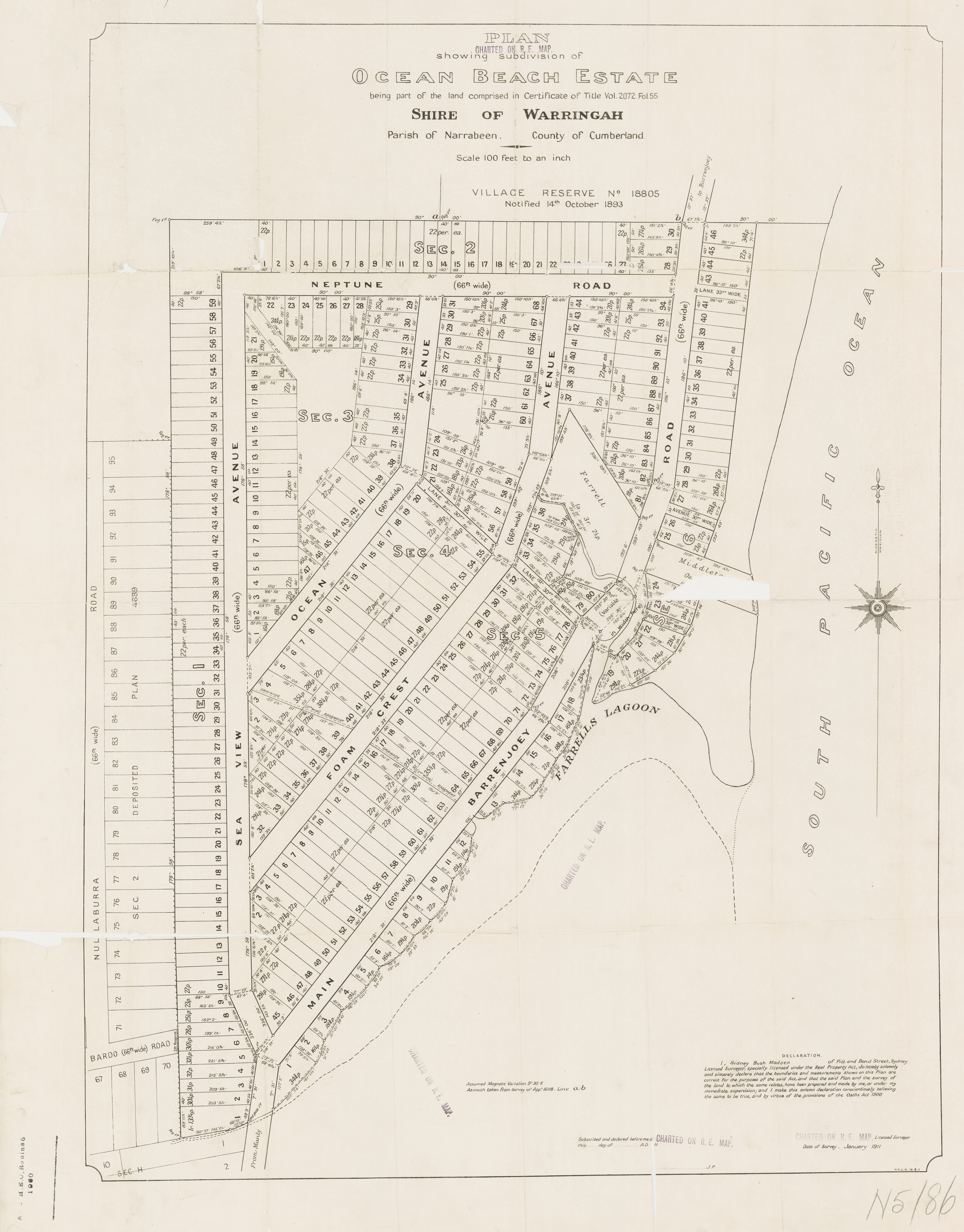 Plan showing subdivision of Ocean Beach Estate - Warringah Shire council - date of Survey January, 1911 - done by Sidney Bush Madsen, Surveyor. Item No.: c050400061

Resuming a Beach — Mrs. Nielsen and Her Scissors—
"The Battle for the Beaches," which has been waged all along- the "Warringah Shire coastline from Freshwater to Barrenjoey, has resulted so far In several good wins for the shire council. One stage of the victory was celebrated on Saturday at Newport, when the resumption of Farrell's Beach was notified to the public by the fluttering of sundry flags, some speechifying, the snipping of a blue ribbon barrier by Mrs. Nielsen, the wife of the Minister for Lands, and a solid army of delf tea cups from which the rejoicers celebrated though happy event in the national Australian drink, billy tea, made on the spot, and drunk with enthusiasm. A crowd of 500 persons collected themselves together to witness the ribbon-snipping, arriving per motor, sulky, and boot. The speaking was done by Mr. Ralston, president of the shire, Dr. Arthur, member for the district, Mr. Paterson of the Tourist Bureau, and Mr. Quirk, ex-president. These all congratulated themselves and each other on the fact that Warringah Shire has now acquired yet another beach which it may call Its own; and in token of ownership it has erected two dressing sheds and placed them at the service of the surf bathers for all time, or until the tail of an extra strong nor'-easter shall flick the buildings off the face of the earth, a little way that nor'-easters have in that locality. Until Mr. Nielsen, a few weeks after taking office, authorised the resumption of this beach, bathers were trespassers, as it all belonged to a local landowner, who was legally qualified to make everybody get off the bit of earth he called his own.
A sense of proportion or of humor is a long-felt want with landowners along the beaches of our Pacific coast line. They run a barbed wire barrier along, above high-water mark, with a praiseworthy determination to uphold the sacred rights of property by fencing off the Pacific Ocean. Sometimes the ocean gets up and laughs at them, and wrecks the fence, or It heaves a rock or two from among the millions piled up at the foot of the headlands, and smashes the fence. But the moral lesson conveyed by the ocean fence is stronger than barbed wire or bluegum posts, and to assert that property can say on Its own account, to any old ocean, "Thus far shalt thou come and no farther," the barrier is Invariably erected again, except when the Government steps In and resumes the beach, and then, of course, the fence retires gracefully to the edge of the nearest allotment. The social side of the gathering at Newport on Saturday was attended to by a committee, of which Mrs. Lewis was hon. secretary. It was a bush picnic kind of function, and heartily enjoyed by all. After the speeches and the opening ceremony, marked by the presentation of a pair of silver-handled scissors to Mrs. Nielsen, the North Steyne and Newport Life Saving Clubs gave a display, and a band from Mona Vale made cheerful music. Miss Nielsen was with her mother, and also present were Mrs. R. Arthur, Mrs. Ralston, Mrs. Quirk, Mr. and Mrs. Yewen, Mr. and Mrs. Henderson, Mrs. Websdale, and other residents and campers of the district. IN SOCIETY and OUT Of IT (1911, April 10). The Sun (Sydney, NSW : 1910 - 1954), p. 4 (LATEST EDITION). Retrieved from http://nla.gov.au/nla.news-article221566087
NEWPORT BEACH OPENED.
The Newport Beach, which was recently resumed by the Lands Department and Warringah Shire Council, was dedicated on Saturday before a large gathering. The ceremony was performed by Mrs. Nielson (wife of the Minister for Lands). Councillor Ralston, (president of Warringah Shire) in presenting Mrs. Nielson with a pair of silver scissors with which to sever the blue ribbon, said they could well call it a red-letter day in the annals of the shire. The council had recognized the nescessity of securing the beaches for the people, and a few more would be resumed later on.
Mrs Nielson, in cutting the ribbon, said "I hereby declare the Newport beach open for the public."
Alderman C. D. Paterson and Dr Arthur, M.L.A. also spoke and congratulated the shire on securing such a fine beach.
During the afternoon the members of the North Steyne Surf Club and Newport Surf Club gave exhibitions in the surf and refreshments were supplied by a committee of local ladies and gentlemen. The Warringah Shire Band rendered a programme of music. NEWPORT BEACH OPENED. (1911, April 10). Evening News(Sydney, NSW : 1869 - 1931), p. 10. Retrieved from http://nla.gov.au/nla.news-article114136984
Photographer of Early Pittwater, Arthur Vogan puts his land holdings under the Real Property Act:
No. 17,276. APPLICANT:—Arthur James Vogan, Neutral Bay. LAND :—County Cumberland, parish Narrabeen, shire Warringah, 4 acres 2 roods 4 perches, in Crescent-road and The Avenue, at Pitt Water,—lots 31b, 31c, 32, and 33 section 5, Mona Vale Estate, and part 700 acres (portion 17 of parish), granted to Robert Campbell ; adjoining property of The Australian Bank of Commerce (Limited). NOTICE UNDER REAL PROPERTY ACT. (1911, November 1). Government Gazette of the State of New South Wales (Sydney, NSW : 1901 - 2001), p. 5769. Retrieved from http://nla.gov.au/nla.news-article226916929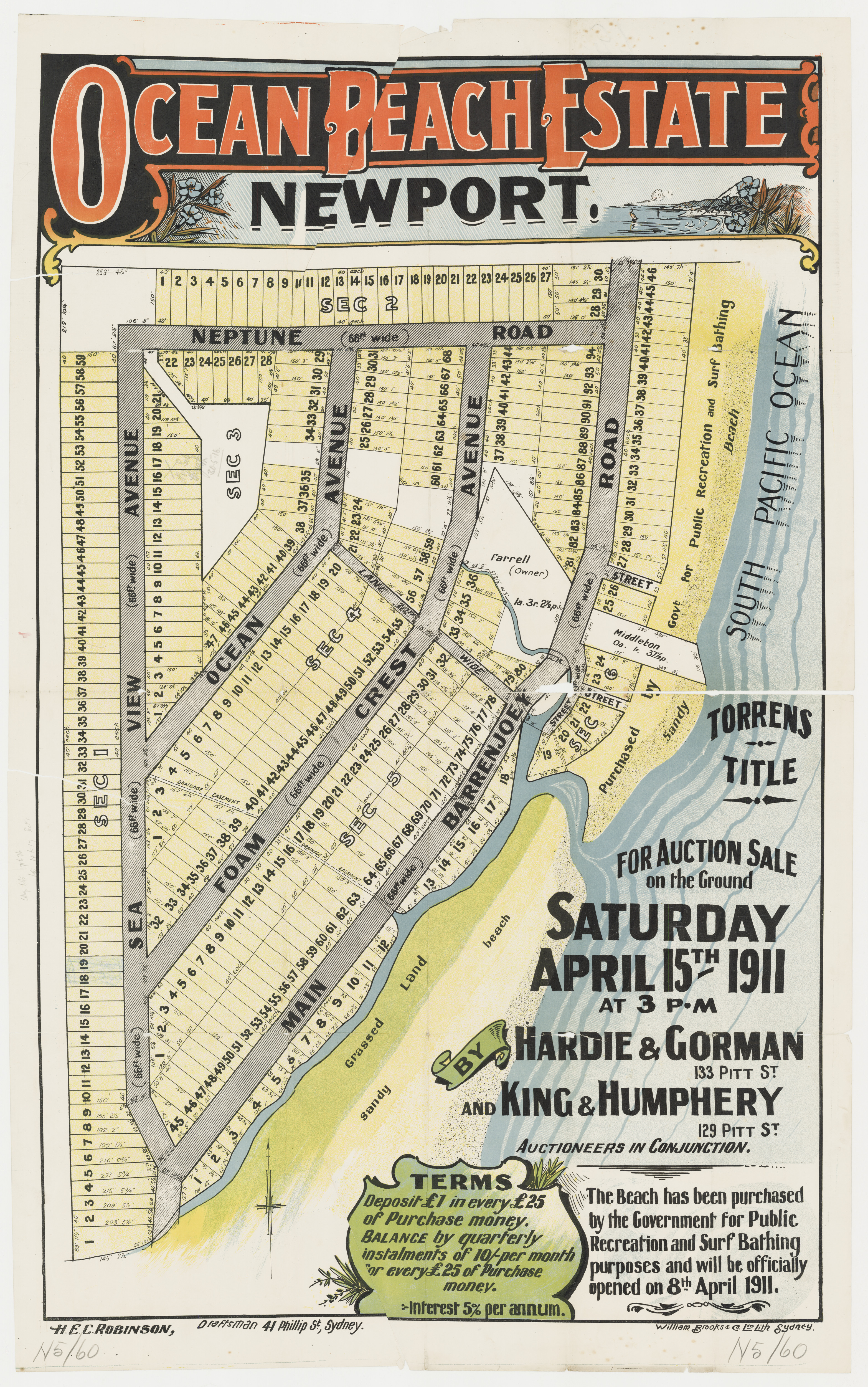 Ocean Beach Estate 1911, Item No.: c050400043 Subdivision Materials, courtesy State Library of NSW

Calvert's Estate, although named after T C Calvert, a local land owner by had a few proprietors. In 1905 the land around Calvert Parade was owned by the Mona Vale Land Company who a sold it on March 22nd 1906 to Francis Gellatley who subsequently sold the holding to the Intercolonial Investment Land and Building Company;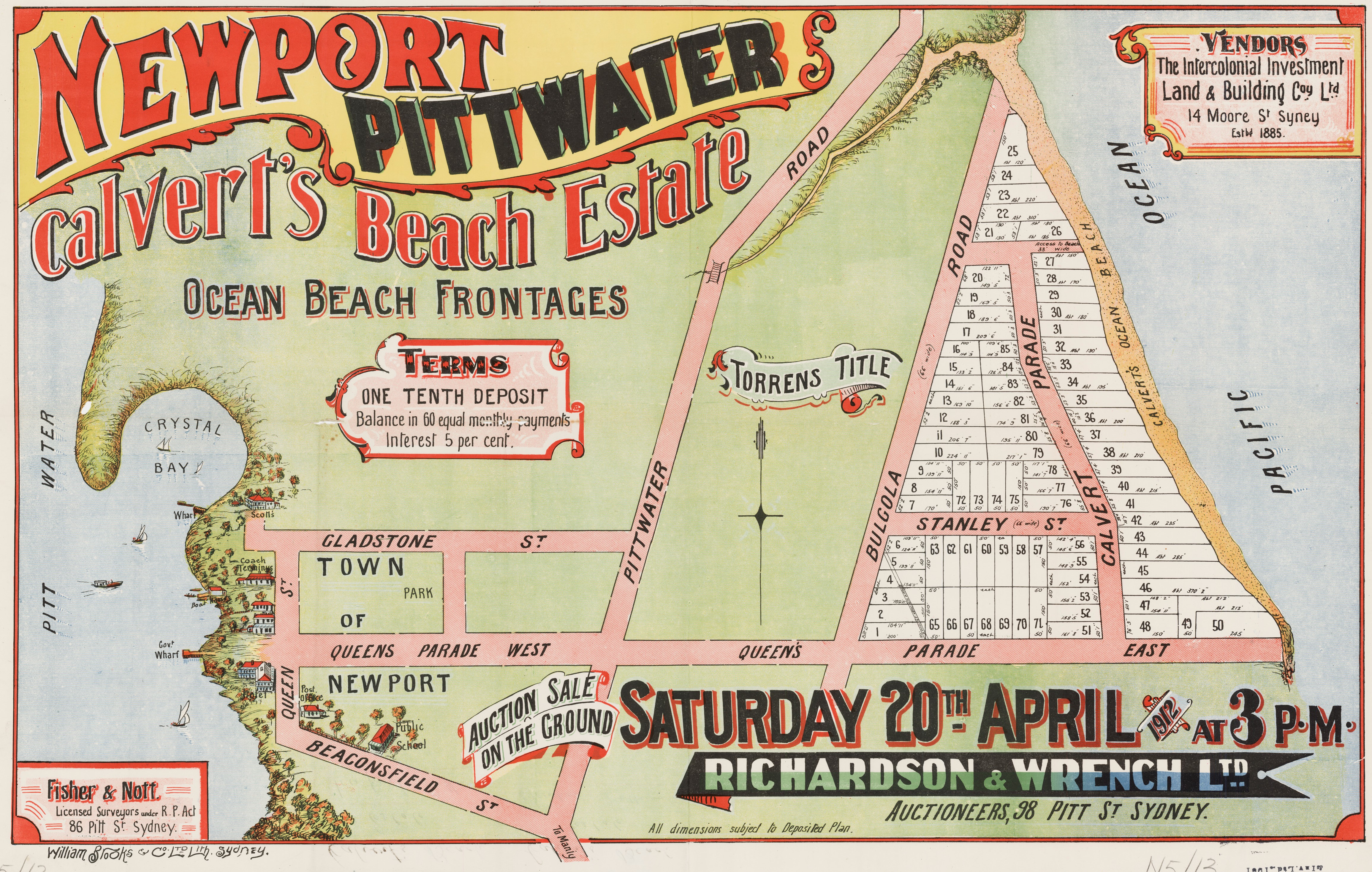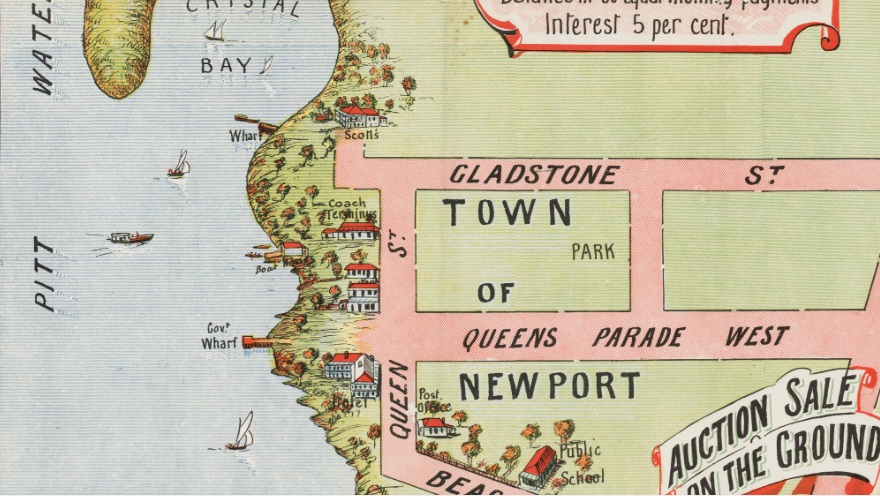 Calvert's Beach Estate - Beaconsfield St, Queen St, Gladstone St, Pittwater Rd, Bulgola Rd, Calvert Pde, Stanley St, Queen's Pde East, 1912. Item No.: c050400011, Subdivision Materials, courtesy State Library of NSW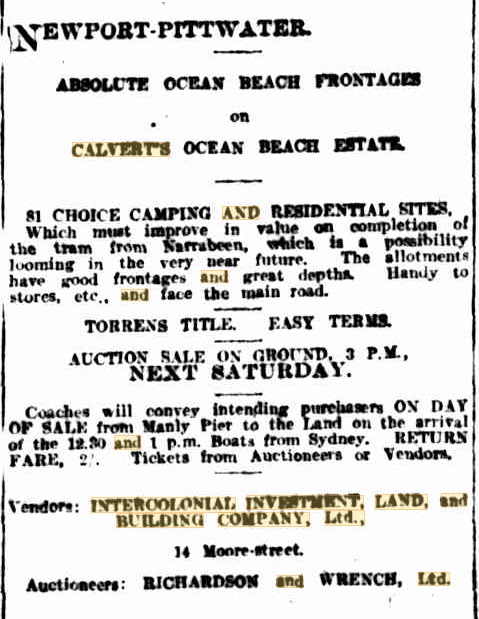 Advertising (1912, April 15). The Sydney Morning Herald (NSW : 1842 - 1954), p. 3. Retrieved from http://nla.gov.au/nla.news-article15348037

PROPERTY SALES.
Richardson and Wrench, Ltd., report having sold, on behalf of the Intercolonial Investment, Land, and Building Company, Ltd., on the ground, on Saturday afternoon, 30 lots of Calvert's Beach Estate, Newport, Pittwater, at prices ranging from £2/3/ to 12/0 per foot. Total sales, £2035/4/. PROPERTY SALES. (1912, April 22). The Sydney Morning Herald (NSW : 1842 - 1954), p. 11. Retrieved from http://nla.gov.au/nla.news-article15358109
The Intercolonial Investment, Land and Building Company Limited was formed in 1885 to deal in real estate and to operate as banker and financial agents in the Australian colonies. In 1887, it absorbed the Joint Stock Building, Land and Investment Company Limited. The company became a subsidiary of the Mercantile Mutual Insurance Company Ltd in January 1960.
The Intercolonial Investment Land and Building Company, by means of its policy of long terms and assisting their purchasers to build, are rapidly developing the Highfield Estate, at Campsie. Quite a number of superior cottages have been erected by the company on this estate, from £600 upwards, and already in the Canterbury District 300 houses have been built by them. The Highfield Estate is one of the most elevated in the district, the streets are all well made, and are now under the control of the Council, while electric, light has been installed. Another of the Intercolonial I.L. and B. Co.'s estates, the Dutton Park, at Bankstown, Is sharing in the popularity of that district among investors. The company claims that this property, occupies a very fine position for residential purposes, and the same- conditions as for the Highfleld and their other properties apply to Dutton Park purchases. Other estates which the company has developed include the Malvern Hill, at Croydon, of which few lots are now left, and in which a building covenant ensures the good class of residences already built being maintained. ACRES AND LOTS (1914, June 21). Sunday Times (Sydney, NSW : 1895 - 1930), p. 4. Retrieved from http://nla.gov.au/nla.news-article120365521
There were a few people with a surname of 'Calvert' associated with our area:
MANLY DOG AND POULTRY SHOW.
Tho opening ceremony in connection with the Manly Dog and Poultry Show was performed by Dr. Arthur, M.L.A., yesterday, in the presence of a numerous gathering of residents of Manly, and the districts of Narrabeen and Newport. The show, which is the first of its kind in Manly, is an exceptionally good one, and the exhibits are numerous and interesting. Great lnterest was manifested. The officers are:-Dr. Arthur, M.L.A., patron, Mr. J. J. Calvert, I.S.O., vice-patron; Mr. A. Learmonth (Mayor of Manly), presidont, Mr. W. G. Hanson, hon. treasurer; and Mr. S. A. Wilson, hon. secretary. The show will remain open until this evening. MANLY DOG AND POULTRY SHOW. (1907, July 27). The Sydney Morning Herald (NSW : 1842 - 1954), p. 9. Retrieved from http://nla.gov.au/nla.news-article14885494
LAND SALES.
There will be a sale of 81 choice sites in connection with Calvert'a Beach Estate, Newport, Pittwater, on Saturday, at 2 p.m.. The sale will be conducted by Messrs. Richardson and Wrench. The land has splendid grassy slopes to the ocean beach. Special coaches will meet intending purchasers at the Manly Wharf by the 12.30 and 1 o'clock boats from Sydney. There is a great prospective value to the land in question, as the tram from Manly in the near future must be extended to Pittwater. LAND SALES. (1912, April 19). Evening News (Sydney, NSW : 1869 - 1931), p. 3. Retrieved from http://nla.gov.au/nla.news-article114800608
MAN DROWNED.
REMARKABLE ACCIDENT.
LEG CAUGHT IN ANCHOR ROPE.
Thomas Calvert, 47, a commercial traveller, whose home is at Glenbrook, met his death in peculiar circumstances when fishing in a skiff in Pittwater near Newport yesterday morning.
The Narrabeen police, who are in charge of the inquiry, believe that Mr. Calvert met his death while in the act of throwing the anchor overboard. The police theory is that he must have overbalanced and fallen into the water, for when his body was recovered the anchor rope was entwined about his right leg, and his body was suspended about 10ft from the bottom of the water. Mr. Calvert is said to have resided temporarily of late at Mona Vale. MAN DROWNED. (1929, September 9). The Sydney Morning Herald (NSW : 1842 - 1954), p. 11. Retrieved from http://nla.gov.au/nla.news-article16582284
MAN DROWNED.
LEG CAUGHT IN ROPE.
Yesterday the City Coroner (Mr. May) investigated a curious case of accidental drowning at Pittwater on September 8. Thomas Calvert, aged 48, was visiting his son-in-law at Pittwater-road, Mona Vale, and left early in the morning with his fishing gear and bait to fish. As he threw the small anchor overboard, he trod on the rope, and was pulled out of the boat. When he fell the rope coiled round his leg and drew him, struggling desperately, to the bottom of the bay where he was drowned in about 30ft of water.
Miss Joy McNab, of Springwood, was the sole witness of the tragedy. She was staying with friends at Green Point, Newport, and on the morning of September 8 went to read a book at the bottom of the garden fronting the bay. She saw Calvert sitting alone in the boat about 500 yards from the shore.
About 10 minutes afterwards she heard his voice calling "Help! Help!" and saw that Calvert had disappeared from the boat and he was struggling frantically to seize the side of it.
Joy McNab rushed to the house and called her father, who shouted to a man next door, with a boat, but when the rescuers arrived at the empty boat Calvert had been drowned, held down by the weight of the anchor. MAN DROWNED. (1929, September 21). The Sydney Morning Herald (NSW : 1842 - 1954), p. 14. Retrieved from http://nla.gov.au/nla.news-article16585924
MR. J. J. CALVERT.
Mr. James John Calvert, well known In law circles in Sydney, died on Saturday. He was born in Winwick, England, In 1857, and was a son of the late Rev. James John Calvert, of Liverpool, England. His uncle was the late Sir John Astley.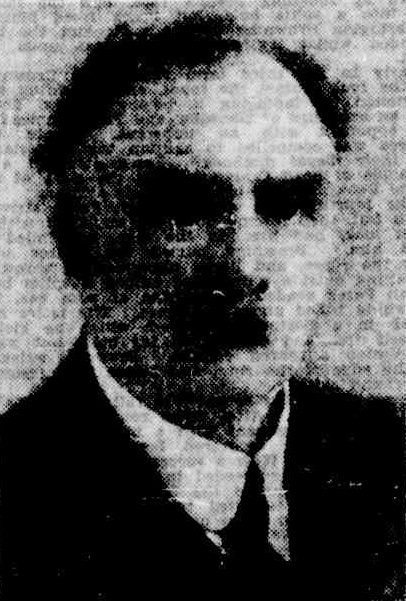 Mr. Calvert came to Australia about 40 years ago, and soon after his arrival in Sydney joined the firm of Norton, Smith, and Co. He was manager of the taxation and equity departments of the firm at the time of his death. Mr. Calvert married twice, and leaves a widow and two step-children. The funeral took place at Gore Hill Cemetery yesterday. MR. J. J. CALVERT. (1929, November 12). The Sydney Morning Herald (NSW : 1842 - 1954), p. 15. Retrieved from http://nla.gov.au/nla.news-article16601073
CALVERT.-November 9. 1929, at a private hospital. James John Calvert, of 29 Johnson-street. Chatswood, beloved husband of Margaret C. Calvert, and loving stepfather of Frank and Ena Gale, aged 72 years. Family Notices (1929, November 11). The Sydney Morning Herald (NSW : 1842 - 1954), p. 10. Retrieved from http://nla.gov.au/nla.news-article16600816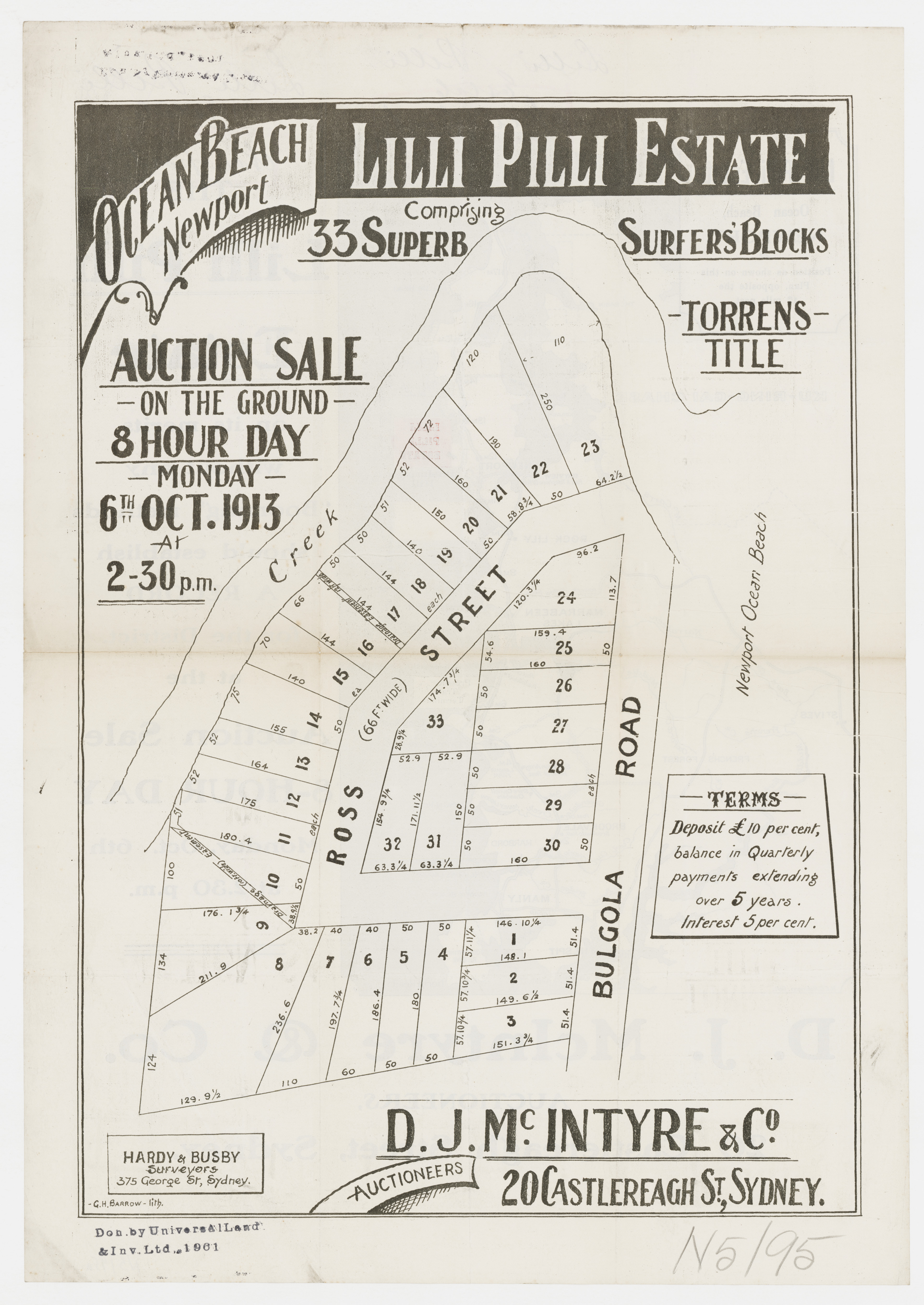 Ocean Beach Newport - Lilli Pilli Estate 1913, Iterm No.: c050400071 Subdivision Materials, courtesy State Library of NSW
Warwick Estate subdivisions - 1914 and 1920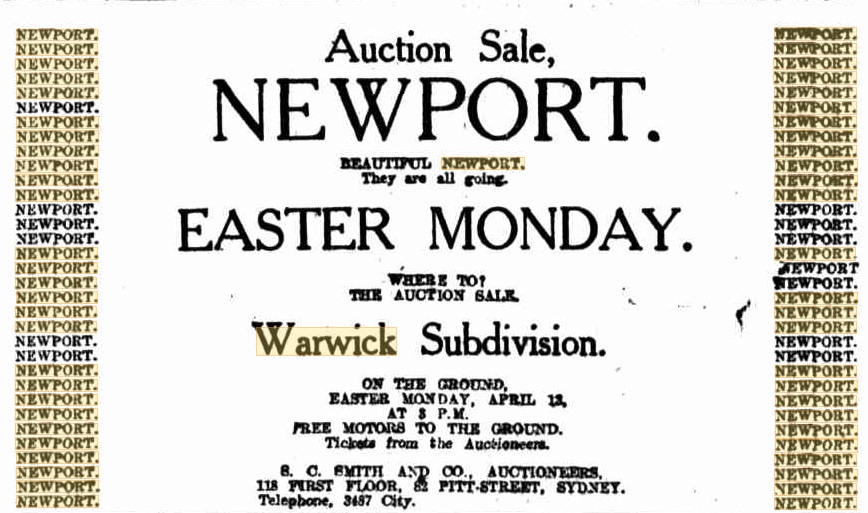 Advertising (1914, April 9). The Sun (Sydney, NSW : 1910 - 1954), p. 14 (FINAL EXTRA). Retrieved from http://nla.gov.au/nla.news-article229239225
Messrs. S. C. Smith and Co. have held some very successful subdivision sales of late, and expect to further add to their reputation by the sale of the Warwick Estate, Newport, on Easter Monday. This property is close to Pittwater Lake, and forms a good investment now that the extension of the Narrabeen tram to Newport, has been decided upon. REAL ESTATE. (1914, March 20). The Sun (Sydney, NSW : 1910 - 1954), p. 12 (FINAL EXTRA). Retrieved from http://nla.gov.au/nla.news-article229239694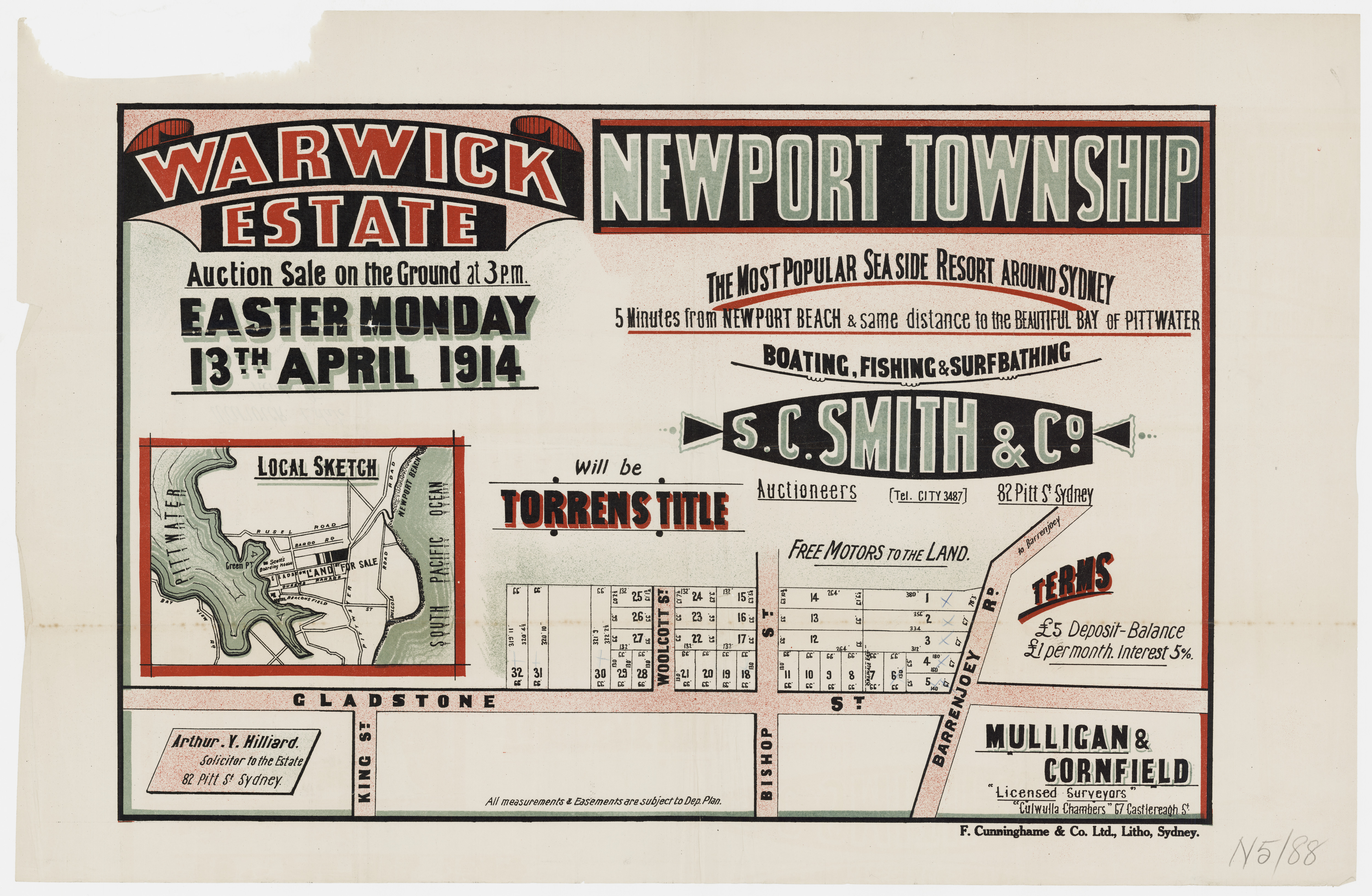 Warwick estate 1914, Item No.: c050400063 Subdivision Materials, courtesy State Library of NSW
NOTICE UNDER REAL PROPERTY ACT.
APPLICATIONS having been made to bring the lands hereunder described under the provisions of the Real Property Art, Certificates of Indefeasible title will issue, unless Caveats be lodged in accordance with the Third Schedule to the said Act on or before toe 25th Febrary, 1914.
No. 17,890. APPLICANT Jane Adela Chisholm, Goulburn. LAND:—County Cumberland, parish Narrabeen, shire Warringah, 1 acre 1 rood 34 1/2 perches, in Gladstone-street, township Newport,—lots 5, 8, and 7, section B, said township and being part 700 acres, granted to Robert Campbell; adjoining properties of Miss Scott, — Priddle, and Mrs. S. A. Collins. NOTICE UNDER REAL PROPERTY ACT. (1914, January 21). Government Gazette of the State of New South Wales (Sydney, NSW : 1901 - 2001), p. 316. Retrieved from http://nla.gov.au/nla.news-article228096801
Primary Application - Jane Adela Chisholm, Parish of Narrabeen and County of Cumberland: 1912 - NSW Primary Applications

CHISHOLM — STRICKLAND. — March 20, at Holy Trinity Church, Dawes Point, by Rev. Reginald Noake, Frank Kerr Chisholm to Jane Adela Strickland. Family Notices (1900, April 28). The Sydney Mail and New South Wales Advertiser (NSW : 1871 - 1912), p. 1017. Retrieved from http://nla.gov.au/nla.news-article165298924
Jane A., born 1874, was a daughter of Thomas and Annie Strickland. Thomas Arthur Strickland, was the first Vice Commodore of the Prince Alfred Yacht Club, resided at Dun Aros, the Crescent, Manly (now No. 10). He was a successful merchant, and partner in the firm of Young and Lark. His name pops up a the Starter and on the Committee for a Balmain Regatta in November 1867, along with some of the names of those founding members.
And what yachts were in this first assembling and where did they sail?:
This first event was reported in all Sydney newspapers and relayed nationwide:
Her father died doing what he loved and her mother became custodian for the estate:
On the same day Messrs. Raine and Horne will bring before bidders the Newport Surf Estate, Newport-Pittwater. The land comprises beautiful building sites, with picturesque views of bush, ocean, and headland, and is within a quarter of a mile of the popular beach of Newport. REAL ESTATE. (1916, December 30). The Daily Telegraph (Sydney, NSW : 1883 - 1930), p. 11. Retrieved from http://nla.gov.au/nla.news-article239432512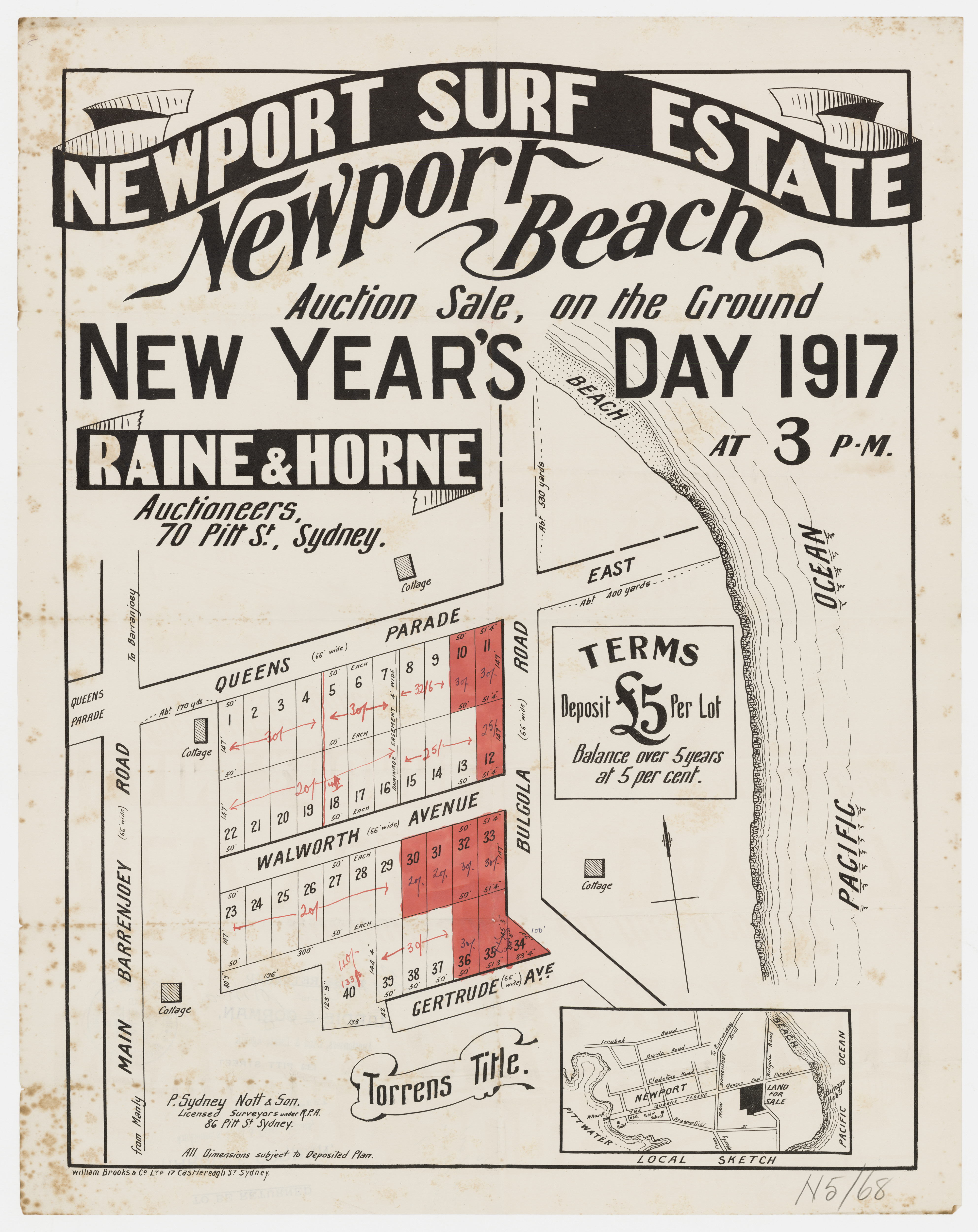 Newport Surf Estate 1917, Item No.: c050400030 Subdivision Materials, courtesy State Library of NSW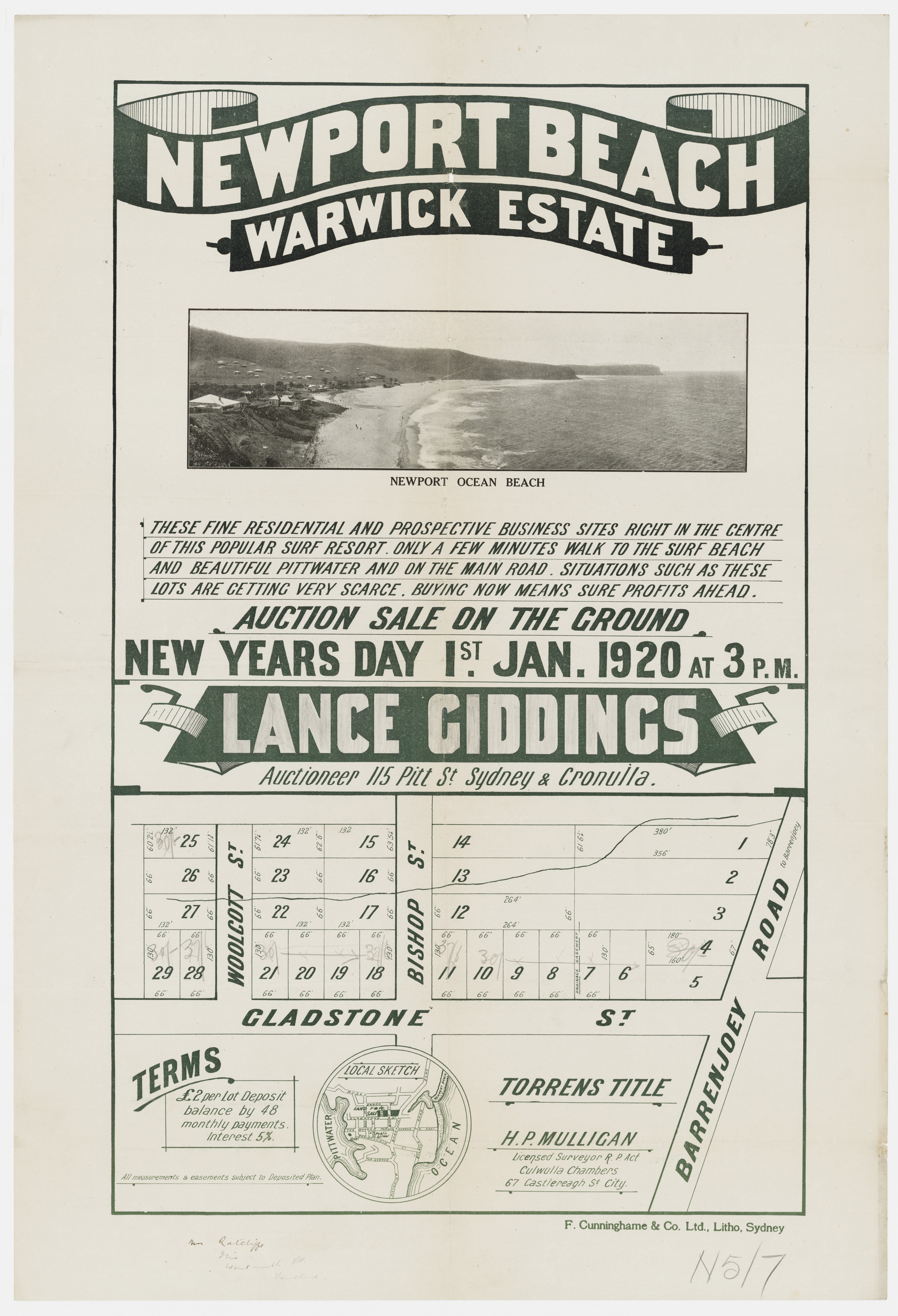 Newport Warwick estate - showing Woolcott 1920. Item No.: c050400006, Subdivision Materials, courtesy State Library of NSW
Newport Surf Estate January 3rd, 1920 Item No.: c050400036 Subdivision Materials, courtesy State Library of NSW - and enlarged section showing those who already had holiday homes as marked on the above: names are from top to bottom - Dr. Menzies, W. Crane Esq., L. Henderson Esq., Prof. Brennan, A. G. Yewen Esq., Dr. Morton, D. Lang Esq., F. Kleamo, E. George Esq., C. Websdale Esq., Phizackerley Esq. There is some information on Professor Brennan, who once owned 4 acres and two cottages at Newport, under Extras.

GAVE UP THE GHOST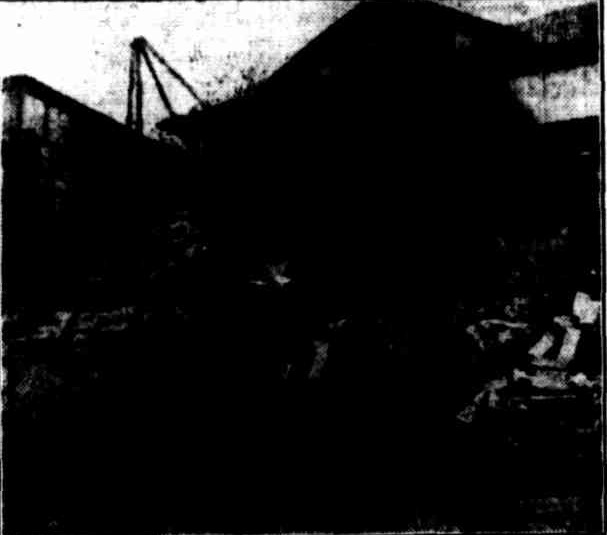 This house, the property of Mr. E. S. Triggs, of Calvert Parade Newport, has been the victim of two storms. Part of the retaining wall collapsed during last week's rain, and the remainder has now complete;y gone as a result of later falls. GAVE UP THE GHOST (1925, May 28). Evening News (Sydney, NSW : 1869 - 1931), p. 4. Retrieved from http://nla.gov.au/nla.news-article117453385
Ernest Trigg's first home built at No. 7 Calvert Parade. Photograph - Charles Nettleton.
Ernest was originally from Adelaide. He worked there as an accountant for Bar Smith who owned the Meadowbank Manufacturing Company in Sydney - they made rolling stock and trams. Trigg was sent to wind up the company, which was losing money. Trigg saw potential still and bought it.
Ernest Trigg, although an astute businessman, was also generous, donating money to the Darby and Joan cottages in Collaroy, retirement homes in Calingford and 300 pounds for a new surf boat for Newport SLSC. He and his wife Rose had a mansion in Victoria Avenue Strathfield, a house in the Blue Mountains and by 1922 has also acquired the land at No. 24 Calvert Parade, Newport. He eventually built the house at No. 7 selling No. 24 to Constance Unsworth on November 19th, 1925. The house at No. 7 was demolished in 1983. - Information from Guy Jenning's The Newport story, 1788-1988
Sea Murmur Estate Jan 1st 1921 Item: c050400058 Subdivision Materials, courtesy State Library of NSW - and enlarged section showing those who already had holiday homes as marked on the above: from top to base are - Mr. Tucker, Mr. Richardson, Mr. Triggs, Mr. Henderson, Dr. Menzies, Mr. Kleemo, Mr. Websdale and Professor Brennan.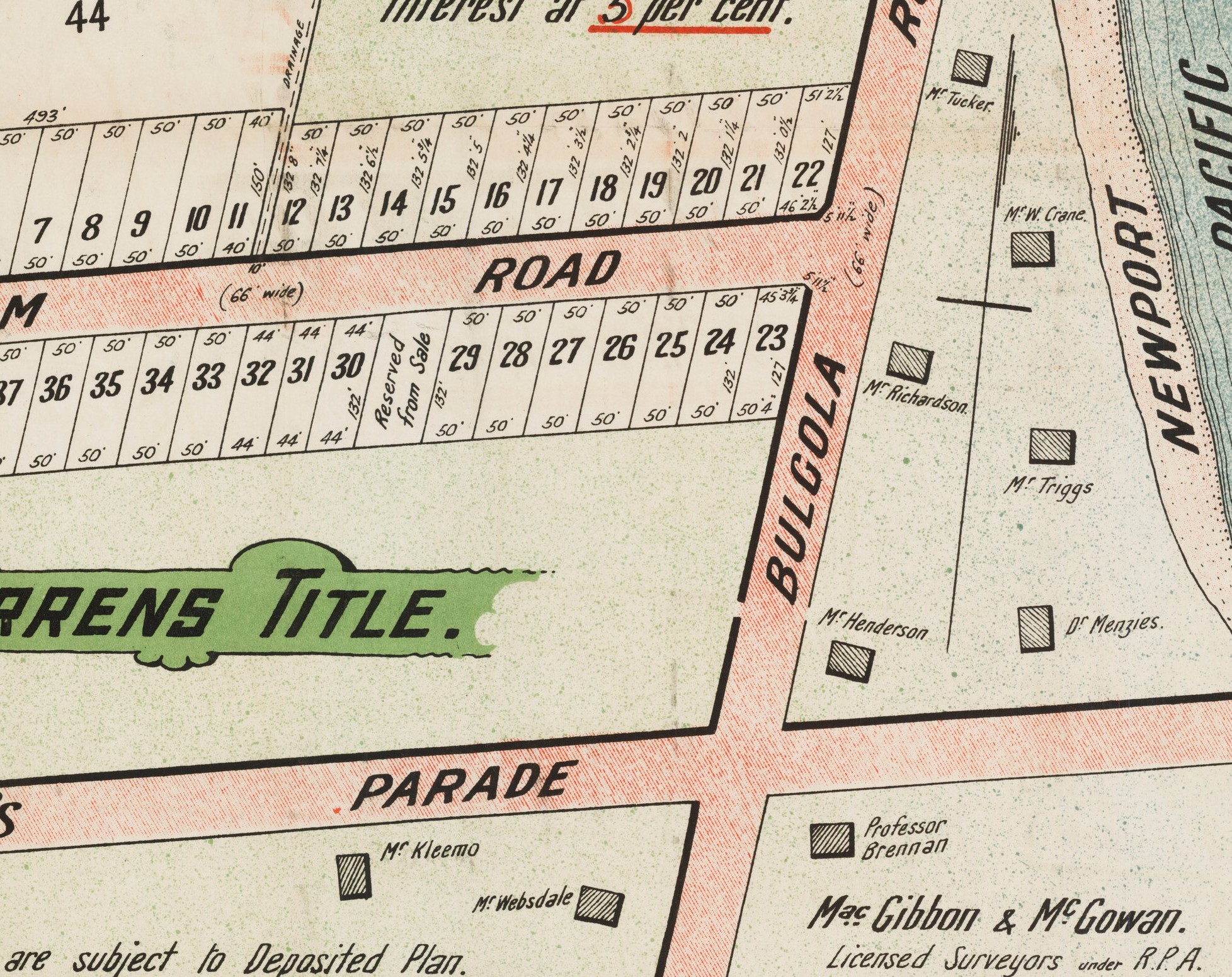 NOTICE UNDER REAL PROPERTY ACT.
APPLICATIONS having been made to bring the lands hereunder described under the provisions of the Real Property Act, Certificates of Indefeasible Title will issue, unless Caveats be lodged in accordance with the Third Schedule to the said Act, on or before the 27th May, 1921: —
No. 22,966. APPLICANT:—David Blundell, Annandale. LAND:—Shire Warringah, at Newport, 1 acre 3 roods 39 1/2 perches, fronting Barrenjoey-road, 165 feet north-easterly from Queen's-parade east. NOTICE UNDER REAL PROPERTY ACT. (1921, April 22). Government Gazette of the State of New South Wales (Sydney, NSW : 1901 - 2001), p. 2444. Retrieved from http://nla.gov.au/nla.news-article220084910
Boultons at Newport
According to Alan Sharpe's Pictorial Memories Manly to Palm Beach (1993), William Boulton arrived from the Kalgoorlie goldfields. Other sources state this was around 1871 or 1872 (Mona Vale Outrages - George Champion OAM) where he took over the lease of what was then called 'Mona Vale Farm'.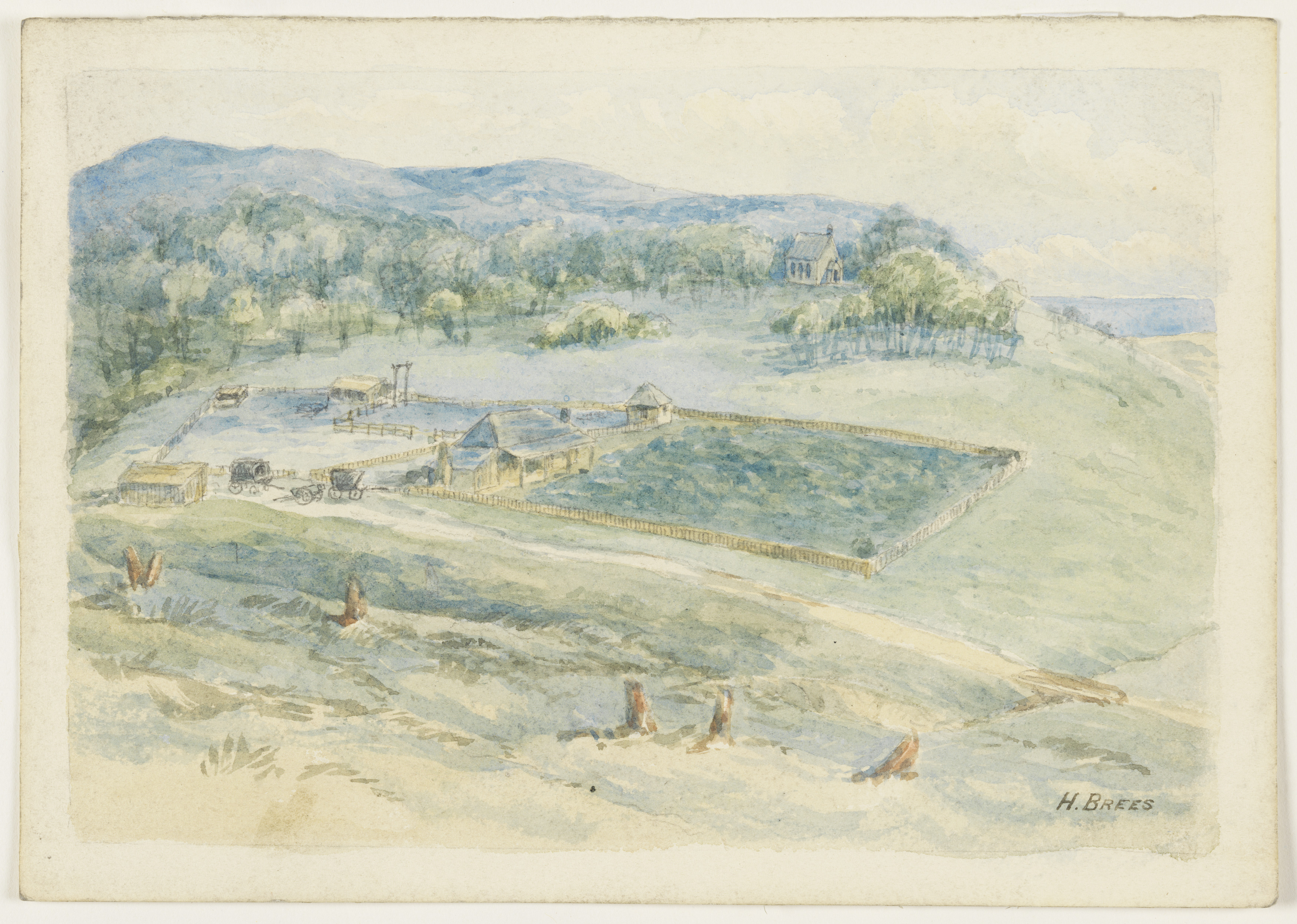 Pittwater scenes, 1880 / Harold Brees, Pittwater Church of England and Boulton's farm. Image No.: c13730_0003_c, courtesy State Library of New South Wales.

There also are records for two William Boulton's out west of Sydney, one of whom had sons with the same name as our Newport gentleman, in the same years that they were born, who then seemed to disappear for a few years, perhaps the trip to and from the goldfields (?), and then reappeared – in what we now call Mona Vale - where two of his and wife Sarah Ann (nee Waters) last two children's births are registered at St Leonards and Manly.

In 1882 the Boutlon's took the lease for the Newport Hotel.
NEWPORT HOTEL. WILLIAM BOULTON begs to inform the public that, having taken the above, he is prepared to offer the best accommodation to pleasure - seekers and others. Choicest Assortment of LIQUORS kept. Coaches run from Manly MONDAYS, WEDNESDAYS, THURSDAYS, and FRIDAYS, at 8 a.m., for Newport and Gosford ; FRIDAYS for the Hawkesbury River, at 3.30 p.m.Advertising (1882, April 17). The Sydney Morning Herald (NSW : 1842 - 1954), , p. 12. Retrieved from http://nla.gov.au/nla.news-article13509543

And then the Boulton's bought the hotel:
ONLY HOTEL IN DISTRICT. For SALE, at NEWPORT. Pittwater, WATERSIDE HOTEL and 3 Acres Land, 300 feet deep-water frontage, terminus for steamers and coaches. First-class investment. BLUNSUM and CO, Montagu-chambers', corner of Hunter and Elizabeth streets. Advertising (1886, November 12). Evening News (Sydney, NSW : 1869 - 1931), , p. 1. Retrieved from http://nla.gov.au/nla.news-article107315582

Eastern end of Beaconsfield street in 1913 - the Boulton's cows and milking shed in the foreground - photograph Mitchell Library, State Library of New South Wales.
The Boulton farmhouse at Newport was a double storey brick building on the corner of Beaconsfield Street and Barrenjoey Road. The most substantial building in the district and had a large domed well in the backyard. The house was still standing, minus the top storey, until recently. The Boutlon rented the farm to the Gilroys around 1929 and then sold it to A. J. Livingstone who worked it as a dairy from 1932 until 1943, when it was subdivided.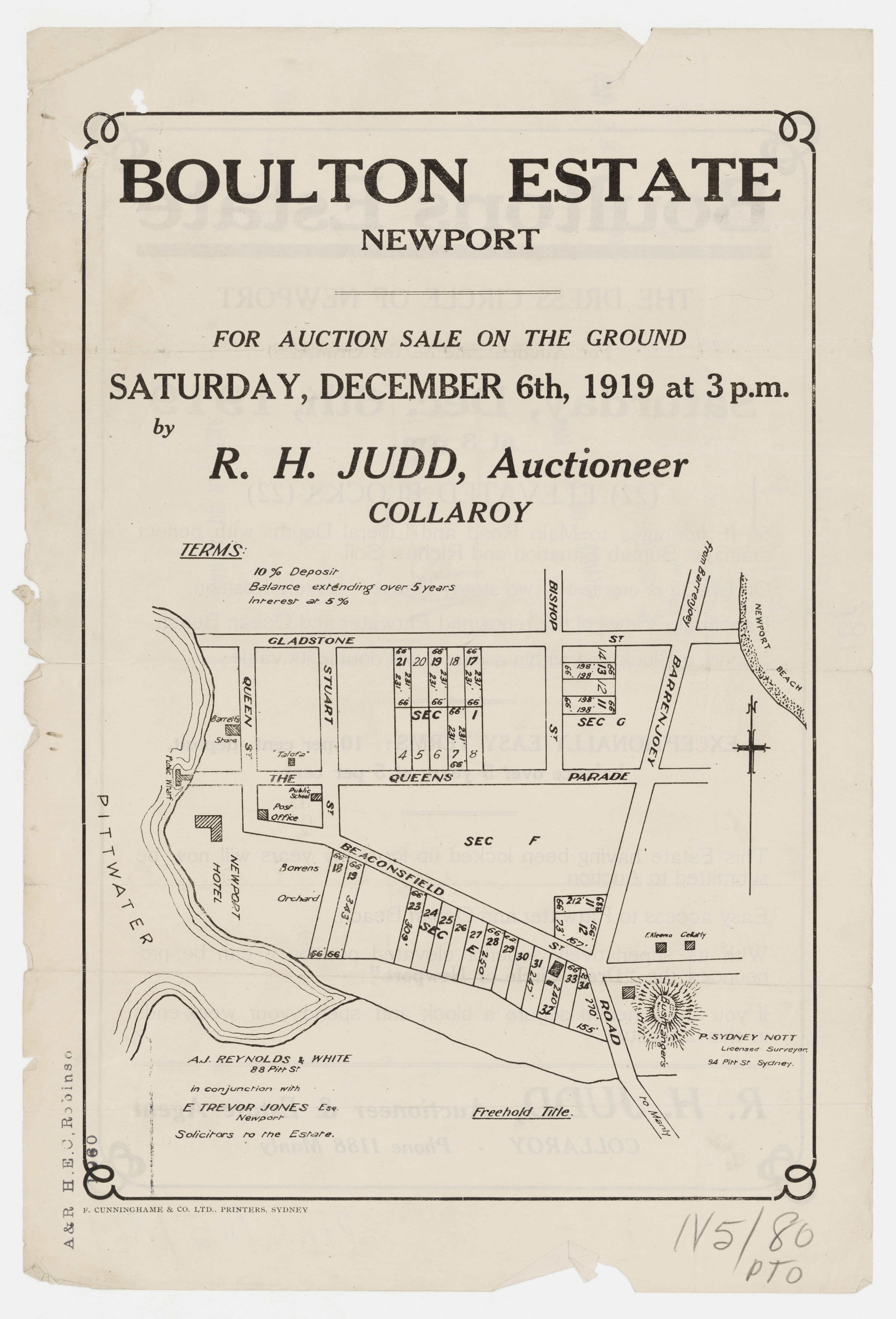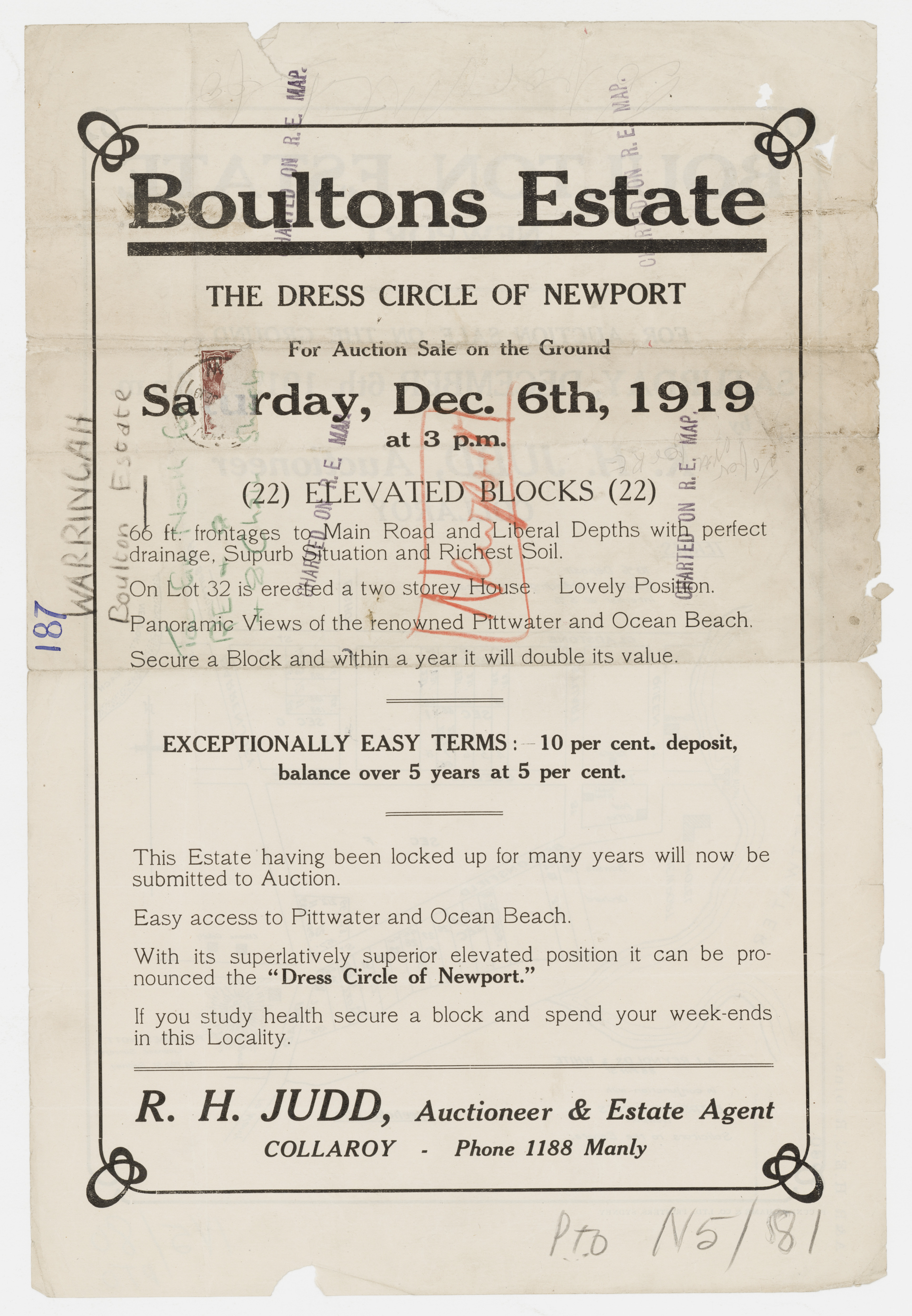 Boulton Estate Newport 1919, Item No.: c050400056 and c050400057 Boulton Estate 2 1919 back of flyer Subdivision Materials, courtesy State Library of NSW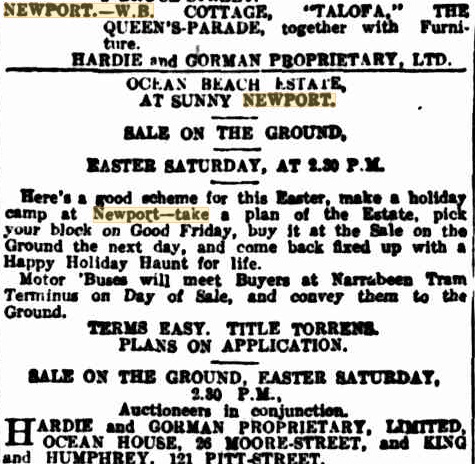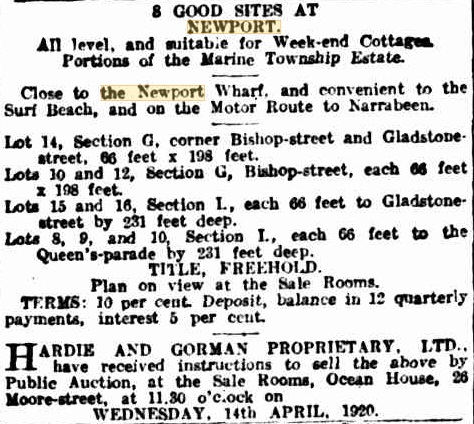 Advertising (1920, March 31). The Sydney Morning Herald (NSW : 1842 - 1954), p. 16. Retrieved from http://nla.gov.au/nla.news-article28095000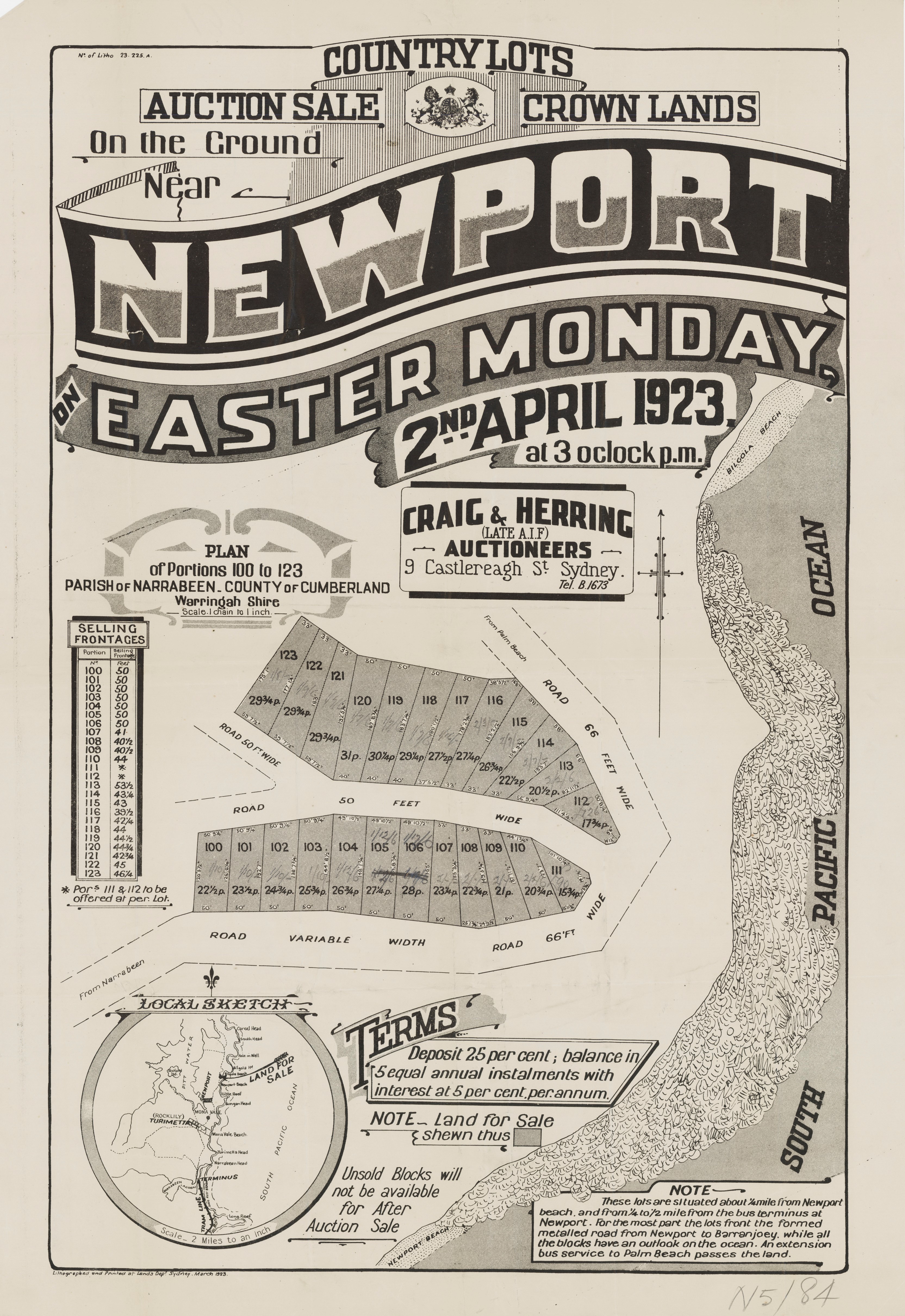 Newport crown land sales 1923, Item No.: c050400059 Subdivision Materials, courtesy State Library of NSW

One of the earliest and largest landholders at Newport has descendants still bringing acreage under the Real Property into 1925: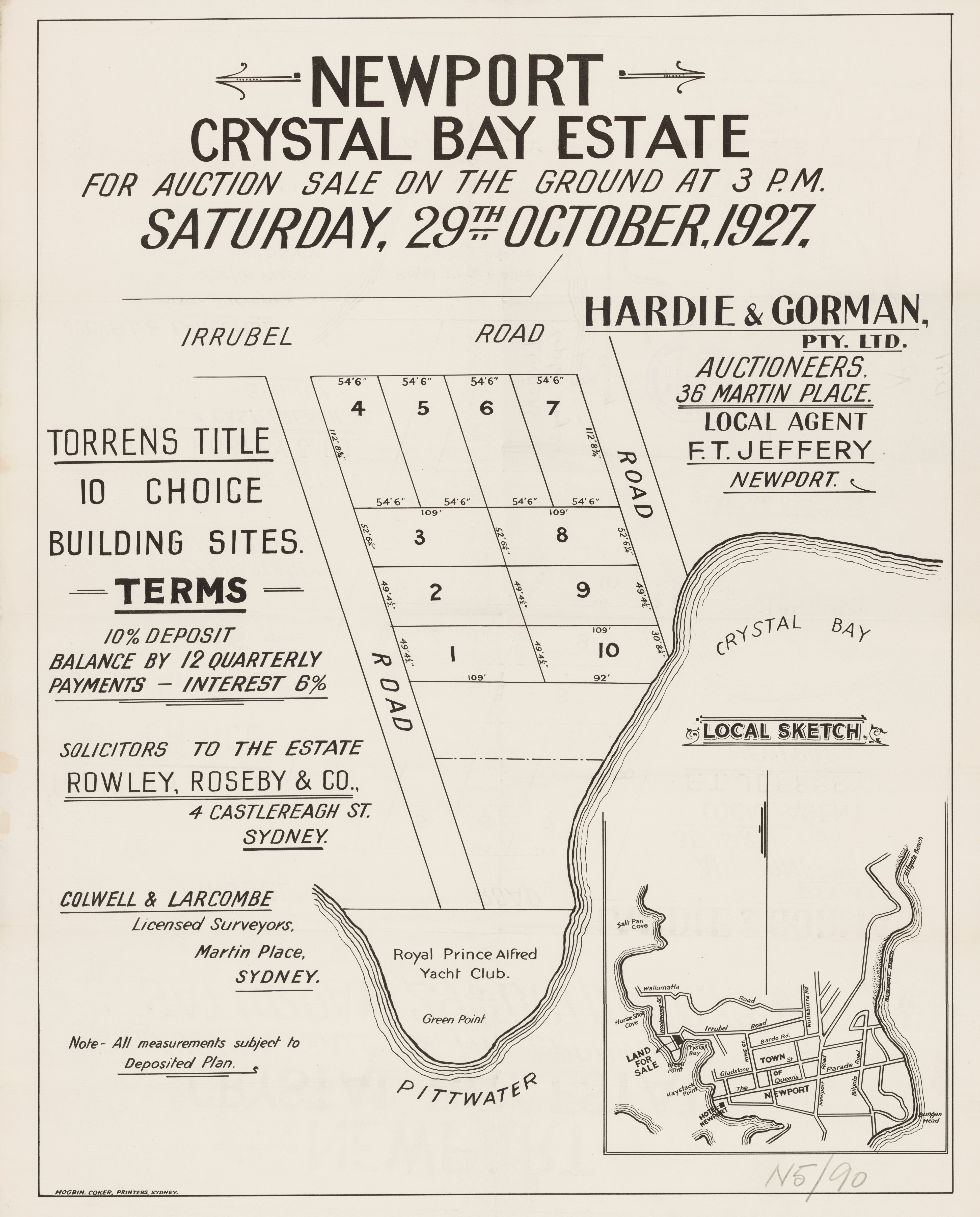 Newport - Crystal Bay Estate - Irrubel Rd 1927. Item No: c050400066, Subdivision Materials, courtesy State Library of NSW - Note that the land for the RPAYC is already marked.
In 1919, the Committee decided that Sydney Harbour was becoming too congested for yacht racing and a sub-committee was formed to inspect land that would be suitable for yacht racing in the Pittwater area.
As a result, Green Point was purchased for this purpose for an amount of £650.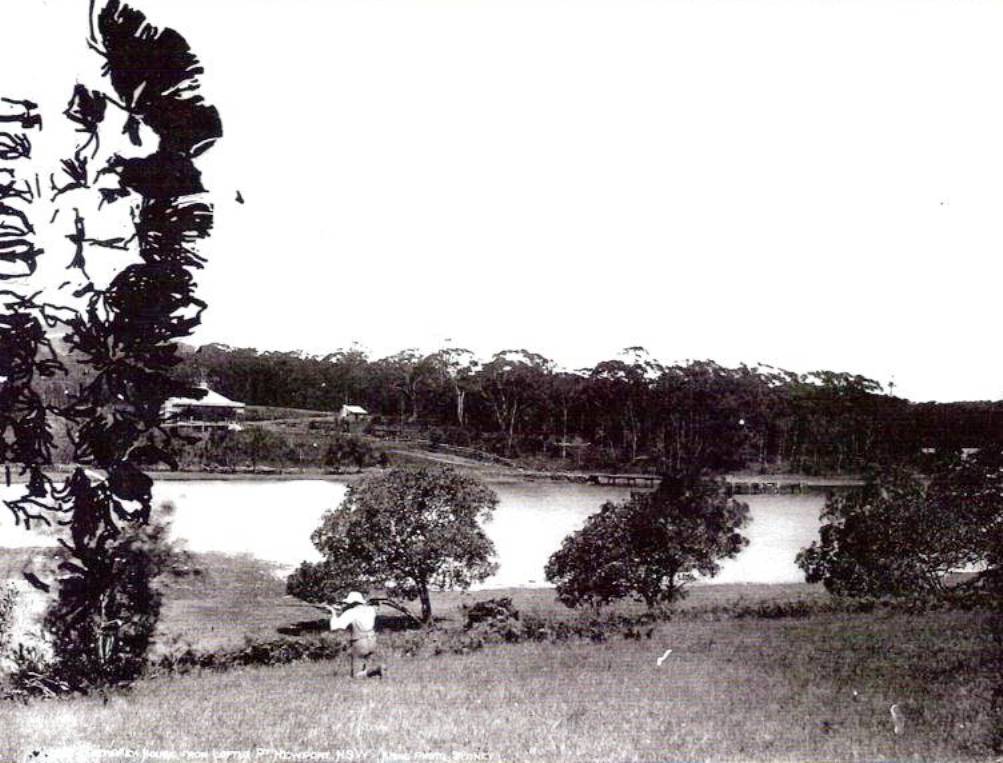 Bayview House from Loftus Point, Newport. circa 1900-1913 (Later named Green Point and site of present day RPAYC.) Photo Courtesy of Powerhouse Museum

The Royal Prince Alfreds will celebrate their opening the following Saturday with a rendezvous. All yachts and motor boats will assemble and then follow the commodore down the harbor to an anchorage in some suitable place where races for dingies and skiffs will be decided. The club's racing dates are as follows : November 15, December 13, January 31. February 24 and March 14. It will thus be noticed that both the yacht clubs will but contribute 10 races between them this season. What is the reason?
CLUBHOUSE AT BROKEN BAY.
One would have thought that after the long period of inactivity, during the war, yachtsmen would have taken advantage of the very earliest opportunity to demonstrate their enthusiasm for the sport, and that, consequently, every available date would have been secured for a fixture. It has been proposed that, in addition to their fine club rooms in Moore street, the Royal Prince Alfred Y.C. purchase a site at Broken Bay for a clubhouse. It appears that when he was in London, Commodore Walter M. Marks wrote the club that flying would be one of the sports in the near future, and that he was of opinion that the club should build a clubhouse at Newport on the land that Sir Rupert Clarke offered him some years ago, and where there was sufficient ground for hangars for air planing. The question is, it would seem, does the Prince Alfred Yacht Club intend altering its constitution to embrace flying as well as yachting ? And would the Royal Charter extended to the club as a yachting institution be permitted should it adopt flying?
THE NORTHCOTE CUP. By way of preparation for her Melbourne engagement, the yacht clubs have decided to arrange a series of test races for Mr. A. C. Saxton's six-metre yacht Awanui III. There will be either two or four races sailed in the harbor, when Awanui III. will meet Rawhiti (Fred Doran) and Culwulla IV. (W. M. Marks).
STORMY PETREL WELCOMED.
The return home of Mr. Sydney Dempster's Stormy Petrel, after a voyage of 5000 miles to Torres Straits, was the occasion of much interest to local yachtsmen, who turned out in strong force to welcome the much-travelled yacht and her intrepid crew at the Heads. The Lily Brayton conveyed members of the Royal Sydney Yacht Squadron, whilst a veritable fleet of other craft, including Mischief (Vice-Commodore A. J. Milson, Royal Sydney Yacht Squadron), Oenone (Commodore W. M. Marks, Royal Prince Alfred Y.C). Nanoya (S. H. Fairland). Bona (Bradley and Towse), Wingi Wingi (Bayley McArthur), Valencia (A. Davies), Istria (Colonel A. Spain), and Sirocco (E. W. Knox). Xhose aboard the Lily Brayton included Commodore Marks, Messrs. A. J. Langan, A. R. Marks, Capt. Webber, Capt. L. Phillips, F S. Adams, P. Pring, S. Coggins O. Backhouse, and H. Walters. In Watson's Bay the crew of Stormy Petrel assembled aboard the Lily Brayton, when their health was proposed by Commodore Marks and supported by Captain Phillips. The Stormy Petrel left Sydney on May 10 with her owner,' Mr. S. M. Dempster, in charge, Capt. S. C. Hutchins as navigating officer, Capt. S. Spain as mate, and Mr. E. P. Andrea3 as engineer. Needless to say, her cruise has been full of incident, from alligator shooting to a Digger wedding, when Warrant-Officer Jardinc, son of a well-known settler in the Far North, had the unique experience of being married to a young lady, who had nursed him through sickness, aboard the little yacht in Torres Straits. YACHTSMAN IS FOUND (1919, October 17). Arrow (Sydney, NSW : 1916 - 1933), p. 3. Retrieved from http://nla.gov.au/nla.news-article103526931
The site was used for gatherings and camping. In 1924 a caretaker was employed and the gates built, with a brass plate affixed, resolved in a meeting of August 7th, 1924, with the club's name. It was also resolved to accept Oscar Curtis' offer of the Bona mast as the first flagpole for the club's new site. This classic yacht had won what was termed 'The Australian America's Cup Yacht Race' in the Sayonara Cup and numerous other races the RPAYC yachtsmen either supported or raced in. When the gates were built a jetty was also installed. John Roche, called by many the 'Father of the Pittwater Regatta', was a member by this time and asked, along with others, to decide on the appropriate spot for the flagpole.
In September 1924 Russell Marshall presented a shed to the club for the Green Point grounds and this would appear to be the first building on the site.

In October 1926 12 moorings were secured for club members - 6 at Salt Pan and 6 at Green Point.
Apart from tree-planting ceremonies, the land remained practically unused until a group of enthusiasts, who had built Jubilee class yachts, banded together and built a boatshed, slipway and pontoon to cater for their needs. The Governor of New South Wales, the Honorary Commodore of the Club, Lord Wakehurst, officially opened the current premises on 17th December, 1938. No less than 22 Jubilees started in the race held that day. This was a relatively new class which the progressive from its outset club chose to sponsor and promote:
RPAYC Tree Planting TREE PLANTING On Yacht Club's Newport Land.
Many trees and flowering shrubs were planted yesterday on Green Point, near Newport, Pittwater. The ceremony was performed by various members of the Royal Prince Alfred Yacht Club, owners of the land, which forms a feature of the foreshores of the upper end of Pittwater.
Mr. J. S. Palmer, an old and prominent member of the club, was responsible for the suggestion to carry out the tree-planting. By making a contribution from the prizes he had won in past years, he enabled the work to be done. One of the trees was planted by Mr. Palmer in memory of his son, the late Mr. L. Palmer, who was killed in an aeroplane accident last year. The others were planted by prominent past and present members of the club, including Messrs. D. Carment, F. S. Adams, and W. M. Marks. TREE PLANTING. (1932, November 21). The Sydney Morning Herald (NSW : 1842 - 1954), p. 6. Retrieved from http://nla.gov.au/nla.news-article28029956
OPENING OF SAILING SEASON. Pleasant Setting for Carnival at Green Point.
White-winged yachts on the wind-ruffled waters made a lovely spectacle at the opening of the Pittwater sailing season on Saturday afternoon, when the new boathouse of the Royal Prince Alfred Yacht Club at Green Point, Newport, was opened.
The majority of spectator wore dark glasses and large shady hats as a. protection from the hot afternoon sunshine, and coloured beach umbrellas were erected on the lawn to provide additional shade.
When the Governor, Lord Wakehurst, who is the honorary commodore, and Lady Wakehurst disembarked from Mr. J. M. Hardie's yacht Windward they were welcomed by Commodore P. C. Mackillop, Vice-Commodore Richard Windeyer, and Rear-Commodore D.S. Carment. Lady Wakehurst locked cool in a chalk white silk sports frock belted in navy, and a white Breton sailor hat trimmed with a large bow in front. Mrs. Hardie's navy linen frock cut on tailored lines was relieved with touches of blue.
OFFICIAL QUESTS.
Afternoon tea was served in a marquee on the lawn, and among the official guests were Admiral W. N. Custance, Captain and Mrs. H. C. Phillips, Colonel and Mrs. P. H. Lorenzo, Flight-Lieutenant and Mrs. Norman Mulroney, Group-Captain and Mrs. H. P. de la Rue, Mr. and Mrs. J. L. Milson, Mr. and Mrs. D. S. Carment, and Mr. and Mrs. L. C. Waterman.
Mrs. H. C. Phillips wore a white tailored linen emit with a plowed navy skirt and white hat. A sky blue linen frock patterned with a nautical design of anchors and life buoys was the choice of Miss Susan Phillips.
Mrs. P. Carruthers's -white linen frock was trimmed with emerald green zipp fasteners on the -pockets.
Commander Leo Quick whowas accompanied by Mrs. Quick, who wore a wide-brimmed black straw hat with her black and white printed silk frock. Mrs. T. M. Furber, whose husband is a club member, favoured a navy frock patterned with white stars. Miss Nancy Furber's green and white spotted frock was finished with a white Peter Pan collar.
SAILED FROM NEWCASTLE.
On board the Runette, Mr. W. Giles, a member of the Lake Macquarie Yacht Club, who sailed from Newcastle in the morning, entertained Mr. and Mrs. P. Martin, Mrs. James Crawford, and Miss Helen Telford.
Mis Sheila Pring, wearing s wide-brimmed White hat with her cream American crepe frock patterned in black, accompanied her fiancé, Mr. Geoffrey Plater With Mr J. Hordern was Miss Sheila Vale and her sister, Miss Joyce Vale. The latter chose a primrose yellow printed silk frock with a shady hat
Mrs Andrew Findlay was a smart figure in a navy linen culotte and white terry cloth shirt finished with a nautical navy scarf
Miss Jeannette Lang, who was with Mr. Harry Wearne, wore a turquoise blue pinafore frock with a matching blouse which had Hungarian embroidery on the puffed sleeves. An all-white ensemble was the choice of Mrs. Hamilton Kirkland. Mrs. Paul Ross wore a navy and white printed American sheer frock, and navy and white was also chosen by Mrs. L. C. Waterman, whose husband is the president of the Sydney Yacht Racing Association. With Mr. and Mrs. Monte Fowler was Miss Peggy Leslie in a red and white patterned cotton frock. Mrs Fowler wore a navy bolero coat with her white American crepe frock
Other spectators included Mr. and Mrs A.D. Walker, Mr. and Mrs F. F. Buchanan, Professor and Mrs. W. J. Dakin, Messrs "TV.Jira, Clive Evatt, John Wallis, Harold Adams, Arthur Mutson, and John Kyd (secretary of the club).
(Continued on next page.)
MRS. F. C. MACKILLOP, wife of Commodore Mackillop, and LADY WAKEHURST at the opening of the Royal Prince Alfred Yacht Club boat-house and sailing season at Green Point, Newport, on Saturday afternoon.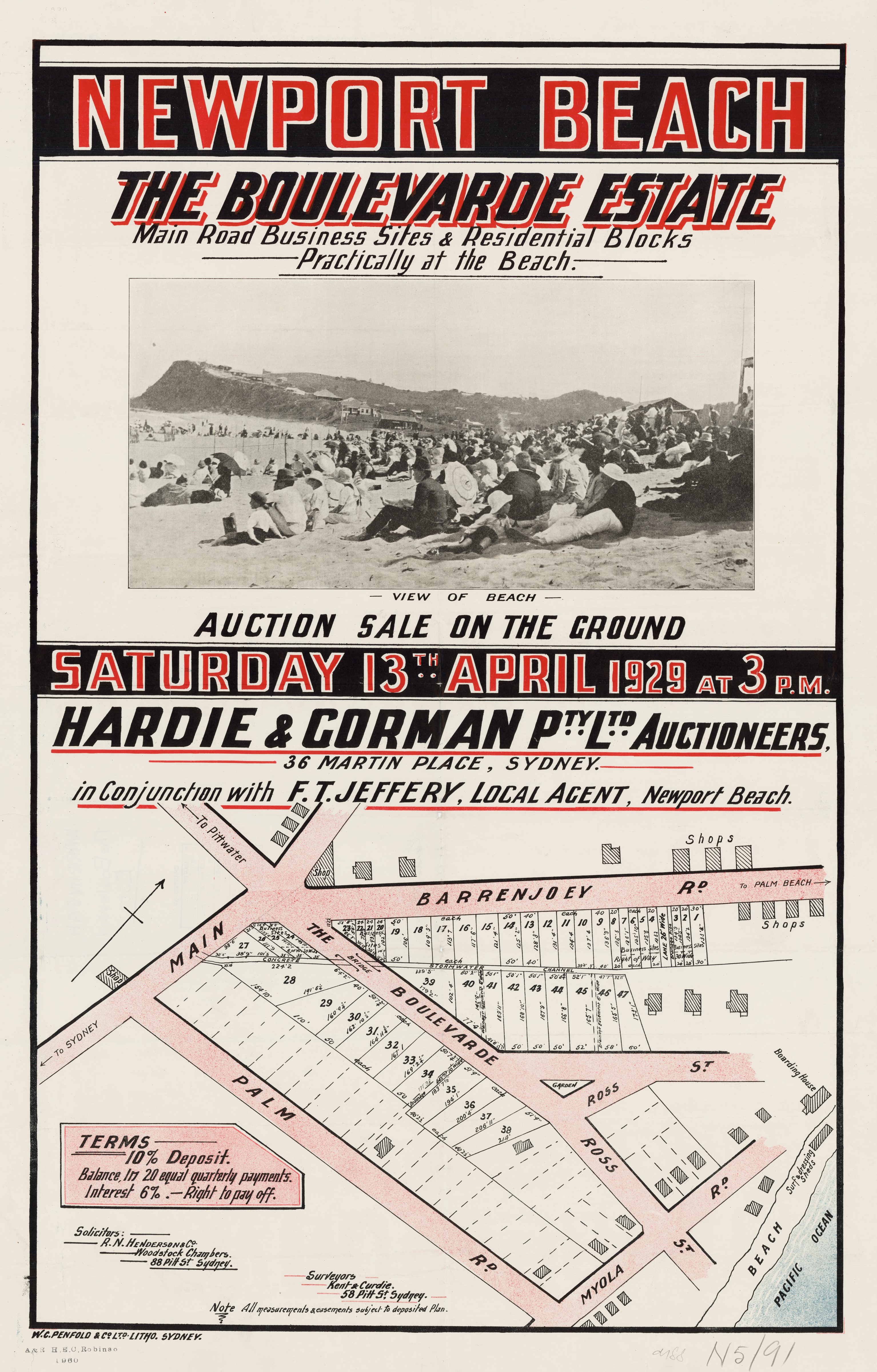 Newport Beach - The Boulevarde Estate 1929. Item No.: c050400067 Subdivision Materials, courtesy State Library of NSW
The Salt Pan Estate - Herbert Fitzpatrick, under ' Pittwater Estates Co.'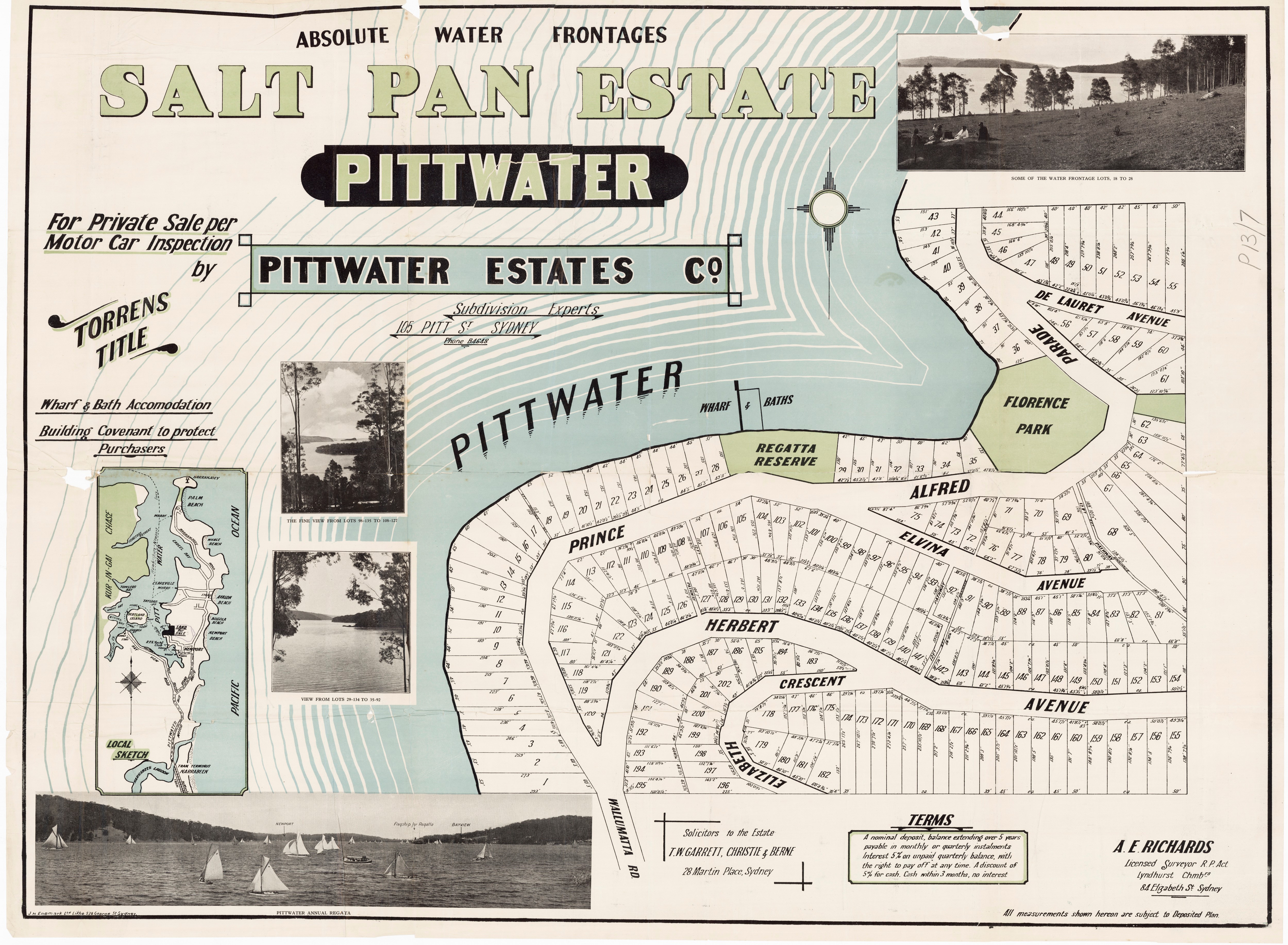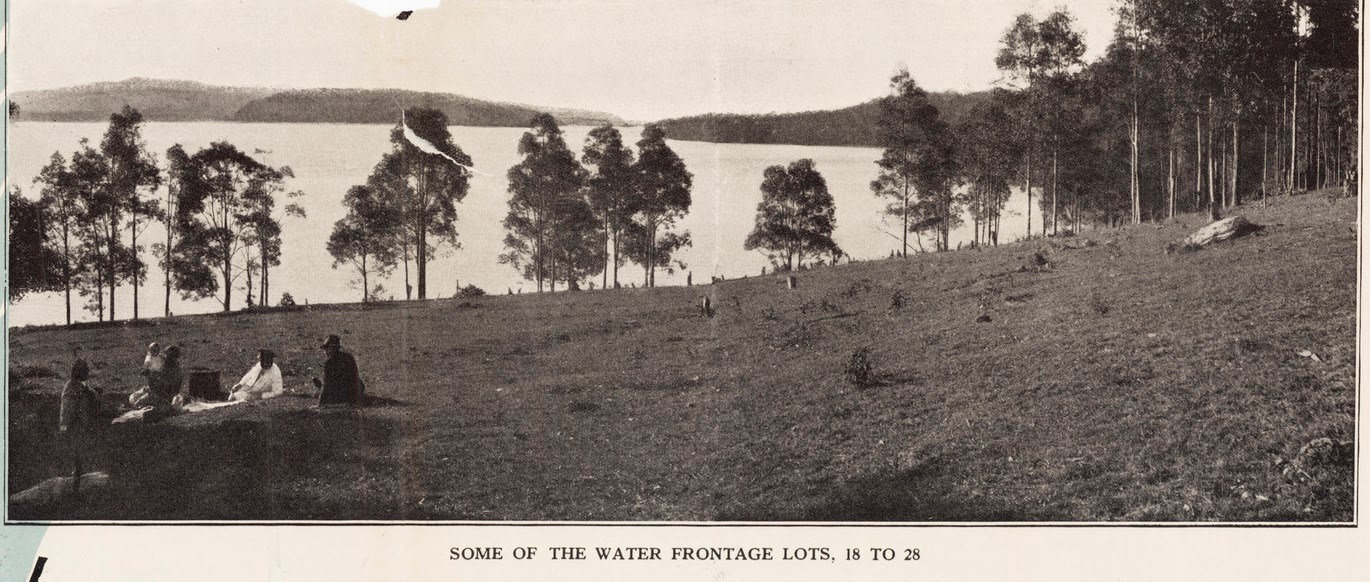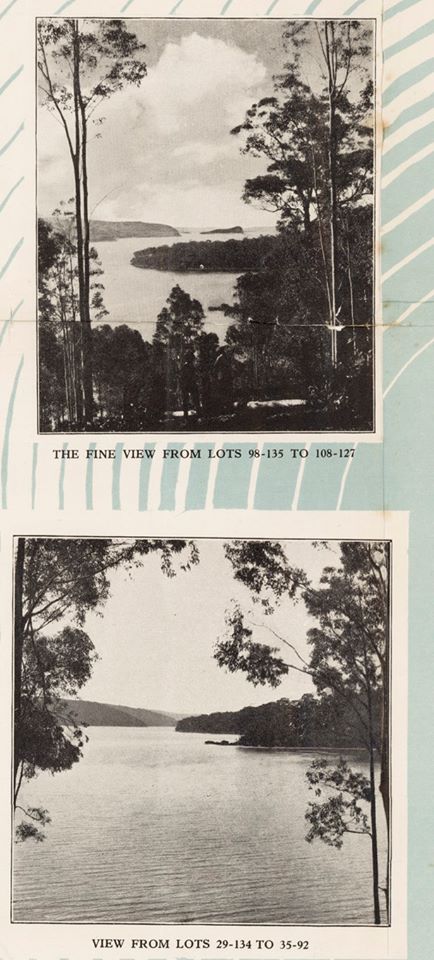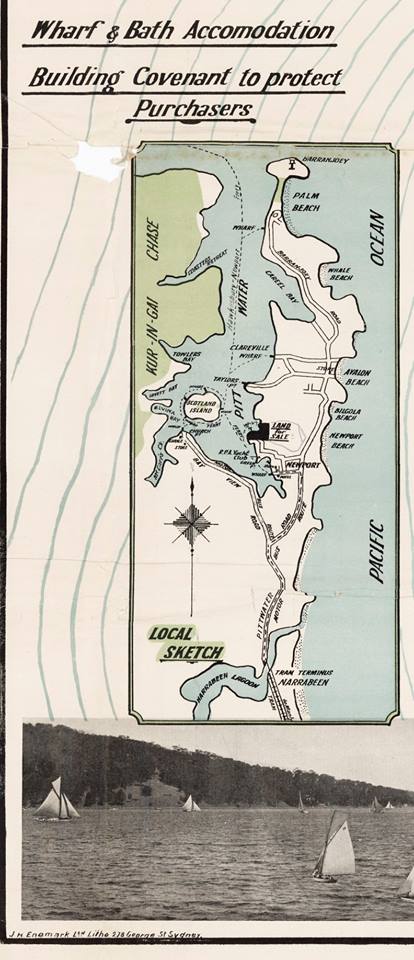 Salt Pan Estate Newport, Item No.: c053460007 Subdivision Materials, courtesy State Library of NSW - and sections from to show detail - more J.H. Enemark panoramas! Subdivision Materials, courtesy State Library of NSW

The Pittwater Regatta 'flagship' seen above looks alike the SS Archer of 1925. Some Pittwater Regatta Flagships from around those years of the Salt Pan Cove subdivision:
1924: SS Newcastle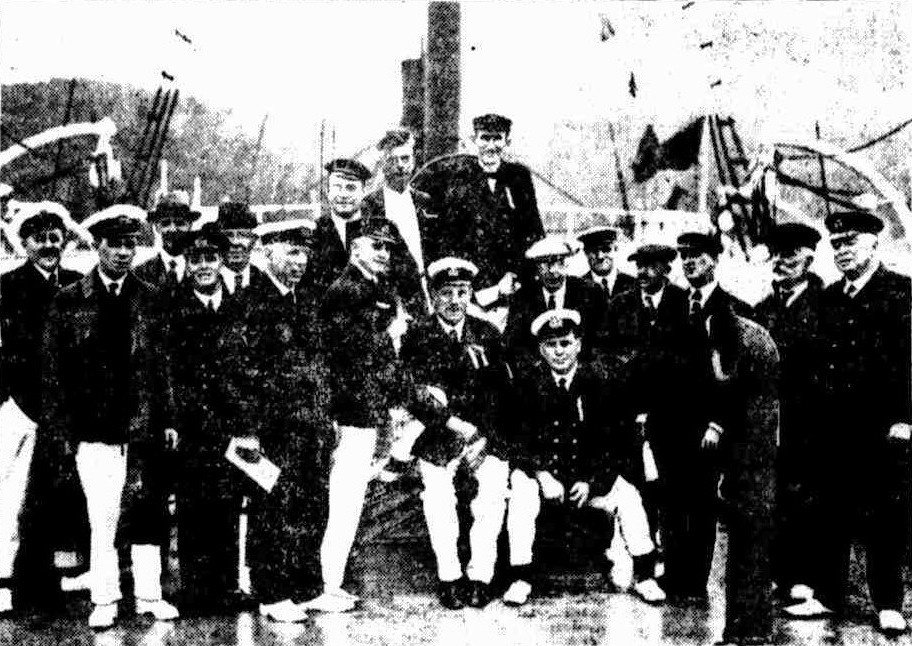 Some of the officials and yachtsmen who participated in Saturday's Pittwater regatta. They all had a merry time, and were downhearted when the two days and two nights' festivities cams to an end. Johnnie Roche, who organised the regatta, is to be seen standing in the background. Seated in the centre of the front row is Fred. J. S. Young, the vice-commodore, and a son of the founder of bowls in Australia. – Aboard the steamer Newcastle. PITTWATER NOT A PARADISE. (1924, December 30). Sydney Sportsman (Surry Hills, NSW : 1900 - 1954), p. 7. Retrieved from http://nla.gov.au/nla.news-article167169262
1925: December 26th S.S. Archer
PITTWATER REGATTA. The Sydney Morning Herald (NSW : 1842 - 1954) Thursday 3 December 1925 p 14 Article
... PITTWATER REGATTA. Entries for the Pittwater Regatta closed on December 7. The committee advises that boats may be loaded on the S.S. Archer, act as flagship, until 4 p.m. on Christmas afternoon.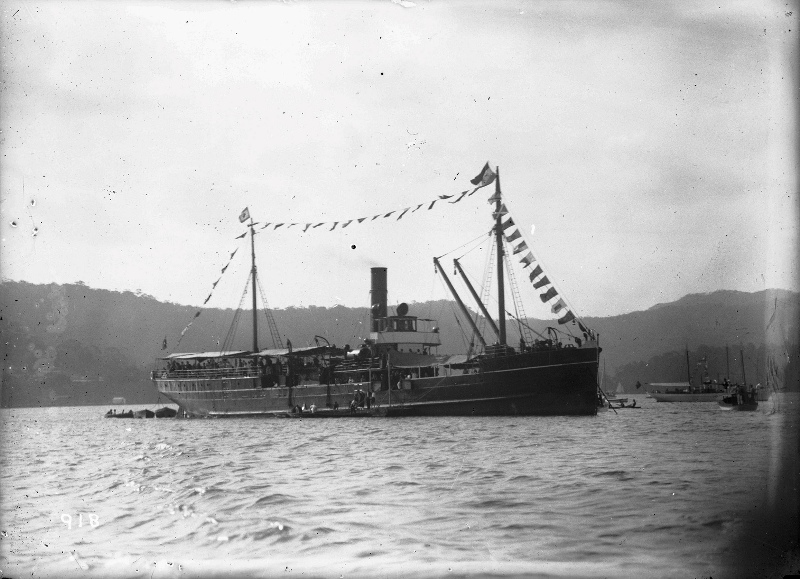 SS Archer Pittwater Regatta flagship 1925, image courtesy Australian Maritime Museum, Image No.: 00010681.
AWAITING RESCUE.-One of the many capsizes which occurred during the heavy weather at the Pittwater (Sydney) regatta. OUR PICTORIAL SECTION. (1925, January 13). The Horsham Times (Vic. : 1882 - 1954), p. 1 Section: OUR PICTORIAL SECTION. Retrieved from http://nla.gov.au/nla.news-article73031530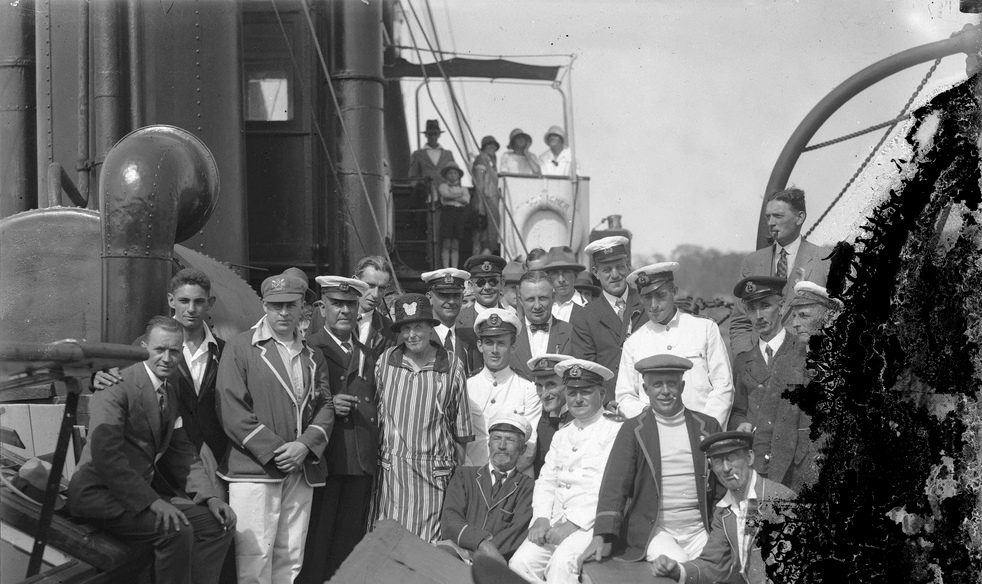 ARCHER 694 gross tons, 440 net. Lbd: 200'2" x 29' x 13'2". Iron steamship built by London & Glasgow Engineering and Iron Shipbuilding Co., Glasgow for the Queensland Steam Shipping Co., London. Passenger vessel of 95 horsepower and capable of 10 knots. April 1887 of the AUSN Co., registered Brisbane. Sold September 1891 to H W Henderson's Circular Saw Line, registered Sydney. September 1898 sold to J Morrison, Newcastle. Sold January 1901 to the Newcastle and Hunter River S N Co. Sold January 1933 to Stacey and Williams. 1934 converted into a hulk. 1946 scuttled off Sydney Heads. Photo is part of the Australian National Maritime Museum's William Hall collection; Object number 00010666.
1926; The officials will then lay out the course and make all preparations for the arrival of the flagship of the regatta, the s.s. Erringhi. A 8 o'clock a meeting of members of the local committee will take place on board the Miramar.THE MOTOR BOATS. (1926, December 24). Arrow (Sydney, NSW : 1916 - 1933), p. 15. Retrieved from http://nla.gov.au/nla.news-article103439184
1927: December 30-31 steamer Newcastle
THE HOLIDAY. MANY ATTRACTIONS. The Sydney Morning Herald (NSW : 1842 - 1954) Saturday 31 December 1927 p 14 Article
Today the annual Pittwater Regatta will be held. His Excellency the Governor General is to be present, and on his arrival he will be escorted to the flagship by a naval guard of Sea Cadet. THE HOLIDAY. (1927, December 31). The Sydney Morning Herald (NSW : 1842 - 1954), p. 14. Retrieved from http://nla.gov.au/nla.news-article16430624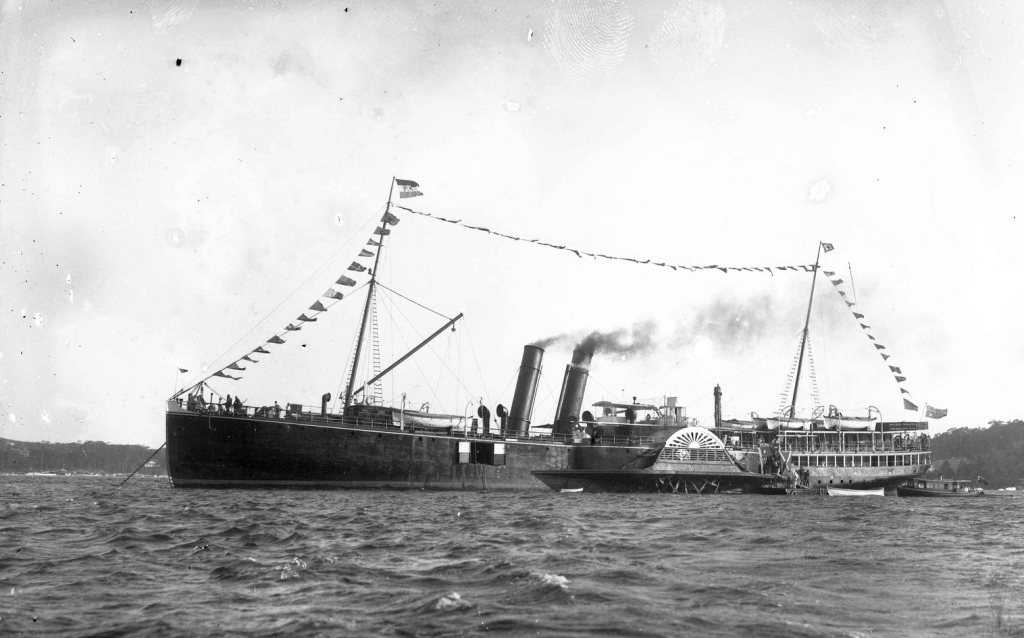 This image depicts the paddle steamer NEWCASTLE possibly in Pittwater, New South Wales. The vessel was flagship for the Pittwater Regatta in 1922, 1923, 1924 and 1927. The horizontal tricolour house flag reads `P.R'. People are on the accommodation ladder that leads to a pontoon and a waiting dinghy and motor launch. Inscribed '1816' in the lower right corner. Part of the Hall collection acquired from the Royal Sydney Yacht Squadron. This photo is part of the Australian National Maritime Museum's William J Hall collection.
6th of April 1925: H. J. Fitzpatrick - submitting proposal for subdivision of land at Salt Pan, Pittwater, and asking that the Sub Committee meet him and his surveyor. Decided the Works Committee meet him as requested.
20th of April 1925: H J Fitzpatrick's Beach Bay Subdivision. Pittwater. Resolved, - (Crs. Campbell, Corkery) That the Committee's Beach recommendation be adopted, with the elimination of the proviso and that the seal should be affixed to the deposited Plan, upon a state written undertaking being furnished by Mr. Fitzpatrick that the other incomplete matters will be attended to. -Resolved, - That the other recommendations by the Committee be adopted.
?th of May 1925: Mr. H. J. Fitzpatrick and his surveyor, Mr. Richards waited on the Council in regard to his two subdivisions at Pittwater - one at Elvina and the other near Salt Pan. Resolved, (Crs. Hitchcock, Rayner ) That.Fitzpatrick verbally assures that the work of Beach Bay Estrte is quite comlete, the seal be affixed to' the subdivision plan. Salt Pan Resolved,...That the subdivision of the land near Salt Pan Pt be referred to the Committee. Resolved, (Ore. McKiflop, Campbell)
13th of July, 1925: H. J. Fitzpatrick (Scotland Island Estates, Ltd) 7/7/25. requesting Council's further support in his application for a Special lease of portion of the foreshores at Church Point: Resolved, -. (Crs. Ellsworth, Hewitt) That a letter be written to the Land Department, saying that the Council is disappointed that Mr. Fitzpatrick's application has been turned down, and asking that it be again considered as it is on the lines favored by the Council.
7th September, 1925: H. J. Fitzpatrick addressed the Council in regard to his subdivision of Portion 31, Pittwater, and asked the Council to accept a guarantee of £3,500 in lieu of the ,amount of the Engineer's estimate (4,400). Resolved, Crs. Hewitt, Hitchcock) That the Council accept from Mr. Fitzpatrick a cash guarantee of £3,500, provided he also give a written undertaking, drawn up by the Council's Solicitors, to complete the subdivision works in accordance with the approved Specification, and that upon this being done, the seal of the Council be affixed to the plan, upon the Engineer certifying that it is in order.
19th of October, 1925: That the Seal of the Council he affixed to the Agreement covering the Salt Pan guarantee of H. J. Fitzpatrick and A. H. Ducker, for the Estate, completion of the roads in Saltpan Estate, in accordance with the approved Specification, provided the Shire Engineer is satisfied with the annexures to the Agreement.
1st of February, 1926: H J Fitzpatrick. 27/1/26. submitting plan of proposed resubdivsion of portion of Flood 's Peninsula Estate, Pittwater: Dealt with in Engineer's Report.
15th of February, 1926: H J Fitzpatrick ,advising that plans and specifications are being prepared by his Architect for the proposed boat shed, &c, on his permissive occupancy at Church Point, and will be submitted to the Council later : Received.
22nd of November, 1926: Pittwater Estates Co (H.J. Fitzpatrick 9.11.26 and 17.11.26.) requesting that the Works Committee discuss with him certain matters in connection with the roads, &c. on Salt Pan Estate Referred to the Works Committee.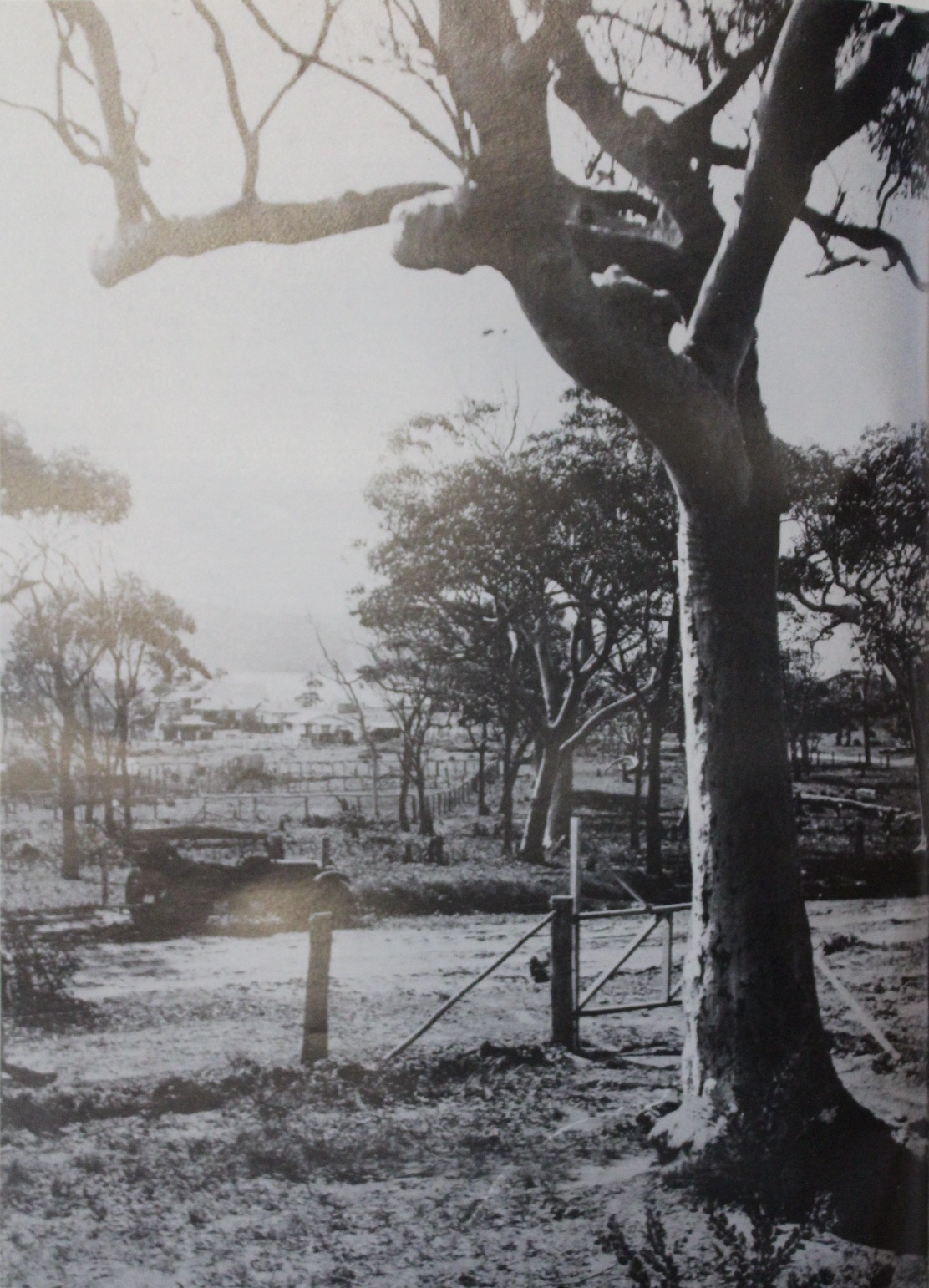 Woodland's Estate. Looking north to the beach from Queens Parade in mid 1920's - area owned by Patricia Darling (nee Trevor-Jones, later Meadows) - sold at Auction April 18th, 1927 at 3 pm. Advertised as 'land at sunny Newport by the sea under its blue sky, comprising 18 choice building blocks facing Bulgola road and Queens Parade, surrounded by houses of refinement with magnificent views of the ocean and under stately gums'. Photograph mid 1920's courtesy Albert Durst.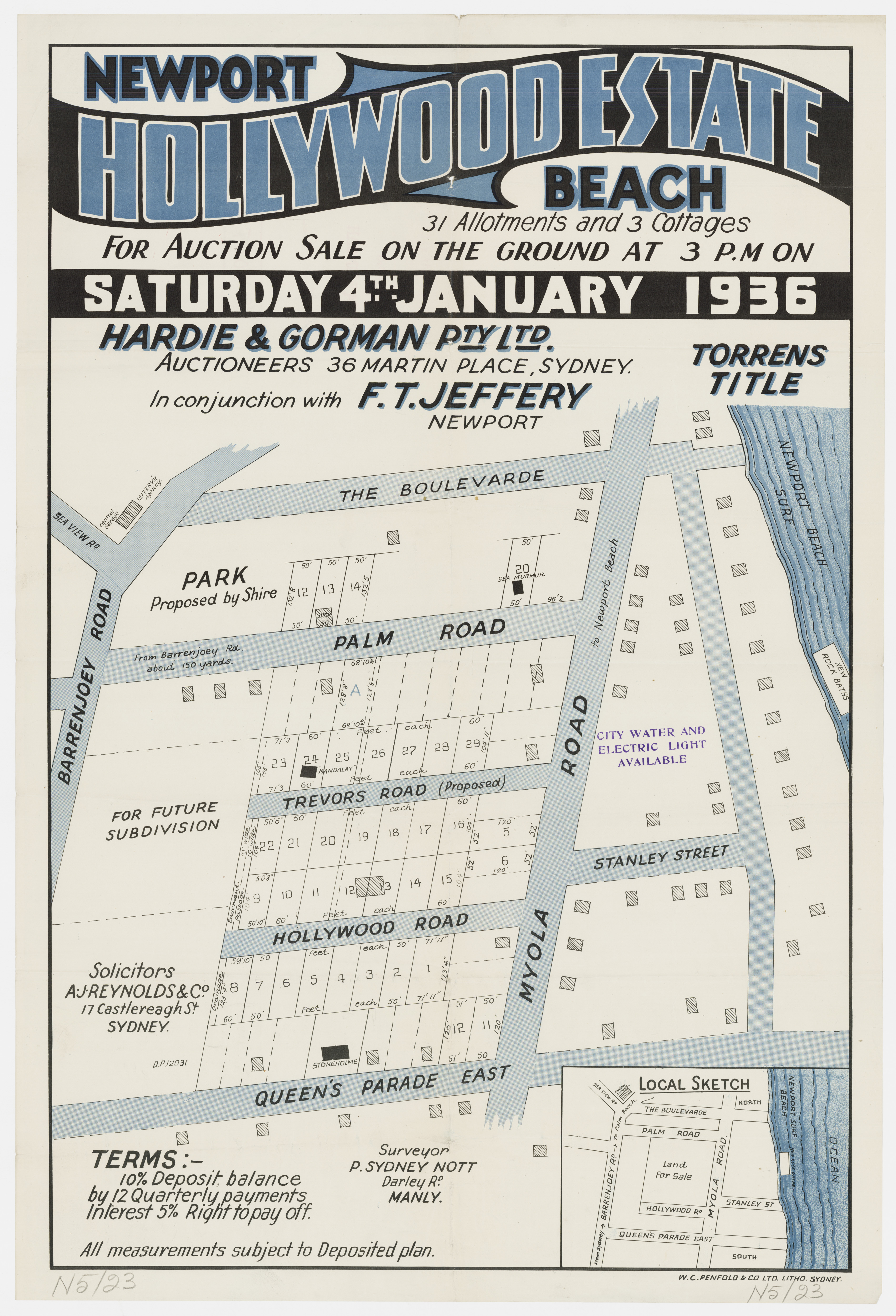 Newport - Beach - Hollywood Estate - Barrenjoey Rd, The Boulevarde, Myola Rd, Queen's Pde East, Januray 4th 1936. Item No.: c050400017, courtesy State Library of NSW

Newport Road And Place Names
The following names were chosen for the 'streets' and wharf and parks were:
Victoria Wharf - to commemorate the name of Queen Victoria.
Queen Street and Queen Parade - named for the same monarch and reason(Queen street was later renamed Kalinya).
King Street - after King George II.
Gladstone Street - after William Ewart Gladstone, British statesman and Liberal Party politician.
Beaconsfield Street - after Benjamin Disraeli, 1st Earl of Beaconsfield and another British politician.
Bert Payne Park - named in 1962 after Bert Payne, local timber merchent and identity.

Bishop Street - after George Bishop, the Surveyor.
Bardo Road - Aboriginal word meaning 'salt water'.
Bramley Avenue - W. J. Bramley, a local land owner, lived on the corner of Bramley Ave. and Ross Street.
Bulgola Road - renamed Myola Road.
Bungan Head road - after 'Bongin Bongin' after the sound of muskets being discharged, an aboriginal word from 'Bung-gie Bung-gie' according to some sources, also stated by others to mean 'lots of shells' when applied to the former name for Mona Vale Beach.
Burke Street - Martin Burke had the original grant of Portion 22, Newport Beach.
Calvert Parade - named after T. C. Calvert who owned land in the area.
Campbell Road - named after Robert Campbell - was the section of Barrenjoey road now between Beaconsfield street and Bardo Road.
Cheryl Crescent and Belinda Place - named after the two daughters of George Alsop, who developed the area.
Coles Parade - named after S. L. 'Daddy' Cole, member of State Parliament.
Dearin Park - named after Mr. and Mrs. Dearin who lived at the bottom of Gladstone street and gave the land to the council.
Farrell's Quarry - the now disused quarry from which all the rock that formed the streets of Newport was obtained. Situated at the northern end of Porter Reserve it once was the location for a large round gas reservoir. Named after Johnny Farrell.
Gertrude Avenue - named after Gertrude Thompson.
Golden Triangle - the name given to the area bounded by Bungan Castle, Bushrangers Hill and the Newport Beach shopping centre.
Gretel Park - named after the 12 metre yacht which challenged for the America's Cup in 1962. The park was going to be named to honour Dorothy Hayes, who was involved in caring for the local children and ran the 'My Toys' shop where the Man Wah restaurant currently is but the lady declined.
Haystack Point - the floods of 1867 caused a haystack to float down here on its log framework from one of the farms on the Hawkesbury and settled on that point. Local lore states a number of pigs were on the haystack and fed on the hay until rescued by fishermen from Mona Vale.
Herbert Avenue and Elvina Avenue - named for members of the Herbert J. Fitzpatrick family who developed the Salt Pan Estates - he was a founding member of the RMYC at Broken Bay. Visit: Pittwater Roads II: Where the Streets Have Your name - Scotland Island - See Salt Pan Estate. - note Elizabeth Crescent has become part of Wallamatta Road. Florence Park, named for his wife, remains intact, as does the Salt Pan Cove Regatta Reserve: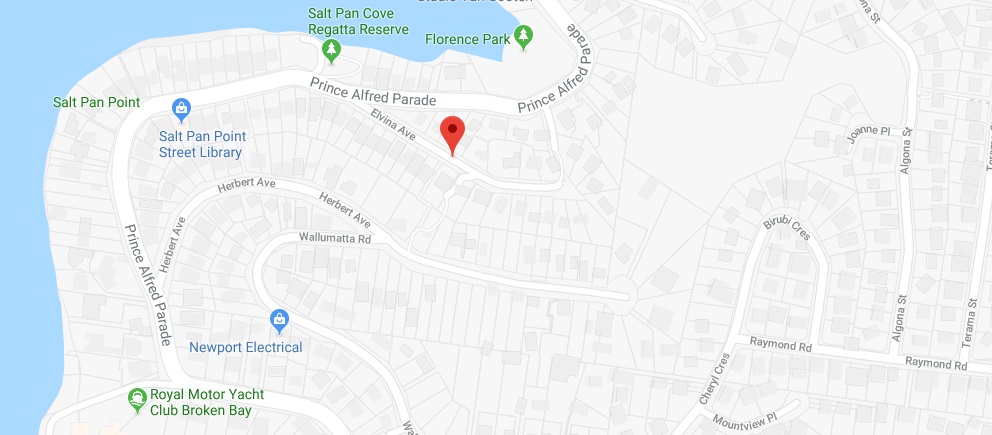 Hollywood Road - named after the movie capital by Patricia Meadows (nee Trevor-Jones) when she subdivided the land - see entries under Trevor Road as well. Patricia was married twice - her address when first married being 'Mandalay', Palm Road, Newport:
DARLING-TREVOR JONES -October 5 1931, at St Matthew's Church Manly by the Rev Ebbs. Patricia only daughter of the late Ernest Trevor Jones solicitor and Mrs Trevor Jones of Mosman and Newport to Royston Frederick Darling of Cornwall England. Family Notices (1931, December 26). The Sydney Morning Herald (NSW : 1842 - 1954), p. 8. Retrieved from http://nla.gov.au/nla.news-article16813212

Mr. Darling worked as a 'clerk' and had a bankruptcy soon after they wed - discharged in 1935. They divorced in 1939, Patricia citing 'habitual drunkenness and cruelty and failure to support'. The decree nisi granted her custody of their child.
Hardie and Gorman Proprietary, Ltd., announce that the first outdoor auction sale for the new year will be the Hollywood Estate, Newport Beach, comprising 31 allotments and three cottages, on the ground next Saturday at 3 p.m. The first indoor sale for the new year has been fixed for Wednesday, January 15. REAL ESTATE. (1935, December 28). The Sydney Morning Herald (NSW : 1842 - 1954), p. 6. Retrieved from http://nla.gov.au/nla.news-article27995718
This afternoon, Hardie and Gorman Pty, Ltd, will offer, on the ground by public auction, the Hollywood Estate at Newport This compiises 31 vacant lots and two with cottages The estate is convenient to the beach. REVIEW OF YEAR. (1936, January 4). The Sydney Morning Herald (NSW : 1842 - 1954), p. 8. Retrieved from http://nla.gov.au/nla.news-article17214511
Hardie and Gorman Proprietary, Ltd., report that the auction sale of the Hollywood Estate, at Newport, which was postponed last Saturday, will be held this afternoon on the ground. The estate comprises 31 vacant allotments and three cottages, and is situated convenient to Newport surfing beach.REAL ESTATE. (1936, January 11). The Sydney Morning Herald (NSW : 1842 - 1954), p. 10. Retrieved from http://nla.gov.au/nla.news-article17237943
Patricia remarried in 1940 at Mosman:
MEADOWS (nee Trevor-Jones) - May 22. Mater Misericordiae private hospital, to Mr. and Mrs. Ronald Meadows, of Newport and Melbourne a son (Ronald John). Family Notices (1941, May 24). The Sydney Morning Herald (NSW : 1842 - 1954), p. 12. Retrieved from http://nla.gov.au/nla.news-article17761108
REAL PROPERTY ACT NOTICE.
Applications have been made to bring the undermentioned lands under the Real Property Act. Plans may be inspected and caveats lodged at the Land Titles Office Sydney until the respective dates mentioned:—
10th February 1956.
No. 38937 Ronald Meadows and Patricia Mary Meadows 1 r. 18 p. in Spains Wharf Rd. Neutral Bay. REAL PROPERTY ACT NOTICE. (1956, January 6). Government Gazette of the State of New South Wales (Sydney, NSW : 1901 - 2001), p. 13. Retrieved from http://nla.gov.au/nla.news-article220319997
Hardie and Gorman sold allotments of the Hollywood Estate, at Newport (with F. T. Jeffery) at £2 a foot.
Howell Close - named after Heath Howell, local car dealer and benefactor.
Imbara Place - Aboriginal word meaning 'sign' or 'track'.
Irrubel Road - The word "irrubel" is included in a list of aboriginal words of the Hawkesbury River and Broken Bay Area (published 1887), where the meaning is shown as "opossum". Considering the local 'lore' regarding original inhabitants camping at Green Point, on Crystal Bay - the use of Irrubel, Bardo and Wallumatta in this part of Newport, once with far more trees, water courses and fish, carries forward old words.
Karloo Parade - Aboriginal word meaning 'water'.
Kalinya Street - Aboriginal word meaning 'good'.
Livingstone Place - Mr. Livingstone was the last owner of a dairy in Stuart Street near where the Nerwport Public School now stands. This was previously owned by the Boultons and rented by the Gilroys.
Lovering Place - named after Horace Lovering who owned and subdivided the land in 1950.
Mitala Road - Aboriginal word akin to Mittala, possibly meaning 'green point'.
Myola Road - Aboriginal word meaning 'a place of crabs'. Was earlier called Bulgola Road, meaning 'swirling waters'.
Nullaburra Road - Aboriginal word, possibly a combination of 'Nulla' meaning 'wood and 'Burra' meaning 'a big stone'.
Oceania Crescent - named for the Brennan home of the same name at corner of Myola, Oceania and Walworth - see Prof. Christopher Brennan section under Extras.
Palm Road - named by Mr. Trevor-Jones after a large Cabbage Tree Palm reputed to be 110 years old which grew half way down the road.
Porter Reserve - named after Carl Porter, WWI soldier.
Prince Alfred Parade - named after Alfred, fourth child of Queen Victoria.
Regatta Reserve - named after the Pittwater Regatta.
Robertson Road - named after Andrew Robertson, local businessman. He had a store in Newport and was President of the surf club from 1924 to 1930. He helped found the Newport Parents and Citizens Association in 1923. He and his wife had two sons, Colin and Gordon, who is remebered as being a great sweep for Newport SLSC surf boat crews. Apparently 'Andy' was a zither player and was among the first people to speak about filling in Farrell's Lagoon. He passed away on September 22nd, 1931.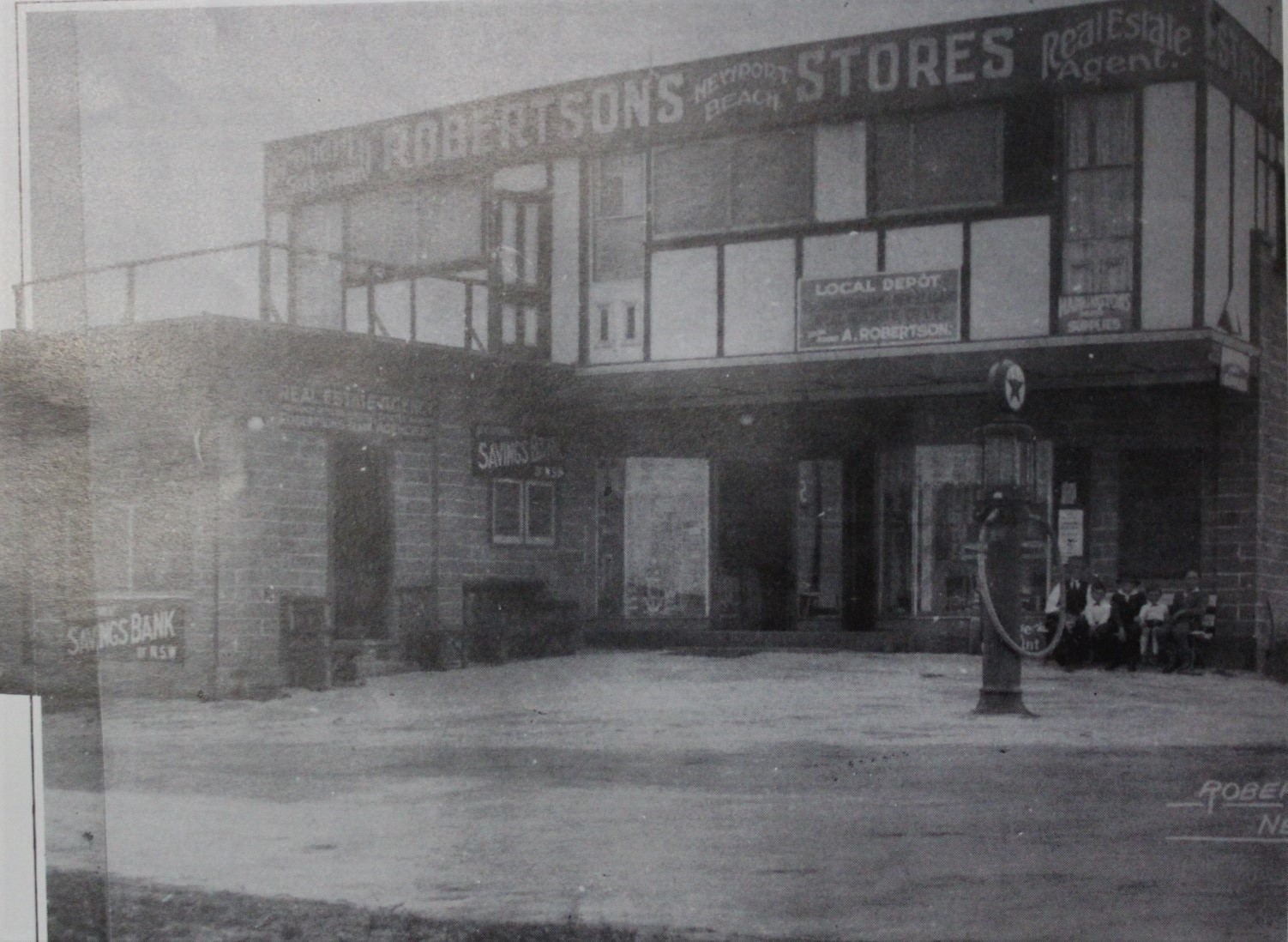 Robertson's store in Newport - photo courtesy Mitchell Library, State Library of New South Wales.
Salt Pan Cove - named for the salt pans, which were iron trays around 1 and half metres squared and 15cms deep, that used to be placed near the high tide mark to be filled. When the sun evaporated the water the salt was left behind.
Spurway Park - named to honour Frank Spurway, an orchid grower, prominent member of the Bowling Club. He lived at Salt Pan Cove.
Stanley Street - named after Stanley Yewen, son of Alfred Yewen of Bungan Beach. Visit: Pittwater Reserves - The Green Ways Bungan Beach And Bungan Head Reserves: A Headland Garden
Stuart Street - possibly named after the House of Stuart, the Scottish and English Royal family.
Trafalgar Square (now park) - named for the naval battle of October 1805 when Nelson defeated the Spanish and French fleets off Cape Trafalgar, Spain.
Trevor Road - named to honour solicitor and local resident Mr. Ernest Trevor-Jones by his daughter Patricia when she subdivided the land to sell.
NEWPORT LIFE-SAVING CLUB
Some members of the North Steyne Life-saving Club, under Captain Merritt, visited Newport, and gave a demonstration on the beach in land drill and rescue work to the entertainment of a good number of spectators. After the exhibition the party adjourned to a banquet at Scott's Hotel, where they were received by the president, Mr Trevor Jones and Councillors Quirk and Pomell, who made reference to good work performed by the North Steyne Club. NEWPORT LIFE-SAVING CLUB. (1910, February 18). The Sydney Morning Herald (NSW : 1842 - 1954), p. 12. Retrieved from http://nla.gov.au/nla.news-article15150562
Visit: Newport Surf Club – Newport SLSC 1909 To 1938 Part I and Collin's Retreat, Bay View House, Scott's Sanatorium, Guest And Boarding House: Crystal Bay, Newport
NOTICE UNDER REAL PROPERTY ACT.
APPLICATIONS having been made to bring the lands hereunder described under the provisions of the Real Property Act, Certificates of Indefeasible Title will issue, unless Caveats be lodged in accordance with the Third Schedule to the said Act on or before the 22nd October, 1920:
No. 22,702. APPLICANT:—Ernest Trevor Jones, Newport. LAND :—Shire Warringah, 10 acres 1 rood 11 1/2 perches, fronting south-eastern side Barrenjoey road, opposite Gladstone-street. NOTICE UNDER REAL PROPERTY ACT. (1920, September 17). Government Gazette of the State of New South Wales (Sydney, NSW : 1901 - 2001), p. 5456. Retrieved from http://nla.gov.au/nla.news-article224611658
OBITUARY
MR. E. TREVOR-JONES
Mr. Ernest Trevor-Jones, solicitor, who died on Sunday, was born at Richmond, Victoria, on June 1, 1865. He was a son of the late John Trevor-Jones, who was for many years in the service of the Water Board. Mr. Trevor-Jones was educated in Sydney, and practised in the city for a number of years until forced by ill-health to retire.
In his younger days he took an active part in sport, and was captain of the Sydney Lacrosse Club. He is survived by a widow, one daughter (Miss Patricia Trevor-Jones), three brothers, Messrs. Noel Trevor-Jones, solicitor, Wagga, Leslie Trevor-Jones, Sugar Refilling Co., Fiji, and Newcombe Trevor- Jones, C.E., Dora Creek,' and one sister, Miss Lilian Trevor-Jones, who is In England. The funeral was hold in tho Church of England section of tho Northern Suburbs Cemetery yesterday, and was attended by ninny old friends, Including loading representatives of the Masonic Order. OBITUARY (1925, December 30). The Daily Telegraph (Sydney, NSW : 1883 - 1930), p. 6. Retrieved from http://nla.gov.au/nla.news-article245058921
THE LATE MR. JOHN TREVOR JONES.
The death occurred on Thursday at Kirribilli Point of Mr. John Trevor-Jones, who many years ago occupied the position of engineer to the Sydney City Council. He was 91 years of age. The late Mr. John Trevor- Jones was born in Wales in 1830, and came to Australia at the age of 22. He lived in Melbourne until 1884, when he settled in Sydney, where he occupied the position of city engineer and afterwards of engineer to the Water Board, which he resigned owing to being partially deprived of his sight. The deceased gentleman was well known in the artistic world for his water-colour sketches.
He took a keen interest in science, and was a member of the Royal Society. He has left a family of four sons and one daughter. The funeral took place at St. Thomas' Churchyard, North Sydney, yesterday morning.
The Rev. Newby-Fraser, rector of St. John's, Milson's Point, conducted a simple service, Miss Trevor-Jones and Mr. Noel Trevor-Jones daughter and son of the deceased, attended as chief mourners, and amongst others present were Miss Montefiore, Dr. Isbister, Mr. George Robertson, Mr. C. Tom, and Mr. Randal W. Care. THE LATE MR. JOHN TREVOR-JONES. (1921, September 10). The Sydney Morning Herald (NSW : 1842 - 1954), p. 14. Retrieved from http://nla.gov.au/nla.news-article15966681
John Trevor Jones b. 1830
Artist (Printmaker), Artist (Painter)
A lithographer, painter, engineer, and a civil servant, Jones worked for a number of government bureaus. He exhibited eight watercolours and one oil painting with the Victorian Academy of Arts in 1875, 1876 and 1878.
He was born in Ruthin, Denbighshire, Wales, son of Daniel Jones, a builder, and his wife, Mary. Trained in the provinces, Jones gained knowledge of surveying, engineering, and drafting plans, particularly railway sections. After coming to Melbourne he was employed for a time by Thomas Ham as a lithographer. Early in 1853 he did some lithographic work for the Department of Public Lands and in June was placed in charge of the lithographic branch of the Surveyor General's Department. Difficulties arose with the supervision of older and more experienced staff, and Jones was dismissed in October 1857 for a breach of discipline following an exchange of blows with a staff member. He then acted as a freelance draughtsman and was briefly in an architectural partnership with John O'Flanagan at 49 Collins Street West, until appointed lithographic draughtsman in the Railways Department in January 1859. He transferred to the Water Supply Department in December 1865.
In 1870 Jones spent a short time in Fiji before returning to Melbourne. In the early 1870s he attended lectures in engineering at Melbourne University and passed the examinations for municipal surveyor. He returned to the Railways Department as a draughtsman in January 1872, a position he held until his appointment as city engineer to the City of Sydney in February 1879. This period with the Sydney City Council was unhappy; he was suspended in October 1886, reinstated in December and suspended again in March 1888. Since he had just gained the appointment of engineer with the Metropolitan Board of Works, he then resigned from the council staff. At the end of 1893 Jones resigned from this last position too, owing to failing eyesight; he had lost the sight of one eye some years earlier. He had married Harriet, eldest daughter of James Goldie, at Richmond, Victoria, on 11 April 1861. She predeceased him on 17 January 1900 and he is believed to have died at North Sydney a short time later.
Little is known of Jones as an artist. His earliest recorded work is a lithograph dated 1858 of the District Survey Office, Taradale. His sojourn in Fiji resulted in the publication of at least one lithographic view of the island of Ovalau (Mitchell Library) annotated 'sketched on board the Jas. Patterson, Str 1870' and 'Printed for private distribution only, 22 April 1875'. In November 1875 two of his watercolours of the Victorian waterworks at Clunes were sent to the Philadelphia Centennial Exhibition and he lithographed the accompanying plans. That March he had been elected a member of the Victorian Academy of Arts. At the academy's exhibitions of 1875, 1876 and 1878 he exhibited a total of eight watercolours and one oil painting, mostly of rural scenery. He resigned his membership in July 1879 following his move to Sydney. Throughout the 1870s he gave lectures on behalf of worthy causes and illustrated them with extempore drawings. At Sydney in 1884 'some spirited sketches' by Mr Trevor Jones were exhibited at the gallery of John Sands, the printer.
Writers: Thomas A. Darragh, Thomas A. Date written:1992 Last updated:2011 from Design and Art Australia Online at: https://www.daao.org.au/bio/john-trevor-jones/biography/
THAT NEWPORT "GOLD" RUSH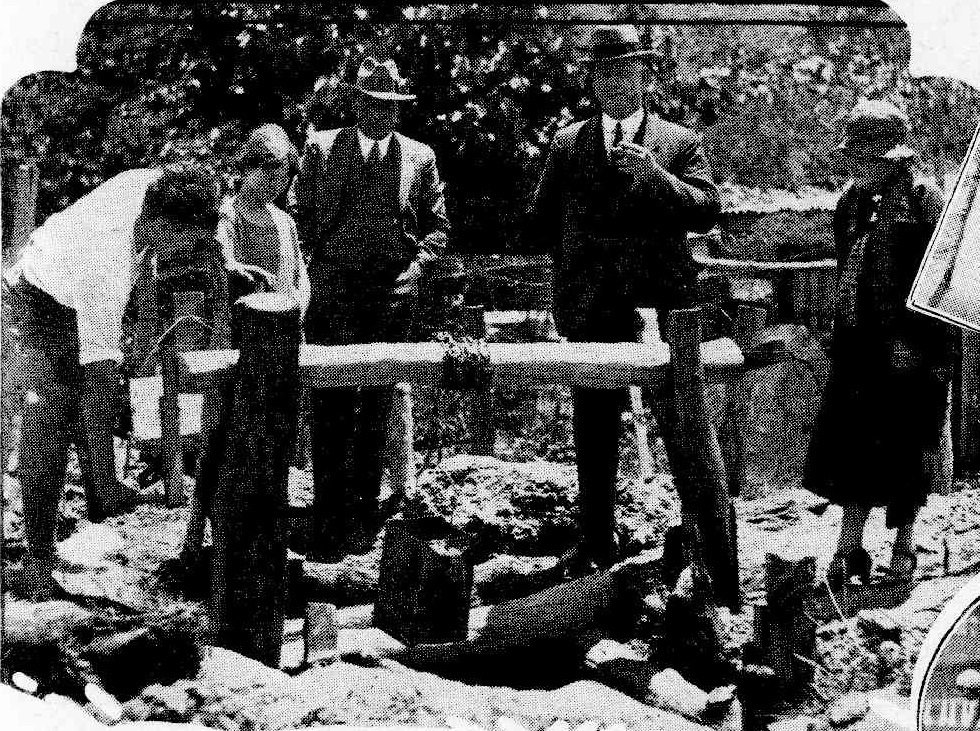 WINDLASS and shaft already on the property of Mrs. Trevor Jones, Newport, where Miss Trevor Jones (second from left) discovered a nugget. Her mother is on extreme right. THAT NEWPORT "GOLD" RUSH -- DUNN SHIELD HEATS (1930, December 5). Daily Pictorial (Sydney, NSW : 1930 - 1931), p. 1. Retrieved from http://nla.gov.au/nla.news-article246189810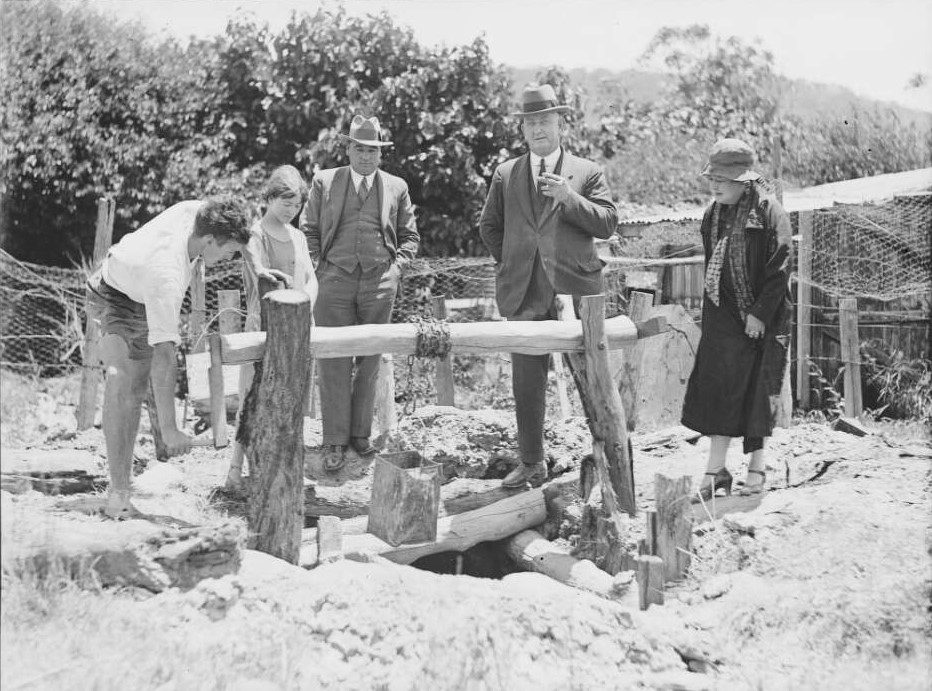 Fairfax Corporation. (1920). Gold discovery, Newport, New South Wales, ca. 1920 Retrieved from http://nla.gov.au/nla.obj-157551748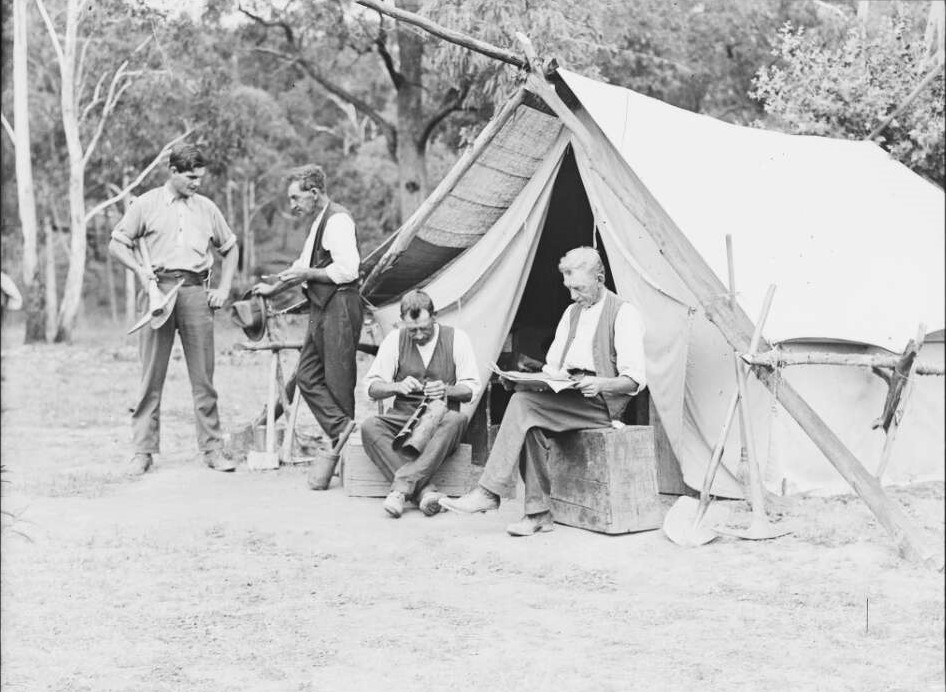 Fairfax Corporation. (1930). Miners relax in front of their tent on the site of the Newport gold discovery, Newport, 5 December 1930Retrieved from http://nla.gov.au/nla.obj-162459095

PLENTY OF SCEPTICS
Newport "Strike" May be .Rainbow Gold
All sorts of rumors are afloat at Newport since the report that gold was found there and local people, - most ' of whom are- sceptical, are beginning to get nervy at the influx of fortune seekers. Yesterday it was rumored that 100 unemployed, with tents and equipment for prospecting, were to invade the district to-day, but the police denied it. Everyone is waiting for an authentic report of the assay of the- samples taken away. PLENTY OF SCEPTICS (1930, December 5). Daily Pictorial (Sydney, NSW : 1930 - 1931), p. 3. Retrieved from http://nla.gov.au/nla.news-article246189666
CASUAL ABOUT GOLD
Does Not Want Place Knocked About
ALTHOUGH gold searchers are at work on Mrs. Trevor Jones' property within 30ft. of her back door, at Newport, she is not so thrilled about it. "It is a great nuisance," she told the "Pictorial" yesterday, "and I do not want my week-ender knocked about, even if there is gold on the place." Nevertheless she is one of a syndicate of three which possesses the only miner's right on the field. CASUAL ABOUT GOLD (1930, December 4). Daily Pictorial (Sydney, NSW : 1930 - 1931), p. 8. Retrieved from http://nla.gov.au/nla.news-article246189193
Wallumatta Road - was the original name given to the Ryde-Hunters Hill area of the Lower North Shore. Prior to the time that the area was known as Kissing Point, Wallumatta was the formal title and was named in honour of the area's native inhabitants: The Wallumettagal Aboriginal tribe.
The Wallumettagal or Wallumedegal (derived from wallumai, meaning snapper [fish]) - The Wallumedegal are listed as part of the Eora.
Wiruna Crescent - Aboriginal word, possibly from 'Wirruna' meaning 'setting of the sun'.
Woolcott Street - named after Mr. Woolcott, who lived on the corner near the swamp.
THE CONTRIBUTOR
A GLORIOUS OUTLOOK NEAR SYDNEY.
BY A QUEENSLANDER.
I have visited all the environs of Sydney, stood on all the principal points of vantage, and viewed a multitude of beautiful scenes from commanding hills. Therefore, my opinion as an absolutely impartial observer on what appears to me as the grandest views from any point within ten miles of Sydney, may be of some interest.
The spot to be indicated appears to have been comparatively unknown and neglected by the tourist, the picnicker, and the citizen in search of a perfect suburban site. Allured by the tram or ferry facilities, or fascinated by wily auctioneers' advertisements, Sydney people have been artfully led away to all points of the compass, sometimes to create new suburbs where the auctioneers' 'Pactolian streams rippling over silver sands' proved to be inglorious muddy ditches meandering slowly to the swamps; and the sun-clad heights, that on every new morn 'grew radiant with the glory at the dawn,' became in reality mere masses of barren sandstone, suitable only for a Troglodyte or the crazed hunters who desired to 'catch the wild goat by the beard and hurl their lances' — or a brickbat — in the sun.
We shall go to Manly by the steamer, and land on that historic beach named by Governor Philip. About four miles beyond Manly, on the road to Newport and Pittwater, we arrive at a locality remarkable historically and geographically. A sandstone tableland, covered by heaths and honeysuckle and astonishing profusion of wild flowers, slopes gently upward to a commanding eminence 489ft above sea level. On the crest of that hill is the Manly Trignometrical Station, chosen for its altitude and the vast expanse of country which it overlooks.
From this hill, and the sloping tableland can be seen the most magnificent of all the scenes around Sydney. This is due entirely to the unique geographical position of that plateau which stands happily on the spot that commands the largest area of the splendid panorama of sea and land. The view includes far south to Bondi, Coogee, and Botany. At Bondi and Coogee the surf lies apparently motionless, like great snow wreaths, at the foot of the dark cliffs. Nearer to us, the waves break in white foam on the grim sandstone crags of the 'Gap' and South Head. There is seen the harbour in and about South Head and Watson's Bay; the noble entrance; the scrub-covered slopes on North Head, and the township of Manly, with its white and red tiled houses, nestling calmly in the bosom of a wave washed peninsula. The long white beach ends where Curl Curl headland vibrates to the thunder of the surge, and behind and under the shelter of that headland sleeps, the Curl Curl lagoon, shooting its long arm far up among heath-covered I swamps and green gardens. Then the second beautiful bay ending in the rocks of Deewhy Point which curves into that third beach, behind which slumber the blue Deewhy and Manly lagoons, the old favoured home of the swans, 'Deewhy' and 'Marroo.' Deewhy point was known to the blacks as 'Arragong,' the name of the hardwood shield.
Beautiful
Beautiful beyond description are the ever changing marine colours on Deewhy beach, seen from the crest of the hill. The long white sand bars guard the lagoons from the over ocean, as a mother's bare arm stretched forth to save her child. The white foam on the beach merges into bright green, growing darker as it fades into light blue, dissolving into dark blue, finally lost in the measureless azure of the vast ocean stretching away to the horizon. Next is the majestic far-flung headland of Long Point, the 'Carrowang,' or 'long Nulla' of the blacks, with its projecting reef of hardstone rocks swept by the dangerous 'long rollers' marked on the old charts, the reef on which the 'Collaroy' was wrecked. Beyond 'Carrowang' sweeps the magnificent Collaroy white beach to a headland known to the blacks as 'Warrigalba,' a place frequented by 'warrigals,' the name of the dingo.
Beyond that point is a small beach ending in Narrabeen Head, the 'Guarrabeen' of the blacks, the name of the honeysuckle. Beyond these are two more romantic headlands, and then the sheer precipice of Bungy Head with its grey, white, and yellow sandstone, at the foot of which lie confused enormous boulders, torn down by the wild surf that has assailed the rugged rock fortress since a dark unrecorded morning when man was not.
This wild foreland received its present name in 1815 from the blacks who called it 'Bung-gie Bung-gie' their name for a musketand the noise of the report, because ten of their people were shot there by a party of soldiers sent out to bring in a convict man and woman, Ben Squires and Jane Dalton, who had lived at peace with the blacks for five years.
Behind 'Bung-gie Bung-gie' rises 'Bushrangers Hill,' the 'Bannaweera' of the blacks, from 'banna' rain and 'weera' bad, literally much rain, or a bad place for rain. This is the site of another trignometrical station, the height of which is 221 feet. Beyond 'Bung-gie' is Bulgolo Head, and also the bays and headlands ending in the lofty promontory of Barrenjoey, and beyond that the dark blue outline of the Three Capes. Looking still further, we see the hills of the Barrenjoey Peninsula, all the hills of Kuringai Chase, the blue and beautiful harbour of Pittwater, all the hills in which that harbour is embosomed, all the grey and green hills ribbed with grey and white standstone stretching west, the blue Narrabeen Lake and the hills by which it is encircled— all these are spread before you in the north and west head eastern view from that remarkable hill only four miles from Manly.
Look south once more, and you see the whole city of Sydney from the South Head to the heights of Balmain. And far away in the background, out on the horizon, rises that once dark, mysterious range that barred the white man's pathway to the interior, where 95 years ago the vast solitude was first trodden by Wentworth, Blaxland, and Lawson. That range seems to 'watch and wait always' and to-day It has the same colour that suggested the name by which it shall ever be known, the 'darkly, deeply, beautifully blue in which those mountains appear from the crest of the Manly hill. Now we come to the historic romance of that sandstone-covered Beacon Hill.
In the year 1795 or 1796 a transport called the Britannia came out with convicts, among whom as a, young red-headed Scot named Wilson, who escaped a month after he landed, and finally trusted himself among the blacks from Manly to Pittwater. A man with red hair was safe among any tribe of Australian wild blacks. Wilson lived for years with the blacks, who called him 'Boonbooi' and 'Moojellba,' from Moojell, red. When he came in and surrendered he was naked, and tatooed with the 'wirroong' and 'cong-arri' scars (the 'Moolgarra' of Moreton Bay). The Governor made use of Wilson's aboriginal knowledge of the country and the blacks, and sent him out with exploring parties. Wilson shot the first known specimen of the lyre bird (Menura superba) somewhere in the Illawarra district. Finally after many adventures he took a woman from the Pittwater tribe without her parents' consent, or even her own, trusting that his possession of a gun would save him. Her relatives followed, caught him in the embraces of his dark Diana, and killed him. The Manly hill was Wilson's favourite lookout. From there he could see signal fires made by convict confederates north to the Hawkesbury and Barrenjoey, and south to Sydney and Botany.
On the tableland coming down from the hill, on a level spot, is the site of a once favourite corroboree ground, and the Deewhy headland, the site of an ancient bora circle. Boonbooi's lookout was used for the same purpose by the blacks. At this spot during a corroboree he would meet such a well known old-time blacks as Colbee, Mooroobra, Booroowanyee, Yemerrawanni, Beemulwy, Boonggarie, and the famous Benillong, whom the Governor took to England, and brought back in H.M.S. Reliance. Think of the wild, weird scenes on that tableland a hundred years ago. The wild men dancing in the firelight and singing, while the wild women beat time on the stretched opossum rug or on the hollow thighs. Around them the dark rocks and the silent trees, with no other sound save that of the incessant moan and wail of the sea, where the waves died on the beach or dashed themselves on the rocks and over all heaven's azure roof, studded with silver stars. Today that old wild race is gone. The white man looks from Boonbooi's hill, where the eagle eye of the savage once scanned the far horizon for the smoke of the signal fires, and sees, not the bark canoes and the dark spearmen watching the track of the fish, but mighty steamers going and coming to and from all the nations of mankind, and the white-winged ships that in the words of Kendall, 'look like sheeted spectres fading down the distant sea.' He sees the children sport upon the shore, And hears the mighty waters rolling evermore. But who shall explain how that look-out of Boonbooi, or Moojellba, has wisely been made a reserve, and so escaped the speculator, the land agent, and the auctioneer, who could have exhausted all his eloquence and pictorial art, and still been far short of the reality? And how is it that there is not a tram from Manly to Newport, and hundreds of people settled along that beautiful coast? That is to a visitor a truly astounding conundrum. That surely must soon be the popular route to and from the Hawkesbury and Pittwater, the most attractive of all your tram routes and seaside resorts, and Sydney's most beautiful marine suburb.
On my first visit to Beacon Hill I was accompanied by W. B. Dalley, B. D. Morehead, and two English visitors. Dalley objected to the climb, and expressed a wish for the wings of Pegasus, or even those of Daedalus and Icarus. Once on the summit he expressed himself in raptures, declared it was a suitable site for the temple of an Australian Diana, and that no meaner beverage than nectar or nepenthe should be quaffed there. The nepenthe on that occasion was made in Scotland. Today a majestic palm stands on the shores of a serenely beautiful little bay between Bungan and Bulgolo points to mark the spot where Sydney's eloquent and classical son sought the companionship of the ocean and rest from the turmoil of the city. THE CONTRIBUTOR (1909, December 1).The Sydney Mail and New South Wales Advertiser (NSW : 1871 - 1912), p. 5. Retrieved from http://nla.gov.au/nla.news-article165737545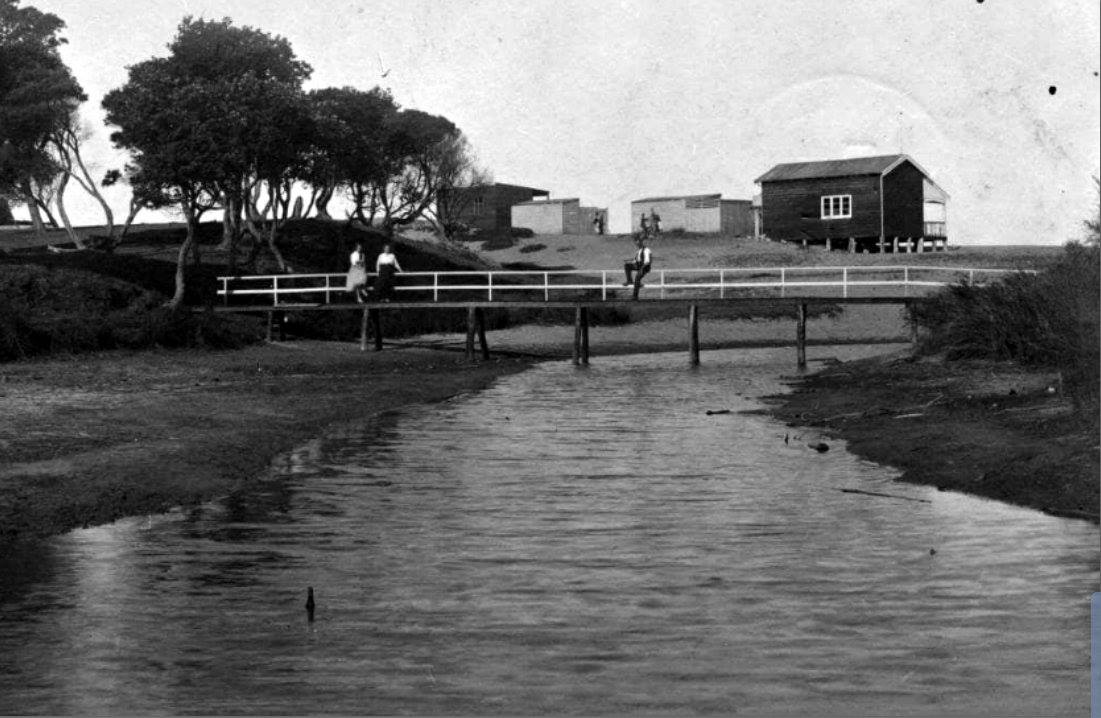 Newport lagoon - circa 1910 1900

While noting the above 'lore' it is also worth noting that the street names for Newport that stem from Aboriginal words, particularly those that refer to the watercourses the green fields were once threaded by, brings up these records. There is a belief among existing Aboriginal descendants that the area around the now long gone Newport Lagoon may once have been a burial ground for the original inhabitants, which some published reports indicate has credence:
ABORIGINES' BONES.
An old aboriginal burying place was discovered by workmen making an excavation at Newport Beach yesterday. An almost complete skeleton was found about 8ft from the surface, and another collection of bones was turned up nearby. Constable Huckins, of the Narrabeen police, took charge of the remains. ABORIGINES' BONES. (1933, March 9).The Sydney Morning Herald(NSW : 1842 - 1954), p. 8. Retrieved from http://nla.gov.au/nla.news-article16967172
This wasn't the only one found:
SKELETON ON BEACH

A human skeleton was discovered in a channel at Newport Beach yesterday afternoon by two set of twins, John and Peter Morris, 14, and their sisters, Judith and Joan, 8. "Look what I found," said John, excitedly thrusting the head of the skeleton in the face of a woman on the beach. The woman fainted with shock. Police say the bones have been there for years. They may be the bones of an aborigine. SKELETON ON BEACH (1942, April 5). The Sun (Sydney, NSW : 1910 - 1954), p. 7. Retrieved from http://nla.gov.au/nla.news-article231763395
SKELETON PROBABLY 100 YEARS OLD
The action of the sea, assisted by the recent flood rains, on Saturday unearthed a human skeleton in a channel near the Newport Beach. The bones were examined by the Government Medical Officer, Dr. Percy, at the City Morgue yesterday, and he expressed the opinion that it was the skeleton of a female aboriginal, and had probably been buried for at least 100 years. SKELETON PROBABLY 100 YEARS OLD (1942, April 6). The Sydney Morning Herald (NSW : 1842 - 1954), p. 7. Retrieved from http://nla.gov.au/nla.news-article17816956
A GRUESOME TOY
Erosion of a dry creek bed at Newport during the recent rains was responsible for exposing a skeleton, which was later decided to be that of an aboriginal woman who died at least 100 years ago. The remains were found by some children who played with them for some time, till one, tiring of the game, thrust the grinning skull into the face of a woman visitor to the beach. The shock proved too much, for her, and she fainted. The police were notified and took charge of the bones. A GRUESOME TOY (1942, April 11).Molong Express and Western District Advertiser (NSW : 1887 - 1954), p. 4. Retrieved from http://nla.gov.au/nla.news-article140104755
Newport Lagoon, circa 1900 - 1920

References And Extras
1. TROVE - National Library of Australia.
2. State Library of New South Wales - The Micthell Library.
3. The Newport story, 1788-1988 by Guy Jennings. Published. Newport Beach, N.S.W. : ARAMO Pty. Ltd., 1987.
4. Profiles of the Pioneers in Manly, Warringah and Pittwater, Pages 13-14. Shelagh Champion OAM and George Champion OAM
6. Roads In Pittwater: The Barrenjoey Road
7. Collins Retreat - Scott's Hotel - Bay View House, Crystal Bay, Newport
Robert Campbell Junior (1789-1851), merchant, entrepreneur and pastoralist, arrived in Sydney on the Albion in August 1806 to work with his uncle, Robert Campbell Senior. He was a successful and prominent member of Sydney's commercial life by October 1813, when Governor Macquarie promised him a land grant of 700 acres at Bongin Bongin. (The farm was first called "Kilmain" and was not called Mona Vale until the late 1850s.) This 700 acre land grant, ordered in 1813, was surveyed on the 4th and 5th May 1814 by James Meehan (A.O. Map 4729). It was officially confirmed by Governor Macquarie on 31 August 1819. (LTO SN 12/32) The land was already in occupation in 1814, as Meehan mentioned "Mr. Campbell's hut" in his field book.
On 28 September 1815, while surveying D'Arcy Wentworth's land grant at present Manly Vale, Meehan mentioned finding "line of Mr. Robert Campbell"
where it crossed Manly Creek, indicating that Campbell had made a track from North Harbour to his land. Part of this track was later (1826) upgraded by James Jenkins, and became known as "Jenkins' Road", while
further north the tack was known as "Campbell's Road" or "Campbell's Avenue"
until at least 1880. With modifications, this original track of Campbell has been gradually upgraded to form our main roads of Condamine Street and Pittwater Road.
Having almost the whole of the Peninsula to choose from, it was likely that Campbell would choose the most fertile part. In 1880 an anonymous (real estate) author confirmed this opinion when he wrote: "The soil of this locality is very rich, and it is rather strange that it is not cultivated." (The Pittwater and Hawkesbury Lakes Album, page 2.) Geographically, the area was potentially important as a settlement site; it was the natural junction for land routes on either side of Pittwater, it included the end of the long Pitt Water Range (Surveyor Govett's term – now the route of Mona Vale Road), and there was access to Pittwater where port facilities might be constructed.
Denis Sheehan and William Chadwick were already living on the 20 acre "Kilmain Farm" (out
of the 700 acre grant) when they agreed to rent it on 25 August 1817 for seven years.
Campbell had left the area by 1822. His reason, stated in a letter from the Land Board Office to the Colonial Secretary, dated 12th March 1827, was that "… after expending some Capital in improving the Land then granted him, he found the soil of so bad a quality, that he was induced to sell …"
Campbell sold his Pittwater land to his horse-racing friend D'Arcy Wentworth, and on 8th February,1822 the following advertisement appeared in the Sydney Gazette: "To be LET, a FARM, containing 700 Acres, situate at Pitt Water, and late in the occupation of Mr. ROBERT CAMPBELL, near 30 Acres of which are cleared, is a good run for Stock, and has a House erected thereon, and a Stock-yard. The said Farm is well supplied with water in the driest season. For particulars apply on the Premises, to Mr. Sommers, or to Mr. Chippendall, Sydney."
Profiles of the Pioneers in Manly, Warringah and Pittwater, Pages
13-14. Shelagh Champion OAM and George Champion OAM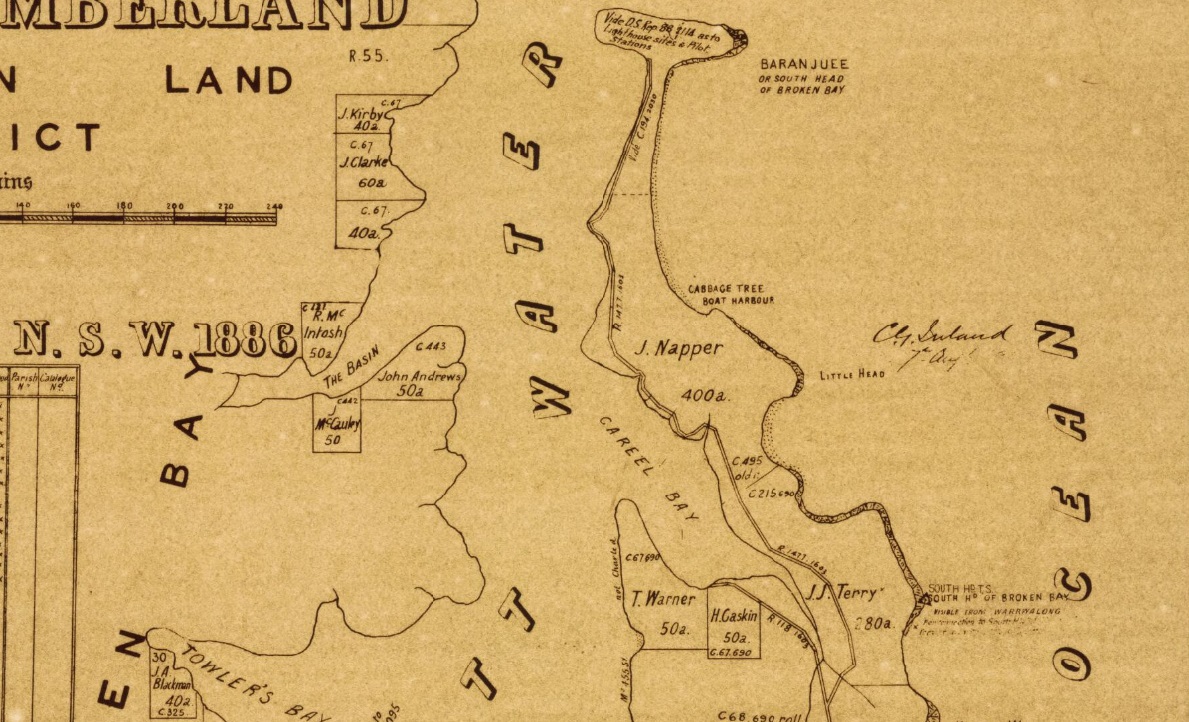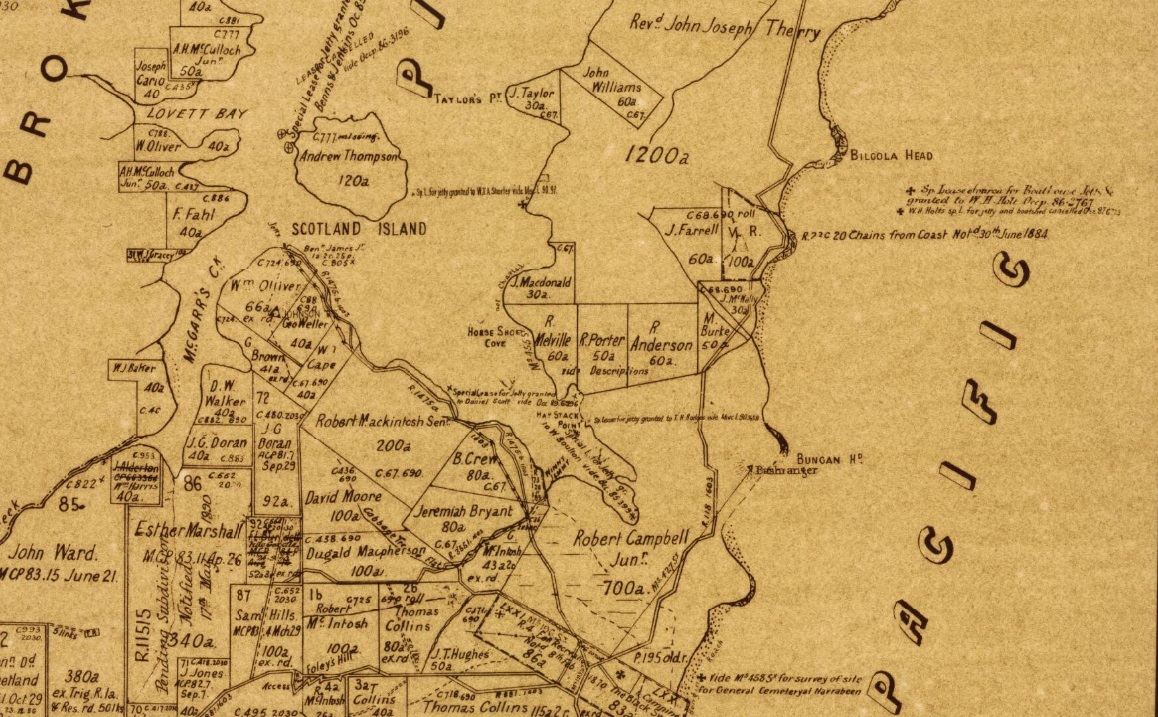 New South Wales. Department of Lands. (1886). Parish of Narrabeen, County of Cumberland Metropolitan Land District, Eastern Division N.S.W Retrieved from
http://nla.gov.au/nla.obj-233833505
Description of Newport
Pittwater and the Hawkesbury Lakes
From: Brees, Harold & S.T. Leigh & Co & Mills, Pile & Gilchrist. (1880). The Pittwater and Hawkesbury Lakes album Retrieved from http://nla.gov.au/nla.obj-460123425
The road to Newport, after leaving Manly, crosses the Curl Curl Lagoon, on a solid embankment about twenty feet in width and half a mile in length. It then passes along the northern side of Curl Curl Creek for a mile or so, leaving a splendid rich country belonging to the Bassett Darley Estate, to the left. At the head of the Creek can be seen a range of steep hills—about six hundred feet in height—clothed in vegetation to their tops. The swamps between these hills contain a large and unfailing supply of water at a sufficient elevation to be easily conducted by gravitation to almost every house in Manly.
Dewhy Lagoon, a beautiful sheet of water of about 100 acres in extent, is about four miles from the Pier Hotel, and is only separated from the ocean by a narrow ridge of sand. This lagoon (like other sea-side lagoons) varies greatly in size from time to time, and like all the others its outlet is on its northern end. A succession of easterly gales heaps up the sandy barrier, and enables the rain waters from the mountains to increase to a great extent, until the accumulated water, through heavy rain, becomes too strong for the sandy barrier and bursts through to the ocean, leaving immense quantities of fish stranded on the beach.
Long Reef, a beautiful basaltic hill right on the coast, is the homestead of Miss Jenkins, whose family have been residents of this locality nearly half a century. The soil here is very beautiful, and the scenery grand beyond description, A fine vein of iron ore is exposed on the ocean beach, but it has at present no commercial value.
The Narrabeen Estate, the property of Mr. Wetherill, of Sydney, extends from Long Reef to Narrabeen Lake. It was once in cultivation, as can be seen by the plough-marks, and produced large crops of maize. The lake is a splendid sheet of water, generally about a mile in width, extending among beautifully wooded hills inland for a great distance, with wide navigable arms penetrating further into the valleys between the mountains. It is well stocked with fish, and there are some fresh water lagoons with abundance of silver eel. It is remarkable that this beautiful lake, so easily accessible, is so little known. Game abounds in the ranges to the west. As said before, fish is abundant, and being secure from sharks, and of even depth for long distances, it is the safest and in every sense the best place for a long swim near Sydney. Should Mr. Wetherill subdivide his Estate, and a good hotel be built, a new watering place will spring up on the shores of this enchanting lake, which will speedily become popular. The sketch herein is taken from the southern side, at the present crossing place, which will shortly be superseded by a bridge.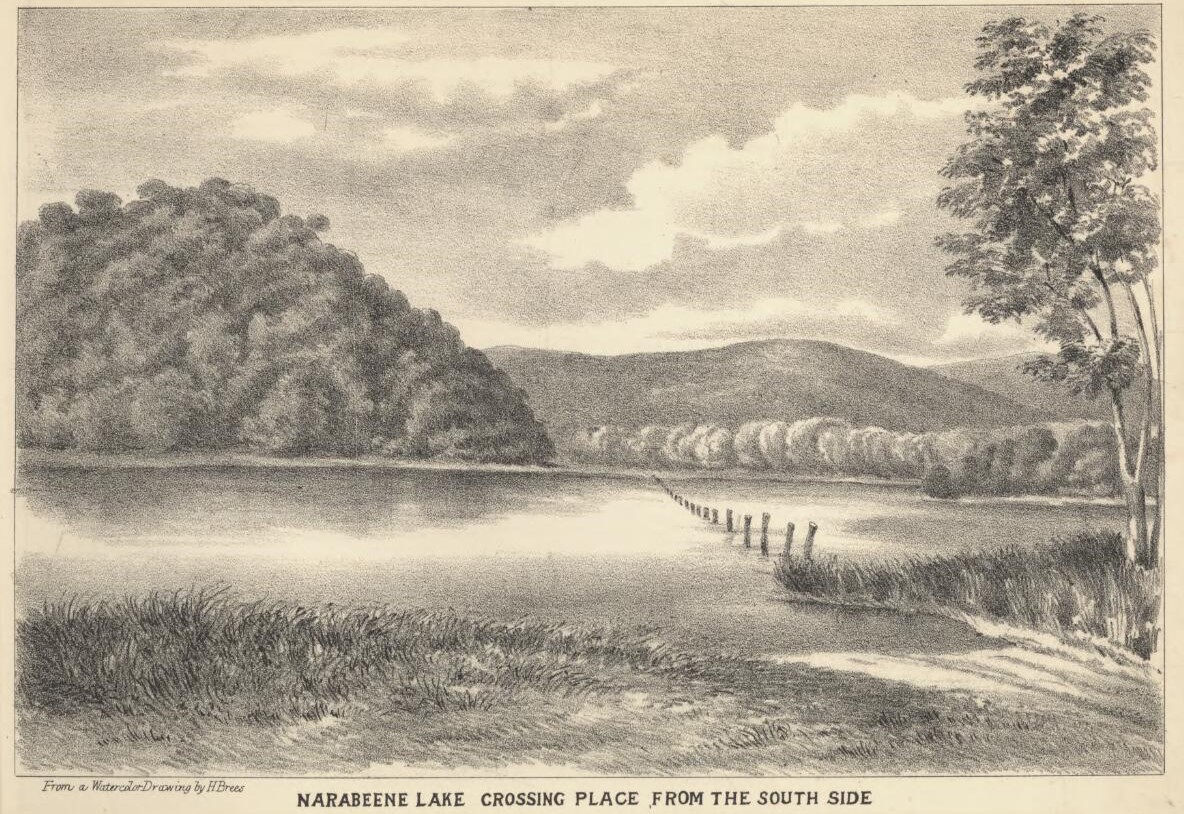 NARABEENE LAKE CROSSING PLACE FROM THE SOUTH SIDE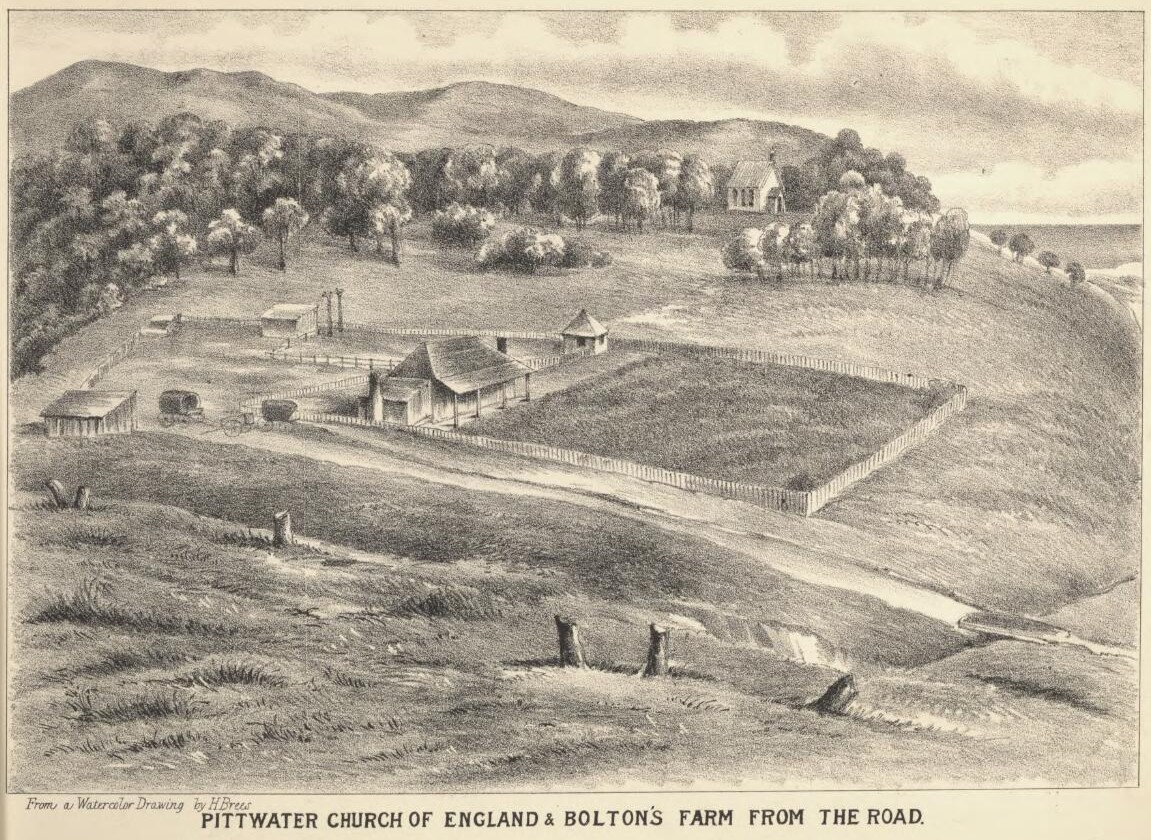 PITTWATER CHURCH OF ENGLAND. BOLTONS FARM FROM THE ROAD.
About a mile beyond Narabeen the road crosses a steep hill from the top of which the hills beyond Newport, as well as Lord Loftus Point, are distinctly visible, we next come to BOLTON'S FARM, the subject of an illustration. The soil of this locality is very rich, and it is rather strange that it is not cultivated.
The two next sketches—
THE GREEN HILL and THE OCEAN BEACH, are taken from where the road passes alongside a gap between two high hills close to Newport. They represent scenery which cannot be matched anywhere near Sydney.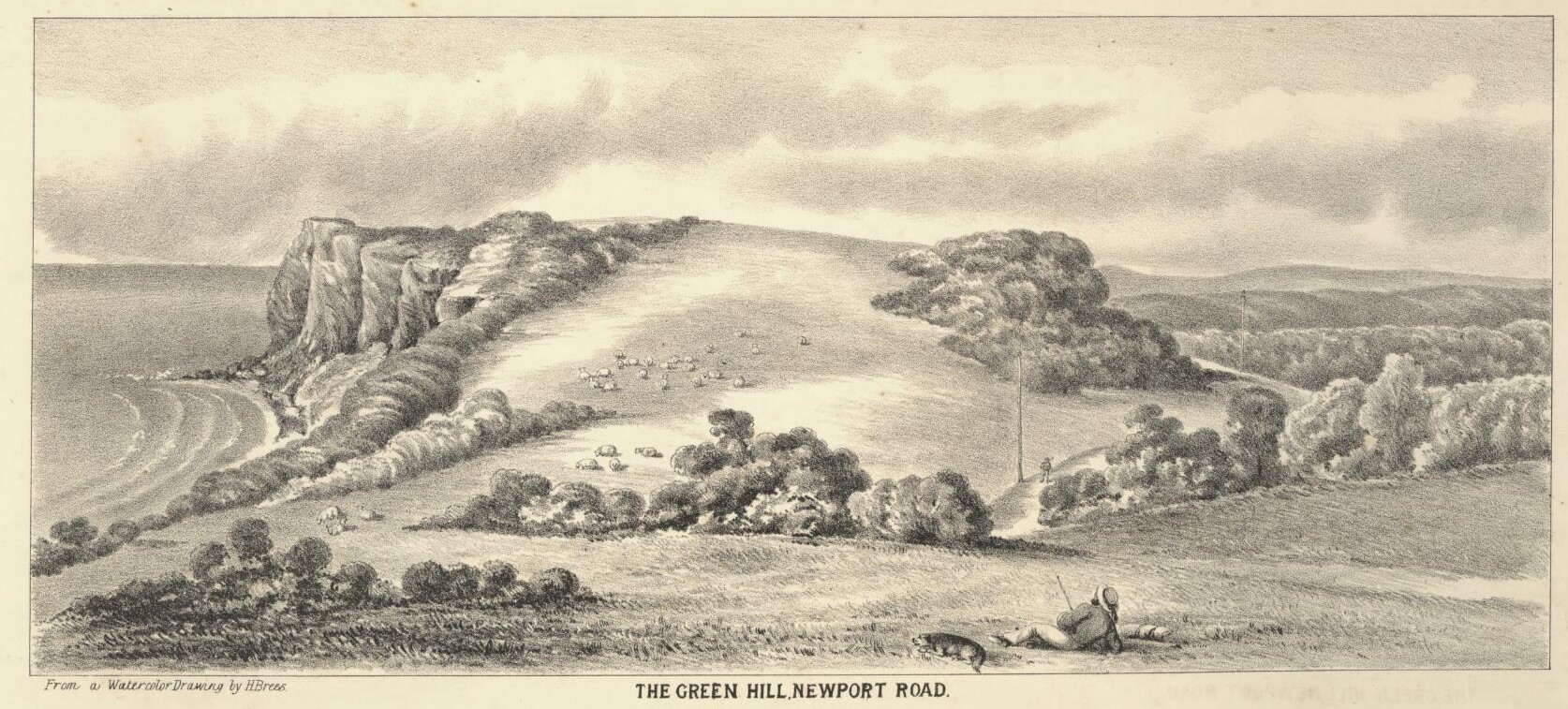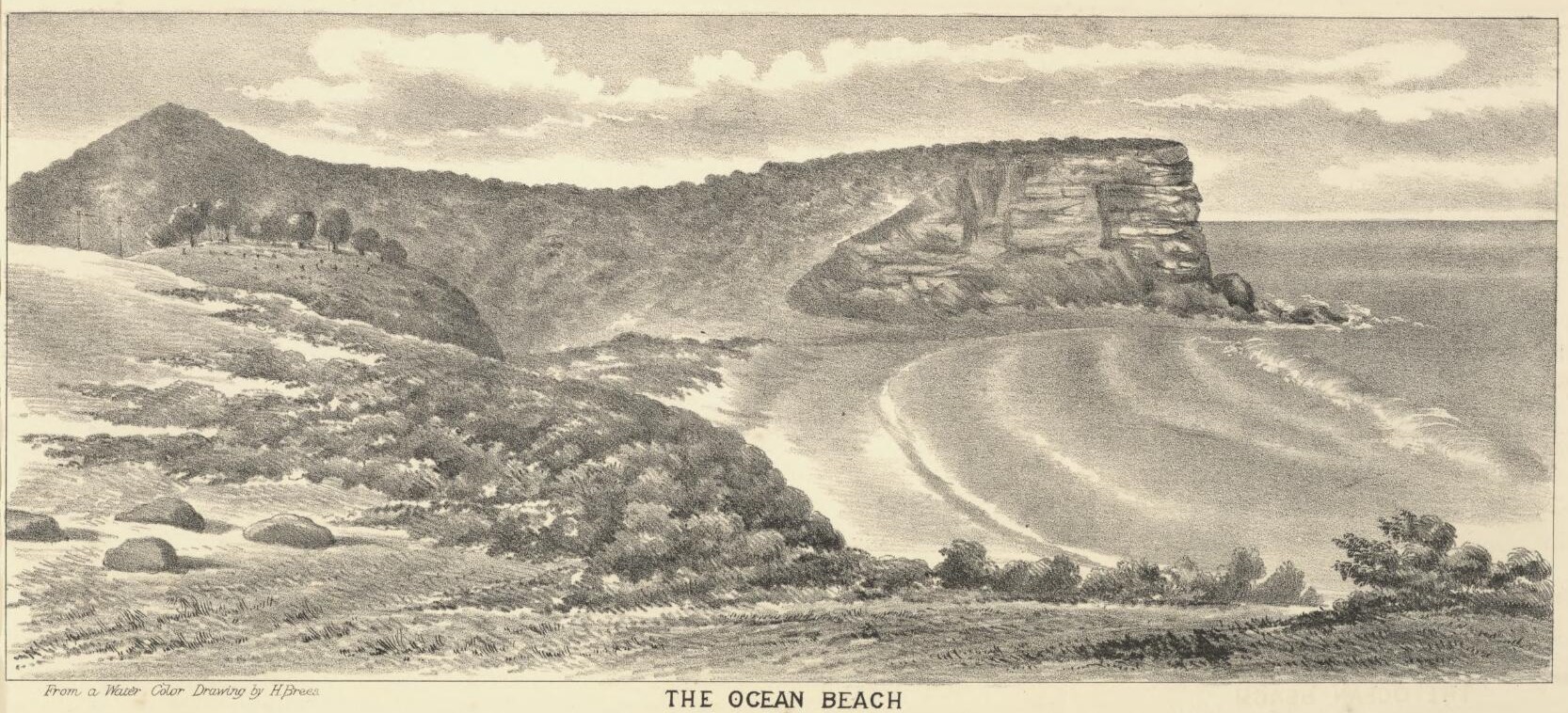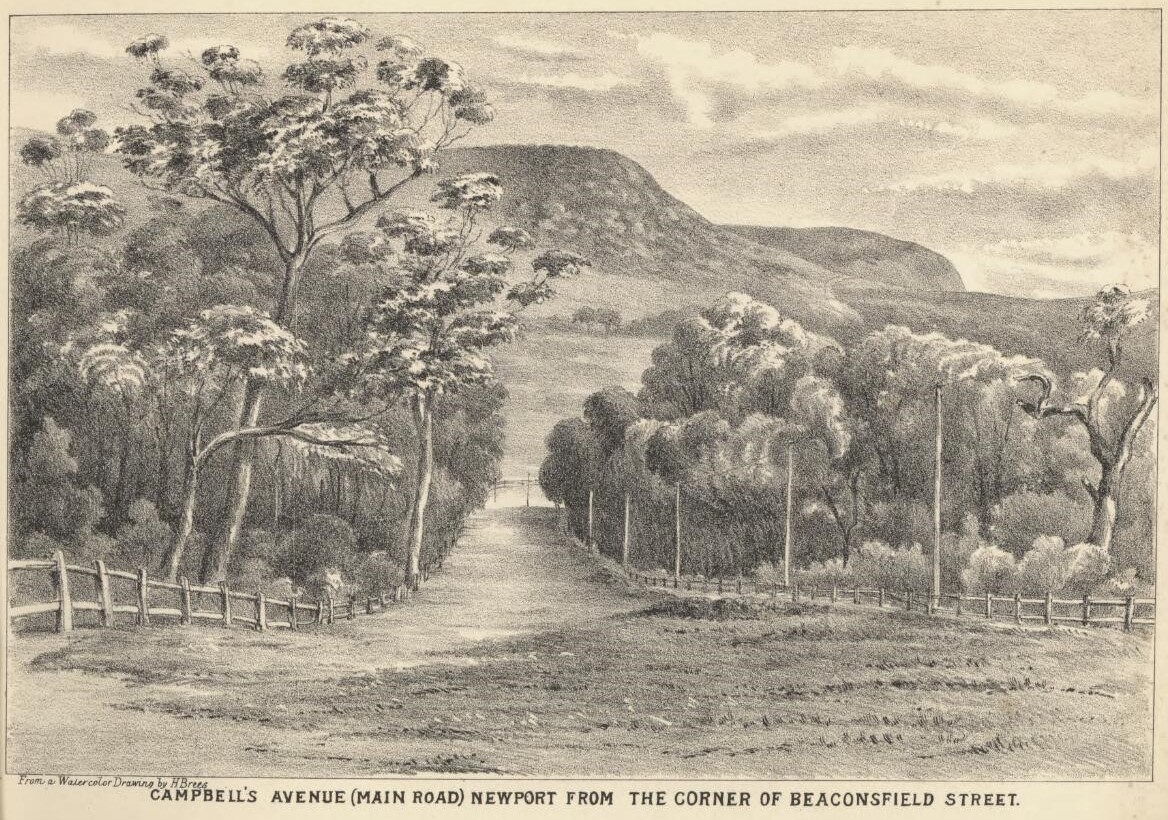 CAMPBELL'S AVENUE (MAIN ROAD) NEWPORT FROM THE CORNER OF BEACONSFIELD STREET.
Campbell's Avenue is where the main road to Barranjoey bounds the town of Newport. The sketch is taken from the top of Beaconsfield-street. The cleared ground at the foot of the hill (Mount Loftus) is Mr. Farrell's farm. The road to Careal and Barranjoey crosses the spur of the mountain close to the sea coast.
The town of Newport extends right from the main road to the shore of Pittwater about half a mile. It has been laid out on a grand scale, the allotments being mostly half an acre to three-quarters of an acre each. The main street (the Queen's Parade) is one hundred and thirty-two feet in width, the other streets one chain. The deep-water channel of Pittwater passes the property right alongside the shore, and ends just above. The largest steamers can lie alongside the wharf at low tide. A spacious hotel has recently been built, the roads have been formed, and the steamers for the Hawkesbury and Brisbane Water make it their head quarters. Arrangements have been made to establish a Public School. A central site has been reserved for a post and telegraph office. A considerable trade has already sprung up, and as it is even now the centre of a very considerable population, the terminal point of an extensive system of river traffic, a favorite fishing locality, and a favorite place for yachting, and being more-over close to the ocean beach, Newport cannot fail to become very shortly a favourite watering place, and a town of considerable importance.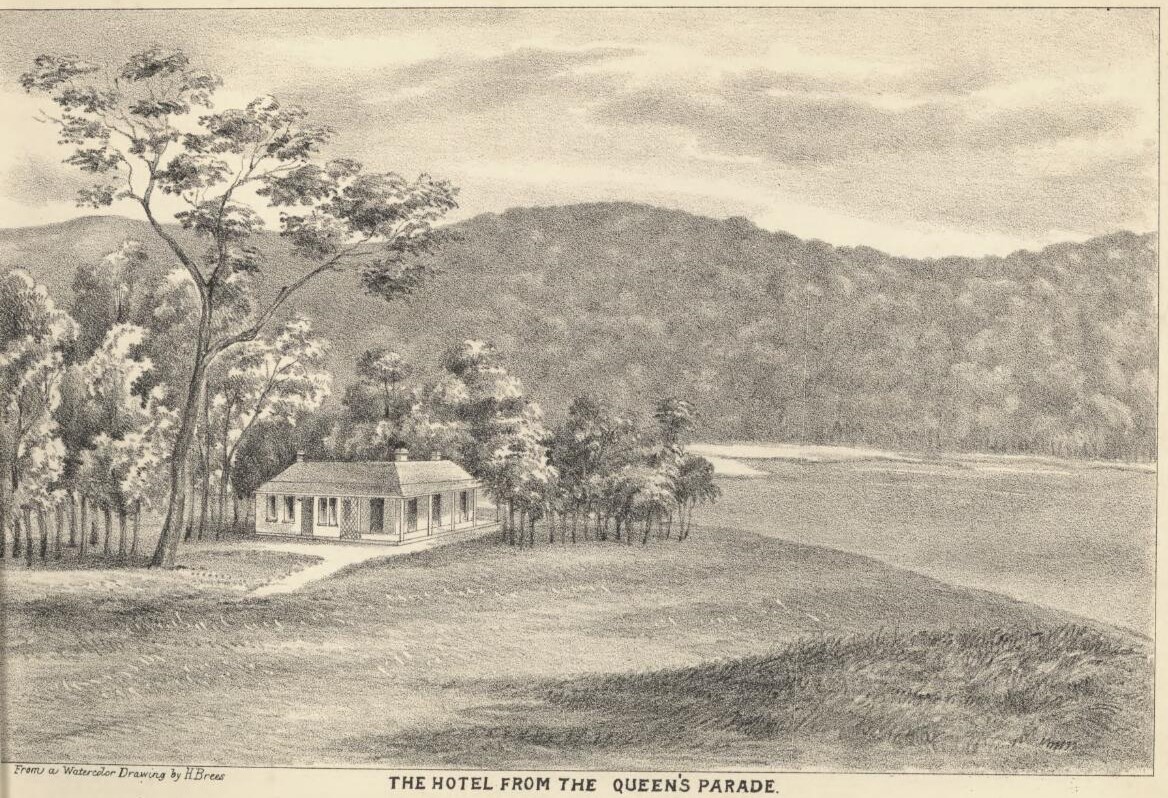 THE HOTEL FROM THE QUEENS PARADE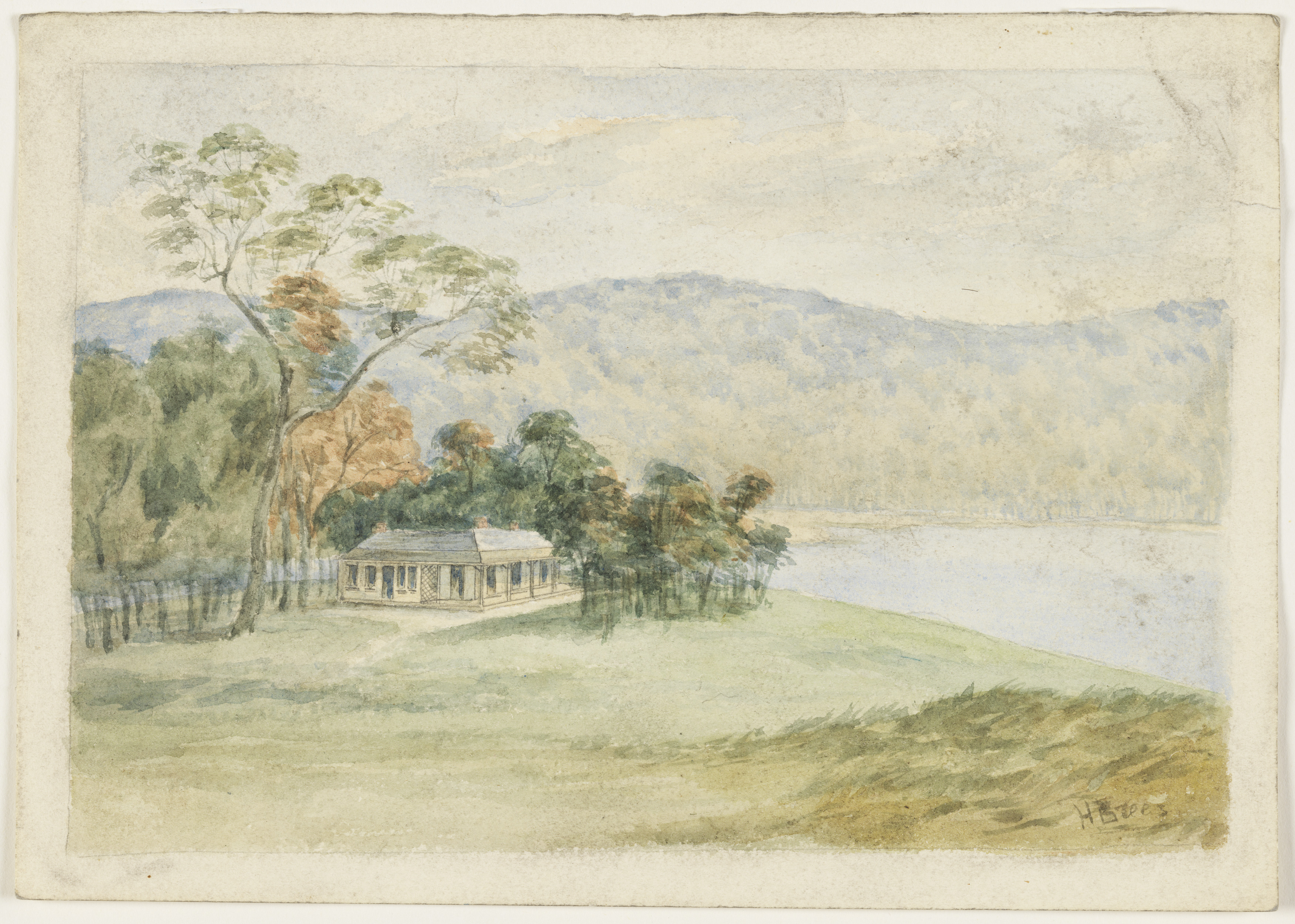 Pittwater scenes, 1880 / Harold Brees, The hotel [Newport] from the River Parade, Image No.: c13730_0007_c, courtesy State Library of New South Wales.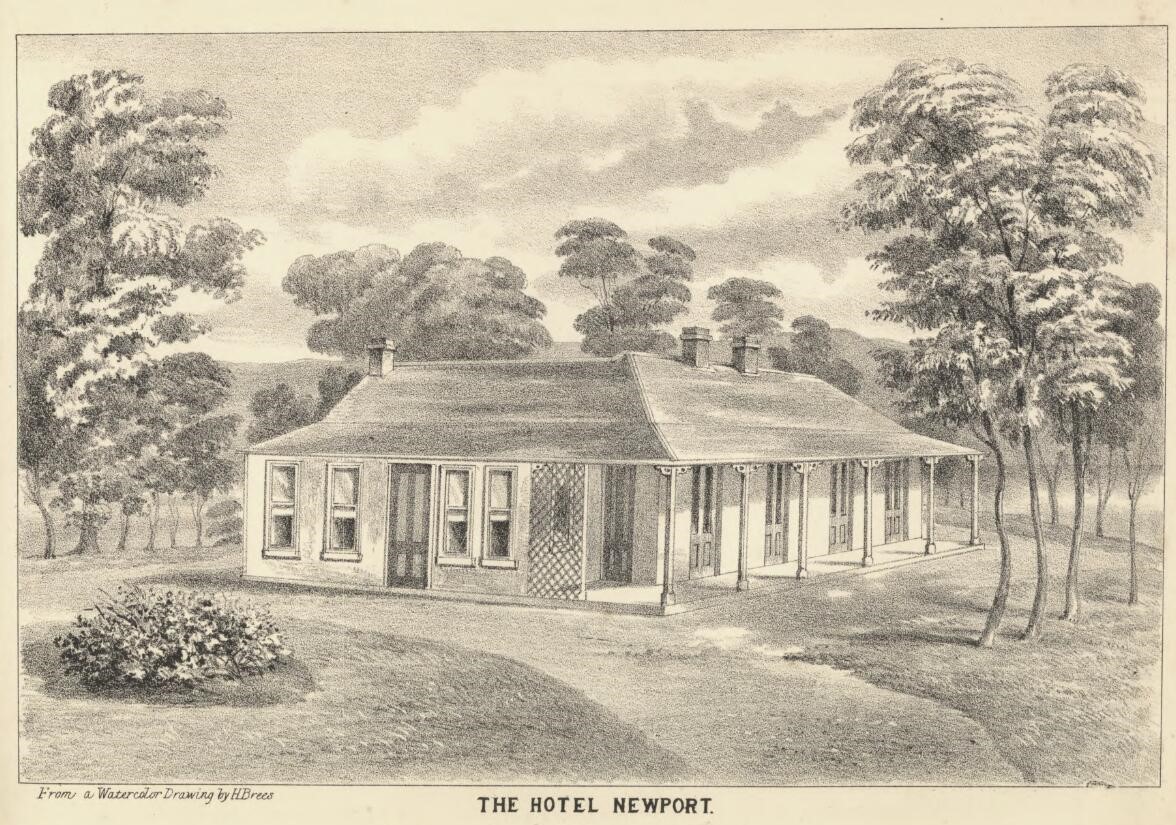 THE HOTEL NEWPORT.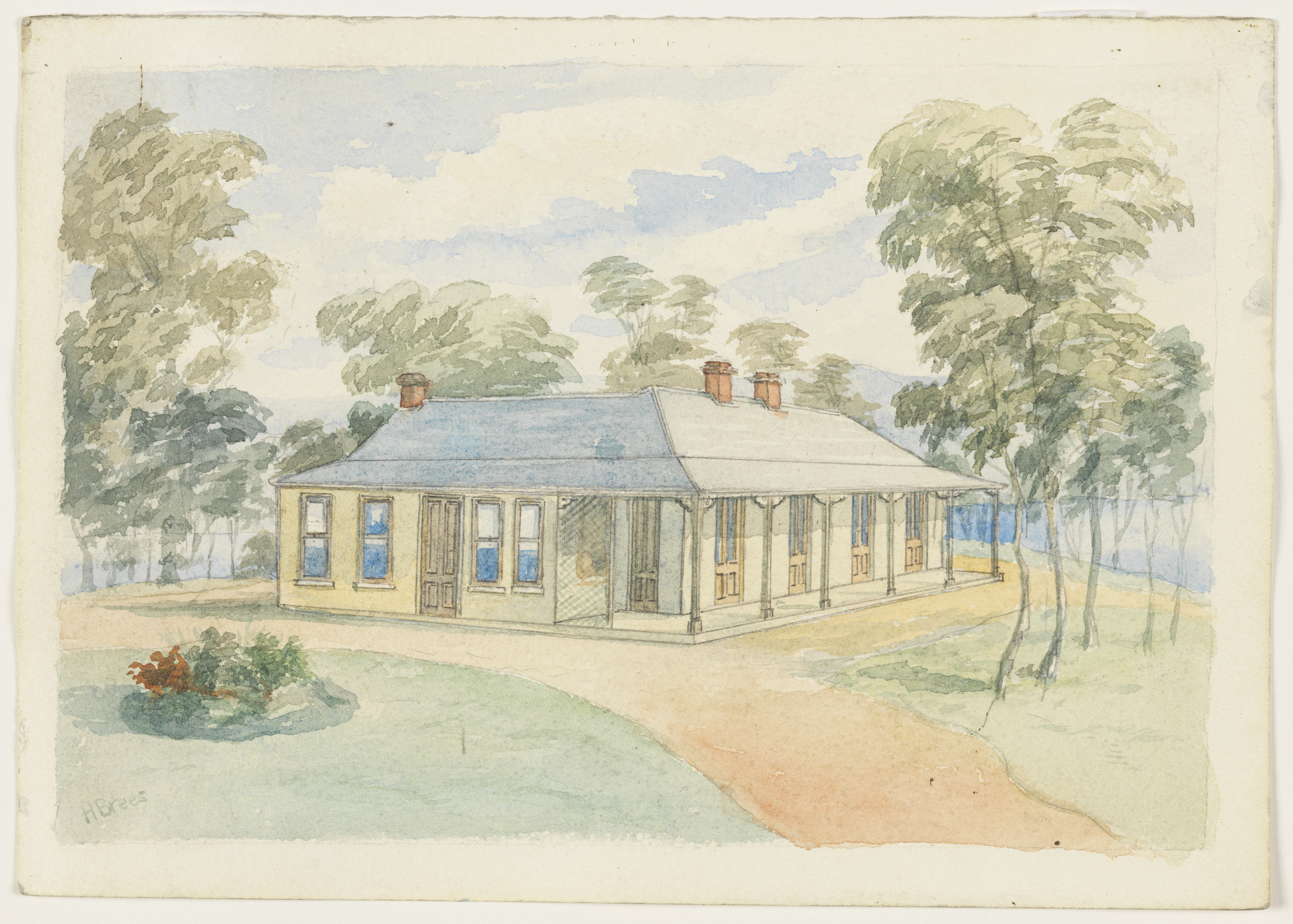 Pittwater scenes, 1880 / Harold Brees, The hotel, Newport, Image No.: c13730_0011_c, courtesy State Library of New South Wales.

PITTWATER, a splendid view of which can be obtained from Newport, is the widest arm of the Hawkesbury, and the one whence the Sydney traffic must come. It is about half a mile wide there, but below it spreads out to a width of two miles. On the eastern shore the country is hilly, but scarcely mountainous although Mount Loftus rises to an altitude of over four hundred feet; but on the western side the hills attain twice that elevation. There are numerous inlets ; some of them extending a long way among the hills, and which are almost strangers to the foot of man, and doubtless abound with wallaby and other marsupials.
SCOTLAND ISLAND is in full view from Newport, and its shores are celebrated for fine fish ; and, across the mountains, Cowan's Creek, the next arm of the Hawkesbury, above Pittwater. This is a magnificent sheet of water, extending far up almost to the head of Lane Cove, and abounds with sport of many kinds.
MOUNT LOFTUS is the property of Mr. Farrell, of Manly. The view from its highest point is unsurpassed. The whole of the coast, from the Illawarra dittrict to Tuggerah, is spread out in full view—with the numberless promonitories, which look quite small elevations. South Head looks almost at your feet, and the houses of Woollahra, quite diminutive; to the north, Brisbane Water shows itself, and to the west peaks of precipitous mountains mark the course of the lower Hawkesbury.
LORD LOFTUS POINT was evidently in times gone by a favorite camping ground of the Pittwater aboriginals. It presents signs unmistakeable to old bushmen of having been one of the head quarters of some of our predecesssors—probably of a large tribe.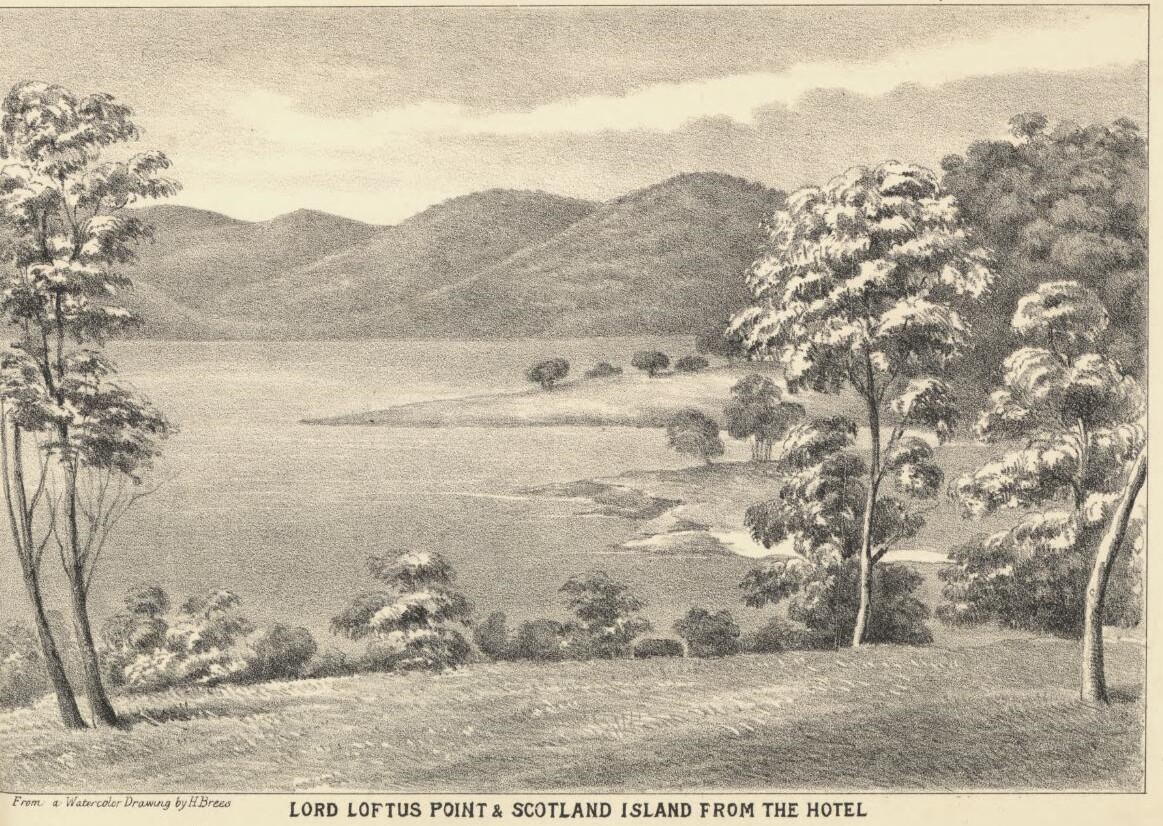 LORD LOFTUS POINT & SCOTLAND ISLAND FROM THE HOTEL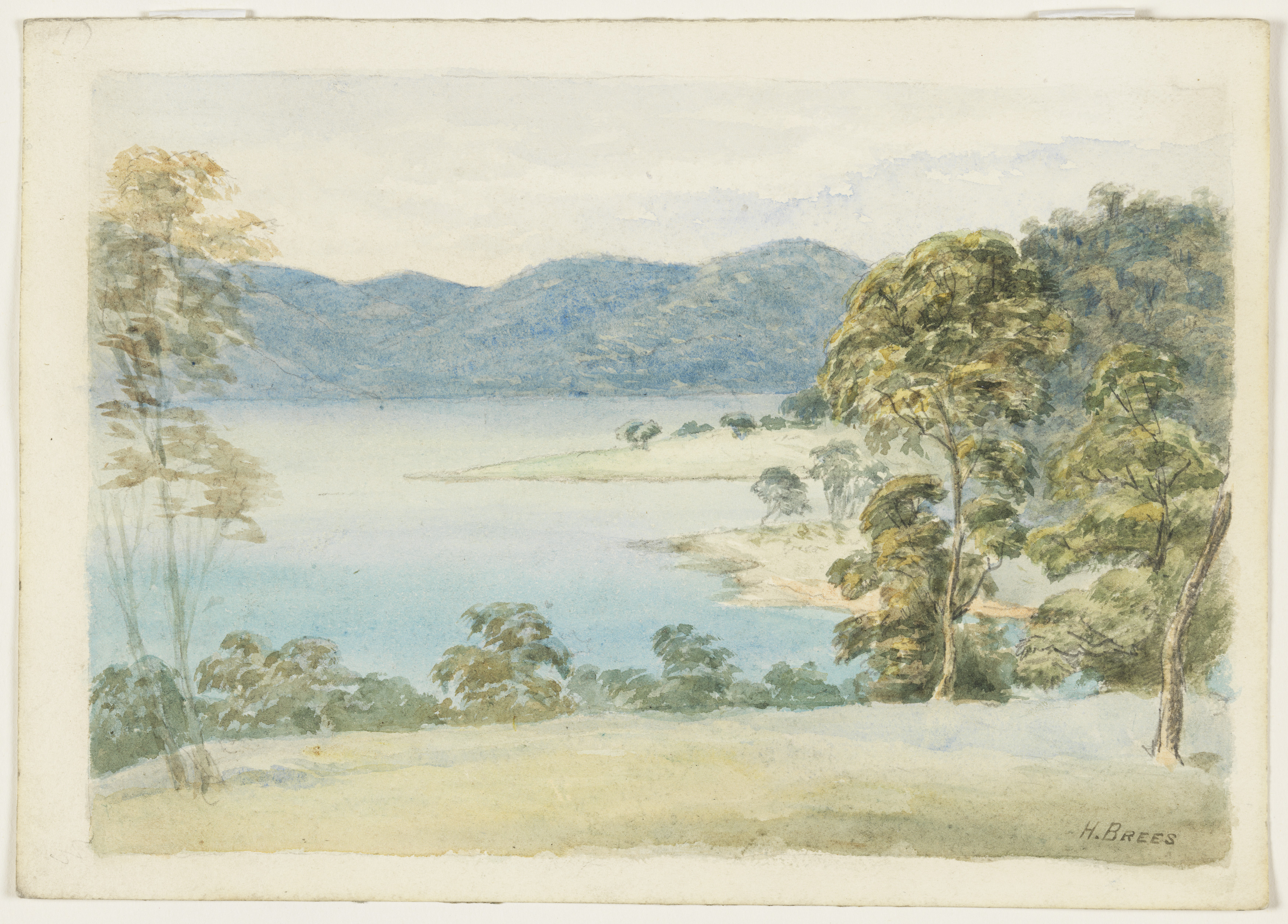 Pittwater scenes, 1880 / Harold Brees, Lord Loftus Point and Scotland Island from the hotel (Newport), Image No.: c13730_0009_c, courtesy State Library of New South Wales.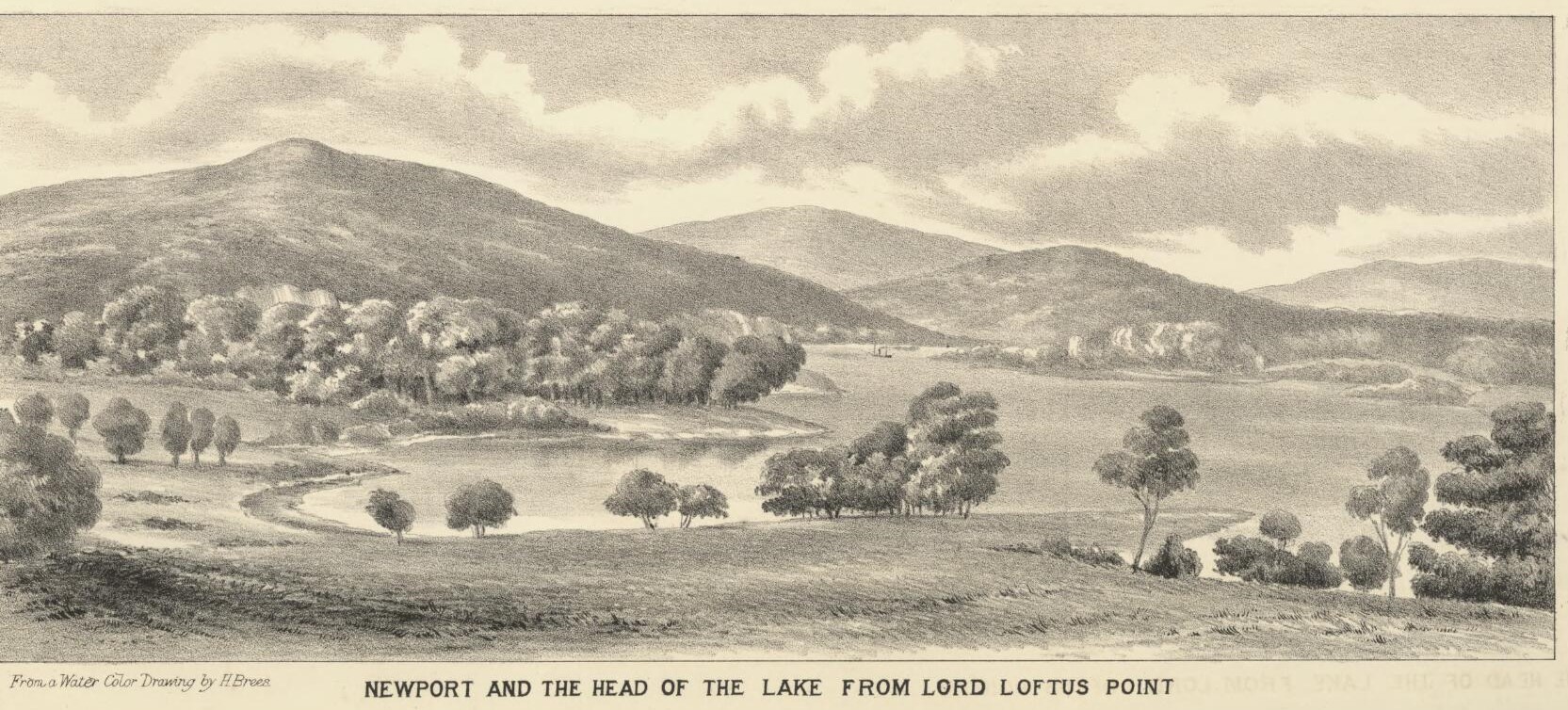 NEWPORT AND THE HEAD OF THE LAKE FROM LORD LOFTUS POINT
Seeing this, and looking at the immense extent of the Hawkesbury waters, the home of so many hostile tribes, it requires no great stretch of imagination to bring back to us from the far gone times scenes of the conflicts between them, the many battles which have been waged; the mighty fleets which may have descended from the upper river, or from Brisbane Water; what dire combats may have been fought; what mighty heroes slain— only no historian has handed to posterity their doughty deeds.
But it is always the same on the dawn of history, we are told—
" Before great Agamemnon's reign,
Reigned kings as great as he, and brave ;
Whose huge ambition's now contained
In the small compass of a grave,
In endless night they sleep unwept, unknown ;
No bard had they to make all time their own."
working out their destiny on their own lines. Longfellow has in singular metre but in beautiful words placed in the mouth of his hero Hiawatha a prophecy meant for the Redman of America, but equally applicable to our aborigine Australians—
" I beheld the westward marches
Of the unknown crowded nations ;
All the land was full of people—
Restless, struggling, toiling, striving.
In the woodland rang their axes,
Smoked their towns in all the valleys,
Over all the lakes and rivers
Rushed their great canoes of thunder.
Then a darker, drearier vision
Passed before me—vague and cloud-like :
I beheld our nations scattered.
All forgetful of my counsels,
Weakened, warring with each other—
Saw the remnant of our people
Sweeping westward, wild and woeful,
Like the cloud-track of a tempest,
Like the withered leaves of Autumn."
History repeats itself. As was the history of the American Indians, so the history of the Pittwater tribes. Formerly they were great and numerous at Pittwater Lake, like in America at the almost equally beautiful Lake of Saratoga; in both places they have passed away. Now at Saratoga numberless villas, magnificent hotels, and a prosperous town have taken the place of the Indian wigwams. In the course of a few years, in place of the gunyahs of the blacks, another Saratoga will arise at Newport, a far more beautiful place, and which will be what Saratoga will never become—the favorite sanatorium, as well as the yachting centre of the country.
There were no special correspondents in those days, and the traditions of the natives have not informed us whether the various tribes maintained ambassadors at each other's courts under the gunyah to negotiate peace or to declare war. Nor do we know if their wars were for plunder or conquest, or on the other side for liberty;—and it must be remembered that there have been numberless martyrs for liberty's sake among the black nations ; let Touissant I'Overture of Hayti, or the great Arabian hero, " Antar " (the theme of so much Arabian poetry), bear witness— all great nations were not of oiir race; indeed, Darwin describes an individual as a true hero, belonging to quite a different tribe.
It is sad to contemplate the decadence of a great nation, the silent melting away of a numerous people, even one not civilized as we understand the term in these advanced days, yet having the same human affections, strivings and aspirations as ours, and
GEOLOGICAL SKETCH.
The following lines relating to the surface rocks of the Hawkesbury are taken from the Rev. W. B. Clarke's valuable work on the "Sedimentary Formations of New South Wales" Over the uppermost workable coal measures which are of considerable thickness, is deposited a series of beds of sandstone, shale and conglomerate, oftentimes concretionary in structure and very thick bedded, varying in composition with occasional false bedding, deeply excavated, and so forming deep ravines with lofty escapements to the upper part of which series I have given the name of the ' Hawkesbury Rocks/ owing to their great develop- quite unnecessary. Let it suffice to say that they were, taken altogether, as fine a lot of fellows as could be met with in a day's march, and they thoroughly knew how to enjoy themselves.
The party left Sydney early in the afternoon, and after the now well-known drive from Manly, arrived at Newport before sunset. Arrangements had been made for a shake-down at the hotel, then unfinished, and provisions sufficient for twice their number had been sent from Manly. Therefore, after doing full justice to a hearty dinner and a fair supper—late to bed and early to rise, then a substantial breakfast, the party embarked on a pretty little steamer named the "Florrie," at half-past seven in the morning.
It is unnecessary to describe the trip down Pittwater, it is so well-known, but on this occasion the channel on the western side of Scotland Island, instead of the usual course on the eastern side, was chosen, and the party had an opportunity to view the pretty cottages on the western side of the bay, a pretty building, evidently a church with tombstones around, showed that the ordinances of religion are not forgotten there. As each point was passed, and fresh inlets revealed, exclamations as to the beauty of the ever-changing scenery were often simultaneously made by everyone on board. The little steamer sped swiftly on her way to the great River, where a disappointment was met with, for rolling down from the mountains, covering the entire breadth of the valley, was encountered a thick fog, completely hiding the opposite shore; even Elliot Island in mid stream was indiscernable.
"Well," said Brown, as the headland on the west of Pittwater was passed, " this is provoking ; the fog might surely have waited another day, and left this day clear for us." " But, what opening is that to the left ?' said another. " Why," answered Campbell, "that is Cowan Creek, which heads near Lane Cove."
" There is a queer superstition about Cowan Creek—or, rather, there was when I was a boy," remarked a quiet individual of our party. At this moment the sun burst through the fog, revealing for a short time some land up the broad sheet of water we were passing. "Do you see that headland,"he continued. We all looked where he indicated "it was ; said he, " whenever the moon rose at midnight in winter, that headland is haunted by the ghost of a man who was killed there many years ago. If you like," he added, as the fog has come down again, " I will tell you the story."
We all pressed him to begin
THE GHOST OF COWAN CREEK.
" Many years ago, before it was anticipated that this country could be anything else than a convict settlement, before the blue mountains had been crossed, or railways thought of, and when both barristers and attorneys lived lovingly together in one wigwam, there resided not many miles from Windsor a wealthy settler. He had received a grant of land from the Government, and, as was usual in those days, had an assignment of men, and was allowed rations with them. He was a violent-tempered man, but generally liked by his servants, being withal of a generous disposition. We will call him Thorpe, but that was not his name. ' About two years before the occurrences which I am about to relate there were in a merchant's office in the city of London two brothers named Judd, one of whom had just been married; the other, the younger, was very wild in his habits, and had contracted heavy gambling debts.
One day a large sum of money was drawn from the firm's bankers by a cheque which proved to have been a forgery. A great commotion was made in the office, and on search being made, the money was found in the elder brother's desk. He protested his ignorance as to how it came there—it was useless. He was tried and convicted, and transported to Australia, and assigned to Mr. Thorpe. His broken-hearted wife realized what little property they had, and followed him to Sydney, where she managed to engage as servant to Mrs. Thorpe.
Thus the husband and wife were living on the same farm.
" But though so near to each other, they were not living together, for the settler would not hear of the husband being in the house, and the truth must be told that Mrs. Thorpe liked being waited upon too well to allow her servant away from her much. So poor Judd had to live among the men at the huts, and saw but little of his wife.
" Mr. Thorpe had a younger brother, a settler higher up the river, who, being a single man, was frequently a visitor at his elder brother's house. He took a great liking to little Mrs. Judd, and she, being of a happy disposition, and again near her husband, had settled herself down to her altered circumstances, and was again quite cheerful. Indeed, it must be confessed that she liked admiration, and was proud of the attentions of the handsome young settler. I am quite certain that she was true at heart to her unfortunate husband ; but in a large establishment there are sure to be tale-bearers, and the exaggerated tales of stolen interviews met his ears almost every day.
" He was a man of a mild, affectionate disposition, and was known among his rough fellow-workmen according to the fashion of those days, by a nick-name—" The Baby," he was called. His whole nature seemed now to change ; the injustice of his sentence, and now the infidelity as he thought of his wife, maddened him ; he became moody, and violent in his conduct towards her. They had a stormy interview one evening, and he was seen on the farm no more, and his wife disappeared with him. It was discovered soon after that the only boat the farm possessed had gone also—so it was clear that they had gone down the river.
" After two days delay a party of constables started to bring back the runaways. They searched for them up the bays and inlets for several days without success, and looked vainly over the numerous islands with which the lower part of the river is studded, nor could they glean any tidings from the blacks, and were returning back again, giving up the search, when passing the mouth of Cowan Creek some faint smoke was observed behind the promontary I showed you.
They pulled up to the spot; they saw Judd standing on some rocks with a gun levelled at them. He fired and missed; almost at the same moment they fired at him ; he fell shot right through the heart, and his wife rushed down from a hut they had built and fainted on his body. They hurried him near where he fell; no tombstone marks the spot, but it is said that his ghost haunts the hill, and can be seen at certain times hovering over the place.
" His wife was taken back to the farm and soon recovered under the kind treatment she received. She did not die them ; oh, no ! She married again a few years afterwards, and her descendants are numerous throughout the colony. She died about twenty years ago.
" Well," said Campbell," of all the stupid tales I have ever heard yours is the worst; let's have some mountain dew to wash down this Scotch mist. I have some which was made a present to me, and it is unequalled. "I " said another," have some which I imported myself. I will leave the company to judge which is the best. We then tasted the whisky and discussed it, and the Ghost of Cowan Creek was soon forgotten.
The fog by this time quite cleared off. " See," said Smith, " look ahead." It was indeed a beautiful view which burst upon us. To the left, on on enchanting island with green slopes, stood several pretty cottages, while across the river a great range of mountains wending to the left, with bands of mist half-way up their summits, forced the course of the river at right angles from its former direction.
Amid scenes like this we continued our way until dinner time, passing two neat looking churches, at which we were told a clergyman comes all the way from Ryde to preach. At Wiseman's Ferry we were struck with the immense stretch of the telegraph wires—probably, when the Hunter River traffic passed that way, the Ferry was an important place ; the large stone church now in ruins proves as much.
It is not attempted to describe the Hawkesbury—that task were an impossible one, except, perhaps, for a Buchanan—nothing but adjectives could be used, and these should be mostly superlative words. " Glorious," " magnificent," " grand," " wonderful," "extraordinary," " this licks creation," " most remarkable," " unsurpassed in this world," &c.—these are fitting terms, and yet prove quite inadequate, poetry almost equally so; even Byron, our greatest descriptive writer, did not attempt to describe the Rhine, how could anyone attempt the Hawkesbury ; yet in steaming up the stream and looking at any one of the many beautiful islands, these lines of that poet, slightly altered, flash across the mind :
Oh, that this islet were my dwelling place,
And some soft spirit for my minister ;
Then I'd forget about the coming race,
Think of no others, love but only her.
It is astonishing how you enjoy your food when travelling.
Most of the party had brought provisions, and from what one of
them had provided it seemed that he thought he had to feed the entire
party; yet the good things disappeared like magic. It is evident
that on a trip like this there is little need to nurse your appetite.
We passed a pretty church about dinner time, and saw a few
people leaving it—possibly a wedding party, all in their Sunday
clothes. What a universal thing is love, how it gladdens even
this secluded place. Scott tells us
"Love rules the court, the camp, the grove,
And men below, and saints above ;
For love is heaven and heaven is love."
Byron, however, tells us that heaven is not love, but matrimony—he ought to have known, as he had the reputation of being an authority on both sides of the question—if so, it was heaven we saw coming out of the church, hand in hand.
After passing Wiseman's Ferry, the country opens out and softens ; the mountains disappear, and are succeeded by pretty hills; numerous small farms and orchards come in view one at a time ; and, at Kent's Reach, where we disembark, the good farming country commences. Suitable conveyances bowl us swiftly along a good road to Windsor, where we stay the night.
By half-past nine next morning we are all at our offices* thoroughly renovated by our most enjoyable trip, and capable of such a quantity of work that, should succeeding generations know the amount we got through during the next week, they would hold up their hands in astonishment and exclaim—"there were giants in those days."
We were absent from Sydney but one afternoon, two nights and one day ; we travelled by steamer, coach, and rail, one hundred and fifty miles along a most picturesque route ; but on what day we departed and on what day we returned this deponent sayeth not.
NOTES OF A TRIP TO BRISBANE WATER AND TERRIGAL.
From Newport to Brisbane Water the route is down Pittwater, across the Hawkesbury, and up the small river to Blackwall and the Broadwater. The channel at the entrance is narrow, soon opening out into broad sheets of water, branching in every direction. The " Broadwater," which extends up to the town of Gosford, is truly a splendid lake. The " Kincumber" lakes join opposite Blackwall, and there are various others. Anyone fond of boating could spend a week comfortably among these inland waters, and, we think, find some fair sport, both in fishing and shooting.
Gosford is but a small town, with a Court House, three churches three hotels, two stores, and a blacksmith's shop. The timber trade is the principal, or rather the entire support of the place. From what we could learn, the residents are doing very well—indeed the appearance of everyone we met told the same tale. We did not during our stay see a single case of apparent poverty, everyone looked comfortably off; and further, we never saw anywhere else so many nice-looking, clean, healthy and well-dressed children.
The wages current at the mills and in the bush is, we are informed, two pounds per week, fully equal to three pounds in Sydney. Horses are plentiful, and our obliging host, Mr. Campbell, supplied us for our ride to Terrigal, which lies across the mountains on the ocean side, about eight miles away. Our road lay for some three miles alongside one of the navigable creeks which discharge into the Broadwater. At various places wei'e stacks of timber ready for shipment or being shipped, and at one place no less than ten teams with the loads, principally laths and logs for the Sydney mills. Some of these teams had come from places seven miles inland. Until we were within three miles of the ocean we saw very little growing timber of any value, the land being barren and uninteresting ; but for the last three miles the country was splendid and similar in appearance to the celebrated Bulli Pass—magnificent trees of great size growing alongside the track, festooned with creepers of various kinds up to their topmost branches.
Terrigal is the property of Mr. Thomas Davis, and comprises several thousand acres between the ocean beach and the coast range of hills. Some of the land is of the richest description, and is thickly covered with turpentine and other choice timber. The saw mill is close to the ocean beach, and the vessels are loaded at a small wharf, in a position very similar to Cabbage Tree Bay, Manly. Yet Mr. Davis informed us that he has never been prevented shipping from his wharf, even in the roughest weather.
The establishment is a very large one, employing over forty men, and the quantity of logs sawn up so great that he has had to construct a wooden railway—over two miles in length—from his mill to an inland lake, to be able to work up the trees from all round its shores.
A great deal has been said and written about our timber supplies, and fears are entertained that unless we have large reserves, our forests will soon be destroyed. A visit to Brisbane Water should convince those most sceptical as to the future of the folly of such fears—at least as far as the coast districts are concerned. It is about thirty years ago that the large timber trade with Gosford commenced, and already a second growth of goodly sized trees is covering the country, to be ready in another few years for the saw mill. In other parts of this colony we have invariably observed a similar result. We especially remember a large district of open forest where the few trees were destroyed by ringbarking ; —within five years afterwards the whole country was covered by a thick growth of young saplings. The fear rather is that this second growth will come up too thickly for any of the trees to arrive at maturity. Of course these remarks do not apply to our valuable red cedar, which must disappear if steps are not taken to prevent it.
Before leaving Gosford we climbed the hill in the recreation ground, and were well repaid for our trouble. The height, our aneroid informed us, is a little under three hundred feet, and the width at top about forty feet in the widest point. The view exceeds any we have ever seen—the whole extent of Brisbane Water, with the various bays and headlands, was spread out before us ; far in the distance, stretching to the south, is Pittwater and its mountains ; in the west the Hawkesbury breaks through the hills, and right in the centre of its course is Eliot Island, like a crouching lion with face towards the ocean, guarding the entrance of this magnificent wilderness of waters. It is impossible to look from the spot whore we stood without seeing that, at a comparatively recent date, Pittwater and Brisbane Water together formed one inland lake—a depression of the coastline of about twenty feet would restore its ancient features. But what a change that would bring about in the form of our coast.
The North Head of Port Jackson would then become an island : four islands would be formed between Pittwater and the present ocean ; and the western side of Pittwater would become the true coast line. It is quite common to hear the Hawkesbury designated as the Rhine of Australia. Not having been privileged to visit the river of Germany, we have not seen the resemblance. True, there may have been many pitched battles on its banks between the varions native tribes, as there were battles between the Romans and the Germans on the European stream ; but if the native bards sung of those great deeds, such songs have not been printed. We have an account of the Rhine from our great descriptive poet: —
And peasant girls with deep blue eyes,
And hands which offer early flowers,
Walk smiling o'er this paradise.
Above the frequent feudal towers
Through green leaves lift their walls of gray,
And many a rock which steeply lowers,
And noble arch in proud decay,
Look o'er this vale of vintage bowers.
We do not think that the above will apply to our river ; in fact the Hawkesbury is thoroughly Australian in its character and scenery, and, besides, is like no other river in Australia, but has a character enth'ely its own. It is unlike the Hunter on the north, unlike the Macquarie on the west, unlike the Shoalhaven on the south ; and from its bold romantic scenery, the great extent and diversity of its imprisoned waters, and from its numerous branches, it forms altogether the most wonderful estuary in New South Wales, So much for our trip tip the Hawkesbury and Brisbane Water ; but not even these localities, with all their charms and beauties, comprise the importance of the Town of Newport, It will now become the main avenue of traffic and travel with Barranjoey, Blackwall, Gosford, Kincumber, Terrigal, Cooninburg, Lake Macquarie, and the Juggerah Lakes, and on to Newcastle overland, affording both to tradesmen and tourists at once conveniences and pleasures never before at their command. To the one a ready and speedy access to his home, and to the other all the delights of scenery, exploration and sport that the artist, scientist, or holiday-maker could possibly desire.
To some of these localities it is the purpose of a few to take trips ere many weeks go past, and we doubt not we will be able to render as favorable an account as these given of our Hawkesbury tour to Windsor and Brisbane Water.
___________________________
WARRINGAH.—The first ordinary meeting to take place in the new Council-chambers was held on Friday last. The new president (Councillor E. W. Quirk) was in the chair. The Police Department wrote stating that the conduct of the people of Narrabeen did not warrant the stationing of a policeman there. A communication was received from the Works Department, stating that an officer would be sent to select the most suitable site for a tramway to serve Fresh-water and Curl Curl when available. Councillor McIn-tosh asked what was the present position of the matter of the resumption of land for a road round the Queens-cliff Headland? and it was decided to write to the department for the information. It was decided, at the instance of Councillor Ralston, to write to the department and find out what progress had been made in connection with the resumpton of land for a park at Brookvale. The following motions were agreed to, viz :—"That the sum of £50 be spent on improve- ments to the roads in the vicinity of the Brookvale tram terminus." That application be made to the Postmaster General to have the telephone service to the district improved." That tenders be called for clearing and placing a culvert in Kenneth-street."
"That the matter of resuming a road from Wyadra- avenue to the Pittwater-road be again considered."
"That a public meeting be called for the purpose of considering the best means of celebrating the opening of the Brookvale tramway." "That the Department be asked to make provision for a waiting room at the Brookvale tram terminus." "That tenders be called for 500 yards of metal for the Pittwater-road, from Sheep Station Hill to Newport-road." SHIRE COUNCILS. (1910, April 7). The Sydney Morning Herald (NSW : 1842 - 1954), p. 12. Retrieved from http://nla.gov.au/nla.news-article15138079
STANTON AND SON, LTD., will offer at auction on Tuesday. 16th Sept
FOR POSITIVE SALE.
TO CLOSE ACCOUNTS.
PITTWATER, Grand Speculation.-SPLENDID WATER FRONTAGE BLOCK, close to Ferry. LOT 2, SECTION "D" STOKES POINT ESTATE, 2ac 2rds 24 per. Road and Water Frontage.
NEWPORT.-Well-furn. Bungalow known as TALOFA, Queen's-parade, wide sleeping-out verandah, 6 rms., etc. Large Block of Land, grow anything, magnificent views of Pittwater. Motor 'Bus, 1 minute to door. Near store, post-office, etc Advertising (1919, August 30). The Sydney Morning Herald (NSW : 1842 - 1954), p. 21. Retrieved from http://nla.gov.au/nla.news-article28096809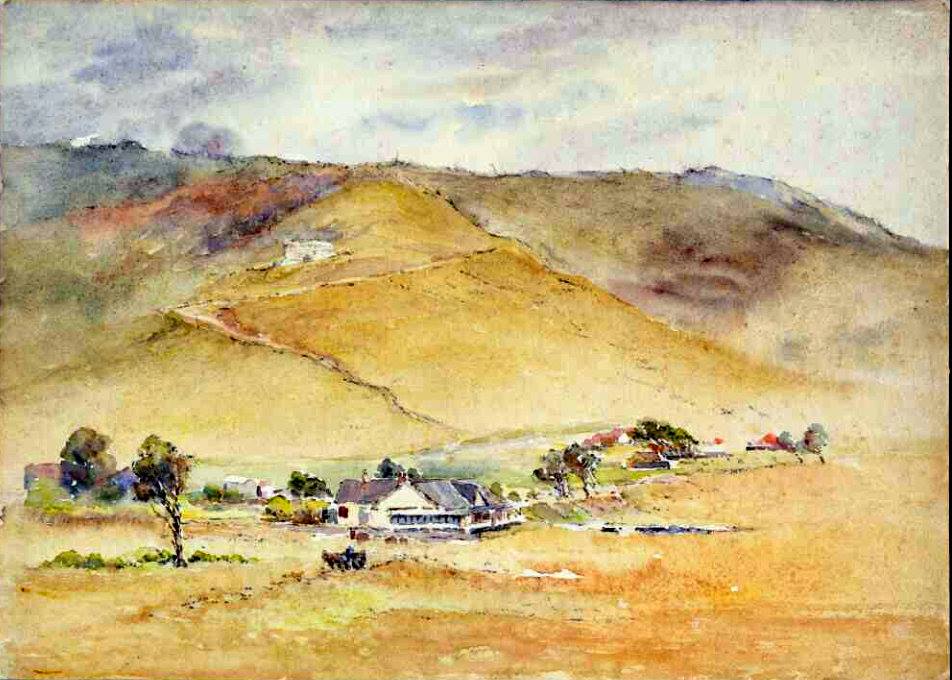 Newport, the Combers in the foreground, New South Wales, ca. 1925 John Cosh. nla.obj-135195387-1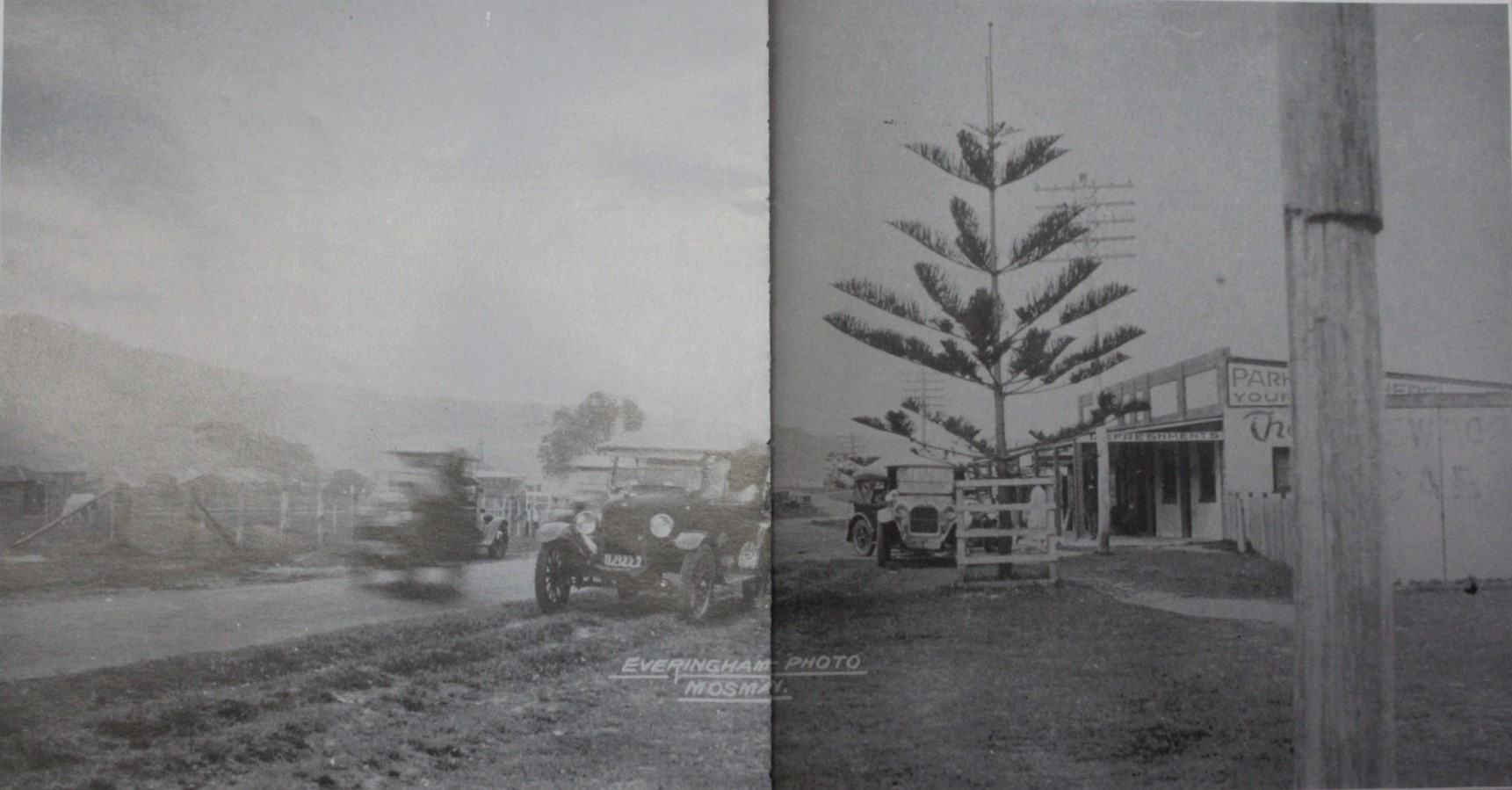 Traffic on Barrenjoey Road in 1927 - Bulfins Ocean Beach Store on the left - photo courtesy Mitchell Library, State Library of NSW and information sourced from Guy Jennings 'Story of Newport'

FIRE BRIGADES ACT, 1909-27.
IT is hereby notified that the Board of Fire Commissioners of New South. Wales, with the consent of the Minister, hereby applies the provisions of the Fire Brigades Act, 1909-27, to the part of the Shire of Warringah within the boundaries set out in the appended description.
Given under our Common Seal this fourth day of November, 1940.
The Common Seal of the Board of Fire Commissioners of New South Wales was hereunto affixed at a duly constituted meeting of the Board, held on the fourth day of November, 1940, in the presence of Thomas Januarius Smith and Thomas Davies Hutch and H. M. Webb, Secretary.
T. J. SMITH.
T. D. MUTCH,
Members of the Board.
Warringah Fire District.
Description of part of the Warringah Shire from Newport to Barrenjoey
-Parish of Narrabeen, county of Cumberland, Shire of Warringah: Commencing on the shores of the South Pacific Ocean at Bungan Head at the south-east corner of lot 12 of Application No. 16,832; and bounded thence by the south-eastern boundary of that lot and the southeastern boundary of lot 11, a line, and a southern boundary of lot 9 of d.p. No. 4,579 and its prolongation south-westerly to the centre of Myola-street; thence by that centre line south-easterly to a point opposite the south-east comer of the Mona Vale Estate as shown on d.p. No. 9,877; thence by a line and the southern boundary of that estate and its continuation generally southwesterly to the centre of Pittwater-road; thence by the centre line of that road generally south-easterly to a point opposite the south-east corner of lot 34 shown on Roll Plan No. 599 at the town of Newport; thence by a line, the southern boundary of that lot and the southern boundaries of lots 33 to 17 inclusive generally westerly to the eastern shores of Pitt water; and bounded thence generally northerly by the eastern shores of Pittwater embracing Newport, Horseshoe Cove, Salt Pan Cove, Refuge Cove, Taylor's Point, Long Beach and Careel Bay to the centre of Beach-road, Barrenjoey; thence by the centre line of that road easterly to the shores of the South Pacific Ocean aforesaid; thence by those shores generally southerly embracing Palm Beach, Whale Beach, Avalon Beach, Bilgola Beach and Newport Beach, to the point of commencement. FIRE BRIGADES ACT, 1909-27. (1940, November 8). Government Gazette of the State of New South Wales (Sydney, NSW : 1901 - 2001), p. 4456. Retrieved from http://nla.gov.au/nla.news-article225110724
£30,000 Luxury Home Absorbs 60,000 Bricks
A thirty thousand pound luxury home — covering three times the permitted area of 1250 square feet — is being built in Prince Alfred Parade, Salt Pan Cove, Newport.
OWNER-BUILDER is Mr. H. Carter, a business associate of Lord Nuffied, who plans to erect huge spinning mills at Newport. Over 60,000 bricks will be used in the home before it is finished. Already complete is a magnificent double garage and chauffeur's quarter.. Mr. Carter is living there until the home is finished.
So far only the foundations are down, but these are of brick and rise almost 20 feet at the front of the house. The land, 2 acres of it, slopes down to Salt Pan Cove and the high foundations are necessary to make the front of the house level with the back. The house proper measures eighty feet across the frontage and it will be about 30 feet deep). Designed in the shape of an opened fan. both wings mdet in the centre of what will be a huge, semi-circular centre bay. Instead of the usual concrete piers to support the floor, the Carter mansion has bricked, hollow squares into which concrete has been poured. On these rest steel girders which will take the weight of the building. The house will have concrete floors and a flat concrete roof Resigned to serve as a sun patio. Moored off-shore is Mr. Carter's yacht. There are ten men working on the job which so far has not suffered any hold up from material shortages. Mr. Carter has interests in cotton mills with a total capital of twenty million pounds. He is planning to establish a large mill at Newport, and later to erect cottages for workers and executives. £30,000 Luxury Home Absorbs 60,000 Bricks (1948, August 7). Tribune (Sydney, NSW : 1939 - 1976), p. 1. Retrieved from http://nla.gov.au/nla.news-article208111400
On the polar opposite of the above edifice:
THE Post Office Gets Its Man.
After he had finished his university exams, Mr. Brooks Wilson went to Newport Beach for a camping holiday. When he returned from a swim the other day he found a telegram outside his tent under a soap container on the top of a petrol tin.
It was addressed: "Brooks Wilson, camped small tent 300 yards north Neptune Road, 100 west Barrenjoey Road, Newport Beach" and was a message of congratulations on having passed with a credit. And it must be said that the local postal people passed their test with credit also. COLUMN 8 (1953, January 6). The Sydney Morning Herald (NSW : 1842 - 1954), p. 1. Retrieved from http://nla.gov.au/nla.news-article27526188
Water-garden wins prize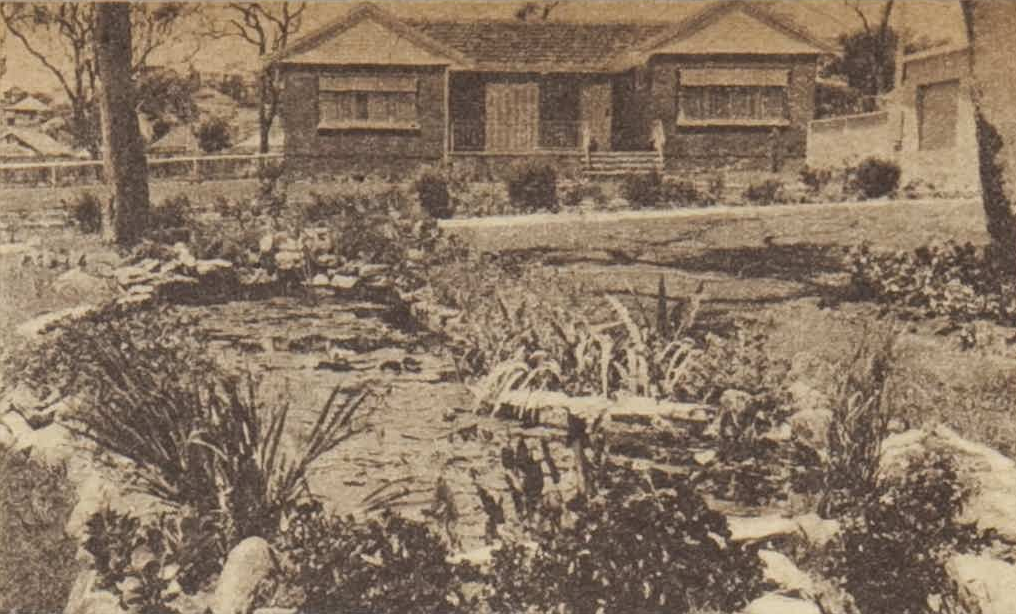 THIS picturesque water-garden wins £2/2/- for Mr. W. H. Liddle, of "Blue Gums" Trevor Road, Newport Beach, N.S.W., in our garden picture contest. The water-garden is more than 30 feet long, and varies from four feet to eight feet in width.
To combat mosquitoes Paradise fish are used. Gold-fish offered too good a target for some half-tame kookaburras which patronised the water-garden. For the convenience of other birds needing a drink and a bath Mr. Liddle has put in a flat, sloping rock with one edge submerged. The rockery around the pool is planted with bearded iris, rock lilies, and succulents, and the pool itself with water poppies, water hawthorn, blue pickerelnish, witter iris, and sedges.
Every week a prize of £2/2/- is offered for the best snapshot of readers' gardens, together with a 200-word description of how the work was accomplished. Send your stories and pictures to the "Home Gardener," The Australian Women's Weekly, Box 4088, G.P.O., Sydney. Water-garden wins prize (1951, March 31). The Australian Women's Weekly (1933 - 1982), p. 50. Retrieved from http://nla.gov.au/nla.news-article43721047
Professor Christopher John Brennan
Christopher John Brennan (1 November 1870 – 5 October 1932) was an Australian poet, scholar and literary critic.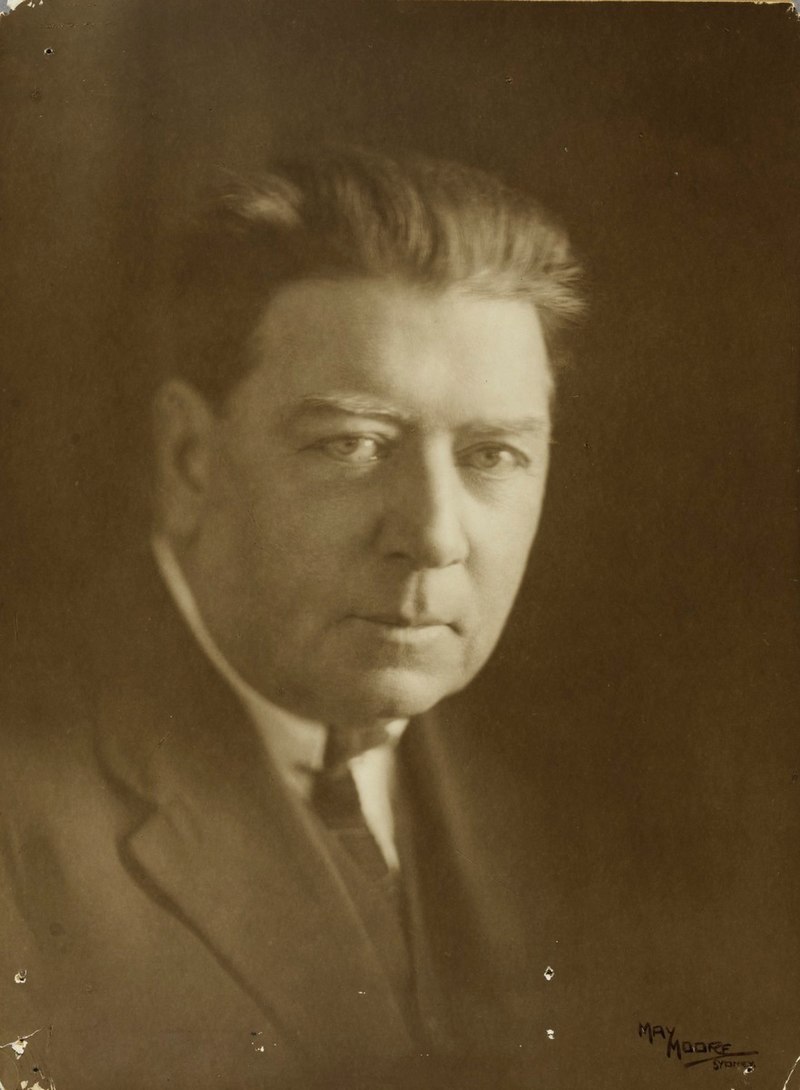 Christopher John Brennan. Photo by May Moore.
Brennan was born in Haymarket, an inner suburb of Sydney, to Christopher Brennan (d. 1919), a brewer, and his wife Mary Ann née Carroll (d. 1924), both Irish immigrants. His education took place at two schools in Sydney: he first attended St Aloysius' College, and after gaining a scholarship from Patrick Moran, he boarded at St Ignatius' College, Riverview.
Brennan entered the University of Sydney in 1888, taking up studies in the Classics, and won a travelling scholarship to Berlin. There he met his future wife, Anna Elisabeth Werth; there, also, he encountered the poetry of Stéphane Mallarmé. About this time, he decided to become a poet. In 1893 Brennan's article "On the Manuscripts of Aeschylus" appeared in The Journal of Philology. Brennan began forming a theory about the descent of Aeschylus' extant manuscripts in 1888.
Returning to Australia, Brennan took up a position as a cataloguer in the public library, before being given a position as assistant lecturer in French and German in the department of modern languages and literature.
Elizabeth came out to Australia in 1897 and they were married here:
Marriages.
BRENNAN—WERTH.—December 18, 1897, at St. Mary's Cathedral, by the Rev. P. J. Walsh, Christopher, son of Christopher Brennan Esq., of Sydney, to Elizabeth, youngest surviving daughter of the late Rudolf Werth, of Ragnit, East Prussia. Family Notices (1898, January 26). The Sydney Morning Herald (NSW : 1842 - 1954), p. 1. Retrieved from http://nla.gov.au/nla.news-article14182653
They had four children:
BRENNAN ANNA H 33435/1898 CHRISTOPHER JANNA E PADDINGTON
BRENNAN ELIZABETH M 25166/1901 CHRISTOPHER JANNA E PADDINGTON
BRENNAN CHRISTOPHER R 15655/1906 CHRISTOPHER JANNA E MOSMAN
BRENNAN RUDOLPH W 15582/1907 CHRISTOPHER JANNIE E MOSMAN
Letters penned by him appearing in local papers show they were at Newport by at least 1917 and the National Library of Australia holds material showing letters to associates from 1911. Guy Jennings, in his 'The Story of Newport (1987) records Mr. Brennan bought land in Newport in 1903, initially for a weekend retreat.
Guy records;
'He had always had an abiding love for the sea and his wife would often be seen driving her horse and trap and fishing around Newport. He called his house 'Oceania', the name for present day Oceania Place.:
XXI Poems: Towards the Source, 1897 (Item 13) - NLA
Brennan's working copy for the preparation of the text of POEMS, 1913. The title page, and 4pp of text have been removed.
Half-title has been altered by the poet to read Poems by C.J. Brennan Below this he has written, "The new volume (to be published by G.B. Philip & Son) is to begin like this booklet, i.e., the half-title must be the first page of a section, the title-page the third, etc., etc." The printer or publisher's editor however, ignored this instruction.
The text of some of the poems has been amended; lower case letters at the commencement of certain lines have been replaced by capitals; poems which are to be omitted are cancelled through and annotated; and dates have been added to those poems intended for inclusion in the new volume.
An interesting feature of this volume is the punctuation. Brennan has worked carefully through all the poems adding marks copiously. He has deleted many of the existing marks and substituted others. But when Poems was printed, the punctuation was again revised in certain passages. The only certain thing about Brennan's punctuation was its uncertainty, for it was always a nuisance to him.
The book is bound in half-blue morocco. A Riviere binding, with specimens of each of the four variant "Brennan" bookplates etched for me by Sir Lionel Lindsay. These have been laid down on the end papers.
Inserted is an autograph letter from Brennan to Brereton. n.d., 3pp, 8vo. Written from Newport during 1911. After comment upon the Nibelungen theories of Lachmann, and some rather puzzlingly constructed German phrases, Brennan continues: "I have not yet got Lilley's Magazine - its a bore having to go to the P.O. here...This scrawl keeps varying: a bad pen...Its possible - keep even the possibility a dead secret from every and any person whatsoever - that I may drag out the somewhat ancient corpse of my poetic past ('Master, he stinketh') and try and embalm and coffin it properly: in which eventual case I should require your counsel... But let even this far off whiff from the sepulchre remain between us two. Yours, C.B."
This was probably Brennan's first intimation to his friend of his intention to publish a collected edition of his poems.
"The Wanderer" (Item 46-48)
Reproduction in colour of crayon drawing by J. Phillips of "Oceania", Brennan's old home at Newport.
The vicinity and junction of Myola Road, Oceania Crescent and Walworth Avenue Newport looks to be the location of Prof. Brennan's original stone and fibro Newport home.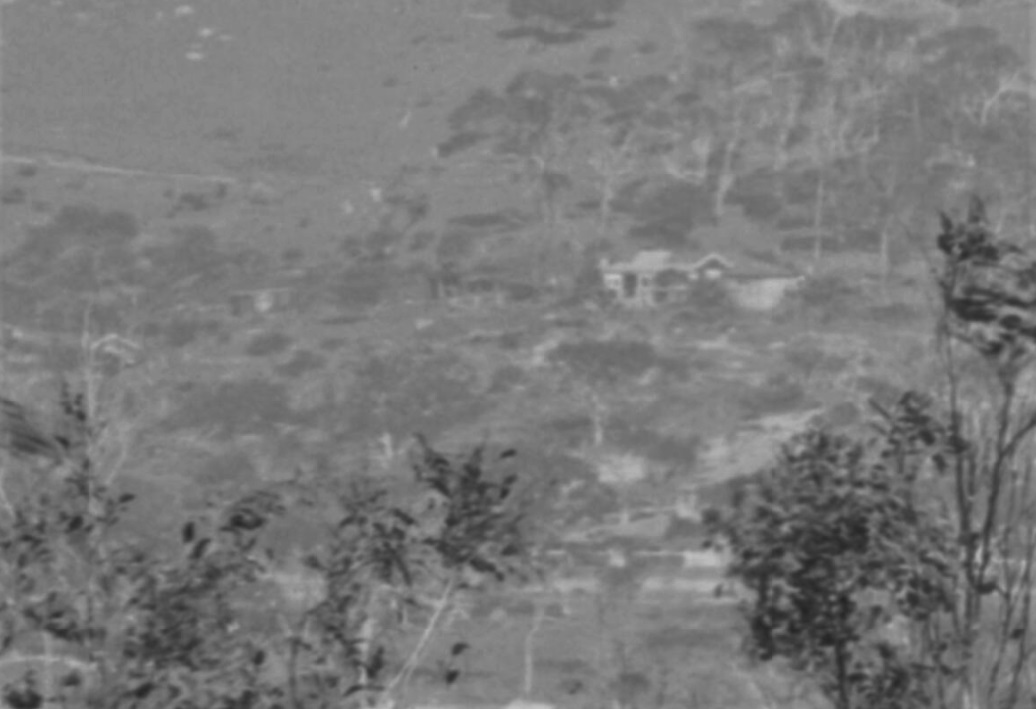 Panorama of Newport, New South Wales [picture] / EB Studios; between 1917 and 1930, Image No.: 6154744, courtesy National Library of Australia. And enlarged sections from http://nla.gov.au/nla.obj-162419378
An article from 1948 regarding a bush fire (below) describes 'Oceania' as a six roomed stone and fibro structure. An article during divorce proceedings that weren't followed through on indicates the Brennans had two cottages and four acres at Newport and that it was his wife who actually owned the properties as well as a motor launch, motor cycle with side car, cattle, a trap(buggy pulled by horse) and land and a house at Mosman.

Some published items from the pen of Prof. Brennan while at Newport:
TO THE EDITOR OF THE HERALD.

Sir,-Last night's meeting shows that Mannixism is now well established in Sydney, with its delegates and its expounders-chiefest and most eloquent the Rector of St. John's College within the University-and its organisation, apparently furnished by the Catholic Club. It may be expected then that from such an authoritative body definite answers will be returned to definite questions. For hitherto, in their zeal to "repudiate and re-sent," the apostles of the doctrine among us have forgotten their primary duty of presenting and explaining.
What Is the doctrine? What is its meaning, its intention, and purpose? Wherein and how are we to put "Australia first?" To what might we prefer it? To it what postpone? What need exists for preaching the doctrine? What special urgent need for preaching it just now? And how is it to be practised in the present crisis of our and the world's history?
As for the general need for its inculcation, the learned Rector of St. John's College seems sufficiently to have disproved that he has shown us how, from the beginning of our constitutional history, we have successfully com-bated every attempt on the part of the Imperial Government to interfere in our affairs. He finds this fact "important." It is.
Nevertheless, the founder of the doctrine, "seeing conditions here, though that a little of 'ourselves' would be good for Australia." That is to say, he set about the establishment of an Australian Sinn Fein. Now Sinn Fein, the learned and eloquent Rector tells us (with a simplicity so "pathetic," that "tears" mingle with one's laughter), "is not a secret organisation."' Let us give it what- ever credit is its due; it is not. In the proclamation of the Irish Republic it openly avowed the alliance of holy Ireland with the Prussian, the Bulgar, and the Turk. And the would-be founder of Sinn Feinism in our midst is notorious for his description of the present conflict with blatant evil as "a sordid trade war." Those among us who have kinsmen in the fight may have been moved to resentment at this thrice-stupid utterance. But why be disturbed? Why not rather laugh at the borrowed plumes? Apart from the adjective, he has not even the sorry merit of having originated the phrase. It had been uttered long before, within four days of the declaration of war, by a high dignitary of another church-Mr. W. J. Miles, of the Rationalist Association. Mr. Miles, of course, is only too delighted to find so distinguished a brother in the faith. Quite recently, he lent his countenance to the public declaration that "If it was wrong to follow Archbishop Man-nix, it was equally wrong to follow Cardinal Mercier." Verily a novel eirenicon.
It would be well then if the gentlemen who congratulated the founder of what, until its faithful supporters give it an official name, will be most conveniently known as Mannix-ism, on "his splendid stand on behalf of Australia's democratic rights," were to tell us plainly and exactly what they mean. What are Australia's democratic rights to him or he to them? How, by following him, shall we set Australia first? and to whom shall we say: "Get thee behind me?" The answer is, perhaps even more advisable and more urgent. In these gentlemen's own interests, than it is necessary for the enlightenment of the public. For by their advocacy, here and now, of Sinn Feinan organisation, let us remember, which has already once made war-and by their championship of its would-be founder among us, they have brought themselves under grievous suspicion of be-longing to those who would glut an irrational hatred of England at the expanse of civilisation generally, and, first and chiefly, of the land which some of them have been good enough to adopt. At what cost to them-selves, if this be so, let themselves see; but that Australia shall not thus be put "first" is the business of everyone who, to the "un-warrantable asumption" of Australian birth, joins the arrogance of desiring to see his own country first in the way of honour, faith, and integrity.
I am, etc.,
C. J. BRENNAN.
Newport, Nov. 28.
TO THE EDITOR OF THE HERALD. (1917, November 30). The Sydney Morning Herald (NSW : 1842 - 1954), p. 9. Retrieved from http://nla.gov.au/nla.news-article15741811
DR. MANNIX.
TO THE EDITOR OF THE HERALD.
Sir,-It may well be that the only article of Mannixism adopted here is the recommendation to vote "No" on the 20th, in which case the reasons set forth with such fulness and vehemence by the reverend rector of St. John's College would constitute a fairly satisfactory statement of the doctrine as adapted to local requirements. But not even in that case would they constitute an answer to my ques-tions. I said nothing, and say nothing, about the referendum. I asked, concerning Mannixism, "What is the doctrine? What is its meaning, its intention, and purpose?" And to show why I put the question, and what it was that I desired to know, I set forth the two points of the doctrine which are the gravamen against it. These are, I repeat, the glorification of Sinn Fein, with its German alliance, and its betrayal of civilisation, and that "sordid" phrase which I shall not here again set down. Has the latter been with-drawn? Not to my knowledge. Its author (at second hand) is now telling us that he "has said and will say over and over again" that England was "quite justified" in going to the assistance of Belgium, etc. Brave words! But who ever wanted to stop him from saying so? And who gives him any thanks for saying so now? For he joins to them such a largeness of reservation-and the tangled nature of human affairs, always and everywhere, allows full scope for malignant interpretation-that the back door is still kept wide open for the admission of the old slander. Whether this be "trimming," or hedging, or what not, let him settle by means of his own private lexicon; the bulk of men have too honest a sense and are schooled too much, by their ordinary occupations, to simplicity of judgment to have much respect for these subtleties. It is enough for them to know who is for us; for he that is not is against us.
He is set before us as a prophet of the doctrine of "Ourselves," as a defender of Australia's democratic rights. I asked, and I ask again: "What are those rights to him or he to them?" For I note that, when criticised, he thought it a sufficient answer to say that the critic was only an Australian; that he has declared that he will not regard a majority vote as binding unless it agree with his opinion: and that he has expressed his approval of the hooliganism of Warwick, calling it "a touch of Sinn Fein"-evidently, in his opinion, the superlative of praise, but really the basest thing yet said about that unfortunate organisation; a saying quite on a level, for dulness and vulgarity, with the first insult that he hurled at our intellect and con-science. And we shall not decline such champions as this? They shall come amongst us to tell us what our history has been, and we shall not question their knowledge? To tell us how to make it, now, and in the future, and we shall not question their sympathy, their zeal, their sincerity, and their dis-interestedness? I have questioned them, I suspect them, and my suspicions are not re-moved, my questions are not answered by an eloquent exhortation to vote "No" on the 20th.
The reverend rector's letter, then, as it is no answer to my questions, requires no answer from me; nor would I, indeed, enter on any peevishly meticulous criticism; slight excesses here and there are but the necessary exuberance of that well-known perfervid quality. One issue, however, that he has raised, tempts me into tho impertinence of a personal de-claration, and if one once begins that kind of thing one might as well go through with it to the end for the sake of frankness and completeness. I therefore ask a certain indulgence for the length of following remarks.
I have written on this subject purely as an Australian, who desires no other abiding city than this city of his birth, here on the shores of Port Jackson. But, among other things, I was an obscure and undistinguished pro-Boer, as the term was, a convinced and un-repentant one, say, of the type of Louis Botha or Jan Smuts. Now, when a man comes along and tells me that those times are back on us again I can only stare at him in amaze; if he persists, I can only begin to be uncertain whether the grounds of his former convic-tions are the same as those which, in my own case, I hold to be reasonable and just. When it comes to "Maffickism" I cannot see anything more than a turnip-headed bogey and a jingling name invented ad hoc to draw off attention from a real evil.
Further, while writing as an Australian, I cannot forget, and have no wish to forget, that I am Irish In blood and bone. My be-lief in Home Rule has survived even the great betrayal of 1891. The Sinn Fein I have judged entirely from their own statements and those of their apologists, and I have condemned them only for their alliance with Germany. This is their crime, their sin; this is the shame they would have put on us; and I resent it as fiercely as I loathingly sicken at the immoral sentimentalism which would not merely palliate their treachery, but palm them off on us as poets, dreamers, lovers of Ireland, martyrs, heroes, and what not. And even if they had not joined hands with Germany, they would still have tried to stab civilisation in the back; they would still have deserved stern condemnation, for this is not the time to cry "Ourselves;" the only watchword now is "All of us together." Whosoever has eyes to see, let him open them; and he will behold that vision of evil, having power for a time, and times, and half a time-and the end is not yet!-which is the reality of these latter days. If any man has so besotted his mind with the super-stition that England can never do anything that is good, that he cannot see this thing, gross as the world, let him, for pity's sake, keep his wretched infirmity unpublished. This is the day of the judgment of nations and men, and all shall be judged by the way they have stood towards that evil. To do its work, to help it, to refrain from combating it, to hinder those who would combat it-it knows where to find its ministers for these tasks; and of such ministers we know the names of two-in Ireland, Sinn Fein; in Australia, Mannixism.
I am. etc.,
C. J. BRENNAN.
Newport, Dec 4.
DR. MANNIX. (1917, December 7). The Sydney Morning Herald (NSW : 1842 - 1954), p. 8. Retrieved from http://nla.gov.au/nla.news-article15760517
What is most of interest to Newport residents, Pittwater people and in fact the whole of the northern beaches, is that he did pen some of the poems for which he became so well-known. This one written at Newport at the close of WWI perhaps reflects that horror, especially for the people of Newport then, who lost so many sons to this conflict - the Porter sons as one instance, with five young men leaving here and only two returning home and both those irreparably damaged - Visit: The Porter Family- Newport: Five Soldier Brothers Who Served During World War I
It is also worth noting this item held by the National Library of Australia:
Chisholm, Professor A.R (Item 84)
Christopher Brennan Extract from the Bulletin, Sydney, July 16, 1958
In quarter-leather folder, together with original print of the portrait of Brennan by Geo. W. Lambert, which was reproduced as illustration to the article. The print is annotated by James Tyrrell, as having been drawn in 1894.
In this article Professor Chisholm mentions the Casuals' Club and that the harmony of the meetings was disturbed by the disagreement between Brennan and Brereton over the 1914 War; Brennan accusing his friend of pacifism.
Inserted: Autograph letter from Brennan to Brereton, 1p, Newport, n.d. Brennan commences: "Dear Brereton, as I thought - like all men of peace you're somewhat indiscriminate in your massacres". The letter concludes, "Yours ever, C.B."
The folder contains letters from Professor Chisholm to H.F.C., mostly about The Burden of Tyre and the Collected Brennan, also reviews and extracts from various journals, all of Brennan interest.
DOOM.
Dead night, unholy quiet, doom, and weird
Are heavy on its roof,
The palace-keep that prosperous Evil rear'd
Defiant, heaven-proof.
Founded in fraud, mortar'd with blood, and
clamp'd
With clutching iron hands,
It frown'd down right, its flaunted scutcheon
ramp'd
Above the abject lands.
And now, the sentinels have left that gate
Nor bar protects, nor pin,
But high and wide the portal yawns, till Fate,
And Judgment enter in.
A groaning trembles thro' the massive vaults,
A muttering down the halls,
As closer yet the impending thunder halts
Nor yet the levin falls.
A panic whispering round the gallories
Runs twittering: then the hush,
And in the dimmest nooks divining eyes
See blackness throng and crush.
Palsied, with fix'd and writhen face, high Sin
Stares from the shrouded throne
With glassy eyes whose gaze is turn'd within
-Where at the last are known
Ate and Ruin, each Erinys-shape
Dire, ineluctable,
From whom nor death nor madness brings
escape
-And least, the House of Hell.
This is their doom, deserv'd, complete and
due,
That they themselves must know
Whose witless hand it was that overthrew
With self-inflicted blow
Their monstrous dream; to know their own
the sword
That smote them from the skies,
That stretch'd in dust the Dagon they adored,
And shatter'd their emprise;
Their own the skill that most industrious built
This pit of their despair
Star-high, smooth-rounded, baffling, where
their guilt
Must find eternal lair.
The enginery they wrought, whose maw they
fed
With fume and fire of hate,
To break his house above their neighbour's
head,
Hath left theirs desolate.
And Evil knows at last, all overtoil'd,
The law whereby it must,
By self stupidity and dulness foil'd,
Still labour for the Just.
This is their punishment: there is no worse;
What have they left to dread?
What reek they of the living orphan's curse,
The slow wrath of the dead?
Tho' for a while, lest from the festering lie
Our air drink poison-shade,
The scavengers of Justice yet must ply
Their stern and simple trade,
* * *
(For sword and rope are hungry,axe and
block
Demand their grim repast,
Whereof who would defraud them, shakes
the rock
On which his house stands fast)
Our vengeance now is full: what else must fall
Can add no best, no worst;
The cup is brimm'd whence they have drunken
gall,
Where we have slaked our thirst.
Our vengeance is complete, deserv'd, and won,
And sevenfold seventyfold
The retribution on the guilty one
Is levied, summ'd, and told.
We that have suffer'd with the suffering
right-
For all our doubts and fears,
For all our anguish in the muttering night,
For all our blood and tears,
For dread and for dismay, and that foul rape
Man's spirit but scarce withstood
When from the Pit, in our usurped shape,
The Abominable was spewed-
Lo, their cold agony and icy sweat,
Their self-damnation known!
Let Justice come: What need we vengeance
yet?
Its wreaking was their own.
Newport, Nov. 3-4. C. J. BRENNAN.
DOOM. (1918, November 9). The Sydney Morning Herald (NSW : 1842 - 1954), p. 12. Retrieved from http://nla.gov.au/nla.news-article28099821
In 1920 he held the position of associate professor in German and comparative literature at the University of Sydney. In 1914, he produced his major work, Poems: 1913.
In 1922, he went to live with Violet Singer, the 'Vie' of his later poems, and, as a result of increasing drunkenness, he was removed from his position at the University in June 1925. Although some biographers state he was divorced from his wife, newspaper reports show that although they were going through those proceedings his wife applied to have them ended prior to them divorcing.
The couple also lost their youngest daughter in 1922, who died in childbirth, which may shed further insight into what else was happening or affecting them in that year. His youngest daughter married in 1920:
BOWEN— BRENNAN
At St. Andrew's Cathedral on February 25th, the Rev. Canon Charlton celebrated the marriage of Mr. Charles James Bowen (late A.I.F.), son of Mr. and Mrs. Samuel Bowen, of "Winifred", Albert-road, Strathfield, and Miss Elsie Brennan (Elizabeth Mary) second daughter of Mr. and Mrs. C. J. Brennan, of Newport. The wedding, which was a quiet one, was attended by the parents on both sides, and the sisters of the bride and bridegroom. After a luncheon at Paris House the young couple left for a honeymoon at Jenolan Caves.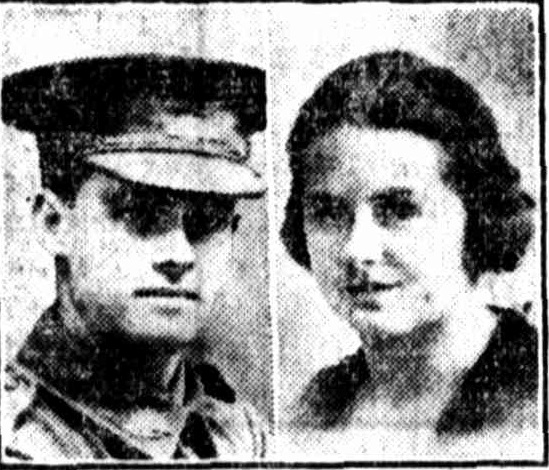 BOWEN -- BRENNAN (1920, April 18). The Sun (Sydney, NSW : 1910 - 1954), p. 14. Retrieved from http://nla.gov.au/nla.news-article222414537
BOWEN.-- November 18, 1922, at Manly, Elizabeth Mary (Elsie), dearly loved wife of Charles J. Bowen, of Newport, aged 21 years. Family Notices (1922, November 20). The Sydney Morning Herald (NSW : 1842 - 1954), p. 8. Retrieved from http://nla.gov.au/nla.news-article16040646

FUNERALS.
BOWEN.—The Relatives and Friends of Mr. CHARLES J. BOWEN, of Newport, are kindly invited to attend the Funeral of his dearly loved WIFE, Elsie ; to leave our private Mortuary, 92 Corso, Manly, THIS (Monday) AFTERNOON, at 2.30 o'clock, for the Manly Cemetery. T. WAUGH and Co. Tel., Manly 42.
BOWEN.—The Relatives and Friends of Professor and Mrs. CHRISTOPHER BRENNAN, of Newport, are kindly invited to attend the Funeral of their dearly loved youngest DAUGHTER, Elsie; to leave our private Mortuary, 92 Corso, Manly, THIS (Monday) AFTERNOON, at 2.30 o'clock, for the Manly Cemetery. T. WAUGH and Co. Tel., Manly 42.
BOWEN.—The Relatives and Friends of Mr. and Mrs. SAMUEL BOWEN, of Winifred, Albert-road, Strathfield, are kindly invited to attend the funeral of their dearly loved DAUGHTER-IN-LAW, Elsie Bowen ; to leave our private Mortuary, 92 Corso, Manly, THIS (Monday) AFTERNOON, at 2.30 o'clock, for the Manly Cemetery. T. WAUGH and Co. Tel., Manly 42. Family Notices (1922, November 20). The Sydney Morning Herald (NSW : 1842 - 1954), p. 7. Retrieved from http://nla.gov.au/nla.news-article16040848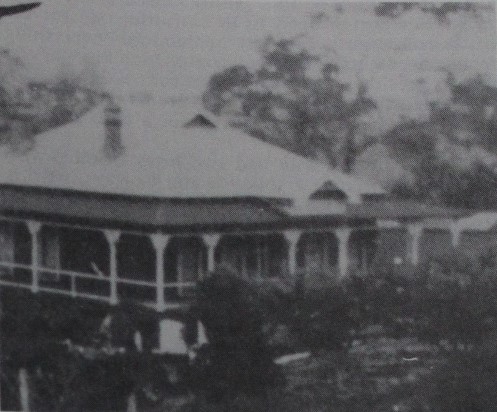 Samuel Bowen's house in Beaconsfield street which he named 'Winifred' after his daughter. Photo courtesy Charles Nettleton - sourced from Guy Jenning's 'The Newport Story' (1987).
Samuel Bowen, Charles' father, had been at Newport for a while too. He and his wife, Caroline (nee Moreton), married in 1887 and Charles was born in 1895:
MARRIAGES.
BOWEN— FROST.— October 24, by the Rev. F. B. Boyce, at St. Paul's Church, Redfern, Samuel Bowen, of Redfern, to Caroline Moreton Frost, of Ultimo. Family Notices (1887, November 19). The Sydney Mail and New South Wales Advertiser (NSW : 1871 - 1912), p. 1103. Retrieved from http://nla.gov.au/nla.news-article165225509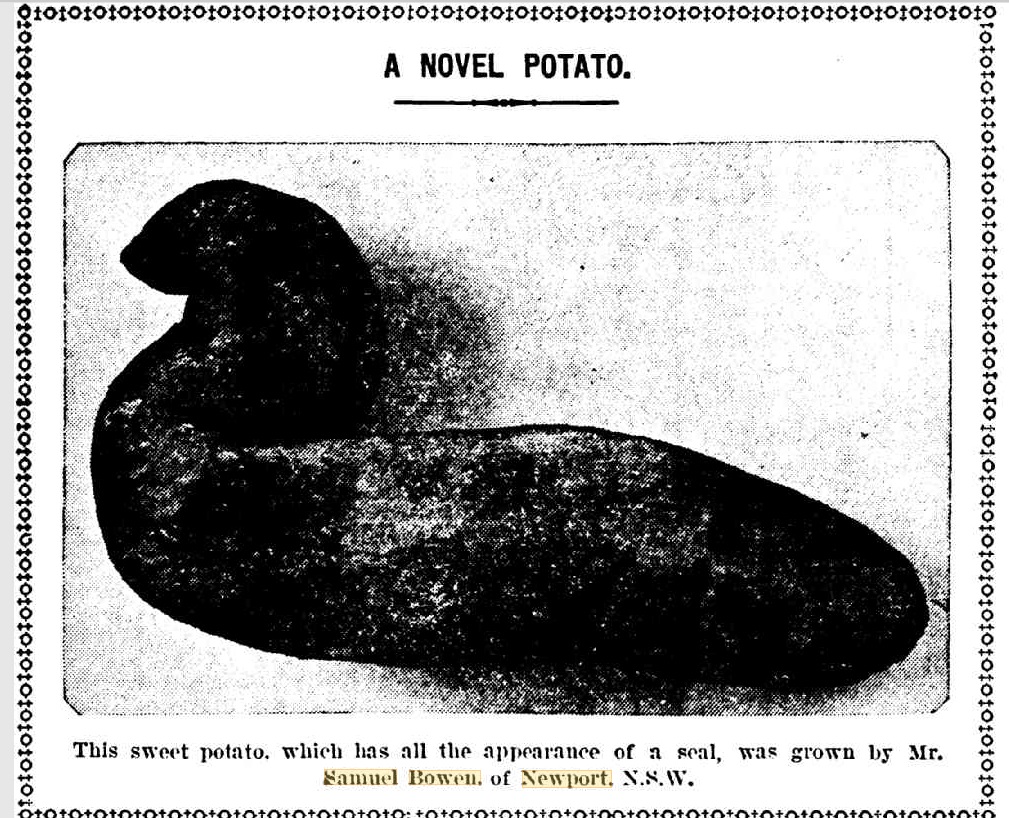 A NOVEL POTATO. (1907, May 11). The World's News (Sydney, NSW : 1901 - 1955), p. 9. Retrieved from http://nla.gov.au/nla.news-article128280019

Samuel Bowen also had problems later on of a family kind, unfortunately when he was 85!, as told by some of the sensationalist newspapers of the time, his daughter 'Winifred' didn't have the run of the roost at the home named for her, even when she came to live there to look after her ageing dad:
NO EVICTION ORDER
AN application by a woman to have her husbands adult son and married daughter evicted from their Newport home was refused by Mr. Justice Clancy at the Supreme Court on Thursday. The woman, Mrs. Dulcie Bowen, said that in November Mrs. Winifred Stella Crystal, daughter by a previous marriage of 84-years-old master tailor, Samuel Bowen, together with a woman friend and a man she thought to be Mrs. Crystal's son, had forced an entry into the home. They had forced her and her ailing 13-years-old son to live in one room, said Mrs. Bowen. Bowen, in an affidavit, said his children were in the home by his invitation because his wife would not cook for or look after him. NO EVICTION ORDER (1949, January 9). Truth (Sydney, NSW : 1894 - 1954), p. 13. Retrieved from http://nla.gov.au/nla.news-article168881052
HOME INVADED, SAYS WIFE !
A woman said in the Supreme Court today that although she rented a Newport home from her husband, her step-children would allow her in only one room, and she had to eat all her meals out. She is Mrs. Dulcie Bowen, of Winifred, Beaconsfield Street, Newport, third wife of 85-year-old tailor, Samuel Bowen. Mrs. Bowen took proceedings against Bowen's children of his first marriage, James Charles Bowen, and Winifred Stella Crystal, of the same address, claiming they were in unlawful occupation of portion of the house.
Mrs. Crystal and Bowen jun. claim they have leave and licence from Bowen to occupancy. Subject of what was described by Mr. Justice Owen as "a family brawl," was an iron roofed, weather board-cottage, which Mrs. Bowen said had the windows broken, verandah falling in, holes in the front door and floors, and riddled with white ants and-borers. Mrs. Bowen said that she had a weekly tenancy from her husband and paid, him £1 a week. After a disagreement with Bowen, said Mrs. Bowen, Mrs. Crystal and Bowen jun. had forced their way into the house in November last and had since refused to move. Mrs. Bowen said defendants had pushed her into one room and wouldn't allow her to use the bathroom, dining room, kitchen, or back door. "My small son and I have to eat all our meals out," she added. Samuel Bowen said he could not remember seeing a solicitor about giving his wife the tenancy of the house, and to his belief had never given anyone the tenancy. HOME INVADED, SAYS WIFE (1949, April 11). The Sun (Sydney, NSW : 1910 - 1954), p. 3 (LATE FINAL EXTRA). Retrieved from http://nla.gov.au/nla.news-article231077305
NOT MUCH ROOM ON THE HOME ROOST, SAYS WOMAN
SOMETHING quite remarkable is the set-up in the cottage of aged Samuel Bowen in Beaconsfield St., Newport. There, ensconced under the one roof are the 85-years-old Bowen, wealthy property owner, his third wife, and his son and daughter of his first marriage.
All is not well at the roost, however, as was made more than plain at the Supreme Court on Monday. The third Mrs. Bowen complained to Mr. Justice Owen and a jury of four that she had been pushed into one room, was refused the use of the rest of the place, and was forced to eat out.
Mrs. Bowen claimed that although she was the tenant of her husband, and as such lawfully occupied the premises, Bowen's son and daughter, James Charles Bowen and Mrs. Winifred Stella Crystal, were in occupation. Son and daughter, on the other hand, claimed that they had been given leave and licence by their father to occupy one bed-room, the verandah, and to have the use of the kitchen, bathroom, dining-room and passages.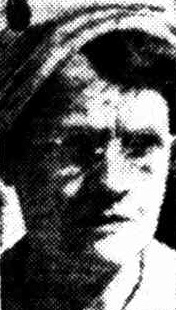 Mrs. Crystal

In reply to this, Mrs. Bowen claimed that their father had no right to give them such permission, and sought a finding that would give her the full rights of a tenant.
In his day, Sam Bowen was one of Sydney's best known businessmen. He ran what was probably the biggest tailoring business of its kind at Railway Square for years, and Bowen's Building stands there as a monument to his business ability. At one time, too, he took quite an interest in politics, and for years was campaign director for the late R. D. Meagher.
Bowen wed the present Mrs. Bowen in March, 1946. The trouble which brought Mrs. Bowen to court did not develop until November last year. Mrs. Bowen took the stage first. She told the court that a lease was drawn up at the office of Messrs. R. D. Meagher, Sproule and Co., by which she was to have the use of the place for 10 years at a yearly rental of £65. This lease, she said, never came into effect, because she pointed out to her husband that the place was riddled with borers and white ants, windows were broken, and there were holes in a door.
Bad Memory
Later, she was given a tenancy at £1 per week, she said. On November 26, said Mrs. Bowen, Mrs. Crystal came to live at the house, followed by young Bowen three days later.
To Mr. D. S. Hicks (for the son and daughter), Mrs. Bowen said: "They have pushed me into one room and won't allow me to go into the bathroom, dining-room and kitchen, or use the back door."
Originally, said Mrs. Bowen, she was Samuel Bowen's house-keeper, and married him four or five weeks after she took the job.
Mrs. Crystal told judge and jury that she went to the cottage at her father's invitation to look after him. Silver haired but robust, Samuel Bowen, who admitted to going on for 85, could remember few of the details— not even that of his third marriage. Asked the date of this, he answered, "No. I never gave it a thought."
To Mr. Siletto, he said that he received £25 a week rent from Bowen's Building and other rents as well, while he remembered discussing with his wife her right to live in the cottage in the event of his death. "I did not want to leave her with nothing," he said.
On Tuesday morning, after a comparatively short retirement, the jury returned with a verdict for Mrs. Bowen, giving her the full rights of a tenant. Mr. Siletto (by Messrs. Yeldham and Spain) for Mrs. Bowen; Mr. D. S. Hicks (by Messrs. Windeyer and Co.). for Mrs. Crystal and James Charles Bowen.
SAMUEL BOWEN MRS. BOWEN
NOT MUCH ROOM ON THE HOME ROOST, SAYS WOMAN (1949, April 17). Truth (Sydney, NSW : 1894 - 1954), p. 10. Retrieved from http://nla.gov.au/nla.news-article168880516
Samuel Bowen's Marriage to this lady is registered at Manly - NSW BDM's records two surnames for her:
4744/1946 BOWEN SAMUEL CRAIG DULCIE MANLY
4744/1946 BOWEN SAMUEL MILLER DULCIE MANLY
This item for the same year appears in the papers:
6 INJURED IN SUNDAY ACCIDENTS
Six people were injured in accidents yesterday. Three people were Injured at 5.35 p.m. yesterday when a car struck a telegraph pole in Bardo Road, Newport. They are: Samuel Bowen, 72, of Beaconsfield Street, Newport; abrasions to chest; Mrs. Dulcie Bowen, 38, his wife, same address; lacerations and abrasions to face; Edward Wallman, 53, of Seaview Avenue, Newport; lacerations to forehead. Police said the car ran off the road and struck the pole when Mrs. Bowen, who was driving, lost control of the car. Mrs. Bowen was knocked unconscious. A Collaroy doctor treated the three people, and they were allowed to go to their homes. 6 INJURED IN SUNDAY ACCIDENTS (1946, November 11). The Daily Telegraph (Sydney, NSW : 1931 - 1954), p. 5. Retrieved from http://nla.gov.au/nla.news-article248363236
Samuel Bowen died in 1950, within a year of the above court appearances and not in his Newport home:
BOWEN, Samuel.—August 31, 1950, at a private hospital, Strathfield, aged 85 years.
BOWEN.—The Relatives and Friends of the late SAMUEL BOWEN are invited to attend his Funeral; to leave Our Chapel, 32 Railway Parade. Burwood. This Friday, at 1.30 p.m.. for Crematorium, Rookwood. WOOD COFFILL LTD. Family Notices (1950, September 1). The Sydney Morning Herald (NSW : 1842 - 1954), p. 20. Retrieved from http://nla.gov.au/nla.news-article27570417
Winifred did not have an easy time either. Her first husband, Charles Thomas Johansson, tailor, whom she married in 1921, suffered from ill health and she found him dead, his head in a gas oven, in June 1939. He was just 40 years of age. Winifred remarried in 1944, marriage registered at Manly, this time to Alexander Raymond Chrystal, a commercial traveller and a returned soldier from World War 1, having been attached to 6th Light Horse. He too took his own life at 59 years of age and was found dead at Leura in November 1946 - he too seems to have developed what sounds like cancer and took matters into his own hands - one report states;
In January this year he was residing with his wife at Newport, where he took a chill and his health had been bad since then. In February he came to reside at Leura, but his condition did not improve and he was admitted to Katoomba Hospital. Later he was transferred to the 113th General Military Hospital, Sydney, and on the 29th October, 1946, he was discharged incurable, suffering from a secondary growth of the pelvis extending to the liver and lung. He suffered great pain and could not move about. District Coroner's Court Verdicts (1946, November 22). The Blue Mountains Advertiser (Katoomba, NSW : 1940 - 1954), p. 3. Retrieved from http://nla.gov.au/nla.news-article189910362

The above is yet more indication of the 'fallout' from WWI even decades later.
As told over and over by many biographers, the Brennans' also had marital difficulties. One Brennan divorce article which lists what they had at Newport and elsewhere relates to the naming of roads in Newport:
UNIVERSITY PROFESSOR MUST PAY ALIMONY (1924, March 5). The Labor Daily (Sydney, NSW : 1924 - 1938), p. 4. Retrieved from http://nla.gov.au/nla.news-article236703967

And then, a few months after the terrible accident in which the lady Prof. Brennan was said to be besotted (or inspired by - a muse?) passed away:
Professor's wife withdraws divorce petition.
SYDNEY, Monday.
The suit of Anna Elizabeth Brennan for a judicial separation from Christopher John Brennan, Assistant Professor of Comparative Literature at Sydney University, was mentioned in the Divorce Court to-day. Counsel for petitioner informed his Honor that his client wanted to withdraw the petition. "The petitioner withdraws all imputations against the respondent," he added. The Judge agreed to dismiss the petition. PROFESSOR'S WIFE (1925, June 16). Daily Examiner (Grafton, NSW : 1915 - 1954), p. 5. Retrieved from http://nla.gov.au/nla.news-article195402125
The death of Violet in an accident in the March of 1925 apparently left him distraught. She was run over by a tram - the death was registered in Manly.
NSW BDM's records: SINGER VIOLET L 4032/1925 Parents - ARTHUR E GEORGINA - Registered at: MANLY
TWO KILLED
ACCIDENTS AT MANLY
Motor and tram collide.
SYDNEY. Sunday.
There were two fatal accidents to-day in the district covered by the Manly police. Violet Corndallis, aged 34 years, whose address has not yet been ascertained, was knocked down and killed by a tram. A man was killed and three other persons suffered from shock when a motor ear collided with a tram only a short distance away from the site of the previous accident. The car was hurled along the road with the impact and Thomas Grover. was thrown out. He received a fractured skull and died in the hospital. Hilda Grover and Mouty Grover, aged 10 and Eva Grover, aged 15, suffered from shock, but the driver of the car, Ronald Elliott, was uninjured. All of the injured reside at Turramurra. TWO KILLED (1925, March 9). Daily Examiner (Grafton, NSW : 1915 - 1954), p. 3. Retrieved from http://nla.gov.au/nla.news-article195369428
Soon after there was another Manly tram accident:
TRAM COLLISION.
Nine Persons Injured.
ACCIDENT AT MANLY.
Nine tram travellers were injured when two trams came into collision in Pittwater-road, Brook-vale, near Manly, last night. The impact was severe, and passengers were flung from their seats amidst, a shower a shattered window glass. They were taken with all haste to the Manly Cottage Hospital.
Those injured were:—
John Greenlees, aged 73 years, of Lake Park-road, Narrabeen, injury to the right knee,
John Keys, aged 31 years, Pittwater-road, Manly, abrasions to face.
Keith Dunlop, aged 14 years, of Clarence avenue, Deewhy, wound on chin.
Frederick Martyne, aged 75 years, of Collaroy, injury to nose and shock.
Henrietta Tomkins, aged 35 years, of Collaroy, injury to nose.
Henry Tomkins, aged 55 years, of Collaroy, injury to nose.
Alfred White, aged 62 years, of Fisher-road, Deewhy, injury to right wrist and left knee.
Esther White, aged 58 years, same address, injury to back and shock.
Sarah Reason, aged 60 years, of Fisher-road, Deewhy, abrasions to face.
Messrs. Greenlees and Martyne and Mobdames White and Reason were detained at the hospital.
The two trams loft the Manly Pier together, one bound for Deewhy and the other for Narrabeen, and it was whilst proceeding along the single line at Brookvale that the accident occurred. According to the police report, the first car driven by Joseph Briddell, passed the Pine-avenue conditional stopping-place, and then pulled up between the recognised stopping-places to allow a passenger to alight. The second car, driven by Cecil B. Cunningham, then crashed into the rear of the leading tram.
It Is believed that as soon as there was danger of an accident the driver of the rear vehicle applied his brakes, almost locking the wheels, but he was too close to the stationary tram to avoid a collision.
The only warning the passengers received was the quick application of the brakes and the screech of the brake-blocks.
Nearly all the passengers in the well-filled cars were thrown from the seats, those In the rear car-suffering more severely than those occupying seats in the leading vehicle. They were showered with saw-edged fragments of glass, which inflicted many minor wounds. Numbers of the passengers escaped with a bruise or a cut or two, but others lay for minutes at the spots where they had been thrown. They were speedily assisted by the crew of the two trams and the uninjured passengers who rendered every possible assistance whilst awaiting the arrival of the ambulance. TRAM COLLISION. (1925, May 8). The Sydney Morning Herald (NSW : 1842 - 1954), p. 11. Retrieved from http://nla.gov.au/nla.news-article16209680
The National Library of Australia, in the records it holds of Prof. Brennan's works has:

Michael Angelo'S Sonnet XVII: Englished (Item 50)
Autograph manuscript. 1p. 4to.
This translation varies from that published by Brennan in Art in Australia, February 1923.
The script is headed: "For Winifred Brereton now the third of the good women who have looked after me My prelude to Vie done practically under her eyes Xmas 1922 for her 35th birthday Silvester '22* and the rest remains to be written
The text of the sonnet follows, and at its conclusion is written: "This he wrote to Vittoria Colonna, whom even dead, he did not dare to kiss. Copied at Wollombin June 11 1925 Chris: Brennan."
Brennan has made no attempt to make this into a showpiece. He has written it in his "ordinary" hand-writing, which is very different from that used by him for so many of his manuscripts, and letters. Usually when writing out a poem for a friend, Brennan extended himself to produce an attractive manuscript.
The reference here is to Vie Bird, Brennan's close friend, who was killed in tragic circumstances on the night of 8 March 1925. Brennan was greatly distressed, particularly because at the time the couple had quarrelled and were estranged.
"Wollombin" was the name of the Brereton house at Mosman. In addition to visiting, Brennan had on occasion stayed there with the family. In quarter-leather folder.
Inserted is autograph letter from Mrs Winifred Brereton; a pleasant and affectionate letter to her husband, congratulating him upon his appointment to the Chair of English Literature at the University of Sydney. Brereton was absent from home when the news was announced in the papers. Mrs Brereton received the news from Mrs Bertha Lawson by telephone.
Included also is telegram of congratulation from Brennan. It is sent from Newport, 14 December 1920, and reads simply: "Hooray! Brennan".
His first daughter married in 1928 - the marriage was registered at Manly.
NSW BDM's: 3569/1928 GIBSON JOHN BRENNAN ANNA H MANLY
Anna died the next year, 1929, her husband preceded her by months:
NSW BDM's: GIBSON ANNA 20773/1929 CHRISTOPHER JANNA E NORTH SYDNEY

GIBSON. — February 8th, 1929, at St. Vincents Hospital, Darlinghurst, John, dearly loved husband of Anna, Excelsior Flats, 96 Curlewis Street, Bondi, aged 39 years
GIBSON. — The Relatives and Friends of Professor CHRISTOPHER BRENNAN are kindly invited to attend the Funeral of his dearly beloved son-in-law, John Gibson, to leave Mrs. P. Kirby and Son. Ltd., Private Mortuary Chapels, 265 Elizabeth Street, City, THIS MONDAY, at 2.30 p.m.. for the Presbyterian Cemetery. Waverley. Motor FuneraL Mrs. P. KIRBY AND SON. LTD., Motor Funeral Directors. 265 Elizabeth Street. City. Phone, M2221-2 Family Notices (1929, February 11). The Daily Telegraph (Sydney, NSW : 1883 - 1930), p. 10. Retrieved from http://nla.gov.au/nla.news-article245517313
DEATHS
GIBSON. — 3rd October, 1929, at King St., Naremburn, Anna, dearly beloved daughter of Mr. and Mrs C. J. Brennan, and widow of the late John Gibson; aged 30 years. R.I. P. Family Notices (1929, October 4). The Daily Telegraph (Sydney, NSW : 1883 - 1930), p. 7. Retrieved from http://nla.gov.au/nla.news-article246852304
Professor Brennan died in 1932 from cancer.
Tributes to the gentleman were published extensively and throughout Australian newspapers - one example:
A DISTINGUISHED SCHOLAR
Christopher Brennan's Proficiency as a Linguist
Mr. Christopher John Brennan, formerly associate professor of German and Comparative Literature at the Sydney University, died on Wednesday, October 5, in his 62nd year. An Australian by birth, Mr. Brennan was educated at Riverview College for a time. Later he distinguished himself highly at Sydney University in his studies in Classics and Modern Literature, obtaining honours in the former subject at all examinations. He received his B.A. degree at the age of 21 years, and the gold medal for philosophy, and, two years later, with the aid of a post-graduate scholarship, he went to Europe, studying mainly at the University of Berlin. It was then anticipated that he would there attain the Ph.D. degree, but instead of coming back with a doctorate of philosophy or classics, he returned with a thorough knowledge of German and an enthusiasm for contemporary French poetry, particularly the Symbolists. After his return to Australia in 1895 he became chief cataloguer at the Public Library. Two years later he obtained his M.A. degree, and in 1908 he joined the Department
of Modern Literature at the University as lecturer, acting also as examiner in Latin and modern languages at public examinations and Public Service examinations. In 1920 he received the appointment of Mc-Caughey Associate-Professor in German and Comparative Literature, which he held until 1928. Mr. Brennan is survived by Mrs. Brennan and two sons, Christopher and Rudolf. The funeral took place on Friday last, after a Requiem Mass at St. Canice's Church, Roslyn-street, Darlinghurst. R.I.P. A DISTINGUISHED SCHOLAR (1932, October 13). Advocate (Melbourne, Vic. : 1868 - 1954), p. 5. Retrieved from http://nla.gov.au/nla.news-article174622061
The National Library of Australia, in the records it holds of Prof. Brennan's works has:
Southerly. Chris Brennan Number No.4, of 1949 (Item 78)
In quarter-leather binding.
This number is valuable for the many good things about Brennan, by various writers. In his "Personalia", Professor R.G. Howarth writes of his meetings with Mrs Brennan, and members of the family.
(a) Autograph note by Brereton: an extract from his pocket diary, dated 10 May 1904: "Brennan is always at feud with his mother-in-law, whose defences are lamentations, and an alliance with Mrs Brennan. One excuse for dispute is the opening of certain doors at the back of the house, which he thinks should be kept shut, when he is at home, to prevent a more than half imaginary draught in his study. He told me how he demonstrated the existence of this drought by hanging on fine threads several pieces of light paper in such a way that they just reached a crack under the door. They moved. He brought his wife in triumph to see them. To his rage, she laughed and brought her mother".
(b) Two letters from R. Innes Kay to Lionel Lindsay, 4th, and 5th October 1932. He writes on behalf of the Committee informing the subscribers to the Brennan Sustenance Fund, that the poet is in the Lewisham Hospital and has not long to live, and suggesting that they may wish to visit him whilst there is yet time. In the second of the letters he announces Brennan's passing, and that he is accepting the responsibility of arranging for the burial.
(c) A.G. Stephens's own copy of his letter to Mrs Brennan informing her of her position in respect to the Pension of £1 per week, drawn by her husband since the beginning of 1931. He writes: "The Parliamentary vote "is for...families of literary men who have died poor...You have good legal right for the continuance of the pension to you." The letter is dated by A.G.S. 12 October 1932. The rate of £1 weekly was at that time the highest rate provided for.
(d) Autograph letter from Mrs A.E. Brennan to A.G. Stephens, written from Newport, 15 October 1932. "I wish to thank you for your great kindness towards me, by informing me in regards as to how I stand in relation to my late husband's literary pension. When Mr Brennan died, he left nothing, and in consequence I have no source of income. I will make application for this pension to the proper authorities without delay. Thanking you ever so much."
(e) Small photograph of Mrs Brennan.
(f) Copy of Southerly, No. 3, of 1957. "Brennan Anniversary Number".
A Brennan Album. A large album in half-morocco (Item 96)
(a) Original etching by Sir Lionel Lindsay, "Of old, on her terrace at evening", inscribed, "To my friend Harry Chaplin, Lionel Lindsay".
(b) Reproduction in colour of Brennan's old home at Newport.
(c) Original etching by Sir Lionel Lindsay, of Brennan in profile, together with the annotation by the artist to H.F.C.: "...I looked up the Dixson list and find he hasn't got it..."
Pencil working sketch of the above for conversion to a bookplate for H.F.C., together with the first proof, showing the "s" in Ex Libris reversed, also second state with the error corrected.
(d) Etched and woodcut portraits of Brennan by Sir Lionel Lindsay.
(e) Autograph letter from Miss Esme Hadley to J. Le Gay Brereton, 4pp, 19 October 1932, entirely devoted to her friendship with Brennan, with commentary upon his death.
(f) Autograph letters to Rolf Brennan from a friend.
(g) Photo-copy of Brennan's Will, together with statement of assets and liabilities. The net amount for probate being £68.5. 6.
(h) Photo-copy of the Will of Anna Helena Gibson [Brennan] dated 13th March 1929.
(i) Typescript copies of letters from Brennan to F.S. Delmer, at Koenigsberg University, 4pp, fcp. December 1900. Much about Mallarme. "...I grant you a grain of affectation here and there, natural in a man moulding his language to a new gesture, but that affectation is the basis of his style is to me inconceivable. 'Inartistic obscurity' - well, I can only say that I understand him from one end to another and that no commentator has ever helped me; I have simply applied the corporeal understanding - as to any other writer." Another comment: "I have been reading Blake's prophecies and am now proceeding, along the track of the Gnostics, towards the East, to find a mysticism without personal God "or personal immortality, wherein to forget the vain hubbub of the West with its parochial religions, and no less parochial atheisms - Nietzsche is a parish brawler after all..." He refers to The Burden of Tyre and that it is not ready, the work of revision "demands more time and eye-sight than I have just now, but you'll get a copy as soon as it is finished". References to the home being built at Mosman, and other domestic matters. [Long and interesting letters. The copies very kindly given to me by Miss M.S. Delmer.]
(j) Original pen and ink portrait of Brennan by Sir Lionel Lindsay.
(k) Other items of interest, including photograph taken by R.G. Howarth of a friend wearing Brennan's top hat.
_____________
Guy Jennings records that Elizabeth continued to live at Newport and was often seen fishing at Pittwater or the rocks at Little Reef. She passed away on June 18th, 1943.
BRENNAN. -June 18. 1943 (suddenly) at her residence, Myola Avenue, Newport Beach, Ann Elizabeth, beloved mother of Rudolph, aged 74 years. At rest.
BRENNAN - The Relatives and Friends of Mr. Rudolph Brennan, of Myola Avenue, Newport Beach; also of Mrs C J. Brennan (Bronte) are Invited to attend the Funeral of his beloved Mother and her dear Mother-in-law, Anna Elizabeth ; to leave T. Waugh and Co '.s Funeral Chapel. 92 The Corso Manly. This Monday, at 11 a m. tor the Church of England Cemetery Manly. Thomas Waugh & Co Pty. Ltd. Ph MA6013-4 Established 1836. Family Notices (1943, June 21). The Sydney Morning Herald (NSW : 1842 - 1954), p. 8. Retrieved from http://nla.gov.au/nla.news-article17853488
Christopher John Brennan influenced Australian writers of his own generation and many who succeeded him, including R. D. Fitzgerald, A.D. Hope, Judith Wright and James McAuley. In remembrance, the Fellowship of Australian Writers established the Christopher Brennan Award which is presented annually to "an Australian poet who has written work of sustained quality and distinction".
Brennan Hall and Library at St John's College within the University of Sydney, the Christopher Brennan building in the University's Arts Faculty, and the main library at Saint Ignatius' College, Riverview are named in his honour.
There was for several decades a Christopher Brennan Society "founded in... the 1970s by Axel Clark, Robin Marsden and John Fletcher", whose patrons included "some who knew Brennan: Professor A. R. Chisolm; Margaret Delmer; Professor Farrell; Sister Peter, of the Sisters of Charity; Walter Stone; Professor G. P. Shipp; Richard Pennington".
Parts of the above come from Wikipedia contributors. (2019, February 25). Christopher Brennan. In Wikipedia, The Free Encyclopedia. Retrieved from https://en.wikipedia.org/w/index.php?title=Christopher_Brennan&oldid=885019714
SURF MEN FIGHT BUSHFIRE
Fifty members of the Newport Surf Club helped to save six houses when they fought a bushfire yesterday.
The fire was one of 14 bush-fires in Sydney suburbs. The Newport surfers were having a beach gear inspection when they noticed a fire about 2 p.m. They quickly changed from beach costumes and picked up firebeaters or tore branches from gum trees as they ran to the fire. They were in time to relieve a handful of residents who were putting up a hopeless fight against the fire. Six houses, in Myola Road and Little Reef Road, were in danger. Flames were already scorching the walls of an old weatherboard and stone six-roomed house, which once belonged to Chris Brennan, the poet. The house is now occupied by Mr. Tom Jones and his wife. The fire also scorched the walls of a fibro house and a new weatherboard house.
Hoses In Truck Avalon Volunteer Fire Brigade, to which six members of the surf club belong, drove by truck with hoses from Avalon where they had been fighting another bushfire. They directed the hoses on Mr. Jones' house just in time to save it. A woman burning rubbish caused the fire. Sparks from her rubbush fire flew over the fence and set fire to four acres of dead paspalum and scrub. Mr. Tom Jones said last night: "If the fire had got completely out of control more than fifty houses on the headland at Newport would have been in danger " SURF MEN FIGHT BUSHFIRE (1948, October 18). The Daily Telegraph (Sydney, NSW : 1931 - 1954), p. 7. Retrieved from http://nla.gov.au/nla.news-article248380905
Wilkes, G. A. "Brennan and His Literary Affinities." The Australian Quarterly, vol. 31, no. 2, 1959, pp. 72–84. JSTOR, www.jstor.org/stable/20633526

Christopher Bennan lost his post at Sydney University through drink and an adventure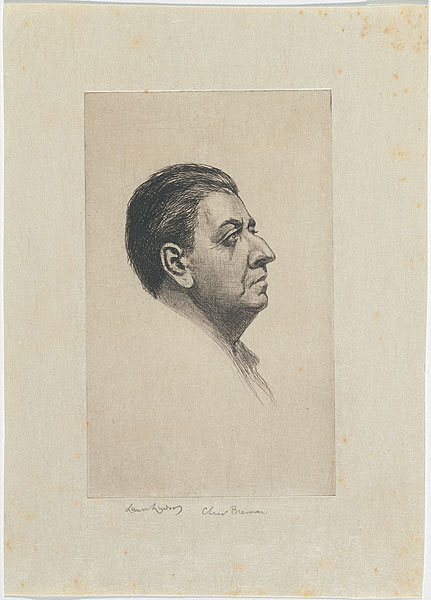 CHRISTOPHER BRENNAN, as seen by Lionel Lindsay.
"HEAVEN doth with us as we with torches do, not light them for themselves," wrote Shakespeare.
It is a saying exemplified in the lives of all of us, who, even in our most selfish actions, serve purposes not our own; but it is pre-eminently true to those men to whom we apply the title of "genius" whose lives are consumed to produce the blaze of their great works and acts. On October 5, 1932, there died in Lewisham Hospital, Sydney, a huge man whose great, leonine mane of black hair falling over the pillows framed a handsome face dominated by an eagle nose.
An impressive-looking man, you would have said. Alive he had "fascinated several generations of students" at Sydney University and "dominated all the artistic and bohemian circles that mattered in the Sydney of the early twentieth century." He had been for five years associate professor in German and comparative literature at the University of Sydney. He was famous as a speaker at the well-known Friday luncheons held by a group of French-speaking artists and writers (The "Compliques") at Paris House in Phillip street during the 1920s. Secretly he had written poetry published at his own expense in small editions that made little impression on the general public. It was solely as a scholar and "man about town" that he impressed his contemporaries.
It was not until a fortnight after his death that any Sydney newspaper saw fit to print his obituary, and even then it was a casual affair, four inches long at the bottom of a column of an obscure page - most of it devoted to damning the work of another writer - the banned "Ulysses" by James Joyce. No mention of Brennan's achievements, except the bald statement that he was a scholar of renown, and a formidable conversationalist. No mention of his poems, not even the title of his books. Nothing, but a fair example of Brennan's very rare narrow mindedness! *** - see above - he was extensively lauded.
Brennan himself, supreme ironist that he was, would have enjoyed this joke. He would have chuckled equally at the critical see-saw which has been set up subsequently -- for today Brennan is the most debated Australian poet. The ordinary reader of today has been unable to make up his own mind on the matter, since Brennan's poetry has long been out of print, apart from odd poems in anthologies and an expensive and incomplete edition of his work ("23 Poems") published in the "Australian Limited Editions" series in 1938. Judged by the highest academic standards (not by paper qualifications), Brennan was one of the most profound scholars of European literature, ancient and modern that Sydney University has ever known.
Notwithstanding this he was dismissed by a majority vote of the University Senate in 1925, following "an amorous adventure" and involvement in a court case. It also alleged that he had taken to drink and was irregular in at-tending to his professorial duties. The last years of Brennan's life were tragic. He was buffeted from pillar to post and although he did everything in an endeavour to rehabilitate himself he finally sought complete solace in drink.
Harassed by debts and remorse he lived in various rooming houses in and about Sydney, finding his meals as often as not from the generosity of cafe proprietors whom he had patronised in his affluent days. His parents were good Catholic folk and as a boy Brennan passed through various Catholic schools, and was for some time an acolyte in the old church of St. Francis, where the colors of the stained glass windows and of the vestments were, as he later admitted, his first and never-to-be-forgotten experience of human art.
As well as the parish school of St. Francis, he attended in his early years St. Kilda College, Hyde Park, where he began his study of Latin and French. The late Cardinal Moran having established a scholarship to Riverview College, the Jesuit establishment on the Lane Cove River. Brennan was awarded it and went to this school about 1884, in his fourteenth year. He first began the serious study of poetry in 1886 (his sixteenth year), when he sat for the Senior Public Examination and his classical master, Father Pat Keating, set him writing Greek and Latin verses. Brennan was a boarder and took a great interest in sport, especially rowing and handball. He was also an adept swimmer. In his last year at Riverview he began learning Italian and German.
In 1888 he matriculated to the University of Sydney and entered the faculty of arts, studying philosophy and the classics, a combination that presented a formidable barrier of subjects in those days, including mathematics as well as many literary, historical, and philosophical subjects. At first he excelled in classics (Greek, Latin), but later surpassed himself in philosophy, by which time his religious faith had come to be neglected. During the final stages of his university course he took a teaching post at St. Patrick's College, Goulburn, but despite this distraction he managed to graduate MA with honors in classics in 1892.
Already his abilities had singled him out for special notice at the university. In the last year of his course he associated with two members of the staff, Thomas Butler and A. B. Piddington, professor of Latin and senior lecturer in English, respectively These two commenced Brennan's education as a gourmet, by dining and wining him at the Athenaeum Club and other places. It was at the Athenaeum Club that Brennan met and made friends with Sir Edmund Barton, one of the fathers of the Australian Constitution and the first Prime Minister of the Commonwealth. Thus at the early age of 22. Brennan's remarkable intellectual attainments and personal charm had already won for him the regard of some of Australia's most outstanding men. With such a start his future seemed assured. He had already written some verses, but these had not been published in any journals of note, and had nothing to do with his growing reputation at that time. Further distinction was not long delayed.
He was awarded the James King Travelling Scholarship for classics, and in June, 1892, he sailed for Germany aboard the small NDL steamer Hamburg. His choice of Germany as a place to study classics was not as remarkable as it appears, since the University of Berlin enjoyed in those days a reputation second to none in the world for classics. Brennan had not studied the German language sufficiently to speak it when he set sail, but he studied hard at it on the boat and his subsequent two years in Germany made him a fine scholar of that country's language.
He spent his whole two years in Berlin lodging with a Frau Werth, whose daughter, Elizabeth, he subsequently married. His future mother-in-law is alleged to have disapproved of the marriage from the start, but Brennan's early love poetry, written after his return to Australia and before his bride-to-be followed him, witnesses to the intense love with which the marriage opened. Frau Werth's lack of enthusiasm for the courtship of her daughter by Brennan was doubtless due to his unmethodical, untidy habits in her house, his keeping of odd hours, and his already great capacity for drink. Meantime Brennan read widely in the classic authors and commenta-tors, and even more widely in German romantic literature.
In September, 1893, he bought a copy of the French poet Mallarme's "Verse and Prose"-- a book which caused him not only to destroy all of his own poetry he had in hand, and determined him to write in a symbolist style, but doubtless gave Frau Werth fresh cause for dismay. Had she known, which is doubtful, exactly what was going on in Brennan's mind, she could have not been more concerned than she was to learn that he was neglecting his formal studies, and he had decided not to bother about taking his degree at the end of his course. In her opinion Mallarme could not have been a far less sound mentor for the prospective breadwinner of her daughter than Prof. Butler, Mr. Piddington. MA. or Sir Edmund Barton. These three gentlemen had not only gained each a respectable competence, but had made worthy reputations for themselves; but Mallarme was only a starving poet with very singular, not to say improper, ideas about life.
He asserted, for instance, that the most important thing in life was not earning money or worldly repute, but "making the mind visible" - a proceeding he undertook by writing poems consisting to the uninitiated, of cryptic phrases arranged haphazardly to form a verbal puzzle.Ordinary Ordinary poetry. Mallarme called "reporting" and attached little literary value to it. Without a German degree and leaving his fiancee behind until he should have settled into a suitable position in Australia and had a home to offer her, Brennan re-returned to Sydney in 1894 . Sydney University authorities were doubtless disappointed at the use to which he had put his scholarship and no offer of a teaching post on the university staff was forthcoming, so Brennan joined the staff of Sydney's Public Library, where he catalogued books. In 1897 he published privately his "XVIII. Poems," and an edition of 200 of "XXI. Poems," being his earliest surviving poetry. It was not markedly like Mallarme's poetry but sufficiently unusual to call for a comment in a new out-of-the-way literary quarters of the day.
Later in 1897, Anna Werth arrived out from Germany, and Brennan married her in December of that year. Four years later Frau Werth and another daughter arrived, and Brennan set up house for them all in Mosman, where his four children were duly born.
In 1908 Brennan's natural brilliance of mind earned him a junior post on the University staff, and he acquired four acres of land on which was a stone house (still in existence at Newport), where he spent much of his time.
In 1913 Brennan collaborated with Le Gay Brereton in a now forgotten "Mask"; in 1914 he published "Poems 1913," and in 1918 "The Chant of Doom." In 1920 he was appointed associate professor in comparative literature at Sydney University. His best known poems and one of his most comprehensible is "The Wanderer," which presents Brennan's view of life. He died a confessed Catholic and recanted many of his former opinions, but it is not improbable, that even at that solemn juncture, he would still have maintained as he always had: "Fundamentally nothing matters except beauty. It is the ultimate; even scholarship is secondary to it, just as philosophy at last is the only handmaid to poetry." Christopher Brennan lost his post at Sydney University through drink and an adventure THE PROFESSOR WAS A POET (1954, December 3). News (Adelaide, SA : 1923 - 1954), p. 26. Retrieved from http://nla.gov.au/nla.news-article131218020
C. J. BRENNAN.
A few days before the death of Mr. A. G. Stephens was published his study of C. J. Brennan, who predeceased him by only a few months, and to the public appreciation of whose remarkable gifts Mr. Stephens had con-tributed much by offering them facilities for expression. Brennan was not a "popular" writer. His work in poetry and prose was read by comparatively few. It was small in volume, and both its content and the form in which it was published denied it a general appeal. Yet any discerning estimate of Aus-tralian letters awards Brennan a very high place.
Still Mr. Stephens is not blind to certain limitations in Brennan, who, as other men of great learning have been, was "encumbered with intellectual paraphernalia" in his Parnassian expeditions. He was often stiff, wanting heat to set his words in motion, and, although he was capable of finely sonorous passages, he was deficient in a sense of sheer melody. He was probably the best all-round scholar that the University of Sydney has ever produced. Before his appointment to the chair of German, he had deputised for absent professors in Greek, Latin, French, and German, and had assisted in English. Very few men would have been competent to assume such varied responsibilities. As Mr. Stephens says, the width of his knowledge was extraordinary. A small slip occurs in a reference to a former lecturer in modern languages at Sydney University. He is described as Dr. "Marks." This is presumably Dr. Max, an Austrian of broad culture and, as was commonly understood, an aristocrat ex-patriated for political reasons. (Published by "The Bookfellow.") C. J. BRENNAN. (1933, April 22). The Sydney Morning Herald (NSW : 1842 - 1954), p. 8. Retrieved from http://nla.gov.au/nla.news-article16987167
Biographers may have mixed up his son with himself in terms of stating he was divorced by his wife - almost a decade after Prof. Brennan passed away. Chris Brennan, the son, was also a Newport SLSC member. Chris was appointed beach inspector for Newport Beach on December 20th, 1926 - the club stating on nominating him that 'he is a very conscientious worker and we could not get a better man'.:
FOUNDERED IN HEAVY SWELL
LAUNCH'S CREW HAD TO SWIM
NEWPORT Surf Life Saving Club's new £100 surf boat, which is to be officially launched to-day, was submitted to an unexpected test of seaworthiness yesterday, when the launch which had It in tow foundered. Harry Erickson, Fred Andrews, and Chris Brennan, who were on the launch, jumped off before It sank, and clambered on to the surf boat, in which they reached the Newport beach safely, PROPELLER JAMMED The launch was towing the surf boat from Newport bay to Newport beach, about six miles. Nearing the beach seaweed jammed the propeller, and part of the planking gave way, and the launch quickly filled with water. There was a heavy swell running, and the crew had just time to cast off the tow rope, when the launch disappeared. FOUNDERED IN HEAVY SWELL (1932, October 2). The Sun (Sydney, NSW : 1910 - 1954), p. 2. Retrieved from http://nla.gov.au/nla.news-article229256379
(Before Mr Justice Bavin.)

ROBINSON v ROBINSON.
John Herbert Robinson v Audrey Joanna Robinson (formerly Howarth) and Christopher John Brennan co-respondent.Marriage, October 19, 1935, St. Peters, by Registrar. Decree nisi. Corespondent to pay costs. Mr. S. V. Toose (instructed by Mr. Mervyn Finlay) for petitioner.
BRENNAN v BRENNAN.
Philomena Catherine Brennan (formerly Jarmain) v Christopher John Brennan. Marriage, September 29, 1928, Mosman, Roman Catholic rites. Issue, adultery. Decree nisi. Mr. S.V. Toose (instructed by Mr. Mervyn Finlay) for petitioner. IN DIVORCE. (1940, September 4). The Sydney Morning Herald (NSW : 1842 - 1954), p. 6. Retrieved from http://nla.gov.au/nla.news-article17709427
Goldfields Friendship Led To Divorce Court
On the same allegation of adultery, two petitioners were granted decrees nisi in the Divorce Court yesterday. They are John Herbert Robinson, 30, analytical chemist; of Oliver Road, Roseville, and Philamena Catherine Brennan, 31, of Wau, New Guinea. The suits, which were heard together, were not defended. Robinson said he married Audrey Joanna Robinson, 27 (formerly Howarth), an artist, in 1935, at St. Peters Registry Office. He added: "There were no children, and In February last year we went to New Guinea. "We settled at Edle Creek, near Wau, and the Brennans, who lived nearby, became our friends. "In November last year my wife came to Sydney for', a holiday. Brennan travelled on the same boat.
''Suspected Nothing"
"My wife was to be back home by the New Year, but she wrote saying that she and Brennan had gone on to New Caledonia. "In February this year my wife and Brennan arrived home. "I suspected nothing. My wife lived with me for a month, and then told me she and Brennan had lived together in Sydney. "I saw Brennan and he denied it, but later admitted it was true. . . "I told him I would not stand for it, and came to Sydney immediately. I have a job in Sydney now. My wife has come to Sydney and Is living with her mother.
'Bettered Himself"
Mrs. Brennan (formerly Jarmain) , said she married Christopher John Brennan, 33, in September, 1928, in Sydney. She added: "We lived at Newport and had two children, who are now aged 10 and eight. "During the depression my husband and I went to New Guinea. "He wanted to better himself. He did. He is a building contractor now on the goldfields. "He came to Sydney under doctor's orders. I knew Mrs. Robinson was on the same boat. "A month after his return he told me he had lived With Mrs. Robinson. He said he was fond of her. "Looks Like Divorce" "I said: 'It looks like a divorce,' and he replied. 'Yes, that's right." "He left the house, and I came to Sydney to start proceedings. "I am staying with friends at Kogarah, but will soon return to New-Guinea. I have gold interests there." ' A decree nisi was granted in each case on the ground of adultery at Dalkeith Flats. '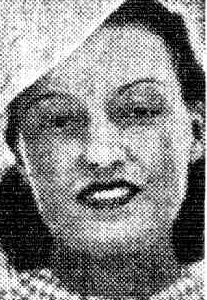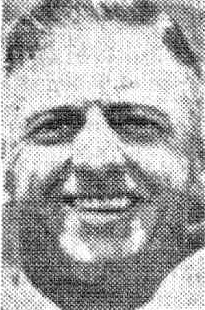 Mrs. Audrey Robinson C. J. Brennan.
Goldfields Friendship Led To Divorce Court (1940, September 4). The Daily Telegraph (Sydney, NSW : 1931 - 1954), p. 7. Retrieved from http://nla.gov.au/nla.news-article247616567
Apparently Chris returned to New Guinea just in time to have to escape from the Japanese invasion of that place during WWII. His health never recovered from the stress and he died in Sydney on May 16th, 1942.
BRENNAN.—May 16, 1942, suddenly, Christopher John Brennan, of 445 Bronte Road, Bronte, beloved husband of Audrey Joan. Privately cremated, May 18, 1942 Family Notices (1942, May 19). The Sydney Morning Herald (NSW : 1842 - 1954), p. 10. Retrieved from http://nla.gov.au/nla.news-article17804632
Rudolph, or 'Rolfe' and 'Nipper' as he was known locally, lived on at Newport in a house he built from shells. He would take a snapper he'd caught to the Newport Arms Hotel and raffle it. One local recalls in an anecdote published in Mr. Jenning's The Newport Story, that he always wore a hat but never any shoes. He continued doing odd jobs and fishing until he passed away on or about June 1st, 1970.
NEWPORT BEACH.
Two Ideal Home Sites, within easy walk of beach, on south end. Elevated position amongst good homes, 66ft frontage X 163It. Oceania Crescent, corner Walworth and Myola Rd, Newport. £500 and £650. Owner at this address week-end; or 'phone JX2818. Advertising (1950, April 10). The Sydney Morning Herald (NSW : 1842 - 1954), p. 12. Retrieved from http://nla.gov.au/nla.news-article18156048
___________________________
The 1955 Newport Loop Fracas and associated Notes - records collated from Archives of Warringah Shire Minutes of Meetings
14/3/1955
(N) Department of' Goirqn.t Transport, 1/3/55, stating that complaints have been received from members of the omnibus traffic staff concerning the considerable difficulty encountered in turning buses at the terminal at Church Point, due to the presence of parked motor vehicles, that the Police authorities h-ye indicated it is not practicable to give effective super- vision to the "No Standing" restrictions; and Inquiring whether the Council proposes to move the terminal stand beyond "The Pasadena". 25. Resolved, - That the Department be informed the Council has voted the sum of £300 for sealing the parking areas on either side of "The (Crs. McKay, Simmonds) (N) Sir Frederick Stewart, telegram, objecting to the proposal to spend £30,000 on roads in the vicinity of Newport Hotel, and drawing attention to the dangerous condition of Powderworks Road. (N) - Shelley, telegram rescinding his previous telegram opposing this proposal. N) liJ.Feltowes, Powder- 1113155, on sane matter, and also drawing attention to the works condition of Powderworks Road and to the necessity for widening the bridge on that road. - That they be informed Powderworks Road is included in a programme of works for consideration by the 26. A. Riding Councillors at an early date. (Crs. McKay, Hewitt)
LCr. McK - Could the concreting of the approach to Bonnie Doone Wharf for which £100 has been allocated, be carried out as an urgent matter? The President replied that he would discuss the matter with the Shire Engineer. By Cr.Simmonds - In view of the public resentment caused by Council's decision to spend £30,000 loan money for road re- construction around the Newport Loop will Council consider modifying the loan for the purpose shed? The President replied that this would be referred to the Finance Committee
A. Riding Progress & Allied Associations, informing the Council of the following resolution passed by the Association - "That this Association ask the Council to review the autonomous policy of Riding Councillors in the ease of works expenditure costing £5 000, and in all works exceeding this amount the unanimous opinion of Riding Councillors be required"; and pointing out that the autonomous policy was not exercised in the recent motion regarding the loan for the Newport Loop. 15. Cr. Hewitt moved, Cr. Quinlan seconding, that the Association be informed that decisions involving the expenditure of any and all moneys are effected only by a majority vote of the full Council. An amendment was moved by Cr. Simmonds, seconded by Cr. Gwynne, that this matter be referred to the next meeting of the Finance & General Purposes Committee. The amendment was lost, and the original motion was carried.
23/5/1955 NOTICE. (A.) Cr. McKay moved, seconded-by Cr. Hewitt — That the Council's reserve known as Trafalgar Square, situated at Newport and bounded by Gladstone, King and William Streets and Queens Parade, be cleared of rubbish, and prepared for public use and enjoyment, for which it was originally dedicated, and that the following work, the estimates for which were prepared by the Shire Engineer, be carried out and funds provided by Council — (a) Clearing of the area, £100; (b) children's playground to be located near Queens Parade, £250; (c) providing and placing of twenty garden seats; (d) erection of a sign at each corner (four in all) with the words "Trafalgar Square Park", £40 and (e)provision of water service and bubblers £60 — Total.570; and (B) that the following two-matters be listed for consideration in the Estimates for 1956 — (i) provision of toilet accommodation at an estimated cost of £600 and (ii) the construction or a park-rail fence at an estimated cost of £+Co. n anondinent was by Cr. Simmonds seconded by Cr. uinlan, that the matt8t/bwreferred to the f'arks & Reserves bonunittee for consideration; The amendment was carried, and on becoming the motiofl, was again carried. Resolved — That (i) of item (B) be approved, and item (ii). 12* be deleted. Crs. McKay, Hwitt)
Local Government Department, 10/5/55 and 17/5/55, stating that a Public Inquiry will be held at 10 a.m. on 1st June,1955, in respect of the Councils application to borrow £30000 for the construction of roads; drains, kerbing and guttering at Newport. Noted.
Children's Library Newport, 23/5/55, stating that in their efforts to raise funds for the Library, the Committee is carrying out a continuous "bottle drive which is estimated to bring in about £2 per week, that some adverse criticism as to the unsightly collection of bottles in the grounds at the rear of the Libra.ry building has been directed towards the Committee, and therefore requesting the erection of a short fence or screen. 20.Resolved,. - That a screen be erected, as requested. (Crs. Hewitt) Quihian) (3) A..R. Greatrex 245/55, stating that since 10 o'clock closing,,' local residents have been greatly annoyed by the amplifier system in the grounds of' the Newport Hotel, in spite Of repeated requests to the Management for it to be modified. 21., Cr. McKay moved, seconded by Cr. Jones, that a copy of the letter be sent.to the licensee of the Hotel with a request - for attention to the complaint; and the inspector for the area be instructed to see whether the nuisance is abated. An amendment was moved by Cr. .Quinlan, seconded by Cr. Gwynne, that the Chief Inspector interview the licensee on the matter. The amendment was carried, and on becoming the motion, was again carried.
2/8/1955: F. G. Spurway, 12/7/55, expressing appreciation of the Council's action in naming a reserve at Newport "Spurway Park". "Received"
16. (C) Local Government Office - Letter, 8/8/55, re proposed loan of £30,000 for road construction at Newport, and stating there is no provision in the Local Government Act under which an order of the nature proposed by the Council could be made by the Minister; and note thereon by Shire Clerk stating this refers to the Council's overtures re award of costs in connection with the recent public inquiry. "Received"
By Cr. McKay - May I be informed when work will commence on the Newport bus route? In about two weeks' time. By MqJç -May I be informed when work will commence on Powderworks Road? The President replied that it was not anticipated that this work would be commenced within three months. By Cr. McKay - Has any date been fixed for a conference with the Minister for Lands on Governor Phillip Park? The President stated that a reply had not yet been received. By Cr. McKay - What action has been taken to remove advertising hoardings from the district in accordance with the Council's directive? The President replied that this matter was in the hands of the Shire Clerk, and was receiving attention. By Cr. Hewitt - Can the Engineer arrange for implementing the work for which moneys have been voted for the reconstruction of Queens Parade West, Newport simultaneously with the commencement of the reconstruction work on the Newport bus route? The President replied that he would discuss this matter with the Shire Engineer.
5/9/1955 Scotland Island Progress Association: (1) Thanking Council 28/29 for the prompt completion of the cargo staging at Church Point; (2)trusting that the matter of clearing the foreshores reserves will be given further consideration when opportunity permits; (3)stating that a suggestion has been made that Council has not assumed full legal ownership of these reserves and strongly recommending that this be done; (+) as the poles adjacent to Newport wharf were removed by order of the Public Works Department recommending that consideration be given to providing mooring facilities similar to those formerly in the area. Resolved - (1) "Received0 and noted. (2) Referred to the Works Committee. (Crs. McKay/Corkery). (3) Referred to the Legal Officer. (Crs. McKay/Gwynne). (4) Referred to Maritime Services Board as the appropriate Authority.
(c) Newport Junior Rugby League Football Club: Enquiring if Council could, in any way, make available to the club an area on which to erect a clubhouse in the Mona Vale-Newport District, and not remote from public transport; pointing out that they are a progressive society with an active membership of over 100 and are capable of attending to the winter sporting activities of at least six football teams half of which would be players under school leaving age. (deferred from last meeting). Moved by Cr. Simmonds, seconded by Cr. McKay that the Club be informed that Council has no land available which is suitable for the Club. An amendment was moved by Cr. Fisher, seconded by Cr. Quinlan, that the Club be offered the land in Huxley Street previously offered to the Returned Soldiers Club and if the land is unsuitable that the Shire Clerk report as to whether there is any other suitable land owned by Council other than parks and reserves. The amendment was CARRIED and on becoming the motion was again carried.
26/9/1955 Maritime Board, 15/9/55, replying, in regard to the representations of the Scotland Island Progress Association for moorings near Newport public wharf, that whilst matters relating to the registration and control of mooring sites on navigble waters are administered by-the Board under the provisions of the Mooring Regulations, N.S,W. it is not the Wharf policy of the Board to provide facilities of this type for the mooring of vessels. Resolved, - That a copy of the letter be sent to Scotland Island Progress Association for comment, and a report be furnished regarding the question of improvements to Newport Wharf. (Crs. Jones, Gwynne)
10/10/1955 Prince Alfred Parade, Newport: - That this be referred to the Engineer for a report as to the desirability of maintaining the foreshores free of buildings. (Crs. Corkery, Jones)
Scotland Island Progress Association, 29/9/55, replying in connection with representations for reconstruction of the "dolphin" adjacent to Newport Wharf, stating this was used by Public small craft for temporary mooring only, and contributed to keeping the wharf clear of moored craft, that the Association cannot understand why the Public Works department requested the removal of the dolphin nor which authority was responsible for its original construction, and contending that as it is complementary to the public wharf its construction and maintenance might reasonably be assumed to be the responsibility of the authority controlling the wharf and therefore recommending that the Council erect and maintain a dolphin the vicinity of Newport public wharf and restrict it for temporary mooring of small pleasure craft. Resolved, - That this matter be referred to the Works Committee for consideration, following an inspectiozt,- (Crs. McKay, Fisher)
Re: Construction, Newport Loop - Question of removal of Post Office Store at corner of Kalinya and Beaconsfield Streets; and report by Deputy Engineer, stating that if this building is permitted to remain it would make it extremely difficult to construct a new kerb and gutter, and as the level of the existing surface will be lowered, the floor level of the shop would then be some 2 ft. above the top of the kerb. The owner of the property contends that the removal of the building would mean loss of his business and that his new premises will not be completed for approximately six to nine months. Loop Cr, McKay moved Cr, Corkery seconding, that the matter Road be deferred for one week pending an inspection by the Works Committee and any other councillors so desiring on 2/1155, and that in the meantime the demolition order by held in abeyance. An amendment was moved by Cr. Hewitt, seconded by Cr, Quinlan that the demolition order be deferred for not less: than six months. The amendment was lost, and the original motion carried. Warringah Shire Council held on 31st October, 1955.
7/11/1955 (C) Mack & Lean (Council's Architects) 22/10/55 submitting suggestions for alterations to the Newport Surf Clubhouse – Newport - as proposed by the Club and estimated to cost £6000 including Engineers estimate of £1320 for alterations the drainage; (b Club-with provision for additional public accommodation £5,000; and house (c) suggesting the handing over of the existing building to the Club and the erection of new dressing sheds elsewhere, also estimated at £8000 for a floor area similar to scheme (i,). Cr. McKay moved, seconded by Cr. Hewitt that the Architects be asked to prepare working drawings and specifications for scheme (b), together with estimates of cost, on receipt of which the Club be asked to confer with the Council on the question of pro rata responsibility for payment- and the matter be considered in conjunction with, the 194 Estimates. An amendment was moved by Cr.Quinlan, seconded by Cr. Gwynne, that the matter be referred to the Parks & Reserves Committee for discussion with the Club. The amendment, was lost, and the original motion carried.
7/11/2c. By Cr. Hewits. - Will you please arrange for immediate creation of the necessary signs prohibiting the crossing of vehicle, with consequent destruction of the footpath on the western side of Barrenjoey Road, Newport adjacent to Howell's Garage, and further, that such signs shall require persons depositing rubbish and filling to enter the area from Bishop Street? Yes
11/11/55. Resolved, - That the Shire Engineer furnish to the Council at the first possible opportunity a report as to any or all possible sites which could be considered as a solution to the parking problem at Newport. (Crs. Hewitt, Simmonds)
28/11/55. (0) Avalon Parks & Recreation Committee regarding the deputation which waited on the Council on 7th November on the question of acquisition of the Avalon Golf Links and confirming the reasons advanced for such acquisition viz - (1) the majority of the residents favour the acquisition; (2) 27. original planning provided for this open space to be the focal point of Avalon and roads and residences have been constructed on the understanding that the areas would be continued in Golf perpetuity; (3) there would be no opposition to the acciisition Links by the owner as the site has been offered for sale in one piece for recreational purposes; (+) as the present rate of population increases provision of open space which Is now available will then be a necessity (5) assuming the maximum purchase price of this area to bc k36,000 the repayment of principal and interest over a period of 15 years would only amount to £2800 per annum which represents approximately 2d. on each £1 received each year iniates there are sufficient residents offering to form a Club ensure the construction of a bowling green and tennis courts which would guarantee that the area would be self-supporting; and (7) the expenditure of approximalely £F,000 for recreational areas in Curl Curl, Harbord Beach and Newport provided a precedent for the acquis- ition of the Avalon Golf Links. Resolved - That this matter be considered in conjunction with the 1956 estimates. (Crs. Simmonds, Quinlan' (P)L W. Jones, Solicitor, 23/11/55, forwarding documents in connection with completion of the purchase of the rear part of his Lot 6 Bardo Road, Newport for inclusion in the Newport sportsground, and requesting that the Council's Seal be affixed to the Memorandum of Transfer containing a reservation of the easement for Mr. Kilsby's septic tank and ancillary covenants thereof. That the Seal be affixed to these documents. (i14eKay Jone) - (Q) Avalon Progress Association, 16/11/55, (a) asking the Council to change the collection of garbage from Wednesday to Monday, particularly in the Paradise Beach, Clareville and Taylor's Point areas, as in these areas many of the people are only week-enders; and (b) asking Council to give consideration 29. to a bi-weekly garbage collection in A. Riding. Resolved, - That this letter be referred to the Cleansing Department Manager for report. (Crs. Quinlan, Job)
TENDERS. Demolition of buildings at Lot 14, Bishop Street, Newport, Newport Sportsground. Two tenders only were received - H.W.Jackson, £95; and E.O.Bailey, £21. Resolved, - That the tender of H. W. Jackson for £95 be accepted, subject to prepayment of this amount. (Crs. Quinlan, Corkery)
L. W. Jackson, 5/12/55 stating his tender in connection with the demolition of the building at Bishop Streets Newport, was submitted under the impression that he was to be paid for clearing the site and removing all material and therefore withdrawing such tender and requesting refund of his deposit. Resolved, - That this matter be deferred until the next meeting of Council.
19/12/1955 - Item RB - Newport Bowling Club - Erection of weatherboard kiosk on Reserve, Barrenjoey Road, Newport: Cr. Jones reported that an inspection had been made when it was found that this building had already been erected. Cr. Jones moved, seconded by Cr. Corkery, That the building be approved, but that a letter of reprimand be sent to both the Club and the builder for having erected the building without the approval of the Council An amendment was moved by Cr. McKay, seconded by Cr. Quinlan, that legal proceedings be taken against the Club for constructing the building without approval, and consideration of the application be deferred until the conclusion of such proceedings.. The amendment was lost, and the motion carried.
H. W.Jackson, 5/12/55, stating his tender in connection with the demolition of the building at 11 Bishop Street, Newport, was submitted under the impression that he was to be aid for clearing the site and removing all material and therefore withdrawing such tender, and requesting refund of his deposit. (LAs) G. Leer, 19/12/55, stating he desires to erect a shelter shed on the Council's gravel pit area at Forestville, and inquiring whether he could have the Council's building at Bishop Street, Newport, he being prepared to demolish it and re-erect it at Forestville. Resolved, - That Mr. Jackson's deposit be refunded as requested, and Mr. Leer given permission to remove the building on the understanding that the structure is removed within one month after the date of communication of this 8SFJ (H) Combined Progress Associations of C. Riding 9/12/55, requesting details and tenure of Shire loan of 40 000 from The Australasian Temperance & General Mutual Life Assurance Society trtd. solved, - That the desired information be supplied. (Crs. Jones, Gwynne) (N) T. de Burgh (Council's representative on Water Board), 14/12/55, advising that the following watermain extensions have been approved - }Iarewood Place, Warriewood; Panorama Crescent, French's Forest Boomerang Road, Collaroy; French's Forest Road and Gladys Avenue, French's Forest; and ibbott Road, North Curl Curl. "Received" (0) Deewhy R.S.S. Club, 21f/ll/55, applying for a grant of land on long lease in Deewhy Lagoon Reserve for the purpose of constructing bowling greens on the Pittwater Road front9ge 29. approximatele Lismore Avenue. hve- That this be referred to the Deewhy Lagoon Advisory Committee. (Crs. Hewitt, Corkery) (P) Manly Coujidfl, ])+/l2/55, thanking Council for voting £116 for the provision of playground equipment in Manly Lagoon Reserve, the work to be done by Manly Council. "Received" QUEST ION. By Cr. Sinmonds - In view of Press reports that Cr. Job had been given three months' leave from Council, and as she is an elected representative of the people could you please give the reasons for her application for leave? The President replied that she would be engaged on a Governmental project 2nd that the leave had been approved by the Local Government Department. By Cr. Hewitt - Would you instruct the Engineer to give immediate attention to the road shoulder and footpath on the southern corner of Waterloo Street and Ocean Street Narrabeen; and further, that he submit a report to Council on the operation of trucks loading sand at this point, together with the action of a Mr. Lofberg, who loads horses on trucks at this location? Yes.
9/4/1956 REPAIRS ...on the motion of Cr. McKay end seconded Cr. Hewitt, that the estimate submitted by the Engineer for repairs to the Newport Wharf be approved and that the work be proceeded with immediately.
14/5/1956 Re-alignment of Kalinya Street, Newport: Kalinya Cr, Gwynne moved, seconded by Cr. Corkery that the first Street part of the Committee's recommendation be deleted, the motion to read — "That the necessary steps for demolition be proceeded with within a period of three months." This motion was LOST and the recommendation of the Committee adopted. The balance of the Finance Committee's Report was otherwise adopted on the motion of Cr. Hewitt, seconded by Cr.Job. TOWN PLANNING COMMITTEE'S REPORT. The Report of the Town Planning Development Committee, as contained in the Minutes of that Committee's meeting held on 715156, was dealt with as follows:-. —Newport Chamber stating that the Chamber is unanimously opposed to the proposed Newport resumption, realignment or acquisition of land on the western Shopping side of Barrenjoey Road, Newport Beach, between Miss Hayes' Area — "Mytoys" shop and Mr. Dunwoodies Pharmacy, as such a project Parking would spoil the alignment and appearance of the immediate Area locality and the cost of the proposal would be in excess of its value' further stating that the Chamber is in agreement with the classification of land on the eastern side of Barrenjoey Road northwards from The Boulevarde as '1 Class A. Residential", making that portion of Newport Beach a single sided shopping area, and suggesting that the Council consider the acquisition of the south-east portion of this area for parking space; and further contending that the widening of Barrenjoey Road by the Department of Main Roads, together with the suggested zoning on the eastern side would afford substantial parking facilities. Cr, Hewiti moved, seconded by Cr, Corkery, that paragraph of the Committee's recommendation be deleted, and paragraph be adopted; and that the Newport Chamber of Commerce be informed accordingly. This motion was LOST, and the Committee's recommendation adopted, Cr. Corkery recording his vote against it. The balance of the Town Planning Committee's Report was other- wise adopted on the motion of Cr. Quinlan, seconded by Cr. Job.
28/5/1956
DEPUTY SHIRE CLERK'S REPORT. (a)fleet.... stating that Mr. V. Crawford has requested a name for the 33-ft. road running from Irrubel Road to Crystal Bay, and Street suggests either Elwyn Avenue or Crystal Crescent. Resolved, - That this road be named "Crystal Street" (Crs. Hewitt, Gwynne) 9.(ii) Stating that names are required for four new roads in a subdivision lying between Hillside Road, Newport, and The Outlook: Resolved, - That these roads be named Mariposa Road, Monterey Road, Kanimbla Crescent and Hillslope Avenue
PETITIONS. (a) R. Wallman and 25 other ratepayer/residents of the area adjacent to Crystal Bay, Newport 8/5/56 requesting favourable consideration to the extension of Bardo road from its junction with Nooal Street to Crystal Bay, in order to give access to reach their boats and to provide an entrance from Bardo Road to properties facing that road. Resolved, - That this be referred to the Engineer for report to the Works Committee as to the desirability and cost of such work. (Crs. Simmonds, Hewitt) By Cr. McKay - When will the Church Point parking area be placed before Council? The President stated that he would discuss this matter with the Shire Engineer, information being awaited from the Main Roads Department. By Cr. McKay - What is the position regarding Government Phillip camping area, and when will it be placed before Council again? The President replied that he would give a written reply in due course. By Cr. McKay - Will you have the Ranger take action in respect of trawlers and other craft moored for long periods (days in some instances) at Church Point, Newport and Palm Beach public wharves, and have the matter of erection of notices referred to the Works Committee? The President replied that the Shire Ranger would be instructed to take action in this matter.
25/6/1956 replying that the County Council adhere to its offer to contribute towards the cost of the acquisition or part Lot 1 Section A, Pittwater Road, Mona Vale, on a 50/50 basis Resolved - That this offer be accepted by the Council. (Crs. McKay, Wewitt) (N) Department of Education, 11/6/56 replying in regard to the question of extension of school site at Avalon, stating the LI Cumberland County Council has advised that it is not in favour of zoning the area as Open Space if it involves the County Council in the acquisition of land or any part thereof for open School space; and suggesting that the Council again give consideration Sites to the request that some suitable part of this land be made 38. available for Public School use. Cr. McKay moved, seconded by Cr. Hewitt,that Mr. B. W. .Askin M.L.A be asked to submit this matter to the Minister for Education, with a recommendation that the Department purchase the subject land. An amendment was moved by Cr. Quinlan, seconded by Cr, Jones pro orma, that Mr. Askin be informed of the full facts of this matter and asked to endeavour to obtain Government assistance in the purchase of the subject land. The amendment was lost, and the original motion cnLi. (0).rker, Secretary of meeting of representatives of Newport Local organisations, 12/6/56, regarding establishment of a parking area on the western side of Barrenjoey Road, Newport Beach; and requesting that a committee of three representatives be permitted to discuss the matter with the Shire President and the A. Riding Councillors on the site. 39.Cr. Fisher moved, seconded by Cr. McKay, that he be informed the Council cannot see its way to agree to this request, but that a deputation could be received by the Council in committee at the Shire Hall Council held on …
9/7/1956: Proposal by H.E.Solomon for subdivision of Lot 29, Section E, Beaconsfield Street, Newport.Resolved - That the Council adhere to its previous decision that consideration be deferred pending inspection by the whole Council.
Newport Progress Association, 2/7/56, stating the Association strongly disapproves of the proposed acquisition of land on the western side of Barrenjoey Road, Newport Beach, for car parking purposes, and is of the opinion that the land affected is too valuable for such purposes in comparison with other suitable land which could be acquired at much lower costs contending this would be a grave traffic hazard, and that on completion of the main road widening there will be no need for additional car parking facilities. Resolved, - That the Association be informed of the deputation to be received by the Council on 16th July. (Crs. Sinmonds, Jones) Cx) Newport Parents & Citizens Association, 27/6/567 stating the Association is greatly concerned to learn of the proposed parking area in Barrenjoey Road, Newport, whilst the recreation ground adjoining the Health & Community Centre remains in a far from playable condition, and requesting the Council to put into areas operation immediately Cr.Fisher's personal promise of almost three years ago that the area west of Barrenjoey Road would be a good oval within three years; and suggesting that silt be dredged from Crystal Bay if more filling is required. Resolved, - That this be referred to the Engineer for report as to the cost and question of dredging silt. (Crs, Simmonds, Hewitt) 53 (11) Lands Department, 2/7/56, expressing appreciation of the Councils action in continuing to manage the Turimetta Cemetery, Cemetery Mona Vale, stating that repeated requests have been addressed to the various Church authorities in an endeavour to induce the trustees to assume their duties, but without success; pointing out that any proposed variation to the scale of fees and charges set out in Ordinance 68 under the Local Government Act is a matter for decision by the Local Government Department; suggesting that the problem might best be met by the re-appointment oi the Council as trustee of the Cemetery following which the Council could adopt regulations (including an up-to-date schedule of fees and charges) for the management of the area generally. Resolved, - That the Council agree to the suggestion that it be re-appointed as trustee of this Cemetery, subject to being permitted to charge fees for grave sites of not less than £52 and not being otherwise limited to the out-of-date scale generally applicable under Ordinance 68. (Crs. Quihian, Hewitt) (AB) Manly Council, 29/6/56, offering co-operation in connection with the proposed combined conference between the two Councils and local Parliamentary representatives regarding the matter .n0 54. Local Government finance. Resolved, - That the letter be "received", and no further action taken pending arrangements for the conference being made by the President. This is page Number 11 of the Minutes of the Ord Meeting of Warrirgah Shire Council held on 9th July, 1956.
23/7/1956: Grant of Easement from F.G. Spurway re subdivision of Lots 87-92, D.F. 13467 Elvina Avenue, Newport.
7/8/1956: By Cr. McKay - Will the Palm Beach camping area matter be before Council before the December elections? By Cr. Hewttt - Will you arrange for the Chief Inspector to conduct analytical tests on the open channel of the Newport main drainage and to furnish a report thereon to Council at an early date together with recommendations to alleviate the nuisance which obtains in relation to adjacent residents and the general danger to public health? The President replied that this would be treated as a matter of urgency. By Cr. Simmonds - Could the grader be put over the northern end of the Newport parking area to give more parking space? Yes, if considered possible by the Engineer.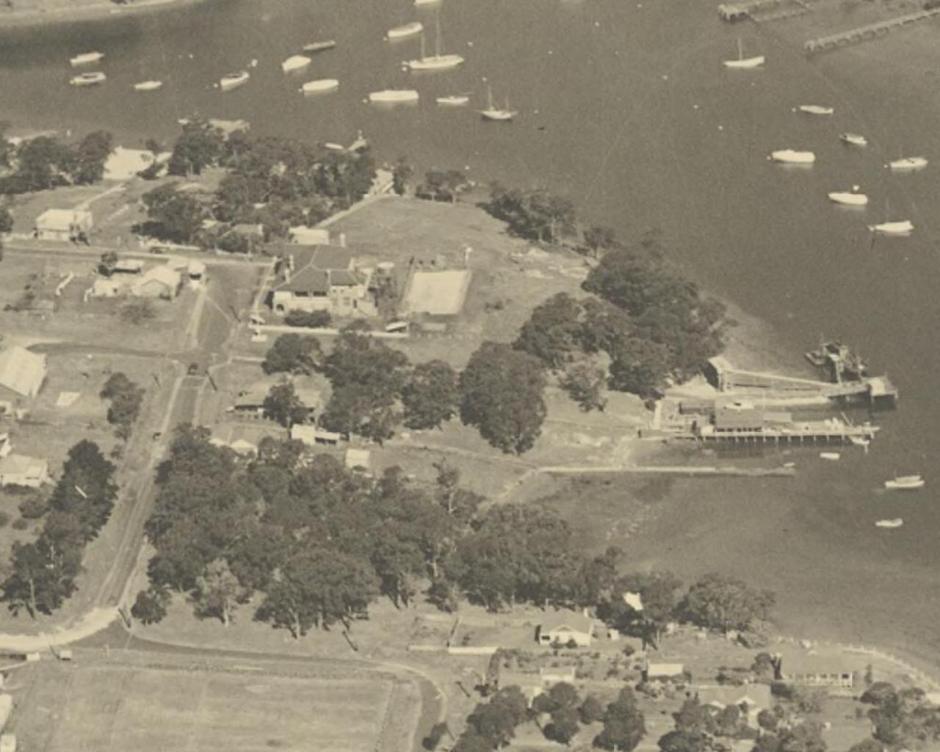 Aerial view of Newport bay circa 1935 by E. W. (Edward William) Searle, PIC P838/838a-b LOC Album 1124/9, courtesy National Library of Australia.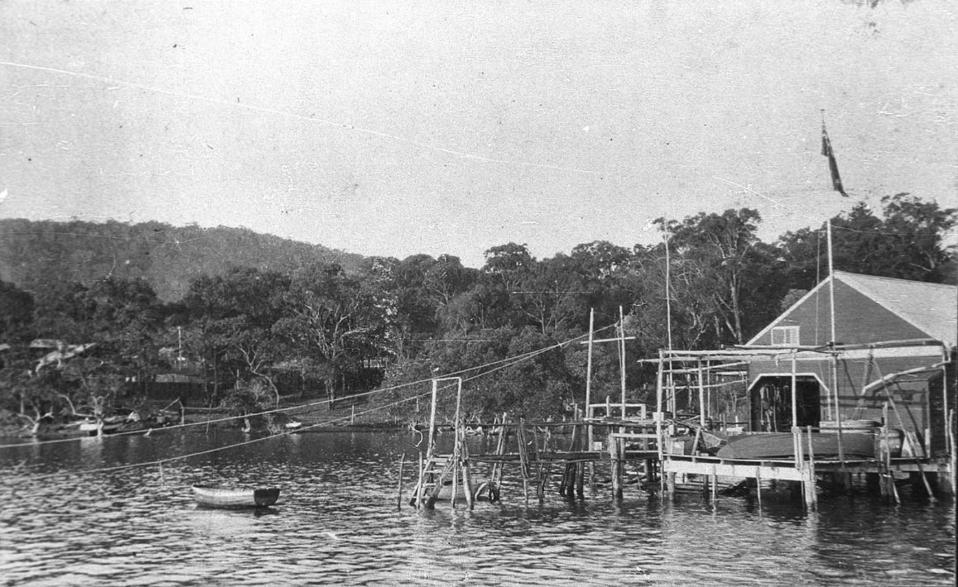 Newport, NSW - Photographed by - Ernest Turner. Item No.: BCP 00640, courtesy the State Library of New South Wales.
Pittwater Roads II: Where The Streets Have Your Name - Newport - threads collected and collated by A J Guesdon, 2019