September 3 - 9, 2017: Issue 328
Royal Prince Alfred Yacht Club 151st Sailing Season Opening Day 2017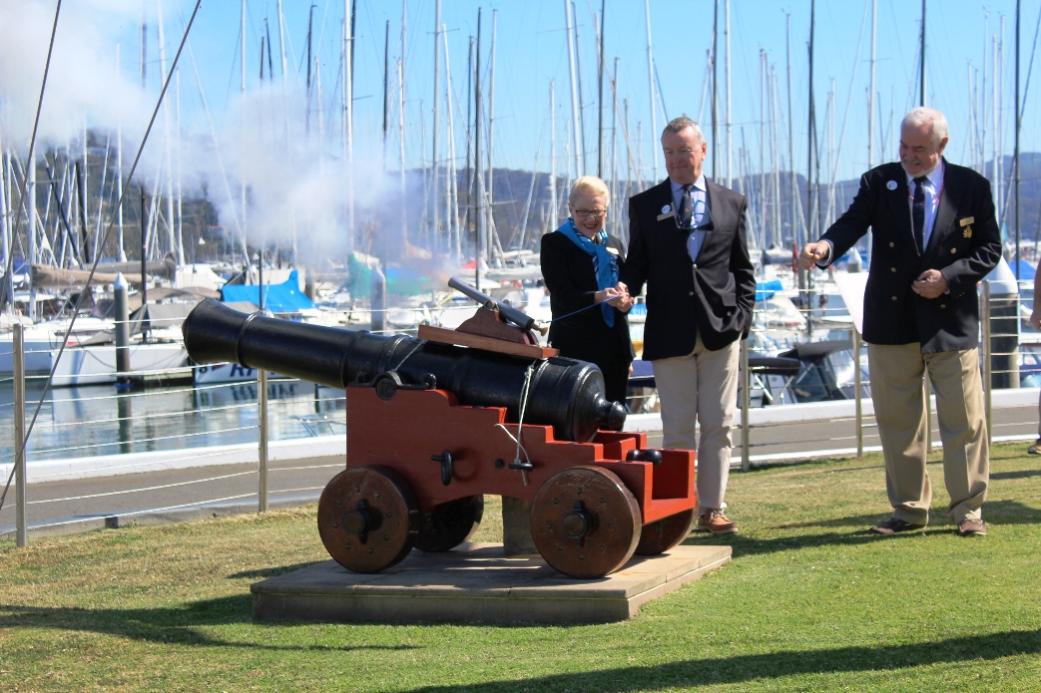 RPAYC Patron Bronwyn Bishop,
Life Member Russell Murphy and Commodore Michael Lockley fire the cannon to signal sailing season open.
Royal Prince Alfred Yacht Club 151st Opening Day For The 2017-18
Sailing Season
Saturday September 2nd 2017
Excellence in Sailing may be their motto but exhilaration in sailing is what visitors and participants alike experience anytime they are moved by sail, wind and keel over the waters of Pittwater and further afield. To watch them glide with speed and grace brings pleasure, to be aboard something beyond that.

At the opening of the 151st Royal Prince Alfred Sailing season a recap of events to celebrate their sesquicentenary year formed part of newly elected Commodore Michael Lockley's Address – as did a refreshing revamp of the sailing program to encourage more people to enjoy what it is like to be among the salt air on the most beautiful estuary in Australia and part of one of Australia's and the worlds foremost yacht clubs.
Our thanks to Commodore Lockley for allowing us to share his speech.:
Opening Day Address 2nd September 2017
Commodore Michael Lockley
Welcome
Good Morning and thanks for joining us today
I'd like to welcome invited guests RPAYC Patron, The Hon. Bronwyn Bishop, Federal Member for Mackellar, Jason Falinski, Commodores and representatives from our fellow sailing clubs as well as Sailing governing bodies.
And of course, the most important of all, our RPAYC members and our staff, led by our General Manager Suzanne Davies.
For those you I may not have met, I'm your newly elected commodore Michael Lockley and I look forward to seeing and speaking with you around the club this season.
Last year we opened the 150th season, making this the 151st so this really marks the start of a new era and I will come to that a bit later.
This 150th year has been one of celebrate and reflection on our past. As you look around you will know this Magnificent Sporting club, its buildings and facilities haven't just developed by themselves. This has come from a lot of hard work by a lot of members over many years.
The celebrations began last year on 15 October with the unveiling of our new sculpture and the beautification of our front entry. This helped cement an move us to a new level of appreciating what we have here.
This year we had the RPAYC Club Champions Dinner Celebrate with many champions from the RPA attending and that illustrated the depth of talent and experience of people who are still here and still with us.
In April 2017 we had our Sesquicentennial Old Timers Race with 37 boats on the Pittwater and over 200 guests for lunch. This again shows the depth of what we do down here at the Royal Prince Alfred.
We had a "Back to Alfreds" cocktail party where we celebrated 25 years of developing the talents of younger sailors through our
Youth Development
program for younger sailors.
Our Sesquicentennial Cruise to the Coral Coast. This was a fantastic time and I think Leon is sailing back to join us at our October Garden Party – we wish him and those sailing with him a safe passage home.
Still to come final events in celebrating our 150th year include a Seniors Lunch that will be held next week. Again we will have over 150 senior members of our club joining me for lunch and to talk about the achievements of the Royal Prince Alfred Yacht Club.
Our Gala Dinner will follow in October.
We will culminate our Sesquicentennial Celebrations with a Race and Garden Party on the 15th of October this year.
So this has been a pretty busy year.
While we've been celebrating this 150th year the Royal Prince Alfred Yacht Club is all about sailing. When you look at what this club produces in a year, particularly this year, it reiterates that sailing and hosting amazing events is what the RPAYC is all about.
Aside having one of the most comprehensive sailing calendars in the country, we have hosted a range of regattas which include;
Couta Boat Summer Pittwater Regatta

Young 88 Nationals

The Old Timers Regatta

In November we hosted The Harken International Youth Match Racing Regatta, where the clubs welcomes sailors from all over the world

We had the Whisper Mug

The Autumn One Design Sports Boat Regatta

The Dicko Cup up at Hallett's Beach on Australia Day.

We ran the David Lukins Match Racing Regatta. The David Lukins Memorial Trophy is an annual event on the clubs racing calendar that sees current and former Youth Development program participants & Club Members compete in a Grade 4 Match Race event.

The Regatta is held in memory of David Lukins. David was a tireless volunteer around the club, helping out in a variety of areas such as kids learn to sail, Centreboard, Youth Development mentoring, race management, & umpiring just to name a few. This resulted in David receiving one of the clubs most prestigious awards, Volunteer of the year for 1998-99.

We held the Gwen Slade Etchells Regatta. The Gwen Slade regatta is a one design, Etchells regatta with women at the helm of each Etchells. The regatta was started in 1981 by Russell Slade in honour of his wife Gwen, and to encourage women sailors.

And hosted the Huntingfield Cup Australian Championships – this is an annual regatta for the Jubilee class. This is quite a special regatta as the Jubilee was the first boat raced in an RPAYC race in Pittwater back in 1938, so this was a very significant regatta for us this year.

We hosted the Sydney 38 NSW Championships

and the Melges East Coast Championships
As I eluded earlier we are in a new era and investing in our sport more than we ever have
before.
On Thursday evening Safety briefing many of you would have meet our new Race Director Nick Elliott ,who skyped in from Plymouth having completed the management of the Famous Fastnet Ocean Race.
When Nick arrives he will provide support for volunteers and race management.
There are also other changes we've made to our Sailing Program. This year we've developed a calendar which we think is more inclusive and allows more time for people to enjoy racing on Pittwater. This includes more regattas, the bigger Blue Water Classic; the Pittwater to Paradise, a great One design program which is more affordable and more time efficient ways to participate to allow more people to come here and enjoy this beautiful estuary. All this includes us retaining the ever popular club racing series.
So this is a very exciting program we're rolling out this year.
There have been some great achievements the Royal Prince Alfred Yacht Club has enjoyed this year. One of these I think the accolades must go to our club staff, our General Manager Suzanne an the Marina staff as we won
The Marina Industry Association — 2017 Club of the Year
– congratulations.
This year we also involved our club through our community program IdS, the Integrated Disabled Sailing, with the
2018 Invictus Games launch
. The Invictus Games will be held here in Sydney and on Sydney Harbour in October next year and we will be an important art of this sport.
The Patrons are our very own James Spithill and Prince Harry who was here to launch the games. It was wonderful to see these two redheads, one being RPAYC Coach Tom Spithill, on the harbour just a few months ago. This is a real accolade for the Royal Prince Alfred Yacht Club and we look forward to supporting the 2018 Invictus Games.
Our Paralympics athletes. Last year Commodore Audsley thanked and congratulated Jason Waterhouse and Lisa Darmanin and we just missed out in congratulating Dan Fitzgibbon and Liesl Tesch for their achieving a
Gold medal in Rio
as they won just after our 2016 Open Day.
So I'd like to thank and congratulate Dan Fitzgibbon and Liesel Tesch who after winning gold at London took it to Rio and won gold there too. What fantastic members of the Royal Prince Alfred Yacht Club.
And of course, who wasn't getting up at 3 in the morning to watch the America's Cup – that was a lot of fun.
Over there, in management and crew, a lot ofthose involved were Australians and a lot of these are RPA Members and this demonstrates again the depth of this club and is a tribute to the sailing programs developed over many years at RPA.
On a sadder note, this year we had the passing of yachting Legend and
Club Legend Jack Gale
on the 7th of July.
Jack was born locally and grew up in North Narrabeen. He was in the Ary for a while and came to the Royal Prince Alfred Yacht Club in 1956 as caretaker and yard manager at the RPAYC.
He became the Yachting Manager and ran the races and ultimately Club Secretary/ Manager. His dedication shaped the current wonderful facilities enjoyed to-day.
When he retired in 1988, he continued running RPAYC races and regattas and remained one of our sailors, race manager, administrator and commentator.
In 1994 Jack became a Life Member. I remember late in 2009 Jack was still out there running races for us on Pittwater.
In 2014 we renovated the Moon Bar, the old clubhouse, and named this
The Jack Gale Centre
in Jack's honour.
Those of you who knew Jack knew he had a great sense of humour. In fact on many ocaisionas Jack was asked to be a commentator in many parts of the world and made a fantastic impression on the yachting world with his fantastic sense of humour and incredible memory and knowledge of yachting.
In the next few weeks we'll be holding a Memorial Service to celebrate Jack's wonderful life.
The club Volunteers - form a very important role. We have over 100 club volunteers here who do hundreds of hours of work. For them it may be their sport but without them we could not run all the yacht racing and functions that we have here in this beautiful facility. I would like to take the time and opportunity to thank them – our club volunteers are the best.
When you are celebrating a 150 years it can be an exciting time to dig out all the Archives. Here we have an Archives Committee led by Commodore Richard Hudson.
We have Archivists David Kennedy and David West, Rob Cole, John Lanser, Peter Kennett, Commodore Bruce Staples and Club person of the year, Julia Hornsby.
These people have spent hundreds of hours this year working in building up our Archives.
As you entered the club today you may have seen the History Wall storyboard. There are now 13 of these on site around the club and I would recommend you walk around today, or at some other stage, and immerse yourself in RPA history.
These storyboards are fabulous and the Archives Committee has done a wonderful job.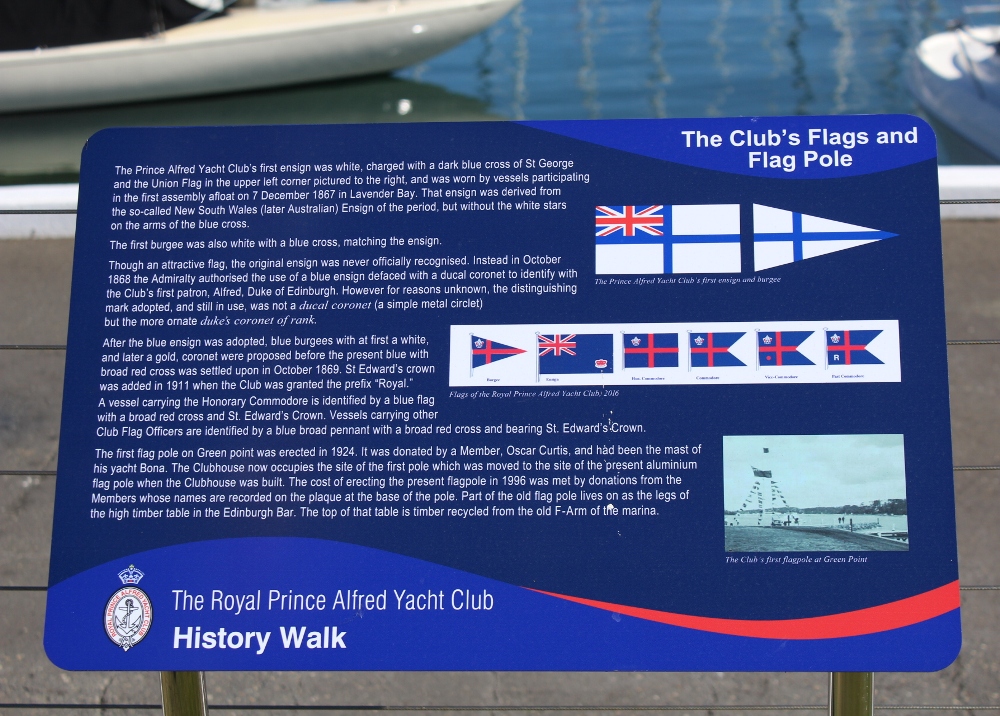 Storyboard Example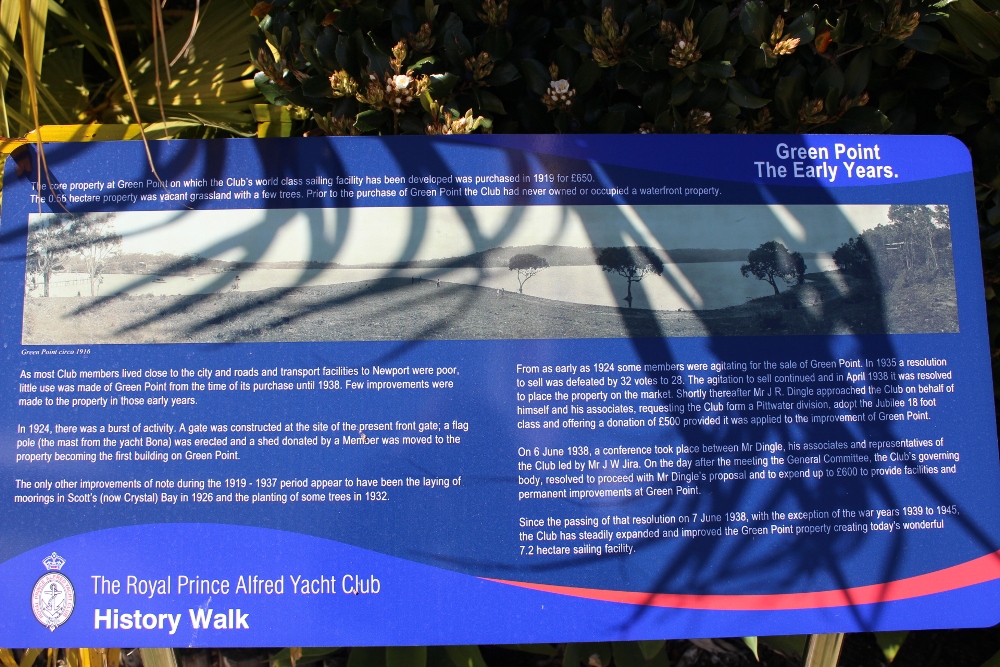 We've also had a lot of Members bring memorabilia into the club, we've shined up a lot of trophies and bits and pieces we've found in various nooks within the club and built ourselves a Fire proof Archives Room so that these archives may last forever.
I would like tot hank the committee, they've done a great job.
There is also a History Wall going up and I must make special mention of Member Robert Cole and Scott Dunstan. Scott you may not know but you see his work around the club in event posters – he is truly a great artist. We thank Scott and all the Archives Committee for bringing these records to life.
Thank you all for joining us today
Enjoy the day and the season. I look forward to seeing every one around the club and out on Pittwater participating in club events.
On that note!
I now declare the 2017-2018 Sailing Season Open!
Commodore Lockley invited Club Patron, The Hon. Bronwyn Bishop and Jason Falinski, Federal Member for Mackellar to speak a few words, both of whom congratulated the club on their Sesquicentenary.
The Hon. Rob Stokes, Member for Pittwater and NSW Education Minister was unable to attend and sent his apologies.
RPAYC Patron Bronwyn Bishop led the National Anthem.
New Life Member Russell Murphy and Patron Bronwyn Bishop to fired the cannon while 2017 Club Person of the Year Julia Hornsby cracked the flag as part of the official ceremonies.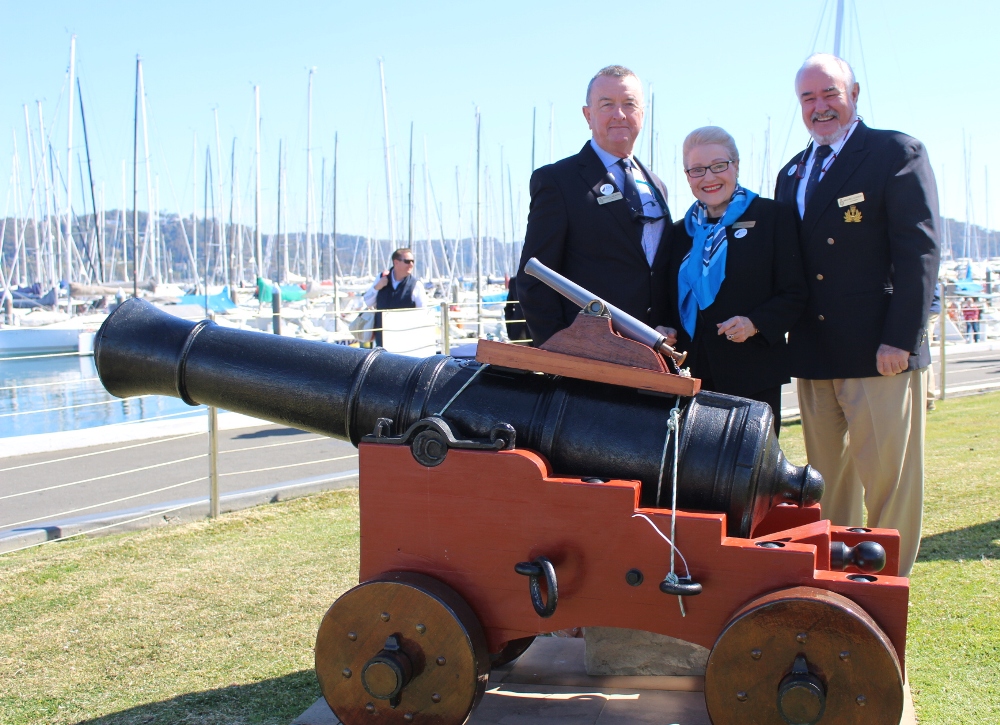 The annual Sail Past saw a fleet of yachts and even a canoe salute the Commodore with Skippers and crews giving
"Three Cheers for the Royal Prince Alfred Yacht Club."
The Royal Prince Alfred Yacht Club will hold a Discover Sailing Information Day: September 24, 2017 11:00 until 14:00
The Discover Sailing Information Day is an opportunity for the whole family to learn what sailing life is all about and how to become involved at any age!
There will be a variety of Dinghies rigged on the lawn to inspect and learn about, course information for Holiday programs, youth learn to sail, adult learn to sail and Twilight Sailing experiences plus more!
Invite all your friends, family and colleagues to learn more about sailing and club life at the Alfred's.
Below run some of yesterday's Open of sailing Season pictures - Guests and Sail Past - a
n album is here
- if you'd like a full res. copy of any, please
email us
with image number
NB: Pittwater Online does not charge for images for people to have a photo of themselves (non-commercial).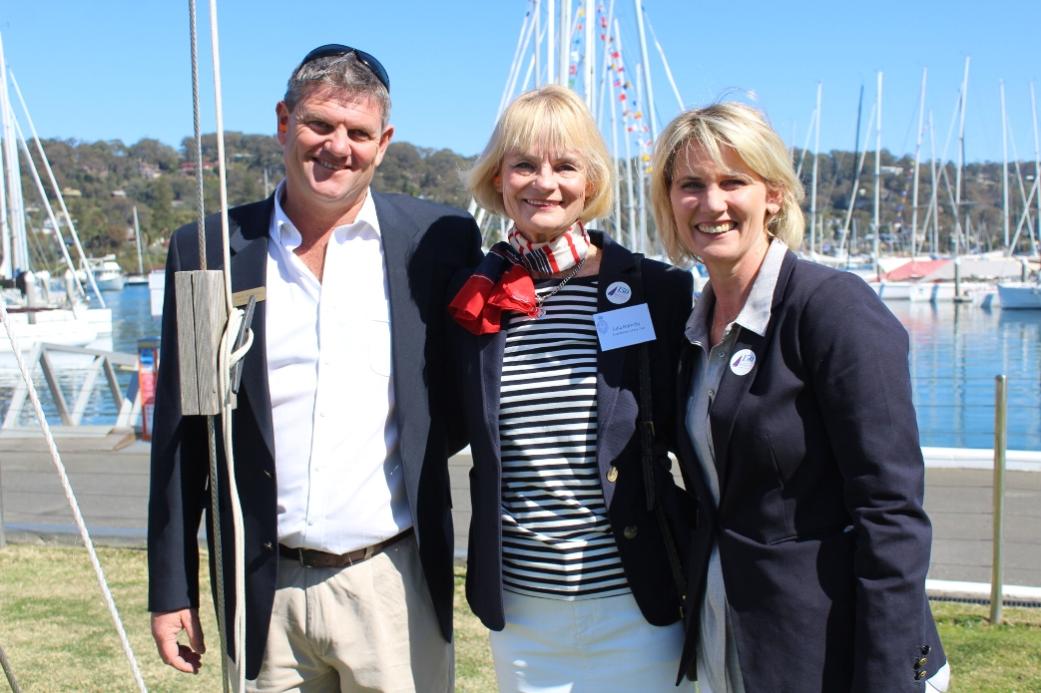 David Randall, RPAYC Facilites Manager,
RPAYC Club Person of the Year Julia Hornsby, RPAYC General Manager Suzanne Davies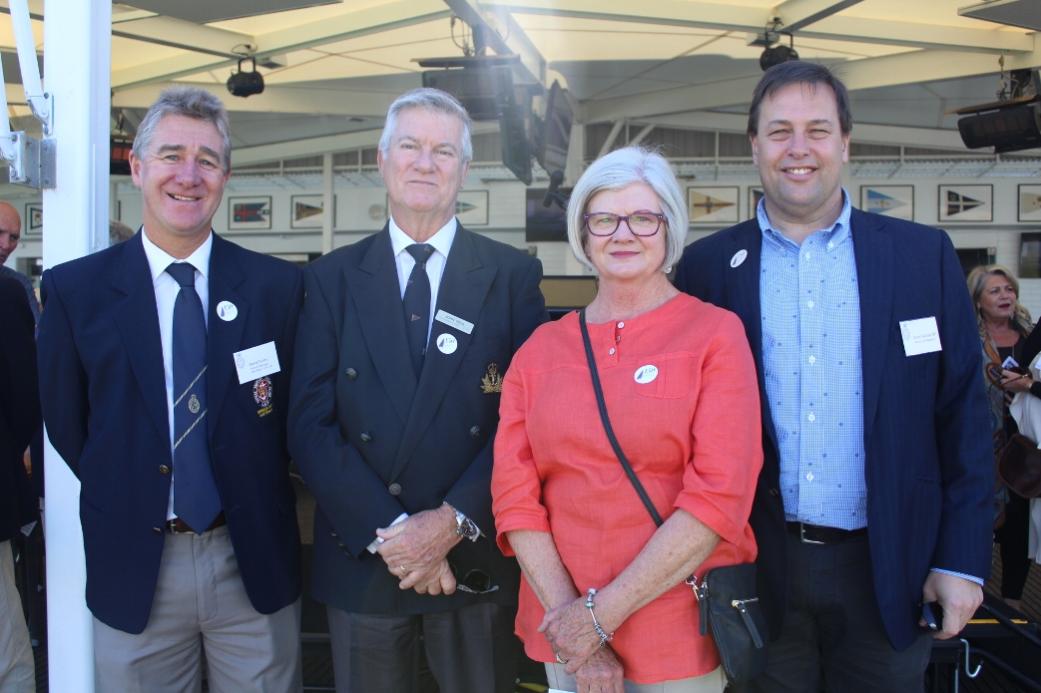 RMYC BB General Manager Steve Euers,
Michelle and John Paul (
RPAYC
Commodore 1999-2001), Federal Member for Mackellar Jason Falinski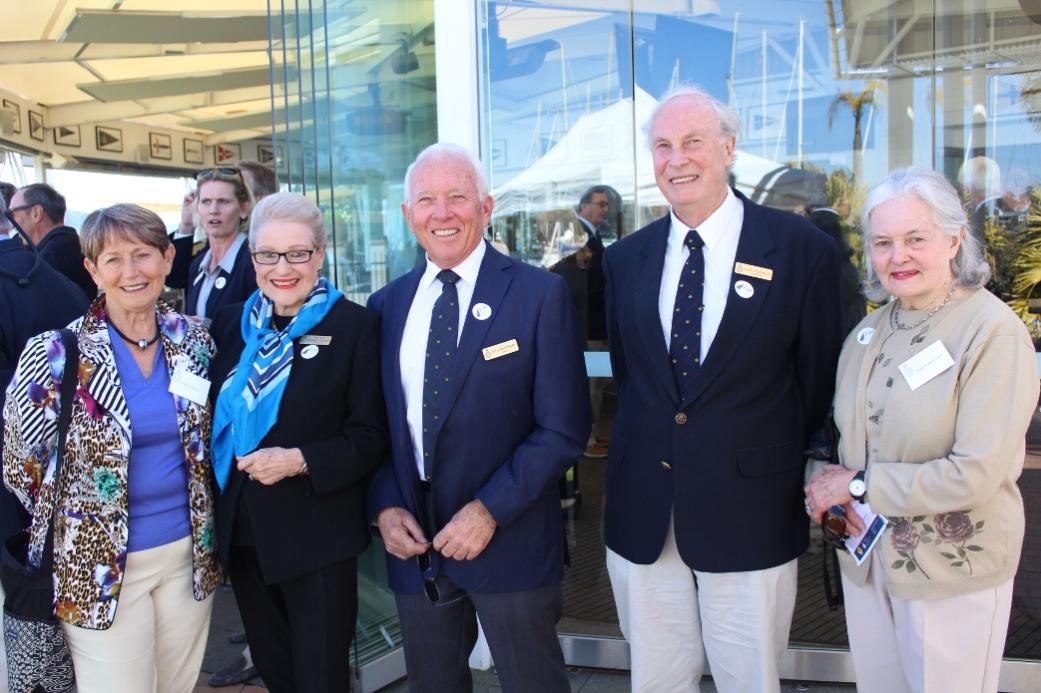 Left to right: Elaine Ebsary, Hon. Bronwyn Bishop, William
Ebsary RPAC Director, David Kennedy RPAYC Life Member, Dianne Kennedy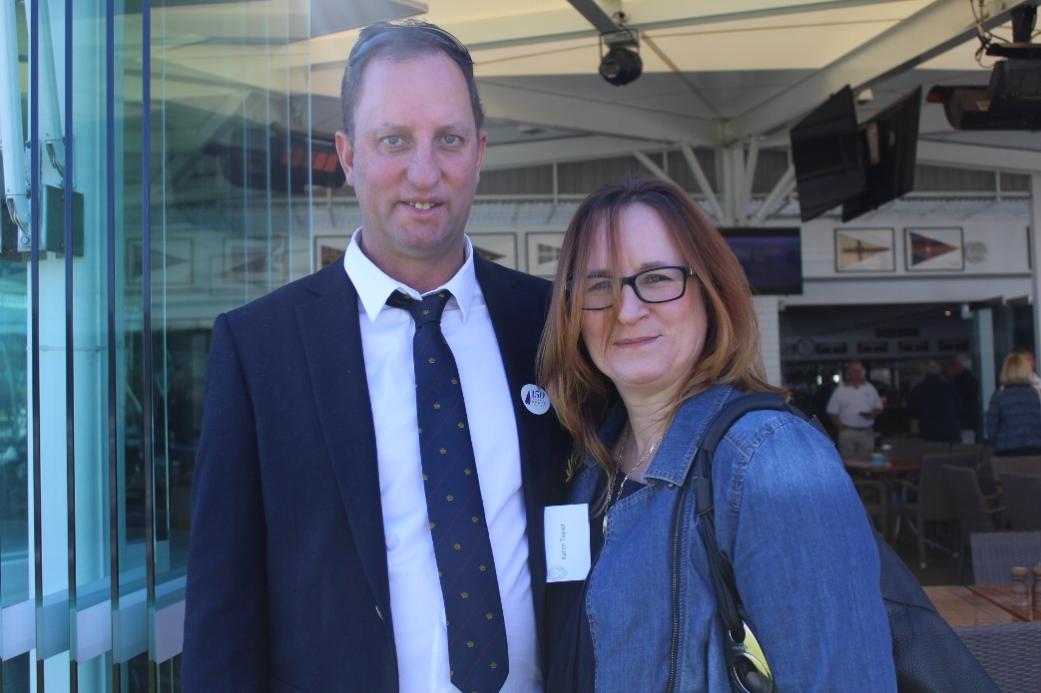 David Taylor, RPAYC Rear Commodore Centreboard and Karen Taylor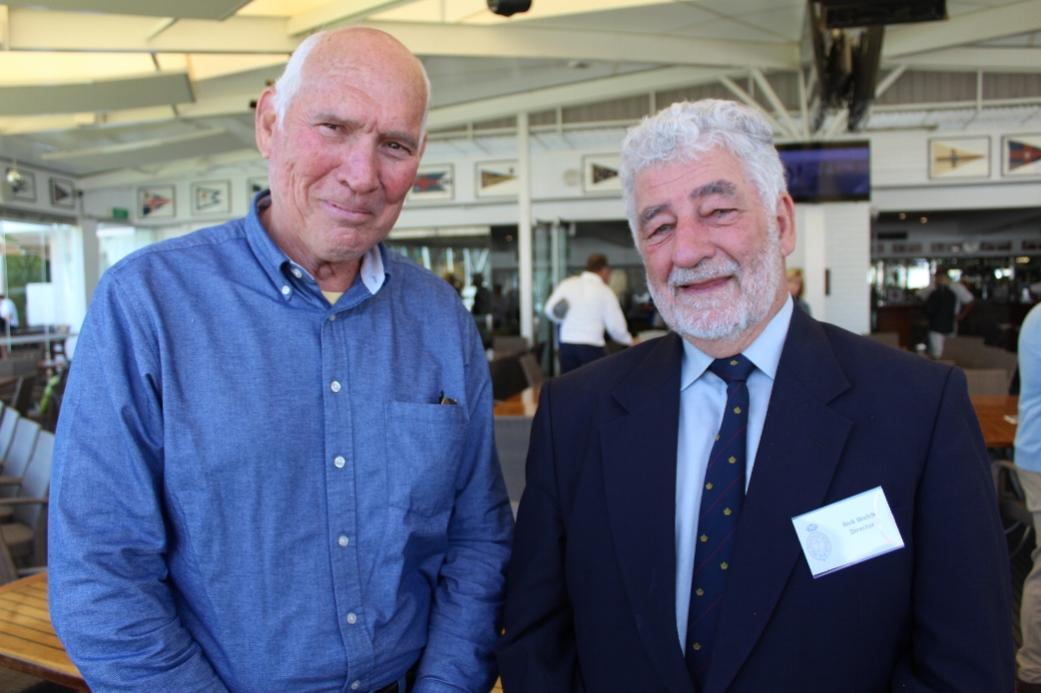 Bruce Lakin, Rotary District 9685 Governor 2016-17 and Rick Welch RPAYC Director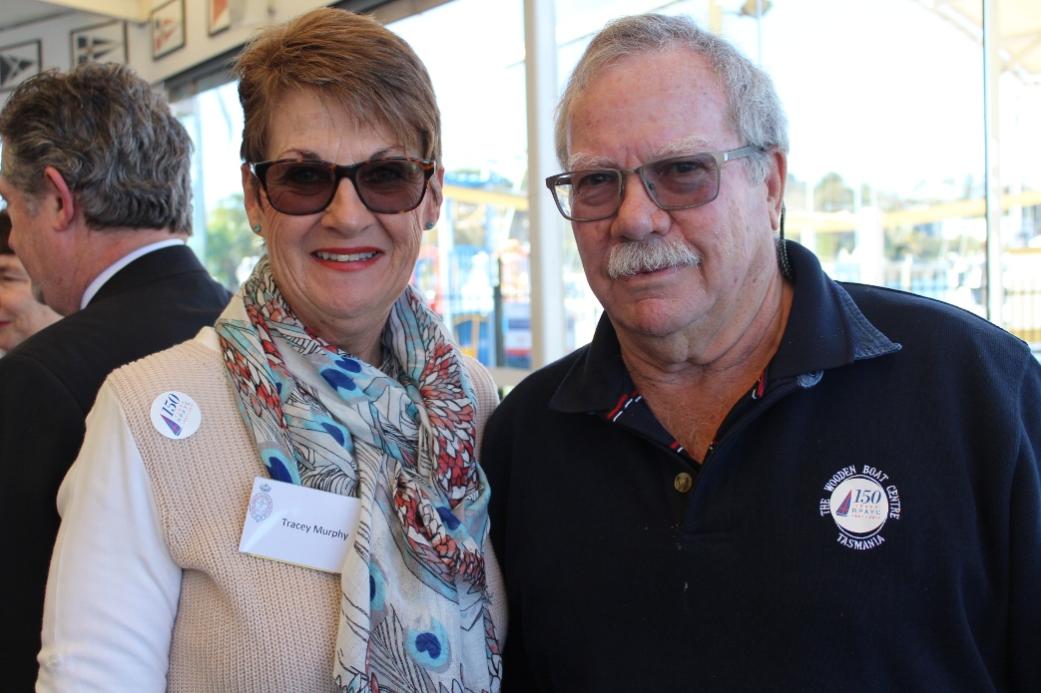 Tracey Murphy and Rob Cole,
2015 RPAYC Clubman of The Year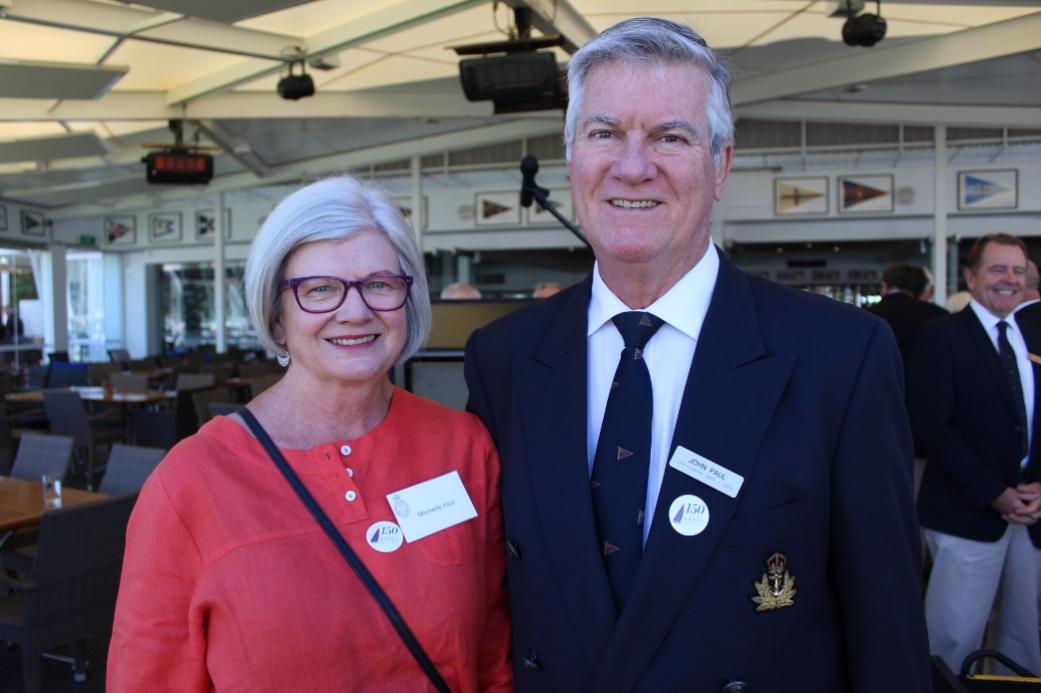 Michelle and John Paul (
RPAYC
Commodore 1999-2001)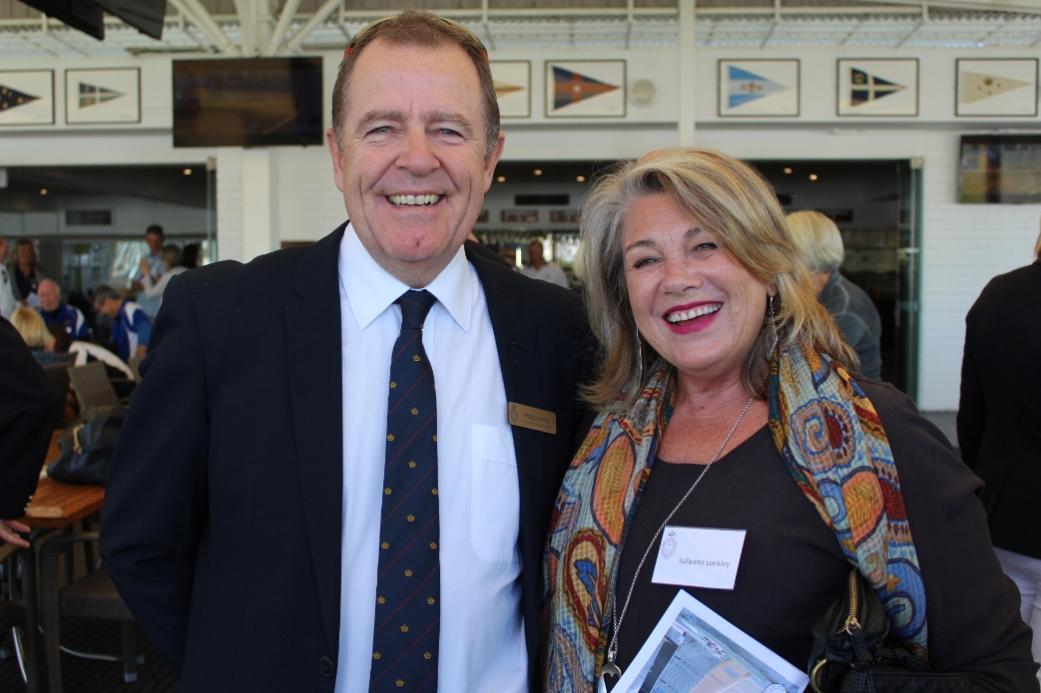 Rob Curtis
(
RPAYC
Commodore
2011-2013) and Sallyann Lockley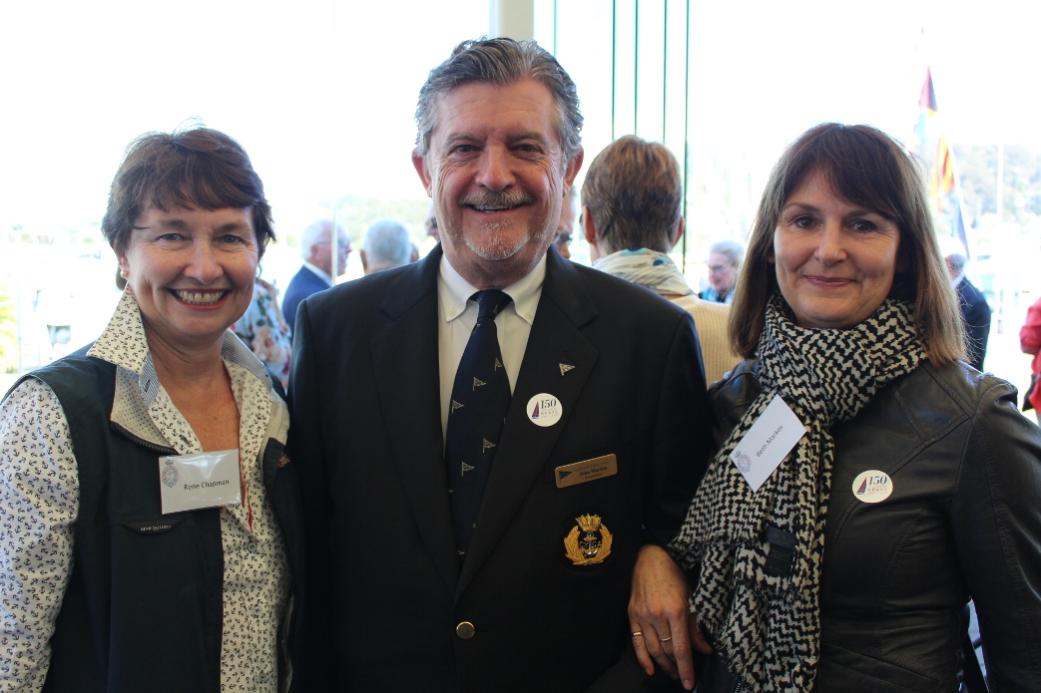 Beth Chapman, John Markos Commodore Cruising Yacht Club of Australia, and Beth Markos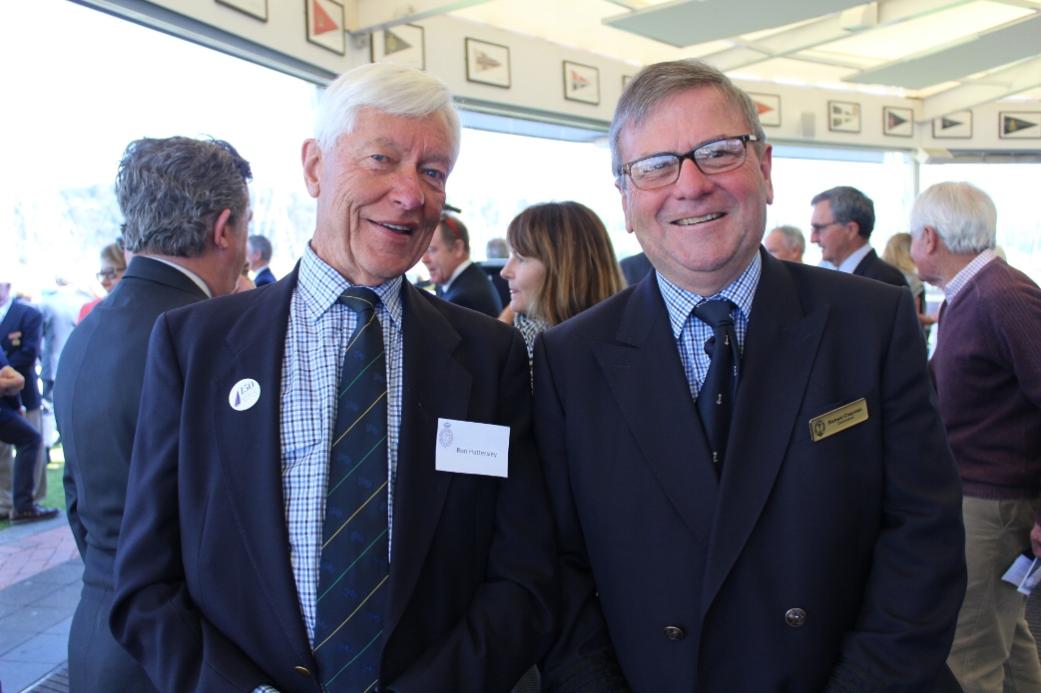 Ron Hattersley and Richard Chapman Commodore Royal Sydney Yacht Squadron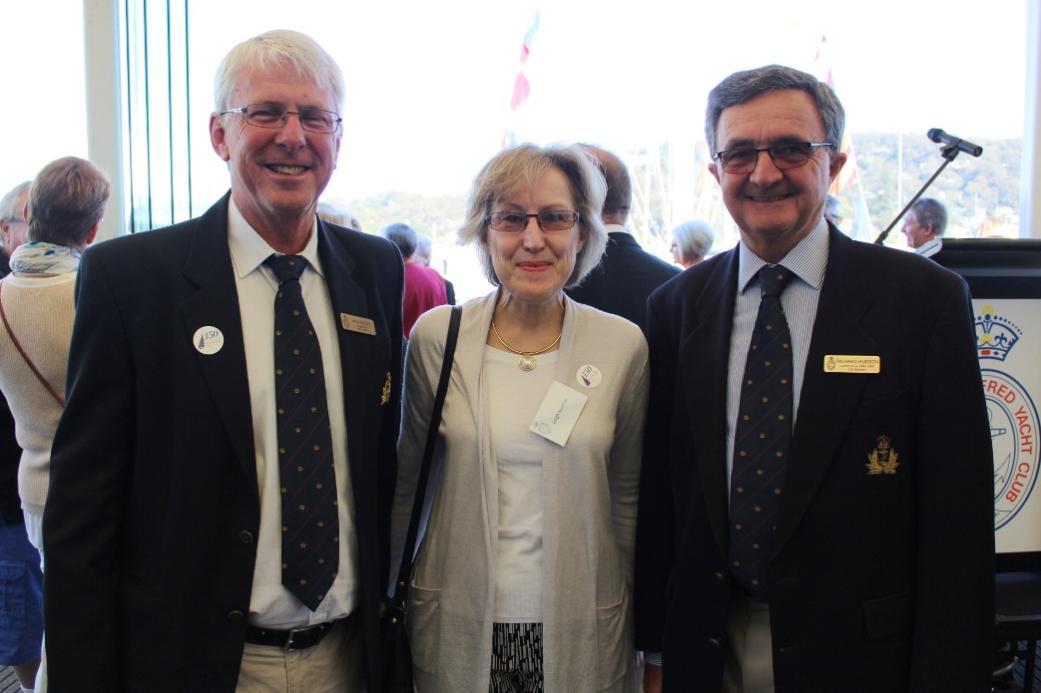 Ian Audsley (RPAYC Commodore 2014 - 2017), Leigh Hudson and Richard Hudson (
RPAYC
Commodore 1994 - 1995) Life Member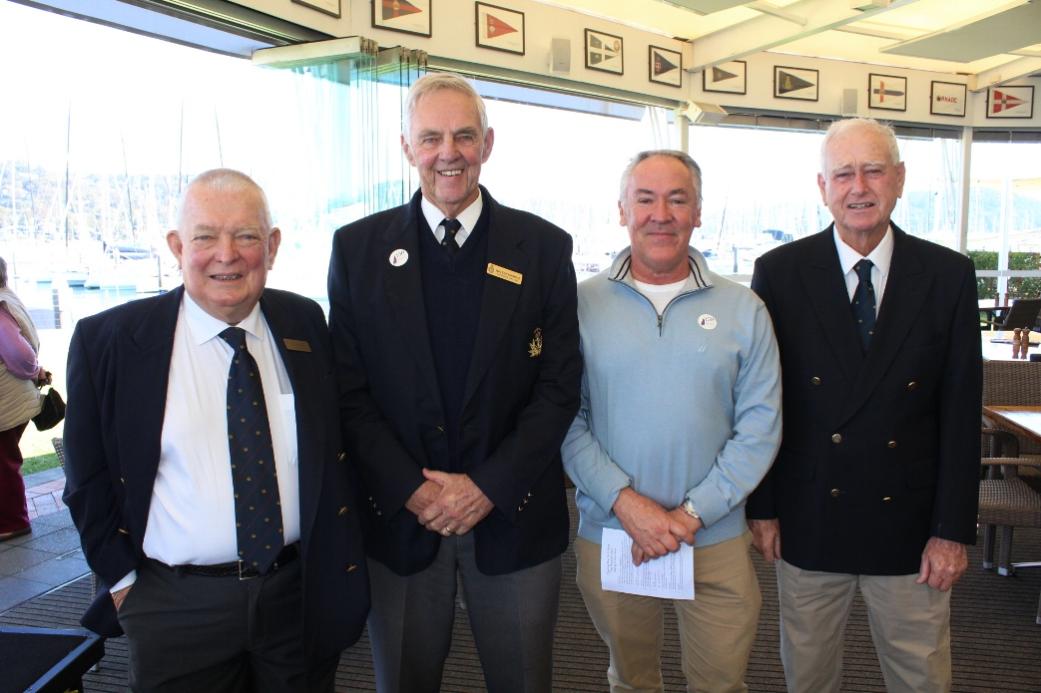 Walter Wardle (RPAYC Commodore 1992-1994), Rob Gale, Bruce Staples (RPAYC Commodore ) RPAYC Archives Committee and Life Member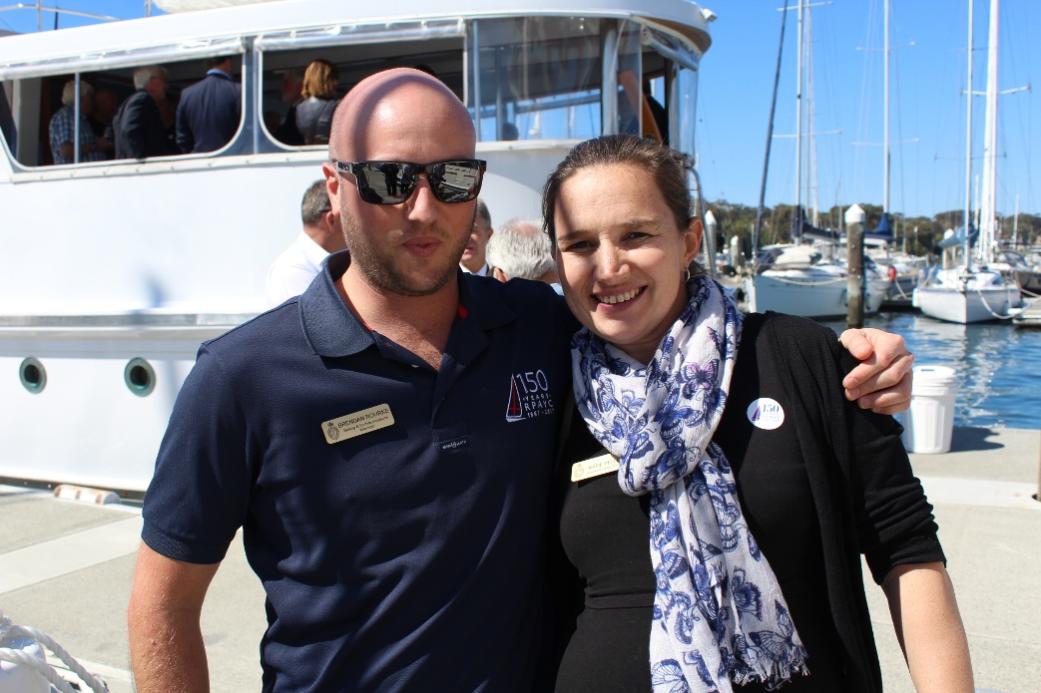 Brendon Rourke, RPAYC Sailing & Communications Manager and Katie Spithill Pellew, RPAYC Assistant Sailing Manager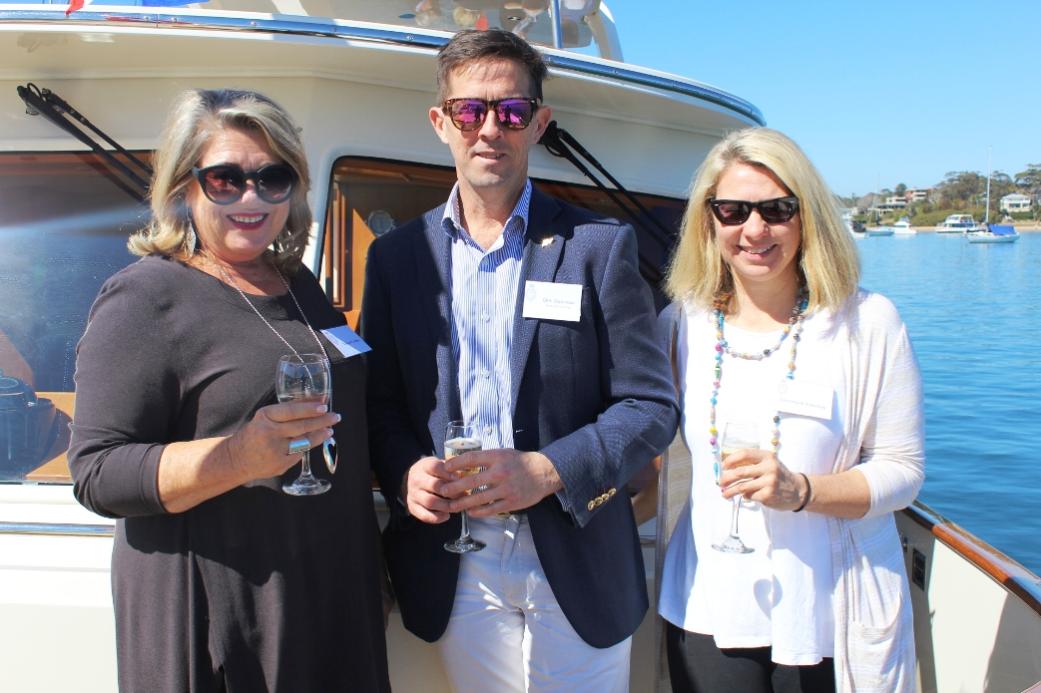 Sallyann Lockley, Glen Stanaway Australian Sailing and Dominique Stanaway