January 15 - 21, 2017: Issue 296

International Etchells 2017 Australian Championship
Hosted by the Royal Prince Alfred Yacht Club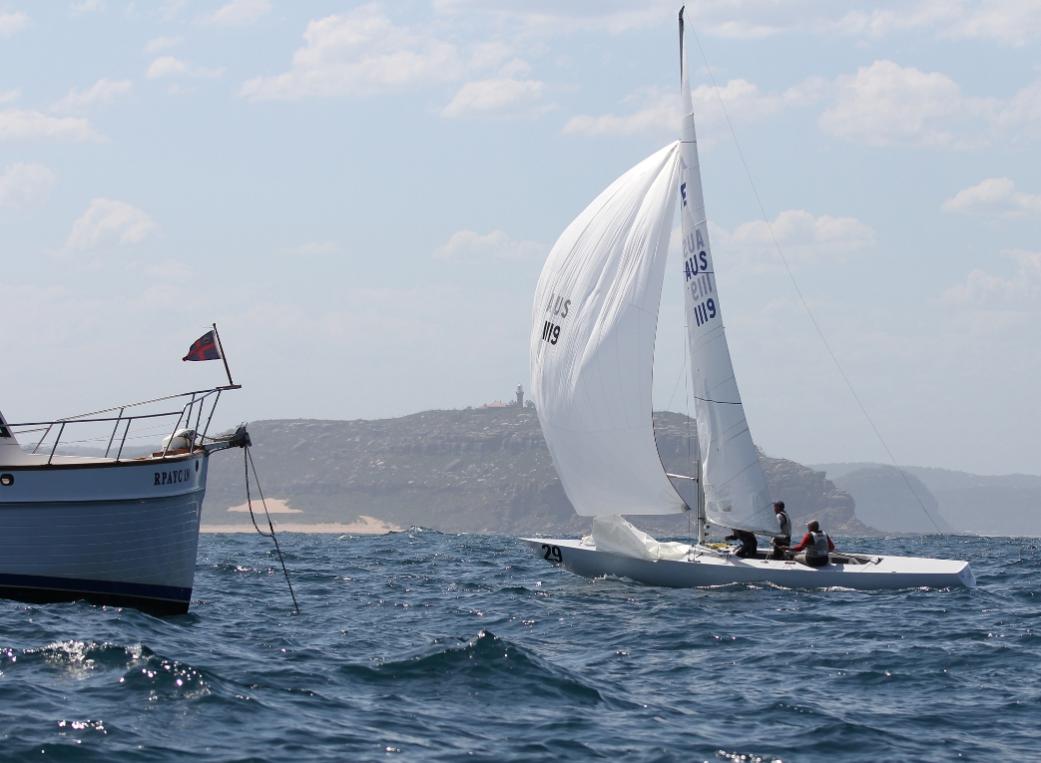 Northern Havoc finishing - photo Stephen Collopy RPAYC
Crewmates Deadlocked At 2017 Etchells Australian Championship
Event: International Etchells 2017 Australian Championship hosted by the Royal Prince Alfred Yacht Club, January 11-15, 2017 with racing on the Palm Beach Circle
On board the Oatley family's supermaxi Wild Oats XI they are crewmates. At the Etchells 2017 Australian Championship skippers Graeme Taylor and Iain Murray are deadlocked on opposing boats at 16 points apiece with Taylor leading the series on a countback.
A past Etchells Australian champion from Victoria, Taylor also has Wild Oats' long-time mainsheet hand Steve 'Mothy' Jarvin crewing Magpie (Mornington Yacht Club), along with James Mayo.
On racing against Taylor and Jarvin, Murray (Northern Havoc, Royal Sydney Yacht Squadron) said, "They are our mates, we tune up with them and we socialise with them. It's all pretty friendly; we don't bang each other around on the race course too much, though if it comes down to the last race then maybe that will change.
"Today was meant to be a straightforward nor'easter but it all went light and floppy; it was a pretty tricky day. Winds were reasonably strong then it turned really hot and they died out in race one. In the second race we had medium breeze and then it went light again. For the third start conditions started to get really windy and bumpy," Murray added.
Third overall with 21 points after three races is Doug McGain's Ciao (Cruising Yacht Club of Australia).
Saturday's race wins went to David Edwards' Michael Coxon-helmed Iron Lotus and Chris Hampton's Tango, sailing for Victoria's Royal Brighton Yacht Club.
Race officer Ross Wilson managed to squeeze in two good races on day two then blew the third when the breeze kicked up to 30 knots and more concerning, the sea state in the Palm Beach circle built correspondingly.
"The waves up the first work of what would have been race four were incredible - if an Etchells went down those it wouldn't come up again. Plus the Bureau had issued a strong wind warning so we called it a day," Wilson said.
He's aiming for three races on Saturday.
Only one race was scored on the opening day, Thursday January 12, after multiple delays thanks to light winds 6-7 knots on top of two general recalls, a postponement, and then finally a black flag start for the edgy 45-strong Etchells fleet.
Current Etchells world champion John Bertrand won the opening bout then failed to finish race two when their top mainsail batten blew out just as they started. "We had to drop the main for repairs," Bertrand said. "It's never happened before….Murphy's Law I guess." The DNF score becomes Triad2's one drop from the final series pointscore.
Saturday's forecast is north to north-westerly winds 15 to 20 knots reaching up to 30 knots offshore early in the morning before winds shift southerly in the morning then tend east to south-easterly in the late afternoon. South-easterly 15 to 25 knots turning easterly 10 to 15 knots in the late afternoon is the likely scenario for the final day of the national title staged by the Royal Prince Alfred Yacht Club at Newport on Sydney's northern beaches.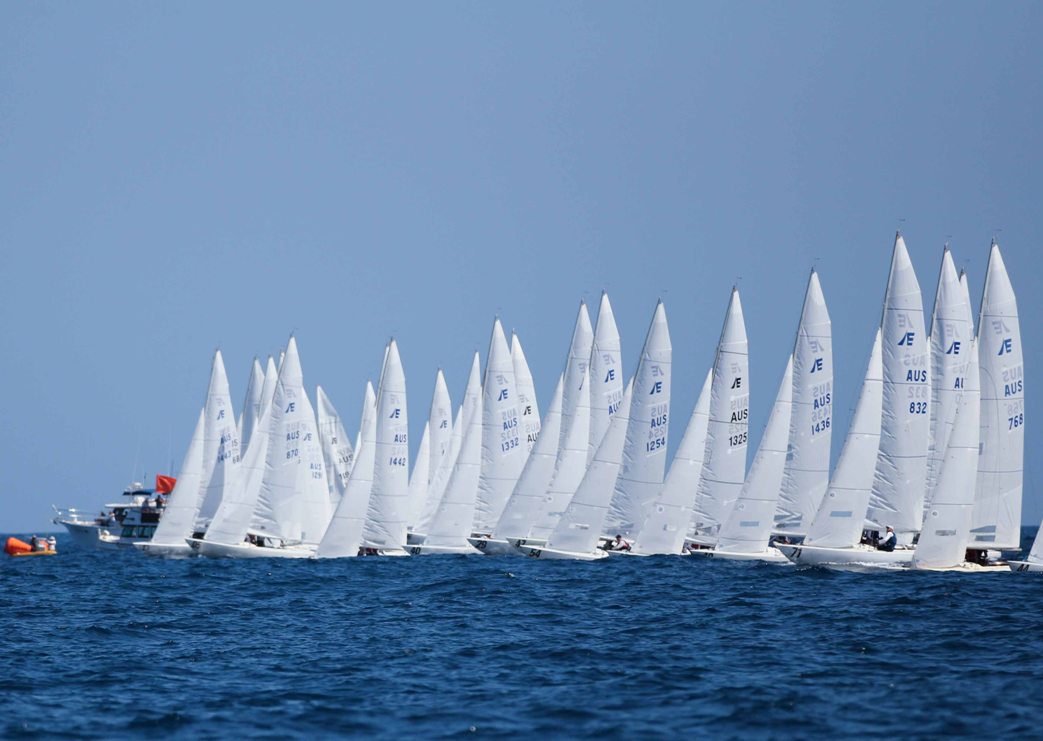 Start line 2017 Etchells Australian Championship - photo by Stephen Collopy RPAYC
War Of The Worlds At The 2017 Etchells Australian Championship
An outstanding 46 boat line-up is due to contest the Royal Prince Alfred Yacht Club run Etchells Australian Championship January 11-15, 2017, including five current and former world champions and multiple national champions in Etchells and other classes.
Current Etchells world champion John Bertrand isn't competing with his 2016 winning worlds crew, instead he's recruited Bill Browne and Jake Newman to challenge for the series with Triad2. The trio has achieved their own success in the class, a state title and second at a previous national title.
On the opening day of racing tomorrow Bertrand said, "The Etchells continue to be the hottest one design fleet in the country and I'm really looking forward to the Australian Championship. Typically there's a very good fleet of world champions and Olympic competitors, plus a whole lot of young people are coming through the class." The forecast Bertrand describes as "a mixed bag".
The 2012 Etchells World Champion team of David Edwards and Ivan Wheen will be joined on Edwards' latest Etchells called Iron Lotus by sailmaker Michael Coxon on the helm plus Royal Sydney Yacht Squadron youth sailor Alex Rozenauers.
"The little I've seen of the forecast there should be something for everyone," Richards said. "It's going to be a strong fleet with John Bertrand and other guys who are on form.
"From our perspective after borrowing and chartering other people's boats for the last couple of years we are looking forward to getting out on our own boat for its first regatta. We've had a few outings on Sydney Harbour and now we are eager for the heat of battle, though in one design we know it's not the boat; it all comes down to the people. Our biggest competition will be ourselves," Edwards added.
Peter McNeill (Iris III), Iain Murray (Northern Havoc) and Cameron Miles, who is crewing for Bruce Ferguson (Whisper), are all past Etchells world champions.
Racing is due to start on Thursday January 12 in southerly winds 15-20 knots turning east to south-easterly 10-15 knots during the day. On Friday fresher north-easterly winds 15-20 knots increasing to 20-30 knots during the afternoon are forecast to blow, chopping up the sea state and testing crews' heavier weather prowess.
Two races per day and a maximum eight races constituting the series are scheduled to be conducted under PRO Ross Wilson in the vicinity off Palm Beach Headland on Sydney's Northern Beaches known as the Palm Beach circle.
Thursday's first warning signal is due to sound at 1255hrs and Friday through to Sunday the start sequence begins at 1155hrs. The final trophy presentation will take place at the RPAYC after racing on Sunday January 15.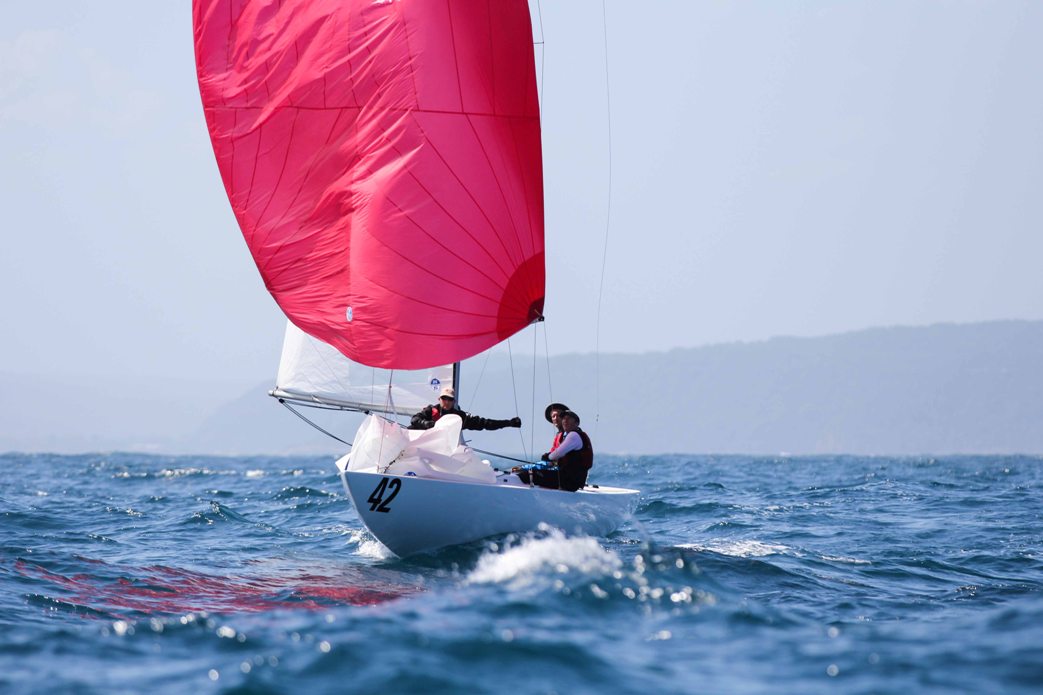 David Edwards' Iron Lotus coming to the finish line_credit Stephen Collopy RPAYC