May 28 - June 3, 2017: Issue 314
America's Cup 2017: Australian Sailors and Technicians are Part of Every Team

America's Cup 2017: Australians Part of Every Team
The America's Cup 2017 commenced qualifying rounds on Saturday May 27th (Sunday 3 a.m. in Australia). The 35th AC has sailors from Pittwater among the Teams in James Spithill as Skipper-Helmsman for the Oracle USA Team, and Jason Waterhouse as a Wing Trimmer / Grinder on SoftBank Team Japan. Pittwater is also there when you take into account Iain Murray AM is Regatta Director.
If you want to play spot the Australian it won't be too hard as New South Welshmen, Victorians and West Australians outnumber all other nationalities among sailors and support crews. Lake Macquarie's Nathan Outteridge is Skipper-Helmsman for Team Artemis (Sweden) while Glenn Ashby is Skipper/Wing Trimmer for the Emirates Team (New Zealand). In Nathan there's another Pittwater connection as his sister Haylee sails with Pittwater's Nina Curtis, this pair already in training and working towards a possible place at the Tokyo 2020 Olympics.
With
Australian Ken McAlpine
as Chief Measurer, and Australians part of every Team whether on or off the water,
you begin to understand just how many Australians are involved in the 35th America's Cup and how strong Australian sailors, technicians and dockside support crews are and how many of these have a connection with Pittwater in this foremost of elite sports.
Iain Murray AM began sailing on Middle Harbor, Sydney, as a 9-year-old in the Flying Ant class. His greatest success came in Sydney's iconic 18ft skiff class, in which he designed, built and sailed Color 7 to win a record six consecutive championships from 1977 to 1982.
The success in the 18' skiffs led Syd Fischer, Australia's most regular and least successful challenger for the America's Cup to select him as helmsman of his 1983 challenger Advance. Mr.
Murray joined with Kevin Parry's Kookaburra syndicate for Australia's defense of the Cup in 1987. He has also enjoyed a tremendous career as an offshore sailor, winning many of the world's classic events including three overall victories and eight line honors wins in the Sydney-Hobart race. He also was on the winning Australian team at the last Champagne Mumm Admiral's Cup. As a one-design sailor, Murray ranks his Etchells World Championship in 1984 as one of his most satisfying victories. He also placed third at the 2005 Etchells Worlds.
In 2008 he competed in the Olympic Regatta when he represented Australia in the Star Class.

"If they don't comply with the rules they don't get a certificate and don't go racing so they have to comply," Mr. McAlpine, who started sailing at the age of 11 in Sydney, explained this week. "We'll help them as much as we can to make sure they are within the guidelines."

Ken's role as Chief Measurer for the 35th America's Cup is a privileged position. A trained Naval Architect, McAlpine is somewhat of a veteran of the America's Cup, having been involved in no less than eight stagings of the event, starting back in 1970 with a limited role before being asked by the The Australian Yachting Federation to measure Australia II in 1982. Following that experience he was appointed the Technical Director for the International Twelve Metre Association, as well as being involved in the development of the International America's Cup Class. Subsequently, Ken was appointed Chief Measurer and Technical Director for the 1992, 1995, 2000, 2003 and 2007 America's Cup Regattas.
It's a case of ditto when playing Spot the New Zealander; although not in the same numbers as Australians, there are champions from the Land of the Long White Cloud among the Teams.
Crews representing Britain, France, Japan, New Zealand and Sweden will seek to win the right to challenge Team USA for the title in the America's Cup match starting Saturday June 17 over the next two-and-a-half weeks.
The opening match-ups, which began 3 a.m. this morning (May 28, AEST) see Team USA against Team France, Artemis Racing against Team Japan, France versus the
Glenn Ashby
-skippered Team New Zealand, and Artemis against Britain's Land Rover BAR.
Ever since its inception in 1851, when a schooner named 'America' raced around the Isle of Wight in the UK and conquered the best that Britain could offer, the world's oldest sporting international competition has continued to push back the boundaries of what is possible with revolutionary innovations on and off the water.
Those advancements will be at their spectacular best in this year's 35th staging of the event in the beautiful waters of Bermuda's Great Sound. In days past, America's Cup boats had to sail to the venue where they would compete. Now the sophisticated catamarans will 'fly' across the water in Bermuda, courtesy of revolutionary hydrofoil systems that lift the boats out of the water and create exhilarating racing at nearly 50 knots (93kph) with the boats capable of racing at three times the speed of the wind.
As it's early days a list of Australians currently in Bermuda, who are in fact
part of every Team
(just
had
to say that once more), runs below. This clearly illustrates why our sailors are held in such high esteem on the world stage of sailing and why, for Australia, it's a case of 'Go Everybody!" for the 35th running of the great America's Cup, with a touch of "Go Pittwater!" amongst that too.
Which is also very Australian.
You can watch the races live on Fox Sports channel 505 – program listings, with replays for those not enamoured of 3a.m. start times are on the Fox Sports Australia website
www.foxsports.com - just look to your left and click on 'America's Cup'.
Big collision between Land Rover BAR and SoftBank Team Japan on Day 1
SOFTBANK TEAM JAPAN DRAWS EVEN DESPITE COLLISION
BARKER CONFIRMS TEAM WILL BE
BACK ON THE WATER SUNDAY
BERMUDA – May 27, 2017 – SoftBank Team Japan opened the America's Cup Qualifiers in Bermuda today with one win and one loss despite a hairy pre-start collision with Land Rover BAR.
With 25 seconds to go on the start clock, SoftBank Team Japan Skipper Dean Barker took advantage of a wind shift that slowed the British team and accelerated the Japanese boat to over 39 knots to gain an overlap and hook the Brits into a penalty.
However, as Land Rover BAR Skipper Ben Ainslie attempted to stay clear, his yacht slipped on it's foils causing the Brit's leeward hull to violently drop down into the Japanese cockpit.
Fortunately, no sailors were injured in the collision though both boats sustained damage.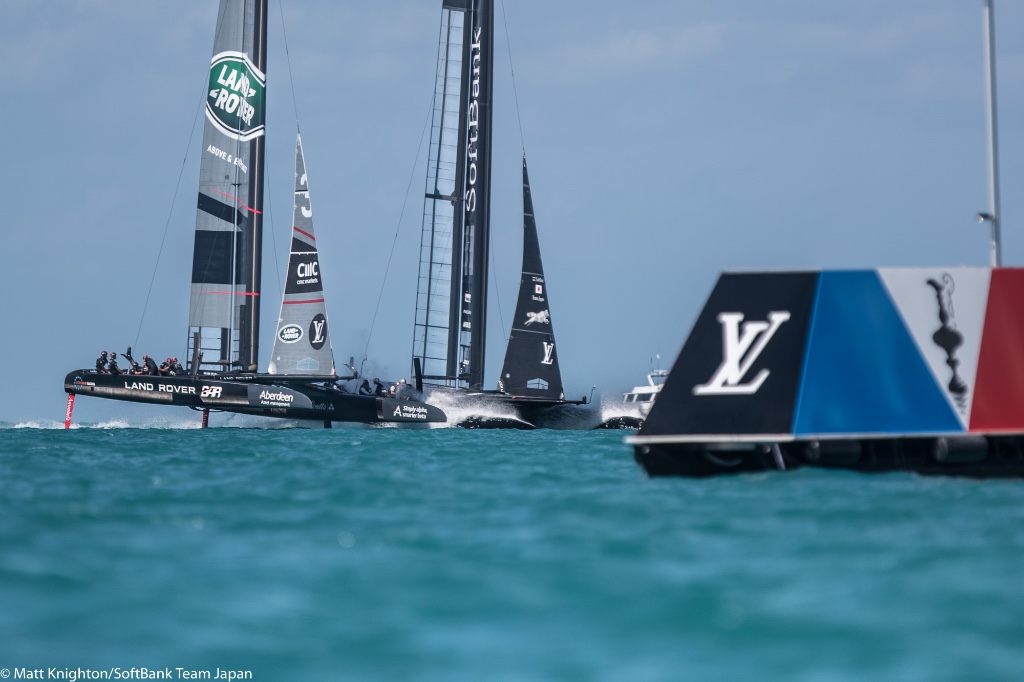 "Obviously it was a bit of a 'love tap' as Ben calls it in the start of the second race", said SoftBank Team Japan Skipper Dean Barker making reference to the Brit's earlier collision with Emirates Team New Zealand.
"It was a little bit of a hairy moment seeing their leeward hull landing on our boat. Both boats have damage, it hit all the guys but doesn't seem anyone is too badly injured. The nature of the racing is it's getting closer and harder and it's all part of the game. Ben wasn't intending to hit us.
"We saw an ugly big black hull coming towards the side of the boat. One of our grinder pedestal handles went through the side of their boat. There was a bit of damage to us but we can sort it for tomorrow."
The team went on to claim the win after the resulting penalty on Land Rover BAR.
If the collision wasn't excitement enough to end the day, SoftBank Team Japan's first race against Artemis Racing was a nail-bitter when despite the team's strong lead in the first four legs, a tactical error on the final upwind beat gave the Swedes a passing lane they took full advantage of.
"The race against Artemis, we felt that we sailed a pretty good race other than the second upwind. We gave them an opportunity, which they took. They sailed a very good race", said Barker.
With the majority of teams finishing with an even scorecard, the stage is set for an incredibly competitive competition, one in which there is no clear favorite after the first day of racing.
"We're satisfied with the day", said Barker. "We would've liked to have had two wins but you've got to sail well all around the course."
Report by Matt Knighton
ORACLE TEAM USA
DEFENDER: http://oracle-team-usa.americascup.com/en/home.htmlHELMSMAN JIMMY SPITHILL
ORACLE TEAM USA is the defending champion of the America's Cup, after winning the last two editions in 2010 and 2013.
JAMES SPITHILL
Skipper and Helmsman
A two-time winner of the America's Cup, in 2013 Jimmy Spithill led his team to what has been called the greatest comeback in international sport. ORACLE TEAM USA was down 8-1, before rallying for eight consecutive wins to defeat Emirates Team New Zealand 9-8 to win the America's Cup.
Spithill was further honored for the epic victory with the 2014 ISAF Rolex World Sailor of the Year award.
A multiple world champion in both fleet and match racing, Spithill is both the youngest helmsman to compete for the America's Cup (with Young Australia in 1999 at age 19) as well as the youngest skipper (with ORACLE in 2010 at age 30) to claim sailing's ultimate prize. In December 2015, he added offshore awards to his CV, winning line honors onboard the super-maxi Comanche in the Sydney to Hobart Yacht Race.
His goal now is to lead the team to a 'three-peat' – three consecutive America's Cup wins.
Born in Sydney, Australia, the eldest of three children from a sailing family, he grew up on the waterfront at Elvina Bay on Pittwater
, where the only access to home was via the water. He has been sailing since the age of 5.
When he's not training the team, Spithill takes a keen interest in flying – he's flown with the Blue Angels, the Red Bull Flying Bulls and holds his private pilot license. He is also an accomplished amateur boxer and has completed two Molokai to Oahu stand-up paddle crossings.
TOM SLINGSBY
Helmsman / Tactician & Sailing Team Manager
Tom Slingsby grew up both sailing and playing tennis at a competitive level. He admits tennis was his favourite sport at the time, and he debated where to focus his attention.
After a few months of training in the Laser Class turned into a first-place performance at Australian Nationals as a teenager,
he decided to spend more time on the water.
Now with eight world titles, an Olympic gold medal, ISAF World Sailor of the Year honours and an America's Cup win, all before the age of 30, it would seem he made the right choice.
Slingsby originally joined ORACLE TEAM USA with a dual focus. He was campaigning in the Laser for the 2012 Olympic Games and integrating into his first America's Cup team.
After taking care of business with an Olympic gold medal, he became an integral part of ORACLE TEAM USA's afterguard and sailing team during the final push for the Cup.
Slingsby was early to recognize the gains to be made in upwind foiling on an AC72 and pressed his case for the team to spend more time practicing this mode. In overcoming an 8-1 deficit to win the America's Cup, upwind speed proved to be a critical factor in the win over a strong New Zealand challenger.
Slingsby's contribution on and off the water was noticed and he was the first sailor retained by ORACLE TEAM USA in their Defense of the 35th America's Cup. He has taken the role of sailing team manager for the campaign in addition to his onboard duties.
KINLEY FOWLER
Trimmer / Grinder
Some say that you've got to make your own luck in the game of sailing.
Kinley Fowler had a chance to test that theory in the summer of 2012. After a season of racing the Extreme Sailing Series in 2011, alongside then-ORACLE TEAM USA helmsman Ben Ainslie, Fowler was looking for a new challenge.
Setting his sights on the America's Cup World Series in Venice, Fowler flew himself to Italy to lend a hand to the ORACLE TEAM USA shore team.
The Venice trip provided a behind-the-scenes look at what goes into making a syndicate operate. Even better, it gave the team a chance to get to know Fowler. ORACLE TEAM USA asked him to return for the next World Series regatta in Newport, and he was soon on to San Francisco where he became a member of the sailing team. By that point, Fowler had proved his valuable experience in one-design fleet racing and the Match Racing World Championships made him a strong fit for the role of headsail trimmer aboard the Defender boat.
During training in the weeks leading up to the match, he suffered an injury that would keep him off the race boat. He didn't, however, let that discourage him. Team members have credited Fowler's daily 'motivational speeches' for keeping the mood light on the team as it battled back to beat Emirates Team New Zealand. Between Cup campaigns, Fowler returned to the Extreme Sailing Series, racing during the 2014 season with The Wave, Muscat.
Fowler was on the race crew for the Louis Vuittion America's Cup World Series Portsmouth in 2015, and he is a key member of the sailing team as ORACLE looks for a third consecutive America's Cup win.
KY HURST
Grinder
Ky Hurst is regarded as one of the top all-time Australian swimmers and Ironmen.
He is a two-time Olympian in open water swimming, is one of only two men to have won seven Australian Ironman titles, and he has more than 30 Australian surf lifesaving titles to his name.
Now Hurst has switched his focus to another water sport - sailing - and joined ORACLE TEAM USA in September 2015. A series of fitness tests proved he would be a good fit with the team, and his power and drive have translated well to the grinding pedestal on an America's Cup yacht.
Raised on the beaches of Australia, his mother was a swim coach, so water sports have always been a big part of his life. At age 2, Hurst was learning to surf and got involved with a local board riders club not long after. Around the same time, his grandfather was teaching him how to sail.
Surf lifesaving and distance swimming fit right in. By age 15, Hurst was the youngest ever to qualify for the professional Ironman circuit. Before he turned 17 he had won his first Ironman series, then followed with his first Open Australian Ironman title. Shortly after the surf season, finished he set his sights on the World Open Water Swimming Championships, winning silver in the 5km event. When the 10km open water swimming event was added to the Olympic program, Hurst took advantage and represented Australia at the 2008 Beijing Olympic Games and again in London in 2012.
Beyond his love for the ocean, Hurst is also passionate about exercise, and he has helped introduce a swimming workout into the team's conditioning program. He was inducted into Australia's Surf Lifesaving Hall of Fame and was recently inducted into the Ironman Australia Hall of Fame. He hopes to compete in the annual Australian Surf Life Saving Championships in April 2017. He was also a contestant on Season 3 of the Australian "Dancing with the Stars."
TOM JOHNSON
Wing Trimmer
Tom Johnson is one of the youngest members of ORACLE TEAM USA, yet already claims a well-rounded sailing background, with experience ranging from high-performance dinghies to offshore racing.
Johnson joined the team in early 2016, straight from the Volvo Ocean Race when his journey was cut short onboard Team Vestas Wind after the boat ran aground in Leg 2. He was the youngest sailor in the fleet.
Growing up sailing in Mandurah in Western Australia
, Johnson participated in any board sport he could – from skateboarding to surfing. By age 7, he was sailing competitively and soon fixed his sights on a career as a professional sailor. He gained offshore experience on super maxis, while also racing internationally on the 49er and foiling Moth. He has competed in the last two Moth Worlds.
In 2013, after sailing in one leg of the Extreme Sailing series on Team Korea, Johnson landed a full time gig for the 2014 season with Oman Air.
When he's not training with ORACLE TEAM USA, expect to find Johnson on the water - surfing, kitesurfing or out on his Moth.
KYLE LANGFORD
Wing Trimmer
Kyle Langford was thrust into the spotlight during the 34th America's Cup when he took over as a rookie wing trimmer onboard the race boat just days before the first race. The youngest sailor in the event at age 24, Langford squared up to the challenge and was an integral part of ORACLE TEAM USA's comeback win.
There's a reason he wasn't overwhelmed by the experience. Langford has been proving himself at the national and international levels since he was a teenager. He's also done quite a bit of multihull sailing, and in 2005, he won the gold medal in the multihull class at the ISAF Youth World Championships.
In 2006 he was voted Australian Youth Sailor of the Year.
Langford never thought he wouldn't be a sailor, and says he didn't have a back-up plan. He grew up sailing dinghies on Lake Macquarie and sailed full-time during his high school years. In 2005, he made the shift to multihulls for the 2005 Youth Worlds.
Between training sessions with ORACLE TEAM USA, Langford has honed his skills on the Extreme Sailing Series circuit. He's also been getting re-acquainted with sailing above the water on his foiling kite board and foiling Moth.
Langford served as wing trimmer for all three Louis Vuitton America's Cup World Series regattas on the 2015 schedule.
JOEY NEWTON
TrimmerJoey Newton has come a long way from youth sailing in Australia in Sabots,
420s and Lasers. He's now part of his sixth America's Cup campaign, his third with ORACLE TEAM USA.
Newton and skipper Jimmy Spithill met while racing against each other as teenagers. When Spithill needed crew for a regatta in Italy, he called Newton, and the two have moved in lockstep since.
Newton got an early start with Syd Fischer's Young Australia team for the 1999-2000 America's Cup in Auckland, and he has never left the scene, moving along with Spithill through the OneWorld Challenge (2002-03) and Luna Rossa Challenge (2004-07) campaigns. As a trimming assistant aboard the trimaran USA 17, he won the America's Cup in his fourth attempt in 2010. He hoisted the Auld Mug for a second time with ORACLE TEAM USA in San Francisco in 2013.
Away from the Cup, Newton won the Fastnet Race and Round Island Race aboard the maxi yacht Stealth in 2001. With Spithill, they also won the 2005 Match Racing World Championship and the Bermuda Gold Cup, and in 2010, the duo captured the RC44 World Championship.
For Newton, spending his career training and racing doesn't feel like work. He says it's easy to stay motivated and misses sailing when he's not on the water.
SAM NEWTON
Trimmer / Grinder
Sam Newton joined ORACLE TEAM USA in 2011 and is back for his second campaign with the team after winning the 34th America's Cup.
Top of the podium has become familiar territory for Newton. He is a six-time winner the JJ Giltinan Trophy – regarded as the world's premier 18-Foot Skiff championship – most recently as the forward hand on Gotta Love It 7. He has also won both line honours and overall honours in the Sydney-Hobart Yacht Race on the maxi Wild Oats IX and TP52 Quest.
Newton grew up sailing on Sydney Harbour,
racing in a variety of class boats. He gained experience as a bowman and crewed everything from high-performance dinghies to grand prix yachts. Between Cup campaigns he also spent time racing in the Extreme Sailing Series.
In 2003, Newton started his own rigging business in Sydney, and outside of sailing he enjoys racing cars. Along with his father, Greg, he competed in an endurance car rally from London to Cape Town. The event is not designed as a tour but as a "press on" driver's challenge with time trials and a schedule to be maintained every day. After one month, crossing three continents and 14 countries, they placed second in their division of classic cars and third overall in the class.
LOUIS SINCLAIR
Bow / Grinder
October 30, 1991
Louis Sinclair is a recent addition to ORACLE TEAM USA, yet he's not new to the sport. He's been a full-time professional sailor since age 16.
Sinclair started sailing during his childhood years in Antigua. Now as the youngest member of the ORACLE sailing team, he already carries a wealth of experience.
He's participated in two Sydney Hobart Races
and three Fastnet Races. During the Volvo Ocean Race 2014-15, he was called in as a reserve for the winning Abu Dhabi Ocean Racing crew.
Skipper Jimmy Spithill introduced Sinclair to ORACLE TEAM USA. The two sailed together during the 2014 Sydney Hobart Yacht Race, and Spithill recommended him for a trial. They were impressed. The two sailed again together in the 2015 edition of the race, earning line honours onboard Comanche.
Young, strong and fit, Sinclair has applied his offshore experience to the America's Cup. He moved straight into the lineup, serving as bowman for all three Louis Vuitton America's Cup World Series regattas in 2015.
GRAEME SPENCE
Grinder
Graeme Spence has long focused on a career in the America's Cup, and now he's based in Bermuda, training full-time with ORACLE TEAM USA.
Spence got his first taste of America's Cup sailing in 2011 when he raced with China Team for three America's Cup World Series events. He was back on an AC45 during the America's Cup World Series Naples in 2013, joining his Red Bull Sailing teammates onboard the HS Racing entry. He previously competed with the Red Bull crew as bowman in the Extreme Sailing Series, where he was known as one of the fittest sailors in the series. He has also filled the role of bowman with different teams on the World Match Racing Tour, winning the tour title with GAC Pindar in 2014, as well as on the RC44 circuit.
Growing up in Perth, Australia,
Spence understands the benefits of drawing from previous experiences. He tried out a variety of sports as a youngster – from riding horses to tee-ball. He played Australian rules football and elite level water polo. He began sailing at age 11, and later gained offshore experience prior to participating in his first match racing event at age 22.
Just as he tried out various sports, Spence's parents also encouraged him to pursue different interests. The pattern has continued with side jobs from fisherman to furniture restoration. While studying business management at Edith Cowan University, he also played bass with a few rock bands, and continues to play when he can.
BRENT "BADGER" HUMPHREYS - Trainer - Australia
SCOTT TINDAL - Head Physiotherapist and Team Nutritionist - Australia
CRAIG MCFARLANE - Physical Performance Manager - Australia
Artemis Racing
CHALLENGER
:
http://artemis-racing.americascup.com/en/home.html HELMSMAN NATHAN OUTTERIDGE
Artemis Racing is a team of Olympic champions, from Team Manager / Tactician Iain Percy (two gold medals - 2000, 2008) to helmsman Nathan Outteridge (gold - 2012).
ARTEMIS-RACING.AMERICASCUP.COM
"ARTEMIS IS AN ANCIENT GREEK GODDESS. SHE CARRIES A BOW AND IS A HUNTER - A COMPETITOR - BUT ALSO A PROTECTOR OF NATURE, BOTH VIRTUES I ADMIRE. THIS IS WHY I NAMED MY FIRST RACING BOAT AFTER HER AND EVENTUALLY MY TEAM ARTEMIS RACING." TORBJÖRN TÖRNQVIST, TEAM PRINCIPAL
Artemis Racing has a multinational crew comprising some of the most successful and respected sailors and designers in the world, a selection of those team members is presented on their website. The Sailors presented in this section have already amassed 12 America's Cup campaigns. The Sailing Team members (including two designers) have competed in 21 Olympics Games, winning 11 medals, including 7 Gold medals.
The sailing team is a main part of the team, but Artemis Racing consist of more than pure sailors. There is a design team, a team of world class engineers, boat builders and a support team, that make the team run and develop with one single goal: To win the America's Cup. The team has been involved in a total of 64 America's cup campaigns, including 14 victories.
Artemis Racing represents Kungliga Svenska Segel Sällskapet (KSSS – the Royal Swedish Yacht Club), the fifth-oldest yacht club in the world. The club has produced Olympians and world class sailors over the last decades and Artemis Racing honors its Swedish heritage with its signature colors blue and yellow.
Nathan Outteridge
Sailing Team
Skipper & Helmsman
Australia
Born in New South Wales, Australia, Nathan started sailing at the age of five. In 2008 he won his first World Championship title in the 49er class; a success he repeated in 2009, 2011 and 2012. In 2010 he won the International Moth Class Euro Championship and the following year he clinched the International Moth Class World title. He went on to win the World title for a second time earlier in 2014.
Nathan won a gold medal at the London Olympics in the 49er class alongside teammate Iain Jensen. Shortly after his Olympic success he joined Artemis Racing as helmsman for the 34th America's Cup, aged just 27.
Andreas Axelsson
Sailing Team
Grinder
Chris Brittle
Sailing Team
Grinder
GBR
Known for his un-paralleled strength and endurance, Chris has raced in a number of classes and international circuits including the America's Cup and the Audi MedCup. As part of the British Sailing Team from 1999 to 2005, Brittle was Ben Ainslie's training partner through the 2004 Olympics, and a coach to Iain Percy and Andrew Simpson when they won gold at the 2008 Olympics.
His first America's Cup campaign was during AC32, when he joined +39 Challenge as grinder. After racing in the AudiMed Cup with the Portuguese TP52 Team, Chris joined Team Origin where he sailed once again with teammate Iain Percy. Brittle impressed onboard Team Korea's AC45 in the inaugural America's Cup World Series in 2011 before lending his wealth of experience to Artemis Racing in 2012.
This is his second campaign with the team.
Francesco Bruni
Sailing Team
Helmsman
Italy
Bruni, from Palermo, Italy, is a three time Olympian and former helmsman of Italian America's Cup challenger Luna Rossa. He is one of Italy's most successful sailors having won 7 World, 5 European and 15 Italian championships across different classes, and topped ISAF's Match Race World Rankings in 2011.
Paul Goodison
Sailing Team
Wing Trimmer
Great Britain
Paul brings a wealth of Olympic experience to Artemis Racing, having competed at the 2004 Athens, 2008 Beijing and 2012 London Games. Paul won Olympic gold at the Beijing Games and was crowned Laser World Champion in 2009.
Since the London Olympics, Paul has won the Melges 32 World Championships in 2012 and the Melges 20 World Championships in 2014, while also sailing in the 2014 Extreme Sailing Series with BAR. More recently, Paul has been developing his foiling skill set, training and competing in the Moth, culminating in winning the 2016 Moth World Championship in Hayama, Japan.
Anders Gustafsson
Sailing Team
Grinder
Sweden
Anders Gustafsson is a Swedish Canoe Sprint star, having competed at four Olympic Games.
He achieved his best Olympic finish at the London 2012 Games, placing fifth in the K1 1000m; and the former World Champion's long list of accolades includes four World and six European Championship medals.
Iain Jensen
Sailing Team
Wing Trimmer
Australia
Iain 'Goobs' Jensen started sailing in his hometown of Wangi Wangi when he was five years old. At the age of 16, he represented Australia for the first time, winning the 420 Youth World Championships. In 2009 Jensen teamed up with Artemis Racing teammate Nathan Outteridge. The pair immediately stamped their mark on the sport, winning the 49er World Championships in Lake Garda, Italy. Two years later, the duo took their second world title in Perth, Australia, and in 2012 they won gold at the London Olympic Games. Iain joined Artemis Racing shortly after the Olympics as wing trimmer for the 34th America's Cup. At 26, this is his second America's Cup campaign.
Christian Kamp
Sailing Team
Trimmer / Grinder
Denmark
Christian was part of Luna Rossa Challenge for the 32nd America's Cup in 2005 before joining Team Origin in 2007. For three years he campaigned with Iain Percy in the Louis Vuitton Pacific Series, TP52 and the World Match Racing Tour, winning the World title in 2010. In recognition of his achievement, he was awarded 2010 Danish Sailor of the Year.
Kamp's career highlights include three world championships, one European and three national titles, as well as more than 20 Grade 1 Level wins in match racing. More recently he sailed on board Team Aqua as trimmer in the RC44 circuit, winning the last three consecutive seasons.
Jake Lilley
Sailing Team
Grinder
Australia
Finn sailor Jake Lilley (23), made his Olympic debut in Rio after being named in the 2016 Australian Olympic Team. The Queenslander has had a meteoric rise since learning to sail at 15 years old, after a bad bike crash forced him to look at other sports.
Jake is now part of the Artemis Racing grinding squad, and is focused on helping the team to win the 35th America's Cup.
Luke Parkinson
Sailing Team
Trimmer / Grinder
Australia
Fresh from winning the 2014-2015 Volvo Ocean Race with Abu Dhabi Ocean Racing, 25-year old Luke Parkinson joined Artemis Racing in June 2015.
Luke began his sailing career at the age of five and competed in his first professional race at the 2010 Flinders Island race in Australia. After a spell campaigning on the Olympic 49er international regatta circuit, training with Nathan Outteridge and Iain Jensen, Luke was part of the Objective Australia team which qualified to race at the Red Bull Youth America's Cup in San Francisco.
After racing alongside Ian Walker in the 2013 Hong Kong to Vietnam and Sydney to Hobart races, the Abu Dhabi Ocean Racing skipper was so impressed with the young talent and work rate that he offered him a place in the Abu Dhabi crew.
Aside from being a top class bowman and helmsman, Luke's other greatest assets are his superb physical strength and fitness.
Kalle Torlén
Sailing Team
Trimmer / Grinder
Sweden
Kalle Torlén, joined Artemis Racing in August 2015 and after impressing in training, and after an injury to Fredrik Loöf, he was thrown straight into the deep end at the Louis Vuitton America's Cup World Series in Gothenburg.
Kalle has represented Sweden a number of times in the Olympic classes, and competed in the 49er Class at the Beijing Olympic Games in 2008.
Iain Percy
Sailing Team
Team Manager & Tactician
GBR
Iain Percy OBE, a double Olympic and multiple world champion, is one of the most talented and successful sailors in the world. Iain has a remarkable Olympic pedigree, winning gold in the Finn class at the Sydney Olympics; before teaming up with lifelong friend Andrew 'Bart' Simpson to win gold at the 2008 Beijing Olympics and silver at the London 2012 Olympic Games.
Iain had his first taste of America's Cup action in 2005 as helmsman for +39 Challenge, and was part of Great Britain's America's Cup challenge, Team Origin. He joined Artemis Racing at the end of 2012 as tactician, following the London Olympics. After showing inspirational leadership qualities during the difficult final few months of the 34th America's Cup campaign, he was appointed Team Manager in October 2013. Iain is now responsible for leading Artemis Racing's challenge for the 35th America's Cup.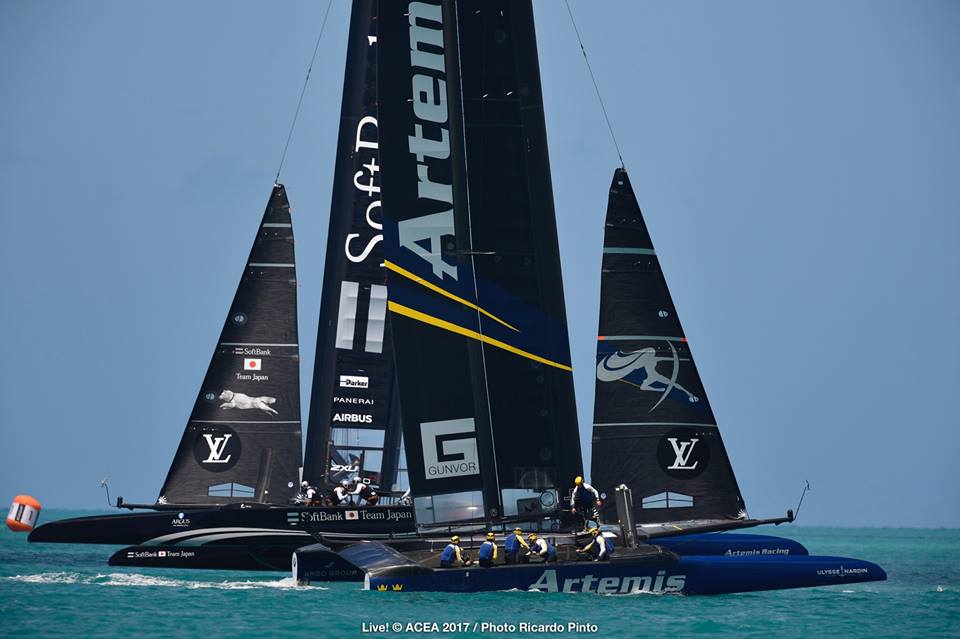 Emirates Team New Zealand
CHALLENGER: http://emirates-team-new-zealand.americascup.com/en/home.htmlHELMSMAN PETER BURLING
Emirates Team New Zealand came within one win of taking the America's Cup home in 2013. After blasting their way through the Challengers' elimination series, and a gutsy performance in the Match, the team finished on the wrong side of one of the greatest comebacks in all of sport
Glenn Ashby - Skipper/Wing Trimmer
Veteran multihull specialist Glenn Ashby is the member of the 2013 crew that will be back on board the Kiwi boat for the 35th America's Cup. The 39-year-old has the crucial, and highly specialised, role of wing trimmer - his responsibility is keeping the giant 24m wingsail at the right angle to fully harness the power of the wind. It is a delicate art, involving small adjustments based on sight and feel.
Ashby is the only skipper in this year's event that will not be at the helm of the boat, with Team NZ opting to elevate the Australian to the role following the departure of Dean Barker
so as not to put young gun Peter Burling under more pressure in his first America's Cup campaign.
Peter Burling - Helmsman
The prodigiously talented Burling has long been compared to New Zealand's greatest yachtsman in Russell Coutts. So no pressure then. Burling, who attended his first Olympics at 17, will be responsible for driving the boat and most of the tactical decisions on the race course.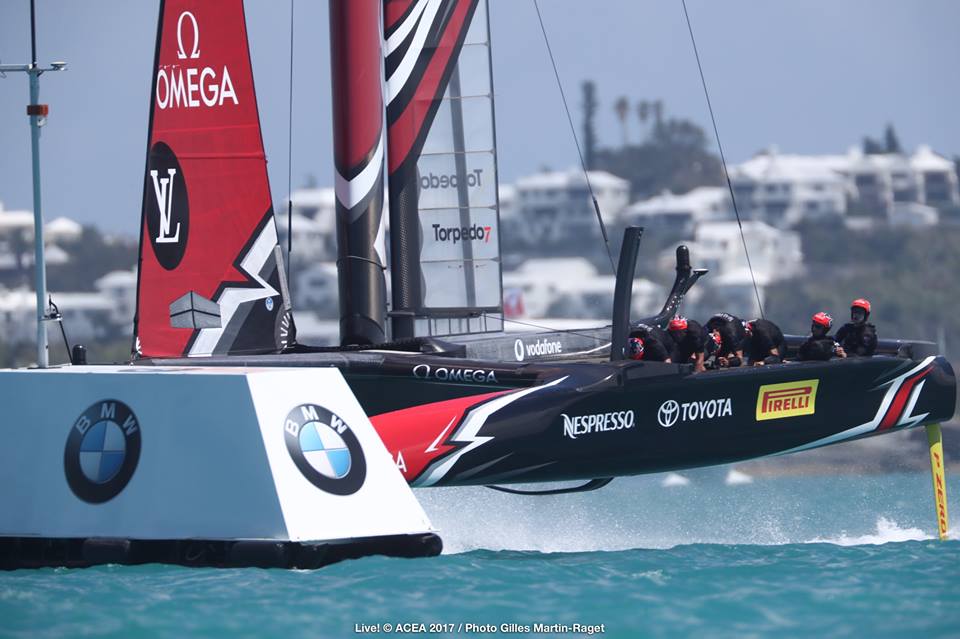 Groupama Team France
CHALLENGER:
http://groupamateamfrance.americascup.com/
HELMSMAN FRANCK CAMMAS
Groupama Team France is the latest French challenger to the America's Cup, but the first in the multihull era, a type of sailing that is popular in France and in which French sailors excel.
Adam Minoprio – New Zealand

Ben Wright – Shore Team Manager – Australia
Ben Wright, Shore Team Manager at Groupama Team France. Although Ben is Australian, he enjoys the unique culture and history that comes along with being part of a French team. Having worked with Franck Cammas on his Volvo Ocean Race campaign, Ben also understands and embraces the skipper's philosophy: faster is better.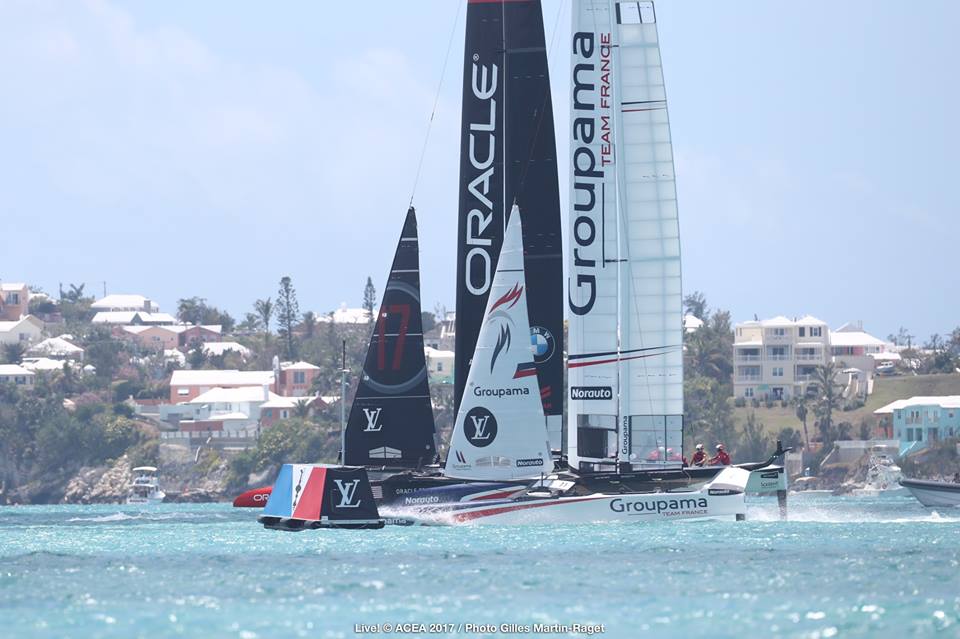 Land Rover BAR
CHALLENGER:
http://land-rover-bar.americascup.com/en/home.html HELMSMAN SIR BEN AINSLIE
Land Rover BAR is a new challenger for the America's Cup, but that description belies the experience on tap. Team principal and skipper Sir Ben Ainslie is on his fourth America's Cup campaign after helping ORACLE TEAM USA win the Cup in 2013.
Sir Ben Ainslie is the most successful Olympic sailor of all time. At his first ever Olympic Games, aged 19, he won an Olympic silver medal and went on to establish himself as the world's best by winning consecutive gold medals at the next four Olympic Games.
Fresh from his London 2012 success, Ben turned his focus to the next challenge, competing with Ben Ainslie Racing (BAR) on the 2012/13 America's Cup World Series. In the summer of 2013, he went on to join ORACLE TEAM USA on-board for their defence of the 34th Cup, helping the American team win the event, 9-8, against Emirates Team New Zealand.
He was an instrumental part in one of the greatest comebacks sport has ever seen, becoming the first Briton, for 110 years, to be part of a winning Cup team. Now stepping into a new role, as Land Rover BAR Team Principal, Ben will develop and lead a British entry into the 35th America's Cup, with the aim of bringing the Cup back to Britain where it all began in 1851.
CAREER HIGHLIGHTS
• 2013: Winner of the 34th America's Cup, San Francisco – USA with ORACLE TEAM USA
• 2013: Broke the 'Round the Island Race Multihull record' with J.P. Morgan BAR in the AC45
• London 2012 Olympic Games: Gold Medal
• Beijing 2008 Olympic Games: Gold Medal
• 2007: Winner – Louis Vuitton Cup, Valencia – Spain with Team NZ
• Athens 2004 Olympic Games: Gold Medal
• Sydney 2000 Olympic Games: Gold Medal
• Atlanta 1996 Olympic Games: Silver Medal
• 11 times World Champion
• Nine times European Champion
• Four times World Sailor of the Year
Jono Macbeth (NZL) - Sailing team manager and grinder
Andrew McLean (NZL) - Trimmer and systems engineering lead
David Powys (AUS) - Base Manager
Dave is originally from Newcastle in New South Wales,
Australia and is Base Manager for Land Rover BAR; his responsibilities include managing the Portsmouth Base, and all the temporary facilities at the various America's Cup and World Series venues.
Dave has 35 years experience in the yacht industry which includes four previous America's Cups in various roles from trimmer to support boat manager (1983, 1987, 1988 and 2007), two Whitbread Round the World Races as a sailor (1985-86 & 1989-90) and one Volvo Ocean Race (2005-2006). This vast amount of experience is alongside many other major yachting regattas including Admiral's Cups and Sydney to Hobart races.
He has also worked as a boat builder, specializing in large composite racing and cruising yachts, working at Pendennis Shipyard, Green Marine, Wally Yachts and Magma Structures and including famous yachts such as Mirabella V and Adela. In his spare time Dave enjoys cycling.
Edward Hawthorne (AUS) - Systems Engineer
Edward joins Land Rover BAR having recently completed his Honours Thesis developing a control system and simulator for an autonomous sailing boat whilst studying a Bachelor of Commerce and Bachelor Mechatronic Engineering at the University of Sydney, Australia
. As an embedded systems engineer, Edward will be working on the control systems on board the race boat.
Edward was introduced to sailing at an early age, having spent the first four years of his life circumnavigating the world aboard his parents' Swan 47. Since then, Edward has continued to sail several dinghy classes as well as keel boats and also enjoys athletics and skiing. He likes long walks on the beach and ice cream on Sundays.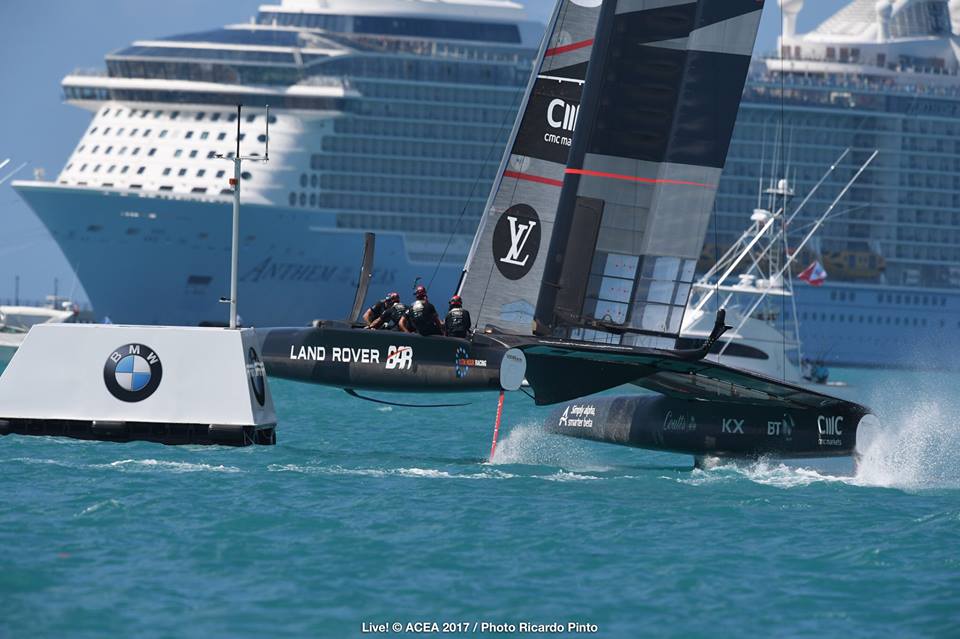 SoftBank Team Japan
CHALLENGER: http://softbank-team-japan.americascup.com/HELMSMAN Dean Barker – New Zealand
After leaving Team New Zealand, Dean Barker didn't waste much time in finding a new position - settling in as skipper and CEO of the new Japanese team, SoftBank Team Japan.
Age 44, Dean Barker is the Team CEO and Skipper of SoftBank Team Japan competing in his 6th America's Cup. Five years after making his America's Cup debut at age 26 he steered Team New Zealand to victory in 2000. He has also raced in the 2003, 2007, and 2013 America's Cup Finals. He won the Louis Vuitton America's Cup Trials in 2007 and 2013. He competed in the 2004 Olympics in Athens in the Finn Class and was also the 2004 ISAF World Match Racing Champion.
Kazuhiko "Fuku" Sofuku
Age 51, Kazuhiko Sofuku is the General Manager and Bowman of SoftBank Team Japan competing in his 4th America's Cup. One of the best sailors to come out of Japan, he made his America's Cup debut in 1995 as bowman on Nippon Challenge. He raced in the 2007 America's Cup with One World Challenge and BMW Oracle Racing. He has also competed in the World Match Racing Championships.
Yugo Yoshida
Age 32, Yugo "Yoshi" Yoshida is competing in his first America's Cup as a grinder for SoftBank Team Japan. In 2009, Yugo won the 470 European Championship and placed 3rd in the 470 World Championship then went on to sail in the 2012 London Olympics.
TACTICIAN/SAILING TEAM MANAGER
Chris Draper
Age 39, Chris Draper is the Tactician for SoftBank Team Japan competing in his 2nd America's Cup. He won two America's Cup World Series events in Newport and Naples in 2012 as well as finishing runner-up at San Francisco and Venice that same year. He was also the first British sailor to helm a boat in the Louis Vuitton Finals. He won a silver medal at the 2004 Olympic Games in Athens. In 2009 he finished first place in the Extreme Sailing Series and has won two 49er World Championships and three European Championships.
SAILOR/COO
Jeremy Lomas
Age 45, Jeremy Lomas competes as bowman and grinder on SoftBank Team Japan racing in his 5th America's Cup. He competed in the 2000, 2003, 2007, and 2013 America's Cups with Emirates Team New Zealand. In 2014 he managed and competed in Emirate's Team New Zealands Extreme Sailing Series campagin and also raced in the 1997-98 Whitbread Round The World Race (now Volvo Ocean Race).
Yuki Kasatani
Age 27, Yuki is competing in his first America's Cup as a bowman/Grinder for SoftBank Team Japan. Originally from Osaka, Japan, Yuki was the 2013 All-Japan Rowing Champion, showing dominance across all kinds of rowing.
SAILOR
Derek Saward
Age 35, Derek is a grinder/bowman competing with SoftBank Team Japan in his 2nd America's Cup. In the 2013 America's Cup, he competed with Emirates Team New Zealand onboard their AC72 in San Francisco.
SAILOR
Winston Macfarlane
Prior to sailing with SoftBank Team Japan, Winston was part of Team New Zealand since 2000, sailing in the 2003, 2007,and 2013 Americas Cup campaigns. Over that period, he won the TP 52 circuit two years in a row and won the Louis Vuitton Trophy in 2007 and 2013. He also sailed in the Americas Cup World Series for Team New Zealand in 2012.
SAILOR
Ben Lamb
Age 34, Ben is from Lake Macquarie, Australia
and is a Wing Grinder for the team in his first America's Cup. Ben has placed top 5 three times in the Match Race World Tour (2014 – 2016), won the 2016 Etchell Worlds sailing as a tactician with John Bertrand, and claimed 8 Australian titles as a helm / tactician. Outside of his sailing work, Ben loves to surf and takes every chance he can get when he is back at home.
SAILOR
Luke Payne
Age 28, from Fremantle, Western Australia,
Luke is competing in his first America's Cup as a grinder. Luke brings experience to the team having done the World Match Race Tour, sailed in the GC32 Extreme Sailing Series, winning two Australian titles, coming 2nd in the 505 World Championships, and won the ISAF Nations Cup (ISAF Gold Medalist). Outside of sailing Luke likes to spend time around the water, like cruising on his family yacht, diving, spearing, and swimming.
SAILOR
Jason Waterhouse
Age 25 and from Sydney, Australia,
Jason is a Wing Trimmer / Grinder on our team for his first America's Cup. Sailing multihulls since the age of 4, Jason has won 3 World Cups, bronze in ISAF World Championship, gold in the Olympic Test event, and went on to claim a silver medal in the 2016 Rio Olympics all in the Nacra 17. Outside of his work, Jason likes to surf, go mountain climbing, hiking, white water rafting, and spend time outdoors.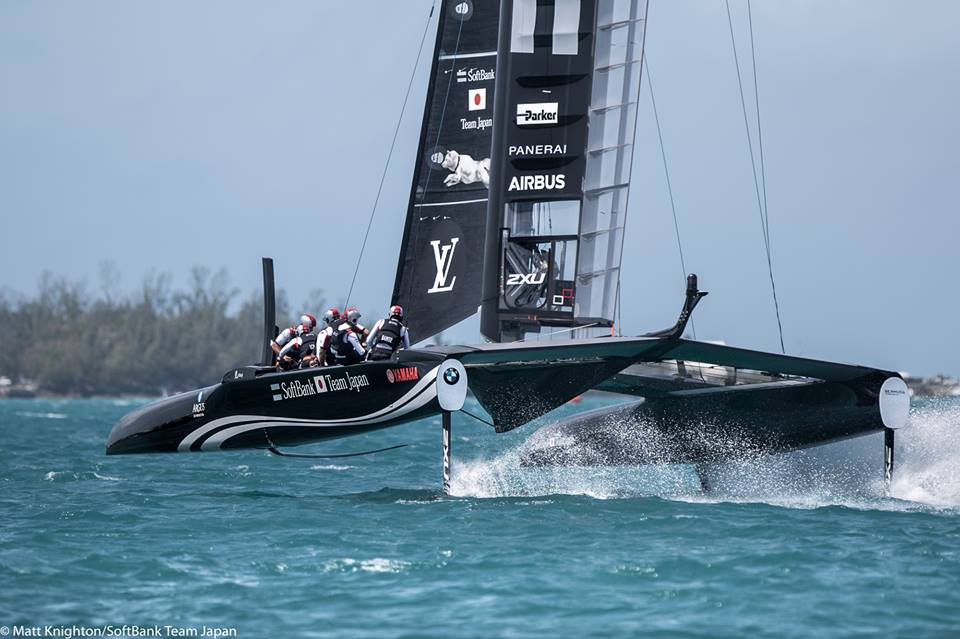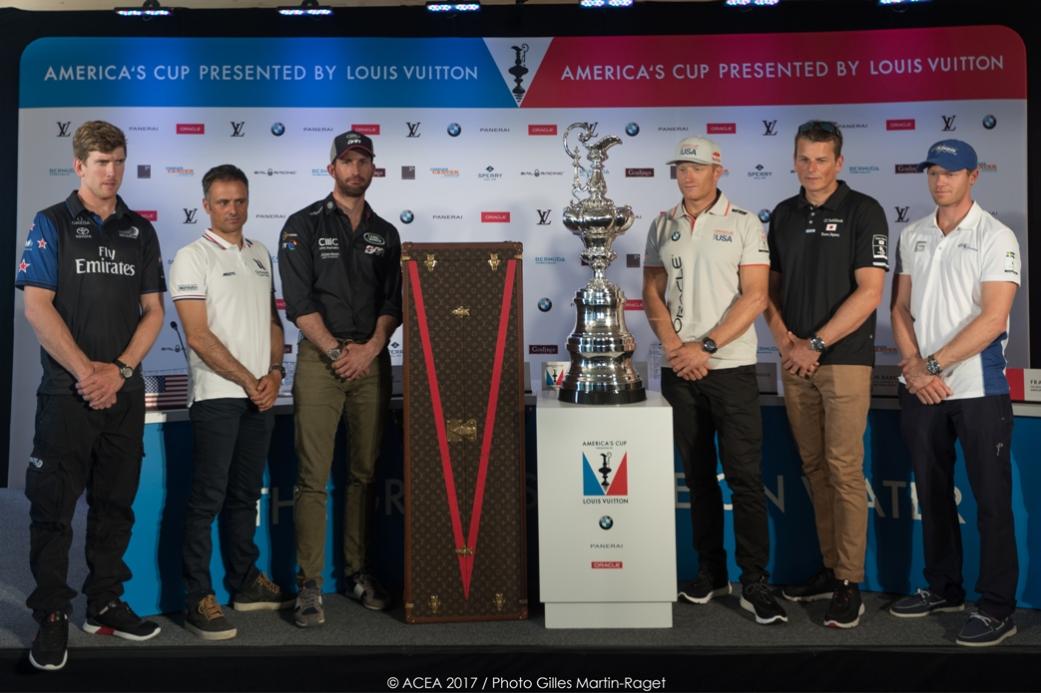 America's Cup 2017 Helmsmen - Skippers : 50% Australian.
Report by A J Guesdon - Crew Members Bio's courtesy of respective Team's websites.