February 19 - 25, 2017: Issue 301

MC38 Australian Championship: hosted by the Royal Prince Alfred Yacht Club with Racing on Pittwater this Weekend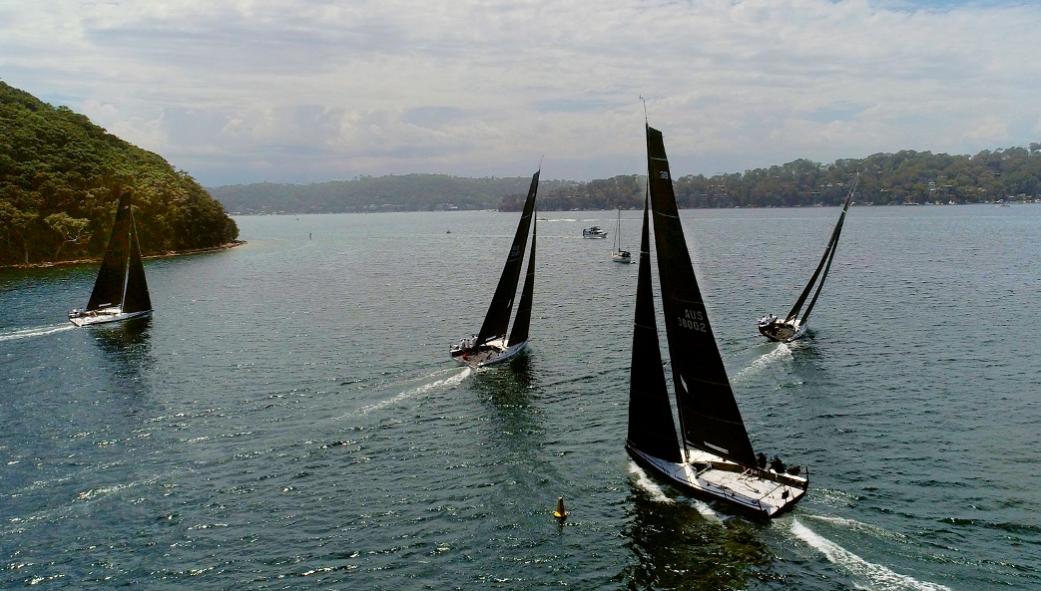 Drone capture of the MC38 Australian Championships 2017 - being held on Pittwater - photo by by Bob Fowler
Ginger Conquers Pittwater For Fourth MC38 Australian Championship
MC38 Australian Championship, February 17-19, 2017 hosted by the Royal Prince Alfred Yacht Club with racing on Pittwater, part of Sydney's northern beaches
Leslie Green and his Ginger crew pulled off the ultimate class feat when they sailed to a fourth successive MC38 Australian Championship on Pittwater on Sunday February 19, 2017.
A fickle last day closed up the final pointscore. Ginger (CYCA) laid the foundations in the first two days and went out to race defensively, putting a target on Dark Star's (RPAYC) back, and Neville Crichton's Maserati (RNZYS/CYCA) crew cleverly read what breeze there was to move into second overall.
The day opened with a patchy 5-7 knot sou'west wind for race eight and finished with a second race, on the Mackerel Beach to Stokes Point course in a light ESEer up to 8kts with a mid-section full of holes. A weather system to the north-west did Pittwater sailors no favours and forced a postponement between races as the committee monitored the Bureau of Meteorology's radar for thunderstorm activity, wary of the previous two afternoon's sudden storms.
"It was a hard day today, we had to cover Dark Star and that can lead you into trouble," Green said. "All the boys are so good, the reason we win is we have an excellent team. I loved every minute of it and I'll be back next year," the smiling skipper promised.
As the newest crewmember, strategist Julian Plante commented that the guys on the Ginger team are inspired by Leslie's attitude and the effort he puts in. "The inspiration pushes everyone to do their best and find a little extra. Leslie sets a nice tone and the team want for nothing. Joining them was a no-brainer for me; they've been a successful team for so long."
Doug McGain, mainsheet on Maserati, said the mental stress was high for some on board as the games of snakes and ladders played out in the final race, when Maserati was still behind Dark Star on points. "There was a lot of concentration and a bit of mental stress," McGain said. "Once we got around the top mark and looked back we knew we were fine. Everyone just took a breath and settled down. We just had to be patient. Neville was happy with the weekend and he's happy with second."
Cameron Miles, tactician on Dark Star, rued yet another final series day when their good fortune ran out, similar to the final day and race of the 2016 Australian Championship. "The last day seems to not be our day. We are sailing well and the boat's going well, we just need to be more consistent. We could have got our time on distance better in the second start, the penalty turn didn't hurt us as we were going right but then the breeze came in hard out of the left. You can only go with what you can see at the time," Miles added.
Being the tactician on a cloudy and shifty Pittwater is the most unenviable job on the boat, no matter which class, and what happened to Dark Star and others today is referred to by locals as 'being Pittwater-ised'.
Sunday's race victories went to Maserati and Chris Hancock's Vino while Steve Barlow's Light Speed again posted promising results, finishing fourth in their debut MC38 regatta - a national title nonetheless. On Light Speed's heels was Marcus Blackmore's Hooligan, tactician Will Ryan making some smart calls in the taxing conditions.
The Royal Prince Alfred Yacht Club's PRO Steve Merrington summed up the series with, "It was a shame the wind didn't quite cooperate today but still it was a good regatta that finished up nicely."
Australian MC38 Association media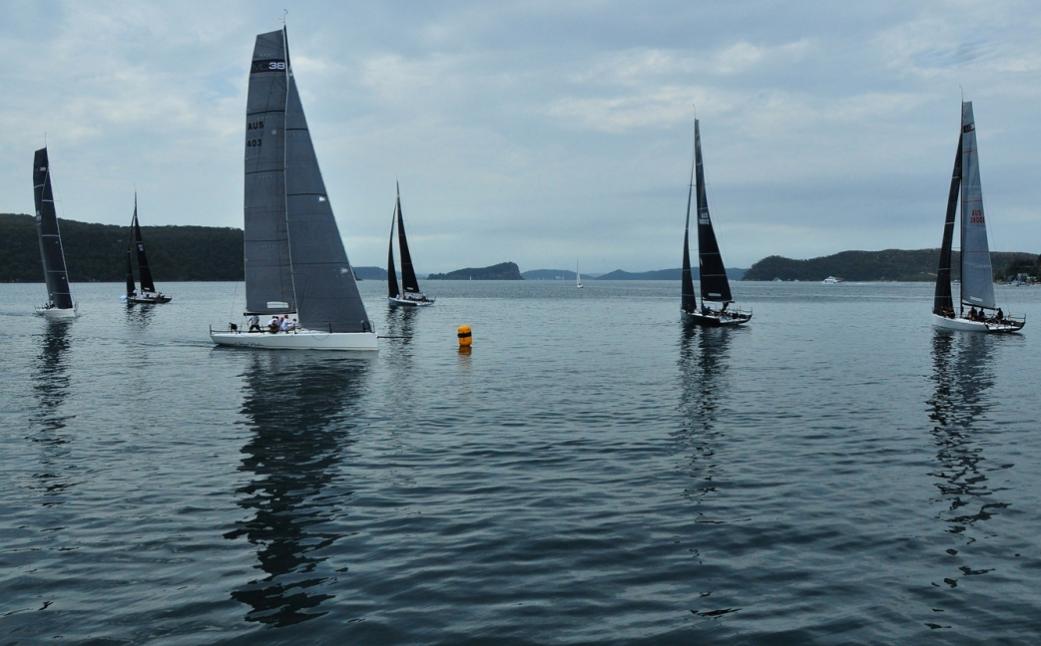 Pittwater challenges MC38 Aus Champs final day -photo by Bob Fowler
Ginger Closes In On Fourth MC38 Australian Championship
Leslie Green's Ginger consolidated its top dog status, John Bacon's Dark Star lit up and Steve Barlow's Light Speed continued to make inroads on day two of the 2017 MC38 Australian Championship on Pittwater.
In 12-16 knot sou'easters, Royal Prince Alfred Yacht Club PRO Steve Merrington and his team peeled off four races between Mackerel Beach and Stokes Point on the eastern side of Pittwater, a wider scenic course that offered crews variety from the usual track north of Scotland Island.
There's a clear top three opening up at this national title. At nine points in the black, Green and his team are likely to realise their quest for a fourth consecutive national title and attention now switches to the battle for second between John Bacon's Dark Star and Neville Crichton's Maserati, currently one point apart.
"Every day we go out to try and be boat of the day," said Ginger's tactician David Chapman. "Though in saying that we do tend to hang in the same patch of water as Maserati and Dark Star. It was a long day with four races, at the start we are fresh and towards the end of the day it gets harder to maintain consistency. It's the same for every team."
Chapman is working alongside international sailor Julian Plante as Ginger's strategist. "We have a friendly rivalry from our Farr 40 days. Julian is fitting in well, he's a local hero and it's good to have someone to bounce things off," Chapman added.
Dark Star's rise to second overall came down to good starts and going the right way said skipper John Bacon back at the RPAYC as another summer thunderstorm unleashed. "Today we were in the right spot and we made the best of our boat speed. We also had fantastic racing with Neville, they are very similar in boat speed and here we are with a point between us.
"Ginger is clinical. Even if they have a bad race it's still a good race. It would be unusual for us to beat Leslie, we'd have to win three races and they'd have to finish deep tomorrow. We'll be really keen to protect our position on the final day," Bacon added.
Maserati's tactician Joe Turner says their goal-setting of a podium finish in every race combined with time on the boat is reaping results. "We are really starting to gel as a team, we are knocking on a year now and things are falling into place. The boat's fast enough, the crew's good enough, it's now down to Neville and I. We didn't expect Dark Star to have the day they had, this is their patch of water and we are having a great battle. Neville is really happy; he said today he can't wait for next season."
The big mover in the pointscore on day two is the Steve Barlow skippered Light Speed, now fourth behind Maserati.
Sunday's forecast is for southerly winds 15-25 knots increasing to 20-30 knots early in the morning then tending south-east to south-westerly 15-25 knots by midday and an 80% chance of showers. Racing on the final day of the MC38 Australian Championship is due to start at 1100hrs and three races are scheduled to close out the series.
Australian MC38 Association media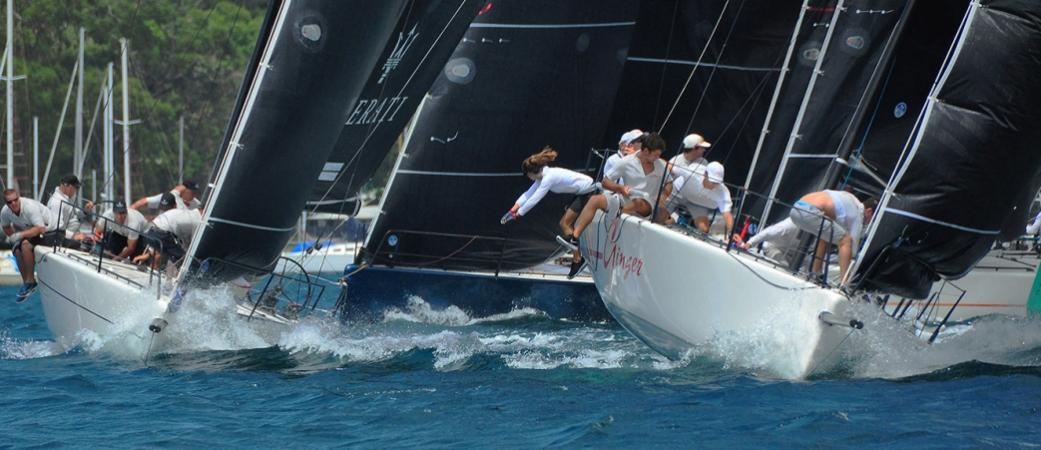 Ginger and fleet at MC38 Australian Championships 2017 photo by Bob Fowler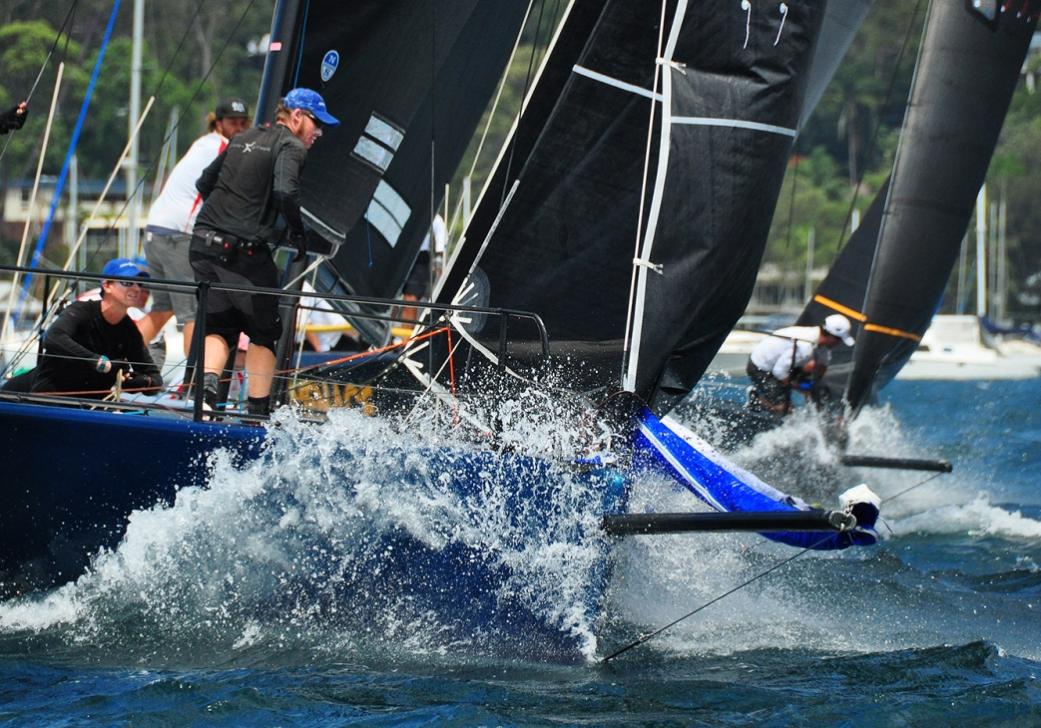 Dark Star bow - at MC38 Australian Championships 2017 photo by Bob Fowler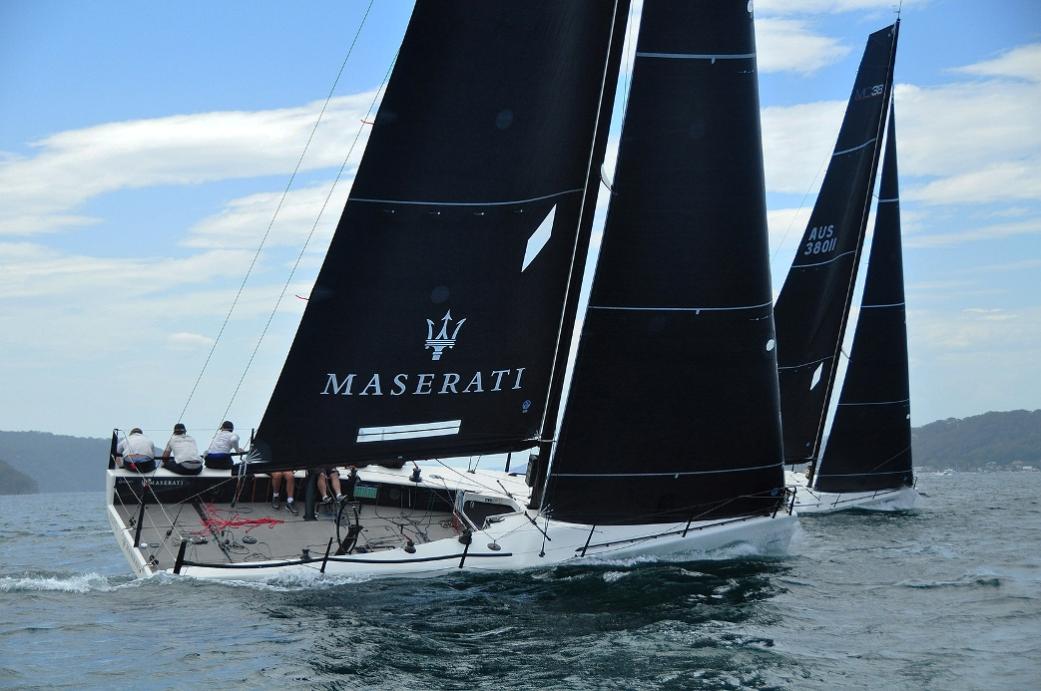 Maserati at MC38 Australian Championships 2017 photo by Bob Fowler
Feisty MC38 Australian Championship First Day
A changeable opening day of the 2017 MC38 Australian Championship began in pleasant summer nor'easters only to be cut short just before a violent storm cell crossed over Sydney's northern beaches bringing high winds and hail and causing flooding at the host Royal Prince Alfred Yacht Club.
Three races in mostly warm breezes NE 7 – 11 knots and a 2,2,1 scorecard yielded Leslie Green's Ginger the North Sails boat of the day flag on Friday February 17, followed in the pre-protest series pointscore by Vino and Hooligan.
Over the course of the day on a clear Pittwater race track, various crews deemed there were enough infringements, plus one collision, to warrant five protests being lodged at the RPAYC, which reordered the top placings. Maserati (Neville Crichton) moved into second on 11 points and Hooligan (Marcus Blackmore) into third, propped up by their opening race win, on 12 points.
The feistiness metre clicked straight to high when Ross Hennessy's Ghost Rider (RPAYC) and Howard Spencer's Menace from New Zealand came together in a port/starboard collision in the opening stages of race one, the clip of Ghost Rider's stern by Menace causing enough damage to send the former ashore for hasty repairs.
Hennessy's team retired from race one, missed race two and made it back just in time for race three thanks to the quick application of carbon to the damaged areas by tactician Gerard Smith and a postponement by the race committee as the approaching storm tugged the breeze around the north-east quarter. "We'll try and stay out of trouble on Saturday," Hennessy assured.
In the protest room both MC38s were disqualified from race one, Ghost Rider for not keeping clear of the starboard tacker and Menace for taking evasive action but not avoiding contact.
Another MC38 crew aiming to stay out of strife on day two is Vino. With champion Laser sailor Glenn Bourke on the helm of Chris Hancock's Vino they managed to rattle a few teams. Two race disqualifications later Vino was languishing points-wise with a big fight-back required if Hancock and his crew are going to rise up again at this three-day national title.
One of the day's high points was when Steve Barlow's Light Speed, a new team making their MC38 debut at the premier level, did a 'Steve Bradbury' and finished second in race three. "We are a happy boat; I think the only other boat that is happy is Ginger," Barlow said, making reference to the multiple disqualifications. "We hadn't even lined up with another boat and had no idea how competitive we were going to be with our rig and sail settings," the jovial skipper added.
In good humour one of Barlow's crew posted on social media an image of the rank outsider Bradbury skating through the fallen pack at the 2002 Winter Olympics to take out the gold medal.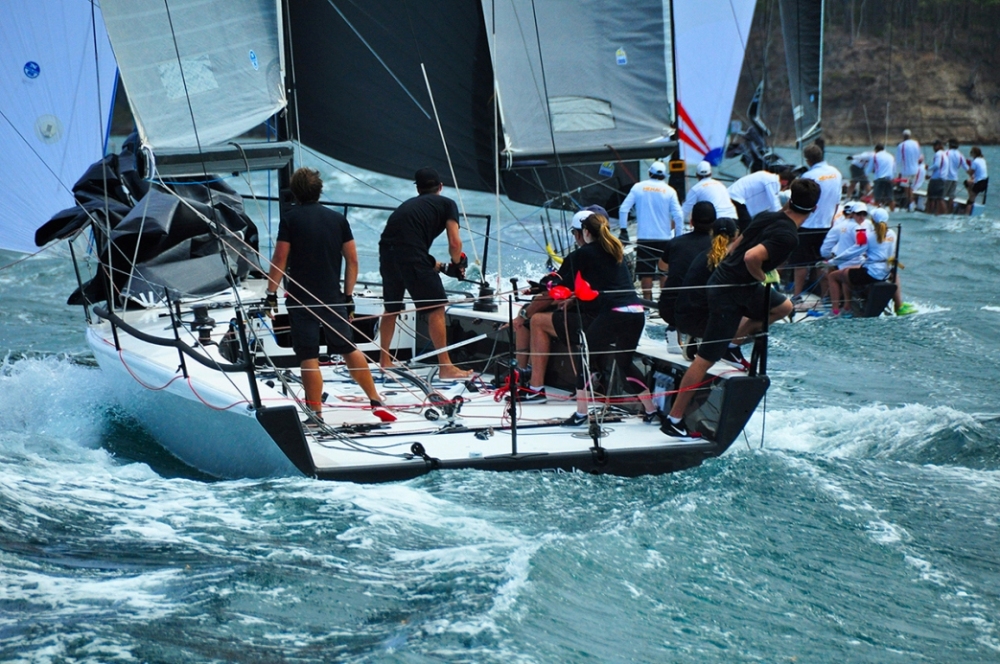 Light Speed closest MC38 Aust Champs 2017
- photo by Bob Fowler
The RPAYC's jurors were kept busy hearing protests from 4pm until around 9pm on Friday evening. The class usually employs on-water judges to pass judgement at the time of any incidents however none were available for the championship.
Musto donated prizes for the RPAYC race committee to hand out at their discretion and in the first round Light Speed was awarded for their second place.
Saturday's forecast is for south to south-westerly winds 15-20 knots tending south to south-easterly 10-15 knots during the morning and early afternoon. There is an 80% chance of showers during the afternoon. Race four of the MC38 Australian Championship is due to start at 1100hrs on what is scheduled to be a hectic Saturday on Pittwater.
Updated results available
here
.
Remaining race schedule:
Saturday 18 Feb: first scheduled warning signal 1100hrs, up to 4 races

Sunday 19 Feb: first scheduled warning signal 1100hrs, up to 3 races
List of entries:
1. Assassin – Robin/Clare Crawford
2. Dark Star – John Bacon
3. Ghost Rider – Ross Hennessy
4. Ginger – Leslie Green
5. Hooligan – Marcus Blackmore
6. Light Speed – Steve Barlow
7. Maserati – Neville Crichton
8. Menace – Howard Spencer
9. Vino – Chris Hancock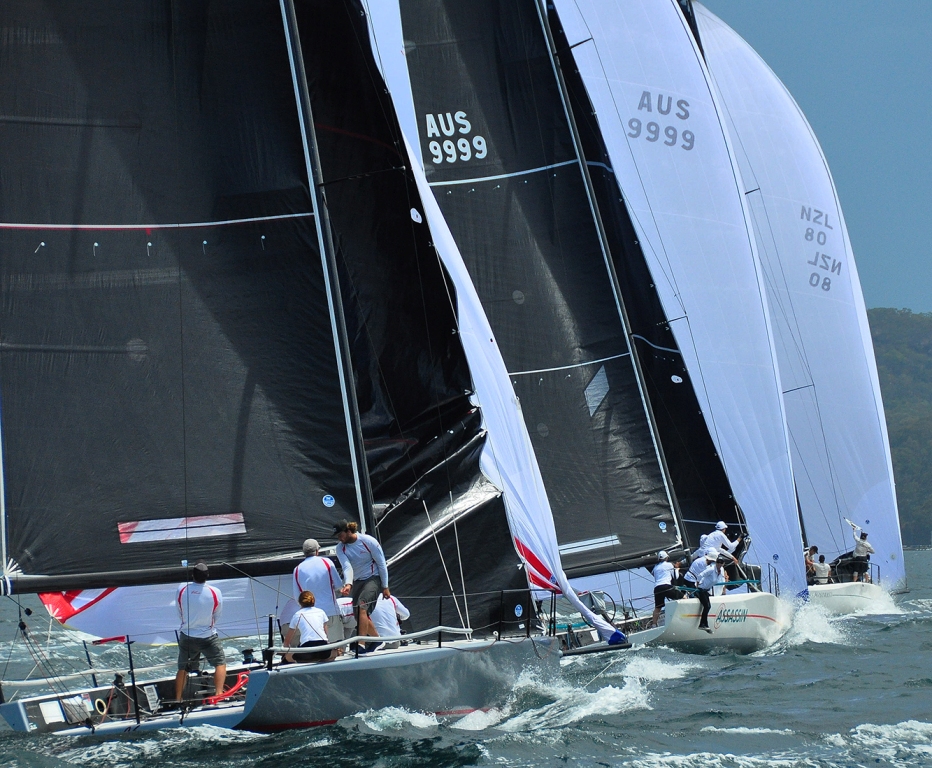 Vino & Assassin day 1 - photo by Bob Fowler
Australian MC38 Association media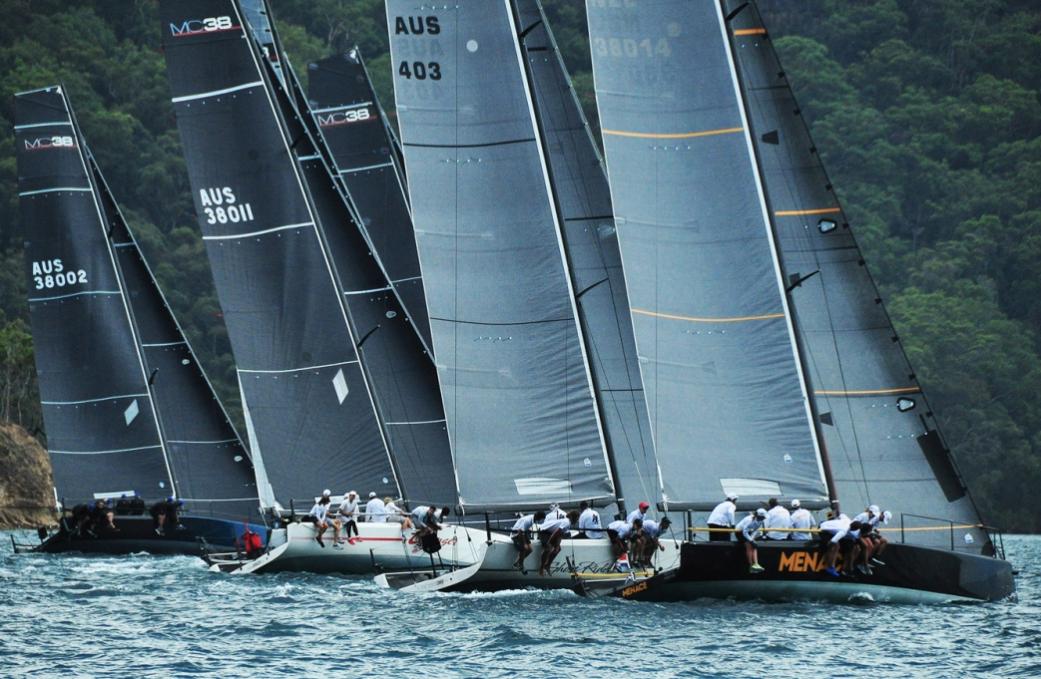 MC38 Fleet - Australian Championships 2017 photo by Bob Fowler
Record MC38 Fleet Vie For National Supremacy
2017 MC38 Australian Championship, February 17-19 hosted by the Royal Prince Alfred Yacht Club with racing on Pittwater
A record nine MC38s fling open the door to another year of dynamic one design racing with the class' national title on Pittwater hosted by the Royal Prince Alfred Yacht Club February 17-19, 2017.
Class statesman Leslie Green and his Ginger crew are three-time consecutive Australian champions facing this year's title with the same core team who have invested the same amount of effort in preparation, the winning skipper assures.
"We have been training as much as we can. Fortunately we've broken a few things - I love to do that while we are training - and we've got good sails on the boat. We spend a lot of time choosing our crew; it's always the core of the Richie Allanson/David Chapman group, nothing changes much. Julian Plante will join us this weekend helping Richie with trim and as alternate helmsman," Green added.
Pittwater isn't the Cruising Yacht Club of Australia member's favourite stretch of water though he's philosophical about its nuances: "It can be a bit unfair. You try to take as much luck out of the game as you can. It's the same for everyone; lucky breaks go each way," Green added.
As well as leading his troops into another championship round, the generous 80-something year old skipper has also offered an entire set of sails to Steve Barlow for the MC38 Lightspeed, which is on loan from McConaghy Boats at Mona Vale.
"Why wouldn't you?" Green asks. "I think it's normal you try to help people in this life. It doesn't hurt you…though I suppose if he won…"
Barlow has been a guest helmsman at two different MC38 series on Maserati and Kokomo, both heavy air baptisms. Now he's done a deal with McConaghys, the company that built the MC38, to lead his own campaign.
"We stuck the mast back in and gave it a polish, then we begged and borrowed some sails," Barlow said. "We've thrown together a crew of my Farr 40 guys from last year, most of them have sailed the MC38s as well.
"Our expectations are not high but we definitely we want to give it a go. When you are competing against seasoned campaigners like Menace and Ginger with a thrown together crew, we understand we won't be on the pace with those guys. There's definitely a pecking order and hopefully we can stay off the bottom of the ladder."
Billy Sykes, Mitch White and Murray Gordon are some of the names on Lightspeed's crew list.
Four-time Kiwi Olympian Hamish Pepper is replacing regular tactician Ray Davies, who is busy with his America's Cup duties, on Menace sailing for the Royal Akarana Yacht Club in Auckland. The team admit they've not sailed Menace since the last MC38 regatta back in November, but history shows there's always plenty of pedigree on board to smooth out any rough edges.
Most of the Sydney boats, including Dark Star, Ghost Rider and Vino, have been spotted regularly on Pittwater training for the competition climax happening inshore over three days, offering club races and other boats the chance for ringside seats.
Strengthening nor'easters are likely for tomorrow's opening day before an overnight southerly change and 18 knot southerlies decreasing to 16 knots on Saturday afternoon. High winds feature in the long range outlook for Sunday, up to 28 knot southerlies, something PRO Steve Merrington and the owners will monitor.
Racing schedule:
• Friday 17 Feb: first scheduled warning signal of the day 12000hrs, up to 4 races
• Saturday 18 Feb: first scheduled warning signal 1100hrs, up to 4 races
• Sunday 19 Feb: first scheduled warning signal 1100hrs, up to 3 races
List of entries:
1. Assassin – Robin/Clare Crawford
2. Dark Star – John Bacon
3. Ghost Rider – Ross Hennessy
4. Ginger – Leslie Green
5. Hooligan – Marcus Blackmore
6. Light Speed – Steve Barlow
7. Maserati – Neville Crichton
8. Menace – Howard Spencer
9. Vino – Chris Hancock
Facebook
– NB. there are multiple class videos on the Facebook page
Australian MC38 Association media