October 9 - 15, 2016: Issue 284
MC38 2016/17 Summer Series Championship Act 1: on Pittwater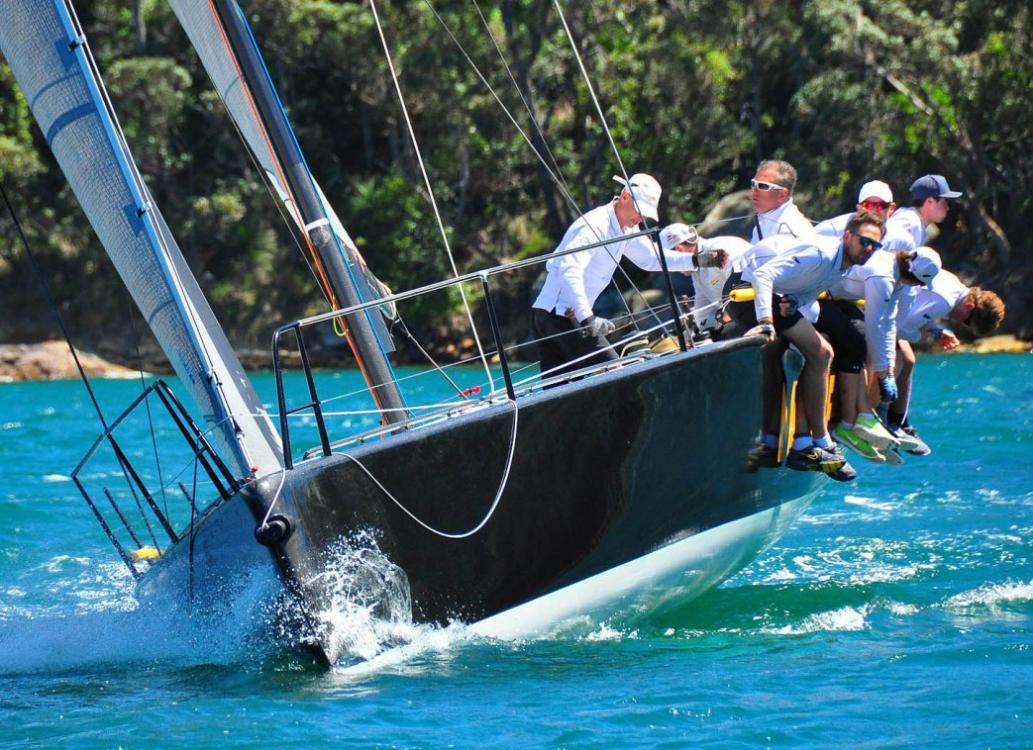 MC38 Summer Championships act one winner Menace - photo by Bob Fowler
Menace's mighty MC38 act one win
9 October 2016
Event: MC38 2016/17 Summer Series Championship Act 1, 8-9 October, 2016 hosted by the Royal Prince Alfred Yacht Club
Menace's heavy air prowess on day one of act one of the MC38's four-part Summer Championship series gave them an advantage the local lads couldn't close-up during a second breezy Pittwater outing, this time north-east winds up to 22 knots by the final race.
It's been sometime since the Kiwi outfit on Menace has overcome an Aussie team, and an eight point victory for Royal Akarana Yacht Club is "sweet as" says owner Howard Spencer's mainsail trimmer Alastair Gair.
"We got our head back in the game at the last regatta; we are doing the basics right - starting and getting to the top mark in a good position rather than fighting from the back. It's hard to get the speed advantage in this class, everyone's sailing so well and the races are short.
"It was nice to begin the day with a win, we wanted to start strong and ease a bit of pressure on us, and second in the second race closed it out for us. It was really fantastic to get breeze both days, Ray Davies did a nice job on the tactics and Howard's really happy…which is what you want," Gair added.
Menace regularly sails with at least two women crew and Gair says having an eighth body on the boat works well and is good for team dynamics. "We don't take things too seriously and let things get out of control, we have fun too."
Steve Barlow helming Leslie Green's Ginger turned a costly day one yesterday - both in terms of sail damage and points - into a North Sails boat of the day performance with 2,1,1 results. Tactician David Chapman said Ginger's usually brilliant crew work wasn't up to scratch in the gusty sou'east winds up to 28 knots on Saturday October 8, and the guest skipper needn't have shouldered the blame.
"Steve was a bit upset with himself afterwards," admitted Chapman. "He did a good job yesterday ….we weren't our usual polished selves. He took us out to dinner and we had a few attitude adjusters and today he was rewarded with the North Sails boat of the day. To jump in to the class for the first time and be straight on the pace is a credit to him."
On Menace's series victory, an honour Ginger hasn't shared with any of its classmates since the MC38 Winter Regatta in June 2015, Chapman said, "Howard's very good in really strong breeze; they are a polished team and they don't make many mistakes."
Third overall with a three point shortfall to Ginger was John Bacon's Dark Star, sailing for the regatta host, the Royal Prince Alfred Yacht Club.
Principal Race Officer Steve Merrington added that today's execution of three final races back-to-back was straightforward compared to running racing on a blustery white-capped Pittwater on Saturday.
Act two of the 2016/17 MC38 Summer Series Championship is scheduled for November 5-6 and the Royal Sydney Yacht Squadron at Kirribilli will host.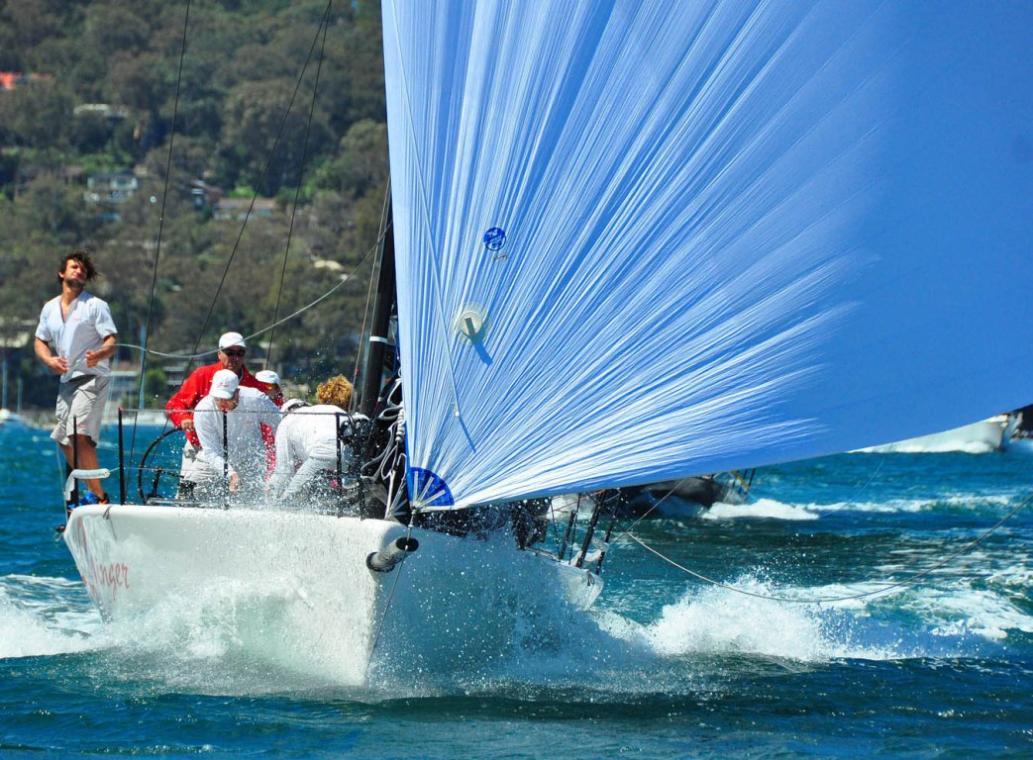 MC38 Summer Championships - Ginger downwind - photo by Bob Fowler
MC38 Summer Championships -
Vino on Pittwater - photo by Bob Fowler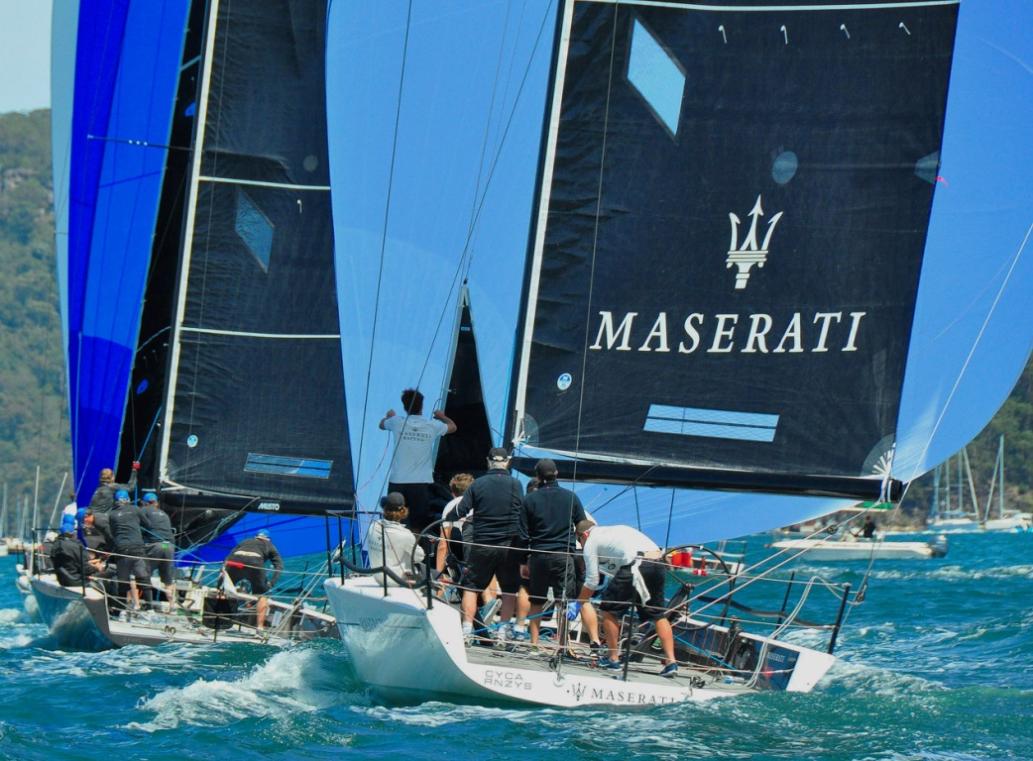 MC38 day 2 downwind - Maserati & Dark Star- photo by Bob Fowler
MC38s light-up on heavy air Pittwater day
8 October 2016
Event: MC38 2016/17 Summer Series Championship Act 1, 8-9 October, 2016 hosted by the Royal Prince Alfred Yacht Club
Day one of act one of the MC38 2016/17 Summer Series Championship was a test of boat handling with south-east winds up to 28 knots sorting out the slick from the sloppy when it came to crew work in the four opening races on Pittwater, north of Sydney.
Other than a knot in the kite halyard in the last race of the day, Howard Spencer's Menace from Royal Akarana Yacht Club in New Zealand looked in command and easily scored boat of the day thanks to their 1,1,2,2 results.
Elsewhere in the fleet masts were in the water at times, boats were rounding up in the gusts and among the damage was a monumental kite tear on Ginger. When they were under control and wound up downwind the MC38s threw out massive bow waves, planing at 20 knots with each crew packed at the stern quarter balancing the weight and strain on the kite.
Menace's tactician Ray Davies summed up, "Pittwater really turned on an exciting day for the MC38 fleet, 20-28 knots and the key was the crew work. Ours was really solid, only a few little mistakes in the last race but after sailing past the bottom mark while we sorted out the knot we got though three boats on the way to an upwind finish and came in second. Howard did a great job of steering in difficult conditions."
Video one including cool downwind action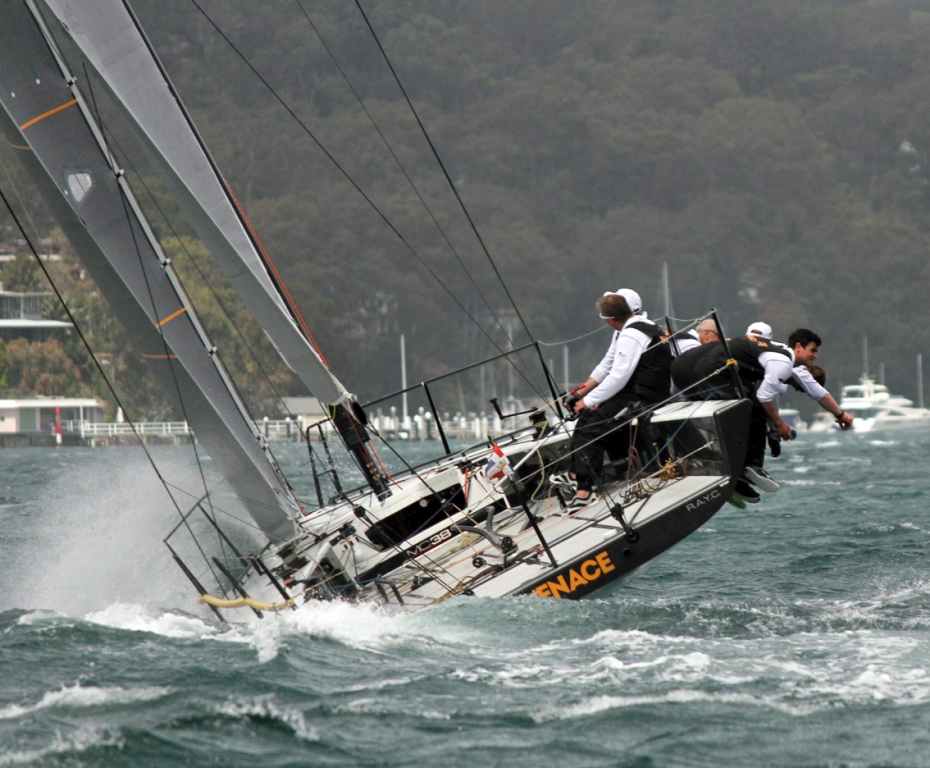 Boat of the day Menace - photo by Stephen Collopy, RPAYC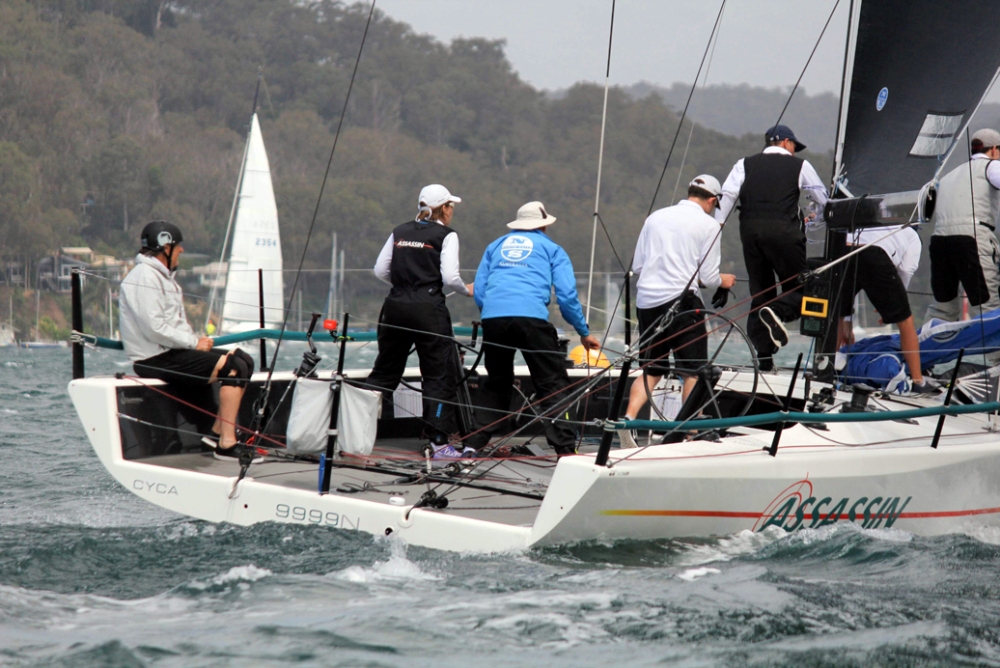 Assassin downwind - photo by Stephen Collopy, RPAYC

Second on the overall pointscore by six points is John Bacon's Dark Star, the winner of race four, and third by a point is Neville Crichton's Maserati racing team which didn't score better than second but likewise didn't score worse than fourth.
First time MC38 helmsman Stephen Barlow, steering Ginger for Leslie Green, trained Thursday and Friday in light winds and today was suddenly whacked with 25 knots.
"The things go…" he nodded, happy to be back at the host RPAYC at Newport after recording a top speed of 19.5 knots under spinnaker. "The highs and lows are really emotional; you could go from sixth in one race and win the next one," which is exactly how race two and three played out for the Ginger crew. "WOW…great sailing…everyone lost it at some stage. You only have to be two degrees off to get it wrong; you don't go slowly and they are hard to pull back and save. Oh well, it's only water…" Barlow added.
The guest skipper says he'll be back tomorrow for some more punishment though the worst of the weather appears to be over with NNE winds 10-17 knots forecast for the final three races before the breeze climbs back up to the 20 plus knot range overnight.
Prior to the start of the third race on Saturday October 8, 2016 there was a decent delay as PRO Steve Merrington's race committee and the rest of the fleet waited for Ginger to tidy up after their spinnaker calamity, and for Chris Hancock's Vino to repair multiple broken mainsail battens. Vino's crew advised the PRO they would be a DNS - Did Not Start – but charged the start line from a great distance and snuck in just a few seconds late, and in clean air.
Three more races are scheduled for Sunday October 9 on Pittwater starting at 1100hrs.
by Lisa Ratcliff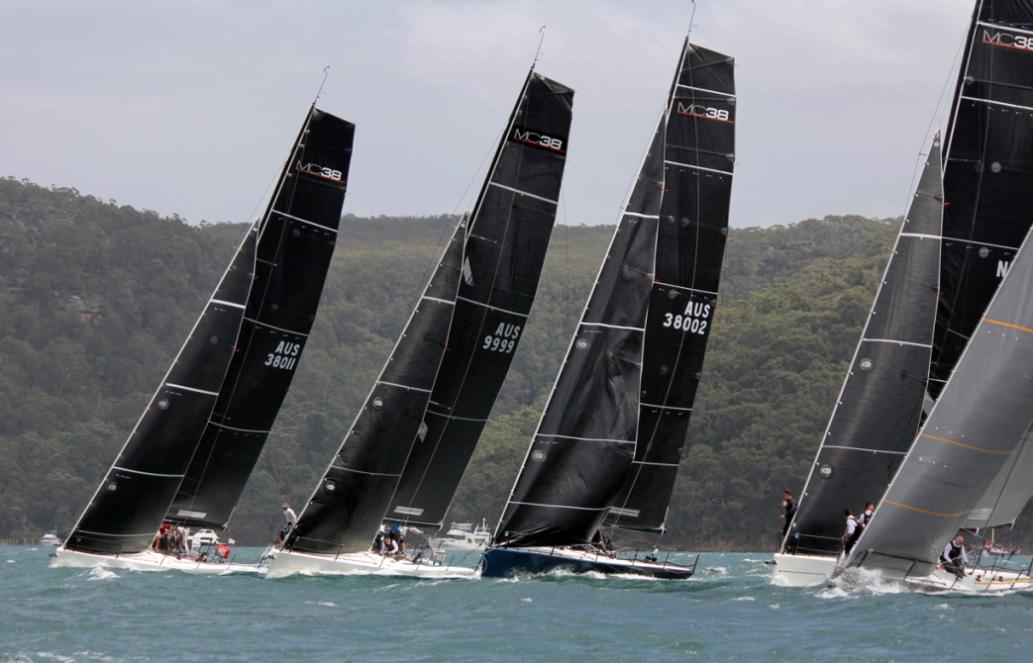 MC38 2016/17 Summer Series Championship Act 1 start - photo by Stephen Collopy, RPAYC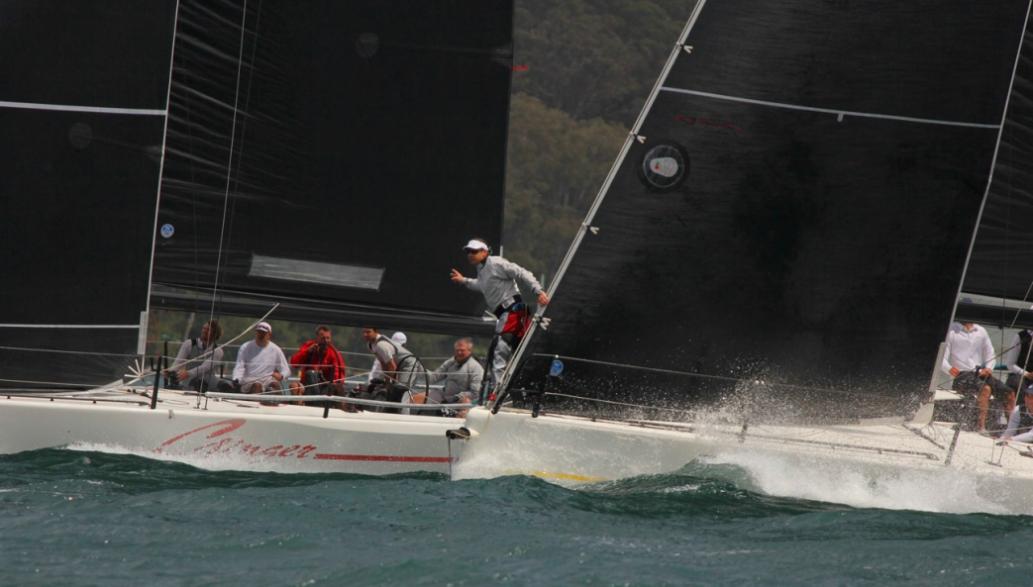 Ginger and Assassin - photo by Stephen Collopy, RPAYC