November 27 - December 3, 2016: Issue 291
Etchells NSW State Championship 2016/17 Hosted by Royal Prince Alfred Yacht Club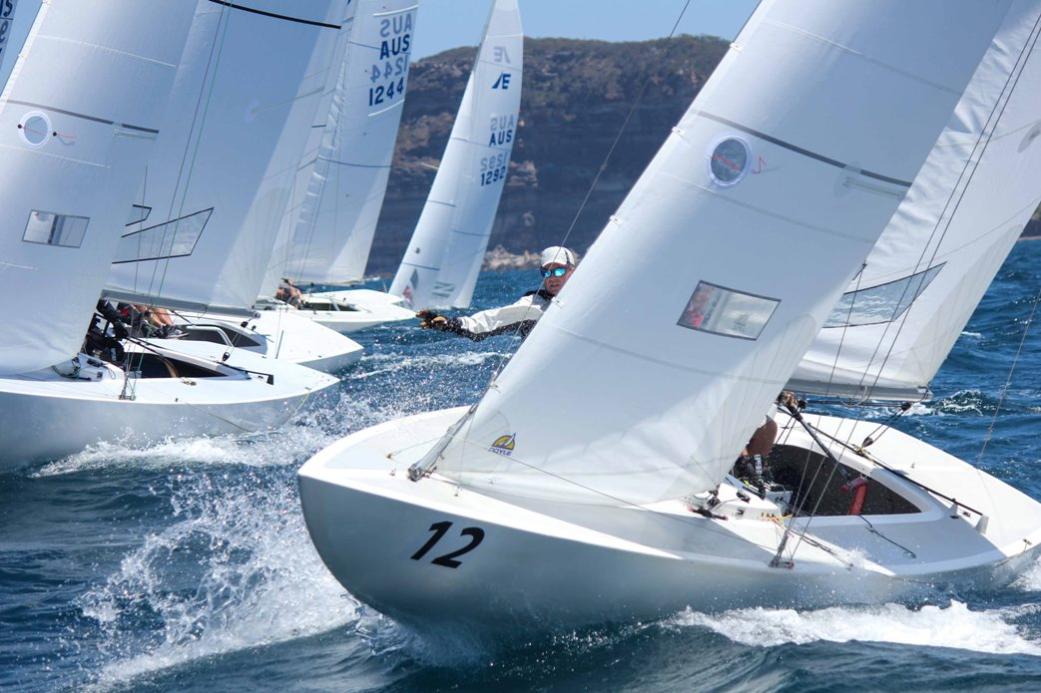 Etchells NSW Day start in the PB Circle - photo by Stephen Collopy RPAYC
Stable weather pattern for Etchells NSW State Championship
Event: International Etchells 2016/17 NSW State Championship hosted by the Royal Prince Alfred Yacht Club on Pittwater, 25-27 November, 2016
November 25, 2016
Mild to moderate afternoon easterlies and daytime temperatures in the mid-twenties are in store for thirty-eight entries contesting the Etchells NSW State Championship to be sailed off Palm Beach Headland on Sydney's Northern Beaches starting today, Friday November 25, 2016.
Two world and national champions plus five other national Etchells champions and a raft of state champions will race side-by-side and against titleholders in other classes of boat.
Etchells world (1984), national and NSW state champion and recent class returnee, Iain Murray, made his way to Sydney this week from Fukuoka, Japan for his own sailing endeavours. As America's Cup regatta director he ran last weekend's final of the Louis Vuitton America's Cup World Series then hopped on a plane to be a starter at the Etchells spring series.
Murray began sailing with Michael Coxon in the early 1980s before work and Olympic campaigns took over. He had a hit out 20 years ago at the San Francisco worlds, placing a very respectable third, and in 2014 was invited to rejoin Coxon's Etchells crew.
Murray's gloves are laced up once again and for the one design state title he'll helm Northern Havoc together with crew Richie Allanson and Euan McNichol, a step towards his ultimate aim - the 2017 Etchells world championship back in San Francisco.
Under race officers Ross and Kevin Wilson Racing racing is due start with the first warning signal at 1255hrs daily, Friday to Sunday, and the long range forecast indicates a stable weather pattern for the state showdown, the prelude to the Etchells Australian Championship the Royal Prince Alfred Yacht Club will host January 11-15, 2017.
Today's forecast is sunny with variable 10 knots winds becoming east to south-easterly 10-15 knots in the middle of the day. Saturday will be partly cloudy with variable winds, 10 knots becoming east to north-easterly 15-20 knots in the middle of the and Sunday's forecast is south to south-easterly 10-15 knots turning easterly and lightening.
Peter McNeill, another Etchells world (2004) and Australian champion, will be in command of Iris III, and on the start line with the calibre of fellow Australian champion skippers, Graeme Taylor (VIC), David Clarke (NSW), Mark Roberts (SA), Jan Scholten (NSW) and Peter Conde (QLD).
Daily results will be available here.
Racing will take place in the Palm Beach circle zone to the east of Palm Beach headland.
Facebook @EtchellsAUS Instagram
by Lisa Ratcliff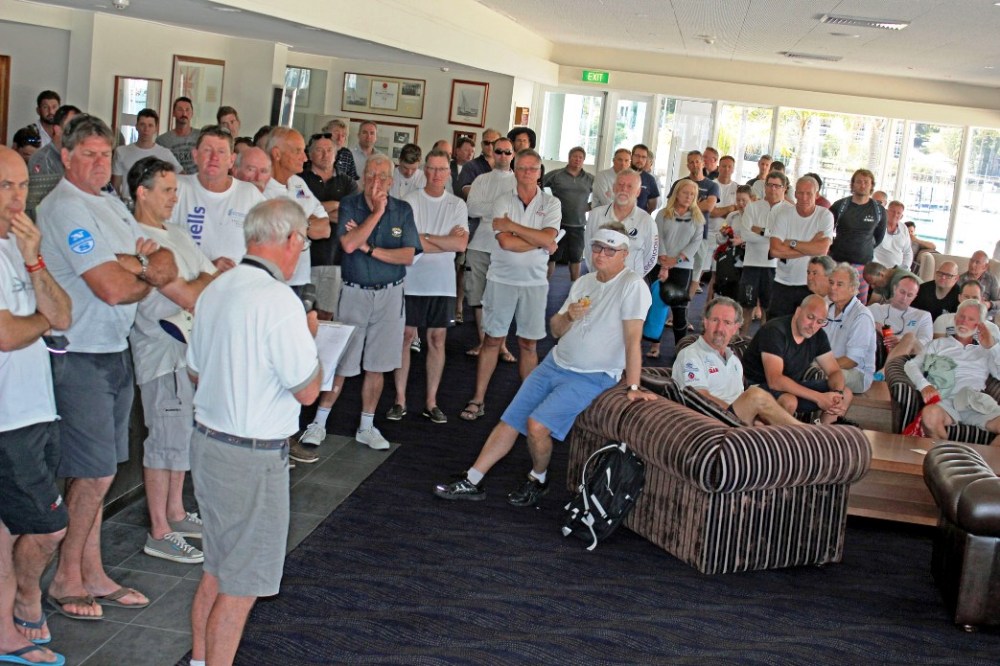 Etchells Briefing - photo courtesy RPAYC Media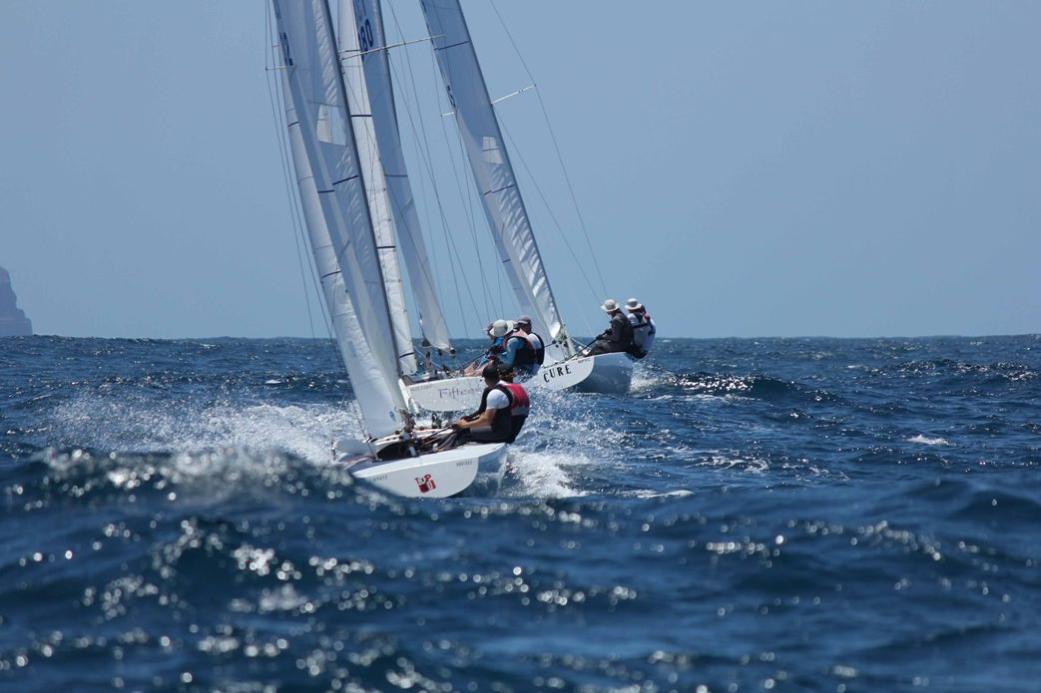 Etchells NSW The Cure, 15+ and Top 40 offshore - photo by Stephen Collopy, RPAYC Media
Tango steps up to the Etchells NSW State Championship podium
November 28, 2016

In a phenomenally close finish, a single point and two countbacks determined the top four placegetters at the Etchells 2016/17 NSW State Championship conducted off Palm Beach Headland, Sydney, in an area known as the Palm Beach Circle.
Chris Hampton's effort in bringing his newish team of Sam Haines and Mark Andrews up from Royal Brighton Yacht Club in Victoria paid dividends when Tango took out the series by a boat length in the final race six.
'It takes two to tango' is the expression and Peter Conde's Encore team, runner-up by the narrowest margin, plus others, pushed the Victorians right up until the dying seconds.
"It was very close; we thought we'd blown it in the last race and we had to fight for every centimetre on the run to the finish," Hampton shared.
"I've had 15 years in the class but this team only came together for the Etchells Worlds in Cowes in September where we won race one and blew third spot overall with a UFD (disqualification) in the last race. After this series we know we have some things to work on, mainly our starts. We are only a young team and we feel we are far off achieving our full potential.
"The boat is a Pacesetter; we bought the hull and fitted it out ourselves. We are very happy with the speed, we found it much more lively and responsive compared to the older hull, which is still at Cowes. We enjoy sailing against the best boats and sailors in the world and we have a busy program ahead including the Australian title in January then the North American circuit and the San Francisco worlds."
Hampton's boat is shiny new and the state title was the latest Tango's debut regatta. Second placed Peter Conde's Etchells called Encore (Royal Queensland Yacht Squadron) is a 1990 hull and he was the boat's first owner. Last year he noticed it up for sale and bought it back. Campaigning with the same crew he had in the mid-1990s, Brian Hillier and Myles Baron-Hay, Conde pushed the 26-year old hull to its limit in the NSW championship to finish second overall on a countback and first Corinthian boat.
"It always was a good boat," agreed Conde at the trophy presentation on Sunday November 27, 2016 at host Royal Prince Alfred Yacht Club. "I just wanted to come back from sailing admin (performance director at Australian Sailing) and do my own sailing. The racing was incredibly tight in this series; I don't think the fleet was as close 20 years ago.
"My ultimate aim is to have fun on the boat with these guys [Brian and Myles]. The 2018 worlds are at our backdoor in Brisbane and if the timing works out we'll do it. We are a bunch of old guys so we don't have super competitive expectations."
Prior to this season Conde, Hillier and Baron-Hay last sailed together at the 1996 world championship in Cowes, UK. Though the bodies are older, over the weekend the trio demonstrated less hair definitely doesn't equate to less flair.
Past national champion, Graeme Taylor's Magpie sailing for Mornington Yacht Club in Victoria, finished third on a countback from Ray Smith's The Cure, the winning Grand Master crew with a combined age of 150 plus years, all the way from Royal Perth Yacht Club.
The first NSW boat in the rankings was David Clark's Fifteen+ (CYCA) in fifth and sixth was Iain Murray's Northern Havoc (RSYS) in what is also Murray's comeback season.
Reflecting on the one design series, race officer Kevin Wilson said, "We had three days and three different sets of conditions; the first day light out of the SE then on day two we had N-NE up to 15 knots and Sunday it was back to the SE. We had some comfortable seas and some very rocky seas, and that's all part of ocean racing.
"It's been fantastic watching, they are all so close together and come around the marks four, five and six deep. It's been great to sail out of the Alfreds, the hospitality has been excellent."
Australian class president David Ritchard and RPAYC Commodore Ian Audsley were delighted with a 38-boat state title roll up and Ritchard thanked sponsors Harken, Gill and North Sails one design.
RPAYC will host the Etchells Australian Championship January 11-15, 2017 and documents will be posted
here
shortly.
By Lisa Ratcliff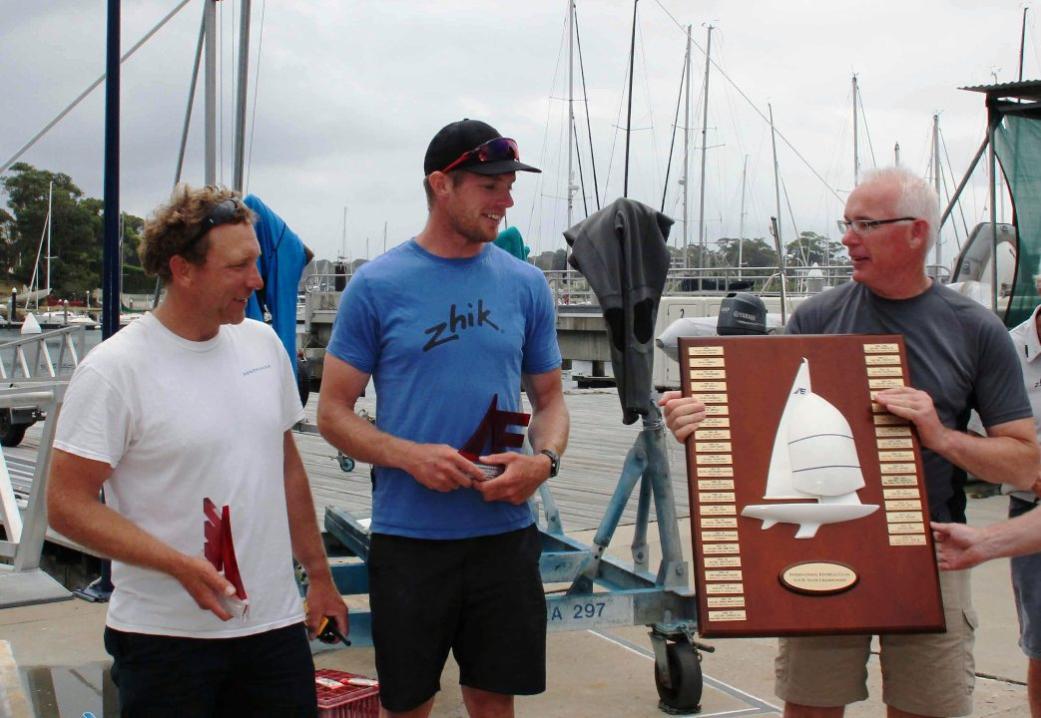 Etchells NSW Mark Andrews, Sam Haines, Chris Hampton winners - photo by Stephen Collopy RPAYC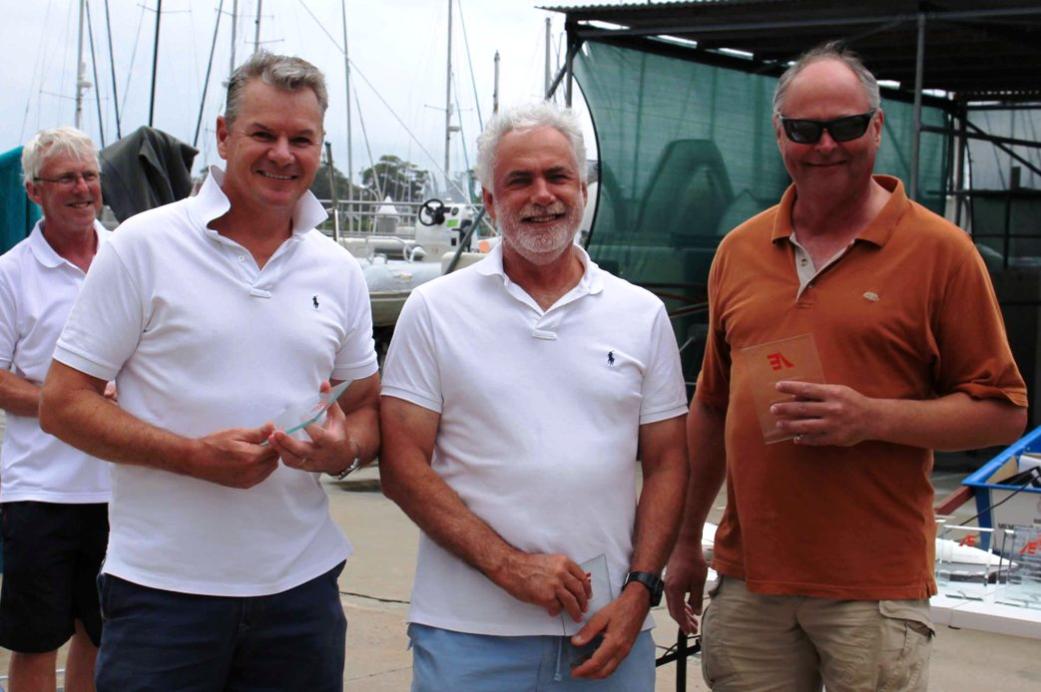 Etchells Myles Baron-Hay, Brian Hiller, Peter Conde 2nd overall - photo courtesy RPAYC