December 18, 2016 - January 7, 2017: Issue 294
Farr 40 Pittwater One Design Trophy 2016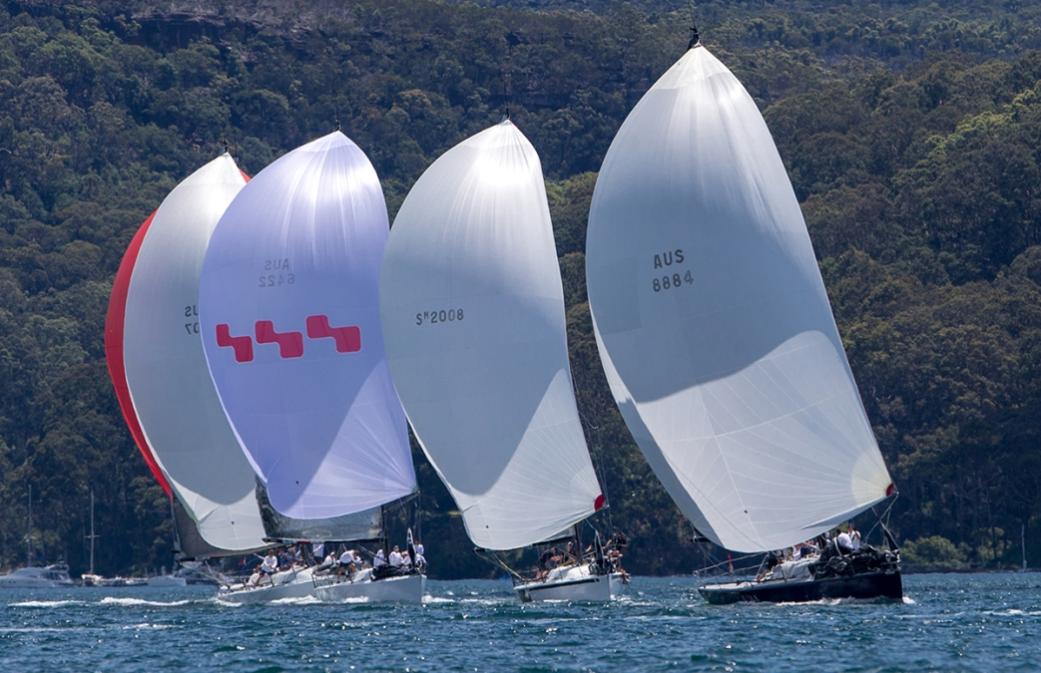 Farr 40s downwind Pittwater One Design Trophy 2016, Day 1 - photo by Crosbie Lorimer
Farr 40 fleet returns to Pittwater
14 December 2016
Event: Farr 40 Pittwater One Design Trophy, December 17-18, 2016 hosted by the Royal Prince Alfred Yacht Club with racing on Pittwater & Broken Bay
A large Farr 40 contingent is gearing up for the second event of the 2016/17 pointscore season, the Pittwater One Design Trophy this weekend, December 17-18, 2016.
Eight Farr 40s hailing from Newcastle to Melbourne will test themselves against the vagaries of the narrow stretch of water to the north of Scotland Island on the inshore day, and in the vicinity of Broken Bay's entrance if the race committee and owners agree conditions are favourable for an offshore race course on the other day.
Opening series points went to Lang Walker's Kokomo, which took out the One Design Trophy conducted by Middle Harbour Yacht Club in October while Gordon Ketelbey's Zen secured the Corinthian trophy.
Rob Pitts' Double Black, sailing for Sandringham Yacht Club on Melbourne's Port Phillip, is one of two Victorian Farr 40s stationed in Sydney for the summer calendar. At the Sydney Short Ocean Racing Championship last month, Rio 2016 silver medallist in the 470s Will Ryan ran the tactics. For the Pittwater OD Trophy, local sailor Steve McConaghy is holding court for what will be Pitts' first outing on the challenging and picturesque courses.
"Steve's knowledge will be a huge advantage," Pitts expects. "We are committed to the season and every regatta with a very stable crew, and that makes all the difference."
On the feeling within the class in the early stages of the season he added, "I think there's a really positive buzz, quite a few Corinthian boats and the fact we've got eight for Pittwater is a great outcome. There's a real commitment from all the owners to race and perhaps the numbers are an acknowledgement by the Sydney teams of the effort and dedication to a strong class shown by the Melbourne crews."
Though Pitts says Double Black is a fully-fledged Sydney boat "by the tyranny of distance", there's plenty of state pride as they move towards their season goal, a worthy outcome at the pinnacle NSW state title and National Championship: John Calvert-Jones Trophy in February and March 2017, respectively.
Guido Belgiorno-Nettis' Transfusion returns to racing at the Pittwater Trophy, this time with a new helm and crew, barring a couple of the professionals from last season. "Guido won't be on board; it's kids only," Massimo Belgiorno-Nettis, Guido's 28 year-old son, declared.
"The boat is sitting unused so thought I'd get some experience. I'm pretty green to yachts but I've spent a lot of time in Flying 11s, 16-foot skiffs and A-cats, and I've done a couple of Farr 40 regattas. The crew are all punter mates from around the traps who have done some sailing. We've been doing a regular twilight campaign to get everyone familiar with their roles. We haven't bent the boat… yet."
As to the heady days of Transfusion winning every Farr 40 trophy going, Massimo promises, "We won't be last unless our tactician is useless. We are not completely green; we understand the concepts though we may come unstuck in anything fresh or in a protest situation."
Also returning to the one design class for the Pittwater regatta is Joe de Kock's Good Form from Newcastle and local boat Windy Too, skippered by Carl Russett.
Racing is due to begin at 1100hrs on Saturday November 17 and 100hrs on Sunday 18, either within Pittwater or an area termed the Broken Bay offshore zone. Courses will be advised in the sailing instructions and the PRO for the Pittwater Trophy will be the Royal Prince Alfred Yacht Club's trusted Steve Merrington.
By Lisa Ratcliff/Australian Farr 40 media

Entry list:
Double Black – Rob Pitts

Estate Master – Martin Hill

Edake – Jeff Carter

Exile – Rob Reynolds

Good Form – Joe de Kock

Transfusion – Massimo Belgiorno-Nettis

Windy Too – Carl Russett

Zen – Gordon Ketelbey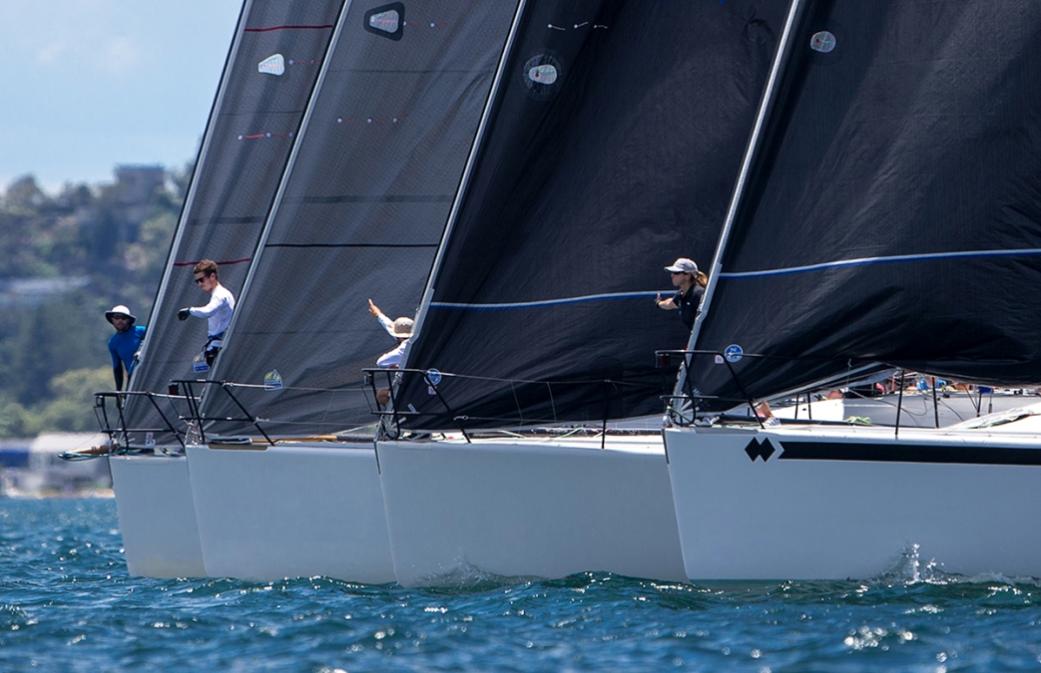 Farr 40 bowmen Pittwater OD Trophy 2016, day 1 - photo by Crosbie Lorime
Mastering Pittwater on opening Farr 40 One Design Trophy day
17 December 2016
Event: Farr 40 Pittwater One Design Trophy, December 17-18, 2016 hosted by the Royal Prince Alfred Yacht Club with racing on Pittwater & Broken Bay
Pittwater, sometimes called 'shift water', exhibited its best and worst on day one of the Farr 40 One Design Trophy and still the race management team managed four races in breeze three to 15 knots between Taylor's Point at Clareville and the offshore community of Morning Bay which fronts the Kur-ing-gai Chase National Park.
On Saturday afternoon, December 17, Martin Hill's Estate Master crew was smiling having more often than not picked the right shifts, but they could well appreciate others' frustration.
Estate Master's tactician David Chapman said, "It was a typically tough Pittwater day, very shifty NW to SW and the whole team did a very good job staying patient. Our starts weren't great so we were on the back foot but pulled ourselves to the front. Everyone had their moments, Double Black was up there, Joe de Kock looked good with Good Form and Mim (Massimo Belgiorno-Nettis) did really well for his first day of fleet racing driving Transfusion."
"Three firsts is very exciting," said the bubbly Hill on a steamy summer's afternoon at the Royal Prince Alfred Yacht Club. "The NW going into a southerly with the hot westerly in between is always difficult, and racing in between Scotland Island and Taylor's Point you're asking for trouble."
Jeff Carter's Edake had the next best day and sits five points from the lowest point scorer going into day two and Gordon Ketelbey's Zen holds third, similarly aided by two seconds.
Newcomer to racing on the skinny inshore side of the Northern Beaches peninsula, Victorian skipper Rob Pitts and his Double Black crew were the only ones who managed to snaffle a win off Estate Master. "It was a game of snakes and ladders and we managed to pull out a win," Pitts said. "It was really good fun and a nice sunny day; the westerly made it pretty tricky."
"With one gust of 15 knots, mostly 8-10 knots and dropping down to as low as three, it was light and all over the shop," commented PRO Steve Merrington. He thanked Ross and Jenny Scoble for the use of their Riviera called Passport as the Farr 40's start boat.
The fleet is due to go offshore tomorrow and Hill and Chapman are all for racing off Palm Beach, to gain as much experience as possible as they prepare for their Etchells national title next month.
Owners will meet with Merrington at the RPAYC Sunday morning to make the call on whether to head to the Broken Bay offshore zone for the last three races starting 1000hrs, or set up for another inshore day in calmer waters.
A southerly up to 30 knots is due to hit Sydney overnight and there are some concerns the resulting sea state could make it too hard for the race committee to set the course marks. Sunday's SSE breeze is forecast to moderate to 13 knots by mid-afternoon.
Results Farr 40 OD Australian Open Series - Pittwater
Series Results [One Design ET] up to Race 4
Place Ties Sail No Boat Name Skipper Sers Score Race 4 Race 3 Race 2 Race 1
1 AUS615 ESTATE MASTER Martin & Lisa Hill 6.0 1.0 1.0 3.0 1.0
2 007 EDAKE Jeff Carter 11.0 4.0 3.0 2.0 2.0
3 64221 ZEN Gordon Ketelbey 14.0 2.0 2.0 4.0 6.0
4 SM2008 DOUBLE BLACK Robert Pitts 17.0 6.0 6.0 1.0 4.0
5 5588 GOODFORM Joe De Kock 19.0 5.0 4.0 5.0 5.0
6 6422 TRANSFUSION Massimo Belgiorno-Ne 21.0 3.0 7.0 8.0 3.0
7 8884 EXILE Rob Reynolds 27.0 7.0 5.0 7.0 8.0
8 6024 WINDY TOO Carl Russett 30.0 9.0R 8.0 6.0 7.0
The 2016/17 Farr 40 Australian series is proudly sponsored by;
Hacer Group
Hill PDA
Walker Corporation
Instagram @Farr40_Australia Facebook Website
By Lisa Ratcliff/Australian Farr 40 media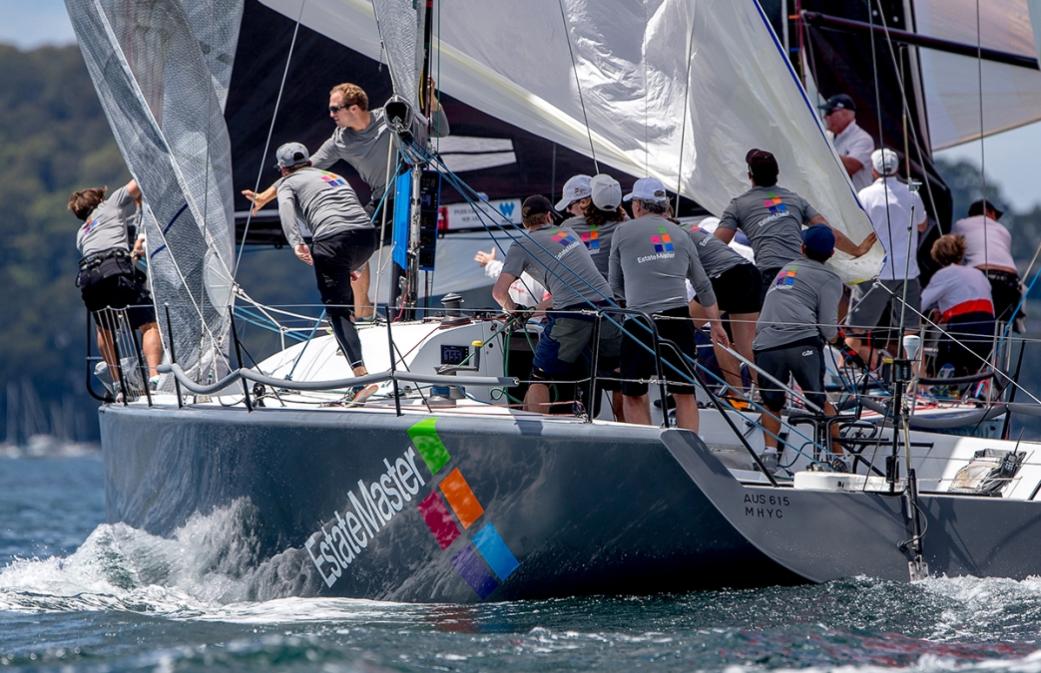 Estate Master boat of the day Pittwater OD Trophy 2016, day 1 - photo by Crosbie Lorime
Narrow Farr 40 One Design Trophy victory to Estate Master
18 December 2016

Jeff Carter's Edake and Martin Hill's Estate Master staged a mighty final charge for supremacy in the deciding race of the Farr 40 Pittwater One Design Trophy, Estate Master's fourth place to Edake's sixth gifting them a narrow series victory.
"Yesterday we felt we had a speed edge, today we couldn't find it but in the end we won four of the eight races and we are happy with that result," Hill said dockside at Newport's Royal Prince Alfred Yacht Club.
"It was really difficult to get consistency out there. We went into the final race knowing we'd hunt for Edake, basically cover them and make sure they never split from us, and keep it conservative. I've been sailing against Jeff for over 20 years and he did a great job, and it was terrific to see Good Form get boat of the day," Hill added.
Edake is pronounced 'Ed-ache', a play on the word headache, which is exactly what Carter, his new tactician this season, Steve Thomas, and the crew were to Estate Master as they set about dismantling the latter's handy day one lead. Team Edake remained consistent as results swung wildly for many boats in the up and down pressure on an inshore course - until race eight when they too felt the pain of a high score and worse, finishing two places behind Estate Master which cost them the overall win.
Carter admitted the result felt "good and bad. As of yesterday Estate Master was clearly in front and we pulled that back many points to get in front by race seven and set up a good finish. Hats off to Martin and his team. We are a Corinthian team so we are pretty happy we can match it with the pro boats. I'm sure at the next regattas they aren't going to let us go anywhere."
After races five and six in cool 8-12 knot sou'easterly winds the breeze went to the east then clocked back to the south, with plenty of flux in both strength and direction. The oscillations frustrated the RPAYC race committee trying to set a fair course between Morning Bay and the east of Scotland Island though they did create opportunities for the Farr 40 crews in the second half to get back in the game.
Third overall went to Rob Pitts' Double Black from Victoria which suffered a mid-series crisis and was off the dais until their closing second and third results. Double Black, Good Form and Zen all finished on 32 points, instigating a countback to break the deadlock.
The combined talent aboard Joe de Kock's Newcastle based Farr 40 Good Form hit their stride in race seven, beating the fleet around the short course followed by a second in race eight to be named boat of the day.
Steering Rob Reynolds' Exile was multiple Laser world champion Glenn Bourke.
The next event for the Farr 40 fleet is the Newcastle One Design Trophy January 21-22, 2017 which leads into the NSW State Title in February and National Championships: John Calvert-Jones Trophy in March.
"The Newcastle Cruising Yacht Club is really excited about the January Farr 40 regatta; it's a big deal to host such a prestigious fleet," said de Kock, who owns a nearby business. "Also it will be nice to sail offshore for a change."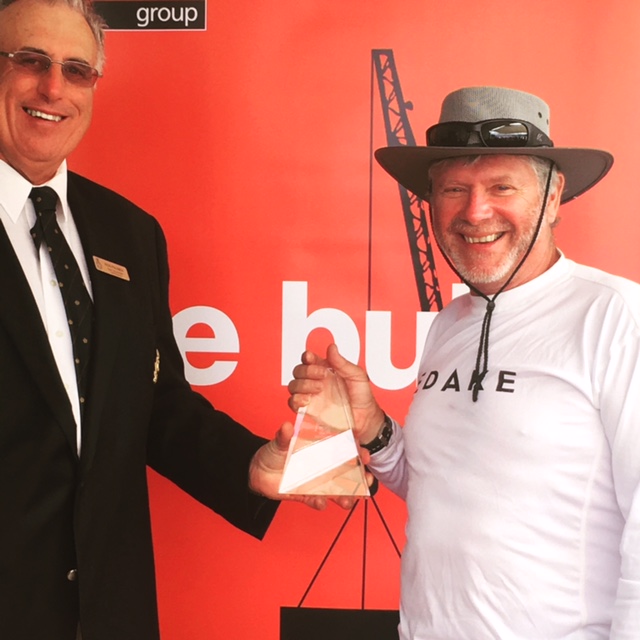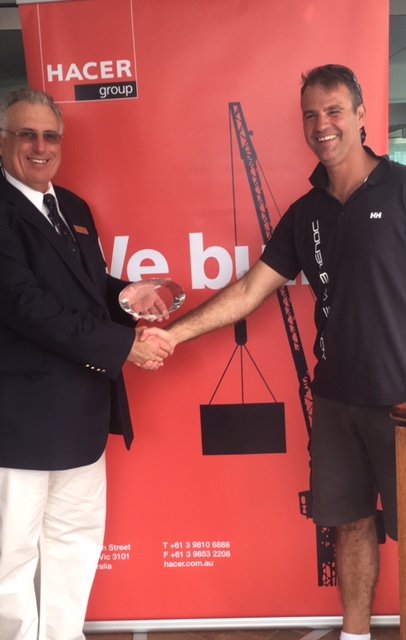 Results Farr 40 OD Australian Open Series - Pittwater
Series Results [One Design ET] up to Race 8
Place Ties/Sail No Boat Name Skipper Sers Score Race 8 Race 7 Race 6 Race 5 Race 4 Race 3 Race 2 Race 1
1 AUS615 ESTATE MASTER Martin & Lisa Hill 23.0 4.0 5.0 1.0 7.0 1.0 1.0 3.0 1.0
2 007 EDAKE Jeff Carter 24.0 6.0 3.0 3.0 1.0 4.0 3.0 2.0 2.0
3 64221 ZEN Gordon Ketelbey 32.0 3.0 2.0 6.0 4.0 2.0 2.0 4.0 6.0
4 SM2008 DOUBLE BLACK Robert Pitts 32.0 2.0 1.0 5.0 5.0 6.0 6.0 1.0 4.0
5 5588 GOODFORM Joe De Kock 32.0 7.0 6.0 2.0 3.0 5.0 4.0 5.0 5.0
6 6422 TRANSFUSION Massimo Belgiorno-Ne 41.0 1.0 7.0 4.0 8.0 3.0 7.0 8.0 3.0
7 8884 EXILE Rob Reynolds 45.0 5.0 5.0 7.0 2.0 7.0 5.0 7.0 8.0
8 6024 WINDY TOO Carl Russett 60.0 8.0 8.0 8.0 6.0 9.0R 8.0 6.0 7.0
The 2016/17 Farr 40 Australian series is proudly sponsored by;
Hacer Group
Hill PDA
Walker Corporation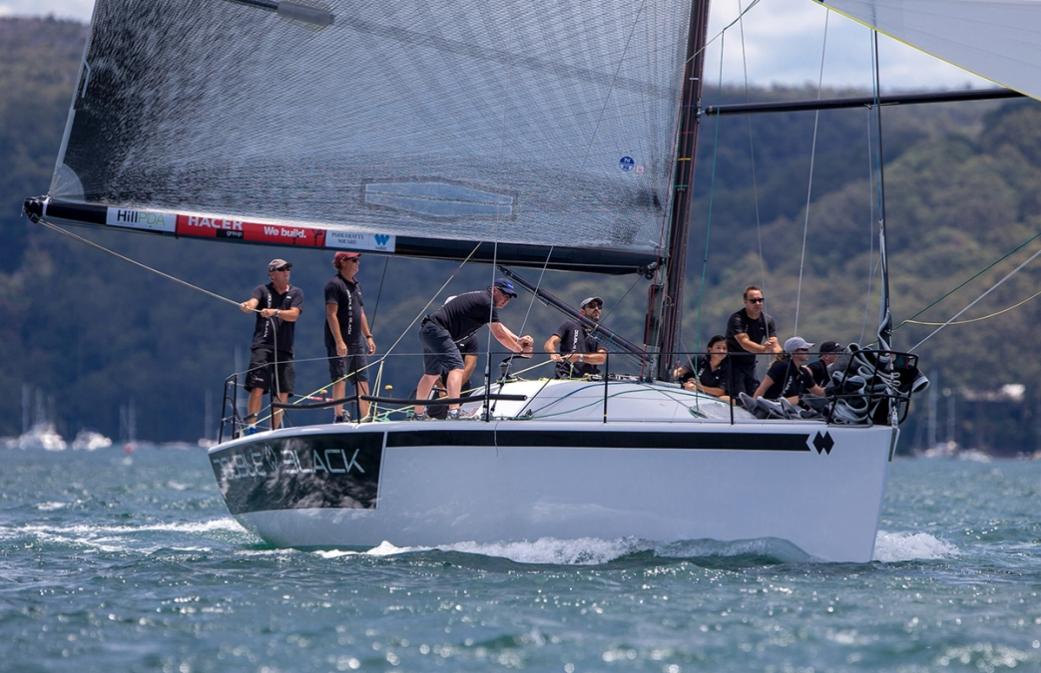 Double Black - Pittwater OD Trophy 2016, day 1 - photo by Crosbie Lorime
Reports by Lisa Ratcliff/Australian Farr 40 media - photos © Crosbie Lorimer, 2016