December 13, 2020 - January 16, 2021: Issue 478
Beaches Link Environmental Impact Statement (EIS) Released: open for feedback until march 1st 2021
Transport for NSW announced the release of the Beaches Link Environmental Impact Statement (EIS) on Wednesday December 9th, 2020.

Premier Gladys Berejiklian said the mega-project will include twin tunnels under Middle Harbour with three lanes in each direction, allowing commuters to avoid peak hour congestion on the Spit Bridge, Military Road and the Roseville Bridge.
"Beaches Link will transform the way people move to and from the Northern Beaches, bypassing 19 sets of traffic lights through The Spit, Mosman and Neutral Bay and help save up to 56 minutes between Dee Why and Sydney airport," Ms Berejiklian said.
"Residents in Neutral Bay, Mosman and Cremorne will experience less congestion and noise, with traffic volumes expected to reduce by around a third along Spit Road.
"The Western Harbour Tunnel and Beaches Link program is expected to support around 15,000 full-time jobs."
Minister for Transport and Roads Andrew Constance said the project will integrate with new and existing public transport connections.
"There will be the opportunity for new express bus services to key centres including St Leonards, Macquarie Park, North Sydney and Sydney CBD, and direct access to North Sydney to interchange with the new Sydney Metro," Mr Constance said.
"We're also planning more than five kilometres of new cycle and pedestrian pathways, including links to the Northern Beaches Hospital precinct.
"This is the next stage of the consultation process, giving the community another opportunity to have its say.
"Transport for NSW has adapted its community engagement in line with current health advice regarding COVID-19, and will be providing enhanced online engagement with virtual information sessions throughout January and February.
"We'll also work closely with locals in Balgowlah, where we'll be returning an area equivalent to around 90 per cent of the current open space to the community. Further consultation will be held with the community on open space in Balgowlah later in 2021."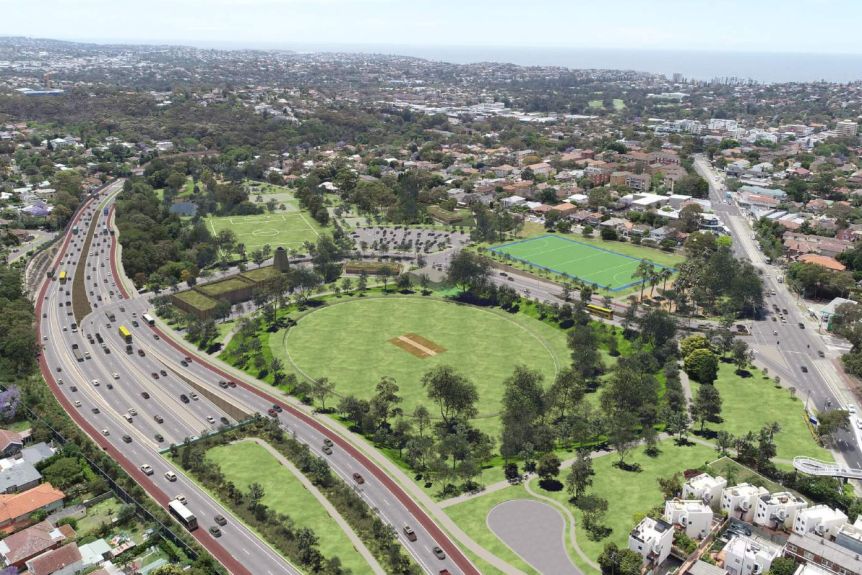 An artist impression of new recreation space at Balgowlah.(NSW Government)

The tunnel will be up to 108 metres in depth (approximately 33 storeys) and include new connections on the Gore Hill Freeway at Artarmon, Warringah Freeway at Cammeray and direct access onto Burnt Bridge Creek Deviation at Balgowlah and Wakehurst Parkway at Seaforth.
The Wakehurst Parkway will be widened from one lane to two in each direction between Seaforth and Frenchs Forest.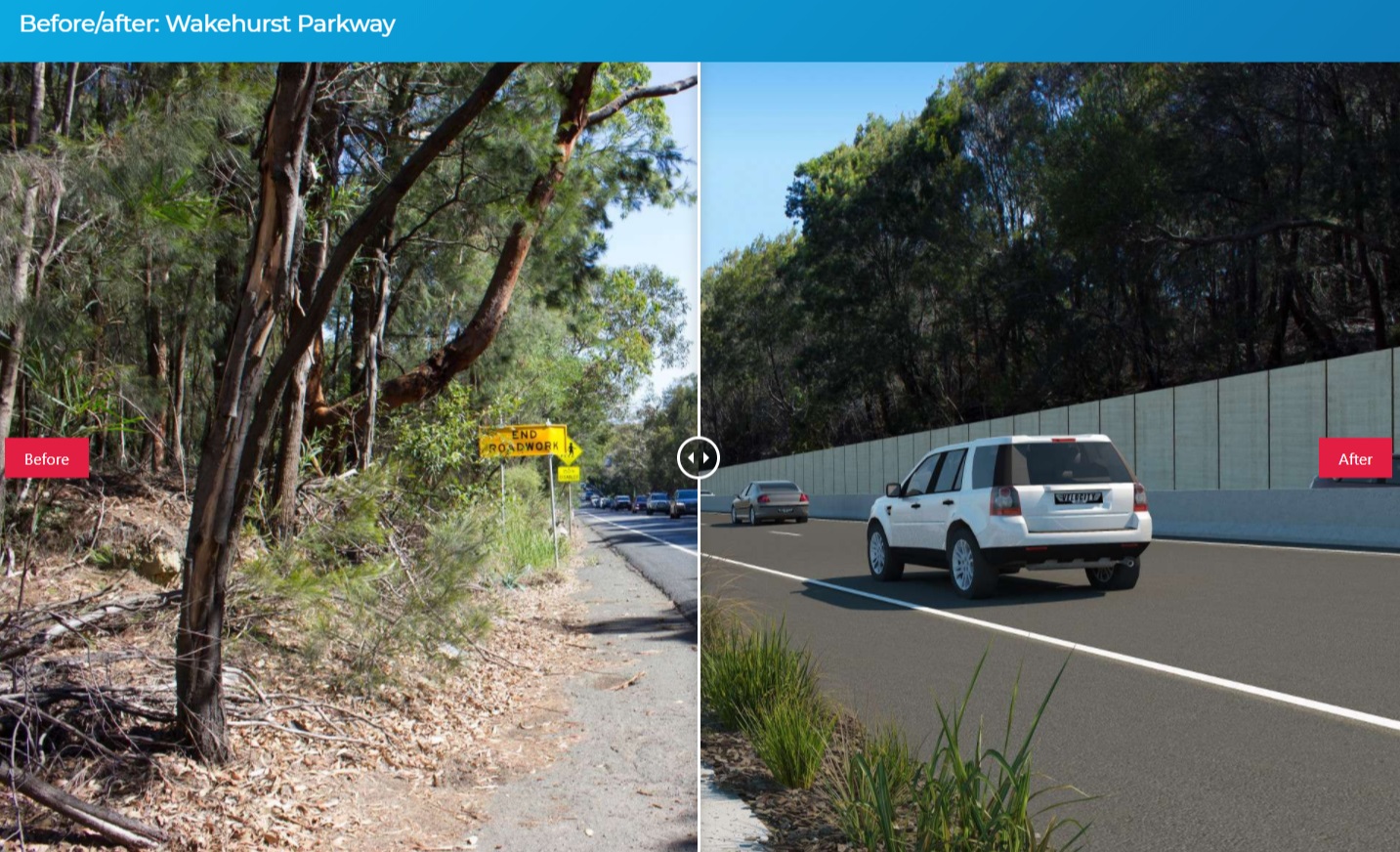 An artist impression of before and after at Wakehurst.(NSW Government)

The project is also expected to slash future travel times by:
up to 38 minutes between Balgowlah and Sydney CBD
up to 54 minutes between Frenchs Forest and Rozelle
up to 32 minutes between Manly and Macquarie Park
The Beaches Link Tunnel will bypass 19 sets of traffic lights, all through Mosman, Cremorne and Military Road.
Subject to planning approval, work is planned to start the Beaches Link and Gore Hill Freeway Connection by 2023 and be completed by 2027.
The EIS is on an extended public exhibition from Wednesday 9 December 2020 until Monday 1 March 2021.
For videos, documents and more visit: https://v2.communityanalytics.com.au/rms/bl/virtual
EIS in Separated Chapters: https://v2.communityanalytics.com.au/rms/bl/documents

How to Make a Submission factsheet
Make a submission at: https://www.planningportal.nsw.gov.au/major-projects/project/10456
The information provided states that the independent NSW Chief Scientist and Engineer has released a report in relation to road tunnel air quality.
'The report found that using ventilation outlets and avoiding portal emissions are the most effective methods of mitigating the air quality impacts of road tunnels. These methods result in a negligible change to surrounding air quality and as such, there is little to no health benefit for surrounding communities in installing filtration and air treatment systems in such tunnels. For more information on the report visit www.chiefscientist.nsw.gov.au or nswroads.work/airquality''
Improving access to Beaches Link and the new and improved open space and recreation facilities for Balgowlah;
'We have worked with the community on a number of alternatives to connect Beaches Link with Sydney Road, provide access for users of the new and improved public open space and recreation facilities at Balgowlah, and deliver a solution that provides the best outcome for the community. As a result, we have redesigned the permanent access road to reduce its length, area and impacts, while still providing access to the new public open space and recreation facilities.

We have redesigned the connection at Balgowlah to return an area equivalent to around 90 per cent of the current open space at Balgowlah to the community as a new and improved open space and recreation facilities. The final layout will be determined based on community input as part of a dedicated consultation process. We are working collaboratively with Northern Beaches Council and plan to have more than half of the recreation precinct open for you to use around two years after we start construction, three to four years earlier than we originally planned.'




An artist impression of before and after at Balgowlah.(NSW Government)





An artist impression of before and after at Balgowlah.(NSW Government)

Other changes after the community consultations so far include;
The tunnel entry and exit ramps at Killarney Heights have been moved about 450 metres further north along Wakehurst Parkway. This will reduce construction and operational impacts for the surrounding community as well providing an improved tunnel connection to Wakehurst Parkway. This significant design change was adopted following community engagement on the concept design in 2017.

Reducing impacts of the Wakehurst Parkway construction support site on the surrounding community; Using the Sydney Water land north of Kirkwood Street as a temporary site minimises impacts to residents and Seaforth Oval. After construction, the section of this site not required for Sydney Water operations will be incorporated into the Manly Dam Reserve for the community to enjoy.
Building across Middle Harbour
The contractors will be using twin immersed tube tunnels to cross Middle Harbour. Immersed tube tunnels have been built in many locations around the world, including for our existing Sydney Harbour Tunnel.
This technique will allow us to safely and efficiently build the crossing of Middle Harbour.
They will build a temporary cofferdam at each end of the harbour crossing, one off the shoreline of Northbridge and the other off the shoreline of Seaforth. These temporary cofferdams are required so we can build the connection between the land tunnel and the immersed tube tunnels.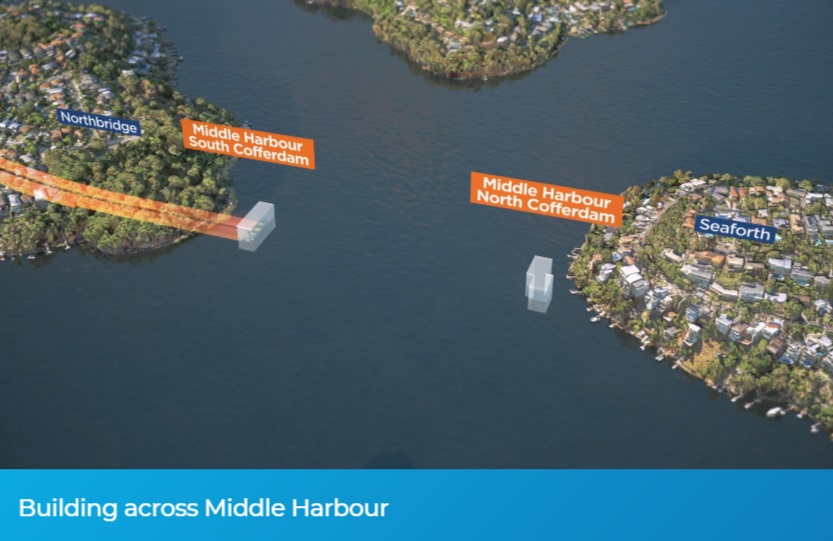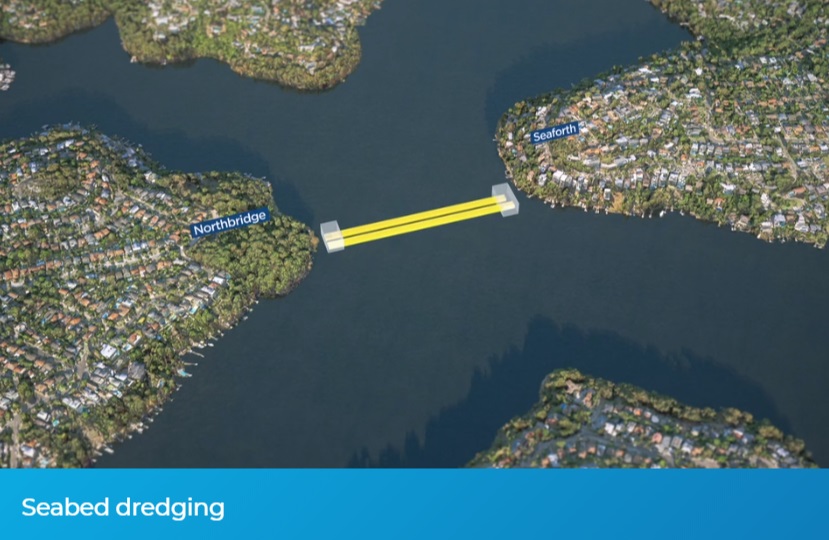 An artist impressions.(NSW Government)