January 24 - 30, 2021: Issue 480

Photos by A J Guesdon, at Bilgola Beach, 2017
Summer for many of us is getting involved in or watching Surf Life Saving Carnivals. For Bill Sheridan it's about photographing these carnivals, and it's been that way for decades.
A highlight of the 2019 Surf Life Saving Sydney Northern Beaches Branch Awards of Excellence was a SLSSNB Life Membership being awarded to Bill Sheridan. This is one of several recognitions Bill has been honoured with during the years. In fact, it was requests from those on the beach for a Profile that led to a plea to Bill to share his story.
Bill Sheridan, lovely man who takes great photos...got to know Bill over the years at carnivals, he would then send photos to you. Thanks for the memories mate - Keith Caldwell BULLI SLSC
Bill has time for everyone. His passion for photographing surf boats and the length he goes to do this is exceptional. Unsure if many people know, but Bill does not live close to our beaches and can sometimes travel hours to get to the beach in time to take photos. A truly inspiring and gentle man. - Lara Raymond, Bilgola SLSC 'Gold', Open Female Surf Boat Champions, Aussies 2004
William Edward Sheridan is a lot more than we see of him on the beaches each Season though. He had a wonderful childhood in glorious Whanganui, the son of an English father and Lebanese mother, met Swiss people while 'bringing in the hay' each Summer, has served as an Independent for the Waterloo Ward on Sydney City Council during the Monorail debates of the 1980's and took images of buildings slated for modifications as part of his term on the oldest Council in NSW so an archive could be kept, while during the 1970's he won a scholarship to study at the Institute of Balkan studies, Thessaloniki University, Greece.
Let's start at the begin:
When and where were you born?
Oh dear, that was a long time ago – in Whanganui, New Zealand on September 11th 1938, one of 8 children. My Father John Sheridan hailed from Huddersfield, England. My Mother is Kathleen Koorey born in Wanganui New Zealand.
Where did you go to school?
I attended St Marys Convent primary School, where Sister Kevin, a Syrian, fulfilled her sadistic delights with her ruler on my knuckles. I then went to Marist intermediate School, where Brother Ephraim, also Syrian took great delight in unmercifully whacking my bare bottom with the cane most days.
To escape the Syrian's violence pleaded with my parents to send me to a public school to no avail.
Whilst I enjoyed a much better environment at St Augustine's Secondary School, I decided enough was enough, so after much negotiation with my parents they consented to my leaving school at 15.
Were you near the water?
Yes – Whanganui is the River city, a historical river which has its source in the northern slopes of Mount Tongariro. For school and Club picnics we would travel on the paddle-steamer PS Waimarie to Hipango Park. A delightful tranquil place. For a day at the beach we would catch a tram or ride our bikes out to Castlecliff, Whanganui.
What did you do for fun as a youngster?
With my father away on war duties a lot of time was spent with my maternal grandparents, it was a Sunday ritual of going to church, then going to my maternal grandparents meeting up with all my cousins. Somehow my Grandmother managed to feed us all with those wonderful Mediterranean dishes using the freshly picked produce from my grandfather's fantastic vegetable garden.
During the rationing in the mid 1940's I had to endure bread with lard and marmite once, it certainly wasn't to my liking. Each person was allowed 8 ounces of butter a week, hence I started to do deliveries for a chemist to the sick and infirm, some of older ladies would give me their surplus ration coupons as a tip for my services.
One of my biggest childhood joys at my grandparents place was being able to open the irregular calico wrapped parcels from Lebanon, carefully removing stamps, and being overwhelmed by the smells of the wonderful herbs and spices.
My grandfather, a trader, started off with a horse and gig selling drapery and religious items in the farming and Maori communities around Whanganui, with his wheeling and dealing he made contact with a Swiss catholic farmer who invited us children to spend our school holidays at his farm in Normanby at the base of Mt Taranaki.
We would travel by steam train and happily assist with all jobs associated with a dairy farm, and eagerly participate in the authentic Swiss cuisine dished out in very generous portions by the lady of the house. With petrol rationing and new American tractors going into government services, work on the farm relied on horses. For kids this was great, as we got to catch and harness the horses then take the reins and lead the sledge around the paddocks.
Despite the lingering effects of the Depression and World War 2 as children we had a wonderful childhood blissfully unaware of the hardships that existed.
My mother was an expert Lebanese cook. If she wanted Yoghurt she had to make it herself. Going to school with a lunch containing garlic caused considerable consternation in the classroom. Garlic, olives and yoghurt were considered 'wog foods' and certainly not part of the 1940's New Zealand diet - I remember talking to Marie Bashir one day about this, we mused about these things and having to go to a chemist shop to purchase olive oil– a commercial or industrial grade olive oil it was.
What dishes was she making?
With limited availability of basic Lebanese food items my mother was a genius at improvising – on meat free Fridays it was often Lubyeh (bean stew). Cabbage rolls were often cooked overnight on the coal burning kitchen stove, Fattoush and Tabouli (salads) Kousa Mehshi (stuffed zucchini), and Kibbeh (Lamb meatloaf) were a few of the regulars.
When did you move to Australia?
In 1961, I arrived in Sydney on the Canberra's maiden voyage, with the flotilla boats that came to welcome the ship it made for a most spectacular sight.
Why did you want to come here?
For two reasons – I wanted to go abroad, as a young person does. My sister had been working over here and she suggested that it would be a good idea to go across the ditch for a working holiday, that it would 'do the world of good'. So that's what I did.
There was also a rule in New Zealand wherein you were restricted from sending out money – you were restricted to £500, whereas in Australia they had no limitations. So it just seemed a good idea having a family member in Australia that could send a bit more money overseas if needed.
As an example, a NZ friend of mine was getting married in Cyprus and with years of planning he was able to squirrel enough money for a traditional Cypriot wedding, but had insufficient funds for the honeymoon, It was easy for me to assist.
What was your first job?
My first job was storeman at Cotton Bros Wanganui, wholesalers of latex mattresses and pillows. When the manager and salesman were away I performed all roles. With better wages as a shunter with New Zealand Railways I resigned from Cotton Bros. Whilst working for the Railways I often took leave and worked with a shearing gang.
Compulsory military service was completed in the snow at the Waiouru Military Camp in the foothills of Mt Ruaphu. I then accepted a transfer to Wellington, there I enjoyed playing soccer, such a pleasant change from rugby union.
After arriving from NZ in 1961 worked for McPherson's In Bathurst Street as a telephone salesman/stock controller
Then was promoted to a specialist fastener salesman, with the object of improving liaison between sales and manufacturing, this position was located at Mc Pherson's Euston Road factory. With the demise of the car industry my job became redundant, so I became the despatch supervisor in charge of some 20 staff.
Most of the labourers at McPherson's where Greeks who had arrived on the Ellinis or the Patris with little or no understanding of the English language, which prompted me to learn Greek at the University of NSW. This led to securing a scholarship at the Institute of Balkan studies, Thessaloniki University, Greece. As students we were allowed to photograph the antiquities, those images were included in an audio visual for the Greek schools.
In 1972 I successfully completed a 4 year Management Certificate. McPherson's eventually consolidated their Sydney operations into the Melbourne plant. Not wanting to move to Melbourne, I began working at Spurway Industries in Maddox St Alexandria.
After returning from Greece – in 1978 I brought a delicatessen business in Coogee. Prior to retirement I worked for a judge in the Family Court.
Where were you living?
In 1979 I was living at Mitchell Road Alexandria, in 1991 I moved to Darlington.
What did you do on the weekends?
During the summertime it would be the beach for swimming. Loved going out on trips – to places like the Warragamba Dam for picnics. I also had a Greek friend who enjoyed drives into country, she seemed to have lots of relatives in the rural areas, so I experienced some wonderful Greek hospitality.
Where did the photography start - when did you get your first camera and what was it?
Very early in the piece – looking back I remember having my little Box Brownie taking a few family photos. When I came here I bought myself a decent SLR and took a lot of photos of Sydney early in the piece. But then someone broke into the house and took all my photographic equipment, so all my photos were dumped, ending my photographic ambitions.
A few years later I brought another camera and joined the South Sydney Camera Club. Submitting some of my surf boat photos into competitions successfully got me hooked.
What were you taking photos of then?
I served as Alderman for Waterloo Ward from, April 14th 1984 until March 26th 1987. The benefit of being on council was looking at the development applications and photographing interesting buildings that were slated to be demolished. Also photographing things like the anti-monorail protests. The Monorail was opposed as it was going nowhere to nowhere.
When I was on the Council we were involved in the development of Sydney Park, St Peters, so I photographed the old rubbish tip that it was – some of those images are in the city's archives.
Alderman Sheridan, courtesy City of Sydney Archives and History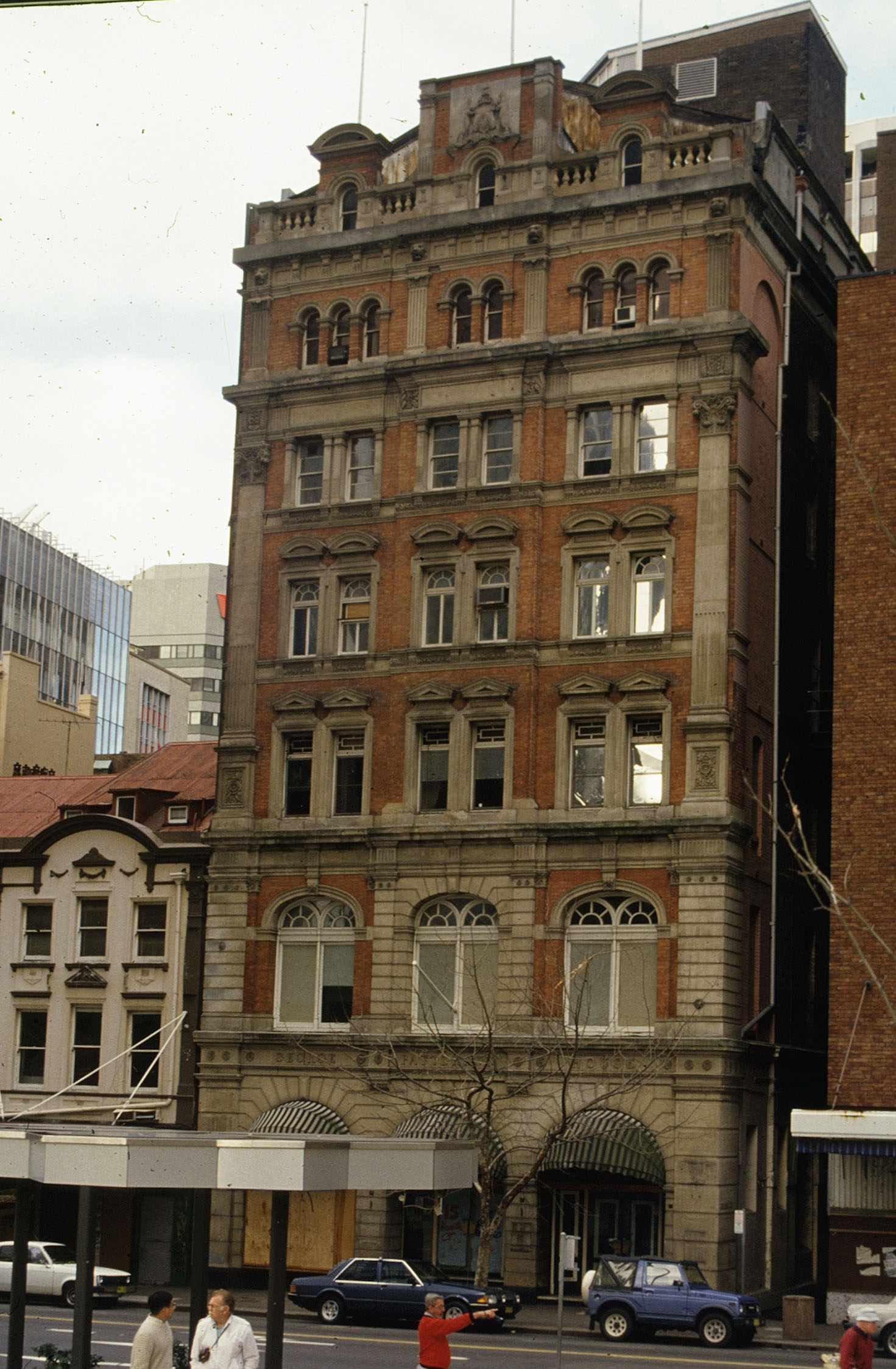 Above: George Patterson House in 1986 - Heritage Listed in 1992, fire tore through the George Patterson building on January 2, 1996, defended by 80 firefighters it was the day "a piece of Sydney died".
In 1984 George Patterson House was purchased by New World Properties which applied to demolish it and neighbouring properties including the Metropolitan Hotel and construct a 31-storey office and retail building on the site. City of Sydney Council's approval of the application caused a major controversy, as did the concurrence of the Heritage Council of NSW and the then Minister for Planning and Environment, Bob Carr. Opposition was led by Frank Sartor and other City Councillors and the Council's own planning department. The application also incited opposition (on the grounds of potential overshadowing) from Lend Lease, owner of the neighbouring Australia Square complex. In 1986 the Land and Environment Court declared New World's application void. In the aftermath the consolidated site was purchased by Parramatta-based construction company McNamara Group. In partnership with two Japanese companies McNamara engaged John Andrews to design a tower which would retain and regenerate the heritage properties facing George Street, as well as resolving the overshadowing problems. The Andrews design was approved by City Council in 1988 and was widely praised. However CBD property prices plunged in the aftermath of the 1987 Wall Street Crash, the project lapsed and the corner of Bond and George Street became one of Sydney's several undeveloped demolition sites. George Patterson House remained vacant despite being heritage-listed in 1992. During 1996 the building was severely damaged by fire, before being restored as Establishment for Justin Hemmes' Merivale Group. A similar controversy took place during the same decade with the nearby Grosvenor Place development designed by Harry Seidler. The original design for this commercial complex assumed the demolition of heritage buildings facing George and Grosvenor streets, but the retention of these structures became a condition of its approval much to the architect's displeasure. - from City of Sydney Archives & Records and MAAS
Waltons in 1986 'Multiplex' proposal beside Waltons in 1985
Monorail protest, August 23rd, 1987
My beach photography commenced after it was suggested that I photograph some iconic Australian scenes prior to going to Thessaloniki University, this included several surf carnival images. After showing these to a very international audience I was approached by a couple German School teachers asking if once back in Australia one could make an audio visual of Surf Life Saving for their schools. To fulfil their request I went photographing at Collaroy beach in 1978/79. While there I was approached by club committee members inviting me to a forthcoming carnival and promising me lunch and a beer after the event providing they could have copies of the images. Hence my entry into the world of surf lifesaving.
Which clubs were you photographing?
I didn't worry about which club - just tried to get the best shots. I'd read the Sydney Morning Herald of a Saturday morning and find out where a carnival was and off I'd go. I can't recall the first club I photographed but I commenced doing this during the 78/79 season. There were a lot of large carnivals on the north side.
Didn't Collaroy SLSC actually gave you a Distinguished Service award at their 2014-2015 AGM which stems back to being the official Club Photographer at the 1987 NSW State championships held at Collaroy Beach?
Yes. I have had a long association with Collaroy, also with Freshwater and Queenscliff clubs, am noted in Austinmer's 2018-19 list of office bearers and listed as a vice patron.
SLS SNB Presidents Award - Bill Sheridan
How did you become involved in photographing Surf Boat Carnivals?
When I was a member of the South Sydney Camera Club I was putting some of my surf boat photos into their competitions and having a little bit of success with those. This was a good camera club and I learnt a lot through being part of that. St. George was among the pick of the crop for camera clubs then.
Doug Sutherland was the Mayor and he was involved as patron to one of the local branches or Surf Life Saving New South Wales. So if I got a decent photo I'd enlarge it and give it to Doug and ask him to send it off to the sponsor. I just thought something coming from Doug Sutherland was better than something coming from yours truly.
You have photographed carnivals for over 42 years then – which are your favourite carnivals and photos that you have taken? – and maybe limit it to 3 considering you have photographed carnivals at local, state and the Aussies for so long...
Kurrawa always proved to be a photographer's delight. Unfortunately I didn't understand the surf so probably didn't get the most out of those carnivals. However, I will be forever grateful to sweeps like Don McManus and Kevin Myers who not only encouraged me but gently helped me understand the water.
In trying to single out individual shots and limiting it to 3; there is one I got of Newport at Newport in 2011 with the bow flying out of the boat – I like that one. I also did one of Palm Beach where the colouring and composition worked – that was around 2018 I think, at the ASRL. Both are my favourites. I also like the black and white of the Mollymook boat knocking the judges stand over at Kurrawa in 2005.
How any carnivals have you photographed?
Countless – I wouldn't know. I used to do quite a bit down the Illawarra as well. I used to drive to these and only gave my car away about 2 years ago now. Since then I've been catching ferries and buses to get to those on the north side of Sydney.
At the 2019 Surf Life Saving Sydney Northern Beaches Branch Awards of Excellence you were made a Life Member of the Branch – how did that feel?
It was a complete and utter surprise to me and I didn't know if what I'd done justified such recognition in any shape or form. I just hope that with the photographic things we do we help encourage youth members to enjoy their participation in surf sports – I really enjoy it when they place one of my images on their Facebook or Instagram page.
When the Carnival Season begins each year do you still get excited?
Yes I do, however after several recent operations I have mobility problems which is frustrating. It's not only the photography, but the camaraderie on the beach that would be missed should this limit my participation.
In the early days I would often put on slide shows for clubs using a couple of projectors complete with a dissolve unit showing the seasons activities. One of the joys of having photographed junior competitors in years gone by is having them come up when they are parents or grandparents and pointing out that their children or grandchildren are competing.
What are your favourite places in our area and why?
Manly Beach, due to its ease of access. Having always lived on the south side of Sydney being able to get off a ferry and stroll along the Corso is great, have something to eat, and then you're at the beach – it's all there. Normally I would go to beaches like Coogee – which is my favourite for swimming.
Why Coogee?
You can have your swim and then go up onto the grassed area and read a book in comfort without getting sand all through the pages.
With the B-line buses getting to Palm Beach is not too difficult as I live by Redfern station so it's just a train to Wynyard and catching a B-Line bus to Mona Vale then going north on whatever comes along
What is your 'motto for life' or a favourite phrase that you try to live by?
Love many, Trust few, always paddle your own canoe.
More Bill Sheridan Photography
'Dunnies' - Glebe
SLS SNB Age Championships, February 10th, 2014
ASRL Interstates, February 16th, 2019
Bilgola at Warriewood Carnival, November 10th, 2013
SLS SNB Open, January 31st, 2010
Australian IRB Championships were held at Towradgi, July 4th, 2009 - Caves Beach SLSC

2005 Kurrawa Australian Championships

2005 Kurrawa Australian Championships
2005 Kurrawa Australian Championships

2005 Kurrawa Australian Championships

2005 Kurrawa Australian Championships