February 9 - 15, 2020: Issue 437
Newport Breakers Rugby Club BlazeAid Volunteers Make a Difference at Braidwood rebuilding fences and installing a wildlife enclosure for injured animals and orphaned kangaroos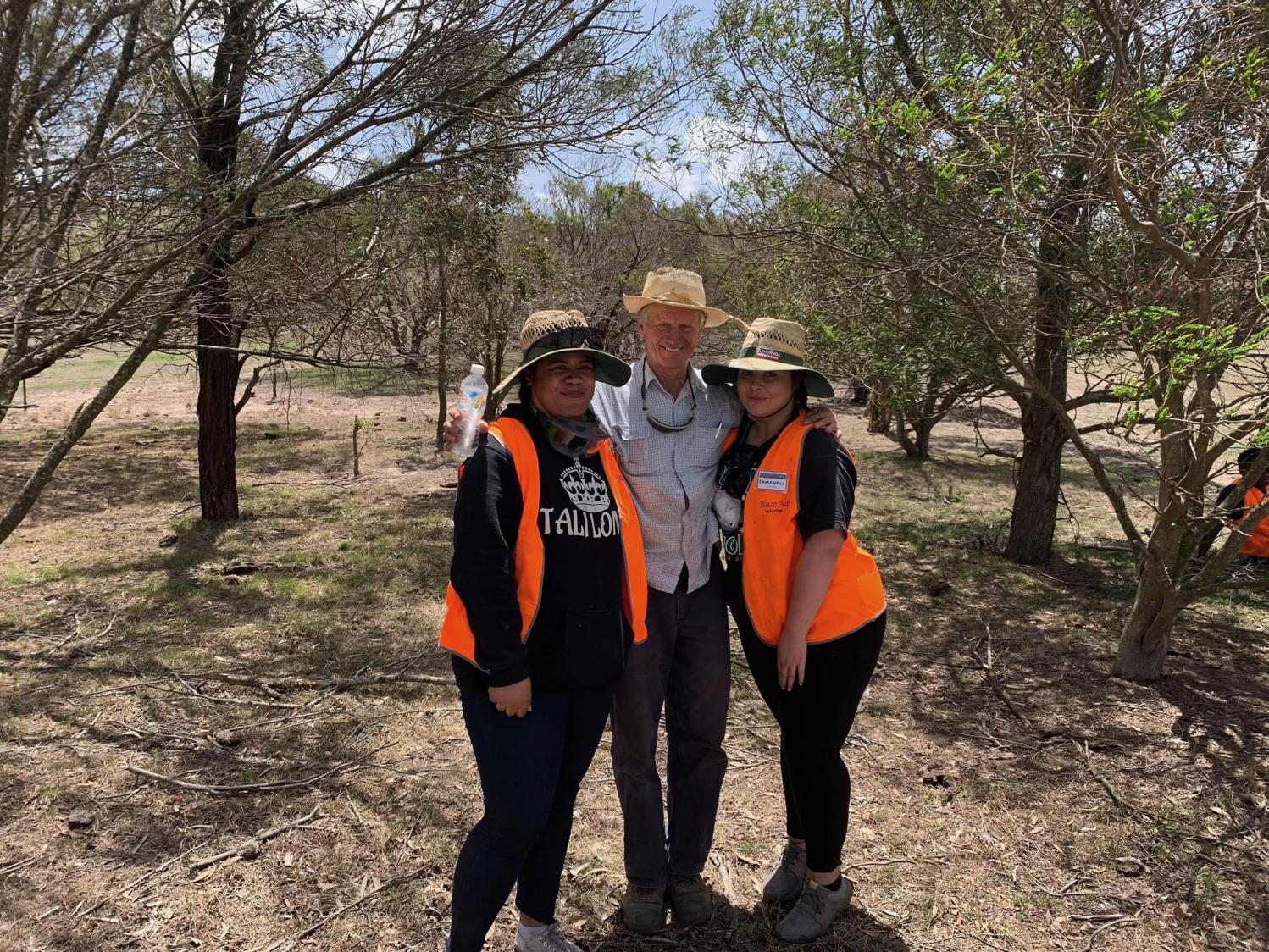 Newport Breakers BlazeAid girls at Braidwood with Marty, a farmer the crew helped, Feb 2020 - photo courtesy Samantha Citaa Maletta
Last weekend, January 31st, February 1st to 2nd, over 30 Newport Rugby Club Members and The Broken Breakers, the Newport Rugby official supporters group, and friends, all made their way to Braidwood and did two days hard work in 43 degrees heat re-building a farmers' fences and building wildlife enclosures for injured wildlife, particularly for orphaned kangaroos.
Newport Breakers rugby club – boasting lots of tradies, landscapers etc – wanted to do something to help the bushfire victims. So new president Jake Osborne contacted www.blazeaid.com.au and was quickly told: "Come and give us a hand."
Jake arranged for 27 club members to travel down to Braidwood and work in the blazing heat and smoke from the ACT fires to remove four kilometres of damaged fencing and build a kilometre of new fencing.

The farmer, Marty, said the work would have taken him months to do on his own, and that some of the fences destroyed had stood for close to 80 years prior to the recent firestorms.
The animal enclosures were challenging as they had to dig down and install netting beneath it to keep out foxes as well as placing some above to keep out eagles.
Samantha Citaa Maletta one of the ladies who head to Braidwood with the Breakers crew, said late on Saturday February 1st:
Our Breaker family woke up early with the sun this morning, we headed straight to meet and lend a hand to Marty a local farmer who owns a cattle farm.

To give you some perspective, before these fires, Marty had almost 500 animals. He is now selling off his last 12, as Braidwood is still battling tough drought conditions, with Canberra having to truck in ten Mack trucks full of water to the town every morning just to get the locals by.

The fire crossed through this farm 4 times creating extensive damage to his property.

Today the Newport Breakers Rugby Club boys, Lupe Tali Lomu and I polished off 2.5kms worth of fencing demo, some of this fencing was between 50-80 years old. With lots of rust, fire damaged posts and extreme weather, this was a job that would have taken Marty over two months to complete.




Newport Breakers BlazeAid crew at Braidwood removing burnt fencing Feb 2020 - photo courtesy Samantha Citaa Maletta





Newport Breakers BlazeAid crew at Braidwood fixing burnt fencing Feb 2020 - photo courtesy Samantha Citaa Maletta





Newport Breakers BlazeAid crew at Braidwood fixing burnt fencing Feb 2020 - photo courtesy Samantha Citaa Maletta


We knocked off around 2pm with the temp sitting around 43 degrees, the heat really reinforces the tough conditions and the hard work our agriculture workers plough through day in day out to put food on all our tables.




Newport Breakers BlazeAid crew at Braidwood seeking some mid afternoon shade, Feb 2020 - photo courtesy Samantha Citaa Maletta


The smile on Marty's face and his kind words at lunch made it all worthwhile!

It honestly was one of the most gratifying experiences we've ever had. We're so grateful to be able to lend a few days and offer a bit of respite to this community who are entering their eighth week battling the blazes.

If you've got a few days up your sleeve, ready to make a few new mates and most importantly are eager to help those struggling, we highly recommend joining a BlazeAid camp near you.

Looking forward to 6am sharp tomorrow morning to do it all again!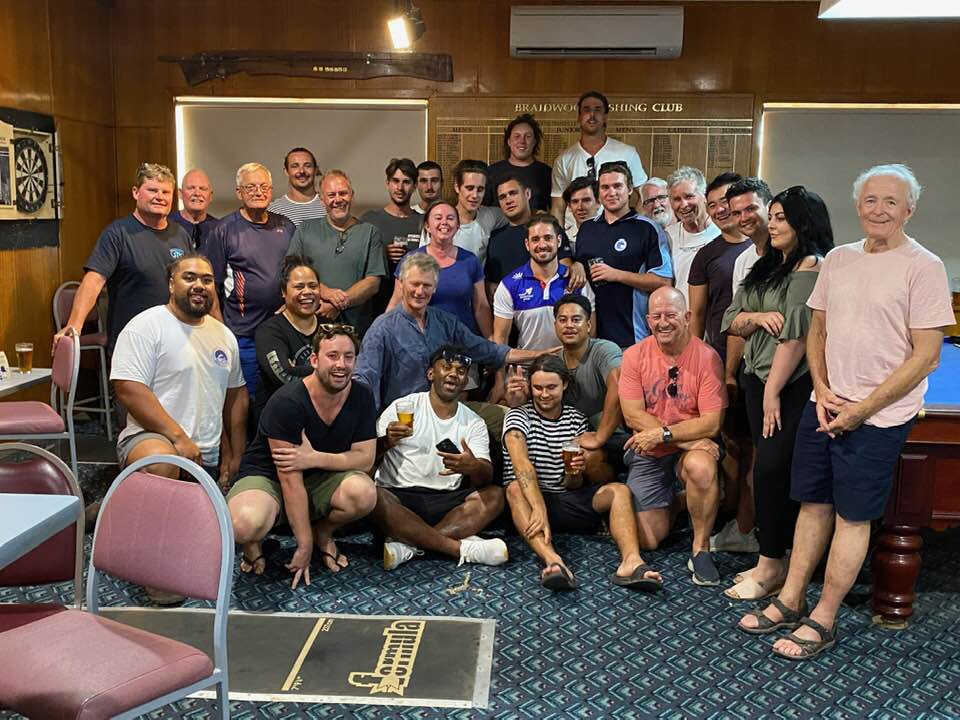 Not a bad roll up from the Breakers to help the cattle farmers of Braidwood. Some of the fences we replaced today have been in place for 70 or so years! - photo courtesy Bob Stanbridge

Cooling off!
A great video of the wildlife enclosures build is embedded below - even though it's in fast forward mode, you get some insight into what this great team achieved, even in hard ground during hot weather.
BlazeAid is a volunteer-based organisation that works with families and individuals in rural Australia after natural disasters such as fires and floods. Working alongside the rural families, our volunteers help to rebuild fences and other structures that have been damaged or destroyed.
Equally important, volunteers also help to lift the spirits of people who are often facing their second or third fire or flood event after years of drought, or devastating losses through bushfires. BlazeAid volunteers work in a disaster-affected area for many months, not only helping individuals and families, but also helping rebuild the local communities.
In November 2019 the volunteer group marked their 10th anniversary. Opportunities to help out are currently listed around Australia, including many BlazeAid camps throughout New South Wales. To find out more and get involved, please visit: blazeaid.com.au
The Newport Breakers Rugby Club Season 2020 Launch will be held at Monkey Bun at Mona Vale Road on Friday 28th February 2020.
The Season Launch is open to all new and returning players, Broken Breakers members, and all Supporters. The club will be outlining their plans and goals for the club for Season 2020.
One initiative that is coming up this Season is the;
Inaugural Rugby Tens Tournament
The Newport Breakers Rugby Club is pleased to announce the inaugural Newport Rugby Tens tournament.
The 10-a-side Rugby tournament involves 16 Teams and will take place over the weekend of March 28th and 29th at Porter Reserve, Newport. Up for grabs is $5,000 in prize money.
11 Teams have signed on with space for another 5 Teams. If your club is interested in playing in the tournament contact president@newportrugby.com.au
For the supporter's entry is free. First kick-off each day will be at 10 am. There will be food stalls, the bar will be open. If the rugby isn't enough there will also be live music playing, jumping castles, face painting and a kids club.
Courtesy buses between Porters and The Newport will be running.
Clubs participating so far:
Manly Savers Rugby Club
Forest Rugby Club
Newport Breakers Rugby Club
Newport Fiji
Brothers Rugby Club Sydney
Northern Saints Rugby
UNSW Rugby Club
Newport Invitational
Renegades Rugby
Burraneer Rugby (pencilled in)
Waverley Rugby Club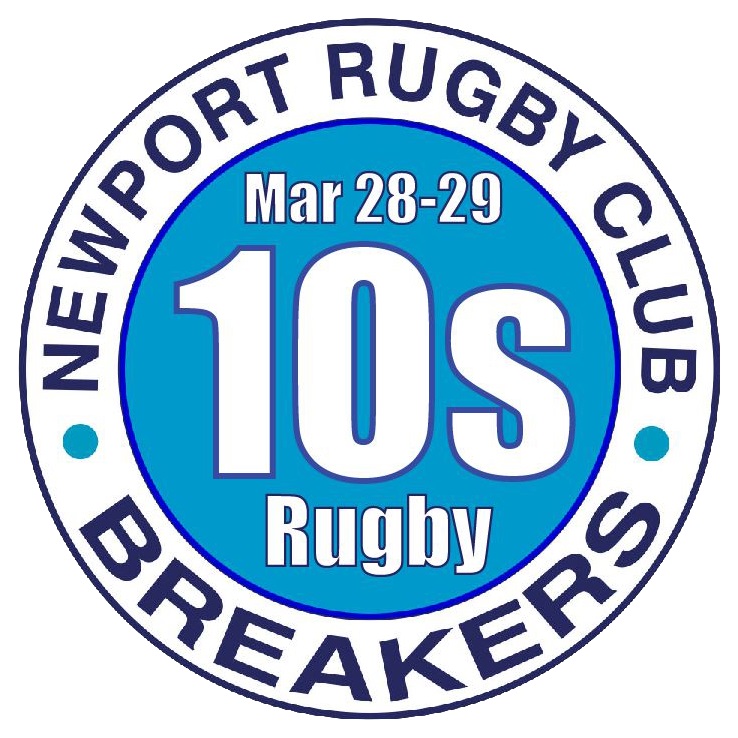 The Newport Breakers Rugby Club was established in 1963 and consists of 4 senior teams that compete in Division 3 of the NSW Suburban Rugby Competition. This is a family focused and community centred club which hosts a range of events and activities throughout the Season and outside of it too. The clubhouse is at Porters Reserve, Newport.
Their 2020 season commences mid April and ends with the Final in late August. So if you're from here, or from overseas, this is the place to keep fit, have fun, and make great new friends.
The Newport Breakers are a club that prides itself on its history, its connections with the community and its support for its players. New players are always welcome. Come on down and introduce yourself.
Find out more at: www.newportrugby.com.au On Facebook
Injured Wildlife Enclosure Build by Newport Rugby Club Members and Friends