Inbox and

environment

news: Issue 580
April 23 - 29 2023: Issue 580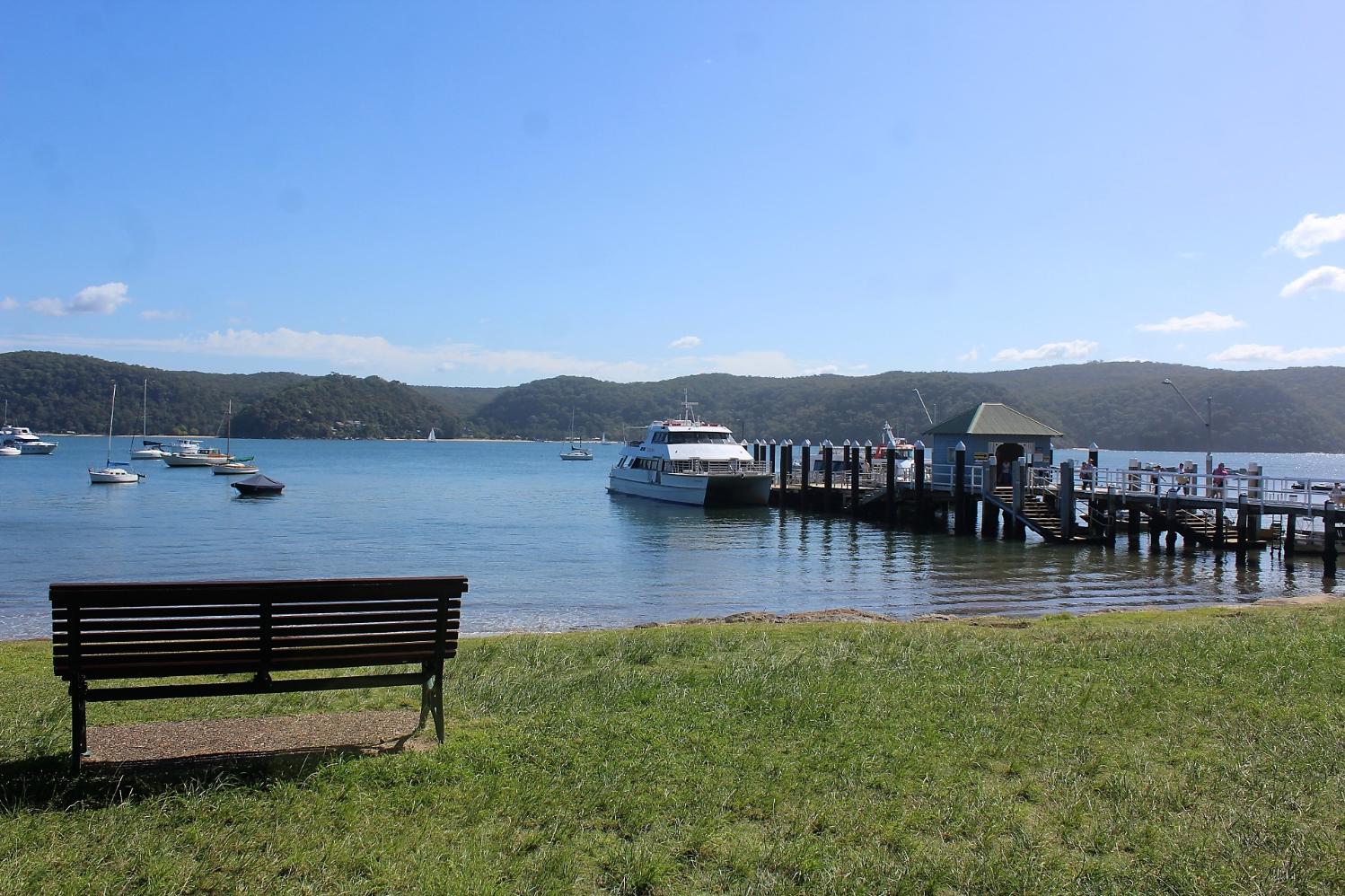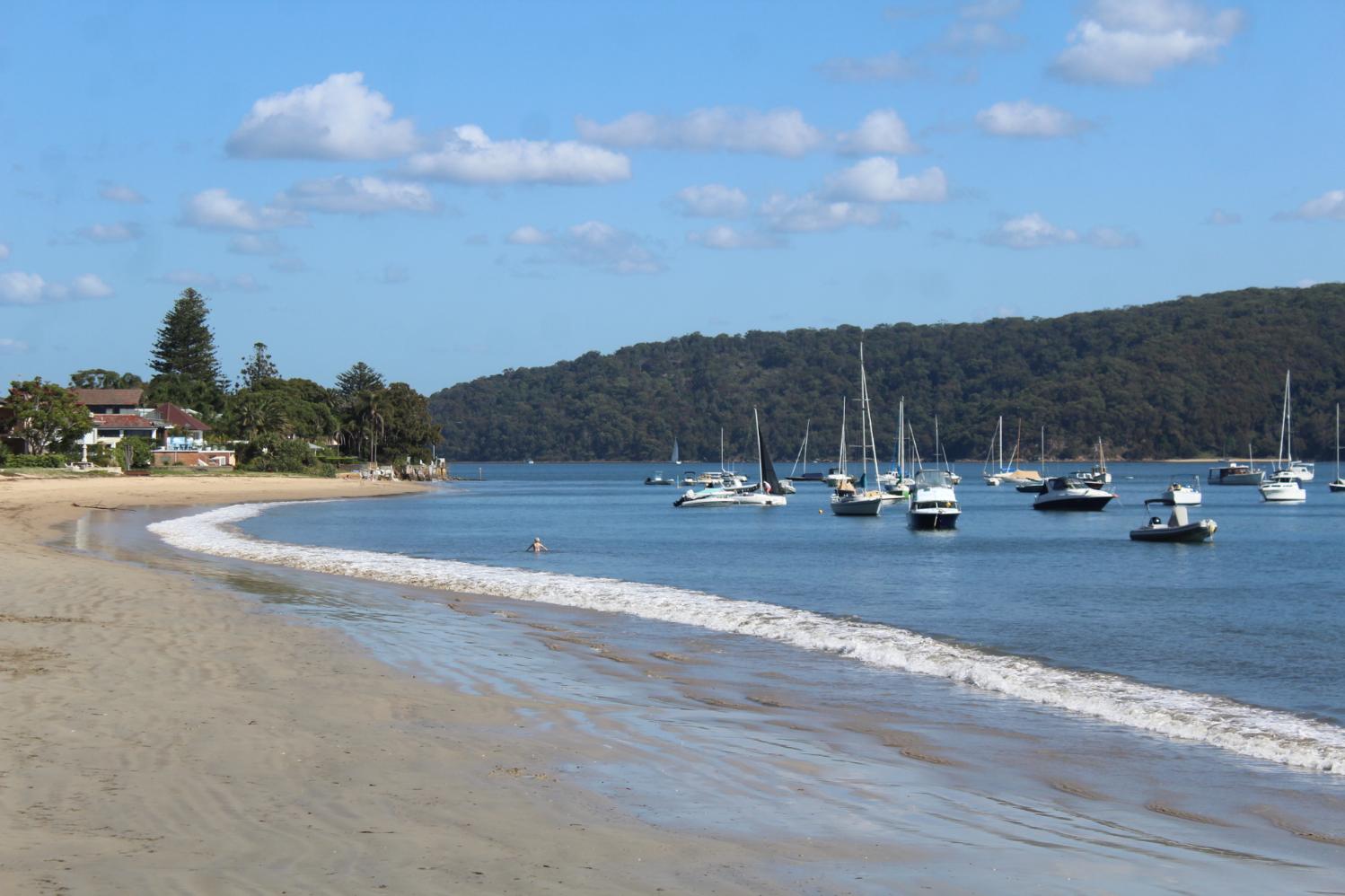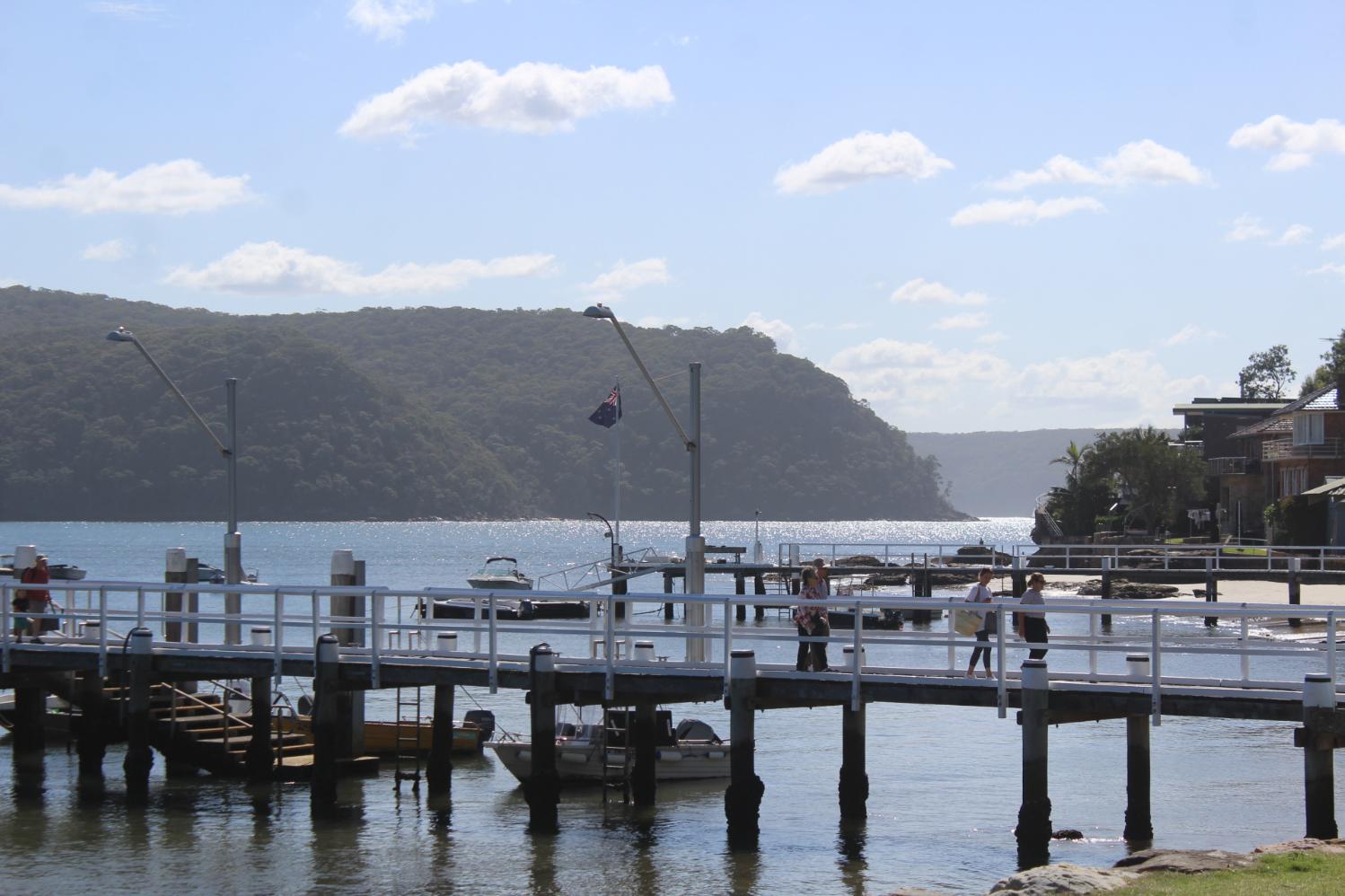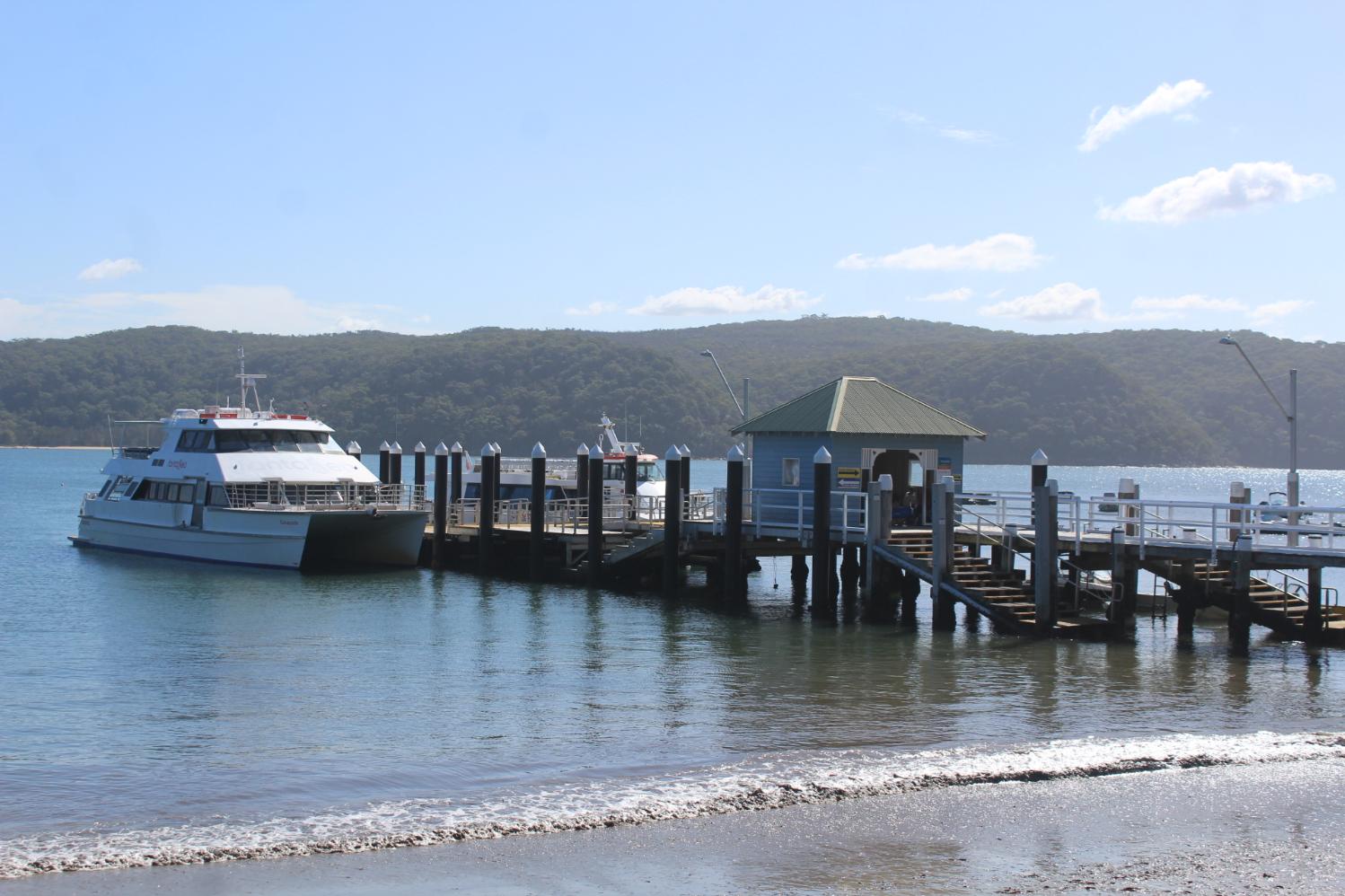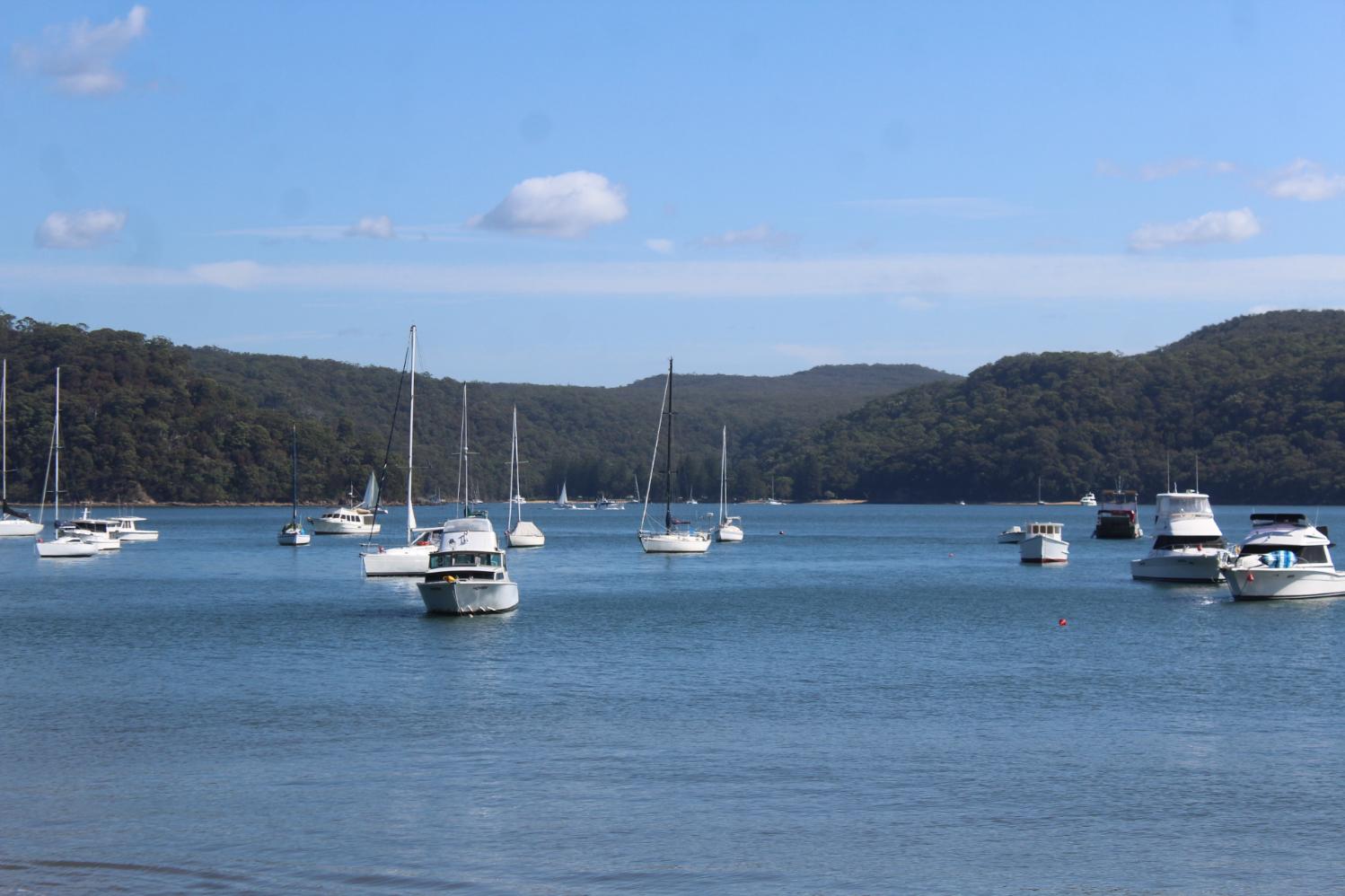 Snapperman Beach, Pittwater - late Autumn calm. Photos: A J Guesdon
Protect Mona Vale's Bongin Bongin Bay - Establish An Aquatic Reserve
We are a group of locals who are leading a campaign to have Mona Vale's Bongin Bongin Bay (Mona Vale Basin) declared as an aquatic reserve.
Our group is made up of local swimmers, surfers, surf life savers and beach users. Our group has no political affiliation. We are just passionate locals who care about our environment.
With your support, we will be asking Northern Beaches Council to lobby the NSW Government to establish a 'no take' zone at Bongin Bongin Bay (Mona Vale Basin).
The establishment of this aquatic reserve will protect local marine biodiversity now and into the future.
In area the proposed aquatic reserve will be approximately 451,000 square meters (45 hectares). It will have a boundary (perimeter ) of 3.8km.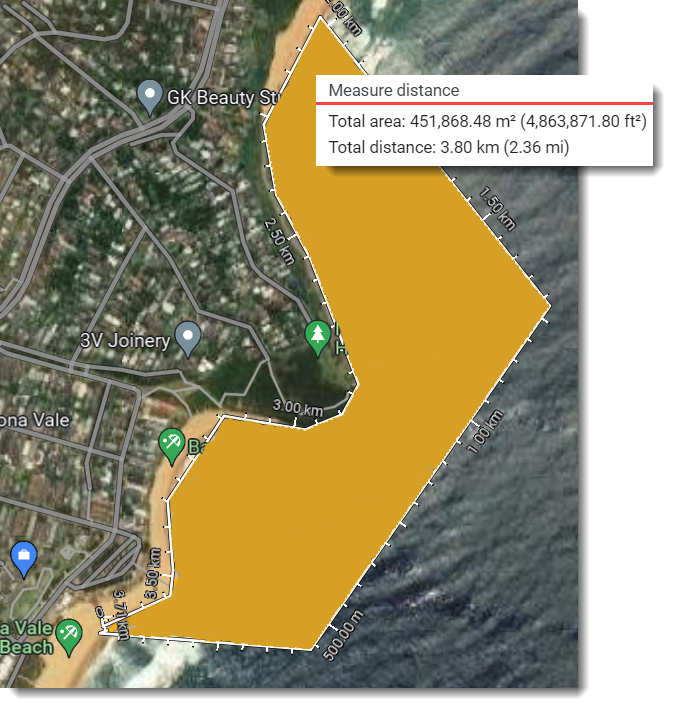 We use the beach every day throughout the year and believe this unique environment is worthy of protection. We regularly see stingrays, dolphins, blue gropers, sharks, octopus, cuttlefish and many other species in and around Bongin Bongin Bay. Occasionally we have seen turtles, penguins and migrating whales.
However, we believe that fishing and the collection of crustaceans, shellfish and vegetation from the foreshore is impacting upon the biodiversity and the local ecosystem.
Species that were seen regularly in and around Bongin Bongin Bay disappear after weekend fishers have been present.
Thank you
Friends of Bongin Bongin Bay (Mona Vale Basin)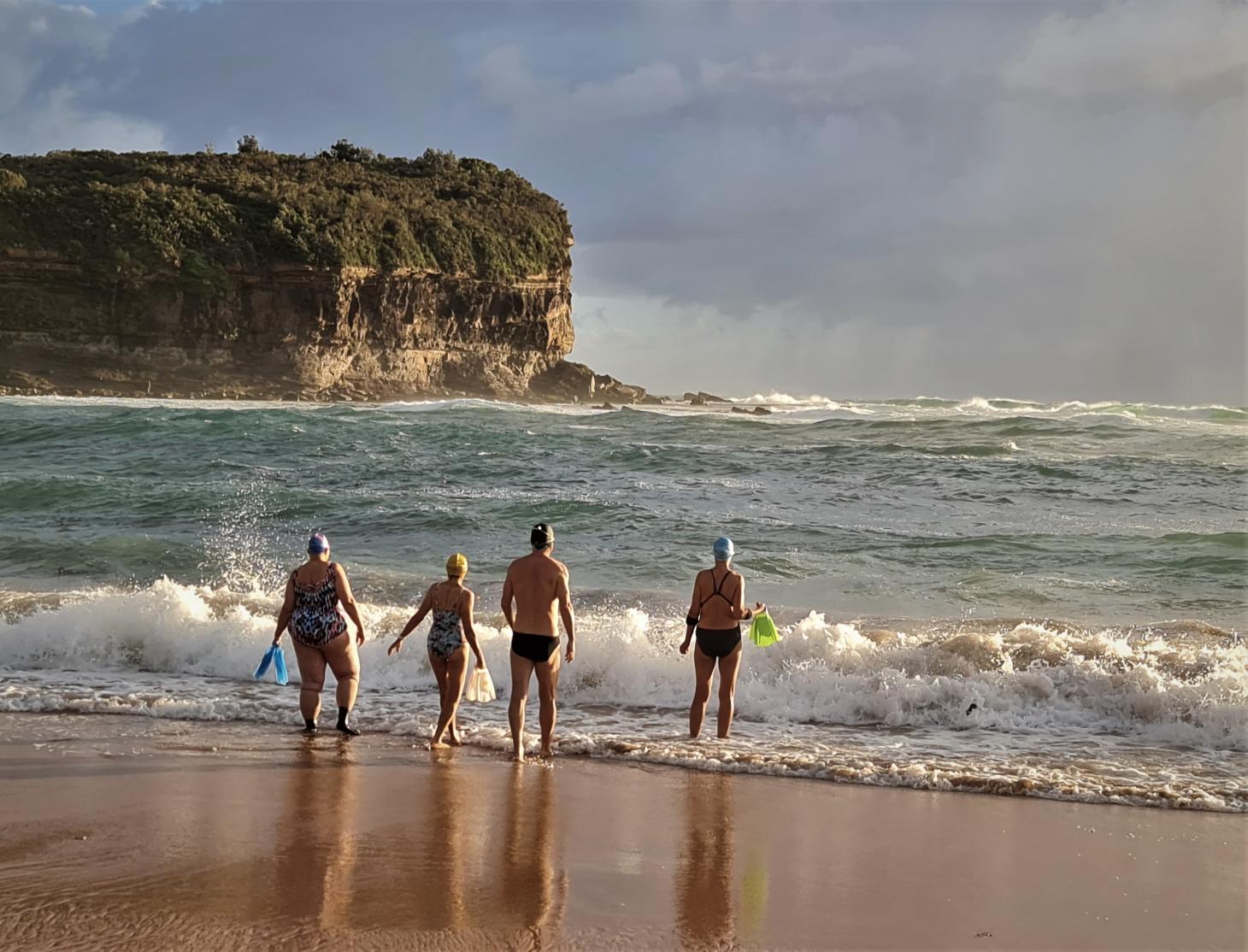 Bongin Bongin Bay - Mona Vale Basin on Monday 7 Feb. 2022. Photo by Joe Mills
Deep Creek Reserve
April 18, 2023: video by All World Music
Deep Creek Reserve is located along Wakehurst Parkway and is one of the Northern Beaches highest conservation reserves. The reserve contains a small freshwater wetland on the lower section of the reserve which is a form of Sydney Freshwater Wetlands, listed as a Threatened Ecological Community in NSW. This reserve contributes to a regional corridor providing movement for an abundance of native animals including threatened pygmy possums (Cercartetus nanus), powerful owls (Ninox strenua) and heath monitors (Varanus rosengergi).
Sulphur Crested Cockatoo Fledglings Update
The parent bird was feeding the same 2 it has been helping for last few weeks on Tuesday April 18, afternoon - by Wednesday April 19 4pm one has 'flown the nest' and become part of the bigger 'crew' that ranges from Careel Bay to South Avalon Beach and Clareville each day. Just one of the annual stories you get to witness when you keep the trees ;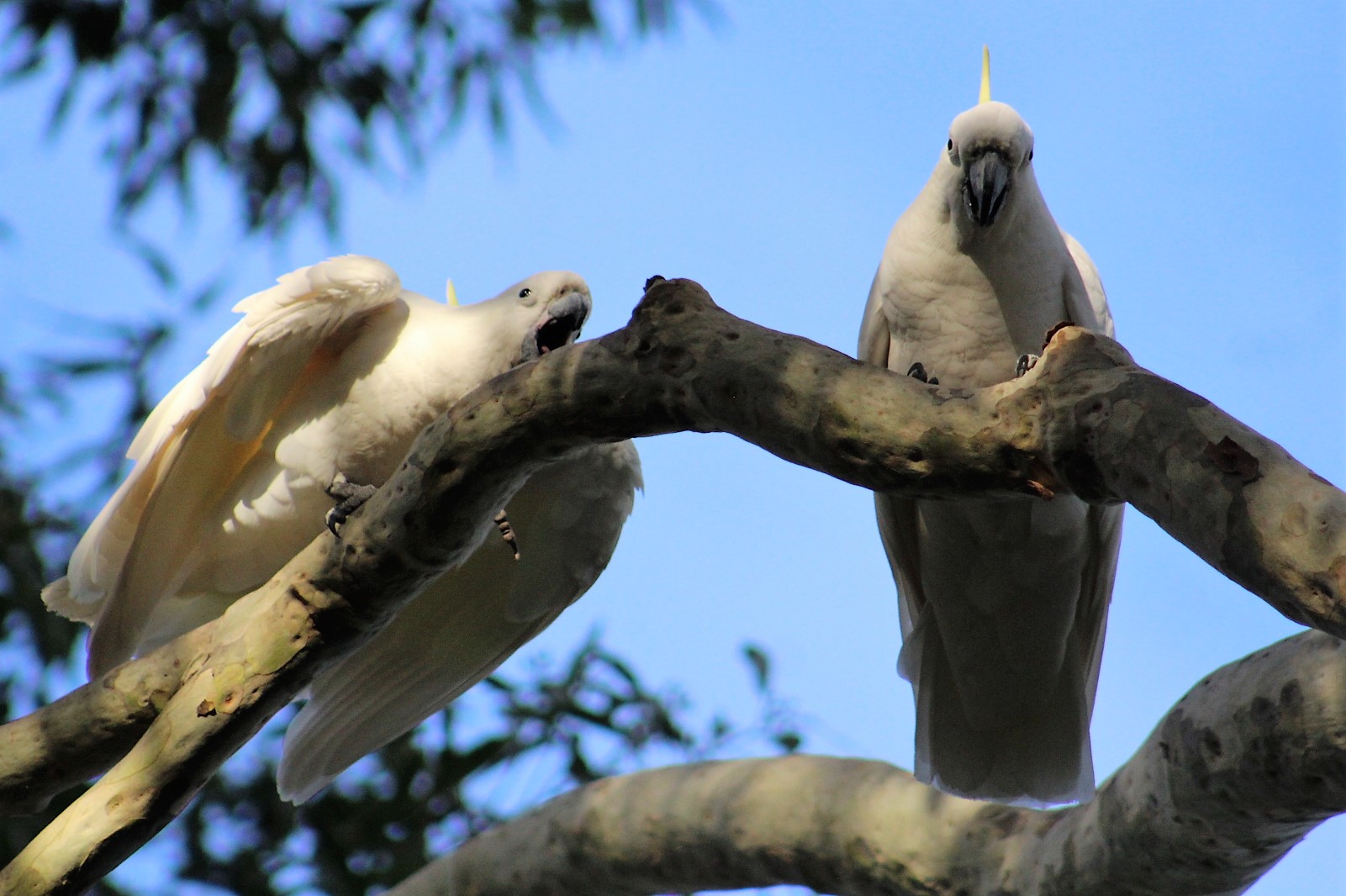 this one has stayed with parent bird (to right)
the twins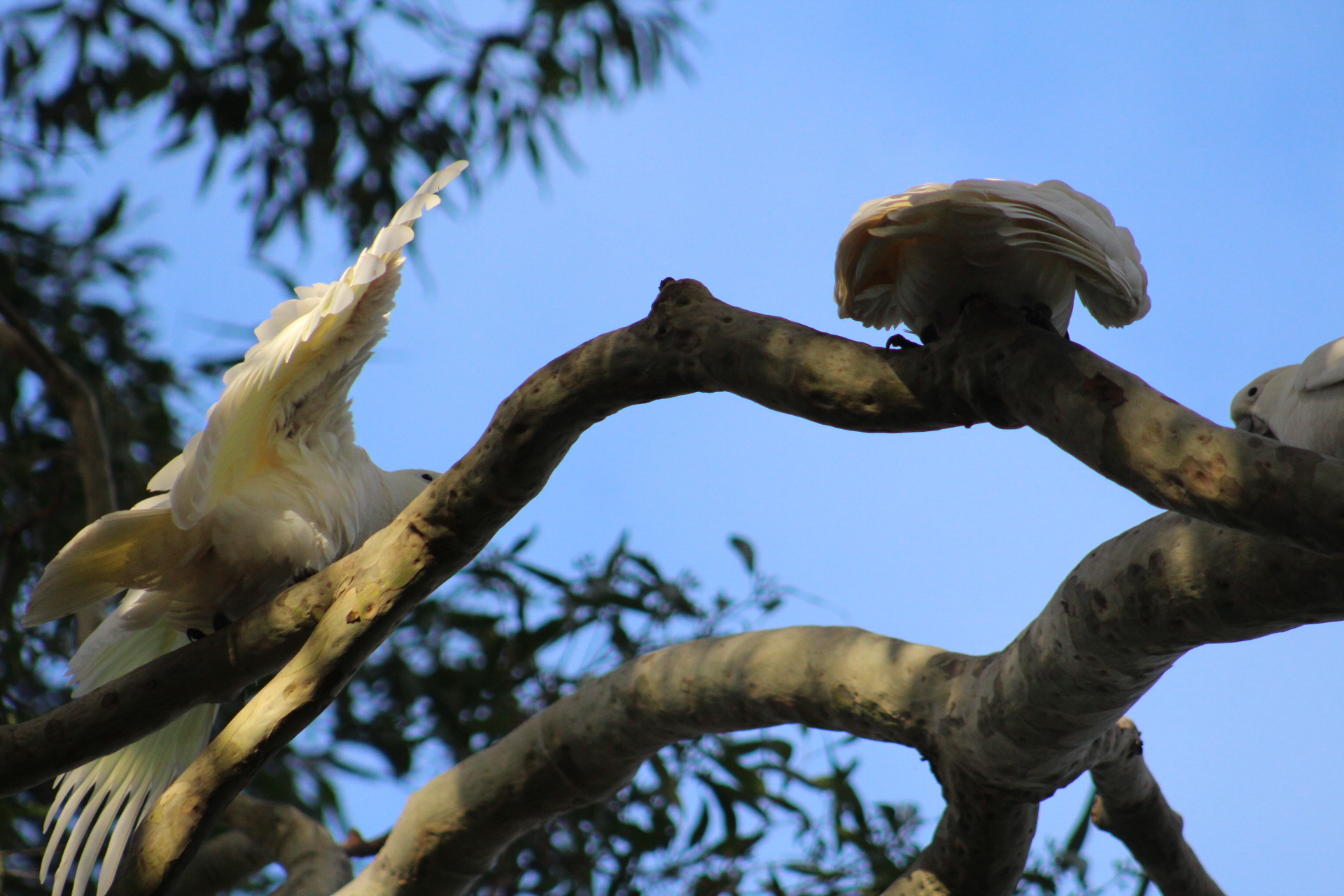 the twins and parent bird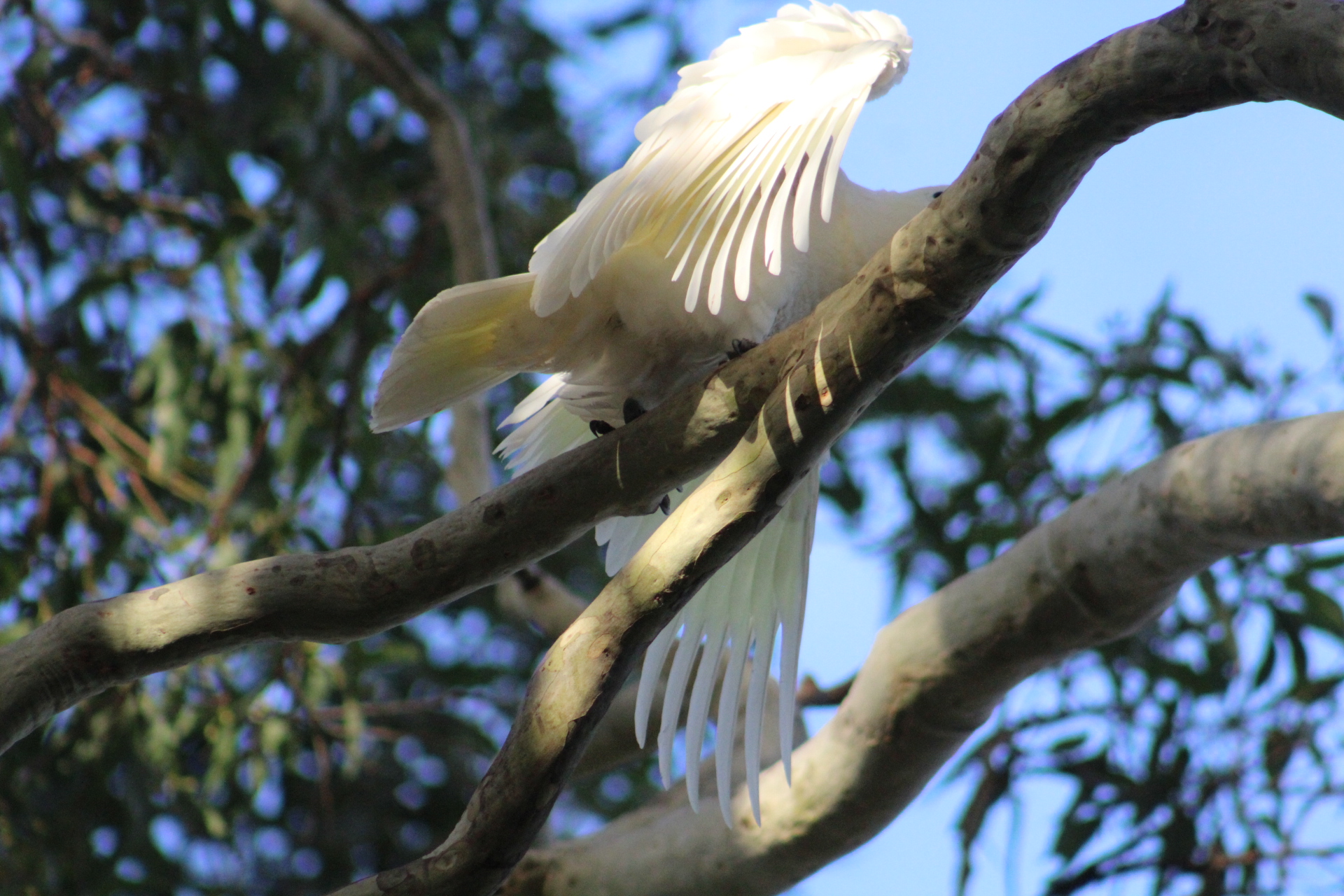 Swamp Wallaby At Palm Beach
Photos: Emilio Gallego, taken Friday March 3, 2023 at Dark Gully - PLEASE do not speed through this corner.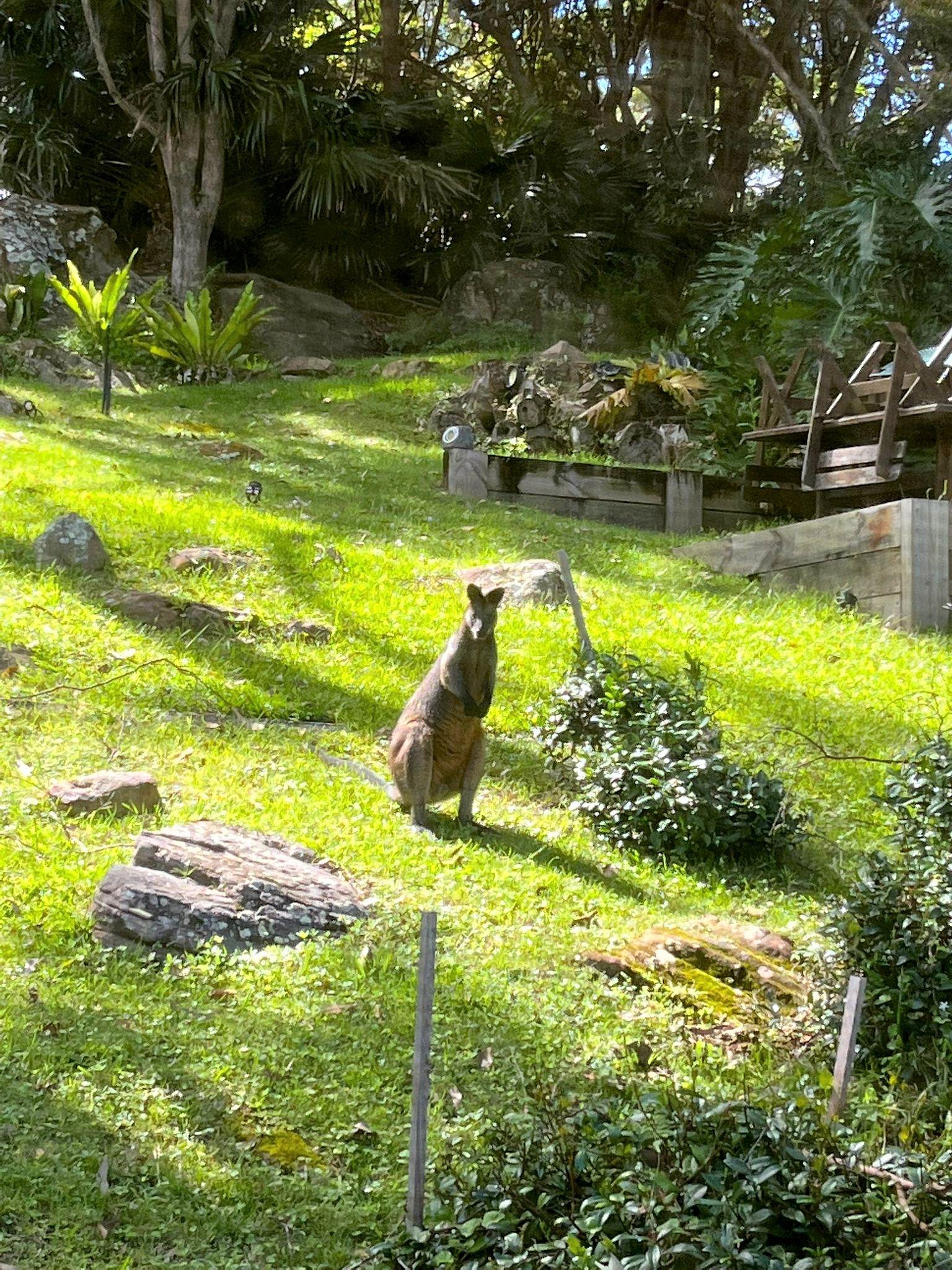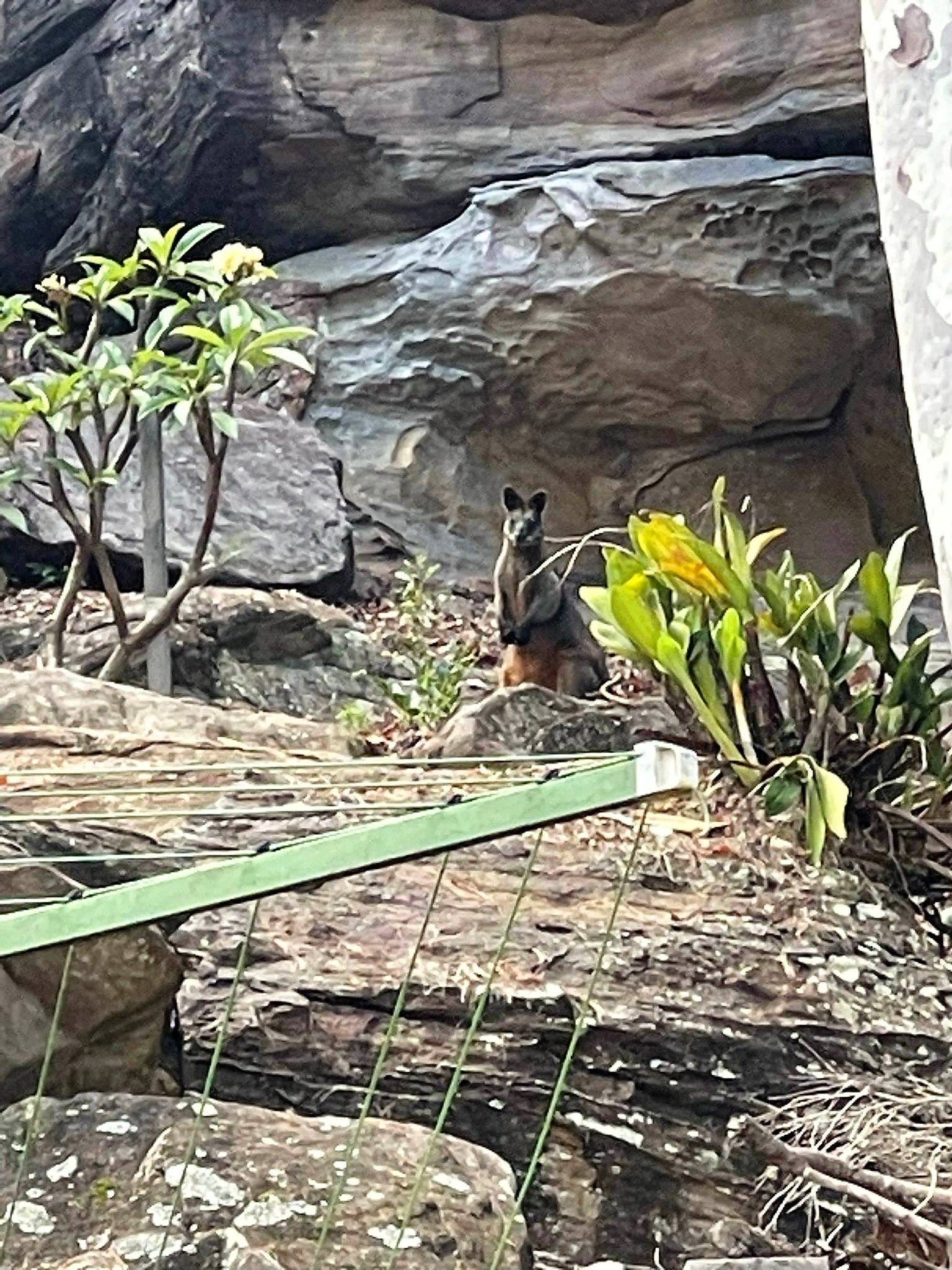 Northern Beaches Clean Up Crew: Avalon Beach April 30
Come and join us for our family friendly April clean up, close to Avalon Surf Lifesaving Club (558 Barrenjoey road, Avalon) on the 30th at 10am.
We have gloves, bags, and buckets, and grabbers. We're trying to remove as much plastic and rubbish as possible before it enters the ocean. Some of us can focus on the bush area and sandy/rocky areas, and others can walk along the beach and even clean up in the water (at own risk). We will clean up until around 11.20, and after that, we will sort and count the rubbish so we can contribute to research by entering it into a marine debris database. The sorting and counting is normally finished around noon, and we'll often go for lunch together at our own expense. We understand if you cannot stay for this part, but are grateful if you can. We appreciate any help we can get, no matter how small or big.
No booking required - just show up on the day. We're a friendly group of people, and everyone is welcome to this family friendly event. It's a nice community - make some new friends and do a good deed for the planet at the same time. For everyone to feel welcome, please leave political and religious messages at home - this includes t-shirts with political campaign messages. There is a council carpark, but it is often busy on Sundays, so check streets close by as well if it's full or please consider using public transport.
Message us on our social media or send us an email if you are lost. All welcome - the more the merrier. Please invite your friends too!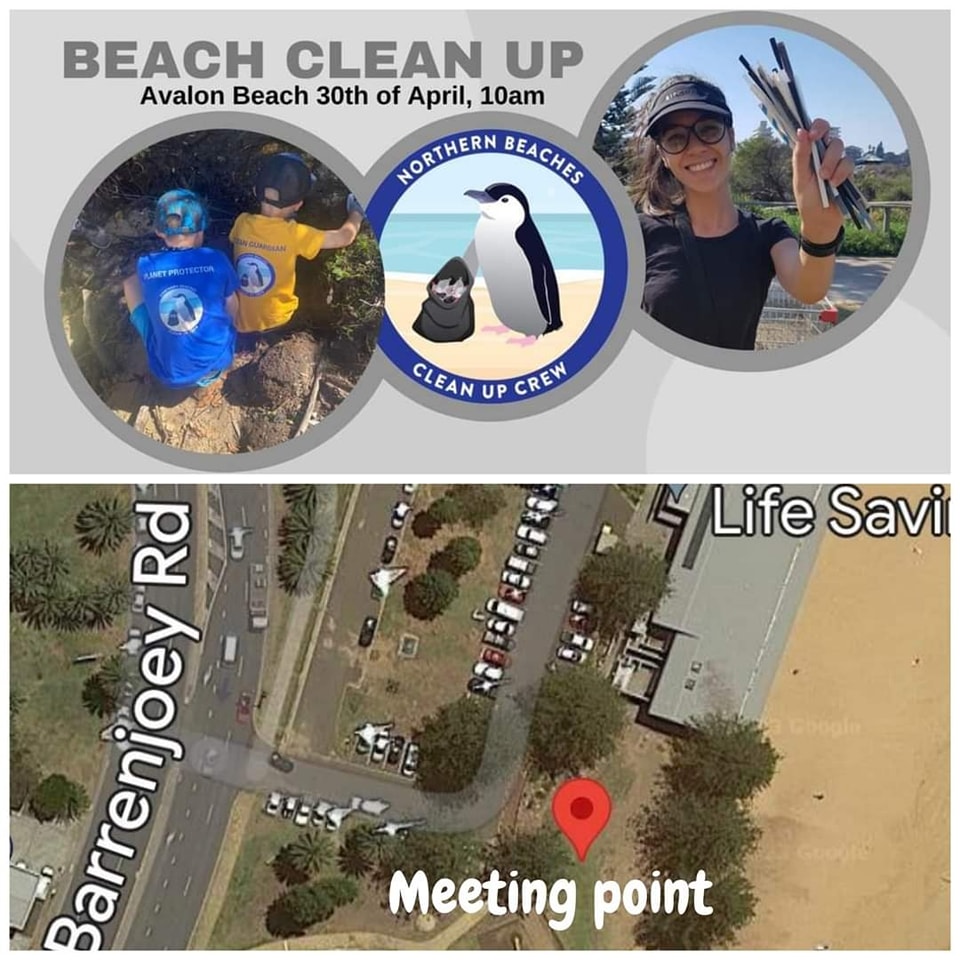 Permaculture Northern Beaches - Upcoming Events
Permaculture Northern Beaches (PNB) is an active local group on Sydney's Northern Beaches working for ecological integrity and assisting you on a pathway to sustainability.
PNB holds monthly permaculture-related public meetings on the last Thursday of each month at the Narrabeen Tramshed Community & Arts Centre
, Lakeview Room, 1395A Pittwater Road, Narrabeen. Buses stop directly at the centre and there is also car parking nearby.
Doors open at 7:15 pm and meetings take place monthly from February to November.
27 April - The Diversity of Hemp
Join Kirstie Wulf to learn about design, orientation and material selection to provide comfortable, healthy homes that work with nature to cool and heat your environment. Beatrice Kuyumgian Rankin of Hemp Gallery will complete the panel to discuss the other many uses of hemp from textiles to clothing to body and bath products.
Kirstie has a particular passion for natural building materials including hempcrete, light earth, straw bale, mud brick and rammed earth while using smart design. She is the owner and building designer of Shelter Building Design.
Beatrice Kuyumgian Rankin owner of Hemp Gallery and at the forefront of the Hemp industry in Australia will share her in-depth knowledge of the diverse use of Hemp in the low-environmental-impact manufacturing of textiles, hair, body, skin-care, soap and nutritional products.
Come and get your Hemp questions answered!
Entry is by donation ($5 is recommended) all are welcome!
Organic teas and coffees will be available - don't forget to BYO Keep Cup! Bring a plate to share food or swap plants, books, CDs, and items for your home or garden.
At: Narrabeen Tramshed Community centre
, 1395A Pittwater Road,
Narrabeen, 7.15pm
29 April - Tropical Permaculture Garden Tour
Sydney has a climate that is suitable for many fruiting plants considered tropical when grown correctly these plants can be very productive producing an abundance of fruit. Join Permaculture Northern Beaches and longtime permaculture practitioner Yalith Ratnavibushena in a garden tour showcasing the best practices for growing tropical fruits in a home permaculture garden. With many versatile uses banana groves, if properly maintained, can really help your permaculture garden to flourish.
The garden tour will involve a tour of Yalith's, Allambie Heights tropical permaculture garden. With over 17 years of experience as a Research Officer with the Agriculture Department in Sri Lanka, Yalith has a wealth of knowledge in the care and maintenance of tropical fruit trees. His garden has a variety of tropical fruiting plants including papaya and four varieties of bananas.
Learn about a variety of tropical fruiting plants that are suitable for Sydney's climate and different varieties of bananas; suitable soil preparation and composting for tropical fruit trees; skills in building and maintaining a banana circle.; and the role bananas can play in the overall ecosystem of your garden.
Dress for the Weather & bring a water bottle, notebook, and sense of adventure.
7 May - International Permaculture Day
Join us at New Leaf Nursery Ingleside for PNB workshops and our unique take on International Permaculture Day.
May 7th, the first Sunday in May, is International Permaculture Day (IPD). A day when all things permaculture are celebrated around the Earth across continents from Brazil to India, to the UK to the USA, and in Australia where permaculture originated.
On IPD we will celebrate with workshops and activities at the permaculture nursery New Leaf at 224 Powderworks Road Ingleside:
www.newleafnursery.com.au
The day will include talks, workshops and interactive sessions as well as the wonderful plants, chickens, and all the staff at New Leaf.
The program so far:
Learn about Permaculture design
Caring for and raising chickens
Native bees and bee hotels
Living Skills - soap making
AND Live Music!
At:
New Leaf Nursery,

224 Powderworks Road, Ingleside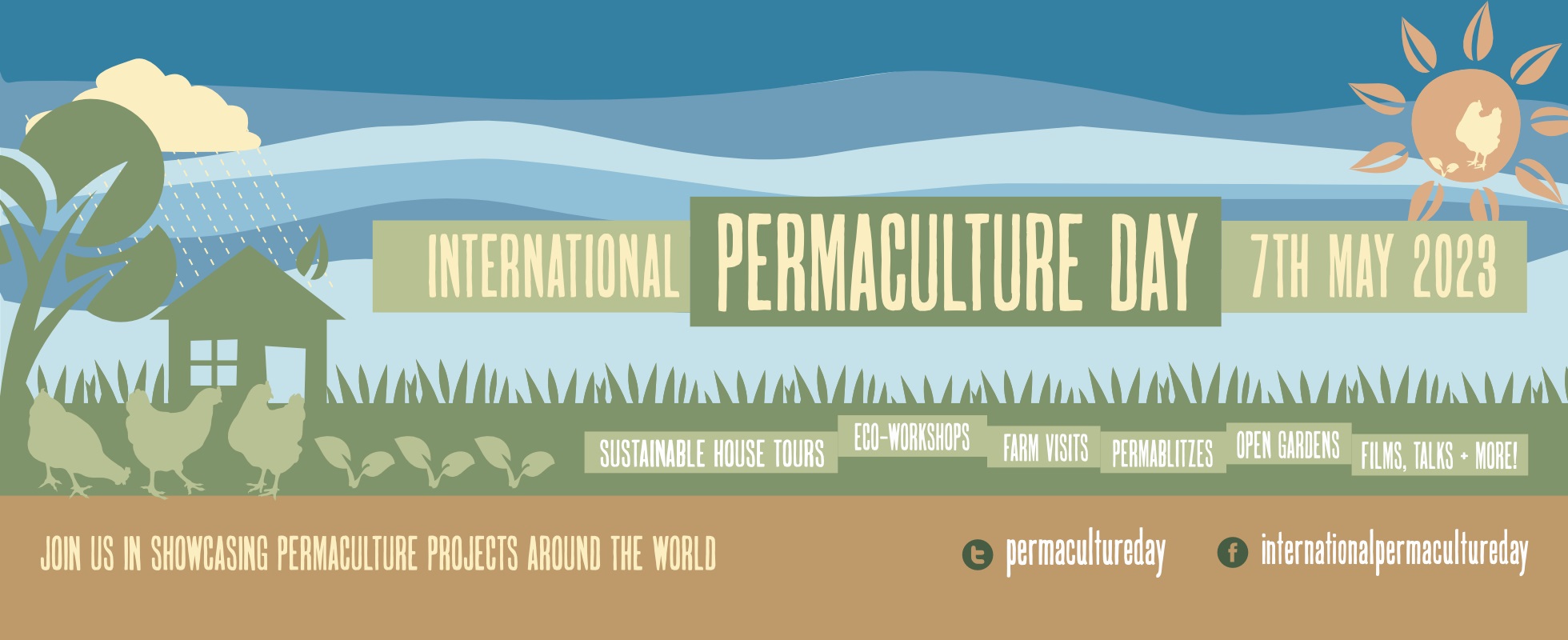 Report Fox Sightings
Fox sightings, signs of fox activity, den locations and attacks on native or domestic animals can be reported into FoxScan. FoxScan is a free resource for residents, community groups, local Councils, and other land managers to record and report fox sightings and control activities.
Our Council's Invasive species Team receives an alert when an entry is made into FoxScan. The information in FoxScan will assist with planning fox control activities and to notify the community when and where foxes are active.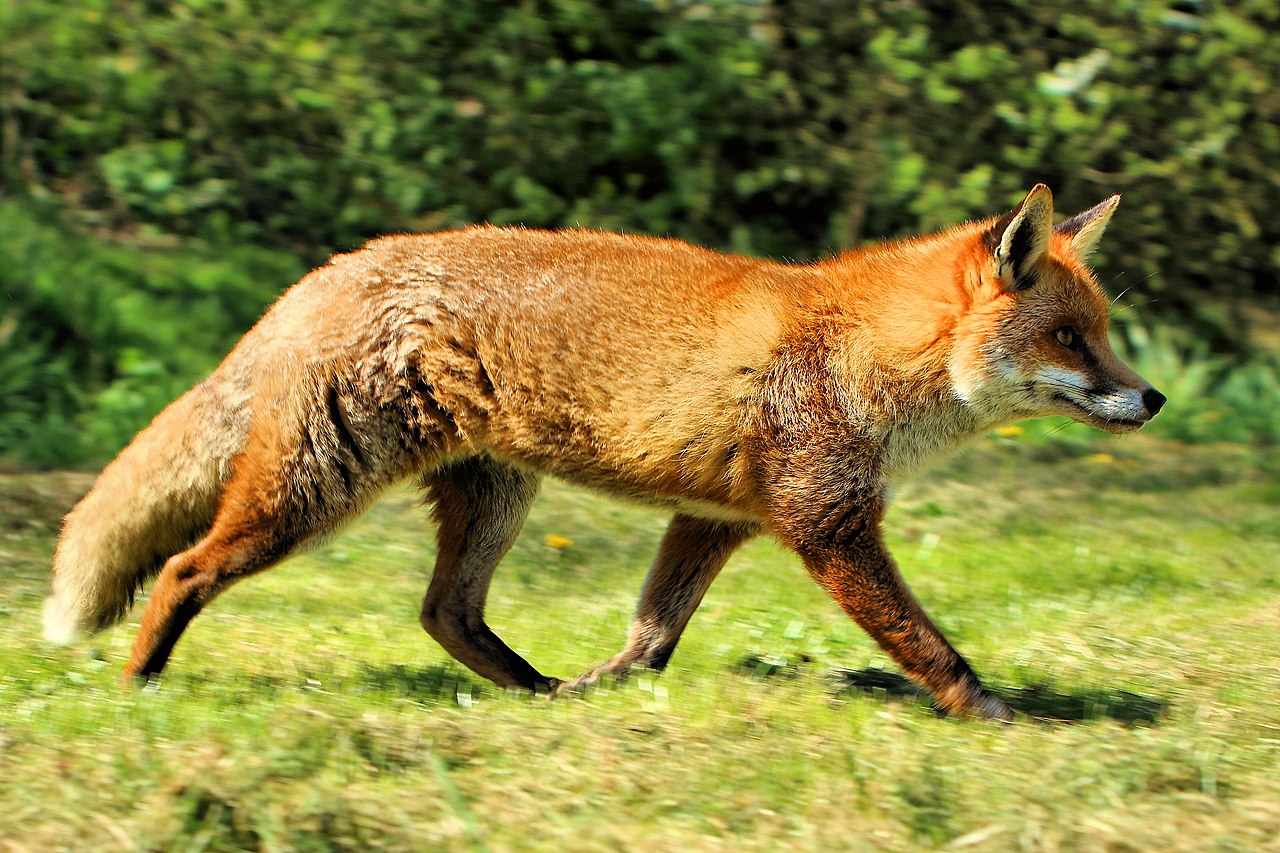 Weed Of The Season: Cassia - Please Pull Out And Save Our Bush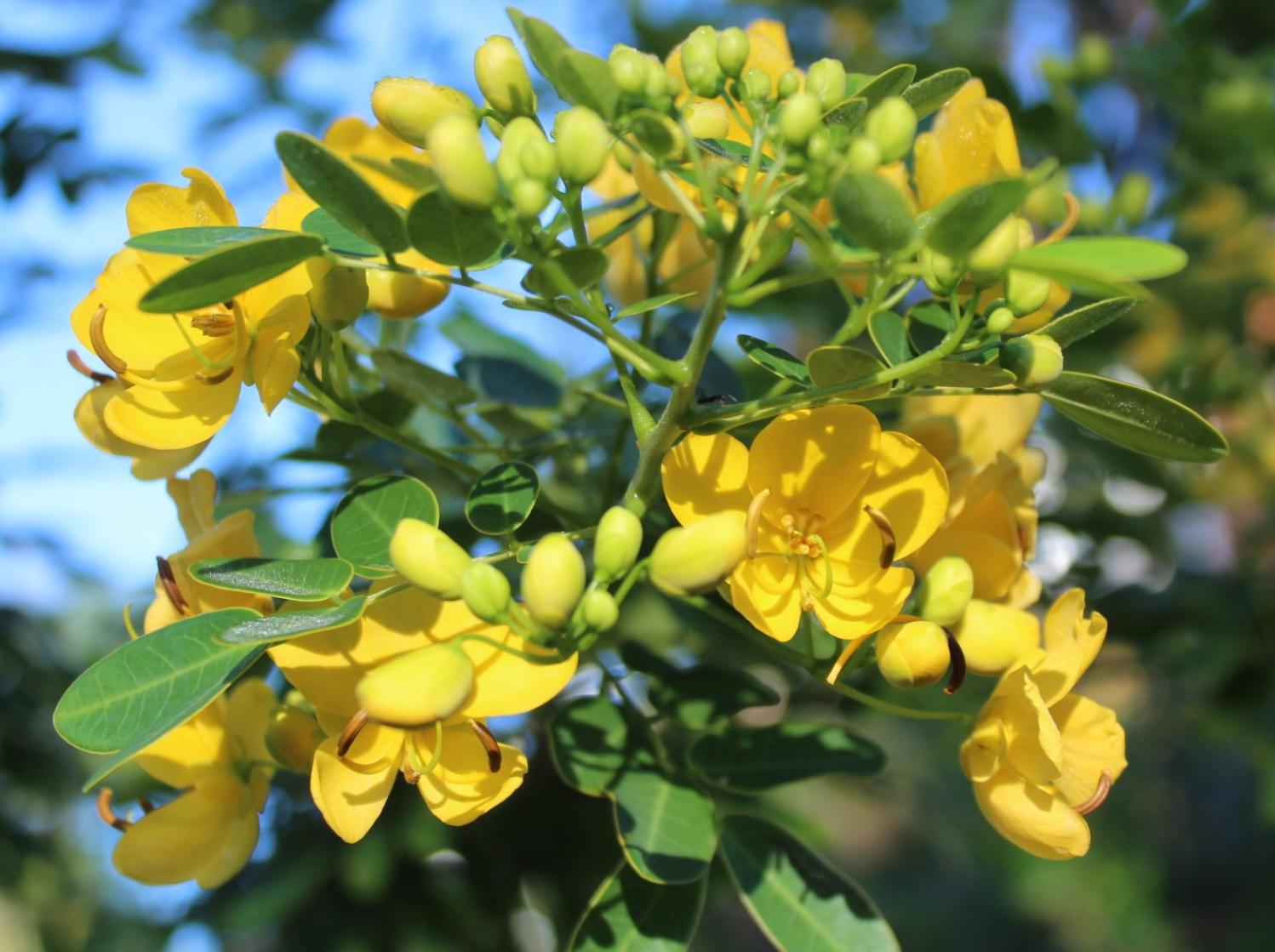 Flowering now, Cassia (Senna pendula). Also known as Senna and Arsenic Bush. Originating in South American, Cassia is a perennial sprawling multi-stemmed shrub or tree up to 5m tall.
This
weed
replaces native vegetation and establishes in a wide range of native plant communities, including coastal heath and scrubland, hind dunes and riparian corridors. The large seed pods are eaten by birds and other animals. You may be seeing this bright burst of yellow everywhere as it is c
urrently flowering -

please pull out and get rid of if you have in your garden

.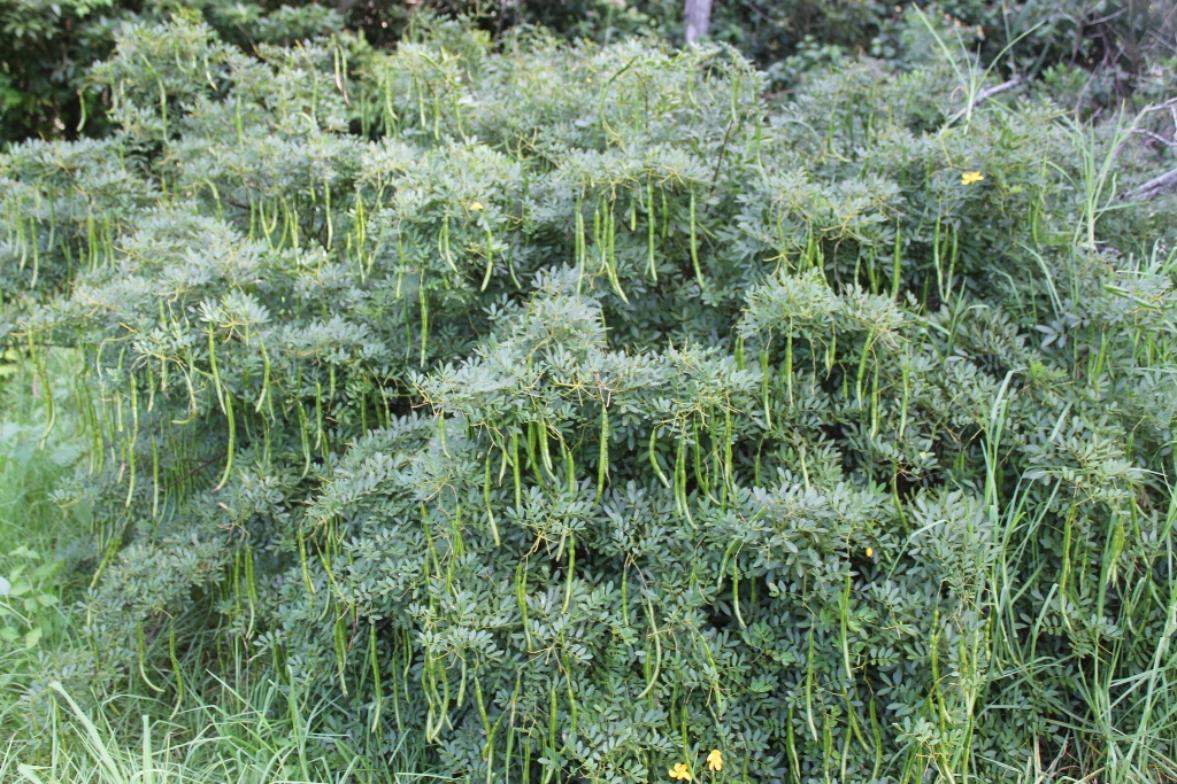 New Marine Wildlife Rescue Group On The Central Coast
A new wildlife group was launched on the Central Coast on Saturday, December 10, 2022.
Marine Wildlife Rescue Central Coast (MWRCC) had its official launch at The Entrance Boat Shed at 10am.
The group comprises current and former members of ASTR, ORRCA, Sea Shepherd, Greenpeace, WIRES and Wildlife ARC, as well as vets, academics, and people from all walks of life.
Well known marine wildlife advocate and activist Cathy Gilmore is spearheading the organisation.
"We believe that it is time the Central Coast looked after its own marine wildlife, and not be under the control or directed by groups that aren't based locally," Gilmore said.
"We have the local knowledge and are set up to respond and help injured animals more quickly.
"This also means that donations and money fundraised will go directly into helping our local marine creatures, and not get tied up elsewhere in the state."
The organisation plans to have rehabilitation facilities and rescue kits placed in strategic locations around the region.
MWRCC will also be in touch with Indigenous groups to learn the traditional importance of the local marine environment and its inhabitants.
"We want to work with these groups and share knowledge between us," Gilmore said.
"This is an opportunity to help save and protect our local marine wildlife, so if you have passion and commitment, then you are more than welcome to join us."
Marine Wildlife Rescue Central Coast has a Facebook page where you may contact members. Visit: https://www.facebook.com/profile.php?id=100076317431064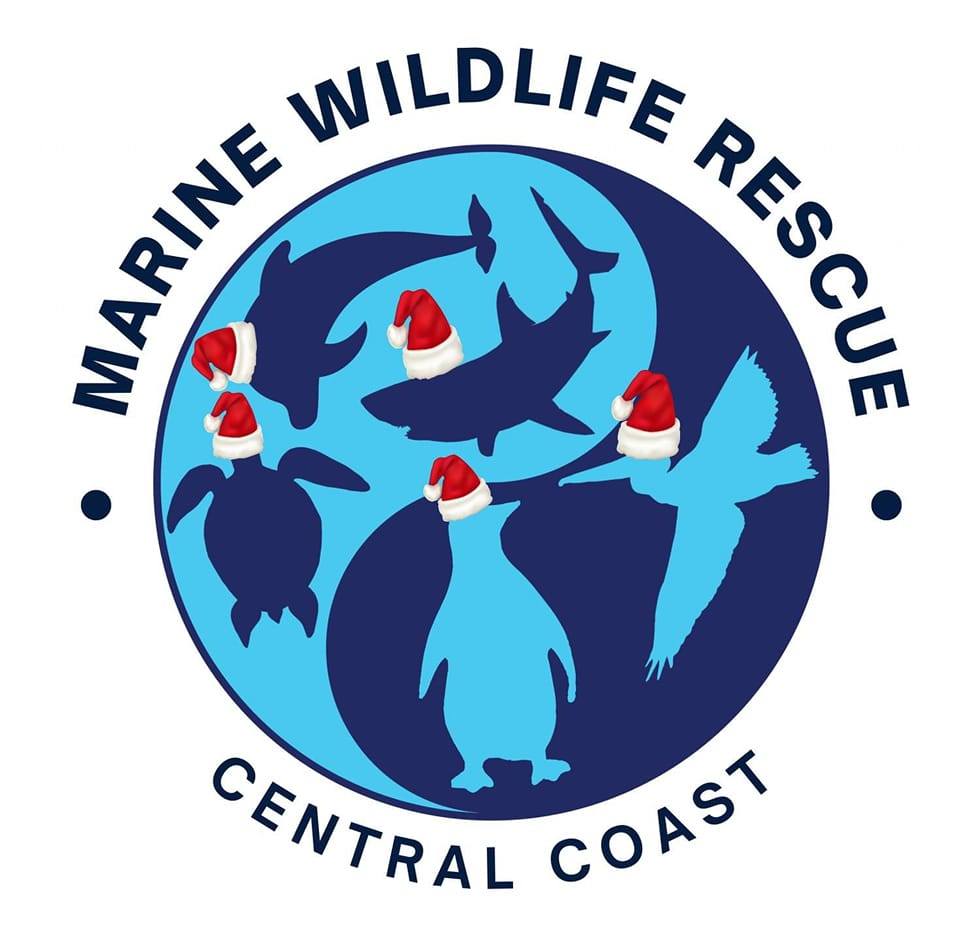 Watch Out - Shorebirds About
Summer is here so watch your step because beach-nesting and estuary-nesting birds have started setting up home on our shores.
Did you know that Careel Bay and other spots throughout our area are part of the East Asian-Australasian Flyway Partnership (EAAFP)?
This flyway, and all of the stopping points along its way, are vital to ensure the survival of these Spring and Summer visitors. This is where they rest and feed on their journeys. For example, did you know that the bar-tailed godwit flies for 239 hours for 8,108 miles from Alaska to Australia?
Not only that, Shorebirds such as endangered oystercatchers and little terns lay their eggs in shallow scraped-out nests in the sand, NSW National Parks and Wildlife Service (NPWS) Threatened Species officer Ms Katherine Howard has said.
Even our regular residents such as seagulls are currently nesting to bear young.
What can you do to help them?
Known nest sites may be indicated by fencing or signs. The whole community can help protect shorebirds by keeping out of nesting areas marked by signs or fences and only taking your dog to designated dog offleash area.
Just remember WE are visitors to these areas. These birds LIVE there. This is their home.
Four simple steps to help keep beach-nesting birds safe:
1. Look out for bird nesting signs or fenced-off nesting areas on the beach, stay well clear of these areas and give the parent birds plenty of space.
2. Walk your dogs in designated dog-friendly areas only and always keep them on a leash over summer.
3. Stay out of nesting areas and follow all local rules.
4. Chicks are mobile and don't necessarily stay within fenced nesting areas. When you're near a nesting area, stick to the wet sand to avoid accidentally stepping on a chick.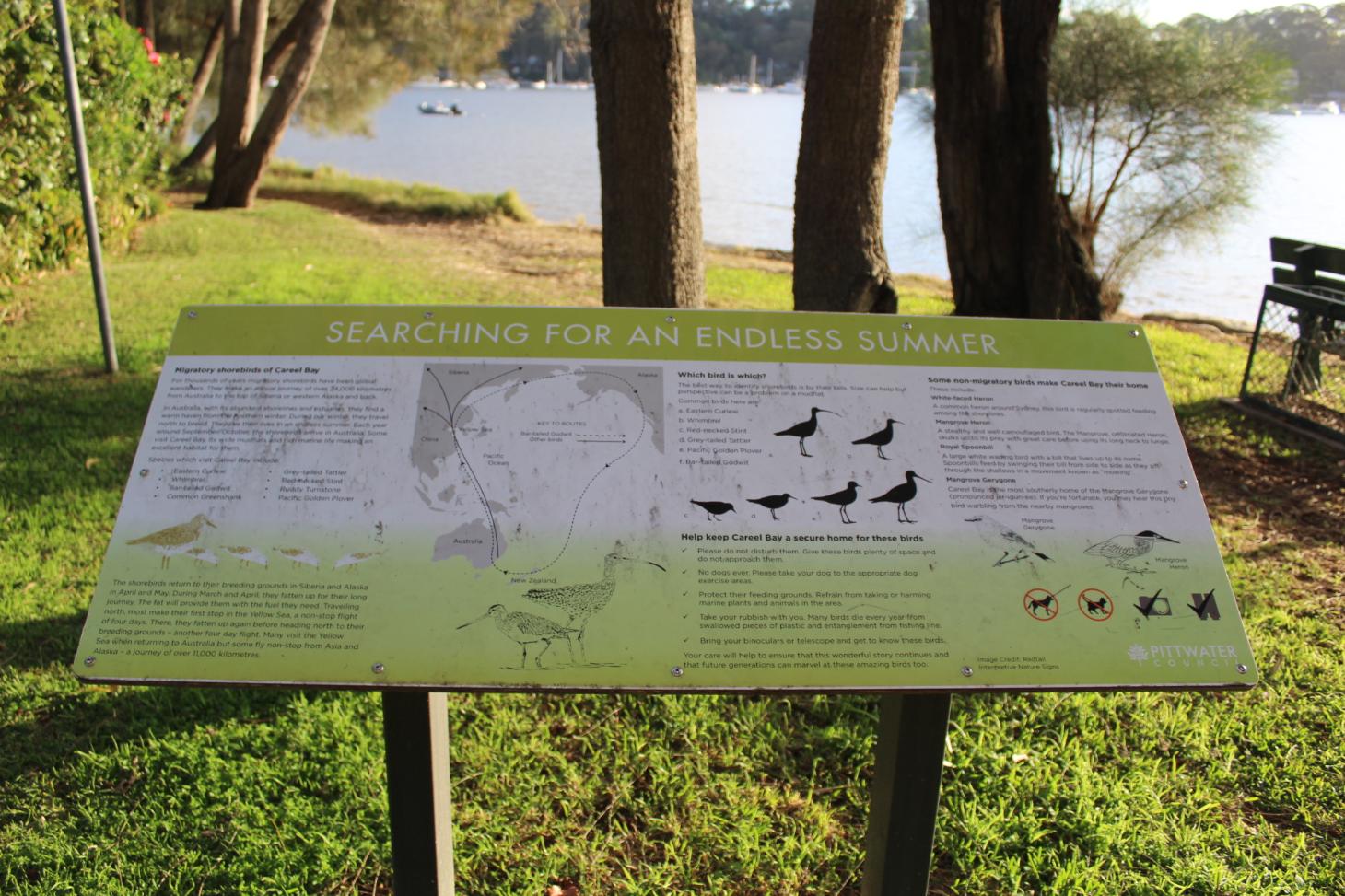 Possums In Your Roof?: Do The Right Thing
Possums in your roof? Please do the right thing
On the weekend, one of our volunteers noticed a driver pull up, get out of their vehicle, open the boot, remove a trap and attempt to dump a possum on a bush track. Fortunately, our member intervened and saved the beautiful female brushtail and the baby in her pouch from certain death.
It is illegal to relocate a trapped possum more than 150 metres from the point of capture and substantial penalties apply. Urbanised possums are highly territorial and do not fare well in unfamiliar bushland. In fact, they may starve to death or be taken by predators.
While Sydney Wildlife Rescue does not provide a service to remove possums from your roof, we do offer this advice:
✅ Call us on (02) 9413 4300 and we will refer you to a reliable and trusted licenced contractor in the Sydney metropolitan area. For a small fee they will remove the possum, seal the entry to your roof and provide a suitable home for the possum - a box for a brushtail or drey for a ringtail.
✅ Do-it-yourself by following this advice from the Department of Planning and Environment:
❌ Do not under any circumstances relocate a possum more than 150 metres from the capture site.
Thank you for caring and doing the right thing.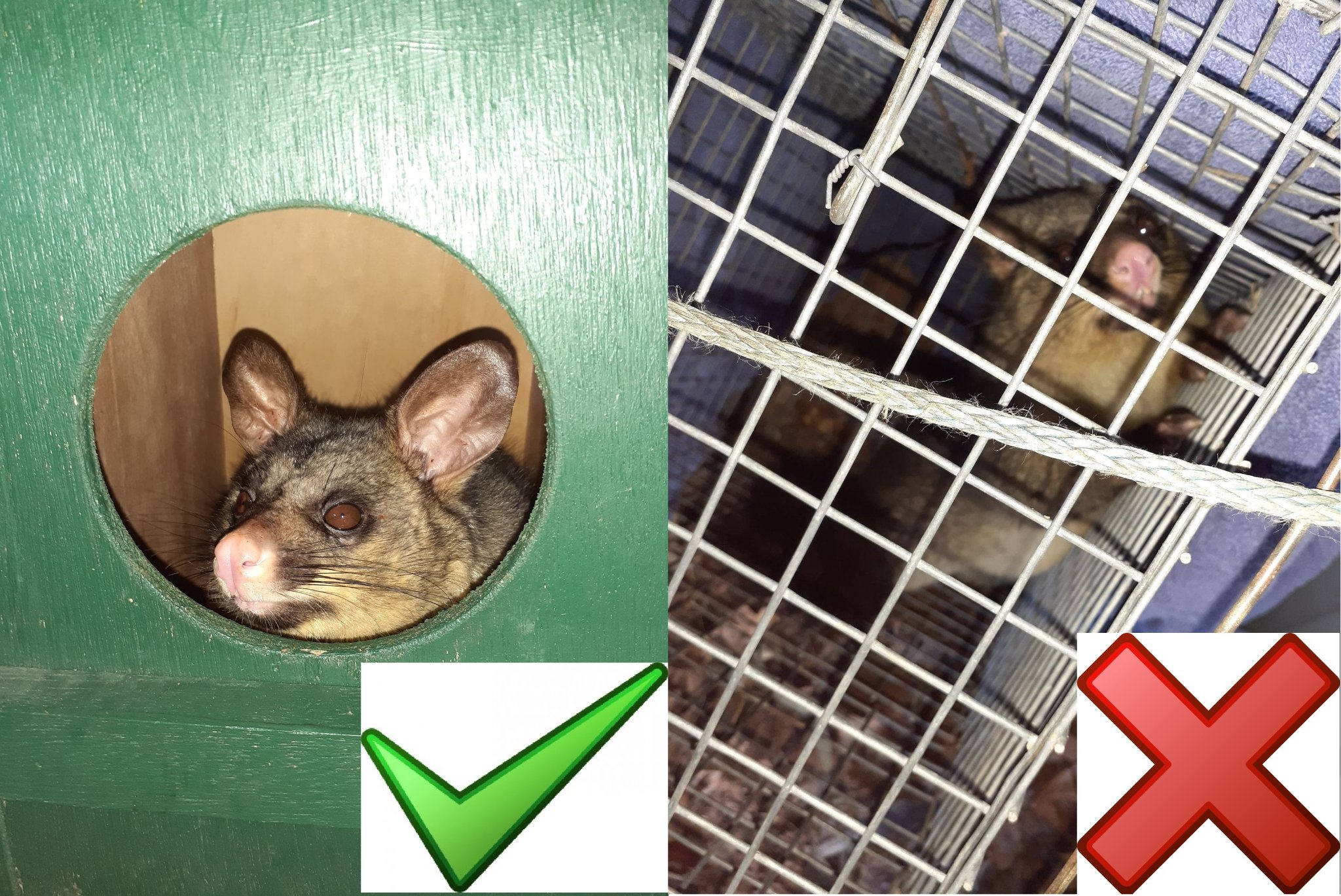 Sydney Wildlife photos
Aviaries + Possum Release Sites Needed
Pittwater Online News has interviewed
Lynette Millett OAM
(WIRES Northern Beaches Branch)
needs more bird cages of all sizes for keeping the current huge amount of baby wildlife in care safe or 'homed' while they are healed/allowed to grow bigger to the point where they may be released back into their own home.
If you have an aviary or large bird cage you are getting rid of or don't need anymore, please email via the link provided above.
There is also a pressing need for release sites for brushtail possums - a species that is very territorial and where release into a site already lived in by one possum can result in serious problems and injury.
If you have a decent backyard and can help out, Lyn and husband Dave can supply you with a simple drey for a nest and food for their first weeks of adjustment.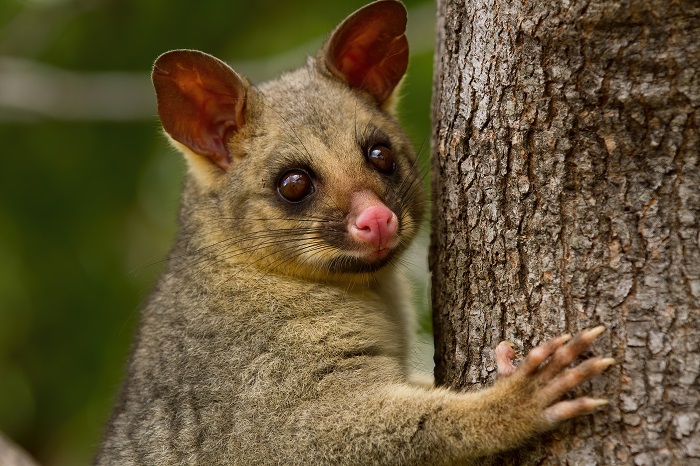 Bushcare In Pittwater
For further information or to confirm the meeting details for below groups, please contact Council's Bushcare Officer on 9970 1367 or visit Council's bushcare webpage to find out how you can get involved.
BUSHCARE SCHEDULES
Where we work Which day What time
Avalon
Angophora Reserve 3rd Sunday 8:30 - 11:30am
Avalon Dunes 1st Sunday 8:30 - 11:30am
Avalon Golf Course 2nd Wednesday 3 - 5:30pm
Careel Creek 4th Saturday 8:30 - 11:30am
Toongari Reserve 3rd Saturday 9 - 12noon (8 - 11am in summer)
Bangalley Headland 2nd Sunday 9 to 12noon
Bayview
Winnererremy Bay 4th Sunday 9 to 12noon
Bilgola
North Bilgola Beach 3rd Monday 9 - 12noon
Algona Reserve 1st Saturday 9 - 12noon
Plateau Park 1st Friday 8:30 - 11:30am
Church Point
Browns Bay Reserve 1st Tuesday 9 - 12noon
McCarrs Creek Reserve Contact Bushcare Officer To be confirmed
Clareville
Old Wharf Reserve 3rd Saturday 8 - 11am
Elanora
Kundibah Reserve 4th Sunday 8:30 - 11:30am
Mona Vale
Mona Vale Beach Basin 1st Saturday 8 - 11am
Mona Vale Dunes 2nd Saturday +3rd Thursday 8:30 - 11:30am
Newport
Bungan Beach 4th Sunday 9 - 12noon
Crescent Reserve 3rd Sunday 9 - 12noon
North Newport Beach 4th Saturday 8:30 - 11:30am
Porter Reserve 2nd Saturday 8 - 11am
North Narrabeen
Irrawong Reserve 2nd Saturday 2 - 5pm
Palm Beach
North Palm Beach Dunes 3rd Saturday 9 - 12noon
Scotland Island
Catherine Park 2nd Sunday 10 - 12:30pm
Elizabeth Park 1st Saturday 9 - 12noon
Pathilda Reserve 3rd Saturday 9 - 12noon
Warriewood
Warriewood Wetlands 1st Sunday 8:30 - 11:30am
Whale Beach
Norma Park 1st Friday 9 - 12noon
Western Foreshores
Coopers Point, Elvina Bay 2nd Sunday 10 - 1pm
Rocky Point, Elvina Bay 1st Monday 9 - 12noon
Friends Of Narrabeen Lagoon Catchment Activities

Bush Regeneration - Narrabeen Lagoon Catchment
This is a wonderful way to become connected to nature and contribute to the health of the environment. Over the weeks and months you can see positive changes as you give native species a better chance to thrive. Wildlife appreciate the improvement in their habitat.
Belrose area - Thursday mornings
Belrose area - Weekend mornings by arrangement
Contact: Phone or text Conny Harris on 0432 643 295
Wheeler Creek - Wednesday mornings 9-11am
Contact: Phone or text Judith Bennett on 0402 974 105
Gardens And Environment Groups And Organisations In Pittwater
The Surprising Science Behind Long-Distance Bird Migration
April 17, 2023
Scientists have recently made a surprising discovery, with the help of a wind tunnel and a flock of birds. Songbirds, many of which make twice-yearly, non-stop flights of more than 1,000 miles to get from breeding range to wintering range, fuel themselves by burning lots of fat and a surprising amount of the protein making up lean body mass, including muscle, early in the flight. This flips the conventional wisdom on its head, which had assumed that migrating birds only ramped up protein consumption at the very end of their journeys, because they would need to use every ounce of muscle for wing-flapping, not fuel.
"Birds are amazing animals," says Cory Elowe, the paper's lead author and a postdoctoral researcher in biology at UMass Amherst, where he received his Ph.D. "They are extreme endurance athletes; a bird that weighs half an ounce can fly, non-stop, flapping for 100 hours at a time, from Canada to South America. How is this possible? How do they fuel their flight?"
For a very long time, biologists assumed that birds fuelled such feats of endurance by burning fat reserves. And indeed, fat is an important part of migratory birds' secret mix. "The birds in our tests burned fat at a consistent rate throughout their flights," says Elowe. "But we also found that they burn protein at an extremely high rate very early in their flights, and that the rate at which they burn protein tapers off as the duration of the flight increases."
"This is a new insight," says Alexander Gerson, associate professor of biology at UMass Amherst and the paper's senior author. "No one has been able to measure protein burn to this extent in birds before."
"We knew that birds burned protein, but not at this rate, and not so early in their flights," continues Gerson. "What's more, these small songbirds can burn 20% of their muscle mass and then build it all back in a matter of days."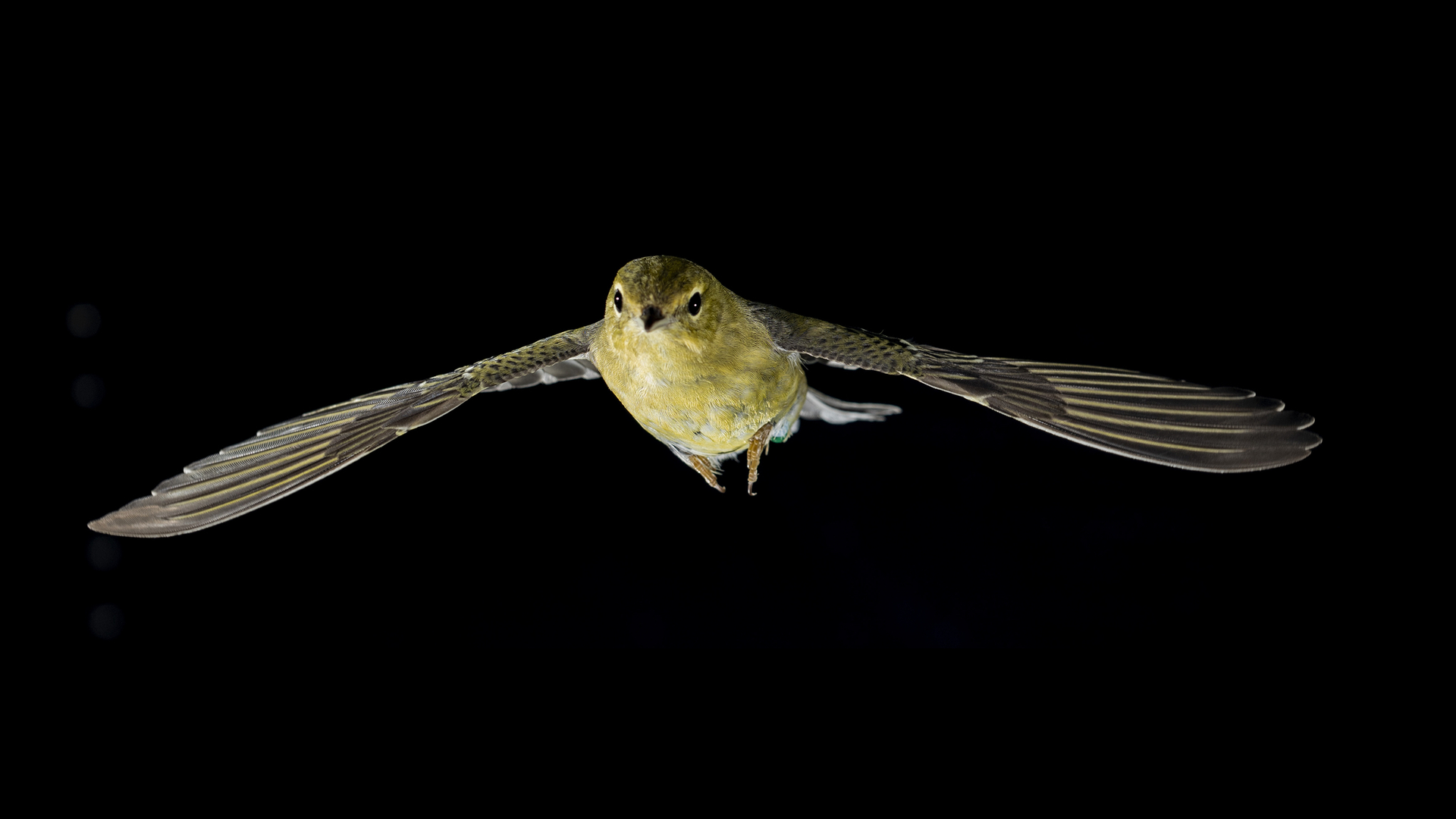 A blakpoll warbler. Photo: University of Massachusetts Amherst

To make this breakthrough, Elowe had help from the bird banding operators at Long Point Bird Observatory, in Ontario, along the northern shore of Lake Erie. Every fall, millions of birds gather near the observatory on their journey to their wintering grounds -- including the blackpoll warbler, a small songbird that travels thousands of miles during its migration. After capturing 20 blackpolls and 44 yellow-rumped warblers -- a shorter distance migrant -- using mist nets, Elowe and his colleagues then transported the birds to the Advanced Facility for Avian Research at Western University, which has a specialized wind tunnel built specifically for observing birds in flight.
Elowe measured the birds' fat and lean body mass pre-flight, then, when the sun set, let the birds free in the wind tunnel. Because the birds naturally migrate at night, Elowe and his colleagues would then stay awake -- at one point, for 28 hours -- watching for when a bird would decide to rest. At that point, the researchers would collect the bird and again measure its fat and lean body mass content, comparing them with the pre-flight measurements.
"One of the biggest surprises was that every bird still had plenty of fat left when it chose to end its flight," says Elowe. "But their muscles were emaciated. Protein, not fat, seems to be a limiting factor in determining how far birds can fly."
The researchers still don't quite know why the birds are burning such vast stores of protein so early in their journeys, but the possible answers open up a wide range of future research avenues.
"How exactly is it possible to burn up your muscles and internal organs, and then rebuild them as quickly as these birds do," wonders Gerson. "What insights into the evolution of metabolism might these birds yield?"
Elowe is curious about shivering -- nonmigratory birds that overwinter in cold areas keep themselves warm by shivering. "This is also a feat of endurance," says Elowe. "Do birds fuel their winter shivering spells the same way? And as the world warms, which method of coping with the cold -- shivering or migrating -- might be the better option for survival?"
Cory R. Elowe, Derrick J. E. Groom, Julia Slezacek, Alexander R. Gerson. Long-duration wind tunnel flights reveal exponential declines in protein catabolism over time in short- and long-distance migratory warblers. Proceedings of the National Academy of Sciences, 2023; 120 (17) DOI: 10.1073/pnas.2216016120
Coastal Species Persist On High Seas On Floating Plastic Debris
April 17, 2023
The high seas have been colonised by a surprising number of coastal marine invertebrate species, which can now survive and reproduce in the open ocean, contributing strongly to the floating community composition. This finding was published today in Nature Ecology and Evolutionby a team of researchers led by the Smithsonian Environmental Research Center (SERC) and the University of Hawai'i (UH) at Manoa.
The researchers found coastal species, representing diverse taxonomic groups and life history traits, in the eastern North Pacific Subtropical Gyre on over 70 percent of the plastic debris they examined. Further, the debris carried more coastal species than open ocean species.
"This discovery suggests that past biogeographical boundaries among marine ecosystems -- established for millions of years -- are rapidly changing due to floating plastic pollution accumulating in the subtropical gyres," said lead author Linsey Haram, research associate at SERC.
These researchers only recently discovered the existence of these "neopelagic communities," or floating communities in deep ocean waters. To understand the ecological and physical processes that govern communities on floating marine debris, SERC and UH Manoa formed a multi-disciplinary Floating Ocean Ecosystem (FloatEco) team. UH Manoa led the assessment of physical oceanography and SERC evaluated biological and ecological dimensions of the study.
For this study, the FloatEco team analysed 105 plastic samples collected by The Ocean Cleanup during their 2018 and 2019 expeditions in the North Pacific Subtropical Gyre, which occupies most of the northern Pacific Ocean. The field work relied on participation of both individual volunteers and non-governmental organisations.
"We were extremely surprised to find 37 different invertebrate species that normally live in coastal waters, over triple the number of species we found that live in open waters, not only surviving on the plastic but also reproducing," said Haram. "We were also impressed by how easily coastal species colonized new floating items, including our own instruments -- an observation we're looking into further."
"Our results suggest coastal organisms now are able to reproduce, grow, and persist in the open ocean -- creating a novel community that did not previously exist, being sustained by the vast and expanding sea of plastic debris," said co-author Gregory Ruiz, senior scientist at SERC. "This is a paradigm shift in what we consider to be barriers to the distribution and dispersal of coastal invertebrates."
While scientists already knew organisms, including some coastal species, colonized marine plastic debris, scientists were unaware until now that established coastal communities could persist in the open ocean. These findings identify a new human-caused impact on the ocean, documenting the scale and potential consequences that were not previously understood.
"The Hawaiian Islands are neighboured in the northeast by the North Pacific garbage patch," said Nikolai Maximenko, co-author and senior researcher at the UH Manoa School of Ocean and Earth Science and Technology. "Debris that breaks off from this patch constitutes the majority of debris arriving on Hawaiian beaches and reefs. In the past, the fragile marine ecosystems of the islands were protected by the very long distances from coastal communities of Asia and North America. The presence of coastal species persisting in the North Pacific Subtropical Gyre near Hawai'i is a game changer that indicates that the islands are at an increased risk of colonization by invasive species."
"Our study underscores the large knowledge gap and still limited understanding of rapidly changing open ocean ecosystems," said Ruiz. "This highlights the need for dramatic enhancement of the high-seas observing systems, including biological, physical and marine debris measurements."
Linsey E. Haram, James T. Carlton, Luca Centurioni, Henry Choong, Brendan Cornwell, Mary Crowley, Matthias Egger, Jan Hafner, Verena Hormann, Laurent Lebreton, Nikolai Maximenko, Megan McCuller, Cathryn Murray, Jenny Par, Andrey Shcherbina, Cynthia Wright, Gregory M. Ruiz. Extent and reproduction of coastal species on plastic debris in the North Pacific Subtropical Gyre. Nature Ecology & Evolution, 2023; DOI: 10.1038/s41559-023-01997-y
New Approach Estimates Long-Term Coastal Cliff Loss
April 18, 2023
In parts of California's iconic mountainous coasts, breath-taking beauty is punctuated by brusque signs warning spectators to stay back from unstable cliffs. The dangers of coastal erosion are an all-too-familiar reality for the modern residents of these communities. Now, with a new tool, researchers are bringing historical perspective to the hotly debated topic of how to manage these disappearing coastlines.
Using a model that incorporates measurements of the amount of time coastal cliffs and their remnant deposits were exposed at the Earth's surface, Stanford researchers found that the rate of cliff erosion in the past 100 years is similar to that of the past 2,000 years. The proof-of-concept, published in the Journal of Geophysical Research: Earth Surface April 17, opens the possibility of using this new approach to understand the long-term history of coastal cliff erosion, or retreat, in other parts of the state. The work was conducted in Del Mar, California, a beach town in San Diego County with infrastructure atop its coastal bluffs.
"In this particular location, these cliff erosion rates have been the same for thousands of years, so we shouldn't expect them to get lower," said senior study author Jane Willenbring, an associate professor of Earth and planetary sciences at the Stanford Doerr School of Sustainability. "If anything, we should expect them to be higher in the future."
Del Mar is among locations that are critically important for understanding cliff retreat. Homes are situated up to 70 feet above its beach, in addition to public infrastructure. A major railroad between Los Angeles and San Diego runs atop the coastal bluffs, where cliff failures have resulted in several derailments in modern history, as well as rock fall events that led to closures in recent years.
"I think this study bolsters the thinking that we should do something about cliff retreat sooner rather than later," said lead study author Travis Clow, PhD '22.
A natural laboratory
The study area was ideal for the researchers' methodology because the Del Mar beach features a narrow shore platform, the bedrock where tidepools are typically found. Using nine samples of bedrock, the co-authors measured concentrations of the chemical isotope beryllium-10 that track landform exposure to cosmic radiation from space. The data were compared with cliff retreat rates from recent studies based on aerial photography, showing that coastal erosion rates have remained relatively constant over the past two millennia -- at about 2 to 5 inches per year.
"One of the advantages of this technique is that it gives you information at the time scales that are relevant for factors like sea-level rise," Willenbring said. "Our tool estimates retreat over time periods that include multiple major storms or atmospheric rivers that don't happen very often, but are critical in forming the coastline."
The researchers' approach explores the influence of different factors, including wave impacts and weathering that occur at the shore platform and the cliff interface.
"It does more than just spit out a retreat rate," said Clow, who processed the samples in Willenbring's lab and measured them at the Center for Accelerator Mass Spectrometry at Lawrence Livermore National Laboratory (LLNL). "It also allows us to have a relative assessment of what might be driving cliff retreat over longer periods of time."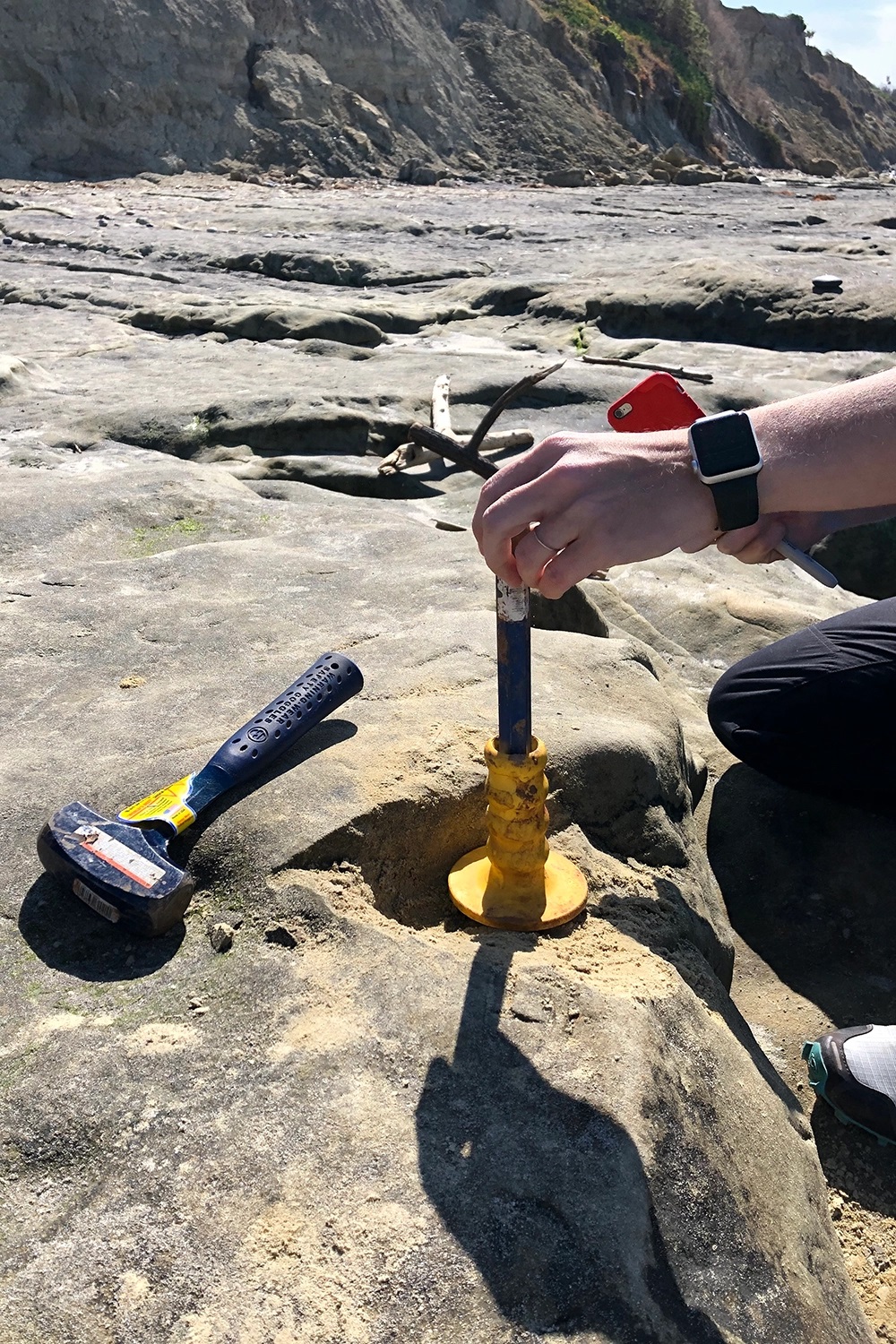 Jane Willenbring sampling shore platform bedrock in Del Mar with a hammer and chisel. (Image credit: Travis Clow)

When rock becomes air
On sandy coasts, like those spanning much of the eastern U.S., beaches are shaped by waves that pull sand out to the ocean, then re-deposit it on land with the coming and going of the tides. But with rocky coastlines like those along California, once a cliff erodes into the ocean, it cannot be replaced, Willenbring said. Instead, it's as if the rock becomes air.
Willenbring was surprised to learn through this research that over half of all coastlines on Earth are eroding like California's. The scope of the problem, which will be exacerbated by sea-level rise in the next century, presents an opportunity for using this new technique in other areas.
"There are plenty of other places in California and the Pacific Northwest where active erosion of coastal rocky cliffs is happening, and we hope to use this technique in a wide variety of environments," Clow said.
Knowledge of cliff retreat in the U.S. is about 50 years behind research on the impacts of erosion and storms on sandy beaches, according to Willenbring -- and that makes her excited about contributing to fundamental science in this field.
"No one had even looked at how the beach width correlated with the rate of cliff retreat in California," Willenbring said. "There are a lot of open questions about what drives coastal erosion, and now we have a new tool to be able to address some of them."
Additional study co-authors are from the Scripps Institution of Oceanography at the University of California, San Diego; the Center for Accelerator Mass Spectrometry at LLNL; and Imperial College London. The research was supported by LLNL, the California Department of Parks and Recreation, and the U.S. Army Corps of Engineers.
T. Clow, J. K. Willenbring, A. P. Young, H. Matsumoto, A. J. Hidy, J. R. Shadrick. Late Holocene Cliff Retreat in Del Mar, CA, Revealed From Shore Platform 10 Be Concentrations and Numerical Modeling. Journal of Geophysical Research: Earth Surface, 2023; 128 (4) DOI: 10.1029/2022JF006855
Methane From Megafires: More Spew Than We Knew
April 18, 2023
Using a new detection method, UC Riverside scientists found a massive amount of methane, a super-potent greenhouse gas, coming from wildfires -- a source not currently being accounted for by state air quality managers.
Methane warms the planet 86 times more powerfully than carbon dioxide over the course of 20 years, and it will be difficult for the state to reach its required cleaner air and climate goals without accounting for this source, the researchers said.
Wildfires emitting methane is not new. But the amount of methane from the top 20 fires in 2020 was more than seven times the average from wildfires in the previous 19 years, according to the new UCR study.
"Fires are getting bigger and more intense, and correspondingly, more emissions are coming from them," said UCR environmental sciences professor and study co-author Francesca Hopkins. "The fires in 2020 emitted what would have been 14 percent of the state's methane budget if it was being tracked."
The state does not track natural sources of methane, like those that come from wildfires. But for 2020, wildfires would have been the third biggest source of methane in the state.
"Typically, these sources have been hard to measure, and it's questionable whether they're under our control. But we have to try," Hopkins said. "They're offsetting what we're trying to reduce."
Traditionally, scientists measure emissions by analysing wildfire air samples obtained via aircraft. This older method is costly and complicated to deploy. To measure emissions from 2020's Sequoia Lightning Fire Complex in the Sierra Nevadas, the UCR research team used a remote sensing technique, which is both safer for scientists and likely more accurate since it captures an integrated plume from the fire that includes different burning phases.
The technique, detailed in the journal Atmospheric Chemistry and Physics, allowed the lead author, UCR environmental sciences Ph.D. student Isis Frausto-Vicencio to safely measure an entire plume of the Sequoia Lightning Fire Complex gas and debris from 40 miles away.
"The plume, or atmospheric column, is like a mixed signal of the whole fire, capturing the active as well as the smouldering phases," Hopkins said. "That makes these measurements unique."
Researchers Isis Frausto-Vicencio, UCR, and Sajjan Heerah, Los Alamos National Laboratory, measuring wildfire emissions. (Frausto-Vicencio/UCR)

Rather than using a laser, as some instruments do, this technique uses the sun as a light source. Gases in the plume absorb and then emit the sun's heat energy, allowing insight into the quantity of aerosols as well as carbon and methane that are present.
Using the remote technique, the researchers found nearly 20 gigagrams of methane emitted by the Sequoia Lightning Fire Complex. One gigagram is 1,000 metric tons. An elephant weighs around one metric ton. For context, the fire therefore contained roughly 20,000 elephants' worth of the gas.
This data matches measurements that came from European space agency satellite data, which took a more sweeping, global view of the burned areas, but are not yet capable of measuring methane in these conditions.
If included in the California Air Resources Board methane budget, wildfires would be a bigger source than residential and commercial buildings, power generation or transportation, but behind agriculture and industry. While 2020 was exceptional in terms of methane emissions, scientists expect more megafire years going forward with climate change.
In 2015, the state first established a target of 40 percent reduction in methane, refrigerants and other air pollutants contributing to global warming by 2030. The following year, in 2016, Gov. Jerry Brown signed SB 1383, codifying those reduction targets into law.
The reductions are meant to come from regulations that capture methane produced from manure on dairy farms, eliminate food waste in landfills, require oil and gas producers to minimize leaks, ban certain gases in new refrigerators and air conditioners, and other measures.
"California has been way ahead on this issue," Hopkins said. 'We're really hoping the state can limit the methane emissions under our control to reduce short-term global warming and its worst effects, despite the extra emissions coming from these fires."
Isis Frausto-Vicencio, Sajjan Heerah, Aaron G. Meyer, Harrison A. Parker, Manvendra Dubey, Francesca M. Hopkins. Ground solar absorption observations of total column CO, CO2, CH4, and aerosol optical depth from California's Sequoia Lightning Complex Fire: emission factors and modified combustion efficiency at regional scales. Atmospheric Chemistry and Physics, 2023; 23 (7): 4521 DOI: 10.5194/acp-23-4521-2023
Sonnet 29
By William Shakespeare
When, in disgrace with fortune and men's eyes,
I all alone beweep my outcast state,
And trouble deaf heaven with my bootless cries,
And look upon myself and curse my fate,
Wishing me like to one more rich in hope,
Featured like him, like him with friends possessed,
Desiring this man's art and that man's scope,
With what I most enjoy contented least;
Yet in these thoughts myself almost despising,
Haply I think on thee, and then my state,
Like to the lark at break of day arising
From sullen earth sings hymns at heaven's gate;
For thy sweet love remembered such wealth brings
That then I scorn to change my state with kings.
When The War Came To Cowra
By Cowra Council, 2021
Council's Youth Voice Action Plan 2028 Gets The Green Light
Council has adopted a new action plan co-designed with young people to improve youth wellbeing, build social cohesion and increase youth participation in community life.
The Youth Voice Action Plan 2028 – Shaping the Beaches' Future sets a roadmap for young people on the Beaches, addressing social, cultural and economic issues across four focus areas. These range from social issues like 'connection' and 'equity', to the more pressing challenges of affordable housing and employment.
As a first step Council will be developing a monitoring an evaluation plan that ensures young people are continually involved in the implementation and delivery of the Plan.
This responds to one of the most frequently requested and mentioned themes throughout the exhibition period.
A key priority will be ensuring our processes and programs support the outcomes identified in the Plan by the large and diverse group of young people living on the Beaches.
Another focus will be on capacity building and skills development, particularly relating to life skills, financial literacy and soft skills, alongside more formal education and career/employment assistance and pathways.
Northern Beaches Council Interim CEO Louise Kerr said the plan was drafted following an extensive consultation with more than 1,000 young people contributing over 1,100 comments.
"Some of the key themes to emerge from our discussions with young people were inclusion and diversity, mental health and cost of living pressures" Ms Kerr said.
"There was also strong interest from the community for greater intergenerational connection through mentoring, traineeships and skills development.
"Young people also told us that information about critical services for mental health and financial assistance should be easier to access."
The plan maps out a series of positive actions for youth development and capacity building, which includes plans for up-skilling young people and ensuring their voices are heard.
The draft plan received 191 responses while on public exhibition and that feedback has informed the final action plan.
"Young people are active contributors and essential to a thriving and vibrant community," Ms Kerr said.
"They are our current and future leaders, innovators, creatives, and environmental caretakers. We've walked alongside them throughout this project and with their help, created a plan that supports them in the ways that they need and want."
Northern Composure Band Competition 2023
Due to the pandemic, Council have had the 20th anniversary on hold but pleased to say that the competition is open and running again.
Northern Composure is the largest and longest-running youth band competition in the area and offers musicians local exposure as well as invaluable stage experience. Bands compete in heats, semi finals and the grand final for a total prize pool of over $15,000.
Over the past 20 years we have had many success stories and now is your chance to join bands such as:
Ocean Alley
Lime Cordiale
Dear Seattle
What So Not
The Rions
Winston Surfshirt
Crocodylus
And even a Triple J announcer plus a wide range of industry professionals
About the Competition
In 2023, the comp looks a little different.
All bands are invited to enter our heats which will be exclusively run online and voted on by your peers and community by registering below and uploading a video of one song of your choice. (if you are doing a cover, please make sure to credit the original band) We are counting on you to spread the word and get your friends, family, teachers voting for you!
The top 8-12 bands will move on through to our live semi finals with a winner from each moving on to the grand final held during National Youth Week. Not only that but we have raised the age range from 19 to 21 for all those musicians who may have missed out over the past two years.
Key dates
Voting open for heats: Mon 13 Feb – Sun 26 Feb
Band Briefing: Mon 6 March, Dee Why PCYC
Semi 1: Sat 18 March Mona Vale Memorial Hall
Semi 2: Sat 25 March, YOYOs, Frenchs Forest
Grand Final: Fri 28 April, Dee Why PCYC
For more information contact Youth Development at youth@northernbeaches.nsw.gov.au or call 8495 5104
Stay in the loop and follow Northern Composure Unplugged on KALOF Facebook.
School Leavers Support
Explore the School Leavers Information Kit (SLIK) as your guide to education, training and work options in 2022;
As you prepare to finish your final year of school, the next phase of your journey will be full of interesting and exciting opportunities. You will discover new passions and develop new skills and knowledge.
We know that this transition can sometimes be challenging and the COVID-19 pandemic has presented some uncertainty. With changes to the education and workforce landscape, you might be wondering if your planned decisions are still a good option or what new alternatives are available and how to pursue them.
There are lots of options for education, training and work in 2022 to help you further your career. This information kit has been designed to help you understand what those options might be and assist you to choose the right one for you. Including:
Download or explore the SLIK here to help guide Your Career.
School Leavers Information Kit (PDF 5.2MB).
School Leavers Information Kit (DOCX 0.9MB).
The SLIK has also been translated into additional languages.
Download our information booklets if you are rural, regional and remote, Aboriginal or Torres Strait Islander, or living with disability.
Support for Regional, Rural and Remote School Leavers (PDF 2MB).
Support for Regional, Rural and Remote School Leavers (DOCX 0.9MB).
Support for Aboriginal and/or Torres Strait Islander School Leavers (PDF 2MB).
Support for Aboriginal and/or Torres Strait Islander School Leavers (DOCX 1.1MB).
Support for School Leavers with Disability (PDF 2MB).
Support for School Leavers with Disability (DOCX 0.9MB).
Download the Parents and Guardian's Guide for School Leavers, which summarises the resources and information available to help you explore all the education, training, and work options available to your young person.
School Leavers Information Service
Are you aged between 15 and 24 and looking for career guidance?
Call 1800 CAREER (1800 227 337).
SMS 'SLIS2022' to 0429 009 435.
Our information officers will help you:
navigate the School Leavers Information Kit (SLIK),
access and use the Your Career website and tools; and
find relevant support services if needed.
You may also be referred to a qualified career practitioner for a 45-minute personalised career guidance session. Our career practitioners will provide information, advice and assistance relating to a wide range of matters, such as career planning and management, training and studying, and looking for work.
You can call to book your session on 1800 CAREER (1800 227 337) Monday to Friday, from 9am to 7pm (AEST). Sessions with a career practitioner can be booked from Monday to Friday, 9am to 7pm.
This is a free service, however minimal call/text costs may apply.
Call 1800 CAREER (1800 227 337) or SMS SLIS2022 to 0429 009 435 to start a conversation about how the tools in Your Career can help you or to book a free session with a career practitioner.
Word Of The Week: Construct
Word of the Week returns in 2023 simply to throw some disruption in amongst the 'yeah-nah' mix.
verb
1. build or make (something, typically a building, road, or machine). 2. to compose or frame mentally (an argument, sentence, etc) 3. geometry to draw (a line, angle, or figure) so that certain requirements are satisfied
noun
1. an idea or theory containing various conceptual elements, typically one considered to be subjective and not based on empirical evidence. 2. something formulated or built systematically. 3. psychology; a model devised on the basis of observation, designed to relate what is observed to some theoretical framework. In this sense 'Constructs' are the building blocks of scientific theories. Psychologists who are interested in studying and understanding human behaviour are interested in identifying behavioural regularities and their causes. Constructs help research and applied psychologists to summarize the complex array of observed behaviours, emotions, and thoughts that people produce in their day-to-day activities. Research may focus on identifying and clarifying construct boundaries, or determining which constructs relate to other constructs, as a basis for theorizing functional relationships between systems of constructs.
from C17: from Latin constructus piled up, from construere to heap together, build, from Con + struere to arrange, erect.
Narrabeen Education Campus: School Holiday Works Notification
April 2023 - Notice by NSW Department of Education – School Infrastructure
We are upgrading Narrabeen North Public School and Narrabeen Sports High School with new and improved education facilities to support the student community.
Temporary school buildings
To accommodate upcoming works to Narrabeen North Primary School, 4 temporary school buildings will be installed next to the Narrabeen Sports High School playing field (see map below).
New decking and perimeter fencing will also be installed in the area for the safety and wellbeing of our students and teachers.
These works will start on Wednesday 5 April and will be completed by Saturday 22 April 2023.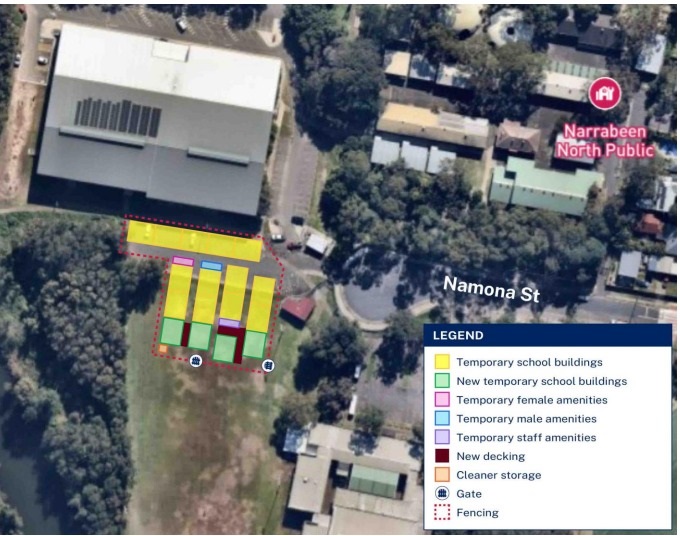 Vehicle movements
The above works will involve large vehicle movements, including a mobile crane and trucks. Traffic control will be in place for the safety of motorists and the local community. Access will be maintained to all residential properties at all time.
Work hours
Working hours will be 7am to 6pm Monday to Friday, and 8am to 12pm Saturday. There will be no work on Sundays or Public Holidays unless otherwise notified.
The health, safety, and wellbeing of the school and the local community are our highest priority, and we will continue to keep the community updated.
Thank you for your patience as we deliver this important project for the Narrabeen community.
Contact us
If you have any questions about this project you can contact School Infrastructure NSW on email at schoolinfrastructure@det.nsw.edu.au or during business hours on 1300 482 651.
March 2023 Update: Project overview
A project is underway to upgrade Narrabeen North Public School and Narrabeen Sports High School with new and improved education facilities to support the student community.
At Narrabeen North Public School, the project will provide:
▪ new flexible permanent learning spaces
▪ upgraded learning spaces
▪ new supported learning spaces
▪ upgrades to core facilities, including the library, administration and hall.
At Narrabeen Sports High School, the project will provide:
▪ new and upgraded learning spaces
▪ upgraded supported learning spaces
▪ new amenities and refurbished gym.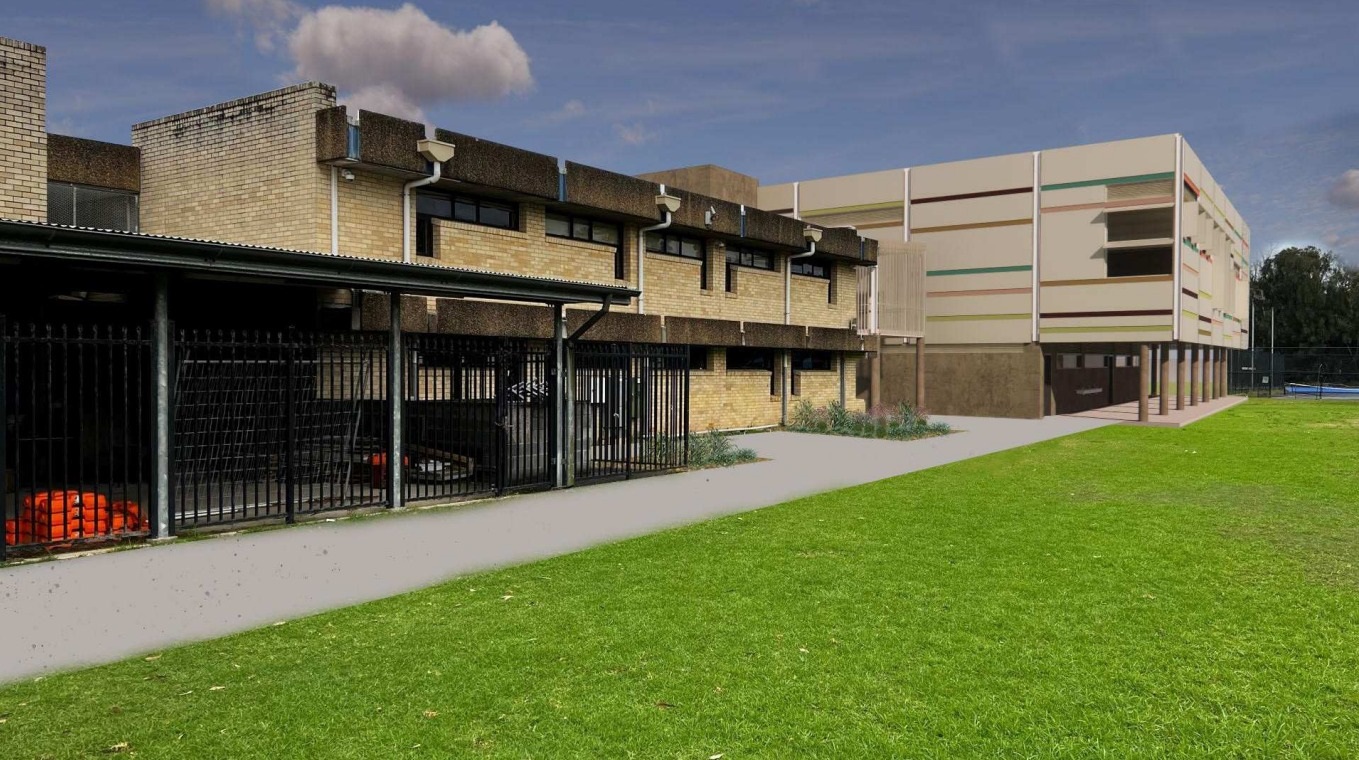 Artist Impression of new works at Narrabeen Sports High School. Image: SINSW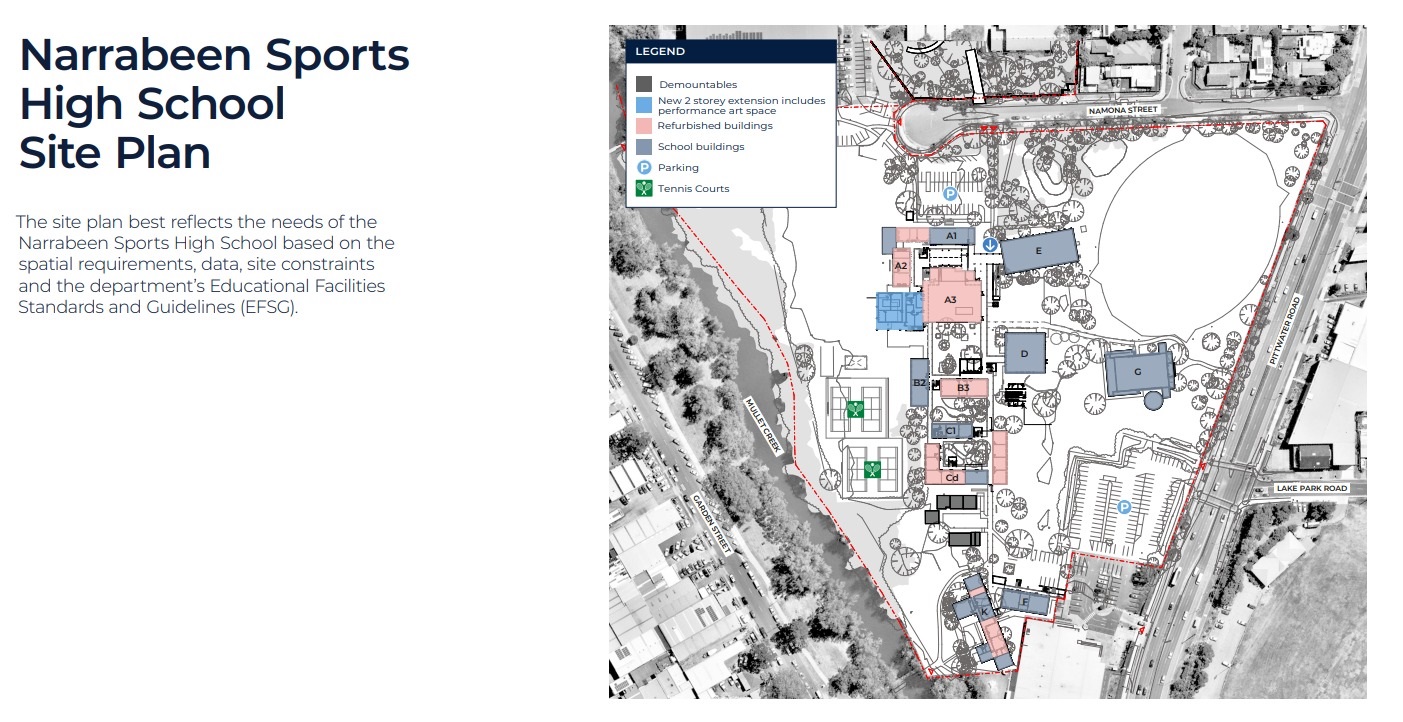 Narrabeen Sports High School Site Plan. Image: SINSW
Bank Branch Closures Spark Senate Inquiry And Regulator Review
Banks are being asked to justify the impact on communities when they close branches.
Australia's banks are under increasing pressure to justify their performance across a range of services following policy decisions affecting their everyday customers.
These include mortgage rate rises, not passing on interest rate rises to all depositors (the Australian Competition and Consumer Commission is now investigating this), and the closure of bank branches and outlets across the nation.
More than 80 branches have closed since September 2022, and the financial services watchdog, APRA, reports that between June 2017 and June 2022, 30% of bank branches closed across cities and regional and remote communities. There has been a consistent percentage drop across all states and territories.
The number of ATMs in major cities and regional areas has more than halved to 4,329 and EFTPOS terminals dropped from 800,000 to 700,000.
Parliamentary inquiry
Community response to this has led to the establishment of a Senate inquiry into bank branch closures in regional areas – specifically the reasons for the closures and the impact on customers and communities.
Older people and those living in regional communities, including small business operators, have been particularly affected by branch closures given the often-poor state of online technology and the big travel distances to the nearest town with an operational bank branch.
Some banks have responded to public opinion and the inquiry by pausing the spate of closures but continue to explain the strategy as a necessary business response as more customers favour online banking.
Australian Banking Association chief executive Anna Bligh said: "I'm not surprised that, for some people, it's a pretty big and quite difficult change to adjust to."
However, she said foot traffic inside bank branches had declined by almost 70% in recent years.
Ms Bligh said banks were taking resources out of "bricks and mortar" and funnelling them into digital services, because that's what customers were using.
The ability of the Australian Prudential Regulation Authority (APRA) to accurately measure the state of the banking sector, including closures, has been questioned, forcing it to review its processes and role in providing transparency into the financial sector.
As part of APRA's regulation of the financial sector it measures how many physical banking outlets there are, notes their locations, and counts ATMs and EFTPOS machines. In part, APRA's review of its own information-gathering has been forced by the growth of banking apps, which currently fall outside its scope.
Now APRA is asking stakeholders, including bank consumer groups, what other services should be included.
A discussion paper with information about APRA's consultation, including how to make a submission, is
available here
.
Written submissions should be sent to APRA by Friday, 23 June 2023.
Subject to interest,
APRA also proposes to host online forums
to hear from local communities about how the Points of Presence data collection can be improved. Local governments or other community groups who wish to participate can email APRA at:
pointsofpresence@apra.gov.au
.
Research Reveals Older Australians' Mental Health Hit Hard By Pandemic
COTA calls for National Older Persons Mental Health and Wellbeing Strategy
The mental health of older Australians was hit hard during the Covid-19 pandemic, with one in seven people aged over 75 saying their mental health worsened during pandemic period, research released today by the Council on the Ageing – the peak body for older Australians – has revealed.
The research report 'Mental health and wellbeing during the COVID-19 Pandemic: The lived experience of Australians aged 75 and over' surveyed over 1000 Australians aged 75+ about the impact the Covid-19 pandemic had on their mental health.
Key findings included:
Older women were more likely than older men to report their mental health worsened during the Pandemic, fluctuated regularly, or they experienced mental ill health for the first time.
14 per cent of respondents reported their mental health worsened during the pandemic period.
15 per cent said their mental health fluctuated regularly.
Loneliness and distress arising from social isolation and separation from friends and family were identified as the key impacts.
Even those who considered themselves unaffected by the pandemic described themselves as living with 'worry' and 'stress,' of experiencing sadness, loss, lack of sleep and appetite, of distress.
20% of those who reported their mental health suffered said they had no one to talk to during periods of lockdowns.
8% of those who reported their mental health suffered said they couldn't get the help they needed.
The latest progress report (2020) on the National Mental and Suicide Prevention Plan 2017-2022 highlighted that current indicators did not demonstrate improved mental health outcomes for older people.
COTA Australia Chief Executive Officer Patricia Sparrow said today's report's findings back up the Government's own progress report and highlighted the urgent need to fund and measure older persons mental health and wellbeing supports.
"The mental health needs of older Australians are so often forgotten about," Ms Sparrow said.
"Throughout the pandemic we heard a lot about the mental health needs of other age groups, but too often we seem to forget that older Australians need our support too.
"This research shows that older Australians were doing it incredibly tough throughout the pandemic and without adequate data and targeted strategies to help them, there's no way of knowing if that's getting any better or worse.
"We know how crucial and effective proactive, early intervention strategies can be when we're looking at mental health, but there are very few proactive put in place to support older Australians and that needs to change.
"We need to ensure that the strategies older people asked for – support for strong social connections, the right information, access to social support and services, age-informed mental health expertise – are in place and funded as part of the 6th National Mental Health Plan.
"All Australians, no matter what their age, should have the right to an adequate standard of healthcare, and this includes mental health care and services."
Download the full report 'Mental health and wellbeing during the COVID-19 Pandemic: The lived experience of Australians aged 75 and over' HERE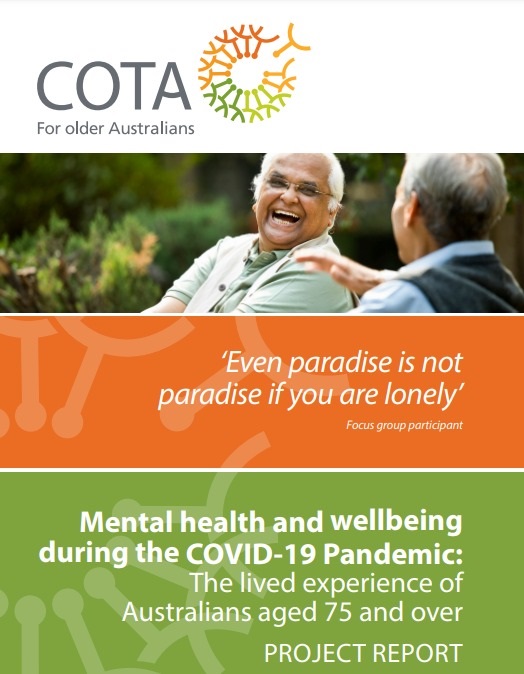 Aged Care Worker Shortage — The Solution Is Simple: National Seniors
The federal government has launched a national campaign,
A Life Changing Life
, encouraging more people to consider careers in care and support work.
It's a great idea and a useful tool, with an emphasis on encouraging people from different communities to explore entering the care sector.
However, it doesn't appear to set a budget or spell out any strategies, including training. Sadly, the targeted communities do not include the most obvious — Australians aged 50-plus wanting to work.
That's where National Seniors Australia can help. And we urge the government to implement our sensible and practical solution to the worker-shortage crisis, specifically in the home-care sector.
In our Federal Budget submission we spell out the problem — demand for care workers is continuing to outstrip supply.
We want the government to invest in training people aged 50-plus to work in the home-care sector. We estimate such a training program would provide 2,000 mature-age workers a year.
Importantly, older people on the Age Pension or looking to go on the pension should not be penalised for working more. The government will need to scrap its current Age Pension income test rules.
Working with care providers, the government would meet the cost of providing 2,000 traineeships a year. The program would be based on the successful South Australian pilot traineeship scheme, which links older workers with a home-care provider.
Traineeship program benefits
Meets the growing shortfall for home care workers.
Encourages people to work in home care.
Provides greater income and superannuation for older people, particularly women.
Provides care recipients with access to mature and sympathetic workers—as is their preference.
Why older traineeships are needed
Seniors receiving care in their homes, and care providers, prefer mature-aged care workers. Reasons include commitment, reliability, eagerness to learn, and compatibility.
Demand. Australia needs 400,000 extra care workers by 2050.
Mature-aged workers are not adequately serviced by existing training programs. The current Restart program is a failure with limited take-up of its $10,000 subsidies.
Seniors want to work. ABS figures show 233,000 people aged 50-69 want to work either full or part time (they are not in the labour force, not retired and not currently employed).
The ratio of workers to retirees is declining — the old age dependency ratio (of working-age people to those over 65) is projected to fall from 4:1 in 2019-20 to 2.7:1 in 2060-61.
How Music Can Prevent Cognitive Decline
Normal ageing is associated with progressive cognitive decline. But can we train our brain to delay this process? A team from the University of Geneva (UNIGE), HES-SO Geneva and EPFL has discovered that practicing and listening to music can alter cognitive decline in healthy seniors by stimulating the production of grey matter.
To achieve these results, the researchers followed over 100 retired people who had never practiced music before. They were enrolled in piano and music awareness training for six months. These results open new prospects for the support of healthy ageing.
Throughout our lives, our brain remodels itself. Brain morphology and connections change according to the environment and the experiences, for instance when we learn new skills or overcome the consequences of a stroke. However, as we age, this ''brain plasticity'' decreases. The brain also loses grey matter, where our precious neurons are located. This is known as ''brain atrophy''.
Gradually, a cognitive decline appears. Working memory, at the core of many cognitive processes, is one of the cognitive functions suffering the most. Working memory is defined as the process in which we briefly retain and manipulate information in order to achieve a goal, such as remembering a telephone number long enough to write it down or translating a sentence from a foreign language.
A study led by the UNIGE, HES-SO Geneva, and EPFL revealed that music practice and active listening could prevent working memory decline. Such activities promoted brain plasticity, they were associated with grey matter volume increase. Positive impacts have also been measured on working memory. This study was conducted among 132 healthy retirees from 62 to 78 years of age. One of the conditions for participation was that they had not taken any music lessons for more than six months in their lives.
Practicing music vs. listening to music
''We wanted people whose brains did not yet show any traces of plasticity linked to musical learning. Indeed, even a brief learning experience in the course of one's life can leave imprints on the brain, which would have biased our results'', explains Damien Marie, first author of the study, a research associate at the CIBM Center for Biomedical Imaging, the Faculty of Medicine and the Interfaculty Center for Affective Sciences (CISA) of UNIGE, as well as at the Geneva School of Health Sciences.
The participants were randomly assigned to two groups, regardless of their motivation to play an instrument. The second group had active listening lessons, which focused on instrument recognition and analysis of musical properties in a wide range of musical styles. The classes lasted one hour. Participants in both groups were required to do homework for half an hour a day.
Positive effects on both groups
''After six months, we found common effects for both interventions. Neuroimaging revealed an increase in grey matter in four brain regions involved in high-level cognitive functioning in all participants, including cerebellum areas involved in working memory. Their performance increased by 6% and this result was directly correlated to the plasticity of the cerebellum,'' says Clara James, last author of the study, a privat-docent at the Faculty of Psychology and Educational Sciences of UNIGE, and full professor at the Geneva School of Health Sciences. The scientists also found that the quality of sleep, the number of lessons followed over the course of the intervention, and the daily training quantity, had a positive impact on the degree of improvement in performance.
However, the researchers also found a difference between the two groups. In the pianists, the volume of grey matter remained stable in the right primary auditory cortex -- a key region for sound processing, whereas it decreased in the active listening group. ''In addition, a global brain pattern of atrophy was present in all participants. Therefore, we cannot conclude that musical interventions rejuvenate the brain. They only prevent ageing in specific regions,'' says Damien Marie.
These results show that practicing and listening to music promotes brain plasticity and cognitive reserve. The authors of the study believe that these playful and accessible interventions should become a major policy priority for healthy ageing. The next step for the team is to evaluate the potential of these interventions in people with mild cognitive impairment, an intermediate stage between normal ageing and dementia.
Damien Marie, Cécile A.H. Müller, Eckart Altenmüller, Dimitri Van De Ville, Kristin Jünemann, Daniel S. Scholz, Tillmann H.C. Krüger, Florian Worschech, Matthias Kliegel, Christopher Sinke, Clara E. James.
Music interventions in 132 healthy older adults enhance cerebellar grey matter and auditory working memory, despite general brain atrophy.
Neuroimage: Reports, 2023; 3 (2): 100166 DOI:
10.1016/j.ynirp.2023.100166
Professor Brendan Murphy AC Retirement
April 13, 2023: The Hon Mark Butler MP, Minister for Health and Aged Care
Today, Professor Brendan Murphy AC has announced his decision to retire from his position as Secretary of the Department of Health and Aged Care, effective 6 July 2023.
Professor Murphy has been Secretary since 2020, after joining the Department as Chief Medical Officer in 2016.
Australians got to know Professor Murphy throughout the pandemic as he led the Department of Health during its biggest public health response in over 100 years.
Professor Murphy's time as Secretary was broader than just COVID, he has overseen the start of aged care, mental health, primary care and health workforce reform.
With Professor Murphy's leadership the Department has responded to a renewed focus on Commonwealth-State health relations, including advising National Cabinet.
I want to thank Professor Murphy for his professionalism and his help in establishing the Health and Aged Care Ministerial Office for the Albanese Government.
I wish him well in his retirement.
A merit-based recruitment process has commenced to appoint the next Secretary.
People Who Think Positively About Aging Are More Likely To Recover Memory
A Yale School of Public Health study has found that older persons with mild cognitive impairment (MCI), a common type of memory loss, were 30% more likely to regain normal cognition if they had taken in positive beliefs about aging from their culture, compared to those who had taken in negative beliefs.
Researchers also found that these positive beliefs also enabled participants to recover their cognition up to two years earlier than those with negative age beliefs. This cognitive recovery advantage was found regardless of baseline MCI severit
y
.
"Most people assume there is no recovery from MCI, but in fact half of those who have it do recover. Little is known about why some recover while others don't. That's why we looked at positive age beliefs, to see if they would help provide an answer," said Becca Levy, professor of public health and of psychology and lead author of the study.
Levy predicted that positive age beliefs could play an important role in cognitive recovery because her previous experimental studies with older persons found that positive age beliefs reduced the stress caused by cognitive challenges, increased self-confidence about cognition, and improved cognitive performance.
The new study is the first to find evidence that a culture-based factor -- positive age beliefs -- contributes to MCI recovery. The study appeared in JAMA Network Open. Martin Slade, a biostatistician and lecturer in internal medicine at Yale, is co-author of the study.
Older persons in the positive age-belief group who started the study with normal cognition were less likely to develop MCI over the next 12 years than those in the negative age-belief group, regardless of their baseline age and physical health.
The National Institute on Aging funded this study. It had 1,716 participants aged 65 and above who were drawn from the Health and Retirement Study, a national longitudinal study.
"Our previous research has demonstrated that age beliefs can be modified; therefore, age-belief interventions at the individual and societal levels could increase the number of people who experience cognitive recovery," Levy said.
Becca R. Levy, Martin D. Slade.
Role of Positive Age Beliefs in Recovery From Mild Cognitive Impairment Among Older Persons.
JAMA Network Open, 2023; 6 (4): e237707 DOI:
10.1001/jamanetworkopen.2023.7707
Mitochondria Power-Supply Failure May Cause Age-Related Cognitive Impairment
Brains are like puzzles, requiring many nested and co-dependent pieces to function well.
The brain is divided into areas, each containing many millions of neurons connected across thousands of synapses. These synapses, which enable communication between neurons, depend on even smaller structures: message-sending boutons (swollen bulbs at the branch-like tips of neurons), message-receiving dendrites (complementary branch-like structures for receiving bouton messages), and power-generating mitochondria. To create a cohesive brain, all these pieces must be accounted for.
However, in the aging brain, these pieces can get lost or altered and no longer fit in the greater brain puzzle.
"Fifty percent of people experience loss of working memory with old age, meaning their ability to hold and manipulate information in the short-term decreases," says co-first author Courtney Glavis-Bloom, a senior staff scientist in Salk Institute Professor John Reynolds' lab. "We set out to understand why some individuals maintain healthy working memory as they age, while others do not. In the process, we discovered a novel mechanism for the synaptic basis of cognitive impairment."
Prior studies had found that brains lose synapses as they age, and the researchers saw this pattern in their animal model, too. But when they looked at the synapses that remained, they found evidence of a breakdown in coordination between the size of boutons and the mitochondria they contained. A fundamental neuroscientific principle, the ultrastructural size principle, explains that whenever one part of the synaptic complex changes in size, so too must all the other parts. The synapse, the mitochondria, the boutons -- all these parts must scale in accordance with one another. Before the Salk team's study, published in Frontiers in Aging Neuroscience on April 12, 2023, nobody had asked whether this principle could be violated with age or disease.
"To examine this, we turned to electron microscopy," says co-first author Casey Vanderlip, a former research assistant in Reynolds' lab. "This enabled us to visualize these components across many synapses. We found that synaptic loss occurred with healthy and impaired aging, but what differed was the breakdown in the correlation between the sizes of boutons and their mitochondria."
"It is a ripple effect, with unfathomably small synaptic structures altering networks of neurons, brain function, and behavior," says Glavis-Bloom. "Investigating these microscopic dysfunctions is uncharted territory that could revolutionize our understanding of aging and its impact on cognition."
The team found that adherence to the ultrastructural size principle was essential for avoiding working memory impairment with age. By viewing violation of the ultrastructural size principle and mitochondria-related failures as the key to age-related cognitive impairment, the study ushers in a new era for aging research.
"The images we have captured of synapses are snapshots of a dynamic process," says Reynolds, holder of the Fiona and Sanjay Jha Chair in Neuroscience. "With these snapshots in hand, we can begin to think first about the mechanisms that coordinate the expansion and contraction of the various parts of the synaptic complex, then ask how disruption of these mechanisms can explain age-related cognitive decline. This opens an entirely new way of thinking about cognitive decline that could lead to new targets for future therapeutics."
Other authors include Sammy Weiser Novak and Uri Manor of the Salk Institute; and Masaaki Kuwajima, Lyndsey Kirk, and Kristen M. Harris of the University of Texas at Austin.
Courtney Glavis-Bloom, Casey R. Vanderlip, Sammy Weiser Novak, Masaaki Kuwajima, Lyndsey Kirk, Kristen M. Harris, Uri Manor, John H. Reynolds.
Violation of the ultrastructural size principle in the dorsolateral prefrontal cortex underlies working memory impairment in the aged common marmoset (Callithrix jacchus).
Frontiers in Aging Neuroscience, 2023; 15 DOI:
10.3389/fnagi.2023.1146245
Why focusing on COVID deaths undercounts the health harms of the pandemic – new research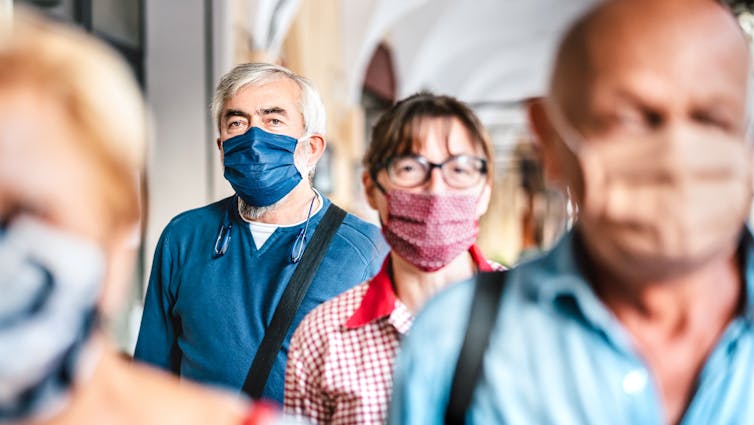 Philip Clarke, University of Oxford; Jack Pollard, University of Oxford, and Mara Violato, University of Oxford
More than three years into the COVID pandemic, both the virus and the measures taken to control its spread have affected people's lives across the globe. But how can we fully quantify these effects?
While we have estimates of how many people have died from COVID globally (which currently run at just under 7 million), its broader effects – including mental health deterioration due, for example, to the anxiety of getting infected or the isolation of lockdowns – have received less research attention.
In a new study we've attempted to quantify how the COVID pandemic has affected global health using an international survey of the general public.
Health economists often quantify health using a metric known as the quality-adjusted life year (QALY). The idea is to assign a value to each year of a person's life based on their overall health. A person in full health gets a score of one and those who are very ill close to zero.
A common way to measure QALYs is through a brief survey called the EQ-5D, which involves five questions covering key dimensions of health. A person rates their levels of mobility, self care, usual activities, pain and discomfort, and anxiety and depression.
The responses provide a profile of the person's health-related quality of life, which is summarised by what's known as the EQ-5D index. When measured at different points in time this can be used to estimate QALYs, which adjust life expectancy to take account of overall health.
For example, a person in relatively poor health may have an EQ-5D index of 0.5 and so they would accumulate one QALY for every two years they live. This technique has been widely used to evaluate the impacts of different diseases and treatments on health.
We measured overall health-related quality of life by including the EQ-5D in a global survey of the public in late 2020, at the end of the first year of the pandemic, just before COVID vaccines started to be distributed. The survey was conducted online on just over 15,000 people in 13 diverse countries.
To ascertain how people thought the pandemic had affected them, we asked them to rate their current health compared with a year before.
One limitation of our study is that we had to rely on people being able to recall what their health was like prior to the pandemic. While it's unlikely that a person is able to recall exactly how they would have responded to the survey a year in the past, there is evidence that over and under-estimation errors tend to cancel each other out.
What We Found
The pandemic was associated with significantly worse health-related quality of life for more than one-third of respondents. Anxiety and depression was the aspect of health that worsened the most, especially for younger people (aged under 35) and women.
Translating the health reductions into a QALY measure indicated that during the pandemic perceived health was around 8% lower on average.
Looking at the results by country, those most affected were middle income countries including India (which had lockdowns for over 40 weeks) and Chile (which had a high rate of COVID infections).
In contrast, participants in China notably reported no significant deterioration in their health status. Although there were lockdowns in China following the emergence of the virus in early 2020, low levels of transmission meant that these were removed within a few weeks.
Mean difference in overall health pre-COVID and in December 2020: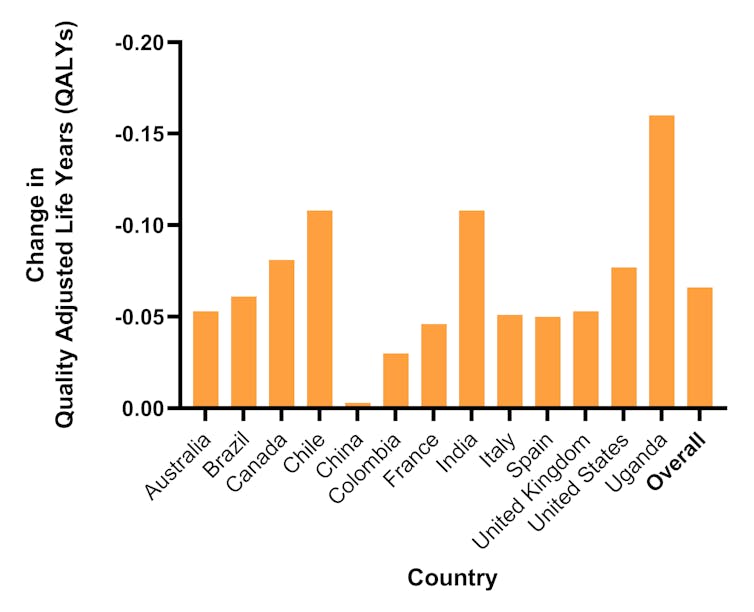 To put the results into context, previous studies have found that each COVID death results in the loss of an average of between three and six QALYs. We combined these estimates with the reported number of deaths in each country to quantify the impact of COVID deaths on overall QALYs in each country.
Based on the reported changes in health in our survey, the loss in QALYs due to the COVID pandemic and lockdowns was between five and 11 times larger than that due to COVID-related deaths. This highlights that only focusing on COVID cases and deaths overlooks the burden of the pandemic and the impacts of policies that are designed to control it.
For example, most countries used some form of lockdowns as a way to contain transmission of the virus, but the ensuing social isolation may have negatively affected the mental health and wellbeing of the population. Similarly, some countries offered economic support to those in financial difficulties, which may have positively impacted their mental wellbeing. QALYs provide a way of quantifying the trade-offs that exist between the positive and negative effects of different strategies.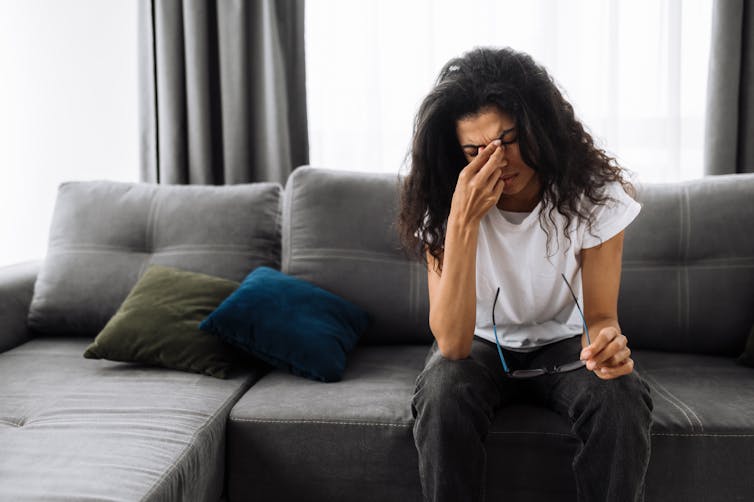 Lessons For Future Pandemics
While individual countries have sought to measure the pandemic's effects on overall wellbeing, the limited number of international studies looking at specific aspects of health, such as mental health, have tended to focus on high income countries. Most global analyses of the effects of the pandemic rely on reported COVID cases and related deaths.
The regular measurement of different aspects of health in a standardised survey enables researchers to start to disentangle the effects of lockdowns and other policies from the impacts of COVID.
Measuring multiple aspects of health through QALYs would also be a useful supplement to existing measures focusing on cases and deaths. This would enable us to look at some of the effects of the COVID pandemic as they're distributed across the population. For example, while deaths are highest in older people, mental health effects were more prominent in those under 35.
Moving beyond counting deaths to understanding the overall health of the population globally can help us to be better prepared for potential future health shocks.

Philip Clarke, Professor of Health Economics, University of Oxford; Jack Pollard, Researcher in Health Economics, University of Oxford, and Mara Violato, Associate Professor, Health Economics, University of Oxford
This article is republished from The Conversation under a Creative Commons license. Read the original article.
Research Sheds New Light On Self-Destructive Behaviour
Misunderstanding the link between our actions and consequences could be what makes giving up harmful habits so difficult, study shows.
People who persistently engage in behaviour that causes them harm may be suffering not so much from an unwillingness to change, but a learning problem where they create logical, but ultimately wrong explanations for why they have suffered.
The findings, which were reported recently in the journal
Proceedings of the National Academy of Sciences
(PNAS) by psychologists at UNSW Sydney and Western Sydney University, could have important implications for tailoring therapy for people with self-destructive behaviours leading to addiction and other harmful consequences.
Psychologists from UNSW Sydney and Western Sydney University devised an experiment where young adult volunteers played a simple video game with an intergalactic space trade theme. Participants clicked on two planets to amass points which put them in the running to win a monetary prize.
Unbeknown to the participants, clicking either planet led to a similar amount of reward, but could also result in the emergence of different spaceships. Clicking on one planet would trigger a pirate ship that would steal large chunks of their winnings, whereas the ships triggered by the other planet were harmless.
The people who did best in the game – who the researchers deemed the 'sensitives' – were those who made the link between choosing the 'bad' planet and the pirate ship and adjusted their behaviour to avoid clicking on this planet entirely.
But after a few rounds of the game, there was still a significant portion of people who had not yet connected the dots between choosing the bad planet and the emergence of the pirate ship. Once it was revealed to them, mid-game, that clicking the bad planet led to punishing consequences, most people adjusted their behaviour to avoid losing their loot.
But amazingly – and what fascinated the researchers – some people continued to choose the planet that delivered the pirate ship, despite being warned of the consequences.
"We already know from previous studies using the same video game that many people – who we call 'unawares' – fail to realise how their actions lead to negative outcomes," says study lead author Dr Philip Jean-Richard-dit-Bressel.
"But in our recent experiment where we revealed to the 'unawares' how their choices are leading to negative outcomes, most quickly changed their behaviour and started acting in ways that were beneficial to them. But there was still a subset of individuals that continued with their previous detrimental behavioural pattern, who we called 'compulsives'."
Study co-author Professor Gavan McNally, who is a behavioural neuroscientist at UNSW's School of Psychology cautions against viewing the experiment as a microcosm of real-life compulsive behaviour, as "real life is a lot more stochastic and I don't believe people are that inflexible".
But while the experiment may not yet explain exactly why the compulsives continued to engage in self-defeating behaviour – even after being shown where they were going wrong – Prof. McNally says the study highlights new ideas about what is going on at the cognitive level.
Up until now, Prof. McNally says, self-destructive behaviours that are difficult to shift are commonly attributed to two explanations. One is that the individual simply values what they're pursuing above all else – such in the case of drug, alcohol or gambling addiction. Or the other explanation is that their compulsions are occurring outside their control or awareness.
"What we show is there is a cognitive pathway that emerges not from differences in value or awareness, but from failing to understand or appreciate correctly that their own actions are leading them to harm. Our 'compulsives' are indeed learning, it's just that they learn the wrong thing."
Infrequency of punishment
Part of the problem, the researchers say, is that when adverse consequences or punishment occur rarely, it's easier to continue to engage in behaviour that carries a risk. This is by no means limited to people who have addictions, engage in reckless behaviour or are driven compulsively. It can include all of us.
For example, think about driving and speed limits. If we received a fine every time we went over the speed limit, we would be much more likely to change our behaviour, using greater vigilance about speed limit zones and keeping a constant eye on how fast we were driving. Another example: if we were violently ill every time we drank alcohol, rather than once every 100 times, we would be much more likely to either severely curtail our intake or give it up altogether.
"When negative consequences to certain behaviours are infrequent, we have a large portion of people who won't change their behaviour, even when you show them the link," says Prof. McNally.
In the video game example, the researchers experimented by having the pirate ship emerge 10 per cent of the time, 20 per cent of the time and 40 per cent of the time when that planet was selected. It turned out that at the 40 per cent setting, about 40 per cent of players started avoiding the punishing planet altogether, and at the 10 per cent setting, this number reduced to 10 per cent.
"If you are in that low frequency group, where it's harder to see the relationship between your behaviour and that pirate ship appearing, that's where you tend to get individuals that will persist even after you've told them your action is leading to that negative outcome," Dr Jean-Richard-dit-Bressel says.
But it's only a video game, why would they care?
Dr Jean-Richard-dit-Bressel says when interviewed, all students, whether they were sensitives, unawares or compulsives, said they cared about succeeding and actively tried to win more points than they lost.
"Those that were failing to avoid the pirate ship reported that they really disliked the point loss," he says.
"They're really good at saying, 'that's a bad thing, that's a good thing', but they couldn't see how their actions that led to those outcomes were linked.
"It's not an issue of motivation, it's not an issue of impulsivity, or not having control over their own behaviour. The problem really seems to be the ability to cognitively form an accurate model of your how your actions lead to certain outcomes that you want versus not want."
Lessons for life
The researchers are planning to progress the research further to find out why certain people may find it harder to learn from their mistakes, as well as tailoring therapy to the individual.
"This year we will be seeing if this research can be used in treatment settings for alcohol problems to see what extent these differences in decision-making capture individual differences in treatment responses," Prof. McNally says.
"Does it allow better matching of individuals to treatments? The other side to that is, if you want to change people's behaviour, what is the best way in which you present that information to them to change their behaviour, especially when that information contradicts their experience?"
Dr Jean-Richard-dit-Bressel hopes this research is the first step towards understanding what it is that brings a person to what he describes as an inflection point – recognising that they need to change their behaviour.
"When someone is dealing with, say a substance use disorder, the inflection point can be when they start recognising the detrimental side of their behaviour and begin being more open to making beneficial changes, such as seeking treatment.
"We think the cognitive component of being aware of the link between behaviours and outcomes is often overlooked. So if we can find the best way to inform them of that relationship, they can actually make better decisions for themselves."
New Genetic Target For Male Contraception Identified
Discovery of a gene in multiple mammalian species could pave the way for a highly effective, reversible and non-hormonal male contraceptive for humans and animals.
Washington State University researchers identified expression of the gene, Arrdc5, in the testicular tissue of mice, pigs, cattle and humans. When they knocked out the gene in mice, it created infertility only in the males, impacting their sperm count, movement and shape. The researchers detailed their findings in the journal Nature Communications.
"The study identifies this gene for the first time as being expressed only in testicular tissue, nowhere else in the body, and it's expressed by multiple mammalian species," said Jon Oatley, senior author and professor in WSU's School of Molecular Biosciences. "When this gene is inactivated or inhibited in males, they make sperm that cannot fertilize an egg, and that's a prime target for male contraceptive development."
While other molecular targets have been identified for potential male contraceptive development, the Arrdc5 gene is specific to the male testes and found in multiple species. Importantly, lack of the gene also causes significant infertility creating a condition called oligoasthenoteratospermia or OAT. This condition, the most common diagnosis for human male infertility, shows a decrease in the amount of sperm produced, slowed mobility and distorted shape so that the sperm are unable to fuse with an egg.
In the WSU study, the male mice lacking this gene produced 28% less sperm that moved 2.8 times slower than in normal mice - and about 98% of their sperm had abnormal heads and mid-pieces.
The study indicates that the protein encoded by this gene is required for normal sperm production. Oatley's team will next work on designing a drug that would inhibit production or function of that protein.
Disrupting this protein wouldn't require any hormonal interference, a key hurdle in male contraception since testosterone plays other roles beyond sperm production in men including building bone mass and muscle strength as well as red blood cell production. Designing a drug to target this protein would also make it easily reversible as a contraceptive.
"You don't want to wipe out the ability to ever make sperm - just stop the sperm that are being made from being made correctly," he said. "Then, in theory, you could remove the drug and the sperm would start being built normally again."
Oatley and study first author Mariana Giassetti have filed a provisional patent for the development of a male contraceptive based on this gene and the protein it encodes.
Because the gene is found across mammalian species, this knowledge also holds promise for use in animals, Oatley said. The team analyzed available biological data on DNA and protein sequences in mammals and found the gene in almost every known mammal species. This opens the potential to develop male contraception for use in livestock, perhaps replacing castration in some instances as a way to control reproduction, and in wildlife when managers seek to limit overpopulation of a species.
The initial focus, however, is on giving humans more control over their own reproduction. While there are many forms of birth control for women, they are not always effective or widely available, and more than half of pregnancies worldwide are still unintended, according to the United Nations.
"Developing a way to curb population growth and stop unwanted pregnancies is really important for the future of the human race," said Oatley. "Right now, we don't really have anything on the male side for contraception other than surgery and only a small percentage of men choose vasectomies. If we can develop this discovery into a solution for contraception, it could have far-ranging impacts."
This study received support from the National Institutes of Health and WSU's Functional Genomics Initiative, a multi-year university investment to support development of genetic technology research.
Mariana I. Giassetti, Deqiang Miao, Nathan C. Law, Melissa J. Oatley, Julie Park, LeeLa D. Robinson, Lisette A. Maddison, Miranda L. Bernhardt, Jon M. Oatley.
ARRDC5 expression is conserved in mammalian testes and required for normal sperm morphogenesis.
Nature Communications, 2023; 14 (1) DOI:
10.1038/s41467-023-37735-y
Time Out: We All Need A Three-Day Weekend
As a four-day work week is trialled in countries across the globe, health researchers at the University of South Australia say they're 'all in' when it comes to a long weekend, especially as new empirical research shows that the extra time off is good for our health.
Assessing changes in daily movements before, during and after holidays, researchers found that people displayed more active, healthy behaviours when they were on holiday, even when they only had a three-day break.
Across the 13-month study period, people generally took an average two to three holidays, each being around 12 days. The most common holiday type was 'outdoor recreation' (35 per cent), followed by 'family/social events' (31 per cent), 'rest and relaxation' (17 per cent) and 'non-leisure pursuits' such as caring for others or home renovations (17 per cent).
Specifically, it showed that on holiday people:
engaged in 13 per cent more moderate-to-vigorous physical activity (MVPA) each day (or five min/day more)
were five per cent less sedentary each day (or 29 min/day less)
slept four per cent more each day (or 21 min/day more).
UniSA researcher Dr Ty Ferguson says that the research indicates that people display healthier behaviours when they are on holiday.
"When people go on holiday, they're changing their everyday responsibilities because they're not locked down to their normal schedule," Dr Ferguson says.
"In this study, we found that movement patterns changed for the better when on holiday, with increased physical activity and decreased sedentary behaviour observed across the board.
"We also found that people gained an extra 21 minutes of sleep each day they were on holiday, which can have a range of positive effects on our physical and mental health. For example, getting enough sleep can help improve our mood, cognitive function, and productivity. It can also help lower our risk of developing a range of health conditions, such as obesity, diabetes, cardiovascular disease, and depression.
"Interestingly, the size of these changes increased in line with the length of the holiday -- so the longer the holiday, the better the health benefits."
The study used data from the Annual rhythms in adults' lifestyle and health (ARIA) study where 308 adults (mean age 40.4 years) wore fitness trackers 24 hours a day for 13 months. Minute-by-minute
movement behaviour data were aggregated into daily totals to compare movement behaviours pre-holiday, during holiday and post-holiday.
Senior researcher UniSA's Prof Carol Maher says that the study offers support for the growing movement for a four-day week.
"A shorter working week is being trialled by companies all over the world. Not surprisingly, employees reported less stress, burnout, fatigue, as well as better mental health and improved work-life balance," Prof Maher says.
"This study provides empirical evidence that people have healthier lifestyle patterns when they have a short break, such as a three-day weekend. This increase in physical activity and sleep is expected to have positive effects on both mental and physical health, contributing to the benefits observed with a four-day work week.
"Importantly, our study also showed that even after a short holiday, people's increased sleep remained elevated for two weeks, showing that the health benefits of a three-day break can have lasting effects beyond the holiday itself.
"As the world adapts to a new normal, perhaps it's time to embrace the long weekend as a way to boost our physical and mental health."
Ty Ferguson, Rachel Curtis, Francois Fraysse, Timothy Olds, Dorothea Dumuid, Wendy Brown, Adrian Esterman, Carol Maher.
How do 24-h movement behaviours change during and after vacation? A cohort study.
International Journal of Behavioral Nutrition and Physical Activity, 2023; 20 (1) DOI:
10.1186/s12966-023-01416-2
How Electricity Can Heal Wounds Three Times As Fast
Chronic wounds are a major health problem for diabetic patients and the elderly -- in extreme cases they can even lead to amputation. Using electric stimulation, researchers in a project at Chalmers University of Technology, Sweden, and the University of Freiburg, Germany, have developed a method that speeds up the healing process, making wounds heal three times faster.
There is an old Swedish saying that one should never neglect a small wound or a friend in need. For most people, a small wound does not lead to any serious complications, but many common diagnoses make wound healing far more difficult. People with diabetes, spinal injuries or poor blood circulation have impaired wound healing ability. This means a greater risk of infection and chronic wounds -- which in the long run can lead to such serious consequences as amputation.
Now a group of researchers at Chalmers and the University of Freiburg have developed a method using electric stimulation to speed up the healing process.
"Chronic wounds are a huge societal problem that we don't hear a lot about. Our discovery of a method that may heal wounds up to three times faster can be a game changer for diabetic and elderly people, among others, who often suffer greatly from wounds that won't heal," says Maria Asplund, Associate Professor of Bioelectronics at Chalmers University of Technology and head of research on the project.
Electric guidance of cells for faster healing
The researchers worked from an old hypothesis that electric stimulation of damaged skin can be used to heal wounds. The idea is that skin cells are electrotactic, which means that they directionally 'migrate' in electric fields. This means that if an electric field is placed in a petri dish with skin cells, the cells stop moving randomly and start moving in the same direction. The researchers investigated how this principle can be used to electrically guide the cells in order to make wounds heal faster. Using a tiny engineered chip, the researchers were able to compare wound healing in artificial skin, stimulating one wound with electricity and letting one heal without electricity. The differences were striking.
"We were able to show that the old hypothesis about electric stimulation can be used to make wounds heal significantly faster. In order to study exactly how this works for wounds, we developed a kind of biochip on which we cultured skin cells, which we then made tiny wounds in. Then we stimulated one wound with an electric field, which clearly led to it healing three times as fast as the wound that healed without electric stimulation," Maria Asplund says.
Hope for diabetes patients
In the study, the researchers also focused on wound healing in connection with diabetes, a growing health problem worldwide. One in 11 adults today has some form of diabetes according to the World Health Organization (WHO) and the International Diabetes Federation.
"We've looked at diabetes models of wounds and investigated whether our method could be effective even in those cases. We saw that when we mimic diabetes in the cells, the wounds on the chip heal very slowly. However, with electric stimulation we can increase the speed of healing so that the diabetes-affected cells almost correspond to healthy skin cells," Asplund says.
Individualised treatment the next step
The Chalmers researchers recently received a large grant which will allow them to continue their research in the field, and in the long run enable the development of wound healing products for consumers on the market. Similar products have come out before, but more basic research is required to develop effective products that generate enough electric field strength and stimulate in the right way for each individual. This is where Asplund and her colleagues come into the picture:
"We are now looking at how different skin cells interact during stimulation, to take a step closer to a realistic wound. We want to develop a concept to be able to 'scan' wounds and adapt the stimulation based on the individual wound. We are convinced that this is the key to effectively helping individuals with slow-healing wounds in the future," Asplund says.
"Bioelectronic microfluidic wound healing: a platform for investigating direct current stimulation of injured cell collectives"was published in the journal Lab on a Chip. The article was written by Sebastian Shaner, Anna Savelyeva, Anja Kvartuh, Nicole Jedrusik, Lukas Matter, José Leal and Maria Asplund. The researchers work at the University of Freiburg in Germany and Chalmers University of Technology.
In their study, the researchers showed that wound healing on artificial skin stimulated with electric current was three times faster than on the skin that healed naturally. The electric field was low, about 200 mV/mm, and did not have a negative impact on the cells.
The method the researchers developed is based on a microfluidic biochip on which artificial skin can be grown, stimulated with an electric current and studied in an effective and controlled manner. The concept allows researchers to conduct multiple experiments in parallel on the same chip.
The research project began in 2018 and is funded by the European Research Council (ERC). The project was recently granted more funding so the research can get one step closer to the market and the benefit of patients.
Sebastian Shaner, Anna Savelyeva, Anja Kvartuh, Nicole Jedrusik, Lukas Matter, José Leal, Maria Asplund.
Bioelectronic microfluidic wound healing: a platform for investigating direct current stimulation of injured cell collectives.
Lab on a Chip, 2023; 23 (6): 1531 DOI:
10.1039/D2LC01045C
Disclaimer: These articles are not intended to provide medical advice, diagnosis or treatment. Views expressed here do not necessarily reflect those of Pittwater Online News or its staff.