April 10 - 23, 2022: Issue 534
Framing Avalon Beach: Avalon 100 - take yourself on a walking tour of the Then & Now of Avalon: launches april 11th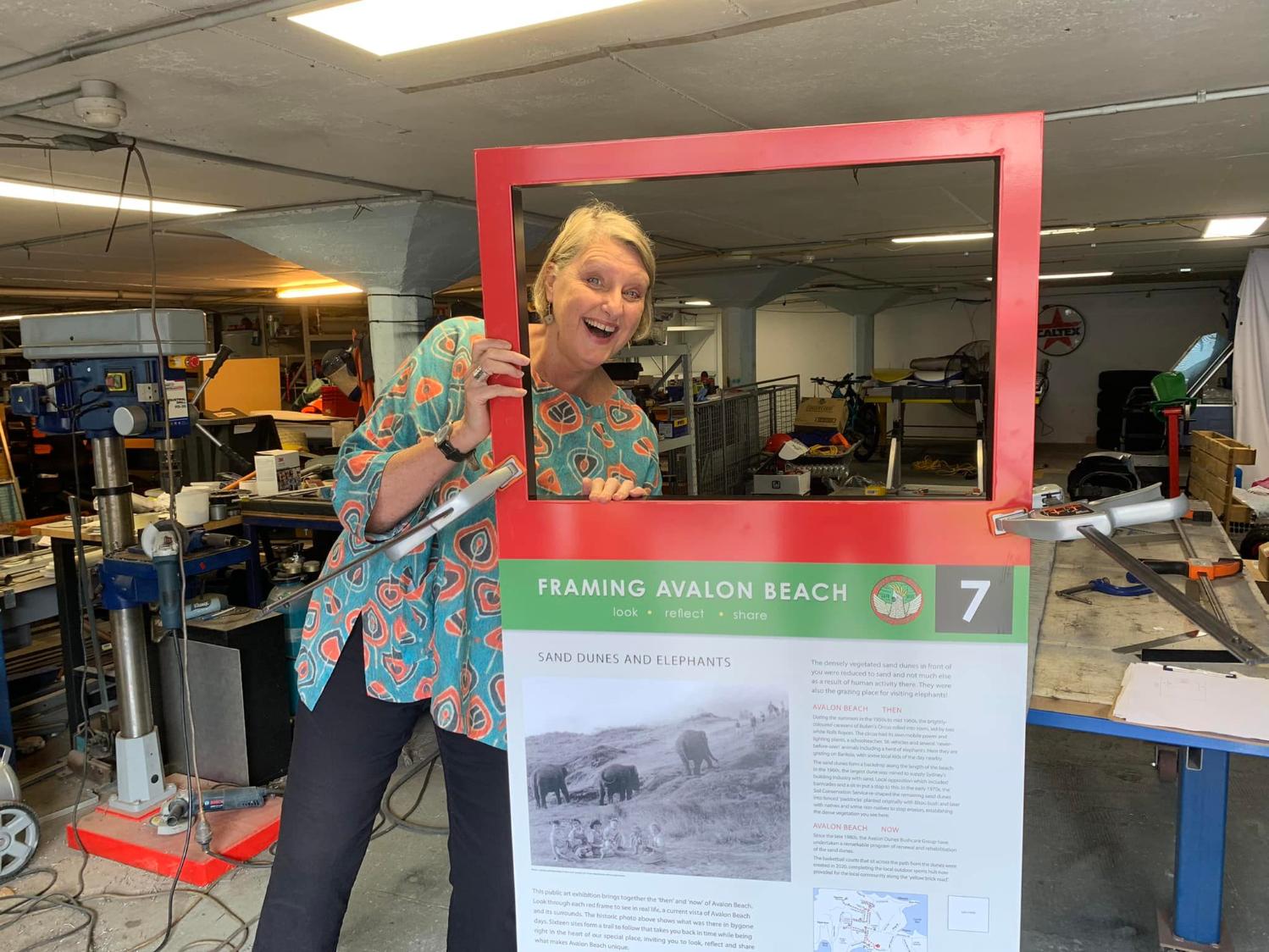 Jayne Denshire with the Avalon Sand Dunes marker of the 'Framing Avalon Beach' signboard installations at the printers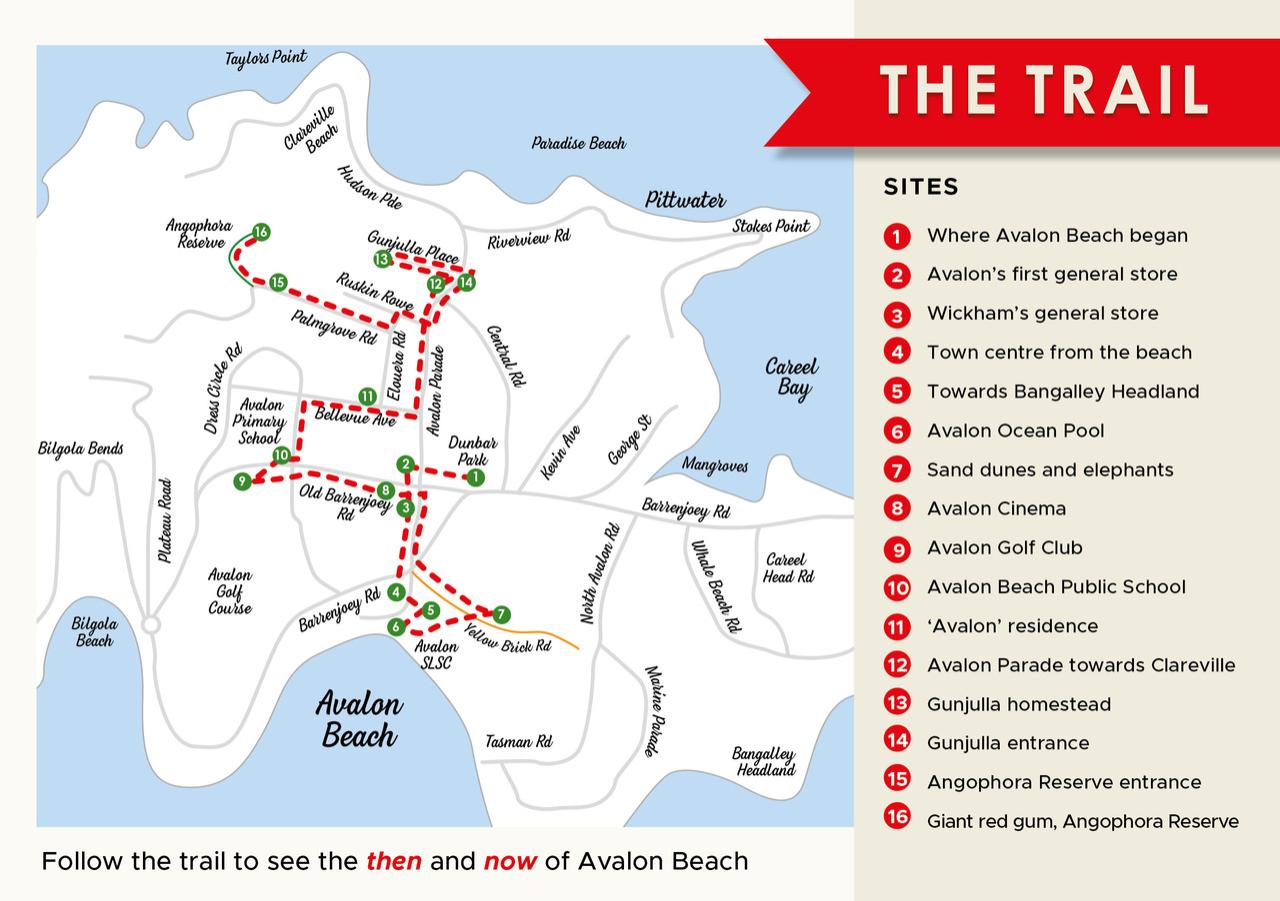 The Framing Avalon Beach art exhibition brings together the 'then' and 'now' of Avalon Beach.
Sixteen sites form a community trail to follow that takes you back in time while being right in the heart of this special place, inviting you to look at, reflect on and share what makes Avalon Beach unique.
This Issue Pittwater Online runs a special history page on the Avalon Beach Sand Dunes in support of this project, as well as listing at the base of this page other past history page insights on these installations.
During the week we spoke to Ros Marsh and Jaye Denshire, two of the committee members of the Avalon Beach Culture Collective Inc. on this new Avalon Beach 100 celebration and what's coming up.
Jayne, where did the idea for Framing Avalon Beach come from?
From In our very first meeting for the Avalon Beach Centenary when a bunch of us got online and zoomed away and went through a million ideas that Ros had put into the mix. Right at the bottom of the list was this project that described what had been done in a London Park which came with a little picture of the concept, which was looking through a frame at something and having the historical equivalent. This had been nominated by Lizzie Collis, who does the Local Avalon blog.
When I looked down the list and said to myself 'don't put your hand up for too much' with the Avalon Art Carnival and other previous projects still ringing in my ears, but when I saw that one I put my hand up to manage it.
I contacted Lizzie and we talked it through to begin with and then I had to start working out which good historic photos to use for locations and where to source these. I talked to Geoff Searl, president of the Avalon Beach Historical Society and had a look at the great collection of images that the historical society has.
I picked out some iconic images that would work and then set about figuring out where to place each site. The elephants photo of them on Avalon Beach sand dunes was such a great shot. We could frame one view looking up at the dunes and have that image as the historic one.
Then I thought we could make it a trail and worked out an order that people could do the visits in. originally I had people going all the way down to Avalon Sailing Club but this made it far too long so we kept it focused in and around the village.
When does it launch?
It launches on Monday April 11th – so it's all at Printer HQ this week being printed and mounted. On Monday I'll meet the installation team down in the village and we'll go around and put them all up and hopefully by mid morning they'll be ready to go.
How long will the installations be in place?
We're hoping to run this for at least 8 weeks or longer of the Council are ok with that and people like it and it's safe, so into June so it's there for the next big celebration day.
Ros, what's happening in June?
We're hoping to showcase all our community groups in Dunbar Park on June 18th. This will be a Solstice celebration and includes Art activities, dance, music and performance. All of the local schools have indicated their students want to participate as they haven't been able to do so for quite some time, so there will be some great singing and music made available there. We have Lamont stating they want to dance down the road, the Senior Tappers are going to be doing a shimmy. The Big Sing will be there, Meredith Rasdall will be doing Art in the Park, Sally Mayman is doing a great printing project, while Kay Richardson is doing an Art Education project. We'll also try and work in some of our Solstice fun alike that we did in 2015. In the Evening there's a Concert with five local bands at Avalon RSL.
Currently Roger Treagus has another history project with local businesses for window display. These can be seen throughout the village.
This will be preceded by the Avalon Beach Historical Society mega Centenary Photo Exhibition -Avalon Recreation Centre-11-13th June Long weekend. Through fee waivers secured by the Hon. Rob Stokes, MP for Pittwater, Geoff Searl OAM has been working on some truly fantastic themes and features for this 10th Great Historic Photographic Exhibition to celebrate 100 years of Avalon Beach. The accompanying photo shows the reality in June 2018 with 1100 photos illustrating the many eras and areas of interest in our fabulous Avalon Beach and the other far northern beaches areas, along with films, books and artefacts. The ABHS will have 15 new subjects to add to their existing exhibition collection.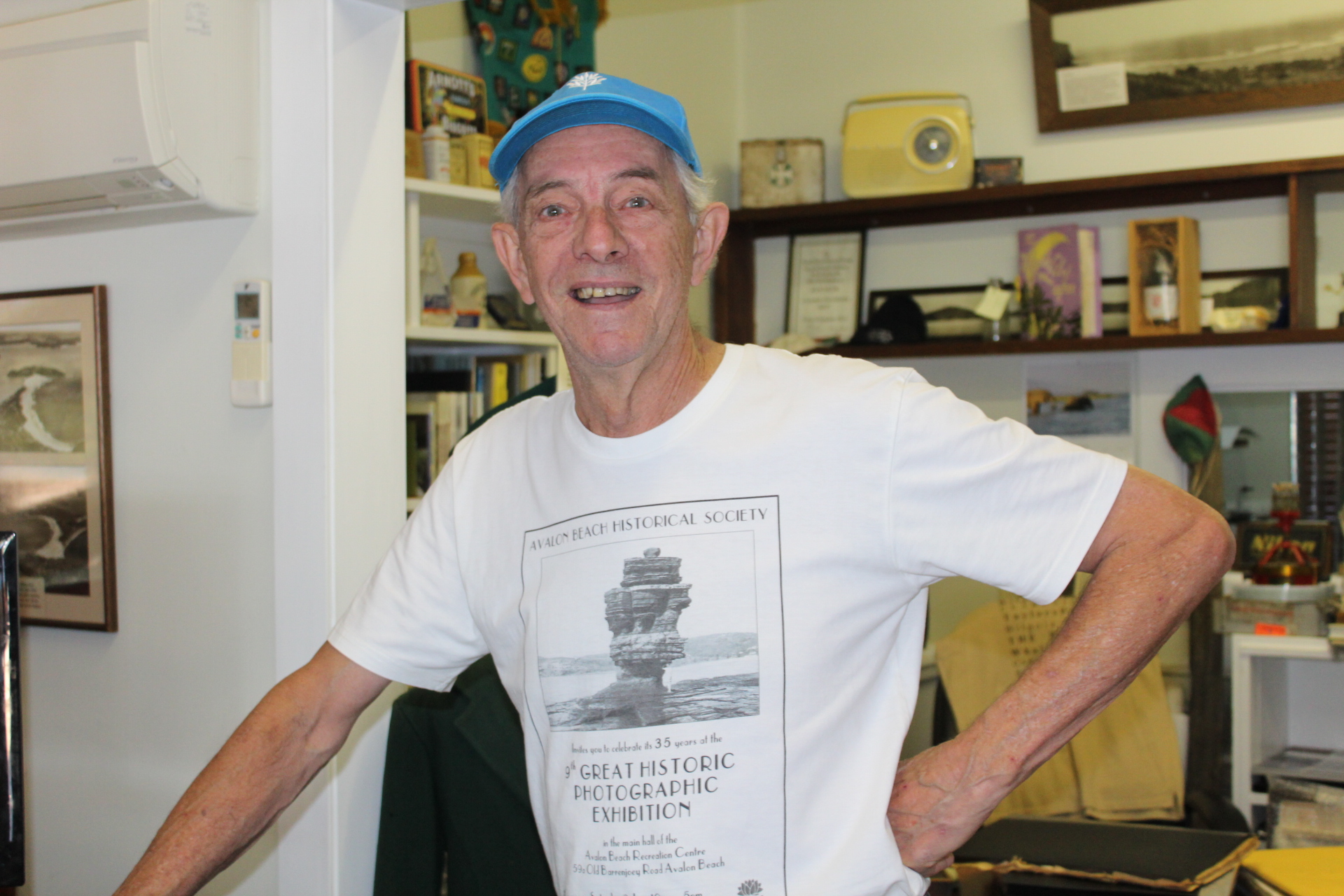 Geoff Searl OAM, President of the Avalon Beach Historical Society. Photo: A J Guesdon.
At the end of this month, April, Avalon Sailing Club will host performances of Much Ado About Nothing – performed by Shakespeare-Live-on-the-Island to the music of Leonard Cohen 30/4/22 and 1/5/22.
Atop all that people have really been enjoying The Avalon Story series running on Radio Northern Beaches.
And we have more events coming up.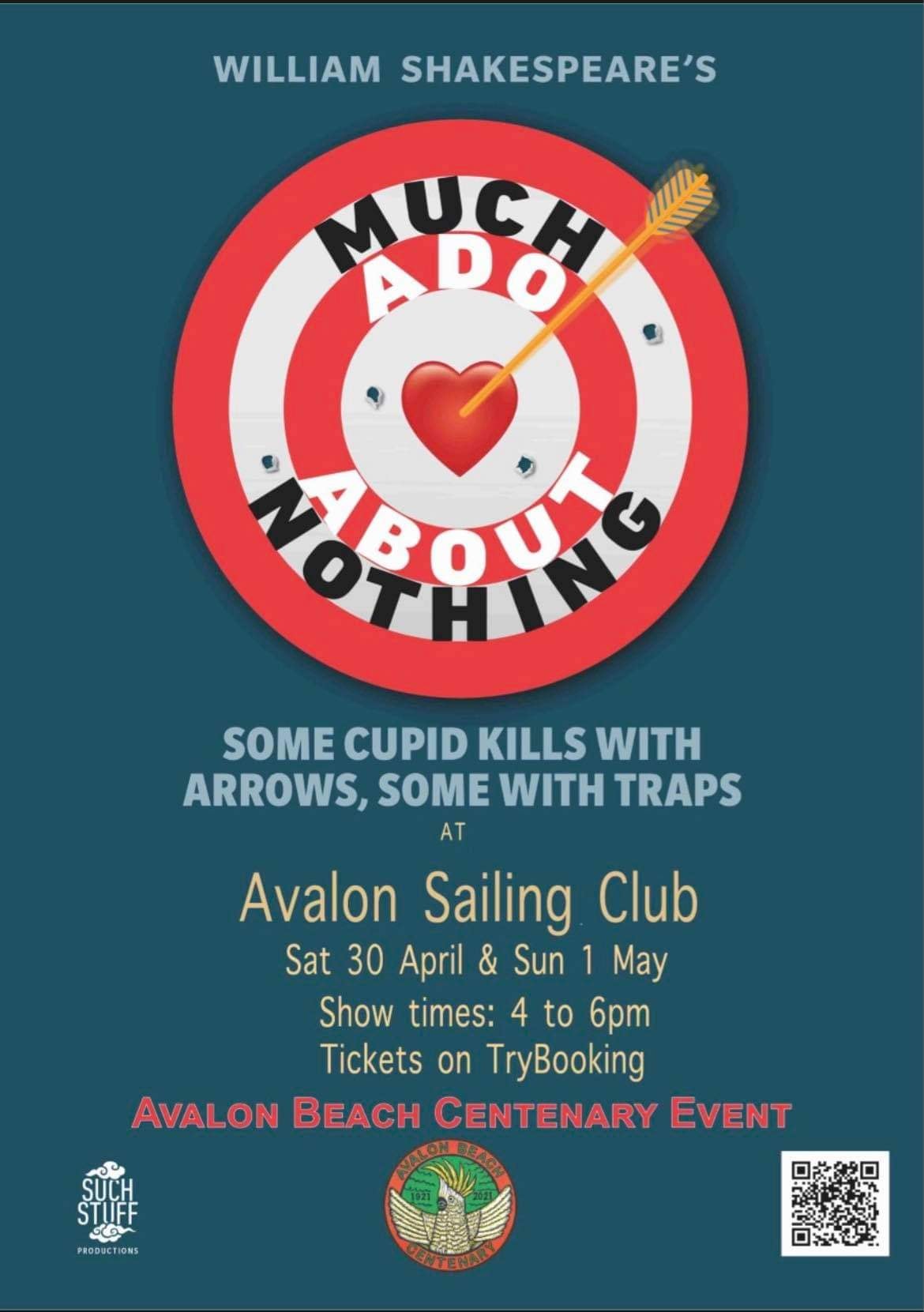 Jayne, why should people go on the Framing Avalon Beach Trail?
People should go on the Trail because Avalon now is a fantastic community, a fantastically beautiful place and just a great place to be, but the reason why it is the way it is today stems from the way it was back then. So much of what we see, historically, in these photos, has provided the foundation for the uniqueness of Avalon now. This is a really interesting story, a great way of finding out a bit more about Avalon.
Every picture tells a story and these ones certainly do.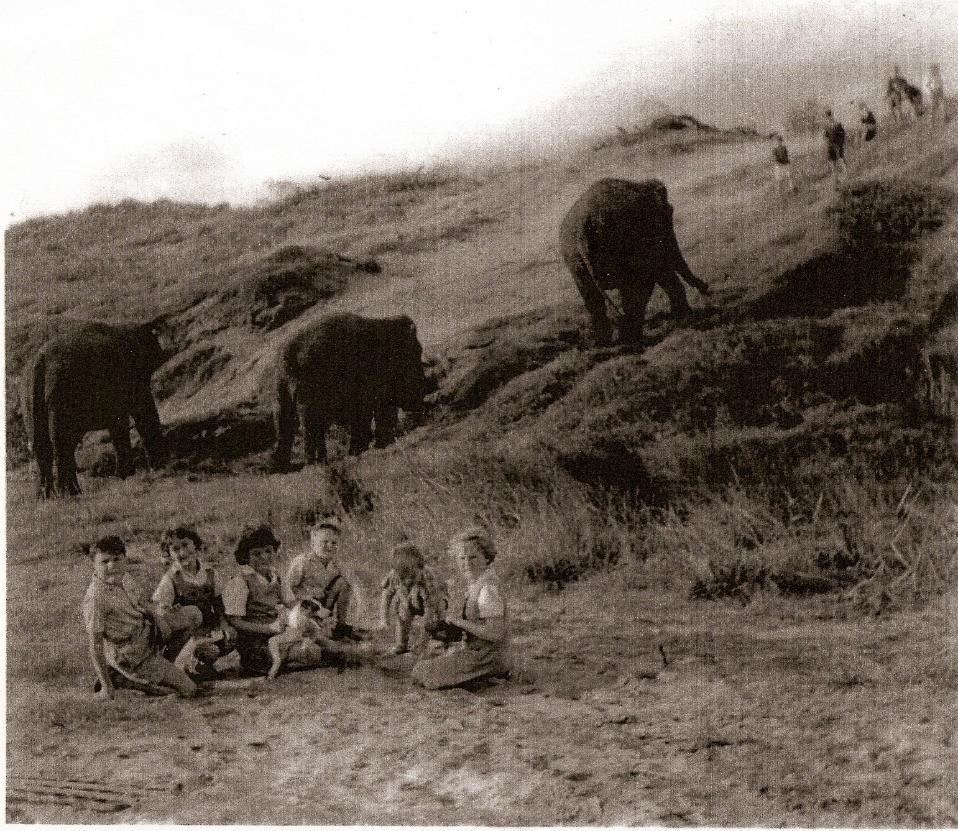 Circus comes to Avalon. Elephants graze in the dunes in the 1960s.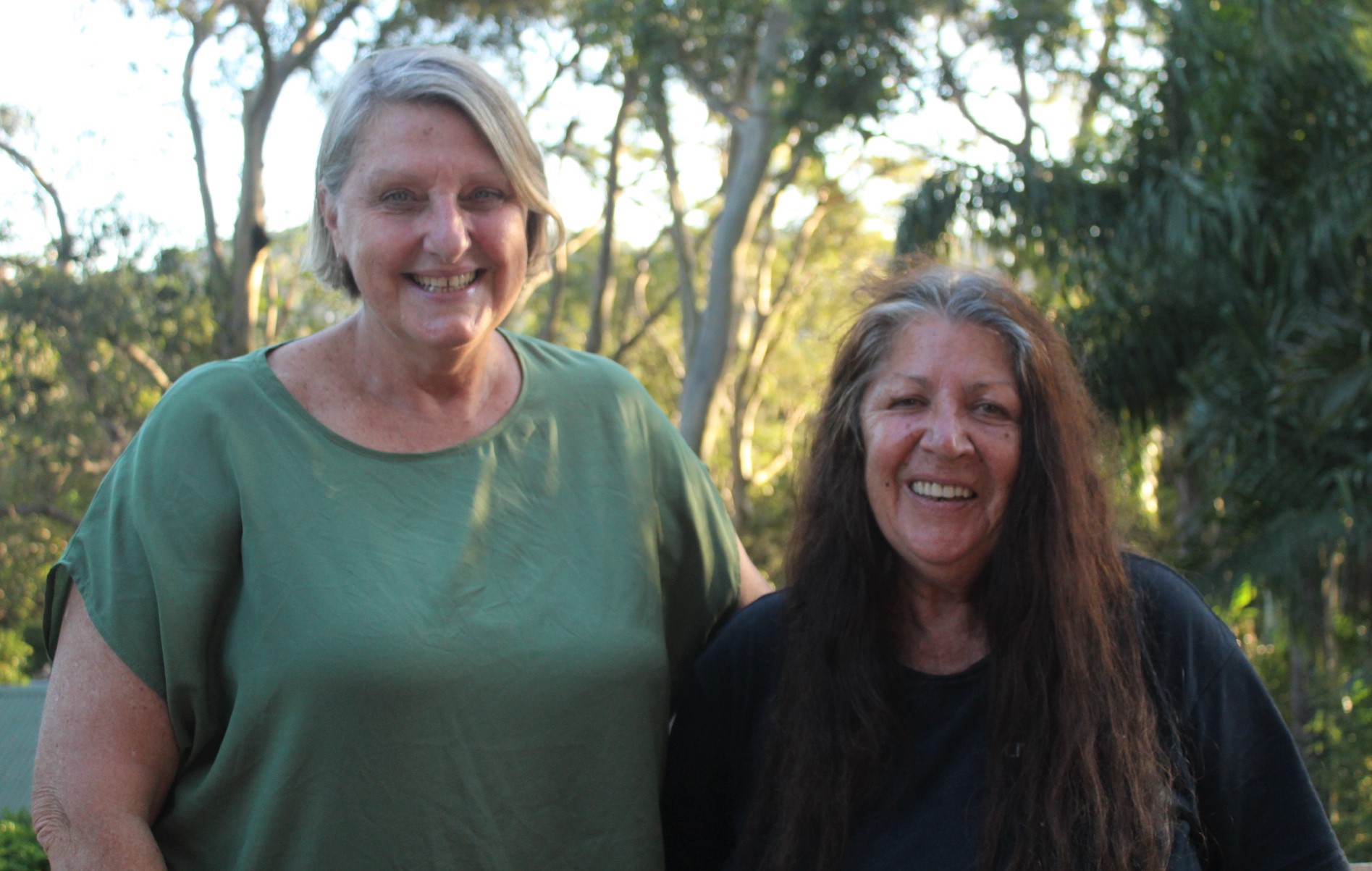 Jayne Denshire and Ros Marsh. Photo: A J Guesdon
Avalon - A J Small weekender, built 1917-1920: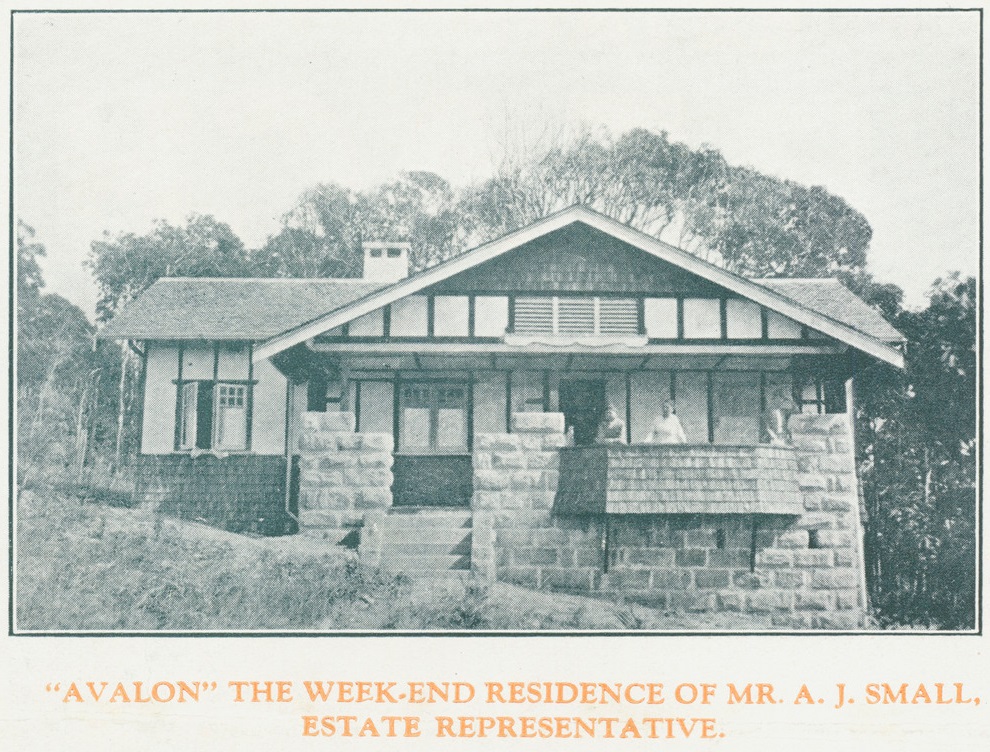 From 1921 Brochure - Palmgrove Estate, Avalon Beach, new seaside resort between Newport & Palm Beach Newport Beach, Palm BeachImage No.: c027560016 and Avalon Beach first subdivision. Image No.: c027560017 and Palmgrove Estate, Avalon Beach. No boundaries shown. Image No.: c027560018 - from Avalon Subdivision Maps, courtesy State Library of NSW
Holiday group on front of house named Avalon - photo by Rex Hazlewood, - A J Small and family in photo.
Image Courtesy The Mitchell Library, State Library of NSW, No.:
c046220007h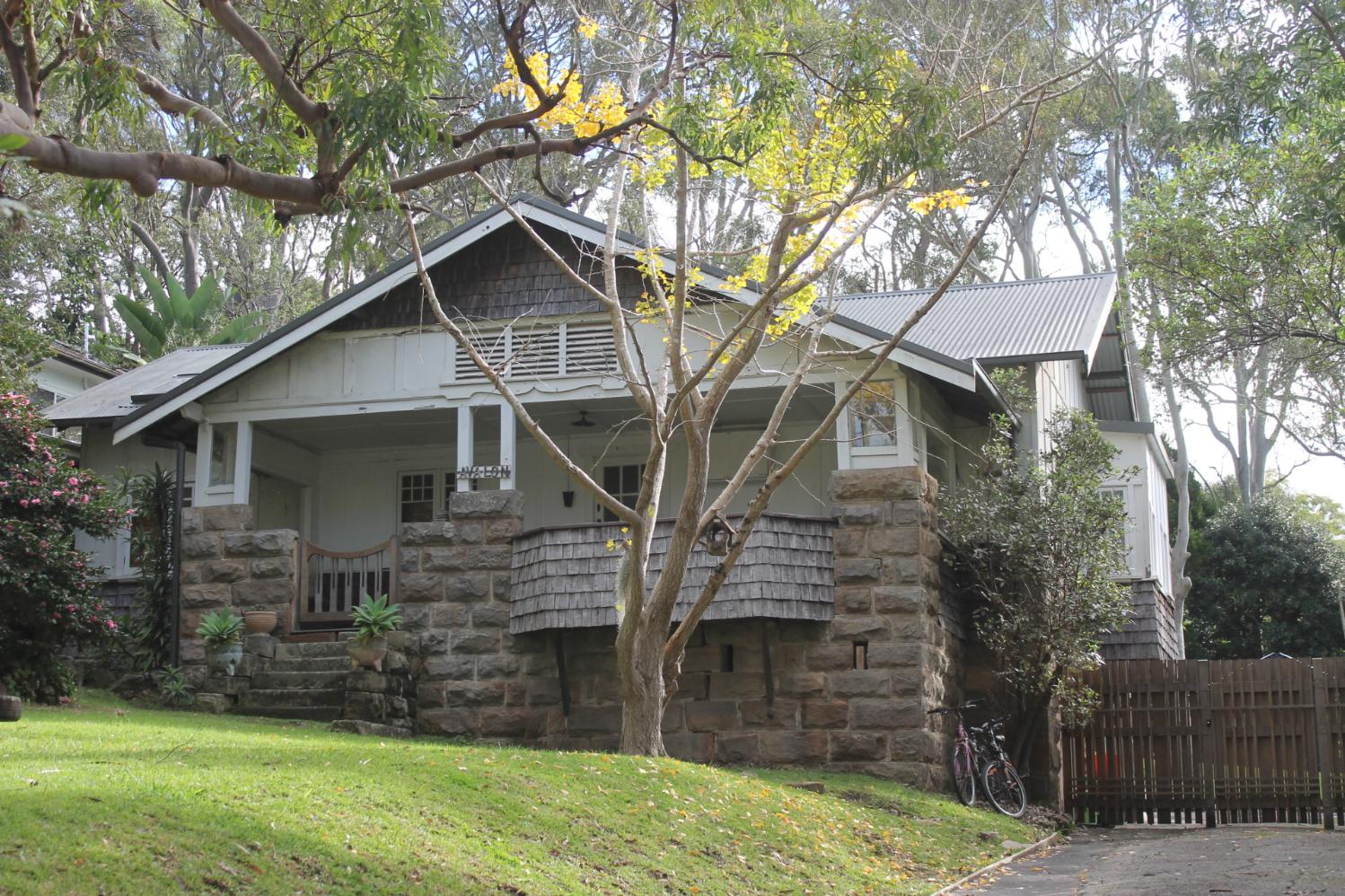 Avalon, the original A J Small family weekednder as it is today. Photo: A J Guesdon