February 13 - 19, 2022: Issue 526
Avalon 100 - Avalon Centenary Celebrations hosts Great Events this February to March: Avalon Sailing Club's 'Pittwater sailors from bungaree to today' + 'sail of the Century' + Radio Northern Beaches launches 'The Avalon Story' series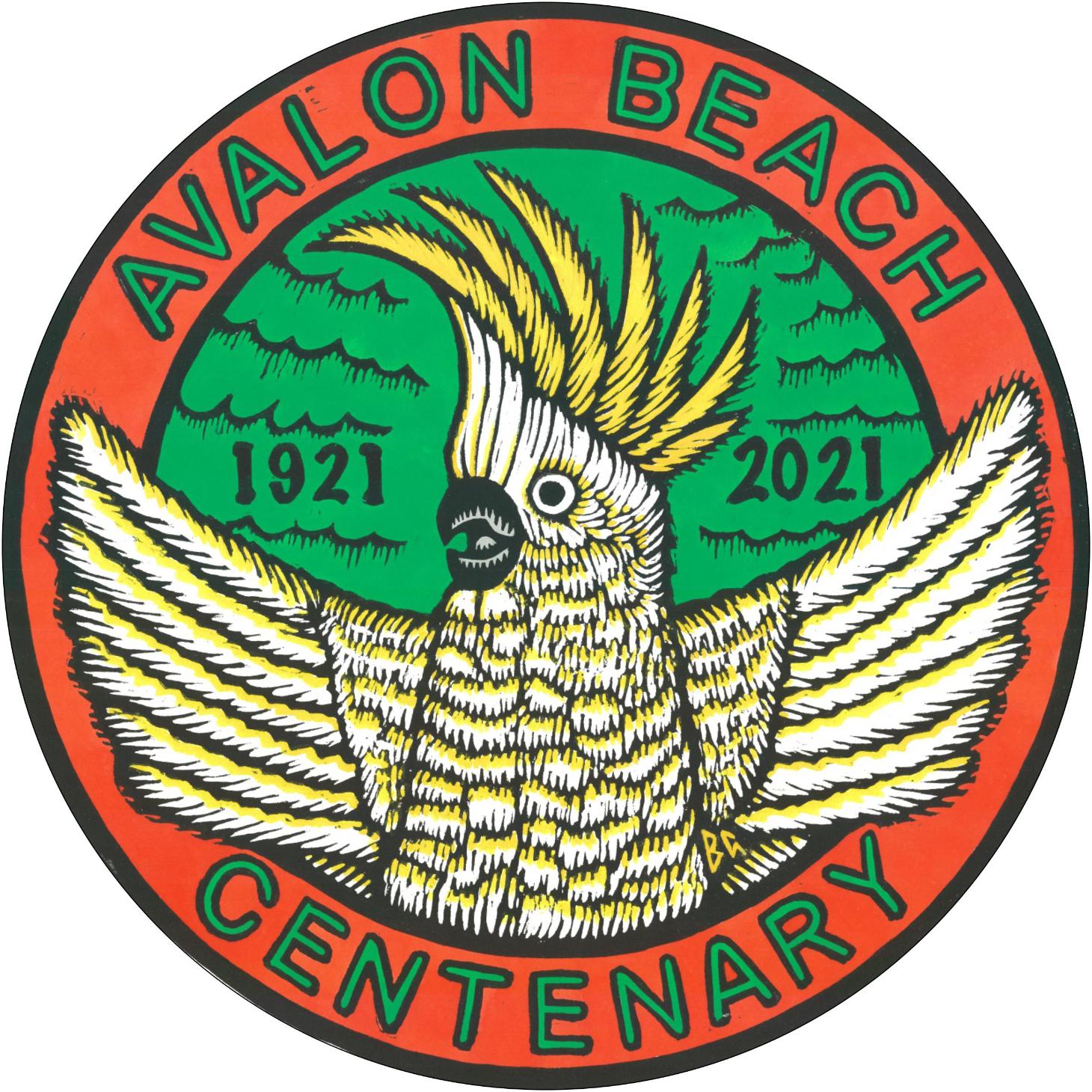 The Avalon Beach Centenary logo was designed by Bruce Goold, well-known Palm Beach-based artist/printmaker, featuring the Avalon Beach colours of red and green.
The concept: 'A Jubilant Cockatoo, Wings Outstretched in Celebration of the Centenary'
"Sulphur Crested Cockatoos are the 'bird of the moment' in Avalon, their raucous behaviour and happy demeanour seem ideal for a symbol to celebrate 100 years" Mr. Goold says.
Avalon Centenary, Avalon 100, events commence again this month and will run until the end of the year.
Some 30 odd dedicated volunteers have been beavering away in the background since Roger Treagus called the first meeting of the Avalon Beach Centenary Committee in June 2021.
Events and activities to celebrate both our indigenous and non indigenous history and culture, to showcase our local artists, musicians, performers and creatives, our wonderful volunteer community clubs and support groups, our local businesses and the wonderful natural environment we live in will continue until December 2022.
The full Program of celebrations may be accessed in: Avalon-Beach-Culture-Collective-Avalon-100-Events
Avalon Sailing Club Events
ASC is a family oriented sailing club, sited at Clareville, on Pittwater, part of the Garigal Country of the traditional custodians. Founded in 1938, with the clubhouse built in 1958 the Club has a proud history offering a small, friendly environment for people of all ages and sailing interests. The Club promotes all aspects of sailing - racing, cruising and just having fun in boats.
The Centreboard division includes training and racing. Our classes are Manly Junior, Open Skiff, Flying 11, Spiral, Laser, Waszp & Puffin Pacer. Avalon Sailing Club is a Discover Sailing Centre. Children around the age of 7~8 often start in our Blue - Learn to sail group before progressing to Red - Better Sailing and Start Racing & Gold - Participate in Racing.
The Club has over 50 yachts ranging in size from 20ft to 40ft+...not all race but there is a very healthy fleet each Sunday competing fiercely for various trophies. We also have an organised cruising Division and club moorings available for members tucked away in delightful spots around Pittwater and Broken Bay.
Those who favour a less competitive approach to sailing enjoy getting together and cruising in company on the waterways of Broken Bay and further afield. We believe we are one of the few sailing clubs in the Sydney area providing this environment - with the emphasis on family involvement, making good friends, and offering enjoyment with a wide variety of sailing activities. Club members cover a broad range of sailing interests. Some just like to "mess about with boats", others are serious racers. Some prefer the pleasures of cruising to a beautiful location and rafting up with friends on one of the Club moorings. Some go further afield and cruise the coastline while others compete in major races like the Sydney to Hobart. We have a very active Junior program with training races each Sunday and regular training camps. Many who have graduated from Avalon Sailing Club have gone on to become champions.
It's not just on the water activities. The Club committee promotes a strong social calendar. Monthly BBQ's on the deck, onshore cruises, picnics, dinners and the like. The club has a library of sailing books and magazines which can be borrowed using an honour system...a great way to pass those odd days when you can't go sailing. The aim is to involve all members in having a good time.
Avalon Sailing Club Clubhouse sits astride beach and water with commanding views up and down Pittwater. Visiting the Clubhouse for the first time and looking out on the view is a memorable experience and one that seems to bring people back.
Coming up are two great celebrations being hosted by the Avalon Sailing Club:
Pittwater sailors: From Bungaree to today
February 17th at the Avalon Sailing Club
Long before Pittwater was bustling with boats, indigenous people were making their mark as some of Australia's first sailors. Join local Guringai man Neil Evers and long-time Pittwater sailor Arthur Spithill for a discussion on Pittwater's nautical history; from the first Australian to circumnavigate the continent, to the local lad who has skippered two winners at the America's Cup.
Where: Avalon Sailing Club, 28b Hudson Parade, Clareville
When: Thursday, February 17th from 6 - 8pm
Drinks and snacks will be available at the bar
The event is part of the Avalon Beach Centenary Celebrations. It is free but booking is recommended to secure your spot, at: https://www.revolutionise.com.au/avalonsai.../events/130619/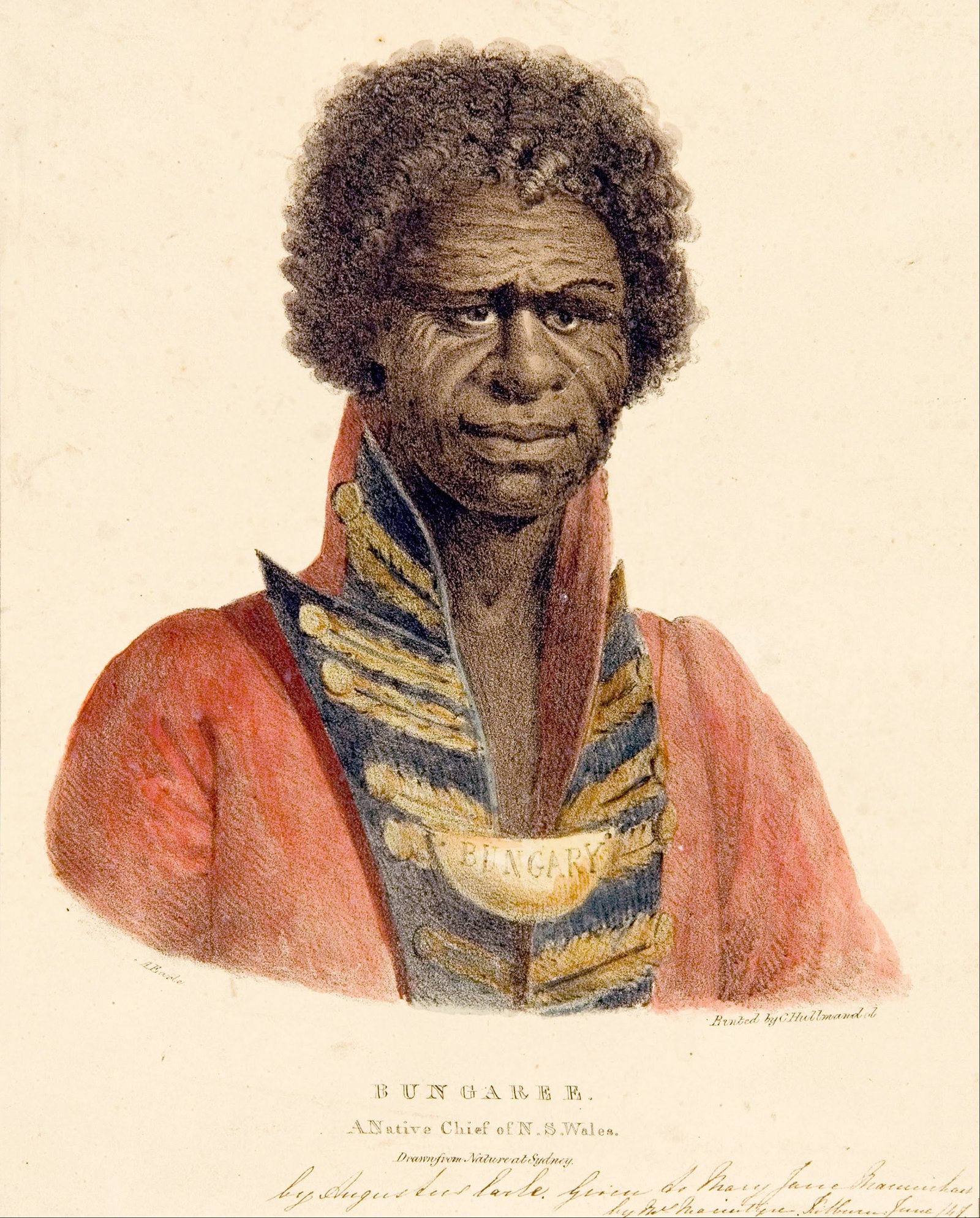 Portrait of Bungaree circa 1826 by Augustus Earle.

Sail of the century
March 26th at the Avalon Sailing Club
Have you ever had the opportunity to hitch a ride on a boat on Pittwater's blue green waters? As part of the Avalon Centenary, the Avalon Sailing Club is inviting everyone to join them on their fleet of wooden boats for a day out on Broken Bay.
Our Couta boats, named because they were the original boats used to catch the Barracouta for Melbournians fish and chips in the 19th century, are waiting to take you for a ride. The boats are comfortable, stable and fast, making them the ideal experience for those less familiar with sailing.
Where: Avalon Sailing Club, 28b Hudson Parade, Clareville
When: Saturday, March 26th from 2pm
Sausages and refreshments will be served on the deck and fancy dress - 1920s theme - is encouraged (though of course not essential!)
The event is part of the Avalon Beach Centenary Celebrations. It is free but booking is recommended to secure your spot, at: https://www.revolutionise.com.au/avalonsai.../events/131406/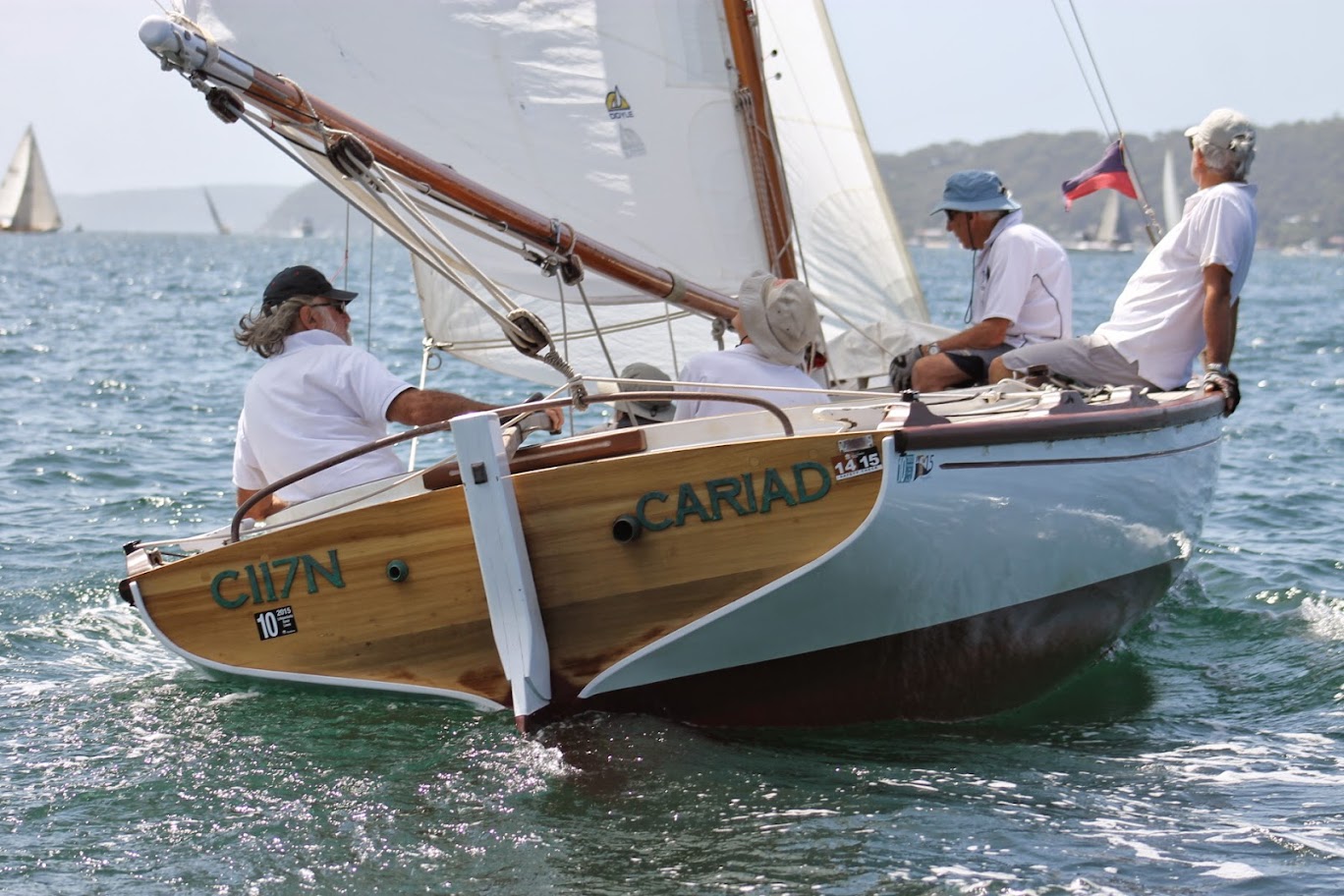 Couta Boat Cariad on Pittwater. Photo: A J Guesdon.
In March Radio Northern Beaches (88.7/90.3 FM) is broadcasting a new show, The Avalon Story, from March 19th to commemorate the centenary of the naming of Avalon Beach in 1921.
Presenters Wendy Frew and David Stewart-Hunter are conducting a series of interviews with local "luminaries" that will be broadcast on Saturday mornings and stream on an on-demand platform.
The Avalon Story
Avalon Beach is famous for its surfing culture and village atmosphere. But to those who live in this Sydney suburb, it's much more than that.
Over the past 100 years, this thriving community, on the land of the Gai-mariagal people, has given birth to scores of artists, musicians, architects, scientists, and businesspeople, as well as passionate community volunteers and activists.
They all have stories to tell, and you can hear many of them in a new show, The Avalon Story, on local community radio station Radio Northern Beaches (88.7/90.3 FM).
In association with the Avalon Beach Culture Collective, The Avalon Story is being produced to mark the centenary of the naming of the suburb, after businessman and land developer Arthur J. Small subdivided land there in late 1921.
Radio Northern Beaches presenters Wendy Frew and David Stewart-Hunter chat to locals including publisher and historian, Jan Roberts, who remembers the Avalon of the 1940s and 50s as "a child's adventure playground" where she grew up playing in the bush and sliding down the sand dunes.
Environmentalist and bush care volunteer Marita Macrae explains how her passion for nature and her desire to protect Avalon's native bush is a driving force in her life.
And Professor of Indigenous Entrepreneurship at the University of Canberra, Dennis Foley, who has a matrilineal connection to northern Sydney, talks about the continuous Indigenous connection to Avalon and other parts of the Northern Beaches.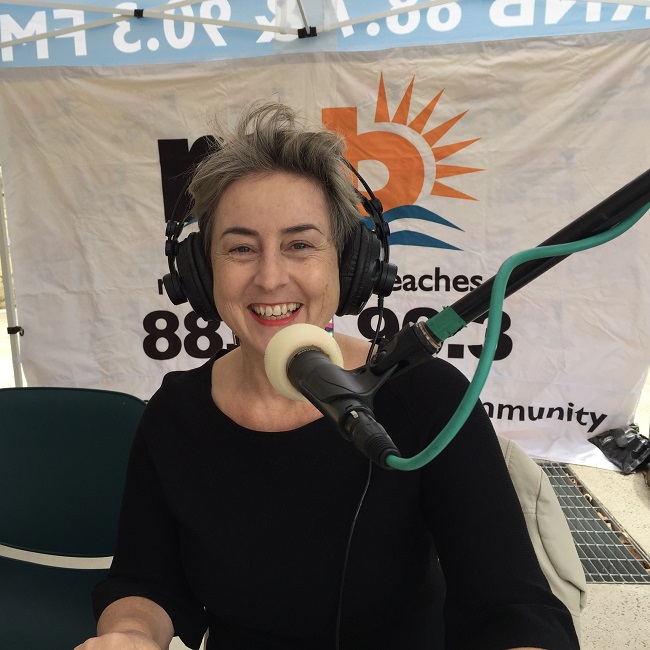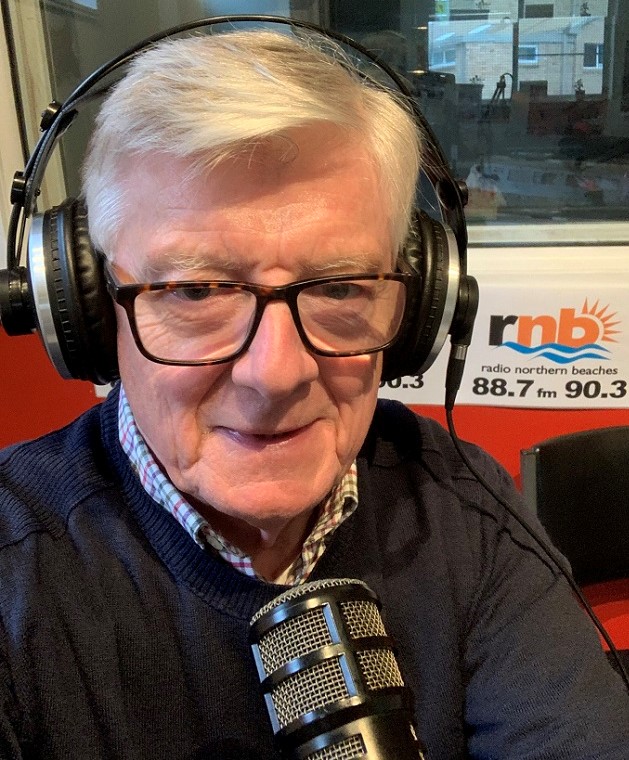 Radio Northern Beaches presenters Wendy Frew and David Stewart-Hunter

These are just some of the interviews that will be broadcast on Saturdays at 9am on Radio Northern Beaches.
To hear the first interview at 9am on Saturday 19 March, tune to 88.7/90.3 FM, stream from the RNB website – rnb.org.au – or listen via the Tune-In app.
You will also be able to listen to all the interviews on-demand, as they become available, at https://www.mixcloud.com/TheAvalonStory/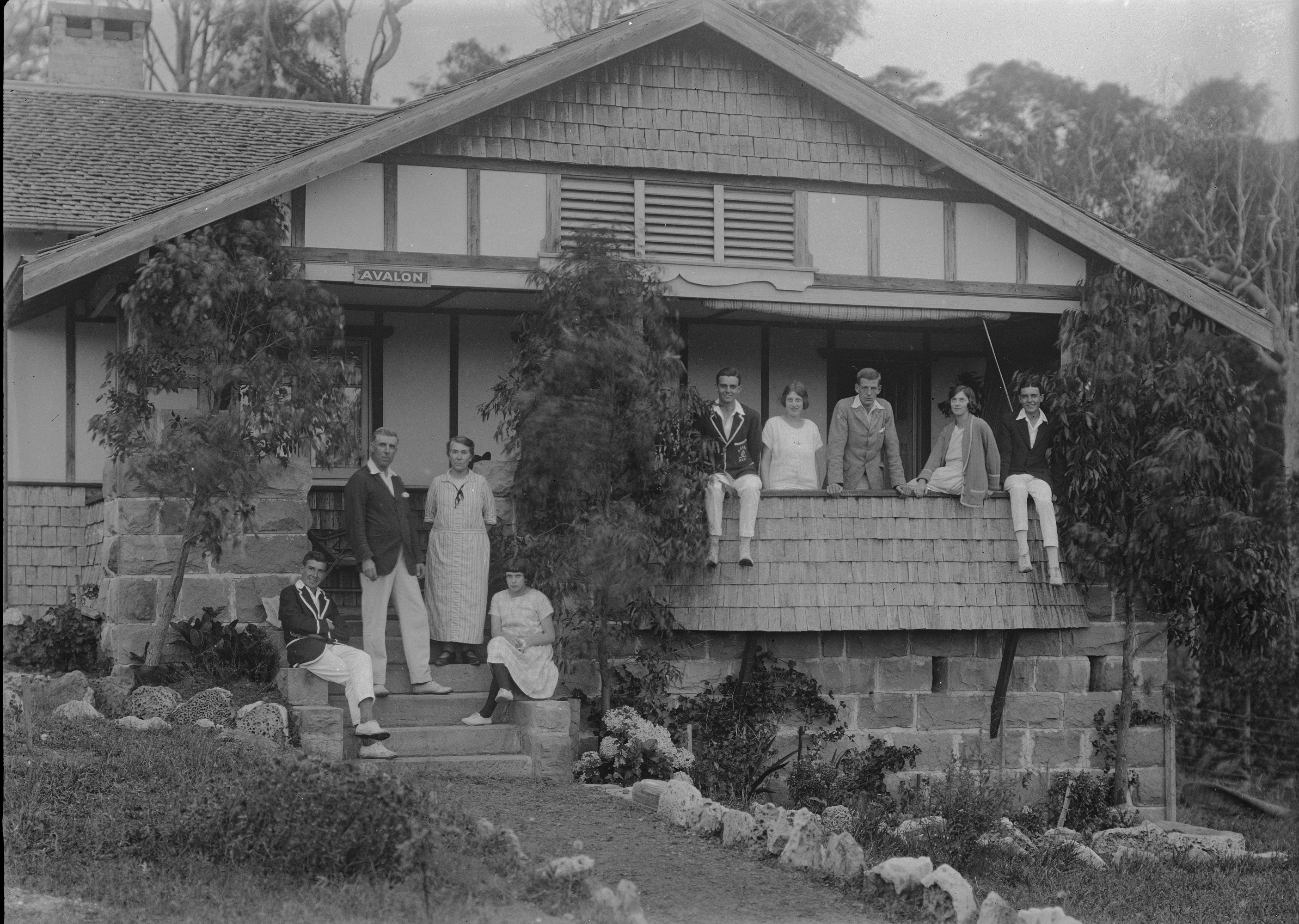 Holiday group on front of house named Avalon - photo by Rex Hazlewood,
Image Courtesy The Mitchell Library, State Library of NSW, No.:
c046220007h - includes Mr. Small and his family outside 'Avalon'.