April 23 - 29 2023: Issue 580
The mona vale-bungan beach-Bayview tank traps: coastal defences of pittwater during world war two - Some History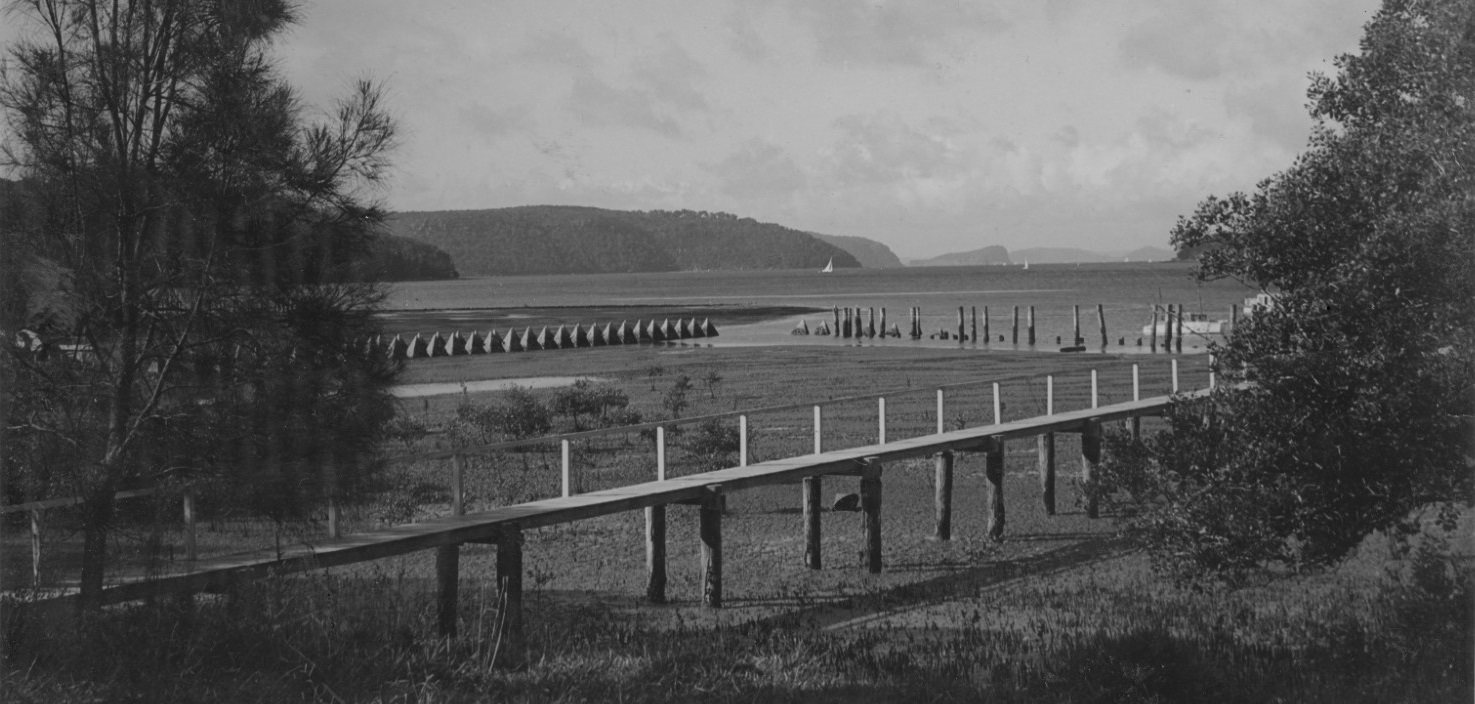 The line of tetrahedrons and piles at Bayview to stymie landing of tanks.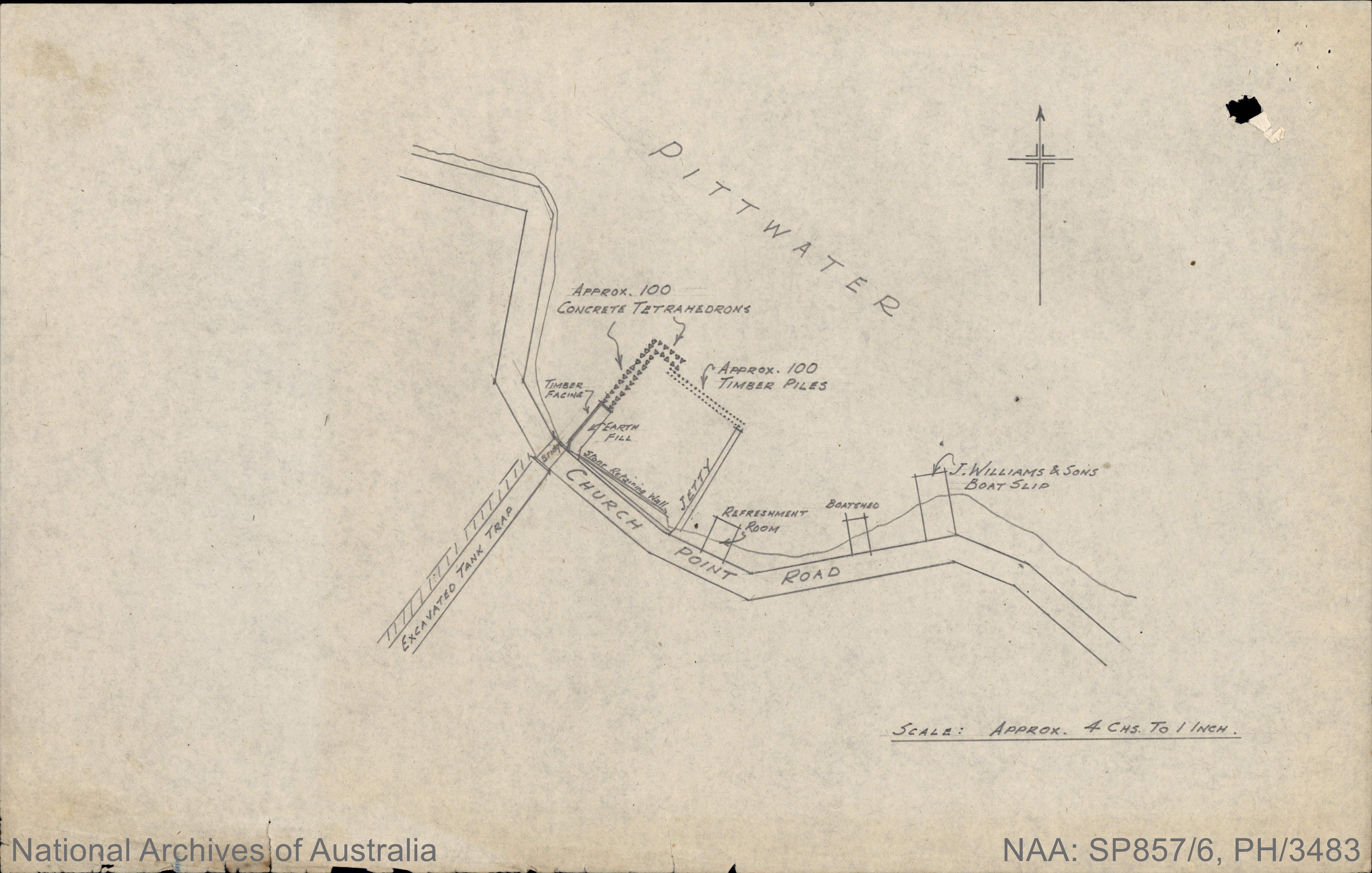 1944 Map of where tetrahedrons and timber piles and excavated tank trap were at Bayview - at other end of Bungan-Mona Vale defences from Brendan Dowling file.
NB: Pittwater road all the way to Church Point was not named as such until was gazetted as a Main Road in 1951. Similarly 'the Newport road' remained the name for Barrenjoey Road for many locals, as the road to Newport, until this too was gazetted as a main road and 'Barrenjoey road at its point from Pittwater road, Mona Vale junction to all sections north of there. Visit: Roads To Pittwater: The Pittwater Road
Pittwater RSL Sub-Branch will host its 2023 Anzac Day Dawn Service this coming Tuesday April 25th. President of the Sub-Branch Deborah Carter advises the Dawn Marchers will assemble at the lower cenotaph at 5.20am.
Pittwater Sub-Branch Member, Sub Lieutenant Zamri Burns will present the 2023 ANZAC Address at Pittwater RSL. Sub-Lieutenant Zamri is a New Zealand born naval officer with a proud Australian indigenous heritage. He has multiple operational deployments to his name; both seagoing and land based.
This year's Pittwater RSL Commemorative Service will acknowledge the 50th Anniversary of the end of Australia's involvement in Vietnam in particular, Long Tan Day; August 18th 1963. There are several Australian Vietnam Veterans in Pittwater RSL Sub-Branch, as well as two American Vets. Another important event happening on May 14th 2023 is the 80th Anniversary of the sinking of the hospital ship, Centaur. There were 332 people on board this ship. The ship had a Red Cross clearly visible on its stern and was torpedoed by a Japanese Submarine I-177. There were only 64 survivors, one being Army Nurse Sister Eileen Savage who lost 11 of her nursing colleagues.
President Carter states a Commemorative Service will be held at the Robert Dunn Reserve at Mona Vale Headland (southern end) on May 14th 2023 at 3:00pm. The significance of this location is that last October a Lost At Sea Memorial, was consecrated in honour of the POW's, Nurses and Civilian Internees who lost their lives in the South Pacific ocean at the hands of the Japanese.
Kylie Adams-Collier, an award-winning vocalist whose Grandfather lost his life on the ship Montevideo Maru (1942) will sing "Montevideo Maru 1942" as part of the Pittwater RSL Sub-Branch 2023 Anzac Day Service. On Saturday April 22nd, 2023 news broke that this ship has been found in the South China Sea. Stated by many to be Australia's worst maritime disaster, a US submarine torpedoed the ship unaware that it was packed with prisoners captured in Papua New Guinea. The Montevideo Maru sank in July 1942. An estimated 979 Australians died, along with 33 Norwegian sailors and 20 Japanese guards and crew.

Mona Vale south headland's Lost At Sea Memorial will serve as a poignant reminder of this on Tuesday, doubly so when you realise the gentleman behind it, former Pittwater RSL president Wal Williams OAM, worked with now retired Pittwater MP Rob Stokes to have the memorial placed on the opposite headland to where commemorates the Japanese submariners grave site off Bungan beach.
Mr Williams was among the tens of thousands of Allied soldiers, nurses and civilians taken prisoner by the Japanese after the Fall of Singapore. Wal was interned at the notorious Changi prison camp before working along the infamous Burma-Thailand Railway. While Mr Williams was being transported to Japan in 1944, onboard the Rakuyō Maru, an American submarine fired a torpedo at the Japanese prison ship, unaware of the Allied prisoners onboard. After treading water for 24 hours and surviving overhead aerial attack, Mr Williams was among a small number of survivors pulled from the water and transported to labour camps in Japan. Mr Williams later survived the Allied firebombings of Tokyo and Yokohama, before finally returning home to Australia in October 1945 – on his 23rd birthday.
Mona Vale's and Bungan Beach headlands, and throughout Mona Vale and to Bayview feature as the second Anzac Day precursor for 2023 - this time focused on what was placed in and on the landscape of this area, as requested by reader Malcolm Tompson in May 2021, as defence works - the tank traps, and particularly the 'Bungan Bridge' across on of these deep wide ditches to safeguard the rest of Sydney against an invasion by Japanese forces.
The first is available in: Avalon Beach Norfolk Pines: To Honour Those Who Served – Anzac Day 2023 History Precursors. Rear Admiral Rachel Durbin, CSC, RAN, will give the 11am 2023 Anzac Address at the Avalon Beach RSL Sub-Branch Commemorative Service. The full list of Anzac Day Commemorative Services in Pittwater runs below.
____________________________________________________________________________
When war was declared on September 5th 1939 Australia's coastal defences became the priority. In Pittwater, considered a northern gateway to Sydney for potential invaders since Major-General Schaw drafted a report in 1887, just after when powder hulks had been at Towlers Bay, the object was to stop potential invaders from using the estuary and beaches as a landing place to push south.
Coast Watchers were installed along all high vantage points, some of them later coming from those permanent residents who lived here, Ailsa Craig, later the wife of flier Scotty Allan, is stated to have been killed coming home from one of these shifts between Whale and Palm Beach on May 9th 1943.
Air raid shelters were built in backyards from sandbags and timber, slit trenches dug behind barbed wire. A slit trench was a defensive position for infantrymen sometimes dug in an L-shape. Unlike the foxhole, it took a number of soldiers.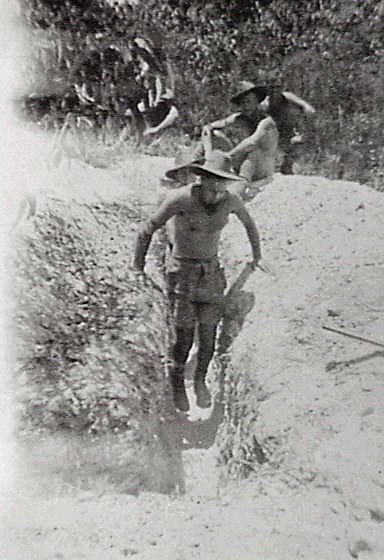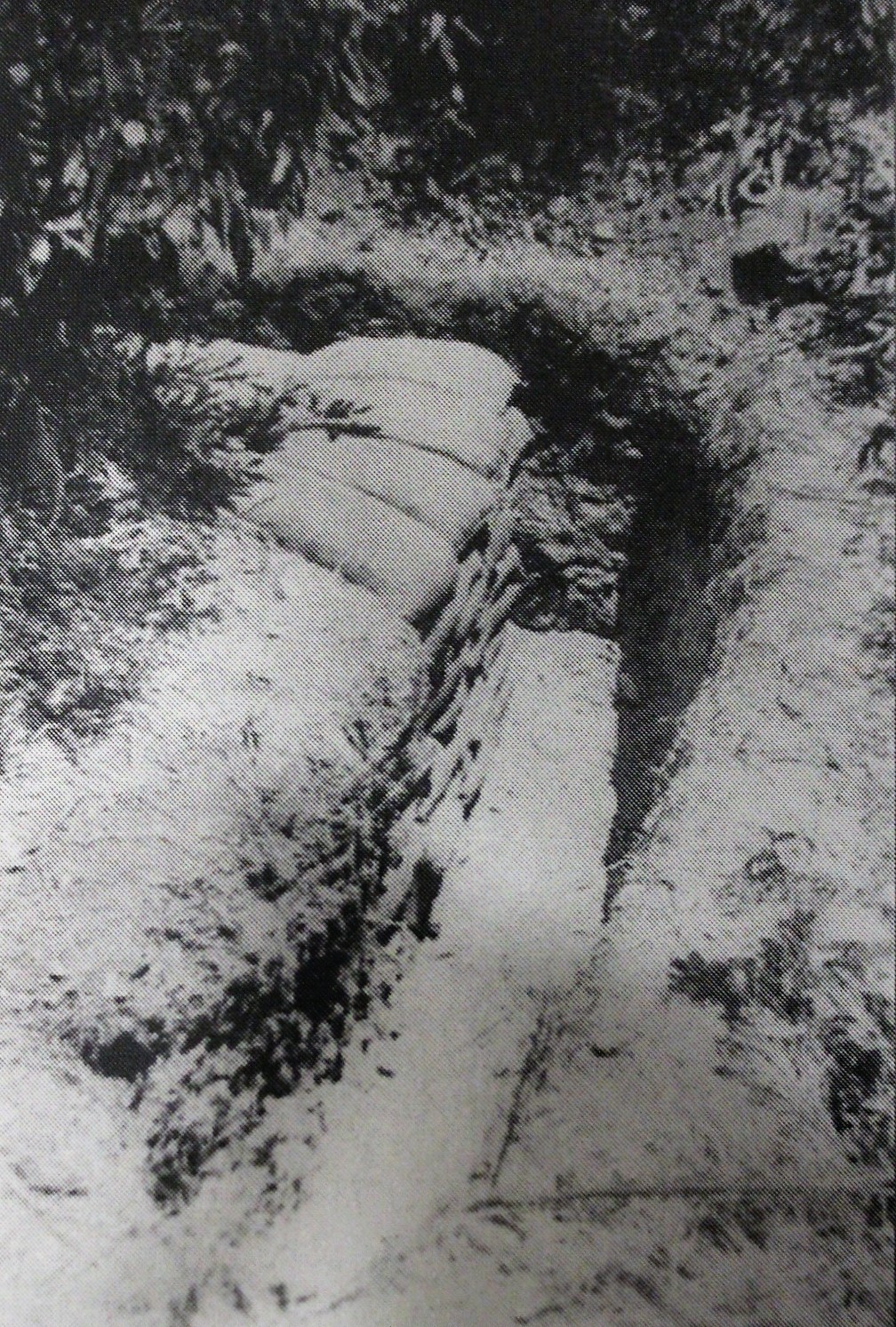 Soldiers in slit trench at North Avalon, 1942 and completed slit trench. Photo: Fred Powderly, courtesy Australian War Memorial, copy also held by Council Library Local Studies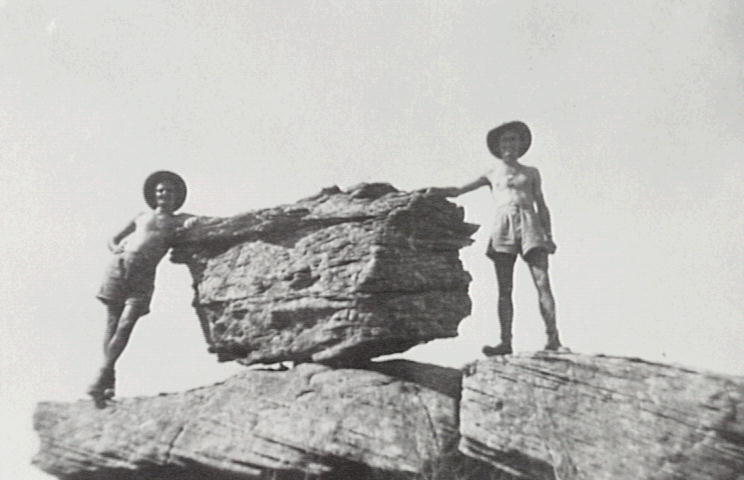 Two men on South Head just off Bareena Road, North Avalon; Bangalley head 1942. Photo: Fred Powderly, courtesy Australian War Memorial - visit: Traces Of WWII Coast Watchers (1942) Found On Bangalley Headland After Recent Fire
Troops of the 18th Battalion were based on Barrenjoey Headland and reported every hour to their Headquarters at St Ives using the telephone from the Beacon Store.

Coast watchers Dave Bingham (Possum), Bill Ball, Arthur Lowder, Palm Beach. Corporal Ray Dimmock (seated and looking through telescope) and Ray Walsh on Barrenjoey Headland. Photo: Fred Powderly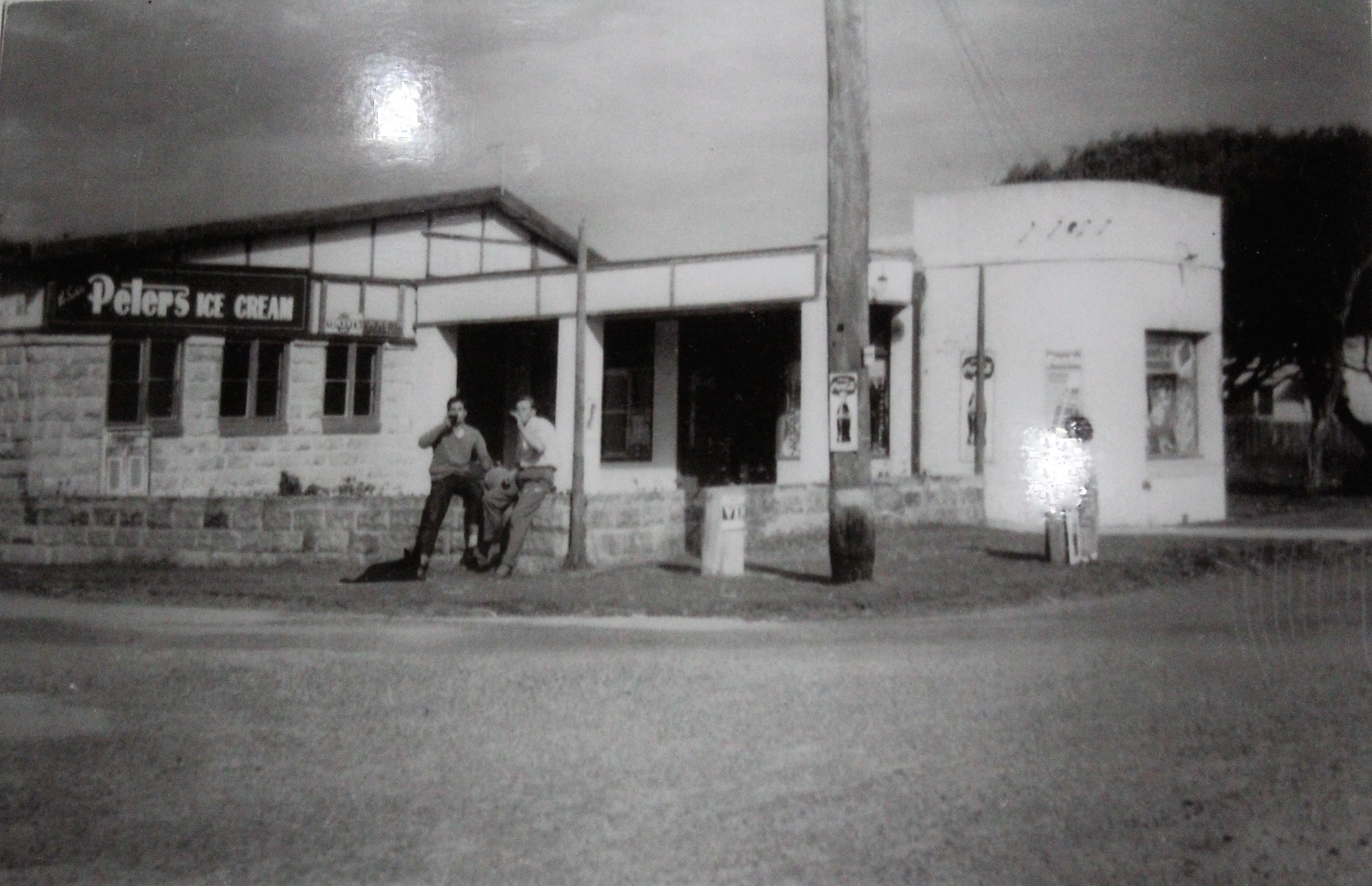 Beacon Store in 1962. Photo: Avalon Beach Historical Society
It seems that the Aussie larrikin spirit was infectious, even during wartime:
"Bomb" Thrown At Minister.
SYDNEY. Thursday.-The Minister for the Army (Mr. Spender) was attacked yesterday by military forces with a bomb. The forces were a contingent of the A.l.F. travelling in an army lorry from leave at Palm Beach, north of Sydney, and the bomb was a bag of flour. A direct hit was scored, and Mr. Spender's driver was smothered in flour. The occupants of the lorry did not recognise Mr. Spender, and as his car drew alongside the lorry the flour bomb was thrown with precision through the front window, where it burst over the driver. Mr. Spender, who came unscathed through the attack, does not view the incident seriously. Having pacified his driver.- who wanted to pursue and annihilate the occupants of the lorry, he resumed his journey to Sydney. "Bomb" Thrown At Minister. (1941, January 23). Barrier Miner(Broken Hill, NSW : 1888 - 1954), p. 5 Edition: HOME EDITION. Retrieved from http://nla.gov.au/nla.news-article48413593
At Long Reef the sand dunes to the south of the Golf Course were levelled and the sand was trucked into Sydney city to fill sandbags for protection of buildings from bombing. Unfortunately the removal of sand dunes destroyed a flourishing Little Penguin nesting colony. Some of these returned after hostilities and began nesting under homes right along from Collaroy to Narrabeen and on Turimetta, Warriewood and Mona Vale beaches.

Along the beachfronts from Manly to Mona Vale barbed wire in rows of two were installed and at the Mona Vale beachfront and along to Bungan and then down to Bayview via Philip road, just below the 11-mile store, tank traps measuring 2 metres to 8 metres wide and deep were excavated.
The Bungan to Bayview trench effectively cut all of the peninsula north of that point off from the rest of Sydney as a wooden drawbridge was constructed that could be lifted and disposed of provided a cutoff point in the road for vehicles heading north or south – effectively 'sacrificing' those at Newport, Bilgola, Clareville, Avalon, Careel Bay and Whale and Palm Beach and Barrenjoey to the enemy – unless they were going to skirt around via The Avenue.
This was not as far fetched then considering the war grave of two Japanese submariners personnel lies off Bungan Beach where one of the miniature submarines that invaded Sydney Harbour on May 31-June 1 1942 lies.
Some reports and research found that the men stationed at West Head, opposite Barrenjoey, were recorded as sighting what may have been the periscope of one of these in the days between it fled the harbour and head north along our coast.
Pittwater Historian Jim Macken, in his books Pittwater's War (2002 and The Iron Coffin (2008) published evidence found by him in military diaries that what may have been the midget submarine that escaped from Sydney Harbour had been seen in Broken Bay on July 8th and 9th 1942. The conning tower being seen by Patonga fishermen on July 8th at 4.40 in the afternoon and later, 9 p.m., a message was received at west Head Garrison, from the Garrison Battalion at Brooklyn Naval Auxiliary Patrol that a 'suspicious object resembling a conning tower of a submarine was seen off Gunyah Point at the entrance to Cowan Creek.
Subsequent West Head diaries record Skipper Fear of NAP vessel Kazembo reported that 'what was undoubtedly a submarine moving down towards Challenger Head was observed..'
By the 9th of July, what appears to have been the then drifting derelict M-24 was sighted, fully exposed, and caught by a low tide in Mangrove swamps below Juno Point.
No further sightings inside Broken Bay were recorded, but the HMAS Winbah, a Halvorsen 1936 build of 62 feet in length, 45 tons gross, was sent to Pittwater for patrol duties on July 11th. Soon after her arrival War Diaries record she was actioned to;
''carry out an anti-submarine patrol between West Head and lion Island tonight Tuesday. Presence of submarine suspected..'
On August 1st, 1942 two sightings of an apparently drifting submarine were recorded in the sea off Barrenjoey. The Sydney Forward Defence Command writing:
'1730 hours. IO Richmond reports a possible submarine sighting 3-5 miles east of Barrenjoey.'
and
'2020. New reported submarine sighting off B. Barrenjoey made at 1645 to 1600 hours.'
Jim reasoned, through researching the tides of those two first days of July reportings, that the sub, if the M-24 it was, was already derelict, her batteries having finished their capacity, and that she was being carried by the tides into and out of the Hawkesbury and then back south to where she rests now.
In 1942 a submarine boom was placed across the mouth of Pittwater. Cedric Vincent Williams recalling the submarine nets were a good place to fish:
''They were trying to stop the Japanese coming into Pittwater. There was a net across the mouth of Pittwater, which you had to go through if you wished to go out to sea. I used to go fishing a little bit then and I remember hating having to go through that net gate.
I remember my father used to go fishing at that time with some of the local people and I too would go out sometimes. I always remember the fact that you had to go through the gate to get out to sea – we didn't do this very much as no one wanted to be out in the ocean at that time with so many Navy vessels and possible submarines and enemy ships out there.
I remember we'd fish underneath West Head and the guns would be up there and they'd point them down on us! So I knew they were there. Locally places along the Pittwater peninsula were also utilised as training camps for defence personnel.''
The training camps were another good reasons to ensure coastal defences were installed in Pittwater.
By January 1940 the open area at the end of Ruskin Rowe in Avalon Beach became the Women's Air Training Corps camp, then known as Sun Down RAAF Camp. Here the volunteers learnt arching and defence discipline along with aircraft maintenance, ambulance and truck driving and signalling. This unit later became the Womens' Auxiliary Australian Air Force (WAAAF) and moved to bigger training bases, including the St Ives military and air force base, just up the hill. The WATC along with the boys and younger men's Air Training Corps (boys form rural areas) and the Air league all used La Corniche although prior to that it had been, along with the Mona Vale Golf Course, a training area for Army men.
Coastal Defence works began to be installed in the Mona Vale-Bungan-Bayview area in January 1941. At Bayview wharf, similar to what occurred at the Belmont Anti-Tank Ditch, an anti-tank trench constructed as part of the southern perimeter defensive system of the Port of Newcastle, two interlocking rows of concrete tetrahedrons tank traps or Dragons Teeth were installed, acres of scrubland cleared to deny cover to enemy forces and pile driven vertical timber posts or Dumble Tank Stops were located every five feet to form a vertical barrier to any tanks that gained access to the ditches. The photo atop this page shows the layout.
However it is the 'Bungan Boom Gate' that has stuck with locals who remember it and its lifting device on the left just near the 11-mile store as they headed north to Newport, even into early 1950. The trench was on the northern side of the 11 mile store/Phillip Rd. When the road was realigned (Barrenjoey Rd) around 1960 and brought it closer to the store, the ditch was very pronounced because the road was raised and the bend removed. The trench was dug from Bungan Beach, across Pittwater Road and into the mangrove swamp at the head of Winji-Jimini Bay. A temporary bridge over the anti tank ditch was built of timber. In the event of attack it could be collapsed quickly into the ditch by the withdrawal of bolts. This effectively cut off all those north of Bungan Beach from Mona Vale.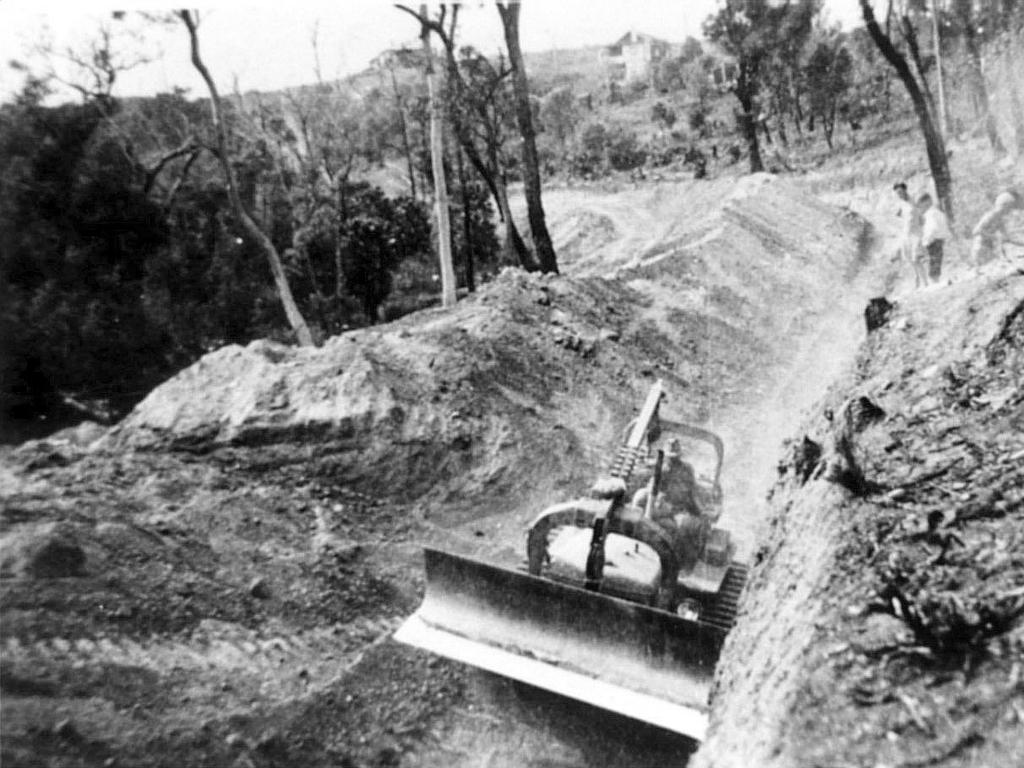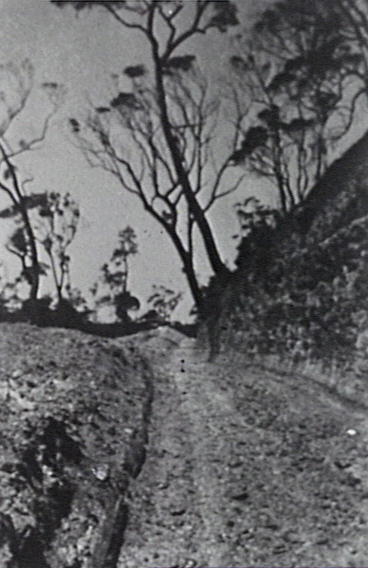 18th Infantry Battalion members at Mona Vale between Bungan Beach and Philip Road – 1941. Photos shows Members of the 18th Infantry Battalion using a bulldozer to excavate trench for tank trap at Mona Vale between Bungan Beach and Philip Road and Mona Vale tank trench. Photos by Fred Powderly, courtesy Australian War Memorial, copy also held by Council Library Local Studies
One local recalls:
John Guthrie; 'I can remember seeing the tank trap on my left as you came up the hill to Bungan going North. It was just after the shop/office on the left (11 Mile store). It (tank trap) ran from Barrenjoey road to Pittwater not the beach. The road was still open. I can remember it being there into the fifties. I remember, when I came out to my grandparent's place at Newport in the 1940s, the tank trap started on Barrenjoey Road just near the 11 Mile store and as far as I know it went all the way down to Pittwater. And, as you would know, there were guns at Commodore Point. I used to wag school and hide in the sand bagged air raid shelter. When the ferry crossed the harbour, they used to turn off the lights when we went past the heads! My school bus at Manly Village School was camouflaged! They were strange days with troops training for jungle warfare at Mona Vale.'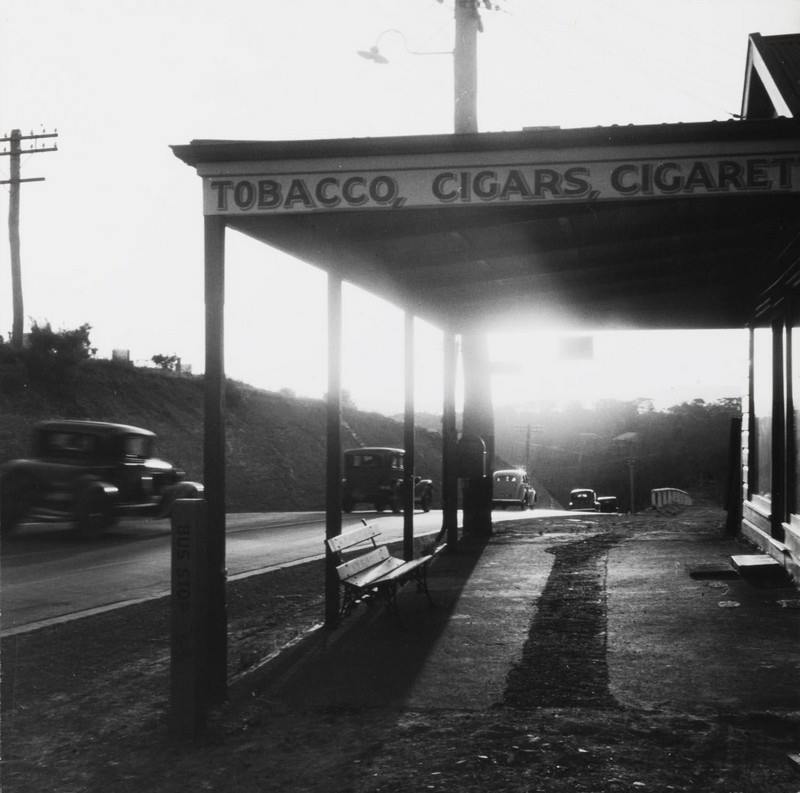 Max Dupain, 'Nine Mile Store', Newport, circa 1930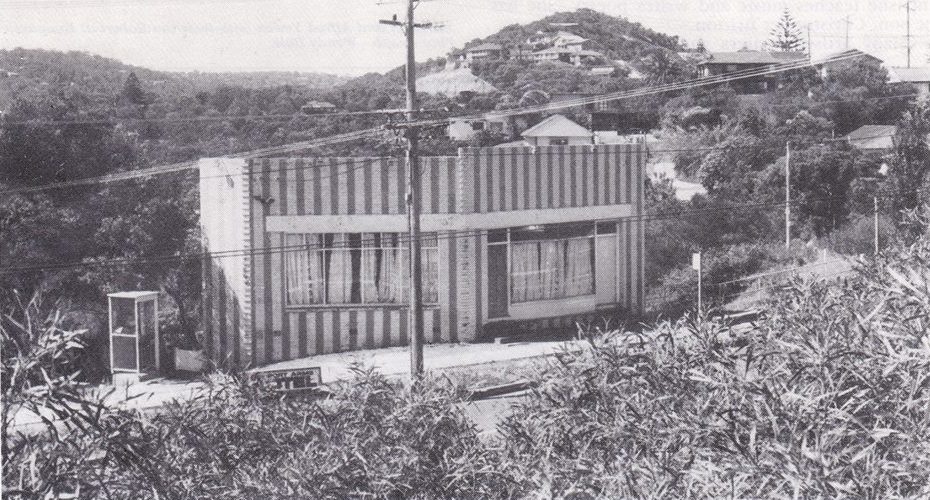 Reconstructed Eleven Mile Store (
Porters Store
) - courtesy Guy Jenning's
The Newport Story 1788 - 1988
Other local recollections of the Bungan tank trap and bridge:
"The Second World War proved to be a very quiet time for Newport. Nevertheless, the fear of a Japanese invasion was physically obvious. All the beaches to the south were barricaded with barbed wire and steel posts and there was a tank trap which stretched from Bungan Beach to Pittwater and passed close to the 11 mile store. A timber bridge spanned the tank trap which was bolted together in such a way that if you knocked one bolt out, the whole bridge would fall into the trap. This bridge allowed cars to drive north along Barrenjoey Road, although there was little traffic as petrol rationing was in force. It was mined with explosives for good measure.
The trap was lined on the southern side with large poles which presented a high vertical face to any intruders. From the end of the tank trap there were large concrete blocks shaped like pyramids which extended part of the way up to Winji Jimmi. In the Avenue there was at least one fox hole and all the families living north of the tank trap had to be ready for evacuation at a moment's notice.
…As Newport had no barbed wire, servicemen came to swim and surf. Mr Vincent's house at the southern end of Myola Road was requisitioned by the army and fortified with a gun trained on the beach." from - Guy Jennings, The Newport Story 1788-1988. (
1987
).
Betty Morrison of Bungan Beach remembers World War II:
… "Yes, well, of course, we were going to be invaded you see…we knew about the war, of course, but we didn't know about the coast defence. Mrs Porter sat out on the back, which looked away, their gully went right down to Pittwater, great big trees, beautiful trees. They were sitting at breakfast, all the trees started rocking, all the trees began to shake. Nobody told anybody. This was the secrets of war. Did you ever hear such nonsense! I mean she could have had a fit… Anyway, Mrs Porter rushed down and they said, oh, it was the army and they were going to make a tank trap. So they cut all the trees down, they dug along here, you see, this way going to Pittwater. The backside of it they made a big wall which the Japs were not going to be able to get up. Having come thousands of miles from Japan.
We had barbed wire everywhere, to say nothing of the army, but the trouble was they didn't have any weapons. It was absolutely amazing. Bill and I went into hysterics except we were a bit worried what was going to happen. There were a couple of gun emplacements here, some here and some other here, but nothing to put in them!" - Betty Morrison, oral history, 1984.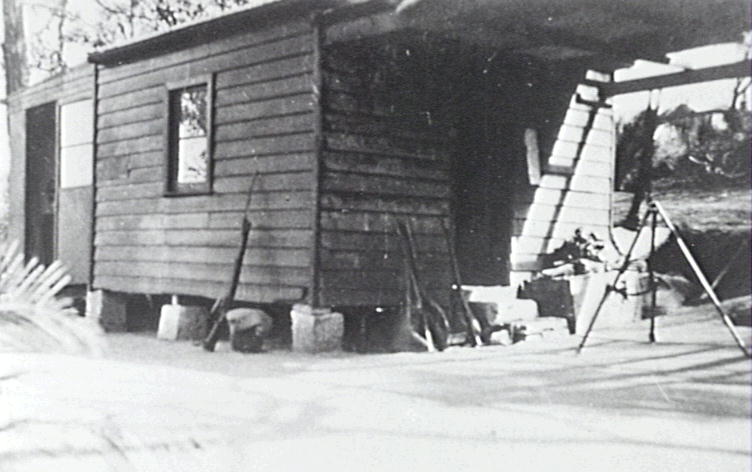 'Platoon Headquarters in artists studio in Philip Road Mona Vale'. NB: Bren gun on tripod outside and rifles leaning against outside walls. Photo: Fred Powderly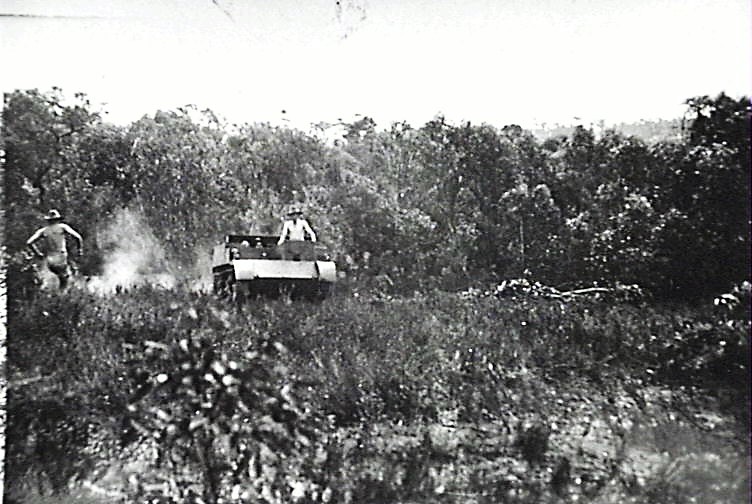 'Members of the 18th Infantry battalion working with bulldozer on tank trap trench at Mona Vale, 1941-1942'. Photo: Fred Powderly, courtesy Australian war Memorial, copy also held by Council history unit

Photographer of all these records, Fred Powderly, who enlisted May 26th 1941, born October 29th, 1920 was posted to the 18th Australian Infantry battalion on October 1st 1941, just weeks before his 21st birthday. A Process worker prior to WWII, Frederick Harold Powderly of Petersham began his full-time war service in the CMF (Civilian Military Forces) after he enlisted at Fairfield L of C area(Line of Communication Area), which was located at Boronia Park in New South Wales - Service Number - N250505.
He was designated 'Sapper'. A sapper, in the sense first used by the French military, was one who dug trenches to allow besieging forces to advance towards the enemy defensive works and forts, over ground that is under the defenders' musket or artillery fire. During his time in the army he became a Grade A Carpenter.
Soon after he took all these photos of the works he and his unit members had been sent to do in Mona Vale, Bungan and Bayview, he was sent north and into the 4th IT Btn. and Queensland L of C area (Brisbane) then to Townsville and then into New Guinea in February 1942, where he contracted Malaria, was evacuated and spent a month in hospital then re-joined his unit and was sent to Thursday Island where he remained until September 1944. In May 1945 he was sent in to Bougainville.
The Bougainville campaign was one of the final campaigns of the war in the Pacific. Waged largely by militia formations, it proved to be a well fought although costly encounter against Japanese forces on three fronts. It wrapped up a series of actions and campaigns waged against the Japanese by Australian, American, Fijian and New Zealand forces, beginning at the time of the Japanese invasion of Bougainville and the adjacent Buka Island in early 1942. Bougainville and Buka are the two northern islands of the Solomon Islands group. Before World War II they were held by Australia under a League of Nations mandate.
You have to wonder, given his time in Mona Vale, whether he ever knew much of Gerald Joseph McPhee, whose family had owned La Corniche during this conflict and who served in a sole capacity as one of those among Australia's first commandoes.
Fred disembarked in Australia on February 4th, 1946 and was discharged the following month. He married Gloria Estell Juillerat in 1950 – the marriage registered at Petersham.
The Australian War Memorial holds other photos taken by him during his service – this one for instance: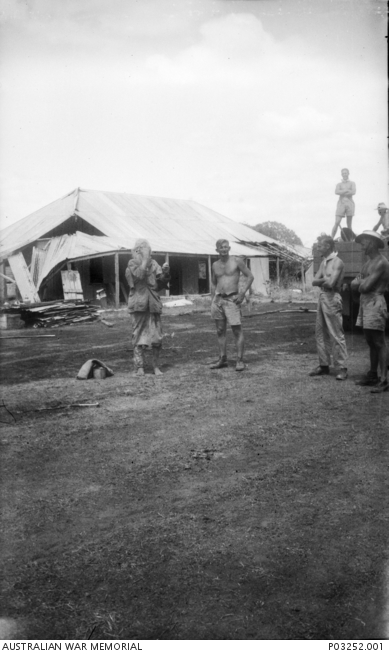 'Members of the 7th Australian Field Company, RAE, AIF and an unidentified civilian (left). Sergeant (Sgt) Harry J Brown, GM, of Milton, Qld is second from left. Sgt Brown was awarded his George Medal for action while his unit was building a bridge. With the finishing touches about to be completed he noticed Japanese commando troops in the area and spotted a mine they had attached to the bridge. He was able to detach the mine and throw it to safety before it exploded. Note the partially destroyed building in the background with a pile of corrugated iron on the ground (left).' Maker: Powderly, Fred, Place made: Pacific Islands: Solomon Islands, Bougainville. Date made:c 1945 Photo: Fred Powderly, courtesy Australian War Memorial
The National Archives of Australia provides some of the records for those whose lands and homes were used by those posted into Mona Vale, Bungan and Bayview at this time – others camped out in tents on the properties. These include:
Bungan – Mrs. E K Mould – Lot 6, Newport road DP6195, Also: Lots 4 and 5 Section D, Newport road and Pittwater Road
Occupation by the Australian Military Forces of vacant land in Hale Smith Road, Newport, the property of Mr J Eldershaw; required for use by 9 Field Regiment for gun pit and erection of tents for billetting. Includes claim for compensation. Contents date range 1942 - 1943. Dehiring Vacant Land - Lot 3 Hale-Smith Road , Newport , owner Mr J. Eldershaw [Box 259] Contents date range: 1944 - 1944
Halesmith road points to WWI men who served, from this area. See: Mona Vale's Hales-Smith Haynes Smith, Holding, Brentnall and Roby - A.I.F. Men Of World War One
Hire of 'The Better Ole', corner of Golf Links and Surfview Streets Mona Vale by the Australian Military Forces. Property owned by Miss E Oliver and used as a troop accommodation area for 1 Battalion.
Hire of property 'Glendon', Golf Avenue Mona Vale by the Australian Military Forces. Property owned by Frederick John Ewens and required as a headquarters for B Company, 18 Battalion.
Mona Vale Golf Club had the occupation by Australian Military Forces of Mona Vale Golf links and club house the property of Mona Vale Golf Club; required by Army for defensive works. The occupation by Australian Military Forces of the premises known as 'La Corniche' in Mona Vale, the property of Mr GJ McPhee, also took place.
Mona Vale land for defensive wiring - NSW army hirings property correspondence file: part of lots 6, 9 and 10 of section 4 Mona Street; compensation claim by Gladys May Homer for loss of cattle; box 889 Contents date range: 30 Aug 1943 - 04 Jul 1944
On the corner of current day Golf avenue and Barrenjoey road, at Humphreys-Howlett store on 'Newport Road' – Guy and Joan Jennings 'Mona Vale Stories' (2007) states that during WWII there was a large army gun station, well camouflaged, just to the north of the store. The soldiers lived in one of the back rooms of the store.
Also along Basset street and Seabeach – owner H R Swain - for this one, locals recall:
Brian Friend; The channel ran down Bassett street to old Reg Oliver's property into the 'puddle as it is called' near Pittwater high school. It started at the Basin Mona Vale and went past the southern side of the Caltex garage (which wasn't there) and down past the celery farm to Pittwater, or so I was told many years ago by locals.

Trevor Gamage; I think I remember the remnants of a trench at the back of the oval at Pittwater high school, adjacent to B block.
During this time tank traps and barbed wire went right through Mona Vale. This map of the Defences of Broken Bay and Mona Vale from March 14th 1942 shows the what was put in place from Mona Vale to Newport and across to Bayview. Map Courtesy the Australian War Memorial, with enlarged sections to show details, outlines the scope of works across the Newport to Warriewood and Turimetta Beaches landscape: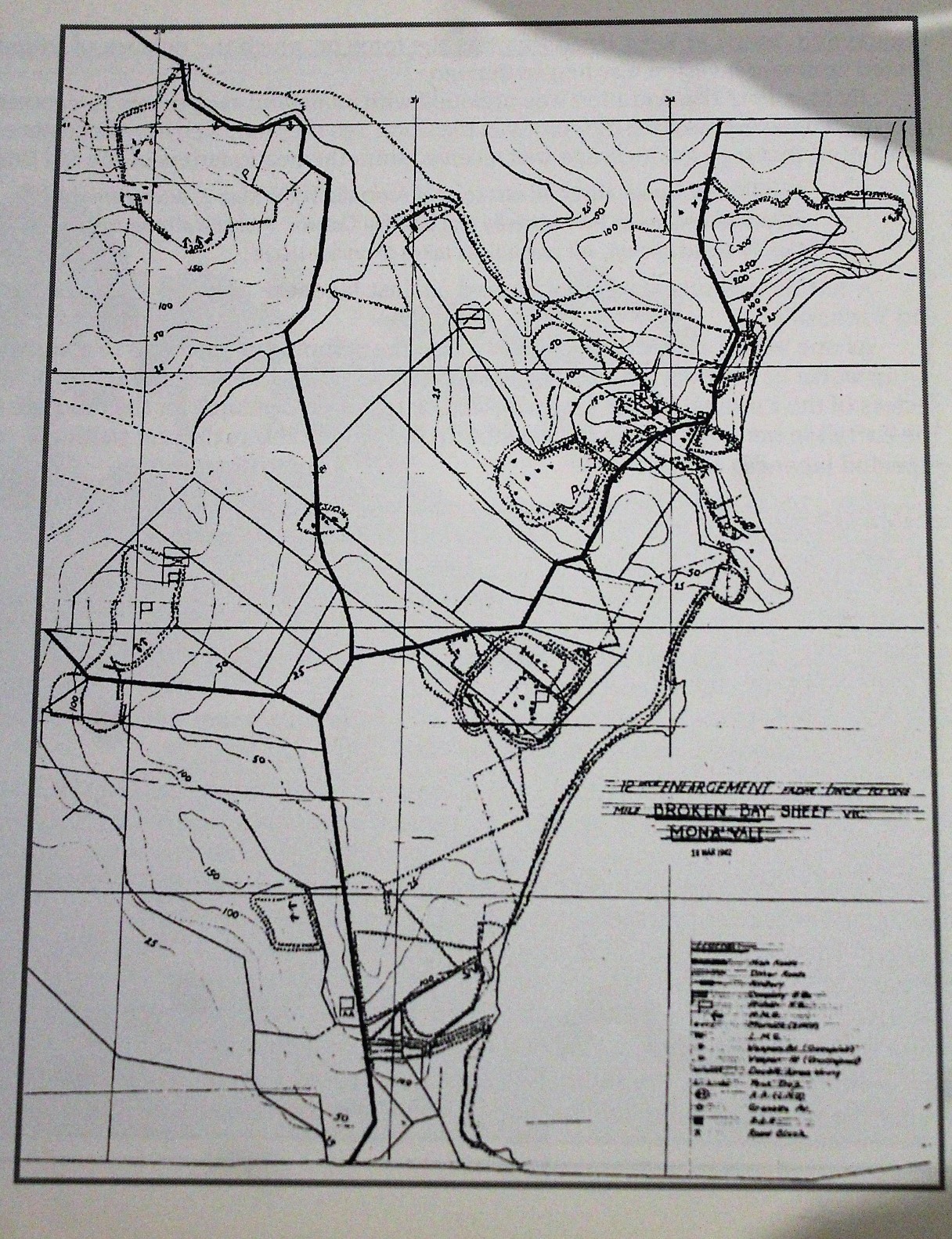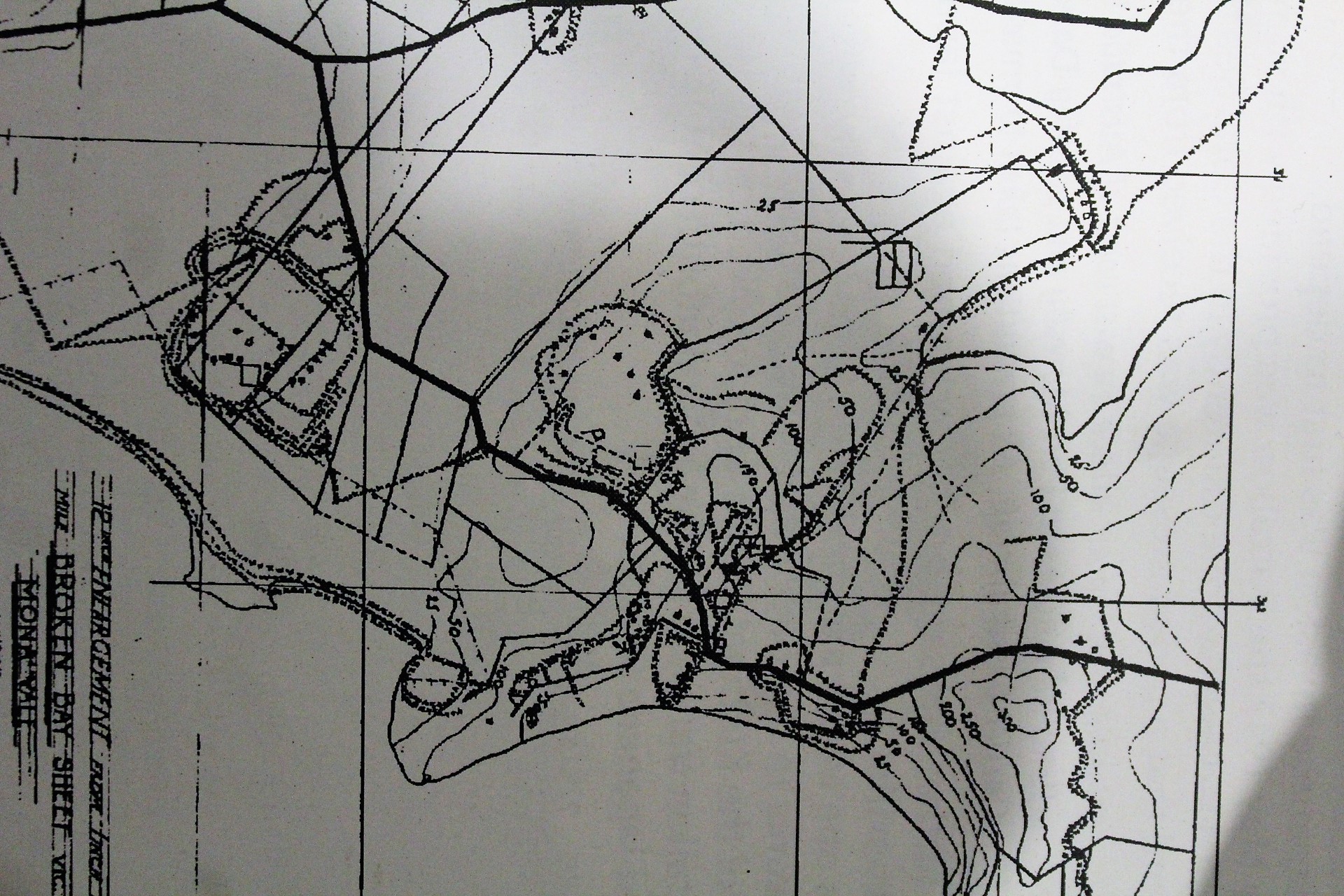 Bruce Robertson OAM, during his interview for a Profile, shared:
I must say though that during the war there were other hazards causing problems, namely the amount of barbed wire placed there as a deterrent against any potential invasion. They had captured plans you see, plans made by the Japanese to use tanks in an invasion right along our coasts and so tank traps and barbed wire were installed. Every beach had these big concrete triangles, the waterways at Pittwater had them too.




We all had to go in and out of these. To go to the surf at Mona Vale during the war you went through two 'S's going round and in and out and then in and out again and add to these a series of barbed wire.

My main activity then was giving First Aid to people and applying ointments and washing out sand from cuts from barbed wire.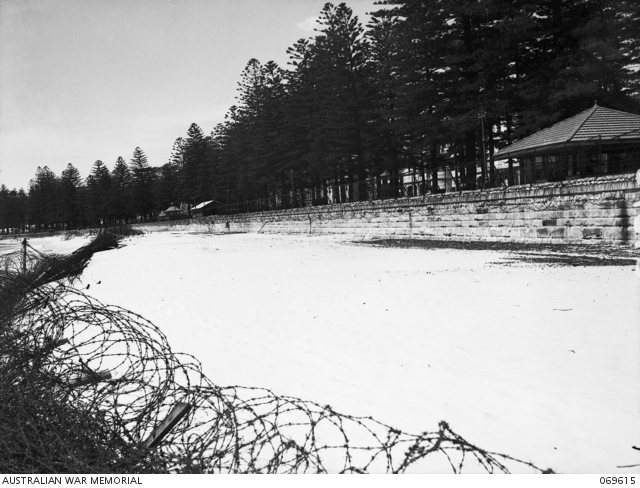 MANLY, NSW. 1942-11-27. THE SEA WALL AND BARBED WIRE ENTANGLEMENTS ON THE BEACH FRONT. Courtesy Australian War Memorial.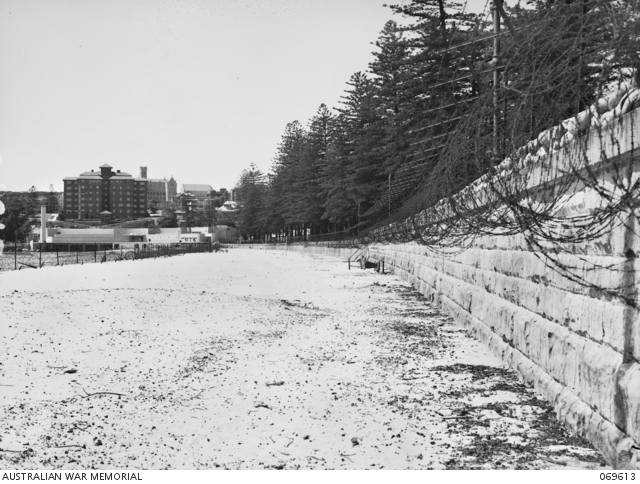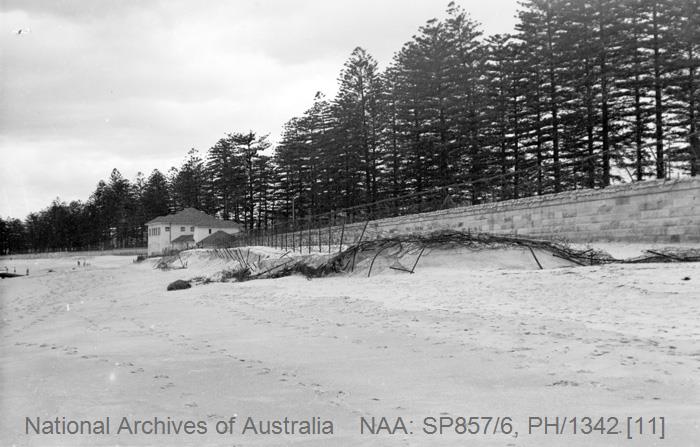 Bruce Robertson was a mere teenager when he served during WWII on Mona Vale Beach. He had come to the club through actor Rod Taylor, who would become part of the Mona Vale arts community around in Waterview street.
Bruce explained he came to the club;
''Through talking to Rod Taylor, when we were wrapping papers, we'd talk about what we were doing. He was doing art at Sydney Technical College and I was still at school.
We used to wrap all the newspapers and periodicals for Swains, which was a big stationer in Pitt Street in Sydney. This was in 1941 and 1942, I was 11 and 12.
We were both keen on the surf and said one day 'let's have a look'. So we decided we'd get the bus where we could, caught a bus and went as far as the bus would go which was Mona Vale.
We walked down to the beach and that was it.
About 14 or 15 of us used to sleep on a big wrestling mat in the middle of the floor. The clubhouse had gone up three or four years prior to that.''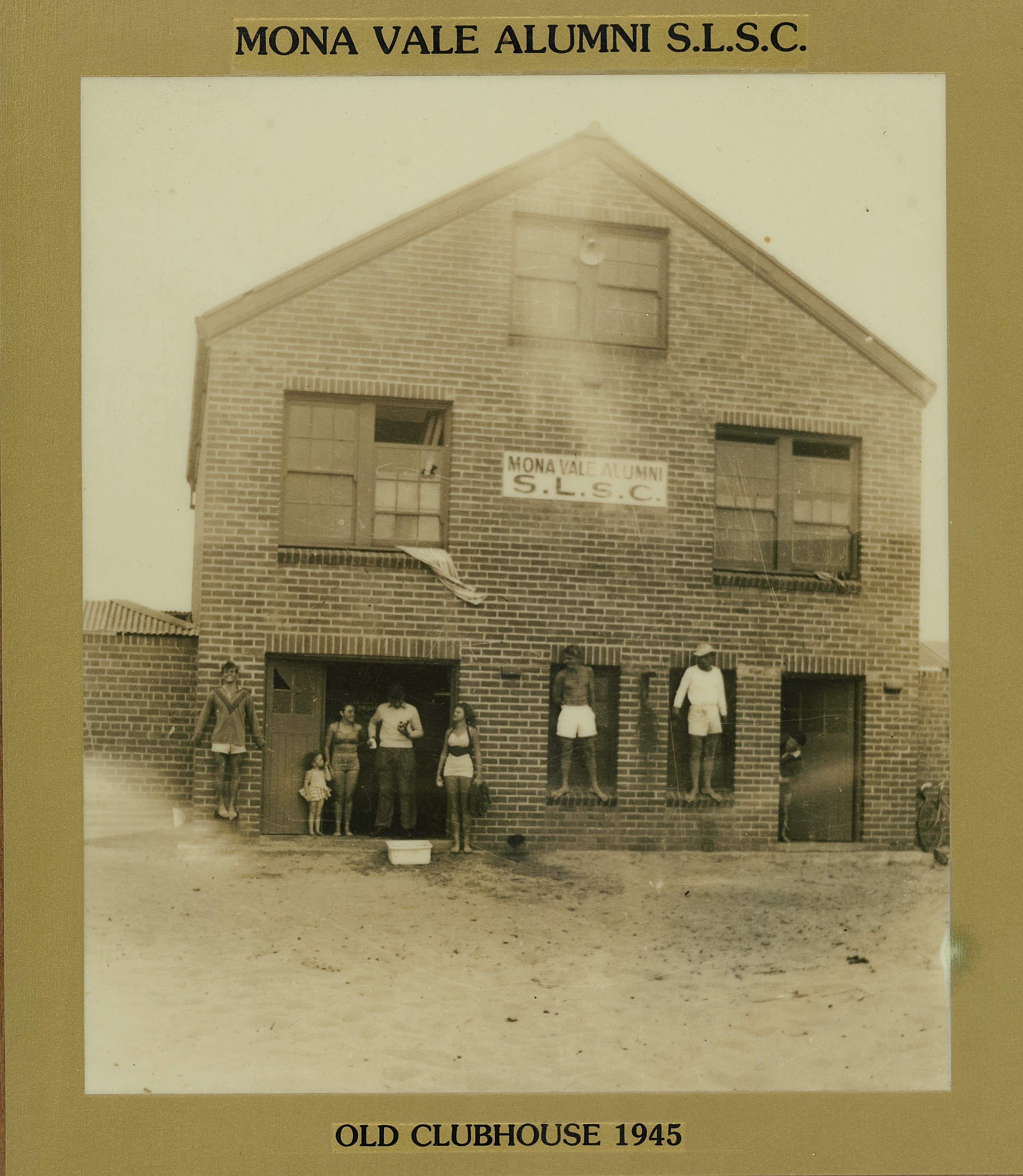 Photo courtesy Dave Murray, MVSLSC Member and a historian for the club
One other who was helping out then was Alex Slater, then a fair bit older but still doing patrols as the club had lost so many members to the services, alike every surf club along our coasts. In February 1942 the armed forces under the direction of Eastern Command took over the Club House and remained there for the rest of the War. As Bruce shared, barbed wire entanglements were put up along the beach and across the rockshelf, (apparently you could still see the remains of the fence in the rocks by the pool when the club's 90th anniversary history was penned, just over 10 years ago).
G. Wray
,
late of the A.I.F., and newly-elected honorary secretary of the Mona Vale Club, was elected to the executive of the association
. Surf Life-saving SHARK RESCUE AT FORSTER (
1944, April 5
).
The Sydney Morning Herald
(NSW : 1842 - 1954), p. 10. Retrieved from http://nla.gov.au/nla.news-article17889708
A little bit about Alex Slater:
For more than 30 years a life-saver at Mona Vale, Alex. Slater was given a presentation by residents and surfers.
Now in his sixties, he is believed to be the oldest lifesaver on the coast. All his beach patrol work has been voluntary, and he has made many meritorious rescues.
Mona Vale Club had 35 senior members in 1939. Of these, 32 are in the forces.
Veteran Surf Man Honored (
1944, November 22
).
The Sun
(Sydney, NSW : 1910 - 1954), p. 10 (LATE FINAL EXTRA). Retrieved from http://nla.gov.au/nla.news-article229275654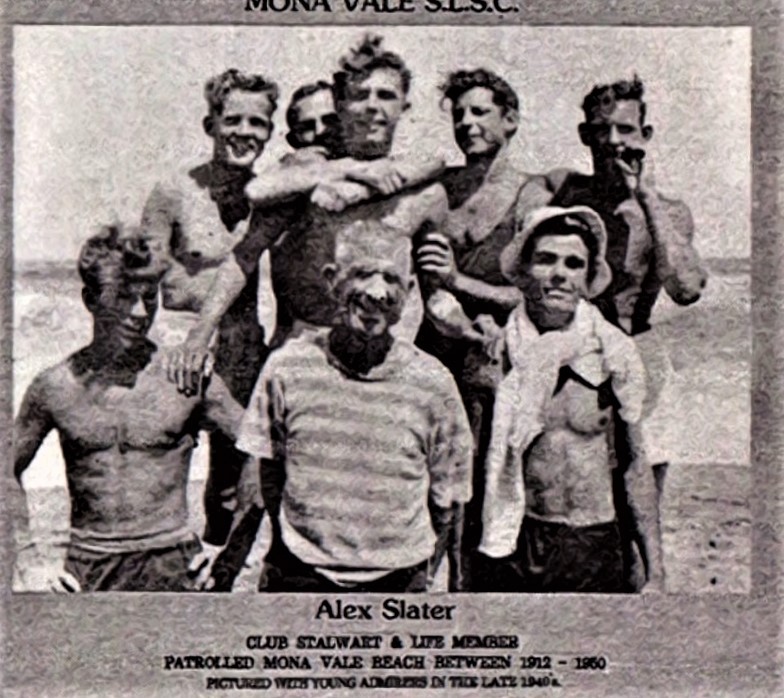 Alex Slater - Bruce and Rod are probably among these young fans. MVSLSC photo
Beach Veteran's Task of Saving Lives
A man who has saved an average of 11 lives a year has just been honoured by residents of the Mona Vale district and members of the local life-saving club.
For more than 20 years Mr. Alex Slater has carried out a self-imposed task of beach patrol duties In the district.
Although nearing his 66th birth-day, Mr. Slater still carries on his work
. Daily he
Journeys to Mona Vale from his home In Harbord
, and for hours patrols the lonely beach.
During the week-ends his efforts are supplemented by those of members of the Mona Vale Surf Life-saving Club.
Recognition of his services took a tangible form when residents and club members made a presentation to Mr. Slater.
"Last season Mr, Slater made several rescues, including some soldiers who had got into difficulties," said the club secretary, Mr. G. Wray, last night.
"He has saved hundreds of lives in his many years of voluntary patrol work, and although we have asked him to take a spell during the week-ends, he is most active."
The Surf Life-saving Association has arranged for its squad of demonstrators to visit Newport, Whale Beach, Mona Vale, and Avalon clubs on Sunday. The squad, which will be In charge of the chief superintendent. Mr. J. Cameron,' and the district supervisor. Mr. M. Brown, will Instruct on all phases of bronze medallion work, and demonstrate the newly-adopted rocking apparatus. Beach Veteran's Task of Saving Lives (
1944, November 23
).
The Sydney Morning Herald
(NSW : 1842 - 1954), p. 6. Retrieved from http://nla.gov.au/nla.news-article27940224
We used to go down there for all our school holidays.
Dad was very worried about sharks and Mona Vale beach as a swimming place as the old man who used to bring the wood, Alex Slater on his horse Creamy, was a lifesaver at Mona Vale and used to say to dad 'don't let the girls go swimming there, it's a dreadful beach, very dangerous.'
Don Taylor said:
I remember
Alex, he used to do all sorts of things.
He was one of the few people who actually lived at Bayview, a bit further around towards Mona Vale
.
Alexander William Slater passed away in 1950. The NSW BDM's records his parents were Thomas Henry and Mary Anne (nee Collins, married 1876- registered at Paddington) - the death was registered at Manly. He was born in 1877, the birth registered at Parramatta. One of his rescues can be read about above among the 1923 incidents for
this surf club
.
The Allied Works Council was formed to put in place coastal defences. The concrete tetrahedron tank trap was one of such measures. Around 300 of these tank traps were strategically placed along the shoreline with the first group of eight traps placed on Fairy Bower Beach in Manly. Each trap was about 5 feet high and weighed approximately 2 tonnes and some had spikes coming from them. They were embedded in excavated trenches and along shorefronts on the coast and at the estuary mud at Pittwater and at Bayview wharf, with some placed in between mangrove trees.
In 1942 the events that took place spread alarm throughout Australia. A short list of these shows:
15 February –

Singapore falls to the Japanese, with approximately 15,000 Australian troops taken prisoner.
16 February - The Bangka Island massacre takes place.
19 February – Darwin is bombed by Japanese forces for the first time. At least 243 persons are killed.
1 March – The cruiser HMAS Perth is torpedoed by Japanese destroyers in the Battle of Sunda Strait, sinking with the loss of 350 crew and three civilians.
3 March – 88 Allied civilians and military personnel were killed and 22 aircraft were lost when Japanese Zero fighters strafed Broome.
20 March – At Terowie, South Australia, American General Douglas MacArthur makes his famous speech which included the words "I came out of Bataan and I shall return."
4 May – The Battle of the Coral Sea begins.
19 May – The prototype CAC Boomerang, an Australian designed and built fighter aircraft, takes to the air for the first time.
22 May – American soldier Eddie Leonski is arrested and charged for the "Brownout Murders" of three women.
22–23 May - Townsville mutiny - A mutiny by African American servicemen from the 96th Battalion, US Army Corps of Engineers, United States Army while serving in Townsville.
31 May – During an attack on Sydney Harbour, a Japanese

midget submarine sinks the converted Sydney ferry, HMAS Kuttabul, killing 21.
7 June – The Income Tax (War-time Arrangements) Act 1942 is enacted, transferring the power to levy personal income tax from the states to the

federal government.
8 June – Japanese midget submarines shell Sydney and Newcastle.
6 July – Elements of the Australian 9th Division arrive in El Alamein. The Division subsequently takes part in the First and Second Battle of El Alamein.
21 July - Australia Fights Japan in Kokoda Trail
9 October - Australia adopts sections 2 to 6 of the Statute of Westminster 1931 effectively ending British dominion
30 October – Construction begins on the Burma Railway, begun by 15,000 Australian prisoners-of-war captured by the Japanese after the fall of Singapore.
16 November - Japan retreats from Kokoda Trail with Australia being the Victor
26 November – A violent brawl breaks out in Brisbane between United States military personnel and Australian servicemen and civilians, in what becomes known as the "Battle of Brisbane". One Australian soldier is shot dead.
1 December – HMAS Armidale, a corvette of the Royal Australian Navy, is sunk by Japanese with the loss of 100 men.
In February 1943 Ailsa Craig, then married to Scotty Allan is killed while returning from Coast Watcher duties. Ailsa, who had been part of organising fundraising as well in town, was hit by a delivery boy on a bicycle and killed in Pacific Road (some reports state it was the corner of Surf Road and Barrenjoey road).
In June 1943 the only son of Harry Ruskin Rowe on whose land the training for Air Force personnel and later Cadets was then taking place, Anthony, is killed fighting the Japanese over north Australia - a life ended too soon in both cases:
ALLAN - February 9, at Palm Beach, suddenly as the result of an accident, Ailsa, beloved wife of Wing Commander G. U. Allan, A.F.C. Privately cremated. Family Notices (1943, February 12). The Sydney Morning Herald (NSW : 1842 - 1954), p. 10. Retrieved from http://nla.gov.au/nla.news-article17836678

ROLL OF HONOUR
ROWE. - Anthony Thomas Ruskin, late WONBOBBIE STATION, WARREN. Spitfire pilot, RAAF died fighting north of Australia 20th June, 1943. Late 121st Channel Fighter Squadron RAF. Dearly beloved elder son of Mr and Mrs H. Ruskin Rowe, Double Bay and brother of Joyce and Beresford. Aged 23 years. Family Notices. (1943, July 21). The Sydney Morning Herald(NSW : 1842 - 1954), p. 12. Retrieved from http://nla.gov.au/nla.news-article17857144
KILLED IN ACTION. PILOT OFFICER "TONY" ROWE
Deep regret was expressed in Western circles when it became known that Pilot Officer Anthony Thomas Ruskin("Tony") Rowe, son of Mr. H. Ruskin Rowe, of Wonbobbie Station, Warren, and Mrs. Rowe, of Double Bay, had met his death in sad circumstances,
This bright young airman, who was only 23 years of age, had been missing for three weeks and when found dead it was learned that be had been shot up badly after attacking 48 Japanese plane's, of which he shot down two bomber's and one Zero. This fact was revealed when the film of his camera gun was developed by the Intelligence' Department of the R.A.A.F. It would appear he was killed trying to save his mate, who was not quite so experienced a pilot or fighter. Both we're killed, but it is some consolation to the bereaved families to know that 12 Jap bombers and six Zeroes did not get home.
The late Pilot Officer Rowe was very well and favorably known throughout Warren and surrounding districts, having been manager of Wonbobbie Station at the time of his, enlistment.
At the early age of 18 years he took over the management of Avoca Station, in the Gulargambone district. He was a grandson of the late Mr. Moore Council, of Gulargambone, who came up from Wallangarra and took up Avoca Station now owned by Mrs. H. Ruskin Rowe. He was one of the pioneers of that district, Avoca at the time being a very big property, and was one of the greatest, advocates for the extension of the railway from Nevertire to Warren, Nevertire those days being the nearest rail centre to Avoca.
Prior to returning to Australia, the late Pilot Officer Rowe was a member of the Channel Fighting Squadron, R.A.F., and had taken part in many outstanding flights, being particularly mentioned by his Commanding Officer for skilful flying in actions over Dieppe, in Germany. The remains were buried at Adelaide River cemetery, Darwin. Besides the sorrowing parents, a sister (Joyce) and brother(Beresford) are left to mourn the passing of a brave soldier. KILLED IN ACTION. (1943, August 26). Gilgandra Weekly(NSW : 1942 - 1955), p. 3. Retrieved from http://nla.gov.au/nla.news-article113240305
Planes were falling into the sea off our coast – ships are being torpedoed by Japanese and German forces.
In Australia:
14 January – Meat rationing begins in Australia.
5 August – The Cowra breakout occurs, with 545 Japanese prisoners of war escaping from the camp.
19 August – A referendum is held, concerning Post-War Reconstruction and Democratic Rights. It proposes to grant the government power to legislate over 14 points of law for a five-year period. The referendum, asked in a single question, is not carried.
21 October – The heavy cruiser HMAS Australia, operating in the Philippines, is hit by a kamikaze aircraft, killing 20 and wounding 54, in what is believed to be the first attack of its kind.
25 November – Reg Saunders becomes the first Aboriginal commissioned officer in the Australian Army.
14 December – The Liberal Party of Australia is formed, replacing the United Australia Party.
Despite all these events and the dangers inherent in coastal areas by the seized Japanese intelligence and maps, there was a sense that the tide had turned in the oceans off their shores, militarily, and the threat which caused such swift action in late 1941 and 1942, had eased. By early 1944 the southwest Pacific was largely under Allied control. By February, the Allies were also making progress in the central Pacific. Naval and air strikes reduced most of the Japanese bases throughout the area, and after several intense, bloody campaigns, most of the central Pacific was secure.
Locally, people flocked to the coast for respite: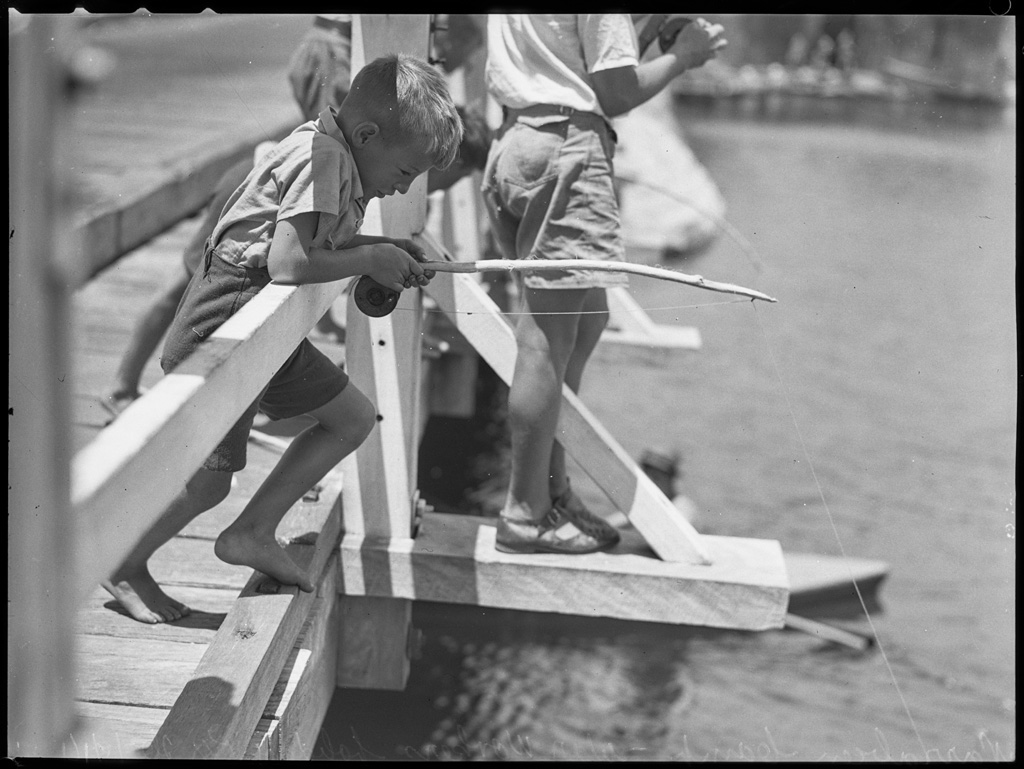 Boy fishing, Narrabeen war workers holiday camp, 26 January 1944, by Alec Iverson for PIX magazine, from original negative, ON 388/Box 019/Item 001 archival.sl.nsw.gov.au/Details/archive/110588546, courtesy State Library of New South Wales. The article that ran these, retrieved from the National Library of Australia's digitised archives shows: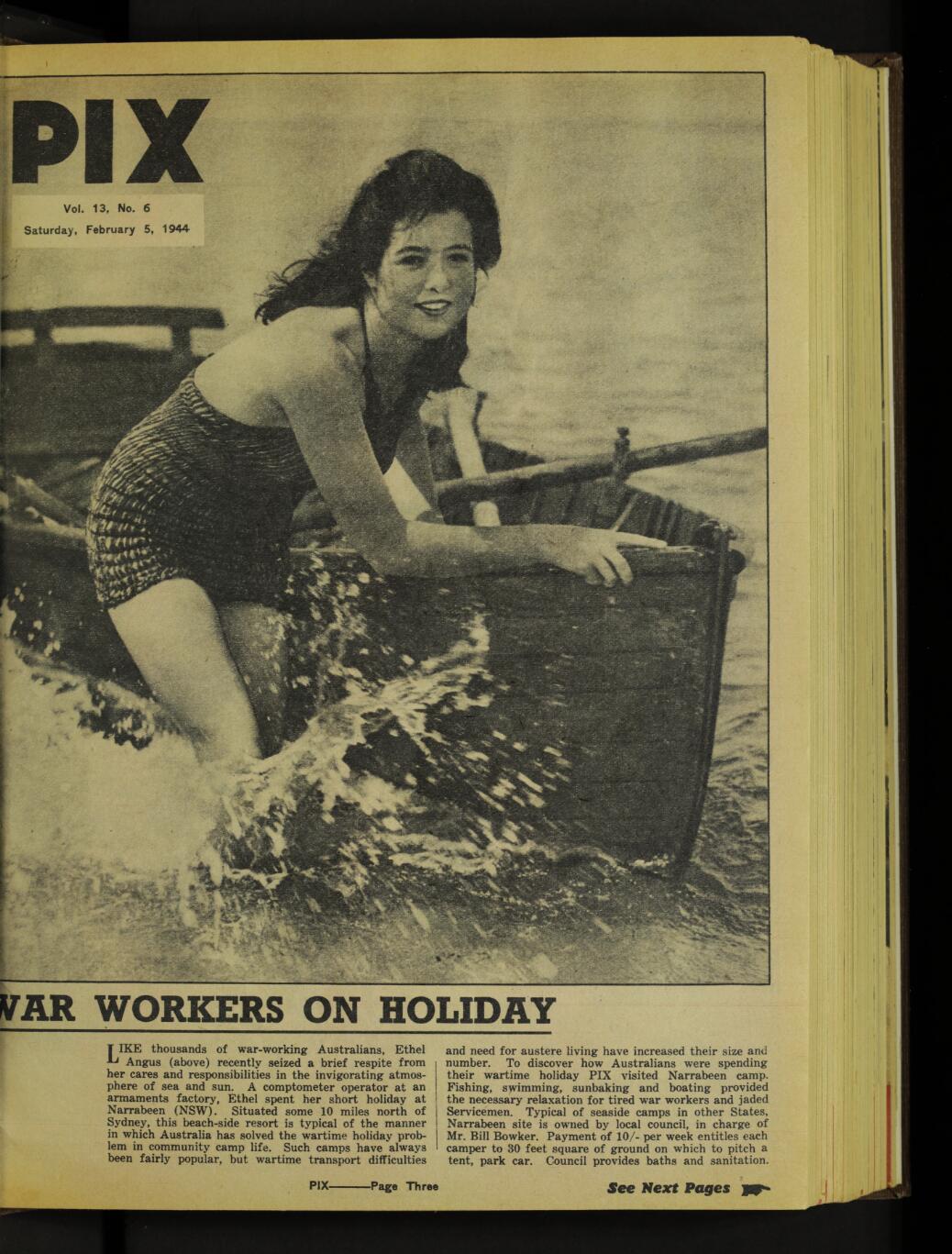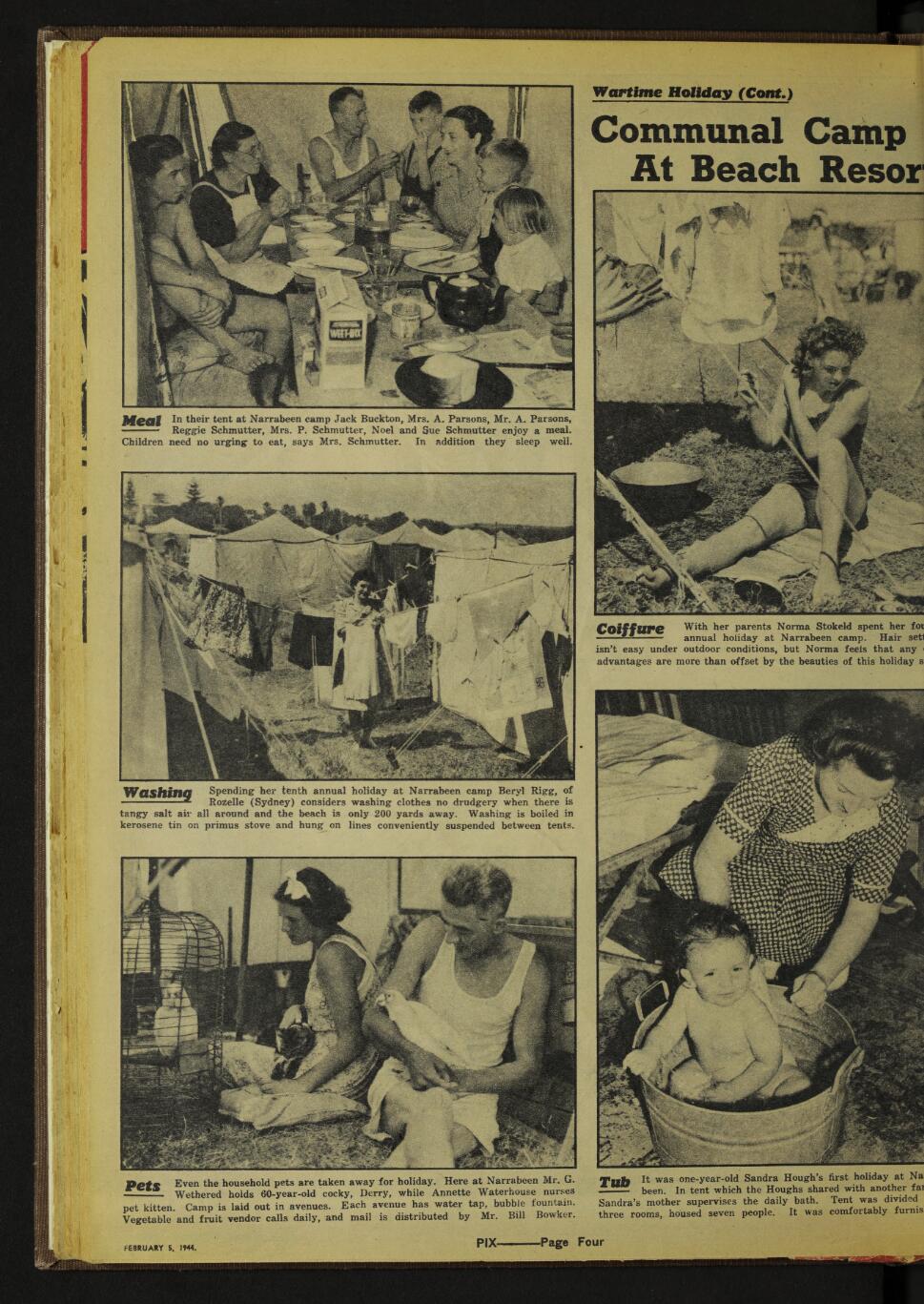 When the war ended in the European theatre with the unconditional surrender of the Nazis on May 8, 1945, fighting continued on this side of the world, but only for a few more horrific months.
On Sunday, September 2nd, 1945, at 9:04 a.m., Tokyo time, the Empire of Japan's formal surrender aboard the American battleship USS Missouri in Tokyo Bay took place. Honoured each year as VP Day, Victory in the Pacific Day, the declaration brought to an end six years of conflict for Australians and for Australia, and in the United States, V-J Day, marked the end of nearly four years of persistent conflict since the Japanese attack on Pearl Harbor, Hawaii, on December 7th, 1941, the catalyst for America's entry into the war. Finally, there was peace in the Pacific and on the streets of Pittwater people were anxious to welcome home those who had served and those who had been imprisoned.
PEACE: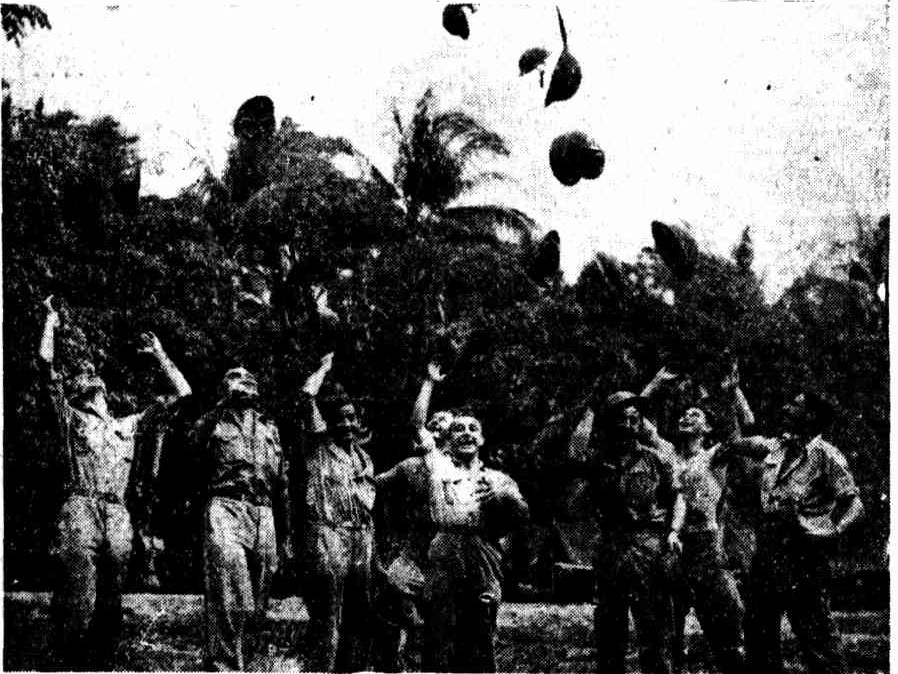 These R.A.A.F. men in Borneo gleefully tossed their steel helmets into the air when' they heard of the Japanese surrender Australian Official Photo. PEACE: (1945, September 4). Warwick Daily News (Qld. : 1919 -1954), p. 1. Retrieved from http://nla.gov.au/nla.news-article190950745
Just as transporting all those many thousands deployed overseas home would take months, rebuilding what had been dug or installed in the landscape would also take longer than expected.
Mona Vale Golf Course did not resume play until January 1949. During WWII the grounds and surrounds were used as a training grounds and the locality of a camp. To stall a feared invasion by Japanese forces, a tank trap was built across the course from Turrimetta to north Mona Vale heads and barbed wire entanglements erected next to the beach. The influx of defence forces to the area briefly lifted the Club's bar sales until the clubhouse was commandeered for use as administration offices and officers' mess for the nearby army camp.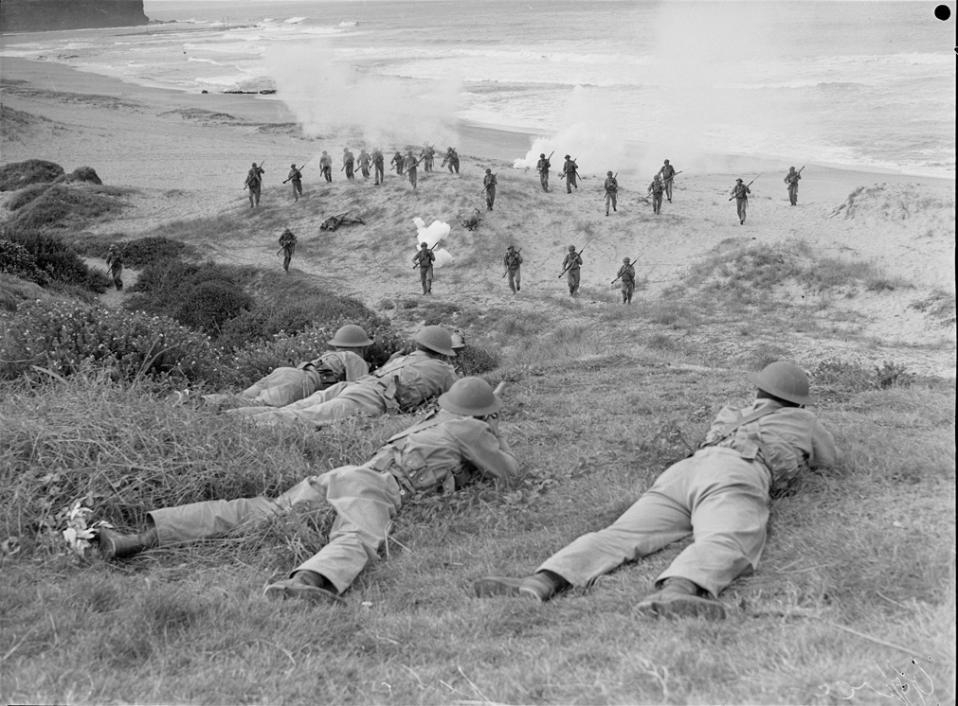 Officers training school Mona Vale, 20 June 1941 photographed by R. Donaldson, Image No.: c21276_0019_c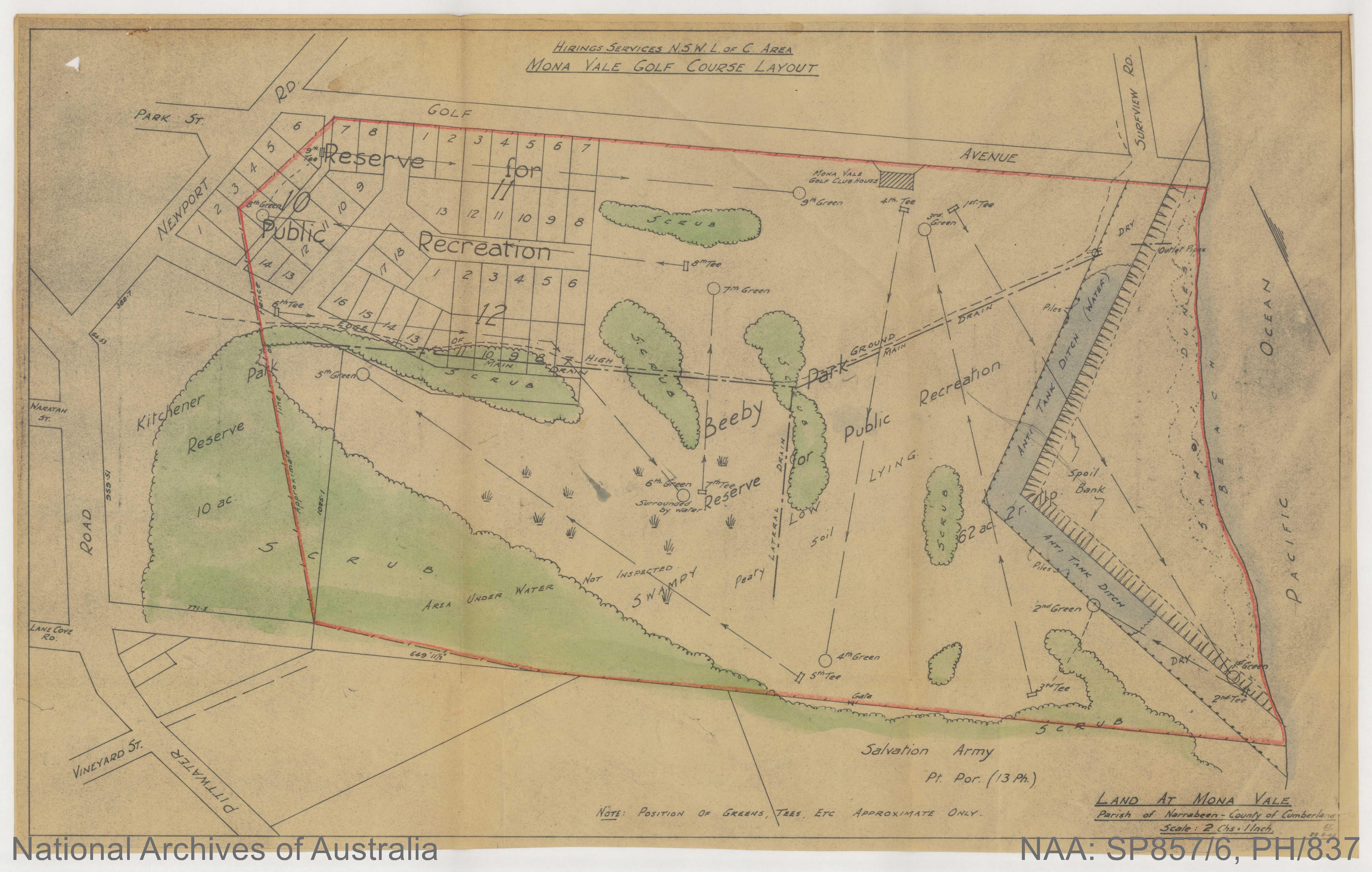 MVGC Rehabilitation by Army map dated 28th of August 1944, courtesy National Archives of Australia - this shows the tank trap that had been built alongside the beach as well as where barbed wire was placed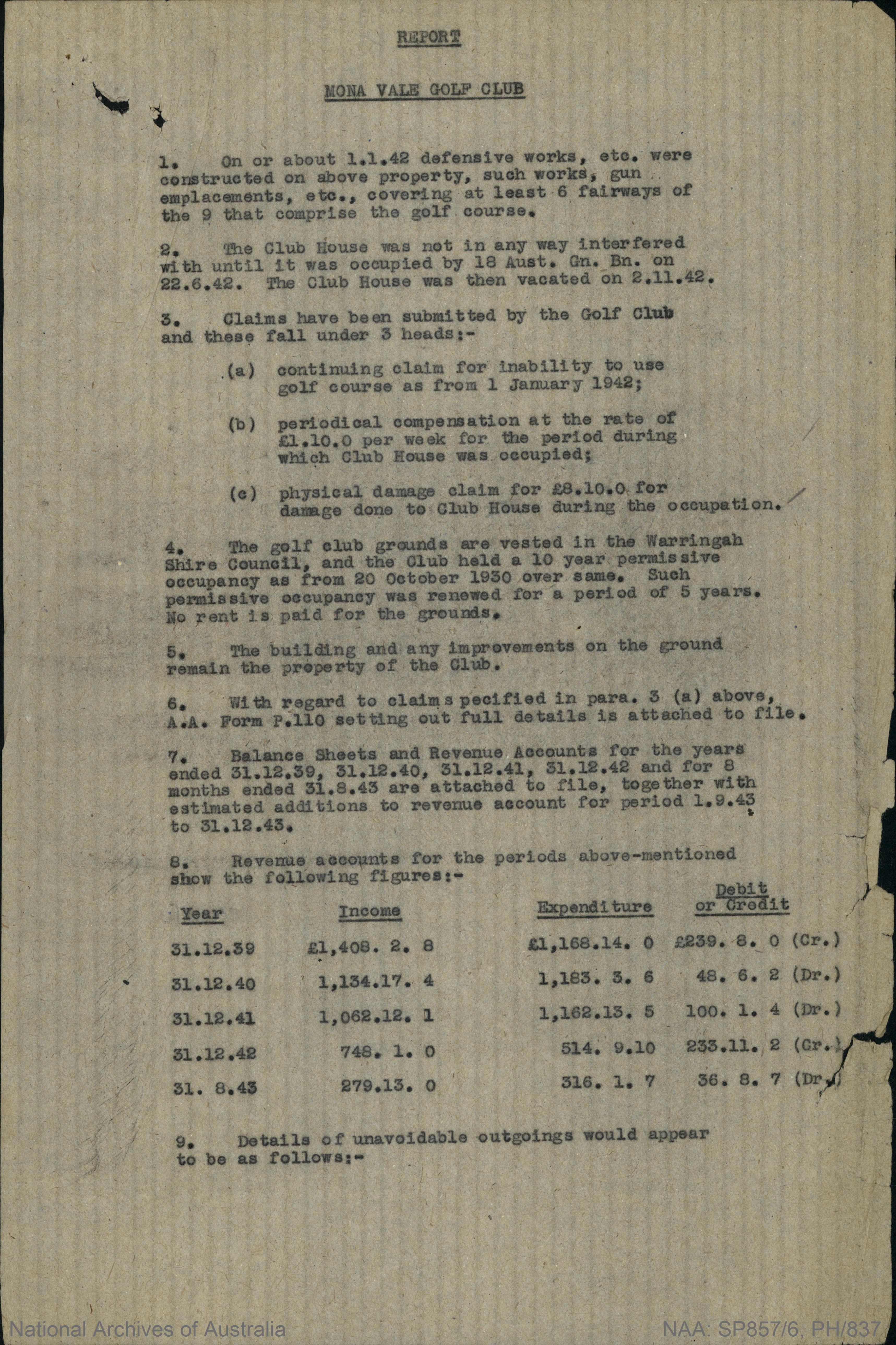 National Archives records list of Tank traps, gun pits and barbed wire on MVGC show 6 of the 9 fairways were impacted
MVGC documents explaining about seeding new grass and asking when stopped works will resume: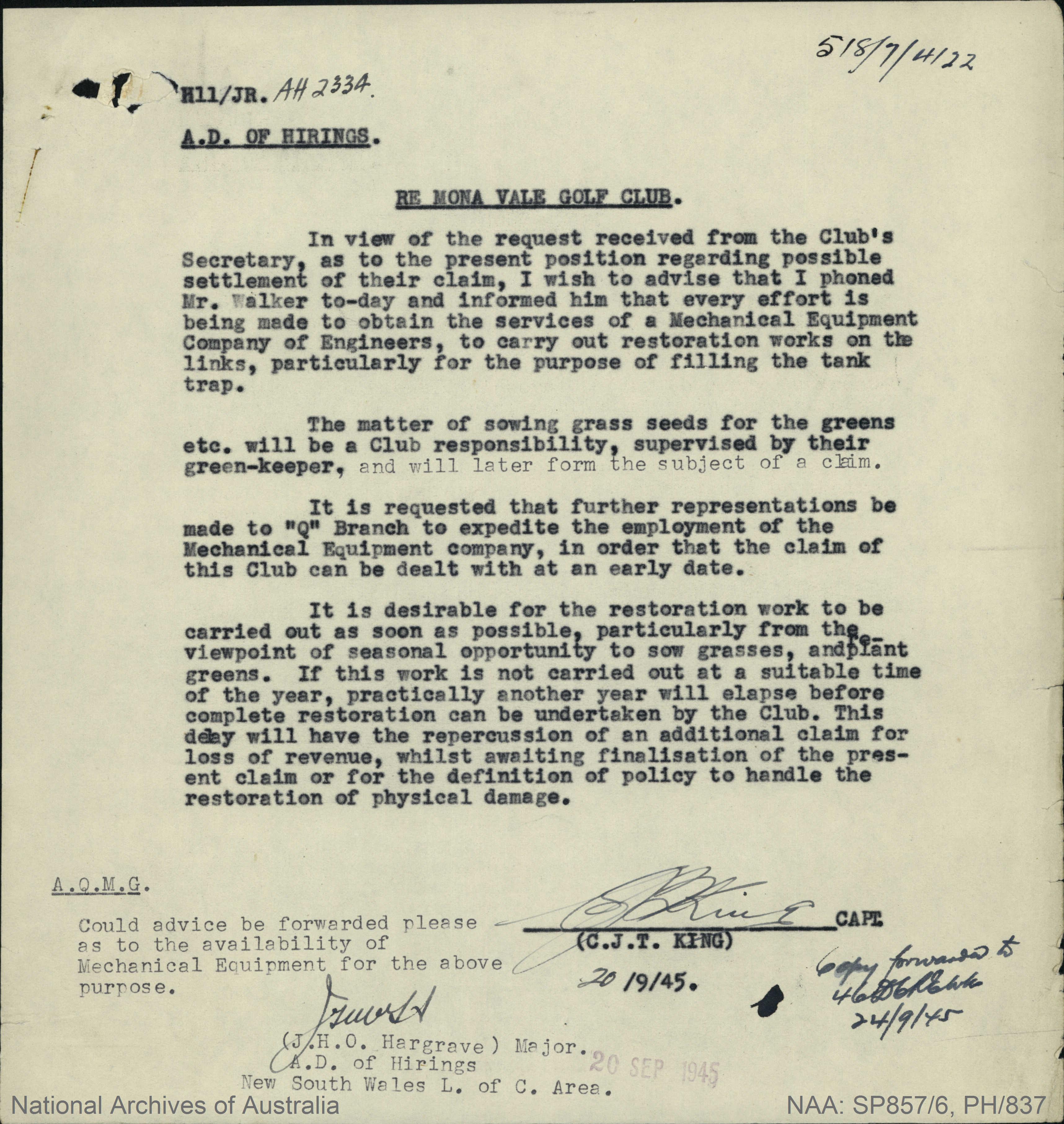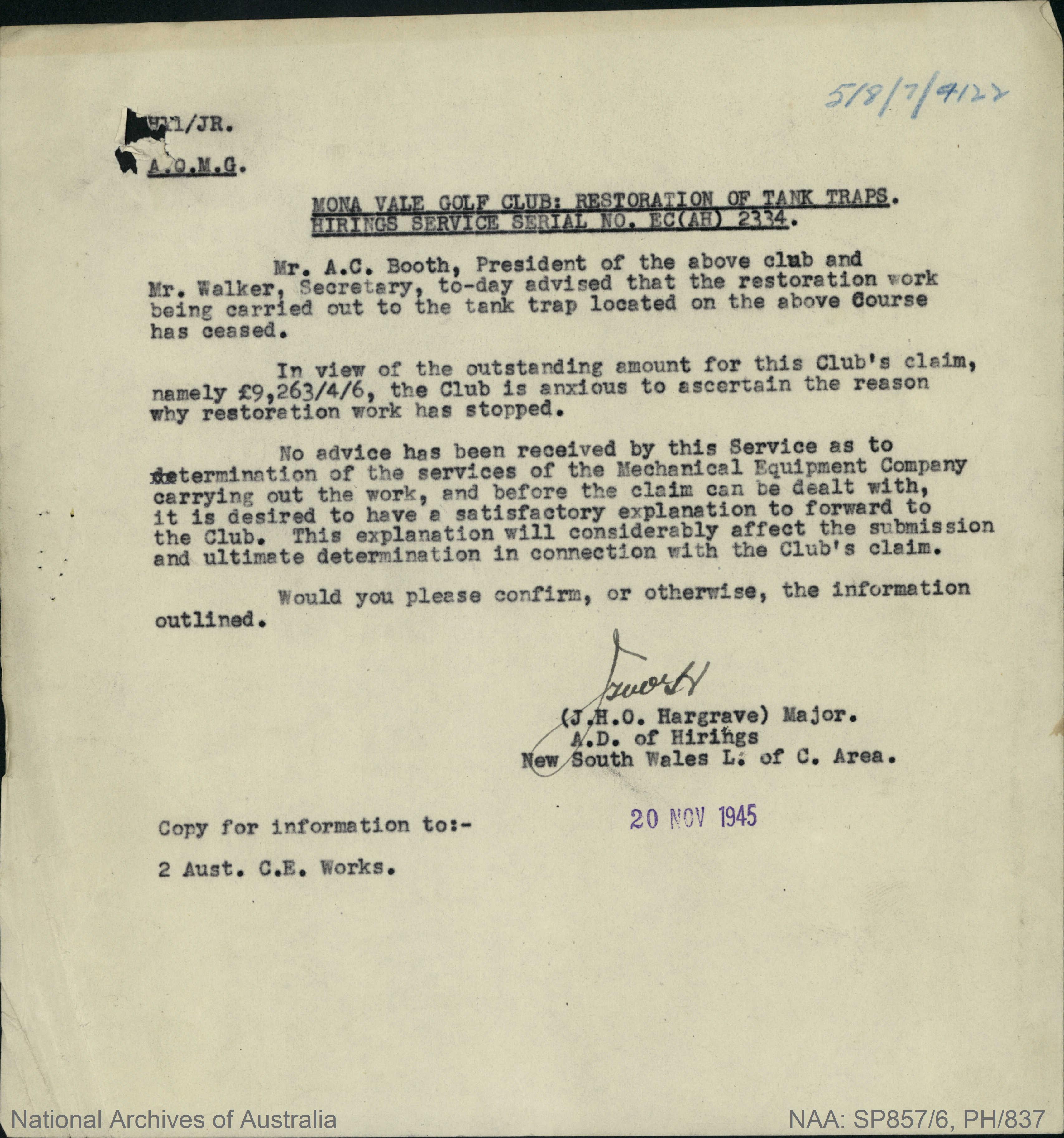 Mona Vale Will Reopen Course
Mona Vale golf course, which was occupied by the Army during the war, will be reopened for play on January 3.
Reconstruction of the course has cost more than £7000. It involved the removal of many tank traps and other military works. A nine-holes layout, 3109 yards in length, skirting the beach, has been constructed. Mona Vale Will Reopen Course (1948, December 17). The Daily Telegraph (Sydney, NSW : 1931 - 1954), p. 17. Retrieved from http://nla.gov.au/nla.news-article248356734
January 26th 1952 edition of 'Pix' - Mona Vale Golf Course soldier members
The tetrahedrons that had been installed as part of the defence works also had to be removed, although later storms revealed many were left in place. At Bayview Cedric Moreton Williams had the novel idea of using these as moorings for the soon to be returned flotilla of local boats that had been moved up the Hawkesbury soon after the conflict commenced.
His son Cedric Vincent Williams explained during his Profile interview:
'' From Bayview Golf club to where the creek ran out was a no go area – it was all mud and mangroves. We wouldn't go in there much – I had a canoe and would go along some of the creek but I was mostly on Pittwater.
Apart from having the net and gate to stop people at the Palm Beach end they put stops around the edges of Pittwater – these concrete pyramids. They were great heavy things they dropped in so nothing could go over them. They used to go all around the foreshores. Eventually they kept sinking down into the mud of course, and there is a lot of them still under the mud even now. They had great big steel loops on them.
My father would get them and make moorings out of them – they could never move, once they were put down they were there, permanently. The only way he could do it was get two dinghies together, wait for the tide to come in to lift it, tie the pyramid concrete onto it, then cut it – a couple of times the dinghy was sinking just as much as the pyramid!
That was one interesting part of local activities during the war.
Loquat Valley School, where that is, was just a thoroughfare which they blocked up. There was a little bit of wharves at the end of the track for the army there – so the Army was fairly prevalent in the area then – you were conscious of them being everywhere.
I also remember at the end of the war P G Taylor brought three Catalina planes down to Bayview. They were delivered to the boatshed and we put them on moorings there. The Navy took the engines and gave the rest to dad who took some of them for parts – the anchors were still great, as was the steel. Dad used them in boats.
PG Taylor put one together out of all three and it was placed in Catalina Park in the Blue Mountains – dad knew the manager of the Guest House up there at Katoomba.''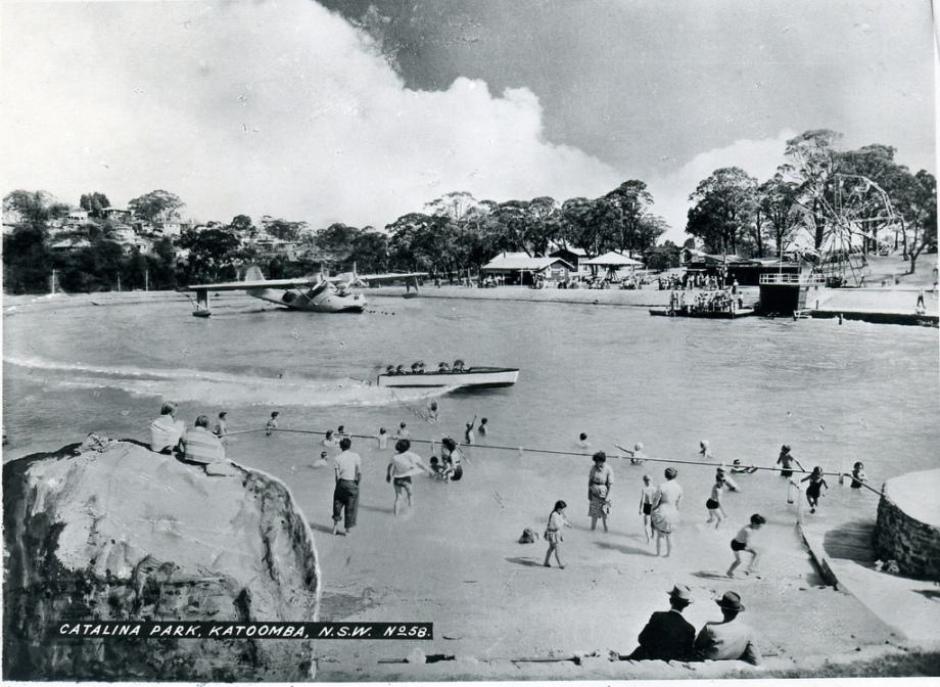 Catalina Park, Katoomba c.1950
Looking south east, showing the Catalina flying boat on the swimming lake, speed boat ride, fun fair, Ferris wheel, "monkey house" shelter constructed of cement over wire netting in the foreground. The land was purchased by Horace Gates owner of the Homesdale Guest House and Wentworth Cabaret who, in 1946, felt that a new attraction was needed to bring tourists back to the Blue Mountains after peace was declared. Accordingly he dammed Katoomba falls creek and had an ornamental lake and amusement park constructed offering 'every facility for fun and food'.
The park was an instant success and in 1948 the shell of a Consolidated Catalina PBY-5 flying boat was added to the attractions which included speed boat rides, tea rooms, miniature train, Ferris wheel, merry-go-round, swimming pool and a Giggle House showing Charlie Chaplin films. Although many people believed the plane had flown there, it had in fact been dismantled and brought to Katoomba by truck, where it was re-assembled and anchored to a concrete block in the middle of the lake.
Up to thirty passengers paid two shillings each to be taken out to the flying boat by punt where, in the dark, stuffy interior, they viewed film of a flight over Sydney, heard the story of the Catalina and tried out the controls. While the film was showing, an assistant would stand on the wing rocking the plane to simulate flight while the speed boat would circle the lake providing waves and engine noise. Fun seekers emerged from this surround sound experience dizzy and gasping for air, many too ill to enjoy further amusements.
For many years the lake operated as Katoomba's swimming pool and provided a fireworks display after the New Year's Eve street parade, however as the town's population increased, it gradually became run down and the water polluted.
Blue Mountains City Council purchased the land in 1952 with the purpose of turning the area into a public park and treated water swimming pool. In 1954 the Catalina, showing signs of age and wear, was pulled up onto the bank and left to the ravages of weather and souvenir hunters, until in 1958 it was sold to Sheffield Welding & Engineering, Auburn NSW, where it was dismantled and cut up for scrap. Courtesy Repository: Blue Mountains City Library www.bmcc.nsw.gov.au/library/ - Part of: Local Studies Collection
The war records provided by the National Archives of Australia show Boatbuilder Cedric M Williams was still enlisted and serving when he first mooted using these tetrahedrons as such. The Williams boatshed was then near the Bayview wharf - Cedric M served with the Volunteer Defence Corps (VDC)initially until good use was made of his knowledge of boats or 'small craft' as his records show. Additionally Elizabeth Hird (nee Williams, Cedric's sister and daughter of Cedric M) recalled her mother helped make camouflage nets for the army units stationed at Bayview: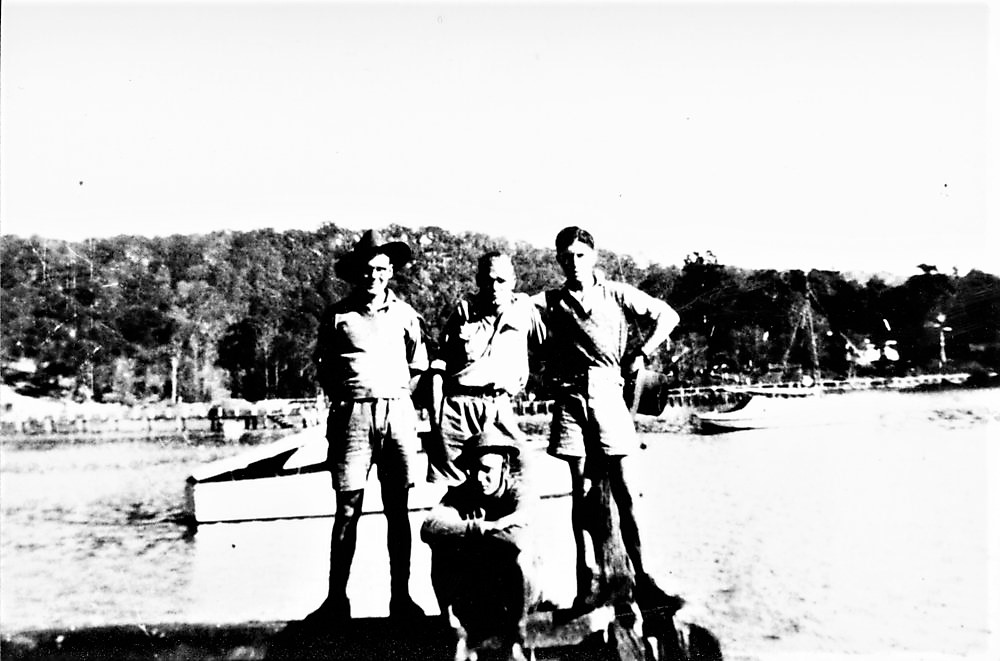 Soldiers at Bayview. 1942.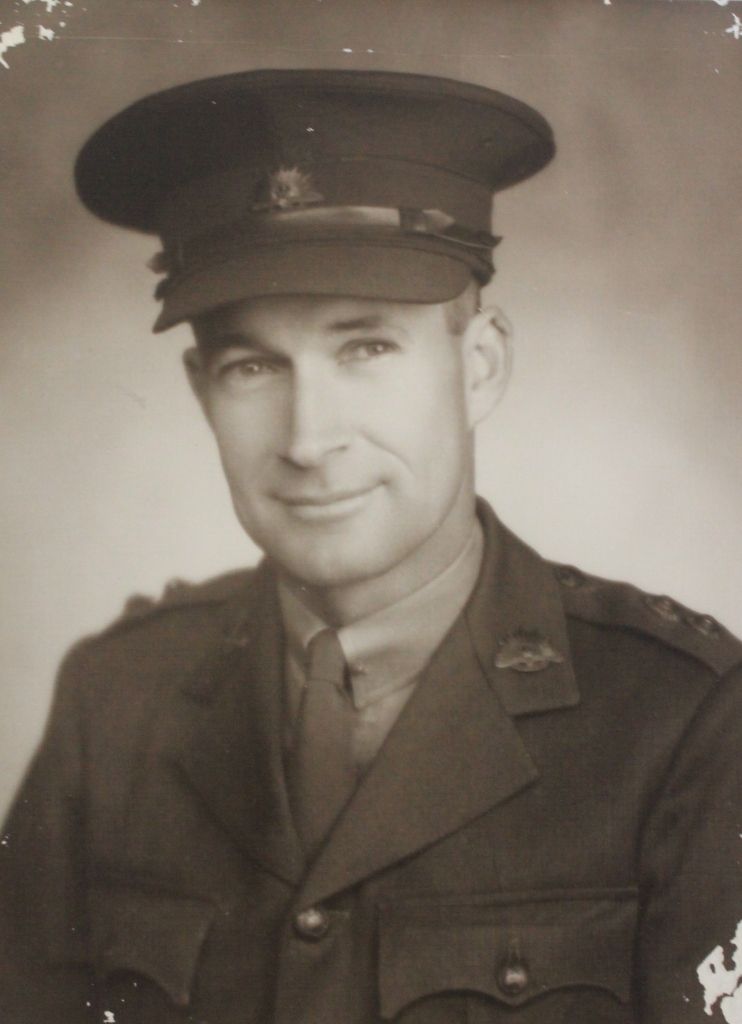 Cedric M Williams - WWII: National Archives of Australia Records - WILLIAMS CEDRIC MORETON : Service Number - N393326 : Date of birth - 19 Jan 1904 : Place of birth - SUMMER HILL NSW : Place of enlistment - PADDINGTON NSW : Next of Kin - WILLIAMS SOPHIE. Date range: 1939 - 1948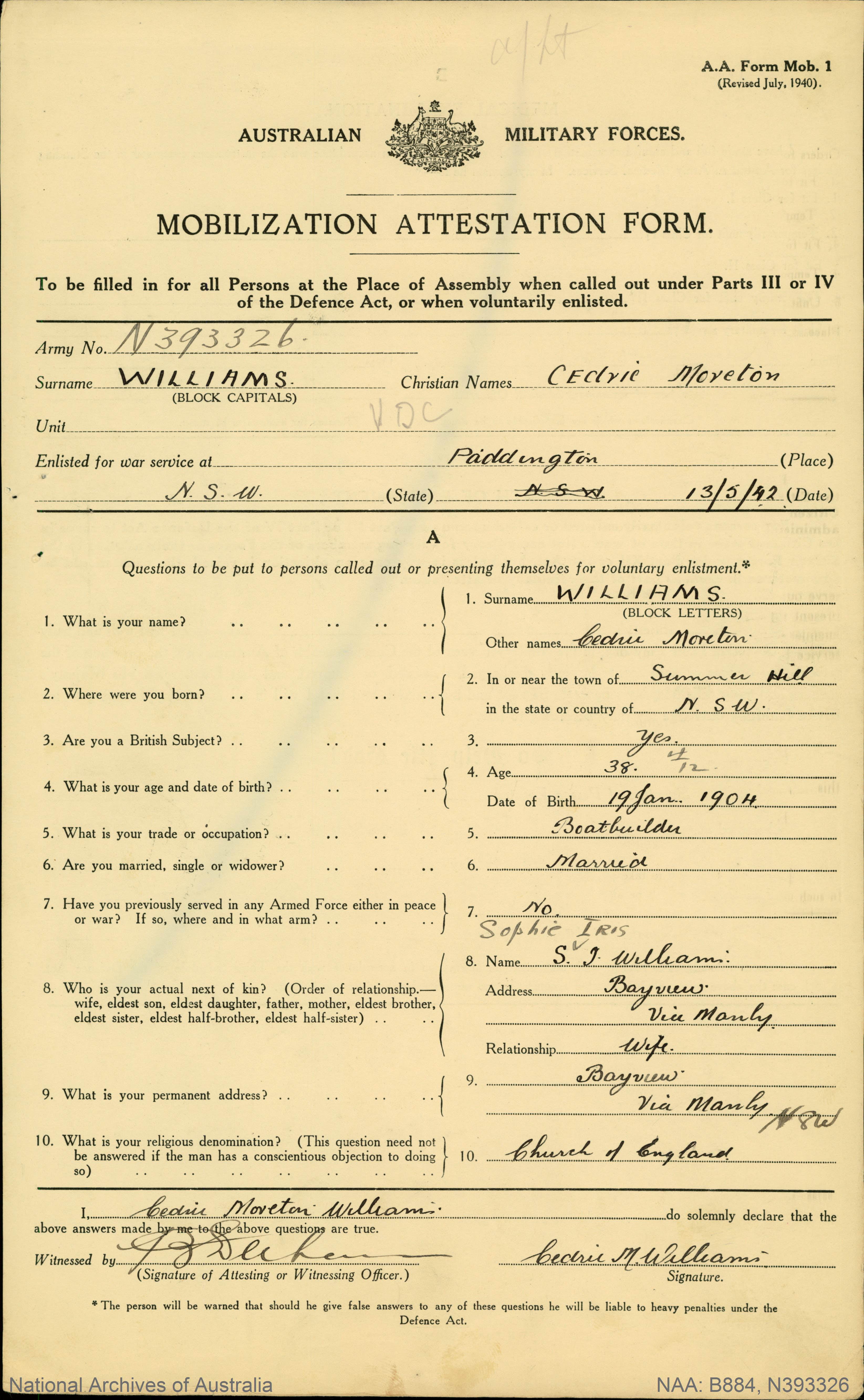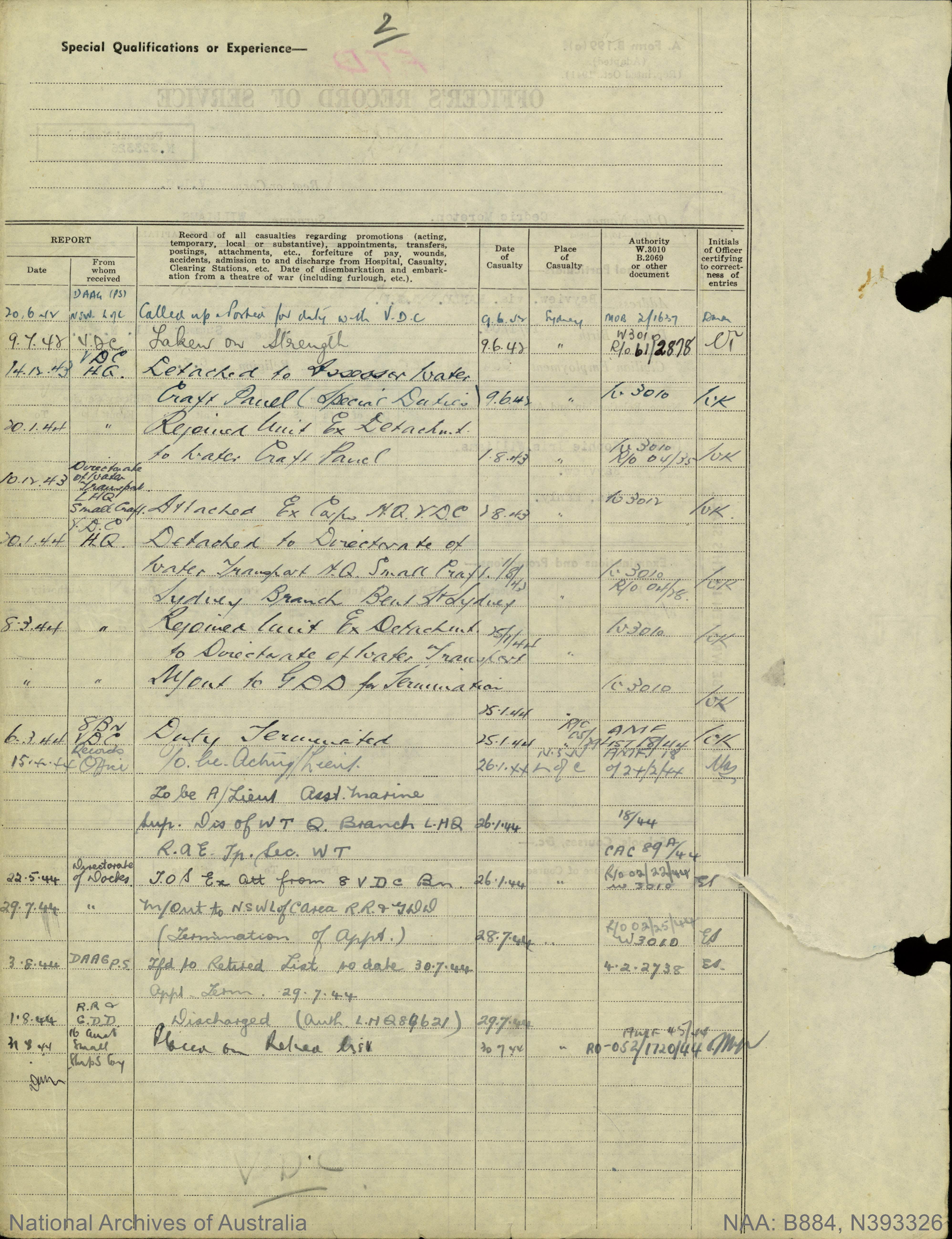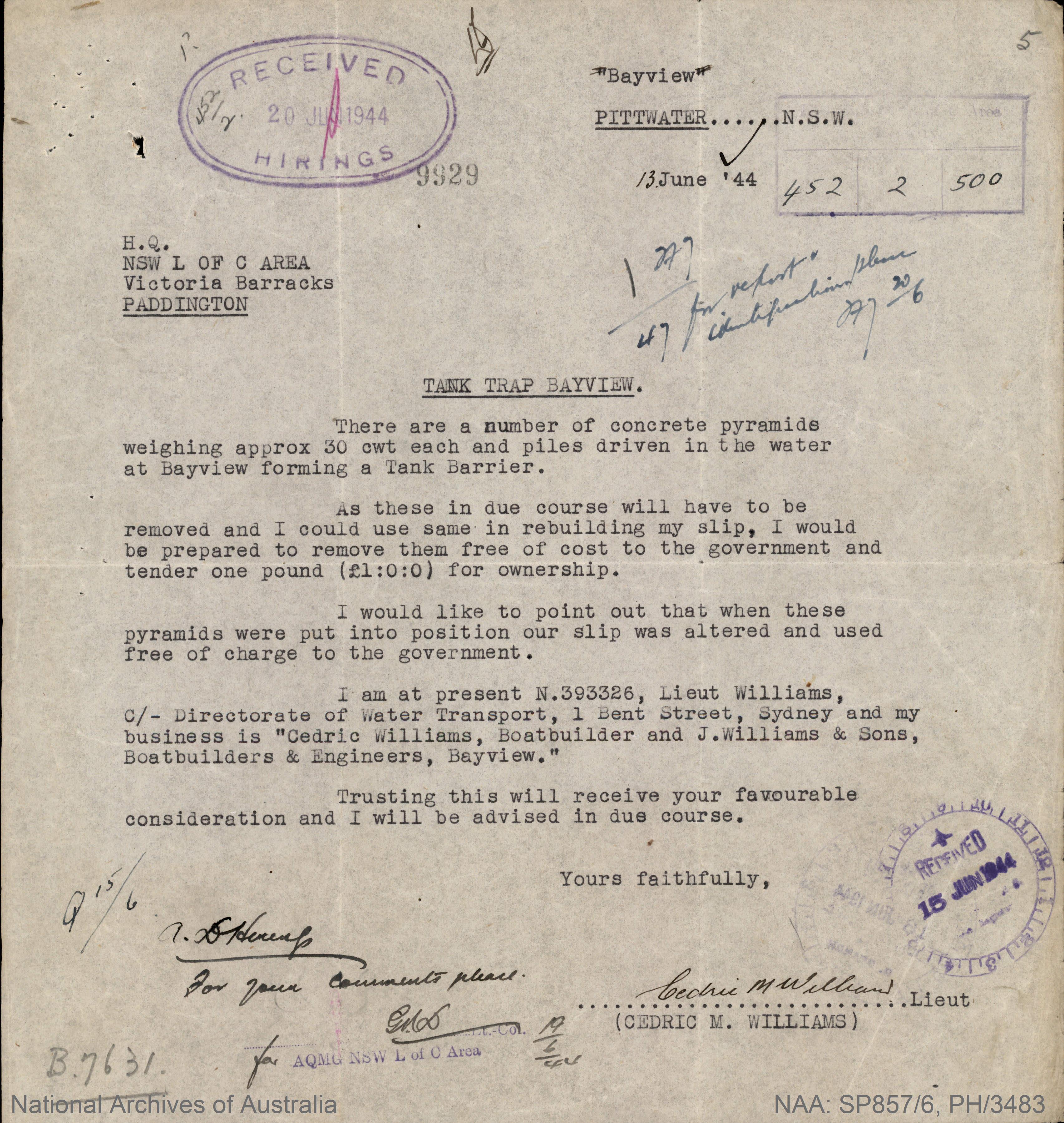 Cedric M Williams was given permission to remove these tetrahedrons once he was discharged. What is interesting about what else was found in this file is the permission given for people to purchase any excess equipment used then - Geoff Searl OAM recently related that the first 'shed' for the Avalon Beach RSL was, to his knowledge, one of the old sheds from the Sun Down camp at Ruskin Rowe.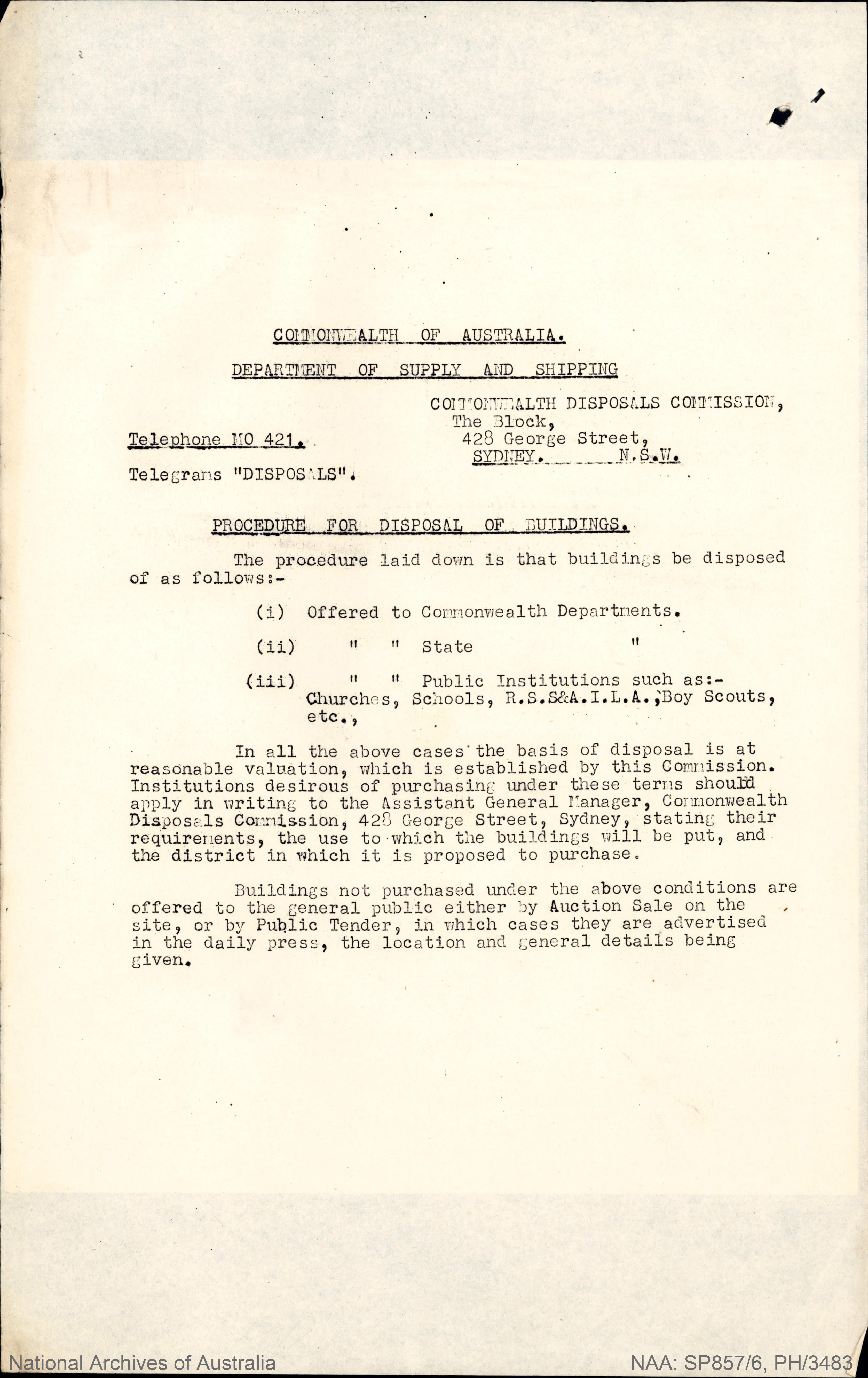 The National Archives of Australia file on Bayview Tank Traps show: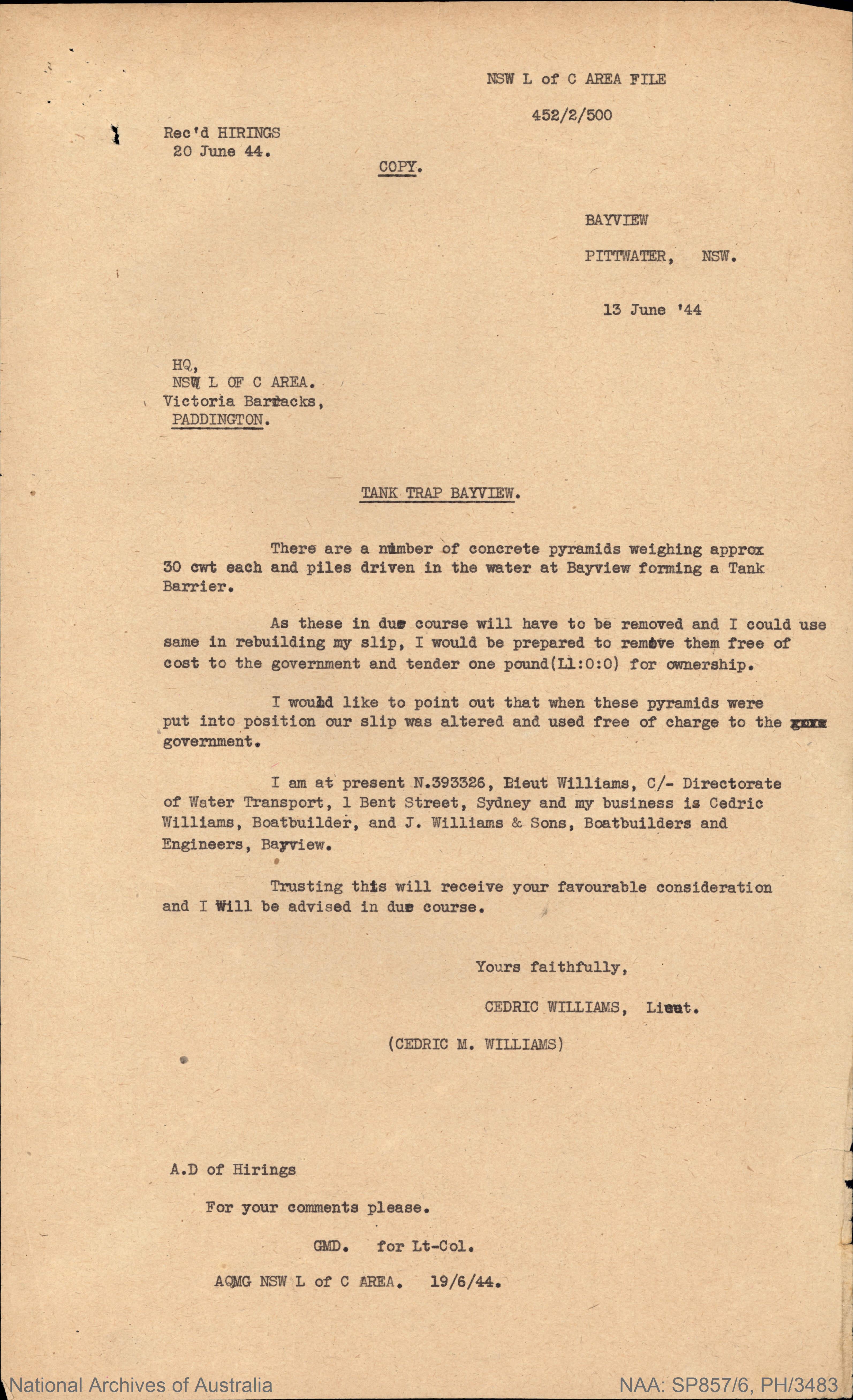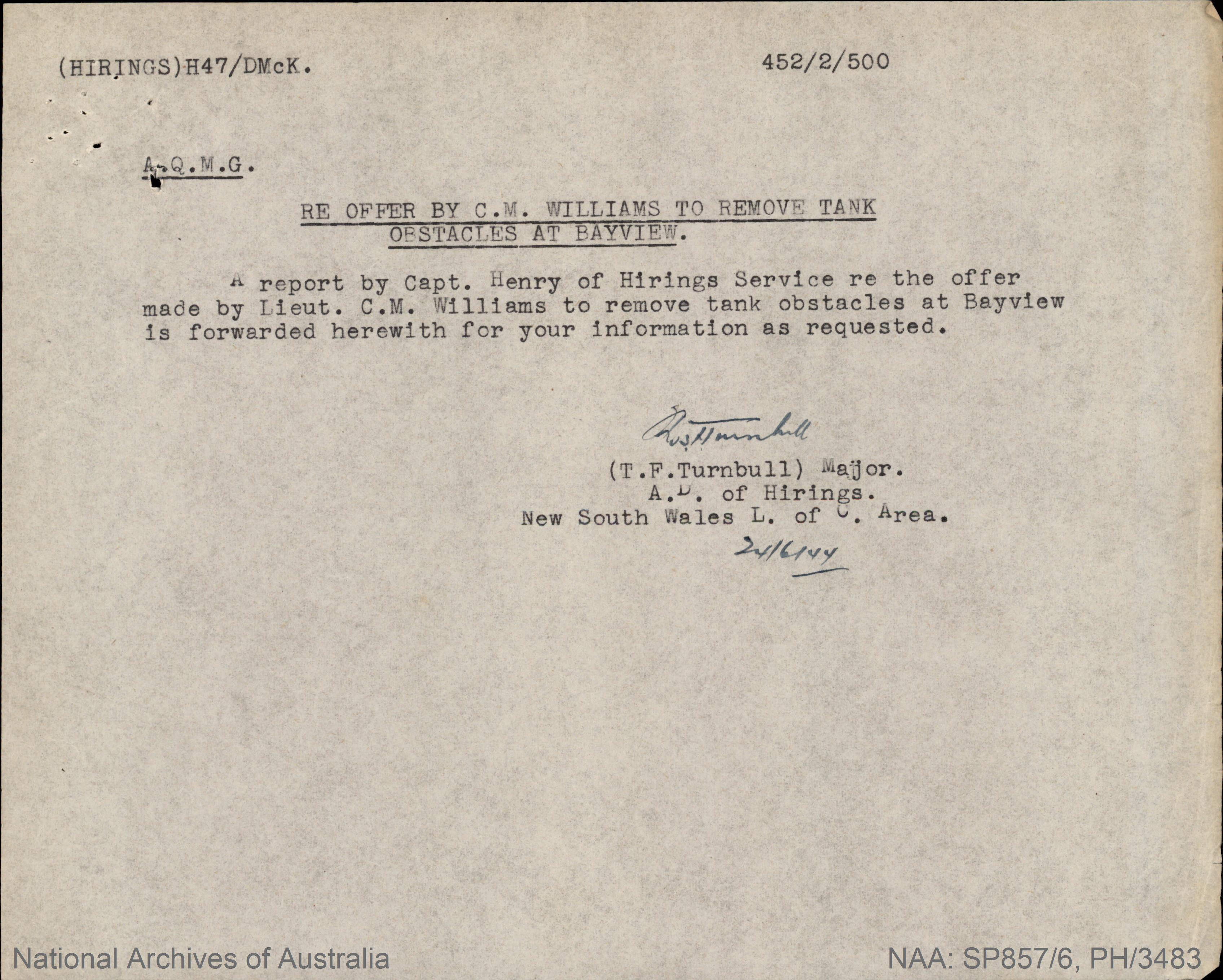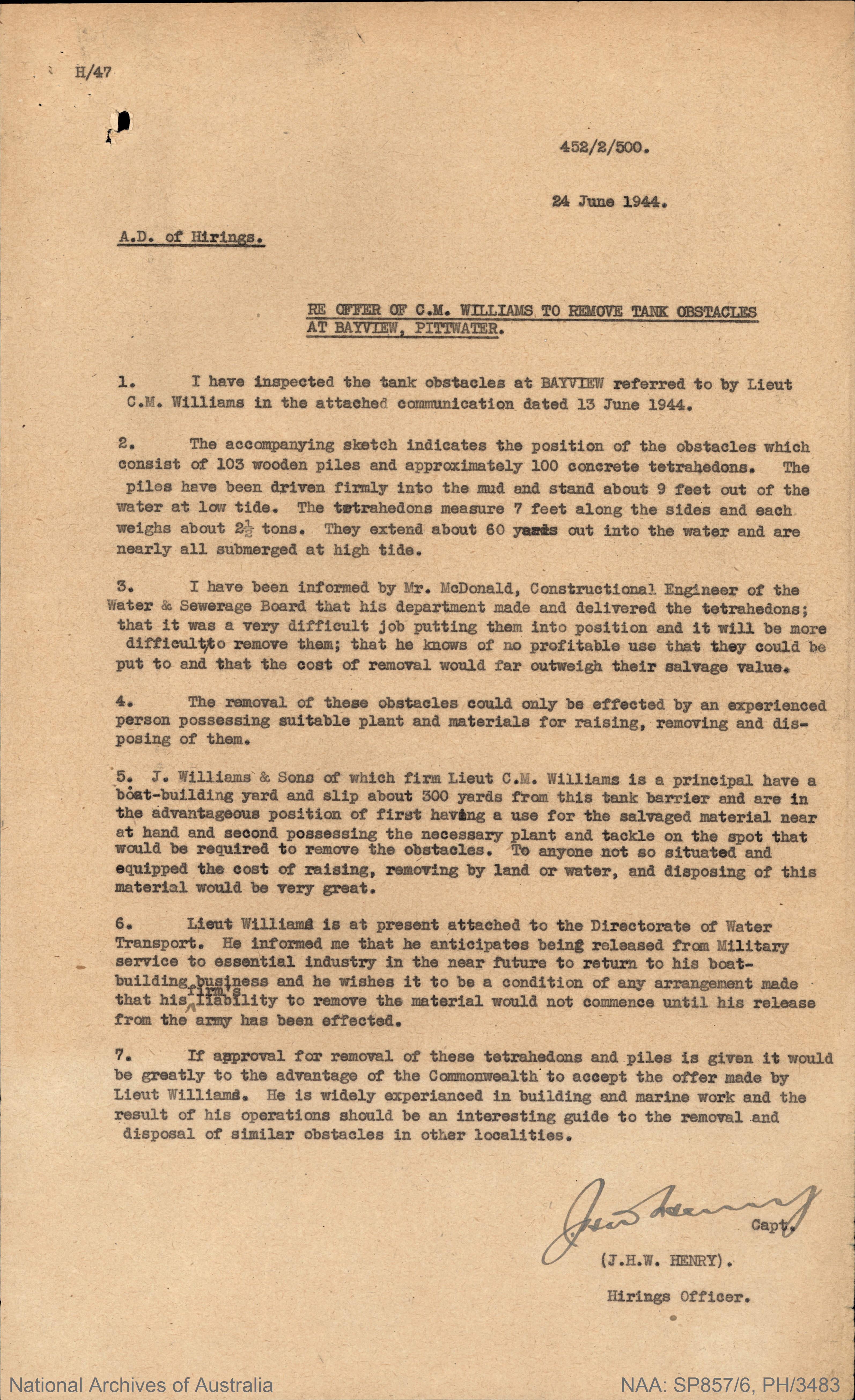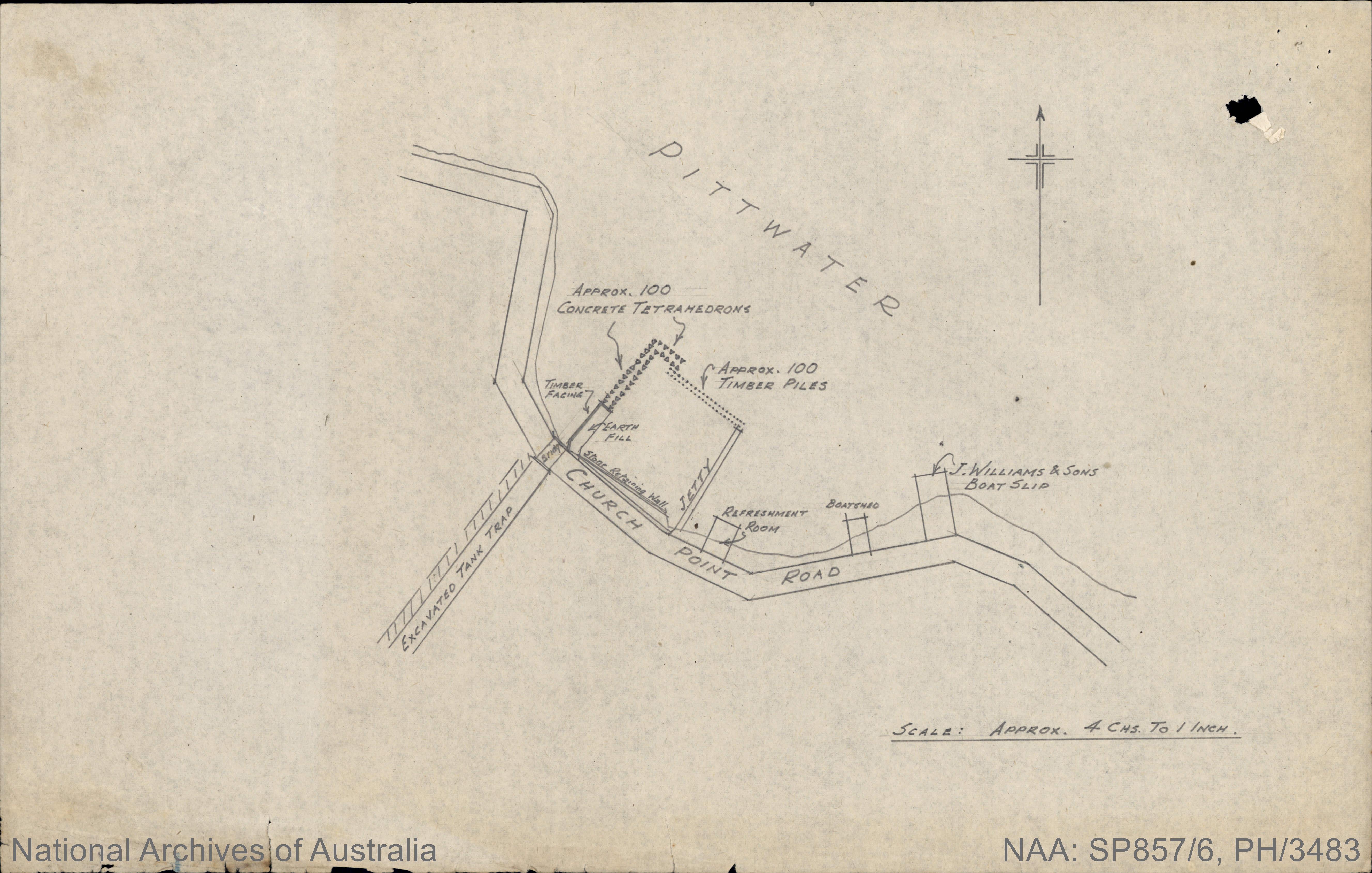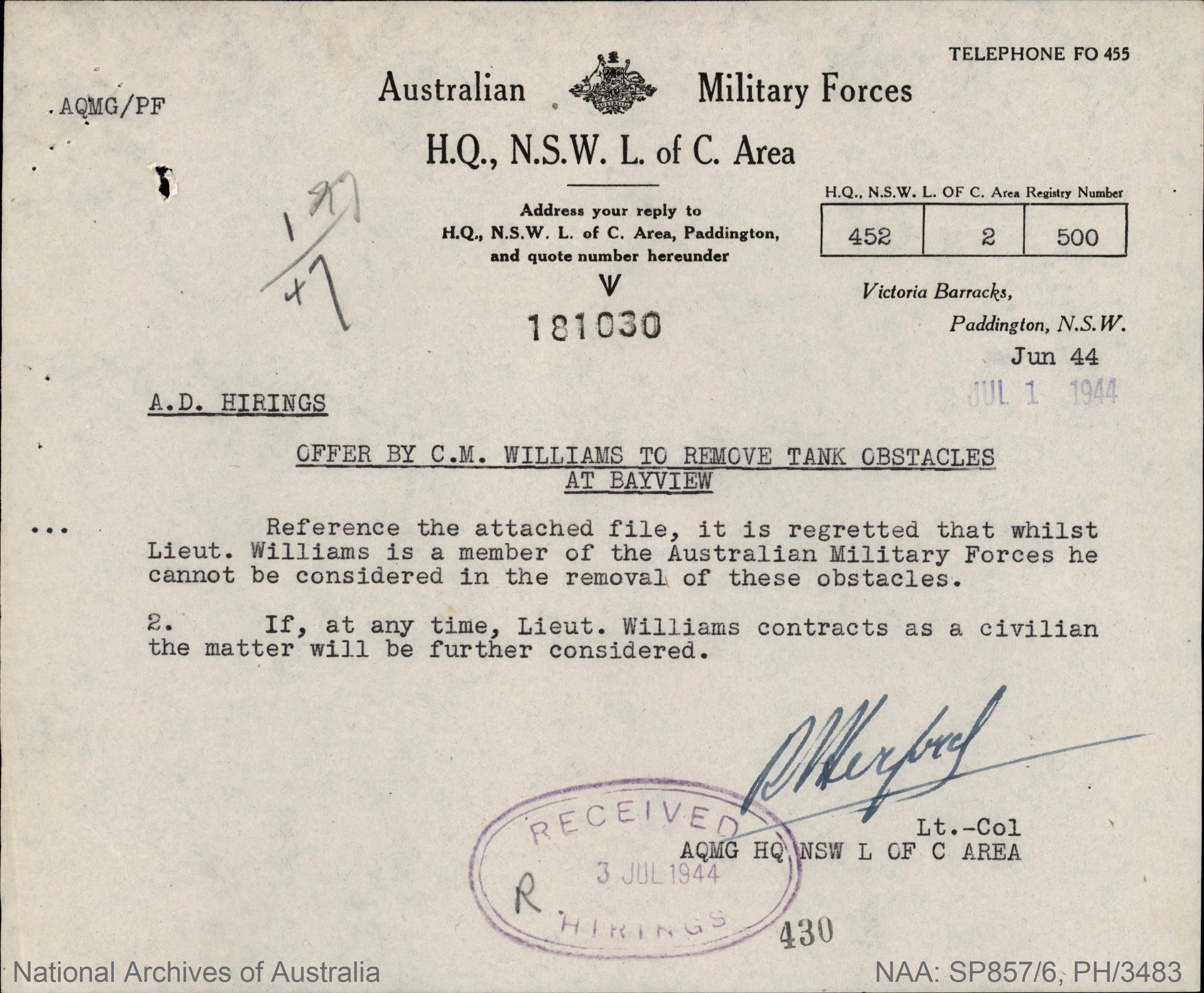 Of course, once he was discharged the work went ahead and the now defunct tetrahedrons were purchased at a minuscule price considering how much concrete went into them. They are probably submerged as moorings around the Pittwater estuary still: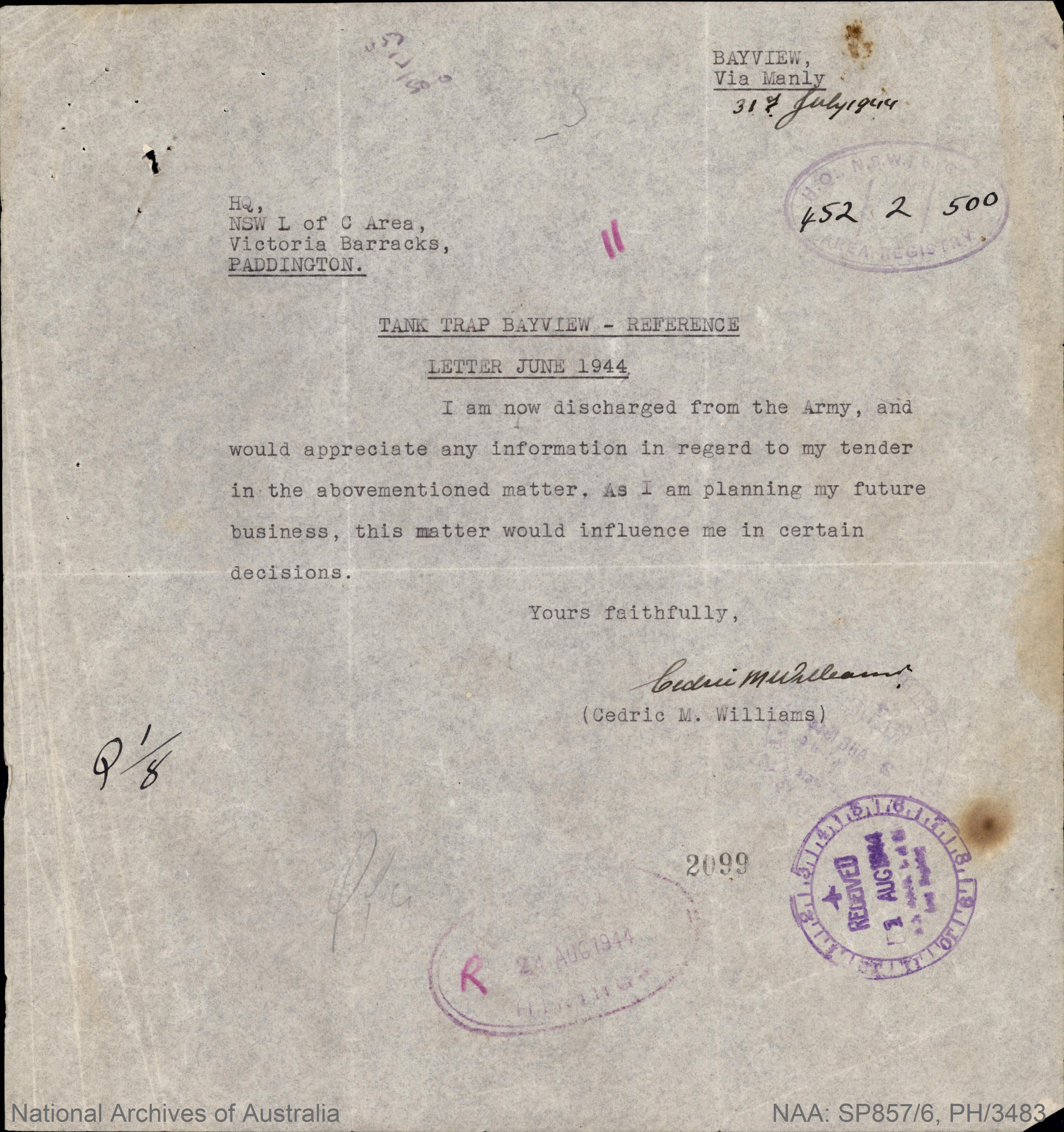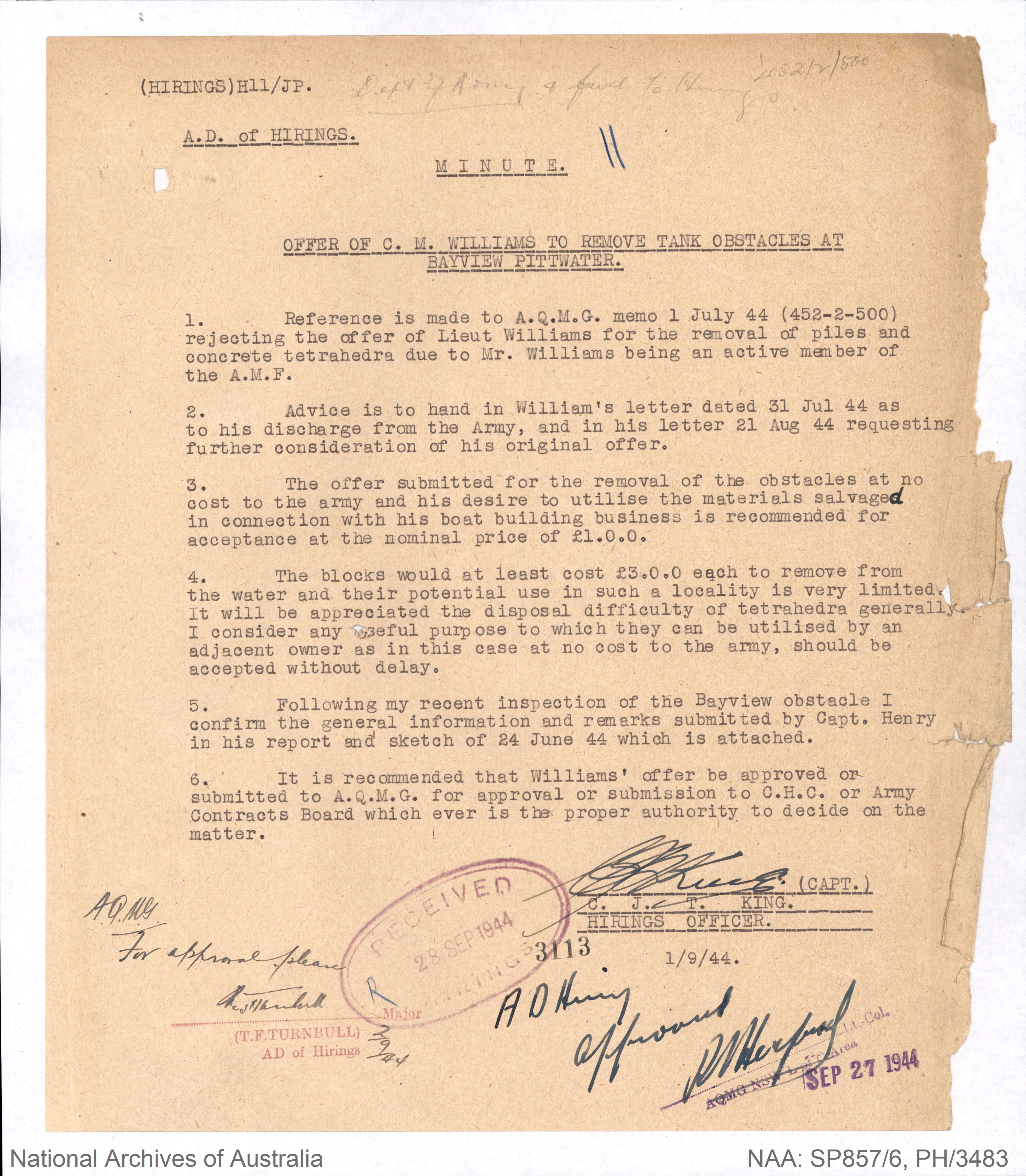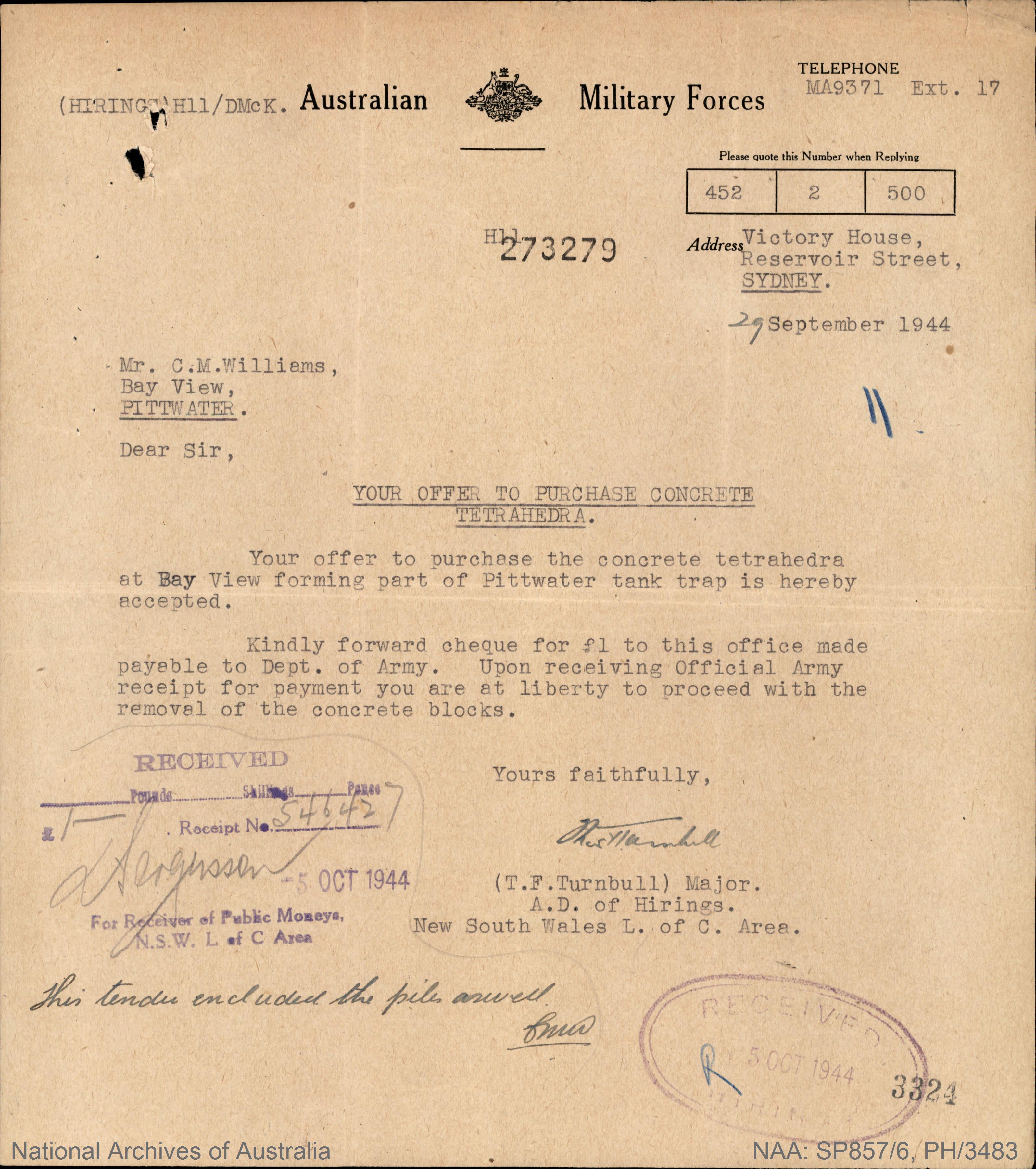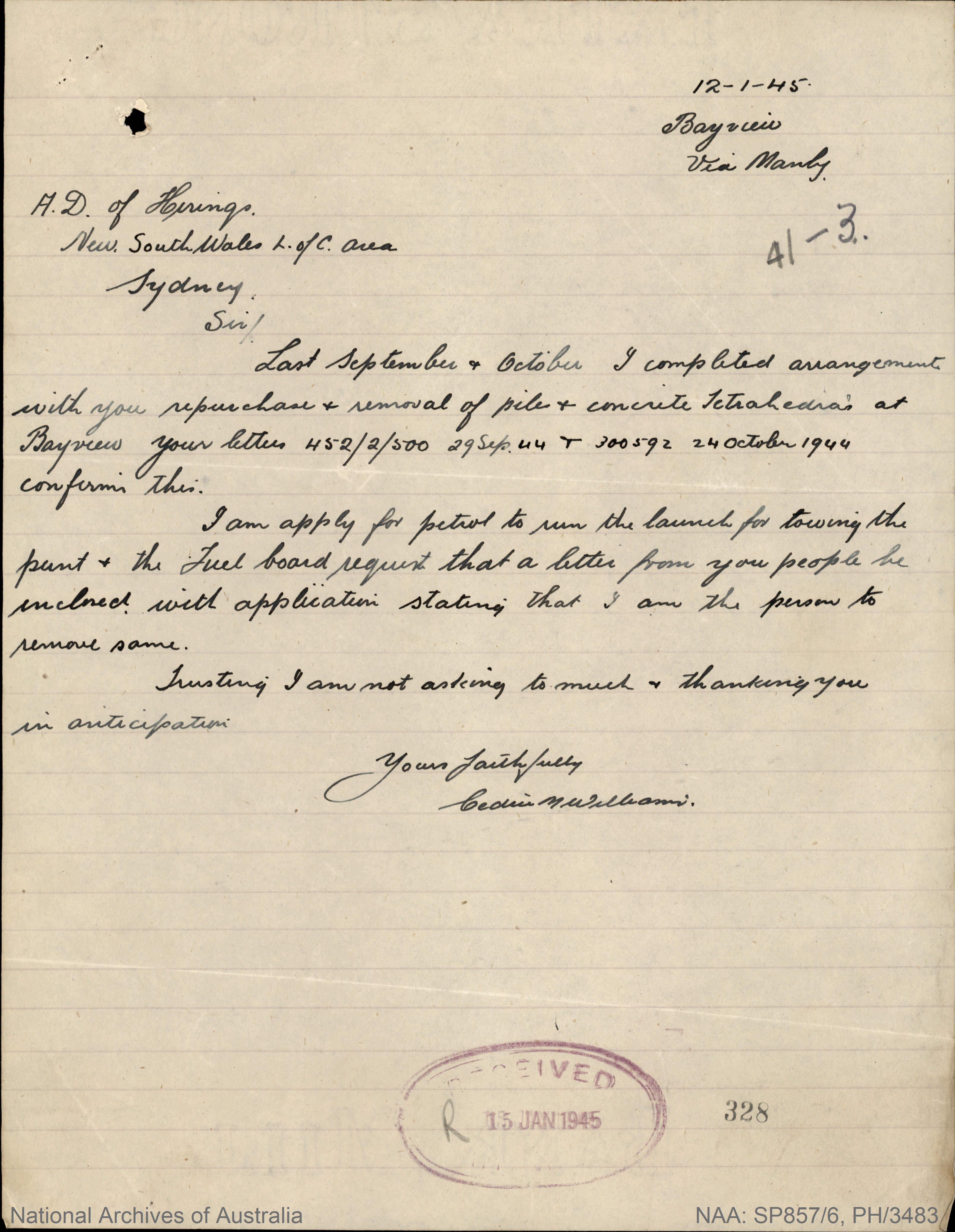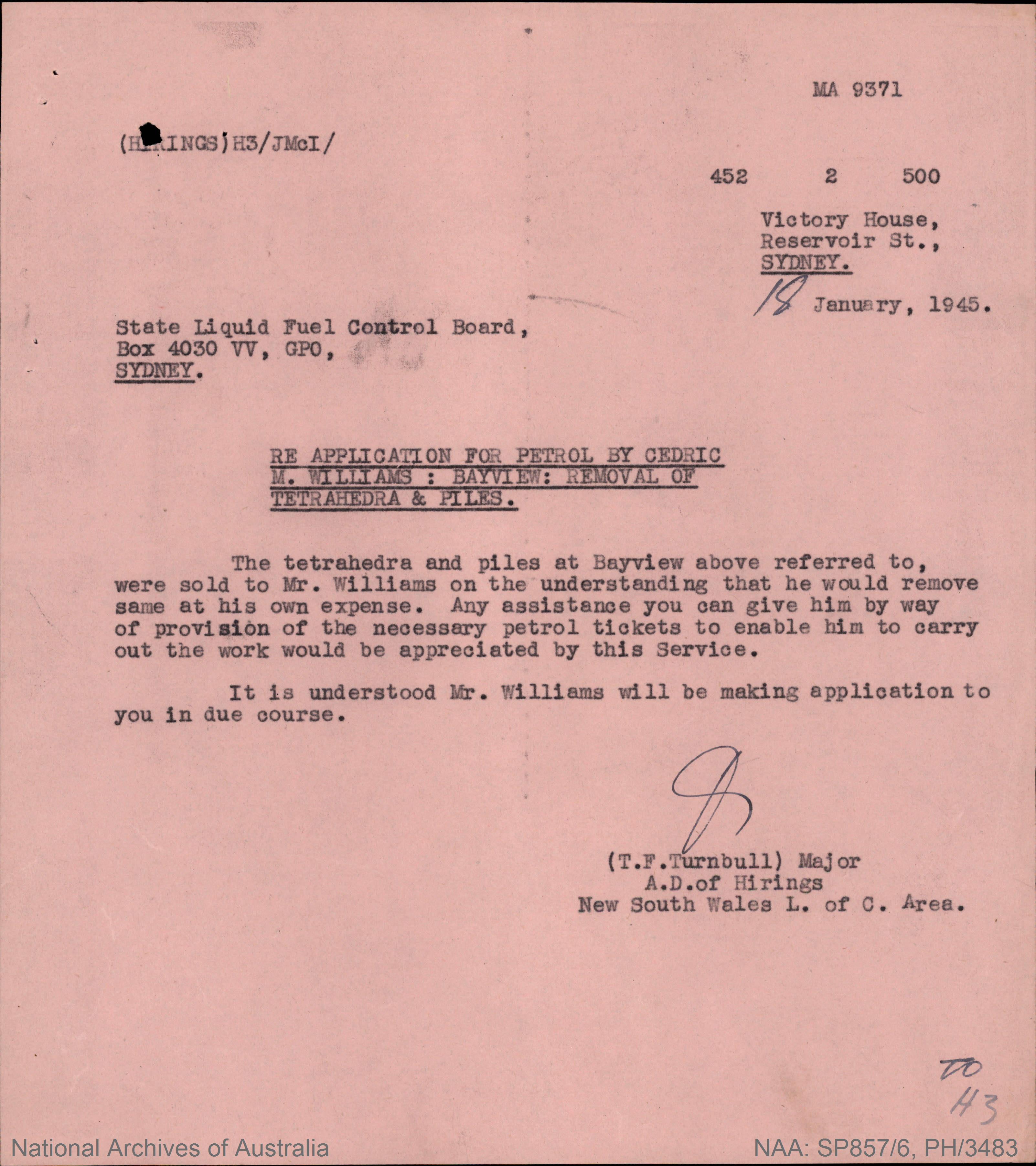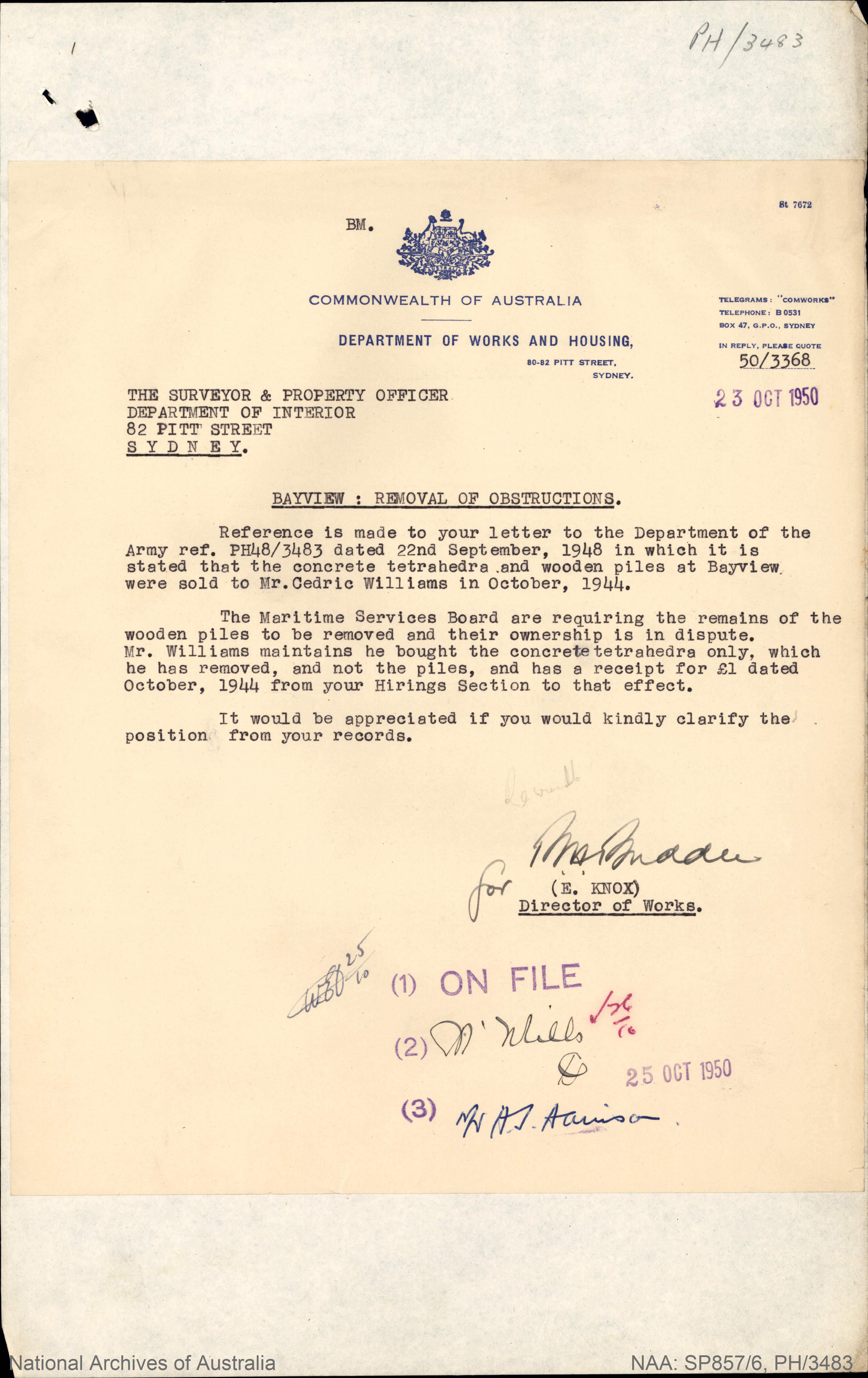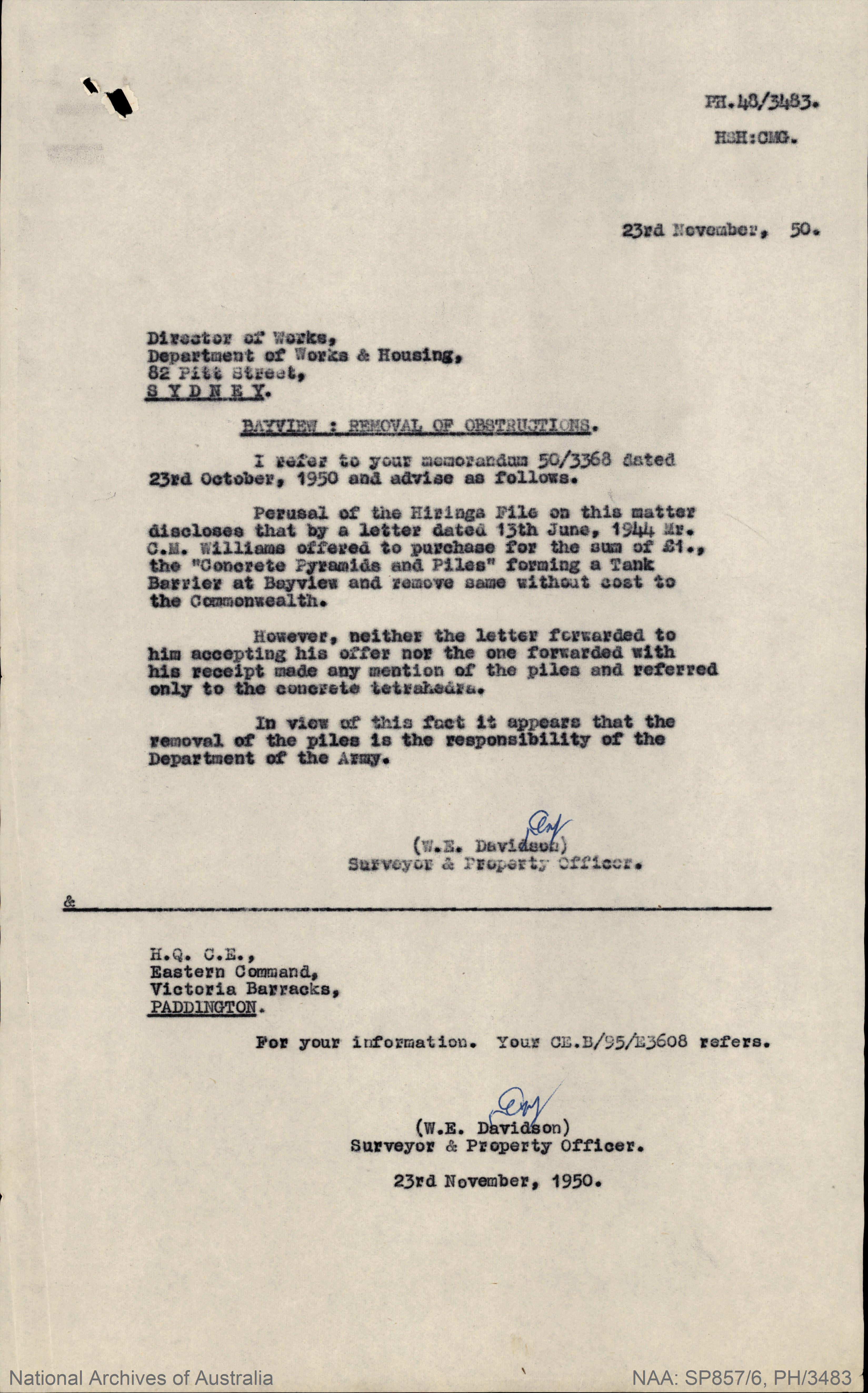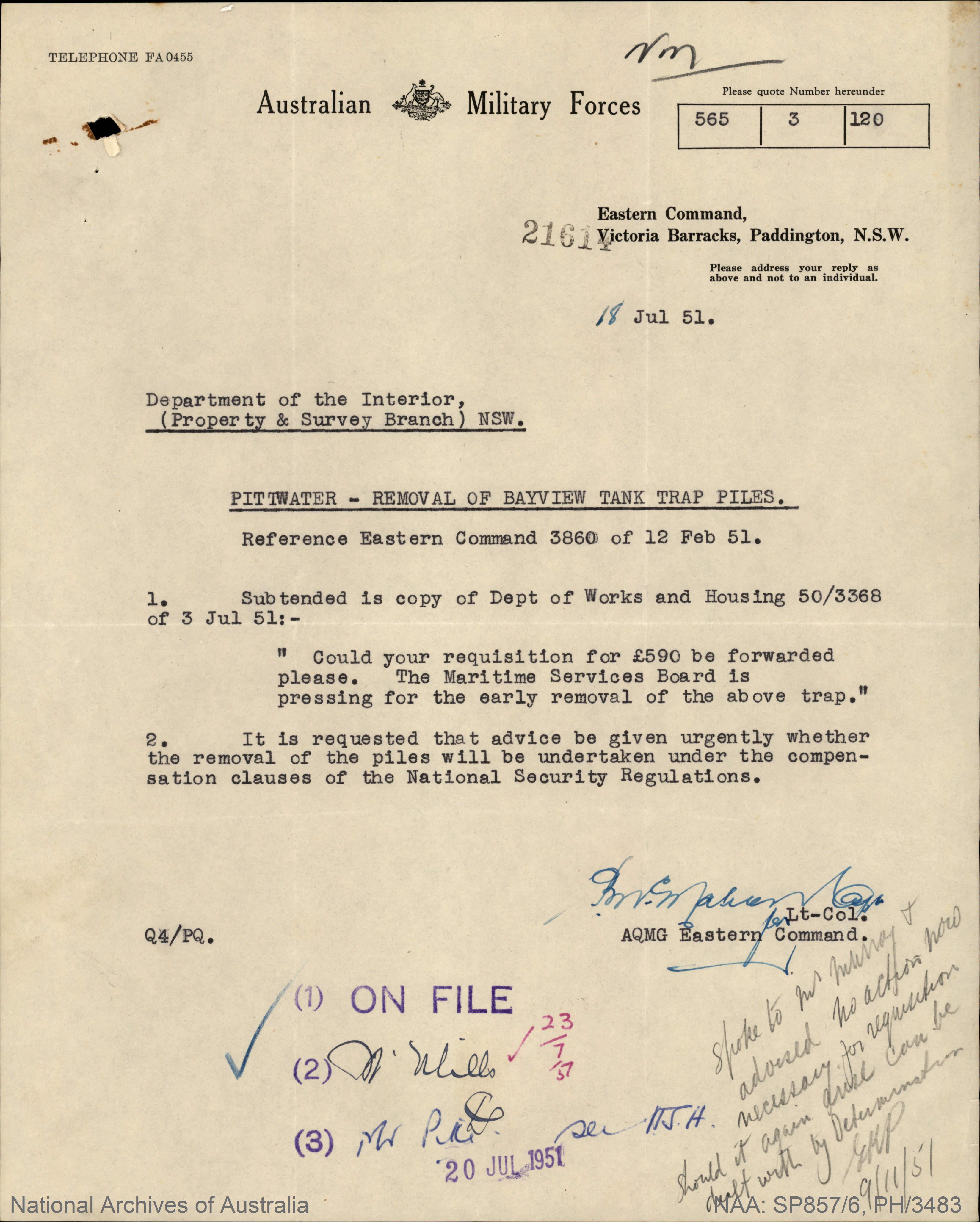 Others were 'deployed' elsewhere:
TANK TRAPS TO PROTECT HOMES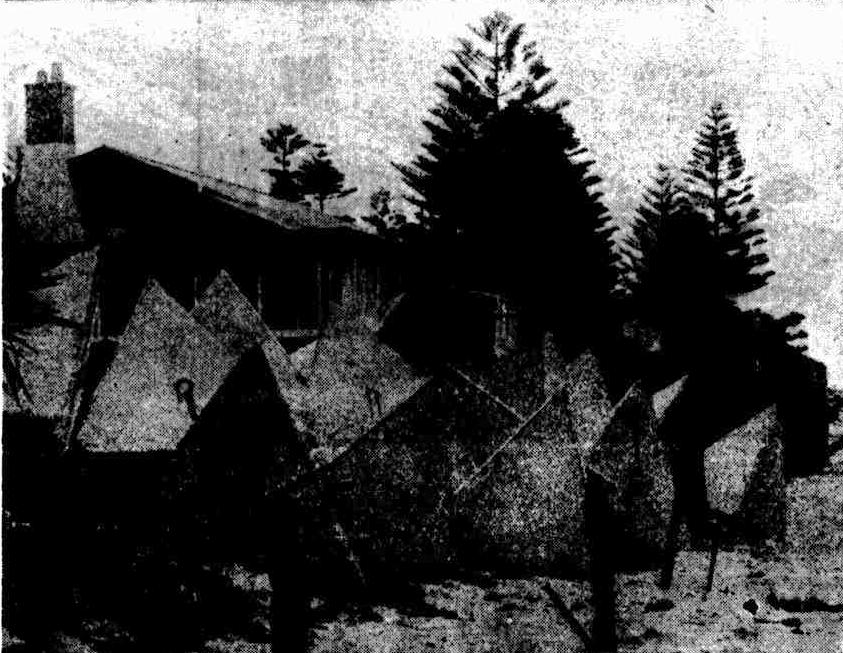 Triangular anti-tank traps have been placed along the beach at Collaroy to prevent washaways of gardens and homes on the waterfront. During heavy storms last year several homes were severely damaged in this area. TANK TRAPS TO PROTECT HOMES (1946, February 14). The Sydney Morning Herald (NSW : 1842 - 1954), , p. 3. Retrieved from http://nla.gov.au/nla.news-article17970399
TANK TRAPS TO PROTECT HOMES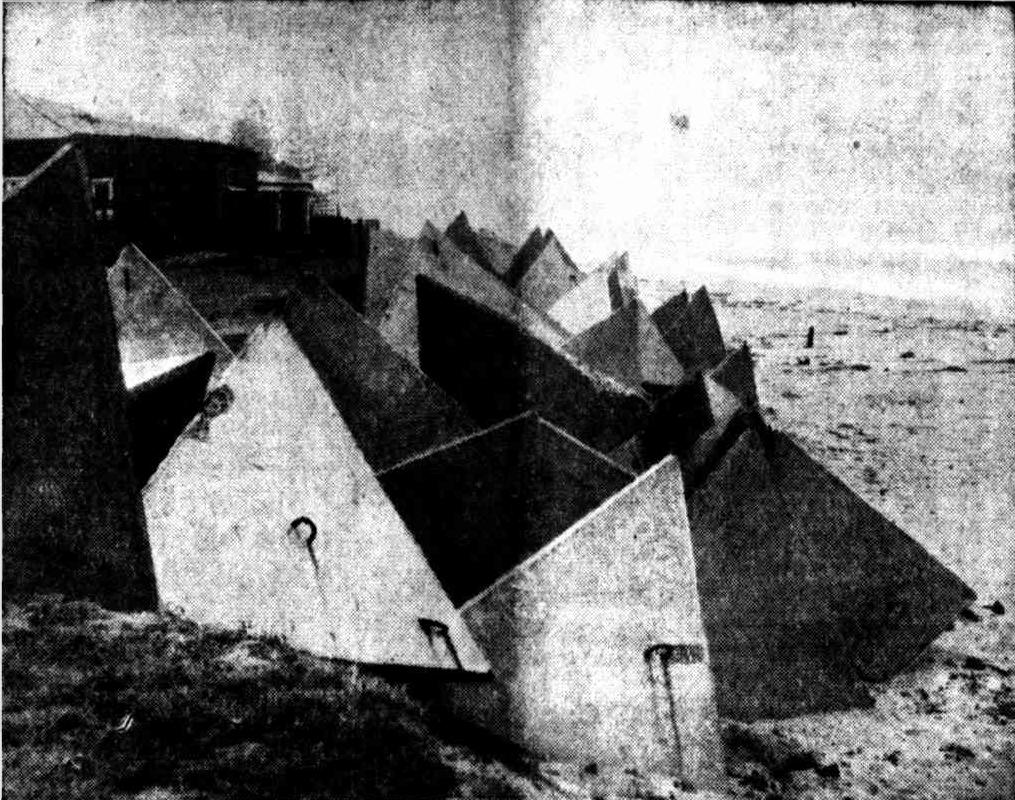 Triangular anti-tank traps have been placed along the beach at Collaroy to prevent washaways of gardens and homes on the waterfront. During heavy storms last year several homes were severely damaged in this area. TANK TRAPS TO PROTECT HOMES (1946, February 15). Daily Advertiser (Wagga Wagga, NSW : 1911 - 1954), p. 1. Retrieved from http://nla.gov.au/nla.news-article145007744
The Bayview wharf was needed to be maintained as there was a division of the Volunteer Naval Auxiliary Patrol was station in Broken Bay, comprised from residents. This was a forerunner of the Volunteer Coastal Patrol, a division of which was formed locally during exercises conducted in November 1939. Today we know them as the Marine Rescue Broken Bay unit, based at Bayview.

Bayview wharf during these years, from Warringah Shire Council Minutes of Meetings:
Evacuation Circular letter from Minister for National Emergency Services, 16/1/42, to Town and Shire Clerks, regarding arrangements which must be made to deal with the evacuation, if and when considered necessary, of the civil population from areas affected or likely to be affected by enemy action, and placing responsibility for such work on Councils. On the recommendation of the President it was resolved that a Special Meeting of the Council be held after the meeting of the Finance Committee on Tuesday next"27th inst. for the purpose of considering the matter. It was decided, on the suggestion of Cr. Williams, that the Bayview Military Authorities be requested to delay the completion of the Wharf wiring of Bayview wharf for as long as deemed advisable in order that the public may continue to use the wharf as long as possible. The Shire Clerk, through the President, sought permission to Aluminium order 6,000 dodgers for house-to-house distribution in B and C. Ridings in connection with the collection of aluminium for war purposes, and desired authority was given.
Reporting that Bayview Wharf had been closed off and a notice erected pending repairs: The Engineer orally reported he had been in touch with three or four divers whose services could be obtained when they were available, that the Council "would pay anything up to £100", and when they had finished their work the Council would be free to operate on the rest of the Wharf: 5/1/1943
Submitting progress report in regard to repairs at Bayview wharf : "Received" 19/1/1943
The SHIRE ENGINEER'S REPORT was dealt with as follows:- (1) Submitting report on the progress of the work of repairing Bayview Wharf, and what is still to be done, and giving estimates: Wharf Resolved, - That the work be carried on and completed, and that £300 amount of the Engineer's estimate, be voted to cover the cost of the whole work. (yrs. McLean, Bathe) 2) Reporting that portion of Taylor's Point wharf has collapsed, submitting estimates of the cost of necessary repairs, stating that notices have been erected at the wharf advising that the wharf is closed: Resolved, - That the necessary repairs be proceeded with, and that £100, the amount of the Engineer's estimate, be voted for the work. (Crs. Batho, Hitchcock) 2/2/1943
12/10/1943: Cr. Hitchcock: Can something be done to the Bayview baths to make them usable? The President replied that the work would be done if wire can be obtained.
Petition (per J. W. Lustin) 14/10/43, from 59 residents of Bayview for the placing of the baths adjacent to Bayview wharf in good repair. Resolved, - They be informed that the Council has no wire netting, and asked if they are able to obtain any. (Crs. Batho, Hitchcock)
Andrew Amos, in recollections he shared a few years back, said:
''World War 2 was still in evidence at Bayview in the early 1950s. During the war all the wharves had been closed to the public and there was an evacuation plan in place should enemy action occur in Pittwater. At the Church Point end of Alexandra Crescent there was a deep excavated trench running up the hill from Church Point Road. This was known as the tank trap and had been constructed during the war in case the Japanese landed tanks further up Pittwater.
Behind our house at the tip of the ridge, near when Kara Crescent is now, there were large pits full of water. My father told me these were pits for anti-aircraft guns and he would have recognised them as such as he served in an anti-aircraft unit during the war. In later years, when I went to Loquat Valley School, we used to cross the tank trap on a narrow bridge made of two large logs laid side by side.''
So the 'bridge' at Bungan was not the only cut off point that had to be reinstated after this conflict.
Along Seabeach, a letter to one owner H R Swain, shows there were numerous calls being made to get things repaired: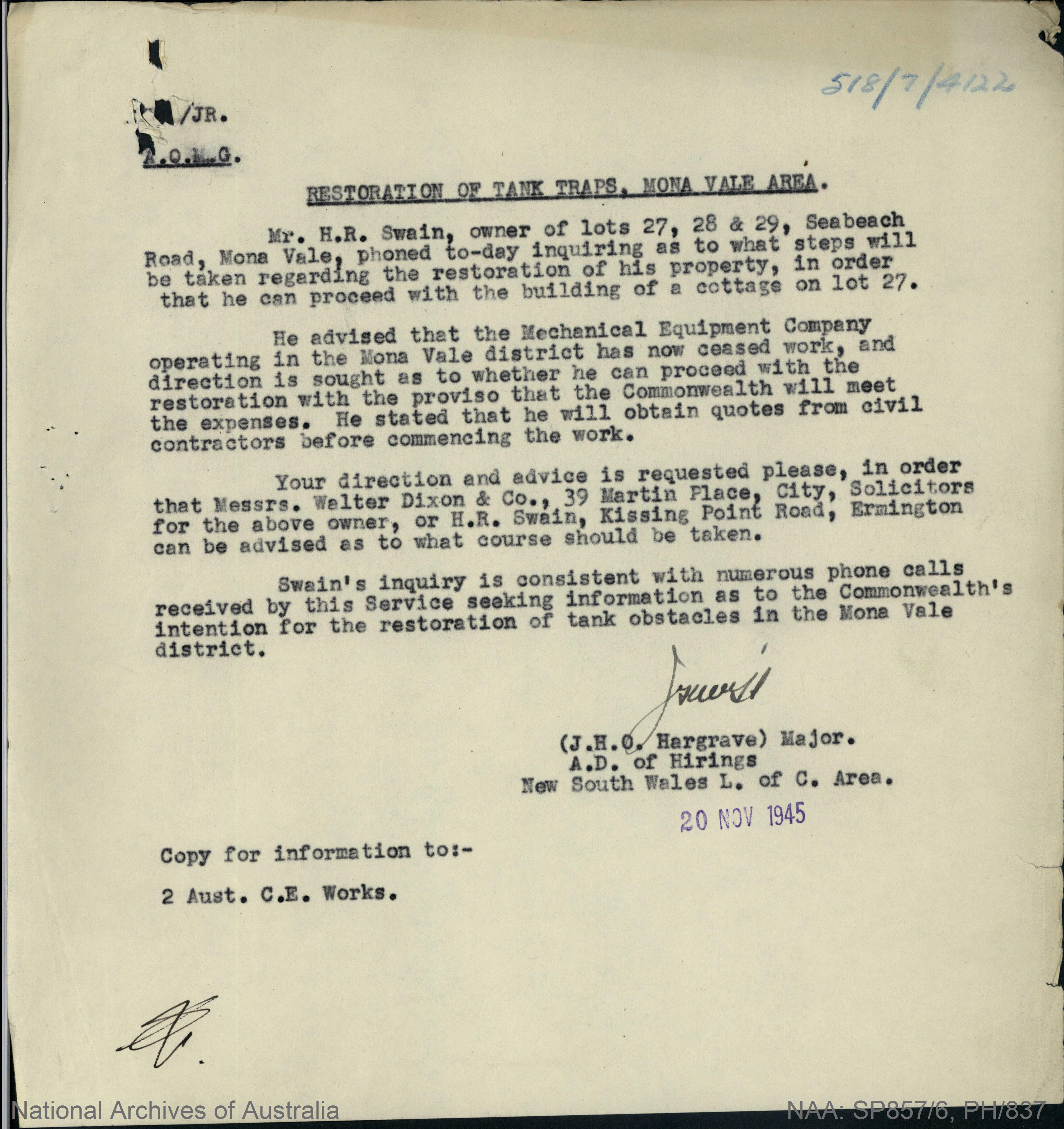 Similarly the then Warringah Shire Council pursued those in charge of the works of filling in the holes and trenches, along with removing the bridge at Bungan head so people could once again use the restored road.
Warringah Shire Council records provide:
Tank Traps Minister for the Army, to Mr. Spender, M.P. 7/11/44, regarding the Council's complaint respecting the tank trap at Mona Vale, stating an inspection has revealed that there is no land under cultivation within considerable distance of the tank trap, and it is considered by the appropriate authority that no special hardship is being caused to the small agriculturalists or to residents in the area as result of the tank trap installation. Resolved, - That the Military authorities' be asked to send a representative to meet the Works Committee and "A" Riding Councillors, as the erosion is still taking place.
30/1/1945: The Acting Shire Clerk reported verbally in regard to the tank trap at Mona Vale, and it was resolved that the Military authorities be asked to discuss the matter with the Works Committee and the "A" Riding Councillors.
Main Roads Dept. 28/6/45, replying that the Department has been in touch with the Department of the Army in regard to the removal of the two tank trap bridges on Newport Road and Bayview Road, that the Department's proposals and estimates were forwarded to the Allied Works Council and have been referred to that body to the Department of the Army for consideration and allocation of the necessary funds. "Received"
Chaplain C. Craven-Sande, 6/2/45, requesting approval to a subdivision of Lot 36, Philip Road, into two equal lots. Referred to the Works Committee.
Newport Programs Association, 6/2/45, (a) requesting that the open drain on the northern side of Palm Road near the south-east corner of the park be made safe for pedestrians to cross; (b) requesting the provision of a bi-weekly garbage service in the summer months from October to the end of April; (a) requesting that the stormwater channel at Newport Beach be cleaned out; (d) drawing attention to the mosquito menace in the area, and asking that steps be taken to minimise it by introducing appropriate fish into lagoon, or by monthly treatment; (e) drawing attention to the dumping of large quantities of barbed wire, etc, in the Council quarry at Newport; (f) asking that a notice be erected on the beach intimating that all dogs on the beach must be on leash; (g) emphatically protesting that the Council consenting to the Wins of three structures recently erected in Bardo Road. Council' decisions:- ) (a) that maintenance attention be given; (b) referred to Health & Building Committee; (a) that the drain be opened out (d) that a further report be furnished ; (e) *received"; (f) that the notice be erected;
North Narrabeen Progress association, 19/3/45, requesting that Council ask the responsible authorities to remove an "eyesore" consisting of a small amount of barbed wire and posts left near Pittwater Road, Narrabeen, at the entrance to Mullet Creek. (No action authorised.)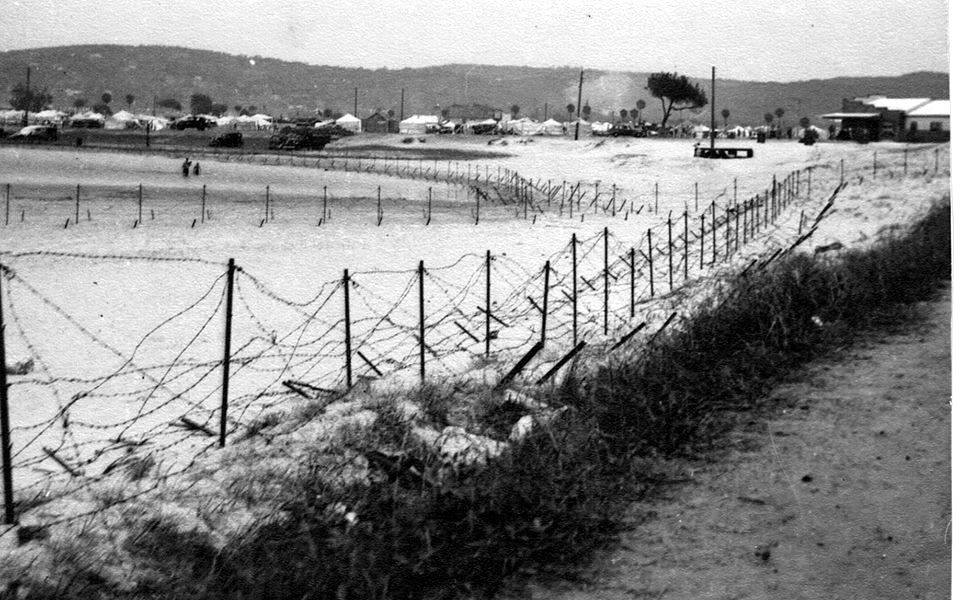 Narrabeen Lagoon's barbed wire defences during WWII - circa 1942
16/2/46, urging attention to access from Hillcrest Avenue to Barrenjoey Road, where there is not even a sign to warn drivers of the difficult junction. Resolved, - That the the State Members for the district be asked to approach the authorities with a view to having the tank trap attended to
From newspapers - the first one penned by part-timer Avalon Beach resident and former 'A' Riding Councillor Mr. George Killigrew Dunbar, for whom Dunbar Park was named to honour his service to the local community, and, at this stage, the Hon Secretary of the NRMA:
DANGER ON ROADS
- Sir,-We have had a great deal of publicity on road safety, sponsored, I believe, by a Road Safety Council reputedly representative of all authorities and bodies interested in the safe use of our streets and roads.
Might I draw to the notice of all concerned, particularly the Main Roads Department and the military authorities, the tank trap across Barrenjoey Road between Newport and Mona Vale, and the danger created by the bridge across the tank trap on the main road and the hazardous entry of Hillcrest Avenue into the main road?
Are the military authorities and the Main Roads Board waiting for a fatality to occur? There have been accidents already. Motorist residents and users of Hillcrest Avenue have difficulty, even in daylight, in negotiating the turn off the main road, and tradespeople tend to shun the area.
There is no barrier across the end of Hillcrest Avenue to indicate to motorists using the road at night that the road ends in a 20ft drop into the tank trap.
How long must this state of affairs exist?
It is not a matter for the Shire Council.
G. K. DUNBAR,
Sydney. Councillor, Warringah Shire. DANGER ON ROADS (1946, March 13). The Sydney Morning Herald (NSW : 1842 - 1954), p. 2. Retrieved from http://nla.gov.au/nla.news-article17971999
Tank Trap to Go
The tank trap across Barrenjoey-road, Newport, where several accidents have occurred, is to be removed. Tank Trap to Go (1946, March 19). The Sun (Sydney, NSW : 1910 - 1954), p. 7 (LATE FINAL EXTRA). Retrieved from http://nla.gov.au/nla.news-article228791978
P. C. Spender M.H.R.` 18/5/46, forwarding copy of letter from minister for the army, regarding the tank traps at Barrenjoey Rd. Newport, and the state of access to Hillcrest Ave. to the effect that approval has been given to expenditure for back filling of the ditch replacing the drop bridge, and restoring the original pavement.
Mona Vale Community League. 21/1/I1947, submitting following requests - (a) that Heath Street, Bassett Street East and Surfview Road be repaired; (b) the formation of footpaths in Pittwater Road from Jenkins Street and continuing along Bayview Road to Darley Street; Newport Road from the junction to Seabeach Avenue; and (c) kerbing and guttering for the full length of Seabeach Avenue and that part of Surfview Road facing the beach and dressing sheds; (d) construction of steps from the parking area to the rock pool; (e) completion of road repairs in Vineyard Street west from Macpherson Street to the main road; (f) repairs to timber bridges at Warriewood and Mona Vale; (g) replacement of fence around the Memorial Park (h) that the regulation governing the time limit for completion of main buildings be more rigidly enforced. Council's decisions were:- (a) that further representations, with a revised claim, be made to the Army authorities regarding removal of tank traps, etc; (b) to be informed of the Shire Engineer's report that an estimate will be prepared; (c) to be informed that this will be given consideration at a later date; (d) referred to Parks & Reserves Committee; (e) to be informed of the Engineer's report that repairs are done as required; (f) to be informed that work is being done continuously on bridges; .. (g) to be informed that-the fence was removed owing to being in bad repair; (h) referred to Chief
However, as can be read above, residents recall the 'Bungan bridge' was still in place into 1950 and the road wasn't really rectified until works were done years later.
Images courtesy Australian War Memorial, Mona Vale - Newport anti-tank ditches 1942-01-20 to 1942-12-04 from NSW State Archives and Records, Part of Series; Murrumbidgee Irrigation Area [M.I.A.] files [Water Resources Commission] and National Archives of Australia, found in file for 'fixing road' at Bungan Barrenjoey road section cut by trench and bridge show it was the Porters (Porters store) and Ethel Kate Mould, who passed away in 1951, and the owner of Lots 4 and 5 who were most impacted by the long delay in works across the Bungan Bridge-Phillip-Hilltop tank trap road sections: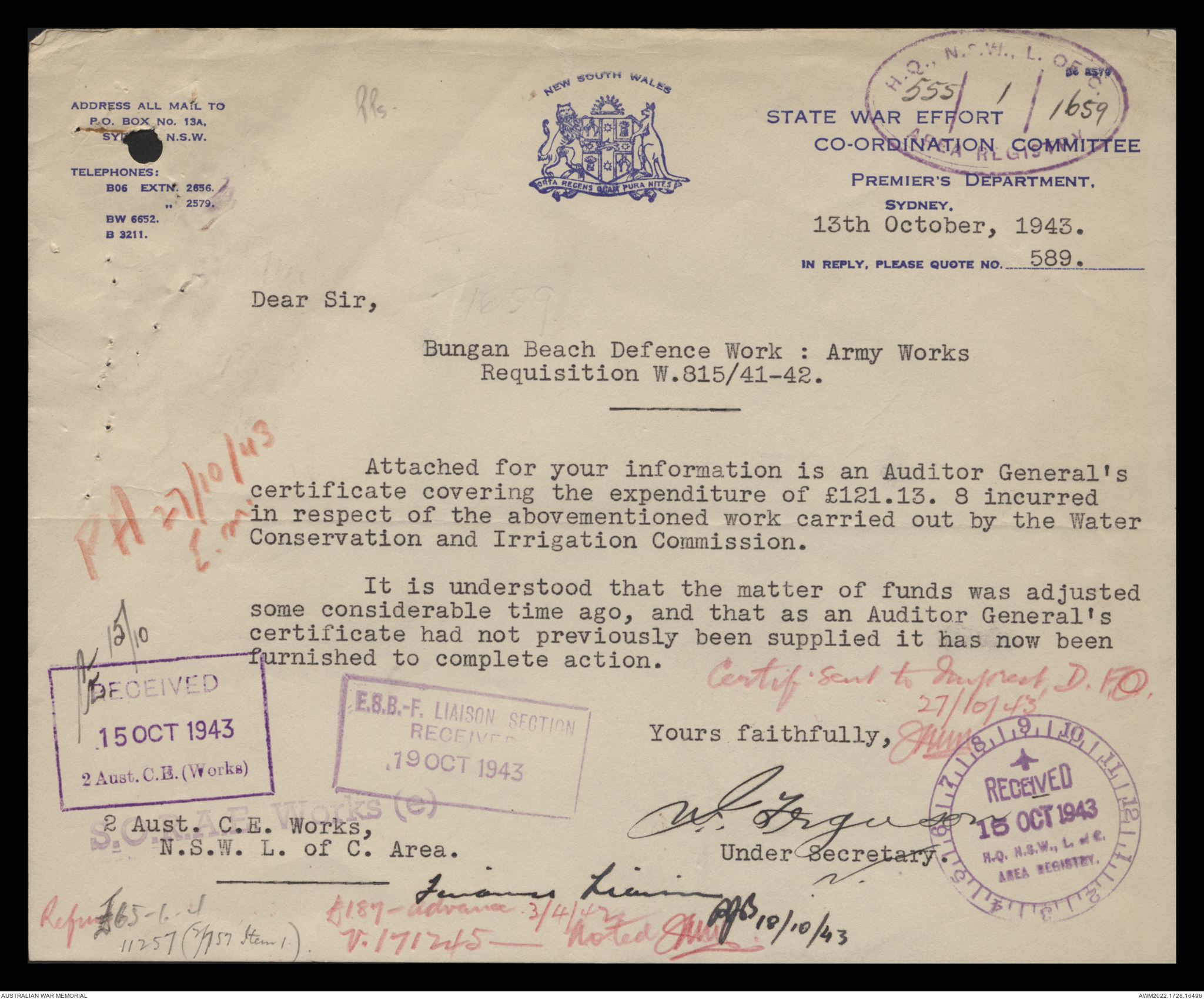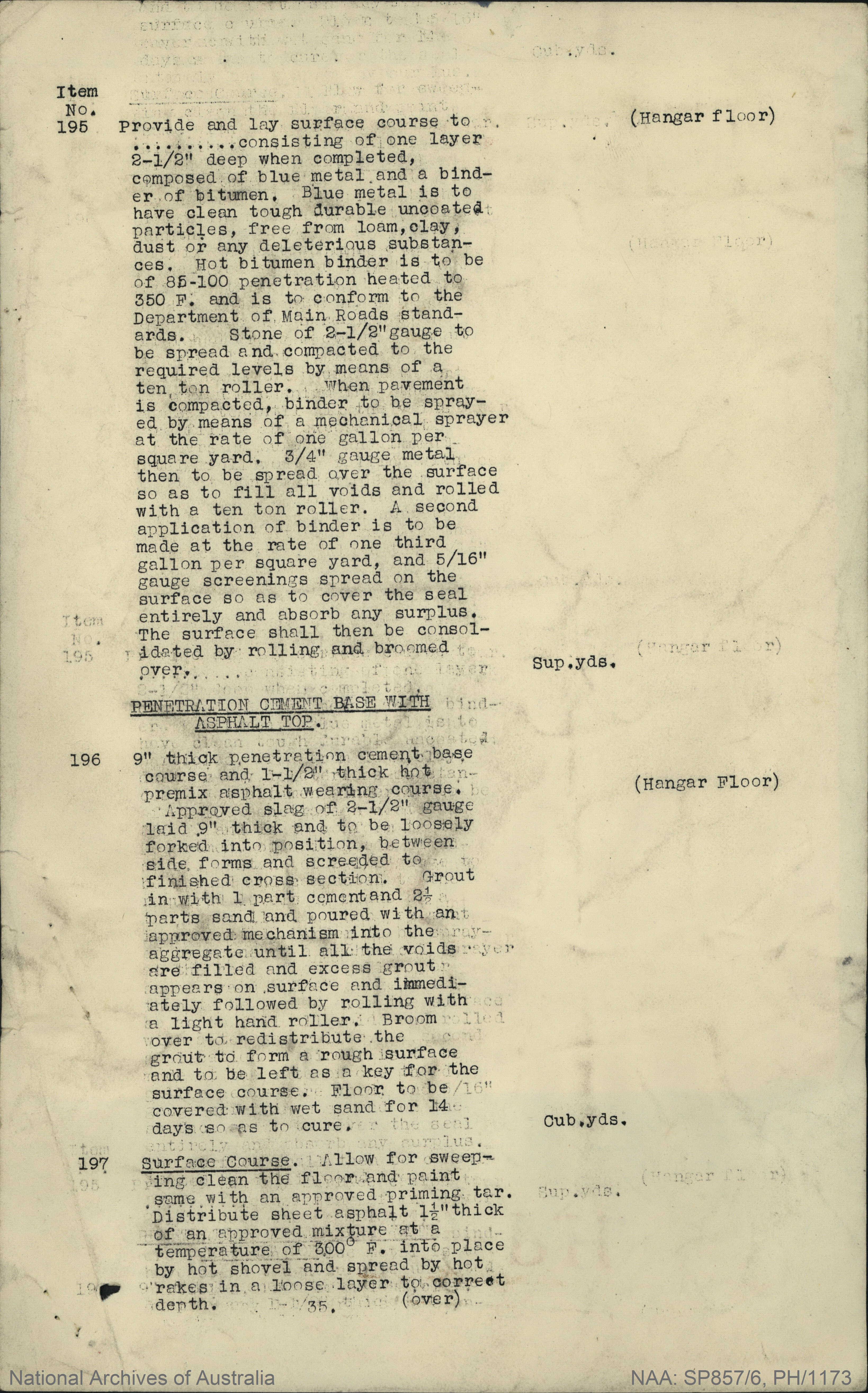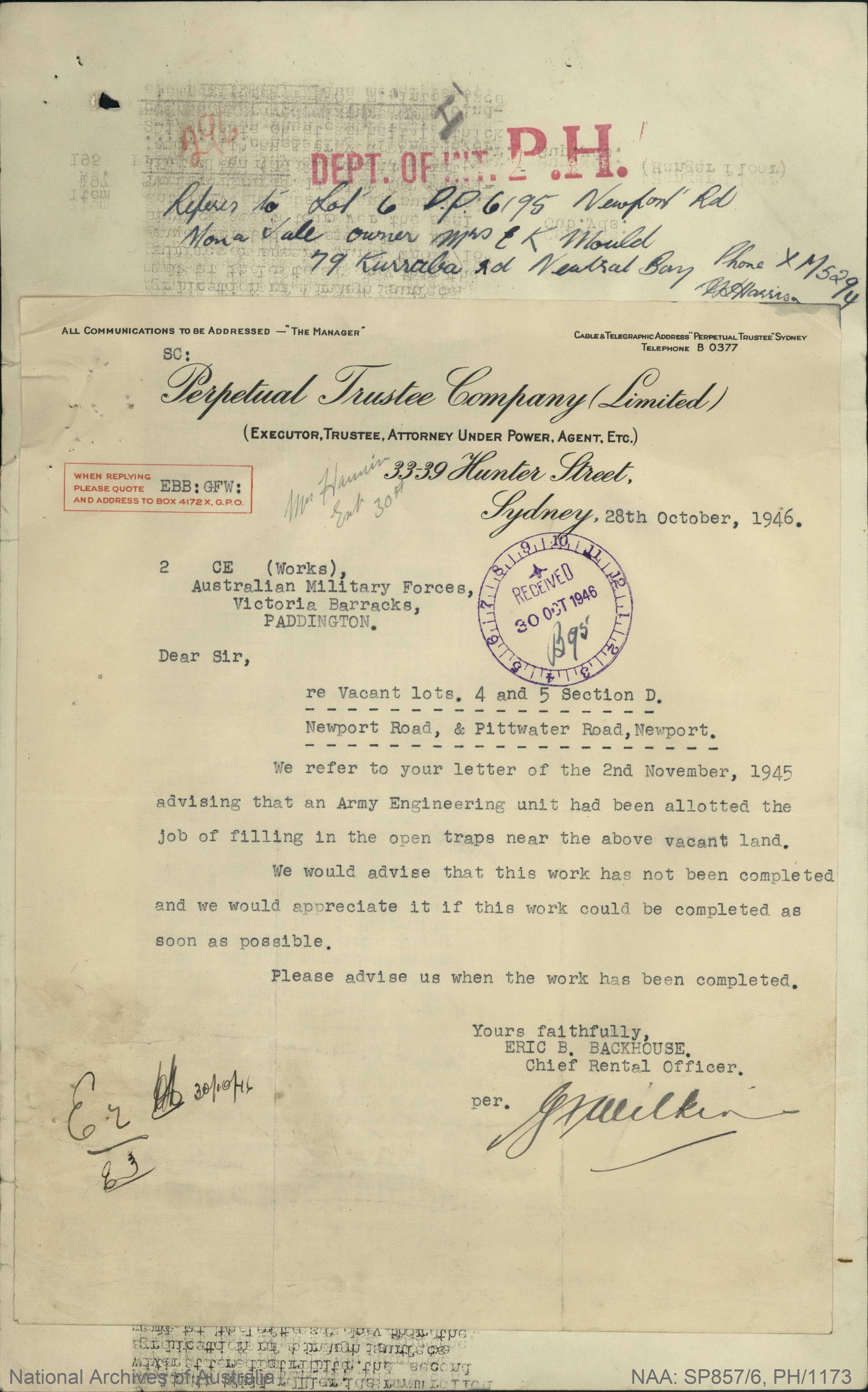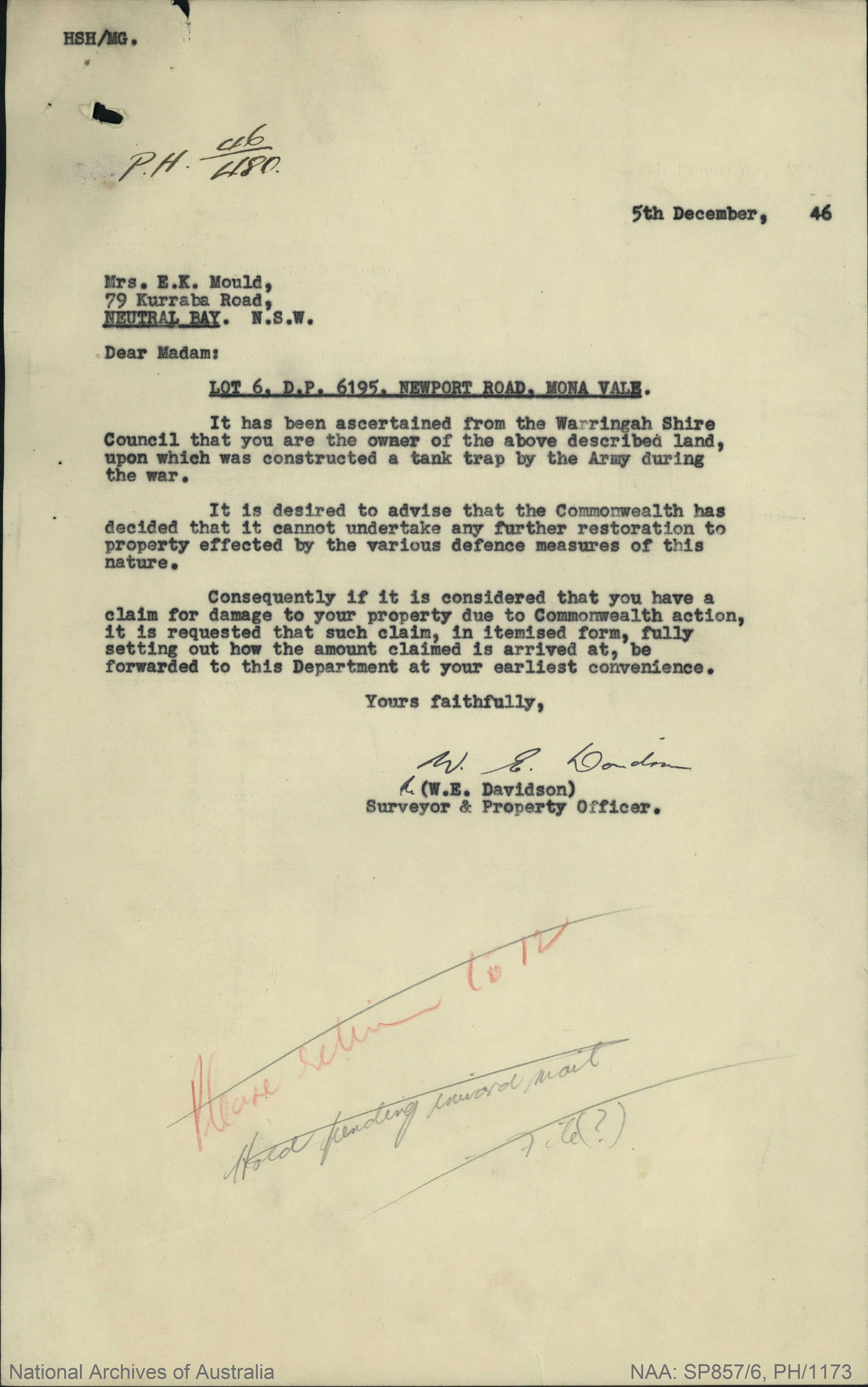 Ethel Kate Mould's Lot 6 was on the ocean south end of Bungan beach and north of Hillcrest avenue - and one of the Lots bought by Robert Forsyth, uncle of Annie Wyatt, from the Brocks-Rickard sales of the former Oaks/La Corniche estate.
It's worth noting when looking at these sales from 1922 that Pittwater road all the way to Church Point was not named or gazetted as such or as a Main Road until 1951. Similarly 'the Newport road' remained the name for Barrenjoey Road for many locals, as 'the road to Newport', until this too was gazetted as a main road and 'Barrenjoey road at its point from Pittwater road, Mona Vale junction to all sections north of there. Visit: Roads To Pittwater: The Pittwater Road - also available under References: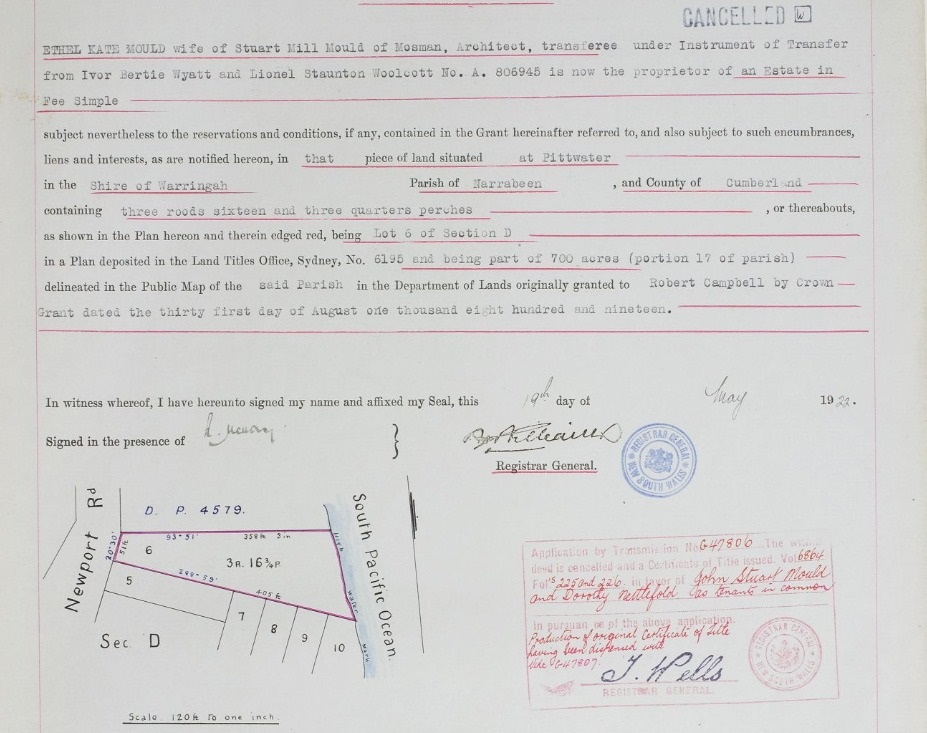 Robert Forsyth (Vol- Fol 3011-146) bought these Lots: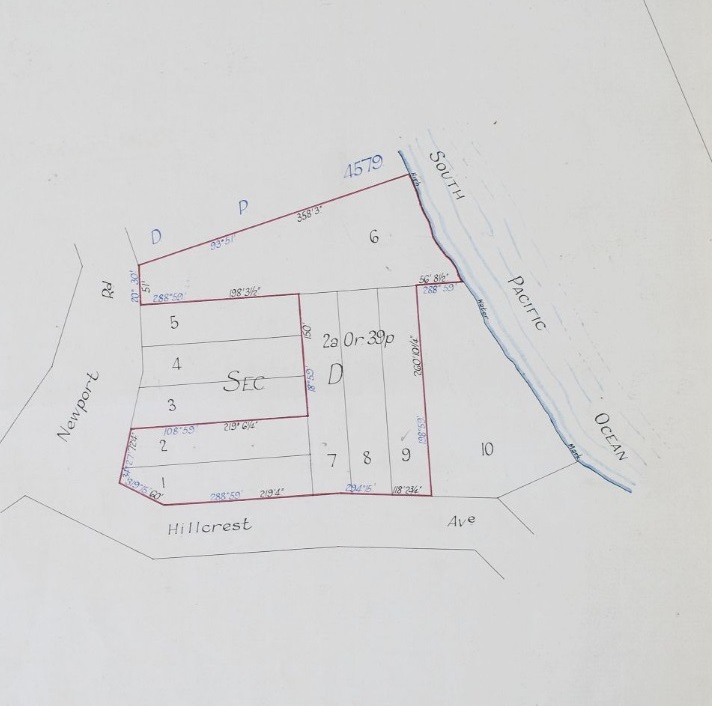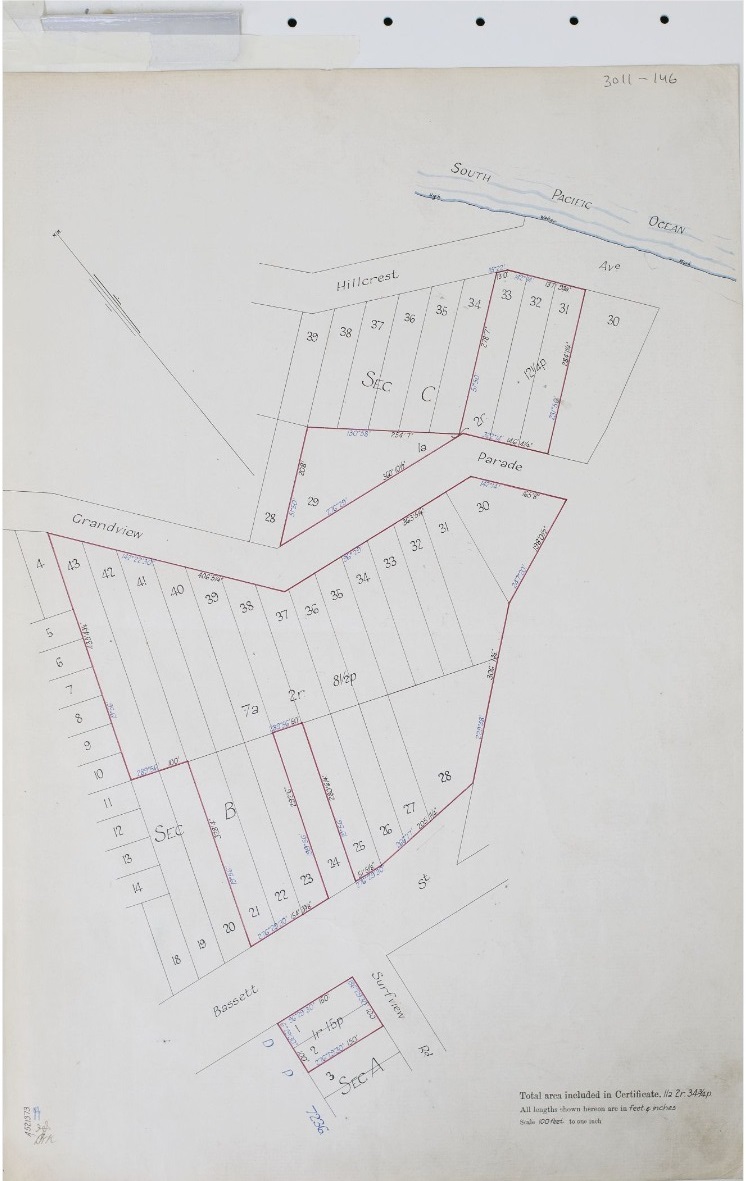 The subject was still in focus in the Summer of 1948-1949:
Spikes in sand menace surfers
BARBED wire and steel spikes left on northern beaches after the war are still a danger to surfers. Army Minister Chambers was warned of the danger more than a year ago. Serious accidents have already occurred. A Sunday Sun reporter yesterday found remains of Army devices on all northern beaches from Queenscliff to Palm Beach.
Rusty iron
Surf club officials said they had treated many children injured by these devices in the last three years. Parts of the concrete retaining wall at Queenscliff have not been rebuilt since the Army dug it up for gun emplacements. Pieces of barbed wire are lying on the sand 50 yards from the clubhouse. Inch-thick rusty steel cables on the beach at Harbord has unravelled and broken off into small, dangerous pieces. Jagged ends of a tank-trap are sticking out from the ground.
Wire under sand
Alan Angus, of North Narrabeen Surf Club, said: "During heavy seas waves chew out the sandhills and expose rows of wire entanglements."
Mona Vale storekeeper Arthur Bill said: "A child sliding down beach sand-hills received .a six-inch gash in her thigh."
Mona Vale Surf Club secretary D. Clare said sand had filled much of the 15ft. Mona Vale-Newport tank trap, but supports and cable were still exposed. Spikes in sand menace surfers (1949, January 9). The Sun (Sydney, NSW : 1910 - 1954), p. 5. Retrieved from http://nla.gov.au/nla.news-article230244305
A few more incidentals from Warringah Shire Council's Records on the Bungan-Mona Vale-Newport land:
Ordinary Meeting of 20/4/1959 John Jackson & Co., Solicitors, (letter dated 16/4/59), addressed to the President, requesting Council to re-consider application for re-zoning of residues of lots 20 and 21, D.P. 11651, Barrenjoey Road, Newport for commercial purposes to permit their client, Mr. Dong Fong, to be reinstated thereon by his present landlord, the Department of Main Roads. Their client has lessee of land at corner of Barrenjoey Road and Phillip Road, upon portion of which is erected shop and dwelling known as "Eleven Mile Store" having been resumed by the Department of Main Roads, the remainder having been zoned tentatively as "residential class A", excepting the corner allotment immediately to the rear of their client's premises. Their client is unable to secure a lease of such lands from his former lessor and the Department of Main Roads has intimated its willingness to sell part of the above allotments to Mr. Dong Fong to enable him to carry on his business. The letter continues by stressing the hardship which will befall Mr. Dong Fong by reason of Council's refusal. Council Resolved - that the letter be "received" and the writer informed that Council's plan is with the Minister and that this Council cannot make any alteration to the plans - any objections or requests for variations should be made direct to the Minister or lodged in a formal manner when the plan is exhibited by the Minister for Local Government. (Crs. Fisher/Reynolds).
13/11/1973; BUSINESS WITHOUT NOTICE - INTRODUCED BY CR. DAWSON. ACQUISITION. OF LAND AT BUNGAN BEACH. Cr. Dawson sought permission to introduce this matter as one of urgency. 6. Resolved - That permission be granted., (Qrs. Dawson/Creagh). Council Resolved - That the matter of land acquisition of the old tank trap property at Bungan Beach be investigated by the Town Planner pending the auction sale of the property, and the Town Planner look into the question of possible acquisition of this property by Council or the State Planning Authority
28/10/1975: Cr. Burin Can the Shire Clerk and Town Planner report to the first Town Planning Meeting in November the position regarding Council acquisition of the land at Mona Vale known as the "Tank Trap" bounded by Bungan Beach and Barrenjoey Road? As the acquisition would give another access to the Beach, would it be helpful to the dune stabilisation programme to provide this additional access? I will have that looked into.
Meeting of 31/8/1977 (a) T.P. Report 77/367 - File SF348/154-156 Details: Tank trap land - Barrenjoey Road, Newport Possible acquisition by Council for car park and access to Bungan Beach. Council Resolved that no further action be taken at this stage.
During World War II La Corniche was used as a Red Cross centre for wounded soldiers. It was also commandeered by the Army for accommodation for those being trained in the vicinity, those billeted along the coastal defences and would later be used by the Air Force during and used as training ground for recruits.
One local gentleman's experience of then:
I was ordained in 1941, the beginning of `41, and appointed as a curate in the parish of St Faith's, Narrabeen. I was then just two days beyond my twenty-third birthday. The war had commenced, and, during my first appointment at Narrabeen, army camps were being formed in the area, because the threat of invasion was feared. I can recall fences being erected along the sides of the road, so that places like Palm Beach or Bayview could be shut off if need be, and then, when the threat of the Japanese came, the more intense development of army troops in that area. And Canon Tugwell then asked me to become a part-time chaplain to those troops in that area.
The parish of Narrabeen in those days went from Collaroy down to Palm Beach. There were main residential settlements at Collaroy, Narrabeen, but when you went out beyond that to Mona Vale you had mainly twenty-five acre small farms, many glasshouse tomato producers. Beyond Mona Vale, Newport was ... just one hotel in Newport, and mainly accommodation for people coming down to holiday use. Beyond Newport, at Bilgola and at Avalon, and then at Palm Beach, there were just mainly holiday homes, very few permanent residents.
My appointment was to help commence a ministry in that northern part. So I boarded with an old Boer war veteran and his wife, a Mr and Mrs Wilson, who lived in Fermoy Avenue, Bayview. And from there would conduct services in the store at Avalon, where there was little tea-rooms behind the store, and in an estate agent's office at Palm Beach. Subsequently a family by the name of Byle lent us their home for the service at Palm Beach. And my other ministry there was to the troops, which were then being trained by the army, and they had an officers' training unit in a big home at Mona Vale, and my responsibility was to conduct services, and then to have discussions or what they called padre's hours with the intake of recruits.
Canon Charles Henry Sherlock, Chaplain RAAF, interviewed by Gail Winkworth for the Keith Murdoch Sound Archives of Australia in the War of 1939-45
From: http://www.awm.gov.au/transcripts/kmsa/s00572_tran.htm
La Corniche, which had also been hired for use by locally stationed and trained personnel, was one of the more immediately restored properties as this was being used for Air League and Fitness Camp training towards the end of World War II. The works, after its occupation by Australian Military Forces of premises known as 'La Corniche' in Mona Vale, the property of Mr GJ McPhee. Includes claim for compensation (1939-1945), are available in prior run page: Brock's The Oaks - La Corniche From 1911 to 1965: Rickards, A Coffee King, A Progressive School, A WWII Training Ground
One of the problems in getting these places restored was when peace was declared those who had been sent to these places were demobilised first and had left, leaving behind these fortifications and defence works and it took some time for the authorities to reinstate the land or, eventually, advise people to seek compensation as no more repairs works were scheduled and they would have to do the work themselves.
The barbed wire, which the defence forces were allowed to place across properties where they deemed it would be most effective and without requiring permission, would feature in one local compensation claim – that of Gladys Homer, who, with her husband Joseph, ran a dairy and whose cows ran into that installed on their lots down at the Mona Vale-Bayview verges and were sold to knackers as they could no longer produce milk.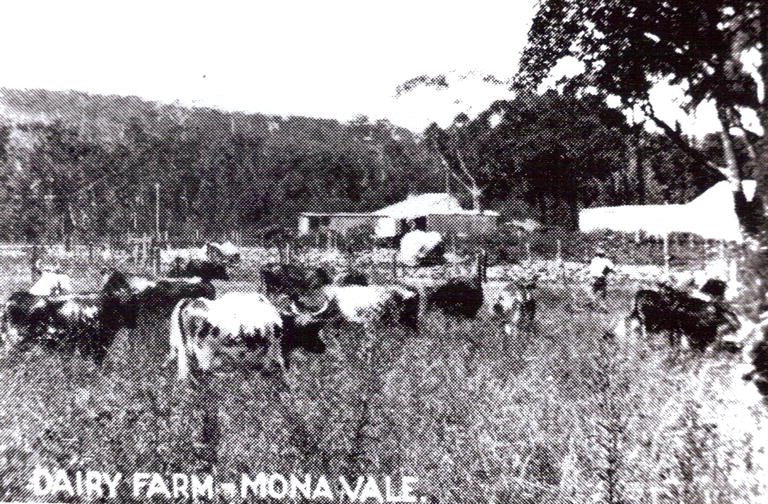 Diary farm at Mona Vale. Circa 1940. Courtesy Olwyn Johnstone, Pittwater Historical Image Library; Mona Vale Library.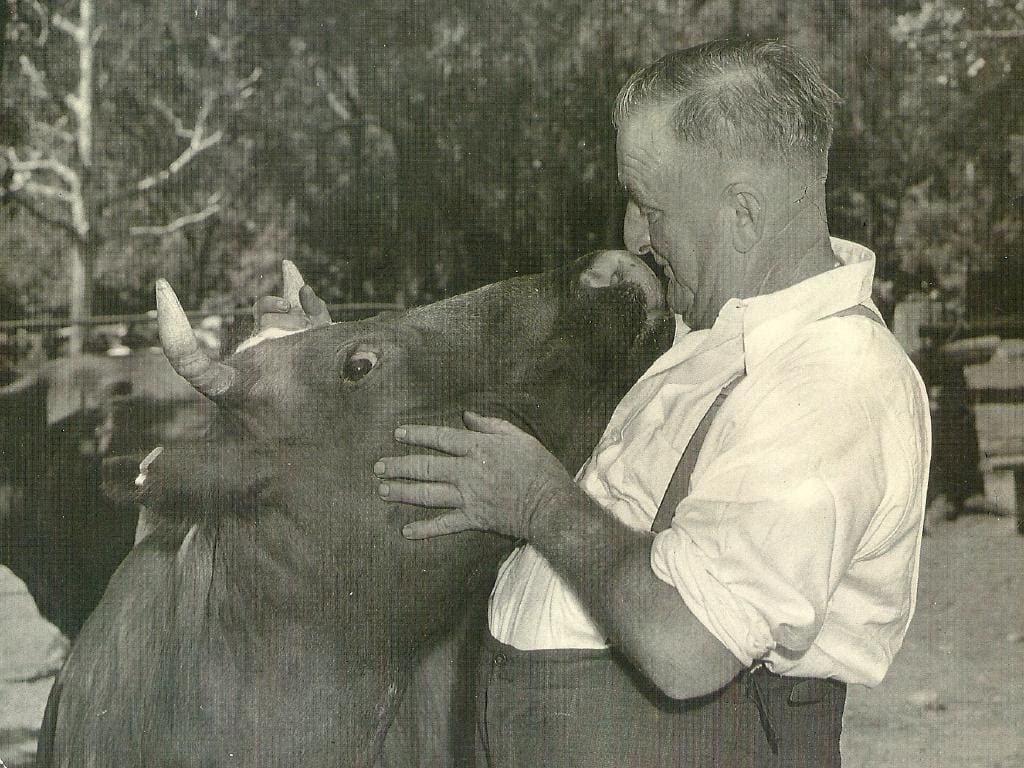 The National Archives of Australia provides insights on those whose properties, listed above, that were impacted and measures taken to compensate them for damage and loss. Of particular note in providing insights into what this was like for those still living and working in these places is the Gladys Homer experience and that of Brendan Dowling.
Brendan Dowling, at that time owning and living in Hopton Lodge, Bayview, along with P G Taylor, both made claims about erosion caused on their lands ay Bayview due to the installation of tank traps.
P G Taylors' claim was dismissed, while Mr. Dowling's went on for years until the claim was settled and the works of restoration completed. Records held by the National Archives of Australia show the tank trap built on his land was 28 feet wide and 8 feet deep and ran for 7 chains or 140 metres - once again this matter was not resolved until years later: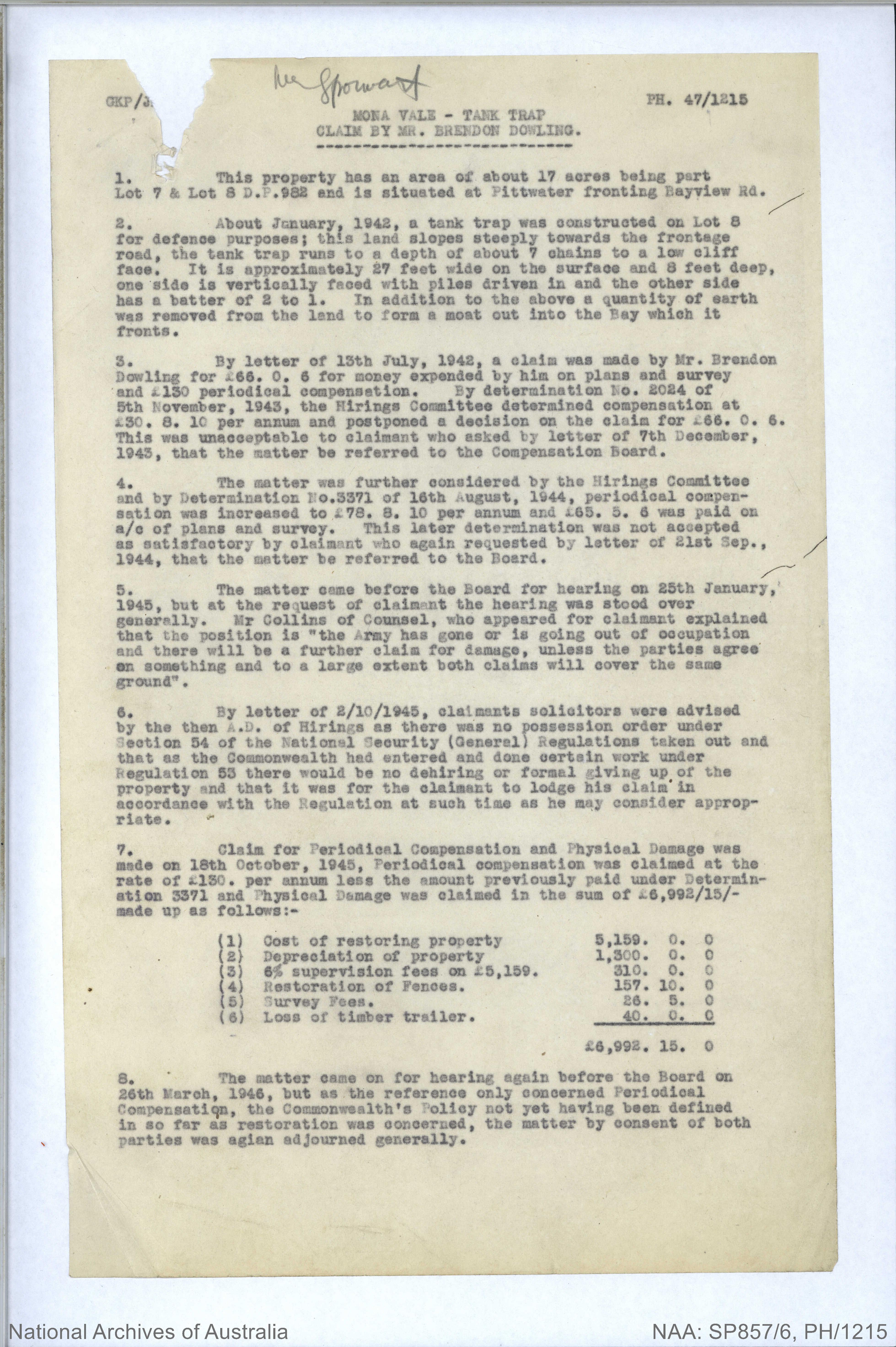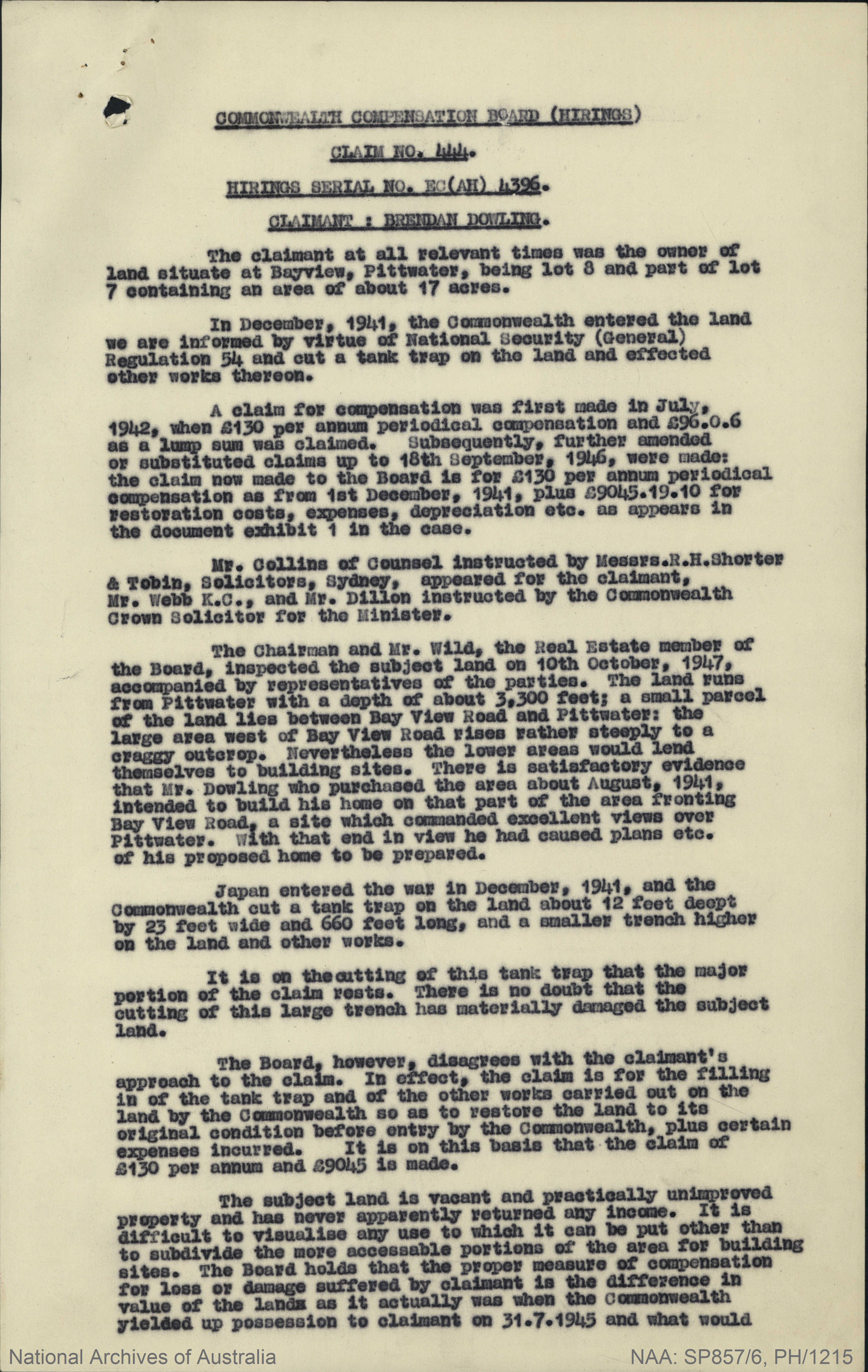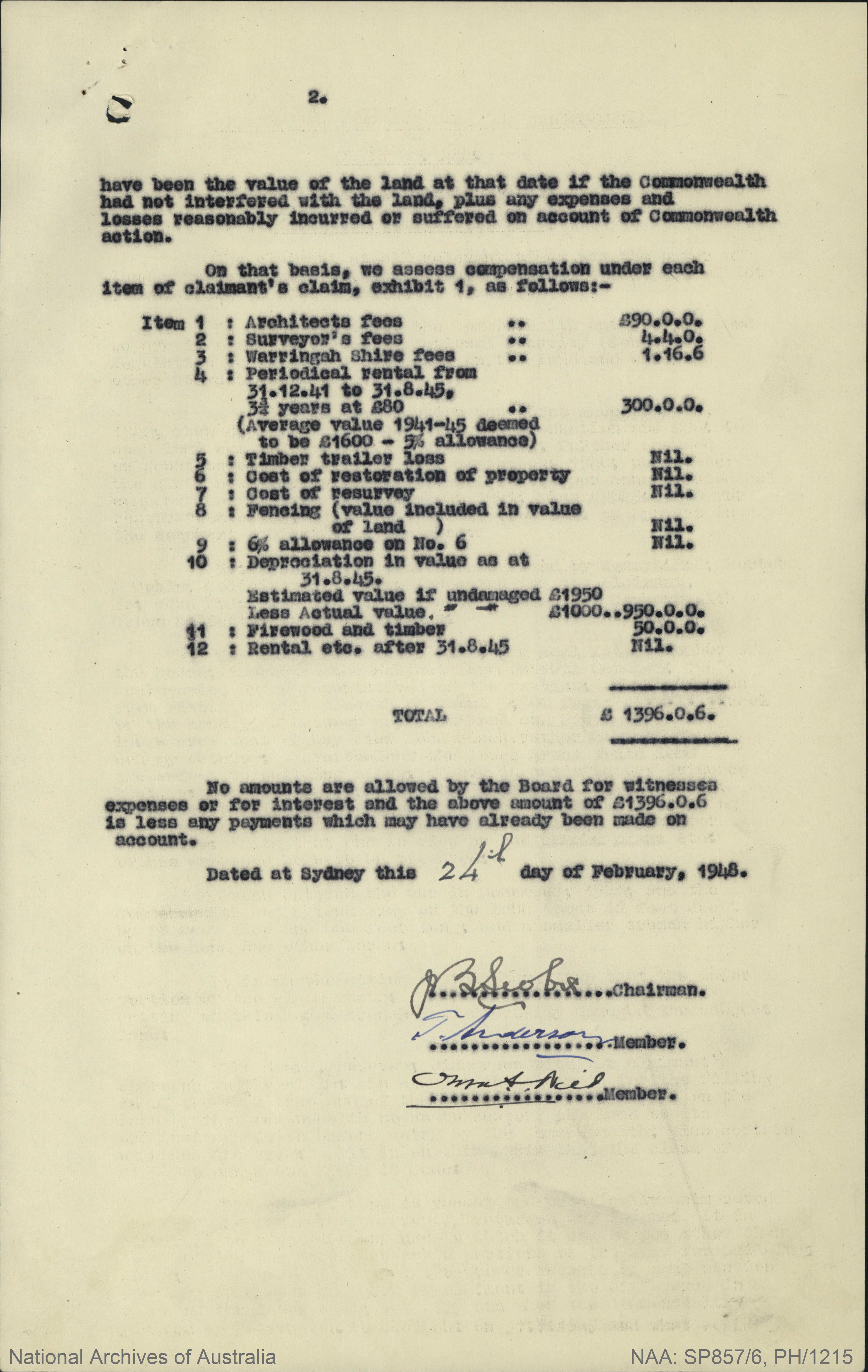 Brendan Dowling's 17 acres at Bayview became just 2 acres: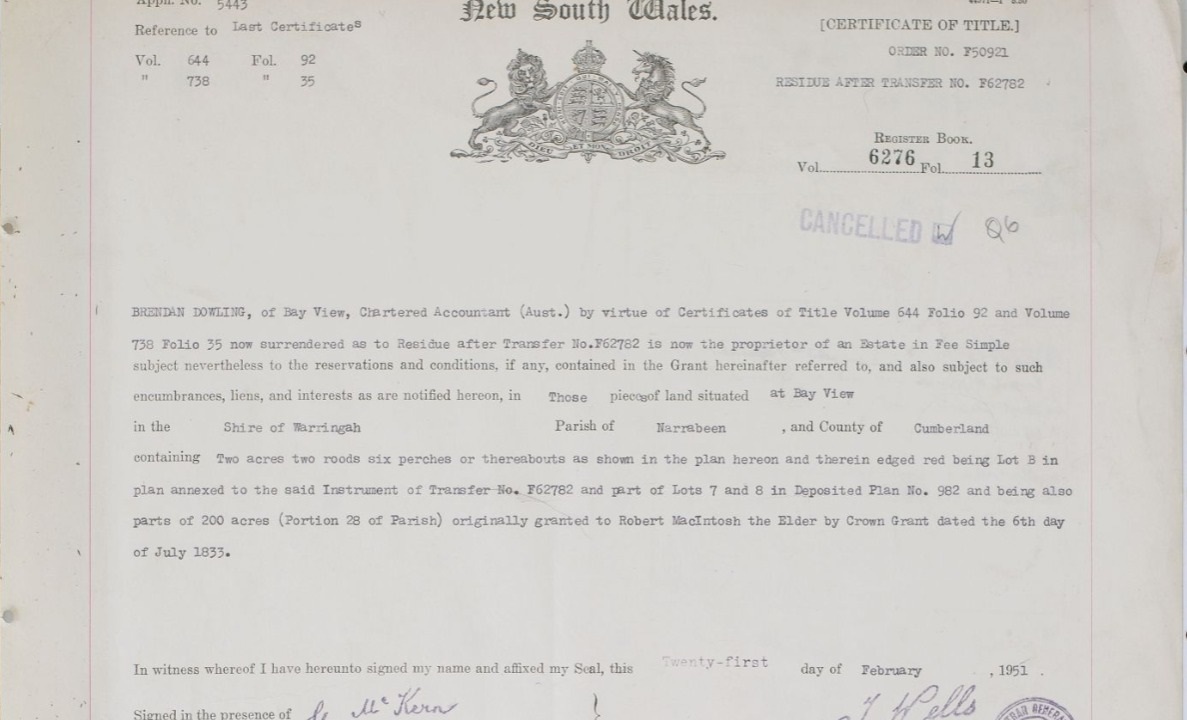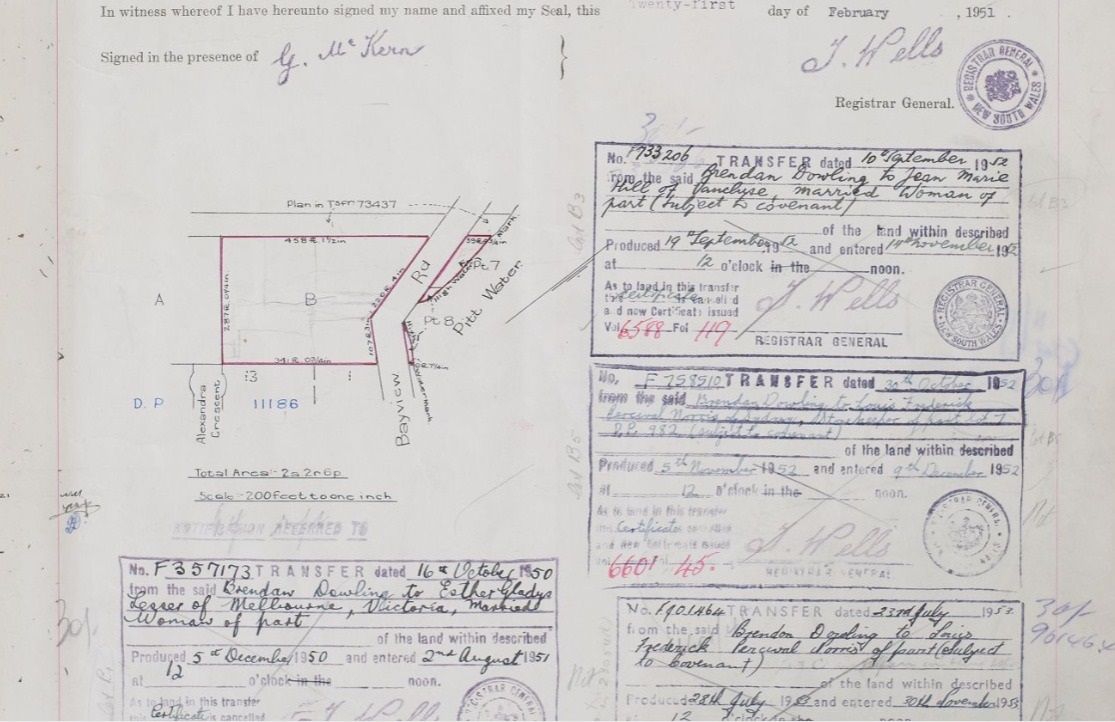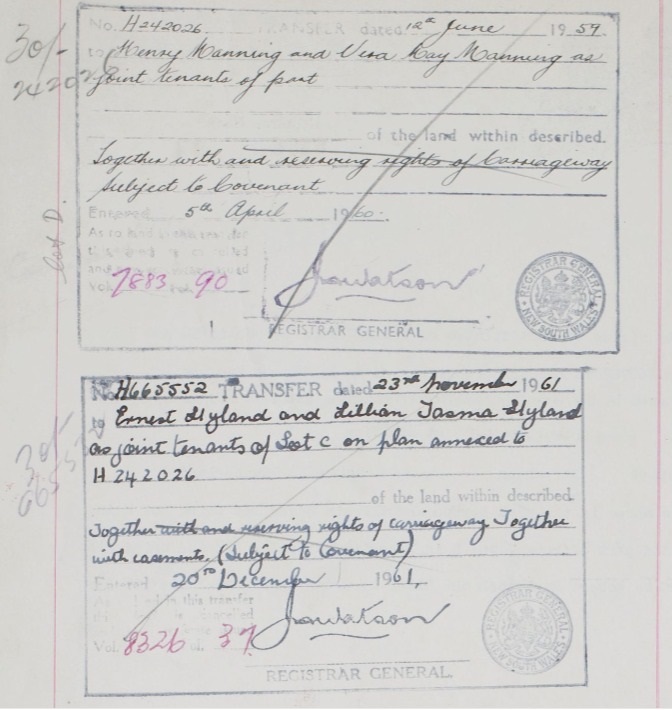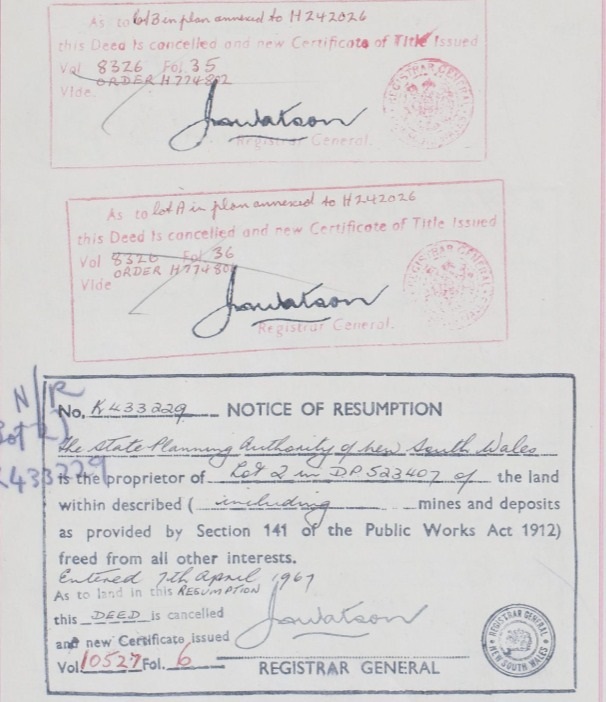 Parts of this were resumed in 1966 - as shown in 'Notice of Resumption' above:
STATE PLANNING AUTHORITY ACT, 1963
Notification of Resumption
IT is hereby notified and declared by His Excellency the Governor, acting with the advice of the Executive Council, that in pursuance of the provisions of section 17 of the State Planning Authority Act, 1963, so much of the land described in the Schedule hereto as is Crown land is hereby appropriated, and so much of the said land as is private property is hereby resumed, under the Public Works Act, 1912, as amended, for the purposes of the State Planning Authority Act, 1963, together with all mines or deposits of coal, ironstone, kerosene shale, limestone, slate or other minerals under the said land (excepting any such mines or deposits as were reserved to the Crown in the original Grant of the said land) and that the said land is vested in the State Planning Authority of New South Wales.
Dated at Sydney, this 10th day of August, 1966.
(l.s.) A. R. CUTLER, Governor. By His Excellency's Command, P. H. MORTON, Minister for Local Government.
Schedule
All that piece or parcel of land situated in Bayview, Shire of Warringah, parish of Narrabeen, county of Cumberland, being part lots 7 and 8 in Deposited Plan No. 982, being the residue of the land in Certificate of Title, volume 6,276, folio 13 after Dealing No. H774802, having an area of 14 1/2 perches or thereabouts and said to be in the possession of Brendan Dowling. (File No. 7/45 IA 1,552) STATE PLANNING AUTHORITY ACT, 1963 (1966, August 19). Government Gazette of the State of New South Wales (Sydney, NSW : 1901 - 2001), p. 3415. Retrieved from http://nla.gov.au/nla.news-article220024351
For Gladys Homer, wife of Joseph Homer, it was precious cows being damaged by barbed wire installed on their dairy paddocks that formed the base of her claim for compensation. Unfortunately she passed away soon after.
DEATHS. HOMER.—The Funeral of the late Mrs. Gladys Homer, of Bassett-street. Mona Vale, will leave our Chapel, Chatswood. at 3.45 this (Saturday) Afternoon, for the Crematorium Northern Suburbs. Wood Coffilll Ltd., Manly. Family Notices (1944, December 30). The Sun (Sydney, NSW : 1910 - 1954), p. 2 (LAST RACE). Retrieved from http://nla.gov.au/nla.news-article229267019
Willy-Willy Strikes Mona Vale
SYDNEY, Thursday. - Several buildings were badly damaged when a willy-willy struck Mona Vale to-day. One resident said: "A strong breeze sprang up shortly after noon. Suddenly we heard a whishing noise and saw a cloud of dust sweeping across the paddocks." A dairy owned by Mr. J. Homer, of Bassett-street, Mona Vale, received the full force of the wind. Eight other buildings were damaged. Willy-Willy Strikes Mona Vale (1949, October 14). Newcastle Morning Herald and Miners' Advocate (NSW : 1876 - 1954), p. 3. Retrieved from http://nla.gov.au/nla.news-article134172237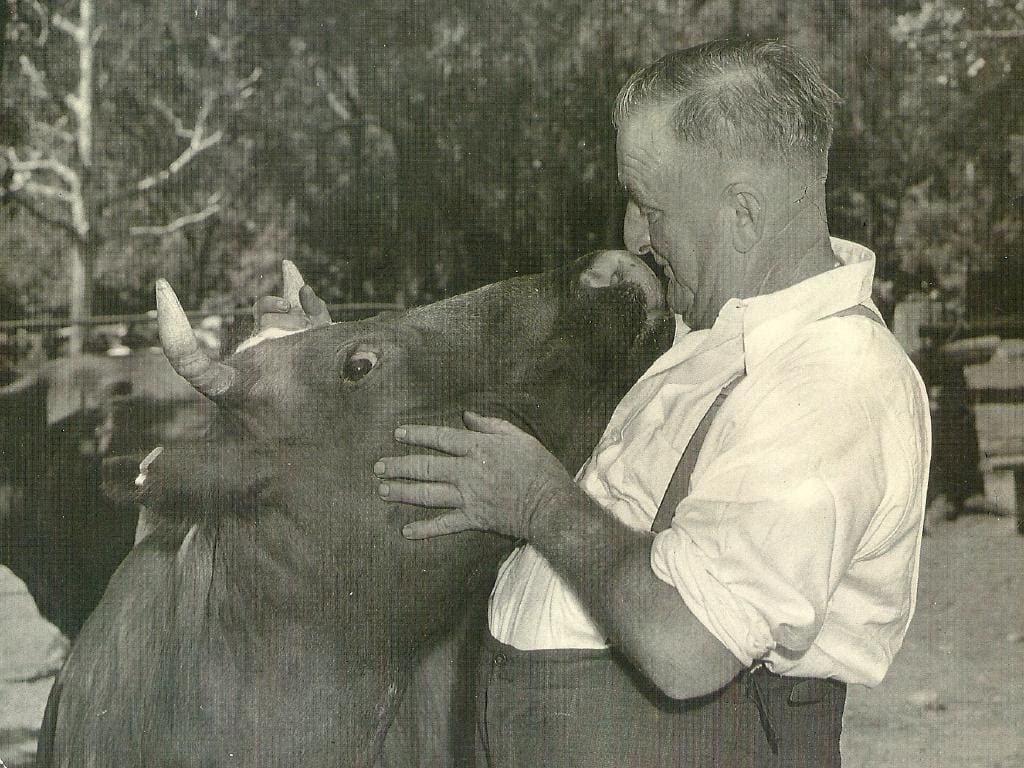 Joseph James Homer kissing Annabella at Mona Vale in 1950. Photo courtesy Kevin Hawkins
More can be read or viewed in John Illingsworth's wonderful interview of Dorothy Wilga Hawkins 22 June 1921 - 18 March 2022, daughter of Gladys and Joseph, in the Tribute linked to.
The National Archives of Australia documents on the same show the Homers had to get affidavits and sworn testimony from a number of people - the basics were where barbed wire was placed and the loss of cattle as a result: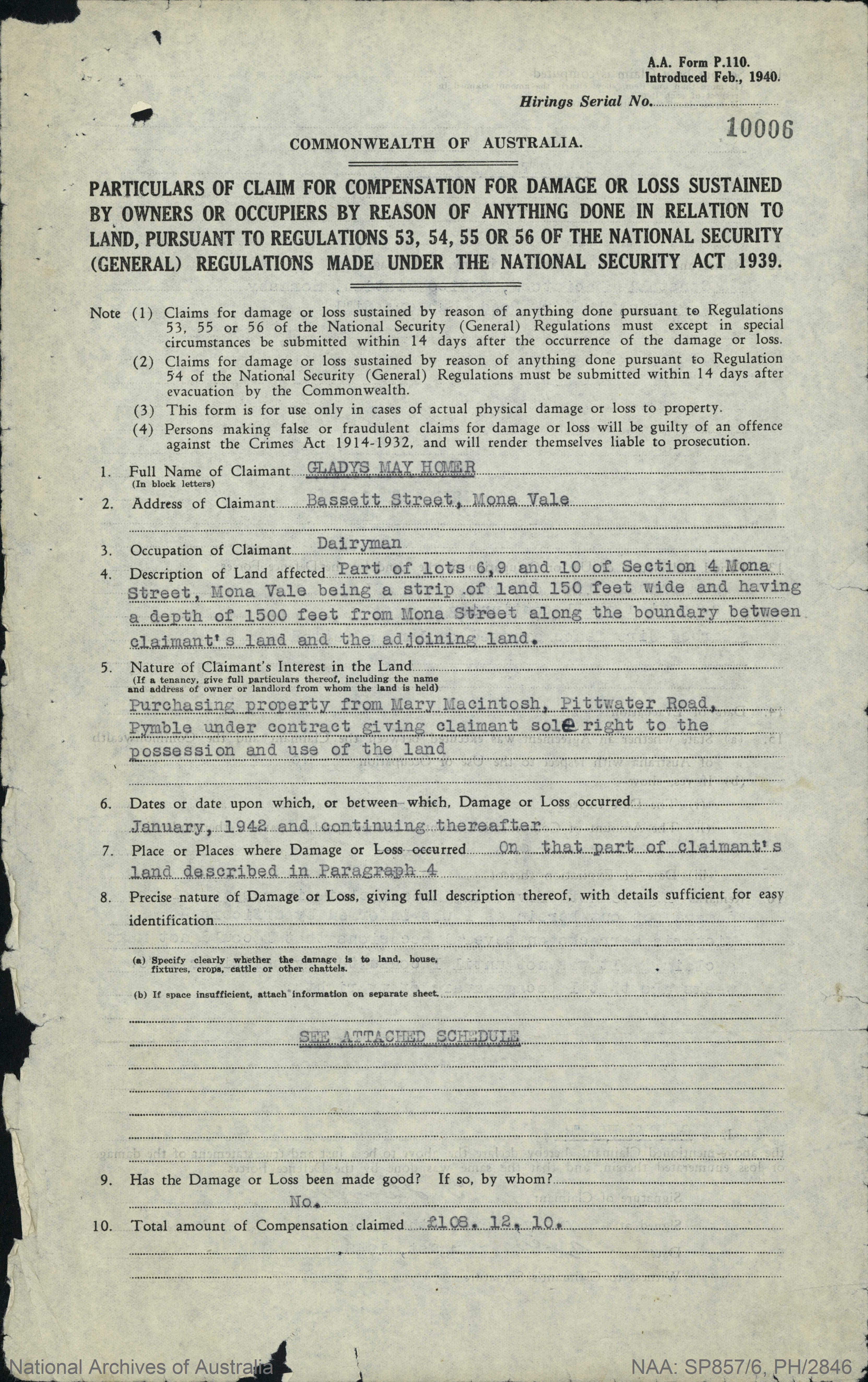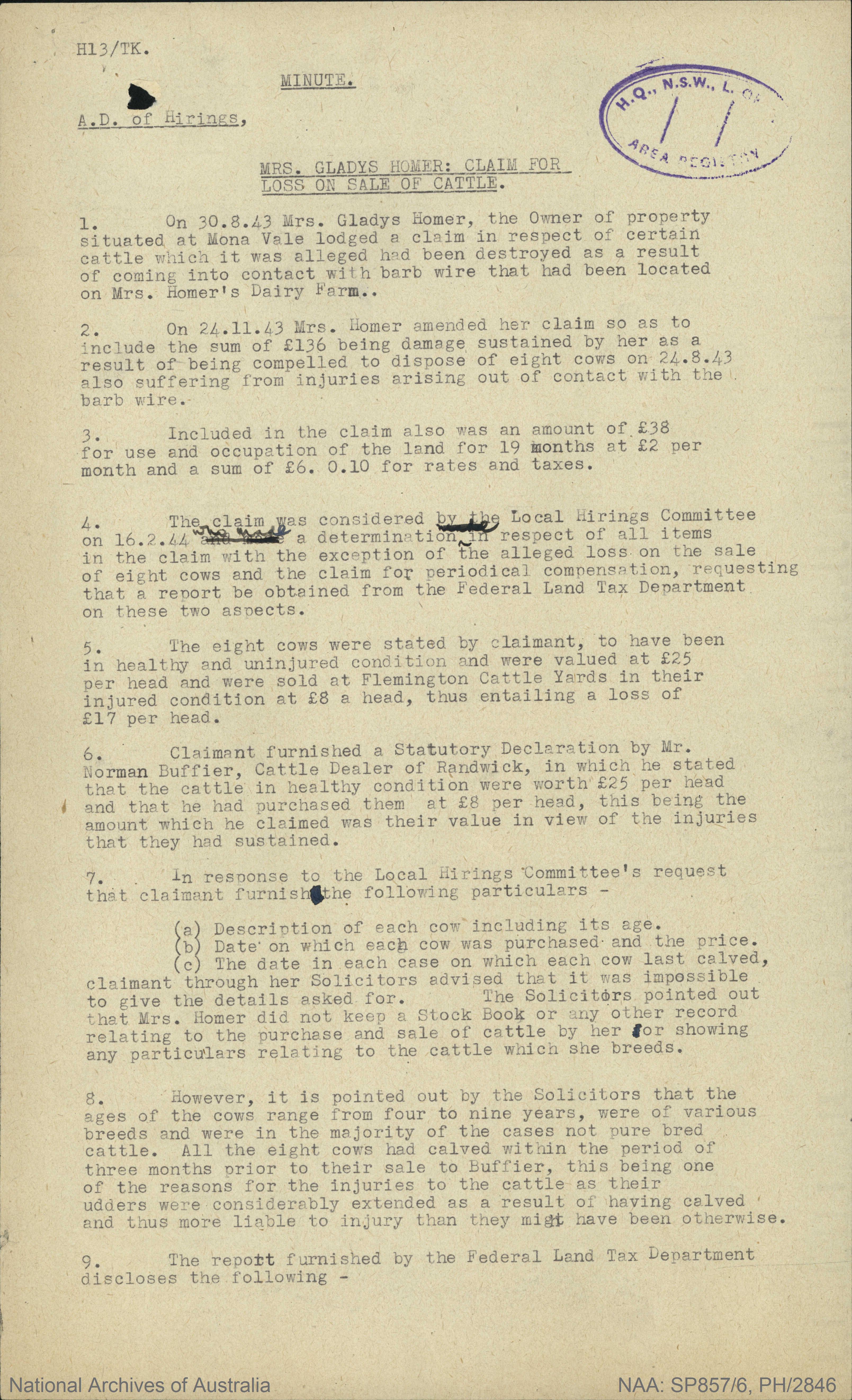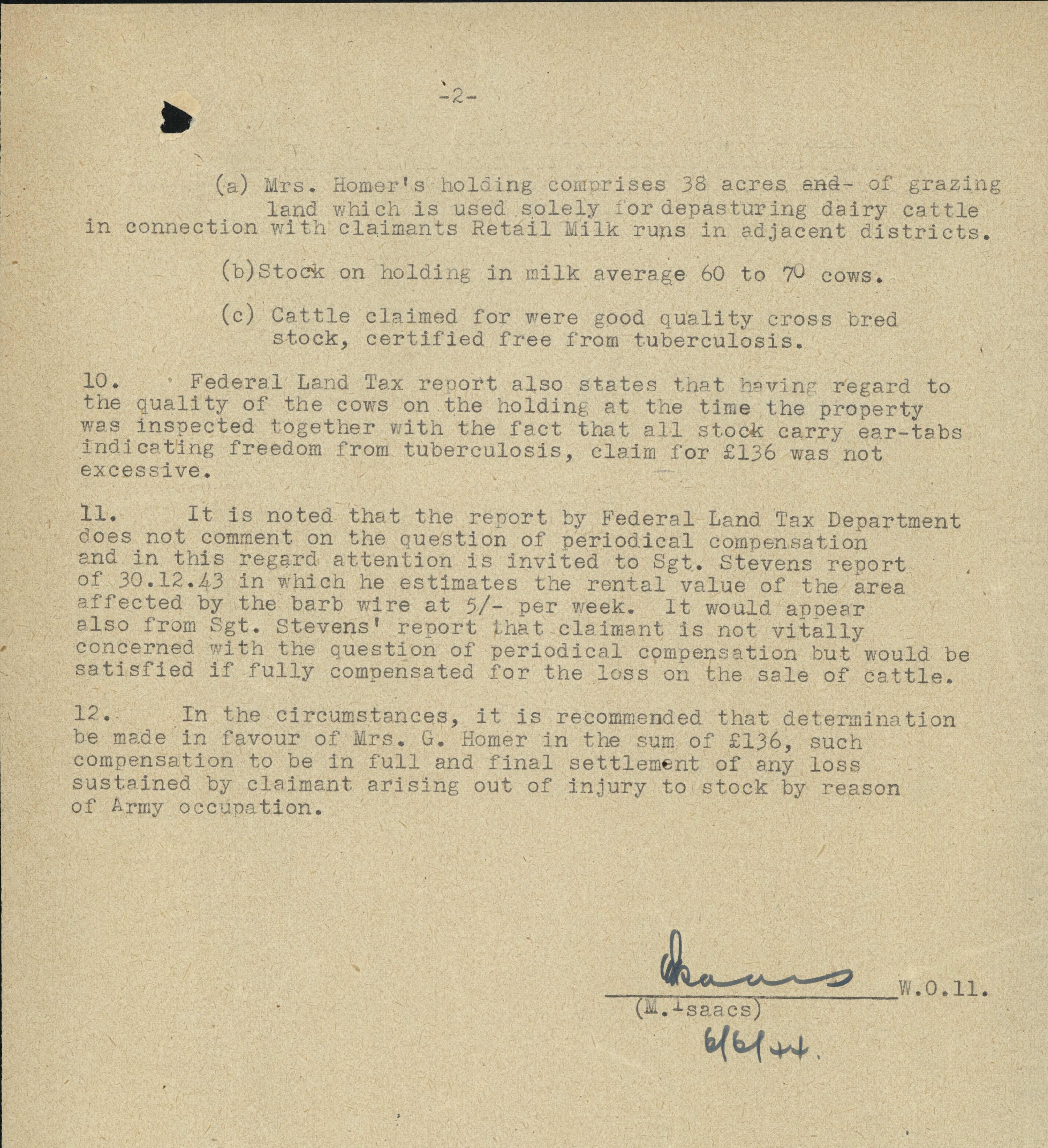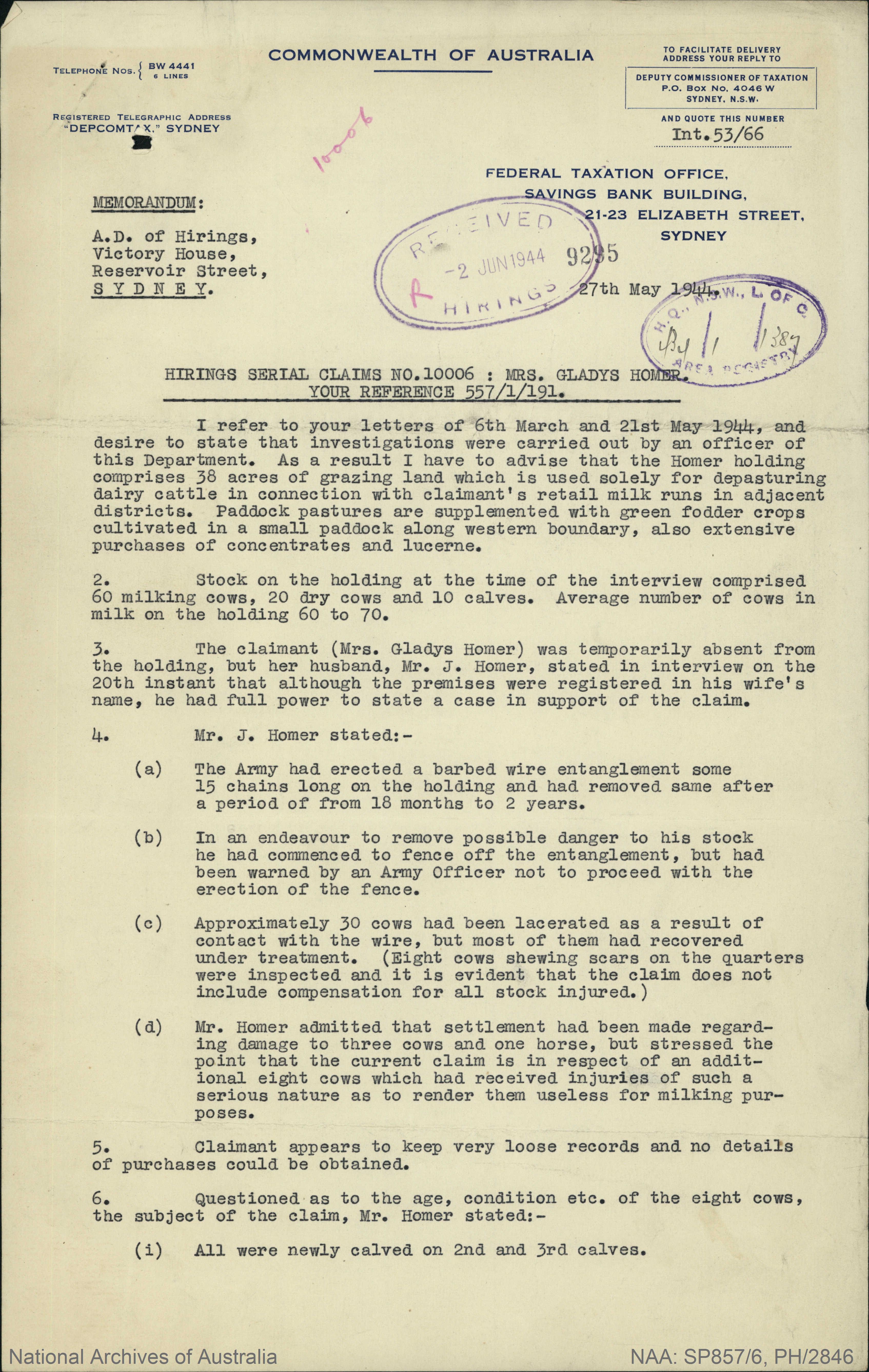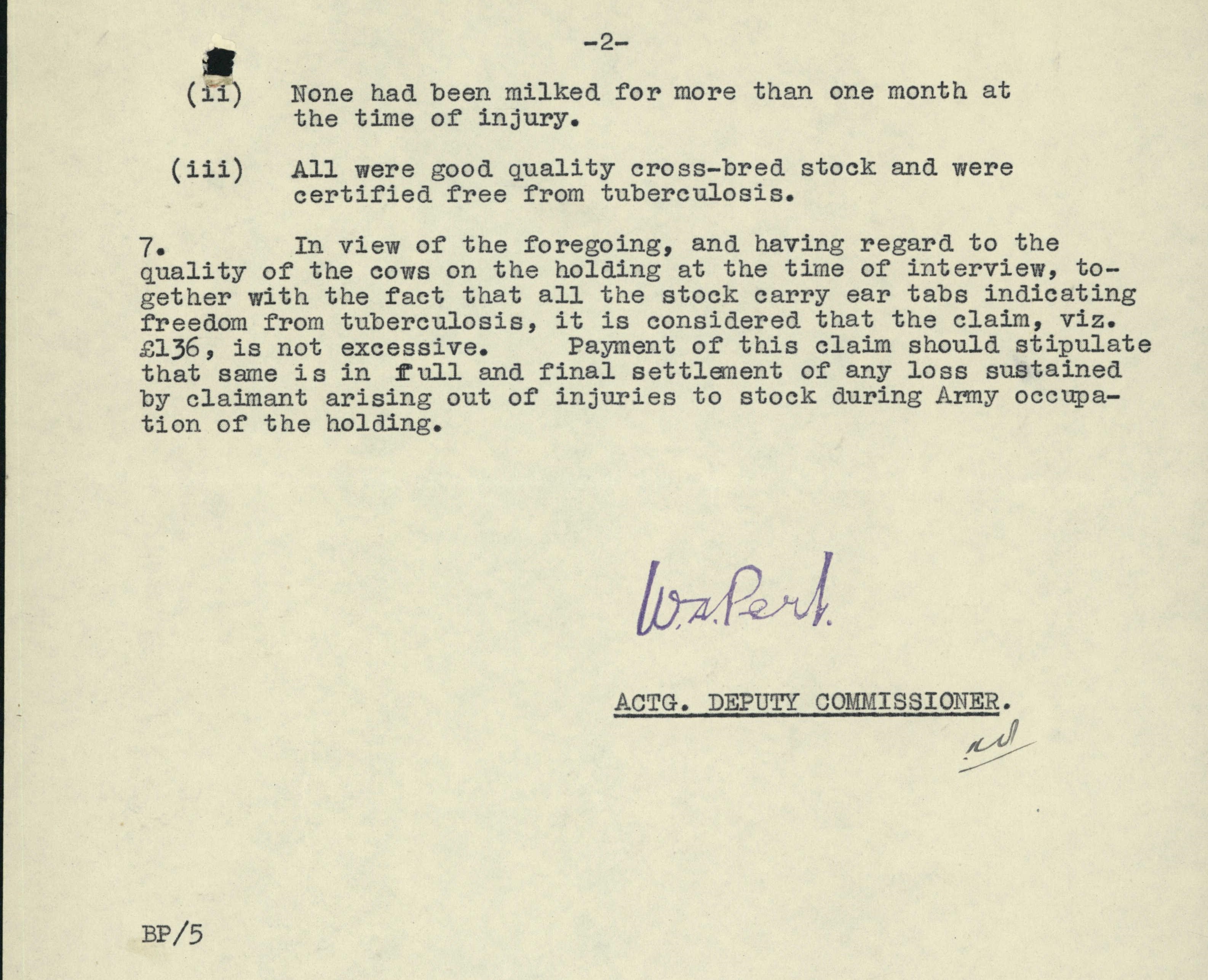 Of course, the Mona Vale to Bungan and Bayview to Church Point area was not the only place works were needed after peace reigned again. An example of what the Domain – Art Gallery grounds looked like after war buildings removed:
Filthy Remnants Of R.N. Barracks hitter Remain
A disorderly litter of foul-smelling rubbish has been left near the Art Gallery since the former Royal Navy barracks in the Domain, has been dismantled.
Domain lovers complain that the area is now an eyesore; that barbed wire, broken bottles and bricks are a source of danger to people walking between the city and Woolloomooloo. They say that the barracks were dismantled more than three weeks ago, and no attempt has been made to clean up the mess. A "Sun" reporter found carelessly littered around an area of roughly 300 square yards — 9 Lengths of rusted barbed wire. 9 Pieces of timber with concrete foundations attached. 9 Hundreds of smashed bricks. Empty tins, and sheets of galvanised iron. Broken pipes, and pieces of fibro-sheeting. Foundations of three huts jut grotesquely from the ground, and six-inch square post-holes have not been filled in. These are potential "ankle breakers." A small hut, with battered-ln windows, apparently once a kitchen, stands amid the wreckage-in a filthy condition. Near the hut Is a 10ft. x 4ft. drainage sink full of greasy, foul-smelling water. A hole 10ft. deep, half covered with flimsy woodwork, is a danger to anyone walking across the area in the dark. A further danger is the lack of night lighting in the area. Four overhead lights are without globes.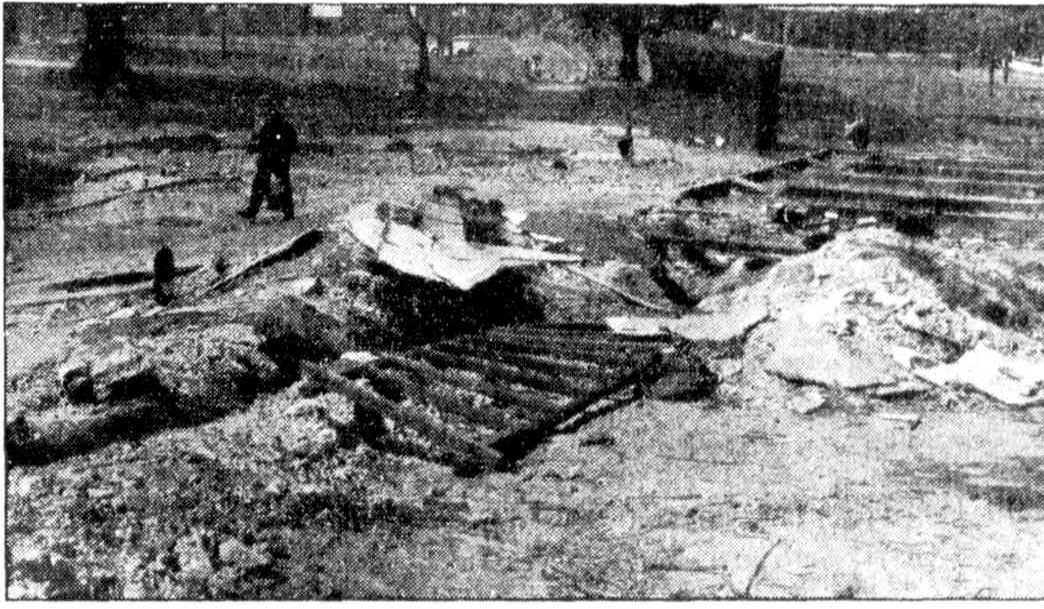 MESS LEFT in the Domain after the removal of a Royal Navy establishment. In the foreground is a large hole covered by a couples of pieces of iron, and wood.
Filthy Remnants Of R.N. Barracks Litter Domain (1946, October 3). The Sun (Sydney, NSW : 1910 - 1954), p. 3 (CRICKET LATEST). Retrieved from http://nla.gov.au/nla.news-article229554653
So this Anzac Day, as we attend Commemorative Services to Honour those who defended Australia in the past and those who serve still, look around at where you live and remember, too, that this place was also much changed during that time in what people could do and that the landscape, modified by humans to install coastal defence works was part of what happened. As it took years for these to be removed and the place restored, the 'peace and prosperity' that began to emerge in the 1950's as people could finally access building products to build homes, or travel to and from Newport over a resealed road, is better understood, but the scars remain. In fact, a recent video shows there are still remnant pieces of these pilings and tetrahedrons in the landscape still at Bayview.
WW2 Tank Trap Defences at Bayview
video by Aussie History Hunter 2019 - others show other tank traps along our coast
Palm Beach & Lion Island, 1945 - Item: FL3734311, courtesy NSW State Records and Archives - showing submarine net/boom still in place across mouth to Pittwater
BROKEN BAY, NSW. 1945. SPOUTS OF WATER INDICATE THE POSITION OF A MINEFIELD BEING BLOWN UP BY MEN OF THE ROYAL AUSTRALIAN ENGINEERS.(PHOTOGRAPHER SGT R. RICE)

Anzac Day In Pittwater: 2023 Services
Muster at Narrabeen SLSC opposite Furlough House on Ocean streets, March to Cenotaph will commence at 11:30am. March will be led by the Warringah Pipe Band. Commemorative Service and wreath laying will take place at Narrabeen Cenotaph, corner of Ocean and Pittwater roads.
Anzac Day Dawn Service at 5:30 am
at lower cenotaph. Please be seated 10 minutes prior to commencement.
In the event of rain the Service will take place in the undercover car park of the RSL Club.
2023 Anzac Address will be given by Pittwater Sub-Branch Member, Sub Lieutenant Zamri Burns
Breakfast within the club afterwards.
Anzac Day Memorial Service Tuesday, 25 April, 10.45 am Thomas Stephens Reserve
Our traditional ANZAC Day service will be held at Thomas Stephens Reserve, Church Point on Tuesday, 25 April, commencing 10.45 am.
The guest speaker will be announced shortly.
5.30 am
Anzac Day
Dawn Service at Newport Cenotaph
in Trafalgar Park
All Welcome.
8.30am: Bilgola Surf Life Saving Club
All families are invited to come down to Bilgola Beach from 8:30am for this year's Anzac Day Surf Lifesaving Memorial service and March Past, a time honoured tradition of the SLS movement. Anzac Day also marks the end of the 2022/23 volunteer patrolling season.
Avalon Beach RSL Cenotaph
5.30am:
Anzac Day
Dawn Service - breakfast within club afterwards
11:00am March and Service.
Please muster outside the Avalon Public School on Old Barrenjoey Road at 10.30 am for a 10:45 am start.
2023 Anzac Day Address will be given by Rear Admiral Rachel Durbin CSC RAN
Whale Beach Dawn Service: Anzac Day
Anzac Day
Tuesday, 25 April 2023 06:00-07:00
by Palm Beach RSL Veterans Ocean Therapy
ANZAC Dawn Service at Whale Beach, breakfast at the Whale Beach Surf Club deck will be available immediately afterward.
Palm Beach RSL: Anzac Day 2023
Anzac Day
11am Service -
Muster at northernmost corner of Iluka and Barrenjoey Roads at 10:45 am for March to outside the club for an 11am Commemorative Service at the Palm Beach RSL Cenotaph.
Service Members Luncheon afterwards. 2-up starts at 1pm.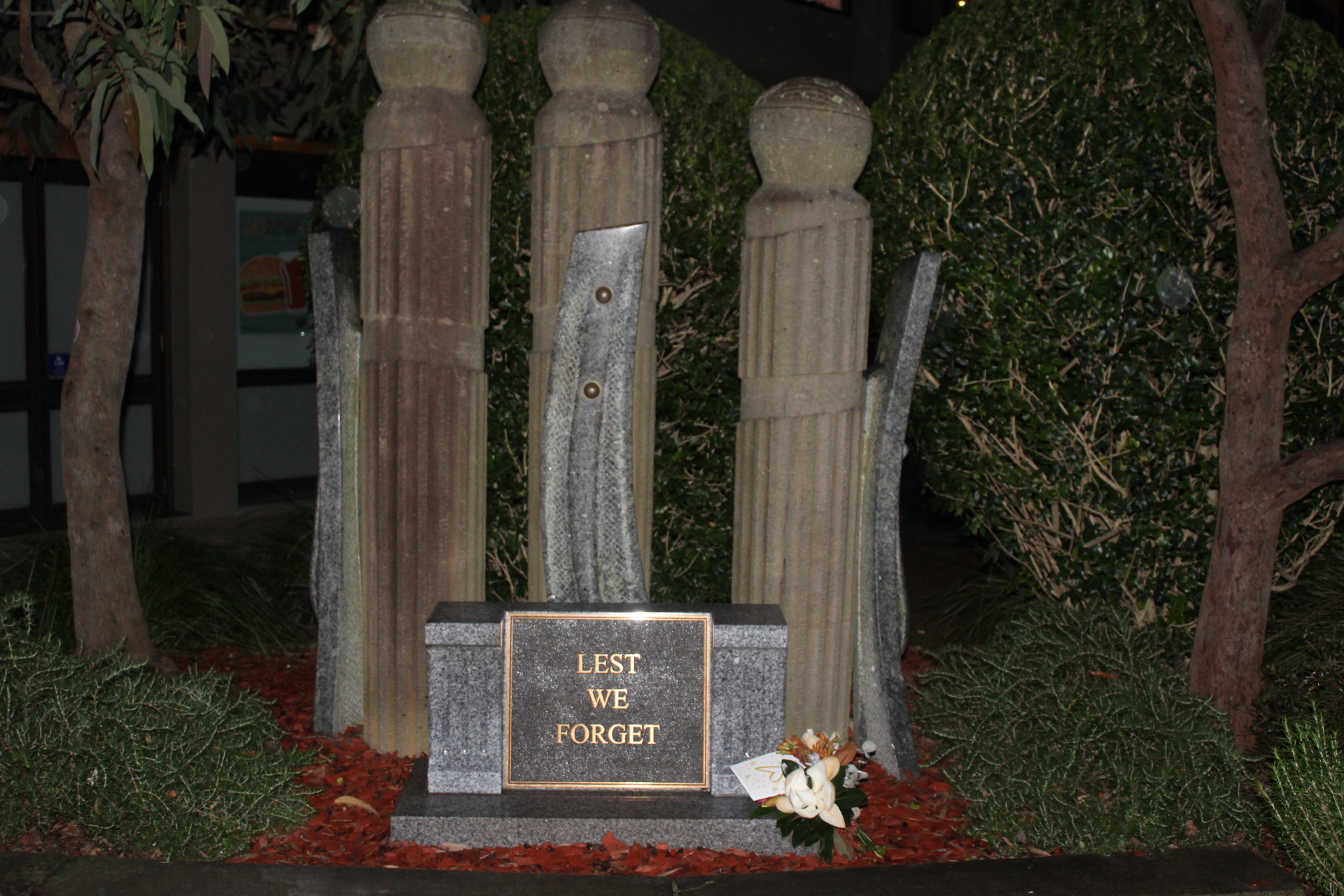 references - extras
Remembrance Day 2021: Mona Vale's Hales-Smith Haynes Smith, Holding, Brentnall and Roby - A.I.F. Men Of World War One
Pittwater Regatta Air Race Trophies: From 1934 And 1935 and The Pilot Who Saved William Hughes - Swain family

Anthony Thomas Ruskin Rowe, Spitfire Pilot (1919 To 1943) - Who Defended Darwin and His Mate: An Avalon Beach and Pittwater Hero

National Archives of Australia - Bungan Beach Defence Work - Army works. Contents date range: 1942 – 1943
Australian War Memorial documents and records
TROVE _ National Library of Australia
The Mitchell Library, State Library of NSW
Public Telephone XW99, corner Walworth Avenue and Myola Road, Newport - used for reports.

Brock's The Oaks - La Corniche From 1911 to 1965: Rickards, A Coffee King, A Progressive School, A WWII Training Ground
Marine Rescue Broken Bay Unit's Beginnings In The Volunteer Coastal Patrol - Some RMYC BB Connections

Trafalgar Square, Newport: A 'Commons' Park Dedicated By Private Landholders - The Green Heart Of This Community - History

Avalon Recreation Centre Celebrations: 20 Years Since The New Building Opened Celebrated - Scout Hall Built By Early Avalon Beach RSL Served As Community Hall From 1954, Avalon Youth & Community Centre Opened November 1968

MOULD Ethel Kate -July 12 1951 at Mosman wife of the late Stuart M Mould and loved mother of Dorothy (Mrs Nettlefold) and Stuart. Family Notices (1951, July 13). The Sydney Morning Herald (NSW : 1842 - 1954), p. 20. Retrieved from http://nla.gov.au/nla.news-article18211167

A Transmission to John Stuart Mould and Dorothy Nettleford will be registered after 28th May 1954 and Certificates of Title issued thereon without production of Certificate of Title Vol. 3314..Fol. 163 -Ethel Kate Mould lot 6 sec. D in D.P. 6195 Pittwater. REAL PROPERTY ACT NOTICE. (1954, May 7). Government Gazette of the State of New South Wales (Sydney, NSW : 1901 - 2001), p. 1416. Retrieved from http://nla.gov.au/nla.news-article220374549

E K Mould - (Lots 6)- Vol-Fol: 3314-163 was part of the blocks or lots of land bought by Robert James Forsyth
Robert James Forsyth was the brother of Archibald Forsyth who was grandfather of Annie Wyatt, from the Rickards sales of the former Brocks Estate. Vol- Fol 3011-146 shows how many lots R J Forsyth bought. When he passed away Annie's husband Ivor Bertie Wyatt and solicitor Lionel Staunton Woolcott sold these lots with the sales showing both Annie's mother (Lot 24 Section B Vol-Fol: 3628-106) and herself (Lot 26 Section B Vol-Fol: 3701-226) bought a Lot in the flat and elevated parts of land fronting and rising in the north from Mona Vale beach to Bungan beach.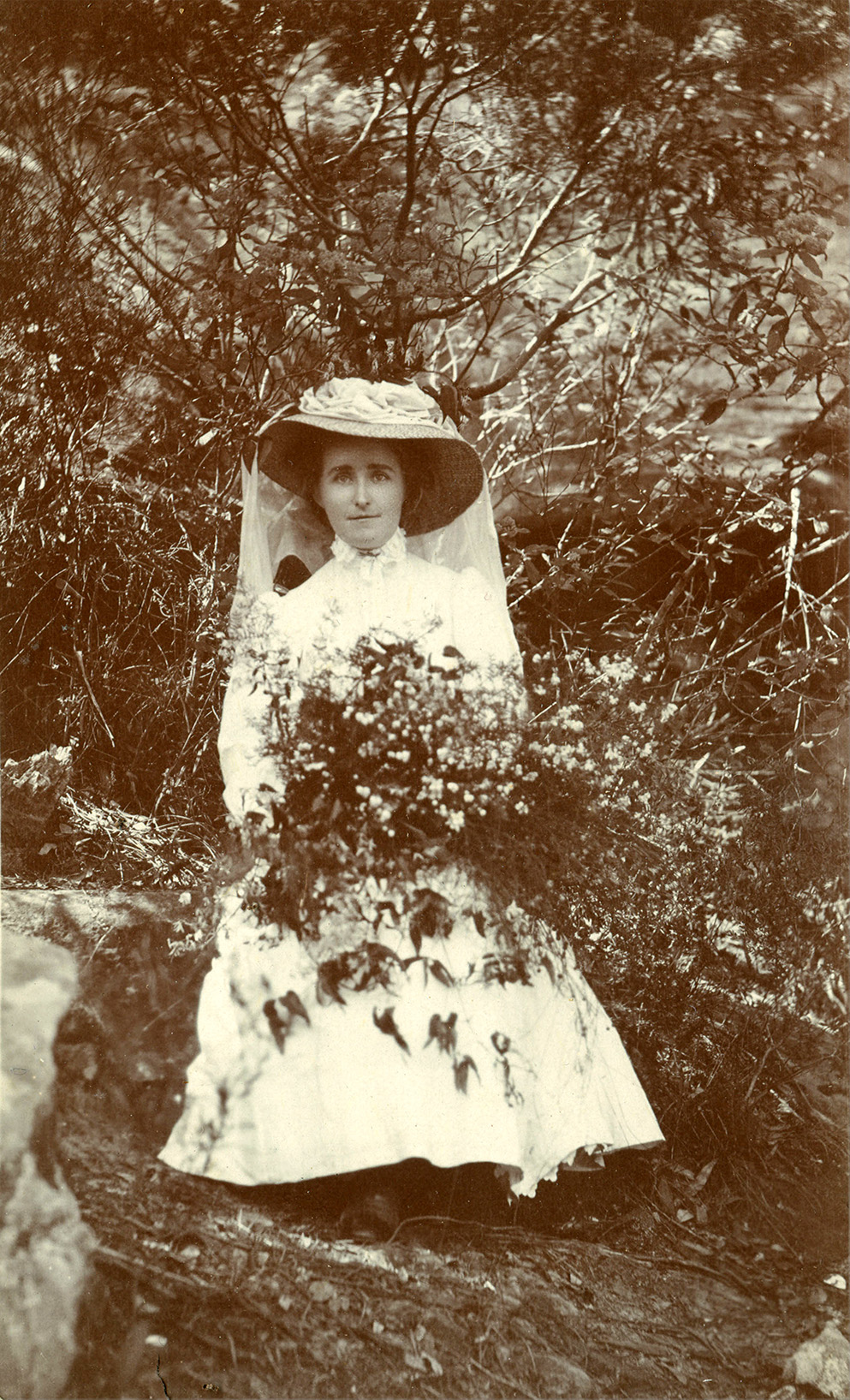 Annie Forsyth Evans with wildflowers at her family's home Girrahween in Manly circa 1905 - from from family album held by Lynnette Lee. Visit: Annie Wyatt Reserve: Palm Beach Pittwater Fields of Dreams II
Vol- Fol 3011-146 shows these lots: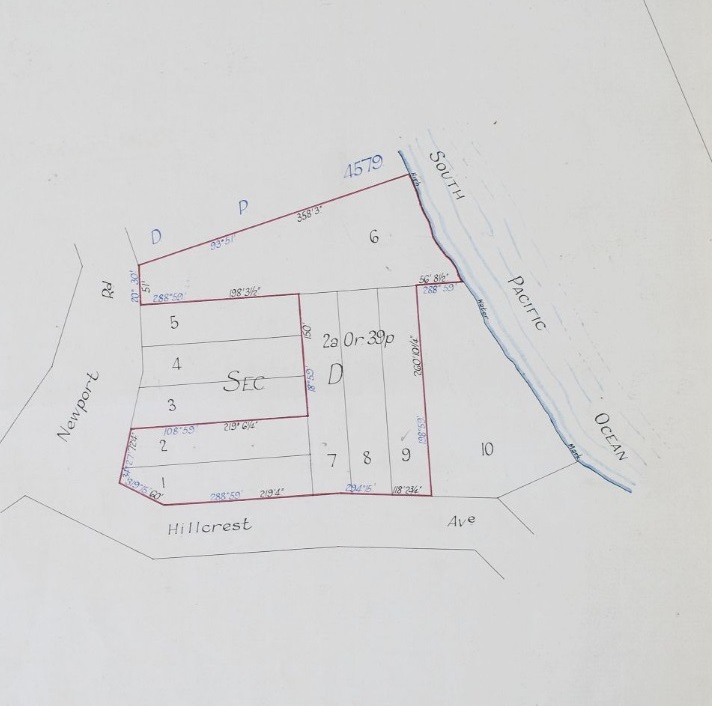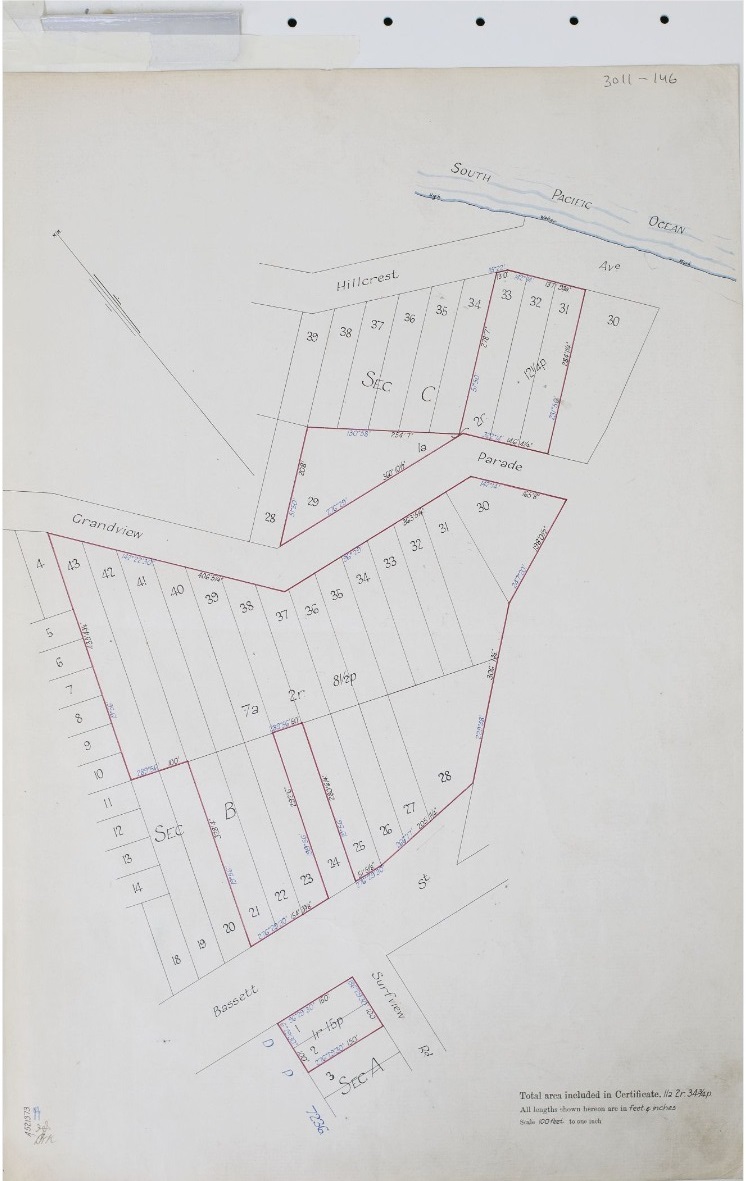 H R Swain; does not appear to be related to Swain family of Bobbin head road Hornsby and son Thomas Reginald Swain who flew in 1930's Pittwater Regattas, serving in WWI as gunner
NSW BDM's birth: SWAIN HARRY R24610/1903 parents: WILLIAM MAY registered at REDFERN - Parents marriage: 6295/1893 SWAIN WILLIAM to MARTIN MAY registered at REDFERN
H R Swain fathers death:
SWAIN. -May 30 at his residence, William, the beloved husband of May Swain aged 49 years late of Railway Traffic Dept and 17th Reinforcements, 22nd Batt. AIF. Family Notices (1922, June 1). The Sydney Morning Herald (NSW : 1842 - 1954), p. 8. Retrieved from http://nla.gov.au/nla.news-article16005399
His War Records show he was 44 years 7 months when enlisted in 1916 - was sent into Ypres, France where he sustained a GSW to the head October 4th, 1917 (entered his body from left and exited near right eye and jaw), as well as gun shot wounds in his left arm and shoulder. After stabilising him he was shipped back to Australia, February 4th, 1918 and discharged August 26th, 1918, with permanent injuries and some fragments still in his body.
SWAIN WILLIAM 6372/1922 his father's parents: HENRY J ELIZA H PETERSHAM

Will made his widow May Louisa Swain, nee Martin, beneficiary.
ANTI-AIRCRAFT EQUIPMENT AT NARRABEEN CAMP
Modern artillery equipment in use by the 1st Anti Aircraft Battery (Mosman) now in camp at Narrabeen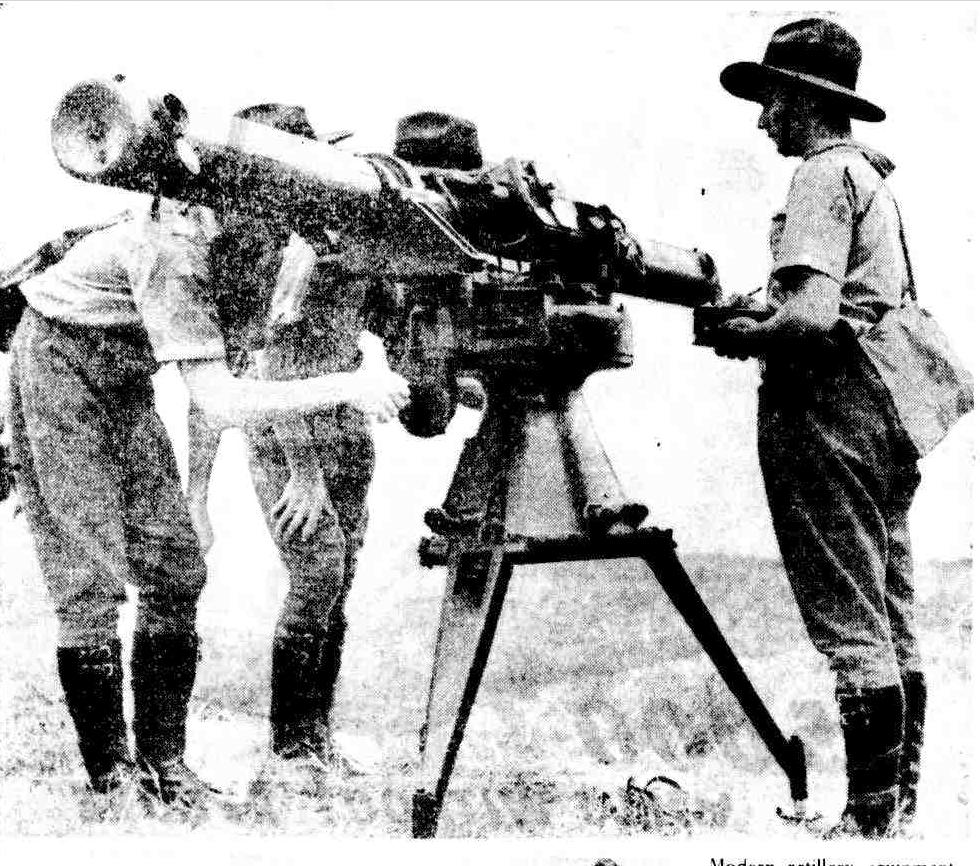 Above: A range-finder, which enables the fuse to be set to burst on the target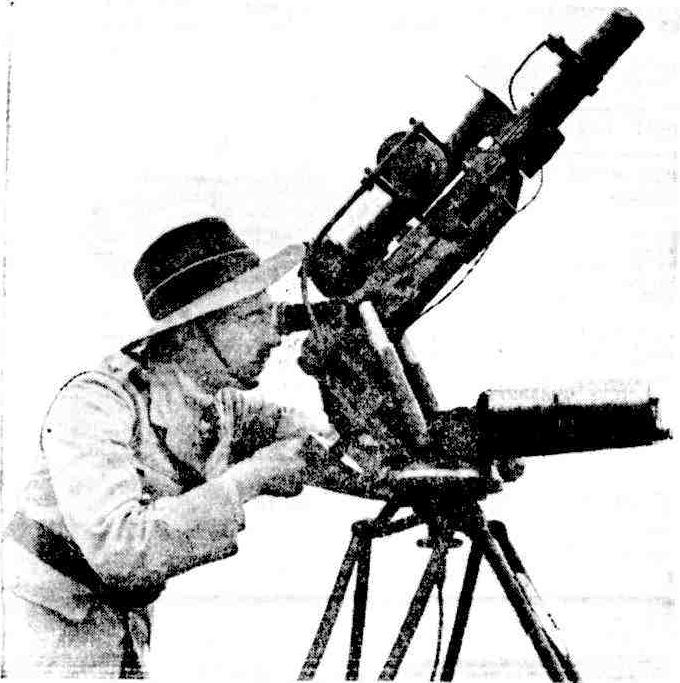 Left: An Aldis telescope in use.
ANTI-AIRCRAFT EQUIPMENT AT NARRABEEN CAMP— CHAMPION ATHLETE COMES TO SYDNEY—ENGLISH SCOUTS LEAVE (
1939, January 24
).
The Sydney Morning Herald
(NSW : 1842 - 1954), p. 14. Retrieved from
http://nla.gov.au/nla.news-article17552902
MAIN ROADS ACT, 1924-1950.—PROCLAMATION.
(L.S.) J. NORTHCOTT, Governor.
I, Lieutenant-General Sir John Northcott, Knight Commander of the Most Distinguished Order of Saint Michael and Saint George, Companion of the Most Honourable Order of the Bath, Member of the Royal Victorian Order, Governor of the State of New South Wales and its Dependencies, in the Commonwealth of Australia, with the advice of the Executive Council, and in terms of section 8 of the Main Roads Act, 1924-1950, and in pursuance of the Transport (Division of Functions) Act, 1932-1950, do by this proclamation give and notify to the main roads or portions thereof described in the first column of the Schedule hereto the names appearing opposite thereto in the second column of the said Schedule.
Signed and sealed at Sydney, this tenth day of January,
1951.
By His Excellency's Command,
W. F. SHEAHAN, Minister for Transport.
GOD SAVE THE KING!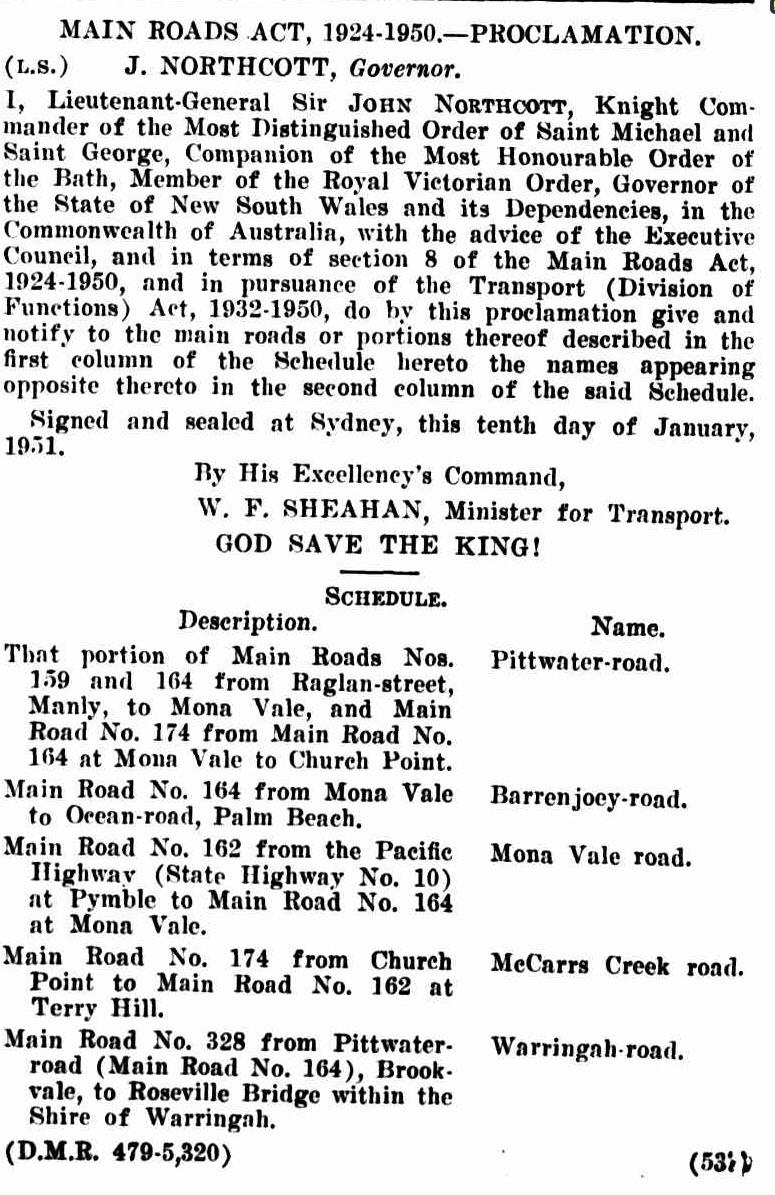 Schedule.
Description. Name.
That portion of Main Roads Nos. Pittwater-road, 159 and 164 from Raglan-street, Manly, to Mona Vale, and Main Road No. 174 from Main Road No. 164 at Mona Vale to Church Point.
Main Road No. 164 from Mona Vale Barrenjoey-road.
to Ocean-road, Palm Beach.
Main Road No. 162 from the Pacific Mona Vale road.
Highway (State Highway No. 10) at Pymble to Main Road No. 164 at Mona Vale.
Main Road No. 174 from Church McCarrs Creek road.
Point to Main Road No. 162 at Terry Hill.
Main Road No. 328 from Pittwater- Warringah-road.
road (Main Road No. 164), Brook-vale, to Roseville Bridge within the Shire of Warringah.
(D.M.R. 479-5,320)
Chullora Annexe
Inside the final assembly shop of the Government Annexe, New South Wales Government Railway workshops, Chullora, (otherwise known as the Chullora Annexe), where the major components for the Australian Cruiser (AC) tanks are brought together and assembled. In the foreground is a completed AC I, armed with a two pounder gun. In the background the hull of another AC I is having the turret fitted. The AC I tank was also known as the Sentinel.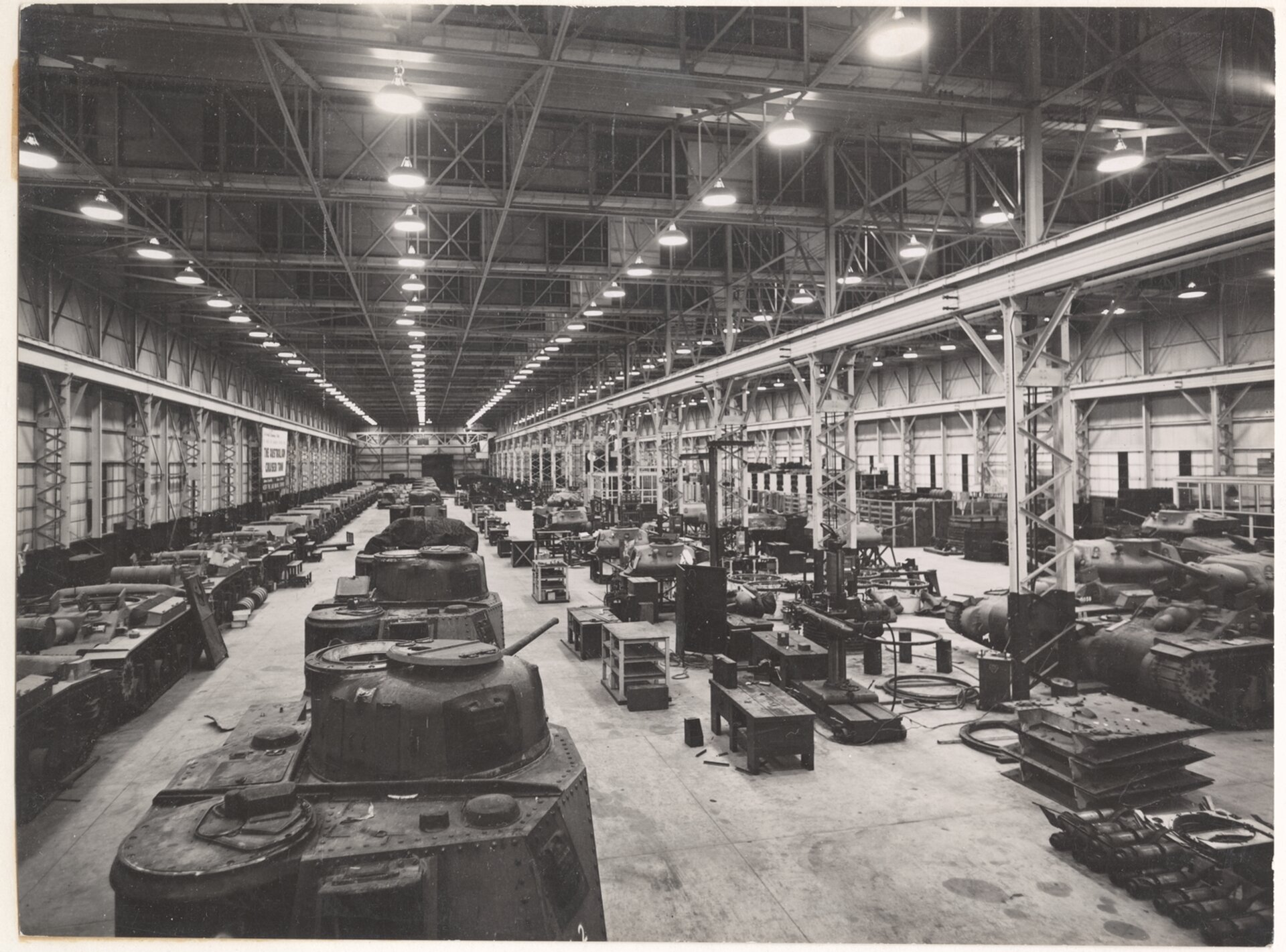 The AC project began in May 1940 in response to the difficulty of acquiring tanks from Britain. Australian industry had few heavy engineering plants and to design and produce an Australian tank was an ambitious project. After a fact finding mission to the USA and the despatch of a design specialist from England in 1940, a specification for the tank's design and manufacture was drawn up. The tank made use of local automotive components and available alloys. The hull, superstructure, forward transmission housing, turret, and gun mantlet were cast as single piece units.
The first trials of the AC I began in 1942 and 65 AC I units plus 3 experimental tanks, known as the 'E' series were produced by 1943. Some of the 'E' Series were fitted with 25 pounder and 17 pounder guns. Never to see active service, with production ceasing in 1943, the AC Sentinel was used for training and instructional purposes only. - Information Australian War Memorial, Canberra
Photos: NSW Records and Archives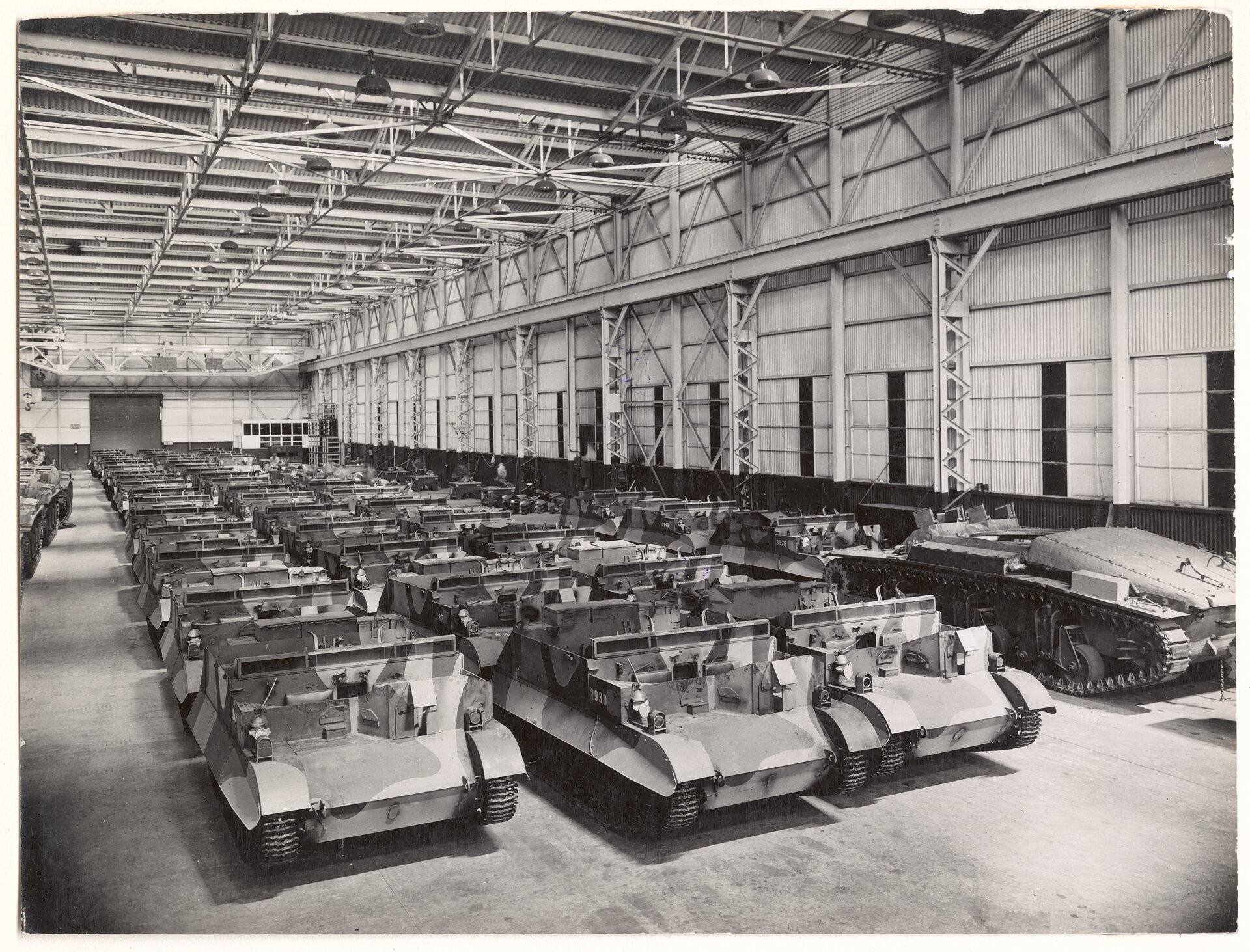 JAPAN SURRENDERS
The use of the atomic bomb and Russia's entry into the war against Japan have resulted very quickly in the complete eclipse of the Rising Sun. Japan's fate was sealed long before the advent of the new bomb. The great work of the Americans in capturing the Philippines and Okinawa, in smashing the Mikado's navy and in relentlessly bombing the big cities of the Japanese mainland made it clear that Japan was beaten, although the task of invading the mainland and defeating the enemy armies in Japan and Manchuria might have proved long and costly. But it was certain that as soon as Britain could throw her full strength in ships and manpower into the conflict alongside the forces of the United States the total defeat of Japan would be simply a matter of time. Then came the atomic bomb, the effect of which is so devastating that if the Allies had been compelled to continue to use it for any length of time it would inevitably have wiped out all the principal cities of Japan. The Japanese are the most fanatical people in the world, and it was thought that they might prefer total destruction to unconditional surrender. In that event it would have been necessary for the Allies to invade the mainland and also defeat the enemy forces in Manchuria.
Russia's decision to enter the war therefore solved the Manchurian problem. Japan was reported to have more than a million of her best troops in Manchuria, but it is doubtful if they could have made much of a stand against the present might of Russia. In 1939 there were a number of severe clashes on the Manchurian border, and, much to their surprise, the Japanese were badly whipped by the Russians. At that time the Russian armaments were not particularly good, but they were good enough to beat the enemy. To-day the Russians are armed with the most modem equipment— tanks, guns and aeroplanes supplied by Britain and America— in addition to the products of her own new factories. Throughout the war the Russians have kept a large army on the Manchurian border, and that great force was recently strengthened by veterans fresh from the triumph over Germany. It would seem therefore that the boasted Kwungtung army in Manchuria was doomed if it did not quickly surrender. Then again, Russia's entry into the war meant that the Allied air forces would have been able to operate against the Japanese mainland from the vicinity of Vladivostok, thus placing Japan's chief cities within very short range of the great bombers. Taking these facts into account, Allied experts at once predicted the early surrender of Japan. The only alternative seemed to be the total destruction of Japan's chief cities, and a reasonable person would expect the Japanese to throw down their arms in order to save something out of the wreckage. But past events had shown that the Japanese are unpredictable. Their readiness to die rather than surrender to overwhelming odds made it possible that if the decision, were left to the armed forces they would elect to resist to the end. Even in that event the end would have come quickly. The Allies would naturally have made the fullest use of the new bomb, which would have proved as devastating against armies as against cities. No notice would have been taken of the clamour in some quarters against, the use of the bomb.
The Allied High Command had the duty of ending the war with the least possible sacrifice of Allied lives, and the free use of the bomb seemed the best means to that end. The atrocities perpetrated by the Japanese have been beyond description. Those ferocious animals have slaughtered countless thousands of defenceless men, women and children for the mere love of killing, and they deserved no mercy. And then again, the free use of the bomb might have proved an unintentional act of mercy if it had had the effect of making the enemy realise more quickly the hopelessness of his position, thus bringing the deadly struggle to a speedier end. However, all speculation about what might have been has been ended by the glorious news that the Japanese have accented the Allied ultimatum of unconditional surrender. The Japanese proviso that the Emperor should be allowed to retain his position does not appear to be an obstacle to the conclusion of a settlement. At the time of writing no official report of the Allied reply to the Japanese offer of surrender has been .received, but it may be taken for granted that the war against Japan has ended. But while we in Australia are celebrating the surrender of Japan, we must remember the words of the late John Curtin: 'Part of our heart is locked up in Singapore.' To the men of the Eighth Division of the A.I.F., who have been prisoners in the hands of the Japanese for the past, four years, we owe a duty— they must 'be repatriated.
And for those who cannot be repatriated the Japanese war lords must pay. As far as Australia is concerned, the first job for Japan is to deliver up the prisoners for whose release the Allied forces have been fighting.
JAPAN SURRENDERS (1945, August 11). Kalgoorlie Miner (WA : 1895 - 1950), p. 4. Retrieved from http://nla.gov.au/nla.news-article95604395
Official -JAPAN SURRENDERS: EMPEROR TO GIVE CEASE-FIRE
Japan has surrendered unconditionally to the Allies.
This was announced in a dramatic midnight broadcast from London by British Prime Minister (Mr. Attlee) and heard in Sydney today at 9. a.m. The Emperor of Japan has also undertaken to give the necessary orders for surrender of Japanese armed forces wherever they may be. The Emperor will broadcast to his people today.
Mr. Attlee began by saying: "Japan has today surrendered. The last of our enemies is laid low. tfere is the text of the Japanese reply to the Allied demands:— "With reference to the announcement of August 10, regarding the acceptance of the provisions of the Potsdam Declaration, and the reply of the Governments of the US, Great Britain, the Soviet Union and China— sent by Secretary of State Byrnes on August 11 — the Japanese Government has the honor to communicate to the Governments of the Four Powers as follows: " (1) His Majesty the Emperor has issued an Imperial rescript regarding Japan's acceptance of the provisions of the Potsdam Declaration.
"(2) His Majesty the Emperor is prepared to authorise and ensure the signature by his Government and the Imperial General HQ of the necessary terms, for carrying out the provisions of the Potsdam Declaration. "
(3) His Majesty is also prepared to issue his commands to all military, naval and air authorities of Japan, and all the forces under their control, wherever located, to cease active operations, to surrender arms and to issue such other orders as may be required by the Supreme Commander of the Allied forces for the execution of the above-mentioned terms. Signed Togo (Foreign Minister.)"
Mr. Attlee then said: "Let us recall that on the seventh of December, 1941, Japan, whose onslaught China had already resisted for over four years, fell upon , the United States of America, who were then not . at war and upon ourselves, who were sorely-pressed in our death struggles with Germany. "Taking full advantage of surprise and treachery, the Japanese forces quickly over-ran the territory of ourselves and our Allies in the Far East. "And at one time it appeared as though they might even invade the mainland of Australia and advance far into India. i-, "But the tide turned — first slowly, then with ever-increasing speed and violence as the 'mighty forces of the US and of the British Commonwealth and Empire, and their Allies, and finally Russia, were brought to bear.
"At this time we should pay tribute to the men from this country, from the Dominions, from India and the Colonies and to our fleets, armies and. air forces who fought so w, ell in the arduous campaign against Japan. . . . "
"Our gratitude goes out to all our splendid Allies, and above all the United States, without whose prodigious effort this War in the East would still have many years to run.
"We also think, especially at this time, of the prisoners in Japanese hands, of our friends in the Dominions of Australia and New Zealand, in India, in Burma and in those Colonial territories upon whom the brunt of the Japanese attack fell.
"We rejoice that their sufferings will soon be at an end, that these territories will soon be purged of the Japanese invader. "Peace has come once again to the world. Let us thank God for this great deliverance and for His mercy. Long Live the King!"
Australia's Prime Minister (Mr. Chifley) broadcast to the nation at 9.30 am saying: "The war is over; at this moment let us offer thanks to God."
At Washington President Truman issued an announcement similar to Mr. Attlee's and said the Japanese reply contained "no qualifications." General MacArthur has been appointed Allied commander to receive the Japanese surrender. Britain, America, Russia and China, represented by high-ranking officers, would be at the signing and Allied armed forces had been ordered to suspend offensive operations.
Official -- JAPAN SURRENDERS: EMPEROR TO GIVE CEASE-FIRE (1945, August 15). The Sun (Sydney, NSW : 1910 - 1954), p. 1 (VICTORY SOUVENIR EDITION). Retrieved from http://nla.gov.au/nla.news-article230453209
Prime Minister Announces Peace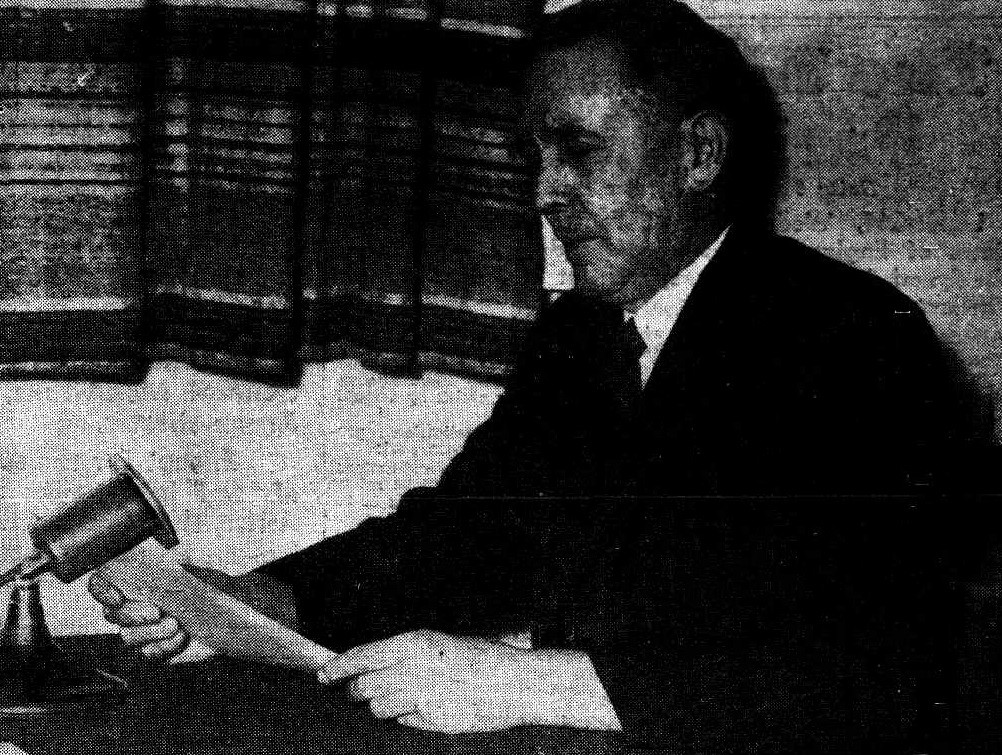 -FROM HIS CANBERRA OFFICE Prime Minister (Mr. Chifley) broadcasts to the nation on receiving news of Japan's surrender.
Prime Minister Announces Peace (1945, August 16). The Daily Telegraph (Sydney, NSW : 1931 - 1954), p. 3. Retrieved from http://nla.gov.au/nla.news-article247635645
Chifley's Announcement to Australia
CANBERRA, Wednesday: 'In his statement this morning the Prime Minister (Mr. Chifley) said:
'Fellow citizens.-— The war is over. The Japanese Government has accepted the terms imposed by the Allied Nations and hostilities will now cease. I now present to you the terms of the note sent by Britain, United States, Russia and China to the Japanese Government and accepted by it. They are as follow:
At the moment of surrender the authority of the Emperor and the Japanese Government to rule the State shall be subject to an Allied Supreme Commander, who will take such steps as he deems proper to effectuate the surrender terms. The Emperor shall be required to authorise and ensure the signature by the Japanese government and Imperial Headquarters of the surrender terms necessary to carry out the Potsdam declaration provisions, and shall issue commands to all Japanese military, naval and air authorities and to all forces under their control wherever located to cease active operations and to surrender their arms; also to issue such other orders as the Supreme Commander may require to give effect to the surrender terms. Immediately after surrender the Japanese Government shall transport war prisoners and civilian internees to places of safety as directed where they can be quickly placed on board Allied transports. The ultimate form of the Government of Japan shall, in accordance with the Potsdam declaration, and shall be es-tablished by the freely ex-pressed will of the Japanese peoples. The Allied Powers' armed forces will remain in Japan until the purposes set fourth in the declaration are achieved.
Mr Chifley then added:
'At this moment let us offer thanks to God; let us remember those whose lives were lost that we may enjoy tis glorious moment and may look forward to the peace which they have won for us. Let us remember, those whose thoughts with proud sorrow turn towards gallant ones who -will not come back.
'On behalf of the people and Government I offer humble thanks to the fighting men of the Uni-ted Nations whose gallantry, sacrifice and devotion to duty have brought us victory. Nothing can fully repay the debt; we owe them nor can history record in adequate terms their deeds in the black days that followed September, 1939, and December, 1941, until this moment. "We owe, too, a great debt to those men and women who per-formed miracles in production in secondary and primary industries so that the battle of supply could be won and a massive effort achieved. "Materials, money, and resources have been poured out so that the fighting men would not go short. Australia's part comparatively in terms of the fighting services and supplies ranks high, and the Australian people may be justly proud of everything they have done.
Tributes to Leaders
"I am sure you would like me to convey to the commanders of the fighting forces the warmest thanks for their skill, efficiency and great devotion.
"Especially do I mention General Douglas MacArthur, with whom we had so much in com-mon and with whom, we shared dangers when Australia was threatened with invasion. In your name I offer to the leaders of the United Nations our congratulations and thanks. "We join with the United States in the common regret that their Inspiring leader, Mr Frank-lin Roosevelt, did not live to see this day. Australians, too, will feel their happiness tinged with sorrow, that another man who gave his all was not spared to be with us today. That man was John Curtin.
"To Mr Churchill Generalissimo Stalin and Generalissimo Chiang- Kai-shek we offer the unstinted thanks of free people everywhere for what they have done for the common cause. Especially do we honor Mr Churchill, who in the dark days — to use his own words — said we had the honor to stand alone against aggression.
"And now our men and women will come home — our fighting men with battle honors upon them from every theatre of war. The Australians stopped the Japanese in their drive south just as they helped to start the first march towards ultimate victory in North Africa. 'Australians fought in battles of the air everywhere, and Australian seamen covered every ocean. They are coming home to a peace which had to be won.
"The United Nations Charter for world organisation is the hope of the world, and Australia has pledged the same activity in making it a success as she showed in framing it.
"Here in Australia there is much to be done. The Australian Government, which stood steadfast during the dread days of war, will give all that it has to working and planning to ensure that the peace Is the real thing. "I ask the State Government . and all sections of the community to co-operate in facing the tasks and solving the problems that are ahead. Let us join together in the march of our nation to future greatness.
"You are aware of what has been arranged for the celebration of this great victory and deliverance. In the name of the Commonwealth Government I invite you to join in the thanksgiving services arranged, for truly this is a time to give thanks to God and to those men against whose sacrifices for us there is no comparison."
Chifley's Announcement to Australia (1945, August 16). Tweed Daily (Murwillumbah, NSW : 1914 - 1949), p. 3. Retrieved from http://nla.gov.au/nla.news-article194391926
PLANS FOR SURRENDER

GENERAL DOUGLAS MacARTHUR, who has been appointed Supreme Commander of the Allied Forces of Occupation in Japan.
The announcement yesterday morning that Japan had capitulated was received with delirious joy by the peoples of the United Nations.
Cease fire in the Pacific was ordered by the Allies at 9.15 a.m. yesterday. In Sydney immense crowds took part in scenes of unpre-cedented emotion and gaiety.
General MacArthur has been appointed Supreme Commander for the Allied Powers, and has ordered the Japanese to send representatives to him at Manilla for instructions. Japanese planes which approached the United States Fleet after the surrender were shot down. The Japanese Cabinet has resigned, and the War Minister, General Anami, has committed hara-kiri.
An Australian Army unit will enter Japan with General MacArthur's forces to look after the interests of freed prisoners belonging to the British Commonwealth. This unit is already at Manila awaiting transport.
Last evening Tokyo Radio told Japanese troops overseas that it was useless to resist any longer.
It was officially announced at Buckingham Palace last night that the King desired next Sunday to be observed as a Day of National Thanksgiving. The King and Queen will attend a thanksgiving service at St. Paul's Cathedral on that day.
Sydney's reaction to the great news was a spon-taneous outburst of joy. Throughout the day the gaiety continued, but the fact that it was a day of deep thanksgiving as well was not forgotten. Special services in many churches were attended by crowded congregations, and many people paid reverent tribute at the Cenotaph. At night there was a search-light and rocket display.
Early this morning crowds were still thronging the streets of Sydney cheering and dancing. Police estimate that there were a million people in the streets during the night. The great crowds were entertained for hours by leading radio artists from platforms at various points. There were similar celebrations in other capital cities, and in country towns throughout Australia.
A 12-page Illustrated Supplement covering all aspects of the Pacific war is published with this issue.
JAPAN CAPITULATES DELIRIOUS JOY IN AUSTRALIA (1945, August 16). The Sydney Morning Herald (NSW : 1842 - 1954), p. 1. Retrieved from http://nla.gov.au/nla.news-article17950203
JAP SURRENDER document is signed aboard USS Missouri in Tokyo Bay by Mr. Mamorer Shigemitsu, Japanese Foreign Minister.—Australian Official Photo.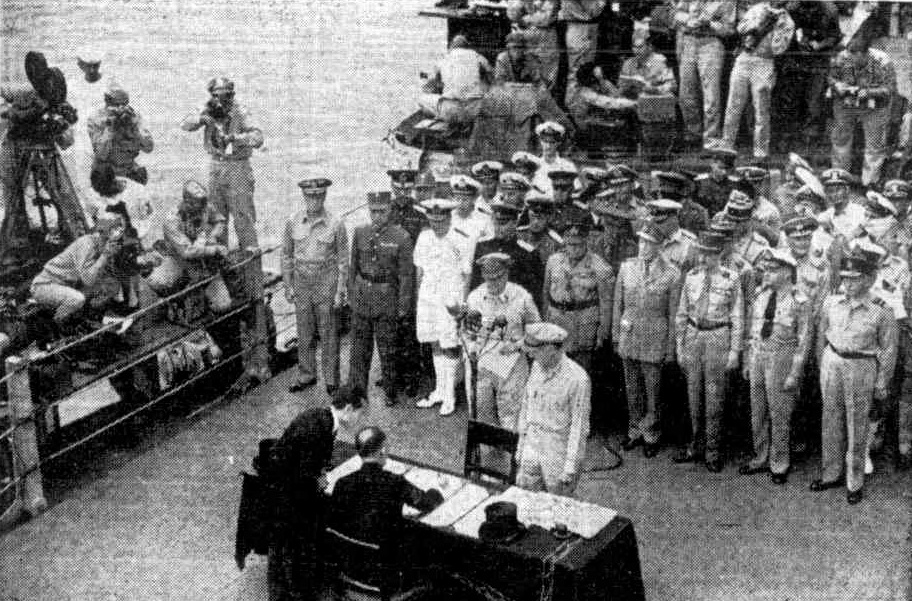 No Title (1945, September 14). Tribune (Sydney, NSW : 1939 - 1976), p. 1. Retrieved from http://nla.gov.au/nla.news-article208695208
THE JAPANESE SURRENDERS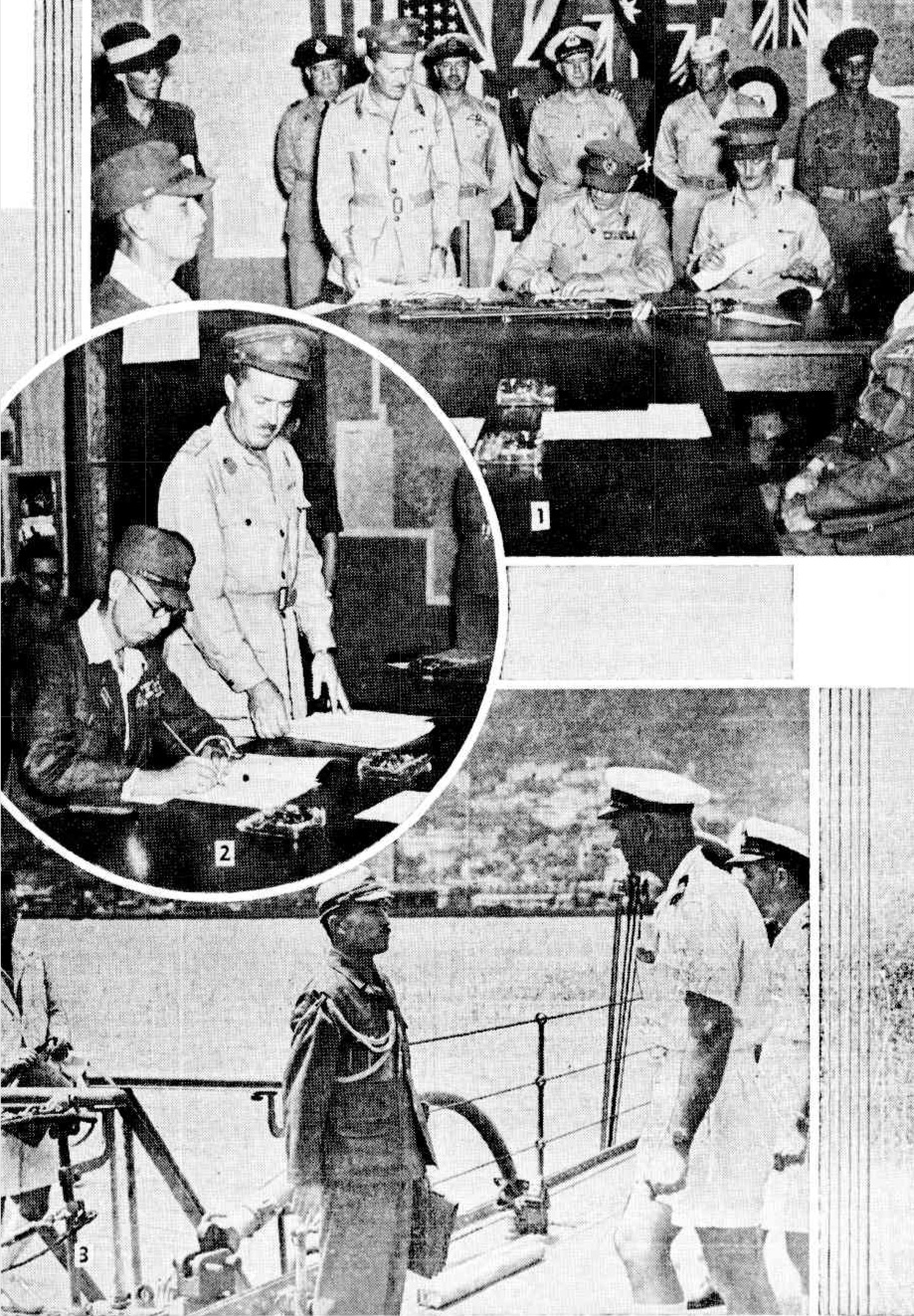 Official surrender signing pictures are shown on this page. (1) Lt-General S. G. Savige signing the surrender documents in the battleroom at Second Australian Corps headquarters, Torokina. The Samurai swords of Lt-General Kanda and Vice-Admiral Samijima have already been handed over and are on the table in front of General Savige. (2) Lt-General Kanda signing the surrender documents on behalf of Japan in the Second Australian Corps headquarters, Torokina. (3) A Japanese envoy and his interpreter coming aboard HMS Swiftsure (temporarily carrying the flag of Rear-Admiral C. H. J. Harcourt, CB, CBE) immediately after the occupation of Hong Kong by the British task force, the envoy is being met by Lt G. Albert, of South Africa, as he steps on to the quarterdeck.
THE JAPANESE SURRENDERS (1945, September 13). Western Mail (Perth, WA : 1885 - 1954), p. 65. Retrieved from http://nla.gov.au/nla.news-article38566091
The Mona Vale-Bungan Beach-Bayview Tank Traps Coastal Defences Of Pittwater During World War Two: Some History - threads collected and collated by A J Guesdon, 2023