April 24 - 30, 2022: Issue 535

Mona Vale War Memorials: A School Honour Board, A Victory Tree, A Cenotaph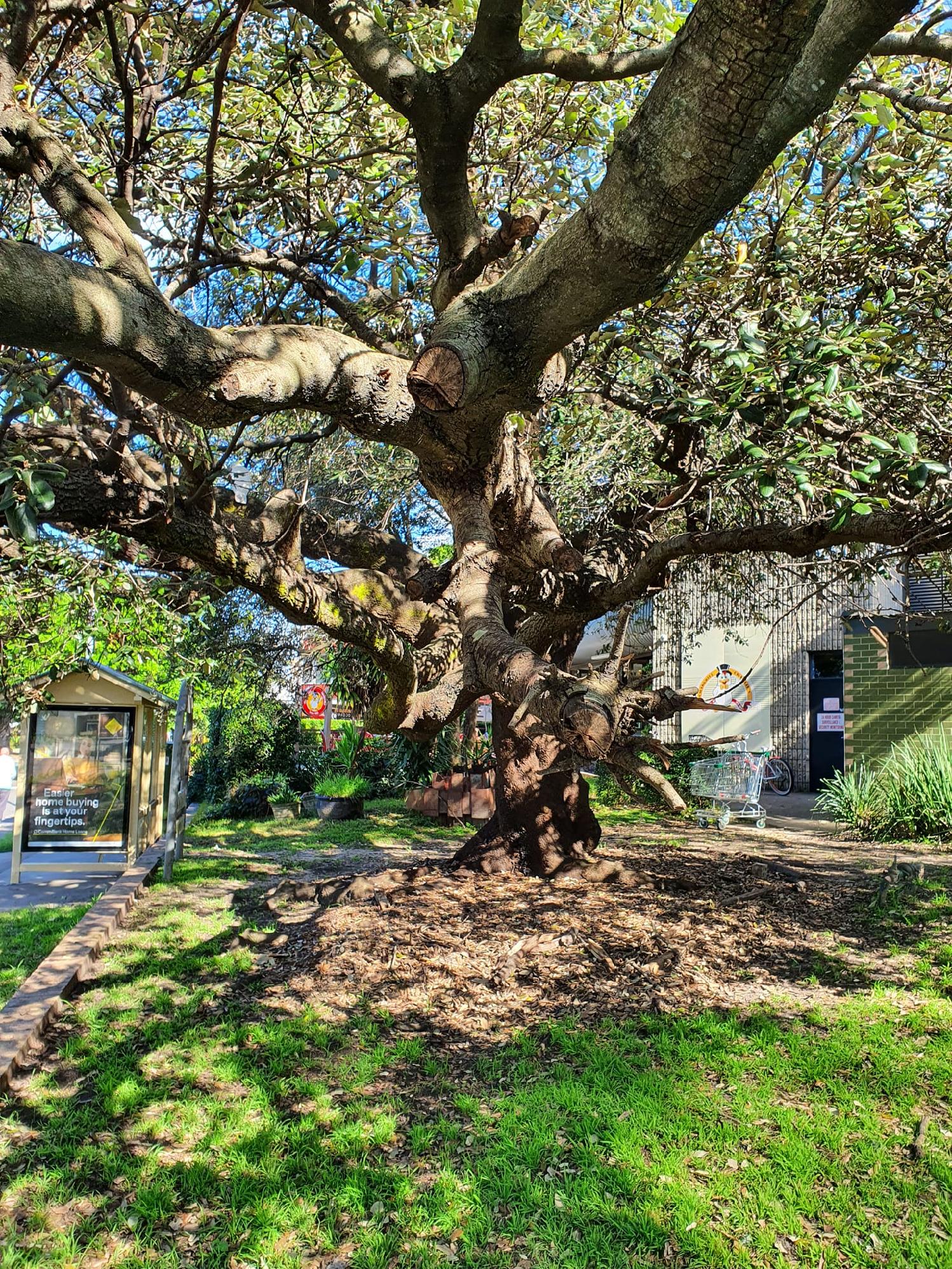 WWI Victory Tree in Mona Vale. Photo by and courtesy Dr. Suzanne Daly
In almost every suburb within Pittwater there is some form of a Memorial to those who served in WWI, the 'Great War'; in parks, schools and churches. Younger readers may wonder why there are so many memorials to so many in each place. The simple reason is that of those who lost their lives in this conflict none came home - none. There were no places their relatives could go and place flowers on a grave and have a quiet word with their loved ones - their brothers, sisters, and fathers.
Research into Pittwater residents who served in World War One (the Great War), some of whom survived Gallipoli and went on to serve in France, and whose War Record shows they were wounded once, and sent back into battle, wounded again, and sent back into battle, and again, and died in action, or who were hospitalised due to diseases, again thrice in some cases, would indicate those wounded, those who came home ill, and the thousands who died afterwards once home, could triple the amount of people estimated to have been wounded:
Around 420,000 Australians enlisted for service in the First World War -
156,000 wounded, gassed, or taken prisoner
- AWM.
One figure that remains constant is that over 60 thousand Australians died in this conflict, some stating now over 62 thousand.
This represented, as Australia was estimated to have had a total population of nearly five million citizens then,
38.7 per cent of the male population aged between 18 and 44. (AWM)
Of those tens of thousands of men and boys who fell only two bodies are confirmed to have had their remains repatriated, that of the 'unknown Australian soldier' who lies at the Australian War Memorial in Canberra and Major General William Throsby Bridges who died at Gallipoli in May 1915.
His horse, Sandy, was the only one of 169,000 Australian war horses to come home.
Everyone else was buried at sea (if aboard a hospital ship and died of wounds there), or in the earth of the country they fell in.
When you take into account horrors such as the Battle of Fromelles, where on the 19th of July 1916 a total of 5,533 casualties (with around 2,000 dead) occurred in one night, to remove those lost from a battlefield while a battle was going on, in those numbers, to then ship those men home, a journey of weeks, was not going to happen.
Listed further down are two reports from these days, just two, as examples - the first shows just one Casualty List, along with the number this particular Casualty List was, and below it the published list of those who were wounded and being shipped home.
These Memorials were a means for those who had lost someone to honour them and have a place to lay a wreath and for those who had fought to honour the mates they had lost or survived with. Many were raised during the 1920's with Memorial Committees overseeing the planned works. Families here had sons who enlisted and those at home did all they could to support them prior to realising what was actually happening. A Conscription referendum, which failed twice, is one instance of how those here, losing so many so quickly, began to react to losing their family members.
One instance of those who lived in Pittwater supporting those already in overseas battlefields or on their way there:
Wounded Soldier and Nurse.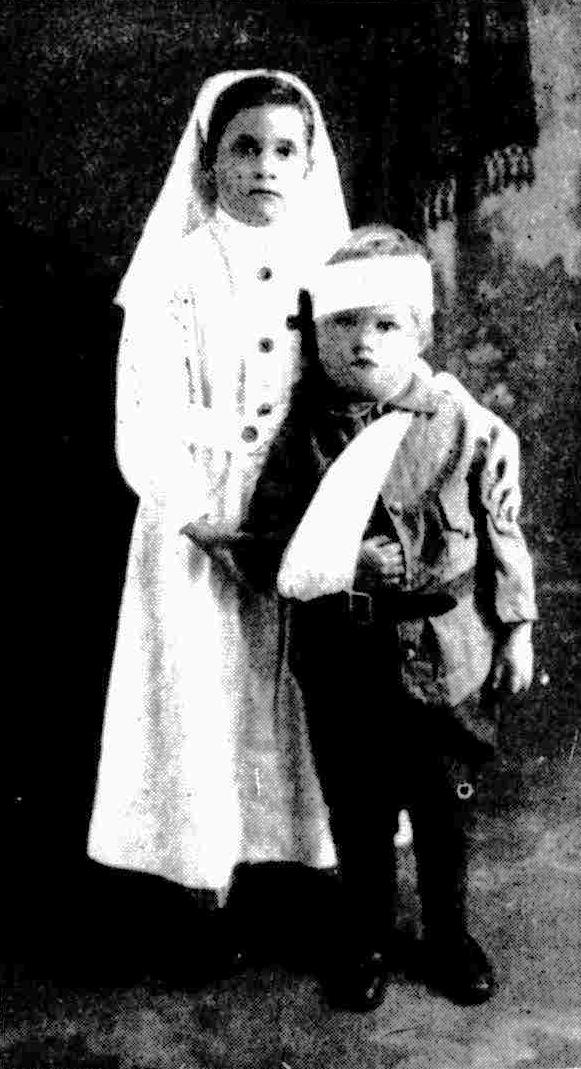 At a ball at Mona Vale, between Narrabeen and Newport, in aid of the Belgian Fund, little Patty Maley (
daughter of Private Maley, who is now at the Dardanelles
) appeared as a wounded soldier; and
Mrs. Clamorgan's youthful daughter (whose brother is on the way to the front)
was attired as a Red Cross nurse. Photo: Sweeney. Wounded Soldier and Nurse. (
1915, July 14
). Sydney Mail (NSW : 1912 - 1938), p. 31. Retrieved from
http://nla.gov.au/nla.news-article162494200
The Commission for Relief in Belgium or C.R.B. , also known as the Belgian Relief, was an international organisation that arranged for the supply of food to German-occupied Belgium and northern France during the First World War.
The surnames of these young girls seem to be be misspelled here - Kuhlmorgen rather
than
Clamorgan is closer to members of one family among those who was sent from Mona Vale, Newport, Bayview, Narrabeen, Warriewood and Church Point, and the little girl, in looks and age, matches members of the Kuhlmorgens of Newport. Two daughters, Ethel (born 1905) and Edna (born 1908) may be this young nurse. Three sons - Carl John, Walter Edwin and Harry Moritz Kuhlmorgen served in World War One. Their mother, Alice Kuhlmorgen (nee Bellchambers), who was a widow with eight children, had a brother also previously living at Newport with her young family prior to enlisting, William Bellchambers. He too enlisted and was sent to The Front.
Carl John and Walter Edwin both came home, both wounded. Harry and William did not. What was sent back to Alice,
according
to the records, was in William's case; 'Leather
cigarette
case, Handkerchief, Razor hone' - then later; '2 Post cards, photo, letter.'.
A package is recorded as being returned as Harry's effects but not what was in it. He served on the Gallipoli Peninsula in October 1915 as part of the 18th Battalion and then was sent into France in March 1916.
Pte Kuhlmorgen enlisted on 3 May 1915 and embarked from Sydney aboard HMAT Runic on 9 August 1915. He saw service at Gallipoli Peninsula when he was taken on strength on 17 October 1915. On 25 March 1916 he was sent to France and killed in action on 25 July 1916, aged 21.
Right: Image No: P04708.001, Maker: The Johnson Studio, circa May 1915. Courtesy Australian War Memorial
Studio portrait of 1959 Private (Pte) Harry Moritz 'Pat' Kuhlmorgen, 3rd Reinforcements, 18th Battalion, of Newport via Manly, NSW.
Harry was buried in the Gordon Dump
Cemetery, La Boiselle, France. He was 21 years old. O
n August 23rd, 1921 Alice
received
a letter stating where he had been placed, while in January 1923 she is informed a plaque has been placed on his grave.
In this WWI Cemetery
1676 with 1,053 of the burials unidentified - UK 1582, Canada 2, Australia 91, India 1.
William was killed in France on the 5th of November 1916 and buried in the Bulls Road M
Cemetery,
Flers, Somme, France. He was 37 years old.
On the 11.11.1920
photographs from the War Department of his grave were sent to Alice.
This lapse between the telegram informing of 'killed in action' and ongoing turning up of letters and medals and photographs of graves for years after a loved one had been lost would have not helped with grief.
Interestingly
, and
perhaps
heartlessly in another instance of poor judgement or the prevailing dictum in the society of that time, William had nominated Alice as his next of kin in his Enlistment papers and as his
beneficiary
in his Soldiers Will - the document all those who enlisted were required to fill out prior to being sent into conflict and probably what he wished a beloved widowed sister with many little ones to raise to have. In
another
typed
letter dated November 26th, 1921, the AIF Base Records Office in Victoria Barracks, Melbourne, informs Alice that William's wishes, by their decree, and in the provisions of medals, must go to the eldest male heir - which turned out to be her
brother
Amos.
Further
in this is the organisation that existed prior to the 1916 formed
Returned Sailors & Soldiers Imperial League, the predecessor of the 1940 renamed Returned Sailors', Soldiers' and Airmen's Imperial League of Australia which changed its name once more in 1966 to Returned Services League of Australia - the RSL. The organisation that looked after the families of men and the men themselves prior to this conflict was the Oddfellows - and yes there were people form here who served in conflicts Australians served in prior to WWI and yes, there was a Mona Vale Chapter of the Oddfellows - is one of their members who dealt with the powers that be on behalf of Alice when she lost her Harry and then William within months of each other- by this means women who had been feeding youngsters from soldier's wages could continue to feed them - a strange and quick turn around for those who had contributed to the 'Belgian Fund' just months before
The Oddfellows, also Odd Fellowship or Oddfellowship, is a fraternity consisting of lodges earliest documented in 1745 or 1730 in London, United Kingdom. Popular 'lore' states they were formed of those trades that did not fit into larger guilds when these were formed. Their primary purpose was to look after the families of members, promote philanthropy, the ethic of reciprocity and charity as well as promoting independence. A little more on this august organisation is under Extras - :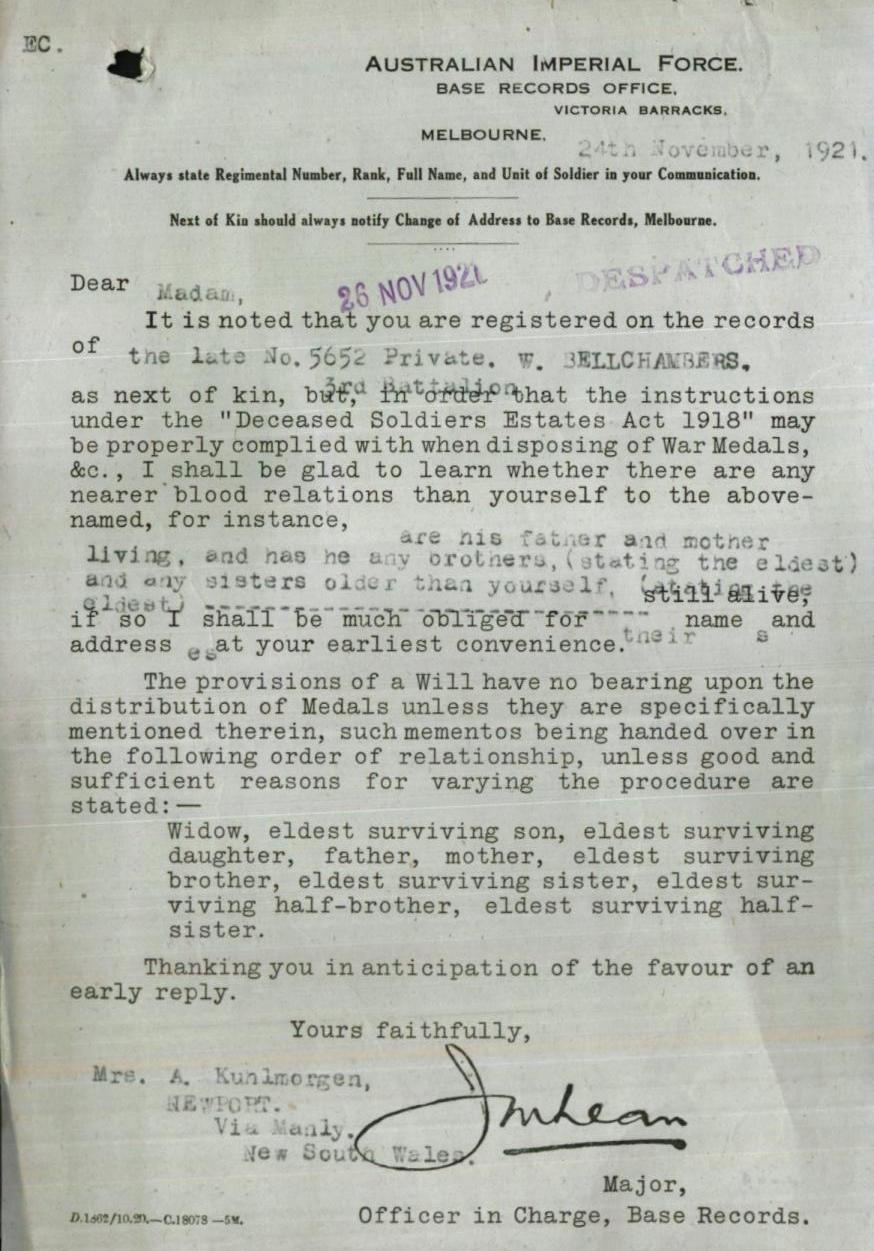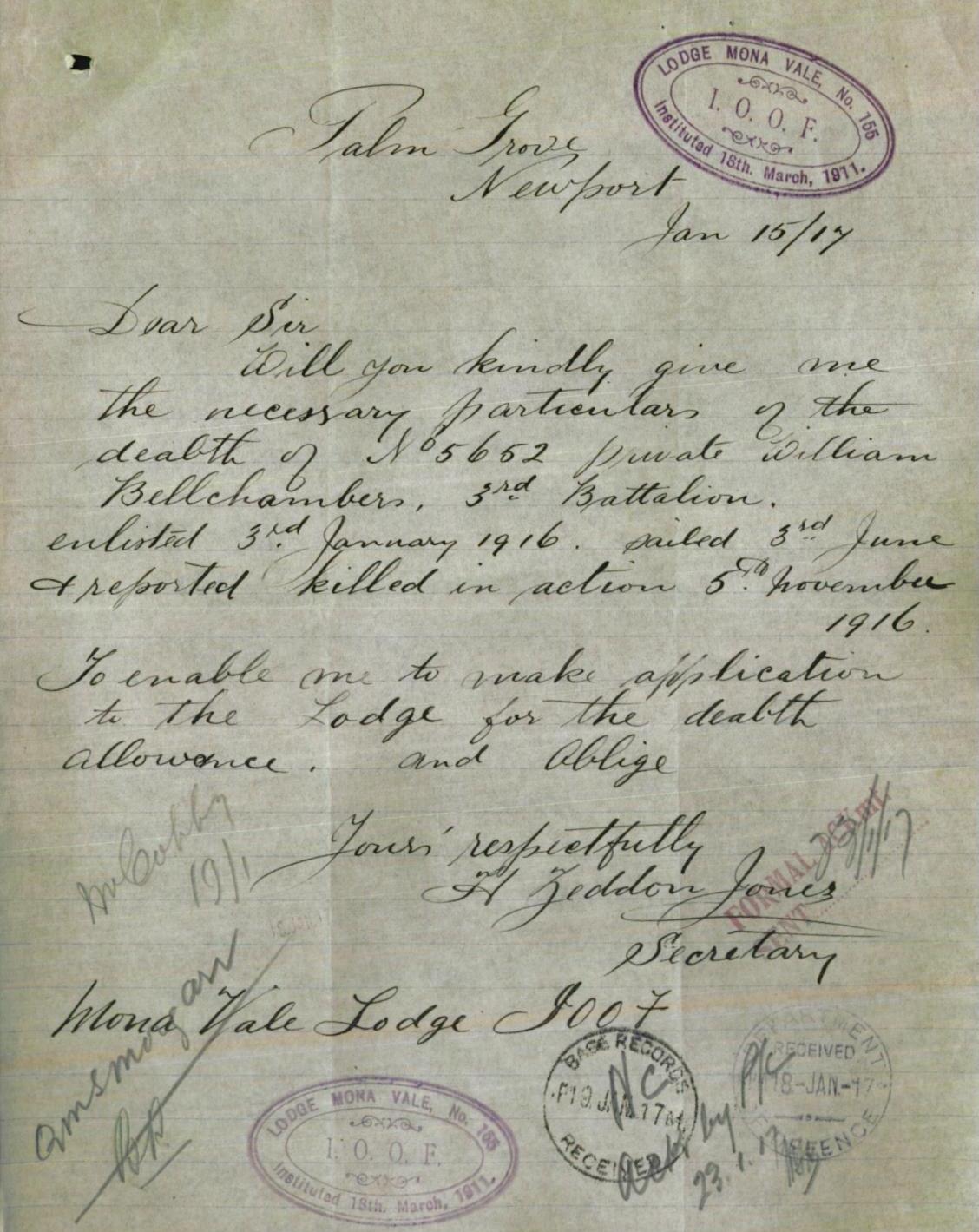 This Issue we look at the Memorials first placed at Mona Vale to honour those who served and as some place for those who lost loved ones to be able to honour their family members too.
A Public School Honour Board And Victory Tree
The first Roll of Honour was installed at Mona Vale Public School, dedicated on March 23rd, 1918.
The next, which would not be recognised by those who planted it, was a Victory Tree placed alongside the Methodist Church in Mona Vale, which once stood where Woolworths now stands. The tree, still standing near Woolworths, is a Holly Oak (Quercus ilex). It was planted in 1920 and became the first place Mona Vale ANZAC Day ceremonies were conducted by students and the community:
To stand as a living expression of gratitude to God for victory in the great war, and to continually remind the youth of Methodism of the ideals for which our soldiers so nobly fought,' the Young People 's Department recently offered to present and forward to every Sunday School in the State a 'Victory Tree,' for planting in school or church grounds. The Department stipulated that applications should be made upon a prescribed form, which stated the conditions of gift, and a copy of which was forwarded to every Sunday v School. Below is a list of the schools ' that have made application for a tree, and to many of these the trees have already been forwarded. Superintendents and teachers are requested to scan the list,
and if the name of their school does not appear thereon, to take steps to have an application lodged at the Y.P. Department's Office at an early date. The trees are beautiful specimens of the kind most suit-able for the districts concerned, and

the presentation of them is made possible by the kindness of Mr. Maiden, the Government Botanist

: — SYDNEY DISTRICT.— Rockdale, French 's Forest, West Bexley, St. Ives, Bexley, Pymble, Turramurra, Wahroonga, Willoughby, Tempe Park, Bondi, Waverley, Malvern Hill, Chatswood (Central),

Mona Vale

...The Victory Tree. (

1920, June 19

). The Methodist (Sydney, NSW : 1892 - 1954), p. 4. Retrieved from http://nla.gov.au/nla.news-article155274628
VICTORY TREE CELEBRATIONS.
On or near Anzac Day the following centres will, according to agreement with the Young People's Department, conduct a ceremony, when thanksgiving shall be offered to Almighty God
:-Parkesbourne, Bega, New Lambton, Knockrow, Wauchope, Caniaba, South Bathurst, Kembla Heights, Gerringong, Cowlong, Brooklana, Nelson's Bay, Palmer's Island, Murwil-lumbah, Casino, Blackman's Point, Tenterfield, Fernmount, Comboyne, Coraki, Tenter-Grafton, Mine Camp (Catherine Hill Bay), Koppin Yarratt, Suspension Bridge, Summer Hill, Waverley, Montague Street (Balmain), Chatswood South, Paddington, Brooklet; Forbes, Ryde, Eastwood, Kurri Kurri, Grenfell, Rockdale, West Bexley, St. Ives, Pymble, Turramurra, Wahroonga, Willoughby, Tempe Park, Bondi, Ariah Park, Culcairn, Hay, Malebo, Macksville, Kyogle, Lismore, Wyrallah, Rous Mill, Lawrence, South Woodburn, Werris Creek, Stannifer, Glen Innes, Gunnedah, Cooma, Boorowa, Robertson, Biddon, Cardiff, Gouldsville, Wakefield, East Maitland, Bolwarra, Spring Hill, Hornsby, Waitara, Punchbowl, Lindfield, Arncliffe, Brookvale, Balgowlah, Kensington, Peakhurst, Mullum-bimby, French's Forest, Luddenham, Rye, Park, Hannam Vale, Wattle Park, Kangaloon, Merrilla, Lawson, Cullinga, Narrandera, Merriwa, Wallendbeen, William Street (Bathurst), Armidale, Gilgandra, Cootamundra, Stewart Street (Bathurst), North Goulburn, Orange, Gapertee, Temora, Ulabo, Harden, Corowa, Dalton, Blayney, Parkes, Bowral, Brownlow Hill, Quirindi, Rylstone,. Hexham, Liverpool, Holroyd, Wamberal, Kangaroo Valley, Wyee, Dora Creek, Bulli, Thirroul, Coledale, Peak Hill, Adamstown, Aberdare, Boggabri, Toronto, Laman Street (Newcastle), Baulkham Hills North, Lakemba, Rozelle, Rosebery, Balmain East, Hurstville, Lewisham, Earlwood, Malvern Hill, Epping, Chatswood Central,
Mona Vale,
Hamilton, Junction (Merewether), Bexley, Flemington, Parramatta (Macquarie Street), Auburn, Granville, Upper Picton, Orchard Hills, Cawdor, Badgery's Creek, Mt. Kembla, Warrena, Weston, Abermain, Pelaw Main, Heddon Greta, Toongabbie, Leura, Yass, Woodstock, Gunning (three centres), West Wyalong, Tallong, Uralla, Cunningar, Cowra Road, Millthorpe, Gundagai, Dubbo, Newcastle C.M.M., Stockton, Cook's Hill, Molong, Carrington, Dundas, Wallsend (Metcalfe Street), Dangar Street (Newcastle), Castle Hill, Penrith, Morpeth, Mayfield, South Hurstville, Nowra, West Ryde, Ilford, Oberon, Goldsmith Street (Goulburn), Katoomba, Drummoyne, Sutherland, Lambton, Dennis Island, Branxton, Corinda.
VICTORY TREE CELEBRATIONS. (

1921, April 23

). The Methodist (Sydney, NSW : 1892 - 1954), p. 6. Retrieved from http://nla.gov.au/nla.news-article155269705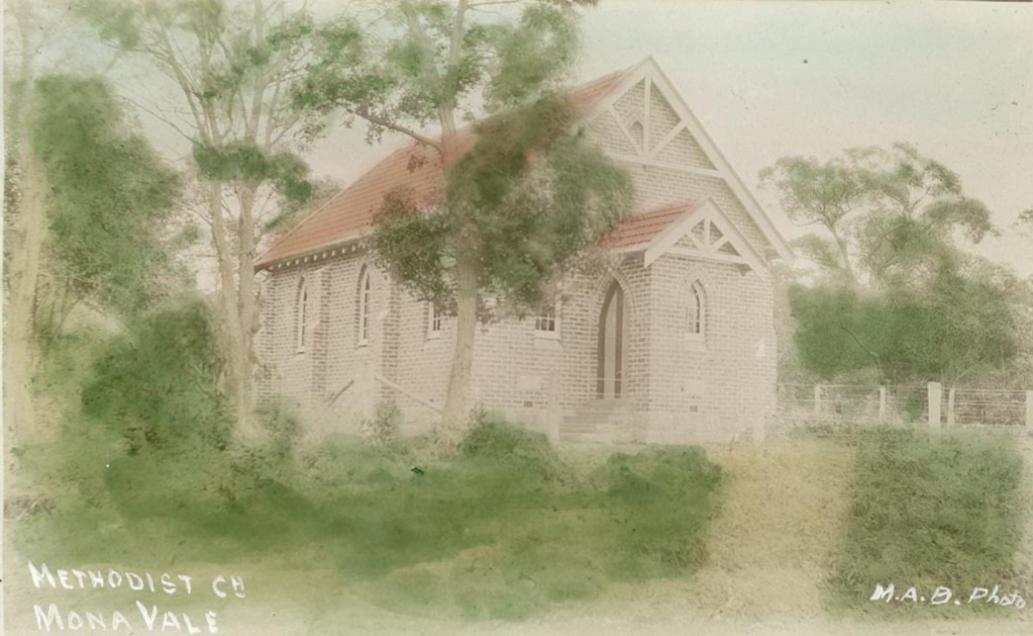 Above: Methodist Church, Mona Vale, circa 1900 to 1927 - Sydney & Ashfield : Broadhurst Post Card Publishers, Album ID : 823323, Image No.: a106012, courtesy the Mitchell Library, State Library of NSW.
The property report was presented by Rev. J. C. Hill. A gratifying feature of the report was the mention of a decrease of debt upon properties amounting to £2680.
The following applications were received:-Erection of churches at Mona Vale (Manly)
, Bexley; parsonage at York-street; purchase of new site at Botany METHODIST SYNODS. SYDNEY DISTRICT. (
1903, October 29
).
The Sydney Morning Herald
(NSW : 1842 - 1954), p. 9. Retrieved from http://nla.gov.au/nla.news-article14575985
The Mona Vale congregation, by Praise worthy efforts, raised £25, and also purchased a new organ for the Church there. CIRCUIT LIFE AND WORK. (
1912, October 19
).
The Methodist
(Sydney, NSW : 1892 - 1954), p. 11. Retrieved from
http://nla.gov.au/nla.news-article155463010
This property also built a kindergarten and its rooms were used by Mona Vale Public School as the amount of children in the area grew without the facilities for them - see
Mona Vale Public School 1906 to 2012
RADIO has impressed the churches. Every Sunday they are broadcast morning and night. Gipsy Smith was listened to one Sunday by over 100 Sydney churches which had installed loud speakers. The pastor of a Newtown (Sydney) Congregational Church has what he calls 'branch churches' in the country and suburbs, loud speakers enabling people who cannot attend the church to hear him.
2BL received this letter from Mona Yale: — 'We, the children of Mona Vale, listened to Uncle Jack last Sunday night, at the Mona Vale Methodist Church. The wireless has been installed by Christ working through one of its servants. We think it very good of you to have these talks to the children on Sunday nights, especially for those in hospitals.' Thirty-five children signed it.
The director of the Radio Broadcast Bureau (Mr. C. C. Faulkner) wrote to Gipsy Smith before he left, saying that the mission had caused a wonderful boom in radio and the power for religious work had been manifested, proving lo the Churches that services broadcast, can reach the utmost ends of the continent, without losing anything in force by the absence of the speakers. Notes and News from the Air (
1926, September 1
).
Sydney Mail
(NSW : 1912 - 1938), p. 4. Retrieved from
http://nla.gov.au/nla.news-article166521048
MONA VALE'S WAY SOLVING A DIFFICULTY
The pretty seaside village of Mona Vale is on the road between Manly and Pittwater, a place noted for its surf beach, swimming pool, rock fishing, and golf links. But, what is still more interesting, it possesses a radio church.
The village has three or four churches, but the resident clergymen, with a multiplicity of other duties, find It impossible to hold services more than perhaps once on a Sunday.
The gap is filled, at least so far as the Methodist Church is concerned, by a radio receiving set. In that church on a Sunday night one finds a little group of worshippers gathered round a loud speaker. The set Is operated by an earnest young man, who combines religious fervor with the zeal of a radio enthusiast. Every Sunday evening he is in the church with his radio tuned in to one of the city or suburban churches, which is being broadcast. He reproduces services from churches of all denominations. This radio church may solve a problem. One of the great difficulties of the churches is the dearth of ministers, but a radio set is the next best thing. A RADIO CHURCH (
1927, January 23
).
The Sun
(Sydney, NSW : 1910 - 1954), p. 2. Retrieved from
http://nla.gov.au/nla.news-article223476616
A farewell social gathering was held in the Mona Vale Methodist Church, on the 29th March, at 8 p.m., to the Rev. R. B. Bowes and family, after his four years' services to the Deewhy Circuit. Mr. Brewer, jun., was in the chair, and representatives of the Circuit spoke of the service Mr. Bowes had rendered to the children, and also to the sick of the district. He was much loved in the whole district and would be greatly missed.
Mr. Bowes had also rendered a much appreciated service in the public schools at Newport and Mona Vale.
Mr. Smith made a presentation to Mr. Bowes on behalf of the Church folk, of a gold mounted walking stick, and Master Longley, a scholar of the Sunday School, also made a presentation on behalf of the Sunday School of an umbrella. Mr. I Bowes responded, and he said he had done what he felt was his duty to do He had labored specially for the young people, for the hope of the future Church was in them.
Mrs. Bowes was presented with a bouquet of flowers by Jessie Porter.
REV. R. B. BOWES. (1928, April 21). The Methodist (Sydney, NSW : 1892 - 1954), p. 17. Retrieved from http://nla.gov.au/nla.news-article155299040
A Holly Oak (Quercus ilex) planted in 1920 in the grounds of the then Mona Vale Methodist Church. This was one of 200 trees planted across NSW under a Methodist Youth Program to honour those who served in the First World War. The Victory Trees were supplied with the assistance of Mr J. Maiden, Chief Botanist, Sydney Botanical Gardens. The Victory Tree in Mona Vale is one of only a few which remain today. The tree is in good health and its canopy has a span of approximately16m.
Quercus ilex, the evergreen oak, holly oak or holm oak, is a large evergreen oak native to the Mediterranean region. It takes its name from holm, an ancient name for holly. It is a member of the Cerris section of the genus, with acorns that mature in a single summer.

Pittwater Council erected an interpretive sign at the base of the tree in May 2016 to identify its significance.
The Inscription reads:
Pittwater Council
World War One Victory Tree
Corner of Pittwater Road and Akuna Lane, Mona Vale

This Quercus ilex (Holly Oak) is a Memorial Victory Tree planted here in 1920 in the grounds of the then Mona Vale Methodist Church with the assistance of Mr J H Maiden, Chief Botanist Sydney Botanical Gardens. It is one of 200 trees that were planted as part of a statewide Methodist Youth Program to honour the supreme sacrifice of Australian servicemen in World War One.
The trees were supplied conditional that they be planted in church grounds, in this case in front of the Mona Vale Methodist Church, with a commemorative service to be held around the tree "each anniversary", as near to Anzac Day as possible.
Despite the size of the original program, it appears that very few of the Victory Trees remain, and if they do, few are identified as such. This makes this tree at Mona Vale even more special.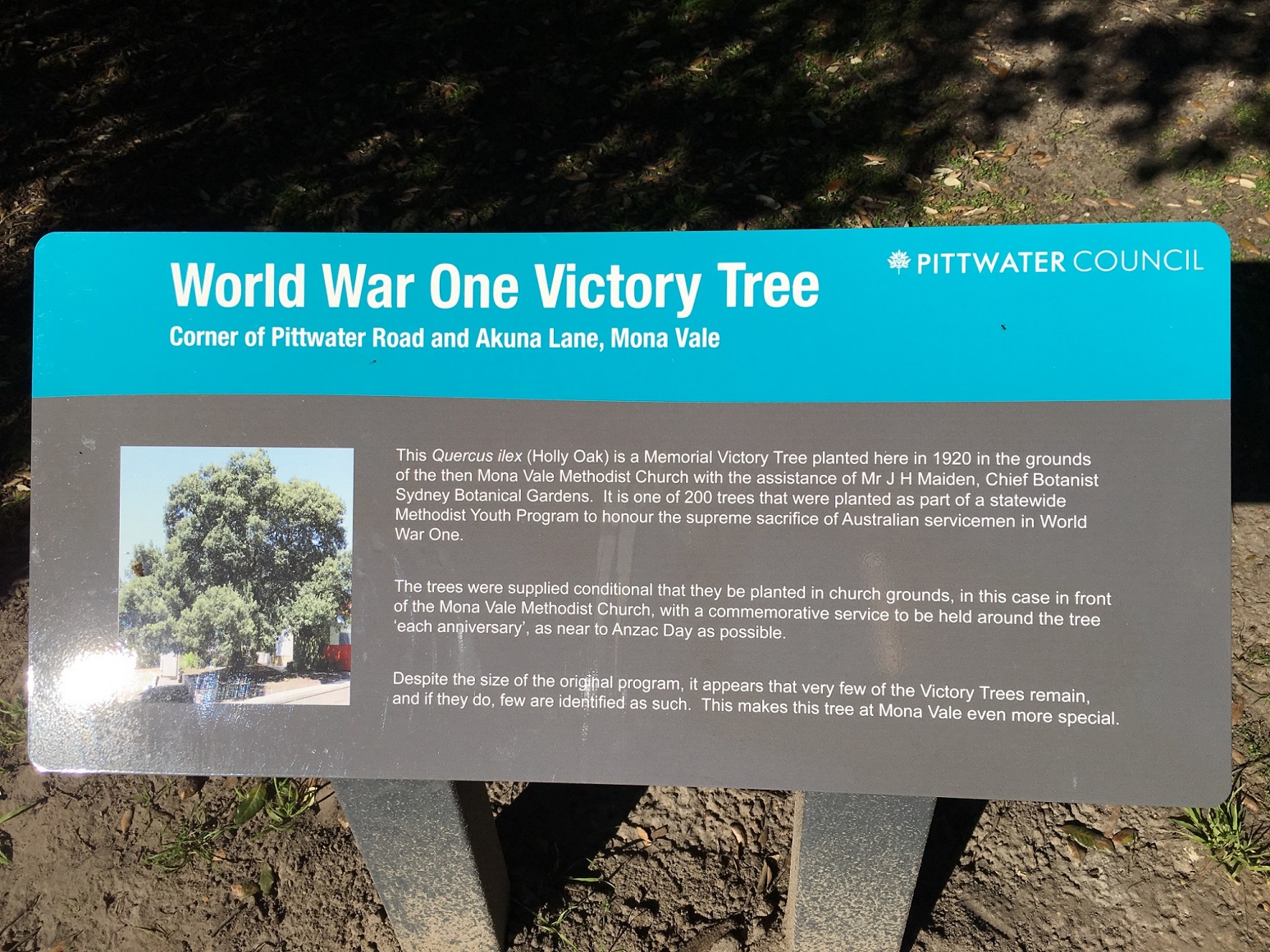 Mona Vale Public School then placed a new Roll of Honour when the first was destroyed:
PUBLIC SCHOOL DESTROYED
The public school at Mona vale was destroyed by fire late last night. PUBLIC SCHOOL DESTROYED. (
1918, June 14
).
The Maitland Daily Mercury
(NSW : 1894 - 1939), , p. 5. Retrieved from
http://nla.gov.au/nla.news-article122648648
The school was only partially destroyed and repaired. The Roll of Honour, dedicated on March 23rd, 1918, was replaced:
Yesterday Sir Granville Ryrie unveiled a tablet to the memory of the

soldiers who as boys, had attended the Mona Vale School

.

The tablet contained the names of 35, four of whom made the supreme sacrifice

, and four had gained distinction on the field. After eulogising the deeds of the Australians on distant battlefields, General Ryrie implored the rising generation to maintain the traditions of their'' race, and to shim, as unclean, the propaganda of those who were out to wreck the Empire, and bring about the undoing of Australia. Mr. A. G. Parr, President of the Warringah Shire Council, pointed out that the percentage of those who had enlisted from the shire, compared more than favorably with any other district in the State. Many of the old boys who had served in the war were present, and an old Crimean veteran, Mr. W. Brown, gave some interesting details of old-time wars, and strongly urged his hearers to be guided by General Ryrie's words. SCHOOL MEMORIAL (

1921, September 25

).

Sunday

Times

(Sydney, NSW : 1895 - 1930), p. 2. Retrieved from

http://nla.gov.au/nla.news-article123237285
The Mona Vale Public School Honour Board was rededicated in 2016 through the work of Pittwater RSL Sub-Branch, Sandra May of Pittwater RSL Sub-Branch sent in the following report:
Mona Vale Public School WWI Honour Roll Rededication
Friday, 4 November 2016, marked the Mona Vale Public School's Rededication of their WWI Honour Roll. The Roll was commissioned in 1921, and commemorates 35 students of Mona Vale and Bayview schools that answered their Country's call to serve during WWI.
SCHOOL MEMORIAL
Mona Vale Boys Honored
Yesterday Sir Granville Ryrie unveiled a tablet to the memory of the soldiers who as boys, had attended the Mona Vale School. The tablet contained the names of 35, four of whom made the sunreme sacrifice, and four had gained distinction on the field.
After eulogising the deeds of the Australians on distant battlefields, General Ryrie implored the rising- generation to maintain the traditions of their race, and to shun, as unclean, the propaganda of those who were out to wreck the Empire, and bring about the undoing of Australia.
Mr. A. G. Parr, President of the Warringah Shire Council, pointed out that the percentage of those who had enlisted from the shire, compared more than favorably with any other district in the State. Many of the old boys who had served in the war were present, and an old Crimean veteran, Mr. W. Brown, gave some interesting details of old-time wars, and strongly urged his hearers to be guided by General Ryrie's words. SCHOOL MEMORIAL (1921, September 25). Sunday Times (Sydney, NSW : 1895 - 1930), p. 2. Retrieved from http://nla.gov.au/nla.news-article123237285
The restored World War 1 Honour Roll that resides in the school's Hall was commissioned in 1921 to be made from marble to replace the Wooden Roll that was destroyed in the school fire of 1919.

Ms Beverly Lewis, the Mona Vale Public School historian, worked with senior students to research all of the names on the Roll. Ms Lewis will soon publish a book detailing each student and their achievements, a wonderful legacy for the school and the Mona Vale Community.
Mr Greg Jones, Mona Vale Public School Principal, also acknowledged the wonderful behaviour of our Year 5 and Year 6 students who participated in the assembly and Student Leaders, Emma Rouse, Josh Wilson, Zac Downs and Lydia Woodward, who led the assembly and read out letters from two of the soldiers to their family, very moving.
The Rededication was performed by Senior Minister John Reid, as is tradition at such ceremonies, he spoke of their commitment to not only their families and each other but to our way of life. The Hon Rob Stokes addressed the assembly and spoke of the selfless sacrifice these men gave so we can enjoy the liberty and freedom we now take for granted.
The ceremony comprised, besides these addresses and historical stories, a wreath laying by students Emma Rous, Josh Wilson, Zac Downs and Lydia Woodward.
Addresses were conducted by Mr Greg Jones, Mona Vale Public School Principal; Miss Bev Lewis, Mona Vale Public School Historian; The Honourable Rob Stokes MP, who also unveiled the Memorial; Ms Deborah Carter, President Pittwater RSL Sub-Branch, and Senior Minister John Reid performed the Rededication.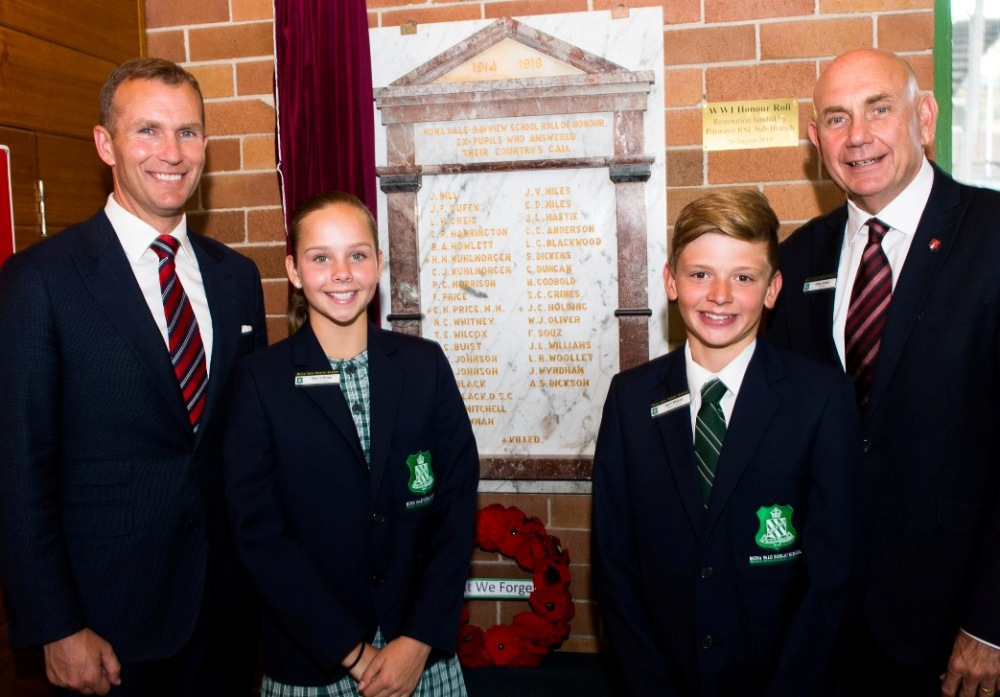 The Honourable Rob Stokes, MP, Students Emma Rous, Josh Wilson, Greg Jones, Mona Vale Public School Principal.
Mona Vale Public school has started the process to locate all the women who served in WW1, to honour their commitment as well as have an Honour Roll commissioned in their memory.
The ceremony was organised by Mrs Mel Stevenson, Mona Vale Public School Deputy Principal, and was attended by Staff, Students, Descendants of WWI Honour Roll members, and Pittwater RSL Sub-Branch members.
Restoration funding was provided in August 2016 by the Pittwater RSL Sub-Branch, with the restoration work completed by Captain Darren Crabb, Vice-President, Pittwater RSL Sub-Branch.
A Village Park Memorial
The next and public War Memorial in Mona Vale is that still extant in the Village Green Park. This was, however, originally meant to be a fountain. War Memorial committees were set up post-WWI to ensure 'suitable' memorials were erected(some were the objects of ridicule due to carvings of soldiers not being all that attractive).
The project, put forward by George Sheppard and John Warwick Austin, who would later serve as a Councillor and then President of Warringah Shire, before being dismissed, and the local branch of the War Memorial committee was at first denied by then Warringah Shire Council and then approved:
Mona Vale Memorial
The Warringah Shire Council has advised the Mona Vale war memorial committee that it will allow the proposed war memorial to be erected in the local park in a position to be approved. Mona Vale Memorial (
1926, January 7
).
The Sun
(Sydney, NSW : 1910 - 1954), p. 13 (FINAL EXTRA). Retrieved from
http://nla.gov.au/nla.news-article224073890
At the
March 15th 1926 Warringah Shire Council Meeting it was Resolved - Mona Vale Park picket fence per (Crs. Hope, Simpson) That the cutting back of the corner at Mona Vale Park fence; the construction of the road at the junction, and the removal of the trees, as previously authorised, be proceeded with at once,

and completed before 25th April, the date of the unveiling of the Memorial.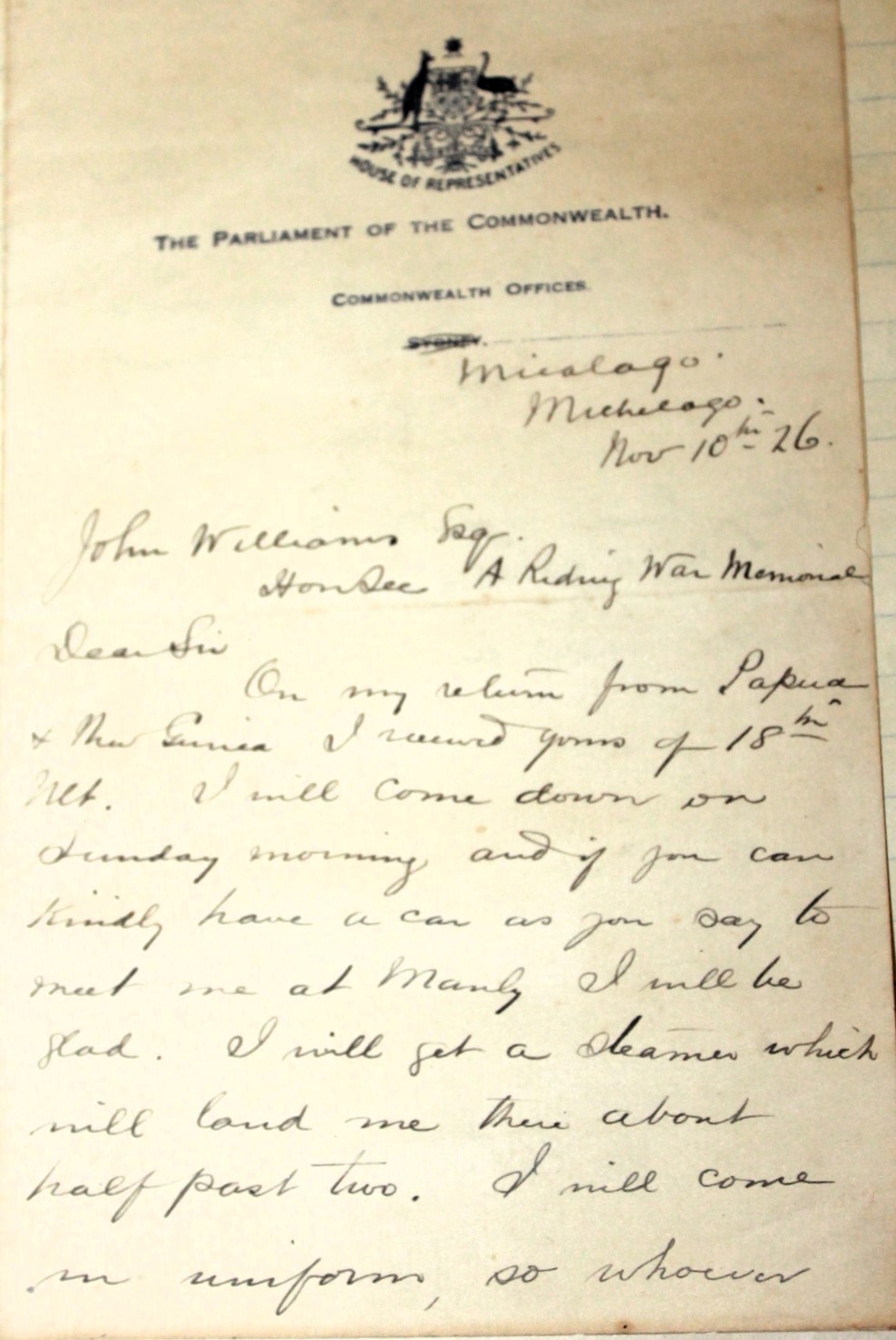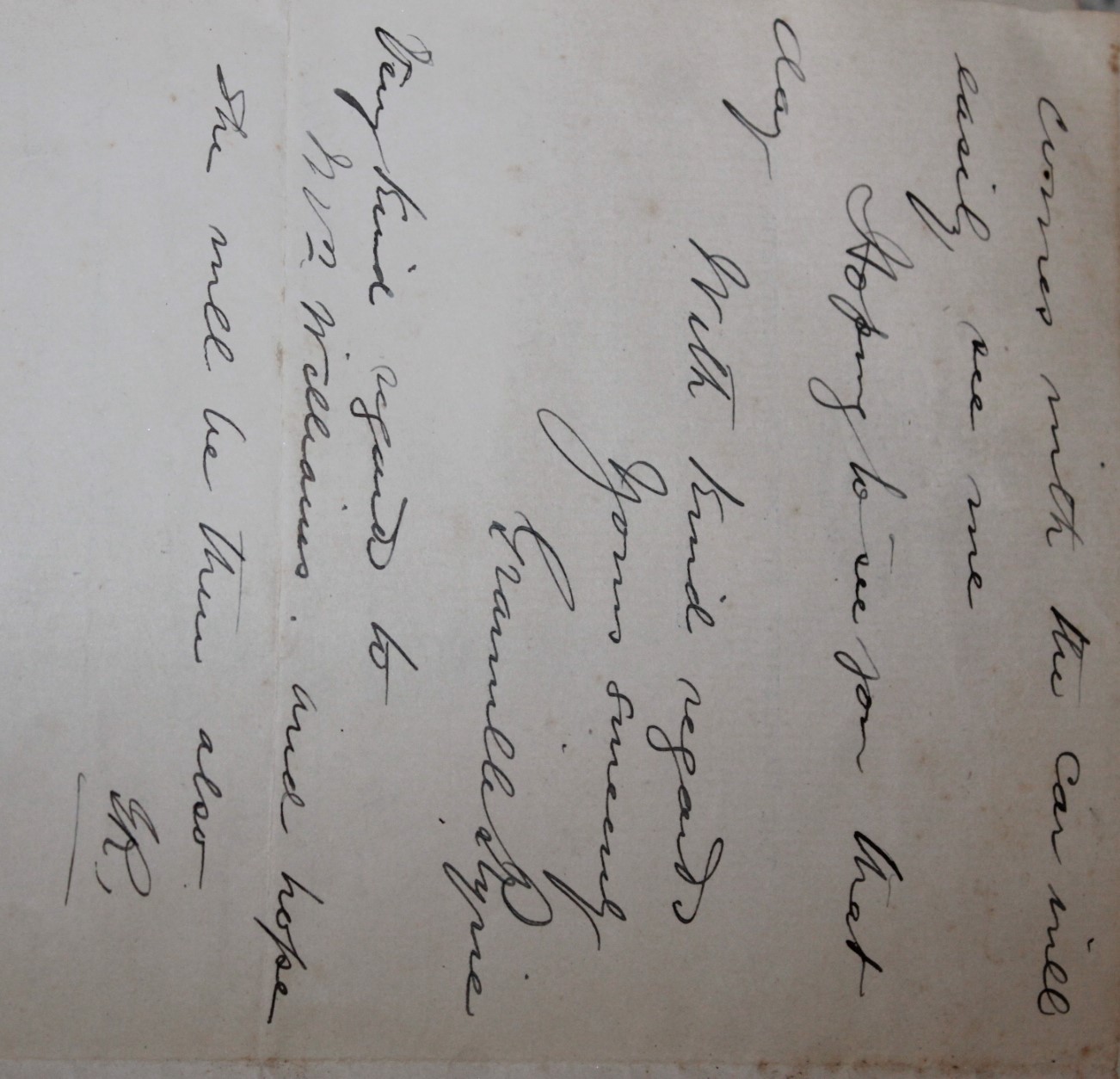 WARRINGAH SHIRE. WAR MEMORIAL.
UNVEILED BY SIR GRANVILLE RYRIE.
At Mona Vale Park yesterday the war memorial of A Riding, Warringah Shire — a water fountain
— was unveiled by Sir Granville Ryrie, in the presence of a large gathering of local residents. Mr. A. G. Parr, president of the shire, presided.
The monument bears the simple inscription; "To those who served in the Great War, from A Riding."
Sir Granville Ryrie said he believed that the Australians who went to the front deserved unlimited recognition for their work for the preservation of world peace. As an officer with heavy responsibilities at the war he could pay an added tribute to their gallantry, for only an officer could really appreciate the splendid co-operation and devotion of the men who formed Australia's army. They had proved themselves on every front. Unfortunately, many people were prone to forget the thousands who had paid the supreme sacrifice, and only by memorials such as this could the sacrifices of those men be per-petuated. No one desired to inculcate in the rising generation the spirit of militarism, but it was well that they should have some record of the splendid devotion of their forbears, as an eternal inspiration.
Other speakers included the Revs. N. M. Lloyd, and R. D. Bowes, and
Mr. S. M. Mould (honorary architect).
Wreaths were placed on the memorial from a large number of local sporting and public societies. WARRINGAH SHIRE. (
1926, November 15 - Monday
). The Sydney Morning Herald (NSW : 1842 - 1954), p. 15. Retrieved from
http://nla.gov.au/nla.news-article16326354
At Mona Vale Park on Sunday, the War Memorial of 'A' riding, Warringah (Syd.) Shire
in the form of a water fountain
was unveiled by Sir Granville Ryrie. OPPORTUNITIES (
1926, November 17
).
Construction and Local Government Journal
(Sydney, NSW : 1913 - 1930), p. 18. Retrieved from
http://nla.gov.au/nla.news-article109640741
The builder is recorded as being local stonemason James Booth.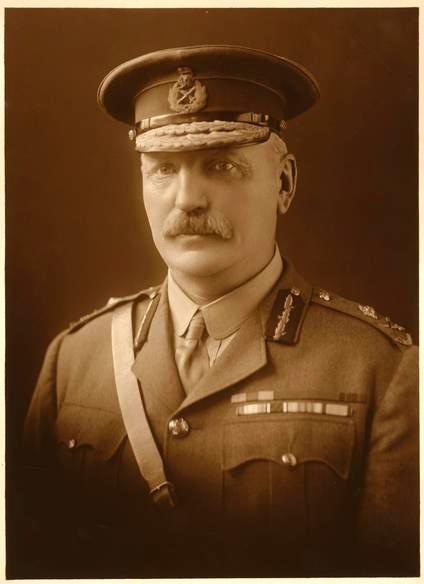 Major General Sir Granville de Laune Ryrie KCMG, CB, VD
(1 July 1865 – 2 October 1937) was an Australian soldier and politician who served in the Second Boer War and the First World War.
Ryrie was born in Michelago, New South Wales on 1 July 1865, into a farming family. His father was Alexander Ryrie, a grazier and member of the New South Wales Legislative Assembly (1880–91) and of the Legislative Council (1892–1909), and his mother was Charlotte, née Faunce, both born in New South Wales. Granville was educated at Mittagong and at The King's School, Sydney; he later became a jackaroo, and eventually managed his own property. He was also a good heavyweight boxer. In 1896 he married Mary McFarland, whom Ryrie nicknamed "Mick". Mary McFarland was the daughter of Sir Alfred McFarland (1824–1901), a judge in New South Wales.
Ryrie volunteered to serve in the Second Boer War, from 1899 to 1902. He was selected to serve in one of the Bushmen's Contingents, groups of light horsemen, because of his skills on horseback and in shooting. During the war he was promoted to the position of honorary Major.
In April 1906, Ryrie was elected to the New South Wales Legislative Assembly as member for Queanbeyan, where he served until 1910. He was an unsuccessful candidate for the Australian House of Representatives at the 1910 election, but was elected to the Division of North Sydney at a by-election on 11 March 1911, following the death of Hon. George Edwards.
Right: Portrait of General Granville Ryrie by Falk, circa 191?, Image No.: 1618860, courtesy National Library of Australia.

At the beginning of the First World War, Ryrie was promoted to Brigadier-General, and was given command of the 2nd Light Horse Brigade, part of the ANZAC Mounted Division. He was in the Suez canal area and then joined theBattle of Gallipoli on 19 May 1915, where he was wounded twice. He was later moved to Egypt and London for respite, but rejoined the Brigade for the Sinai and Palestine campaign. He was involved in the famous charge of the light horse in the Third Battle of Gaza, in which Australian forces captured the town of Beersheba. In December 1918 he was made commander of the ANZAC Mounted Division, and in April 1919 was put in charge of the Australian Imperial Force. He was promoted Major General in September.
After returning to Australia, Ryrie remained the Member for North Sydney
. In 1920, he was made an Assistant Minister for Defence in the ministry of Billy Hughes, assisting Senator George Pearce.
At the 1922 election he was elected to the newly created Division of Warringah
, where he served until 1927, when he was appointed the Australian High Commissioner to the United Kingdom in London. He was also an Australian delegate to the League of Nations. In 1928 and 1929 Ryrie acted as the Australian accredited representative before the League's Permanent Mandates Commission for the annual examinations of the Australian administration of the Mandated Territory of New Guinea.
Ryrie returned to Australia in 1932, and died in Sydney on 2 October 1937, survived by his wife and children. He was buried at Michelago, New South Wales, after a state service at St Andrew's Anglican Cathedral.
Michelago Station is still in the Ryrie family and is run by David Ryrie, Granville's eldest grandson. David and his family still reside in the original homestead.
Ryrie Street in North Ryde, Sydney is named in his honour. -
Granville Ryrie. (2016, April 5). In Wikipedia, The Free Encyclopedia. Retrieved from https://en.wikipedia.org/w/index.php?title=Granville_Ryrie&oldid=713632390
A letter dated July 3rd, 1926 from the A. Riding War Memorial Secretary to Warringah Shire Council requested the posts in the fence of
Mona Vale Park boundary adjacent to the memorial be of concrete, and that an automatic closing -gate be erected in the fence, and that the approach to the War Memorial be levelled and the surroundings turfed.
Although the Returned Soldiers and Sailors Imperial League of Australia, circular 14.9.26. requested to be furnished with photos of War Memorials in the Shire, and Warringah agreed to comply in their Council Meeting Minutes held soon after receiving this circular, that shown below is the only one we could find within cooee of the official unveiling of the fountain.
It doesn't look like things have been levelled or turfed...yet.
SOLDIERS' MEMORIAL AT MONA VALE.
Members of the Royal Australian Historical Society inspected the memorial on their way to Avalon Beach, between Newport and Barrenjoey, on Saturday. From: A Week-End Miscellany : History, Charity, and Sport. (
1926, August 25
).
Sydney Mail
(NSW : 1912 - 1938), p. 10. Retrieved from
http://nla.gov.au/nla.news-article166523535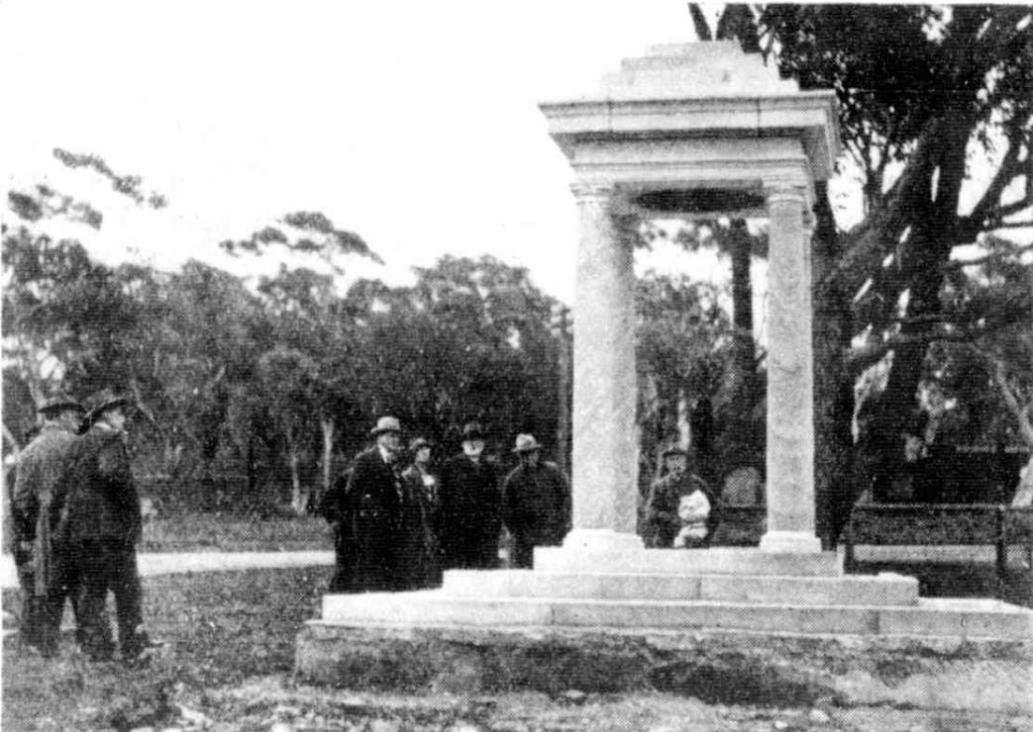 On May 6th 1929 the
Mona Vale Progress Association requested that a small electric light be placed inside the Mona Vale war memorial, which council granted.
In
October 1930 ' 4 chains of Mona Vale Park fence and the fence around the
Memorial' were to be repainted with one coat as recommended.
The Returned Sailors & Soldiers Imperial League, Sub-Branch, wrote on the 21st of September 1934, '
contending that the Mona Vale Memorial Fountain should stand out prominently to the view of all passers-by
' They also requested that the signboard, road notice board, and electric light pole be removed to other Positions. In late October their
recommendations
were
adopted
and a letter returned stating as much to the Warringah Sub-Branch of R.S. & S. I. League
.
In 1935 care for and attendance to the Memorial was placed under the
Pittwater Sub-Branch R.S. & S.I.L. who wrote on June 22nd 1935, requesting permission to erect a fence across the back of the Pittwater War Memorial from one side of the park fence to the other 'to protect from straying stock four Kenya Palms they propose planting;'. A further request for the Council to supply the timber for the fencing, the Branch being prepared to supply labour and paint saw £5.12.0, being voted for the necessary timber, per Crs. Hewitt and Austin.
Pittwater Branch R.S.& S.I.L. wrote again, letter dated 20/8/35, (a) thanking Council for the fence supplied for the War Memorial; (b) requesting that the electric light pole behind the Memorial be painted a sandstone colour; (c) that the Branch be permitted to remove the fountain inside the Memorial to a position outside the memorial fence at the junction; and (d) to replace the fountain with something more fitting, such as a stone cross, etc. Council's Decisions:- (a) "received"; (b),that the pole be painted, as requested; (c) that-the Works Committee make an inspection, c, and report.

What's also interesting here is when going through all these old Council records you can discover that Collaroy Beach Reserve also had and has a Memorial fountain - only this was dedicated for a different reason.
GARDENER'S REPORT was dealt with as follows:- 1. Re Condition of turf plots at Collaroy Beach Reserve: Cr. Green verbally reported that the Collaroy Progress Association, in connection with its operations for the improvement of Collaroy Beach Reserve, desired a grant of £10 for (a) replacing seats on road frontage; (b,) erecting tree-guards where required, and repairing existing guards; (c) re-arranging posts and seats on the beach frontage; and (d)painting posts and seats, and he submitted
a quote by A. G. Larkin in the sum of £26.5.0 for soil-filling, manure, and construction of stone-work around the memorial fountain
, Resolved, - That the Council grant the Association £36.5.0 from the beach reserve parking fees account for the carrying out of these works. (Crs. Ross, Nicholas)
Many would be aware Collaroy Beach Reserve is the place where an annual paddle out by Collaroy SLSC members and other clubs takes place in surf boats to honour those who served each ANZAC Day, was the site for the
100 years - 100 Boats Commemorative Service in 2015
and is now the site of a wonderful commemorative sculpture by Richard Stutchbury, 'The Knitting Girl and Care Package'.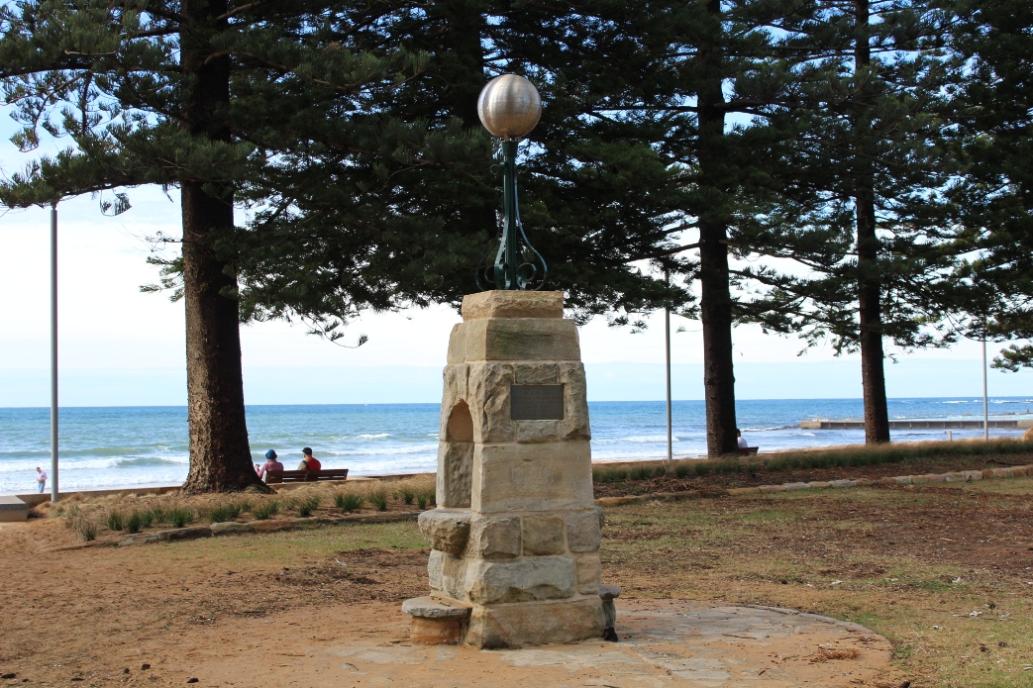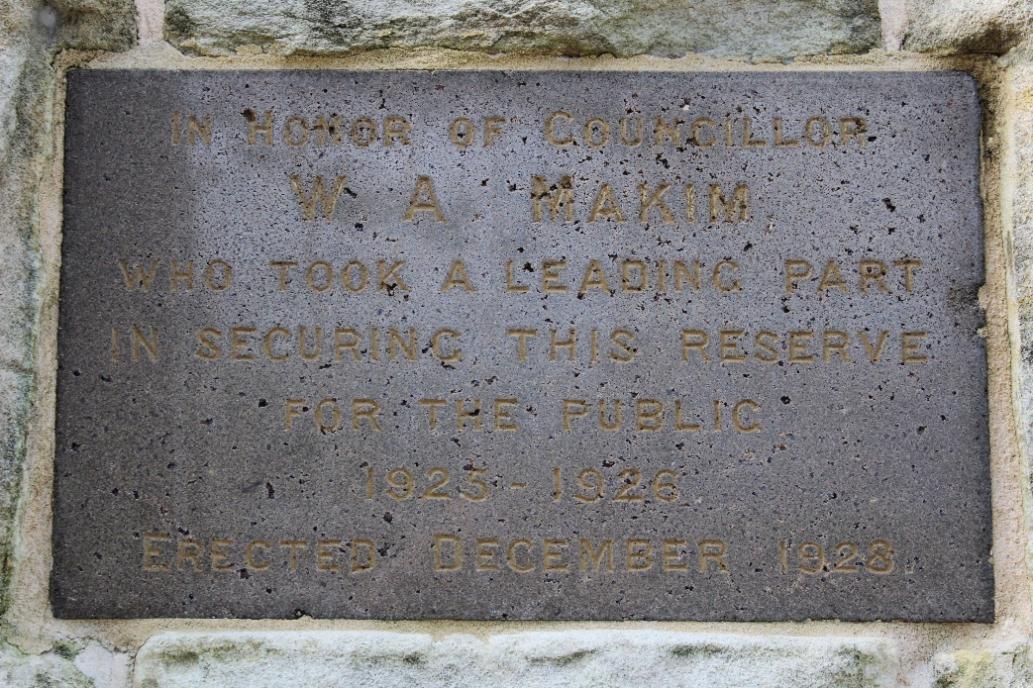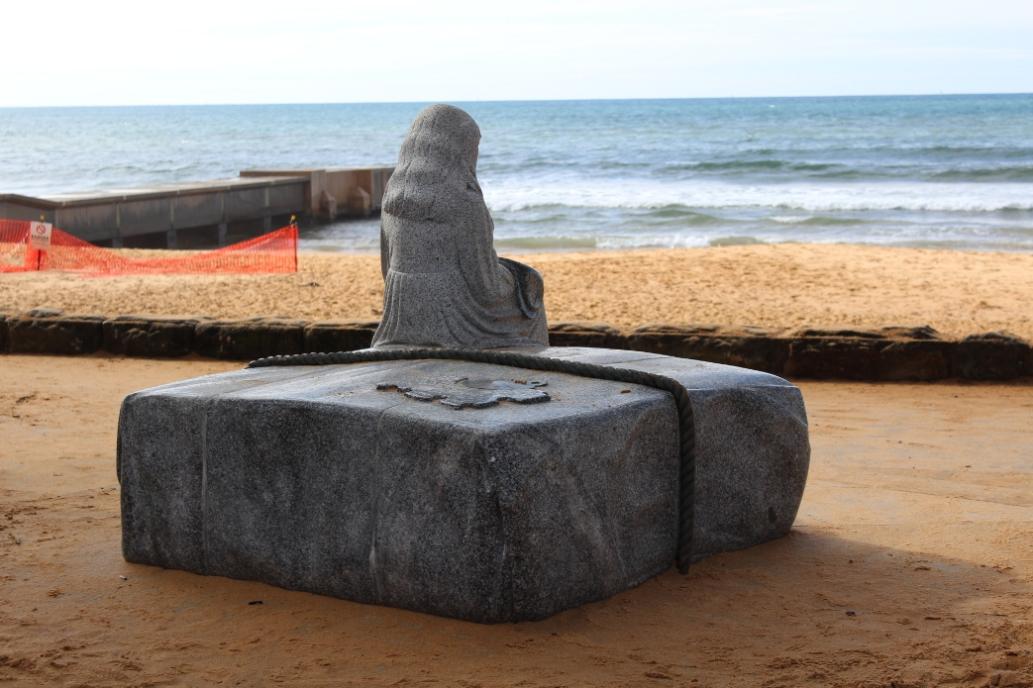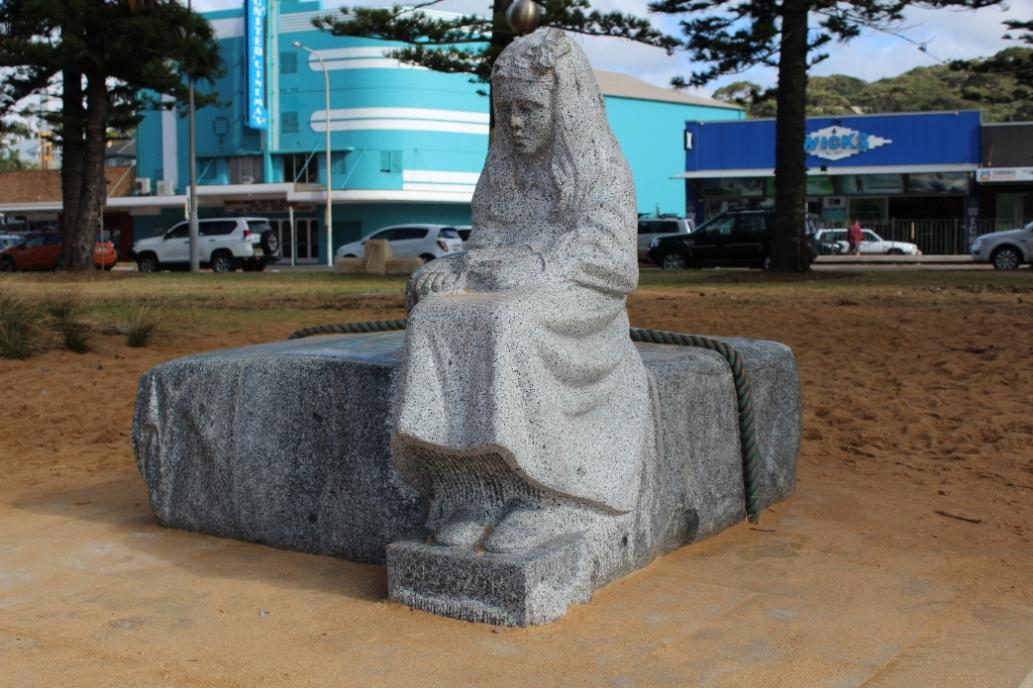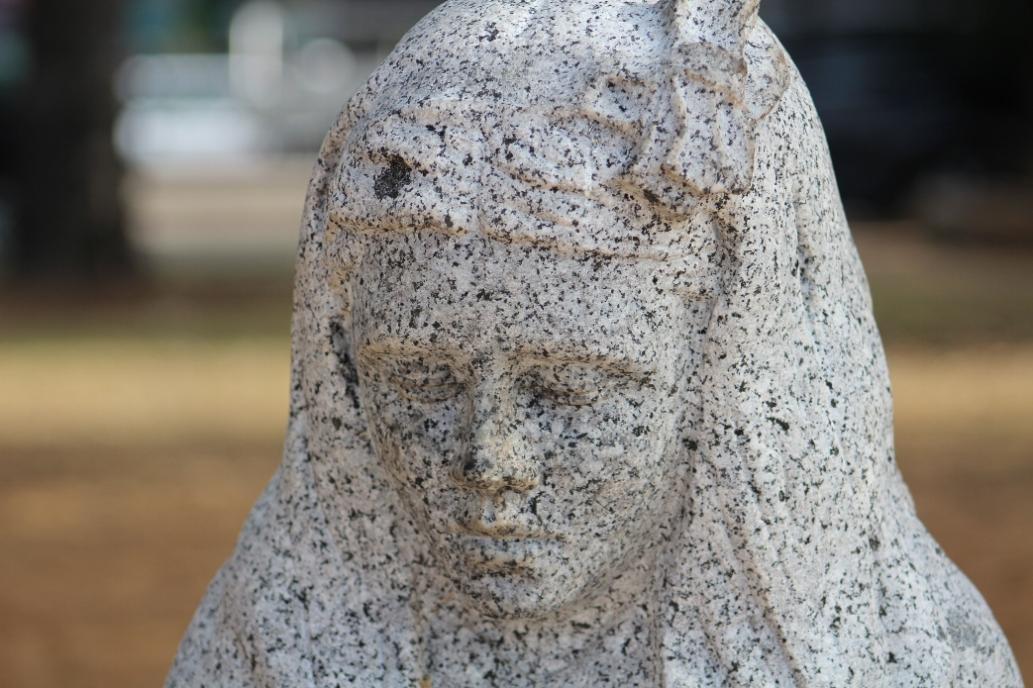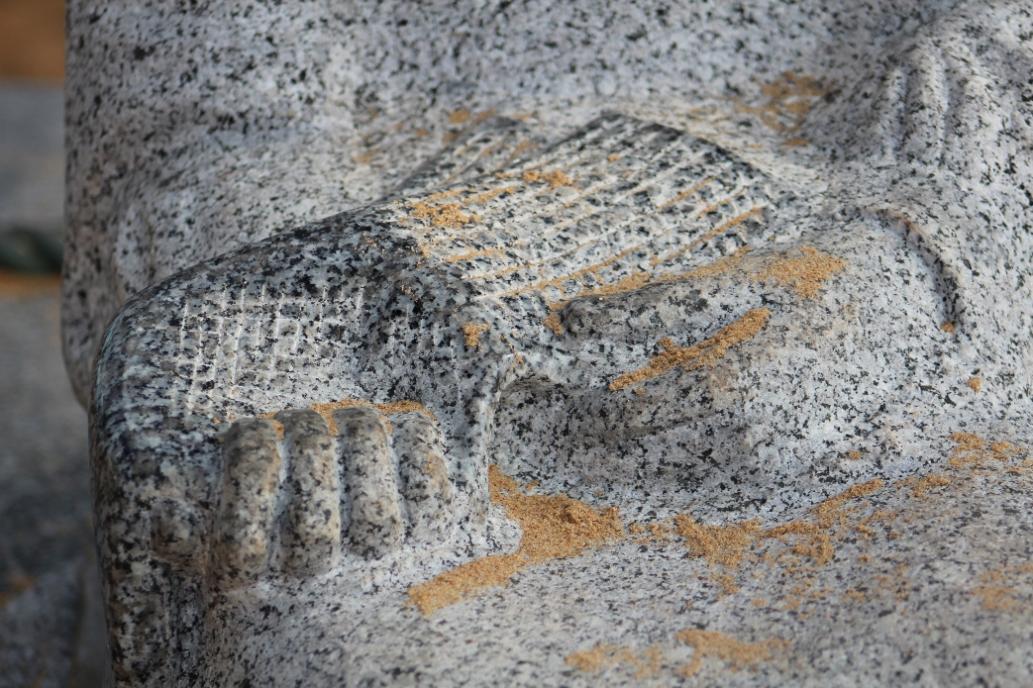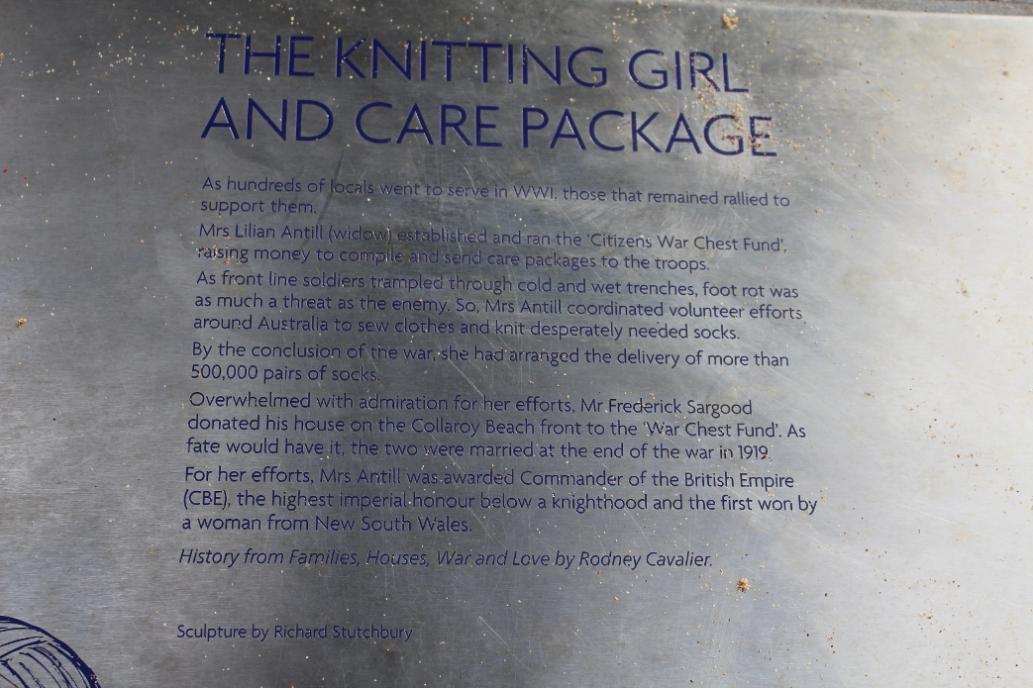 People who have related stories of playing in the Mona Vale Village Green park during the 1950's cannot recall there being a fountain as part of the Mona Vale War Memorial. They do recall the old horse trough still being there though: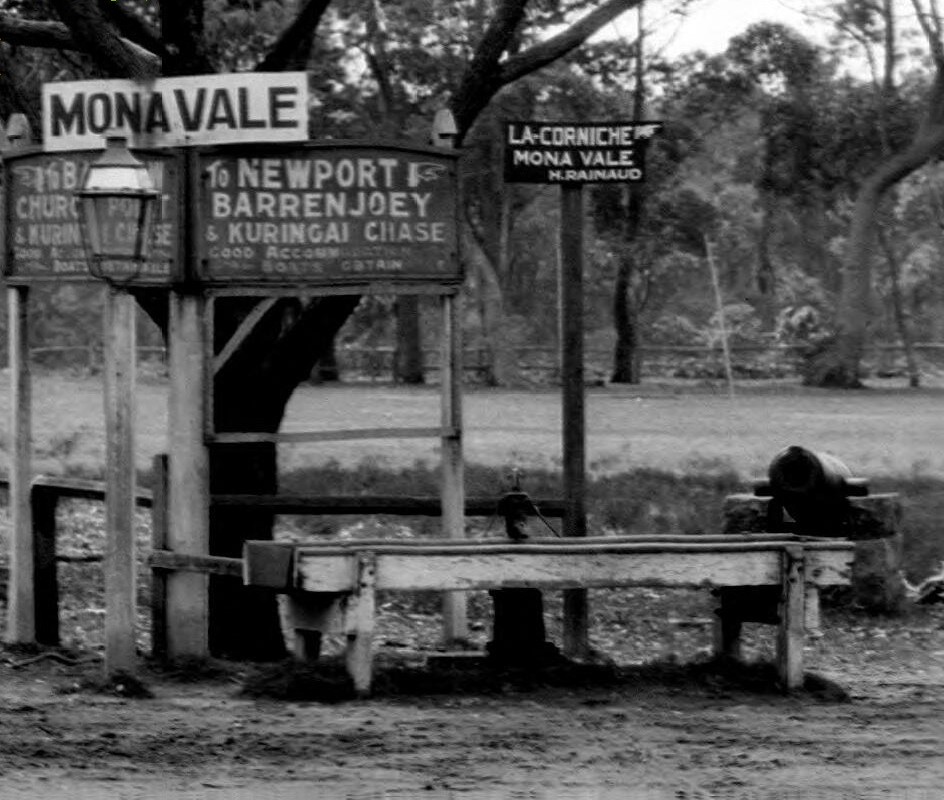 Above and Below: Panorama of Mona Vale, New South Wales, ca. 1930 [picture] / EB Studios
National Library of Australia PIC P865/125 circa between 1917 and 1946]
and sections from made larger to show detail.

In 1996 the Mona Vale War Memorial was restored and a stone cairn was added. It was then rededicated to include World War II, the Korean campaign, Malaya, Malaysia, and the Vietnam War service people.
The memorial stands in the middle of a large semi-circular clearing opening on to the intersections of Barrenjoey Rd and Pittwater Rd, Mona Vale. It is covered in sandy gravel, and is surrounded by sandstone block edging with regularly spaced short piers. Beyond this is a well maintained garden with hedging and some trees. One of these is a Cypress pine, edges include the herb rosemary - so significant to the ANZAC campaign.
The memorial is constructed of sandstone, with a stepped base, and four Tuscan columns supporting simple entablature inscribed on four sides with "To Those - Who Served - In The - Great War". Above this a stepped pyramidal roof is topped with a glass sphere.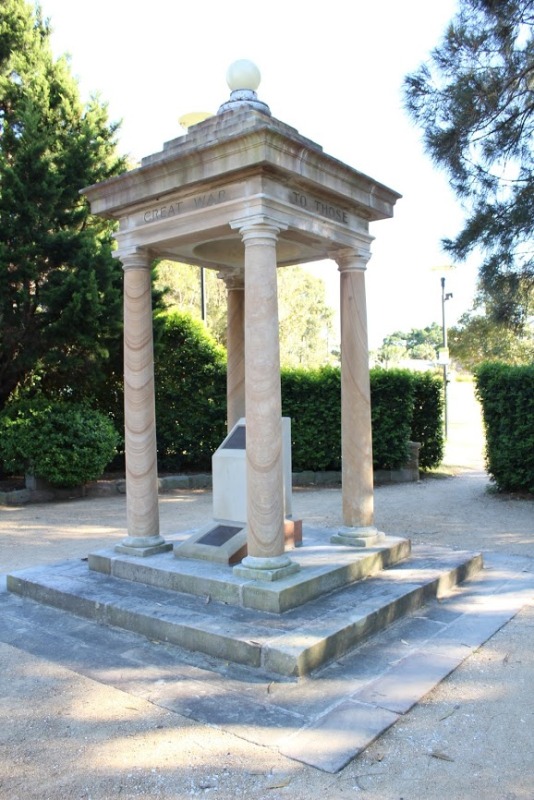 A stone cairn features three bronze plates.
One is the original WWI Roll of Honour
,
commemorates the lives of 35 men
who served in World War I, including the names of three who were killed. The two others refer to the restoration and rededication.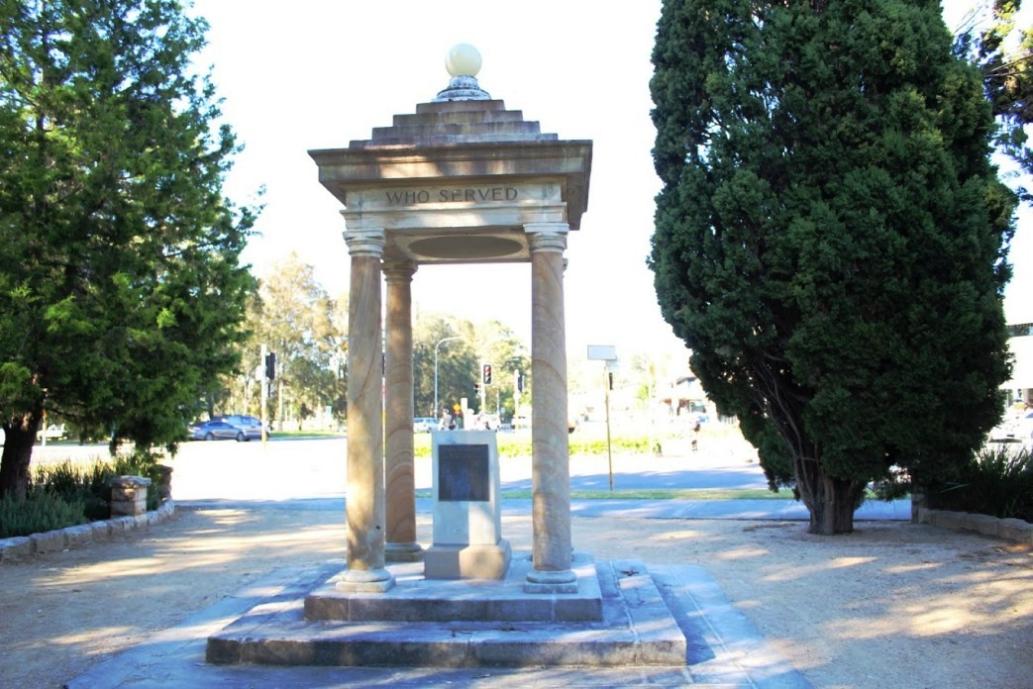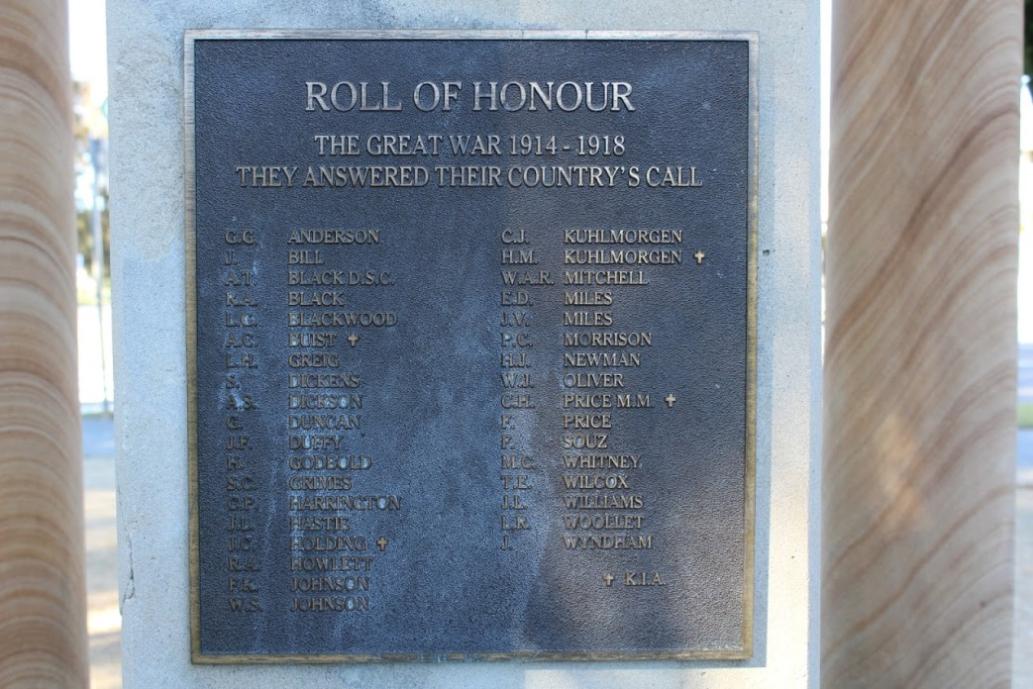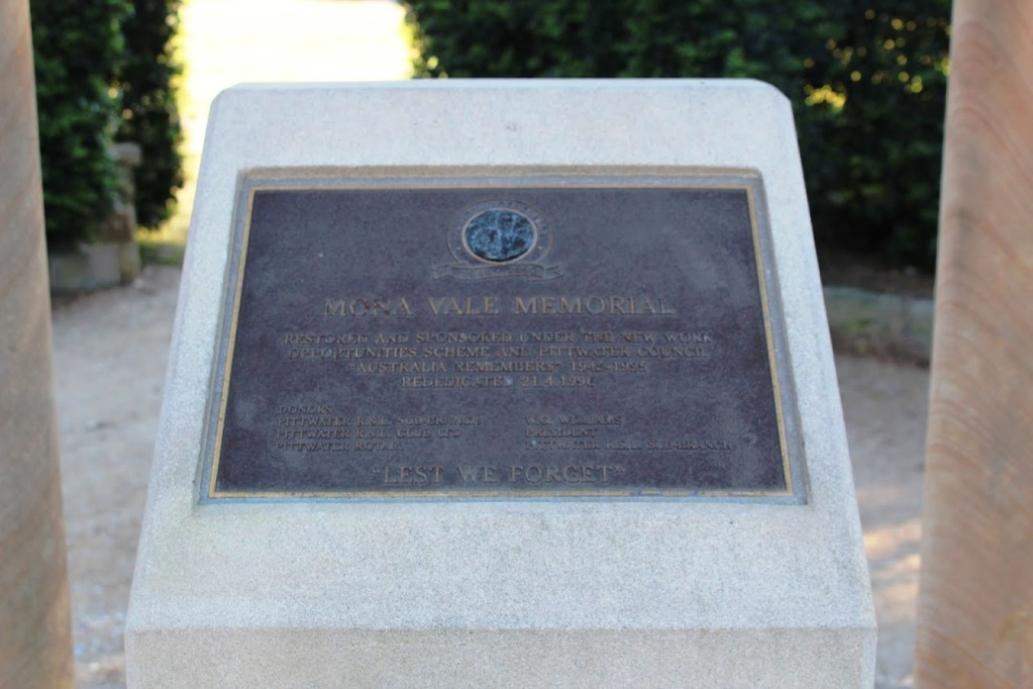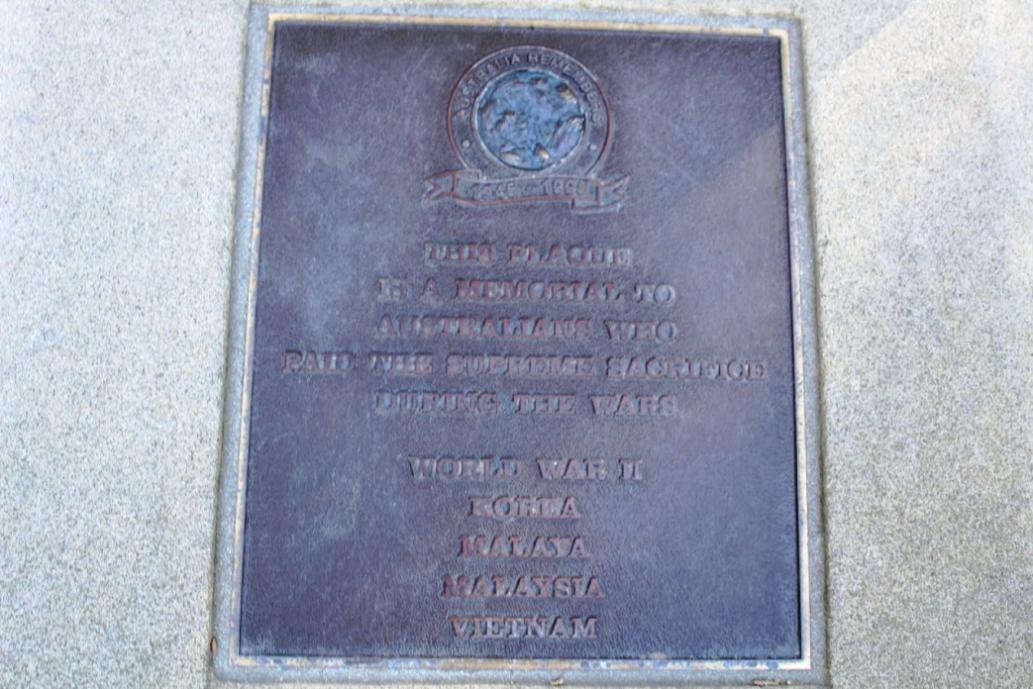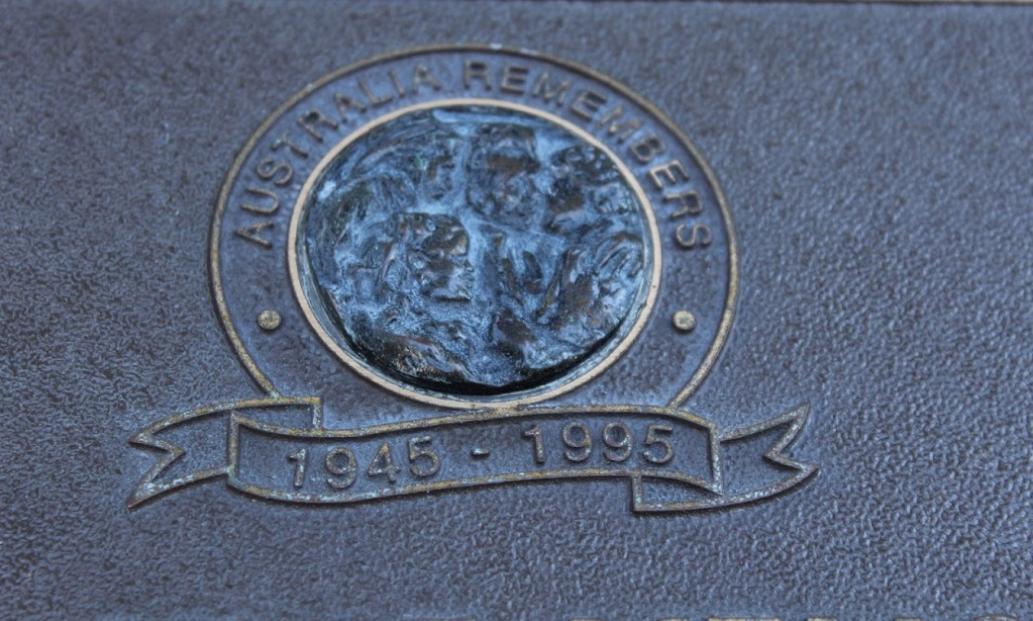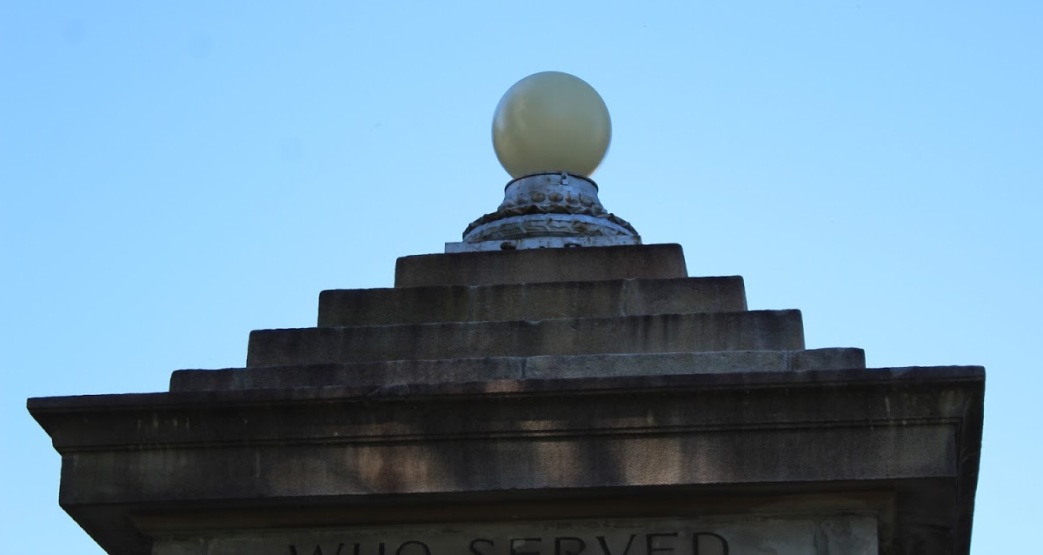 Notes
WOUNDED 736; MISSING 281.
The 218th and 219th casually lists
issued by the Defence Department this morning, contain the names of 1734 officers and men. Killed in action 574, died of wounds 105, missing 281, wounded 736: —
Major T. P. ELLIOTT, Berala.
Sgt. P. J. FRYER, Bondi.
Sgt.-Cook R. C. GREED, Hobart,
Tasmania.
Dm.-Sgt. J. C. DANIELS, Burwood.
A.-Cpl. A. G. ADAMSON, Hay.
L.-Cpl. A. R. PATON, Waverley.
L.-Cpl. M. H. SMITH, Cogee.
Pte. A. M. ANDERSON, Scotland.
Pte. L. ATTWELL, Sunny Corner.
Pte. C. H. BRADHURST, Drum
moyne.
Pte. J. CAREY, Leichardt.
Pte. W. G. COWARD, Mascot.
Pte. T. C. F. EVANS, Campsie.
Pte T. M. FITZGERALD, Hornsby.
Pte. G. E. FORD, Lockhart.
Pte. A. J. FORSYTH, Scotia.
Pte. J. HAMMOND, Pyrmont.
Pte. G HEBBLEWHITE, Bowra
ville.
Pte. O. HELLYER, Glebe Point.
Pte. T. J. HODSON, Chatswood.
Pte. T. P. KEATING. Tatura. Vic
Pte. H. KUHLMORGEN, Newport.
Pte. J. LEE, Lismore.
Pte. H. M. B. MOORE, Bathurst.
Pte. H. MULLIGAN, Waterloo.
Pte. U. E. PENTY, Bondi.
Pte. S. RAMAGE, Gladesville.
Pte. N. SHAROFF, Port Douglas,
North Queensland.
Pte. A. SHEKELL, Ainsworth.
Pte. W. SMITH, Waverley.
Pte. R. J. SMYTH, Pymble.
Pte. S. H. THORNE, England.
Pte. L. WARRIN'GTON, Goulburn.
Pte. W. A. WILHELLAM, Miller's
Point.
Pte. W. WILLIAMS, England.
Sgt. A. D. NICHOLSON, Dungog.
A.-Sgt. J. P. ANSTEY, Junee.
Cpl. A. BOSWORTH, Bathurst.
Cpl. H. A. BROWNE, W. Tamworth.
Cpl. V. CAMPBELL, Kelson's Plains
Cpl. S. F. ROSE, South Africa.
Cpl. R. WEBSTER, Auburn.
Tem. Cpl. L. P. MOORE. Mosman.
L.-Cpl. J. A. ANDERSON, Scotland.
L.-Cpl. T. C. ANDREWS, England.
L.-Cpl. R. B. BUTTERS, Coogee.
L.-Cpl. D. A. FITZLAN, England.
L.-Cpl. L. GULLEY, Hill End, Vic.
L.-Cpl. D.McDONALD, Scotland.
L.-S. W. MURRAY, Tumut.
L.-Cpl. A. J. NEILSON, Nth Rock
hampton.
Pte. T. C. BALLANTINE, Drum
moyne.
Pte. E. V. BARROW, Daysdale.
Pte. E. H. W. BATESON, Tent Hill.
Pte. S. BEATTIE, West Wyalong.
Pte. W. J. BELL, Penshurst.
Pte. D. H BINDOFF, Petersham.
Pte. E. T. W. BISHOP, Glebe.
Pte. T. H. BOTTOMLEY, Waterloo.
Pte. J. BOYLE, Ireland.
Pte. J. BRAITHWAITE, England.
Pte. F. BROWN, Cessnock.
Pte. W. H. L. BURNS, Penrith.
Pte. A. N. BURROWES, Holbrook.
Pte. A. D. CAMPBELL, Little Billa
bong.
Pte. A. S. CHALKER, Kingdale.
Pte. C. C. CHRISTIAN, Ireland.
Pte. A. CHURCH, Leichhardt.
Pte. S. CLIFT, England.
Pte. V. T. COLE, England.
Pte. W. H. COLE, Mogriguy.
Pte. R. COURTNEY, Nth. Sydney.
Pte. J. W. CRAM, Balgownie.
Pte. J. CROSS, England.
Pte. D. S. CURRANS, Nyngan.
Pte. H. A. DALY, Goulburn.
Pte. E. O DAVIS, West Tamworth.
Pte. W. F. DAVIS, Guyra.
Pte. F. DE BOYNTON, Woodhill.
Pte. R. J. DONOVAN, Sydney.
Pte. L. V. C. FOSTER Uralla.
Pte. H. C. FOWLER, Summer Hill.
Sgt. A. GALE, Newcastle.
Pte. B. GIBSON. Yanco.
Pte. O. T GIDDINGS, Artarmon.
Pte. A. F. GILZEAN, Dulwich Hill.
Pte. A. W. GODDEN, Newtown.
Pte. J. M. GRANT, Woodford-Leigh.
Pte. W. E. GREATHEAD, Drum
moyne.
Pte. A. GREGORY, Carlton.
Pte. R. HIRD, England.
Pte. E. C. HOJEL, Tamworth.
Pte A D. HOTCHKIES, Granville.
Pte. J. W. HOWARTH, Randwick.
Pte. H. HOY, Armidale.
Pte. W. HUNT, West Maitland.
Pte. B. JEPHCOTT, England.
Pte. T. A. Johnston, Hillston.
Pte. H. T. JONES, Sackville Reach.
Pte. W. M. JONES, Marrickville.
Pte. G. H. JUPE, Rozelle
Pte. E. B. KELLER, Wagga.
Pte. J. L. KELLY, Helensburgh.
Pte. L. G. KENNEDY, Sydney.
Pte. T. KIELY, Dawes Point.
Pte. W. KNEALE, England.
Pte. T. J. LAKE, Old Junee.
Pte. T. C. E. LEWIS, Springwood.
Pte. D.. S. LINCOLN, Balmain.
Pte. R. E. LOTZE, Hurlstone Park.
Pte. R. MENZIES, Balmain
Pte. A. V. MERCER, Sydney.
Pte. V. McGRATH, Mudgee.
Pte. J. R. McGUCKIN, Newtown.
Pte. W. A. MILLER, Tullamore.
Pte. G. L. MITCHELL, Richmond.
Pte. A. MOORE, Bulli.
Pte. H. T . MORONEY, Ultimo.
Pte. S. J. MORRIS, North Sydney.
Pte. E. L. MURRAY, Glen Innes.
Pte T. N. NESTOR, Fitzroy, Vic.
Pte. F. J. O'BRIEN, Gerringong.
Pte. M. O'BRIEN, Toowoomba, Q.
Pte. J. P. O'BRIEN, Glen Innes.
Pte. P. A. O'KEEFE, Albert Park
Vic.
Pte. S. E. PAGE, England.
Pte. C. PARKER, Surry Hills
Pte. W. PARKIN, England.
Pte. S. W. PARR, England.
Pte. A. F. PEARCE, Ashfield.
Pte. A. F. PEARCE, England
Pte. A. H. PENNANEN, Finland
Pte. J. S. PEPPER, Dulwich Hill.
Pte R. T. PICKERING, Auburn.
Pte. J. POOLE, Woolloomooloo.
Pte. S. G. PROSSER, England. Pte. C. R. QUINN, England.
Pte. S. M. RAMSAY, Kempsey.
Pte. H. W. RECKLESS, Narumburn.
Pte. M. C. REDWOOD, Katoomba. Pte. M. A. REID, Newtown. Pte. E. R. RICHARDSON, Alexandria.
Pte.F. C. ROWLAND, Nth Sydney.
Pte. R. H. RUNDLE, Newcastle.
Pte. J. F. RUTHERFORD, West
Wyalong.
Pte. C. V. SCHMUTTER, Armidale.
Pte. N. L. SHERRIFF, Rockdale.
Pte. A. W. SMART, England.
Pte. G. B. N. SMITH, England.
Pte. G. W. SMITH, Lidcombe.
Pte. E. E. STEVENS, England.
Pte. W. B. STEVENS, Redfern.
Pte. P. J. STEWART, Narandera.
Pte. F. J. SWANSSON, Pyrmont.
Ptc. L. TAYLOR, England.
Pte. N. L. TINGCOMBE, Werring
ton.
Pte. H. M. TRENERRY, Manilla.
Dvr. T. VENNELL, Pyrmont.
Pte. G. H. WALKER, Cootamundra.
Pte. J. M. WALKER, Dubbo.
Pte. J. P. WILLIAMS, Abermain.
Pte G. WISE, Roselle.
Pte. W. G. WOODS, Cowra.
Pte. W. WOODWARD, Sydney.
Pte. P. WRIGHT, Inverell.
Pte. J. WYLIE, Scotland.
Pte. J. H. YOUNG, Paddington.
Pte. A. H. COX, Jerilderie.
Cpl. G. R. THOMPSON, Wentworth.
Pte. C. PELLOW, Cootamundra.
Pte. J J. DALTON, Murrumburrah.
Pte. D. C. JONES, Boree Creek.
Pte. V. G. GROUTCH, Tocumwal.
Pte. R. J. HALE, Wagga.
Pte. S. KEYES, North Wagga.
Pte. R. B. CARROLL, Albury.
The following is a list of sick and wounded soldiers, also staff nurses, who will shortly return to Australia.
It is officially described as List "U," and will be referred to as such in any notification published immediately before arrival. The list is as cabled, and is open to correction on account of mutilation in transmission and other causes.
Chap. Jas Wm Dains
Major Devereux Gwynne Hughes Col. (T) Thos Morgan Martin Major Chas Brownlow Pym Capt. Leslie St. John Allen Capt. Eden Lloyd Davies
Lieut. Fredk Hubert Allmond
2nd Lieut Bruce Tasman Barnes Lieut. Basil Joseph Boles
Lieut. Harold Nichol Bott.
Lieut. Geoffrey Chas Bowman
Lieut. Arthur Callum, Lieut. Brian Innes McClare Cavanough
Lieut. Chas Eric Clarke
2nd Lieut. Henry Alfred Clow
Lieut. Ernest Dawes
Lieut. James Chas Donaldson. Lt-Col Albert Cecil Fewtrell Lieut. John Tucker Foord
Lieut. Norman Griffin, 2nd Lieut. Alfred Chas Hall
Lieut. Edwin Chas Hind Haxley
Lieut. Leslie Phillip Israel
2nd Lieut. Eugene Francis McDonald
Lieut. Jas Alex Millar
Lieut. Algernon Perray
Lieutenant William Shaffrey
Lieutenant Jos Teesdale Tarn, Lieutenant Arnold Brunton Wadsworth, Lieutenant Albert Leslie Watson.
Lieutenant Bertram Walter Pittman Webster, S.-Nurse Frances Alice Robinson.
Ptes Geo Andrew Adler, Percy Ivo Ahern, T-Cpl John Nisbet Boag Aitken, Pte Stanley Robt Alderton, Gnr John Jas Allen, Pte Wm Allsopp, Sgt Allen Miller Amey, L-Cpl Jas John Sidney Anderson, Pte John Stanley Antaw, L-Cpl Geo Henderson Armstrong, Ptes Allan John Arnold, Norman Bishop Ash, Jas Marshall Asquith, Wm Chris Atkinson, Wm Hamilton Auld, Arthur Austin, Walter James Austin
Dvr Richard Bach, Ptes. Robert Glenmitchell, Bartholomew Bainbridge, Jas Lochee Barker, S-Mjr Fredk Barlow, Pte Arthur John Bartlett, W.O. William Bassett, Pte Geo Cleviot Beaver, Spr Harry Beavis, L-Cpl Athol Glenmitchell Beck, Pte Thos Leighton Bell Gnr Wm Leslie Belot, Spr. Geo Bennett, Ptes Chas Lloydell Benton, John Francis Ber- ger, Edward Betts, Wm Herbert Bilsborough, Sidney Wilfred Pittman Birkett, Carl Biorkdahl, Ernest Frank Blackwell, Francis Thos Blake, L -sgt. Patrick Milan Blake, Pte Thos Clarence Bogg, Sgt Jas Emmett Bourke, Ptes Chas Edw Bow, Frank Bradbeer, Leon- ard Gent Bragg, Chas Snowden Brandon, Thos. Syd-ney Bray Sgt Geo Breakwell, Ptes John Thos. Brennan John Brinkley, Jos Hilton Broadley, Henry Staf-ford Brooker, L cpl David Thos Brown, Ptes. J. Brown, Sydney Brown, Dvr Geo Wm Browne, Ptes. Stanley Norman Bruce, Thos Walter Buchanan, Donald Buckman, John Ernest Bucknall, Henry Budgett, Wm John Bunyon, L-Cpl Cleve Lawrence Burgess, Ptes. Gulson John Burlingham, Arthur Belmont Burrows, Thos Lambert Burton, Leon Geo Busse, Frank But- ler, Bomb John Jas Butler, Pte Fredk. Byrne.
Ptes Alan Caldwell, Andrew Cameron Sgt Henry Camfield Ptes Bernard Jas Carroll, Geo Clement Carroll John Jas. Carroll, Wm Richard Carroll, Wm Lancaster Carson, Wm Gatton Cason, Geo Wm Chambers Jas Jos Chambers, Thos Walker Chambers, Clarence Fredk Chesher, George Comfort Chip- pendale, Elton Howard Clark, L-cpl Marcus Anderson Clark Ptes Lancelot Walter Clarke, Thomas Cleary, Cpl Park Cockfleld, Ptes Robert Alfred Cole, Thomas Coffey, Chas Andrew Collie, Frederick Spencer Collins, Sgt Perry Collins, Pte Victor Ernest Robert Collison L-Cpl James Valentine Connop, Pte. Roland Clifford Dean Cooke, Gnr George Benjamin Cooper, Spr Reuben Cooper, Ptes Leslie Gordon Cowan, Re-ginald Victor Dudley Cox, Edwd Chas Cracknell, Cpl Robert Wm Craig, Spr Wm Henry Cram, Pte Percy Raymond Crane, Gnr Frank Harold Craymer, Pte Robert Crothers, A-cpl Lawrence Anthony Augus- tin Curran, Ptes Albert Ernest Curtin, Leonard Cur-tis, Francis Cusack, Peter Thomas Dalton, John Hubert Daly
Ptes Chas. Bagwell Davies, Stanley Gordon Davies, Thos Jos Delaney, Francis Wm Delves, Roger Wm. Devane, Robert Leslie Dimond, Dvr Arthur John Dob-son Ptes John Tulloch Dodds, Nathaniel Douglas, Thomas Dover, David Dow, Edward Jas Downing, Cpl Albert Edward Dowse, Ptes Wm Ernest Dowsey, Jos. Henry Doyle, Thos, Jos. Doyle, Horace Victor Duck-worth, John Dunne
Ptes. Henry Edmunds, Alfred Ernest Edwards, Chas Harrix Edwards, James Edward, John Jos. Enright, Chas Eustice.
Pte. Arthur Francis Fahey, Ftr -sgt John Fairweather, Ptes Thomas Farndell, Barry Victor Firth, Percy Wm Fisher, John Patrick Fitzpatrick, S-sgt Thos Wm. Fleming, Sgt Sydney Albert Follett, Dvr Wm John Forbes, Cpl John Franklin, Dvr Henry Edwd Franks, Ptes Daniel Fraser, John Murray, Michael Fur-long, Dvr Reginald, Victor Eusedale.
Pte Wm Edward Gallagher Pte Elmore Aubrey Gane Pte George Garraghty, Pte John Alfred Inman Gibbon, Pte Herbert Saml Gidley, Pte. Wm Gil-espie, Bdr Jas Edward Gilmour, Pte Alfred Les-Iie Gould, Gnr Henry Green, Sgt. Harold Leslie Green, Ptes Wm Green, Jos. Chas Grew, L -cpL, Herbert Anton Gunderson
Ptes Wm Hall, James Halliday, Thomas Hamer, Stephen Jas Hannan, Chas Peter Hansen, Sgt Viv-ian Arthur Hare, Ptes. Chas Harper, Chas Harold Harris, Frederick Harris, T-bdr Clarence Jas. Har- rold, Ptes Herbert Lewis, Harvey Francis Pat-rick Hayes, John Haydon, T -cpl Neville Poole Haine, Ptes Henry Thos Haynes, Darcy Harold Hennessy, Norman Herald, Herbert Jas Hezlitt, Arthur Thos Hickey, Eugene Winton Preston Kerr Higgins, John Higginson, Wm Fredk Hitchman, John Hodge, James Hodge, W.O. Jos. Patterson Hope, Ptes. Claude Honeyman, James Hornby, Frank Haslam Howard, Robert Edward Howe, Gnr Robert Burton Hudson, Ptes. Roy Henry Hoyland, Henry James Hughes, Al-hert Fredk Gordon Hunter, George Hunt, Daniel Hyslop
Ptes. Frank Ingram, Jonothan Irwin, Hector Rhoderick Israel.
Ptes Harry Leslie Jackson, William Jackson, A –cpl Willam Arthur Jacques, Ptes Cecil Reginald James, Mathew James Frederick Daniel Jenkins, Frederick Johnston, Ambrose James Jones, Oliver Wynne Jones, Walter Jas Jones.
Ptes Edw Sidney Kain, Geo Kay, A-sgt John Jos Kearney, Pte. Andrew James Keen, Gnr Archibald Lorris Hunter Kelaher, Ptes Robert Stanley Kelly, Vincent Roy Kelly, Gilbert Horace Kendall, William Kennedy, Frank Kenner, Frederick King, George Ed-win King, John Rutherford King, McCarthy King, Sgt Tom King, Dvr. William John Knight,
Cpl Carl John Kuhlmorgen
Ptes St John Warwick Lake, Walter Sydney Lamb, Cpl Edwin T Lamont, Ptes Lloyd Lang, Leslie Larkin, Wm Bernard Lawler, Spr Frank Westley Lawus Ptes Albert Clyde Leader, Andrew Henry Leonard, Gnr Jas. Allan Lewis, Pte Reuben Lewis Gnr Chas, Lewisson, Ptes Samuel Liddle, Harry Little, Alex. A Lloyd, Wm Lloyd, John Logan, Wm. Lowns, L -cpl Edw Michael Luders,
Ptes Chas Andrew Macgregor, John MacMillan, Victor MacNamara, James MacNeil, W.O. C. C. Madi-gan, Ptes Henry Jas Maginness, Walter Edw Malm- berg, Cpl Chas Elwyn Maltby, Ptes Sydney Geo Gayford Mansfleld, Leslie Geo Marsh, A -cpl Noel Henry Martin, Ptes Norman Lee Martin, Francis Mason, Chas Jas. Matthews, Jas Jos.Matthews, Patrick M'Aloon, Manson Davies M'Alpine Edward Columbus M'Call, Francis M'Carthy, John Thos McCarthy, James McConnell, Jas Albert McCormack, James Desmond McCormack, Wm Leslie McCully, Spr Alexr McDonald, W Rees McDowall, P. John McGrath Thos McGreal, Chas McIntosh, Richd Donald McIntyre, L Cpl Norman Lance McKnight,
Ptes Sidney McLean, Archld Chas McLeod, Gnr Regld Alan McQueen, Cpl Stanley James Miles, Ptes. Thos Mitchell, Jack Mohr, Alfred John Moneghittie, Richd Moody, Francis Ernest Moon, Percy John Morley, Thos Chris Morris, Jas. Bernard Murphy, James Murray, Lester Carl Murray, T sgt Thos Nagle, Ptes Wm Emmett Neill, Albert Thos Nelson, Gnr Harry Nelson, Gnr Warrell Henry Nelson, C Q M S Jas Edw Newton, Ptes Geo Wm Nicholls, Wm Arthur Nicholls, Faulder Nichols, Ar-thur Douglas Nicholson, Cpl Wm Alexr Norris, Ptes Wm Henry Norris, John Alexr. Nowlan, Pte Thos. Nelson
Spr John O'Byrne, Ptes John Jos Fredk O'Connor, Thos O'Connor, Dvrs Chas David O'Dea, John Jos O'Hare, Ptes Herbert Gordon O'Keeffe, Leonard J Olsen, (or John M'Cabe), Fleming Beacham O'Neill
Gnr Thos Francis O'Neill, Ptes Geo Orchard, Carl Edw Osberg, Eric Leslie Osborne, Sgt Alfred Thos Oxley
A cpl William Fredk Page, Cpl Robert Parker, Ptes Henry Parrington, Arthur James Paton, George Edward Parkinson, Francis William Parke, Francis Joseph Pattinson, Dvr Albert Howard Payne, Ptes William Thomas Peacock, Sydney Nicholas Joseph Peak, C Q M S John Fowel Pearce, Ptes Matthew Richard Pearce, John Peckham, Victor George Perini, Sgt Wm Geo Pettiet, Pte Richard Plummer Spr W Fredk Pepper, Gnr Chas Thos Phillips, Ptes James Fergus Pierce, Harold Henry Pimblett, Stanley Piper, Sidney Potter, Henry James Potts, John Poulton, Richard Sidney Poulter, John Mudge Pountney, Nor-man Robert Price, Spr Wm Lindsay Price, Ptes. Wm Herbert Prince, Alfred John Proud,
Pte Albert George Quinn
Ptes Leonard Raindle, James Ramsbottom, William Thos Rann, William Ranson, Thos Wm Rawnsley, Wm Alex Redpath, Herbert James Reeve, Dvr James Graham Senior Reid, Ptes Mannie Reid, William Laid- land Reid, Francis Michael Renehan, Thomas Richards, Alfred Frank Riddle, John Ridley, James Daniel Rid ley, Cpl Arthur John Rigelsford, Ptes Walter Rigg, Sidney John Roberts, Thos Henry Roberts, Walter H. Roberts, Cpl William Robertson, Ptes Alfred Robinson, Walter Edward Robinson, George Alfred Rose, Arthur Ernest Ross, T-sgt Allen Stanley Ross, Pte Robert Patterson Roy, Cpl William Roy, Pte Terence Ryan, Gnr Rupert Ryder.
Spr Edmund Sager, Spr Charles Francis Salmon, Ptes William Saull, George Sayers, Fredk Joseph Scevity, Sgt Aubrey Arthur Schofield, Ptes Jack Scotman, Francis William Seaton, Harry Seymour, Donald Edward Shaw, Sgt Michael James Sheehy, Ptes Ralph Simpson, John Sims, Ronald Sinclair, Gnr Grantley Allen Small, Ptes Alfred Samuel Smart, Arthur Alex Smith, Alfred Edwin Smith, Ernest Clarence Smith, Ernest Joseph James Smith, Leo Francis Smith, Richard Smith, Sidney Harold Smith, William Augustus Smith, Wallace Lyle Smith, Fred Patrick Southwell Percival Spencer, Walter Henry Spencer, Gnr Cyril Mortlock Spicer, Ptes Henry Spiller, Harold Henry Spurr, Stanley Bonham Staker, John Stanley, Thomas Stanley, Dvr Fredk Chas. Augustus Staples, Ptes John Goulburn Stent, Charles Seymore Stephens, James Edward Earl Stew-art, Cpl Keith King Stewart, A cpl Frank Sydney Still, L cpl Harold Stokes, Pte William John Stover, C S M George Strong, Ptes George Stuart, Harry Theodore Sullivan, Thomas John Sullivan, Alfred Chas Susans, Donald Sutherland, T sgt Ed-win James Sutton, Ptes Leslie Richard Sutton, Les-lie William Swann, Joseph Sylvester
Ptes Percy Ernest Taber, Francis Sydney Tanner, Donald Thomas, William Francis Teague, Frederick Harry Thomas, Gwilyan Martin Thomas, David Thompson, George William Roy Thompson, Dvr George Thompson, Ptes Thos Thompson, Charles George Craven Thomson, Charles Thomas Patrick Thorne, John Timmins, William Henry Toms, George
Lugton Tod, Cpl Clarence Towers, Pte John Ernest Towers, S smith Frank Treahy, Ptes James Vivian Treloar, Carl Osmond Trevanion, Charles Herbert Trompp, Hilton Turnbull Tuckerman, George Turner, Henry James Turner
Pte Jno Vingoe, Cpl Walter George Vinnicombe,
Ptes Cecil Ernest Vircoe Wm Voysey
Ptes Jas Wm Wall, Walter Wm Walsh Jas Ward, Wm Arthur Ward, Chas Warden, Gnr Albert Victor Warfe, Gnr Sydney Edwd Warne, Ptes Albert Stewart Warnkin, Frank Warren, Cpl Percival Warrington, Pte Walter Horwood Warry, Sgt (T ) Walter Edward Leslie Watson, Ptes Jas Watts, Lloyd Wm Waygood, Arthur Wealands, Joseph Albert Benjamin Webb, Harold Hayman Webber, Thos Francis Webber. A cpl Guido Frity, Leopold Cyril Weber, Pte Stephen Wilson Weir, Jacob Wertheim, Daniel West, Dvr Ernest Albert West, L cpl Geo Harold West, Ptes. Steven Temple West, Wm Dickson West, Gnr Wallace Laurance Westerweller, Ptes, Albert Geo Wheeler, Claude Joseph Whelan, L-cpl Alexander Padkin White, Pte Geo White, Gnr. ?tal Chas. Whitehead, Pte- Alfred Tomlinson Whiteley, Richard Jno. Whittle, Richard Hercules Whyte, Stephen Leonard Wiles, Harold Joseph Wilkes, Arthur Vincent Wilkinson, Roy Dacre Wilkinson, Fredk Jas. Williams, Spr. Jas Williams, Pte. Jno. Williams, Cpl Jno Amos Williams, Ptes Regd Edwin Williams, Trevor Williams, Harry Thos. Willis, Cpl Frank Everett Wilkinson, Ptes. Arthur Hurgest Willmott, Donald Geo Wilson, Spr. Samuel Wilson, Ptes Wm. Henry Windred, Edgar Wade Winslow, Ernest Harold Witt, Geo Wood, Sgt Robt Wood, Ptes. Wm. Alfred Woodley, Joseph Wright, Wm Albert Wright, Norman Sydney Wyse.
Pte Walter Wm Young.
Pte Aleck Andrew Allen, Gnr Samuel Jno Butler, Ptes Carl Christensen, Edgar Clifford, Chas Milburn, Thos Mitchell, Wm O'Brien, Robt. Prestage, Jno. Quinn, Robt M'Millan Roy, Roderick Avondale Armstrong, Thomas Richard, Leslie Bailey, Jno Eric Barnes, Lawrence Baroni, Gnr Gordon Wallace Bar- ton, Ptes Phillip Biggs, Alan Fredk Brown, Roy Walter Ernest Byrnes, Gnr Chas Cecil Carver, Ptes Baden Christopherson, Vernon Ignatius O'Neill Cleary, Gnr Arthur Wm Clement, Ptes Albert Jas Cochrane, Daniel Corcoran, Dvr Baden Wm Crookshanks, Ptes
Andrew Fredk Darderi, Norman Shaw Divorty, Cecil Geo. Dooner, Robt Dubos, Clifford Henry Fitness,
Arthur Francis Flanagan, Wm. Flanagan, Kenrick Harold Ford, Thos. Frank Gordon, John David Harper, Cecil Hatcher, Bernard Martin Heyman, Wm Ernest Hill, Cornelius Houlohan, Harold Cecil Hume, Henry Geo. Gordon Her, John Joseph (alias King), Ruben Wm Teaken, Arthur Edwd Johnson, Joseph Wm Geo. Knox, Walter Krantzcke, Harry Langham, Arthur Leslie, Dvr Hughie Lowe, Ptes Ernest John Lucas, Kenneth Hanberry Mason, Francis McIvor, Douglas McKenzie, Alick McMillan, Isaac Mendez, Victor Prancis Moran, Sydney Thosby Page, Walter Oliver Theodore Palmer, Andrew Penney, Alfred Wm Perrin, Albert Mark Phyland, Jack Poole, William Leslie Purkiss, Lewis Eric Raymond, Earle Desmond Robson, Sidney George Sadlier, Phillip John Scott, Pte Lewis Charles Seton (alias L C Smith), Ptes. Ronald Shaw, Frederick Victor Edward Shot ter, Norman Smith, Frederick Smith (alias John Heron), Frederick James Smith, Reuben Jack Smith, Partick Joseph Stettler, William Alfred Stevens, George William Swinton (alias George William Wil-son), Theo Baden Tavener, Edmund Ernest Thiel, Leslie Hamilton Townsend, Henry Thomas Tuffnell, Cyril Walton, Albert Thomas Wheeler, John Frankland White, William Wiggins, Harold Williams, Robert Workman.
S. Nurse Lily Campbell, S. Nurse Anne Georgina Far- quhar, S. Nurse Frances Victoria May Odgers, S. Nurse Edith Pike, S Nurse Pearl Walshe.
Cpl Wm Jas Adams, Ptes Walter Wm Anderton, Sydney Copland, Mervyn Montgomery Cox, Geo Lionel Curryer, Edwd Jno Octave le Griffon, Daniel Lehane, Harold Edwd Lenehan, L. cpl Jas. Michael Mark, Pte Wm Arthur Watts, L.-cpl Thos. Dennis Longstaff Hall, Cpl Robt Webster.
Capt William Francis Eather. Capt Arthur Cowan Hinton. Capt. Harry Clarence Horne.
Capt. Robert Stuart Rankin.
Capt. Charles August Wittkopp.
2nd Lieut. John Richard Albrey.
Lieut. Lancelot Ruggles Andrewes. Lieut. Herbert Jas. Armstrong.
Lieut. John Richd. Yeul Bartlam.
Lieut. Arthur Albert Bock. ' Lieut. Frederick Hubert Coad. Lieut. Francis Simon Conry.
Lieut. Leonard Hardwick Foote. Lieut. Francis Vincent
Lt. Leslie McPherson Heron
2nd Lt. Henry Ainsley Hull
Lt. Thomas Hilton Jackson. 2nd Lt. Hugh Leslie Kent. Lt. James Ferguson Kerr. Lt. Francis Jas McKeon.
Lt. Jas McLaren Morris.
Lt. Roland Bertram Tom Nix. Lt. Robert Stevenson Sword. Lt. Edwin Burchett Waller.
Spr. Hector Albert Alllngton, Pte. Martin Gregory Anderson,
Gnr. Geo Edwin Arnold.
Ptes. Colin Badham, Albert Órete Baglini, Leslie Lawrence Raywood Baker, George Bailey, John William Barker, Dvr. Edward Julius Bernard, Pte Edward John Bonner, T-cpL John William Bowker, Gnr. Martin Francis Brennan Ptes. Herbert Brooks, Norman Alexr. Brough, Cpl Chas. Augustus Brown, Ptes. Chas Blackall, Burton, Daniel Thomas Butler, Bdr. Arthur Jos Bourke, Cpl Douglas Henry Allen Broadhead, Spr Thos. William Bushell, T.-cpl. Wm. Arthur Burley, Pte. Samuel Walter Butler.
Ptes Denis Stephen Callaghan, George PdmiL Swin-ton Oirfrae, John Carr, Hans Carsten, Matthew Llonpl Cisey (alias Matthew Lionel Paton), Frederick Henry Chappell, AVilliam Chale, I ilmund Royston CUa-k, ToRcnb Clayson, Stanley Cobb, Perry Charles George Collins, Horace Walter Comer, Patrick John Connole, Gnr John Victor Connolly, Ptes Harold Cook, Cor- nelius Jan Cooke. Edwin Alfred Cooke, Rupert Corner, Michael Costello, Douglas Hugo Courtenay, Edward Coyte, Charles Cripps, Samuel John Crowse, Edw Ernest Cuneen, L-cpl Cecil Reginald Cuttiford
Ptes Francis Daniel, Jas. Harry Darnell, Robert Lile-wellyn Davies, Frank Davis, Leonard Stuart Dawson, Thomas Dawson. James Dickson, Thomas Dolan, Herbert Driver, Alfred Chas Dunnings.
Ptes Edwd Robert Ellis, Hy Geo Augustus Ellis, Geo Elmer, Otto Erickson, Neils Peter Bernard Esbensen. Ptes. Peter Martin Feeney, Hugh Fergus, L.-cpl
Peter Chas. Fowler, Dvr Edw. Patk Flannery, Ptes. Robt. Horace Fraser, Everard Ewen Fuller.
Pts. Michael Galvin Galligan, Evelyn Bernard Gebblett, Aaron Ginsberg, Edw. Glur, Jacob Goldsworthv, L-cpl. Wm Gordon, Bdr Philip Manson Graham, Ptes. Jas. Samuel Green, Albert Ediw. Gregory, Geo Hy Fairs Gudenswager
Pte Frank Harles. Cpl James Halley, Gnrs. Michael Patk Hannebary, Eric Brentnall Harris, Ptes Joseph Harris, William James Hayes Ladas Haylock, Cpl
Samuel Edward Hays, Pte Walter Graham Heathwood, A-bdr Stanley Parkin Hill, Ptes. Samuel Benjamin Hillman, John Hinchey, John Hodge, Ernest Invicta Hodges, Edward Hodgson, Thos Joseph Hoffmann, A.-cpl David Hopkinson, Ptes Bert Gregory Houghton, Tom Gregson Howarth, Henry Herbert Howell, Charles Sherwood Hudson, L-cpl Herbert James Hudson, Ptes Kenneth Wm. James Hunter, Jeremiah Hurley.
Sgt Albert Inmon, Ptc Percy Wynyard Isaacs.
Ptes. William Stanley Jackson, Neils Jensen, Gnr William Wesley Jenyns, Pte Thomas Edward James, Dvr Bernard Johnson, Ptes William Henry Johnston, David Cadwalladar Jones, Alhert Judd, William Knud Juler, William Howard George Julian, Robert Goomersindo Justo.
Ptes Stephen Kean, John Kearin, Albert Walter Samuel Kehl, Dvr Samuel Kerby, Ptes James Donald Kerr, John Anderson Kilpatrick, Patk. Hardiman Kind-regan, John Henry King.
Ptes Albert Daniel Lake, Arthur Robertson Lang, William Allen Langford, A L-Cpl Frank Langston, Dvr Alex Harold Large, Ptes. George Godfrey, Laurensen, Thomas Leitch, L -Cpl Vincent Roy Lennon, Ptes. Wm. Lindsay, David Lloyd, Luke Alfred Donald Lofts.
Ptes. Thomas MacDonald, John MacLelland, Sgt Fredk. Leslie Manders, Cpl Roy Miller M'Andrew, Ptes Robert James M'Callum, Thomas M'Cosh, A . cpl Andrew M'Cullough, Pte James Thos M'Fadyen, Dvr. Robert M'Gill, Ptes. Philip Matthew M'Cormack, John Joseph M'Grath George M'Grath Herbert Herbert M'Gregor, Gnr John McKinley, Ptes. George Francis M'Kay, Arthur M'Lean, William M'Namara, Daniel Thos. M'Intosh, Hector M'Kinnon, Charles John M'Laughlin, Spr William Valentine M'Shea, Ptes. William Morton Alfred Douglas Messenger, Alex William Mills, John Mills, L -cpl Roland Mills, Ptes. Harry Moore, Charles Henry Morris, Cpl Henry George Muirhead, Spr Patrick Mullen, Ptes. Edward Stuart Murray, Percival Harry Murray, Cpl Arthur Ernest Neill, Cpl Austin Newnham.
Ptes. William Penell Nickols, Arthur Nolan, Hubert John Nolan alias Patrick Gorman, Gilbert Brierly Nonmus, Henry Norris, Ernest Victor Nykvist
Spr John O'Brien, Ptes Joseph O'Connell, James O'Connoll, Arthur Wm O'Connor, Thomas O'Dris-coll, Norman William Oelkers, Daniel Okane, John O'Keef, Daniel O'Mara, Gnr John Wm O'Reilly, Ptes. Duncan Henry Osborne, Reginald Harry Osborne.
Ptes Fdgar Parsons, Herbert Granillle Partridge, Sgt Alfred Peters, Pte. George Henry Phipps, Bdr. Llewellyn Henry Potter, Ptes Albert Edward Prid-more, Donald Arthur Patch, Fredk Patterson, Gnr Harold Joseph Pearson, Sgt Humphrey William Player.
Ptes Percy Ramsden, Wm Edwin Rathbone, Per-cial John Read, Samuel David Reece, Wm John Reid, Henry Renton, Edward Rhode, John Emanuel Rice, John Richards, George Harrv Richardson, John William Riggall, Albert Riley, Cpl Charles Hmry Robertson, Pte John Clarence Roberts, Cpl Kennedy Adams Robinson, Alex Gordon Roy Rockwell, Ptes Samuel Rooney, Gordon Ross, George Ross, Norman Percy Rowland, R S M. John Ryan Patrick Russell.
Ptes Geo Dominica Salottl, Robt Emilius Payn- ter Salsbury, Jno Wm Sanders, Robt Sanders, W O John Sargood, Sgt John Scott, Ptes Walter Sea-brook, John Richard Sells, Norman Geo Shadwell, Geo Edward Sharpe, Bdr Ferdinand Jas Sides, Ptes. Wm Ernest Simons, Alexander Slatter, Chas Ernest Smith, Herbert Henry Smith, Jas Smith, Jno Alexander Smith, Jas Wm Smith, C S M (T ) Norman Stanley Smith, Ptes Robt Jas Smith Yan Soolkov-sky, Chas Elton Spence, Luther Stafford, Spr Henry Lewis Steley, Ptes Murdoch Stevens, Robert Steven- son, Edward Stewart, Gnr Valentine Edwd Stewart, Pte John Stoddart, Cpl Percy Lawrence Strickland, Pte Geo Sutherland, Gnr John Summers, Pte. Fredk. Leopold Swanborough, Gnr Peter Swirgadin.
T sgt Robt Wm Henry Tebble, Ptes. Chas Temple-ton, Jas Thomas, Geo Leslie Thomson, Gnr Robt Eglington Thomson, Ptes Thos Thomson, Henry Thompson, Victor Geo Tickle, Thos Fancourt Tom kins, John Train, John Henry Tremayne, Leslie Tur-ner, L cpl Wm Geo Turkington, Pte. Alfred Harry Turton, Gnr John Rae Todd, Pte Jack Towler.
Pte Chas Wm Underwood
Ptes Reuben Varney, Jesse Vaughan.
Ptes Wm Wade, Alfred Ernest Wallace, Gnr. Wm Walsh, Ptes Chas Powers Ward, Jas Thos Warnock, Ernest Watts, Wm Edwd Waller, Clive Watkins, Cpl Alexander Warrand Witt, Ptes Alan Wells, Henry Francis West, Oscar Stanwell West, Peter John Whalan, Dvr Frederick John Wheatley, Gnr Thos. Chas White, Pte Thos Graham Whitlaw, Gnr Chas Henry Williams Pte David John Williams, Spr Hedley James Williams, Gnr John Mil-ton Williams, Ptes Roy Williams, Vincent Harry Williams, Arthur Chas Wilson, Geo Albert Wise, Harry Wagner, L -cpl Percy Victor Wood, Pte. John Woodleigh, Dvr Harry Athol Woods, Gnr Chas. Woodward, Gnr Harold Thos John Woodward, Ptes. Geo Ellathorpe Woolass, Geo Gilbert Worman, Ptes Jas. Alexdr. Yarrow, Thos. Forrest Yorkston.
Ptes Edw. Albert Baines, Albert John Bazley, Robt Biddle Herbert Henry Biggs, Ewd Joseph Harvey, Ernest Joseph Hefferan, Joseph Vurhaft, Wm F Dockrell, Howard Frost Percy Fred Galbraith, Alfred W Hixon Kelso Henry Malpas, Gnr Leith Jno McDon-ald, Ptes Robt Edwd Newbold, Jas. Patrick O'Brien, Ronald Hope Stewart, Stanley Frederick Bateson Taylor, Robt Wallace, Alexdr McCallum Wishart
S -Nurse Mary Lee Craven, Sister Annie Scott
Pte Chas. Brown, Cpl Jas. Wm Pickles, Pte. Basil Quigley, Pte Edwd Chas. Woodcroft. RETURNING SOLDIERS. (
1918, March 5
).
The Sydney Morning Herald
(NSW : 1842 - 1954), p. 9. Retrieved from
http://nla.gov.au/nla.news-article15779700
Methodist Churches On Northern Beaches
Historical Sketch by E. J. Pearse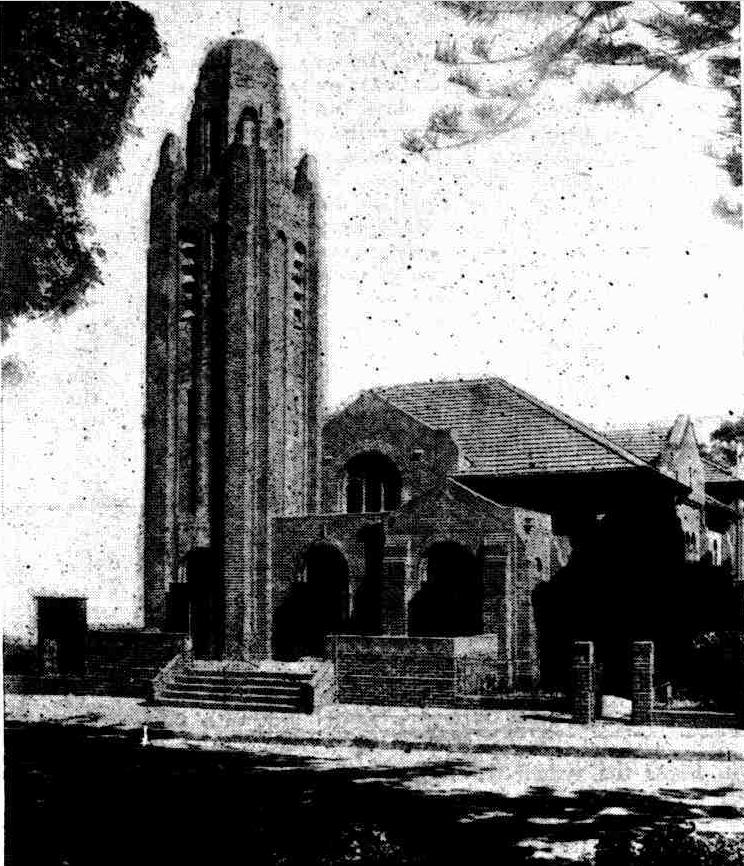 Methodist Church, Gilbert Park, Manly
The Diamond Jubilee of Manly Circuit is being celebrated /throughout the month of February, and a warm invitation is extended to former members and friends to join with us in glad thanksgiving. The story and progress of Methodism in this district may be summarised as follows: The Wesleyan Church Extension Society purchased an allotment of land on the western side of Pittwater Road, Manly, in 1875, but it was late in 1886 before building operations commenced, and were ....
erected by the Society.
At the Conference held in January, 1887, the station sheet read : — 'Manly: Rev. G. Holford Cowles, who shall visit Gosford one Sunday in every month.' This new circuit extended from North Head to Pittwater, along fifteen miles of coast line, then across the Hawkesbury River to Gosford. How the minister was to get to and from Gosford is not revealed, but judging by the area to be covered he was truly a 'travelling preacher.' The young circuit -had three preaching places: Manly, Pittwater and Gosford. The small weatherboard place of worship had been built at Pittwater in 1872 on a slope just above the wharf, and the centre became known as 'Church Point' because of that circumstance. Gosford was attached to Manly for a few months only, as a Home Missionary was appointed to reside there. Church Point building, unfortunately, became riddled with white ants, and was demolished in 1930. Between the time of the opening of Manly Church on the first Sunday in February, 1887, and the arrival of the Rev. G. H. Cowles, the pulpit was occupied by Revs. Dr. Kelynack, J. Bowring, C. J. Prescott, M.A., A. J. Webb, and the venerable J. Oram. Immediately on taking up his duties, Mr. Cowles formed a choir and a society class, and instituted week-night devotional services. A Sunday School was conducted by -Mr- W. T. Craven, senior, who retired after a few months, and was succeeded by Mr. E. E. Baylis. At the first quarterly meeting, held 8th July, various officials were appointed, notably Mr. G. W. . Barker and Mr. E. E. Baylis as circuit stewards.
Both of these gentlemen had been devoted workers in other circuits before settling in Manly. After a few years Mr. Barker removed to Stanmore, but Mr. Baylis continued association with the circuit until his lamented death in 1914. For twenty years he was circuit steward, besides holding many other important offices. The circuit income from 6th February to 30th June amounted to £92 10s 3d, including Gosford £1 2s,
Church Point £3 18s 9d,
plus rent from the Public Instruction Department £3 5s. Expenditure totalled £86 16s 3d. The minister reported that he had visited the Sunday school and found fifty-five scholars present. He also reported a Church membership of twenty five. At the end of the connexional year Mr. Cowles was transferred to Gunning, and when he left Manly Church lost not only its first minister but also its first organist, as Mr. Cowles had taken Miss Alice Barker as his bride. Miss Rebecca Baylis succeeded Miss Barker as organist, and faithfully and acceptably served the Church in this and many other capacities for twenty-five years.
Rev. Joseph Parker became superintendent minister in 1888, and his term was notable in that the September quarterly meeting resolved 'That this quarterly meeting, with a view to working Manly Trust in a more satisfactory way, applies to the Church Extension Committee for a local committee to work the same.' Up to that time Manly trust matters had been controlled from Sydney. The circuit Marriage Register records the interesting fact that the second marriage in Manly Church was that of the circuit minister, Rev. Joseph Parker, to Miss M. L. Castnor, a member of the congregation, and it will be noted that he followed the example of his predecessor in this regard. The history of the cause shows that the activities of the circuit proceeded in a normal way, and the first extension was made in 1890, when services were commenced at Brookvale.
In 1893-4- a two-storeyed stone parsonage was built on an allotment adjoining the Church on the southern side. The congregation and Sunday school continued to progress, and activities became hampered for want of room. During the ministry of Rev- T. F. Potts a block of land on the corner of Raglan and
Belgrave Streets was purchased, and a brick Church erected there. The wisdom of removing to a more central site 'and more dignified building was at once apparent in increased congregations and more effective working of the Church enterprises. Subsequently an adjoining hall was purchased, and the interior re-modelled, when the Sunday services were transferred thereto. During the ministry of Rev. G. Thompson Sunday afternoon services were inaugurated in a cottage on Sydney Road, Balgowlah. It is understood that the minister made the seats for the worshippers, using small packing cases on which planks were placed. Friends met in this building for about three years until a site was purchased in Condamine Street, and an unlined weatherboard building erected thereon. A Sunday school was immediately established, and commenced operations in October, 1910, Mr. John Porter being appointed superintendent, and a Mrs. Wright generously paid the cost of lining the building, thereby greatly enhancing its appearance and comfort. The Sunday school still continues to function in this building, which has been much enlarged, and a beautiful brick Church has been built in front of it towards the cost of which the Ladies' Church Aid handed over to the trustees the sum of £1,100, which they had accumulated through the years towards such a project.
The next area occupied was Mona Vale, services first being held in Booth's Hall, and a substantial brick building and kindergarten room were erected soon after.
The district of French's Forest came into prominence after the First World War, and Methodist services were started there in a private home in the middle of 1917, but in July of that year Rev. R. H. Campbell, acting-superintendent of the circuit while the Rev. H. C. Foreman was absent on chaplaincy duties, informed the quarterly meeting that a resident of French's Forest had given the Church one acre of land there on condition that a Church building would be erected on the site within twelve months, which was accordingly done.
Dee Why was the next place to be occupied, services being held at Mr. Broadbent's home towards the end of 1917. A block of land and weatherboard cottage thereon were purchased the following year, and the dividing walls of the building having been removed, it was converted into a small hall. The site proved unsatisfactory, and a corner block in Howard Avenue, the main road to the beach, was purchased, where a brick Church was erected, the old weatherboard hall being transferred to the rear of the new building. The price secured for the first site more than paid for the new one, and the transfer of the weatherboard building. The circuit was divided in 1923, and a new circuit, styled the Dee Why Circuit, was formed with a married minister in charge. It now has eight preaching places covering the area from Brookvale to Newport. The activities of the Manly Church had grown so much during the years that it was found impossible to carry on the work in the Raglan Street property, and proposals were made for a more suitable site. During the term of Rev. F. R. Swynny much preparatory work was carried on, and when he was followed by Rev- R. J. Thomas, plans for new premises rapidly developed until in December, 1924, the foundation stone of the present imposing and commodious Gilbert Park Church was laid, and the premises were dedicated and opened for worship on 20th June, 1925. On the division of the circuit Manly was left with the area Harbord to Seaforth, and since then a new cause has been commenced at Seaforth, where services started in a private home in 1928, and a school-church was erected in 1930. The latest place occupied was Harbord in 1929, when Sunday school and preaching services were conducted in the local School of Arts until 1936, when a substantial brick building was erected. This article has largely dealt with the increase in the number of centres served by our Church, but it is with pride and gratitude that we record that all through the sixty years of Christian service the blessing of Almighty God has rested on the labours of the ministers and members of the fellowship. The records of the circuit tell of frequent evangelistic campaigns, of open-air witness, and of efforts to bring the knowledge of the Gospel to the outsiders. (Continued on page 5)
Manly Circuit Diamond Jubilee (Continued from page 1) The circuit has a splendid record of devoted ministers who have inspired and led the people to earnest endeavour, and the response has ever been a willingness to follow their lead. An indication of the progress of Methodism in the Dee Why-Manly area is seen in the fact that sixty years ago, the- membership was reported as totalling twenty-five, with two preaching places apart from Gosford, while at the. present time it numbers one thousand and eighty-two (including child members), and twelve preaching places. We are humbly grateful for this advance, and trust with the Divine Blessing to take even fuller advantage of opportunities to spread the Gospel in the days that lie ahead. Manly Circuit Diamond Jubilee 1887-1947 (
1947, February 1
).
The Methodist
(Sydney, NSW : 1892 - 1954), p. 1. Retrieved from
http://nla.gov.au/nla.news-article155616886
Mona Vale Oddfellows Lodge
SURFER'S ATTEMPT AT RESCUE. TREACHEROUS BEACH.
The surf claimed another victim at Mona Vale beach on Saturday afternoon, when Dr. Charles Murray Woods, lately residing at Arnott House, Wynyard-square, was swept out by the current, and drowned in full view of his companions.
The deceased was 32 years of age, and a single man.
He was in the habit of visiting the spot on week-end trips, being the medical officer to the Oddfellows' Lodge at Mona Vale
. He entered the water in company with several others about 6 p.m., and, being a good swimmer, ventured well out into the breakers. Mona Vale beach is rarely used by visitors, and is considered at times to be treacherous at several places.
The doctor was seen by his companions suddenly to disappear under the water, and, on rising, signalled for assistance. A man named Lloyd, who was in the vicinity, attempted to render aid, but could not cross the swirling current that separated him from the struggling swimmer.
On the other side of the channel was a sandbank, and the unfortunate victim was washed against this, but all attempts to reach him failed, and Lloyd himself had to be taken out of the surf in an exhausted state.
The body was washed ashore some hours later, and was taken charge of by Constable Hewitt.
The deceased was widely respected in the district, and prior to settling down in Sydney he had travelled a good deal as medical officer in the P. and O. Company's steamers.
DOCTOR DROWNED. (
1911, November 13 - Monday
).
The Sydney Morning Herald
(NSW : 1842 - 1954), p. 9. Retrieved from
http://nla.gov.au/nla.news-article15288642
The funeral of the late Dr Charles Murray Woods took place at the Mona Vale Cemetery
yesterday afternoon. A large number of friends attended, including
several members of the Mona Vale Oddfellows' Lodge
, the secretary of the Grand Lodge, and
members of the Naval Reserve of which the late doctor was a member. The Oddfellows held a private service in the Rocklily Hotel, and a public one at the graveside,
where the Rev Mr Hill, of Manly, officiated. Wreaths wore sent from Arnott House, Wynyard-square, his late residence, from local lodges, and from the Naval Reserve. PERSONAL. (
1911, November 14
).
The Sydney Morning Herald
(NSW : 1842 - 1954), p. 8. Retrieved from
http://nla.gov.au/nla.news-article15288919
Mona Vale beach at this time:
WHERE TO SPEND THE WEEK END. MONA VALE
(BY MARCUS SUBURBUS.)
THE STORY OF BROCK'S FOLLY.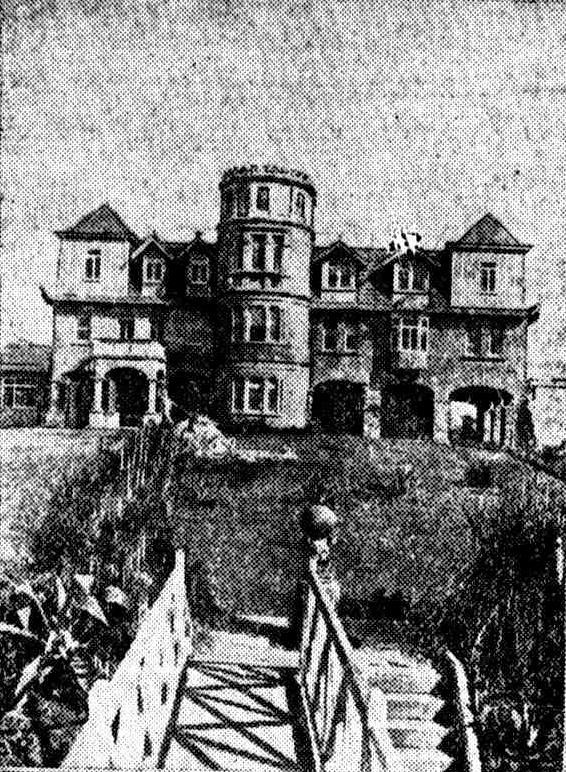 THE MONA VALE HYDRO.

Sydney Is indebted to the misdirected and inspired energy and enterprise of a man of whom, perhaps not one In five hundred knows anything at all for one of the most magnincent examples of palatial architecture that grace the outer circle of its environs. This beautiful and stately pile of buildings represents a great— a masterly— idea, which cost its unfortunate originator £25,000, and left him practically beggared. Sixteen or so years ago this man with an idea noted the great unclaimed swamp at 'Mona Vale— a stagnant lagoon, the only point in its favor being its proximity to a fine ocean beach, one of the many that enrich that much-favored stretch of coast from Manly up to Pittwater, and beyond. It occurred to him that if this useless blot upon the landscape could be drained an excellent seaside estate should result. And then the idea germinated. The unpromising-looking land was purchased for £600, and then the New South Wales Government was approached with the proposition that the buyer was prepared to spend £25,000 upon this site, providing a start was made upon the Pittwater tramway that had so long hovered mirage-like before the inhabitants of the district. .The Man with the Idea even offered to build the line' himself, should the Government withhold its hand, and called on the Minister for Works with a cash deposit of £10,000 to prove his sincerity. But the Government, apparently satisfied by these representations that the need of the district was pressing and genuine, promised to undertake the construction of the line a once. And the buyer, secure in the Government's promise, allowed his great idea to blossom instantly into the concrete expression of bricks and tiles and timber.
THE GREAT IDEA. And the idea was this: To build a huge village upon the drained lands of the estate, dominated by a magnificent clubhouse, and to sink £25,000 in the realisation of this immense scheme. To prove a financial success, access by tram to the estate was the one thing absolutely necessary. And this the Government had promised. The Man with the Idea set about the carrying out of his .purpose on a splendid scale. On the site he erected his own brickworks for the manufacture of the bricks and tiles: he bought a timber area at Erina Creek, on the Hawkesbury River, installed a timber mill and a planing machine as well, and so cut, freighted, and treated his own timber on the spot. He worked his own quarry, drawing from it all the needful stone, drained the swamp, obtained a regular water supply by the construction of a great brick and cement tank,' 20Ct. wide and 14ft. deep, and Installed a complete sewerage system. And all the while the promised tram was creeping out from Manly, slowly but surely. By the time it had reached Curl Curl, 12 months after its start, the walls of a mansion, or rather of a group of mansions, at Mona Vale were roof high, and the great idea was flowering in wood and stone and brick towards completion and perfection. The sum of £10,000 had already been sunk in initial expenses, and a further £15,000 borrowed to complete the work, and that work promised to be indeed a "thing of 'beauty and a joy forever." Forever, for the floors of the main building were built on a layer of concrete covered with a layer of bitumen and sawdust, upon which were laid 5000 hardwood sleepers, , and upon them another layer of sawdust and bitumen, and then the parquet flooring— a foundation impervious to white ants, and for all practical purposes everlasting. A hundred carpenters were at work, as well as a great host of other mechanics, and the loud ringing music of labor, which is the voice of progress, echoed and re-echoed' throughout Mona Vale. And the setting of the picture was as beautiful as the immense building rising under trowel and mallet and hammer. In the foreground two crescent-curves of hard, fine, sand, fronting the sea; beautiful green seaward sloping lands, and green embracing' bills. Meanwhile the grounds about the mansion were being decorated with statues and playing fountains, and among other costly and artistic fittings a great majolica mantel, that had originally cost £720, was In stalled in the entrance ball of the palatial place.. It was plain that the Man with the Idea had invested more than his mere capital In this sumptuous scheme. Something must have stirred in him that was akin to the emotions of all great builders, from Solomon of old and Darius the Persian, down to Christopher Wren and the designer of the flatiron building in New York. And Mona Vale on the New South Wales coast was in touch with the same spirit that reared the pyramids and built the Hanging Gardens of Babylon.
THE FATE OF THE SCHEME. And it Is just here In the story that the fateful tram stopped. It had reached Curl Curl, one mile out from Manly, and there "it stayed, just 10 miles short of Mona Vale, and its waiting palace. Perhaps the authorities judged that a pleasant ten-mile tramp, bag in band, would be just the thing for intending guests, considering the invigorating air of the locality. Perhaps not. Anyhow, the mortgagors who had loaned their £15,000 in expectation of a tramline that would go a good deal further than Curl Curl Lagoon began to look dubious. Then, "at this psycho logical moment," as the novelists say, the Government that had guaranteed the tram bore tragic testimony to the instability of all human institutions, by going the way of all flesh. In short, it went out of office, and its tramline promise passed into the limbo of forgotten things, together with a variety of other departmental lumber. Matters began to look exceedingly serious. The £25,003 was gone, and although £S300 had been paid off the borrowed £15,000, a balance of GOOO, which Included Interest, re mained, and there was no Immediate prospect of the property returning it. But the Man with the Idea was not wholly beaten yet: Surmising that perhaps if a ready-made population were provided first, the tardy tram might reasonably be expected to follow them, he determined to sacrifice practically the whole of the area, including the recreation reserve, and the grounds surrounding the house, to pay the balance of the mortgage. The site had been actually surveyed for subdivision, when the wheel of his enterprise was effectually spiked again. The shire refused to approve of the plan until £1500 was deposited for the construction of the streets, and so, operations were again brought to a stand still. At this point the unfortunate successor of Darius, Barneses', and Christopher Wren was informed that the Government wished to purchase the entire property as it stood, and desired to know his price. ' He named the comparatively utterly insignificant sum of £7500, explaining that he needed £6500 to pay off the mortgagors, and £1000 to wipe off money owing for material supplied. He did not ask for one Sixpence for himself; only for sufficient to clear him of his obligations. He had failed, losing everything; but he wished to face the world with a clean sheet. However, the Government's emissary, after hearing the story, went to the mortgagors to negotiate. Naturally all they asked for was their £6500, and the Government, falling in with this request, took over the entire concern for that sum. So the Man with the Idea was turned adrift with £1000 worth of debts upon his shoulders, and not a penny saved from the wreck: while his £25,000 palace had been sold for £6500 Such is the story of Brock's Mansion at Mona Vale, and surely the misfortune of the unlucky builder from whom it takes its name is almost unique.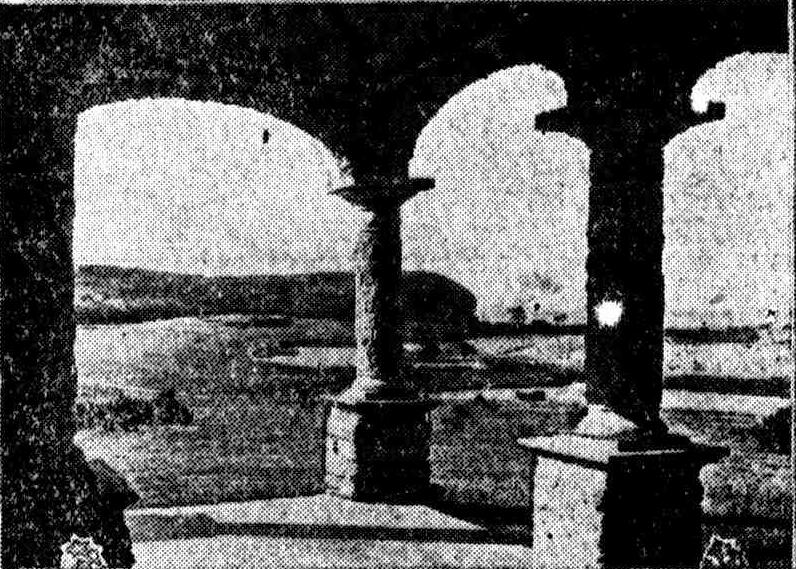 BROCK'S ESTATE FROM THE HYDRO.

BROCK'S ESTATE TO BE SOLD.
The sequel to the story of what has come to be known as "Brock's' Folly" promises to be good reading. It will doubtless prove a tale of pioneering such as all Australians delight in. There is every' Indication that In a few years the magnificent estate which was intended for the mansion grounds will become the scene of one of the most beautiful seaside settlements in the State. Mona Vale might have been designed by Nature as a resort of rest and delicious peace. Brock's Estate fronts two horseshoe-shaped beaches of hard yellow sand, on which the surf breaks soothingly, for the formation of the beaches provides splendid shelter against the occasional fierceness of the ocean's ebb and flow. 'Surf-bathing may therefore be indulged in with the greatest possible safety. All the pleasures of surfing arc to be gained there without any of Its discomforts. The coastline thus shaped is extremely pretty. Far away to Barranjoey is a succession of delightful little bays, forming; a- seascape' of quiet beauty.
SEASHORE JEWELS. ; The magnificent coastline that encompasses the Hole in the Wall, The Cave and Little Head is only just beginning to be known and appreciated. Between the Brock Estate and Manly the coast is better known, and is as picturesque as anywhere around -the continent. About three miles to the south are the Narrabeen Lakes fronted by that long stretch of beach that has made Narrabeen such a famous resort. Farther south still are Long Reef, Deewhy, Fresh water, and Curl Curl. The entire coastline, therefore, for miles in each direction forms a rich necklace of seashore jewels that grow in value as years go on. It will be very surprising if the whole of the 18 miles of coast between Manly and Barrenjoey does not attract a large population and become a famous pleasure zone.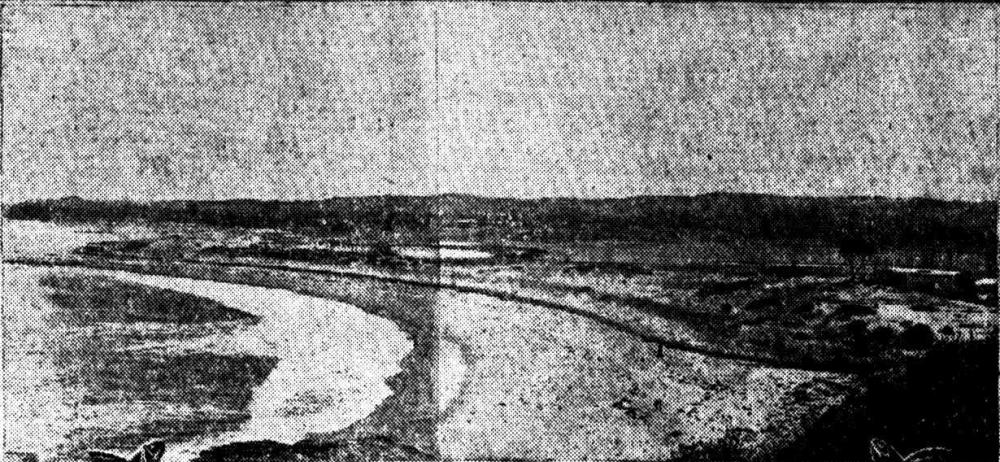 THE BEACH FRONTING BROCK'S ESTATE.

MAGNIFICENT LANDSCAPES. Some of the landscapes surrounding this Brock Estate would be worthy 'subjects for the brush of a Turner or a Corot. As one approaches it from the Newport-road, for in stance, an entrancing view is met with, the road winding prettily through undulating country, magnificently timbered and clad- with wild flowers. The property itself lies in a hollow of a cup like appearance, and on every side save the east it is protected by glorious hills. One can therefore enjoy all the benefits of the sea, air without the discomforts of the gales. The large fortune spent originally on this estate has made it a model site for fine homes. What Mr. Brock left undone Mr. Arthur Rickard has accomplished, and I see that next Anniversary Day that enterprising gentleman will offer those fine allotments to the public. Truly, they are very tempting morsels of the earth's surface, and especially so because the estate is splendidly subdivided and good wide streets, made throughout. The allotments are exceptionally large, and as the soil is excellent, the week-ender who purchases one of them may have a perfect orgie of flower and fruit-growing. If example goes for anything this estate should be the scene of some beautiful homos in the near future, for not only the mansion but several adjacent buildings have set a high architectural standard. 'Since Pott Pointing, has given way to week-ending It is quite likely that palatial residences will adorn this spot, especially as there Is no other land with ocean frontages for sale near there.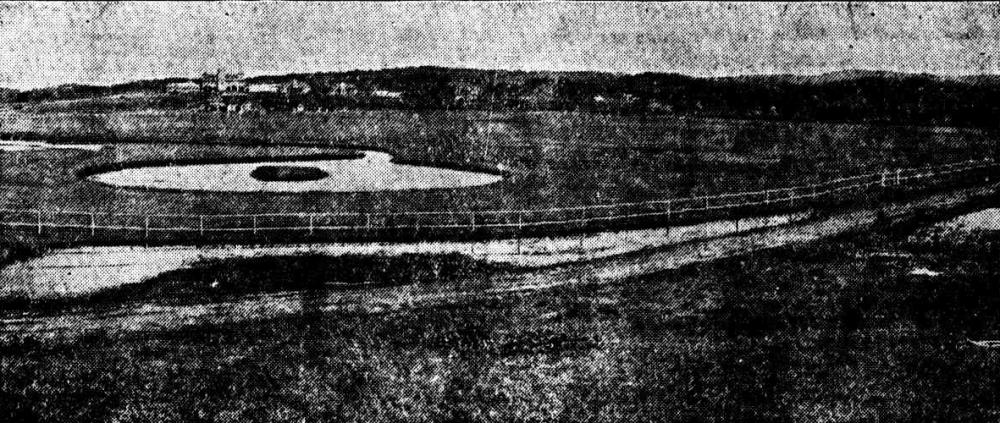 A SECTION OF BROCK'S ESTATE.

A GOOD INVESTMENT. The only need for the development of this fine area of country Is the tram, but the Newport extension may be regarded as a certainty and only a matter of time. The surveyed route, I am Informed, is along the road which fronts Brock's Estate. Although no definite promise has been given, it is generally understood that the tramline will shortly be proceeded with. When this is accomplished the estate will be within a comparatively short tram ride of Manly, and therefore within easy reach of the city. In these days of rapid transit and, a growing inclination, to plant homes in broad spaces, Mona Vale need not be considered too distant. The trip all the way from the city is such a glorious one that the travel-loving Sydney man will doubtless regard the distance as more of an advantage than otherwise. As an Investment, of course, property In this locality is a particularly good thing at present, for when the work on the tramline does start values are bound to take a leap 'upwards, and - there is no likelihood of them ever coming down again. Week-end holiday makers would do well to wait for Anniversary Day, as there might be a chance of getting in on this excellent proposition at bargain prices.
THE MANSION AS A HYDRO. On Thursday, last Brock's Mansion came Into its own when It was opened by Mrs.- Arthur Griffith, wife of the Minister for Public Works, as a hydro. At the invitation of Mr. Arthur Rickard (lessor) and Mr.' F. W. Fox (lessee) a large number of people attended, and the ceremony, which has already been reported in "The Sun", was a complete success. No better idea could have been conceived than to convert this magnificent building into a hydro. Mr. F. W. Fox, who is a well-known gentleman, and has been long and honorably identified with city business life, and his good lady, Mrs. Foy (who has large and fashionable guest establishments at Neutral Bay), are to be complimented upon their enterprise in undertaking this venture, and deserve every possible success. For several years past, and particularly since surf-bathing became popular, the need has been felt of a really first-class accommodation house near the seashore. The hotels and boarding-houses at the beaches have proved, inadequate to accommodate, in the best style the great and growing number of families who desire to spend their summer vacation at the seaside. Taking a furnished cottage is the only other, alternative, and this has decided disadvantages. In the first place, the majority of people cannot afford a sufficiently long vacation to make it worth while. Again, the responsibility of house keeping greatly detracts from the pleasure of a holiday. Is it any wonder then that the question is asked again and again: "Where is there a really first-class place to stay, at the sea side, where one may enjoy every comfort and have absolute peace and quiet— a place equal to the resorts of Europe and America?" We now have the answer: in the Mona Vale Hydro. The building alone is a source of never-ending delight. It is as the pictures denote, a palatial structure, and an architectural triumph. The decorations, both externally and Internally, are extremely artistic, and a constant pleasure to the eye. This octagonal building is constructed of brick and wood. The upper portion contains a ballroom 42 x 42, with a specially-constructed floor. The main entrance hall is lavish, and the mansion contains, all beautifully designed, a -billiard-room, ladies' lounge, promenade roof, smoke-room, ballroom, and theatre. The dining hall, which, is about 36'x 72 feet, is very large, and Imposing. The sights of the building alone should prove a continual joy to those who are fortunate enough to secure apartments there. It is quite a pleasure to roam around the mansion with its great staircases, its stained glass windows, its huge columns, Its beautiful mantels, and the general ornateness of its spacious rooms. There are 25 bedrooms and six bathrooms in the main building, though there are adjacent cottages where there is more accommodation. One of these, for example, is extremely handsome with its tiled roof and its large crescent-shaped tiled verandah with bay windows on each side. The front door of this villa gives entrance to a very large reception room, and attached to the premises there is a studio and music saloon, built of brick, with large lead-light, windows and wood-panelled ceilings. Both from, the Mansion and the adjoining buildings glorious views are to be obtained. For miles the coast, broken into enchanting bays and coves, yields a panorama of great beauty, and the charming undulating character of the back country reveals some exquisite landscapes. Here, then, is delicious peacefulness and rest with nature smiling all around one. Everything has been done by Mr. Fox to ensure the comfort of his guests. He has arranged a cuisine of the highest standard; hot and cold baths are to be obtained in plenty; every room is handsomely furnished; there is a large motor garage and accessories.
The hydro is particularly well suited to business men who desire to get away from the city for a few weeks and recuperate their physical and mental faculties, or for country people who need a change at the seaside. No better place than this could be found for the enjoyment of all healthy natural pleasures. What was intended as a racecourse and polo ground now makes ideal golf links, and devotees of this sport could not be better provided for.
As already pointed out, surf-bathing may be enjoyed with every degree of comfort and safety. There are also facilities for tennis and cricket, and plenty of good fishing may be obtained. The hydro is, therefore, not only a magnificent structure sumptuously furnished— it is the home site of all those pleasures that do most to make life worth living. A convenient motor service to and from Manly has been established, and the business man who must attend the city daily is thoroughly provided for in the time-table. For the benefit of the touring -motorist; equestrians, and others, Mr. Fox has arranged to cater for lunches, dinners, and afternoon teas, and can provide for parties or picnics of any description by previous notice.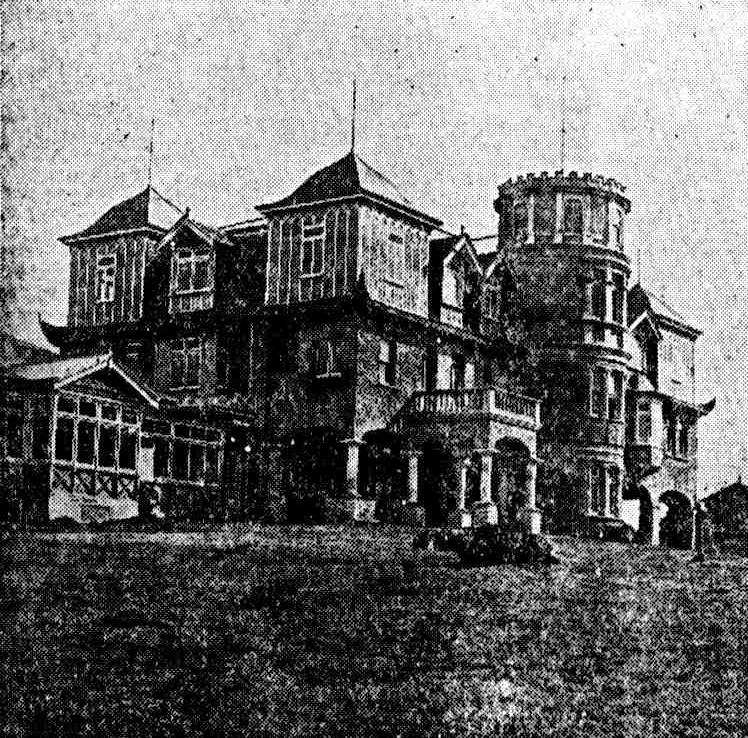 ANOTHER VIEW OF THE HYDRO.
WHERE TO SPEND THE WEEK END. (1910, December 25). The Sun : Sunday Edition (Sydney, NSW : 1910), p. 11. Retrieved from http://nla.gov.au/nla.news-article231015197
The Oddfellows' Hall, Manly.
Saturday last, March 8, was a red-letter day in the annals of Oddfellowship at Manly, it being the occasion of the opening of this new hall, built by the Native Rose Lodge. The building was only started some six months ago, and the lodge are to be congratulated on the success which has attended their efforts. On the arrival of the afternoon boat from Sydney, which brought a number of brethren from other lodges, a procession was formed, and, headed by the very nice band belonging to the Manly Fire Brigade, under the leadership of the bandmaster, Mr. Hedges, marched through the principal streets to the hall. The usual ceremony, in accordance with the rites of the Manchester Unity Order of Oddfellows, was then performed by the officers and brethren of the craft from the various lodges in Sydney. Mr. A. Hilder, Mayor of Manly, was in the chair, andspoke in glowing terms of the progress of the" Brighton of Australia."
Speeches were also made by P.G.M. Sutton, P.C.S. J. Gelding, G. M. Pitt, Esq., and the Rev. R. S. Willis. On the platform were also Messrs. T. Rowe, G. A. Murray, G. W. Barker, J. B. Smithers, J. T. Smith, E. Hayes, Rev. T. Olley. The architect of the building was Mr. Percival C. R. Rowe, and the contractors Messrs. Eaton Brothers. The trustees of the hall, Past Grands, W. Johnson, W. Murray, and J. Humphrey, deserve great credit for their energy in the matter of the building. The Native Rose Lodge was started there about four years ago, and at present theirs is the only public room available in Manly. The visitors returned to town in the evening, highly pleased with their afternoon's outing. Queen Victoria may be held personally liable for a share of the losses of the Glasgow Bank failure. A woman died recently in England who held a good deal of the stock. Having no heirs, her property went to the Crown, and now the bank's lawyers hold that the Queen is personally liable, so far as that stock is concerned. The Oddfellows' Hall, Manly. (1879, March 11). Evening News(Sydney, NSW : 1869 - 1931), p. 4. Retrieved from http://nla.gov.au/nla.news-article107152589
ODDFELLOWS' HALL for MANLY.
The signs of progress that Manly has recently shown were rendered still more apparent yesterday, when the foundation-stone of a new Oddfellows' hall was laid there by the Hon. John Sutherland, Minister of Works. The proceedings of the day were commenced by a procession, which was formed close to the beach, and marched with the banners of the order to the ceremonial scene. Besides the brethren of the Native Rose Lodge, who have undertaken the construction of the building in question, the following members of the Grand Lodge of the Manchester Unity of Oddfellows were also present, andtook part in the procession, viz. :- P.G. Kettle, P.G. Hinchey, P.G. Chapman, D.G.M. Smith, P.S. Lutton, G.S. Gelding, and P.G. Scofield. The Hon. George Thornton, Mr. George Rowe, the mayor of Manly, and Aldermen Hayes and Peters were likewise present.
A brief description of the hall will here be opportune. It is simple in arrangement, with an entrance porch leading into a spacious entrance hall. On either side are two lodge rooms, 14 feet by 10 feet 9 indies. Proceeding on is the large hall, with an arch entrance. The hall is 51 feet long, clear of the stage, by 29 feet-wide, and is lighted from the sides by semi-headed couplet windows. At the end of the hall is a spacious stage, entered from the floor of the hall by steps, and likewise at the back from a dressing-room. Underneath the stage the space is utilised as a store and lumber room. The roof of the hall is formed of four pair of principals, and lined with alternate boarding of cedar and pine.The walls inside are plastered, with the exception of a space of 4 feet all round the building, under windows, which is cemented with scratch bead dividing the plaster from the cement. The end where the stage is situated will be relieved with a slight decoration of stencil patterns. The inside altogether will rank as one of the neatest and most commodious of any of the suburban halls belonging to the body. The front is of stone chiselled, built in foot courses, with a bold entrance porch. The front is nicely broken and balanced, with long couplet semi-headed windows, with projecting bands around the same. On either angle of the front are panelled and moulded piers, surmounting which is a bold moulded cornice or entablature, with moulded panelled freize. The top or centre is marked by the central portion rising in the form of a pediment,which is also panelled and moulded. The sides are built of brick, are divided into bays by piers, with semi-headed couplet windows, and will present a uniform and pleasing aspect. When completed the building will add much to the architectural appearance of Manly Beach, and speaks well for the rapid advancement of the place. The contractors for the building are Messrs. Eaton, Brothers, of North Shore ; and the architect is Mr. Percival C. R. Rowe, the son of one of the leading architects of our city.
Everything having been got ready, and the large assemblage of ladies and gentlemen present having formed themselves into a circle around the stone,
Mr. THOMAS ROWE addressed the spectators. He said he had been requested to present the Hon. John Sutherland with the necessary tools for performing the very important work he had to do, and he entered upon it with a great deal of pleasure. The articles he had to present were the mallet and trowel, the latter of which bore a suitable inscription.He felt great pleasure in welcoming their friend to this beautiful district. He had pleasure as well because of his connection with the Municipal Council as with the Native Rose Lodge of Oddfellows. During the last twenty months miles of streets and thousands of yards of kerbing had been formed, and it would be admitted on all hands that Manly was progressing. They had a Minister present amongst them, and he doubtless would see how desirable it was that municipal bodies should be assisted. The Oddfellowswho were building this hall only numbered thirty subscribing members, and had only been four years in existence, and this was the result - this hall - of their four years' labour. He trusted, in conclusion, that the Native Rose Lodge would continue their charitable deeds, and that they would progress and flourish. (Applause.)
Mr. SUTHERLAND then, in the customary way, placed a bottle containing the colonial newspapers, several documents connected with the order, and one or two coins in the stone, and having seen that it was squared, and having tested it with the mallet presented to him, he said : " In the name of the Great Architect of the Universe, and in the presence of this company, I declare this stone to be truly and solidly laid." (Loud cheering.) From the top of the newly laid stone he then addressed those assembled. They would not he said expect him to say much; indeed he could not from the state of his health. Had he not had a strong feeling towards the order he would not have been present at all. He desired before saying anything regarding the order
to thank the mayor of Manly for the presentation that had been made to him for the purpose of laying this stone. He trusted that the hall, of which he had just laid the foundation stone, would be a memorial of great benefit to the people generally. The society in connection with which this stone had been laid had branches in almost every town in this colony. By the paper that had been put into his hands, he was informed that on the 10th September, 1864, the foundation stone of a new Oddfellows'Hall was laid at Balmain ; and that on the 14th October,1867, a foundation stone of St. John's Lodge, at New-town, was laid by himself, and was now one of the most prosperous lodges in New South Wales.He hoped that this lodge would soon be able to say not only that they had numbers, but that they had funds and respectability equal to that lodge. On the 13th of March, 1870, he laid the foundation stone of the present Oddfellows' Hall, which, when completed, was one of the best buildings in that portion of the city of Sydney ; and on the24th of May, 1877, the foundation stone of a new Oddfellows' Hall was laid at Ashfield by Mr. Pope. Since 1872 he did not see that they had done anything in the way of building halls for the benefit of the members of the society, and not for the benefit of the members of the society only, but for the benefit of the community generally. He had been informed that this society at present in New South Wales numbered no less than 8000 members, and belonging to those 8000 members there was a capital of £58,589, and last year the subscriptions amounted to £16,500. He asked those who sat around, and those who wished to pry into the affairs of this society, to consider what benefits this society were conferring on the public in one twelve months. Sup-pose they were put on a par with the other charitable institutions, what amount would they have to receive from the State ? That was a question that every one interested in the distribution of the public money would yet have to look to.The charitable institutions of this colony were coming to be very expensive, and it was only by such combinations of men as the Oddfellows for the purpose of relieving one another in sickness and distress - it was only by the united efforts of such men that the State was relieved of a large amount of pauperism that must have been thrown upon it,Not only, too, was it the prevention of pauperism,but they taught men to be independent. They believed that every man who had his health should earn his daily bread by his own toil. They wanted men to learn to depend on themselves, to know that they should not be given crutches, but should stand on their own limbs. This lodge which had only been four years in existence, and numbered only 30 members, had undertaken this hall. There was an example for his worship the Mayor, for there was not even a town hall at Manly yet. He supposed they were all working men for working men constituted the great body of Oddfellows. Here were these 30 men building a hall,and his worship the Mayor who had the central of all the property in Manly, had not made a commencement with a town hall yet. He hoped the next time he came down he would come to assist in laying the foundation-stone of a town-hall for Manly. The place was worthy of it, and the Mayor was worthy of laying it. He would now say a few words to those who were not members of this society,and to those young men who had not joined any of these societies. In societies of these kinds, where halls were built,men met together without interfering with each others prejudices.
They were a fraternity whose broad foundation was universal brotherhood, which opened the doors of relief and sympathy to all, which taught the secret and sublime sentiments of friendship and love, and clothed their adherents with the dignity of truth, and which was owned by heaven, and conferred incalculable advantages on man. Let them then be true to their professions. Let their walk and conversation in life be such that the world should be compelled to acknowledge the sublime theory they taught. Thus they would live in the enjoyment of the consciousness of having performed their duty to their Maker and fellow-men ; and when the time came for them to leave this earth and join the vast brotherhood beyond it they would be able to look back on a life well spent, and be prepared to meet him who had taught them that love for their brethren here was a duty incumbent on the children of their Heavenly Father. In this society he had always felt a deep interest, because he had seen its usefulness, and had been a member of it for over forty years. He had never received a penny of its money, and he thanked God he never needed it. It should be the duty of all true Oddfellows to consider not what they should receive, but what they can confer on others. He would ask them to follow him in these few lines :-
" Let others tread the thorny paths of fame,
And earn by strife or politics a name ; Be ours the ways of pleasantness and peace -
Be ours the task to bid distress to cease,To cheer the hours of poverty and pain,
To hear no voice ask for our aid in vain, To take the anguish from the parting groan,To hush the widow's low despairing moan,
To glad the orphan's young and guileless heart,And generous feelings cause in all to start.
Tho' odd our name - tho' wrapt in mystery's shroud,Our acts - our deeds - shall speak for us aloud;By them alone we seek to stand or fall,We hold the had of Fellowship to all, -
Could but the world our secret actions see, Mankind one mighty Brotherhood would be "
Mr. Sutherland concluded amidst loud cheering. Mr. SCOFIELD, P.G., in a short address in which he alluded to the many charitable acts done by the Manchester Unity, presented P.G. W. Johnston with a handsome watch in recognition of his services to the lodge.
Mr. JOHNSTON responded in fitting term's. An adjournment was then made to the pavilion, where refreshments were partaken of, and in the evening the festivities were continued by a concert. ODDFELLOWS' HALL for MANLY. (1878, September 27). The Sydney Morning Herald (NSW : 1842 - 1954), p. 6. Retrieved from http://nla.gov.au/nla.news-article13419467
NEW ODDFELLOWS' HALL, MANLY, NEAR SYDNEY.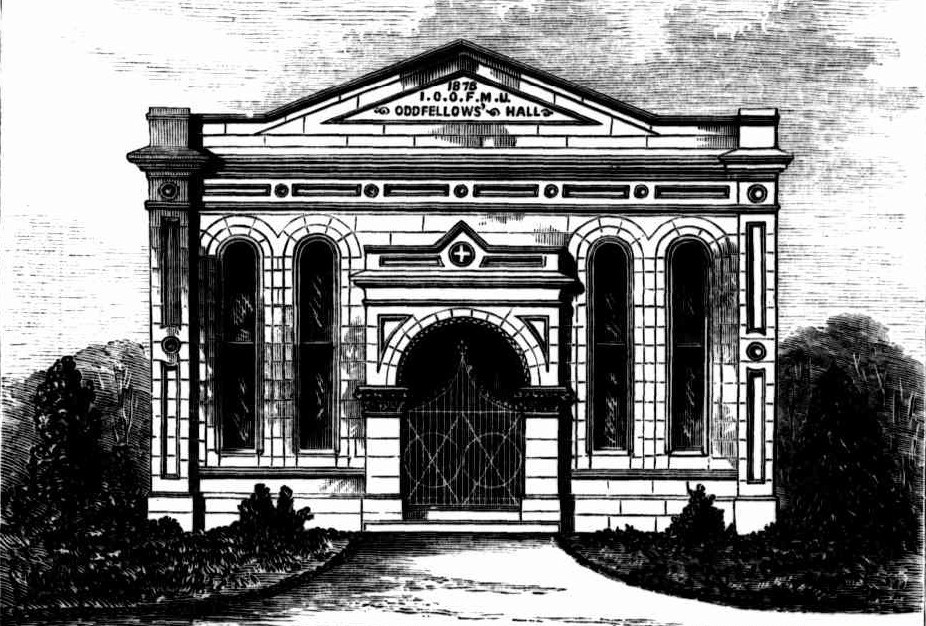 The new hall is simple but appropriate in arrangement.There is in the design of the architect, Mr. Percival C. R.Rowe, an entrance porch leading into a spacious entrance hall,flanked on either side by two lodge-rooms, 14ft by 10ft 9in in dimensions. There is then an arched entrance to the large hall, clear of the stage, 51ft long, with a width of 29ft,lighted from the sides by semi-headed couplet windows. A spacious stage will be erected at the end of the hall, access to which will be by steps from the hall floor, and also by the back from a dressing-room. The space underneath the stage will be utilised as a property-room. The roof of the hall is formed of four pair of principals, lined with alternate boarding of cedar and pine. The walls inside will be plastered, with the exception of a space of 4ft all round the building, under windows, which will be cemented with scratch bead dividing the plaster from the cement. The end where the stage is situated will be relieved with stencil patterns. The front is of stone chisselled, built in foot courses, with a bold entrance porch, and is nicely broken and balanced, with long couplet semi-headed windows, with projecting bands around the same. On either side of the front are panelled and moulded piers, surmounting which is a bold moulded cornice or entablature, with moulded panelled frieze. The top or centre is marked by the central portion rising in the form of a pediment, which is also panelled and moulded. The sides are built of brick, and are divided into bays by piers with semi-headed couplet windows, and will present a uniform and pleasing aspect, while the interior will rank as one of the neatest and most commodious of any of the numerous suburban halls around Sydney. The contractors for the building are Messrs. Eaton Brothers, of North Shore,and it is likely the edifice will be available for lodge purposes, &c., in a very short period. Illustration of Building. New Oddfellows'Hall at Manly. (1878, October 5). Australian Town and Country Journal (NSW : 1870 - 1907), p. 25. Retrieved from http://nla.gov.au/nla.news-article70595504
ODDFELLOWS' WAR MEMORIAL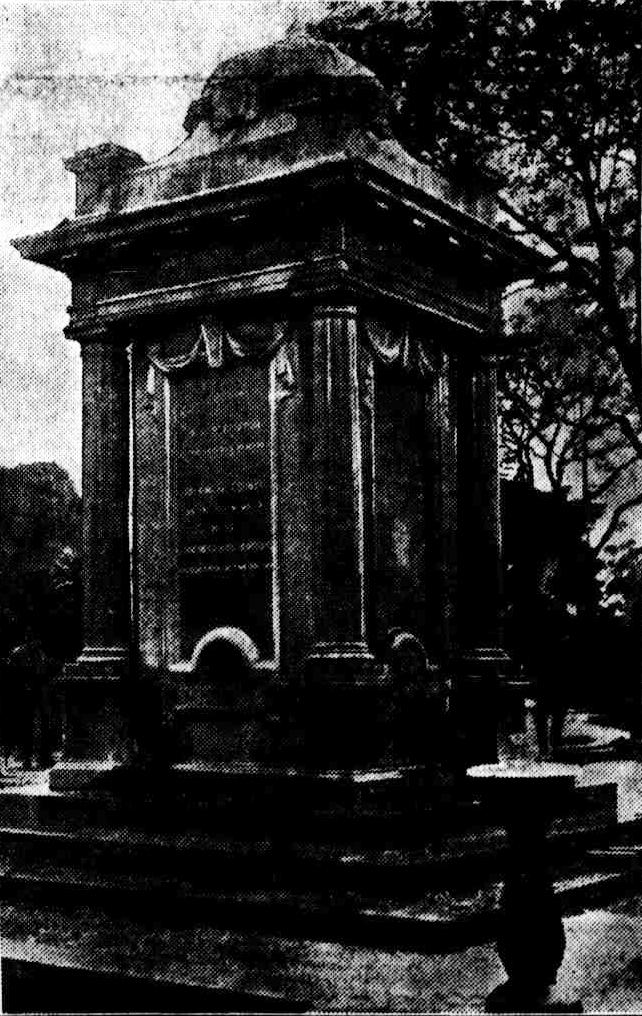 Memorial drinking fountain in Hyde Park, at the corner of Park-street and Elizabeth-street, which has been erected by the Grand United Order ofOddfellows to the honor of members who fell in the war. ODDFELLOWS' WAR MEMORIAL (1921, May 11). The Sun (Sydney, NSW : 1910 - 1954), p. 1 (FINAL EXTRA). Retrieved from http://nla.gov.au/nla.news-article221475120
A Few Earlier And Other Memorial Fountains:
Unveiling a Memorial Fountain.
The official unveiling of the memorial fountain, erected by the residents of Willoughby to the memory of those volunteers from the district who lost their lives while on active service in South Africa, was performed on Sunday afternoon by the State Minister for Defence (Mr. John See) in the Chatswood Park.
The ceremony was accompanied by much military display and popular enthusiasm. The attendance at the church parade in Chatswood Park, apart from the military, was a large one, and the scene presented was brilliant and animated. Special military trains were despatched from Milson's Point, and the troops upon arrival formed up outside the Chatswood Station by regiment* under the command of the senior officers present. The troops taking part in the parade were : — A detachment, 50 strong, representing the Imperial Draft Contingent, under the command of Captain Neseigb, who had with him Acting Lieutenants D'Arcy, Cameron, and Breckenridge ; Scottish Rifles, 100 strong, under the command of Lieutenant Ross and Lieutenant M'Kenzie ; the 6th Regiment, 250 strong, under the command of Captain Cook, who had with him Lieutenants Hughes, M'Kye, Jenkius, Dowell, and Scott ; the National Guard, under the command of Lieutenant M'Donild; the 7th Regiment (St. George's Rifles). 300 strong, under the command of Captain Crane, who had with him Lieutenants Davis Walsh, Watt, Shears, Kirkland, and Walker ; Civil Service Corps of Infantry, 62 strong, under Lieutenants Hannah, Norrie, and Rawney; a detachment of Mounted Rifles (Canterbury Half -squadron), under Captain Campbell, assisted by Lieutenants M'Kellar and Henderson ; a detachment of the Australian Horse under Lieutenant Vaughan ; a detachment of Lancers under the command of Lieutenant Timothy ; a small detachment of the 8th Regiment under Sergeant Egan: the Mounted Cadets, &c. The bands of the R. A.A. and the 6th Regiment were also in attendance. The whole of the troops, headed by the bands, marched to the park by way of Archer and Orchard streets, and upon arrival formed up in front of the dais erected close to the memorial fountain, which was enveloped in the Union Jack and Australian Ensign. Amongst the members of the general staff present on the platform were Major- General French, G.O.C., Colonel Markenzie, Captain Dangar, A.A.G., Captain King (Engineers), and Captain Lamb (R.A.A.). There were also on the platform Mr. John See (State Minister for Defence), Messrs. Duguld Thomson, G. Howarth, E. M. Clark, and A. D. Nelson, Ms.L.A., Aldermau F. S. Willis (Mayor of Willoughby), the members of the committee, Alderman C. Leplastrier (hon, treasurer), Messrs. T. Hawkins and R. T. Forsyth (joint secretaries), Major Gilchrist, and others. The church parade was under the direction of Major Cropley (7th Regiment), and the service was conducted by the Rev. Wallace Mort (senior chaplain to the New South Wales military Forces). Proceedings were opened by the Mayor of Willoughby, who presided, and briefly referred to the history of the memorial, which had been erected at a cost of upwards of £80. Towards that cum a substantial amount had already been subscribed, which he hoped would be liberally augmented, if not entirely contributed, by the collection to be made that day, to gather with sufficient to defray the costs of any further inscriptions. The memorial fountain, standing in a conspicuous portion of the park, is of white marble and of attractive design- One the one side is the inscription, -' This fountain was erected by the people of Willoughby in memory of those local volunteers who lost their lives in the service of the Empire during the South African War, 1899-1901.
MEMORIAL FOUNTAIN IN THE CHATSWOOD PARK. Erected by the people of Willoughby in memory of those local volunteers who lost their lives in the service of the Empire during the South African War, 1899-1901.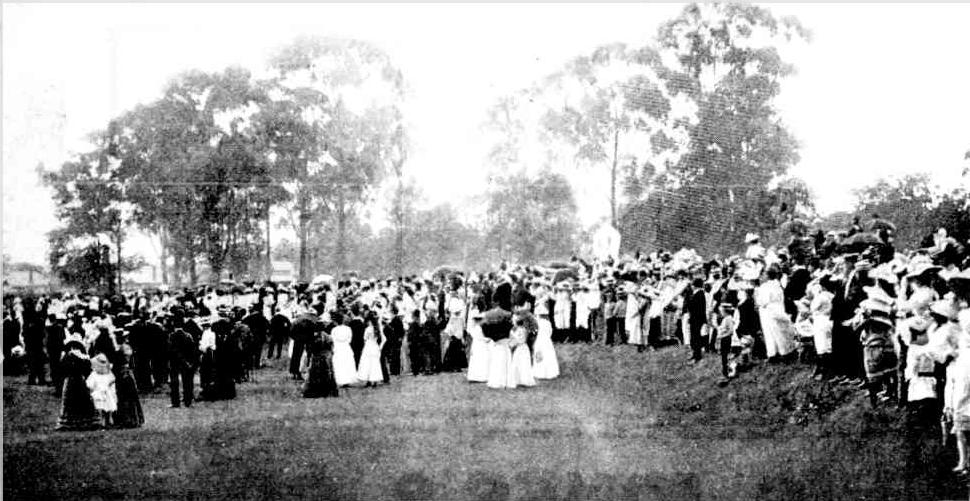 UNVEILING THE MEMORIAL FOUNTAIN, CHATSWOOD PARK, MARCH 10. VARNEY PARKES. Unveiling a Memorial Fountain. (1901, March 16).The Sydney Mail and New South Wales Advertiser (NSW : 1871 - 1912), p. 668. Retrieved from http://nla.gov.au/nla.news-article165292684
Tamworth Memorial Fountain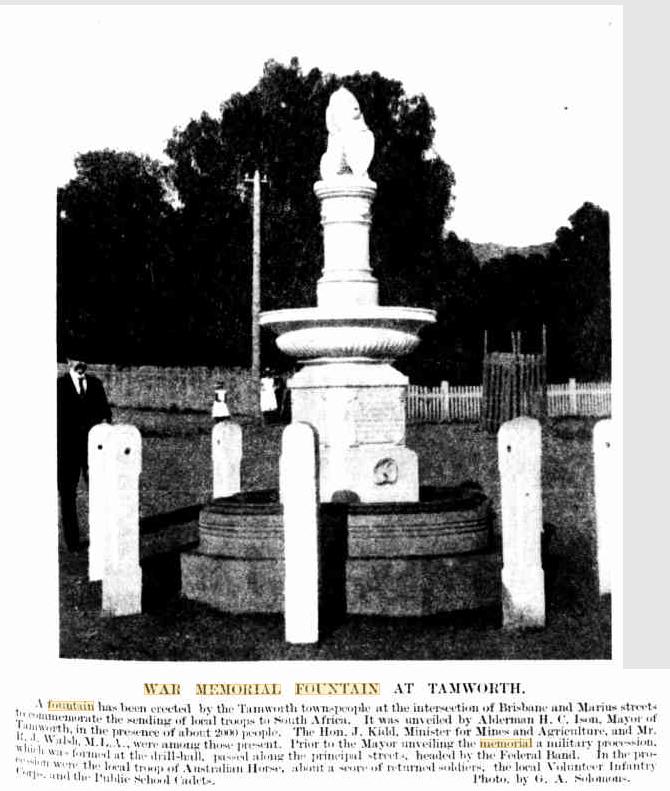 A New Luminous Fountain. (1901, October 26). The Sydney Mail and New South Wales Advertiser (NSW : 1871 - 1912), p. 1049. Retrieved fromhttp://nla.gov.au/nla.news-article165232470

OSWALD WATT MEMORIAL AND OTHER TOPICS
On Anzac Day, in the presence of a large gathering, including the joint commit lees of the Church of England Homes and Hostels for Children, Mrs. Ernest Watt, sister-in-law of the late Colonel Oswald Walt, the famous airman, laid the foundation of a building, to be called the Oswald Watt Wing in extension- of the Havilah Home. Prior to the ceremony a short dedicator service was conducted by Archdeacon. D'Arcy Irvine and Rev. Stephen Taylor, rector of the local parish. The addition will provide for three additional dormitories, two day nurseries, accommodation fur the extra nurses, and a stall dining-room.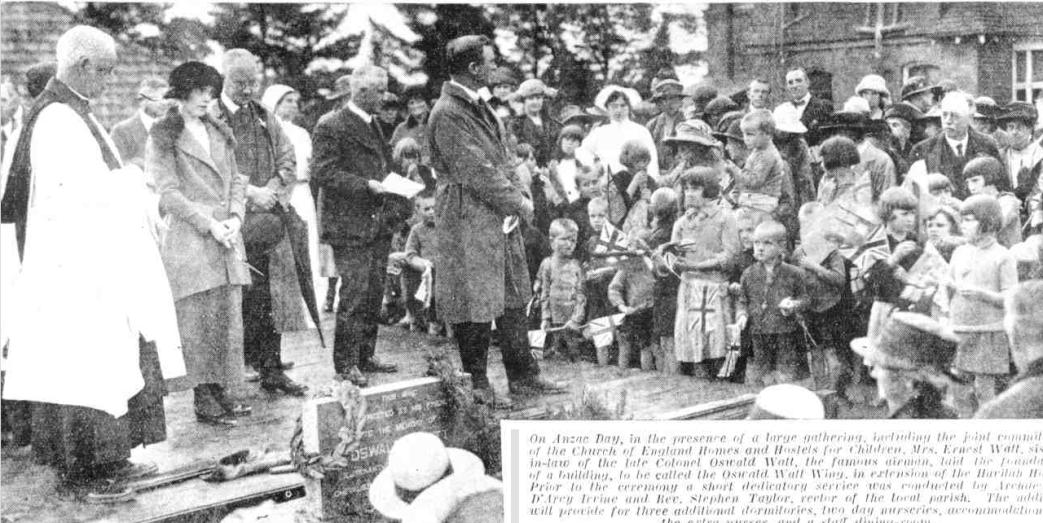 MR. ERNEST WATT ADDRESSING THE GATHERING AT THE HAVILAH HOME, WAHROONGA, ON ANZAC DAY. On the left of the picture Is Archdeacon D'Arcy Irvine, beside whom is Mrs. Ernest Watt, who laid the foundation-stone of the addition.
AT the laying of the foundation stone of the Oswald Watt Wing of the Havihih Home, Wahroonga, Archdeacon D'Arcy Irvine said that, the home had been erected in 1920 for its present purpose, and he desired to congratulate all which had attended its efforts. It was appropriate that this wing should have been dedicated to this distinguished aviator, into whose 44 years had been crowded such wonderful achievements, and whose life and character were calculated to be an inspiration to coming generations. Dr. Clarence Read said his audience must be impressed by the ocular demonstration of the manner in which the mental, moral, and physical welfare of the Havilah Home children had been promoted., They must, have money to continue the good work, and there could not be a better investment than to buy bricks for the new home. They needed another £1000. THE Glebe war monument, unveiled by the Governor-General on Anzac Day, is in the form of a cenotaph shrine, covering an area of 22ft by 19ft, and rising to a height of 35ft above the footway. At the two front corners of the base, the steps of which are of blue freestone are blocks of axed, polished, and chased red granite, supporting ornamental standard electric lamps. Between these there is a rostrum with granite base, and also a moulded and polished trachyte cap forming a desk, and a fountain basin wrought out of solid granite. On two sides pedestals of trachyte support four columns of white marble. These pillars are canopied in finely chiselled and moulded while marble, one supporting the bust of a soldier and the other of a sailor. The shrine in the centre contains the names of lf-7 men who were killed. A SERVICE on the wide verandahs of Government, House was arranged for the Junior Red Cross circles by Dame Margaret Davidson on Anzac Day. Blue jackets headed the procession, and after them came the choristers and choir. Tiny girls, dressed in the uniform of the Voluntary Aids, carried wreaths of laurel and rosemary, and walked immediately behind the standard-bearers. After them came other Junior Red Cross members in uniform, representing various circles. The service was conducted by Dame Margaret, who, after prayers and singing of hymns, told I he children in simple terms the significance of Anzac Day. 'I want you to think of Anzac Day as a great day,' she said, 'and lo keep it a happy day without desecrating it. It is the day on which we honour the men who gave up their lives at Gallipoli when Australia had her birth as a nation. I speak particularly to the Junior Red Cross members, because we look to you to carry on the great work which ihe Red Cross did during 1 he war. Many men laid down their lives, but many also came back, maimed and shattered. See that you never forget them. Remember always what you owe to them. In after years, when they are old and may need you, think then with gratitude of w7hat they have done for Australia.'
THE GOVERNOR- GENERAL AT THE UNVEILING OF THE SOLDIERS' MEMORIAL AT THE GLEBE Lord Porster unveiled the memorial on Anzac Day, and Lady Forster unveiled the busts of a sailor and a soldier which stand on either side.
MEMBERS OF THE JUNIOR RED CROSS CIRCLES AT GOVERNMENT HOUSE ON ANZAC DAY.
OSWALD WATT MEMORIAL AND OTHER TOPICS (
1922, May 3
). Sydney Mail (NSW : 1912 - 1938), p. 17. Retrieved from http://nla.gov.au/nla.news-article169771217
After War's trumpet blast has ended and died away into silence, comes remembrance of the sacrifices which enabled the nation to live on in peace and prosperity. So in, spite of the aftermath of industrial and economic unrest, the Australian people today are keen to perpetuate the memory, of the glorious dead lying in far away foreign graves and of the living who have paid War's mighty penalties. Burdens of sorrow and gratitude are heavy ones and war memorials represent tangible forms through which these mingled emotions can best be expressed. Many utilitarian buildings, such as hospitals, halls and churches, are being erected at the present time in the name of war memorials, while there are also numerous lychgates, tablets, windows and honor boards to commemorate our heroes. ....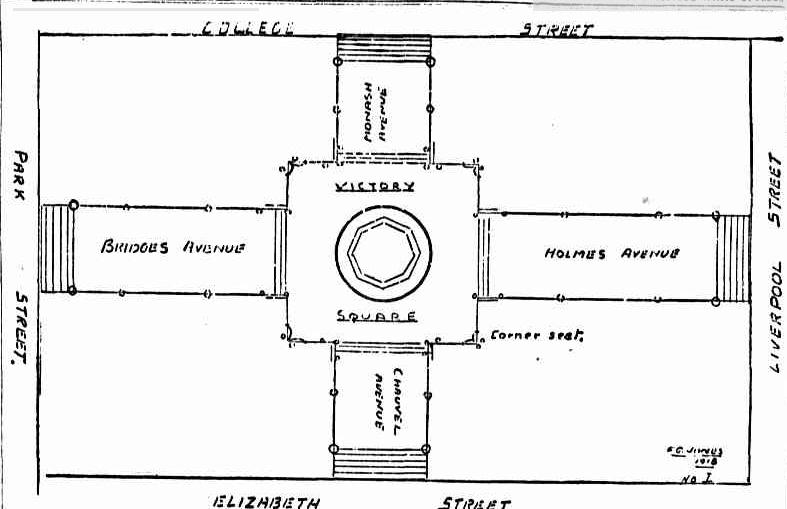 Monumental Stairway that could be applied to the Botanical Gardens or to the College Street entrance of Hyde Park Memorials and monuments gain much from their setting, and a monumental stairway, such as the above, lends grandeur and dignity to the slender column' when viewed from a lower plane. It is noteworthy that action of some sort gives the necessary poise, whilst wings give balance; to figures placed aloft on slender shafts.AUSTRALIAN ARCHITECTURE (
1921, May 23
).
Construction and Local Government Journal
(Sydney, NSW : 1913 - 1930), p. 12. Retrieved from
http://nla.gov.au/nla.news-article108985763
A SCHEME FOR A MEMORIAL TO OUR FALLEN MEN
SOMETHING THAT WILL HAVE GROWN INTO THE HEARTS OF THE NEXT GENERATION
'VICTORY SQUARE' TO BE SYDNEY'S SHOW SPOT
Some form of memorial that will stand out as striking evidence of our respect for those who have' fallen is becoming a topic demanding consideration. Many schemes have been advocated, and some of them more or less of merit, consisting of hospitals, farm homes, workshops, and what not, In fact bordering on confusion; '-! When one comes to consider that the subject of memorials and monuments first engaged men's thoughts thousands of years ago, and has continued to do so intermittently ever since, little wonder we can advance no further than the simple obelisk or pillar, which has stood the test of time, as the monuments of ancient Egypt and Greece prove, and which never grow out of fashion or become an eyesore. What, then, comprises a suitable memorial? If in the form of an obelisk or pillar, where should it be situated ? The principal features of a monument are firstly, a large open space that can be easily reached from any part of the city; and secondly, its possession a public one entirely, without any irksome laws or Regulations that would tend to prevent the people from receiving the full enjoyment of its observation both by day and night.
Many have suggested Fort Denison, with a view to establishing a huge monument on the same principle as the Statue of Liberty in New York Harbor. Such a' scheme, in the first place, would cost about half a million of money, and the expense, considering the amount of public enjoyment obtained, would not be justifiable; then, if carried out on the same I principle as the American Liberty Statue, would become a danger to navigation at I night owing to its powerful lights. Put out your lights and the statue becomes a daytime affair, or truly an eight-hour statue. The statue in New York Harbor also acts as a sort of lighthouse, and is, to say the least, a very crude and ugly piece of work. - Many Americans do not know Its origin, and we have the authenticity of an American journal for having heard it referred to as a monument to Edison for inventing electricity. The statue serves its original purpose well, but all a monument is only .an abstract illustration, and hasn't the personality that scores of other monuments have in the U.S.A., and it is significant that all their principal monuments fulfill the conditions that memorials should. No, Pinchgut, or, to be more polite, Fort Denison, would never do for a memorial for our heroes. Would it not create a nasty precedent for sarcasm ? We would never be able to get a close view, and even should the island be thrown open, two or three hundred people, would so overcrowd it that it would be-j come a danger spot. It would also be necessary to obtain a boat to reach it! from the mainland, and in the course of| a few years it would be forgotten, and probably end up with some unsavory nickname.
The harbor will never do for a place n r a memorial for our soldiers. It must be in our city. Day and night it must comfort us and grow into the hearts of Sydney people like Trafalgar Square has grown into the heart of the Londoner, … Victory Square in twenty years' time, it would be part of Sydney, and without it in Sydney would be lost. The destruction of blocks of business houses in the heart of Sydney would cost millions, and the way to find space for our monument without leaving posterity in debt would be to utilise part of one of our parks. Such a step would not in any way be filching the public playgrounds; it would only be converting it into something more beautiful, and could hardly be resented by the most pessimistic of our city fathers, and I even venture to think that the scheme. I have drawn up would be practically costless.
In the first place it would be necessary to utilise two acres in the centre of Hyde Park, as shown in the Illustration, and extend the main approaches from Liverpool, Elizabeth, Park, and College streets, and name them Chauvel, Monash, Bridges, and Holmes Avenues, after four of Australia's generals. The monument would be erected in the centre, and would consist of a pillar say about 150ft high, surmounted by an Australian soldier facing the ocean, or a figure of Peace or Victory could be substituted. The base of the pillar would rest on an octagonal foundation, and on each of its eight faces would be some battle scene executed in relief on metal.
Surmounting this would be statuary emblematic of Australia generally, which would otter wide scope tor Australian artistic genius. The whole would rest in a large basin fed by four fountains. The avenues would commence and terminate in steps, as the square would be some four or five feet above the park level, and the whole would be constructed of stonework the material of which could be obtained from every theatre of war where Australia has been represented. The four corners of the square would be so constructed that large metal plates could be affixed, and contain the name of every New South Wales man or woman who has made the great sacrifice. The whole would be lit by electric lamps at night, and the statue proper would be lit by several large flood lights that would make' it appear as if the thing was suspended In the air.
Such a scheme would cost about £100,000, and, being the work of Australian artists and craftsmen, would be money well spent. Much of the metal work would be obtained from captured war material, and would be of special interest. Other captured trophies would adorn the Square. Judging by past events I consider that the money could be obtained by public subscription, and such a monument would be worthy of the Mother State of Australia and the Queen City of the Pacific, and would tend to convey more sentiment and sympathy than would attach to any other scheme. A SCHEME FOR A MEMORIAL TO OUR FALLEN MEN (
1919, January 17
).
The Mirror
(Sydney, NSW : 1917 - 1919), p. 3. Retrieved from
http://nla.gov.au/nla.news-article136728325
ARCHIBALD MEMORIAL FOUNTAIN.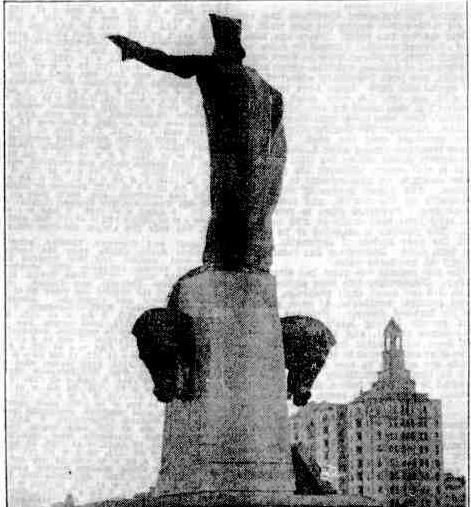 This curious-looking object, still in its wrappings, is the central figure for the memorial fountain now being erected in Hyde Park. ARCHIBALD MEMORIAL FOUNTAIN. (
1932, February 12
).
The Sydney Morning Herald
(NSW : 1842 - 1954), p. 14. Retrieved from
http://nla.gov.au/nla.news-article16840182
THE BEAUTY OF THE ARCHIBALD MEMORIAL FOUNTAIN IN HYDE PARK IS EMPHASISED BY FLOODLIGHTING.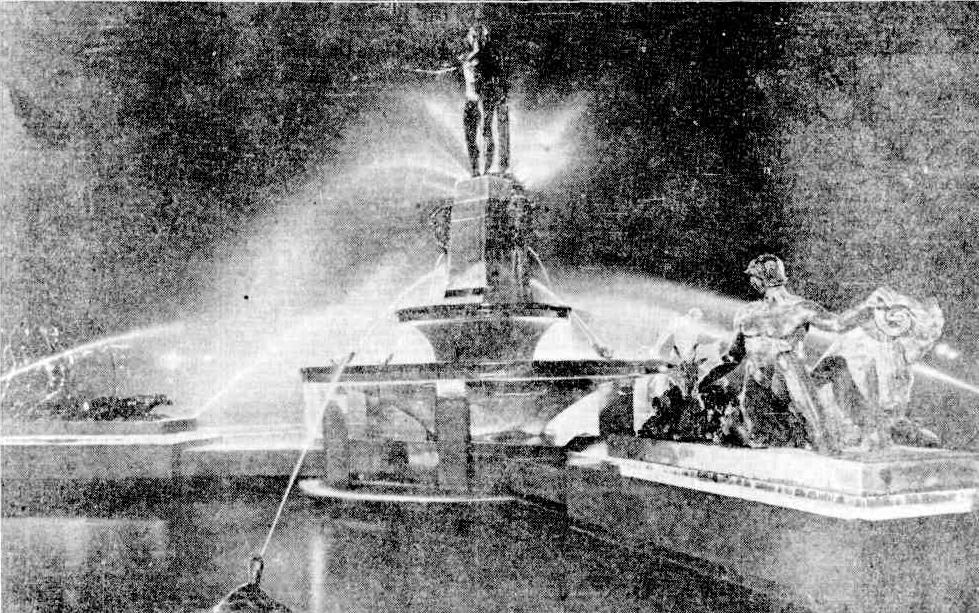 Thousands of visitors to the city of late have admired the beauty of the groups on the fountain,
the work of M. Francois Sicard, the famous French sculptor,
especially when revealed at night by modern floodlighting methods.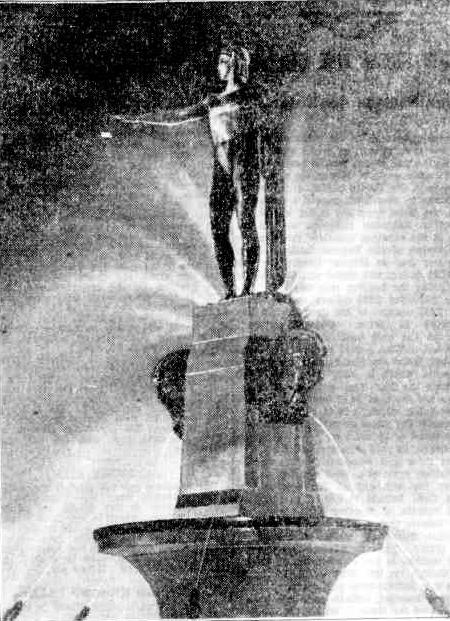 The central figure of Apollo, which dominates the fountain, is symbolic of youth and beauty. THE BEAUTY OF THE ARCHIBALD MEMORIAL FOUNTAIN IN HYDE PARK IS EMPHASISED BY FLOODLIGHTING. (
1932, March 30
).
The Sydney Morning Herald
(NSW : 1842 - 1954), p. 14. Retrieved from
http://nla.gov.au/nla.news-article16851633
The 'Story' of the Archibald Fountain
THE Archibald Memorial Fountain
— the Apollo CO Fountain, as we may more briefly call it — is the most beautiful public work of art in Sydney, and probably in the southern hemisphere. Its beauty, indeed, is manifest to all— the firm yet supple modelling of the figures, the harmonious subordination of the outer groups to the dominating figure of Apollo in the centre, the contrast between the dark strength of bronze and marble and the crystalline lightness of the leaping waters that fill -the air with music and enhalo the Sun-God with a rainbowed mist. And how admirably the three outer groups with their horizontal lines buttress, as it were, the vertical central figure, whose pose is obviously inspired by Alkamenes' glorious Apollo at Olympia. . AH -this is plain enough to every observer, but there are -probably some, people to whom the mythological significance of the statues is not wholly clear. Greece and Italy, the classic lands of the Mediterranean where the old gods were worshipped for untold centuries before the ' coming of Christianity, and - where the broken columns of ancient temples, in snowy- marble, or. sun-drenched travertine, still gaze out as of old from many, a hilltop or promontory over the amethystine sea, are far away from us in Australia, whose very existence was undreamed of by the ancients. School day memories of Greek and Roman mythology are apt to grow dim after a while, and a brief explanation may therefore be welcomed.
LET us begin with the figure of Apollo, who stands ' upright on a tall plinth of red marble in the centre of the basin. In his left hand he holds his lyre; his head is turned to the right, and his right arm is outstretched in a gesture of command — calmly, as befits a god. According to Greek legend Apollo was the son of Leto or Latona, who was beloved by Zeus, greatest of all the gods of Greece. Leto, seeking a place for her confinement, came at last to the little island of Delos — then a mere floating rock, driven hither and thither by the waves till Zeus anchored it by chains to the bottom of the sea. Here, beneath a palm-tree, Leto gave birth to Apollo, the island subsequently becoming one of the oldest and most famous of Apollo's sanctuaries. In later times Apollo was identified with Helios, the sun-god, and it is as the sun-god that he is represented in: our fountain; the half-disc of the rising sun is shown behind him, with jets of water to represent its rays, while the heads of two of the horses which draw his golden chariot across the heavens are seen on either side of the pedestal. But Apollo was also the god of prophecy — the mouthpiece through which Zeus, his sire, announced his will to men. His most famous oracle was at Delphi, in Greece, high up amid the glens of Mount Parnassus, where his priestess, seated upon a tripod and wrought to prophetic frenzy by the fumes of burning laurel, chanted mysterious verses in answer to those who came to consult the oracle. The fact that these verses were sung or chanted gave rise to Apollo's association with music; he became the god of music and song, which is the reason why he is so often represented, as here, with a lyre in his hand. Legend told how. a satyr named Marsyas, who had attained marvellous skill in playing the flute, challenged the god to a musical contest, disregarding the advice of the Muses, who warned him against such impiety and rashness. Marsyas was, of course, unsuccessful in the contest, and was condemned to be flayed alive, though according to another account he was saved at the last moment by the intercession of one of the Muses. : But the god Pan also challenged Apollo to' a similar trial, and Midas, king of Phrygia, declared that the flutes of Pan were sweeter even than the lyre of Apollo; whereupon the angry god transformed the ears of Midas to those of an ass.
APOLLO, indeed — at any rate, in the early stages of his career — was not a deity lightly to be offended. Witness for example the children of Niobe, who were all slain by the vengeful arrows of Apollo and his sister Artemis merely because their mother had incautiously boasted that her children were even more beautiful than those of Leto. But as the Greeks themselves progressed in civilisation their gods, too, advanced step by step with them; the old fables, which had originated in a primitive and largely barbarous state of society, were more or less discarded or explained away by the educated and intelligent, and Apollo became the representative of all that was noblest and best in Hellenic culture. By the time of the Roman Empire we even find him — especially in such wholly or partially Oriental cults as that of Mithras or the doctrines of the neo-Pythagoreans — occupying a position in pagan religion which bears a curious analogy to that of Christ in the early Church. The figure and the symbols of Apollo appear continually on pagan tombs for the same reason, and with the same faith in their spiritual efficacy, as those of the Saviour were placed on Christian sarcophagi, or, for that matter, as the cross is depicted on gravestones to this day. During the War period a most remarkable underground basilica was accidentally discovered at Rome, which had been constructed in the first century, apparently for the purposes of neo Pythagorean worship. Its plan is identical with that of a Christian church, but it is Apollo and not Christ who holds the place of honour on the wall of the apse. Standing on the Isle of Delos, he is waiting with outstretched hand to welcome the righteous soul, whom a winged figure of Love urges gently into the waves of death, and who clasps the Apolline lyre in her hand as a dying saint might clasp the crucifix. On the other side, in telling contrast, is the figure of the unregenerate soul, whom no welcoming Saviour awaits, and who crouches beside the dark billows in an attitude of ineffable despair.
PASS now to the three outer groups on the edge of the basin. The one on our right, as we approach the fountain from Macquarie-street, shows us the kneeling figure of a young god, graceful and strong, but whose half -animal features suggest his primitive nature and origin. One hand is laid, masterfully yet caressingly, upon a ram, while the other grasps the panpipes, and a she-goat with her kids crouches confidingly beside him. The sculptor, M. Sicard, has not told us precisely for whom this figure is intended; according to his own statement, as published in the 'Herald,' it is the 'young god of the fields,' and the group symbolises the good things of the earth; but the pan-pipes, and the budding horns that protrude from the curling locks of the forehead, show us clearly that the young god in question is Pan, who instructed Apollo in the art of prophecy. Pan was the god of flocks and herds, and was worshipped especially by shepherds, who stilled their pipings at noonday lest they should disturb his slumbers. 'O Pan' (thus proceeds the invocation of an unknown poet) 'utter thy holy voice to the feeding flocks, running thy curved lip over the reeds, that so they often bring gifts of white milk in heavy udders to Klymenos' home, and for thee the lord of the she-goats, standing adorned by the altars, may spurt the red blood from his shaggy breast.' A charming epigram by that 'sweet singer of Persephone,' Theocritus, says: — 'White-skinned Daphnis, the player of pastoral hymns on his fair pipe, offers these to Pan— the pierced reeds, the stick for throwing at hares, a sharp javelin and a fawn-skin, and the scrip wherein he once carried apples.' 'We supplicate Pan' — so runs a dedication evidently intended for some caverned spring— 'the goer on the cliffs, two-horned leader of the Nymphs, who abides in this house of rock, to be gracious to us, whosoever come to this spring of ever-flowing drink to rid us of our thirst.' Verses of this kind are clearly derived from the actual ex-votos placed by his devotees in the rustic sanctuaries of the god, such as the cave of Pan on the Athenian Acropolis, where the marks of the tablets on which they were inscribed are still visible on the rocky walls. Legend tells how the nymph Syrinx, fleeing from his attempted embraces, was changed by her sisters into a reed, which the disconsolate deity cut into lengths and converted into the pipes named after him. A haunter of woods and mountain solitudes, more particularly among the heights and valleys of Arcady, his presence was believed to account for that strange sense of fear which such places often inspire in the imaginative by their silence and loneliness, and which the Greeks described as 'panic' terror.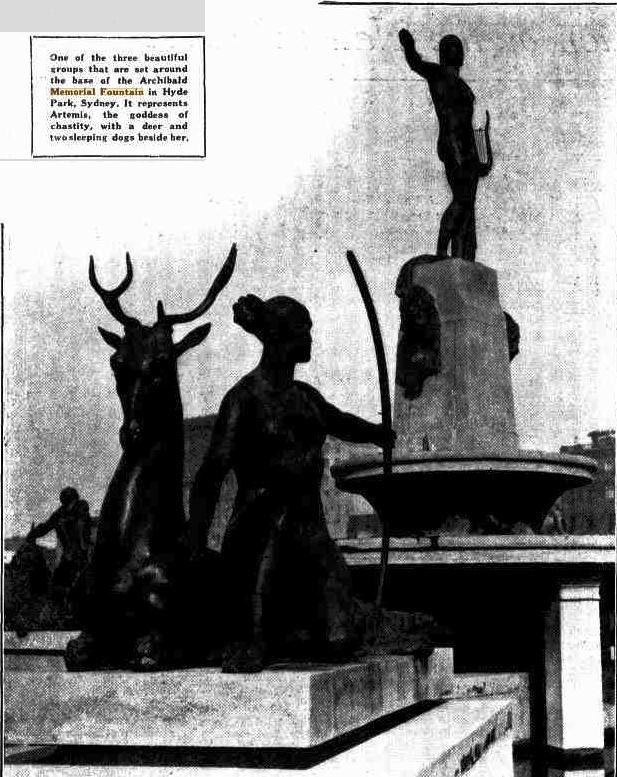 One of the three beautiful groups that are set around the base of the Archibald Memorial Fountain in Hyde Park, Sydney. It represents Artemis, the goddess of chastity, with a deer and two sleeping dog's beside her.
A SINGULAR incident in regard to Pan is recorded by the Greek historian Plutarch, who lived in the first century of our own era. He declares that a ship bound for
Italy in the reign of the emperor Tiberius was sailing by night close by the little island of Paxo, which lies just south of Corfu, when suddenly an unearthly voice from the land hailed the pilot, Thamus by name, and bade him proclaim on his arrival that the great god Pan was dead. And thereupon from the dark shore arose a mighty sound of wailing and lamenting, as of a great company of mourners. As this must have been roughly contemporary with, the birth of Christ, it was supposed by Christian writers to signify the end of the old world and the beginning of the new; but in point of fact what the terrified sailors really heard was most probably no more than the yearly lamentation for the death of the Syrian god Tammuz, or Adonis, called in Greek the Panmegas, or the Almighty. Little more than a year ago I happened to pass close to the island on my way to Athens, but it was in broad daylight and there were no supernatural manifestations. In Italy Pan was identified with the old Italic deity Faunus— 'the helper' — who bestowed fruitfulness on fields and cattle. Horace has pictured him for us as a merry and kindly god, who protected the poet's kidlings from wolves and inclement weather and gave amorous chase to the Nymphs among the sunflecked undergrowth and shadowy coverts of the forest.
OPPOSITE to Pan on our fountain is a female deity, armed with a bow and accompanied by a stag and two large hunting dogs — probably the famous Molossian hounds of antiquity. At the moment they are resting, but alert; at the sight of an intruder they will spring baying to their feet — A cry more tuneable Was never holla' d to, nor cheered with horn, In Crete, in Sparta, nor in Thessaly. There is no doubt as to the goddess to whom they belong. She is Artemis, the twin-sister of Apollo, or at any rate regarded as such from a very early period. She is a goddess of the woods, a spirit of trees and vegetation generally, who loves, moreover, to wander by mere and fen, to loiter by some spring that bubbles up, crystal clear, below the twisted roots of a venerable plane-tree or where some little stream scurries, foaming and chattering, over its stony bed. From her association with the forest she thus became regarded as both the huntress and protectress of the wild creatures that shared it with her, and high amid the lonely hills the awe-struck peasant or traveller caught now and again, borne on the wind, the hunting call of the goddess and her maiden retinue roaming the woods in search of their quarry. Above all, Artemis was the goddess of chastity, and as such the relentless opponent of Aphrodite, the foam-born goddess of love and desire. So sternly jealous was she of her virgin purity that the hunter Actaeon, who had accidentally beheld her bathing naked in a forest pool, was transformed into a stag and torn to pieces by his own hounds. Thess lofty and poetical conceptions of the goddess, however were undoubtedly a gradual development from far older and more primitive forms of belief. At Athens, for example, she was worshipped in very ancient times under the form of a bear, and even in the historical period one of the quaintest rites practised on the Acropolis was the dance annually performed in her honour by young girls disguised as bears. By the Romans and the inhabitants of Italy generally Artemis was believed to be identical with the Italic goddess Diana, with whom she undoubtedly had many points in common. Like Artemis, Diana presided over child-birth; like her, too, she was worshipped as the goddess of the moon— 'Goddess excellently bright,' as Ben Jonson calls her, just as Artemis in Swinburne's verse is the 'Maiden most holy, Mother of light.'
LASTLY, we come to the noble group of Theseus and the Minotaur, which, according to the sculptor, is intended here to symbolise self-sacrifice, the triumph of the spirit over bestiality. This, of course, is merely a modern application of one of the oldest of all Greek legends. According to the story, Minos, king of Crete, kept the Minotaur — a monstrous creature, half man, half bull — in a Labyrinth which the artificer Daidalos had specially designed and built for him in his palace at Knossos. Every ninth year a tribute of seven youths and seven maidens, the flower of Athens, was demanded by Minos and cast into the Labyrinth to be devoured by the monster. To deliver Athens from this intolerable burden Theseus, the son of King Aegeus, boldly volunteered himself to go with the next batch of victims and, if possible, to slay the Minotaur. Arrived at Knossos, he won the heart of Minos's daughter, Ariadne, who helped him to escape from the Labyrinth after killing the monster, and fled with him oversea. Until comparatively recently the story was regarded as a myth and nothing more; but the discovery and excavation of the great palace at Knossos by Sir Arthur Evans have thrown a new light upon the legend. It is now clear that Crete was the centre of a highly developed civilisation thousands cf years before the Christian era, and even long before the civilisation of the Greeks themselves. Furthermore, the palace itself was the fabled Labyrinth—that is, the Place of the Labrys, or Double Axe, a sacred symbol which has been found to be carved everywhere on its walls; while the story of the Minotaur and his victims is most probably a distorted reminiscence of actual human sacrifices. The "Story' of the Archibald Fountain (
1932, December 28
).
Sydney Mail
(NSW : 1912 - 1938), p. 19. Retrieved from
http://nla.gov.au/nla.news-article166225365
The Archibald Fountain, properly called the J. F. Archibald Memorial Fountain
is located in Hyde Park, in central Sydney, New South Wales. It is named after J. F. Archibald, owner and editor of
The Bulletin
magazine, who bequeathed funds to have it built.
Archibald specified that it must be designed by a French artist, both because of his great love of French culture and to commemorate the association of Australia and France in World War I.
He wished Sydney to aspire to Parisian civic design and ornamentation.
The artist chosen was François-Léon Sicard, who completed it in Paris in 1926
but never saw the sculpture be placed in Sydney, where it was unveiled on 14 March 1932 by the Lord Mayor of Sydney, Samuel Walder.
Sicard was one of the foremost sculptors of his day, a classically educated artist, whose inspiration was derived, at least in part, from his study of classical Greek and Roman art and literature. In submitting his proposal for the design of the sculptural groups, Sicard wrote: "Apollo represents the Arts (Beauty and Light). Apollo holds out his right arm as a sign of protection, and spreads his benefits over all Nature, whilst he holds the Lyre in his left hand. Apollo is the warmth which vivifies, giving life to all Nature. At the touch of his rays, men awake, trees and fields become green, the animals go out into the fields, and men go to work at dawn.
"The ancient Pliny adored the sun, symbol of Life. It is on this account that I wished this figure to be the chief one in the memorial."
An inscription on the fountain continues: "At Apollo's feet the Star of Day is indicated by a semi-circle of which the rays spread out in jets of light (the rising sun). The horse's heads represent the horses of Apollo's chariot. Out of the nostrils, water falls into the first basin, to fall there into the second and run away into the large basin.
"The large basin is decorated with six tortoises which throw jets of water. The large basin is divided into three groups; one represents Diana, goddess of purity, of peaceful nights, symbol of charity: the ideal which watches over mortals-all that stands for poetry and harmony. The Pan group symbolises the good things of the earth - it is the 'Young God of the fields and pastures and of the countryside'. The third group represents sacrifice for the public good. Theseus vanquisher of the Minotaur. The spirit triumphs over bestiality. Theseus delivers his country from the ransom which it had to pay to this monster. It is the sacrifice of himself for the good of humanity. Between these groups dolphins throw jets of water." The fountain is electrically illuminated and floodlit at night.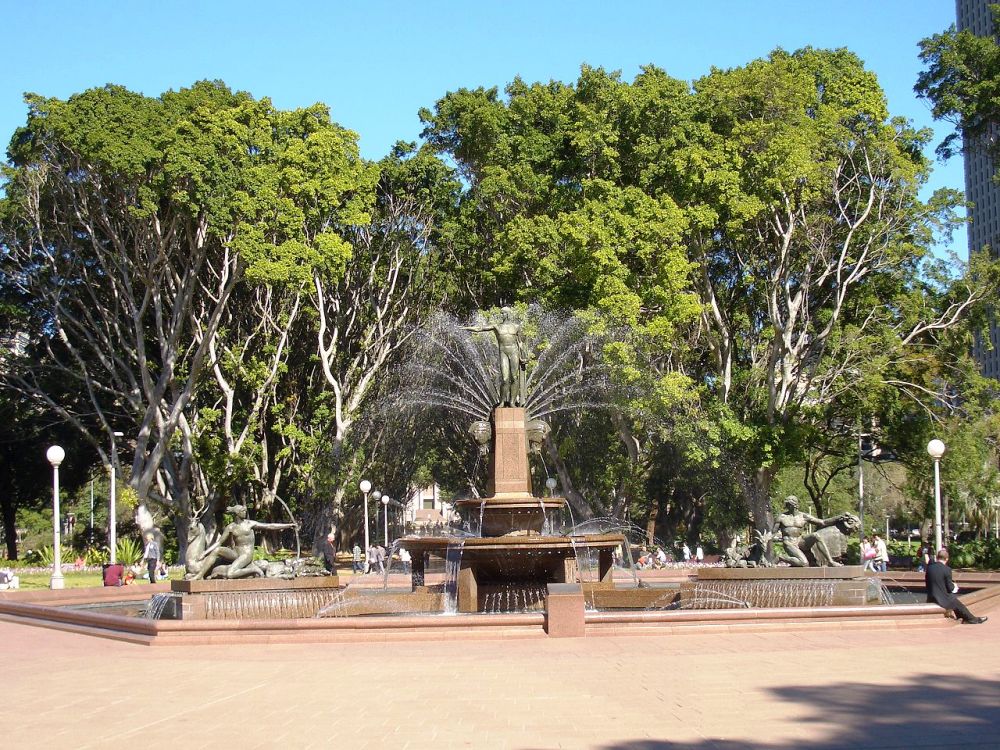 Sicard quotes Pliny as one of the ancient Roman sources for the modern understanding of the qualities supposedly represented by the gods. Rather than merely using the visual examples of works such as those by Pheidias, the iconic sculptor of classical Athens, whose free standing and frieze statuary represent the acme of the classical depiction of the human form in larger-than life bronze or marble, Sicard used literary sources to explain the symbology behind the form.
His choice of classical figures was in keeping with the European tradition of the sculpture and architecture of the precinct of Hyde Park.
AUSTRALIA'S UNUSUAL WAR MEMORIALS
A schoolbell reminds future generations of the sacrifice of former pupils.
YOUNG as Australia is as a nation, her citizens have already erected a number of unusual memorials to commemorate the fallen in the three wars in which her people have fought since Federation.
Instead of the usual marble columns, statues and other orthodox types of war memorials, some Australian communities have strived for the unusual at the same time preserving the dignity associated with such memorials.
One of those is the scale model of the Egyptian Sphinx in Sydney's Kuring-gai Chase.
A patient from a nearby service convalescent hospital noticed an outcrop of rock in the bush which bore a slight resemblance to the Sphinx. Acting on the. suggestions of the doctors, this man set about carving the rock into a scale model of the Sphinx.
He was a stonemason by trade and the finished job was a work of art. Private Shirley, who was responsible for it, did not live long enough to see it unveiled by Sir Phillip Game as a memorial to the men who fell in World War 1.
The Entrance, Tuggerah Lakes (NSW) a popular seaside resort, has a most unusual memorial in the form of an ironbark post,
four feet high and one foot square.
On one side of this post, known as the Anzac Mile Post, is inscribed details of the local casualties. On the other three sides is painted the various distances from The Entrance to the battlefields on which Australians fought in World War I.
It is claimed to be the only memorial of its kind in the world.
The memorial at Mittagong (NSW) takes the form of an ornamental stone fountain, but it also serves as a town clock and a street light.
A tank captured from the Germans at Villiers Bretonneaux in 1918 forms the main part of one of Brisbane's most unusual war memorials. A tiled roof erected over this tank gives it a most unusual appearance.
A unique feature of the splendid Blackheath Memorial Park, on the NSW Blue Mountains, is that all the paths through the park bear the names of battles in which Australians fought.
Steps leading from the swimming pool to a bush reserve have carved in them "Gallipoli Steps."
Bathurst's war memorial has given that city the nickname of the "Carillon City." It is the only city in Australia that can beast such a memorial carillon.
Set in a splendid reserve in the heart of the city the carillon tower is a fine ornament, while the music from the bells is most inspiring. On a still night this carillon can be heard many miles away.
The Melbourne shrine has rather a unique feature.
A small aperture in the roof allows a ray of sunlight to shine on a particular spot inside the shrine at 11 o'clock on the 11th November each year.
It is not generally known that in the dome of Sydney's Anzac Shrine there is a star for every man who enlisted for service in World War I.
Not far away from Sydney's big memorial is the splendid Archibald Memorial Fountain, but few people seem to regard this as a war memorial, yet it commemorates the fact that Australians and Frenchmen fought side by side for the peace of the world.
Two striking war memorials are at Goulburn and Albury (NSW).
Each memorial is on a hill overlooking the city, and when floodlit at-night they look most impressive.
Memorial avenues are a splendid idea if the trees are cared for, but unfortunately some of the memorial avenues are in a sadly neglected state.
A striking exception is Ballarat's Avenue of Honor. Another well kept avenue is at the Liverpool (NSW) Rifle Range, which is itself a war memorial, as it is known as Anzac Rifle Range.
One memorial avenue in a large Western NSW town is in such a neglected state that it is an eyesore.
Nameplates that were once attached to the trees are on the ground, others are suspended in a dirty condition and the trees are sadly neglected.
Memorial gates at the entrance to parks were popular after World War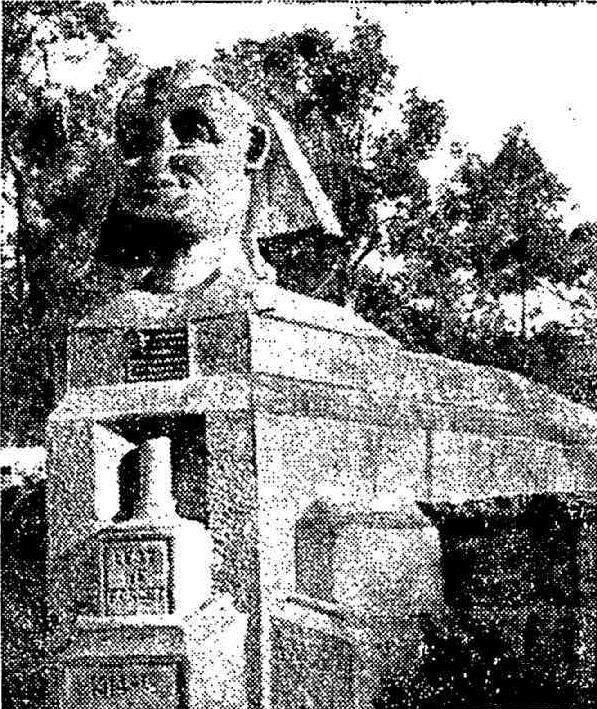 Replica of the Sphinx carved in living rock in Kuring-gai Chase.
Splendid examples are at Bega and Nowra.
Fairfield. (NSW) has recently completed memorial gates and a memorial avenue' has been planted, one of the first to commemorate connection with World War II.
Recently the Fairfield memorial avenue figured in an unpleasant incident when vandals, out of spite over some local squabble, unseated many' of the memorial nameplate plaques and uprooted many of the trees planted in honor of local servicemen.
Even after local ex-servicemen and citizens repaired the damage the vandals struck again and repeated the damage the next night.
Ex-servicemen formed vigilante squads and set up all night patrols to try to catch the perpetrators, but without any success.
The little township of Doonside (NSW) has a unique war memorial in memory of local men who fell in World War II.
It is a brick and granite tower and bell at the local school.
One day I was looking at the inscription on this memorial when an old lady turned to me and said, "I can almost see my boy running into line." Her son's name was inscribed ion the memorial.
Curl Curl's war memorial is just an ordinary white obelisk, but it is erected on a rock that is practically surrounded by the sea.
When the Boer War Memorial was erected in Parramatta Park, local history was combined with the war memorial idea.
The four Doric sandstone columns used in this memorial were originallv part of Parramatta's first Court House.
When Sydney people decided to erect a Boer War Memorial (it was more than 40 years after the war had ended) the sandstone used in the structure was taken from the historic Commissariat Stores, one of the old Governor Macquarie buildings at Circular Quay.
For many years an old waggon on the roadside in Central Queensland was regarded as an unofficial war memorial. The teamster turned out his team when war broke out, left the wagon on the roadside and went to Brisbane to enlist.
He was killed on Gallipoli, but local people who knew the story kept the old wagon in order, regarding it as a memorial to the teamster.
One of the most unusual war memorials in Australia is a tree near an old farmhouse in Gippsland. Three sons of the old couple who owned the farm were killed at the war.
The old couple fenced in the tree under which their sons used to play as children, and on the anniversary of each son's death a home-made wreath has been placed at the foot of the tree.
From a limb of the tree hang the remains of an old swing which the boys used when they were young. This was left intact.
When visitors come to this farm they are taken to spend a few moments' meditation at the memorial tree.
It is said that each evening before going to bed the old lady has knelt at the foot of the tree and .prayed for her three sons.
One of Melbourne's most unique war memorials is that erected to the memory of Private Simpson, "the Man with the Donkey," who succored so many men on the slopes of Gallipoli until he himself became a victim to wounds.
Canberra has an unusual memorial. It is the tomb of General Bridges, one of the AIF's first senior officers, on top of the hill overlooking the Duntroon Military College, which he founded.
There is nothing unusual about the actual tomb, but his body was the only one brought back for burial from overseas after World War I.
The word "Yule" has no direct connection with Christmas, but was an old Scandinavian heathen festival held at the winter solstice. Because it coincided with the time of Christmas in Europe, it was transferred to many popular Christmas observances. AUSTRALIA'S UNUSUAL WAR MEMORIALS (
1952, May 17
). The World's News (Sydney, NSW : 1901 - 1955), p. 8. Retrieved from
http://nla.gov.au/nla.news-article139913291
Hewn from surrounding bush sandstone by 5756 Pte. W. T. Shirley as a memorial to fallen A.I.F. comrades, the Sphinx is approximately 1/8th the size of the Great Sphinx, located on Egypt's Giza Plateau.
Pte. William Shirley was a patient of the Lady Davidson Convalescent Hospital for returned World War One Australian veterans. He sailed to war in January 1916 and served with the 13th Btn A.I.F. (the "Two Blues" – as a result of the Battalion's two tone blue colour patch). Like many of his comrades at Lady Davidson he suffered from gas inflicted during the fierce battles on the Western Front - with the added complications of a tuberculosis infection.
Between 1926- 1928, an ailing William Shirley laboured at creating his personal memorial to his fallen A.I.F comrades. The Sphinx took some one and a half years to complete. He died in 1929, leaving an unusual legacy in stone to be contemplated by the many bushwalkers who enjoy the Ku-ring-gai Chase National Park.
Inscription:
'To my glorious comrades of the A.I.F
by the late W. Shirley
No 5756 Pte. 13th Battalion
Died 27th August 1928'
'This memorial, following restoration,
was rededicated on the 9th November 1995,
in recognition of the selflessness and sacrifices
of the members of the A.I.F.
by the late W. Shirley
No 5756 Pte. 13th Battalion
Died 27th August 1928'
Recorded By:
Mr Rusty Priest AM, former RSL State President (NSW Branch)
THE WOMEN'S MEMORIAL FOUNTAIN
THE memorial drinking fountain which is to be erected opposite No. 1 gate in Woolloomooloo is a thank- offering on behalf of the Centre for Soldiers' Wives and Mothers — a Centre which takes for its motto: 'That's for Remembrance,' its emblem being a sprig of rosemary. The rosemary will surmount the design, consisting of a slab of dark green trachyte hearing a plain bronze fountain. Those who run may read the inscription as follows: — 'To commemorate the place of farewell to the soldiers who passed through the gates opposite for the great war, 1914 — 1919. Erected by the Women of New South Wales under the auspices of the Centre for Soldiers' Wives and Mothers.' The site has already been dedicated. It is felt that every woman would like to contribute to this memorial, which is of especial interest to all those whose husbands, sons, brothers, and sweethearts passed through the gates. All particulars may be had from either Miss Booth or Miss Mitchell at the Soldiers' Club, 324 George-street. Sydney.
(Photos: Falk-Monte Luke.)
. MISS E. B. BOOTH.
WOMEN'S MEMORIAL FOUNTAIN. THE ACCEPTED DESIGN.
An appeal has been issued by Dame Margaret Davidson on behalf of the memorial drinking fountain which the Centre for Soldiers' Wives and Mothers proposes to erect at No. 1 wharf, Woolloomooloo.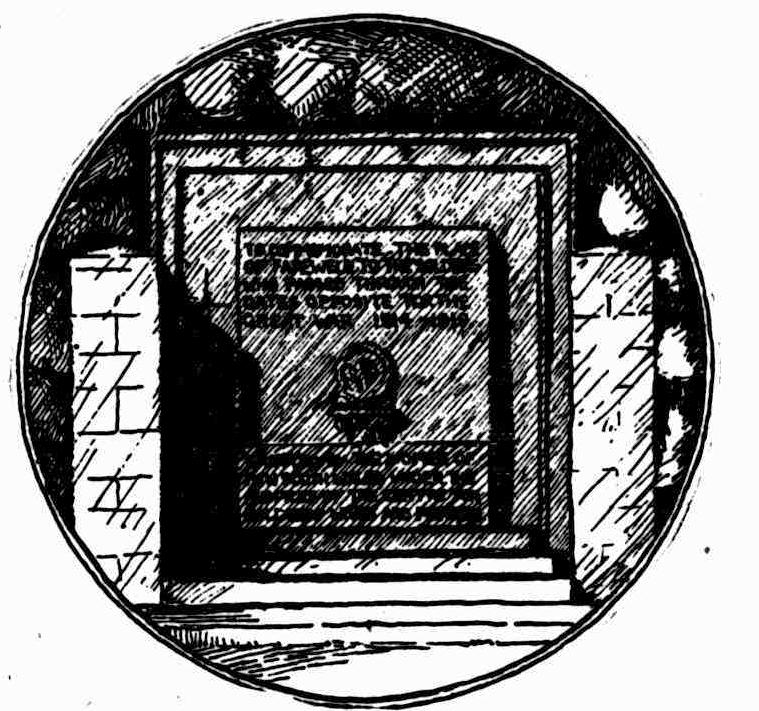 Dame Margaret says:-"The cost will be £400. We have collected £180: we want £220 more As soon as the funds reach £200 the work will begin. It may be finished next Anzac Day. I go there each Anzac Day with many other women for a simple commemoration service in the open air. I hope that on April 25 next i»'e may when we meet there again, unveil this token of our pride and sorrow. Subscriptions (any sum) should be sent to Miss Brenda Mitchell, care of Soldiers Club, 5. George-street. Sydney, or to
Dr. Mary Booth,
the founder of the Centre for Soldiers' Wives and Mothers, who cared for and comforted the sorrowing relatives throughout the war."
WOMEN'S MEMORIAL FOUNTAIN. (
1922, January 17
).
The Sydney Morning Herald
(NSW : 1842 - 1954), p. 5. Retrieved from
http://nla.gov.au/nla.news-article15980074
NATIONAL RESERVE.
The Volunteer Rifle Club, known as the National Reserve, established in 1913 by Lieutenant-Colonel C. F. Cox., C.B., and a number of ex-members of the defence forces,
goes into camp this week at Mona Vale, near Narrabeen, under the Acting Commanding Officer, Captain Forsyth Cheffins. Of the regiment 100 members have Joined the Expeditionary Forces, and 280 are now either officers or non commissioned officers at the front.
The members bear their own expenses, subsidised by donations from patriotic citizens. A plain khaki uniform, costing about 16s, is supplied to members, but its use is optional. All the members are sworn in for defence as a rifle club, and shooting at Randwick takes place every second Saturday.
Owing to the camp this week there will be no drill either at Prince Alfred Park or at North Sydney (where a strong contingent of the reserve is being formed), but drills will be resumed again at St. Thomas's School Hall, McLaren-street, North Sydney, at 8 p.m. on Wednesday, February 3, and at the Cleveland-street State School, Prince Alfred Park, on Saturday, February 6, at 3 p.m.
As the State Commandant, Colonel Wallack, C.B., will Inspect the reserve tomorrow at the camp at Mona Vale, it is urgently requested that all members who are unable to attend the camp for the week will come to Mona Vale on Tuesday next. NATIONAL RESERVE. (
1915, January 25
).
The Sydney Morning Herald
(NSW : 1842 - 1954), , p. 4. Retrieved from
http://nla.gov.au/nla.news-article15548869

NATIONAL RESERVE RIFLE CLUB.
This was attended last week by 146 men, representing infantry, light horse, engineers, army medical corps, transport, nursing, and cyclist corps. A number of them had seen service in South Africa.
Colonel Wallack, the State Commandant, taking the salute in the march past. NATIONAL RESERVE RIFLE CLUB. (
1915, January 31
).
The Sun
(Sydney, NSW : 1910 - 1954), p. 14 (SUNDAY EDITION). Retrieved from
http://nla.gov.au/nla.news-article229338874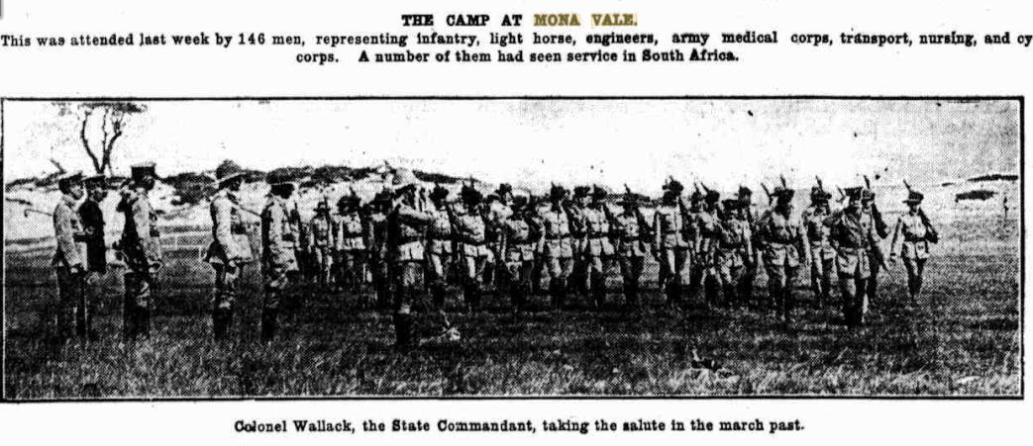 War Memorials In Mona Vale - threads collected and collated by A J Guesdon, 2016 to 2022.