inbox and environment news: Issue 600
October 8 - 14, 2023: Issue 600
Please Look Out For Wildlife During This Spring Heat
New South Wales is set to experience a significant heatwave over the next six days.
These prolonged weather conditions can cause native wildlife to become heat-stressed as they suffer from high temperatures; here is how you can identify a heat-stressed animal and how you can help.
Always remember:
If you find an injured, orphaned or sick native animal, call WIRES on 1300 094 737 or Sydney Wildlife Rescue on 9413 4300.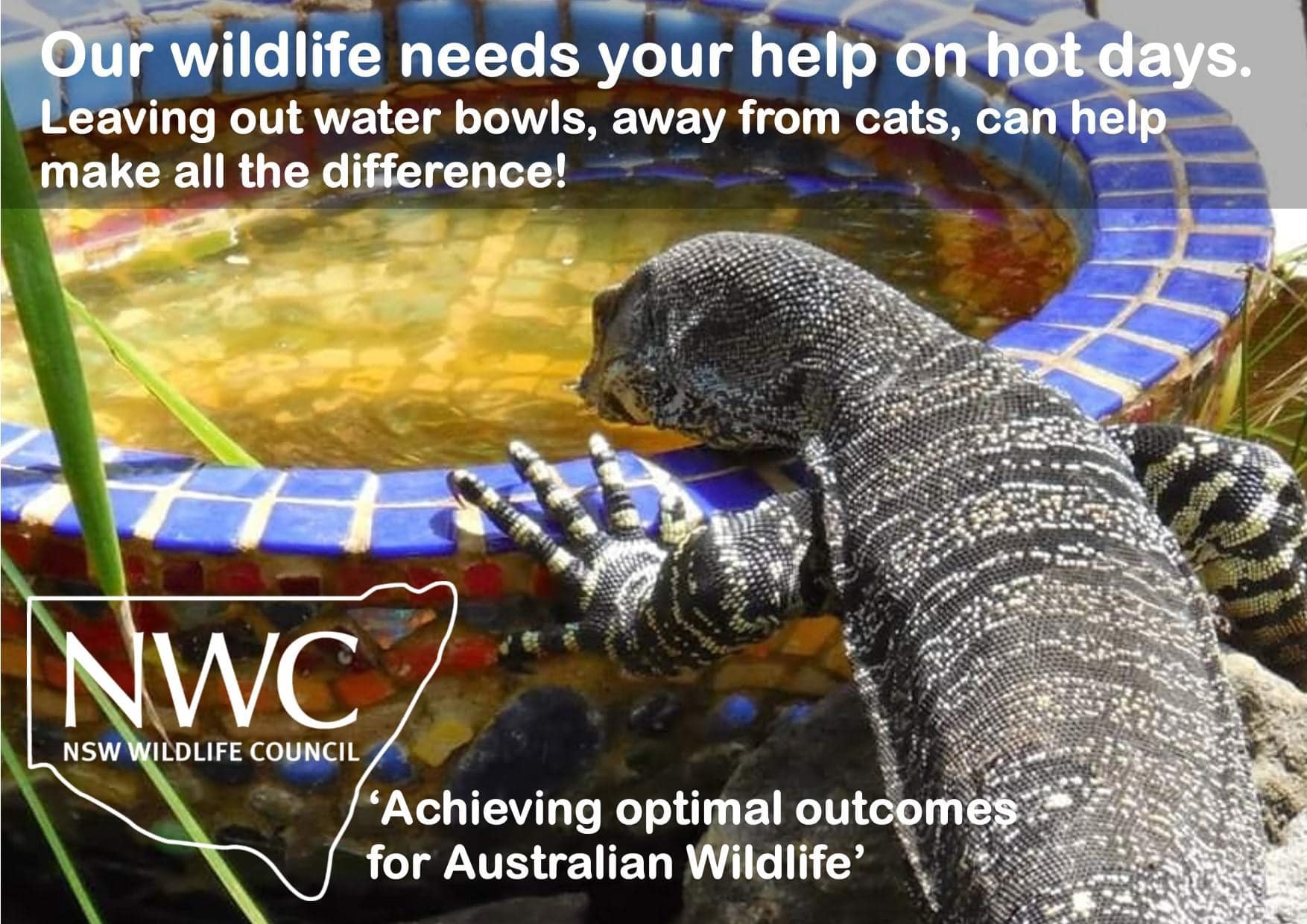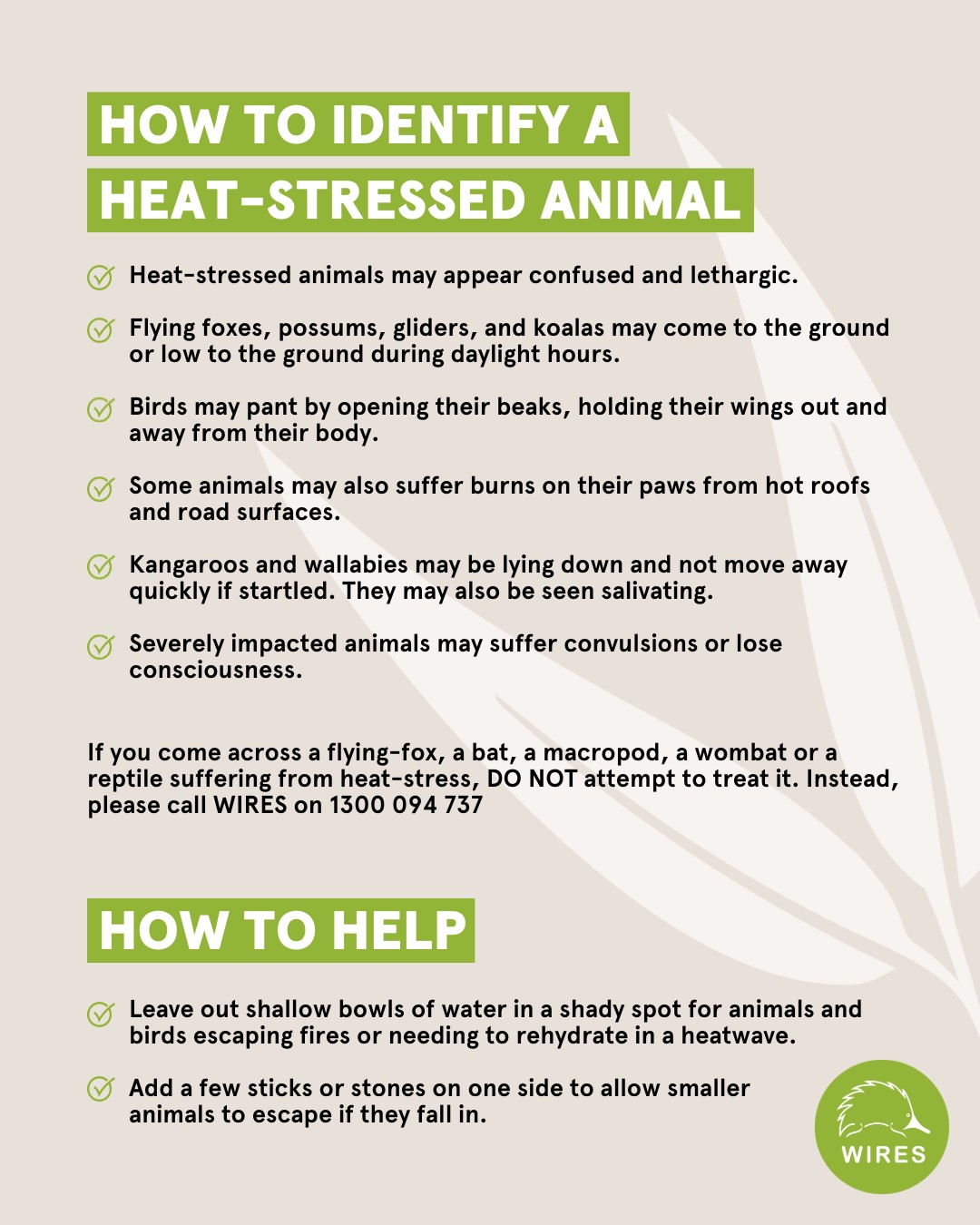 Summer 2023 Snorkelling
Filmed from Mona Vale to Manly by Kai Hampson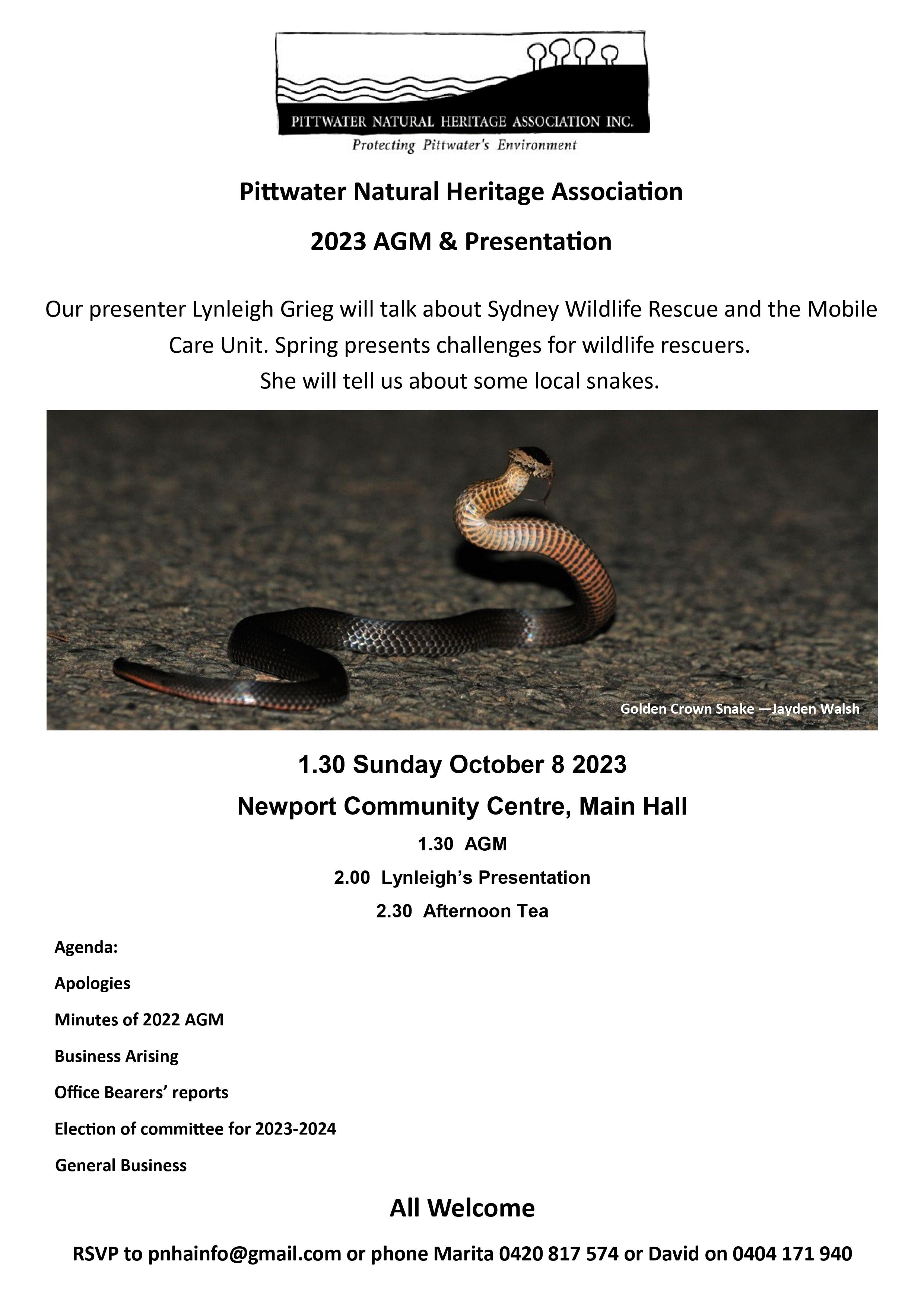 Picnic For Nature
Picnic for Nature is back by popular demand!
On Saturday 21st October, communities all across NSW are invited to host simultaneous Picnics in support of nature and community.
Join us for our local Picnic for Nature, hosted by Pittwater Natural Heritage Association, Friends of Narrabeen Lagoon Catchment and Northern Beaches Greens.
Where: McCarrs Creek Reserve, Church Point.
When: Saturday October 21 4.30 - 7.30pm
Please note that your RSVP information will be shared with co-host organisations.
We'll be celebrating and immersing in the impressive biodiversity that we're fortunate to live amongst on the Northern Beaches. All are welcome! BYO food and drink (and something to sit on) and insect repellent. Binoculars too if possible, as we have seen nesting Olive-backed Orioles here.
This is an opportunity to come together and be reinvigorated alongside new like-minded friends and no doubt reconnect with the old familiar faces who care for our planet.
The afternoon will kick off with a talk from local Ecologist Jayden Walsh - who will share some insights from many years of exploration - about Ku-ring-gai Chase National Park which our Picnic is at the doorstep of. He'll cover a broad range of connected topics from Soils & Vegetation Communities to Fauna. Following this, we'll have a few hours of socialising with many local Biodiversity related books, photographs and online resources available to read through during this time.
The evening will conclude with a Dusk Bird Chorus tour led by Jayden as the local birds let out their last songs before bed in what is sure to be an evening of serenity.
You'll have the opportunity to engage with your local environmental groups and learn about what they do to protect nature and the beautiful area that we treasure and want to preserve.
We look forward to a delightful Picnic with Nature.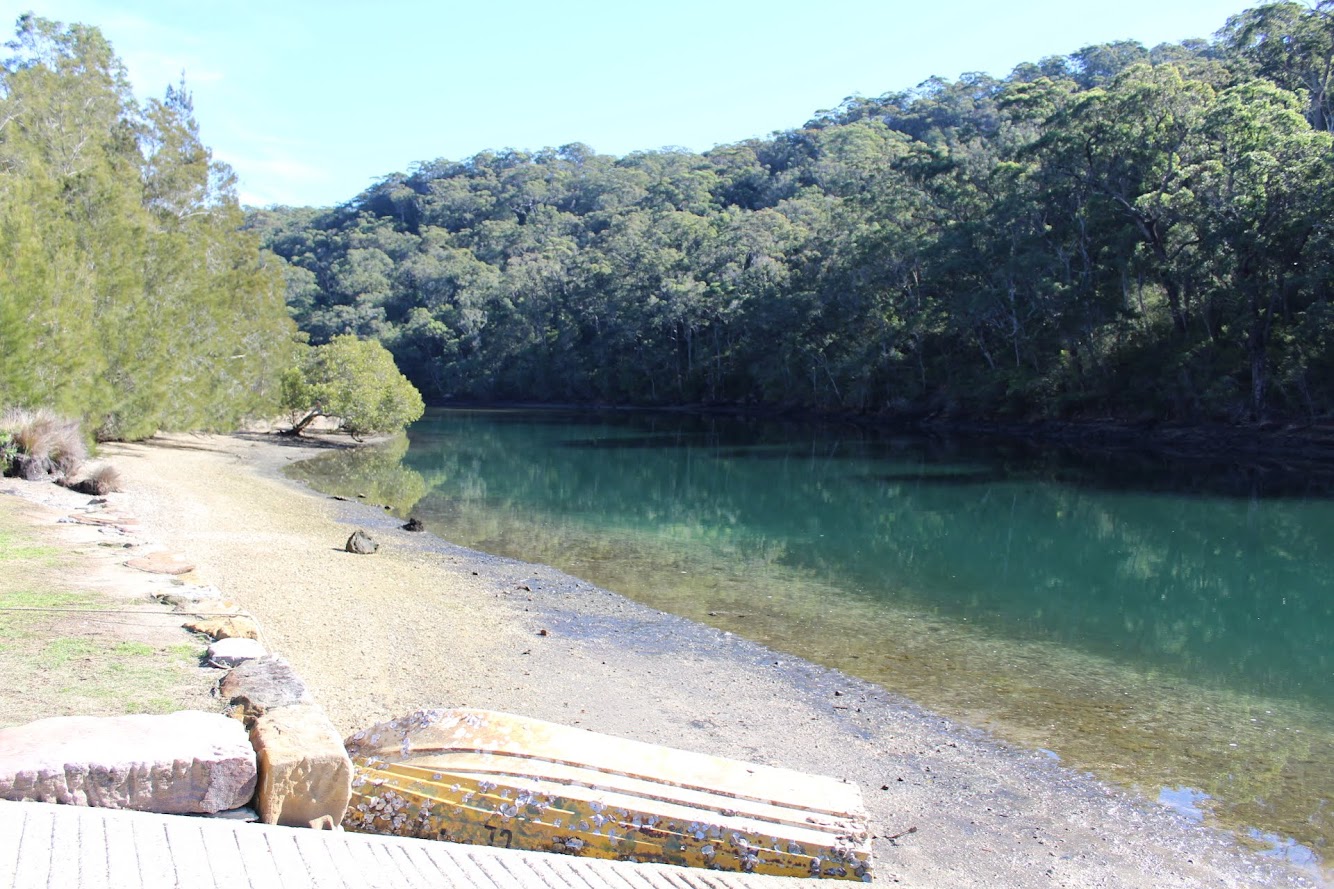 Bushwalk Fundraiser
In recent years, Garden Life has held a series of bushwalks on Guringai country / Pittwater, in support of the Indigenous Literacy Foundation, an organisation that is dedicated to lifting literacy levels in remote Indigenous communities around Australia. All ticket proceeds are donated to the Foundation, with more than $30,000 being raised so far.
Garden Life founder, Richard Unsworth, and bush expert, Paul Webb, host the private guided tours of the glorious and pristine bushland in the Ku-ring-gai Chase National Park, which features an abundance of native flora and fauna, bushfoods, waterfalls and remarkable Indigenous carvings. The walks conclude with a delicious three course lunch at Trincomalee, Richard's home and garden in Pittwater, before returning to Church Point via ferry.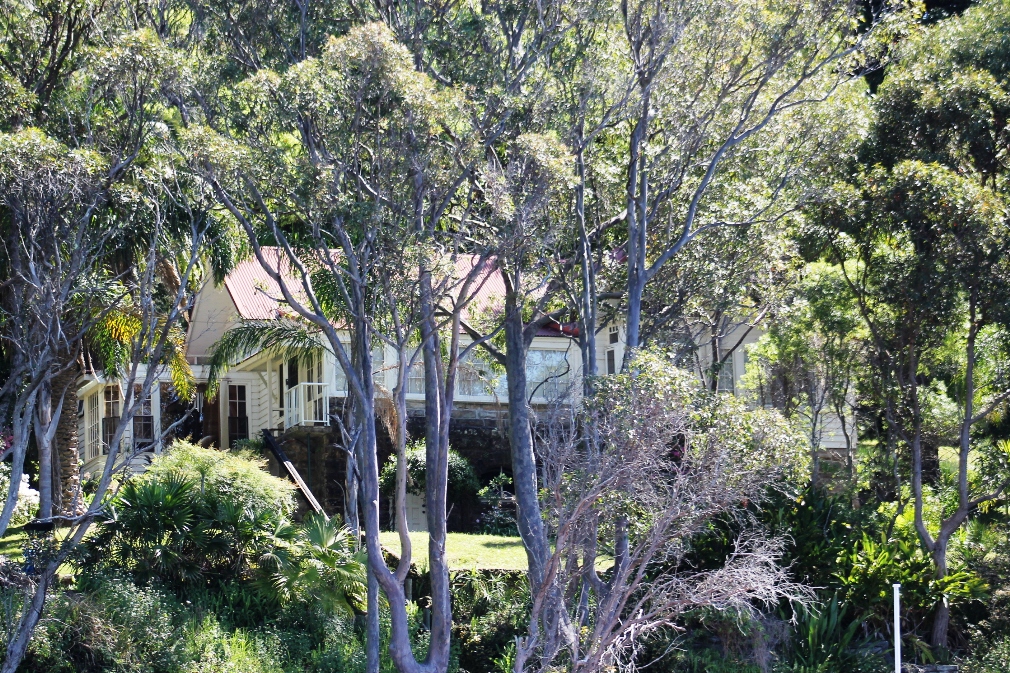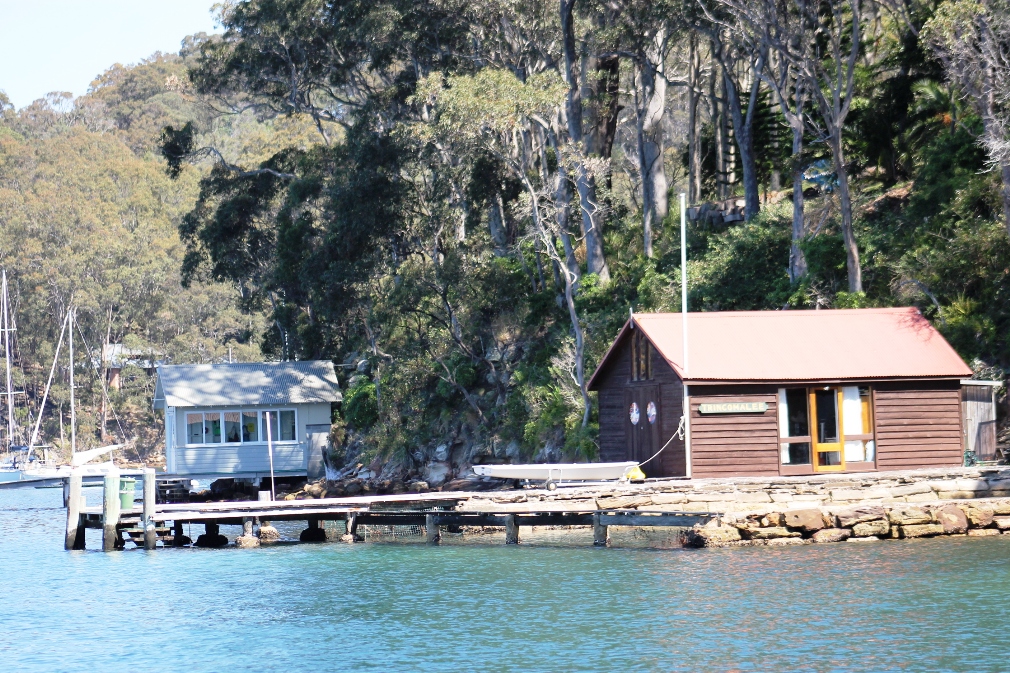 Enjoy a truly inspiring day out, just an hour's drive from the CBD, and support a wonderful organisation in the process. Private walks for groups of up to 10 people can also be organised – perfect for social groups or work team building.
Friday 10 November

Friday 8 December
If you are interested in booking a private walk, please email
marketing@gardenlife.com.au
. If you'd like to be notified of any upcoming walks, please subscribe to our newsletter.
About the Indigenous Literacy Foundation
The foundation is dedicated to lifting literacy levels in remote Indigenous communities, so all children across Australia have the same choices and opportunities. The purpose of the foundation is to make a difference to the lives of Indigenous families by not only gifting thousands of new culturally appropriate books – with a focus on early literacy and first language – but also by running programs to inspire the communities to tell and publish their own stories. More at:
www.indigenousliteracyfoundation.org.au
Above photos: AJG/PON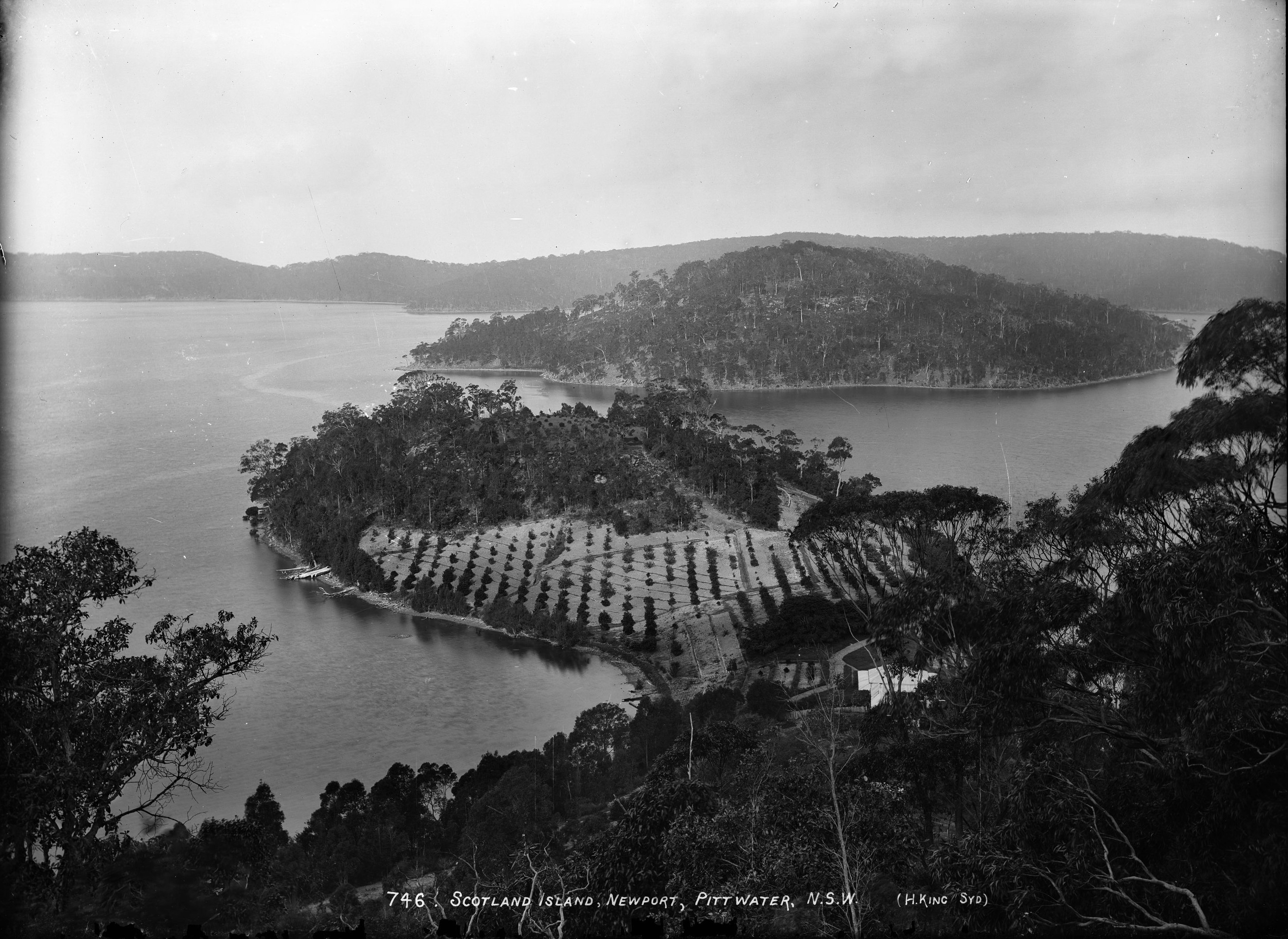 'Scotland Island, Newport, Pittwater, N.S.W.', photo by Henry King, Sydney, Australia, c. 1880-1886. and section from to show cottage on neck of peninsula at western end with no chimneys through roof. From Tyrell Collection, courtesy Powerhouse Museum
𝗞𝗶𝗺𝗯𝗿𝗶𝗸𝗶 𝗥𝗲𝘀𝗼𝘂𝗿𝗰𝗲 𝗥𝗲𝗰𝗼𝘃𝗲𝗿𝘆 𝗖𝗲𝗻𝘁𝗿𝗲 𝗶𝗻𝘃𝗶𝘁𝗲𝘀 𝘁𝗵𝗲 𝗰𝗼𝗺𝗺𝘂𝗻𝗶𝘁𝘆 𝘁𝗼 𝗼𝘂𝗿 𝗢𝗽𝗲𝗻 𝗗𝗮𝘆 𝟮𝟬𝟮𝟯 𝗮𝘁 𝗧𝗵𝗲 𝗛𝗨𝗕 - 𝗞𝗶𝗺𝗯𝗿𝗶𝗸𝗶.
Highlighting the four resident not-for-profit organisations: Peninsula Seniors Toy Recyclers, Bikes4Life, Boomerang Bags Northern Beaches - Kimbriki, Reverse Garbage and their dedicated volunteers.
Drop by the Eco House & Garden as part of the Sydney Edible Garden Trail or visit the Buy Back Centre to understand and see firsthand the huge amount of reusable items salvaged from landfill.
Join the movement towards a sustainable future! Be one of the first 100 to share your thoughts on Northern Beaches Council's new Waste and Circular Economy Strategy and receive exciting giveaways. Plus, enjoy fun activities for the kids. Don't miss out!
𝗟𝗲𝘁'𝘀 𝘄𝗼𝗿𝗸 𝘁𝗼𝗴𝗲𝘁𝗵𝗲𝗿 𝘁𝗼 𝗥𝗲𝘁𝗵𝗶𝗻𝗸, 𝗥𝗲𝗱𝘂𝗰𝗲, 𝗥𝗲𝘂𝘀𝗲 & 𝗥𝗲𝗰𝘆𝗰𝗹𝗲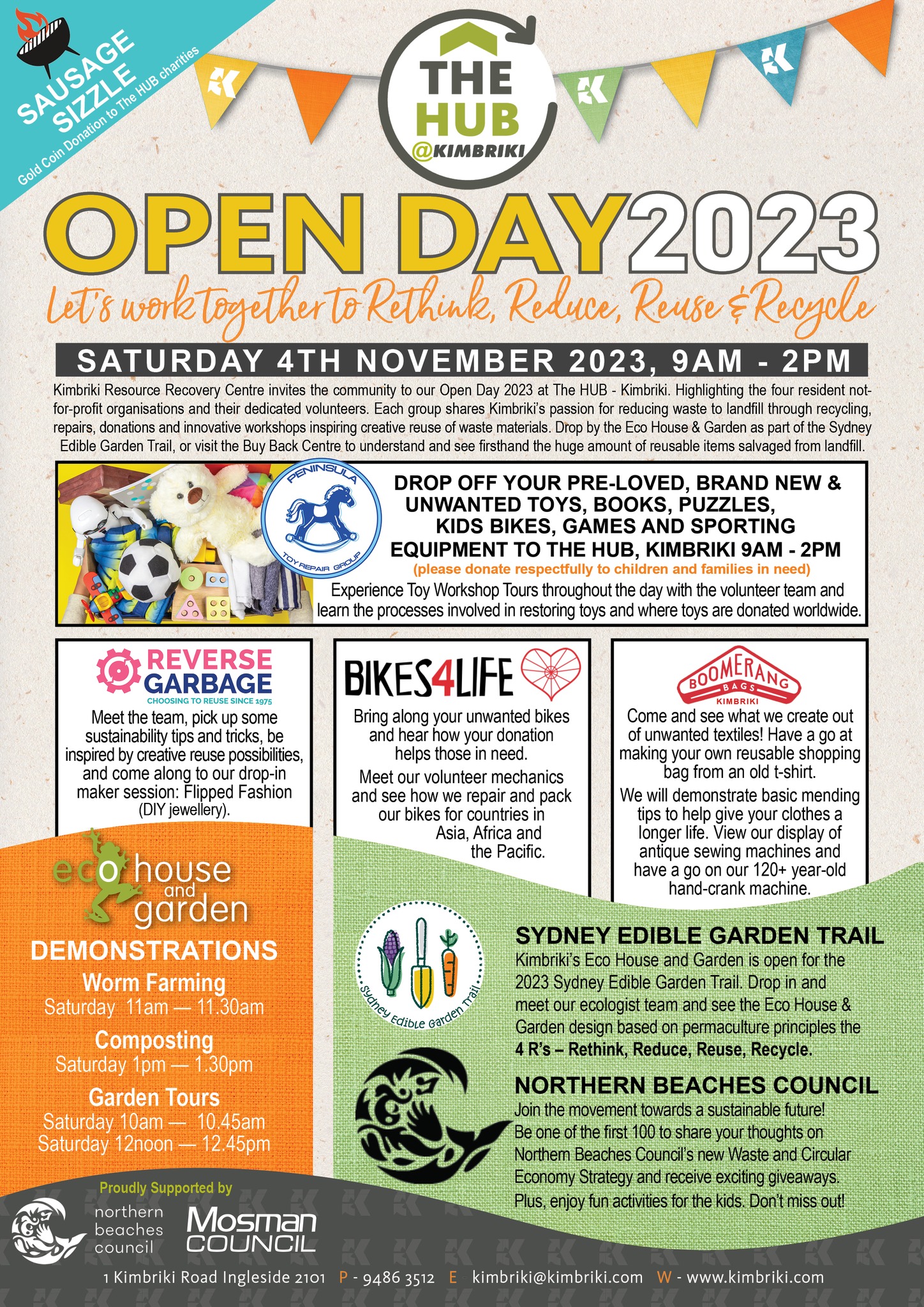 Palmgrove Park Avalon: New Bushcare Group Begins
Palmgrove Park Avalon is a remnant of the Spotted Gum forest that was once widespread on the lower slopes of the Pittwater peninsula. This bushland's official name and forest type is Pittwater and Wagstaffe Endangered Ecological Community, endangered because so much has been cleared for suburban development. Canopy trees, smaller trees and shrubs, and ground layer plants make up this community. Though scattered remnant Spotted Gums remain on private land, there is little chance of seedlings surviving in gardens and lawns. More information
HERE
A grant to PNHA from Council in 2021 funded revegetation of a section between Dress Circle Rd and Bellevue Rd. The tubestock planted there late in 2022 by students from Avalon Primary and bush regeneration contractors is flourishing.
More tubestock was planted on National Tree Day on July 30 2023.
A new Bushcare group will now be working there from Saturday August 5,
starting at 9am and working for up to three hours. Your help would be wonderful.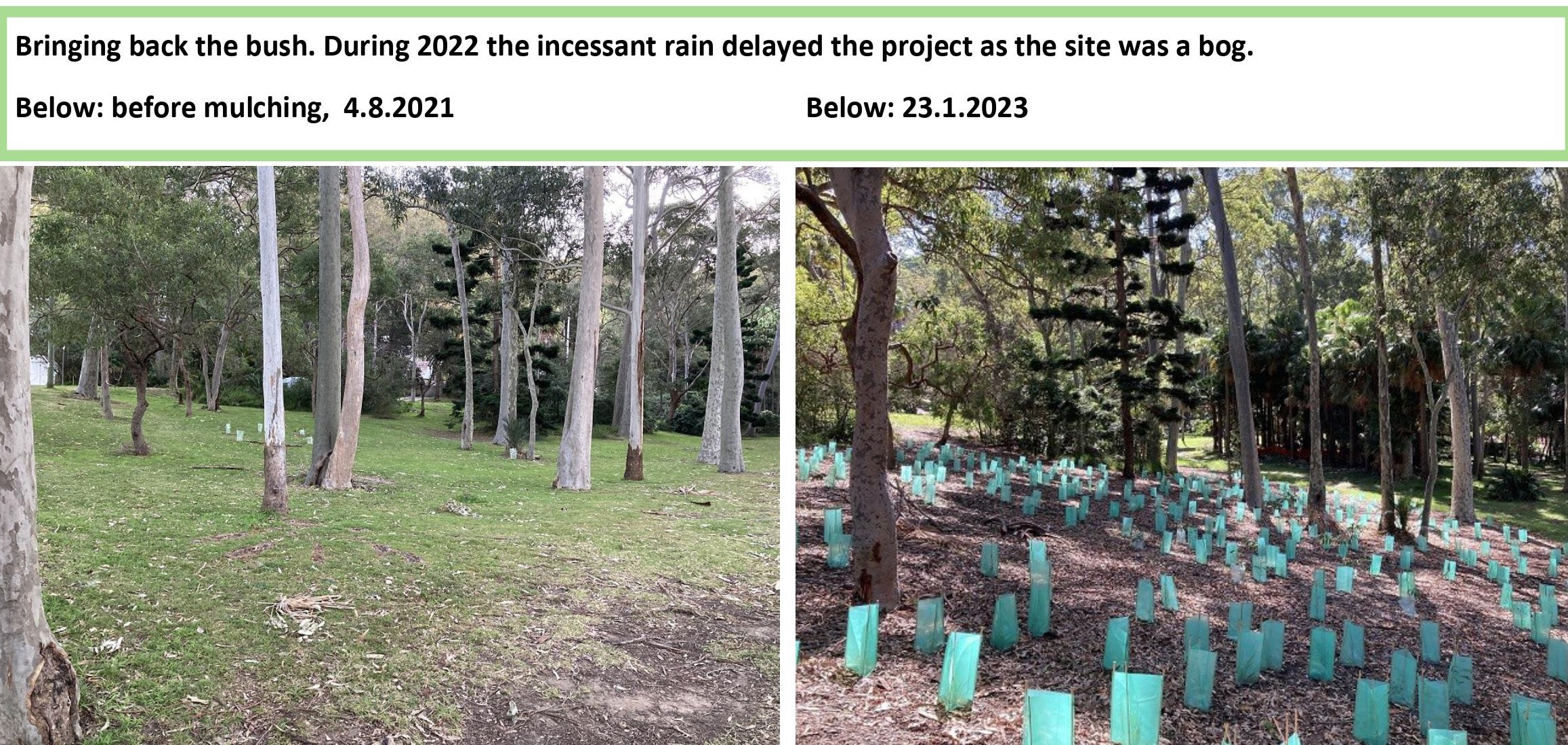 Sydney Wildlife Rescue: Next Rescue And Care Course Commences October 28
Want to get involved? Become a wildlife volunteer by completing our next course. Course is 3 weeks of online learning (approx 12hrs of 'work') followed by a practical day at a location in Sydney. Join a wonderful, close knit, like minded group of volunteers who's
focus is to rescue, rehabilitate and release our native wildlife
.
The Rescue and Care Course is designed and run by the Sydney Wildlife Training Committee and complies with the NSW Department of Planning and Environment species codes of practice and training standards. We run it on a cost-neutral basis.
To complete registration you must upload a clear, passport-style photo (head and shoulders only) of yourself and
Pay the $120 fee.
Your membership will not progress until these are received. During the practical component, proof of identity will be required to receive your Sydney Wildlife ID card.
Once you have finished the practical component we'll give you a rescue basket containing equipment and supplies for initial rescues and care. This includes packages of Insectivore Mix, Lorikeet and Honeyeater Mix, Neocare supplement for chicks, calcium, oral rehydration fluid, and a versatile lightweight net. Depending on availability, other items are usually added. Your first annual Wildlife Carer's Licence cost of $30 is included in this payment.
As a member you will be given a 'buddy'; an experienced member in your branch who will be available to you as a mentor to help you in your early days as a wildlife carer. Your buddy, along with our Branch Species Coordinators will ensure that you have someone to turn to when you need help and advice. You will be joining a local group, one of five branches within an organisation of friendly wildlife carers, with all the benefits of a large network.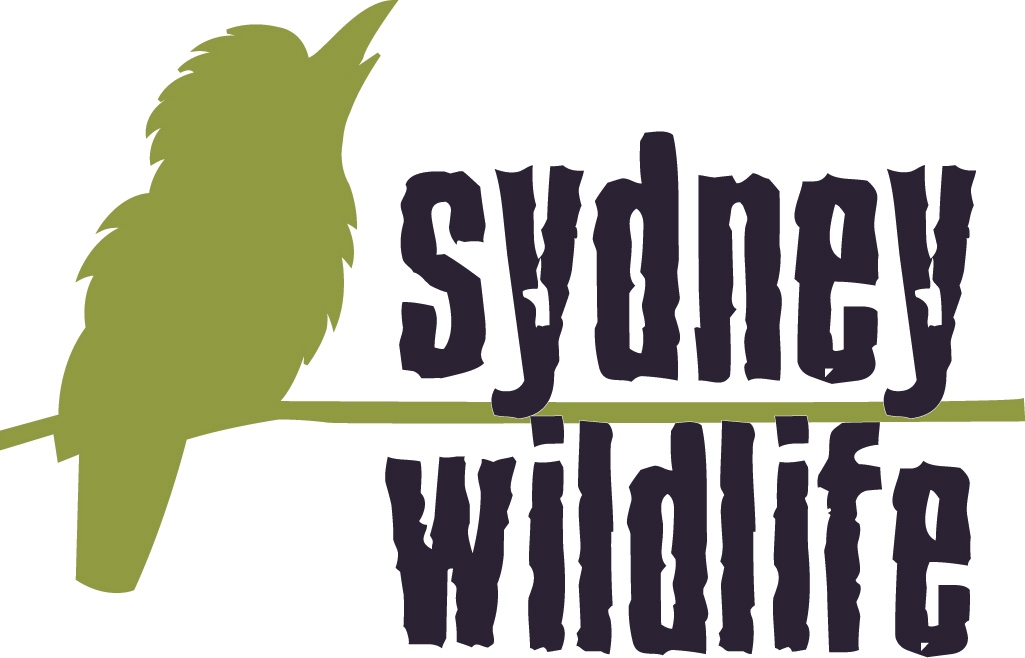 PNHA Guided Nature Walks 2023
Our walks are gentle strolls, enjoying and learning about the bush rather than aiming for destinations. Wear enclosed shoes. We welcome interested children over about 8 years old with carers. All Welcome.
So we know you're coming please book by emailing: pnhainfo@gmail.com and include your phone number so we can contact you if weather is doubtful.
The whole PNHA 2023 Guided Nature Walks Program is available at: http://pnha.org.au/test-walks-and-talks/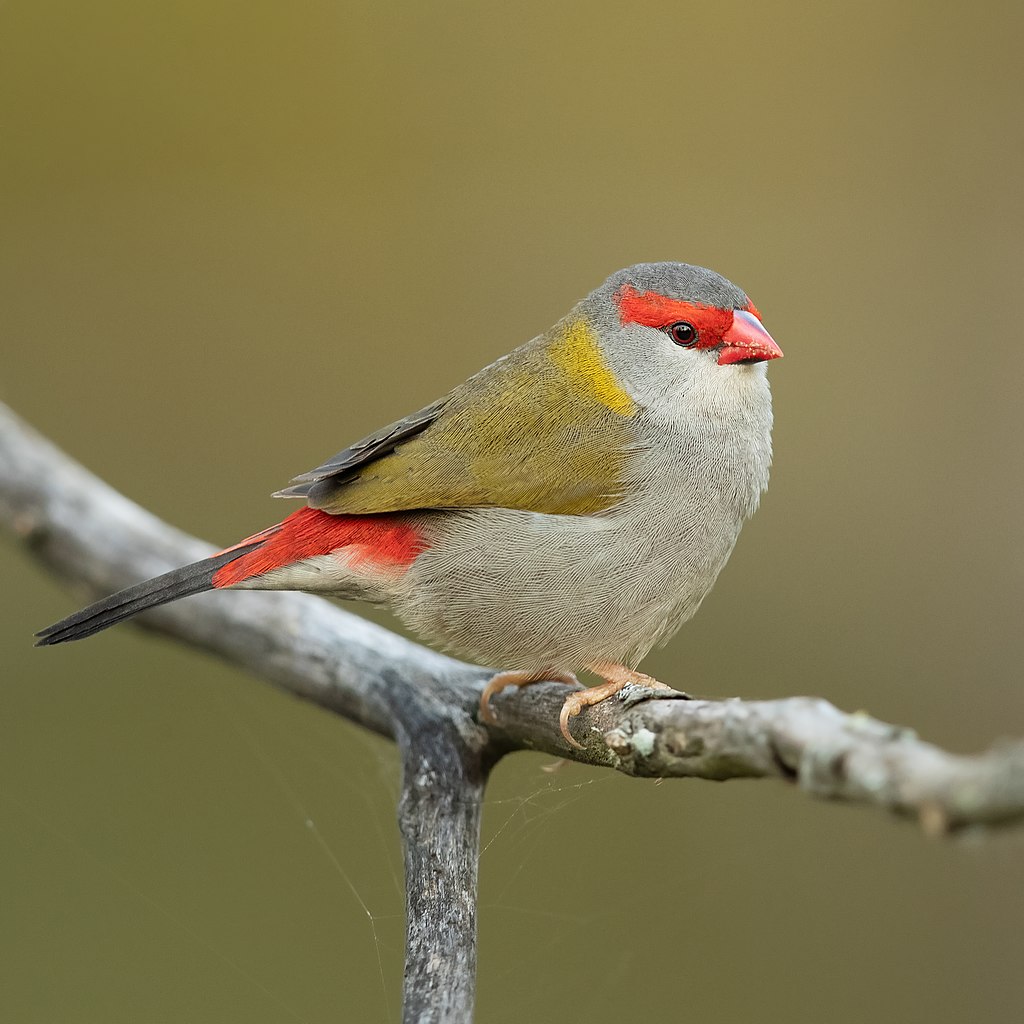 Red-browed finch (Neochmia temporalis). Photo: J J Harrison

Report Fox Sightings
Fox sightings, signs of fox activity, den locations and attacks on native or domestic animals can be reported into FoxScan. FoxScan is a free resource for residents, community groups, local Councils, and other land managers to record and report fox sightings and control activities.
Our Council's Invasive species Team receives an alert when an entry is made into FoxScan. The information in FoxScan will assist with planning fox control activities and to notify the community when and where foxes are active.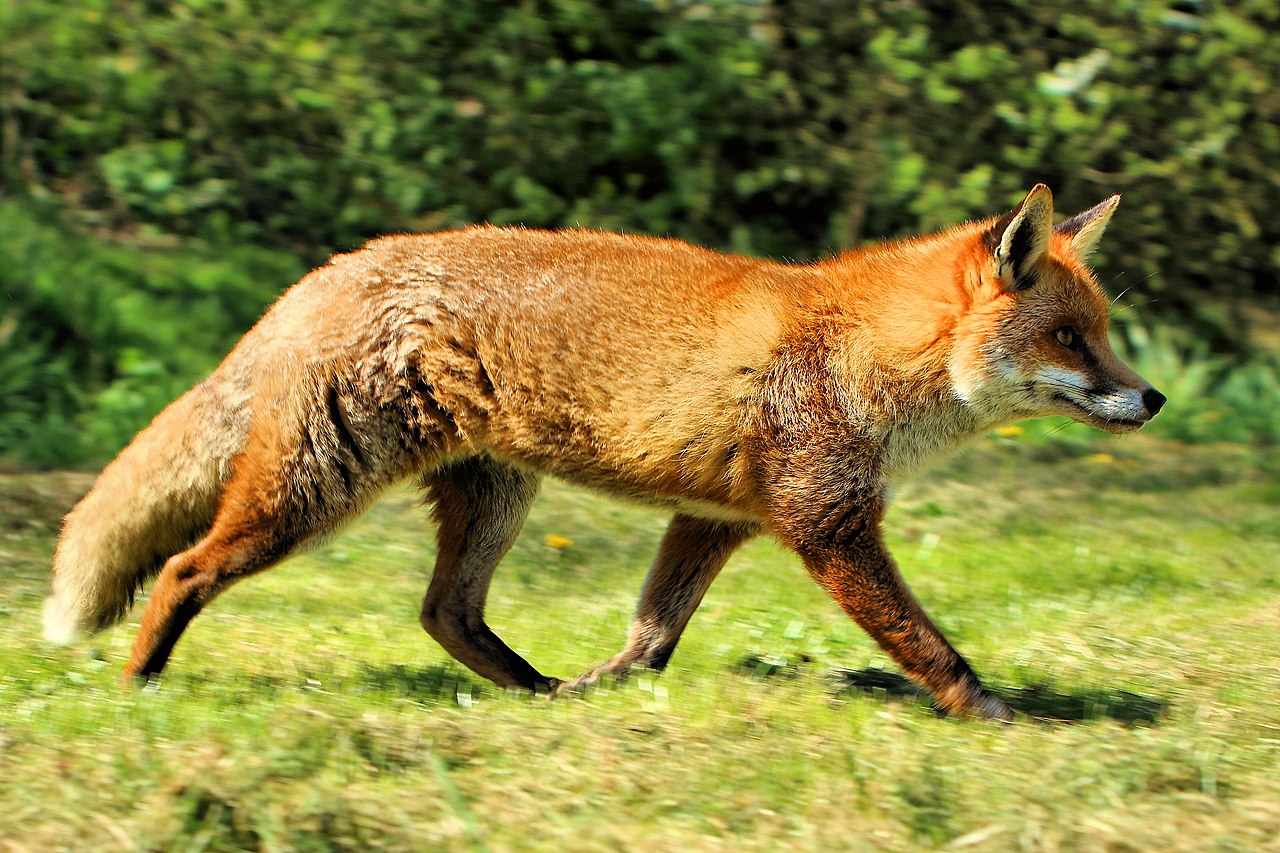 Marine Wildlife Rescue Group On The Central Coast
A new wildlife group was launched on the Central Coast on Saturday, December 10, 2022.
Marine Wildlife Rescue Central Coast (MWRCC) had its official launch at The Entrance Boat Shed at 10am.
The group comprises current and former members of ASTR, ORRCA, Sea Shepherd, Greenpeace, WIRES and Wildlife ARC, as well as vets, academics, and people from all walks of life.
Well known marine wildlife advocate and activist Cathy Gilmore is spearheading the organisation.
"We believe that it is time the Central Coast looked after its own marine wildlife, and not be under the control or directed by groups that aren't based locally," Gilmore said.
"We have the local knowledge and are set up to respond and help injured animals more quickly.
"This also means that donations and money fundraised will go directly into helping our local marine creatures, and not get tied up elsewhere in the state."
The organisation plans to have rehabilitation facilities and rescue kits placed in strategic locations around the region.
MWRCC will also be in touch with Indigenous groups to learn the traditional importance of the local marine environment and its inhabitants.
"We want to work with these groups and share knowledge between us," Gilmore said.
"This is an opportunity to help save and protect our local marine wildlife, so if you have passion and commitment, then you are more than welcome to join us."
Marine Wildlife Rescue Central Coast has a Facebook page where you may contact members. Visit: https://www.facebook.com/profile.php?id=100076317431064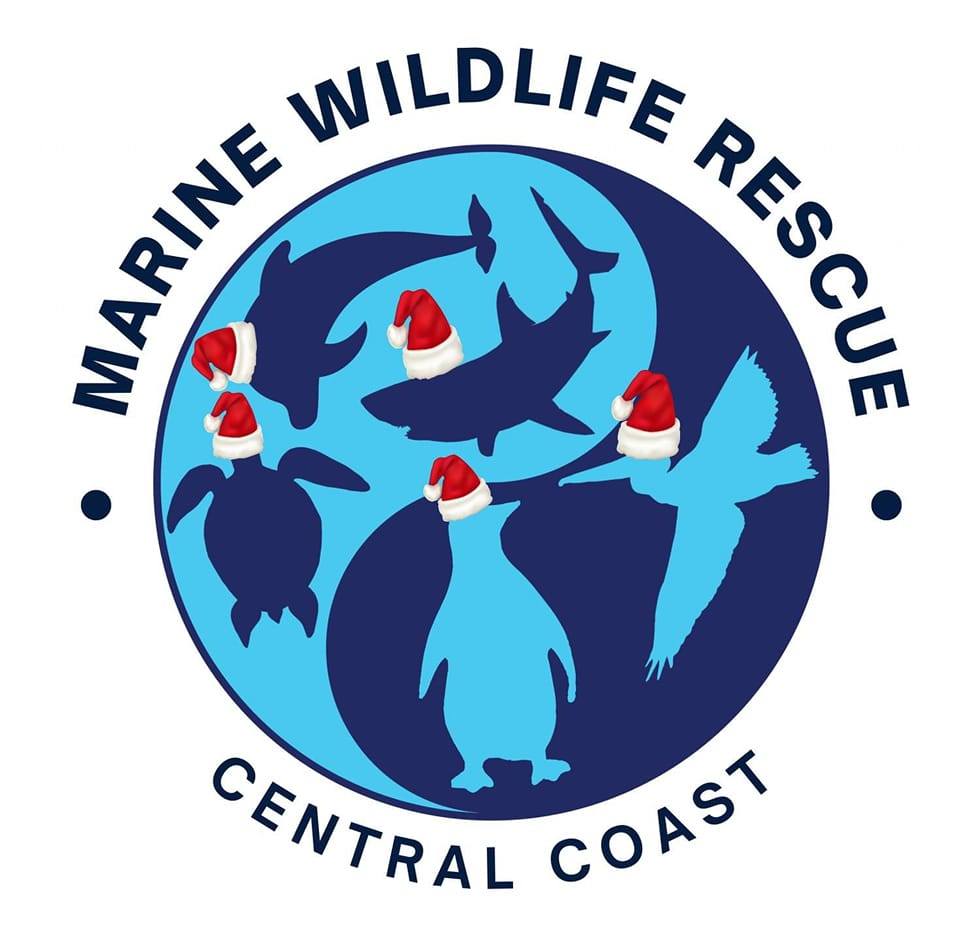 Watch Out - Shorebirds About
Summer is here so watch your step because beach-nesting and estuary-nesting birds have started setting up home on our shores.
Did you know that Careel Bay and other spots throughout our area are part of the East Asian-Australasian Flyway Partnership (EAAFP)?
This flyway, and all of the stopping points along its way, are vital to ensure the survival of these Spring and Summer visitors. This is where they rest and feed on their journeys. For example, did you know that the bar-tailed godwit flies for 239 hours for 8,108 miles from Alaska to Australia?
Not only that, Shorebirds such as endangered oystercatchers and little terns lay their eggs in shallow scraped-out nests in the sand, NSW National Parks and Wildlife Service (NPWS) Threatened Species officer Ms Katherine Howard has said.
Even our regular residents such as seagulls are currently nesting to bear young.
What can you do to help them?
Known nest sites may be indicated by fencing or signs. The whole community can help protect shorebirds by keeping out of nesting areas marked by signs or fences and only taking your dog to designated dog offleash area.
Just remember WE are visitors to these areas. These birds LIVE there. This is their home.
Four simple steps to help keep beach-nesting birds safe:
1. Look out for bird nesting signs or fenced-off nesting areas on the beach, stay well clear of these areas and give the parent birds plenty of space.
2. Walk your dogs in designated dog-friendly areas only and always keep them on a leash over summer.
3. Stay out of nesting areas and follow all local rules.
4. Chicks are mobile and don't necessarily stay within fenced nesting areas. When you're near a nesting area, stick to the wet sand to avoid accidentally stepping on a chick.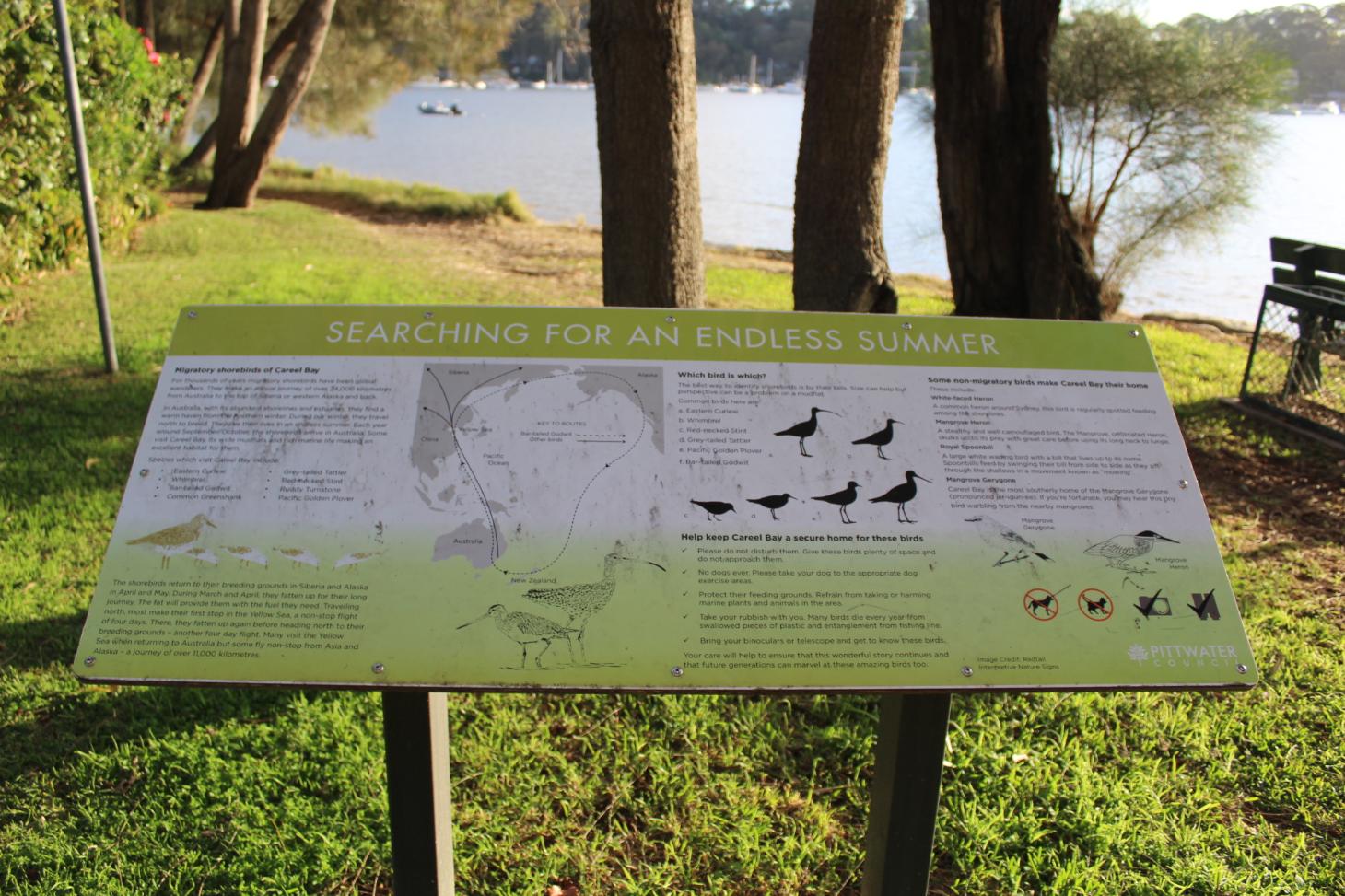 Possums In Your Roof?: Do The Right Thing
Possums in your roof? Please do the right thing
On the weekend, one of our volunteers noticed a driver pull up, get out of their vehicle, open the boot, remove a trap and attempt to dump a possum on a bush track. Fortunately, our member intervened and saved the beautiful female brushtail and the baby in her pouch from certain death.
It is illegal to relocate a trapped possum more than 150 metres from the point of capture and substantial penalties apply. Urbanised possums are highly territorial and do not fare well in unfamiliar bushland. In fact, they may starve to death or be taken by predators.
While Sydney Wildlife Rescue does not provide a service to remove possums from your roof, we do offer this advice:
✅ Call us on (02) 9413 4300 and we will refer you to a reliable and trusted licenced contractor in the Sydney metropolitan area. For a small fee they will remove the possum, seal the entry to your roof and provide a suitable home for the possum - a box for a brushtail or drey for a ringtail.
✅ Do-it-yourself by following this advice from the Department of Planning and Environment:
❌ Do not under any circumstances relocate a possum more than 150 metres from the capture site.
Thank you for caring and doing the right thing.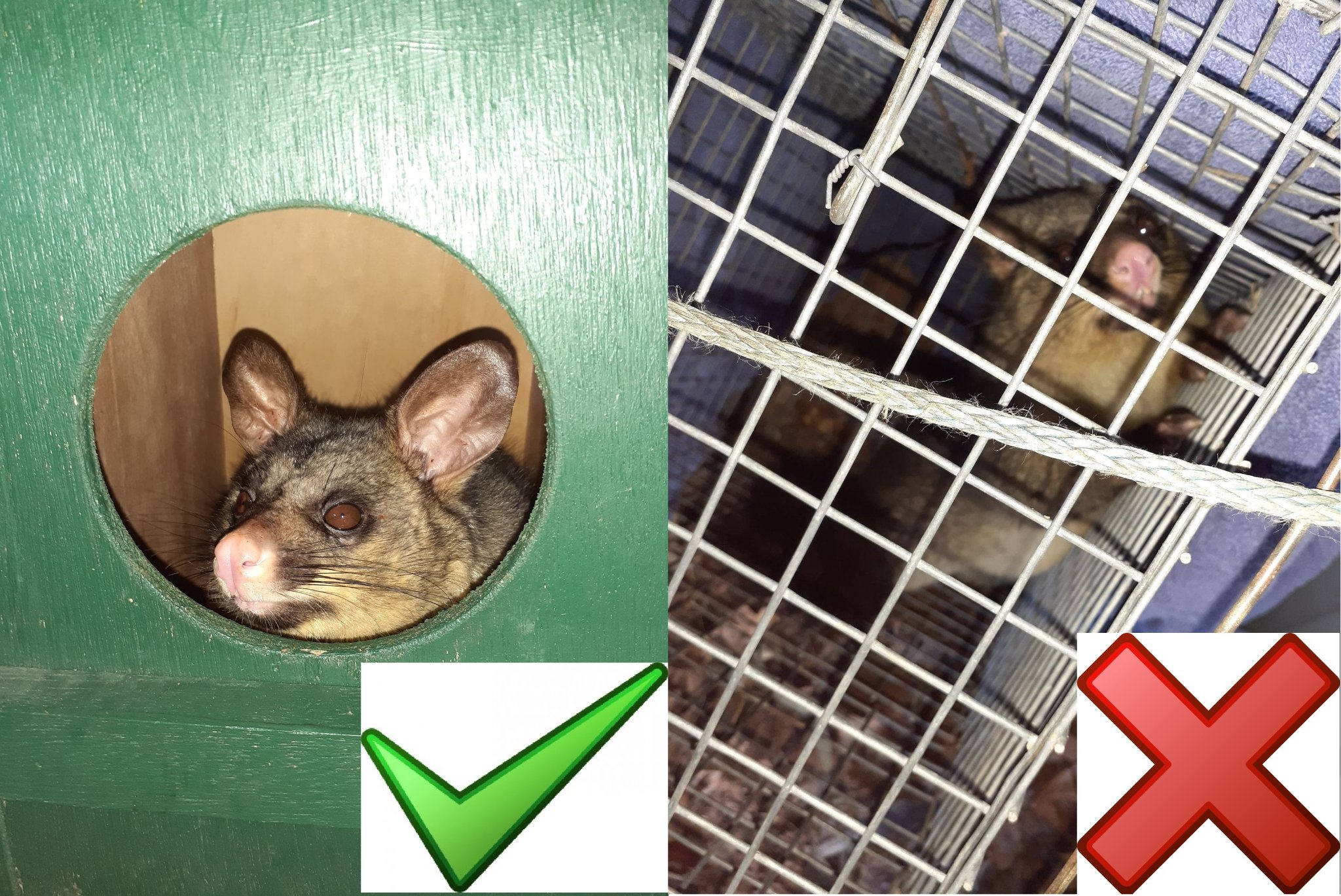 Sydney Wildlife photos
Aviaries + Possum Release Sites Needed
Pittwater Online News has interviewed
Lynette Millett OAM
(WIRES Northern Beaches Branch)
needs more bird cages of all sizes for keeping the current huge amount of baby wildlife in care safe or 'homed' while they are healed/allowed to grow bigger to the point where they may be released back into their own home.
If you have an aviary or large bird cage you are getting rid of or don't need anymore, please email via the link provided above.
There is also a pressing need for release sites for brushtail possums - a species that is very territorial and where release into a site already lived in by one possum can result in serious problems and injury.
If you have a decent backyard and can help out, Lyn and husband Dave can supply you with a simple drey for a nest and food for their first weeks of adjustment.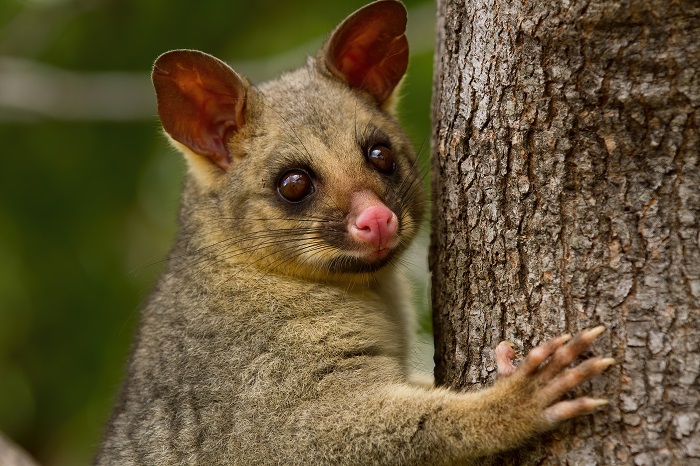 Bushcare In Pittwater
For further information or to confirm the meeting details for below groups, please contact Council's Bushcare Officer on 9970 1367 or visit Council's bushcare webpage to find out how you can get involved.
BUSHCARE SCHEDULES
Where we work Which day What time
Avalon
Angophora Reserve 3rd Sunday 8:30 - 11:30am
Avalon Dunes 1st Sunday 8:30 - 11:30am
Avalon Golf Course 2nd Wednesday 3 - 5:30pm
Careel Creek 4th Saturday 8:30 - 11:30am
Toongari Reserve 3rd Saturday 9 - 12noon (8 - 11am in summer)
Bangalley Headland 2nd Sunday 9 to 12noon
Bayview
Winnererremy Bay 4th Sunday 9 to 12noon
Bilgola
North Bilgola Beach 3rd Monday 9 - 12noon
Algona Reserve 1st Saturday 9 - 12noon
Plateau Park 1st Friday 8:30 - 11:30am
Church Point
Browns Bay Reserve 1st Tuesday 9 - 12noon
McCarrs Creek Reserve Contact Bushcare Officer To be confirmed
Clareville
Old Wharf Reserve 3rd Saturday 8 - 11am
Elanora
Kundibah Reserve 4th Sunday 8:30 - 11:30am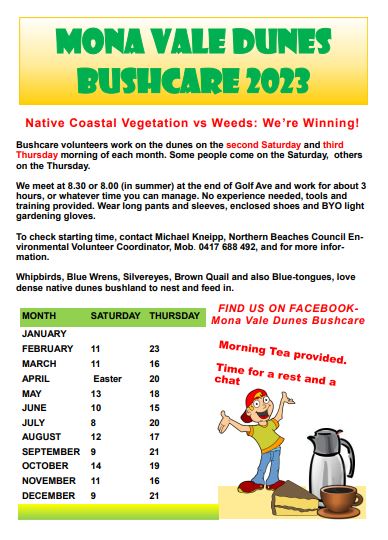 Mona Vale
Mona Vale Beach Basin 1st Saturday 8 - 11am
Mona Vale Dunes 2nd Saturday +3rd Thursday 8:30 - 11:30am
Newport
Bungan Beach 4th Sunday 9 - 12noon
Crescent Reserve 3rd Sunday 9 - 12noon
North Newport Beach 4th Saturday 8:30 - 11:30am
Porter Reserve 2nd Saturday 8 - 11am
North Narrabeen
Irrawong Reserve 2nd Saturday 2 - 5pm
Palm Beach
North Palm Beach Dunes 3rd Saturday 9 - 12noon
Scotland Island
Catherine Park 2nd Sunday 10 - 12:30pm
Elizabeth Park 1st Saturday 9 - 12noon
Pathilda Reserve 3rd Saturday 9 - 12noon
Warriewood
Warriewood Wetlands 1st Sunday 8:30 - 11:30am
Whale Beach
Norma Park 1st Friday 9 - 12noon
Western Foreshores
Coopers Point, Elvina Bay 2nd Sunday 10 - 1pm
Rocky Point, Elvina Bay 1st Monday 9 - 12noon
Friends Of Narrabeen Lagoon Catchment Activities

Bush Regeneration - Narrabeen Lagoon Catchment
This is a wonderful way to become connected to nature and contribute to the health of the environment. Over the weeks and months you can see positive changes as you give native species a better chance to thrive. Wildlife appreciate the improvement in their habitat.
Belrose area - Thursday mornings
Belrose area - Weekend mornings by arrangement
Contact: Phone or text Conny Harris on 0432 643 295
Wheeler Creek - Wednesday mornings 9-11am
Contact: Phone or text Judith Bennett on 0402 974 105
Gardens And Environment Groups And Organisations In Pittwater
Critically Endangered Swift Parrot Detection Near NSW Boggabri Coal Mine Sites
Revelations Idemitsu detected 21 critically endangered Swift Parrots near its Boggabri open cut coal mine in the Leard State Forest near Narrabri - the second year in a row the parrots have been detected by the mining company - has prompted calls for action from Environment Minister Tanya Plibersek.
This year's detection of the parrots was noted in the August Boggabri Coal Community Consultation Committee minutes, while the previous year's was included in the mine's Annual Review submitted to the NSW Department of Planning.
Boggabri Coal's latest EPBC Act compliance report shows the federal department charged with monitoring compliance
may be unaware the critically endangered parrots have been detected twice in two years
, as it has not "requested species and ecological survey data to date".
Advocates are now calling on the Albanese Government to ensure that all habitat for critically endangered species is protected from clearing as part of its EPBC Act reforms and for Environment Minister Tanya Plibersek to amend the conditions of the Boggabri coal mine to prevent further clearing of Swift Parrot habitat.
They state the discovery is new information which shows that Leard State Forest is an important foraging area for Swift Parrots, and that the discovery highlights the need for the remaining forest to be protected from further clearing for coal mining.
Idemitsu has approval to continue clearing Leard State Forest and
while its approval requires it to survey every year for Swift Parrots, it requires no action to be taken if the rare birds are found.
BirdLife Australia spokesperson Mick Roderick said, "Swift Parrots are on a fast track to extinction within the next 10 years if we continue with business as usual. Protecting the places where they are known to feed and congregate, such as the area in and around Leard State Forest, is not only important for individual birds, it is critical to the survival of the whole species.
"This is just another example of death by a thousand cuts because Australia's national nature laws are weak, outdated and are failing to protect threatened birds and the places they live.
"These same national nature laws are being rewritten for the first time in 20 years but will need broad political support to deliver the reforms that nature needs. BirdLife is asking bird lovers to contact their Federal Members of Parliament and urge them to support new laws that will genuinely protect and restore special places like the Leard State Forest forever."
Lock the Gate Alliance Head of Research and Investigations Georgina Woods said, "This extraordinary situation has exposed the urgent need to overhaul Australia's environment laws. Idemitsu has cleared vast swathes of an irreplaceable forest. It's required to search for Swift Parrots, but is under no obligation to stop clearing their habitat if it finds them.
"The discovery of critically endangered birds should bring clearing activity at the mine to an immediate halt.
"Environment Minister Tanya Plibersek needs to alter the conditions of the Boggabri coal mine to prevent further clearing of Swift parrot habitat. She needs to ensure that when Australia's environment laws are overhauled, there is a clear prohibition on clearing any habitat for critically endangered species.
"The Albanese Government's EPBC Act reforms must ensure we identify and protect all remaining habitat for critically endangered species like the Swift Parrot.
"The significance of Leard State Forest to the Swift Parrot should also put a stop to proposed coal mine expansion plans by not only Idemitsu, but also Whitehaven, in the forest."
Idemitsu subsidiary Boggabri Coal is awaiting an outcome from the NSW Planning Department for its planned modification 8, which would require more habitat clearing.
Whitehaven Coal plans to expand its Maules Creek coal mine, also located in the Leard State Forest.
On September 28 2023 Lock the Gate stated that this was the same Boggabri
mine that faced enforcement action after illegally taking water could be the first coal project in the state to be given approval to expand under the new Labor Government, despite continuing to rely on water from the same source in breach of its existing approvals.
Lock the Gate Alliance last week wrote an
urgent letter
to the government highlighting how Idemitsu intends to continue relying on water from what's known as the Bluevale Water Source for its Boggabri Coal mine "modification eight".
Three months ago, the Natural Resources Access Regulator entered into an "enforceable undertaking" with Idemitsu after the company was found to have stolen more than 500 Olympic swimming pools' worth of water from the Bluevale Water Source during the last drought.
In the very week this undertaking was signed, Idemitsu submitted documentation for its expansion plan which claimed that historically the company "has been able to obtain adequate water entitlements for its operations".
Lock the Gate's letter accuses the NSW Planning Department of failing to remedy this, and highlights how Idemitsu explicitly plans to continue using water from the Bluevale Water Source for its expansion and does not have sufficient water licences to cover its demand in drought conditions.
The Planning Department is expected to make a decision regarding the Boggabri coal mine modification eight project any day now. If approved, it would give Idemitsu permission to dig deeper into the coal seams, allowing it to operate until 2036. The modification would be responsible for 63 million tonnes of CO2-e (see page 3).
Because it is classed as a "modification", the decision on whether or not to approve the project will be made by a Department of Planning official without any involvement of the Independent Planning Commission.
Lock the Gate Alliance research coordinator Georgina Woods said, "The Minns Government needs to pull the Department of Planning into line before it recklessly grants approval to Idemitsu to mine deeper, for longer, at Boggabri.
"This mine has been operating in breach of its consent conditions for years and clearly will not be able to lawfully cover its water demand in the next awful drought.
"The Minns Government has not reviewed or fixed the flawed coal mining policies of the former State Government. This means the Boggabri modification is almost guaranteed to be given the go ahead by the department with no independent process, despite its impact on water resources and climate change.
"Rural and regional communities cannot afford the Minns Government to follow business as usual for water-guzzling, climate-wrecking coal mine expansions. To reset means urgently overhauling the policies that let projects like this sail through unscrutinised."
Background:
Advice from the water division of the Department of Planning warned (twice) that Idemitsu may not be able to obtain legal entitlement to use water captured on site from the Bluevale Water Source catchment - the very offence for which it has recently been sanctioned.
The Minns Labor Government has not made any changes to policy settings that facilitated 26 new fossil fuel projects approved in NSW by the former Coalition Government since the Paris Agreement
, despite promising that planning processes would be fully independent.
Boggabri MOD 8 is the first new coal expansion likely to be determined by the new Labor government in NSW.
It's the first of at least 10 new coal expansions making their way through the NSW planning system. If all are approved these expansions would constitute a major acceleration in the approval of new coal mining capacity in NSW
.
Ten Big Coal Mines Can Increase Emissions Under Safeguard Mechanism: New Analysis
New expert analysis has uncovered an outcome of the Albanese Government's Safeguard Mechanism Reforms which will allow ten large coal mines to increase their emissions. Report available here.
The mines could also potentially generate windfall credits for themselves under the scheme without taking any action to reduce emissions, meaning the mining companies could be paid to pollute.
The Energy Resource Insights briefing, released today and commissioned by Lock the Gate Alliance, found the anomaly arises from the Safeguard Mechanism's application of industry averages to determine facility-level emissions baselines.
That means while underground mines which tend to produce more direct greenhouse emissions per tonne of coal produced will face appropriate limits under the mechanism, ten open cut coal mines will be able to increase their emissions, and could reap a financial benefit in the form of Safeguard Mechanism Credits at a potential value of $180 million dollars even if they take no action at all to reduce their emissions. See below for a list of the ten projects.
The ten large mines represent around 30 percent of Australia's coal production and six of the ten set to benefit from the policy have proposals to expand.
Lock the Gate Alliance research coordinator Georgina Woods said, "It would be absolutely perverse if the design of the Safeguard Mechanism created an incentive to expand open cut coal mining and release more dangerous methane into the atmosphere just as humanity is on the cusp of catastrophic levels of warming.
"There's still time* for Climate Change Minister Chris Bowen to fix this problem. The credibility of the Safeguard reforms will be in doubt if huge open cut coal mines, most of which have plans to expand, are able to increase emissions and make money from the scheme.
"Crucially, the greenhouse gas these mines will emit, methane, is responsible for around a third of the warming the world has suffered so far, and urgently reducing these emissions will buy us extra time to prevent catastrophic warming beyond the Paris Agreement goals.
"Devastating bushfires, droughts, and floods are wreaking havoc on communities, particularly in the regions. Now is not the time for governments to enable huge coal mines to make money from increasing emissions when the rest of the economy is working to reduce emissions."
*
Background: While Safeguard Mechanism reforms came into force on July 1, there are still pieces of regulation being made, including the role and level of industry average emissions for coal mining.
Table 1: Coal mines with emissions baselines that will rise to 2030 under the Safeguard calculation
Woodside's Seismic Blasting Approval Thrown Out After Legal Challenge By Traditional Custodian Intent On Saving The Songlines
The Federal Court has invalidated Woodside Energy's approval to conduct seismic blasting for its Scarborough Gas Project after a legal challenge by a Traditional Custodian.
Mardudhunera woman Raelene Cooper filed a judicial review in August, arguing the o
ffshore regulator NOPSEMA made a legal error in approving the blasting and that Woodside had not met a condition of the approval that she be properly consulted.
The project, part of Woodside's mega-polluting Burrup Hub, is offshore of the Burrup Peninsula in north-west Western Australia, known as Murujuga, which is currently nominated for UNESCO World Heritage listing, as it contains the largest collection of Aboriginal rock art in the world.
Ms Cooper is deeply concerned about the seismic activity's impact on her Songlines, including on whales and turtles, which are of high cultural importance.
On September 14th Justice Colvin granted an urgent interlocutory injunction preventing Woodside from commencing blasting until the 28th of September, after
Woodside gave 48 hours' notice it was going ahead despite the unresolved legal challenge.
Represented by the Environmental Defenders Office, Ms Cooper returned to the Federal Court in Perth on Tuesday for an expedited hearing on the first ground of her case – that NOPSEMA had made a legal error in accepting Woodside's plan when it was not satisfied it had met stakeholder consultation requirements – as well as an issue of legal standing around the second ground of the judicial review.
Today, Justice Colvin decided that NOPSEMA's decision to approve the plan was invalid and should be set aside.
This means Woodside no longer has an approval to conduct the seismic blasting.
Following the decision, Raelene Cooper said:
"I'm so elated. I want my mob back home to be empowered by this day today. This is bigger than me it's about my people and our history. We've been forgotten and treated so badly. I want the old people to remember we are warriors. I'm a warrior and my family are warriors.
"
Woodside just came and told us what was happening
.
They never bothered to sit down and listen to Murujuga traditional custodians about the full impacts of their Burrup Hub operations on our culture and our sacred Songlines.
All I am thinking about is my mum, my family and my people. I'm here on behalf of all of them. They should have no fear.
"
No one is more relevant to consult about the threat posed by Woodside's Burrup Hub than Traditional Custodians of Murujuga with cultural, spiritual and family connections to our sacred ngurra
. We know what it takes to protect our Country and keep it safe for all of us – plants, animals and humans. When you're messing with mother Earth you're talking about all humanity, our very existence."
EDO Managing Lawyer Brendan Dobbie said:
"This is a fantastic outcome for our client, and the whole community, that has
affirmed the need for proper consultation to take place before approvals are granted
in offshore developments.
"
NOPSEMA should never have accepted Woodside Energy's Environment Plan, knowing these requirements had not yet been met.
"The court previously heard about the serious harm that seismic testing would inflict on Ms Cooper's Songlines and culture. This is a significant burden for a Traditional Custodian who has a duty to protect these Songlines for future generations.
"Ms Cooper is entitled to be heard and have her interests represented before any decision on the seismic blasting is taken."
In a Media Statement by the Australian Energy Producers in response to the Federal Court decision about NOPSEMA's approval of Scarborough gas project on the same date, September 28, 2023,
Australian Energy Producers Chief Executive Samantha McCulloch said:
''Australia's reputation among international investors centres on its ability to provide certainty and stability, both of which are important for our global competitiveness and valued long-term relationships with international customers and investors.




Important energy projects which are following the rules, consulting in good faith and being granted approvals by the regulator are being impacted because unclear regulations and the application of them are effectively changing the goal posts. The time delays and costs incurred are substantial.




More obstacles are being put in the way of critical energy developments, risking the new supply needed to deliver domestic energy security, emissions reductions and substantial economic returns for Australians.




Comprehensive and effective consultation with Traditional Owners and landholders has been an important part of the work of Australia's oil and gas industry going back decades.




Regulations which provide clarity and certainty for industry while maintaining consultation obligations are desperately needed.




Governments must make clear regulations for consultation that maintain high standards of consultation with stakeholders, including Traditional Owners, but also provide regulatory certainty when an approval is granted.




Investors in Australia's resources sector face increasing approvals uncertainty after today's court decision, compounding the uncertainty stemming from last year's decision against a regulatory approval for the Santos Barossa Project.''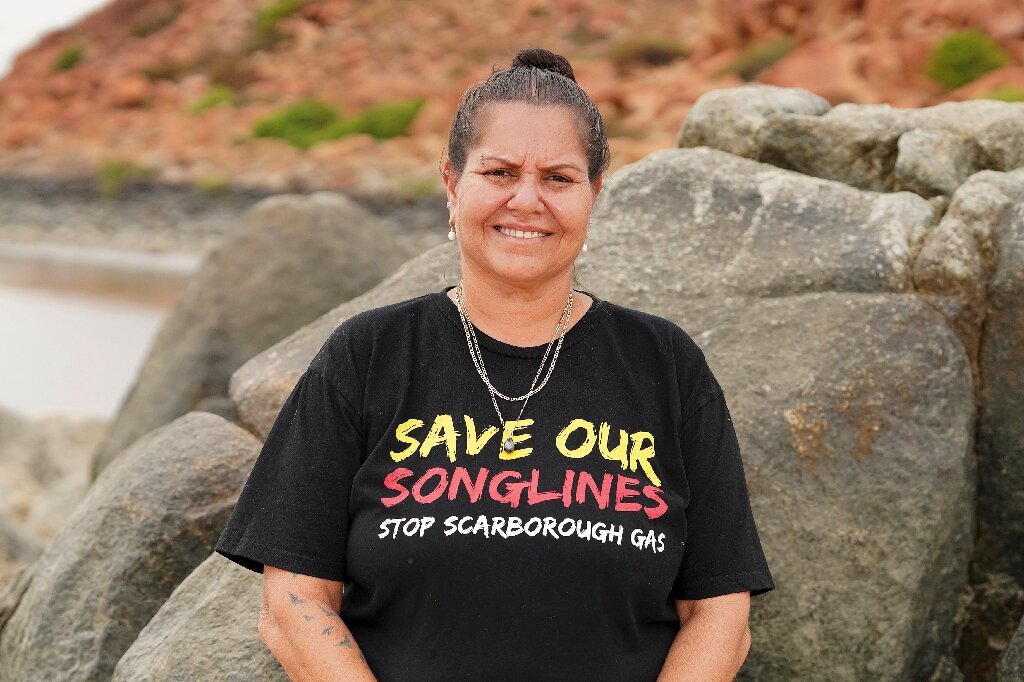 First Nations advocate and Songlines protector Raelene Cooper. Photo from/by/courtesy Woop Woop Pictures

Woodside wants to conduct 4d seismic blasting for its Scarborough Gas Project – a for-export LNG proposal off Murujuga/the Burrup Peninsula in Western Australia, which
will result in the release of an estimated 878.02 million tonnes of carbon dioxide over its lifetime.
The proposed Scarborough Gas Project is part of the Burrup Hub
, involving the development of the new Scarborough and Browse Basin gas fields – which alone have an
estimated combined emission of 2.95 billion tonnes of CO2.
The Burrup Hub also includes the Pluto Project processing plant and other linked liquified natural gas (LNG) and fertiliser plants on the Burrup Peninsula.
This area of north-west Pilbara is a deeply sacred place that contains the largest and most dense collection of Aboriginal rock art in the world, totalling more than one million images
. This priceless cultural treasure is
currently nominated for UNESCO world heritage listing
, but
researchers believe the sacred Songlines and stories contained in these carvings are being damaged by emissions from the Burrup Hub.
Seismic testing involves blasting compressed air from a specially adapted ship. The noise from the blasts causes sound waves to bounce off the seabed back to sensors carried by the ship. It's done to map fossil fuel reserves as a precursor to drilling.
The impact of seismic blasting on marine animals such as whales can include damage to the sensors that they use to hear,
ability to communicate through their electro-frequencies,
stress, displacement from habitat, physical injuries and, as a result, death
.
Bass Strait Gas Explorer Aims To Seismic Blast Whale Breeding Grounds-National Parks
The Australian Marine Conservation Society (AMCS) is calling on gas exploration company TGS and partner SLB to take heed of today's Federal Court rejection of Woodside's approval for seismic testing for its Scarborough project and ensure that they consult properly with affected stakeholders on its Otway seismic testing plans.
Today the Federal Court threw out offshore oil and gas regulator NOPSEMA's approval for seismic testing for Woodside's massive Scarborough gas project in Western Australia, saying the company had not consulted properly with a stakeholder before giving the approval.
Energy data company
TGS, which is partnered with SLB (formerly Schlumberger), has said it will resubmit plans to seismic blast over a large area of sea between Victoria's Otway coast and north-west Tasmania.
Exploration companies use seismic blasting to locate oil and gas deposits deep beneath the ocean floor, with sonic cannons firing loud explosions underwater.
TGS's original Environmental Plan attracted 30,000 submissions to NOPSEMA, with almost 20,000 from AMCS supporters opposing this proposal. TGS plans to resubmit an Environmental Plan without opening it to public comment or a consultation period even though the resubmitted plan may have changed dramatically from the previous plan.
AMCS Oil and Gas Campaign Manager Louise Morris said: "The Australian Marine Conservation Society is calling on TGS and SLB-Schlumberger to make their new Environmental Plan publicly available and enter into a consultation process on this new proposal, which impacts so many endangered species and environmentally sensitive marine areas.
"This seismic blasting proposal, if allowed, would see the largest 3D seismic blasting exploration for new oil and gas on record in the world,
including over Commonwealth marine parks, blue whale feeding areas, and southern right whale migration and calving grounds
."
"We know from Australian research that seismic blasting is lethal for the plankton and krill which form the foundation of the marine food web and are a food source for endangered blue and southern right whales. Seismic blasting also severely impacts the feeding, navigation, migration, and wellbeing of whales. The blasts are equivalent to a bomb going off every 10-15 seconds, 24 hours a day.
"There is too much at risk for TGS to be able to pass on consultation with its new plan."
Federal Government Urged To Rein In Coal Mine Approvals On BHP's Caval Ridge Horse Pit
The Albanese Government has been urged to not approve BMA's latest Central Queensland coal mine project as it would leave a massive, unfilled pit void on the landscape, further imperil threatened species, and contribute 473 million tonnes of greenhouse gases into an already overheated atmosphere.
The federal public submission period in response to BMA's Caval Ridge Horse Pit extension project closed on Friday September 29.
If built, the Caval Ridge extension would allow BMA to:
Mine 15 million tonnes of coal each year until 2055 - 20 years beyond the mine's current lifespan.
Leave a 545 hectare coal pit, meaning the majority of disturbed land will not be rehabilitated at all.
Clear important native vegetation that supports threatened species like the ornamental snake, squatter pigeon, and king bluegrass.
Release mine-affected water into Cherwell Creek, posing a risk to surrounding waterways which are home to the critically endangered white-throated snapping turtle and the vulnerable Fitzroy River turtle, both colloquially known as "bum breathers".
The project is also part of the "Living Wonders" legal challenge, meaning if Environment Minister Tanya Plibersek gives it the go ahead, she could wind up back in court defending her decision, as she was last week concerning the Mount Pleasant and Narrabri Underground coal projects.
Bizarrely, The federal environment department walked back on a request for BMA to provide information about emissions and coal type (See page 11 point 10 here), allowing the coal mine to proceed with assessment without any details on how emissions will be managed (See page 8 point 10 here).
The Queensland Palaszczuk Government gave state approval to the project earlier this month. Despite the damage the extension will cause, BMA was not required to submit an environmental impact statement to the QLD Government.
Environmental Advocacy in Central Queensland director Dr Coral Rowston urged Minister Plibersek to listen to science and reason when determining the future of the Caval Ridge project.
"This week we have heard stark reminders from the United Nations and International Energy Agency about the climate crisis driven perils the world faces if governments continue to allow new and expanding fossil fuel projects.
"Even if the Albanese Government wishes to ignore the increasingly dire state of the global climate, and coal's leading contribution to it, they must surely recognise that this is a coal project that does not stack up at a local environment level.
"BMA plans to leave a giant hole in the ground which will fill with toxic, contaminated water that will pollute the local environment in perpetuity.
"Meanwhile, land clearing associated with this project will mean species like the ornamental snake, the squatter pigeon, and king bluegrass are pushed closer to the point of no return."
Mackay Conservation Group climate campaigner, Imogen Lindenberg, said BHP's aggressive Caval Ridge expansion plan proved its threats to pause new projects in response to the Queensland Government's modest coal royalties increase was all for show.
"BHP is progressing plans to expand its coal projects in Queensland against all scientific advice that shows the world needs to urgently stop the mining and burning of fossil fuels to ensure a safe climate.
"The company made an eye watering $12.9 billion profit last financial year. Its public outburst in response to the Queensland Government's modest coal royalties increase was always just a political strategy and appears to have done nothing to deter the mining giant from wanting to dig more polluting coal in the Sunshine State."
National Industries And Governments Decide To Transition The Varroa Mite Program From Eradication To Management
The NSW Government has announced on September 20 the National Management Group (NMG), driving the Varroa mite program across Australia met on September 19, 2023, and decided to transition its approach to addressing this biosecurity issue confronting the nation's beekeepers and pollination industry.
After considering the latest scientific data and advice, governments and industry organisations
have
unanimously
decided to move from an eradication program to a management approach.
The NSW Government has agreed with all industry and government partners that the potential to eradicate is no longer possible and that we now need to work collaboratively to manage and minimise the impact of varroa.
Despite the comprehensive $101 million spend and effort to eradicate the mite, the transition from an 'eradication' program to a 'management' program was concluded because of the many factors working against a possible eradication in Australia.
The NSW Government will work with all the national players and reallocate resources to slowing the spread of the pest and providing management options to help minimising its impact.
Communications are being developed by the NSW Department of Primary Industries and industry partners to explain to all stakeholders what this shift in program means and how the government will guide and assist affected stakeholders.
The NMG considered the following major factors for why eradication has not reached its desired objectives:
Non-compliance by some bee industry actors with the NSW Movement Orders and the mandatory hive testing (alcohol washes), and evidence of illegal movement of bees resulting in further spread of the varroa mite.
The recent spike in new detections, have made it clear that the Varroa mite infestation is more widespread and has also been present for longer than first thought.
The increase in new detections and generation of a control area greater than 16,000 km2, has stretched the eradication team's responses to their technical limit.
Minister for Agriculture, Minister for Regional New South Wales, and Minister for Western New South Wales, Tara Moriarty said:
"The priority now is for the NSW Department of Primary Industries to communicate with all the stakeholders of the beekeeper and pollination sectors and advise them what the change in program means for their industry.
"I've directed the Department of Primary Industries to immediately engage industry stakeholders and beekeepers to provide guidance and assistance so that they can quickly respond to the transition of the Varroa mite management program."
Director General of Department of Primary Industries Scott Hansen said:
"The department will move swiftly to transition our team and all our stakeholders to this new approach and will be providing information and support to the industry.
"The 2399 DPI people and staff from supporting agencies and industry in the Varroa mite response team have been working around the clock since last year on this program and I thank them for their incredible effort. They have succeeded in delaying the spread of Varroa mite for more than a year which needs to be recognised."
Chief Executive Officer of the Australian Honey Bee Industry Council, Danny Le Feuvre said:
"While eradication was the original goal, the focus will now shift to supporting beekeepers in the transition to management.
"I thank all the beekeepers for their cooperation throughout the response and especially those who have felt the emotional and financial impacts of this response.
"There is still lots industry can do to contain and slow the spread of Varroa mite, which is why NSW will operate under an interim management strategy until the National Management Plan for Transition to Management is agreed upon.
"At the same time, AHBIC will continue to work with NMG to ensure any support measures offered to beekeepers are fit for purpose."
SRC 2023 - Avalon Beach SLSC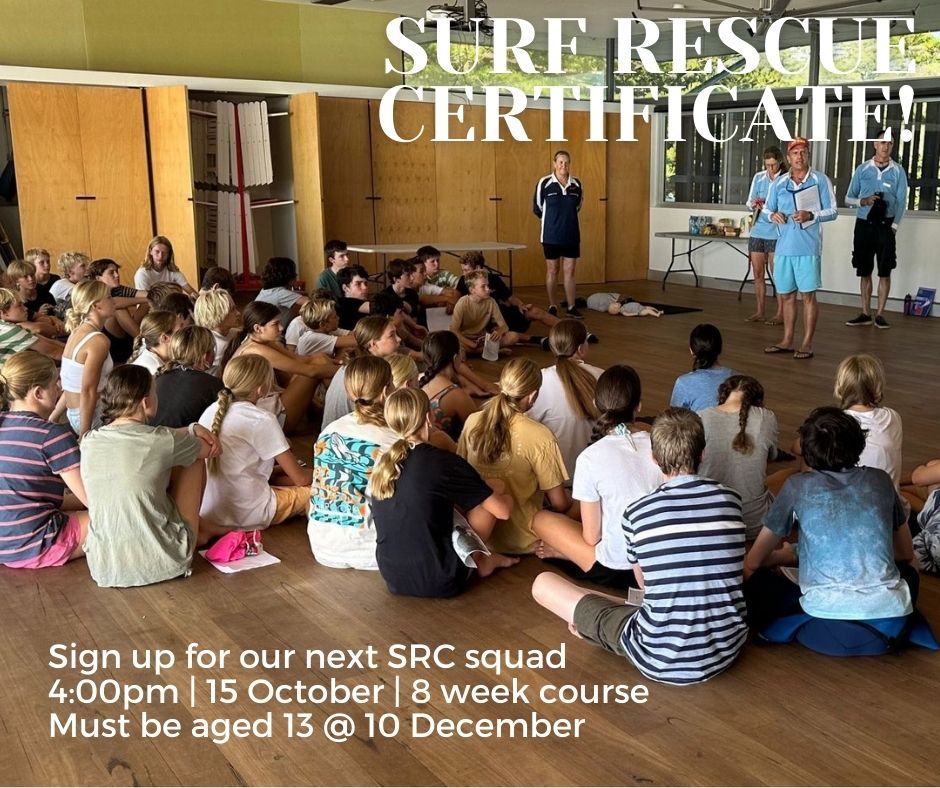 School Leavers Support
Explore the School Leavers Information Kit (SLIK) as your guide to education, training and work options in 2022;
As you prepare to finish your final year of school, the next phase of your journey will be full of interesting and exciting opportunities. You will discover new passions and develop new skills and knowledge.
We know that this transition can sometimes be challenging and the COVID-19 pandemic has presented some uncertainty. With changes to the education and workforce landscape, you might be wondering if your planned decisions are still a good option or what new alternatives are available and how to pursue them.
There are lots of options for education, training and work in 2022 to help you further your career. This information kit has been designed to help you understand what those options might be and assist you to choose the right one for you. Including:
Download or explore the SLIK here to help guide Your Career.
School Leavers Information Kit (PDF 5.2MB).
School Leavers Information Kit (DOCX 0.9MB).
The SLIK has also been translated into additional languages.
Download our information booklets if you are rural, regional and remote, Aboriginal or Torres Strait Islander, or living with disability.
Support for Regional, Rural and Remote School Leavers (PDF 2MB).
Support for Regional, Rural and Remote School Leavers (DOCX 0.9MB).
Support for Aboriginal and/or Torres Strait Islander School Leavers (PDF 2MB).
Support for Aboriginal and/or Torres Strait Islander School Leavers (DOCX 1.1MB).
Support for School Leavers with Disability (PDF 2MB).
Support for School Leavers with Disability (DOCX 0.9MB).
Download the Parents and Guardian's Guide for School Leavers, which summarises the resources and information available to help you explore all the education, training, and work options available to your young person.
School Leavers Information Service
Are you aged between 15 and 24 and looking for career guidance?
Call 1800 CAREER (1800 227 337).
SMS 'SLIS2022' to 0429 009 435.
Our information officers will help you:
navigate the School Leavers Information Kit (SLIK),
access and use the Your Career website and tools; and
find relevant support services if needed.
You may also be referred to a qualified career practitioner for a 45-minute personalised career guidance session. Our career practitioners will provide information, advice and assistance relating to a wide range of matters, such as career planning and management, training and studying, and looking for work.
You can call to book your session on 1800 CAREER (1800 227 337) Monday to Friday, from 9am to 7pm (AEST). Sessions with a career practitioner can be booked from Monday to Friday, 9am to 7pm.
This is a free service, however minimal call/text costs may apply.
Call 1800 CAREER (1800 227 337) or SMS SLIS2022 to 0429 009 435 to start a conversation about how the tools in Your Career can help you or to book a free session with a career practitioner.
Word Of The Week: Student
Word of the Week returns in 2023 simply to throw some disruption in amongst the 'yeah-nah' mix.
Noun
1. a person who is studying at a university or other place of higher education. 2. a school pupil. 3. denoting someone who is studying in order to enter a particular profession. 4. any person who studies, investigates, or examines thoughtfully.
From: late Middle English: from Latin student- 'applying oneself to', from the verb studere, related to studium 'painstaking application'.
The word 'student' comes from the Latin 'student-em', present participle of 'studēre', to be eager, zealous, or diligent, to study. Variants in modern European languages today are on the noun 'estudiant'.
International Students' Day (17 November) remembers the anniversary of the 1939 Nazi storming of the University of Prague after student demonstrations against the German occupation of Czechoslovakia. Germans closed all Czech universities and colleges, sent over 1200 students to Nazi concentration camps, and had nine student leaders executed (on 17 November).

In late 1939 the Nazi authorities in the Protectorate of Bohemia and Moravia suppressed a demonstration in Prague held by students of the Medical Faculty of Charles University. The demonstration was held on 28 October to commemorate the anniversary of the independence of the Czechoslovak Republic (1918). During this demonstration the student Jan Opletal was shot, and later died from his injuries on 11 November. On 15 November his body was supposed to be transported from Prague to his home in Moravia. His funeral procession consisted of thousands of students, who turned the event into an anti-Nazi demonstration. However, the Nazi authorities took drastic measures in response, closing all Czech higher education institutions, arresting more than 1,200 students, who were then sent to concentration camps, executing nine students and professors without trial on 17 November. Historians speculate that the Nazis granted permission for the funeral procession already expecting a violent outcome, in order to use that as a pretext for closing down universities and purging anti-fascist dissidents.
The nine students and professors executed on 17 November in Prague were:
Josef Matoušek

(historian and associate professor; participated in the organisation of Opletal's funeral)

Jaroslav Klíma

(student of law; Chairman of the National Association of Czech Students in Bohemia and Moravia, requested the release of students arrested by the Gestapo during Opletal's funeral)

Jan Weinert

(student of Bohemistics and Germanistics; requested the release of students arrested by the Gestapo during Opletal's funeral)

Josef Adamec

(student of law; secretary of the National Association of Czech Students in Bohemia and Moravia)

Jan Černý

(student of medicine; requested the release of students arrested by the Gestapo during Opletal's funeral)

Marek Frauwirth

(student of economics; as an employee of the Slovak embassy in Prague, he was issuing false passports to Jews trying to flee from the Nazis)

Bedřich Koula

(student of law; secretary of the Association of Czech students in Bohemia)

Václav Šafránek

(student of architecture; record-keeper of the National Association of Czech Students in Bohemia and Moravia)

František Skorkovský

(student of law; Director of a Committee of the Confédération Internationale des Étudiants, Chairman of the Foreign Department of the National Association of Czech Students in Bohemia and Moravia)
This had been preceded by the Nazi Book Burnings of the 1930's.
The Nazi book burnings were a campaign conducted by the German Student Union (German: Deutsche Studentenschaft, DSt) to ceremonially burn books in Nazi Germany and Austria in the 1930s. The books targeted for burning were those viewed as being subversive or as representing ideologies opposed to Nazism. These included books written by Jewish, half-Jewish, communist, socialist, anarchist, liberal, pacifist, and sexologist authors among others. The initial books burned were those of Karl Marx and Karl Kautsky, but came to include very many authors, including Albert Einstein, Helen Keller, writers in French and English, and effectively any book incompatible with Nazi ideology. In a campaign of cultural genocide, books were also burned en masse by the Nazis in occupied territories, such as in Poland.
In his speech – which was broadcast on the radio – Goebbels' referred to the authors whose books were being burned as "Intellectual filth" and "Jewish asphalt literati".
On 10 May 1933, the students publicly hauled the library to the Bebelplatz square at the State Opera, and burned them along with volumes from elsewhere. A total of over 25,000 volumes of "un-German" books were burned, thereby ushering in an era of uncompromising state censorship.
Not all book burnings took place on 10 May as the German Student Union had planned. Some were postponed a few days because of rain.
Among the Nazi crimes against the Polish nation was a campaign of cultural genocide that included the burning of millions of books, resulting in the destruction of an estimated 80% of all school libraries, and three-quarters of all scientific libraries in the country.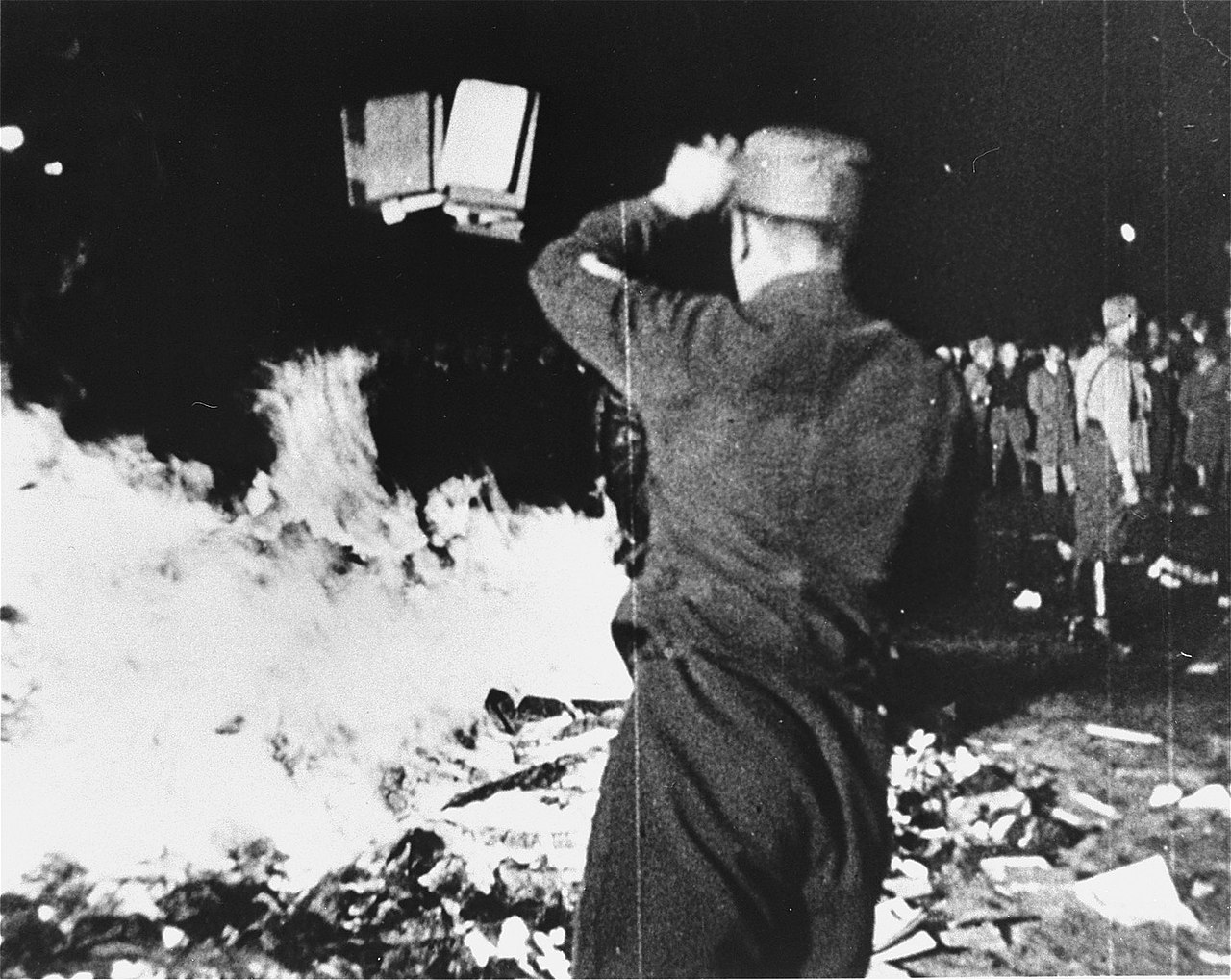 Book burning in Berlin, 10 May 1933. Photo: United States Holocaust Memorial Museum
Not only German-speaking authors were burned, but also French authors such as Henri Barbusse, André Gide, Victor Hugo and Romain Rolland; American writers such as John Dos Passos, Theodore Dreiser, F. Scott Fitzgerald, Ernest Hemingway, Helen Keller, Jack London, Upton Sinclair, and Margaret Sanger; as well as British authors Joseph Conrad, Radclyffe Hall, Aldous Huxley, D. H. Lawrence, Henry de Vere Stacpoole, H. G. Wells, Irish authors James Joyce and Oscar Wilde; and Russian authors including Isaac Babel, Fyodor Dostoyevsky, Ilya Ehrenburg, Maxim Gorki, Vladimir Lenin, Vladimir Mayakovsky, Vladimir Nabokov, Leo Tolstoy, and Leon Trotsky.
The burning of the books represents a culmination of the persecution of those authors whose oral or written opinions were opposed to Nazi ideology. Many artists, writers and scientists were banned from working and publication. Their works could no longer be found in libraries or in the curricula of schools or universities. Some of them were driven to exile (such as Albert Einstein, Sigmund Freud, Magnus Hirschfeld, Walter Mehring, and Arnold Zweig); others were deprived of their citizenship (for example, Ernst Toller and Kurt Tucholsky) or forced into a self-imposed exile from society (e.g. Erich Kästner).
For other writers the Nazi persecutions ended in death. Some of them died in concentration camps, due to the consequences of the conditions of imprisonment, or were executed (like Carl von Ossietzky, Erich Mühsam, Gertrud Kolmar, Jakob van Hoddis, Paul Kornfeld, Arno Nadel, Georg Hermann, Theodor Wolff, Adam Kuckhoff, Friedrich Reck-Malleczewen, and Rudolf Hilferding).
Helen Keller published an "Open Letter to German Students", in which she wrote: "You may burn my books and the books of the best minds in Europe, but the ideas those books contain have passed through millions of channels and will go on."
On 10 May 1934, one year after the mass book burnings, the German Freedom Library founded by Alfred Kantorowicz was opened to assemble copies of the books that had been destroyed. Because of the shift in political power and the blatant control and censorship demonstrated by the Nazi Party, 1933 saw a "mass exodus of German writers, artists, and intellectuals". They went into exile in America, England, and France. On 10 May 1934, those writers in exile in France came together and established the Library of the Burned Books where all the works that had been banned, burned, censored, and destroyed were collected.
However, as history records, the worst for Germany, Europe, and those targeted by the Nazis was yet to come.
Alfred Kantorowicz, the author of the 1944 article 'Library of the Burned Books', was one of the key leaders instrumental in creating this library. In his article, he explains first-hand how the library came to be, and how it was finally destroyed. The library not only housed those books banned by the Nazis, the more important mission was to be the "center of intellectual anti-Nazi activities". In addition, it had extensive archives "on the history of Nazism and the anti-Nazi fight in all its forms". At the start of the war, the Nazis were virtually in control in France so the French government closed down the library and anyone associated was imprisoned or sent to concentration camps. Once the Nazis occupied Paris, the library and archives were turned over and that was the end of the Library.
In Kantorowicz's words, "the real significance of the Library was not confined to its material existence. When we inaugurated it, we wanted to make that day of shame a day of glory for literature and for freedom of thought which no tyrant could kill by fire. And furthermore, by this symbolic action, we wanted to awaken Europe to the dangers which threatened its spiritual as well as its material existence."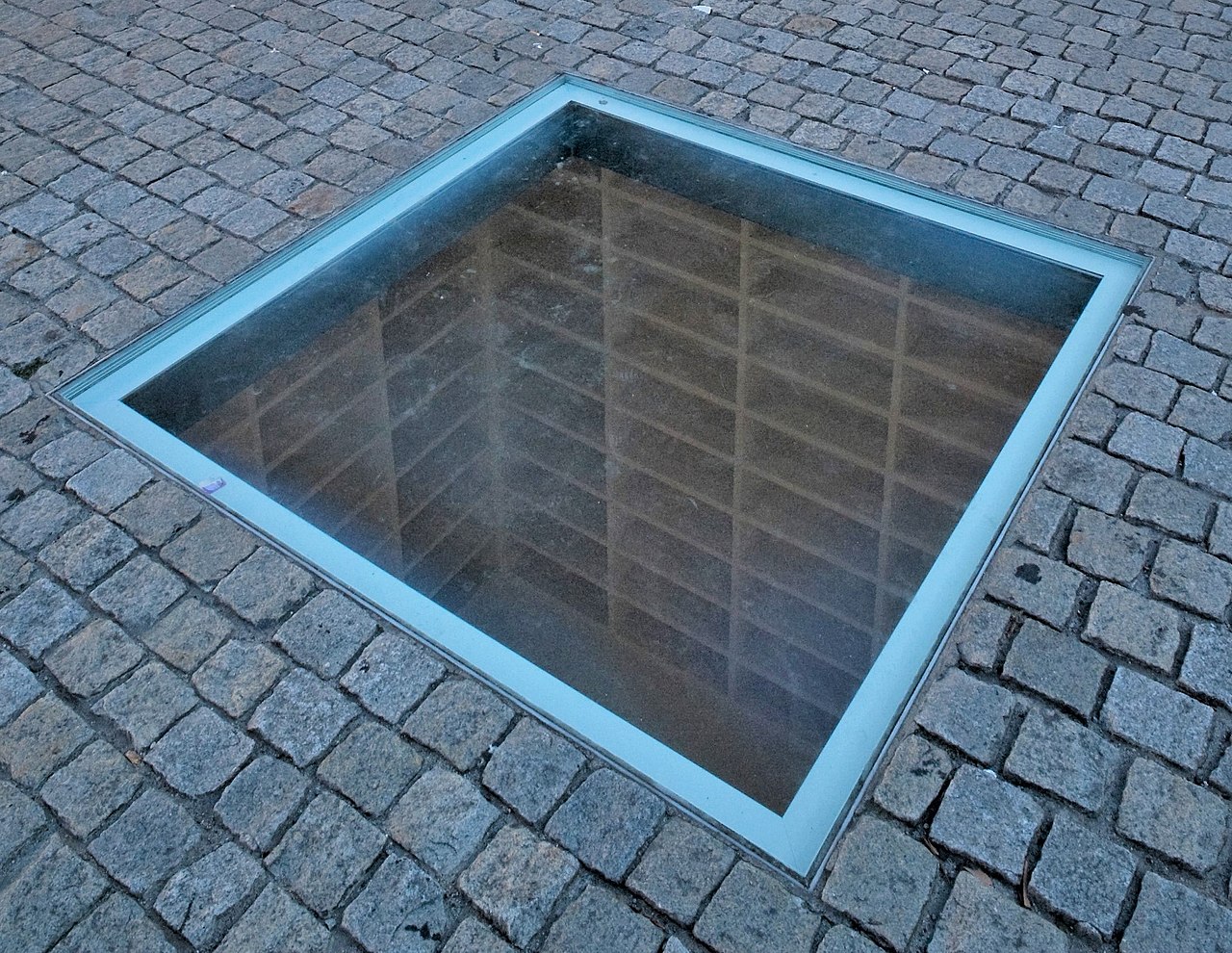 The Empty Library at the Bebelplatz (former Opernplatz) in Berlin, designed by Micha Ullman. Photo courtesy Stefan Kemmerling

Charles University (Czech: Univerzita Karlova, UK; Latin: Universitas Carolina; German: Karls-Universität), also known as Charles University in Prague or historically as the University of Prague (Latin: Universitas Pragensis), is the oldest and largest university in the Czech Republic.
The establishment of a medieval university in Prague was inspired by Holy Roman Emperor Charles IV. He asked his friend and ally, Pope Clement VI, to do so. On 26 January 1347 the pope issued the bull establishing a university in Prague, modelled on the University of Paris, with the full (4) number of faculties, that is including a theological faculty. On 7 April 1348 Charles, the king of Bohemia, gave to the established university privileges and immunities from the secular power in a Golden Bull and on 14 January 1349 he repeated that as the King of the Romans. Most Czech sources since the 19th century—encyclopaedias, general histories, materials of the university itself—prefer to give 1348 as the year of the founding of the university, rather than 1347 or 1349. This was caused by an anticlerical shift in the 19th century, shared by both Czechs and Germans.
Faculty of Law, Charles University in Prague. Photo courtesy VitVit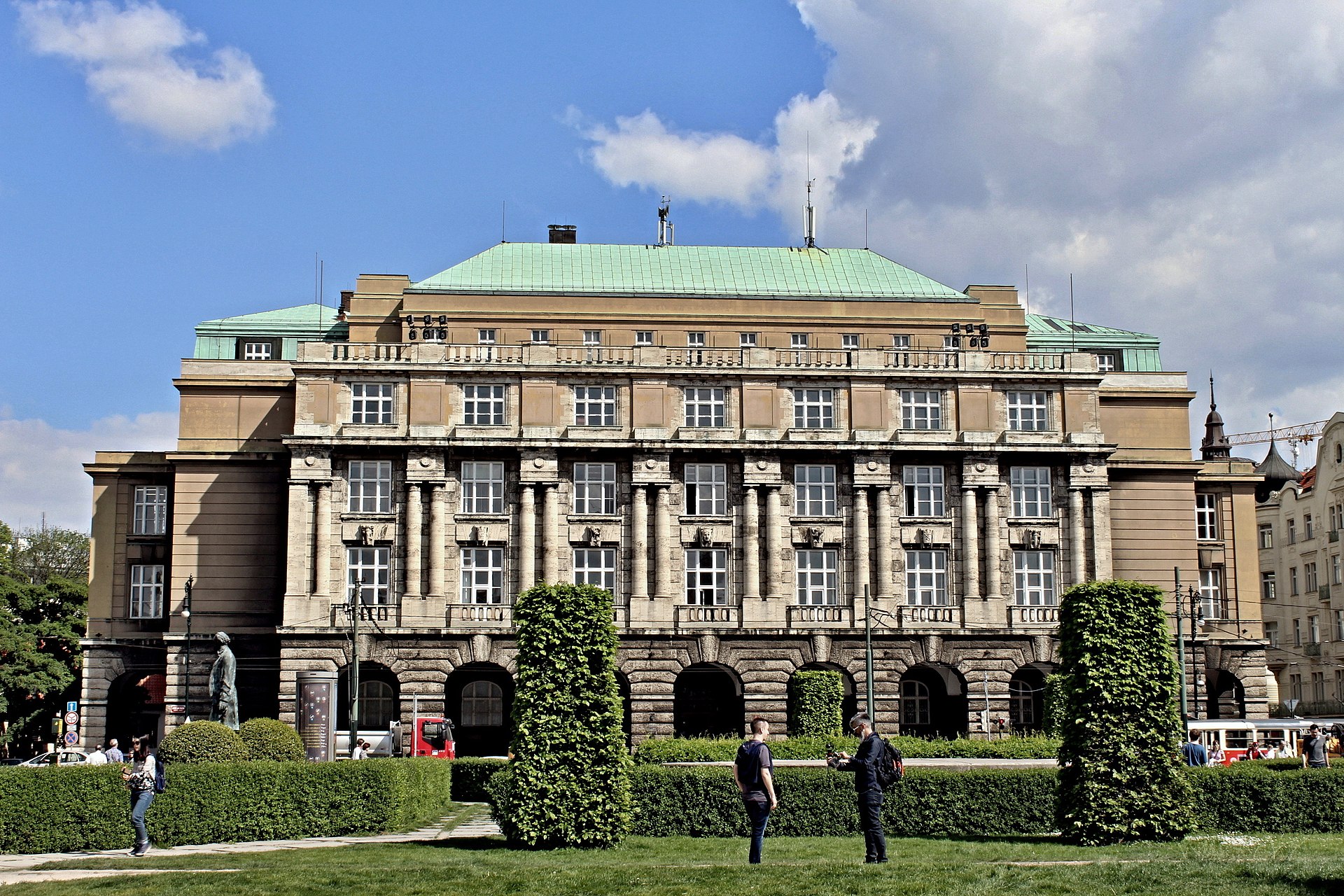 Faculty of Arts (philosophy), Charles University in Prague. Photo courtesy VitVit
Of course, one of the earliest and most well-known 'students' was Plato. Plato (428/427 or 424/423 – 348 BC) was an ancient Greek philosopher born in Athens during the Classical period.
In Athens, Plato founded the Academy, a philosophical school where he taught the philosophical doctrines that would later become known as Platonism. Plato, or Platon, was a pen name derived, apparently, from the nickname given to him by his wrestling coach – allegedly a reference to his physical broadness. According to Alexander Polyhistor, quoted by Diogenes Laërtius, his actual name was Aristocles, son of Ariston, of the deme (suburb) Collytus, in Athens.
Plato was an innovator of the written dialogue and dialectic forms in philosophy. He raised problems for what became all the major areas of both theoretical philosophy and practical philosophy. His most famous contribution is the theory of forms (or ideas), which has been interpreted as advancing a solution to what is now known as the problem of universals. He is the namesake of Platonic love and the Platonic solids. His own most decisive philosophical influences are usually thought to have been, along with Socrates, the pre-Socratics Pythagoras, Heraclitus, and Parmenides.
Notable works: Euthyphro, Apology, Crito, Phaedo, Meno, Protagoras, Gorgias, Symposium, Phaedrus, Parmenides, Theaetetus, Republic, Timaeus and Laws.
Plato's thought is often compared with that of his most famous student, Aristotle, whose reputation during the Western Middle Ages so completely eclipsed that of Plato that the Scholastic philosophers referred to Aristotle as "the Philosopher". The only Platonic work known to western scholarship was Timaeus, until translations were made after the fall of Constantinople, which occurred during 1453.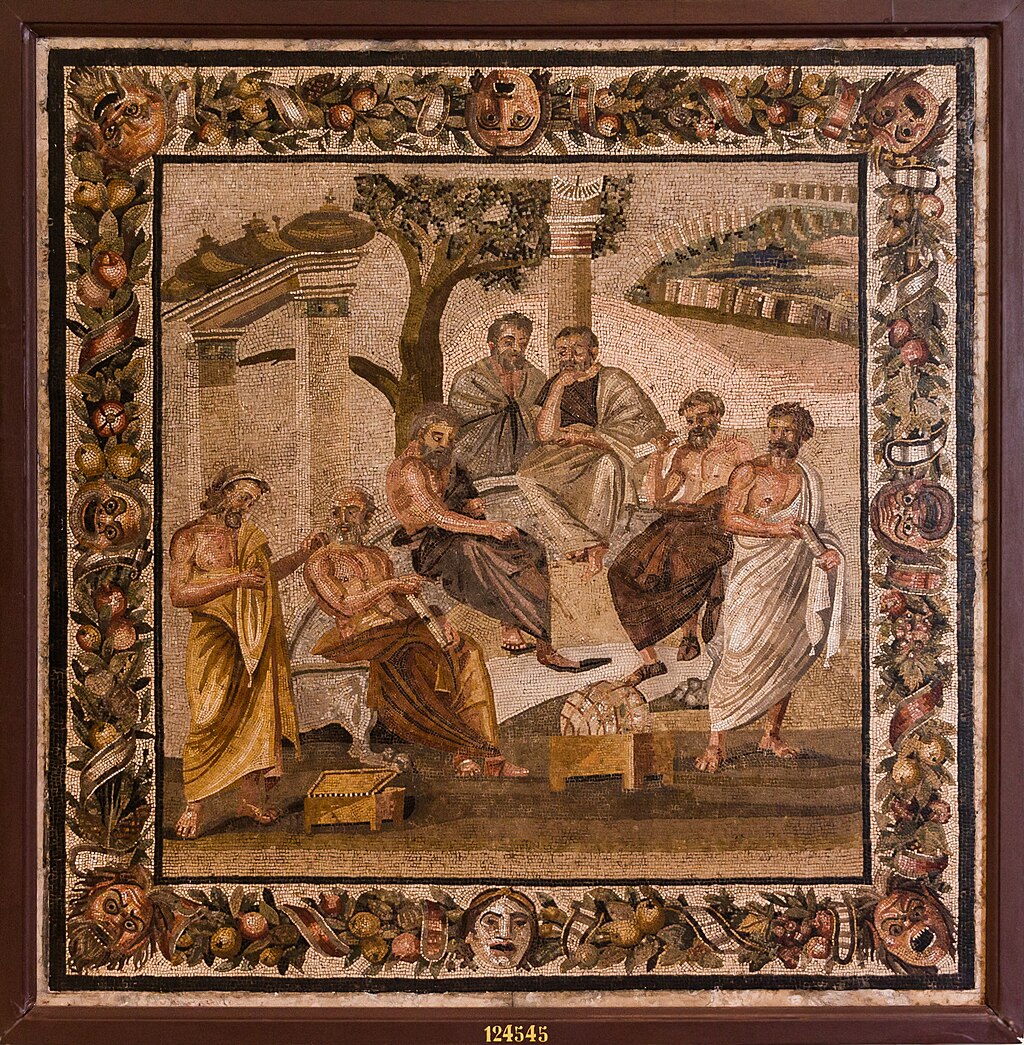 Plato's Academy mosaic in the villa of T. Siminius Stephanus in Pompeii, around 100 BC to 100 CE. Photo courtesy Jebulon
Book Of The Month October 2023: Myths & Legends Of The Australian Aboriginals
By Smith, W. Ramsay (William Ramsay), 1859-1937. Publication Date: 1932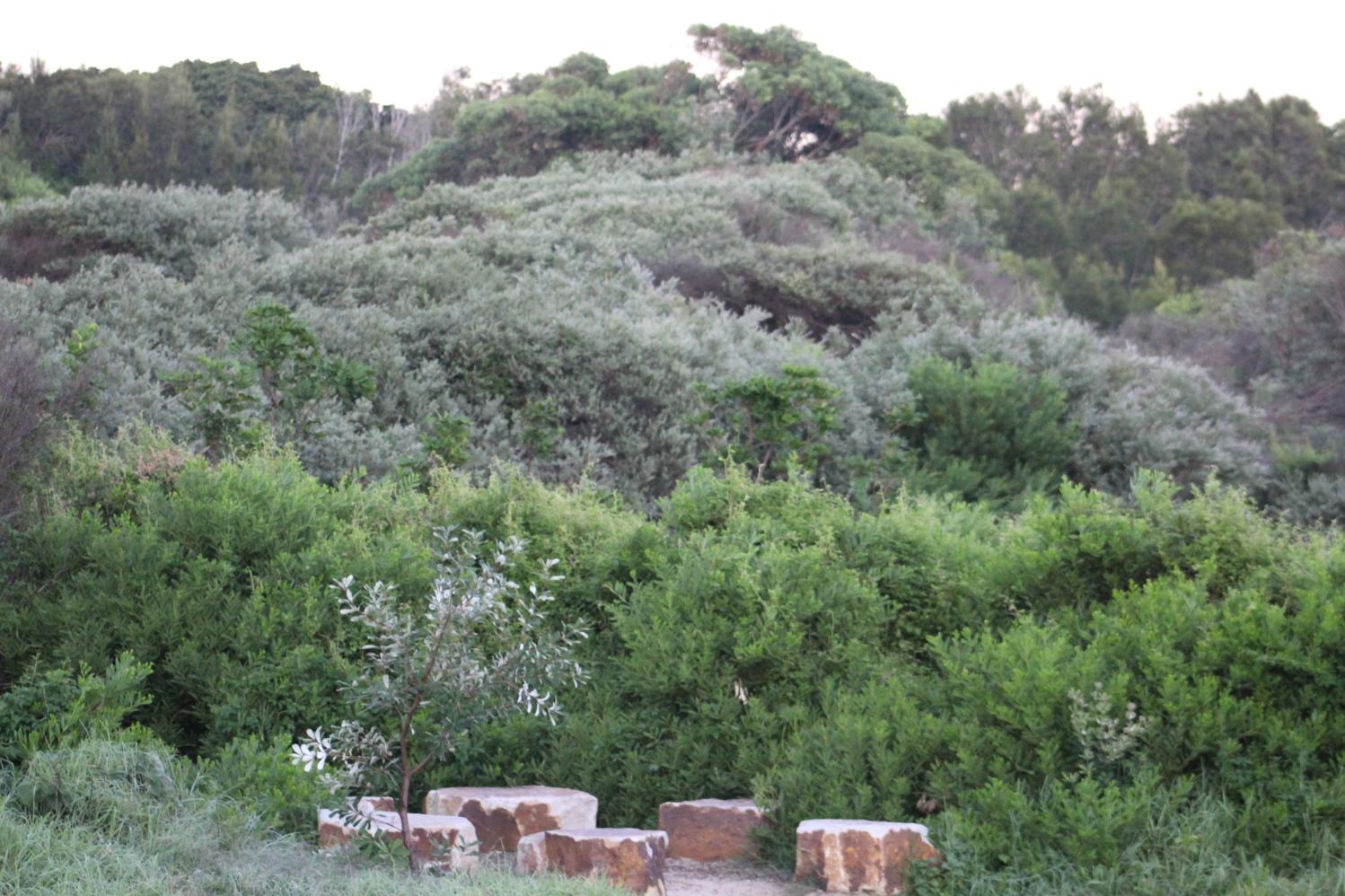 UNDERWATER! 2023 Photo Competition Now Open: Dive On In To The 30th Ocean Festival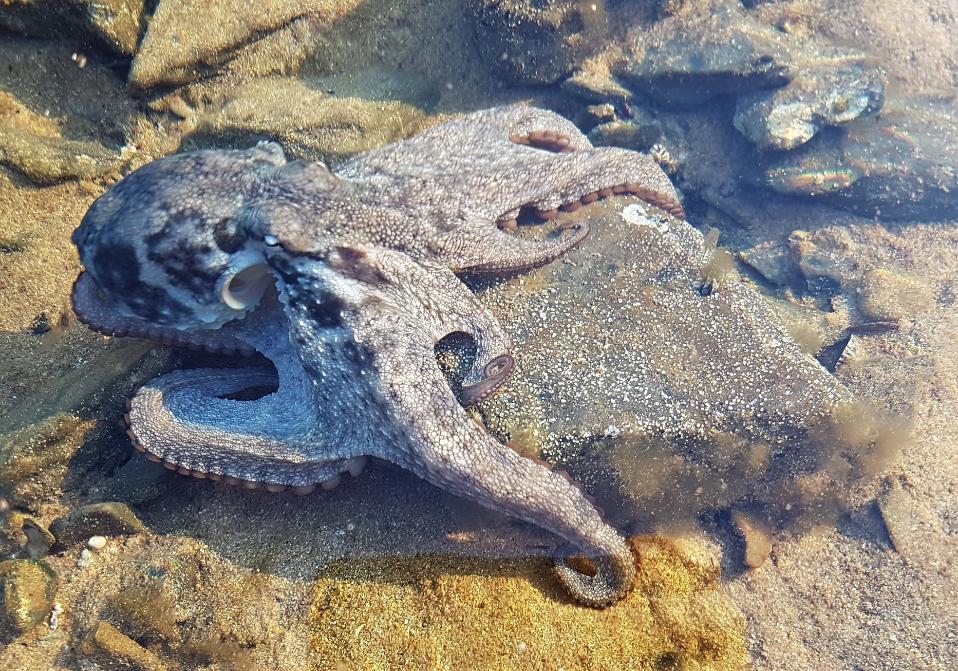 Resident octopus at North Narrabeen Aquatic Reserve rock shelf - photo by Joe Mills
Entries are now open for the UNDERWATER! 2023 Photo Competition with a prize pool of $4,400 up for grabs.
Now in its third year, the annual competition is part of the 30th Ocean Festival which kicks off at the end of November (Sunday 26 November – Sunday 3 December) with an eight day festival celebrating our five marine protected areas, our invertebrates, marine flora, fauna and megafauna.
The UNDERWATER! 2023 Photo Competition celebrates our ocean, its biodiversity and the human connection to it, along with the urgent need to protect our oceans for future generations.
Northern Beaches Mayor Sue Heins said our precious oceans are the great connectors of our world, uniting continents, cultures, creatures and deserve our utmost care and respect.
"Covering over 80% of our planet, oceans are more than just bodies of water; they are sanctuaries of life, and they should not be taken for granted. We need to be their guardians and preserve them for generations to come.
"Our oceans are the lungs of our planet, providing 50% of the oxygen we breathe, and our lives depend on it. The more that people know about what is under the water, the more likely they are to protect our oceans.
"Sharing photographs of the wonders beneath the waterline as part of the Ocean Festival, is the perfect opportunity to share knowledge about protecting and conserving our oceans to safeguard this treasure which is such an important part of life on the Northern Beaches," Mayor Heins said.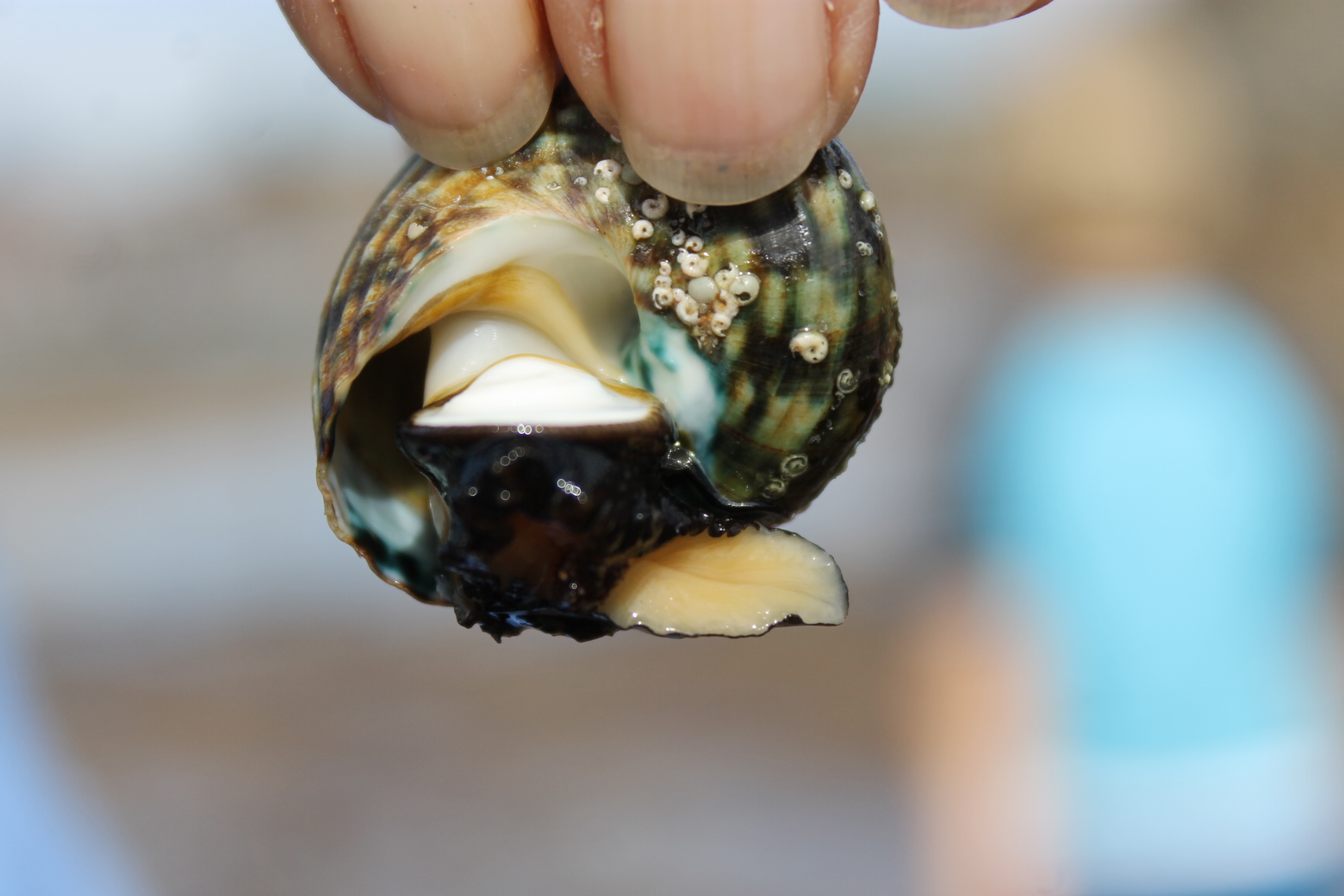 Entrants are asked to respond to the eight categories with this year's theme 'Life Below Water'. All submissions must be taken within the last two years at one of the five aquatic reserves on the Northern Beaches.
This year young people aged 18 – 24yrs are also encouraged to enter the competition and share their fascination with the underwater world. The winner will be recognised as the Young UNDERWATER! 2023 Photographer of the Year.
In addition, a new category of Reels (15 - 30 secs) has been added to appeal to underwater videographers.
Entries for all categories close 11:59pm on Monday 23 October 2023.
The People's Choice Award will be online for voting from 6 -19 November.
Council will keep you posted on the line up for the 30th Ocean Festival but some of the activities include Science at the Steyne, Dive for Debris, Rock Platform Rambles, UNDERWATER! 2023 Photo winners and an exhibition, Guided Snorkel Tours, SUP Safaris, coast walks, talks and much more.
For more information about the competition and to enter visit: www.northernbeaches.nsw.gov.au/things-do/whats/ocean-festival/underwater-2023-photo-competition
New Research By ReachOut Highlights Links Between Study Stress And Poor Sleep In The Lead Up To Year 12 Exams
The 2023 HSC exams commence October 11 - very best wishes and good luck to all those sitting exams this year. Bear in mind you have done very very well to have reached this far and there are many roads, and sidetracks, to reach where you think you want to go right now to do what you want to do in the future. Remember that Lifelong Learning is yours to have and is defined as 'the "ongoing, voluntary, and self-motivated" pursuit of knowledge for either personal or professional reasons as this enhances an individual's competitiveness and employability, along with your social inclusion, active citizenship, and personal development'.
The Park Bench Philosopher's page is this news service's own permanent reminder of our own commitment to lifelong learning and all that may be known outside of schools and universities - the 'stuff' you get a deep insight and personal experience of through joining in or pursuing an unanswered question. It is a one foot in front of the other approach that has helped us trudge slowly up that hill and then stand there with that sweet cooling breeze blowing into the face and a great view to all horizons.
The childhood chant of that little train engine that would/could changes from 'I think I can, I think I can' to 'You got this, you got this! YOU GOT THAT!!', and during the quiet after-pauses to reflect on what sticks out from that knowledge and experience found, ' I think I'll have a swim now, eat a whole punnet of strawberries while watching comedy shows, and then take a nap.'
However, in the lead up to Year 12 exams across the country, new research by youth mental health organisation ReachOut has been released and found that over 50 per cent of students are having trouble sleeping as a direct result of study stress.
The survey, of over 1000 young people aged 16 - 25 years conducted in August 2023, also looked at the specific impacts study stress was having on students' sleep. The data found that of the students who indicated that their sleep was impacted by study stress: 65 per cent reported sleeping less, 59 per cent had difficulty waking up, 57 per cent said they were staying up late to study and 22 per cent said they were sleeping more. These figures indicate that many students are experiencing a number of these impacts on their sleep.
In line with the research findings, ReachOut has released new support materials for young people to help them get a good night's sleep. And, there is also new information and tips for parents and carers of students too.
Jackie Hallan, Director of Service at ReachOut, said that now was an important time for Year 12 students to focus on their wellbeing, including their sleep.
"ReachOut's new research highlights the real impacts that study stress can have on the lives of students. Sleep, in particular, can be an important indicator of how the stress associated with Year 12 might be impacting a student's wellbeing and mental health.
"Without a proper night's sleep it may become even harder for Year 12 students to deal with stress and challenges. For example, although staying up late cramming before an exam can be well intentioned it can have the opposite effect on exam results.
"With final Year 12 exams approaching, we want to remind young people to take a proactive approach to getting a good night's sleep and to seek support if they need it. Simple things like waking up at the same time each day can make a big difference.
"Unfortunately, sleep isn't always something that comes to mind when we think about getting support for our mental health and wellbeing. However if sleep is a concern, ReachOut is a good place to start to get information, tips and hear about the experiences of students and parents. There is also a range of other support options for students including making an appointment with a mental health professional," she said.
Other key findings of the research included that 88 per cent of students reported that they had felt stressed about study at some time over the previous 12 months and 55 per cent of students reported that they felt extremely or very stressed about study in the past two weeks. In terms of causes of study stress, worry about not being able to live the life they had planned for themselves and worry about how they will compare to other students were the concerns most commonly expressed by students.
If you are experiencing negative thoughts or feelings, there are services out there to listen and help you out. They are free, confidential, and available 24/7.
Lifeline – 13 11 14

Kids Helpline – 1800 55 1800

13YARN – 13 92 76 to speak with an Aboriginal & Torres Strait Islander crisis supporter

If you are in immediate danger dial 000
Links To ReachOut Support Content
ReachOut
is the leading online mental health service in Australia supporting young people during tough times.
ReachOut helps young people feel better about today and the future, no matter what challenge they're facing. They provide a safe place where young people can openly express themselves, explore what's happening in their lives, connect with people who understand their situation, and find the resources to help them manage their challenges now and in the future.
Anonymous, free and 100% online, ReachOut has been designed specifically for – and with – young people. From one-to-one support from experienced peer workers, to online forums, as well as tips, stories and resources, ReachOut offers a wide range of support options that allow young people to engage in the ways they want to, when they want to, and has been doing so for more than 20 years.
And, ReachOut Parents and ReachOut Schools provide valuable information, resources and advice to help parents, carers and educators to better understand the young people in their lives and to play an active role in their wellbeing.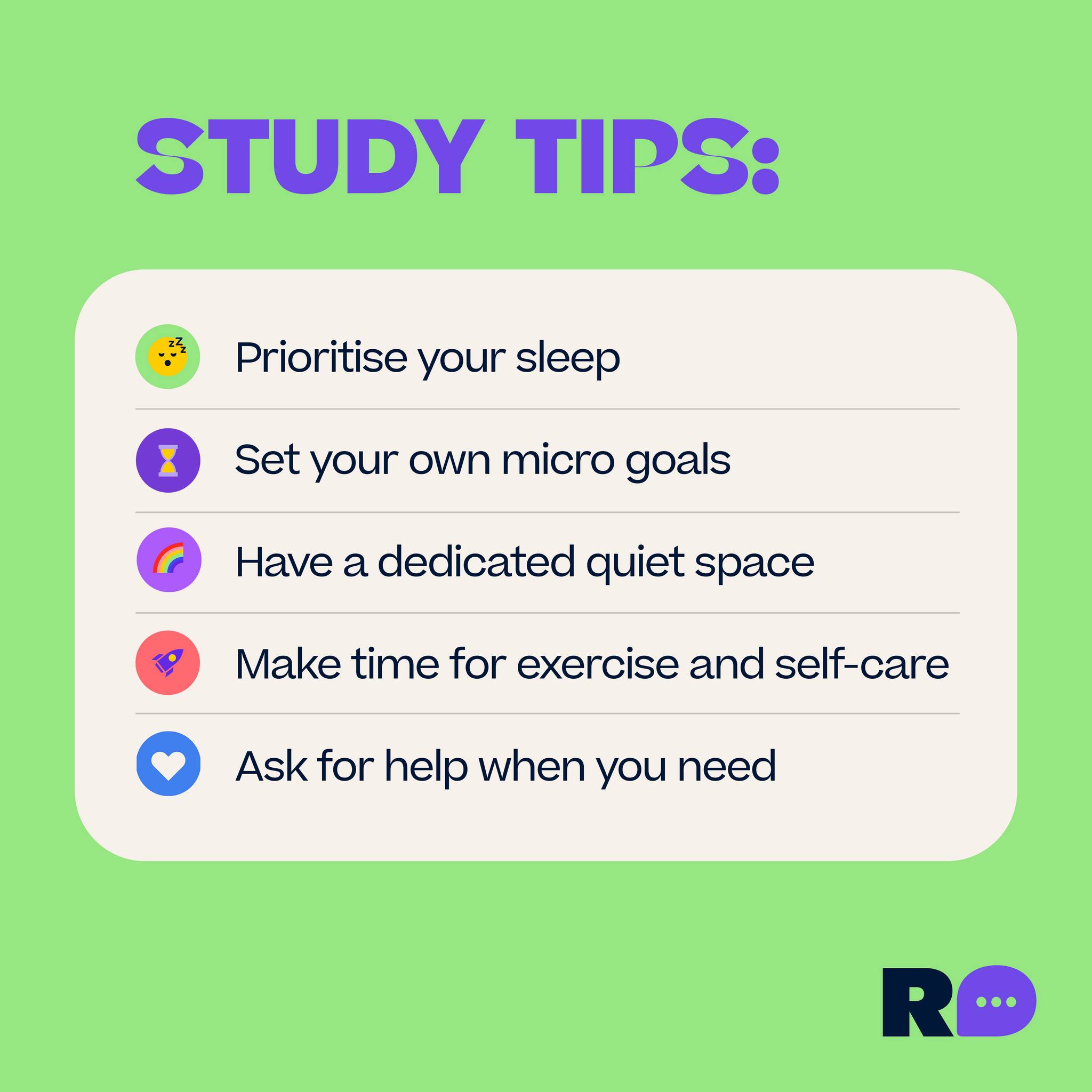 8 Student-Backed Study Tips To Help You Tackle The HSC
By University of Sydney: Last updated 6 July 2023
Our students have been through their fair share of exams and learned a lot of great study tactics along the way. Here they share their top study tips to survive and thrive during exam time.
1. Start your day right
Take care of your wellbeing first thing in the morning so you can dive into your day with a clear mind.
"If you win the morning, you can win the day," says Juris Doctor student Vee Koloamatangi-Lamipeti.
An active start is a great way to set yourself up for a productive day. Begin your morning with exercise or a gentle walk, squeeze in 10 minutes of meditation and enjoy a healthy breakfast before you settle into study.
2. Schedule your study
"Setting up a schedule will help you organise your time so much better," says Master of Teaching student Wesley Lai.
Setting a goal or a theme for each study block will help you to stay focused, while devoting time across a variety of subjects will ensure you've covered off as much as possible. Remember to keep your schedule realistic and avoid over-committing your time.
Adds Wesley, "Make sure to schedule in some free time for yourself as well!"
3. Keep it consistent
"Make studying a habit," recommends Alvin Chung, who is currently undertaking a Bachelor of Arts and Bachelor of Laws.
With enough time and commitment, sitting down to study will start to feel like second nature rather than a chore.
"Do it every day and you'll be less likely to procrastinate because it's part of your life's daily motions," says Alvin.
4. Maintain motivation
Revising an entire year of learning can seem like an insurmountable task, which is why it's so important to break down your priorities and set easy-to-achieve goals.
"I like to make a realistic to-do list where I break down big tasks into smaller chunks," says Bachelor of Arts and Advanced Studies student Dannii Hudec.
"It's also really important to reward yourself after you complete each task to keep yourself motivated."
Treat yourself after each study block with something to look forward to, such as a cup of tea, a walk in the park with a friend or an episode of your latest Netflix obsession.
5. Minimise distractions
With so many distractions at our fingertips, it can be hard to focus on the task at hand. If you find yourself easily distracted, an "out of sight, out of mind" approach might do the trick.
"What helps me is to block social media on my laptop. I put my phone outside of my room when I study, or I give it to my sister or a friend to hide," says Bachelor of Commerce and Bachelor of Laws student Caitlin Douglas.
While parting ways with your phone for a few hours may seem horrifying, it can be an incredibly effective way to stay on task.
"It really helps me to smash out the work and get my tasks done," affirms Caitlin.
6. Beware of burnout
Think of the HSC period as a marathon rather than a sprint. It might be tempting to cram every single day but pacing out your study time will help to preserve your endurance.
"Don't do the work for tomorrow if you finish today's work early," suggests Daniel Kim, who is currently undertaking a Bachelor of Commerce and Advanced Studies.
"Enjoy the rest of your day and save the energy for tomorrow," he recommends.
Savouring your downtime will help you to avoid burning out before hitting the finish line.
7. Get a good night's sleep
Sleep is one of your greatest allies during exam season.
"I've found that a good night's sleep always helps with concentration and memory consolidation," says Bachelor of Science (Medical Science) student Yasodara Puhule-Gamayalage.
We all know we need to be getting around 8 hours of sleep a night to perform at our best, but did you know the quality of sleep also matters? You can help improve the quality of your sleep with some simple tweaks to your bedtime routine.
"Avoid caffeine in the 6 hours leading up to sleep, turn off screens an hour before going to bed, and go to bed at the same time every night," suggests Yasodara.
8. Be kind to yourself
With exam dates looming and stress levels rising, chances are high that you might have a bad day (or a few!) during the HSC period.
According to Bachelor of Arts and Advanced Studies student Amy Cooper, the best way to handle those bad days is to show yourself some kindness.
"I know that if I'm in a bad state of mind or having a bad day, I'm not going to be able to produce work that I'm proud of," she says.
For Amy, the remedy for a bad day is to take some time to rest and reset.
"It's much more productive in the long run for me to go away, do some things I love, and come back with a fresh mind."
Immerse yourself in a mentally nourishing activity such as going for a bushwalk, cooking your favourite meal, or getting stuck into a craft activity.
If you feel completely overwhelmed, know you're not alone. Reach out to a friend, family member or teacher for a chat when you need support.
There are also HSC Help resources available at: education.nsw.gov.au/student-wellbeing/stay-healthy-hsc

Wednesday 11 October, 2023: HSC written exams start.
Mandatory Care Minutes Boost Care Levels For Older People In Australia
The Albanese Government has stated it continues to deliver on its commitment to improve care for people living in aged care homes.
From today, aged care homes must deliver a sector average of 200 care minutes per resident per day, including 40 minutes of registered nurse care.
This means older Australians in aged care homes have better access to personal and clinical care delivered by registered nurses, enrolled nurses, personal care workers and assistants in nursing.
This comes following the introduction of the 24/7 registered nursing responsibility on 1 July 2023, with a registered nurse now on-site and on duty 98.08% of the time across the aged care sector.
Minimum care time standards were recommended by the Royal Commission into Aged Care Quality and Safety, which identified that staffing levels are vital to high-quality aged care.
Since Labor came into Government, the average number of care minutes provided per resident per day has increased from 183.53 to 193.99 - this includes the provision of 36.78 minutes of registered nurse care (Quarterly Financial Report, June 2023 quarter) - meaning in total aged care residents now receive more than 1.8 million additional minutes of direct care every day.
Care minutes delivered by registered nurses, enrolled nurses, personal care workers and assistants will be reflected in aged care homes' Star Ratings from April 2024.
From 1 October 2024, mandatory care minutes will increase to an average of 215 minutes of care, including 44 minutes from a registered nurse.
Minister for Aged Care, Anika Wells stated:
"This is yet another important milestone in the Albanese Government's promise to improve the quality of care in aged care homes.
"We promised more carers with more time to care and that's exactly what we are delivering – an additional 1.8 million care minutes every day across the sector, and an additional 5,800 direct care staff since Labor came into Government."
"The introduction of mandatory care minutes targets today means that every older person in an aged care home will receive the dedicated care time they need – whether that be for essential medical treatment or help with daily activities.
"We're ensuring that all aged care residents can have their clinical and personal needs met. Each home's care minutes targets are based on the needs of their residents, which means homes with higher-need residents will need to deliver more care minutes."
"We are already seeing a concerted effort from the sector to increase care minutes, and there has been great progress to lift care minutes ahead of the mandatory targets commencing.
"My department and I will continue to work closely with aged care homes, particularly those affected by workforce shortages, to support them to meet their care minutes targets."
Journey Through 102 Years: The Life Of Helen Lea
"My name is Helen Lea, and I've been lucky enough to reach the grand age of 102. I've always felt pretty good for my age. Perhaps it's because I've had such a unique and eventful life. You see, I never had any children of my own, but I did have the pleasure of being married twice. My second marriage was truly something special. You won't believe it when I tell you this, but I married the boyfriend I had when I was just 16, a whole 63 years later. It was simply amazing.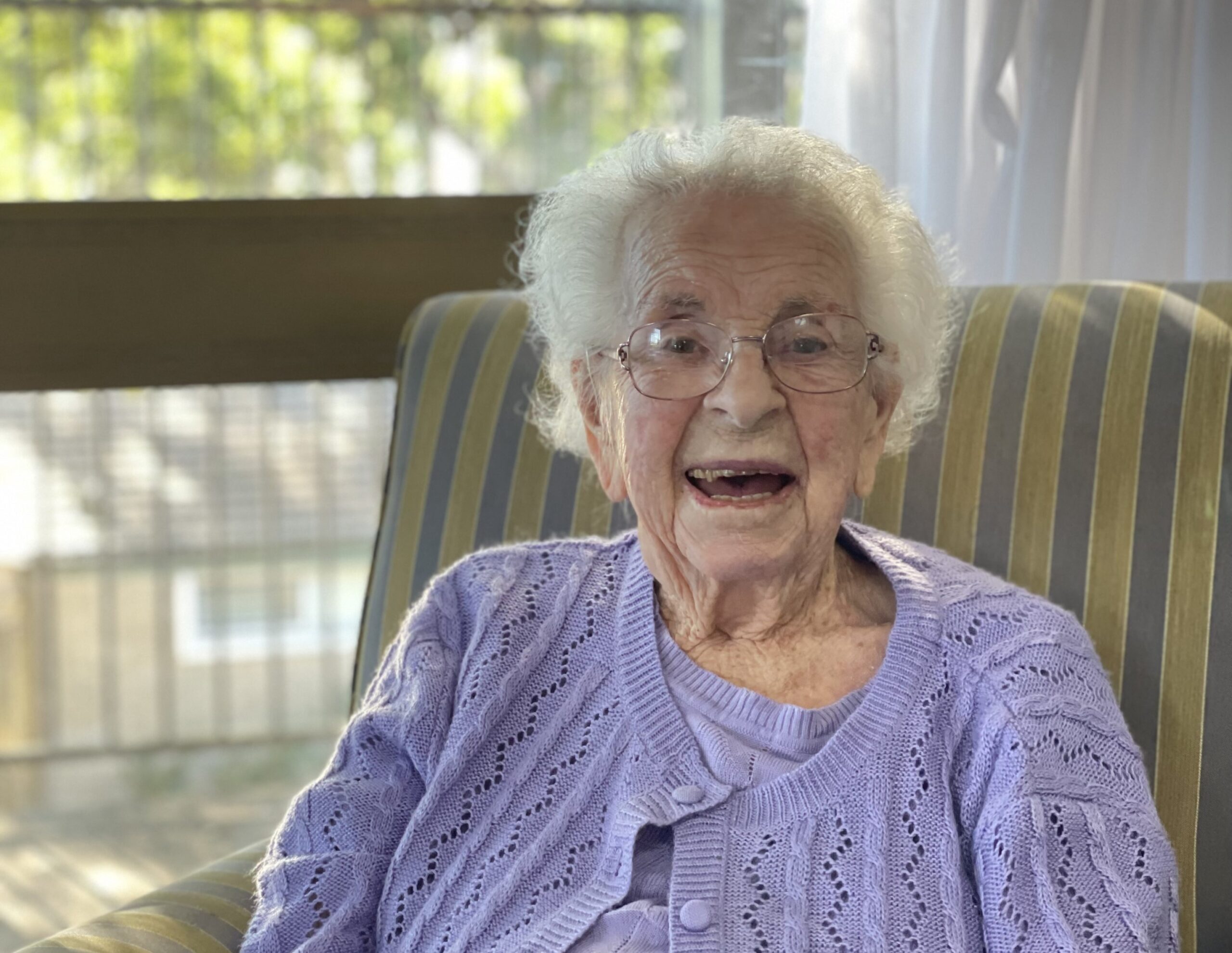 My first husband worked for Qantas, so we had the opportunity to do a lot of traveling. I guess that's where my love for adventure started. We explored different parts of the world together, and I cherish those memories to this day.
After my first husband's health deteriorated, and he had to move into a nursing home due to Alzheimer's, I decided to reconnect with my old boyfriend. I found his number in a Brisbane fan book, of all places. It was an unexpected stroke of luck.
We rekindled our friendship and discovered that we had been out of touch for nearly 50 years. Four years after my first husband passed away, we decided to get married. He passed away on his 86th birthday, while my second husband, bless his heart, lived until he was 98.
Before I got married for the first time, I worked at the Commonwealth Bank from the age of 17 until I tied the knot at 34. My job was to meticulously record every withdrawal and deposit on paper. After our honeymoon traveling the world, I went back to work since we didn't have any children. I tried my hand at different jobs, always eager for new experiences.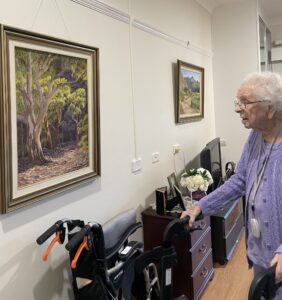 One of my favourite hobbies was oil painting. I've even got four of my paintings in my room right here at RSL LifeCare. When we lived in Frenchs Forest in Sydney, our neighbour jokingly said, "I believe you're going to open an art shop!" Little did I know that this offhand remark would turn into reality. We moved to Queensland and opened an art shop.
I managed to sell about 200 of my own paintings during that time. Still, we didn't keep the art shop for long, deciding to sell it and use our long service leave for more adventures."
– Helen Lea, Resident at RSL LifeCare Phyllis Stewart House, Narrabeen
Avpals Training Term Four 2023 At Newport
Avpals are proud to present our training schedule for term 4 at the Newport Community Centre. You can now enrol online, make inquiries online, even pay online. Just remember that one-to-one spaces are often limited. We are complying with every aspect of Covid Care.
Visit: www.avpals.com
The timetable is below: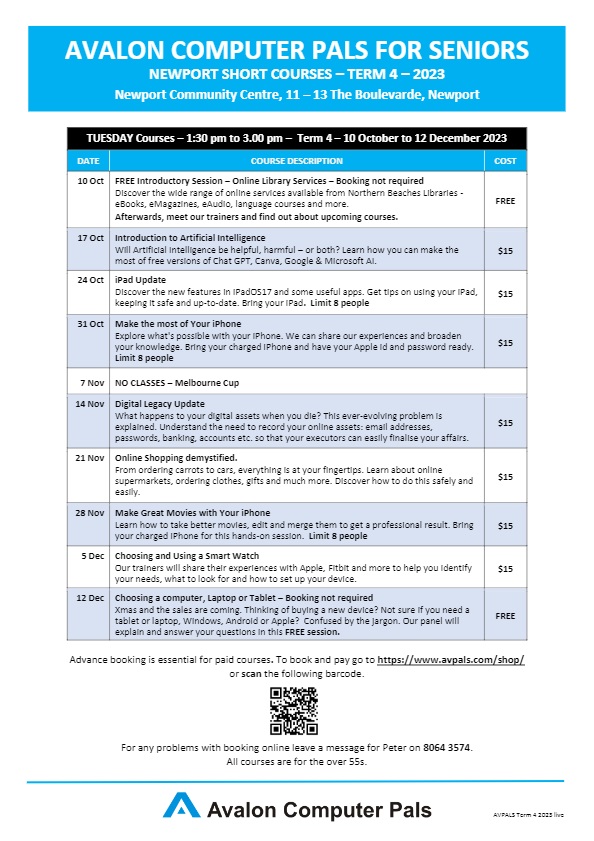 George Carpenter's Inspiring Dedication To Preserving Military History
George Carpenter, an 87 year old resident of RSL ANZAC Village in Narrabeen, has been volunteering at the RSL LifeCare War Museum for three years now. Trained as a National Serviceman in the 1950s, George's dedication to the museum stems from his deep involvement with and passion for military history.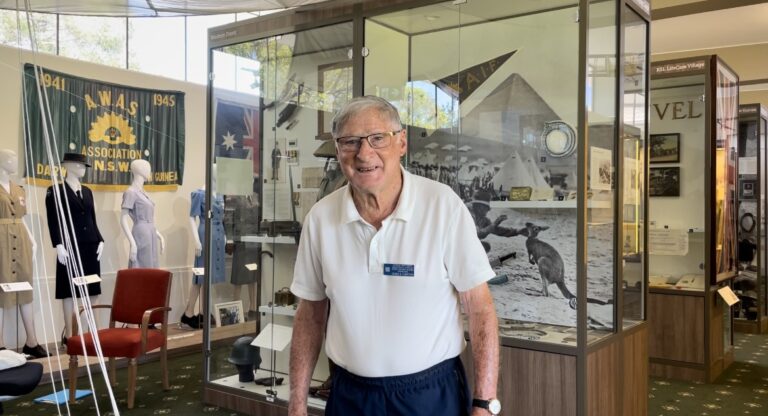 George volunteers biweekly from 10 am to 1 pm, assisting museum visitors with inquiries and navigation. The museum houses numerous donated items, including statues, photos, clothing, and personal belongings, mainly contributed by village residents. George's commitment extends beyond answering questions; he is drawn to the museum's essence, reflecting a significant part of his identity.
Visitors approach George with various queries, from specific historical details to general exploration at a leisurely pace. George efficiently directs them to relevant exhibits and interactive displays, fostering a dynamic learning environment.
He takes particular delight in engaging with school groups, aiding students in assignments covering topics such as women in service and the role of animals, like horses, in military history.
George's volunteerism has enriched both himself and museum visitors, who leave with not only newfound knowledge but also the memorable stories and insights shared by George.
"I hope that more schools and visitors will come and learn about the rich history of the area and military service in general. Some days we get a few, and others, no visitors at all – I'd love to see more people come through and learn about the amazing history," says George, inviting greater participation in preserving and sharing our heritage.
The War Museum is open every day from 9 am to 4 pm. You are welcome to visit the museum whenever you are in the Narrabeen area and say hello to George, as well as all our wonderful volunteers.
If you would like to volunteer at RSL LifeCare, please click here
.
Employment Whitepaper Takes Positive Steps Towards Addressing Barriers Preventing Older People From Engaging In The Workforce
Addressing the barriers keeping many older people out of the workforce is crucial – and today's employment whitepaper takes some steps towards breaking down those barriers, COTA Australia, the leading advocacy organisation for older Australians says.
Corey Irlam, Acting Chief Executive Officer of COTA Australia, said it was good to see commitments in the whitepaper aimed at addressing the issues facing older people including incentives for people to keep working while they receive the Age Pension or government concessions and action to address ageism in the workforce.
"This whitepaper takes important steps towards breaking down some of the barriers keeping older people who want to work out of the workforce," Mr Irlam said.
"Providing incentives for people to keep working while they receive the Age Pension by making the 'work bonus' a permanent feature will make a difference to many older people looking to continue to work."
Allowing people to retain access to the government's concession cards for a six month period after they start to earn an income to help jobseekers transition back to work is also a welcome move."
Mr Irlam said the whitepaper's acknowledgement of discrimination as a key structural barrier keeping people out of the workforce is key and COTA Australia looks forward to working with the government to ensure practical changes to address ageism are implemented.
"We know that systemic ageism is a key reason older people are locked out of the workforce and it's good to see that acknowledged in the employment whitepaper.
"The Treasurer says he wants Australians to be masters of their own destiny. Older Australians want that too, but there are a number of barriers getting in the way of that and many of those barriers boil down to ageism at the end of the day.
"As we live longer and healthier lives, we need to make sure older people are being given the opportunity to continue to work, or get back into the workforce, if that's what they choose to do.
That's not just important for older people, but for all of us.
"Older Australians are a resource with valuable experience that can and should be shared. Without harnessing that we're robbing every generation.
"The whitepaper also identified the role of businesses in creating an inclusive workplace including by implementing recruitment practices and providing opportunities that are free of discrimination and designed to allow people to balance work with other responsibilities.
"Creating an age-inclusive workplace is important not only for older people, but employees of all ages. Having a flexible working environment, free of conscious or unconscious biases like ageism is a good first step towards attracting older workers into your workplaces."
Seniors Dental Benefit Scheme Needed To Guarantee Access To Oral Health Treatment For All Older Australians
The introduction of a Seniors Dental Benefit Scheme is crucial to ensuring all older Australians, no matter what their financial situation, can access the dental services they need, COTA Australia says.
The call comes ahead of an address to the Senate Select Committee into Provision of and Access to Dental Services in Australia being heard in Brisbane today (Wednesday 20 September).
COTA Australia Acting Chief Executive Officer, Corey Irlam – who will address the Senate Inquiry today – says a Senior Dental Benefit Scheme is long overdue and a lack of political action is putting the health of older Australians at risk.
"Good oral health is important for people of every age, but for many Australians – including many older Australians – access to the affordable dental support they need is out of reach," Mr Irlam said.
"As we get older, the stakes get higher. The risks of poor oral health in young people can be substantial, but as we age the risks increase significantly. Evidence shows that poor dental health does not simply increase embarrassment and social isolation, there is also a relationship with the increased risk of diabetes, heart disease and chronic malnutrition in older people.
"The link between poor oral health and poor general health and quality of life is incredibly strong, however despite all the evidence, dental care in Australia currently receives little public funding.
"It's particularly difficult for more vulnerable older people and those living in rural and remote areas of the country.
Mr Irlam says COTA Australia – a member of the National Oral Health Alliance which also backs the introduction of a Seniors Dental Health Scheme – is urging the Federal Government to look holistically at the issue.
"Both the ALP and the Greens took a Seniors Dental policy to the 2019 election, and the Coalition Government at the time actively reviewed the issue in responding to the Aged Care Royal Commission, but we're still yet to see any meaningful action.
"Australians, particularly older Australians, need to see political leadership on this important issue.
"The introduction of a Seniors Dental Benefits Program would ensure older Australians get access to the quality, affordable dental care they need will keep us healthier for longer, decreasing the burden on our public health care system and freeing it up for those who need it most.
"As we live longer, the importance of preventative health becomes even more critical – for our quality of life, our healthcare system and for the budget.
"Including dental in our healthcare system is the kind of prevention focused policy we need to see from our governments.
"Currently, our dental system is built on a deficit model that fails to stop problems before they occur. That doesn't just lead to poorer outcomes for older Australians, but for every Australian."
2023 NSW Student Literary Awards: Congratulations Jayden And Matvey Of Mona Vale Public School!
The NSW Student Literary Awards ceremony celebrates the voices of young writers in NSW. The NSW Student Literary Awards are an annual award ceremony held at the State Library of NSW.
The awards celebrate the winners in the primary school writing competition, WriteOn, and also showcase outstanding major works by HSC English Extension 2 students.
The 2023 NSW Student Literary Awards took place on Friday 15 September at the NSW State Library. Among those announced as winners in the GOLD category were two Mona Vale PS students - congratulations Jayden S and Matvey L - we're all very very proud of you!
Relieving Principal of MVPS, Vanessa Polito, explained in the last Newsletter for Term 3:
''This is an annual writing competition for students in Years 1 to 6, designed to encourage students to develop their writing skills. Miss Gorman, Mrs Birke and Mr Von Sanden had the honour of witnessing them receive their awards at the State Library of NSW on Friday 15th September. Matvey also read his impressive piece of writing to the audience. We are so proud of you Jayden and Matvey!''
The list of this year's Gold, Silver and Bronze WriteOn competition winners includes:
WriteOn 2023 award winners
Stage 1: Jayden S of Mona Vale Public School
Stage 2: Matvey L of Mona Vale Public School
Photo, courtesy NSW Education Standards Authority.
Summer 2023 Snorkelling
Filmed from Mona Vale to Manly by Kai Hampson
Australia Post New Stamp Collection Celebrates 100 Years Of Disney Magic
October 3, 2023
Some of the world's most loved Disney characters will feature in iconic Australian settings on stamps celebrating 100 years of Disney. The special collectable set is available at participating Australia Post shops from today.
The four stamps in the set show Disney Pixar's Nemo, the clownfish from Finding Nemo making himself at home in Sydney Harbour, Ariel from The Little Mermaid at the Great Barrier Reef, and Kanga and Roo from Winnie The Pooh in their natural habitat in Australia's Red Centre. The collection is made complete with Disney icons Mickey Mouse and Minnie Mouse sightseeing on Victoria's Great Ocean Road.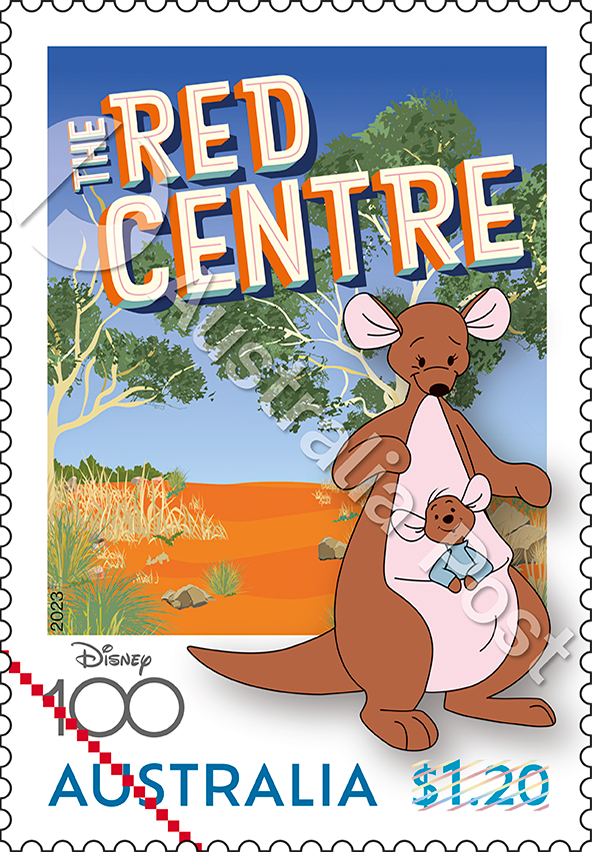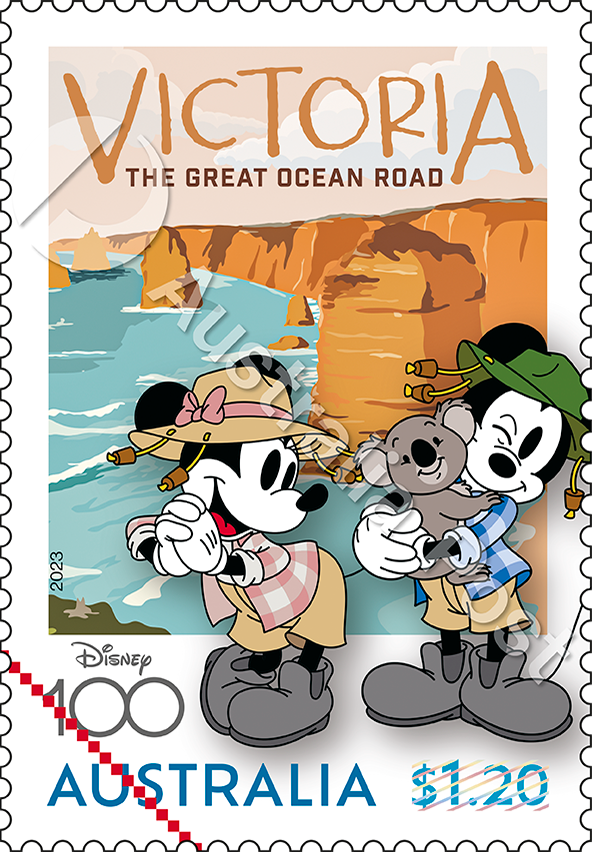 Melbourne-based Tara Stone, Product Development Manager at The Walt Disney Company Australia & New Zealand, designed the range which was inspired by her childhood love of stamp collecting.
"Collaborating with two beloved brands like Disney and Australia Post is one of my childhood dreams realised – and it makes it an even bigger career and personal highlight for me since it is also Disney's 100th anniversary.
"I am so excited to be able to help bring to life this range of stamps featuring fan-favourite Disney characters while also showcasing the beautiful Australian environment using bold colours and iconic locations," she added.
Australia Post Executive General Manager Retail Catriona Noble said it was exciting to collaborate with Disney for the latest stamp collection.
"Generations of Australians have grown up with Disney, from the early days of cinema and television through to today. We're delighted to celebrate our favourite Disney characters with a touch of Aussie flair in this latest commemorative stamp collection. Disney's official 100-year celebration is on 16 October, and we hope all Australians find their inner-child and celebrate their favourite characters for this special occasion," Ms. Noble said.
The Walt Disney Company Australia & New Zealand Vice President & General Manager of Consumer Products Commercialisation Tim Everett said seeing iconic Disney characters on a circulated Australian stamp was a special local highlight among this year's celebration.
"It's been a very big year already for Disney fans across the world, but I am so pleased to see an iconic local brand like Australia Post help us celebrate Australian fans in such a special way.
"Also, the fact the stamp range was designed by one of our Australian cast members adds an extra level of local flavour to this moment – and makes it something we can be even more proud of," he added.
Stamps are $1.20 each and the new collection will also have available for purchase separately a first-day cover, stamp pack, minisheet, maxi cards as well as a range of collectable licenced products including collection packs and medallions. They are on sale now at participating Post Offices, via mail order on 1800 331 794 and online while stocks last. For more information, visit auspost.com.au/stamps or www.australiapostcollectables.com.au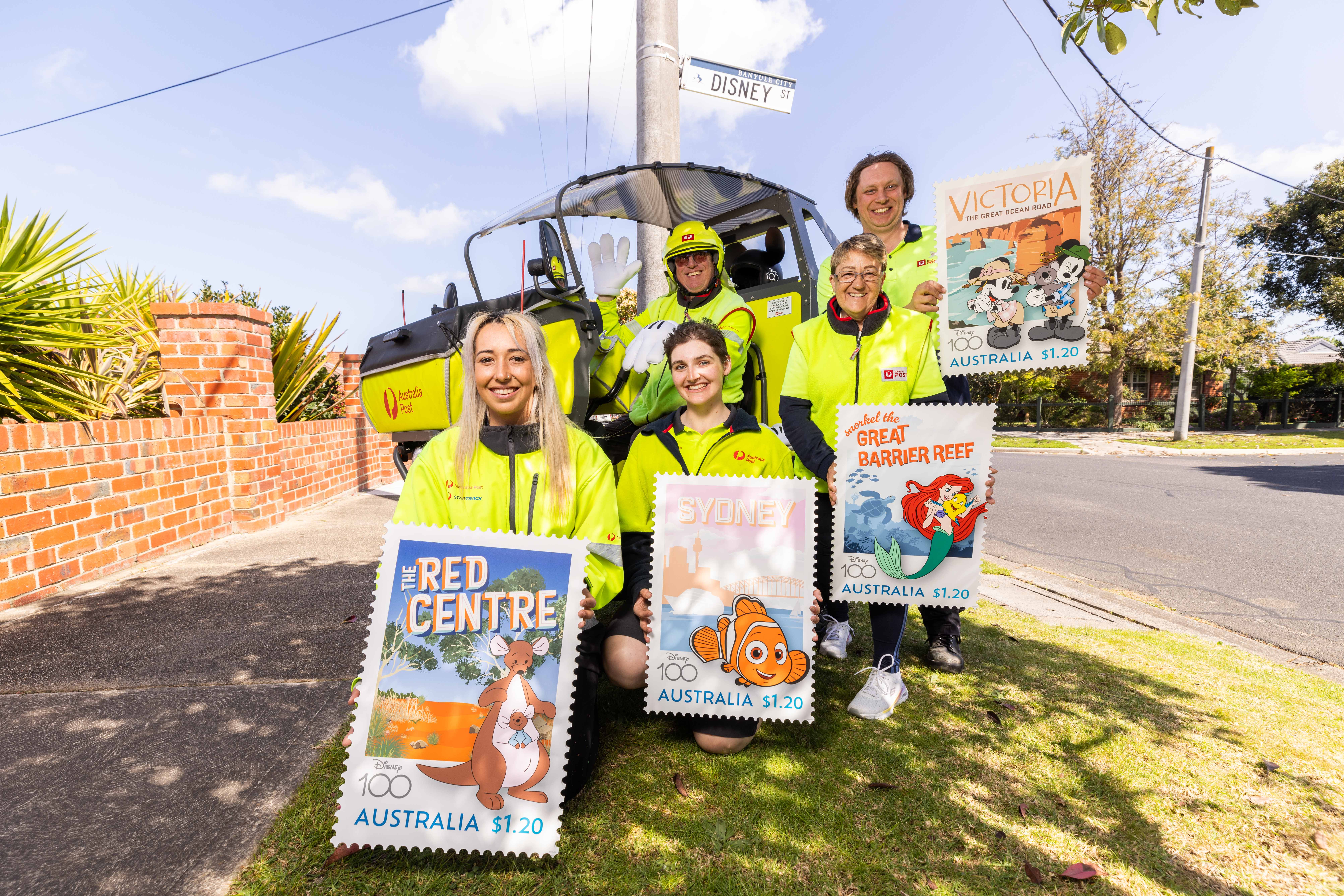 Write A Love Letter To The Land
Junior Landcare ambassador Costa Georgiadis is calling on kids to share what they love most about the environment – and the steps they're taking to protect it.
To help celebrate Junior Landcare's 25 years of opening children's hearts and hands to landcare, we are asking you to join in our letter writing campaign.
"The more you engage with nature, the more you appreciate it; and the more you appreciate it, the more likely you are to want to protect it," shares Costa.
The campaign also features:
* A curriculum-linked learning activity to help get you started
* Special letter-writing templates for children of all ages
* The chance to have your letters published in The Land
* The chance to win a visit from Junior Landcare ambassador Costa himself (T&C's apply)!
Whether you write your letters as a class, school or youth group; individual, early learning centre or family – we want to hear from YOU!
Entries close October 20, 2023.
Visit: https://juniorlandcare.org.au/love-letters-to-the-land

Warning: High-Dose MDMA Tablet (Ecstasy) Circulating In NSW
NSW Health is warning the public of a high-dose MDMA tablet (ecstasy), found to contain more than four times the average dose of other MDMA tablets in recent circulation. The tablet is pink-orange in colour and a square shape, with a 'GUCCI' logo and wording imprinted on it.
Medical Director of the NSW Poisons Information Centre, Dr Darren Roberts, said the consumption of high doses of MDMA has caused serious illness and death in NSW.
"It can cause severe agitation, raised body temperature, seizures or fits, irregular heart rhythm and death," Dr Roberts said.
"The health risks from MDMA are greatly increased if high amounts, including multiple doses, are consumed over a short period. Other risks include taking MDMA in combination with other stimulants, such as amphetamines or cocaine.
"Hot environments can also increase the risk of harm from MDMA. Several music festivals are taking place this week in New South Wales, and hot weather is predicted. Taking a break from dancing, seeking shade, and drinking water are important measures to reduce the risk of overheating at festivals.
"It is very important to remember the amount of MDMA in a tablet or capsule can vary a lot, even within the same batch. If you or a friend have taken drugs, please watch out for each other and know the warning signs that you need help. If you or a friend feel unwell, you won't get into trouble for seeking medical care. Please seek help immediately.
"There are teams of well-trained peer volunteers from programs such as DanceWize NSW who are ready to support you at many major festivals. Other event staff are also trained to help patrons."
The NSW Ministry of Health, NSW Ambulance, and local health districts provide risk management advice for festival organisers and NSW Health has issued Guidelines for Music Festival Event Organisers and pre-hospital clinical guidelines for onsite medical care providers.
At locations other than festivals, call emergency services on Triple Zero (000) and ask for an ambulance. For more information about staying safe, including the warning signs to seek help, see Stay OK at Music Festivals.
For information about the potential adverse effects of MDMA, please contact the NSW Poisons Information Centre on 13 11 26.
For support and information with alcohol, MDMA and other drugs, please contact the Alcohol and Drug Information Service on 1800 250 015. This is a 24/7 service offering confidential and anonymous telephone counselling and information. NUAA also provides a range of harm minimisation resources and advice and can be reached on 1800 644 413.
Finalists In The NSW Health Awards 2023 Announced
A virtual care program designed to support sick children and their parents, a plan to reduce anaesthetic greenhouse gasses, and early intervention in adolescent mental health care are just some of the projects among the 36 finalists of the NSW Health Awards 2023.
Now in its 25th year, the awards recognise personalised, sustainable, and digitally enabled programs that contribute to the wellbeing of patients and the community.
NSW Health Secretary Susan Pearce extended her congratulations to this year's finalists.
"These awards recognise our amazing healthcare staff and volunteers, across the health system," Ms Pearce said.
"I continue to be in awe of the achievements of NSW Health staff, who display such incredible innovation and compassion as they care for their communities.
"I congratulate the finalists, but I also want to acknowledge the vital work being done across the system every day, by doctors, nurses, allied health and all support staff."
NSW Health received 181 nominations across the 11 award categories. Categories this year include Health Innovation, Patient Safety First, Excellence in Aboriginal Healthcare , Environmental Sustainability and Staff Member of the Year.
"Choosing the 36 finalists was a real challenge for the team, as all the nominations really showcase the excellent work taking place throughout the state," Ms Pearce said.
"Of course, it's not just paid healthcare workers we're celebrating. These awards also recognise the significant contribution of community members with the Volunteer of the Year Award.
"Their selfless efforts directly support patients, carers, and staff to help deliver better outcomes for all."
The finalists and winners will be celebrated at the NSW Health Awards ceremony, which will be held on Tuesday 24 October at the Sydney International Convention Centre. The event will also be livestreamed.
Locally named finalist projects include:
Environmental Sustainability Award
The Environmental Sustainability Health Award is a new award that recognises the achievements of our health system and workforce to reduce our environmental footprint, whilst continuing to deliver high quality healthcare and patient experience.
The Environmental Sustainability Award acknowledges programs, initiatives, and projects which promote:
healthier, greener buildings and spaces
sustainable management of energy, water, waste, and other resources
a focus on value-based healthcare to reduce harms and risks for patients and the carbon costs of low-value care
strengthening and developing low-carbon models of care
use of technology to facilitate high quality, low carbon care
establishing sustainable procurement processes
educating and engaging staff about environmental sustainability.
Finalist – Reducing Anaesthetic Greenhouse Gases: Northern Sydney Local Health District
Healthcare in Australia is responsible for approximately 7% of the country's carbon emissions. Within healthcare, the use of anaesthetic gases contribute to more than 5% of these emissions. One gas, desflurane, has a global warming potential that is almost 7000 times greater than carbon dioxide. Nitrous oxide (N20) is another potent greenhouse gas emitted during anaesthesia.
The goal is to reduce the carbon emissions from anaesthesia while delivering safe, high-quality healthcare.
A multi-faceted program was implemented to reduce the perioperative carbon footprint. One area worked to reduce desflurane use in favour of alternative, less expensive anaesthetic gases or techniques. This program involved educating staff, practice changes, and audits. This initiative first launched at Royal North Shore Hospital and then was extended across the District. Two 'Net Zero Leads for Anaesthesia' were recently appointed to lead further work, including reducing N20 waste.
The project has significantly reduced the use of desflurane. A year-on-year comparison saw desflurane use decrease from 35 bottles per month, to only 4 bottles in a year. A similar decrease was seen in CO2 equivalent emissions from a baseline of 1321 tonnes to 0.75 tonnes over the last financial year.
In the last financial year, a direct cost saving of $344,087 and a global social cost saving of $105,048 was calculated. This adds to significant savings already made from previous years.
Collaboration between researchers, policy makers, service users, health managers and clinicians in research is critical and can lead to findings that are more likely to be innovative and positively inform health decisions.
This Award recognises the full scale of research from fundamental research, to applied and translational research, as well as clinical and health systems research.
Projects in this category demonstrate outstanding achievements by:
drawing on existing and emerging research evidence to guide the delivery of safe and reliable care
understanding how research translates into achieving improved outcomes that matter to our patients and the community
assisting clinicians and health decision makers to find or use research effectively
establishing research partnerships or collaborations involving clinicians, patients, research organisations, hubs, and networks, local health districts, pillar agencies, specialty networks and health organisations, that has led to outstanding examples of research that changed policy or practice
acknowledgement by decision makers of the impact of research on their policy or practice
eHealth, health information and data analytics to support and harness health and medical research and innovation.
Finalist – Transforming Fluid Resuscitation in Intensive Care: Northern Sydney Local Health District
Traditionally, clinical trials haven't involved critically ill patients in intensive care units (ICUs). However, over a 22-year-period, researchers from Royal North Shore Hospital, in collaboration with The George Institute for Global Health and the Australian and New Zealand Intensive Care Society (ANZICS) Clinical Trials Group, have changed this culture. The team produced ground-breaking research to determine best practice in using fluid resuscitation to reduce mortality in critically ill patients.
Three major clinical trials involving thousands of ICU patients have transformed practice in Australia and around the world.
The 6997 patient SAFE Trial (Saline vs Albumin for Fluid Evaluation) was published in 2004. This trial determined that using albumin for fluid resuscitation did not improve mortality compared with the cheaper alternative of normal saline.
The 7000 patient CHEST Study was published in 2012. This trial found that Hydroxyethyl Starch (HES) for fluid resuscitation didn't improve mortality compared with the cheaper alternative, normal saline.
The 5037 patient PLUS (Plasma-Lyte versus Saline) trial was published in 2022. This trial found that using a balanced multi-electrolyte solution for fluid resuscitation did not reduce risk of death or acute kidney injury compared with using saline.
This research built a compelling evidence-base, which has been translated into treatment guidelines and practice globally. As a result, it has saved many thousands of lives and millions of healthcare dollars in this critical healthcare setting.
Excellence in the Provision of Mental Health Services Award
Mental Health is a priority area for the NSW Government, with over two in five (43.7%) Australians aged 16-85 experiencing a mental illness at some time in their life*.
This award recognises and showcases work in improving the quality and safety of mental health patient care within programs and services which display:
best practice, excellence, and innovation in mental health service delivery
development of consumer-focused services
positive mental health and wellbeing through consumer and carer participation
strengthened prevention and early intervention
community-based care practices, striking a better balance between care provided in hospitals, and that provided in the community
integration between mental health and other providers including justice and human services.
Finalist – No Suppression Group: Northern Sydney Local Health District
The No Suppression Group brings together people with lived experience of mental health issues to share their creativity and build social connections.
The idea for the peer-run group came from North Shore Ryde Mental Health after hearing from people who use mental health services. Music, poetry, art, and comedy were important to these consumers, but they didn't have a platform to share their creative work.
Research shows that taking part in artistic endeavours can be an important part of recovery and achieving a full life for people with mental health issues.
No Suppression aims to provide a safe, encouraging space for people to share and celebrate creativity. It also enables people to socialise and develop community connections.
The community-focused group is the only service of its kind in NSW. Since its inception in 2011, more than 150 people have attended the monthly sessions. They recently introduced the option to participate online (via Zoom). This has opened the door to participation by people who can't attend face-to-face. Workplace flexibility allows the group to meet monthly on a Saturday. This best suits the clients' needs, and clinicians report fewer weekend calls are made to services by participants.
Patient Safety First Award
Providing world-class clinical care where patient safety comes first is a key priority for NSW Health. We have a shared vision that patient safety is everyone's responsibility. This award acknowledges a commitment to putting patient safety first every day.
Projects within this category will display patient safety by:
leading quality improvement to ensure safer patient care
delivering innovative approaches to improving patient safety
engaging patients in approaches to improve patient safety
demonstrating leadership or role modelling behaviour that puts patient safety first.
delivering safe, high-quality reliable care for patients in hospital and other settings.
Finalist – Multidisciplinary Concussion Service: Northern Sydney Local Health District
Royal North Shore Hospital (RNSH) is providing Australia-first multidisciplinary concussion service. This service works with the community to provide vital education about concussion. They also run a specialised multidisciplinary clinic to help patients with post-concussion symptoms return safely to school, study, work and sport.
Concussion, a brain injury, is underdiagnosed and can result in missed schooling, worsening symptoms, anxiety, depression, and readmission, if not managed appropriately.
The hospital staff, worked closely with local schools, GPs and sports clubs. They identified a vital need for more education and support around concussion. As a result, the team created an educational video. This video has been adopted for use by the NSW Education Department and New Zealand schools.
They drew on international evidence and established the Concussion Clinic in early 2022. The clinic is made up of a neurologist (paediatric/adult), neuropsychologist and clinical nurse consultant. The multidisciplinary team take a holistic approach to review and manage patients' post-concussive symptoms over 2-4 visits.
In its first year, the weekly clinic treated 51 patients, attracting positive feedback and improving health outcomes. The clinic has been fully booked for the past three months. They have also launched a new telephone service to provide concussion advice to people across Australia.
The People and Culture award recognises projects that support our workforce to deliver safe, reliable, person-centred care that drives the best outcomes and experience for patients and staff.
Projects in this category demonstrates support the NSW Health workforce by:
working collaboratively within the NSW Health system to improve health outcomes, including financial, IT, productivity, and workforce projects, initiatives or programs
growing and supporting a skilled workforce by hiring and developing the right people, with the right skills, at the right time
building positive work environments that bring out the best in everyone including wellbeing programs and initiatives
strengthening diversity in our workforce and decision-making
developing effective health professional managers and leaders
improved systems and efficiencies to support better workplace safety and health outcomes and practices
support for long-term behaviour change to strengthen the staff health safety culture
increased awareness of the importance of personal safety alongside patient safety
enhanced access and training in workplace health, wellbeing and safety.
Finalist – Optimising Leadership: An Informed and Sustainable Gateway; Northern NSW Local Health District
The Leadership Academy is an interactive online leadership development gateway, created specifically for unit managers in Northern NSW Local Health District. The Academy was informed by an in-depth study exploring the support, education and resource needs of our unit managers.
This initiative is a first for NSW Health. It aims to create an engaged network of unit managers who would be fully equipped and supported to lead effective, productive and agile clinical teams.
The Leadership Academy successfully addressed several issues:
the sustainability of learning programs
the amount of information unit managers needs to access from multiple sources and
isolation from peers
A multi-method evaluation has indicated that the Academy has met and surpassed the needs of the unit manager cohort. Feedback indicates that the program:
created a strong community and support network, harnessing the power and knowledge of the unit managers group
motivated members to prioritise and engage in education to develop as a leaders
improved leadership, particularly in communication, engaging and empowering teams
significantly increased members accessing coaching and mentoring
helped members feel recognised and valued by the District
improved use of systems including rostering, performance appraisals and financial management
increased time management and efficiency for unit managers. This is achieved by providing one central place to tie in all information, support and education required for their roles.
Changes To Minns Government Ministry
NSW Premier Chris Minns today announced changes to the NSW Ministry that will boost the government's focus on skills, domestic manufacturing and the importance of TAFE to regional NSW.
Former Minister in the previous Labor Government and Member for Monaro, Steve Whan, will today be sworn in as the Minister for Skills, TAFE and Tertiary Education.
Minister for Finance and Minister for Natural Resources, Courtney Houssos MLC, will be sworn in to the new, additional portfolio of Domestic Manufacturing and Government Procurement.
The changes to the ministry underscore the NSW Government's commitment to domestic manufacturing and build the pipeline of skilled workers to drive productivity and jobs in NSW.
As part of the 2023–2024 Budget, the government has committed $9.8 billion to build new and upgraded schools and other educational facilities. The budget also included an additional $112.0 million to meet the TAFE funding shortfall and 1000 extra apprentices across the NSW Government by 2026 at a cost of $93.5 million.
The new portfolio of Domestic Manufacturing and Government Procurement will drive the return to domestic manufacturing and building things here again, using government procurement power to boost local jobs.
The 2023–2024 Budget will kickstart this effort with $43 million for 7 new Australian-made Parramatta River Class ferries and $71.1 million to return Freshwater Class ferries to the Circular Quay-Manly route.
Premier Chris Minns said:
"The appointment of highly experienced former Minister Steve Whan to cabinet will ensure another strong voice for regional NSW at the centre of government.
"Steve has represented all communities, but particularly rural and regional NSW, with distinction throughout his career as a former Minister for Rural Affairs, Primary Industries, Emergency Services and Small Business.
"He will bring his considerable skills and experience to helping rebuild TAFE and the VET sector after decades of under-funding.
"As Minister for Finance, Courtney Houssos has been critical to getting waste and debt under control and shaping a budget that will deliver for the people of NSW.
"I have asked Courtney to step into the highly important area of boosting domestic manufacturing and to end the exodus of jobs and ideas offshore."
Minister for Finance, Minister for Domestic Manufacturing and Government Procurement and Minister for Natural Resources Courtney Houssos said:
"From February 2011 to February 2023, NSW lost 71,000 manufacturing jobs.
"We need to build things here again and we need to build things that work. Around the globe, countries are focused on rebuilding their local capacity. This includes with direct spending through government procurement, but also getting the policy settings right to encourage broader investment.
"I am excited to be working with my new ministerial colleague, Steve Whan, on end-to-end policy and delivery solutions to boost skills, jobs and local manufacturing."
Minister for Skills, TAFE and Tertiary Education Steve Whan said:
"I am honoured to be appointed to this important portfolio that is not just a key part of the delivery of education in NSW but is critical to the skills and jobs pipeline in our state.
"I know that across NSW, local TAFEs are an integral part of the fabric of regional communities.
"I want to be their champion and see those campuses and institutions get the respect, resourcing and prominence they deserve."
ACCC: Review Of Childcare Policy To Better Meet The Needs Of Families
Market forces alone have failed to meet community expectations and government objectives for childcare services and policy, an ACCC report has found.
These findings arise from the
ACCC's Childcare inquiry second interim report
, published today, and are based on analysis of the nature of childcare markets, the Child Care Subsidy and the role price and quality play in demand for and supply of childcare across Australia.
"As the competition and consumer regulator, we have carefully examined the childcare sector and the impacts for consumers. We have found market forces under current policy settings are not delivering on accessibility and affordability for all children and families across Australia," ACCC Chair Gina Cass-Gottlieb said.
"Quality childcare is essential for Australian families. Early childhood education can help children reach developmental outcomes and supports parents and guardians to work and study."
"This analysis provides important new insights into the costs of supplying services, how parents and guardians choose to use childcare and provides an evidence base for important policy discussion and consultation," Ms Cass-Gottlieb said.
"Our report's findings highlight areas in which changes could lead to better outcomes for the community, particularly those needing childcare in lower income households and in very remote locations. We have made draft recommendations to re-examine childcare policy settings, and are now seeking feedback from childcare providers, educators, families and interested community organisations."
Supply of childcare services higher in advantaged areas and cities
The ACCC report found that market dynamics encourage more supply in socio-economically advantaged areas and major cities, where parents and guardians generally have greater ability and willingness to pay.
Decisions by providers to offer childcare services in a particular area are influenced by their expected viability, which in turn is driven by an area's relative advantage, workforce participation, demographics and geographic location. The occupancy level of a childcare service is a key driver of revenues and profits.
"We have found margins are higher, on average, for most for-profit centre based day care services, as well as centre based day care services in major cities and advantaged areas and those centres providing higher quality care," Ms Cass-Gottlieb said.
Remote communities, and locations with a higher proportion of lower income households have fewer childcare services and are relatively under-served. Areas located in the lowest three socioeconomic deciles have a greater proportion of not-for-profit providers compared to more advantaged areas.
"Our findings highlight that childcare is used by children and households in significantly different situations with vastly differing needs. A 'one size fits all' approach that achieves all desired outcomes is not likely to be possible," Ms Cass-Gottlieb said.
"We recommend that the government reconsider and restate their key policy objectives and priorities, and consider further changes to the Child Care Subsidy and broader policy measures to better address government priorities and unintended consequences."
Activity test can reduce demand for childcare because of higher costs
When parents and guardians decide how much childcare to use, price is a key consideration, as families consider their willingness and ability to pay in determining whether and how much childcare to use.
When they are then choosing a centre based day care, rather than looking for the cheapest service, parents and guardians tend to look for a service that is priced around the prevailing market price (not too high or too low) and which delivers value for money, taking into account perceptions of quality.
Despite the overall importance of prices, the ACCC found parents are generally less sensitive to small variations in price than in many other markets. The report finds that there is in fact little variance within local markets, although prices vary more between markets.
However, households in lower socio-economic areas are more responsive to price changes, as increases in out-of-pocket expenses will have a disproportionately larger impact on household income.
The activity test and a household's eligibility for subsidised hours of care can greatly influence their demand for childcare, especially for low income households.
The ACCC report found that households with the lowest entitlements to subsidised hours of care, as determined by the activity test, also had the lowest median incomes, around $46,000 per year. Those households also used the most unsubsidised hours of childcare – more than 7 hours per week on average.
In contrast, households on higher incomes receive more subsidised hours of care and pay for fewer unsubsidised childcare hours each week.
"The current activity test means that those in low income households who seek to increase their hours of employment, and therefore need more childcare, face a higher proportion of out of pocket costs as this extra childcare is relatively more expensive for them," Ms Cass-Gottlieb said.
Costs of providing childcare increasing, but sector is generally profitable
While costs of providing childcare have been increasing, the report found the sector is generally profitable.
Labour is the main driver of costs for supplying childcare services, accounting, on average, for 69 per cent of centre based day care costs and 77 per cent of outside school hours care costs. The cost of providing centre based day care has increased by 27 per cent on average over the past five years.
Land and related costs are the second largest driver of costs for centre based day care providers accounting for 15 per cent of total costs.
The ACCC found that large not-for-profit, centre based day care providers have somewhat lower land and related costs but reinvest these savings into their workforce, to improve the quality of their services. Not-for-profit large centre based day care providers have significantly more staff paid above award wages and employed on a full time basis than for-profit providers.
Additional and targeted support for First Nations and under-served communities
The ACCC recommends the Government consider maintaining and expanding supply side options including direct subsidies, for Aboriginal Community Controlled Organisations that provide childcare services for First Nations children.
The ACCC also supports a market stewardship role for Government in local area markets where there is an undersupply of childcare services.
"A single policy approach may not deliver quality and accessible childcare for all Australian children. A mix of different measures and supports may be needed to deliver affordable and accessible childcare for families in different locations and situations across the country," Ms Cass-Gottlieb said.
Educators key to quality, availability and profitability of childcare services
Staff shortages and decisions by educators to leave the sector are impacting the supply of childcare in Australia as well as profitability, long-term viability and service quality.
"Childcare markets are complex and involve extremely personal decision making for parents and guardians. The educator-child relationship is incredibly important to families when choosing a service and providers compete more on quality rather than price to attract and retain families," Ms Cass-Gottlieb said.
"The ACCC recommends that consideration be given to how regulatory frameworks can help attract and retain early childhood educators. Wages and conditions, including training demands and regulatory reporting requirements may be factors contributing to workforce attrition."
OECD countries are moving towards supply side subsidies and increased regulation
Childcare in Australia is less affordable compared to most other OECD countries. In 2022, an Australian couple on average wages with two children spent 16 per cent of their net household income on net childcare costs, compared to the OECD average of 9 per cent.
This is despite the government contribution to childcare fees in Australia being significantly higher (16 per cent of net household income for a couple on average wages) than the OECD average (7 per cent).
These figures do not take account of increases in the Commonwealth Child Care Subsidy from July 2023.
The ACCC met with overseas government agencies and examined childcare policies and the effectiveness of price regulation mechanisms in several OECD countries.
"We have observed that many countries have decided to spend more on childcare to improve affordability and are moving towards greater regulation of childcare fees by offering low fees or free hours, supported by supply-side subsidies," Ms Cass-Gottlieb said.
The ACCC recommends further consideration of supply-side subsidies and direct price controls to limit the impact on the taxpayer, as the report finds any significant changes to policy settings in the childcare sector could reduce the impact of the hourly rate cap on fees and may warrant a shift to direct price controls alongside direct operating grants.
The ACCC invites submissions from interested parties on the draft findings and recommendations by 29 October 2023.
Submissions can be made through the ACCC website via a guided survey, which allows comment on individual findings and recommendations, or by written submission.
The ACCC is also asking families from culturally and linguistically diverse communities to share their views on childcare services.
Parents and guardians are invited to complete a short online survey
to share their experiences when looking for and using childcare services in Australia. The survey is available in Simplified Chinese, Traditional Chinese, Arabic, Korean and Vietnamese.
On 28 October 2022, the Treasurer directed the ACCC to conduct an inquiry into the market for the supply of childcare services, and the Childcare inquiry commenced on 1 January 2023.
The ACCC published its first interim report on 5 July 2023.
The ACCC's final report will include analysis about family day care and in home care services' costs and changes to prices following the increase to the Child Care Subsidy in July 2023. Final findings and recommendations will also be included in the report, due to the Treasurer by 31 December 2023.
The Childcare inquiry examines four different childcare services: centre based day care, family day care, outside school hours care and in home care. In home care is a flexible form of childcare where an educator provides care in the child's home. It is restricted to households who are unable to access other forms of childcare.
Supply-side subsidies go to providers to reduce the cost of providing the service. The Child Care Subsidy is a demand-side subsidy, which reduces the fee paid by parents and guardians to the service provider.
AMA Supports Major Reforms To End Retail Vaping In Australia
The Australian Medical Association has supported a proposed overhaul to vaping laws, which would put an end to the retail sale of vapes in Australia and help people kick the dangerous and addictive habit.
Under reforms proposed by the Therapeutic Goods Administration (TGA), the importation, manufacture and sale of vaping products — regardless of nicotine content — would be banned outside of therapeutic use prescribed by a doctor and dispensed by a pharmacist.
In a submission to the TGA, the AMA has supported the proposed reforms, which include the use of plain, pharmaceutical-like packaging with warning signs for vaping products.
AMA President Professor Steve Robson praised the TGA for using expert medical, public health and scientific advice to guide reforms.
He also commended the federal government for taking an important step in the fight against tobacco and nicotine addiction by introducing new reforms to Parliament this month.
"The AMA welcomes the federal government's strong action against smoking and vaping addiction. The government has listened to the advice of the AMA and public health experts and is closing loopholes and exposing blind spots exploited by the predatory tobacco industry," Professor Robson said.
"We are in a situation where kids are becoming so addicted, they are hitting the vape in school yards and classrooms.
"This is an entirely unacceptable situation — but it's not the kids' fault. This crisis is on the hands of big tobacco and the industry's insidious tactics to lure kids with bright colours, fruity flavours and false assertions the products are free of nicotine."
The reforms will include legislative changes to allow Commonwealth, state and territory governments to enforce the new rules with criminal offences, civil penalties and improved information sharing, among other measures.
Professor Robson said there was no strong evidence to suggest vaping is an effective smoking cessation tool, despite the best attempts of irrational proponents who claim the opposite.
"The AMA's support for the TGA's proposed reforms is based on cold, hard evidence, which shows people who vape are three times more likely to take up smoking than people who have never vaped, and that former smoking addicts who vape are more likely to relapse," Professor Robson said.
The TGA's reforms include many long-standing AMA proposals, including limits on the flavours and volume of nicotine that can be prescribed or ordered and ending the personal importation scheme, which is a major loophole in the current system.
Providers Selected For Central Coast Medicare Urgent Care Clinics
The Albanese Government has stated it is delivering on its commitment to make it easier for residents of the Central Coast to get the urgent care they need with providers selected for their two Medicare Urgent Care Clinics (Medicare UCC).
The Peninsula Medicare UCC will be established at Providence Medical Umina and the Lake Haven Medicare UCC will be established at Coastal Lakes Medical Practice, providing urgent care for people living in the north of the Central Coast. Both UCCs will start seeing patients in November 2023.
Medicare UCCs deliver on the Albanese Government's commitment to make it easier for people on the Central Coast to get the urgent treatment they need – from highly qualified doctors and nurses – while taking pressure off the Gosford and Wyong Hospitals.
The Medicare UCC will be open for extended hours, seven days a week, and offer walk-in care that is fully bulk billed.
Over half of presentations to the Gosford and Wyong Hospital emergency departments are for non-urgent or semi-urgent care.
The clinics are two of 14 Medicare UCCs that will be established across New South Wales.
The Australian Government will continue to work closely with the Primary Health Networks and New South Wales and Government to deliver the remaining Medicare UCCs, all of which will open this year.
Federal Health Minister Butler said:
"The Medicare UCCs on the Central Coast are another way the Albanese Government is strengthening Medicare and making it easier to see a doctor.
"The UCCs will make a big difference to patients on the Central Coast who will be able to get the urgent care they need when they need it.
"The clinic will ease pressure on the Gosford and Wyong Hospital, so that its hard-working doctors and nurses can focus higher priority emergencies.
"The Labor MPs on the Central Coast went to the election championed the Urgent Care Clinic model because they knew the difference that it will make for their community. They are delivering for their communities."
Minister Pat Conroy, Member for Shortland stated:
"This is great news for people living in the north of the Central Coast and will mean that more people will be able to see a bulk billed doctor or nurse once the clinic opens in November.
"I am consistently told by people in the community that healthcare is their number one concern, and I am proud to be part of a government working to strengthen Medicare and ensure greater access to bulk billing GPs."
Assistant Minister McBride, Member for Dobell said:
"I know just how hard it has been for people on the Central Coast to see a doctor.
"Working at Wyong Hospital for almost 10 years, I have seen firsthand that for too long many people in our community have had to wait long hours at the Wyong Hospital emergency department.
"Our UCC is going to offer the high-quality urgent care that our community deserves, open seven days a week and fully bulk billed.
"This UCC will ease pressure on the Wyong emergency department and be much more convenient for our community – closer to home, at short notice, and bulk billed under Medicare."
Dr Gordon Reid, Member for Robertson stated:
"I know many families in the Central Coast region who have had to wait long hours in the emergency department for non-life-threatening issues, like sutures for minor wounds, imaging and pathology.
"The Peninsula Medicare UCC will help ease the pressure on our local health services and be much more convenient for our community – and bulk billed under Medicare."
Disclaimer: These articles are not intended to provide medical advice, diagnosis or treatment. Views expressed here do not necessarily reflect those of Pittwater Online News or its staff.