January 29 - February 4 2023: Issue 569
Ten Years On 'Hands Off Barrenjoey!' Remains The Song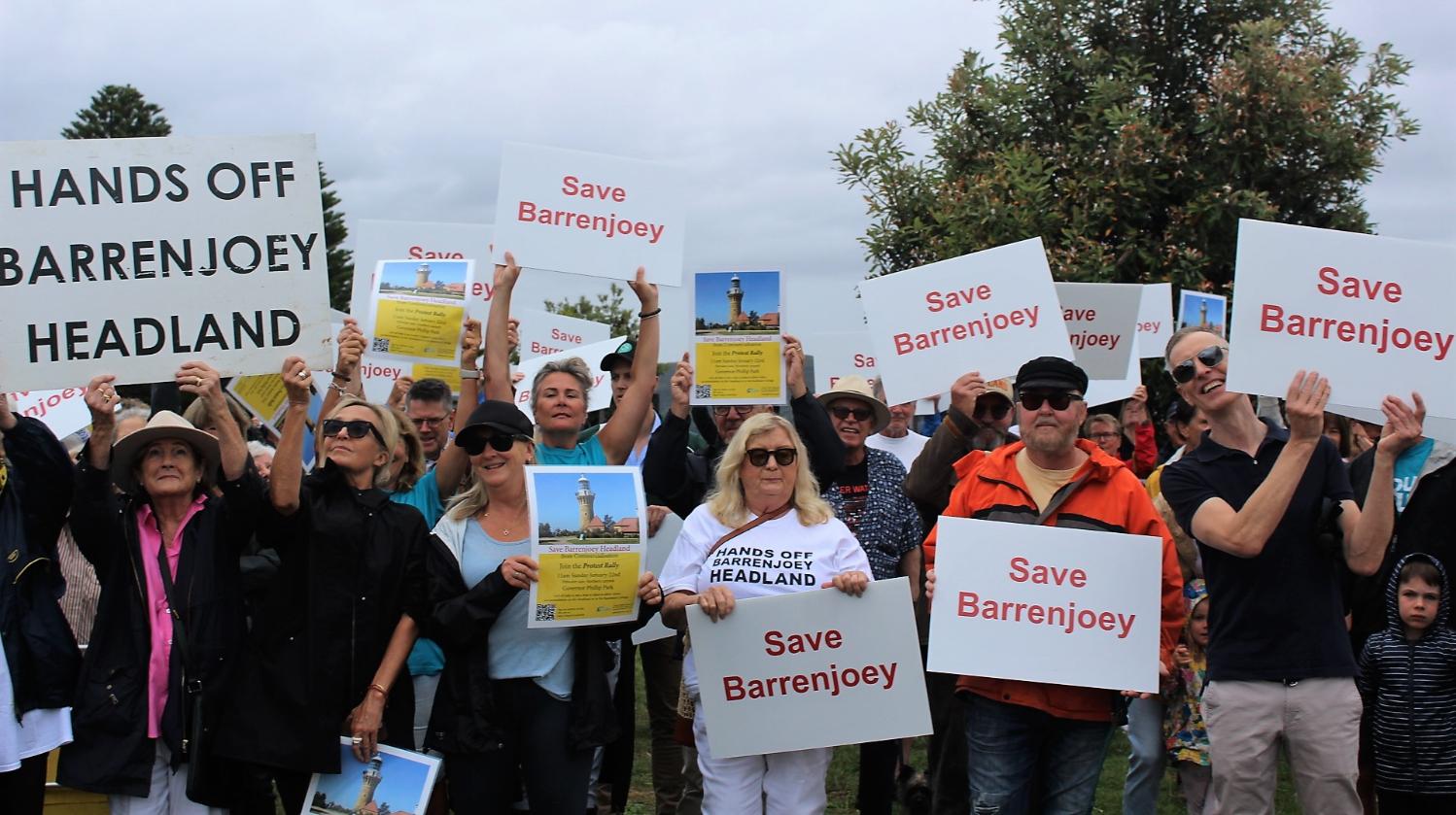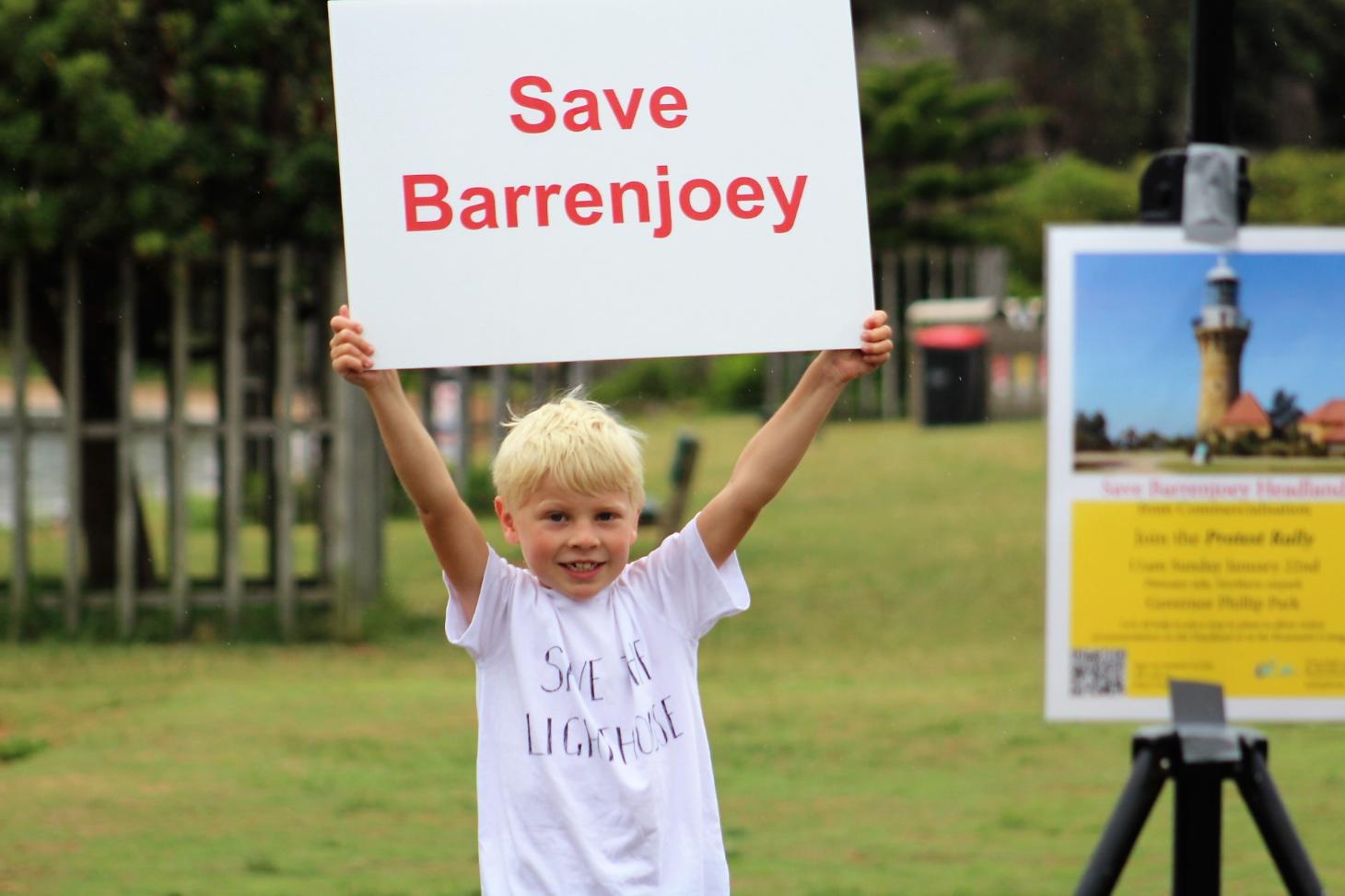 Despite short notice, rain and being scheduled for the middle of Summer, there was a good turnout alongside Station Beach on Sunday January 22nd to protest against a renewed signal to 'repurpose' the buildings at Barrenjoey lighthouse and its precinct.
One of the objectives of the Palm Beach Whale Beach Association, the Pittwater Environmental Heritage Group and community members, to not have the 2022 Draft changes to the Ku-ring-gai Chase National Park and Island Nature Reserves Draft Plan of Management approved before the state election, was achieved.
An undertaking was announced this would not occur by Liberal Candidate for Pittwater in the 2023 State Election, Cr. Rory Amon, as stated by Manly MP James Griffin to him, and confirmed via Twitter by current Pittwater MP Rob Stokes, who also attended, in a verbal sparring with the Shadow Environment Minister, Penny Sharpe MLC;
Should the Liberal National win another term governing NSW at the March 25th election that win could be viewed as a mandate to proceed with what many state is the commercialisation of a public asset in a way that would exclude the public accessing this site.

On October 24th 2014, after the Barrenjoey Rally of 2013 to save the headland and its buildings from becoming a commercial precinct, with even a conference centre mooted, then NSW Environment Minister Rob Stokes announced the adoption of the amendments to Ku-ring-gai Chase National Park and Lion Island, Long Island and Spectacle Island Nature Reserves Plan of Management.
Despite all that work and heartache that PoM document still contained:
'' The buildings at Barrenjoey Head may be adaptively re-used for any purpose consistent with the policies of the endorsed 2012 Conservation Management Plan and the management principles for national parks including accommodation for visitors, interpretation or caretaker accommodation. Any adaptive reuse will also be consistent with the provisions of the NSW Heritage Act including the requirement for approval by the NSW Heritage Council under the NSW Heritage Act. ''
The 2014 PoM was approved on the same day Minister Stokes announced funding for the iconic building and its surrounds, including restoration of the sandstone structure, cleaning away lichen and de-salination of areas of the tower where corrosive salt has built up.
"Funds will also go into internal repairs, safety upgrades, landscaping, bushland restoration and construction of the sandstone flagged access trail and Smuggler's Track.'' Mr Stokes announced.
$3.3 million was allocated with $1 million budgeted for works carried out that same year. That followed $720,000 provided the previous financial year for works including the conservation of the heritage cottages that originally housed the lighthouse head keeper and assistants.
A further $1.6 million was to be provided for further restoration and conservation works on the cottages and 'other structures' over the next two years, the 2014 announcement read.
Those works have been proceeding with a drawing of what facilities for visitors who need a bathroom when atop the headland made available for feedback earlier in 2022 with the announcement stating the construction of these was expected to commence in the Spring of 2022, subject to approvals: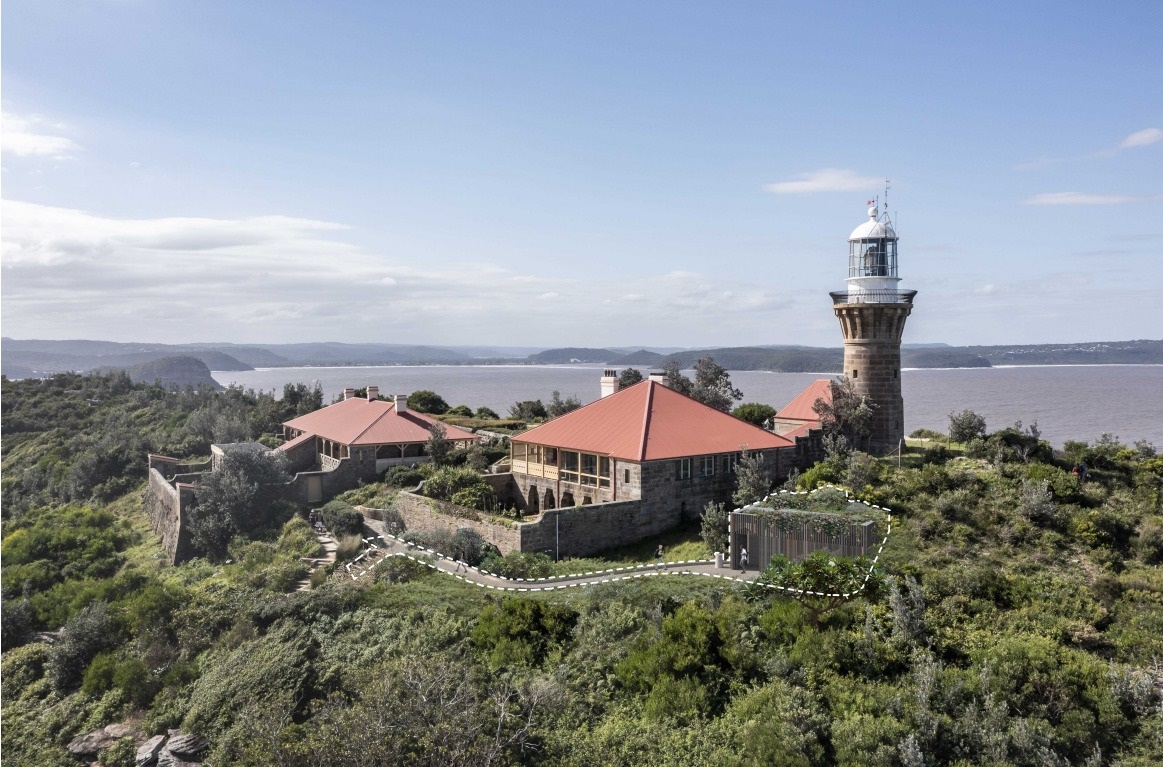 Image: Architects' Drawing of placement/style of new amenities. Image: NPWS
The 2022 Draft of the 'Ku-ring-gai Chase National Park and Island Nature Reserves Draft Plan of Management' opened for public consultation during the first week of the September 2022 school holidays with feedback open until November 22nd, 2022. A week later Pittwater MP Rob Stokes announced his departure from state politics.
The PBWBA stated late last year that NPWS had said they had over 600 submissions but would not disclose who supported or objected to the changes proposed in the Draft.
Members of the PBWBA state that at a meeting with Ministers Griffin and Stokes on the Thursday prior to the Sunday 22 2023 Save Barrenjoey rally they were given the firm impression the coalition government intends to proceed with plans to commercialise the Barrenjoey precinct as well as Ku-ring-gai Chase National Park.
''They were unresponsive to our request to remove the possibility of commercial letting of the two Assistant Lighthouse Keepers' Cottages and the Boatman's Cottage from the draft Ku-ring-gai Chase Plan of Management.'' the Association told Pittwater Online.
The 2023 Barrenjoey Rally was also a preview of what residents may see in coming weeks as all those who have announced their candidature for the Seat of Pittwater being vacated by Mr. Stokes addressed the crowd.
The ancient spirit of the land was invoked by Uncle Neil Evers in a Welcome to Country which shared the beautiful nature of the 'women's place' atop Sunrise Hill, the way these ancestors greeted the first colonial 'explorers' here in March 1878, the tracks of his relative Bowen, who once camped with his family at Barrenjoey when it was still 'Barranguee' and Barranjoey – a place of the 'little kangaroo' or wallaby, and even how the land itself has changed through the over 60 thousand years this place being cared for by our First Custodians.
PBWBA President Prof. Richard West AM thanked everyone for attending and introduced PBWBA Secretary Robert MacKinnon, who would be MC. In welcoming those gathered stated Mr. MacKinnon read from the Associations Constitution; ''The objective of the PBWBA association is to preserve and enhance the natural beauty of the area'' and gave an overview of the what is at stake should the proposals to repurpose the buildings at Barrenjoey proceed.
Some of this is outlined in an earlier report 'Residents Call On Everyone In Sydney To Join Community Protest Against The Commercialisation Of Barrenjoey Headland', which also outlines similar proposals for NSW National Parks and Reserves across the state being approved by the incumbent state government.
Mr. MacKinnon also shared insights of the history of the natural area and the history associated with Barrenjoey Lighthouse itself, through what was happening during World War Two.
In closing he stated, ''Barrenjoey Headland is for all. Along the northern beaches peninsula it's a cachet with the same significance as Uluru or the Three Sisters, where visitor accommodation is kept at a respectful distance.
Barrenjoey Headland is a place for peaceful enjoyment of the environment, to imbibe nature, as people increasingly did during Covid (lockdowns). The extraordinary beauty of Barrenjoey can fire the imagination and inspire – I'm thinking of Thomas Keneally, probably Australia's greatest novel writer, who is said to have planned his work Blood Red, Sister Rose, while sitting on a rock overlooking Broken Bay.
Barrenjoey is a special place, so let's keep it that way. And we can only do that if the NSW Government listens to us and by saying 'Hands Off Barrenjoey'.
Our grandchildren and all future generations will thank us. As the tentacles of urbanisation spread ever wider, the value of natural experiences will increase exponentially. Let's preserve this special place, don't destroy it – 'Hands Off Barrenjoey!' '
Which those gathered chorused.
A transcription of those Speakers who addressed the meeting, in order of addresses, runs HERE + photos of interior of Asst. Keepers cottages + NSW Department of Planning's January 23 2023 'Barrenjoey Headland statement'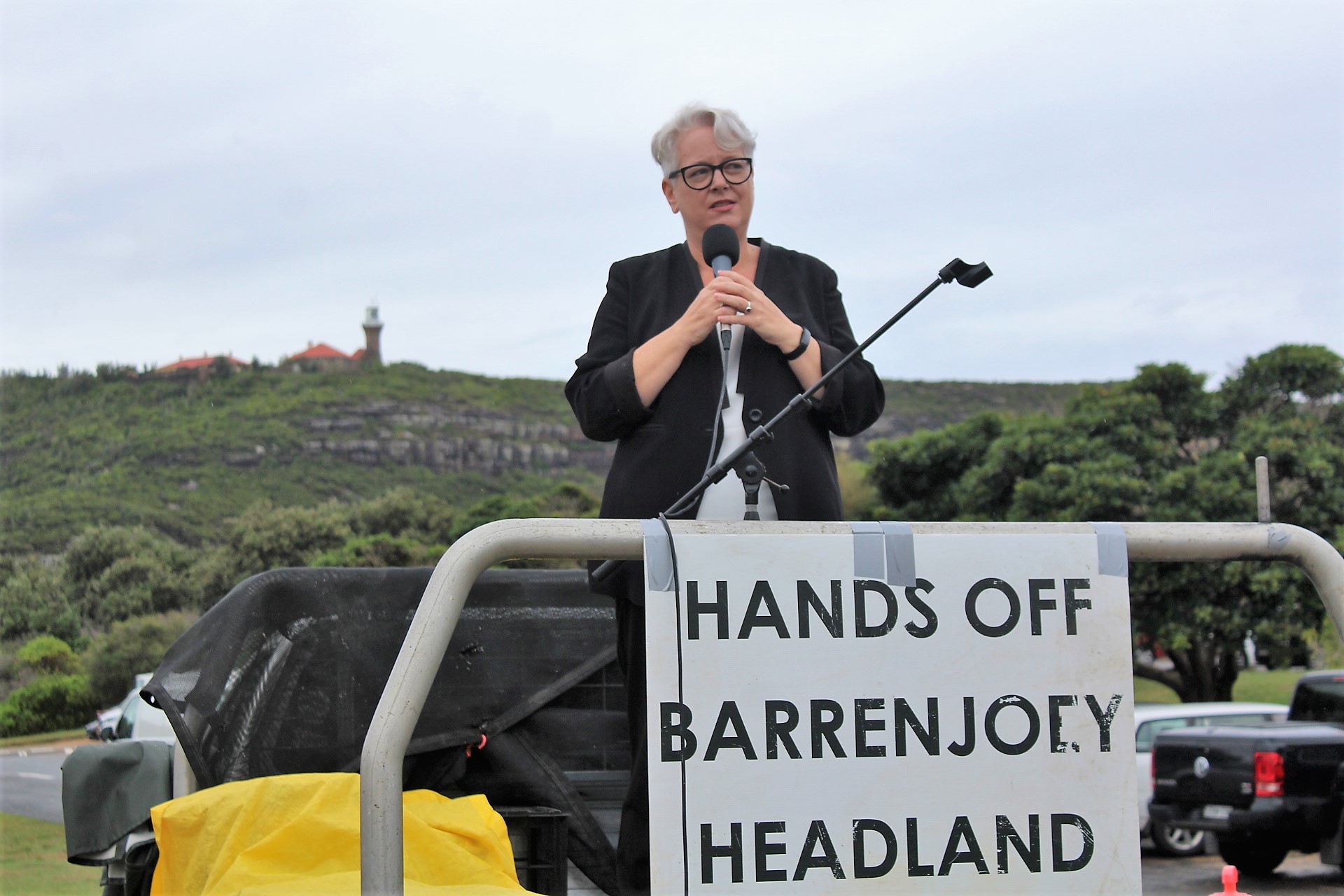 Unbroken Songlines: Council Rejects Offer To Be Planning Proposal Authority To Progress Lizard Rock Development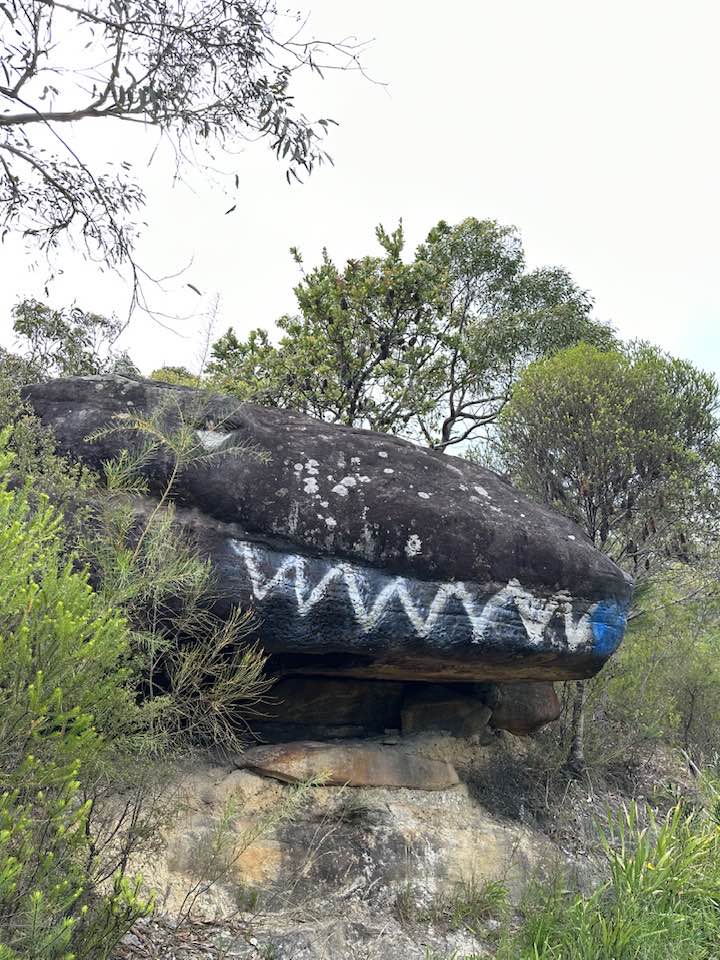 On Sunday January 8th 2022 First Nations elders Uncle Neil Evers, a direct descendant of Broken Bay father Bungaree, Aunty Clair Jackson and Brewarrina First Nations leader Bruce Shillingsworth met on land adjacent to the proposed Lizard Rock development at Belrose through a walking and appreciation celebration of land and culture event organised by Nicole Romain, one of the founders of the community group, Save the Northern Beaches Bushland.
Neil explained to Pittwater Online he saw Aboriginal engravings of a kangaroo, and mundoes (footprints).
''This is an elevated part of the bush - you look north towards
ancient
Barrenjoey and look south towards sacred
Moon Rock
. To me the intensity of the land and these ancient markings signify one of the songlines of this place, country my ancestors walked through. To see that pathway destroyed, and
destroying
all that also walks this path, such as the kangaroo mob or wallaby mob that are part of this place and have a songline here of them being here, goes against what we call 'Lore'.''
Uncle Neil has a lot of knowledge of this country as it is his ancestors country. He knows where the middens are, where the meeting places are, which are the 'men's places' and which are the 'women's places', what the animal totems, where the scarred trees are that mark the way to move across the land or where food may be found in season - some are even mother or 'birthing trees'.
This is why our First Nations people
experience
trauma and are bereft when these ancient trees are
torn
down for development - the ignorant are breaking the
ancient
songlines that make this place sing and provide, through memorising the songs of making and season, a way to move through country. When that is
compounded
with arrogance we see utter
destruction
of what supports us all taking place, to the point where some songlines of the animals that once flourished here have gone because those animals are now extinct.
The
original Pittwater road
that ran out of Manly and headed north is a songline and although used as a 'track' by colonists from earliest times, this is still a place where all that is in the land and of country comes together to create this beautiful place. These were not 'animal tracks' or 'clearings' these were ways to move through country in a spiritually connected, respectful and sacred way.
Uncle Neil is one of around 1700 aboriginal people living on the northern beaches who are, in the majority, opposed to this development. They want unbroken songlines. There has already been too much lost.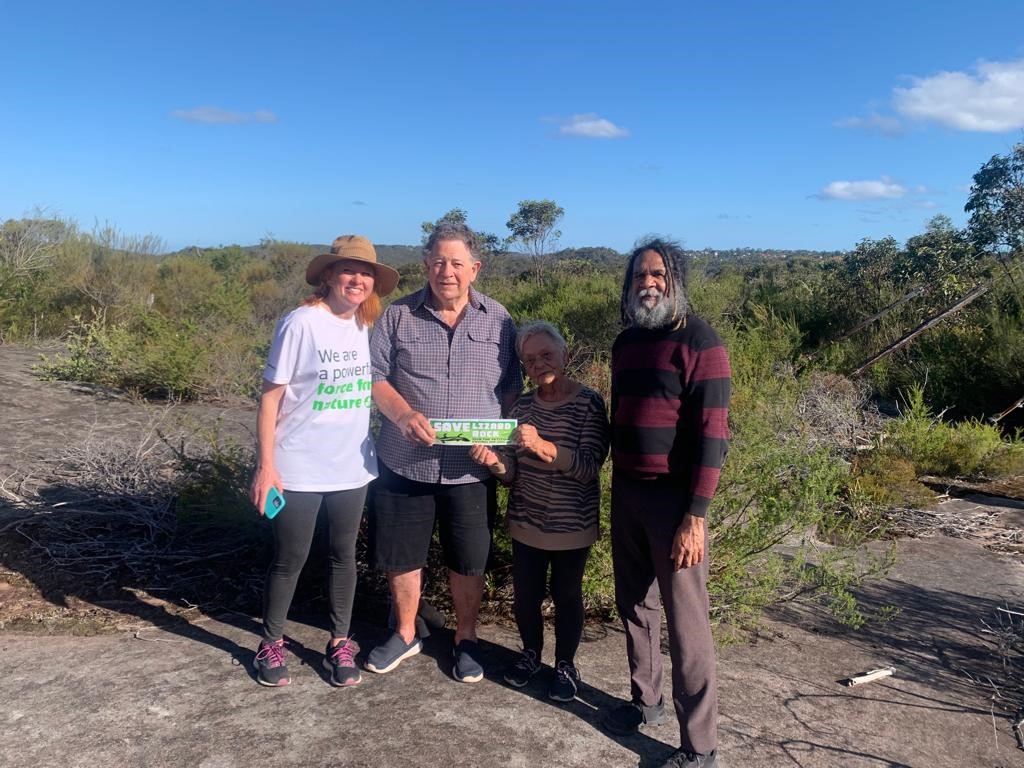 Nicole Romain, Uncle Neil Evers, Aunty Clair Jackson and
Brewarrina First Nations leader Bruce Shillingsworth on January 8th. Photo: supplied.
Northern Beaches Council held an extraordinary Meeting at 10am on Tuesday January 24th at which it confirmed it would reject an offer to be the Planning Proposal Authority for a plan that would see more than 400 homes constructed in bushfire-prone land.
The Council has long opposed the planning proposal to develop land at 'Lizard Rock' along Morgan Road in Belrose for its destruction of natural bushland among a range of other concerns.
Northern Beaches Mayor Michael Regan said the planning proposal by Metropolitan Local Aboriginal Land Council (MLALC) does not demonstrate strategic or site-specific merit and should be rejected.
"Council refuses to be involved in the progression of this planning proposal that would see more than 400 homes built in precious bushland, putting residents in extreme bushfire risk," Mayor Regan said.
"As I've repeatedly said, Council one hundred percent supports the intent of the Aboriginal Land Rights Act and appreciates the importance of enabling Aboriginal people to achieve economic self-determination through developing land, but we have to consider proposals on their merits."
In April 2022, following a Council Resolution, Council wrote to Federal and State MPs and relevant ministers to negotiate an alternate solution and financial model so that the MLALC can benefit financially from its land and that the land is preserved as is – in perpetuity.
"It's absurd that the government would allow the destruction of around 45 football size fields of bushland to build 400 plus homes surplus to any housing targets," Mayor Regan said.
"We are declining the government's offer to become the Planning Proposal Authority on Lizard Rock as the role is unlikely to give Council any meaningful powers to review the proposal or prevent it from going ahead for Gateway determination."
In its submission to the Department of Planning and Environment, Council warned that the planning proposal is inconsistent with local and regional planning strategies and should be reconsidered in light of significant planning, environmental and hazard issues, including:
Bushfire risks

– significant concerns exist regarding the bushfire hazard that applies to the site. Further, the proposal was developed on the premise of evacuation being provided by Morgan Road, a new slip lane onto Forest Way, and a new emergency access on to Oates Place, but the availability and utility of these aspects has not been demonstrated.

Inconsistency with strategy

– the planning proposal does not demonstrate strategic merit and is inconsistent with key aspects of the Greater Sydney Region Plan, North District Plan, Northern Beaches Local Strategic Planning Statement – Towards 2040 and Northern Beaches Local Housing Strategy.

Non-compliant process

– there has been no formal pre-lodgement consultation with Council on the planning proposal which is required in this circumstance

Short consultation timeframe

– the 28-day timeframe to review the application and associated technical reports for a complex proposal and prepare a meaningful response is unreasonable

Inconsistency with Conservation Zones Reform

which recommends applying a C3 Environmental Management Zone to most of the site due to its high environmental value and the hazards that impact the site

Enormous loss of high biodiversity habitat

, with 44.7 hectares of bushland to be cleared (equivalent to the size of around 45 rugby fields) for the new development.
Mayor Regan said there has been limited explanation from the State Government on how the Sydney North Strategic Planning Panel came to the decision to submit the planning proposal for a Gateway determination.
"The community has really been left in the dark as to why and how this proposal is going ahead," Mayor Regan said.
"There's been no detailed justification as to how the Panel reached its conclusion and no meaningful discussion on the concerns and issues that Council and the community has repeatedly raised.
"We strongly urge the government to reconsider its position on a planning proposal that just doesn't stack up."
Council stated it will notify the Planning Panels Secretariat that it is declining the offer to be the Planning Proposal Authority.
The Department of Planning webpage for the Lizard Rock Development was updated the next day, January 25th, to reflect Council's decision, and now states:
In December, Northern Beaches Council was offered the opportunity to accept the planning proposal authority role, to prepare the planning proposal for Gateway determination by the department.

The council has declined the role. The panel will now appoint itself as the alternate planning proposal authority.

If the proposal proceeds, it will be publicly exhibited for a minimum of 28 days in 2023, giving the community and other stakeholders the opportunity to provide feedback.

For more information on the Gateway determination process, please see Making and Amending LEPs.

Background

The department received a planning proposal for the Lizard Rock site, on Morgan Road, Belrose (the proposal) in October 2022. The proposal was submitted by GYDE Consulting on behalf of the Metropolitan Local Aboriginal Land Council (MLALC).

The department prepared a report for independent review by the Sydney North Strategic Planning Panel (the panel). The report included comments received from Northern Beaches Council.

The panel determined on 21 December 2022, that the proposal should be submitted for a Gateway determination.
The caretaker period for this NSW general election will commence when the Legislative Assembly expires on Friday, 3rd of March 2023. No significant new decisions or initiatives, appointments, or contractual undertakings should be made during the caretaker period.
Those that need to comply with this are:
Advisory Entities (including Boards and Committees)
Departments
Executive agencies related to Departments
Separate agencies
State Owned Corporations
Statutory Authorities/Bodies
Subsidiaries of the NSW Government established under the Corporations Act
In Cr. Korzy's '
From the Council Chamber
' report running this Issue provides an overview of Council's Extraordinary Meeting.
Australia Day Breakfast At Newport 2023 + Ride With Aboriginal Peoples 2023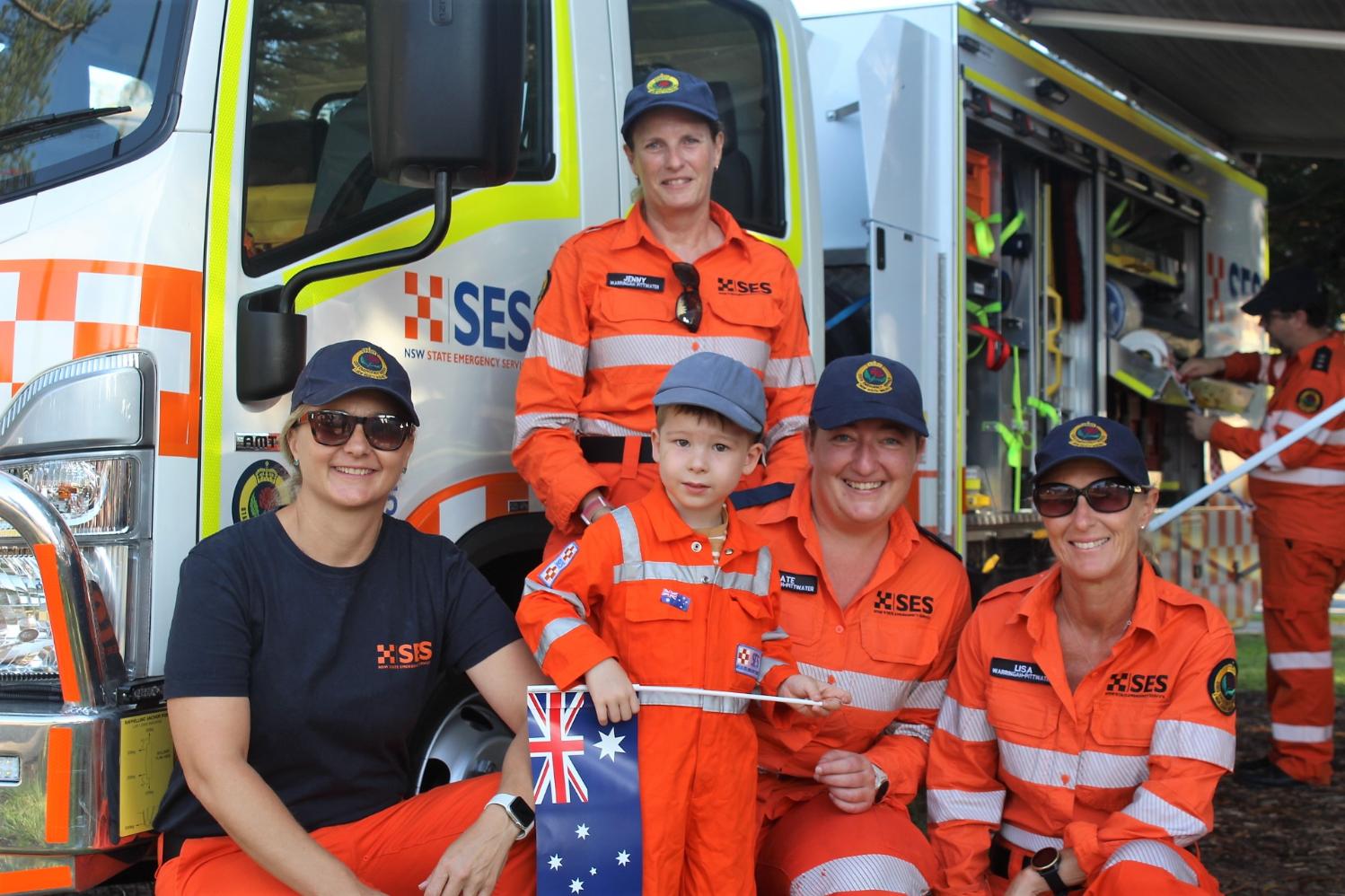 Warringah- Pittwater SES Unit members showing the new Medium Storm Vehicle to young supporter Leo.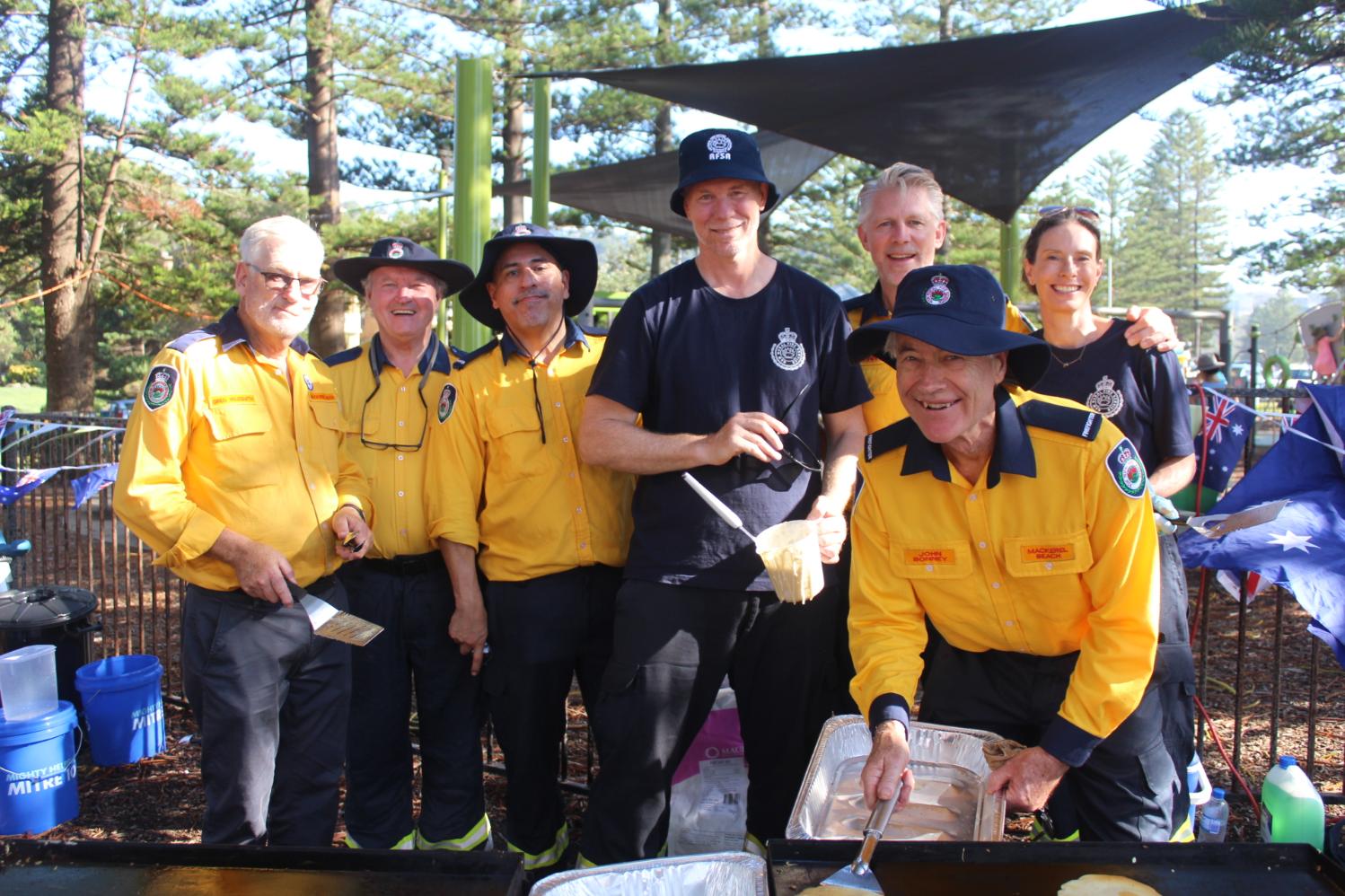 Mackerel Beach RFS members ran the pancakes for breakfast this year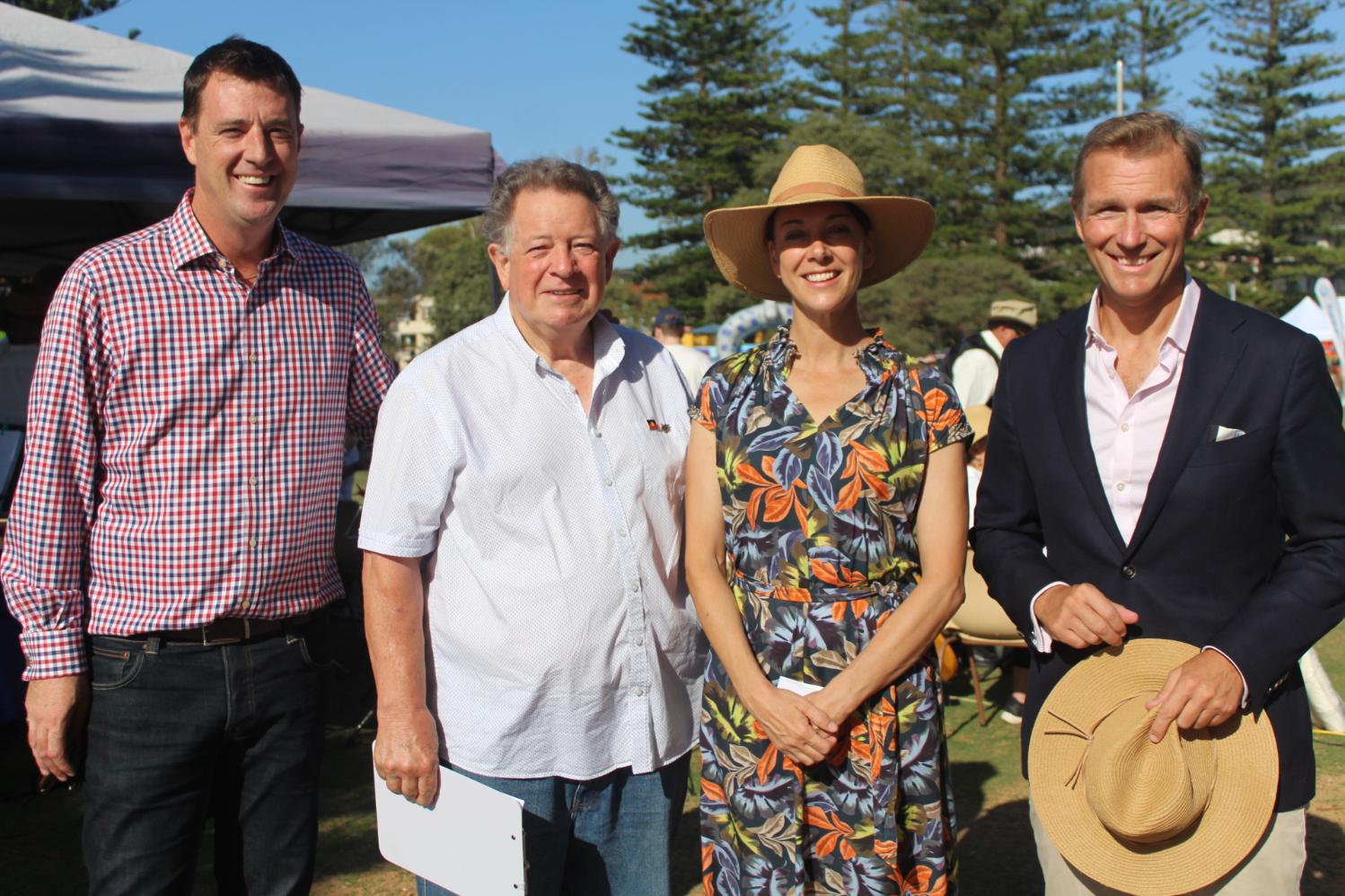 Mayor Michael Regan, Uncle Neil Evers, Mackellar MP Dr. Sophie Scamps, The Hon. Rob Stokes, MP for Pittwater
The Breakfast was supported by the National Australia Day Council and Council and run by volunteers.

Proceeds from the Breakfast go to five local community volunteer organisations to support them in their service to others; the Warringah- Pittwater SES Unit, the Upper Northern Beaches Rotary Club, Zonta Northern Beaches, the Warringah-Pittwater RFS Headquarters and Mackerel Beach Rural Fire Brigades.
Those sharing insights included the RFS Headquarters Communications Unit stationed in Bert Payne. Sue Jenkins explained Communications is a vital branch of operations and that the Northern Beaches Communications brigade celebrated 50 years in 2022. Quite a milestone.
This was another busy year for which, in addition to their regular weekend duty shifts, they fulfilled activities including:
Mid-week call outs for local weather events
Hazard Reductions
Community Engagement across multiple events
Supporting District Activities (i.e. the inaugural DavEx event)
Deploying members for flood assistance
Inter-brigade activities & training (including a boat trip!)
Brigade training (& lots of it)
Members achieving new qualifications, including BF, AF, ARO, ASOF & RFD just to name a few...
Celebrating members being awarded the National Emergency Medal
Celebrating over 289 years of service amongst 12 members recognised at the District Medal Presentation
The Operations Command vehicle can house 3 operatives during operations. They update a fire's status from the in field trucks and add this into the 'Fires Near Me' app and webpage. They talk to Fire & Rescue NSW and the NPWS.
The Ops Comms Brigade is also deployed during rescues or weather events.
''We are very proud of our members and their service to the NSW Rural Fire Service.
We are currently recruiting for 2023 - send us a message if you are keen to get involved! We are more than just the voice behind a radio'' Visit: www.facebook.com/nswrfswarringahcomms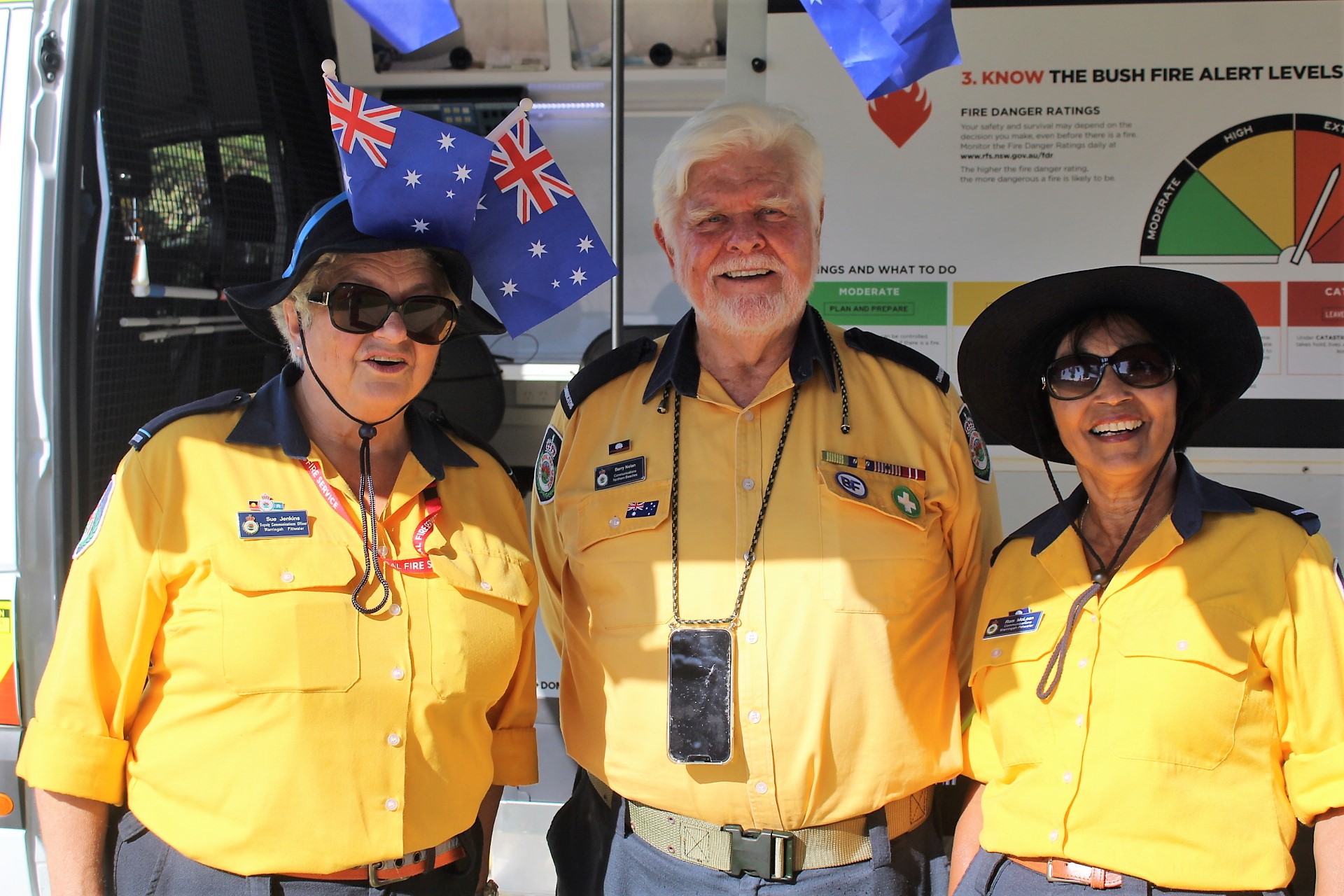 Northern Beaches RFS Headquarters Communications Unit members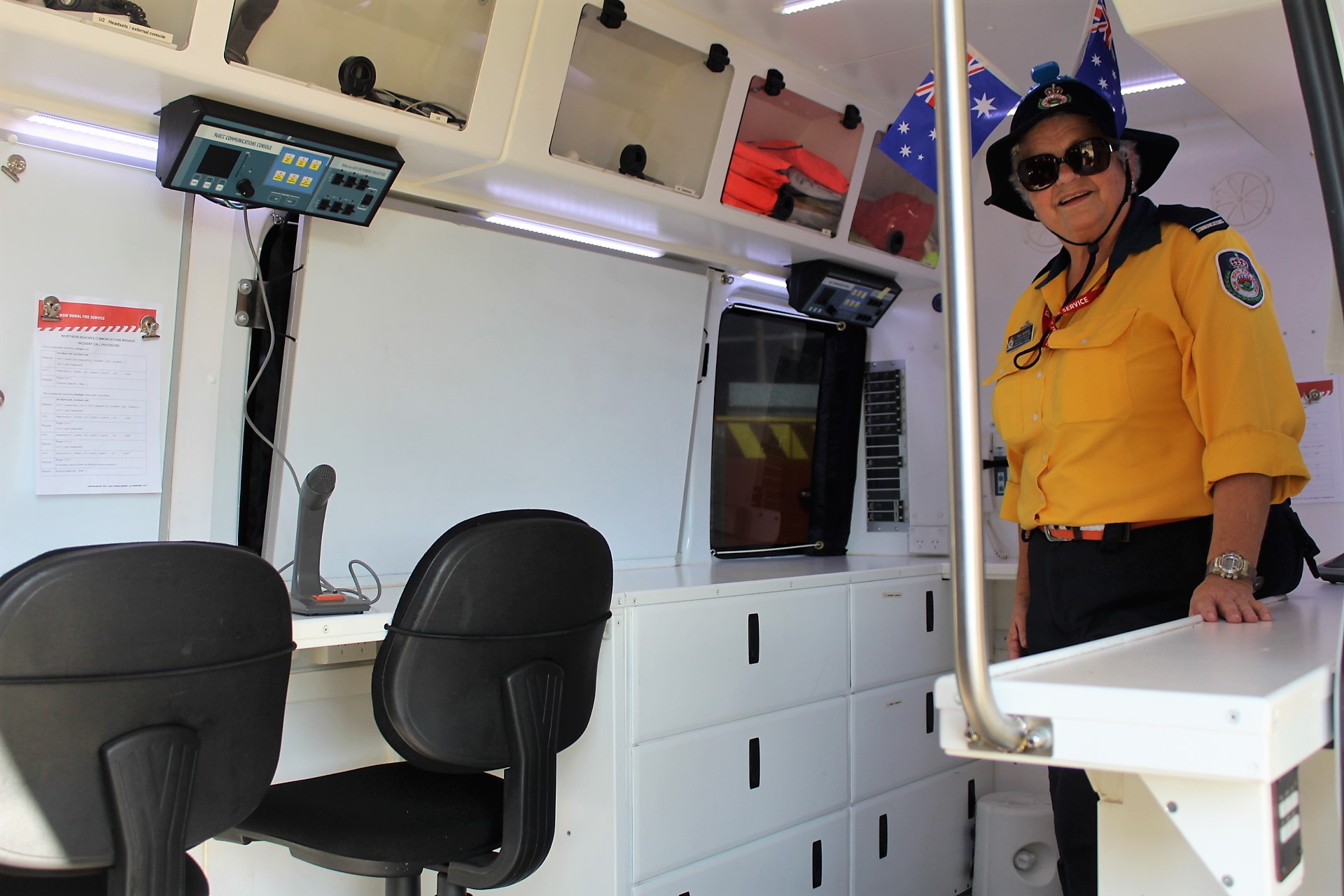 Sue explains what's inside the Comms. Ops vehicle
Also on site this year were volunteers from Warringah- Pittwater SES Unit, showing people their brand spanking new Medium Storm Vehicle, the Upper Northern Beaches Rotary Club, Zonta Northern Beaches and Mackerel Beach Rural Fire Brigades working together to provide breakfast.
There were rides for littlies, a thong throwing competition on the beach and great music from the Northern Beaches Concert Band.
Uncle Neil Evers gave the Welcome to Country, followed by greetings from the MP for Mackellar, MP for Pittwater and Mayor, which were focused on Acknowledging First Nations peoples and thanking local volunteers for their contributions to building community.
Woody Point Yacht Club's 2023 Putt Putt And Gentlemen's Launch Regatta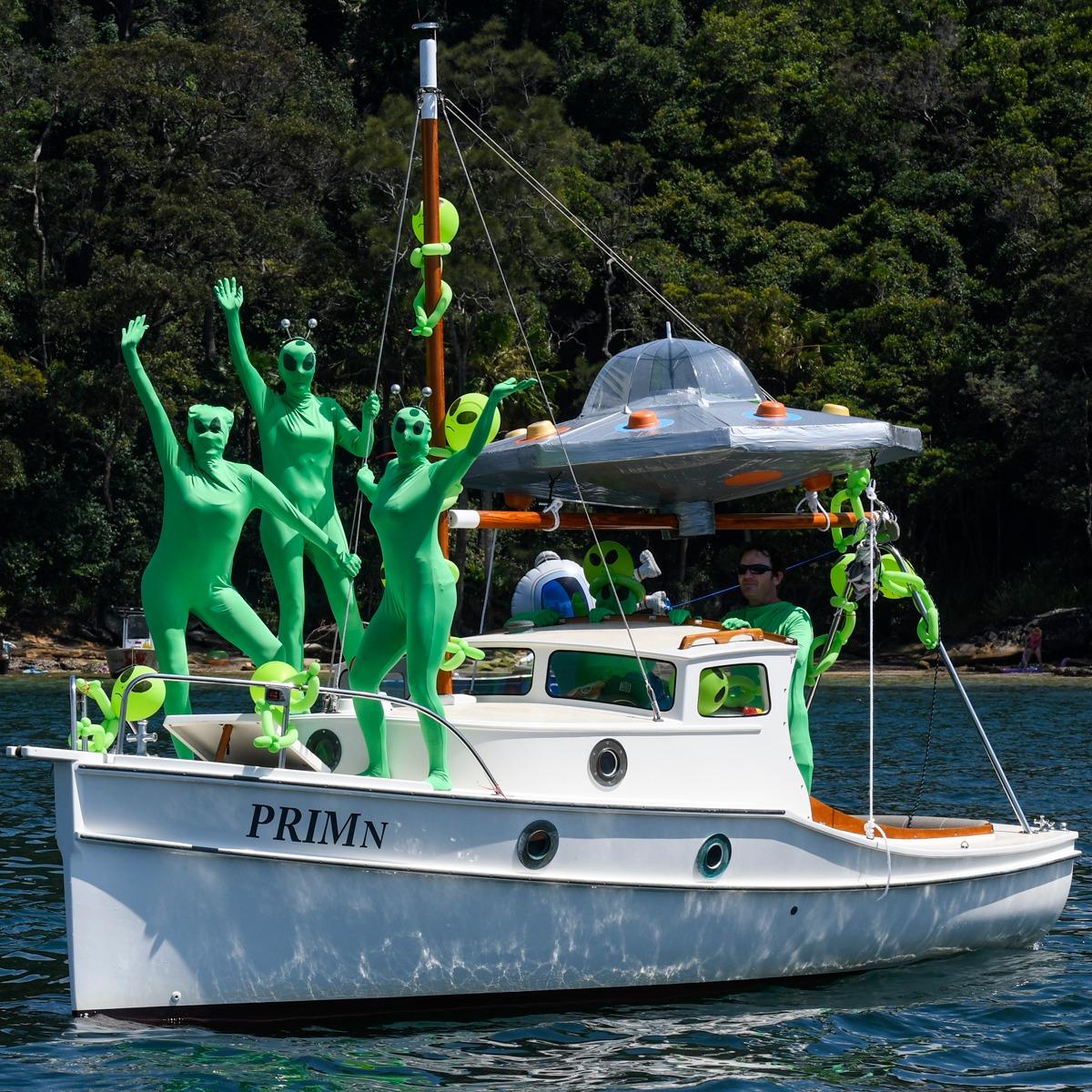 Best Dressed Crew was those aboard John and Gemma Winterbottom's' boat 'Primrose' who all dressed as Martians in full green bodysuits. Photo: Marg Fraser-Martin, Marg's Yacht Photos
Loved for its casual nature and just for fun focus, the Woody Point Yacht Club's legendary Putt-Putt and Gentlemen's Wooden Launch Regatta has returned this Summer with a good-sized fleet.
The Woody Point Yacht Cub was formed around 1980. The late and great Philip Bond penned a condensed history in 2012, available here.
The WPYC Charter states just before listing its activities:
Founding Members of the Woody Point Yacht Club were a dedicated group of social drinkers with a boating problem. Their motivation was and is the enjoyment of the Pittwater and its inhabitants, largely facilitated by craft giving access to the remote foreshores and to the water itself. Suitable craft included tinnies, yachts, putt-putts, work boats, in fact anything that floats - and even some vessels whose buoyancy is questionable.

These craft provide a platform for the many and varied pastimes enjoyed by Members, including fishing, yachting, putt-putt regattas, picnics, parties, breakfasts, etc.

The Club does not favour a particular past time so long as a boat is involved either as a means to an end (ie. transport, fishing) or an end in itself (ie. sailing, cruising, just messing).

The Club has a penchant for all things traditional - timber boats in particular - and prefers the simple family orientated atmosphere inherent in our unique community.
Stephen Hosking, manager at Quays Marine Centre at Church Point, and also on the committee of WPYC, explained the annual regatta is known for its handstand in the middle of Summer and waggle your feet about if you feel like it approach. Although the WPYC has world-class sailors among its membership, knowledge and skills clearly evident during their Summer and Winter program of sailing races, the annual Putt-Putts regatta celebrates what is at the core of the club.
Steve actually won the regatta once, taking out the 2014 edition of the Putt Putt Regatta Cup and was allowed to keep the famed trophy on display.
This year he helmed 'The Patsy', a 26 foot stunningly restored timber motor vessel.
Steve said 'It was a beautiful day for today's regatta and great to have that nor'easter. There was a great crowd enjoying themselves afterwards on Treharne Cove, although I had to return to work.'
On where he finished;
'In the middle of the fleet.'
Beryl Driver OAM took part aboard her son's Bruce's beautiful timber launch 'Twig'
Beryl and team were aiming to win Best Dressed Boat with everyone dressing up in mermaids costumes from the Variety Children's Charity Bash and even the big dolphin off the car on the Twig.
Pittwater Mermaids they all now are…and Mermen.
Results:
The Putt Putt race was won by Hugh Tory with 'Rosie II'
The Gentleman's Wooden Launch race was won by Barry Haygarth with 'Big Frank'.
Best Dressed Boat was taken out by 'Hawthorn', Craig Witten – dressed as a Viking boat
Best Presented Boat was 'Sanderling', Bill Ratcliff
Best Dressed Crew was those aboard John and Gemma Winterbottom's' boat 'Primrose' who all dressed as Martians in full green bodysuits.
Outstanding!
Margaret Fraser-Martin, 'Marg's Yacht Photos', whose work readers will have seen in Pittwater Online aquatics reports before, took some great shots which run at the page linked to below.
Some examples have already been loaded up to her social media platforms Facebook page (Marg's Yacht Photos) and Instagram (margsyachtphotos)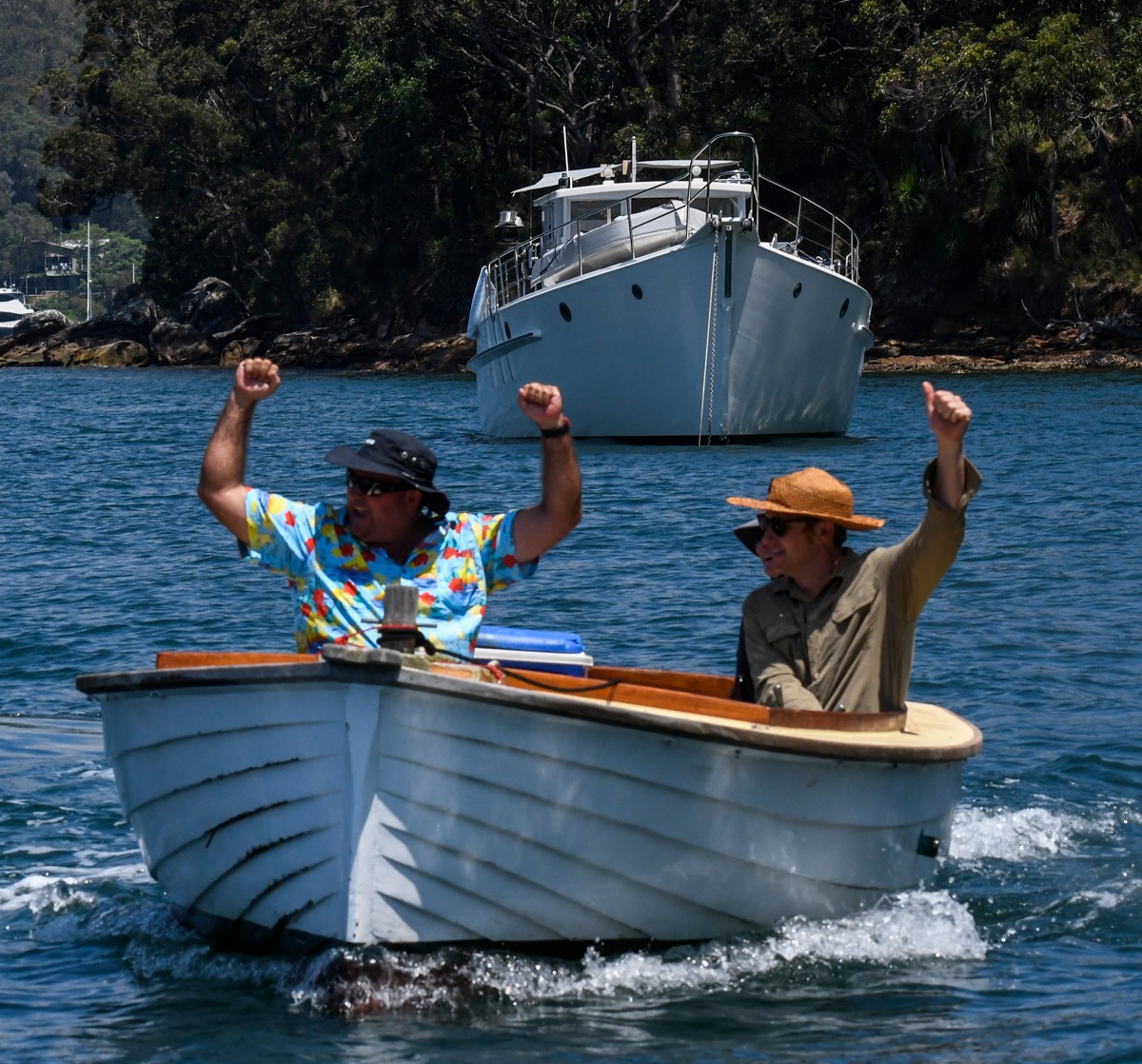 Winners are grinners!!!. Photo: Marg Fraser-Martin, Marg's Yacht Photos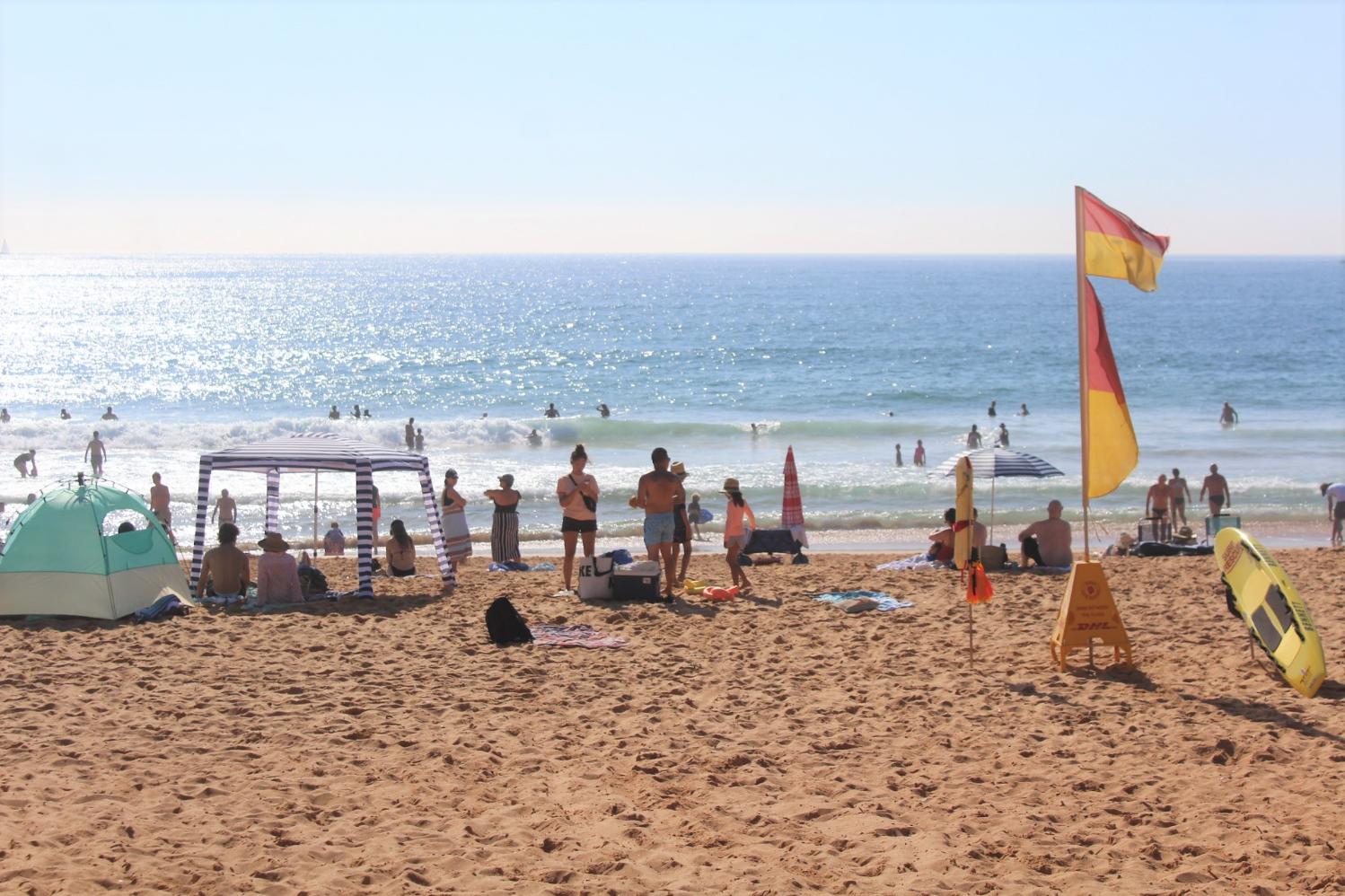 Past Features Archives (pre 2014)
Pittwater Online News was selected for preservation by the State Library of New South Wales and National Library of Australia. This title is scheduled to be re-archived regularly.
Archived Issues (2014 on) may be accessed here: pandora.nla.gov.au/tep/143700