January 29 - February 4, 2023: Issue 569
Unbroken Songlines: Council Rejects Offer To Be Planning Proposal Authority To Progress Lizard Rock Development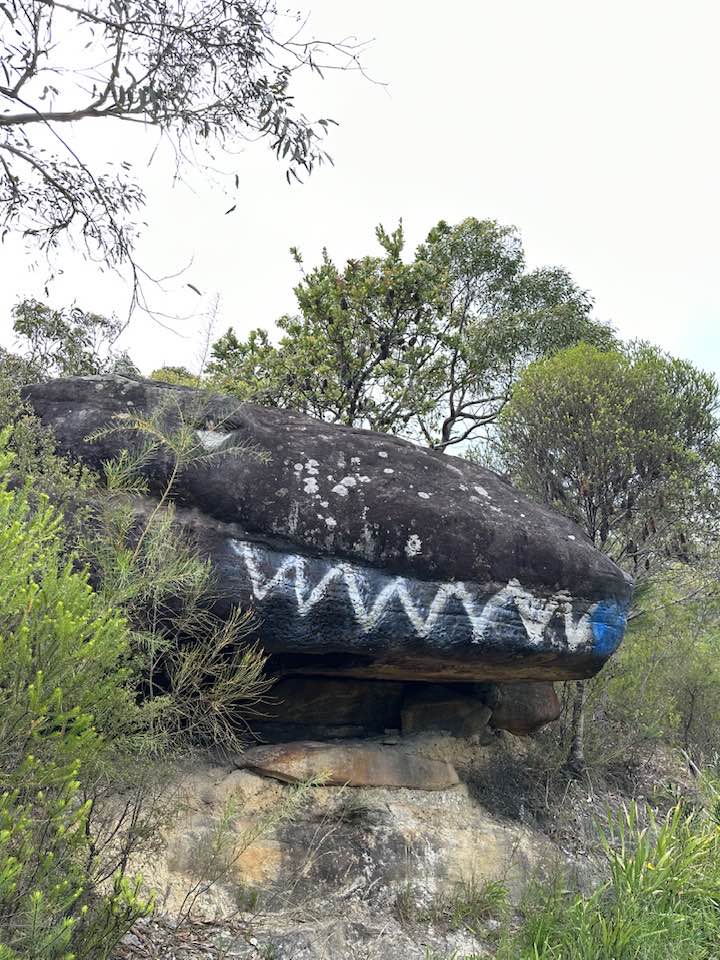 On Sunday January 8th 2022 First Nations elders Uncle Neil Evers, a direct descendant of Broken Bay father Bungaree, Aunty Clair Jackson and Brewarrina First Nations leader Bruce Shillingsworth met on land adjacent to the proposed Lizard Rock development at Belrose through a walking and appreciation celebration of land and culture event organised by Nicole Romain, one of the founders of the community group, Save the Northern Beaches Bushland.
Neil explained to Pittwater Online he saw Aboriginal engravings of a kangaroo, and mundoes (footprints).
''This is an elevated part of the bush - you look north towards
ancient
Barrenjoey and look south towards sacred
Moon Rock
. To me the intensity of the land and these ancient markings signify one of the songlines of this place, country my ancestors walked through. To see that pathway destroyed, and
destroying
all that also walks this path, such as the kangaroo mob or wallaby mob that are part of this place and have a songline here of them being here, goes against what we call 'Lore'.''
Uncle Neil has a lot of knowledge of this country as it is his ancestors country. He knows where the middens are, where the meeting places are, which are the 'men's places' and which are the 'women's places', what the animal totems, where the scarred trees are that mark the way to move across the land or where food may be found in season - some are even mother or 'birthing trees'.
This is why our First Nations people
experience
trauma and are bereft when these ancient trees are
torn
down for development - the ignorant are breaking the
ancient
songlines that make this place sing and provide, through memorising the songs of making and season, a way to move through country. When that is
compounded
with arrogance we see utter
destruction
of what supports us all taking place, to the point where some songlines of the animals that once flourished here have gone because those animals are now extinct.
The
original Pittwater road
that ran out of Manly and headed north is a songline and although used as a 'track' by colonists from earliest times, this is still a place where all that is in the land and of country comes together to create this beautiful place. These were not 'animal tracks' or 'clearings' these were ways to move through country in a spiritually connected, respectful and sacred way.
Uncle Neil is one of around 1700 aboriginal people living on the northern beaches who are, in the majority, opposed to this development. They want unbroken songlines. There has already been too much lost.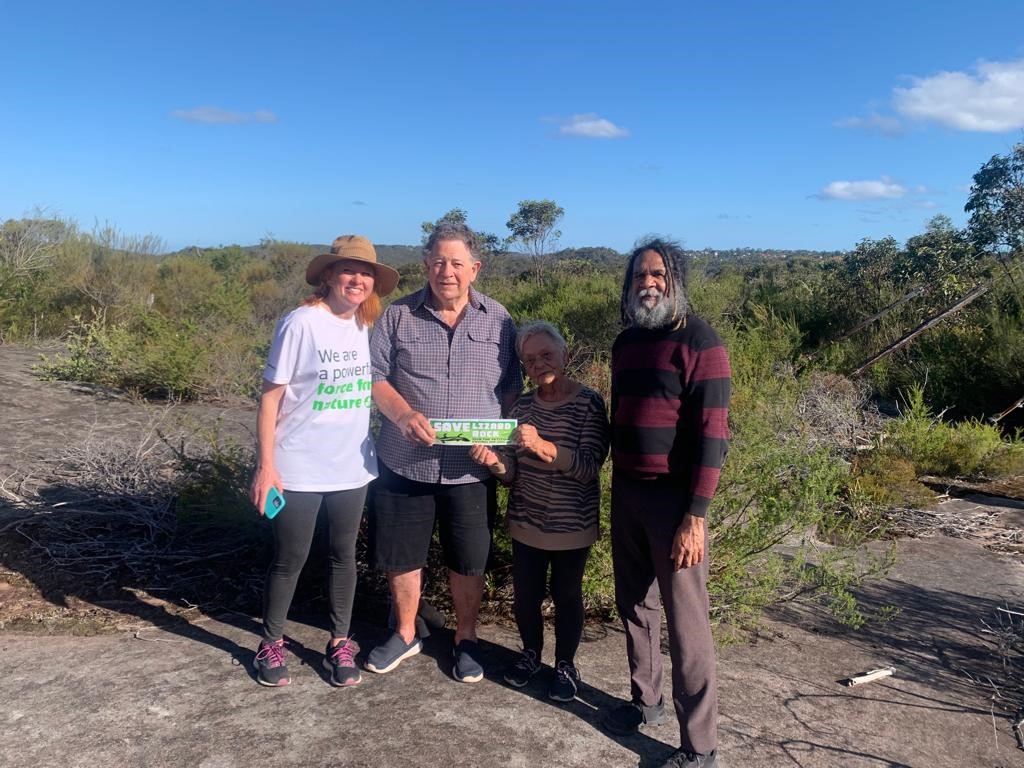 Nicole Romain, Uncle Neil Evers, Aunty Clair Jackson and
Brewarrina First Nations leader Bruce Shillingsworth on January 8th. Photo: supplied.
The private members listed Aboriginal Cultural Heritage (Culture is Identity) Bill 2022 was referred to Portfolio Committee No. 7 – Planning and Environment for inquiry and report on 9 August 2022 and opened for public submissions. Submissions stated aboriginal land councils are approving the destruction of sites those directly connected to these sites fought to defend.
''Currently, developers tick the box saying "we've spoken to the land council", but the land council doesn't represent us.'' one said
One after another reiterated the sentiment that;
''At no time while the claim was registered, did any of those land councils' attempt to open a dialogue with ... .... and were sending out field officers to jobs within the boundary of the claim area to make decisions and recommendations on lands that they have neither a traditional nor historical connection to.''
On the obverse the land councils reference the NSW Aboriginal Land Rights Act 1983 (as amended) which states that to be a member of a Local Aboriginal Land Council (LALC), you must be an Aboriginal person. Some state that there are 'illegitimate people who claim to be aboriginal' but have never proved their claims, ancestral connections or traditional linkages to country in accordance with legal requirements, and so the land councils elevate the confirmation through a Native Title determination.
A determination of native title is a decision by the Court whether or not native title exists in relation to a particular area of land or waters. If the Court decides that native title does exist it will also make decisions about: who the people are who hold native title common or group rights. An expensive process.

Land Councils will also go to court for a determination that Native Title does not exist in relation to land and waters identified.
Government agencies and community organisations usually accept three 'working criteria' as confirmation of Aboriginal or Torres Strait Islander heritage. These are:
being of Aboriginal or Torres Strait Islander descent
identifying as an Aboriginal or Torres Strait Islander person
being accepted as such by the community in which you live, or formerly lived
Many of our First Nations peoples have no knowledge of their ancestry due to systematic policies such as assimilation, the Stolen Generation or dispossession of traditional lands.
These processes and perspectives are causing division. As Peter Read stated in his 2013 review of the book 'The story of Bob Waterer and his family, 1803-2010';
' It is a sad reflection that the best known of the genuinely 'Sydney' families, like Waterer's, can follow their genealogies to 1788, even beyond. Such are the descendants of Bungaree, Matora, Maria Locke and Peggy Reid. Each woman married a convict and attracted much white attention at the time. The descent of the many Aborigines who did not marry, or simply bore children to whites before 1830, remains obscure. It is these hundreds--no, thousands--of unfortunate people whose identity is daily and nosily challenged by non-Indigenous people and, increasingly, other Aborigines of the Sydney basin.' [1.]
Northern Beaches Council held an extraordinary Meeting at 10am on Tuesday January 24th at which it confirmed it would reject an offer to be the Planning Proposal Authority for a plan that would see more than 400 homes constructed in bushfire-prone land.
The Council has long opposed the planning proposal to develop land at 'Lizard Rock' along Morgan Road in Belrose for its destruction of natural bushland among a range of other concerns.
Northern Beaches Mayor Michael Regan said the planning proposal by Metropolitan Local Aboriginal Land Council (MLALC) does not demonstrate strategic or site-specific merit and should be rejected.
"Council refuses to be involved in the progression of this planning proposal that would see more than 400 homes built in precious bushland, putting residents in extreme bushfire risk," Mayor Regan said.
"As I've repeatedly said, Council one hundred percent supports the intent of the Aboriginal Land Rights Act and appreciates the importance of enabling Aboriginal people to achieve economic self-determination through developing land, but we have to consider proposals on their merits."
In April 2022, following a Council Resolution, Council wrote to Federal and State MPs and relevant ministers to negotiate an alternate solution and financial model so that the MLALC can benefit financially from its land and that the land is preserved as is – in perpetuity.
"It's absurd that the government would allow the destruction of around 45 football size fields of bushland to build 400 plus homes surplus to any housing targets," Mayor Regan said.
"We are declining the government's offer to become the Planning Proposal Authority on Lizard Rock as the role is unlikely to give Council any meaningful powers to review the proposal or prevent it from going ahead for Gateway determination."
In its submission to the Department of Planning and Environment, Council warned that the planning proposal is inconsistent with local and regional planning strategies and should be reconsidered in light of significant planning, environmental and hazard issues, including:
Bushfire risks – significant concerns exist regarding the bushfire hazard that applies to the site. Further, the proposal was developed on the premise of evacuation being provided by Morgan Road, a new slip lane onto Forest Way, and a new emergency access on to Oates Place, but the availability and utility of these aspects has not been demonstrated.
Inconsistency with strategy – the planning proposal does not demonstrate strategic merit and is inconsistent with key aspects of the Greater Sydney Region Plan, North District Plan, Northern Beaches Local Strategic Planning Statement – Towards 2040 and Northern Beaches Local Housing Strategy.
Non-compliant process – there has been no formal pre-lodgement consultation with Council on the planning proposal which is required in this circumstance
Short consultation timeframe – the 28-day timeframe to review the application and associated technical reports for a complex proposal and prepare a meaningful response is unreasonable
Inconsistency with Conservation Zones Reform which recommends applying a C3 Environmental Management Zone to most of the site due to its high environmental value and the hazards that impact the site
Enormous loss of high biodiversity habitat, with 44.7 hectares of bushland to be cleared (equivalent to the size of around 45 rugby fields) for the new development.
Mayor Regan said there has been limited explanation from the State Government on how the Sydney North Strategic Planning Panel came to the decision to submit the planning proposal for a Gateway determination.
"The community has really been left in the dark as to why and how this proposal is going ahead," Mayor Regan said.
"There's been no detailed justification as to how the Panel reached its conclusion and no meaningful discussion on the concerns and issues that Council and the community has repeatedly raised.
"We strongly urge the government to reconsider its position on a planning proposal that just doesn't stack up."
Council stated it will notify the Planning Panels Secretariat that it is declining the offer to be the Planning Proposal Authority.
The Department of Planning webpage for the Lizard Rock Development was updated the next day, January 25th, to reflect Council's decision, and now states:
In December, Northern Beaches Council was offered the opportunity to accept the planning proposal authority role, to prepare the planning proposal for Gateway determination by the department.

The council has declined the role. The panel will now appoint itself as the alternate planning proposal authority.

If the proposal proceeds, it will be publicly exhibited for a minimum of 28 days in 2023, giving the community and other stakeholders the opportunity to provide feedback.

For more information on the Gateway determination process, please see Making and Amending LEPs.

Background

The department received a planning proposal for the Lizard Rock site, on Morgan Road, Belrose (the proposal) in October 2022. The proposal was submitted by GYDE Consulting on behalf of the Metropolitan Local Aboriginal Land Council (MLALC).

The department prepared a report for independent review by the Sydney North Strategic Planning Panel (the panel). The report included comments received from Northern Beaches Council.

The panel determined on 21 December 2022, that the proposal should be submitted for a Gateway determination.
The caretaker period for this NSW general election will commence when the Legislative Assembly expires on Friday, 3rd of March 2023. No significant new decisions or initiatives, appointments, or contractual undertakings should be made during the caretaker period.
Those that need to comply with this are:
Advisory Entities (including Boards and Committees)
Departments
Executive agencies related to Departments
Separate agencies
State Owned Corporations
Statutory Authorities/Bodies
Subsidiaries of the NSW Government established under the Corporations Act
In Cr. Korzy's '
From the Council Chamber
' report running this Issue provides an overview of Council's Extraordinary Meeting.
Cr. Korzy report to the community is:
What's happening at Lizard Rock
Over recent months, we have seen increasing opposition growing to development proposed for land equivalent to 45 football fields in area at Aboriginal-owned sites at Lizard Rock, in Belrose.
Whilst this is not strictly a Pittwater issue, many of us in this area feel strongly about the loss of 71 hectares of this relatively pristine bushland (with only 19 of it saved for conservation areas), remarkable for its biodiversity and Aboriginal sites.
The city-based Metropolitan Local Aboriginal Land Council was granted ownership of the land under the 1983 Aboriginal Land Rights Act, in compensation for dispossession caused by colonial invasion and to help economic self determination for its members. Its CEO Nathan Moran has told me it is the largest landholder on the Northern Beaches.
Council was not due to meet until February 28, however, we were called to an extraordinary meeting on January 24, because of developments in the Lizard Rock planning process.
In short, NBC voted against overseeing development of a planning proposal for the six MLALC sites at Lizard Rock, meaning we will be free to oppose any plans when they go on public exhibition, rather than obliged to progress them.
All councillors bar one, Narrabeen Independent Vince De Luca, supported this position, which had also been recommended by council staff - with Independent Manly Councillor Candy Bingham and Liberal Frenchs Forest Councillor Stuart Sprott both absent.
The North Sydney Planning Panel (NSPP) had filed a report to council on December 22 approving a Gateway determination for the MLALC's proposal to build up to 450 houses at the so-called Lizard Rock site.
This means NBC will not have the opportunity to assess any ultimate plans for development at the site. Instead, they will go to a so-called "Gateway determination", which is granted by the NSW Planning Minister or their delegate.
The plans also cater for dual occupancy, secondary dwellings, seniors housing, a community cultural centre, open space/recreation areas as well as road and stormwater management infrastructure.
At the same time, the NSPP via its "Strategic Planning Panel" had offered the council the role of overseeing the proposal, known as becoming the "Planning Process Authority", which would have meant we would have been responsible for progressing the Metro Land Council plans. We were given 42 days in which to respond - ie by February 2.
Council had submitted a proposal (passed at the November Council meeting) opposing the MLALC's application to proceed via a Gateway determination on a large number of grounds, especially risk of extreme bushfires with inadequate evacuation routes possible. Others included: inconsistency with the Conservation Zones Review; enormous loss of high biodiversity habitat; unjustified and outdated urban design; insufficient survey work of Aboriginal heritage; major impacts on waterways; slope instability; and insufficient information regarding stormwater infrastructure impacts.
The NSPP's explanation for the Gateway determination was extremely brief. It did not address the majority of more than 20 points (and related evidence) that the council had raised. Instead, three days before Christmas, it sent council a page and a half long letter, with the following qualifications:
The number of dwellings is to be capped at 450;
10% affordable housing is to be provided;
The final zoning arrangements and boundaries are to be resolved to maximise the retention of important biodiversity values; and
A site specific DCP, to guide future development to deliver on the objectives and intended outcomes of the Proposal, is to be finalised in consultation with Council and the Department before exhibition of the planning proposal.
The decision concluded that: "the panel concurred with the Proponent that strategic merit had been demonstrated". Although it noted: "Both parties considered bushfire risk and evacuation routes to be significant issues", the panel accepted the "Proponet's argument that the significant risk could be properly managed and mitigated".
This is in an area with limited access roads, and dense bushland connecting to Ku-ring-gai Chase National Park, and subsequently to national parks and bushland on the Central Coast. The 1994 bushfires blazed through this corridor to nearby Ingleside, where the NSW government has abandoned plans for development due to that bushfire risk. Of course, that risk would be reduced if the bushland was all bulldozed.
Furthermore, prominent members of the local First Nations community - which comprises 1,700 Northern Beaches residents, 469 of them in Pittwater according to the 2021 census - publicly condemned the proposal, along with Brewarrina First Nations leader Bruce Shillingsworth, who was in the gallery for Tuesday's meeting. (Brewarrina is our sister city.)
A number of amendments were added to the staff's original recommendation to vote to decline the offer to be the Planning Authority for the MLALC planning proposal, and discussion ensued for close to two hours.
Amendments included:
a decision to write to the NSPP requesting more detailed reasoning on each of the issues raised by the NBC in its submission to the NSW Planning and Environment Department on November 24 (from Your Northern Beaches Manly Councilor Sarah Grattan).
reiterating council's strong opposition to the planning proposal in writing to the NSW Premier and the NSW Leader of the Opposition to seek their support to overturn the decision.
asking the NBC CEO and the Mayor to request meetings with the NSW Premier, NSW Leader of the Opposition to oppose the development (my suggestions) and to request a meeting with the NSW Aboriginal Affairs Minister to discuss supporting alternatives with the Aboriginal Land Council for different solutions (from Ms Heins).
I could only agree with Ms Grattan, when she told the meeting: "Most of us are very opposed to this." This was primarily because of the environmental impact and bushfire risk. However, she also condemned the lack of information provided by the NSPP, particularly regarding how they came to their decision.
Mr De Luca emphasised the point that the MLALC owned the land and that their plans for 450 dwellings were insignificant compared to the 1,300 new dwellings with 12 storey buildings proposed for Brookvale in its draft Structure Plan (currently on public exhibition until February 28).
However, Mr Amon, who also proposed amendments, supported the recommendation, saying the environment in the Lizard Rock area was special but disappearing.
YNB Curl Curl Councillor and Deputy Mayor Sue Heins recognised the complexities of the issue, and problem of the council speaking on behalf of Aboriginal people.
Meanwhile, Mr Menano-Peres said his problem with the plan was that the NSW Planning Minister had "introduced a planning instrument to bypass the normal planning process" to advance the development.
Ms Glanville, a Planning and Environment lawyer, noted the pro-development nature of the NSW planning regime and recognised that the proposed development could potentially trigger provisions in the federal Environment Protection and Biodiversity Conservation Act. She thus proposed a significant amendment, that council:
"Write to the Commonwealth Minister for the Environment in relation to the potential that this proposal concerns matters of national environmental significance and is a controlled activity under the Environment Protection and Biodiversity Conservation Act 1999."
I told the meeting that I was opposed to us becoming the planning authority because it would co-opt us into progressing the MLACL plans, despite the clear opposition of the local community, including First Nations residents.
"The episode illustrates the problems with our planning system with its Byzantine process that the applicant and council are forced to negotiate," I said.
"Yet when it comes down to it, decision making is carried out by a panel headed by a former NSW Liberal opposition leader, Peter Debnam, rather than by an elected official or planning expert."
The British colonists created the problems for Aboriginal people of alienation from their land and destruction of their culture, and modern governments struggle at best to support First Nations people - often exhibiting outright disrespect and discrimination.
"However, our NSW Aboriginal land grants process is flawed when it results in land with significant biodiversity being granted to a group without traditional ties to Country, pitting one Aboriginal community against another."
I believe the NSW government must sort out this mess, and negotiate to pay to resume the Lizard Rock land, offer more appropriate development sites or else establish a national park there with First Nations control.''
1. Read, Peter. "The story of Bob Waterer and his family, 1803-2010." Australian Aboriginal Studies, vol. 2013, no. 2, fall 2013, pp. 105+. Gale Academic OneFile, link.gale.com/apps/doc/A354182131/AONE?u=googlescholar&sid=googleScholar&xid=96fb38da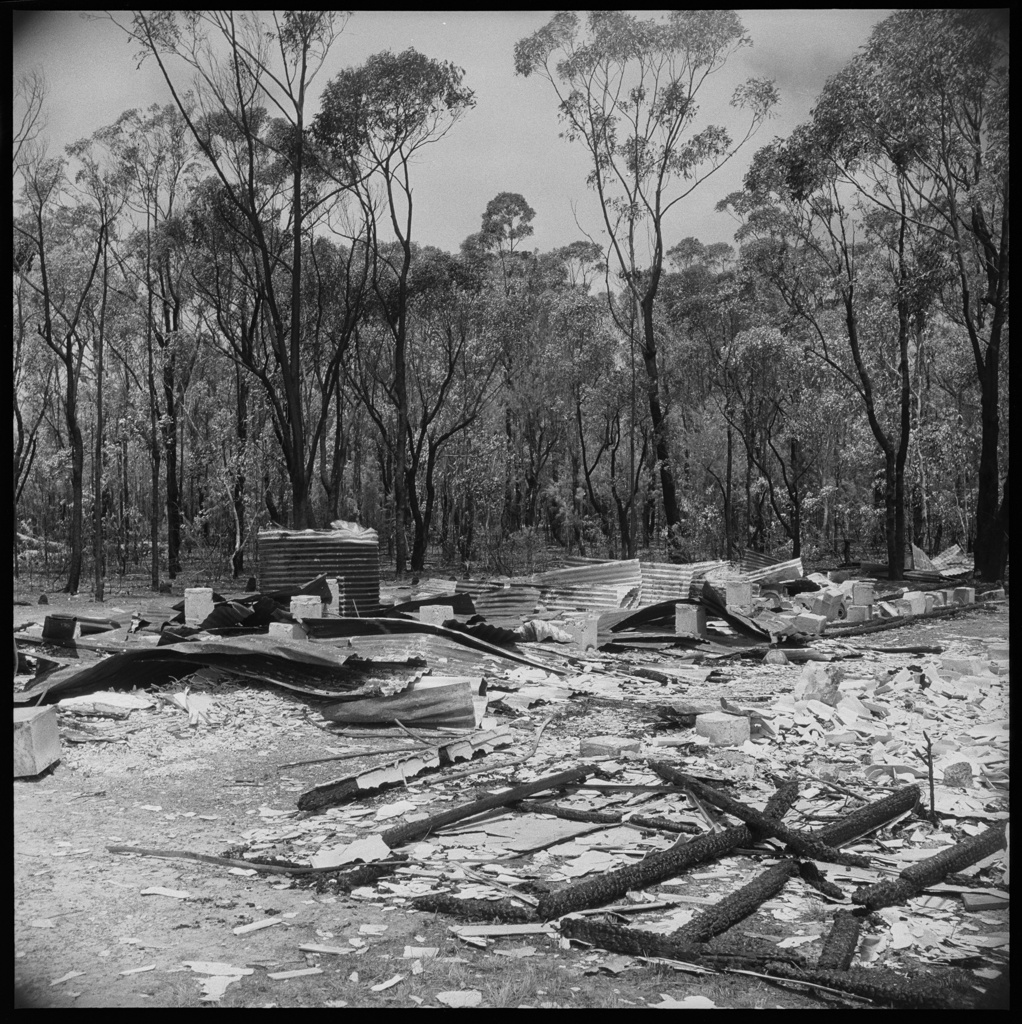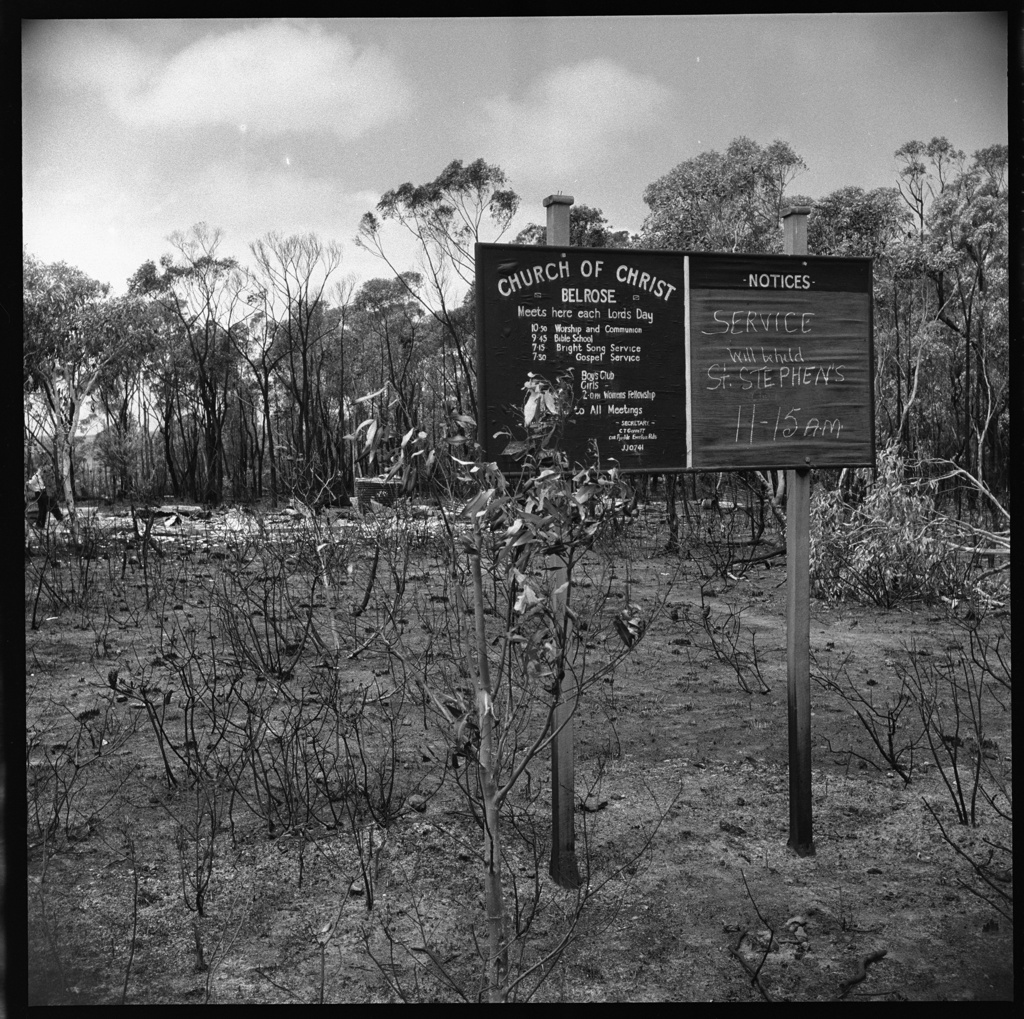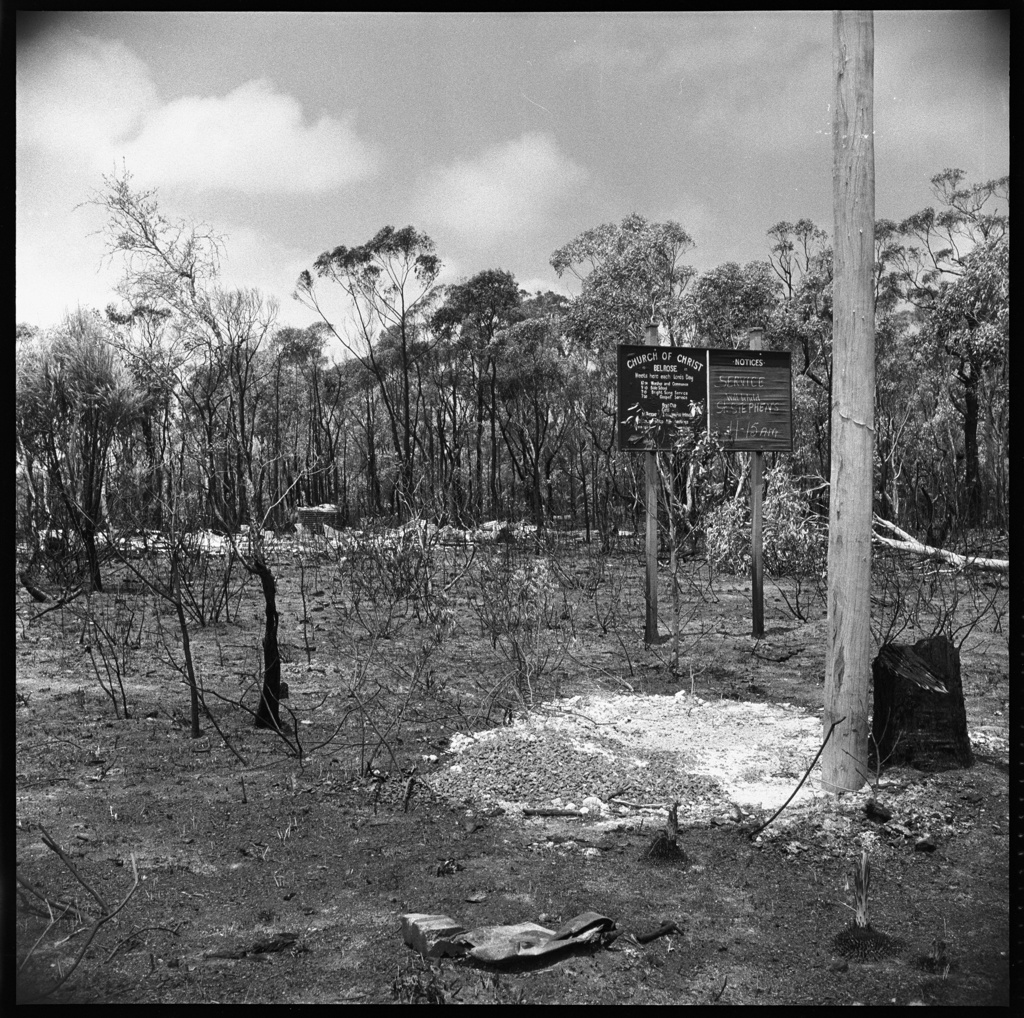 Burnt church at Belrose, January 1957 - photographed by Max Dupain. The placename 'Belrose' is said to derive from the joining of local flower names Christmas Bell and Bush Rose - species that once grew prolifically in the area. Courtesy State Library of NSW