January 29 - February 4 2023: Issue 569
Australia Day Breakfast At Newport 2023 + Ride With Aboriginal Peoples 2023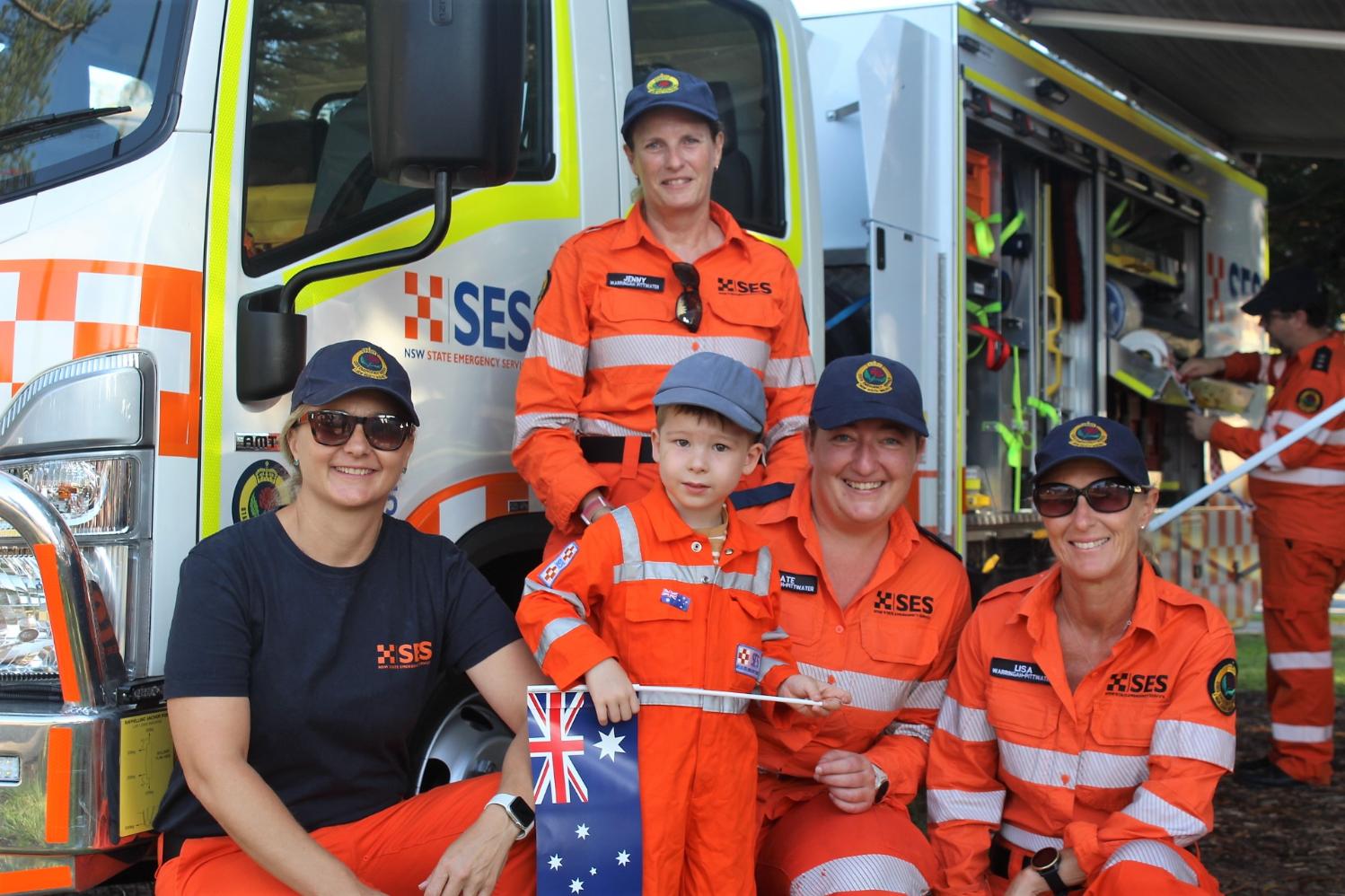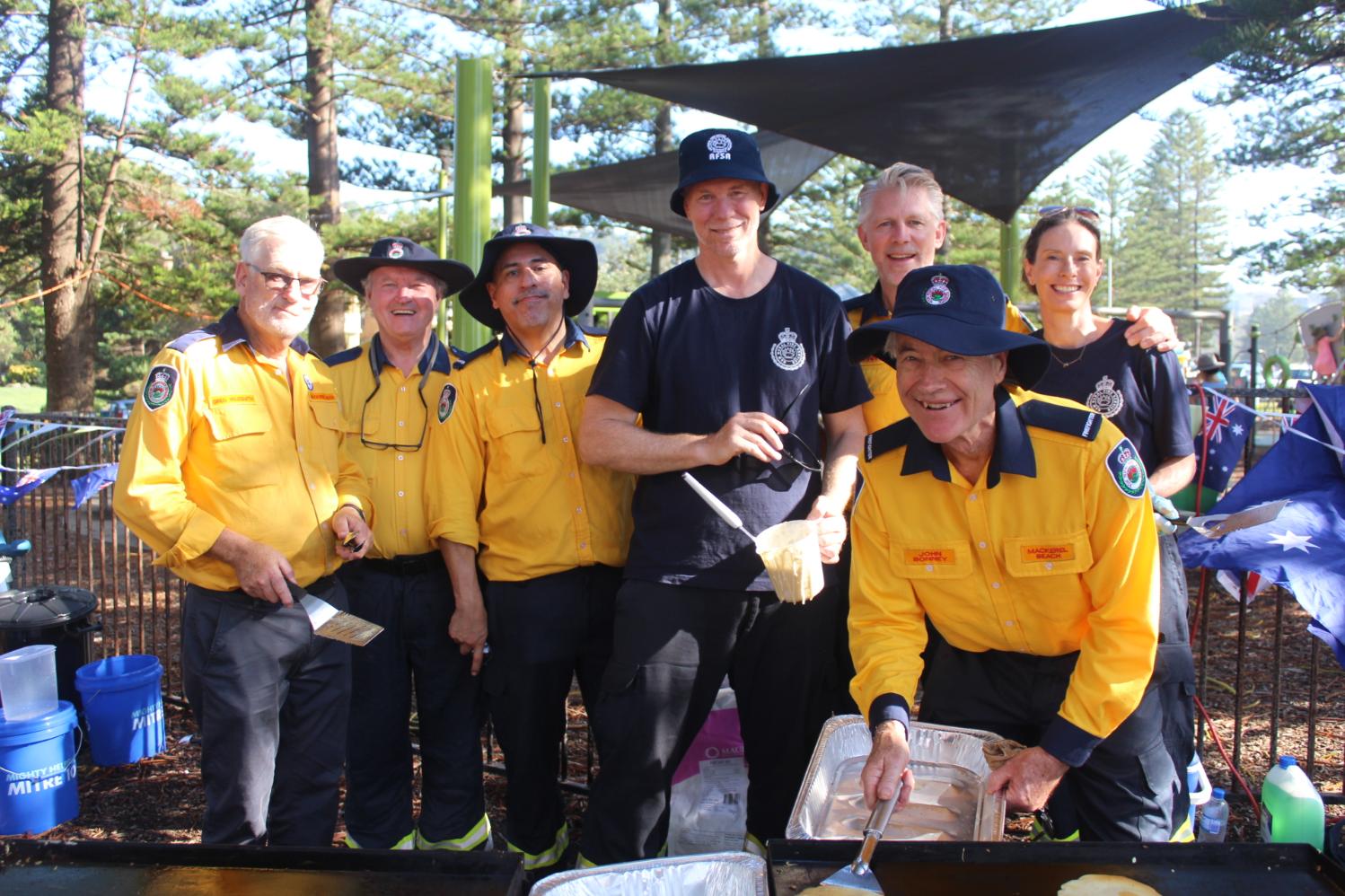 Mackerel Beach RFS members ran the pancakes for breakfast this year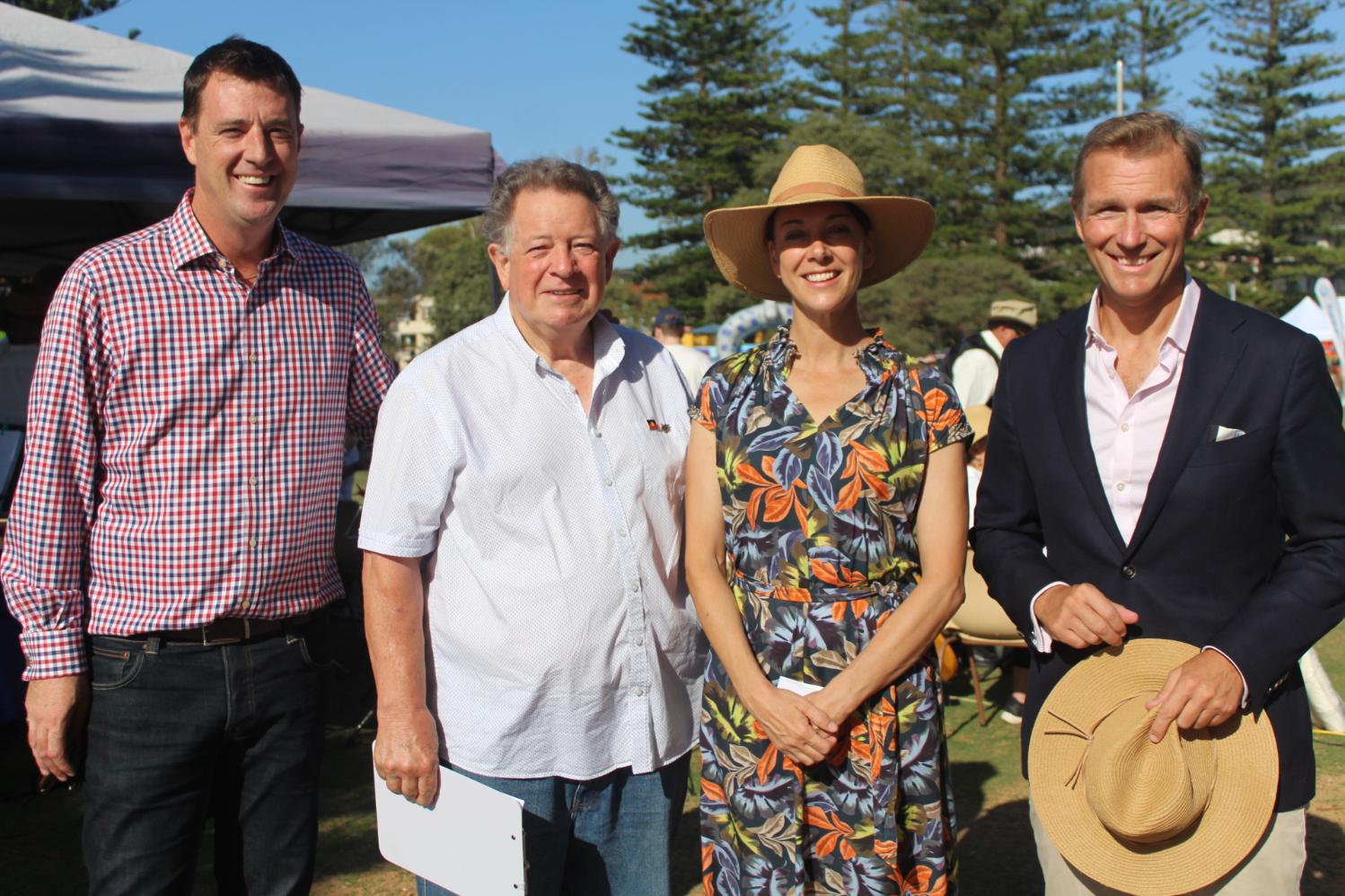 Mayor Michael Regan, Uncle Neil Evers, Mackellar MP Dr. Sophie Scamps, The Hon. Rob Stokes, MP for Pittwater
Ride With Aboriginal Peoples From Manly To Church Point
In 2018 the Inaugural "Ride For Aboriginal Peoples" was held. Organised by Uncle Neil Evers, a descendant of Broken Bay Elder Bungaree and Colin Hutton,
a group of non-Aboriginal cyclists rode from Manly to Church Point to honour the Aboriginal clans of the Northern Beaches.
They met at 7am at the plaque near Manly Wharf where Wil-Le-Me-Ring, a Garigal man, speared Governor Captain Arthur Phillip, wounding him.
They rode through Manly, Queenscliff, Freshwater, Curl Curl, Dee Why, Collaroy, Ocean Parade, Narrabeen, Mona Vale, and Church Point then back to Manly.
Since then this has become an annual event.
This year the group were met at Church Point by local Garigal man Uncle Neil Evers with a Welcome to Country and a thank you to the riders. Aunty Clair Jackson gave a talk.
While enjoying a well-deserved rest by the time they get to Church Point, participants meet Garigal man, Neil Evers and Clair Jackson (Ugarapul-Gidabal woman). They hear stories about the Aboriginal people who once lived in the area while the didgeridoo echoes across Pittwater, and join in by playing the clap sticks.
Barley / Ki /Giballee / Bung-hi / Yaddung/ Wannangini Guringai Wahroong
You and Me / Come / Together /Today / as one /in/Guringai /Country
Our thanks to Cr. Miranda Korzy who taped what knowledge was shared this year
Australia Day Breakfast At Bert Payne Park, Newport
The Breakfast was supported by the National Australia Day Council and Council and run by volunteers.
Proceeds from the Breakfast go to five local community volunteer organisations to support them in their service to others; the Warringah- Pittwater SES Unit, the Upper Northern Beaches Rotary Club, Zonta Northern Beaches, the Warringah-Pittwater RFS Headquarters and Mackerel Beach Rural Fire Brigades.
Those sharing insights included the RFS Headquarters Communications Unit stationed in Bert Payne. Sue Jenkins explained Communications is a vital branch of operations and that the Northern Beaches Communications brigade celebrated 50 years in 2022.
Quite a milestone.
This was another busy year for which, in addition to their regular weekend duty shifts, they fulfilled activities including:
Mid-week call outs for local weather events
Hazard Reductions
Community Engagement across multiple events
Supporting District Activities (i.e. the inaugural DavEx event)
Deploying members for flood assistance
Inter-brigade activities & training (including a boat trip!)
Brigade training (& lots of it)
Members achieving new qualifications, including BF, AF, ARO, ASOF & RFD just to name a few...
Celebrating members being awarded the National Emergency Medal
Celebrating over 289 years of service amongst 12 members recognised at the District Medal Presentation
The Operations Command vehicle can house 3 operatives during operations. They update a fire's status from the in field trucks and add this into the 'Fires Near Me' app and webpage. They talk to Fire & Rescue NSW and the NPWS.
The Ops Comms Brigade is also deployed during rescues or weather events.
''We are very proud of our members and their service to the NSW Rural Fire Service.
We are currently recruiting for 2023 - send us a message if you are keen to get involved! We are more than just the voice behind a radio'' Visit: www.facebook.com/nswrfswarringahcomms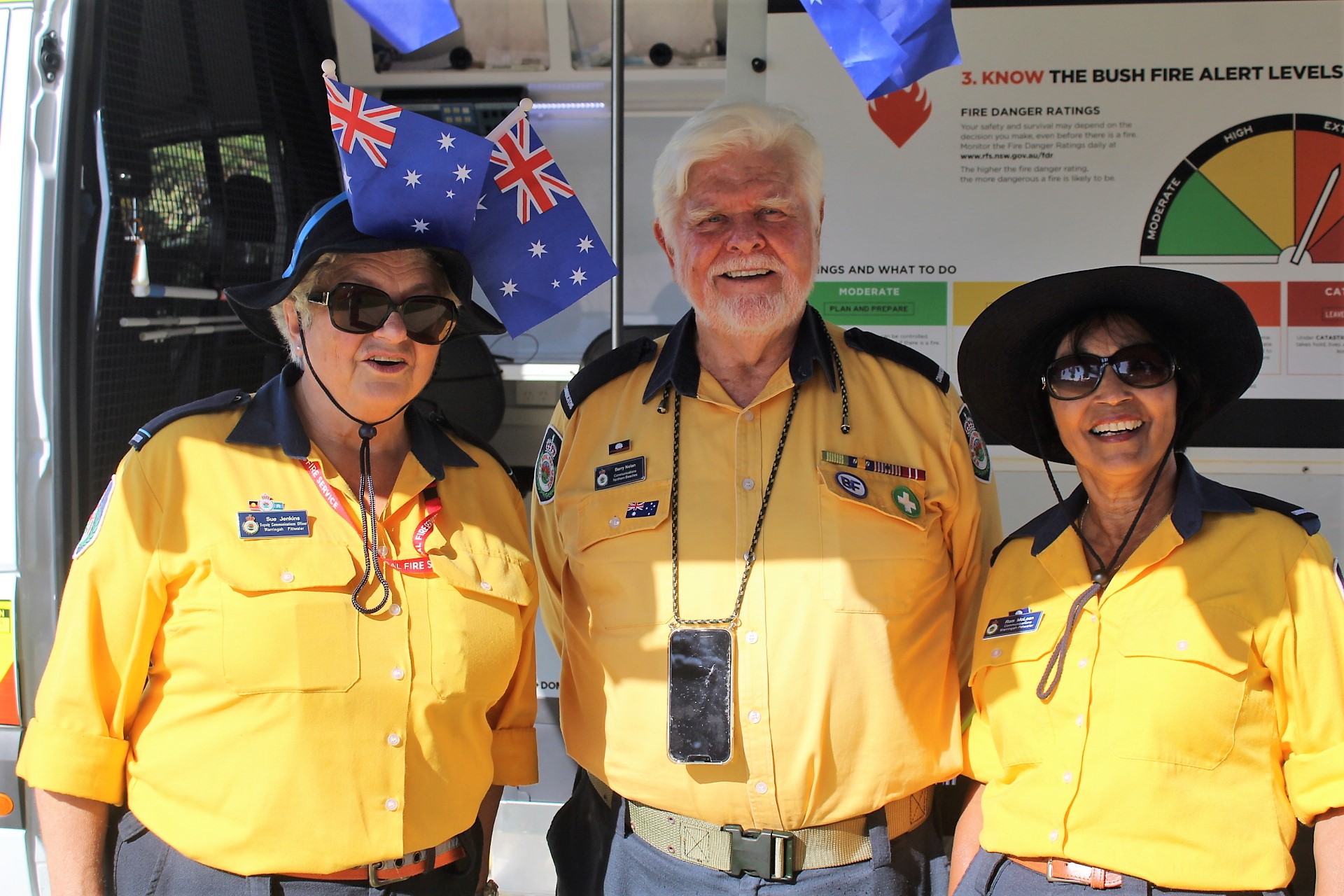 Northern Beaches RFS Headquarters Communications Unit members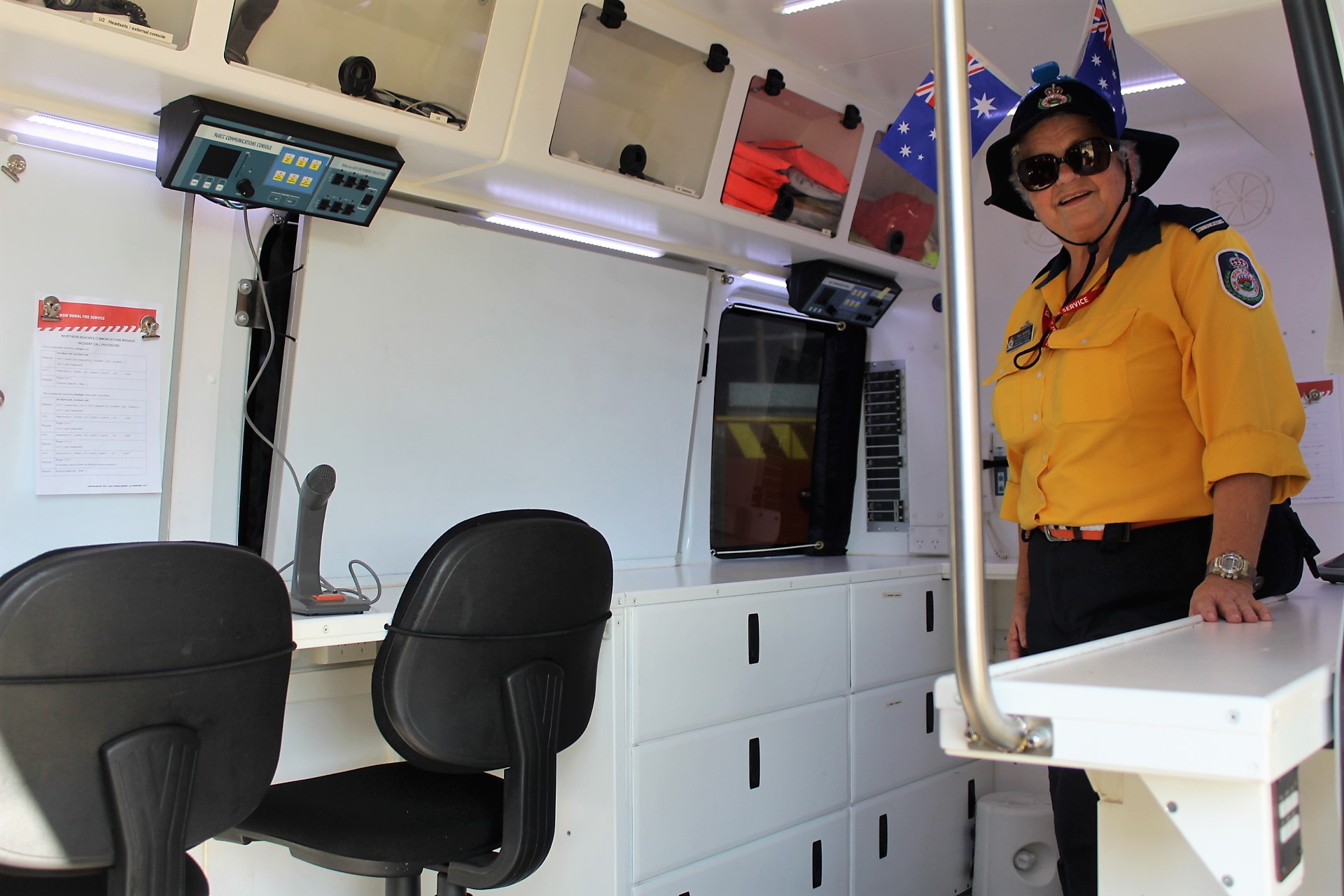 Sue explains what's inside the Comms. Ops vehicle
Also on site this year were volunteers from Warringah- Pittwater SES Unit, showing people their brand spanking new Medium Storm Vehicle, the Upper Northern Beaches Rotary Club, Zonta Northern Beaches and Mackerel Beach Rural Fire Brigades working together to provide breakfast.
There were rides for littlies, a thong throwing competition on the beach and great music from the Northern Beaches Concert Band.
Uncle Neil Evers gave the Welcome to Country, followed by greetings from the MP for Mackellar, MP for Pittwater and Mayor, which were focused on Acknowledging First Nations peoples and thanking local volunteers for their contributions to building community.
Uncle Neil Evers:
First I'd like to thank the distinguished guests for coming and I'd like to thank the organisers for acknowledging the traditional Custodians.
I'm a descendant of the Garigal clan and Garigal people, part of the oldest continuous culture in the world. Today we stand on Garigal country. I pay my respects to my Elders past and present, and my gratitude that we share this land today.
My sorrow is for the cost of that sharing, and my hope and belief is that we can move to a place of equality, justice and partnership through the Uluru Statement.
A question for you – when was the first Australia Day celebrated?
The 30th of July 1915. It was when Australia all got together to raise money for the First World War. This Australia Day that we celebrate now has only been going for about 25 years, it's very new.
Some people call it 'Invasion Day' or 'Survival Day'.
We can't change the past – that's happened, or forget about it - we can never forget about the past.
I'm going to read to you now some words that you have undoubtedly heard before, and maybe when you go home you will re-listen to them;
We have the chance to turn the pages over
We can write what we want to write
We gotta make ends meet, before we get much older
You're the voice, try and understand it
Make a noise and make it clear
We're not gonna sit in silence
We're not gonna live with fear
We know we all can stand together
How long must we look at each other
Down the barrel of a gun?
They are strong words.
Barley Ki Giballee Yaddung Guringai Wannangini
They are strong words too – my ancestors words – that say;
You and me come together today as one in Guringai country.
We all stand on the same soil, we all drink the same water, we all breathe the same air. Isn't it time that we stood beside one another? Isn't it time that we did what our ancestors suggested; become one? Because as one we can be strong.
So it's on behalf of those ancestors that I wish you well and Welcome you to this incredible country.
Welcome.
Federal MP for Mackellar, Dr. Sophie Scamps:
Thank you very much – it's lovely to be here and I'd also like to add my Acknowledgement of the Country we stand on today and pay my respects to the Traditional Custodians of this land, the Garigal people of the Eora Nation, and thank them for caring for this coastline, this country and this waterway since time immemorial.
As Australians living in this beautiful country, in a peaceful democracy, we have to be among the most fortunate people in the world. But what really makes us amazing and great is our people, and I think it's really fitting that we're standing beside the Newport Surf Lifesaving Club because they are emblematic of that Australian volunteering spirit, that giving back spirit and that community spirit.
Before the last election we spent a year sitting down and listening to people and trying to find out what was important to them. One of the questions we asked was 'what do you love about living here?'. What people answered was of course this beautiful environment that we live in but also the community spirit – and what makes that community spirit so strong is that volunteering spirit. I want to thank all the volunteers that are here today; there are so many people from so many different groups. You are what knits our community and our society together. The best part of my job is I get to go around and meet all these different community groups and organisations and volunteers. I am just blown away over and over again about the work that you do and your commitment to others.
One of the proudest moments we had as Australians was the way we responded to Covid; we donned our masks, we shut ourselves away in many ways because we were looking after each other. As much as we were looking after ourselves, we were looking after each other. I was so proud of this nation during that time.
This year and in the years to come we are on the cusp of enormous change and enormous opportunity. We keep hearing about how our country is going to become this renewable superpower. We really do have that opportunity to become a prosperous and high tech. nation going into the future, but it's up to all of us to grasp that opportunity. This really is a time of great change and I'm looking forward to helping this community grasp those opportunities.
There are a lot of people who come to me with these amazing solutions for climate change that will help our nation prosper into the future – so this is an exciting time.
This is a difficult day for our First Nations' people, it signifies a time of loss and trauma and pain. We have an enormous opportunity this year to start that healing process and unite this country. Healing starts with listening – there has been such a generous offer from our First Nations people to just listen.
As a parliamentarian we know how powerful that healing is in just listening and of being heard.
I know through our volunteering spirit we are a big-hearted nation, we are a generous nation. This year we are presented with an opportunity to start healing our nation through the Referendum on the Indigenous Voice to Parliament.
Have a wonderful day today. We have so much to be proud of – and thank you so much to all the volunteers.
State MP for Pittwater, The Hon. Rob Stokes:
Can I also say to Uncle Neil and his mob for welcoming us. That's huge when you think about it, after everything that aboriginal people have been through, Uncle Neil got up and welcomed us all. I think that's pretty incredible and wonderful.
I also would like to Acknowledge all the incredible volunteers here today – it's deeply ironic that they serve us in times of civil distress and are here today to serve us as well because it's in their nature. To the Rural Fire Service, to the State Emergency Service, to the Rotary Club of the Upper Northern Beaches, to our Surf Life Savers and the Zonta Club of the Northern Beaches, to our incredible Council that have been here very early setting up, to our amazing Northern Beaches Concert Band, to our Mayor and other Councillors who are here, to our Federal member, thank you for your public service to all of us as well.
Most of all – thank you to all of you for coming together as a community and celebrating the freedoms that we share and for steeling ourselves for the job that is ahead. That is to build an even better, freer, fairer and more prosperous country for everybody.
I would like to end with a brief anecdote;
When some refugees arrived in Australia from the Hungarian revolution in 1956 there were two journalists waiting for them at Tullamarine airport in Melbourne, one was an Australian and one was a British journalist.
The British journalist from The Times, an imperialist older bloke turned to the Australian and said 'they're a motley crew aren't they?'
The Australian, looking out at this group of impoverished group arriving after the privations of the Russian invasion of Hungary, said 'ah yes, but they will make fine ancestors.'
So that's our job, to make ourselves fine ancestors, to behave in ways that will make our descendants proud of the choices we made and of the opportunities that we provided for all of them.
With all the controversy about Australia Day, let's celebrate Australia every day. We have so much to be grateful for, so much challenge that we need to address, but together we can forge an even better, freer, fairer Australia.
Happy Australia Day.
Mayor Michael Regan:
Welcome everybody and thank you for coming out today. You never want to follow a speech from Rob or Dr. Scamps.
Rob, I'd just like to say today, and at every opportunity I get during the last days of you being our State MP a sincere thank you on behalf of a very grateful community; your legacy has been amazing for Pittwater and also for New South Wales. Thank you sir.
Thank you to Zonta and the Rotary Club of the Upper Northern Beaches for putting this together. It's been two years since we've had one of these breakfasts, so please join me in a round of applause for those who have made today happen. They lobbied Council and the State and Feds for grants to put this on for you. Thank you to the support crews behind the scenes too and making this day happen – one we all look forward to each year.
We were just speaking about the Indigenous Voice to Parliament and that will be an interesting conversation to engage in this year – one where we need to listen, ask questions and listen to the replies.
Last night we did our Australia Day of the Year Awards at Glen Street Theatre and a young 16 year old Pittwater boy by the name of Noah Smith was named our Young Citizen of the Year.
He said last night 'I am not going away, I am aboriginal, I have things to say, you need to listen and I look forward to having that discussion with you'.
We look forward to listening to Noah and I can't wait for you all to hear what he has to say. Today is important and it's also important to have this conversation, not just today, as Rob said, but every day.
We live in one of the world's best kept secrets on the Northern Beaches and Pittwater is one of the jewels in the crown of that best kept secret.
Songstress Kate Lush sang the National Anthem – all of it.
A few more pictures from the Australia Day Breakfast at Newport below.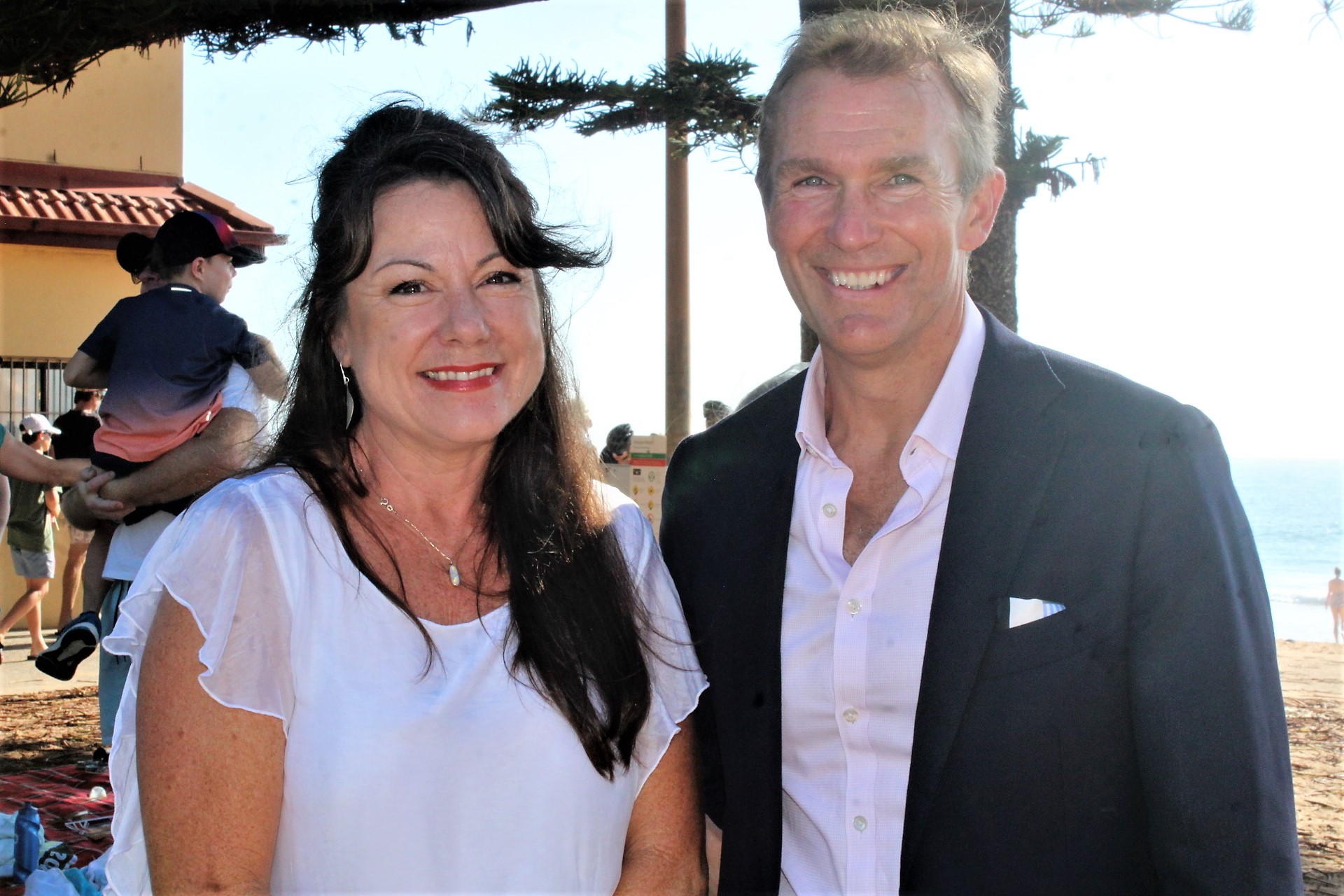 Kate Lush and The Hon. Rob Stokes