October 2 - 15, 2022: Issue 557
Freddie Lane's granddaughter Visits Pittwater on Eve of Mona Vale SLSC's Centenary Celebrations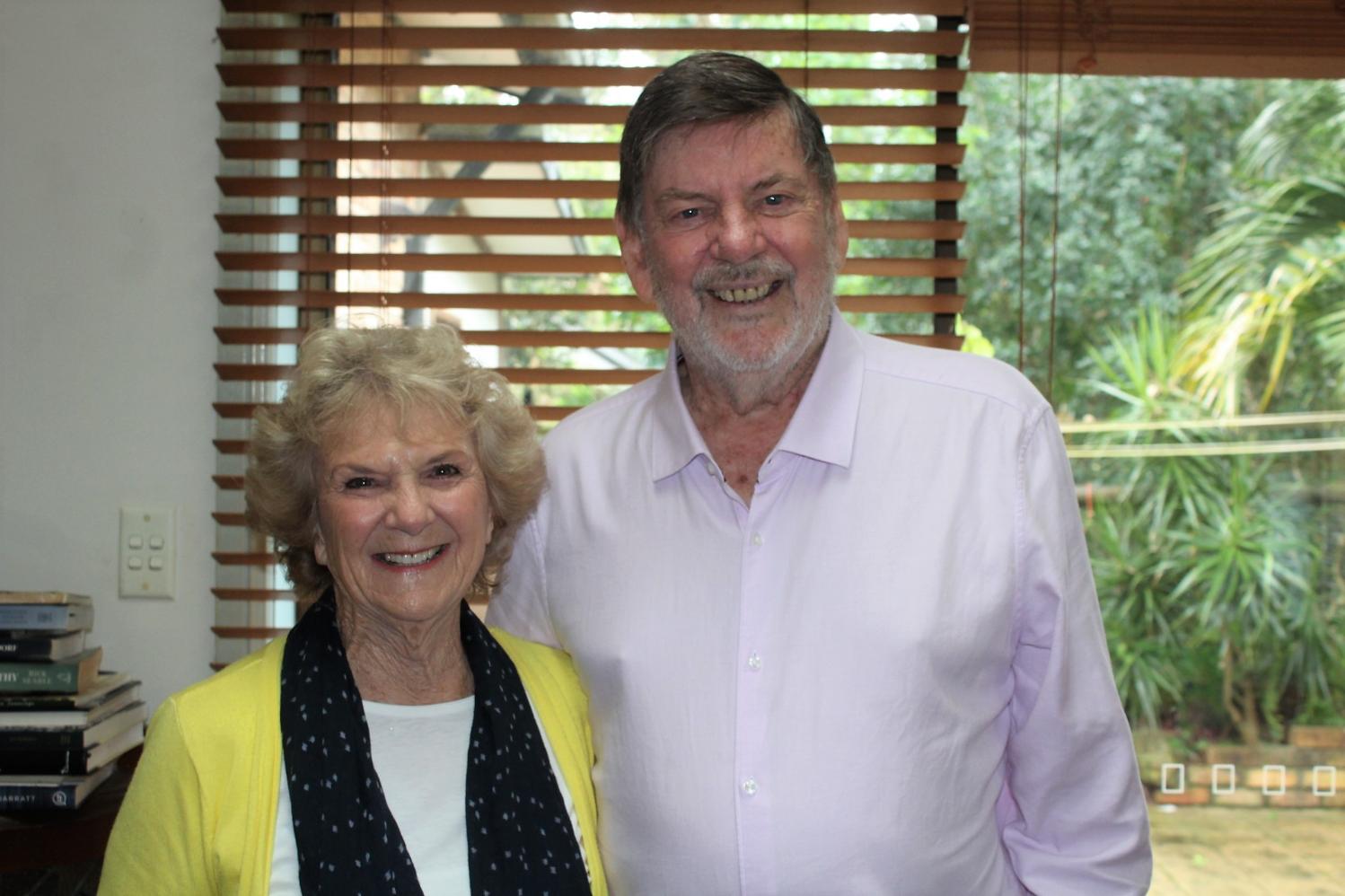 Cherrie and Arthur Goward - Cherrie is Freddie's granddaughter - the couple had a business in the Emproium at Mona Vale for years from 1970
Pittwater Online reader and Bayview resident Bob Forbes, father of
Olympian John Forbes
, recently let Freddie Lane's granddaughter know Pittwater Online News had run a page on her grandad, or 'Pardy' as he was called by her.
Apparently the whole family is thrilled with the page and Cherrie and husband Arthur visited the 'office' here on Saturday October 1st to share anecdotes such as the time Dawn Fraser turned up at Mona Vale SLSC to present Cherrie with Freddie's 'No 1 Dolphin pin from Australian Swimming, or that Freddie's favourite picnic spots were Coal and Candle Creek and Oxford Falls. Her dad, also a Freddie, lived at 17 Basset Street, next door to Freddie's home at number 19 - which was actually named 'Oceana', not Oceania.
The nectarine tree in the backyard bore sweet fruit, the shed in the same was filled with wonderful handtools Freddie used, while his stamp collection and putting ships into bottles was something Cherrie marvelled over. A visit to Freddie's friend Norman Lindsay in the Blue Mountains gave her and her young brother ample room to romp in those beautiful gardens.
Along with filling in some gaps in Freddie's page, Cherrie has put the author of that page in touch with her cousin Carolyn, who has LOTS of information as well - so you know what that means - 'much more soon! - and a Summer celebration of all things Mona Vale SLSC, swimming and Freddie.
Cherrie and Arthur are visiting the new clubhouse for MVSLSC today, with President Paula Tocquer thrilled to be seeing them - a wonderful blessing as the members draw nearer to celebrating their centenary on October 21st this year.
We're so stoked we're running the soon to be changed page this week as a school holidays 'special' - dive on in - pun intended! HERE
Rob Stokes Announces Departure From State Politics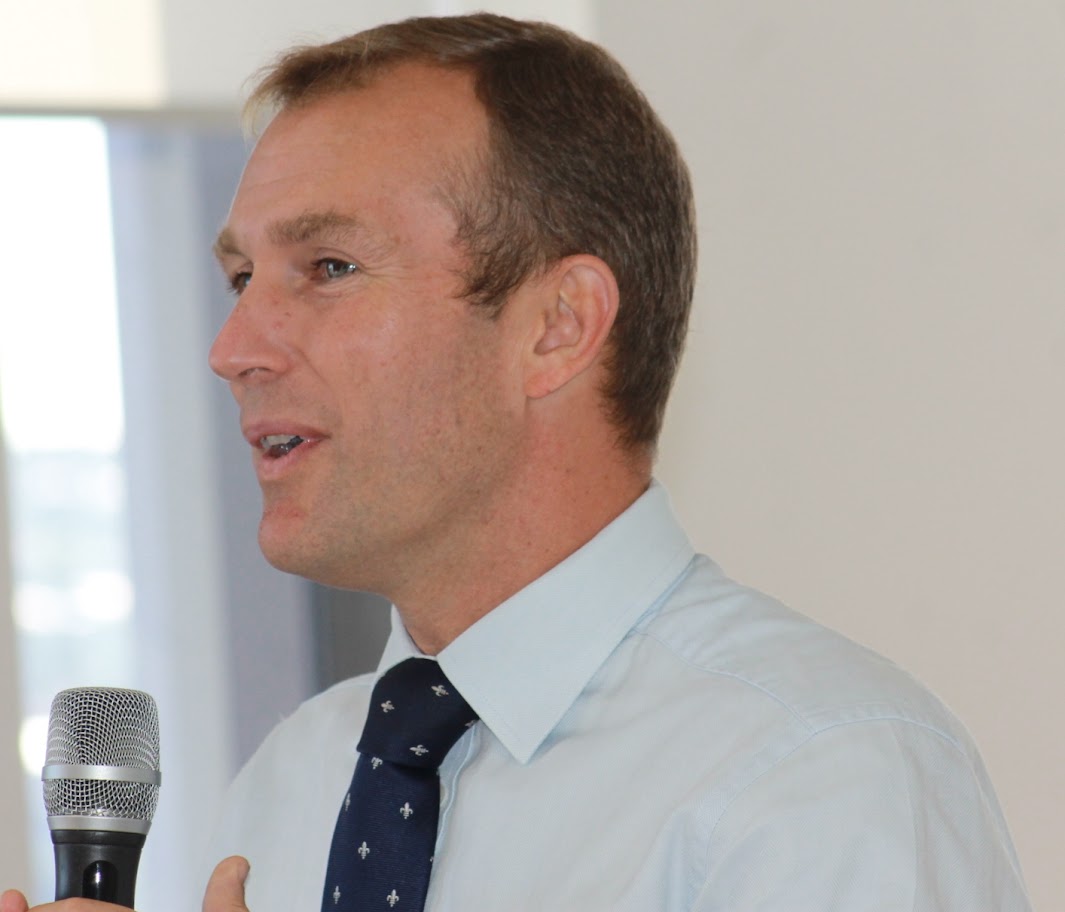 Pittwater MP and senior NSW minister Rob Stokes has announced he will retire from politics at next year's state election. Rob confirmed on Friday September 30th he would resign at the March 2023 election, after more than 15 years serving in state politics.
Posting on FB and via a media release Mr. Stokes stated;
''I've had a great go, and now is the time to give others the opportunity to stand as Liberal candidate for Pittwater at the election next year.
I am immensely grateful to the people of Pittwater and the Liberal Party for the amazing privilege I have had to serve our community as an elected representative for more than 15 years. I'm now excited to support someone else to have that chance.
It's time to make room for a different perspective and a new voice for Pittwater. We now need a contest to elect a new representative to serve the Pittwater community in the Parliament of New South Wales.
In the meantime, I will use all my energy, experience and enthusiasm to support the Liberals and Nationals team as we fight to return the Perrottet-Toole Government in 2023.
What an honour it has been to serve as part of a government that has fought to transform New South Wales into a freer, fairer and more prosperous society.
Public service is a team effort. I am thankful to my family, friends and everyone I've worked with for their support on an amazing journey representing Pittwater in Parliament.''
That 'different perspective' may come from upper house MP Natasha Maclaren-Jones who almost immediately announced she would contest Liberal preselection for Mr Stokes' seat.
"It is from my love for Pittwater and my commitment to continuing to serve our community that today I announce I will be putting myself forward," she said in a statement.
"Pittwater has always been very special to me having been a part of this wonderfully diverse community," she said.
Ms Maclaren-Jones is married to former The Hon. Bronwyn Bishop Chief of Staff Damien Jones and cited the former Mackellar MP as a mentor in her inaugural speech. Her husband is currently Chief of Staff to the Minister for Local Government.
A long time Liberal Party member, Natasha Maclaren-Jones MLC trained as a nurse and has served in a variety of positions within the Liberal Party, including being the youngest person to serve as NSW State President and the third woman to hold the position. Ms Maclaren-Jones has also served as State Vice-President, NSW Young Liberal President, State Convention Chair and Chair of the Liberal Women's Forum, a training and development program for Liberal Women and current Minister for Families and Communities and Minister for Disability Services.
NBC Councillor Rory Amon has also announced his intention to seek Liberal preselection for the seat of Pittwater.

Mr. Amon is also a long term Liberal Party member and lifelong beaches resident who has become renowned for his advocacy on behalf of residents and quick responses to requests for help. Rory has served in a volunteer with the rural fire brigade, and is known for refereeing in rugby union. A Narrabeen resident, he has also been a member of local chambers of commerce, a staunch supporter of local Rotary clubs, and donated a portion of his earlier terms as a councillor to local organisations in all fields, ranging from sports to wildlife carers and more.
Popular with many residents, he was returned at the last council elections with a vote count that outstripped those accrued by others standing by thousands.
On the same day, the Independent Pittwater group said it would seek to put up a candidate who cared about the environment, the electorate and integrity.
The Independent Pittwater group stated the retirement of local Pittwater MP Rob Stokes heralds a new era for representation in Pittwater.
The current NSW Minister for infrastructure, Cities, and Active Transport has been a popular local member, but now is the time to change the face of local politics, according to Independent Pittwater campaign spokesperson, Rebecca Clarke.
"Rob Stokes has been a long time MP for Pittwater. I think everyone in the community thanks him for his service, including the team at Independent Pittwater.
"But while Minister Stokes was popular, the Liberal National Coalition he is a part of no longer enjoys the same popular support. The NSW Government has been rocked by integrity scandals and is out of touch with the real concerns of the Pittwater community.
Conservation Zones Review Has Potential To Facilitate Medium Density In Previously 'Environmental Living' Zones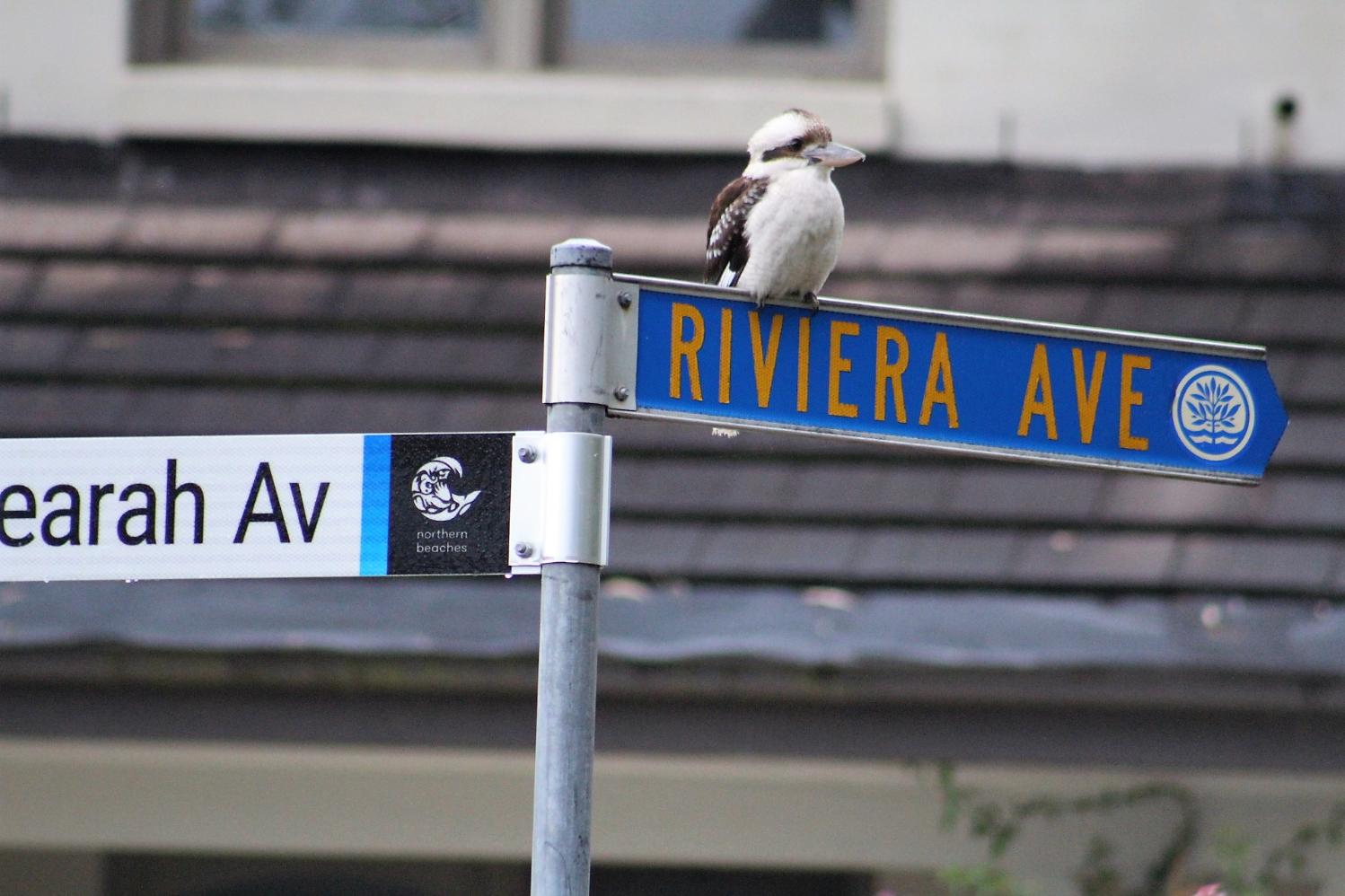 One of the most important issues for this council term came up at the August 23, 2022 Northern Beaches Council meeting: its Review of Conservation Zones, which is now on public exhibition for feedback.
While there will be an overall increase in the number of conservation zonings on the Northern Beaches under this proposal, more than 2,000 properties in the former Pittwater Local Government Area will lose these zonings. Many sites formerly zoned E4 and now C4 (for land with special environmental value) will now become R2 (low density residential).

For example, in Pittwater, the C4 zone currently allows low impact developments (generally single dwellings) in areas with special ecological, scientific or aesthetic value while in Manly, blocks of flats are allowed in the C4 zone.
Planners have told councillors they currently estimate that in the former Pittwater LGA, 3,613 properties will move from a C zone to an R (residential) zone, and 1,328 from an R zone to a C zone, resulting in an overall loss of 2,285 properties from C zones. That compares to an overall gain of 847 C zone properties across the LGA.
The former Manly LGA will lose 54 properties from the C zone and former Warringah will lose 1.
Experts who have reviewed the Biodiversity Planning Review paper state it should be opposed as such a huge potential loss of conservation zones represents the most serious incursion into the existing Pittwater LEP/DCP rules. These guidelines have contributed to the protection of Pittwater's character, landscape, and scenic quality to date.

In total, the former Pittwater would have 7,447 properties zoned C3 or C4 and 9,347 properties in residential zones
The move from C4 to Residential would result in more development in these areas and a huge loss of natural landscapes including canopy. The rezoning from C4 to Residential would also trigger the application of the July 1st 2022 amended NSW Housing SEPP to the newly created Residential zones.
Under the changes made to the State Environmental Planning Policy (Housing) 2021 all seniors living, including independent living unit developments, will be allowed in R2 Low Density Residential zones. The building height will also change, allowing up to 9 metres, excluding any basement works.
It's also worth noting that under the Council's Local Housing Strategy the NSW Department of Planning has told the Council it must proceed with planning work that will lead to rezoning of one or more of the following as outlined in its LHS to compensate for housing not delivered by the Ingleside precinct:
One of the of the following Centre Investigation Areas for Brookvale, Dee Why, Manly Vale or Narrabeen;

Two or more

of the

Housing Diversity Areas

centres; and/ or
other proposed rezonings in the LGA that have arisen since the preparation of the LHS that will enable delivery of substantive and new housing supply.
The planning proposals for one or more of these alternatives are required to be submitted to the NSW Planning Department for Gateway determination by or before December 2022.
Council's LHS Centre investigation areas identified Brookvale, Dee Why, Mona Vale, Manly Vale and Narrabeen along the existing B-Line as centre investigation areas in the medium term, and Forestville and Beacon Hill in the longer term, subject to a future B-Line route (future B-Lines along Warringah and Mona Vale Roads).
Housing diversity areas identified through the Council's LHS were Avalon, Newport, Warriewood, Belrose, Freshwater, Balgowlah and Manly as areas to support housing diversity in the form of dual occupancies, seniors housing and boarding houses.
In July 2018 the NSW Government introduced new planning controls through the Low-Rise Medium Diversity Housing Code (the Code) under State Environmental Planning Policy (Exempt and Complying Development).
The Code allows for the development and subdivision of dual occupancies; multi-dwelling houses (including terraces), manor homes under a fast track complying development approval process where those land uses were currently permitted with development consent from Council.
This approval can be issued by a private certifier within 20 days if the application complies with requirements in the Code.
Residents already know the former Pittwater LGA is under increasing environmental pressure. This trend has seen people building way over their 60 percent of land area, needlessly removing trees and exceeding existing height limits with variations being permitted.
There have also been a number of proposed developments out of keeping with Pittwater. One still before the Land and Environment court, with hearing dates set for later in October, seeks to build flats and develop the whole block in an area where this would ruin the local amenity at Palm Beach.
This week there have been renewed calls for a Heritage Listing for the whole of Pittwater.
Professor Richard West AM, President of the Palm Beach-Whale Beach Association, which has as its main aim to preserve the unique environment in which we live, has echoed other residents associations which state these changes represent a threat to Pittwater.
Prof. West told Pittwater Online this week that 'special consideration should be made to preserve these qualities'.
These zonings will feed into the upcoming, single Northern Beaches Local Environment Plan, which will regulate development for the whole council area. So for those wanting to protect the scenic bushland habitat, it will be important to read the multiple documents now made available and let the Council know what you think.
The Council want to know if you agree with the approach and criteria used in the review to identify and map core habitat areas, biodiversity corridor areas, threatened ecological communities, and threatened flora and fauna species habitat.
Conservation zones, previously called Environmental zones in the former Pittwater LEP, "are used to protect and conserve areas with special environmental values or where there are known hazards eg bushfire, (and) coastal inundation", planning staff noted in their motion to place the draft on exhibition.
The four conservation zones in the new LEP align with those identified by the NSW Department of Planning and Environment and are as follows:
C1 National Parks and Nature Reserves - existing and newly proposed national parks, nature reserves and conservation areas - as identified and agreed by the NSW government.
C2 Environmental Conservation - for areas of high ecological, scientific or cultural values.
C3 Environmental Management - Special ecological, scientific, cultural or aesthetic attributes or environmental hazards/processes.
C4 Environmental Living - special environmental or scenic values; low impact residential development.
The challenge for Council staff has been that four LEPs are currently operational across the Northern Beaches Council area and the state government requires that they be 'harmonised' after the forced amalgamation of the former Manly, Warringah and Pittwater councils. (ie Pittwater's LEP; Manly's; Warringah's; and a second one in that former council area for land where zoning was never finalised by the NSW government).
Alike the Rates Harmonisation of the forcibly amalgamated former Councils and saw an increase for Manly and Pittwater implemented from July 1st 2022, and a reduction for the former Warringah area, despite an amendment to the Local Government Amendment Bill 2021 which allowed up to eight-years to harmonise rates for councils that were amalgamated in 2016, and which had been preceded by Warringah Council's seeking approval from IPART in 2014 for a cumulative increase of 26.2 per cent over four years and was instead allowed an increase at 19.7 per cent, the former council area that will be impacted most by this latest required 'harmonisation' will be Pittwater.
Council CEO Ray Brownlee accepted that some of the proposed zonings might change. "We're not going to get this right in the first go. That's what this process is all about," Mr Brownlee told the August 2022 Council meeting.
However, Pittwater Liberal Councillor Rory Amon stated he did not want to delay the process. "If we get a Labor government next year, what that means for locations like Mona Vale will be high rise as far as the eye can see," Mr Amon said.
The NSW Labor party have made no statements regarding their housing policy as yet. The only commitments opposition leader Chris Minns has announced so far have been there will be no more privatisation under a NSW Labor Government and plans to fix problems in public hospitals. Their 2022 NSW State Conference will take place Saturday 15 and Sunday 16 October 2022.
Under the current State Government high rises as far as the eye can see, the NB Council's required rezoning of one or more areas for densification of housing due by December 2022, what can now be built locally under the low rise housing diversity code, the razing of koala habitat in southern Sydney, and the 2022 proposal for tourist accommodation in Barrenjoey Lighthouse cottages, all need to be 'approved' prior to the March 23rd 2023 state election just in case a new government commences rolling back or dismantling the same.
Council Staff expect the LEP will be ready to present to council in early 2023, before it goes to the incumbent State Government for approval.
The documents are available at: yoursay.northernbeaches.nsw.gov.au/planning-ezones and open for feedback until October 30.
Given the amount of papers to be read, and the Spring school holidays break in the middle of the feedback period, an extension of two weeks for feedback is anticipated.
Community groups are having a planning forum to point out all the problems with the Conservation Zone study on October 16th, 4 - 6 pm at Mona Vale Memorial Hall - Notice in full below.

PROPOSED COUNCIL CONSERVATION ZONINGS
CHANGES ARE COMING - CAN YOU LIVE WITH THEM?
To find out more, attend the community planning forum on:
Sunday October 16
4pm
Mona Vale Memorial Hall
Northern Beaches Council is proposing to rezone around 3,600 properties in the former Pittwater LGA from the existing Conservation C4 (Environmental Living) zone to Residential (R) Zones.
Is this a good strategy for the protection of our area? Or could this mean:
a risk of inappropriate development with additional uses permissible in the R zones including medium density housing, townhouses and senior housing development.
a possibility that the state's housing policy applies to the new R zones.
neighbourhood scenic value disrupted on a bigger scale.
intrusion into green space and habitat corridors – without enough consideration of buffer size.
loss of tree canopy and habitat.
loss of residential amenity.
loss of environmental quality.
an increase in land slip issues, one of the identified natural hazards of Pittwater. Has this and other hazards been considered widely enough in the rezoning?
a mismatch between landscape and zoning criteria due to insufficient physical inspections.
a compromise in the preservation of our green corridors, which is not aligned with council's own local strategy "Towards 2040". Many affected properties back onto or are too near reserves, parks, waterways and lagoons.
Should much of Pittwater be preserved in the Conservation Zone?
We believe there is a strong argument for an increase in conservation zoned land and want to see all existing conservation C4 lands retained along with establishing a foreshore scenic protection area from the shoreline, including lagoons and waterways to ridge.
LET'S BE GOOD CARETAKERS AND KEEP THE NORTHERN BEACHES BEAUTIFUL FOR OUR GRANDCHILDREN TO SEE
Attend the forum, make a submission.
See: https://yoursay.northernbeaches.nsw.gov.au/planning-ezones
Forum organised and supported by a number of Pittwater residents and community groups, including Clareville and Bilgola Plateau Residents Association, Mona Vale Residents Association, and Pittwater Natural Heritage Association. For more information please email: cabpra@gmail.com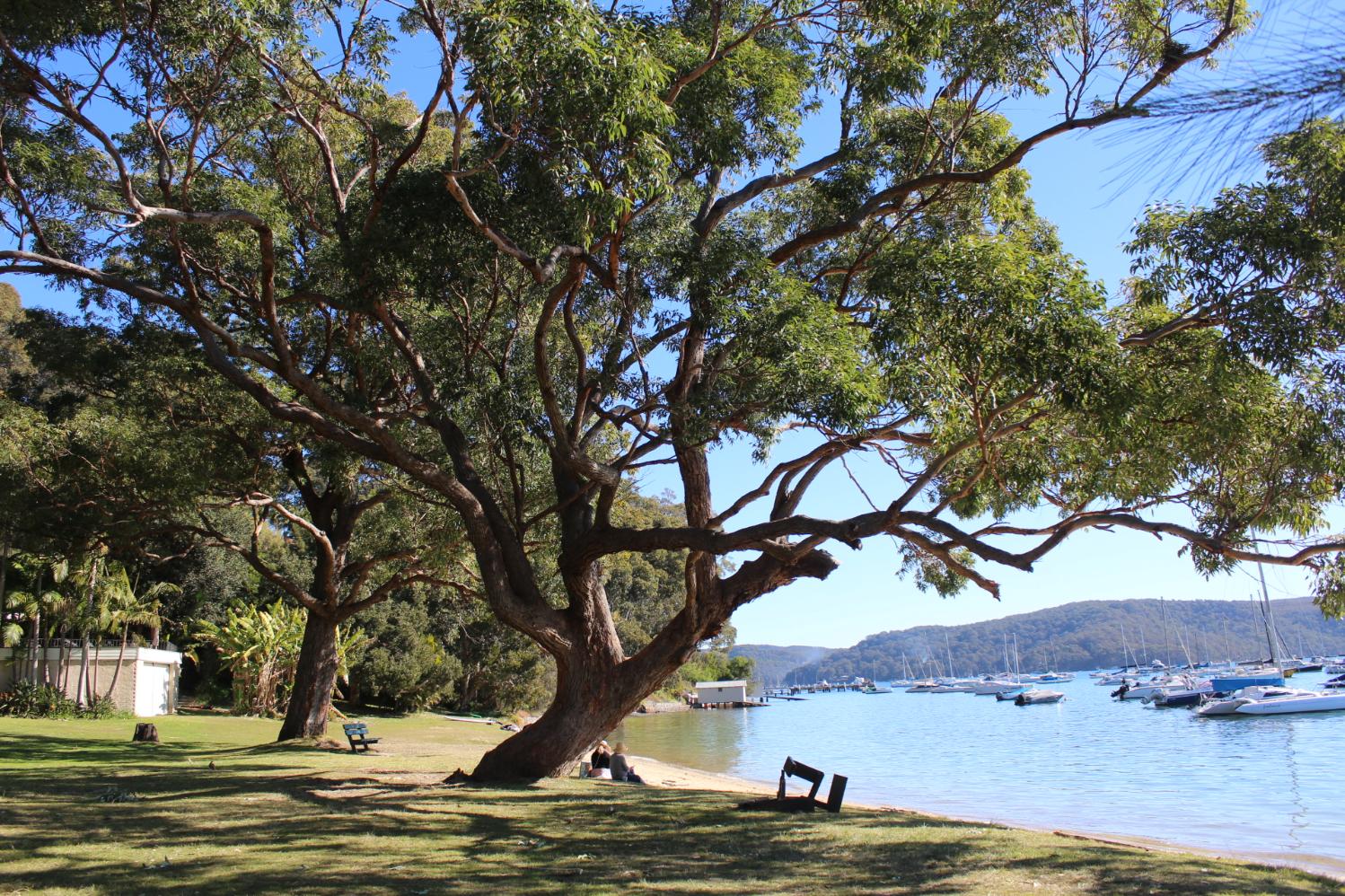 Proposal For Barrenjoey Lighthouse Cottages To Be Used For Tourist Accommodation Open For Feedback - Again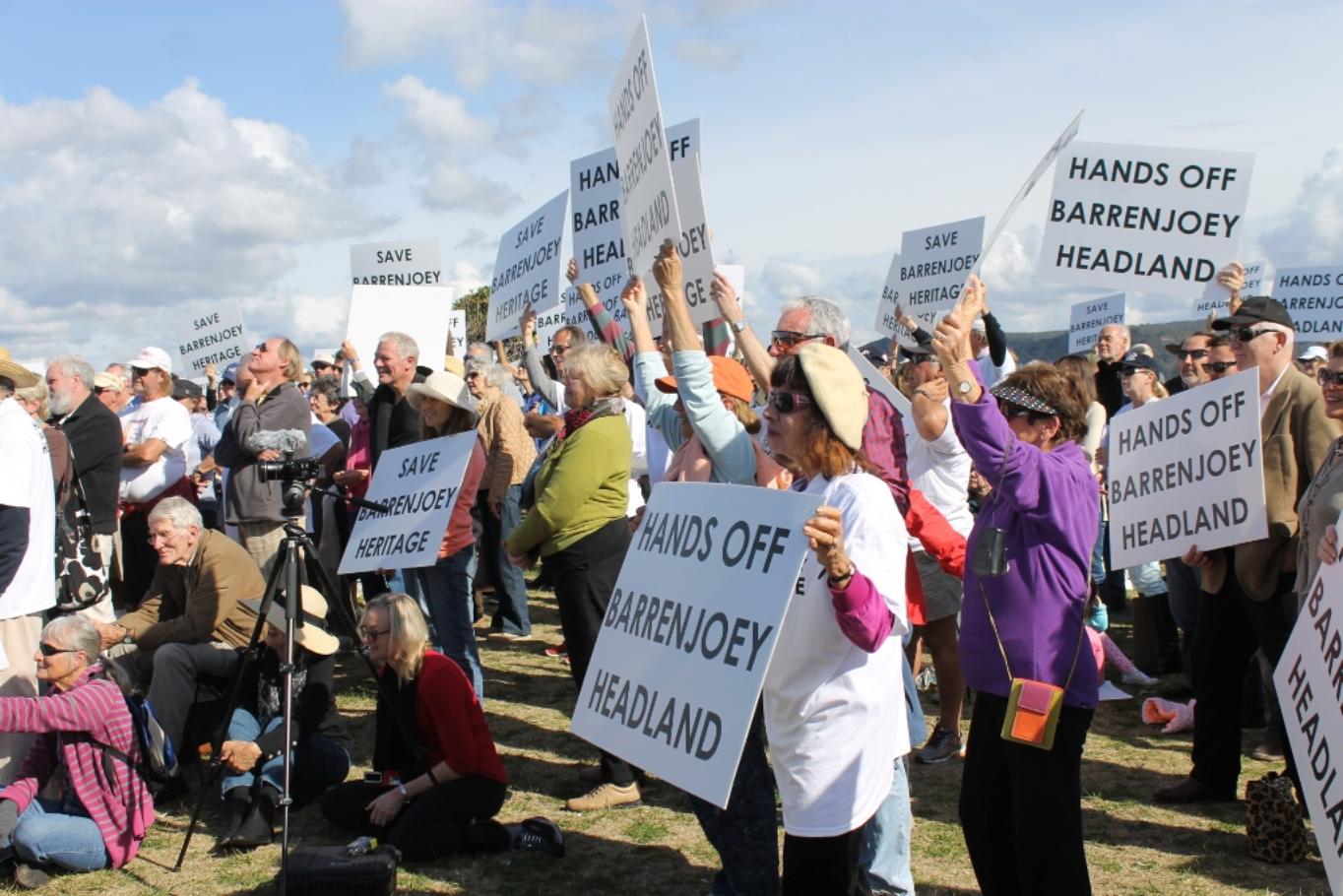 Barrenjoey Rally - July 2013. Photo: A J Guesdon.
In 2013, a
plan to commercialise Barrenjoey Headland
and its cottages, plans which would have meant excising this popular spot from the public for private use, rallied the local community into vehement opposition. A
rally was held
, backed up by Pittwater Council, to ensure the state government understood the opposition to this idea.
Over 9000 signatures from residents and from all over the world were added to a petition opposing the move.
Now the idea is up for feedback again, although versed in more innocuous terms, to begin with.
The 2013 proposal stated;
''There are several buildings at Barrenjoey Head that have the potential to be adaptively re-used for visitor and tourist facilities and experiences such as accommodation for visitors and tourists, conferences, functions, restaurants, cafes, kiosks and other food and beverage outlets. It is proposed to investigate such use of the buildings and the potential to lease their use for this purpose. There is also potential for limited construction of new buildings at Barrenjoey Head, in the vicinity of the fishermens' shacks at the base of the headland or in other visually unobtrusive areas, for the purpose of accommodation for visitors and tourists, conferences, functions, retail (ancillary to visitor facilities and amenities), restaurants, cafes, kiosks and other food and beverage outlets, or other visitor and tourist purposes.
Pittwater MP, The Hon. Rob Stokes stated then he is strongly opposed to any changes to the Ku-ring-gai Chase National Park Plan of Management which could adversely impact on Barrenjoey Headland's unique environmental and heritage characteristics.
"This certainly isn't an area of Pittwater which can be casually fiddled with," Rob Stokes said, "Barrenjoey Headland has enormous environmental and heritage significance and any management changes must be thoroughly considered.
"Whilst some alterations or improvements may be necessary – nothing should be done which may change or ruin the unique character of the area.''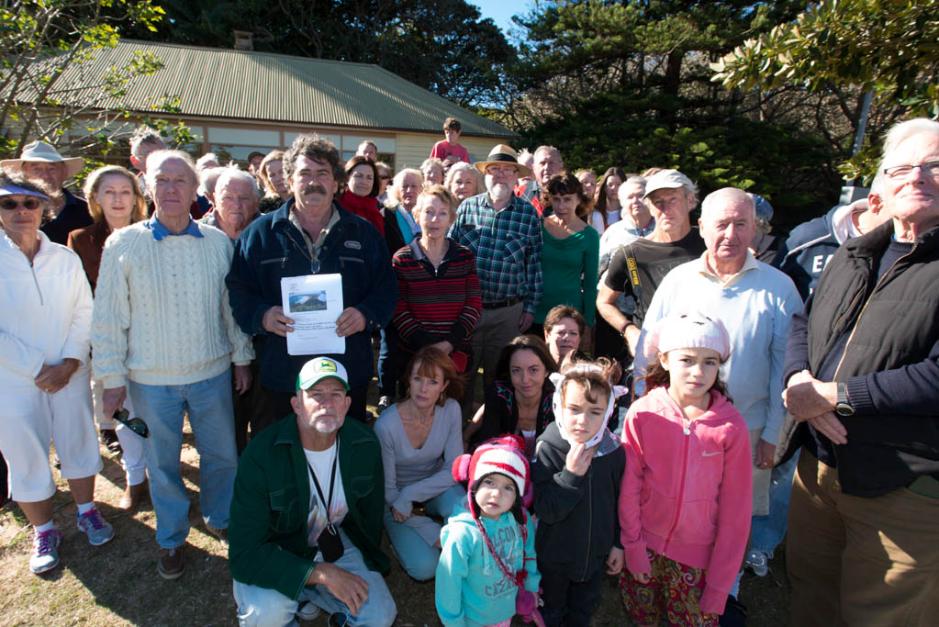 Palm Beach and Whale Beach Association members and the upcoming generation gather at the Boatman's Cottage, Barrenjoey in 2013. Photo by Michael Mannington, 2013.
Community outrage and commitment to fight against the proposal for as long as it took to see it reversed succeeded; in August 2013 an announcement was made by then Environment and Heritage Minister Robyn Parker and Pittwater MP Rob Stokes that the proposals would be canned.
Ms Parker's statement did say;
"NPWS will investigate appropriate, sensitive uses for vacant cottages on the headland through adaptive reuse of the assistant lighthouse keepers' cottages and potentially the lightkeeper's house - consistent with their heritage values.
Ms Parker said the Government had a strong record of breathing new life into historic buildings so they're enjoyed and used by more people and protected into the future.
"Communities around five similar lighthouses along the NSW coast, at Byron Bay, at Smoky Cape and Seal Rocks on the mid north coast, and at Montague and Green Cape on the Far South Coast have welcomed the sensible restoration of the buildings. Montague Island has won many environmental tourism awards and guests contribute to habitat restoration for the little penguin colony.
However, 2016 research by Pittwater Online News shows there are currently six lighthouse facilities you may rent out: Cape Byron, Montague Island, Smoky Cape, Green Cape, Norah Head and Sugarloaf Point (also known as Seal Rocks lighthouse) and when they are, some of them 7 days a week, the public and local community is excluded.
The Cape Byron Lighthouse precinct is open 8am to sunset. The Assistant Lightkeepers cottages are available to hire on a day, or days or weekly basis, 7 days a week. Cape Byron Lighthouse precinct, as with many of these others listed is also available for events and function hire, such as weddings, and during these times exclusive, or excluding the public, access is guaranteed.
As a unique Wedding venue, as listed on the Sugarloaf website, the promise is, "Your booking ensures exclusive use of the cottages and their grounds… giving you three outdoor and indoor options for your wedding ceremony." At Sugarloaf the Head Keeper's and both Assistant Lightkeepers cottages are available. They may be rented as single structures or people may rent all three. Vehicles are permitted to drive to the cottages for loading and unloading. In Summer a minimum of 7 days booking is required, while Easter and Spring and Autumn require a minimum of three days for a weekend booking and four days for a 'midweek' booking. What is termed as 'Whale Season', which we are heading into now (May to September) attracts a rate close to that charged during Summer peak holidays. Minimum booking of days also applies to other rental lightstation premises.
After the 2013 'small victory' Members of the Palm Beach-Whale Beach Association warned 'you watch, this will come up again - they will have another go at doing this'.
The Hon. Robert Stokes subsequently became Environment Minister and announced on October 24th 2014 more than $3 million over four years to restore the historic Barrenjoey Lighthouse and revitalise the Barrenjoey Headland heritage precinct.
On the same date then NSW Environment Minister Rob Stokes announced the adoption of the amendment to Ku-ring-gai Chase National Park and Lion Island, Long Island and Spectacle Island Nature Reserves Plan of Management. That document stated;

'The buildings at Barrenjoey Head may be adaptively re-used for any purpose consistent with the policies of the endorsed 2012 Conservation Management Plan and the management principles for national parks including accommodation for visitors, interpretation or caretaker accommodation. Any adaptive reuse will also be consistent with the provisions of the NSW Heritage Act including the requirement for approval by the NSW Heritage Council under the NSW Heritage Act.'
In 2016 the idea was revisited, with the public given a month to respond. That proposal presented Architectural Drawings for plans to develop accommodation in the Keepers cottages, Fishers Cottages and Boatman's Cottage on Barrenjoey Headland. No Specifications detailing a description of the proposed works were published with these, as is usual when providing architectural drawings.
The architectural drawings showed a 30-40 person bed count, an extension outwards of the fencing around the Boatman's cottage, 'stepping stones for high tide' along the beachfront to the Fisher's cottages, 2-4 units replacing the Fishers cottages within two structures, extensive remodelling and redecorating within the Keepers cottages and installing 'privacy screens' on same.
The public was to be excluded from these structures, and areas around them, whenever they are rented out as 'short term accommodation'; (2-3 days or by the week).
The statement also communicated; "We have not excluded the provision of spaces within some of the buildings for community use and small scale gatherings."
In August 2019, as part of preparing another new plan of management, the NPWS released five discussion papers exploring some of the key management themes that will be included in the new plan.
The Discussion papers once again to the use of the buildings on Barrenjoey Headland along with others with the Visitor destinations - 1.1MB stating ''In 2016 NPWS exhibited a draft Barrenjoey Head Concept Plan with options for improved site access including short-stay visitor accommodation, improved interpretation of the site and the installation of public toilet facilities. This discussion paper provides an opportunity for the community to provide further feedback on ways to manage the precinct.'' and asking the question ;'What new or improved visitor facilities or visitor experiences, if any, would you like to see at Barrenjoey Precinct?'
The Discussion paper on Leases, licences and consents - 1.4MB explained that 'Commercial activities in parks are managed according through one of the following types of agreements' and listed examples, including the first in this list as;
' A lease: a formal agreement between NPWS and an entity for ongoing exclusive rights to occupy and use land or a facility for five years or longer (even if that use is not 24 hours a day, seven days a week)'.
This paper asked 'What commercial visitor services and events would you like to see offered in the park?'
On September 23rd, as public schools commenced their Spring holiday break, the Ku-ring-gai Chase National Park and Island Nature Reserves Draft Plan of Management public consultation - feedback closes November 2022 - with two documents which state 'the Barrenjoey Head Lighthouse buildings are being considered for adaptive reuse for visitor accommodation and other community uses'.
Pittwater Demerger Campaigners To Join Rally Calling For Labor Support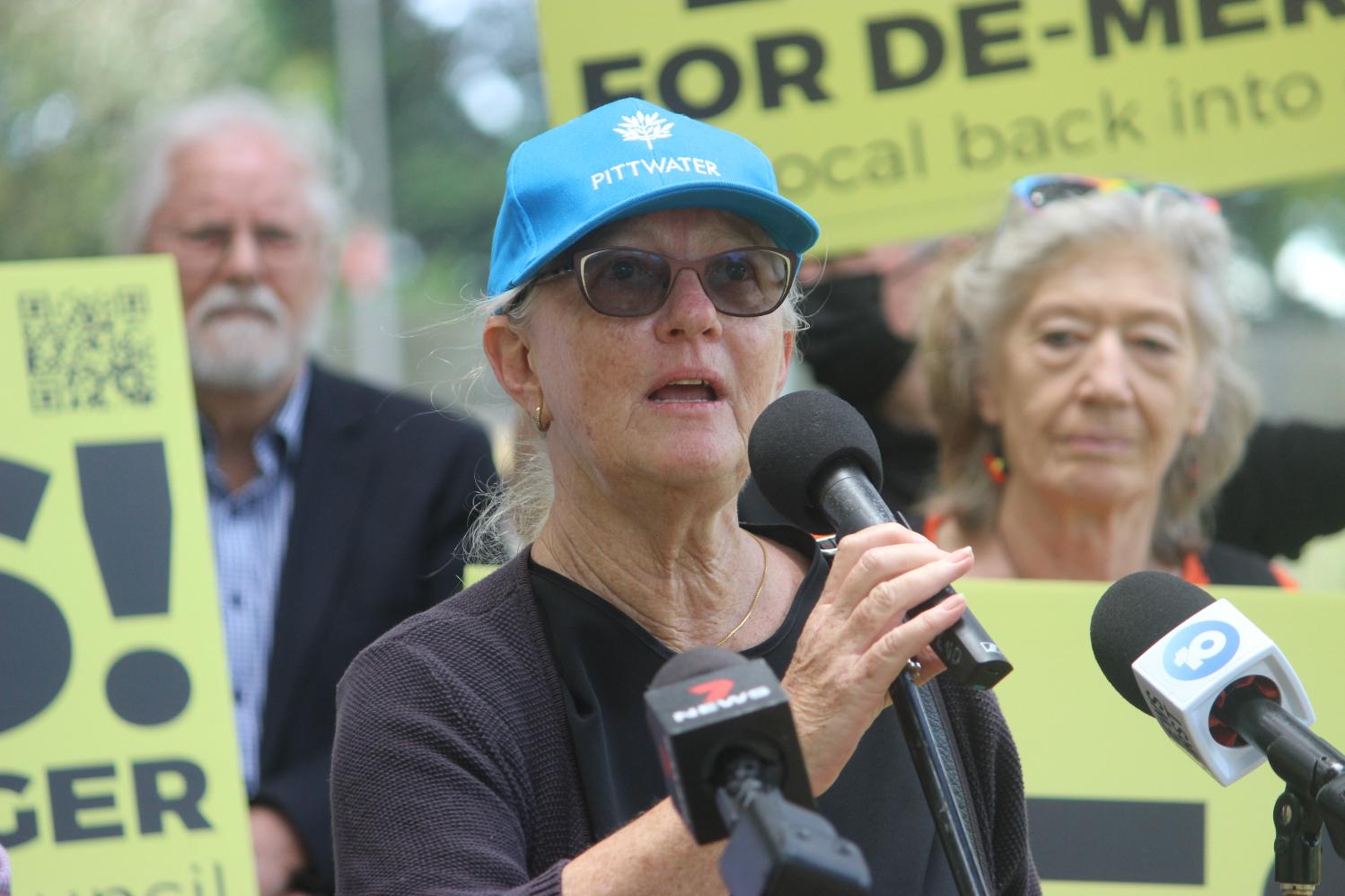 Sue Young at Demerge NSW Alliance (DNA) rally. Photo: Peter Boyle
Pittwater demerger supporters will take their message to the NSW Labor conference this month to encourage the party to retain its support for binding plebiscites in amalgamated council areas.
Demerge NSW Alliance (DNA) chairman Grantley Ingram called on residents from across the state to converge outside the 2022 Labor State Conference at Sydney Town Hall from 8am to 10am on Saturday, October 15, to encourage delegates to maintain the same policy the party took to the NSW election.
"We need to support Labor with sticking to their current policy platform for a plebiscite on amalgamations, and importantly, the plebiscite must be based on the former council areas if we are to restore democracy," Mr Ingram told Pittwater Online News.
"We have attendees planning to join us from across the state.
"Even if you're not welded onto the demerger idea, we need to make clear that merged councils are not delivering for their communities."
Former Pittwater Councillor, Vice President and Save Our Councils Coalition and DNA member Sue Young encouraged Pittwater residents to attend the rally - organised by DNA and the Inner West based Residents for Deamalagamation.
"Come and join me representing Pittwater outside the Labor Party conference to ensure they maintain their policy for communities to have their democratic right guaranteed in binding demerger plebiscites for former council areas," Ms Young said.
"Let Labor know this issue will be a vote-winner at the state election next March."
Protect Pittwater chairman Bob Grace emphasised the loss of democracy incurred when the NSW Coalition government dismissed Pittwater councillors and formed Northern Beaches Council, by merging the Warringah, Pittwater and Manly Local Government Areas.
"Northern Beaches Council doesn't work in the interests of our community," Mr Grace told Pittwater Online News.
"It's too big. We have only three councillors representing us from a total of 15, making decisions for Pittwater. And they can be outvoted on anything.
"Please join me at the rally on October 15 - we must get our council back."
Mr Ingram said the promised savings and improvements from the forcibly amalgamated councils had not been realised.
Issues such as land use zoning changes, rate increases in some cases by more than 100 per cent, financial management and diminishing services were common across merged councils.
However, the announcement in August by NSW Local Government Minister Wendy Tuckerman to demerge Cootamundra - Gundagai Regional Council had changed the demerger outlook across the state, he said.
Residents Rally For Koalas At Manly On Save The Koala Day: Calls To Prioritise Wildlife, Save Habitat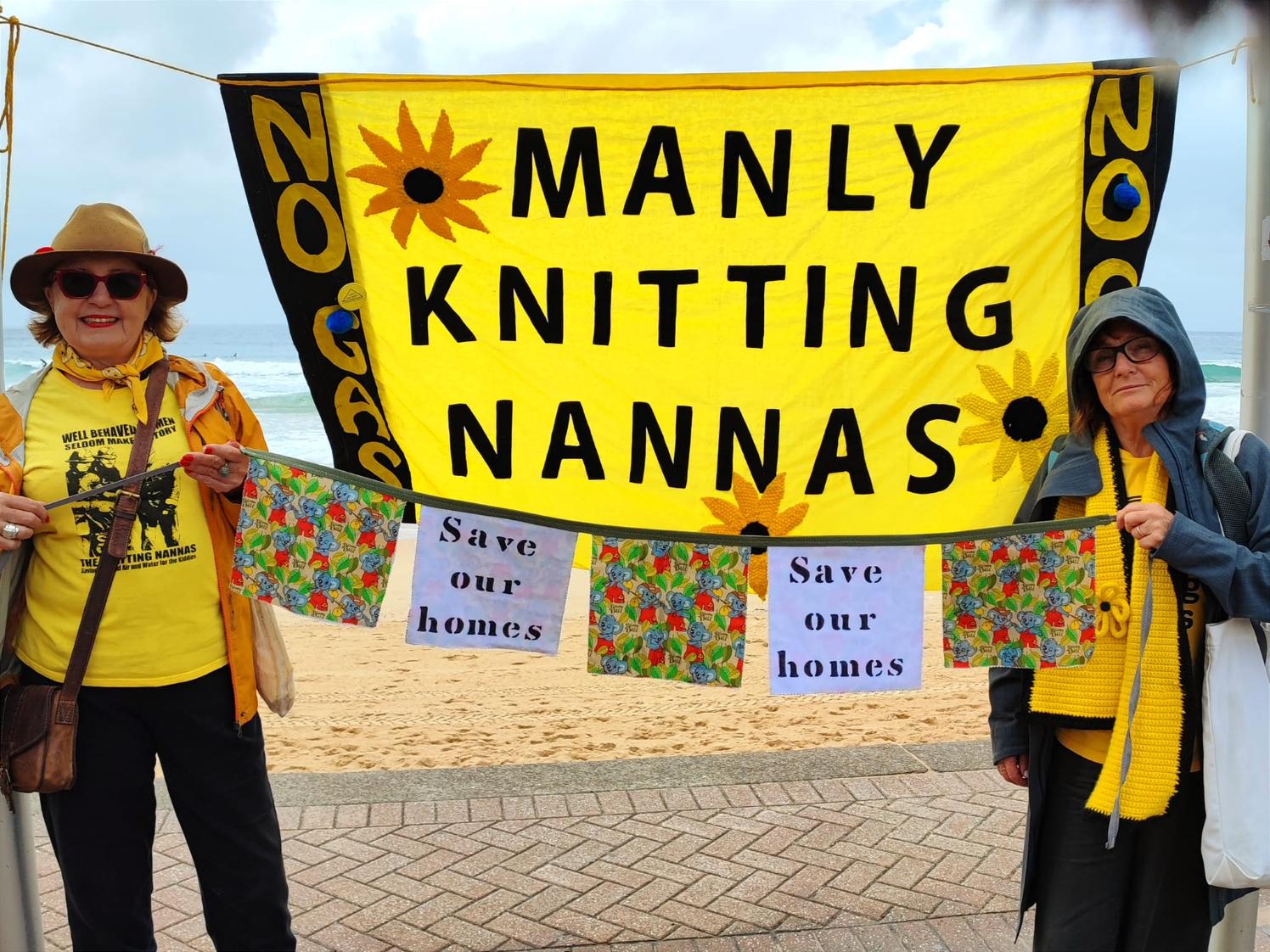 photo by and courtesy Brian Mahony
Residents fighting for the survival of koalas braved wet weather on Friday September 30th to attend a Manly rally calling on NSW Environment Minister James Griffin to save the endangered species from extinction.
The rally, organised by six environmental groups including the Humane Society International, the Bob Brown Foundation, Animal Justice Party, Save Sydney Koalas and Save Manly Dam Catchment Committee, was attended by about 50 people.
Organisers said that koalas had been declared endangered - this year - after an estimated 60,000 were burnt alive in the Black Summer bushfires and an increase in land clearing in NSW by 60 per cent since 2017.
"After koalas were (finally) listed as endangered – our Environment Minister and Member for Manly still says and does nothing!" the organisers said in a statement on Facebook.
''James Griffin should do his job and place native flora and fauna at the forefront of all decisions made.''

Members of Northern Beaches and Manly Greens, including Northern Beaches Councillor Kristyn Glanville, and Pittwater's Knitting Nannas joined the rally. Others included Councillor Matt Stellino from Campbelltown Council and Save Manly Dam Bushland chair Julia Walsh.
Manly residents joined the rally as it marched to NSW Environment and Heritage Minister James Griffins' office.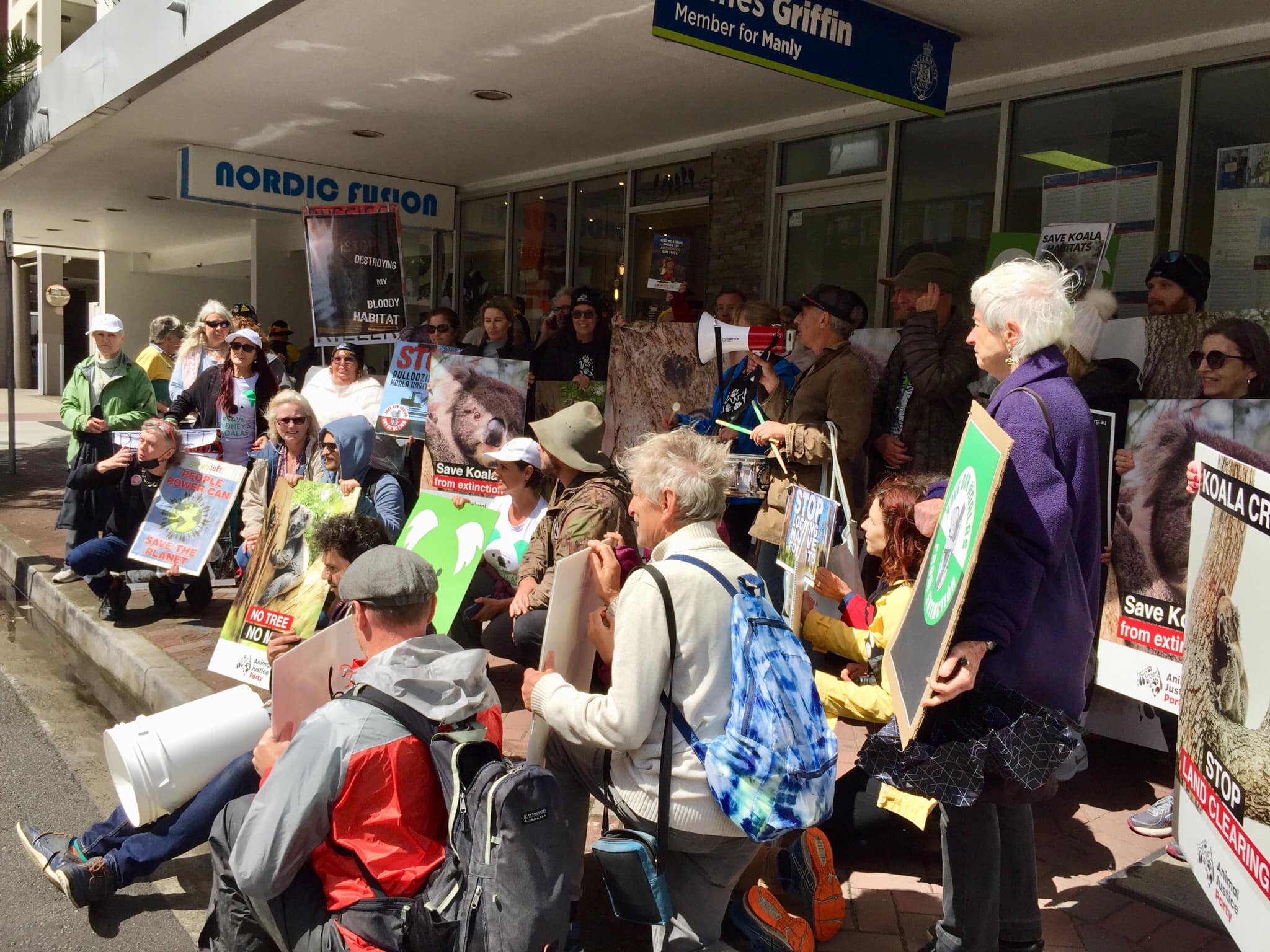 Animal Justice Party Northern Beaches Regional Group: Facebook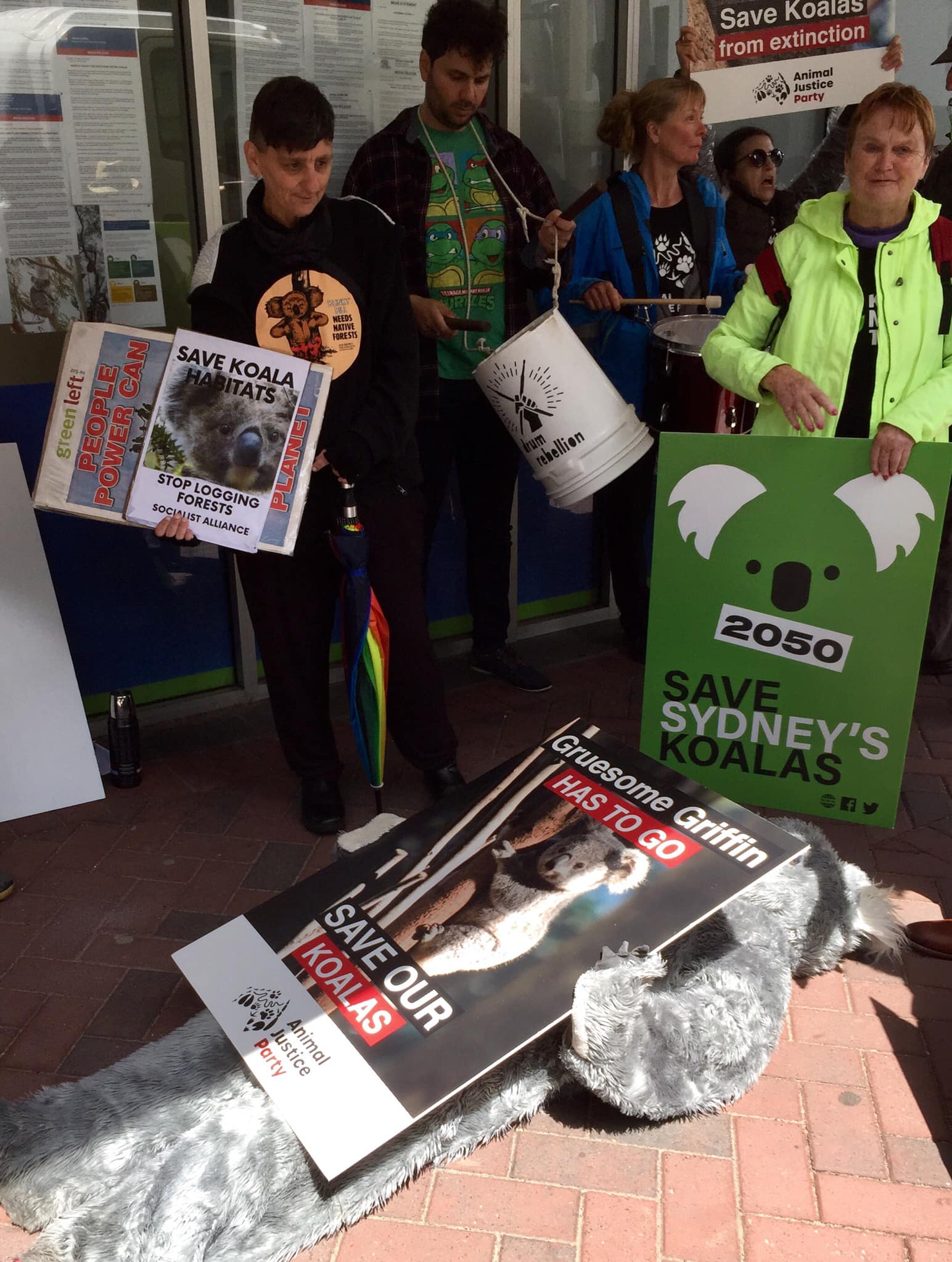 Animal Justice Party Northern Beaches Regional Group: Facebook

NSW Greens MP and koalas spokesperson Cate Faehrmann said:
"It's indicative of how much people in NSW love koalas that dozens of people today braved the weather to call on Minister Griffin to do more to save our koalas. With an election less than 6 months away you can bet we'll be keeping the pressure up.
"Koalas were all but wiped out in the Northern Beaches thanks to the clearing and fragmentation of their habitat. This should serve as a warning to the NSW government but instead they're allowing a major development at Mt Gilead in southwest Sydney to risk one of the healthiest and happiest koala populations in the state.
"There will be no koalas left in NSW by 2050 if we do not see urgent action. Minister Griffin has a choice to make. He can be known as the Environment Minister who saved our koalas or the Environment Minister who consigned them to extinction."
Ms Faehrmann refers to the NSW Parliamentary Inquiry in 2020 that found koalas would be extinct by 2050 unless governments took urgent action to save them. Later that same year the National Party's contentious Local Land Services Amendment (Miscellaneous) Bill 2020 failed to pass the NSW Upper House and was sent to an inquiry, after Liberal MP Catherine Cusack crossed the floor to refer it to Inquiry.
Multiple threats including habitat loss due to development, disease, global heating and bushfires are placing the species at increasing risk.
The groups have asked residents to sign and share a Parliamentary Petition organised by Save Sydney's Koalas, which needs 20,000 signatures by November 15 to be presented in Parliament.
The petition reads:
Save the Koalas of Sydney

To the Speaker and Members of the Legislative Assembly,

Macarthur's Campbelltown Koalas are uniquely Chlamydia free and the largest recovering Koala population in the Sydney Basin, indeed NSW. The NSW government must stop approving the loss of Koala habitat and corridors in Macarthur (Airds, Campbelltown, Appin and Wilton).

Gilead is the shortest wildlife corridor between the Georges and Nepean Rivers, providing an escape from fire and a pathway to recolonise habitat. Losing Gilead will fragment this local population and push this colony and NSW Koalas towards extinction.

NSW Planning must apply their own Koala protections (SEPP 44 - Campbelltown Koala Plan of Management - minimum 425m wide Koala corridors along creeks & rivers with Appin Road Koala crossings), rather than rely on 'developer Koala reports' to approve (rezone/bio-certify) as they have for Lendlease's Gilead development, and are doing for Walker at Appin and SE Wilton.

The Cumberland Plain Conservation Plan must apply the Chief Scientist's Campbelltown Koala Advice (2020) - min. 450m wide koala corridors, keep EPBC oversight of biobanks and set up an independent Koala Recovery Team to approve Koala management plans.

We ask the Legislative Assembly to:
Declare an Upper Georges River Koala National Park,
Stop the rezoning of Stage 2 of the Gilead development and review the approval of Stage 1 ,
Build five effective Koala crossings on Appin Road and
Implement minimum 450m wide Koala corridors across the rivers and creeks of Macarthur
See https://www.parliament.nsw.gov.au/la/Pages/ePetition-details.aspx?q=fqdTUicl4Yf6sP6t5qV0Vw&fbclid=IwAR1mbNt9FihKLZ_E3H_ThEhz6tf3GtbpisnXYEhzIPAn-w_S89PcgLticHQ
Spring Carnage For Our Wildlife: Out Of Date Data Shows At Least 4000 Local Rescues Annually - Lack Of 'Responsibility' Facilitates Extinctions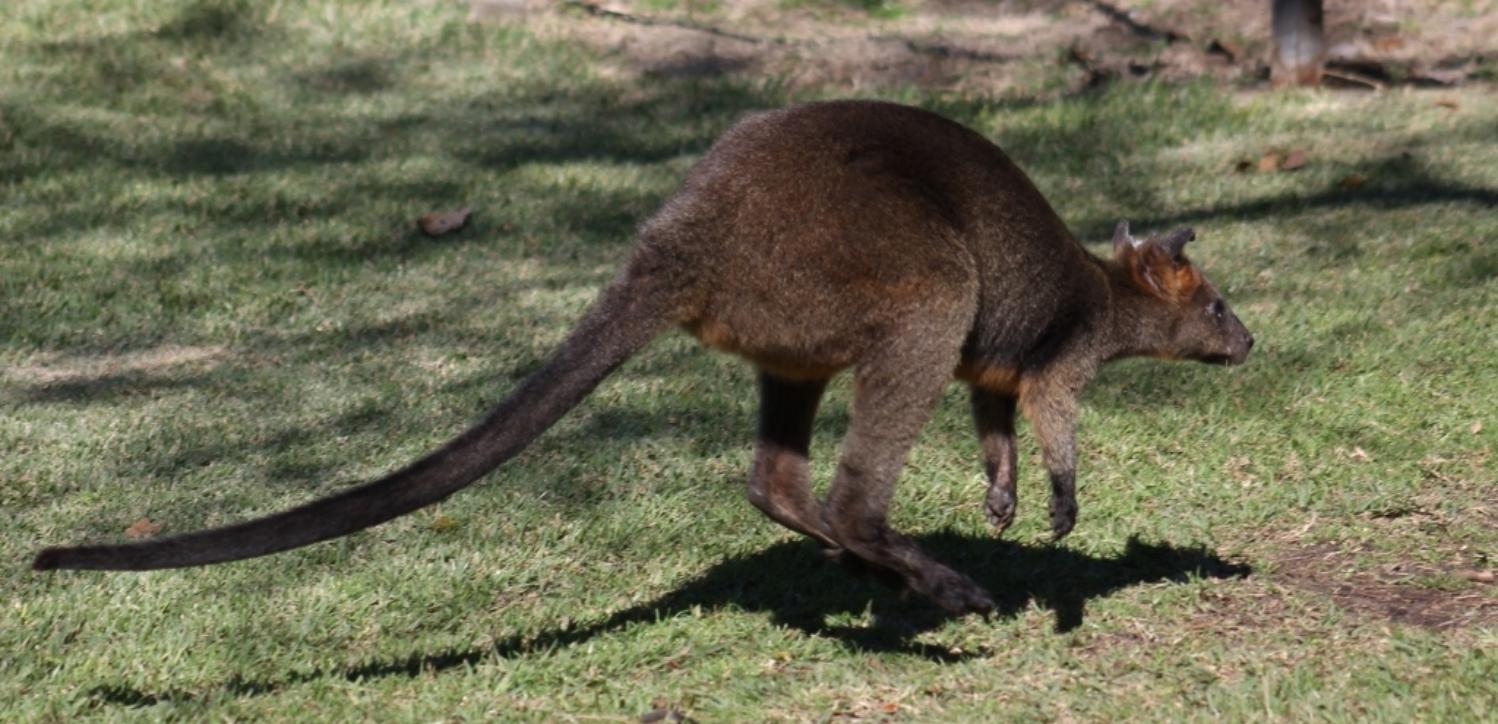 A large tree fell at Taylor's Point tidal pool in Clareville this week with a cockatoo's nest and two babies in it.

A resident Madeleine B called WIRES and

Lyn and David Millett

, along with their grandchildren came to the rescue and installed a new handbuilt nest in a nearby tree for the youngsters.
The incident points to how much wildlife local volunteers attend to each Spring.
Data kept by the NSW Environment Department, although only listing incidents from June 2013 to June 30 2020, shows that
28,542
wildlife animals
have been rescued in our area
between June 2013 and June 30 2020. That's well over 4000 each year. Of these 41 were threatened species (504 threatened animals rescued - only 111 threatened animals released).
The Central Coast had 34, 385 rescues during the same period.
Across NSW in this same 7 years of data collated
608,333
wildlife animals have been rescued - well over 86,000 each year. Of these
reported
rescues only 152,086 have been released. Of that total 39, 526 were threatened species with 8, 625 of those released.
This data predates species such as Koalas being listed as endangered - a fact that does not stop their habitat being destroyed for profit, as shown in recent reports in Sydney's southern suburbs where the NSW Department of Planning's 'plan' is to effectively
create a tree museum
. While developments in the same area proceed, there are still no effective fauna crossings or exclusion fencing in place where this carnage is taking place every single night.
The available data shows 10,123 wildlife animals were rescued due to dog and cat attacks. Ringtail possums are most frequently the victims. Reptiles, your garden goanna for instance, came second, while birds are also killed by dog and cat attacks - Mammals; 3,896, Reptiles; 3, 860, Birds; 2, 347.
Most of these die as a result. Puncture wounds, the violent shaking of wildlife by a dog or cat, kills them.
Our area had 1,191
reported
victims of dog and cat attacks during the 7 years of data made available, only 307 animals were released.
Of these 267 were dog attacks with 59 recorded in 2017/2018 and 48 in 2018/2019. Cat attacks accounted for 584 of victims.
Collisions with cars also tops the NSW data for wildlife rescued that then dies as a result of this collision - 62, 650 taken into care, only 10, 850 released.
This data is not only not up to date, it stems from that made available by wildlife rescue organisations and volunteers in places where there are actually people on the ground doing this work. Not every place has the people, knowledge and facilities devoted to the rescue and rehabilitation of wildlife. As well,
almost 50% of that reported is excluded
.
A 2021 study ''Trends in wildlife rehabilitation rescues and animal fate across a six-year period in New South Wales, Australia'' states:



''This study draws on

469,553 rescues reported over six years by wildlife rehabilitators

for 688 species of bird, reptile, and mammal from New South Wales, Australia....

Of the 364,461 rescues for which the fate of an animal was known, 92% fell within two categories: 'dead', 'died or

euthanised

'

(54.8% of rescues with known fate) and animals that recovered and were subsequently released (37.1% of rescues with known fate).




''In total, there were 872,087 records reported during the six-year (2013–14 to 2018–19) study period. Just over 97% of these came from three animal groups–birds, mammals, and reptiles.

Of the total number of records,

402,534, (46%) were excluded

from the descriptive analysis because they: a) did not contain any information about the animal, or the animal's identification was ambiguous and could not be placed within a group (e.g. an 'unidentified animal'); b) contained only sightings of animals and were not attended to in some way by a wildlife rehabilitator; c) were records of amphibians (373 records) or non-vertebrate fauna (e.g. spiders, insects, etc.); d) were non-avian marine vertebrates such as whales, seals, sharks, rays, fish etc; e) were reported as floating, drowned, or washed up animals (deemed an ambiguous cause for rescue, n = 48); f) contained both an 'unknown' cause for rescue and an 'unknown' fate; or f) were an introduced or spurious species (e.g. extinct, or out of known range). These exclusions resulted in a dataset for descriptive analysis of 469,553 records i.e. 54% of the initially reported amount.''
This study indicates the local amount of wildlife rescued locally is twice what is officially on record.
Atop of this, most of the wildlife rescue and rehabilitation services that exist locally have done so for far longer than six years.
WIRES was founded in 1985. Sydney Metropolitan Wildlife Services Inc (Sydney Wildlife) was formed in May 1997.
T
hese figures also do not take into account what is called 'roadkill' of wildlife; that found dead.
A
2011 paper
, again 11 years out of date, by Dr Daniel Ramp of the School of Biological, Earth & Environmental Sciences at the University of New South Wales, '
Sharing the environment: Counting the cost of wildlife mortality on roads', states;
''

For wildlife, roads have three major impacts on populations. Roads can form barriers to movement, fragmenting populations and isolating them from resources and mates. They can alter the structure of populations adjacent to roads where road effects lead to avoidance. They can also cause mortality of animals as a result of collisions with the vehicles that travel on them.




The most widely publicised figure of roadkill within NSW is that produced by NSW WIRES in conjunction with Macquarie University. Their figure of

7,000 animals per day in NSW

(or 2.55 million animals per year) was derived from six weeks of data collection over 199 km of road. It is likely that this figure is a good rough estimate as data we have recently collected puts it in the same ball park, although for some "hot spots" like the Snowy Mountain Highway between Tumut and Talbingo, our figures for this area are double. Given the large degree of spatial and temporal error that must be associated with estimating state-wide or even nation-wide totals from these small amounts of data it is clear we must obtain more high quality spatial and temporal data of collisions before we can be confident of our predictions. We really must strive to improve our knowledge of roadkill if we are going to take serious steps towards reducing the carnage.''
Our wildlife is not considered unless a DA needs to raze their homes for developments, and then that is simply allowed via offsets.
A 2018 released report by WWF found that
tree-clearing killed more than 87 million animals in New South Wales between 1998 and 2015
– and this figure is likely rising.
Then there is the estimated 3 billion animals killed during the 2019-2020 bushfires.
All this has
prompted
the question, locally: What can be done?
In May 2015 the
New Zealand
government
passed
The Animal Welfare Amendment Bill
. Although this Bill falls short of stopping people from hunting wild animals, it does recognise that animals are sentient beings and that they can experience both positive and negative emotions, including pain and distress. Anyone who has seen an animal mourning a dead partner bird, baby possum or wallaby has long known this is true.
In August 2022 a resident witnessed all 3 of new masked lapwing plover babies dying as a result of
no one being responsible
or allowed to help them. The bereft parents were then driven from where they waited, again witnessed, as a man walked his dog back and forth and back and forth through the small patch of green of their former historic range until they took to flight. He was grinning as he did it.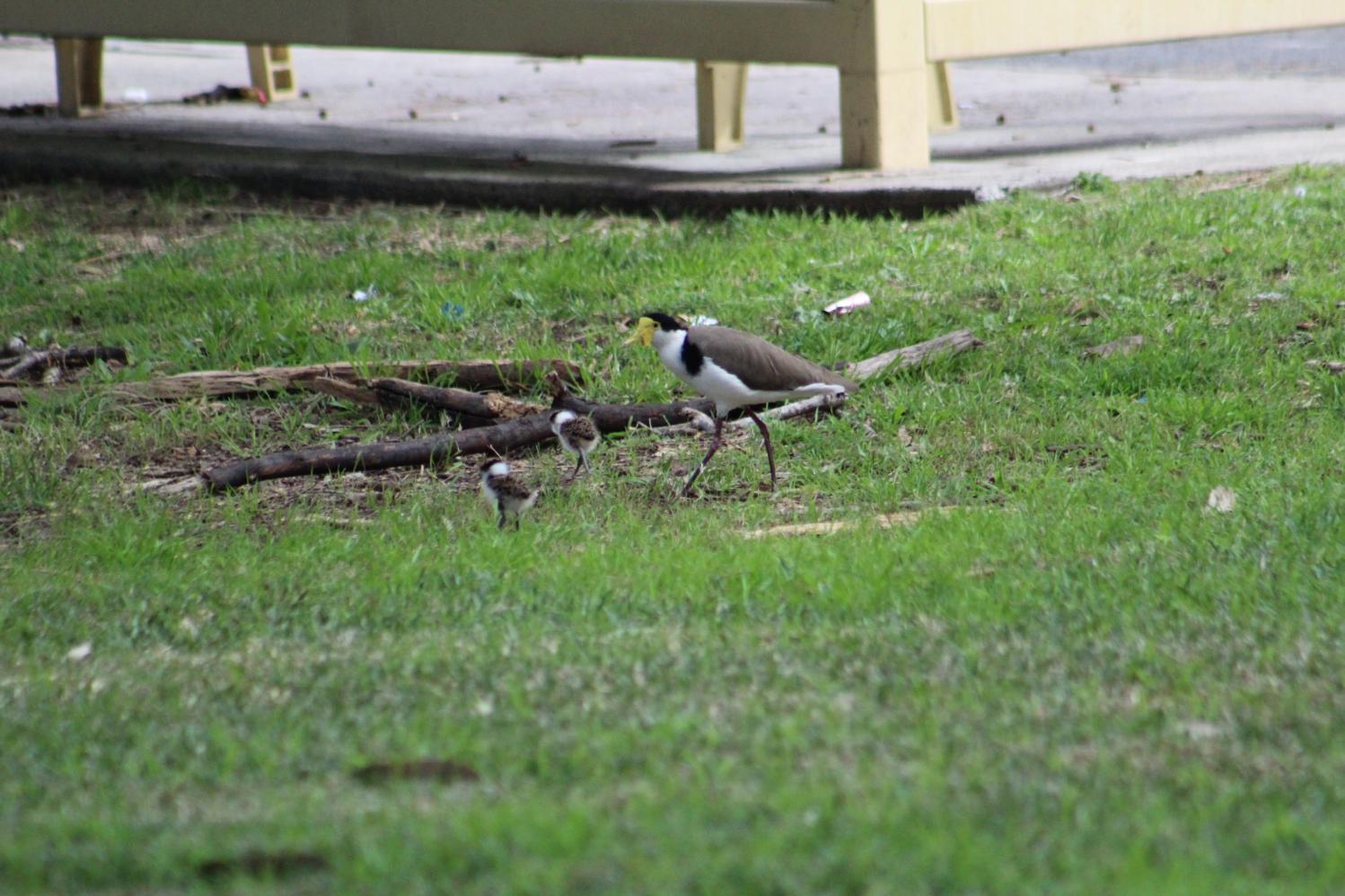 This is just one local family, living in the only place they can live, that as been destroyed this Spring right here - first through the Council 'not being responsible for wildlife in this area' when contacted for help - as it is in other Council areas; all list contacting volunteer wildlife rescue organisations and their people to get help, second through there being no effective amount of rangers across the huge area they must now patrol being able to respond quick enough to stop the killing, and thirdly through the amount of dog owners living locally with a 'the law does not apply to me' practice that goes unchallenged and becomes more brazen. Dog attacks on wildlife and people in our area has become a serious problem.
The Council recently invited feedback its 'Open Space and Outdoor Recreation and Action Plan' the bulk of which was their plan to formalise illegal bike tracks into wildlife habitat areas. The proposal within the plan to authorise mountain bike trails in Ingleside Chase Reserve has already been fiercely opposed.
The 'feedback' invited for a plan to allow dogs offleash on beaches, where shorebirds live and eat, is similarly viewed. The Council has not only set itself up as the Proponent but also the determining authority.
Surveys for migratory birds (and other wildlife) were carried out at both subject beaches on only four separate occasions last December and January - so don't account for wildlife at any other time of year. In doing so the REF presented as stating this can go ahead does not reliably assess whether wildlife visits these areas outside this midsummer period. Further, the report stated that "the presence of dogs was observed at both Activity Areas" during observations. The consultants would not have seen any wildlife at these beaches during this period because wildlife would be scared away - so any data collected would have been unreliable. Given that it's illegal for dogs to be present on these beaches at any time, and as the surveys went ahead without first ensuring dogs were not present - and had not been for some time, how reliable is any data in that REF?
As dogs are still sighted on the two proposed areas on a daily basis, as well as offleash everywhere across the LGA, Council's allocation of rangers to this problem have already failed to prevent unauthorised activity and residents state it is absurd for Council to suggest compliance with mitigation safeguards are a reasonable management tool into the future.
Although many are opposed to the trial on environmental and procedural grounds, apparently the trial will proceed regardless of its impacts.

Council's responsibility, as stated under the Local Government Act, to 'to conserve biodiversity and maintain ecosystem function' and 'to maintain the land, or that feature or habitat, in its natural state' and 'provide for the restoration and regeneration of the land' could offset some of this carnage by supporting the many bushcare groups in Pittwater whose volunteers work to restore the reserves where wildlife lives.
However, the Pittwater Natural Heritage Association's Spring 2022 Newsletter released this week provides a summary of PNHA questions and NBC responses from their September 16, 2022 Teams meeting with council staff that does not match local aspirations for these areas.
An extract:
PNHA: We heard that Council's bush regeneration budget had recently been increased. Is that a one-off or will it be on-going? Can we have a breakdown of the $250, 000 spent in Pittwater? What is the amount of funding allocated to the Council nurseries?
NBC: Not known if that funding will be on-going. Figures recently reported in Pittwater Life were inaccurate. The reserves (mostly in Pittwater) to receive the extra funding are:
Bushland Reserves: Bangalley Headland, Avalon, Hillside Reserve, Newport, Allenby Park, Allambie Heights
Riparian areas: Warriewood wetlands (Irrawong reserve), Narrabeen Creek, South Creek, Dee Why Lagoon.
Dunes: Avalon Dunes, Governor Phillip Park dunes.
$200,000 was allocated to set up the two NBC nurseries and $10,000 per year is allocated to run both nurseries. None of this money comes out of the bush regeneration budget. All sites in Pittwater have either had their funding increased or remained the same.
PNHA: When NBC was formed, Pittwater ward was enlarged to incorporate Terrey Hills and Duffys Forest. Was the bushcare budget for Pittwater increased to take account of extra sites in Terrey Hills and Duffys Forest? What about funding for Dunes bushcare?
NBC: There are few sites in that extra area. There has been no decrease in Dunecare funding, but when a new site comes on stream, funding comes out of the existing budget, except if extra funding is requested and approved.
PNHA:
Community engagement could improve. We need more engaging signs at bushcare sites to encourage volunteers. The Mayor's message doesn't mention bushcare. Can we do a weeds display and info stall? What about setting up "Friends of" groups for places like Village Park Mona Vale and Narrabeen Creek?
NBC:
We have no budget for interpretive signs, but we can put signs in some sites. We can have the discussion to prepare a list. The web site has improved. It now has a volunteering and weeds page. A committee has been working on digital platforms, eg Instagram etc. Cooee is being updated. We are doing the best we can with existing resources. We are doing some events, but COVID has had an effect. The recent CEC Open Day was a success. It included a plant give away. Also The Day at the Bay event at Cabbage Tree Bay included a plant give-away. A story on weeds was in the Community Enewsletter. It was the second most read article.
PNHA states;
'

The statement "We are doing the best we can with existing resources" is telling. We don't believe resources are so scarce – the problem is the culture of the NBC and the preference for spending on projects that are popular, ribbon cutting etc.




We consider the real needs of Pittwater's natural environment have been overlooked and under-resourced for a long time.




PNHA members and friends need to pursue NBC on this issue to ensure that extra funding is NOT a one-off.'
Legislation

in place for both local and state government could easily be

amended

to address

the horrifying statistics and lack of localised 'responsibility'.
''The OEH Prosecution Guidelines set out the factors the Department of Planning and Environment – Environment, Energy and Science (DPE – EES; formerly the Office of Environment and Heritage) takes into account when deciding whether, how and in what court to prosecute offences under the legislation it administers.
''The public register of convictions in prosecutions initiated under the National Parks and Wildlife Act 1974 (NPW Act) or the

Biodiversity Conservation Act 2016

(BC Act) and results of civil proceedings before the

Land and Environment Court under the NPW Act or the BC Act

'.'



Analysing those prosecutions listed shows most have been for parking fines given in national parks, along with a few of the same person taking a dog hunting in our national parks. The fines given range from $100 to $800 for that man who just kept on taking a dog into national parks to hunt wildlife.
Community Service Awards 2022 + 2021: Mel And Nathan Wellings - Wayne Lyne OAM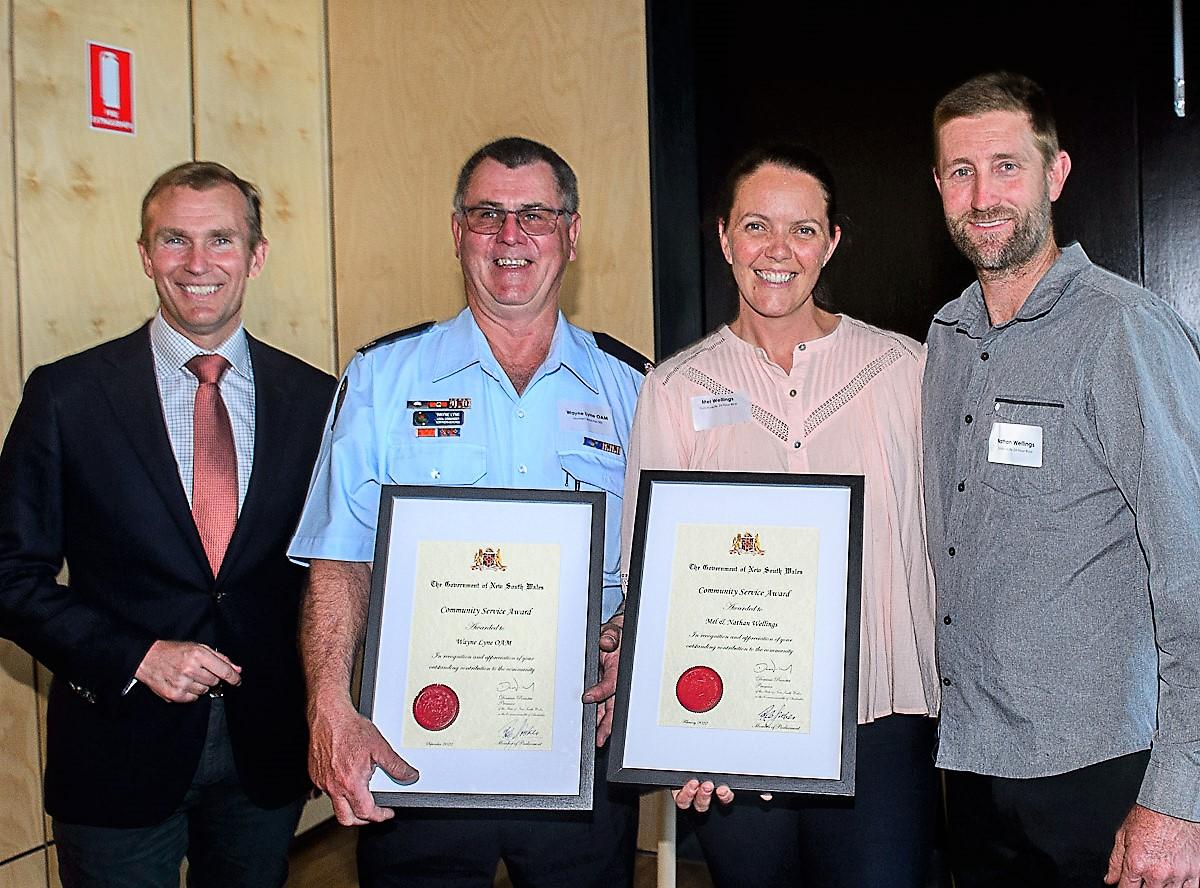 Photo: Michael Mannington OAM
A High Tea hosted by the Member for Pittwater, The Hon. Rob Stokes, was held in the new Mona Vale SLSC Clubhouse's Ocean Pool Room on Tuesday September 27th. Along with this annual event being a chance for community members to connect with community members, especially after two years of doing that remotely, the afternoon tea is when Community Service Awards are announced.
The award presentations, combined due to COVID-19 restrictions last year, recognise invaluable service and contribution to the Pittwater community.
The 2021 award was presented to the founders of the Gotcha4Life 24-Hour Row, Mel and Nathan Wellings. The mental health awareness initiative commenced at Avalon Beach Surf Club in 2018 and has grown into an Australia-wide event held annually on World Suicide Prevention Day.
"This is a brilliant example of a local initiative that has grown into a national success with thousands of participants, Rob Stokes said.
"Mel and Nathan have done an amazing job taking their concept from Avalon Beach to communities right across Australia.
"The event is so much more than keeping rowing machines active for 24hrs – it sparks essential conversations about mental health, brings communities together and funds organisations directly supporting suicide prevention.
"Mel and Nathan are outstanding members of our community and it's fantastic to see their vision continuing to grow and helping make a real difference to people's lives, Rob Stokes said.
The 2022 award was presented to Northern Beaches SES Commander Wayne Lyne OAM. Wayne has been actively involved in the NSW SES for more than 40 years and helps coordinate the emergency response to all natural disasters across the northern beaches.
"Wayne has provided years of exceptional service to our community and is among those who work tirelessly when we're facing our most challenging and frightening situations," Rob Stokes said.
"The SES performs an invaluable role during floods, bushfires, storms, and other major incidents and Wayne has been the steady hand on the wheel during countless local events.
"Our community is often at the forefront of nature's fury – so we're enormously fortunate to have Wayne and his team of talented SES volunteers available to assist," Rob Stokes said.
Wayne is the NSW SES Northern Beaches Local Commander, and has been an SES member for more than 40 years, starting off at the Port Macquarie Hastings Unit.
He has since represented the service at many emergencies, from the 1989 Kempsey Bus Accident to being the SES coordinator for the 1983 major air search for a plane lost in mountains near Wauchope.
Not long after joining, his unit became the primary response road rescue agency so he began training with the Newcastle Police Rescue Squad before becoming a senior rescue instructor a decade later with the State Rescue Board.
He assisted during the 1994 Eastern Seaboard Fires, and the 2019-20 Black Summer in Bega where he led a taskforce of tree fellers and chainsaw operators to help make the area safe for the community.
Wayne rose through the ranks to Deputy Controller at Port Macquarie Hastings Unit, before joining the Warringah Pittwater Unit in 1999 and started training and assessing others in general rescue, chainsaw, flood boat and 4WD.
Wayne became Northern Beaches Local Commander in 2019, after being Warringah Pittwater Unit Commander since 2006.
He has proudly been awarded the NSW SES Long Service Medal 3rd Clasp for 40 years' service, National Service Medal 2nd Clasp for 35 years' service, NSW SES State Medal – Hunter / Sydney Northern Storm 2007, Sydney North Volunteer of the Year winner 2009, Queensland Citation for floods and cyclone 2011, Commissioner's Commendation for Service, Commissioner's Unit Citations for April 2015 East Coast Low, Commissioner's Unit Citation for June 2016 East Coast Low and the Premier's Bushfire Emergency Citation.
Carers Providing Immeasurable Value To Society: Carers Week 2022 Runs October 17-22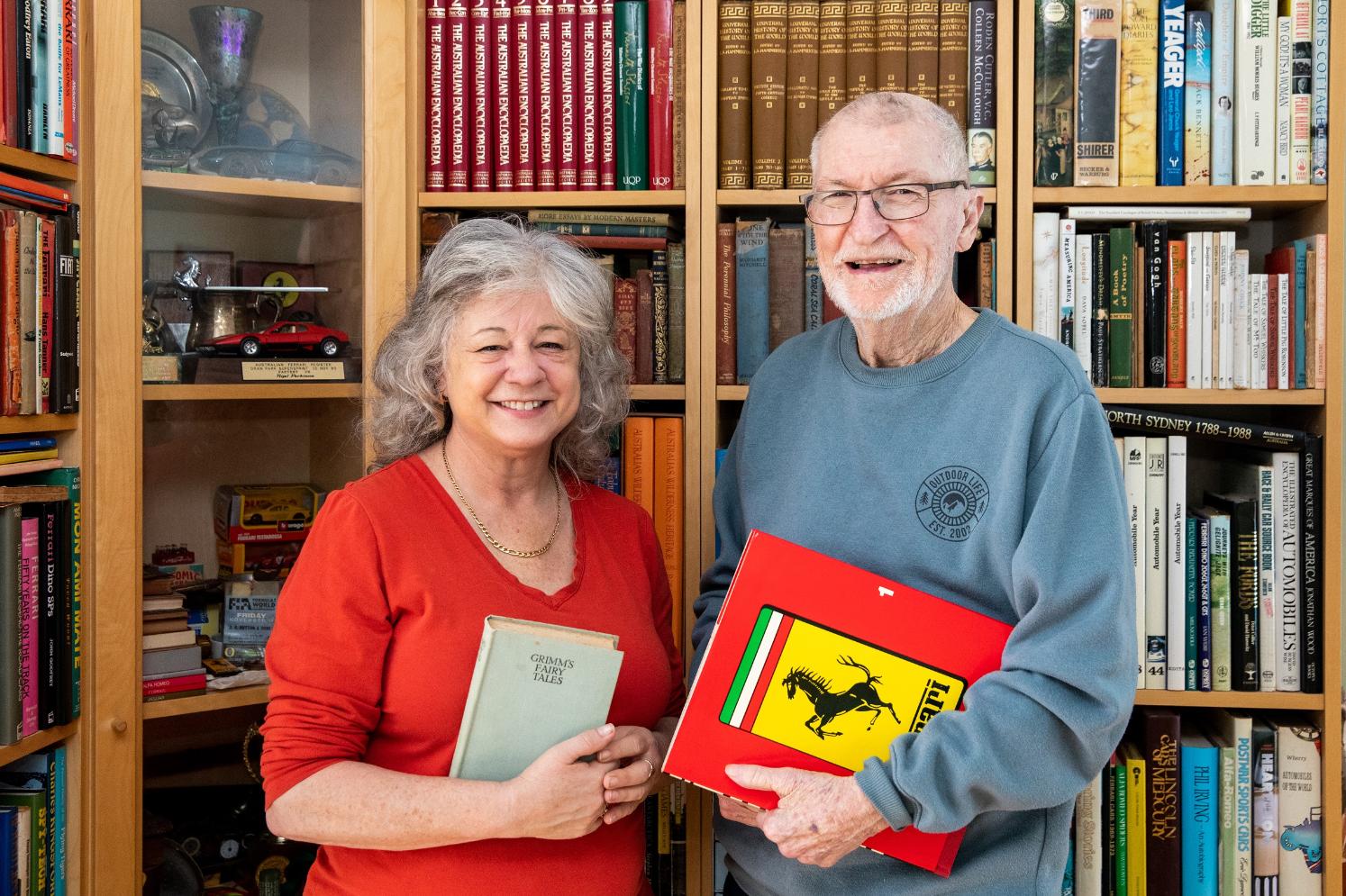 Partners: Sue Heins and Nigel Parkinson
This year, National Carers Week will be held from 17-22 October 2022. Unpaid carers offer a service of immeasurable value to society for free and Carers Week is an opportunity to raise community awareness among all Australians about the diversity of carers, their caring roles and say thank you!

Sue Heins is a carer from the Northern Beaches and is nothing short of a superwoman. But all superwomen with superpowers need help sometimes. Sue works for Northern Beaches Council as a Councillor, has just been elected Deputy Mayor for the second time, and is Chairperson of Women and Children First Domestic Violence Refuges. But her full-time commitment is caring for her partner Nigel who has Parkinson's, and she has definitely experienced carers burnout at times.
"It's always the person who doesn't think they need help and should be able manage everything. I would say, just put that ego to one side and be absolutely honest with yourself. To actually speak to people who know that heart-wrenching part of caring for someone and watching the decline is amazing, life-changing.
Someone needs to walk beside you so you can talk about that experience. I would definitely recommend contacting Carer Gateway to help with that. It's a wonderful service just there to support carers," says Sue.
Shery Sjamsudin is a carer from Hornsby Heights. She cares for her Mum, Tjhin Man Nio, who has arthritis and other chronic health conditions such as high blood pressure, high cholesterol, gout, and renal impairment.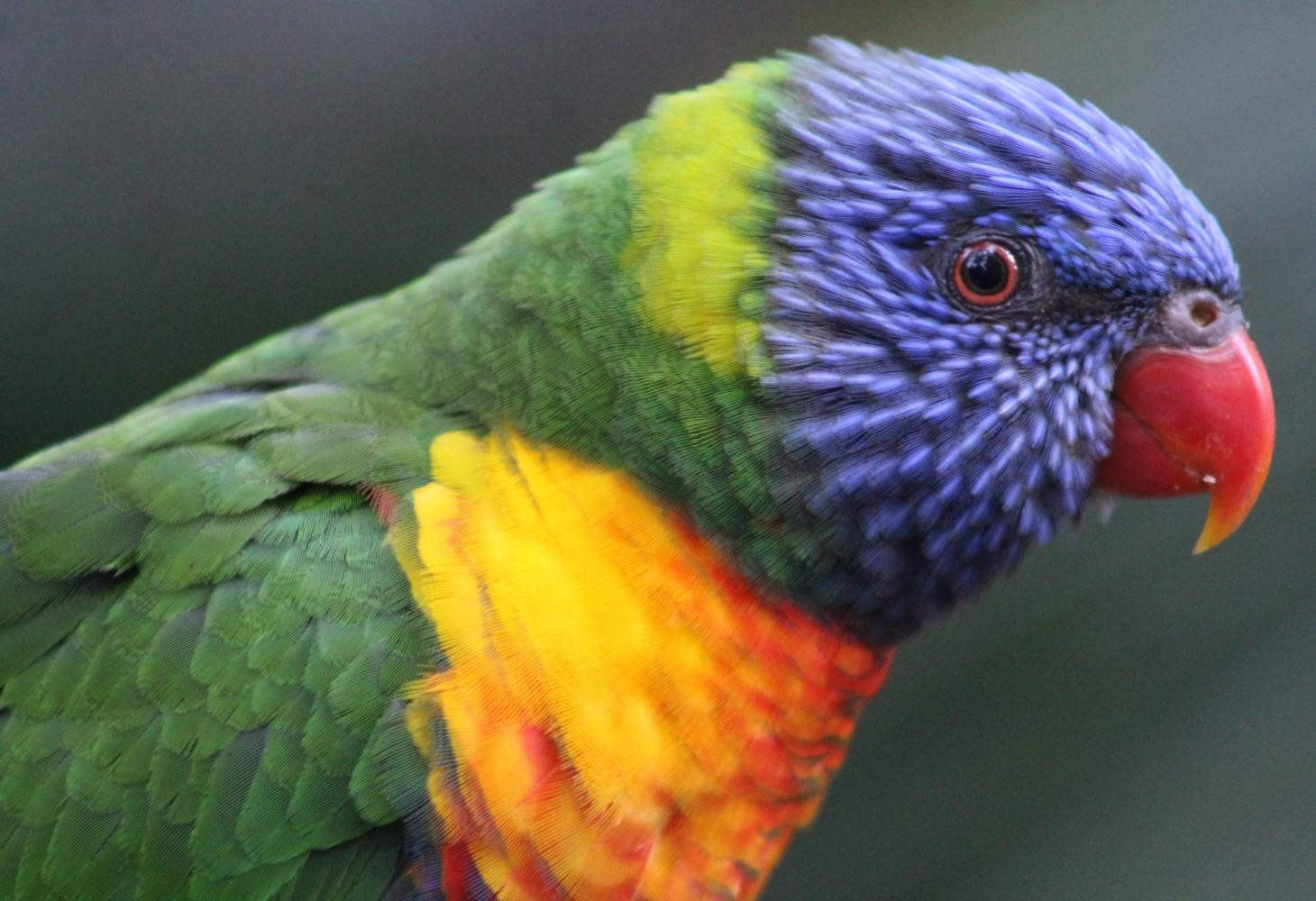 Past Features Archives (pre 2014)
Pittwater Online News was selected for preservation by the State Library of New South Wales and National Library of Australia. This title is scheduled to be re-archived regularly.
Archived Issues (2014 on) may be accessed here: pandora.nla.gov.au/tep/143700