May 7 - 13 2023: Issue 582
Council's Draft Operational Plan and Budget 2023/24 open for feedback until may 21, 2023 - specific projects listed for pittwater include 10.3m for warriewood community centre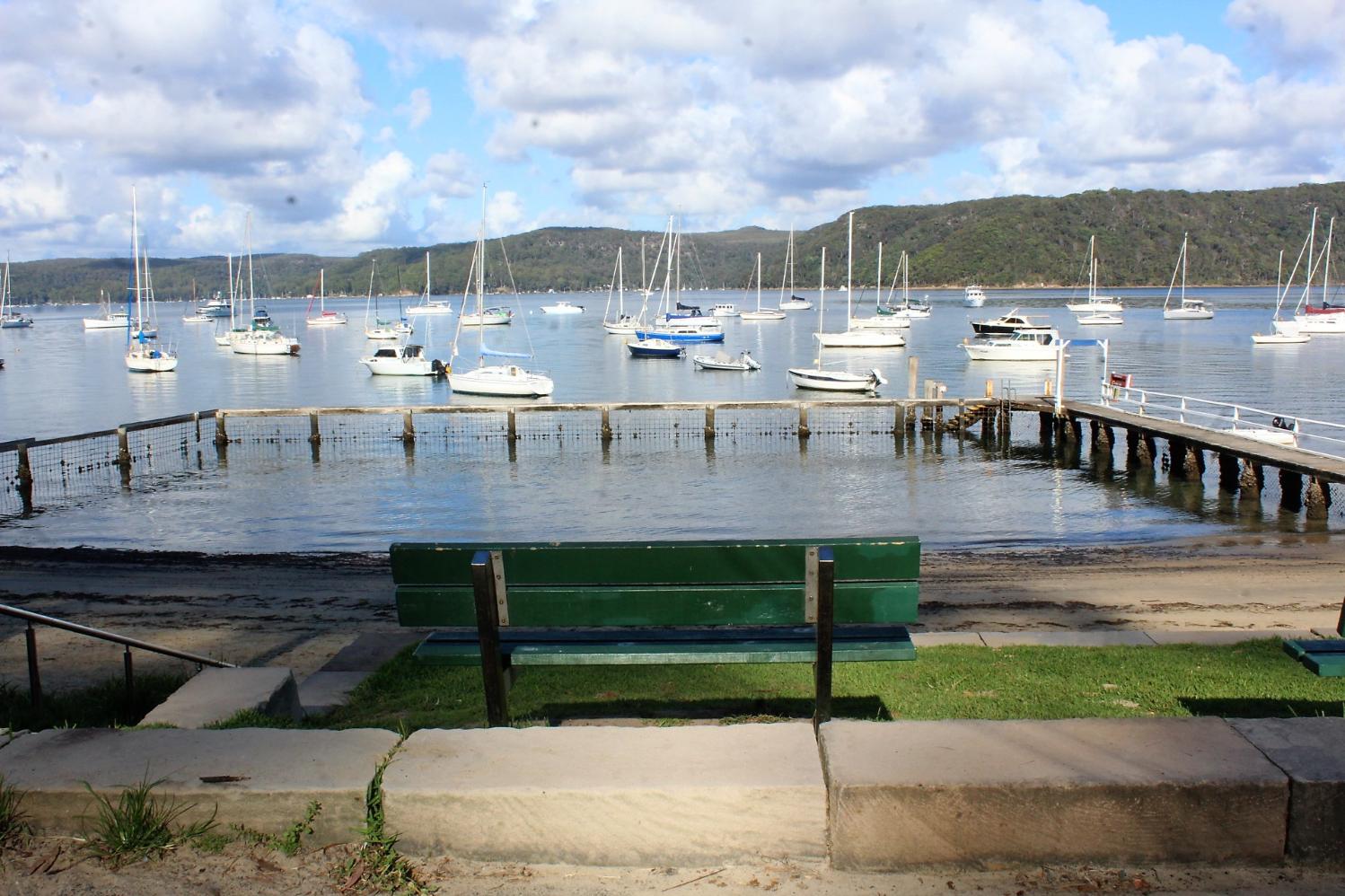 Paradise Beach tidal pool, January 2023
Council has released its draft delivery program and budget for the next financial year, and states it includes $93 million allocated to capital works across the Northern Beaches Council LGA.
The draft Delivery Program 2023-2027, Operational Plan and Budget 2023/24 and revised Long-Term Financial Plan 2023-2033 are now on public exhibition for feedback until Sunday May 21st 2023.
Council's Budget snapshot 2023/24 shows:
Operational:

$433m Income from continuing operations - $404m in Expenses from continuing operations - $26m in Capital grant income = $3.2m Surplus from continuing operations

Capital works:

$50m surface in New works + $43m in Renewal works* = $93m

Loan repayments: $3.3m in Loan principal repayments
*Renewal works are those that return an asset to its 'as new' condition eg. for a road it includes resealing the surface.
Income comes from: Rates and annual charges: $246.5m, User charges and fees: $71.3m, Grants and contributions - Capital: $26.2m, Grants and contributions - Operational: $29.6m, Kimbriki income: $23.5m, Investments: $8.8m, Other income: $9.6m, Gain on disposal of assets: $0.4m
Expenditure is listed as: Materials and services: $170.4m, Employee benefits and oncosts: $151.6m, Depreciation and amortisation: $46.5m, Kimbriki expenses: $23.8m, Other expenses: $10.5m and Borrowing costs: $0.9m
Northern Beaches Council Interim CEO Louise Kerr said Council was investing in vital community infrastructure to deliver on the Community's vision for a safe, diverse, inclusive and connected community.
"Over the coming financial year we will continue to deliver high quality services in a financially responsible way while investing $93 million in capital projects to build a more resilient, inclusive and liveable community," Ms Kerr said.
"Our focus continues to be on delivering on the priorities our community has confirmed including major improvements and repairs, particularly to our local roads that have suffered from flooding and wet weather. As well as improving our parks, footpaths, cycleways and investing in vital community facilities. We really encourage the community to take a look at what we are proposing and let us know what you think. Every comment is important in refining these vital documents which will ultimately benefit the community."
On January 4th, 2023 the NSW Coalition State Government announced a '$500 million boost' to help metropolitan and regional councils tackle the mammoth task of repairing the state's road network, following months of extreme weather events. Funding under the $500 million Regional and Local Roads Repair Program was available to Local Government areas in both Greater Sydney and Regional NSW. Repair work must be carried out by 31 December 2023.
In March 2023 Northern Beaches Council was allocated a grant of $9,129,774 for repair of a Combined Road Length (km) of 844 under the Regional and Local Roads Repair Program.
However the $133,100 allocated to Control of weeds to maintain natural areas of Governor Phillip Reserve, Palm Beach, does not appear in the budget, despite being announced by the State Government through its Crown Reserves Improvement Fund (CRIF) in March 2023. All that is listed is for 2025/26 and that is 100 k to 'G12: Governor Phillip Reserve masterplan implementation'.
The State Government, just prior to going into the caretaker period for the March 2023 state election, announced the Crown Land 2022-23 funding round outcomes with grants totalling $378,072.00, all of them focussed on controlling weeds, had been allocated to the Northern Beaches Council.

That allocated to Pittwater included:
Governor Phillip Park (Part)
Control of weeds to maintain natural areas of Governor Phillip Reserve, Palm Beach, Northern Beaches.
Grant allocation: $133,100
Hitchcock Park Foreshores
Control of invasive weeds at the Hitchcock Park Foreshore, Northern Beaches.
Grant allocation: $27,000
Beeby Park
Control of weeds at Beeby Park, Mona Vale, Northern Beaches.
Grant allocation: $12,000
Lake Park
Weed Control at Lake Park, North Narrabeen.
Grant allocation: $29,700
Wakehurst Parkway
Weed control along the Wakehurst Parkway, Northern Beaches.
Grant allocation: $24,000

Jamieson Park
Weed control at Jamieson Park, Narrabeen Lagoon, Northern Beaches.
Grant allocation: $22,000
The full list is available in Pittwater Online's March 2023 report, $378,072 Allocated To Council For Weed Control - Governor Phillip Park Gets A Grant This Time: Full Details Of All 11 Sites.
Every 'breakdown' document that states what is to happen in each area also reiterates the Council's plan to ''continue to developing a single Local Environment Plan for the Northern Beaches'' despite widespread opposition to this in Pittwater, the only area to be impacted by this plan, and it having been made obvious the LGA does not need to have one single LEP across the board.
Given the stark differences in the environments of the three former local council areas - built up and cosmopolitan Manly, Warringah, which is slated for over-development all around the Northern beaches Hospital and has a propensity for blocks of oversized and over-height units blocking out the view and sun on all streets, right to their perimeters, the Pittwater community is continuing to ask why the Council is pushing this line and why it continues to advocate for the destruction of the uniqueness and environmental values of Pittwater.
Visit:
Those patiently awaiting the commencement of the build for the Warriewood Community Centre will be pleased that 10.3million has been allocated towards this for the 2023/24 financial year. The second round of community consultation to seek feedback on the proposed concept design for the new Warriewood Valley Community Centre was conducted in August-September 2020.
Then it was stated that ''The new community centre will provide additional space and parking to accommodate the growing Warriewood Valley Community.
Features include:
five multi-purpose halls suited to a wide range of sport and recreation activities
two multi-purpose meeting rooms
a community lounge room, providing a safe and accessible space
large covered outdoor spaces which overlook landscaped gardens
modern and accessible amenities, including showers and lockers
multiple and adaptable kitchen facilities.''
At this stage, Council has stated construction is planned to commence in May / June 2023. The proposal includes the removal of 30 of the grand old trees on the site although the Council has stated it will plant 63 native canopy trees as replacements.

At its October 2020 Meeting Council reported to the Councillors the estimated cost to construct the Warriewood Valley Community Centre is $11.5 million, inclusive of costs incurred to date for design and investigations.
The October 2020 approved funding to date listed:
Warriewood Valley Contributions Plan (WWV 7.11 Plan) $4,789,699.00
Depreciation $ 73,692.00
Forecast Budget for 2021/22:
Depreciation $3,100,000.00
Additional funding to be proposed in the 2021/22 budget:
Northern Beaches Section 7.12 Contributions Plan $1,751,301.00
Working Capital $ 900,000.00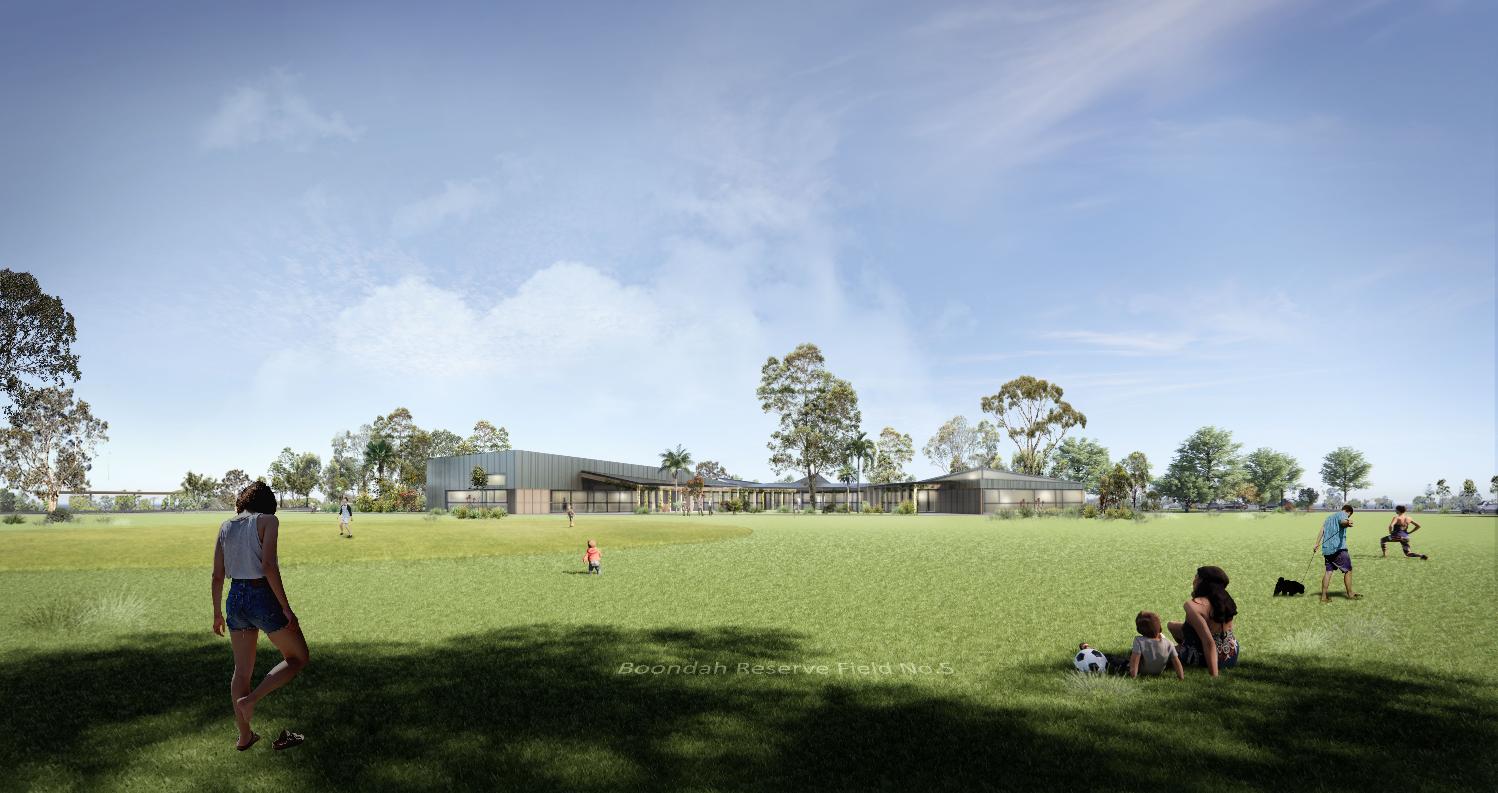 Concept Design - WVCC View from Boondah Reserve - Artist Impression
A breakdown of what is stated to be happening in the Pittwater area runs below, some of which has appeared in previous draft budgets, for example, the $971,000 for a new footpath, kerbs, gutters and drainage, in length 725m, along the eastern side of Barrenjoey Road, North Avalon between Careel Head Road and Currawong Avenue.
This was slated for a commencement build date of January 2023, however Transport for NSW required Council to undertake extra drainage works to reduce flooding along the section and as a result the Council drew new plans and has advised those living alongside this road that there will be a footpath but no kerb and guttering and only minor drainage works. Bollards will be put in place along sections where cars may continue to pull off the road at random and into and on to pedestrians, including the many schoolchildren who walk this section on their way to school.
Council's contractors will need to renew the ends of 41 driveways that meet the new footpath and 1 slab for bus-stop at Careel Head Road as part of these works and 3 sections will require a retaining wall alongside embankments, in 3 x cement or cinder blocks high in masonry blockwork. A total of 11 new drainage pits will be built, with some listed as new also being listed as to be 'refurbished', according to the April 2023 updated plans. The footpath will be 1.5m wide up until 724 Barrenjoey road and then 2m thereafter.

The Council states kerb and guttering and any additional drainage work will be deferred until Transport for NSW either provide Council with more funding or undertake the work themselves. The footpath works, those that Council states are funded, are now proposed to commence in May 2023.
Concreting, in 2023, can cost $50 to $150 per square metre, subjective on the levelling required, type of finish used and size of the job. You can pay $200 to $300 per cubic metre. The above works currently work out at $1,264.82 per metre - including the driveways, renewed drainage pits, 3 block high retaining walls in 3 short sections and one concrete slab renewed at the bus stop on the corner of Careel Head and Barrenjoey Roads, and now, the newly drawn plans.

This footpath was first listed in the 2020-21 Budget, as was:
Footpath Program (New)length length in metres
Avalon Beach Avalon Parade New footpath construction 267
Avalon Beach Barrenjoey Road New footpath construction 115
Bayview Annam Road New footpath construction 785
Elanora Heights Elanora Road New footpath construction 325
Narrabeen Pittwater Road New footpath construction 7
North Avalon Barrenjoey Road New footpath construction 725
Newport Crescent Road New footpath design 330
Footpath Program (Renewal)
Avalon Beach Avalon Parade Footpath Renewal 271
Avalon Beach Edmund Hock Avenue Footpath Renewal 27
Avalon Beach Simmonds Lane Footpath Renewal 10
Avalon Beach Whale Beach Road Footpath Renewal 196
Bayview Pittwater Road Footpath Renewal 200
Church Point McCarrs Creek Road Footpath Renewal 103
Mona Vale Keenan Street Footpath Renewal 420
Mona Vale Park Street Footpath Renewal 231
Newport Woolcott Street Footpath Renewal 131
Newport Queens Parade Footpath Renewal 285
Warriewood Jacksons Road Footpath Renewal 300
The footpath 'planning' stage also formed part of the 2022-23 Budget announcements.
A drain that the Council blocked off with barricades last Winter on Careel Head Road still has those in place - no work has been done there yet either. On July 12th 2022 Pittwater Online forwarded images of a dangerous corner at North Avalon on the Barrenjoey and Careel Head Roads to the Office of Rob Stokes pointing out people were crossing over double lines heading north on a blind corner to avoid floodwaters.
Within 2 weeks Transport for NSW contractors were out and had cleared the drain on the west side of the main road to alleviate flooding.
The contractor did state to a PON reporter that they needed to report the drain opposite, on Careel Head Road, to Council as that was root bound, was causing the flooding, and was Council's responsibility to fix.
At 8am on August 2nd 2022 a Council worker erected these barriers around one of the drains. The Council person stated to the Pittwater Online employee who spotted the barricades going up that the work would be attended to as soon as someone was able to do the work.
Saturday May 6, 2023 - barricades still in place around this still unfixed drain
The Grant, under the Get NSW Active program, as worked for by former MP for Pittwater Rob Stokes, also included a further $369,000 for a new footpath on the northern side of Turimetta Street, Mona Vale to complete the missing connection between Mona Vale Police Station and George Mockler House, a strategic walking connection to Mona Vale, schools and the B-Line.
Paradise Beach tidal pool is also slated for a renewal with the design, which is currently among the projects feedback is invited on. Visit: https://yoursay.northernbeaches.nsw.gov.au/paradise-beach-wharf-and-jetty-renewal Feedback closes Sunday 28 May 2023.
In August 2020 the NSW State Government announced grants from its Boating Now Program for local facilities. This included, for Pittwater:
Bilarong Reserve Boat Ramp Improvements, Narrabeen Lagoon, Bilarong reserve Boat Ramp (Claude's Carpark) Narrabeen Lagoon - funding allocation; $60,000
Church Point Commuter Wharf Feasibility Study, Pittwater - funding allocation; $40,250
Currawong Wharf Investigation and Detailed Design, Pittwater - funding allocation; $82,500
Mackerel Beach Wharf Investigation and Detailed Design, Pittwater - funding allocation; Pittwater $70,657
Paradise Beach Wharf Upgrade Design, Pittwater - funding allocation; $20,655
Features of the now open for feedback proposal are:
Widened tidal steps, an external ladder and tie up location on the north side and widening of the wharf deck.
A new internal stainless steel ladder.
Raising the wharf deck and pool walls to keep them above water levels in higher tides.
Replacing the collapsing rocky groyne with a new sandstone block groyne topped with a sand coloured concrete slab. The groyne is proposed to be reduced 2-3m in length and increased to 2m in width.
Maintaining the heritage aspect of the wharf and pool by providing timber decking and timber materials on the upper portion of the structure including a timber waler along the top of the pool walls.
Long term durability of the structure will be achieved by using steel piles surrounded by black HDPE (high density polyethylene) sleeving. Timber fender piles will be used to maintain the heritage feel at the end of the wharf.
New shower and foot tap.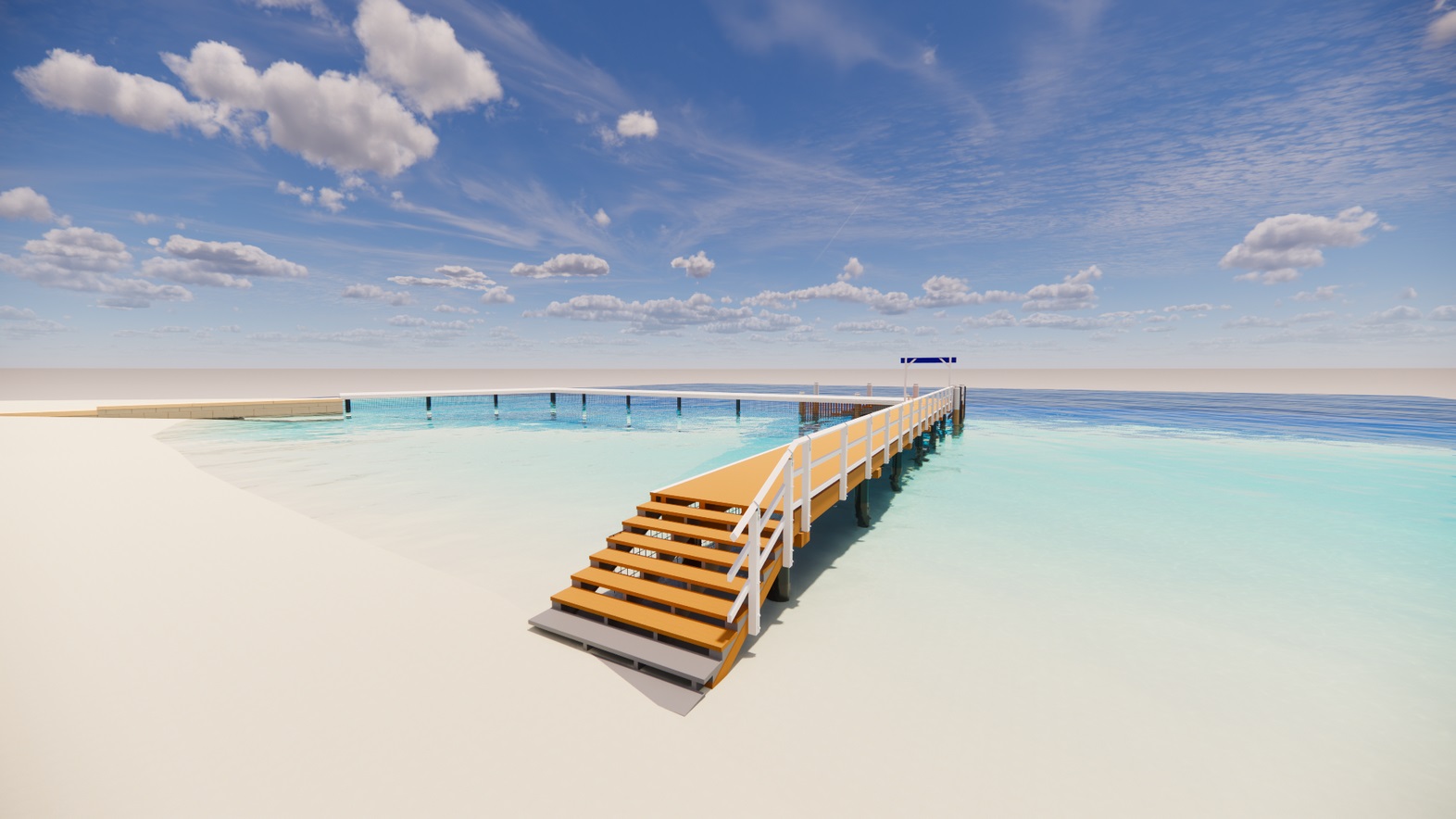 Paradise beach pool design with stairs leading from the beach. Artists impression. Image courtesy NBC
The community is invited to have their say on the draft budget and other guiding documents at Your Say by Sunday 21 May. All documents and a map providing the publicly available 'breakdown' by sections lists are available at: https://yoursay.northernbeaches.nsw.gov.au/delivery-program-2023-2027
Draft Operational Plan and Budget 2023/24 - specific projects planned for these areas are- ;
Elanora Heights, Narrabeen, North Narrabeen and Warriewood:
170m of road resheeting at Narrabeen
Kerb and gutter renewal project at Narrabeen
710m of new footpath Gondola Road, North Narrabeen
Footpath renewal at Devitt Street, Narrabeen
Shared path from B-Line Stop to Boondah Road, Warriewood
Traffic and transport infrastructure at Brands Lane and Macpherson Street, Warriewood
New kerb and gutter works at Boondah Road, Warriewood
Improved access and landscaping at Warriewood Beach
Upgrade of surfaces and lighting at Boondah Reserve, Warriewood
Construction of new Lynne Czinner Park, Warriewood
Playground upgrade Allington Reserve, Elanora Heights
Upgrade of the boardwalk at Irrawong Reserve, Warriewood
Upgrades to North Narrabeen Surf Life Saving Club
Upgrades to Warriewood Surf Life Saving Club
Upgrades to Boondah Reserve and Pittwater Park sports amenities, Warriewood
New Warriewood Community Centre
Collaroy-Narrabeen coastal protection works on road ends and in front of other Council assets.
Bayview, Church Point, Scotland Island, Mona Vale and western foreshores:
514m of road resheeting in Mona Vale
Kerb and gutter renewal works in Mona Vale
New roundabout at Mona Street, Mona Vale
New raised pedestrian crossing at Darley Street, Mona Vale
Road and drainage improvements at Scotland Island
Design for expansion of Church Point Commuter Wharf
Improve drainage and seal car park at McCarrs Creek Road, Church Point
Upgrade of Mona Vale rockpool
Basketball half court at Flying Fox Park
Bayview seawall works and widening of path
Boat ramp and dingy/kayak storage upgrades at Church Point Reserve
McCarrs Creek seawall renewal, Church Point
Seawall renewal at Thomas Stephens Reserve
Landscape and paving improvements at Church Point commercial centre
Commencement of public amenities works at Rowland Reserve, Bayview
Mona Vale Stormwater Outlet Upgrade Drainage Design
Minkara Road Catchment Analysis and Feasibility Investigation, Bayview.
Clareville, Bilgola Beach, Bilgola Plateau and Newport:
650m of road resheeting in Bilgola Plateau
1,110m of road resheeting in Newport
Kerb and gutter renewal projects in Bilgola Plateau and Newport
235m of new footpath in Newport (Bardo Road and Queens Parade West)
Bus stop renewal, including new bus seat at Plateau Road, Bilgola Plateau
Planning for major renewal of Bilgola Beach rockpool
Upgrade of playground at Trafalgar Park, Newport
Upgrades to Newport Surf Life Saving Club
Coast Walk Newport to Avalon, shared path and footpaths
Stormwater works at Prince Alfred Parade, Newport
Palmgrove Road Catchment Analysis and Drainage Design, Avalon Beach
King Street to Bishop Street Drainage Design, Newport
Avalon Beach, Careel Bay, Coasters Retreat, Greater Mackerel Beach, Palm Beach and Whale Beach:
525m of road resheeting in Avalon Beach
Road crack sealing in Avalon Beach
Kerb and gutter renewal projects at Avalon Beach
740m of new footpath at Barrenjoey Road, Avalon Beach
New kerb and gutter works at Palmgrove Road, Avalon Beach.
Paradise Beach tidal pool renewal
Bus stop renewal works, including new bus seat at Ocean Road, Palm Beach
Upgrade Mackerel Beach Wharf
Planning for works at Currawong Beach Wharf
Planning for major renewal of Whale Beach rockpool
Bike Park at Avalon Beach
Lighting at Dunbar Park, Avalon Beach
Pedestrian connection from Avalon Beach Surf Life Saving Club to the village
Lift for wheelchair access at Avalon Bowling Club
Coast Walk Newport to Avalon, shared path and footpaths