February 12 - 18, 2023: Issue 571
Pittwater vulnerable to develop-driven NSW planning regime:
NSW Greens MP Cate Faerhmann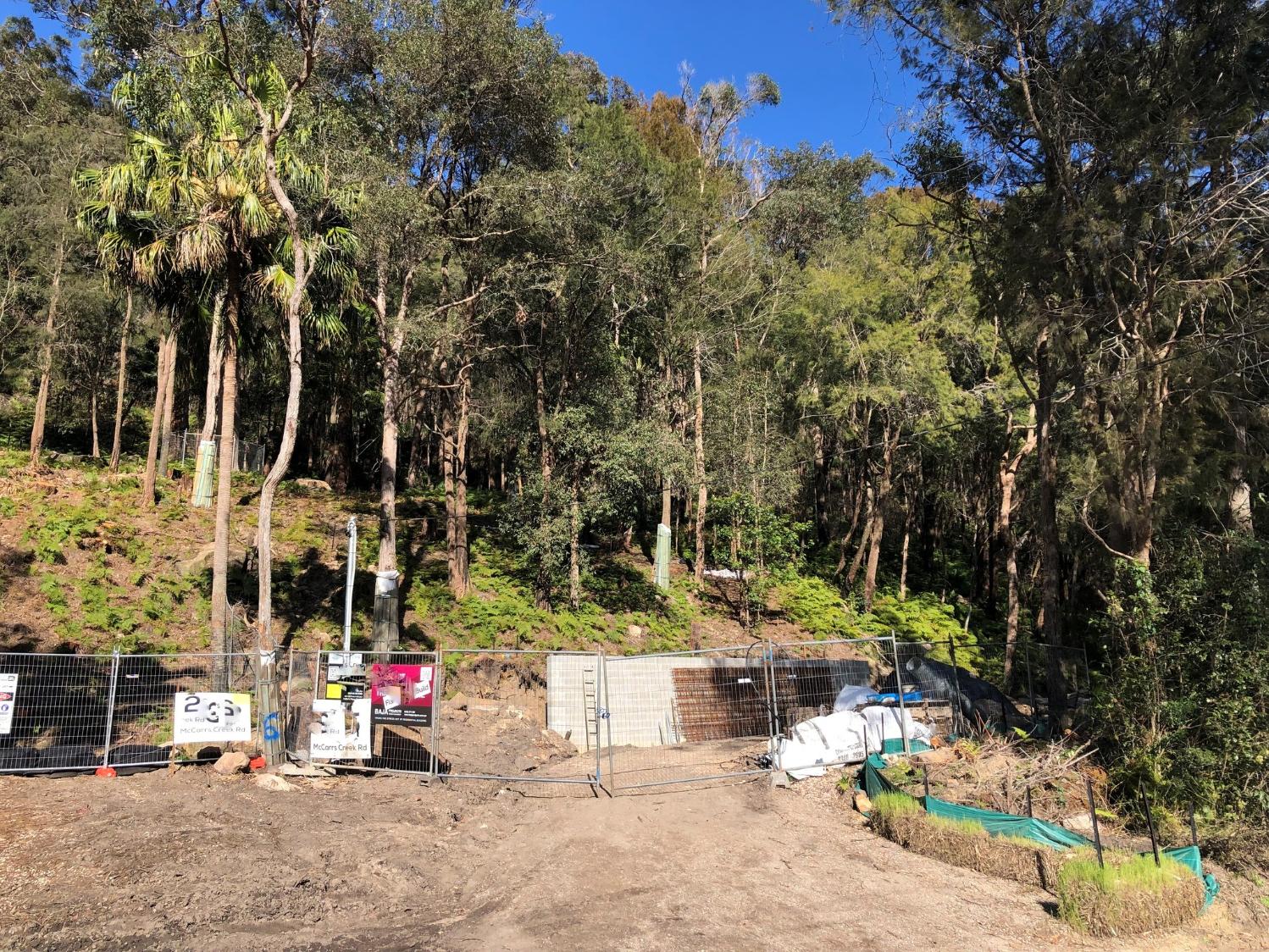 McCarrs Creek Road - 8 blocks in a row sold off, clear felled and run off into McCarrs creek polluting waterways. 130 trees were slated for removal as part of DA's for 3 of these 8 blocks - this was the removal of old growth gums habitat trees. Photo supplied.
Pittwater's spectacular environment is vulnerable to the developer-driven NSW planning regime, NSW Greens MP Cate Faehrmann has told a recent forum.
Ms Faehrmann, who is the Greens Planning spokesperson, condemned the state government's removal of planning powers from local councillors in metropolitan areas about five years ago, and the creation of planning panels to assess development applications.
Currently council staff made most of the decisions but a four person planning panel adjudicated on anything complex or controversial, she said.
The panels were composed from a list supplied by the state government and contained only one local person.
None of its members were elected, the community did not know who they were and couldn't approach them.
"It's a far cry from the days when, if you were elected, the councillors made these decisions and if you didn't like it you could bail them up at the post office and the decision could be rescinded and a better outcome sought," Ms Faehrmann told the Saving Pittwater from the Chainsaws public forum.
"Under the planning panels system, there is no ability for councillors to question or overturn a decision.
"The council cannot make a rescission motion if the panel makes an error or just makes a decision that is clearly not in the community's interest.
"The community can't sack the panel at the next election. They weren't elected and you don't know who they are.
"To top it all off, you pay for it. Planning panels cost councils tens of thousands of dollars each year."
The Greens would return these planning powers to local councillors, under a soon to be released policy for the upcoming state election, she said.
"We will restore the powers to councils without removing any of the checks and balances, including that councillors will not be able to be on council if they have real estate or developer interests," she said.
The standing room-only "Saving Pittwater from the Chainsaws" forum was organised by Northern Beaches Greens and took place at the Nelson Heather Centre on February 2.
Other speakers also addressed the planning crisis in Pittwater that has outraged many residents, with inappropriate DAs being passed and the Draft Conservation Zones Review's proposal to downgrade 3,613 properties from Conservation Zones to Residential Zones in the former Pittwater Council area.
Environment and Planning lawyer James Ryan told the forum Pittwater could legally keep its own planning rules but upgrade environmental protection in the LEP, as part of the amalgamated Northern Beaches Council area.
"No one is saying it's unlawful," Mr Ryan said.
"There's nothing that I've seen in any regulation, direction or edict from the minister that says the Pittwater LEP will become unlawful at any point of time.
"So you can keep your Pittwater LEP – I don't think so, I know so.
"The other thing that Northern Beaches Council could do is to decide that the Pittwater LEP now applies to Warringah and Manly.
"There isn't a [ministerial] directive, there's a policy. If you saw the fine-print, the policy is that you don't have to have a harmonised, single, new LEP; you can just expand one of the LEPs.
"You could just expand the Pittwater LEP. The Pittwater LEP is the one that should apply, all the way down to the ferry at Manly."
Ms Faehrmann agreed the single LEP under development by NBC would homogenise planning rules across the LGA, and water down Pittwater's environmental protections.
"Instead of aiming high, amalgamations have allowed Northern Beaches Council to move to the lowest common denominator," she said.
Palm Beach and Whale Beach Association president Richard West told the meeting that the group had protected the environment there for more than 100 years.
"It's becoming more and more difficult," Associate Professor West said.
"The council is continually passing DAs with multiple non-compliances on height, setbacks, trees and major excavations – we have quarries down at Palm Beach, at Ocean Rd.
"Whale Beach has turned into a disaster. Massive properties are being approved based on merit. Who's merit, merit for who? We don't know! We're not told."
Assoc. Prof. West said the whole of Palm Beach used to be an environmental zone, with 1,500 houses in the small area of Palm Beach and Whale Beach.
"Twenty-five percent are going to become residential zones," he said.
"They haven't defined residential; they haven't told us what they mean by residential.
"To be transparent, when they [NB Council] finally define residential, they need to go back and start the consultation all over again. How the hell can you possibly be expected to comment on the document when they don't even define some of the major criteria?"
Another speaker from the floor, Bayview and Church Point Residents Association president Peter Blanchard, said his area was "another jewel in the crown on Pittwater".
"We've got some pretty sombre examples in our part of the world and, in fact, across the road from where I live," Mr Blanchard said.
"If my wife and I got caught short on this [DA's going through], how the hell do other people keep up?
"We woke up one day and found that seven blocks of land - in a row - had been put on the market by Roads and Maritime.
" … Obviously [as a result of] requiring its public utilities to find budget in some way, they look around, they find some land, and there's a way of making some money."
Mr Blanchard had approached current Pittwater MP Rob Stokes about the sales, but found "he wasn't aware that one of his fellow ministers was making a few quid [for their Department] on the side, selling off a tranche of seven blocks of land".
DAs for three of those seven blocks had already been approved.
"The removal of the old growth forest and the undergrowth – as I say, abutting a virtual rainforest – has started," he said.
"We had some heavy rainfall here the past few days and it was very typical there that these slopes – very steep blocks – and soil of course, because it's bare earth, is running down onto the road, crossing the road, and then it runs into the creek.
"I'd been away for a few days, and I saw this soil colour in the creek.
"I thought it got some sort of growth in the creek, but no, it's actually from across the road and running up McCarrs Creek."
Mr Blanchard noted that no one was viewing the seven blocks and enormous loss of bushland from them overall, rather each was assessed individually.
"These blocks are being clear felled to the teeth," he said.
"This is happening on this council's watch; it is happening on this state minister's watch."
A motion that: "This meeting calls on Northern Beaches Council to retain Pittwater's current Local Environment Plan and its zonings but with increased environmental protections, moving critical provisions of the Development Control Plan into the LEP," was passed unanimously.
Another that: "That this meeting believes that the whole of the Pittwater Local Government Area should be covered by a Conservation Zone, with its definitions upgraded/revised," was passed by an overwhelming majority.
Pittwater Pathways, John Illingsworth, recorded the forum - his film runs below.