October 22- 28,2023: Issue 602
Saving Sydney's Koalas Requires Scrapping the Cumberland Plain Tree Museum Plan according to 25 Organisations: october 2023 update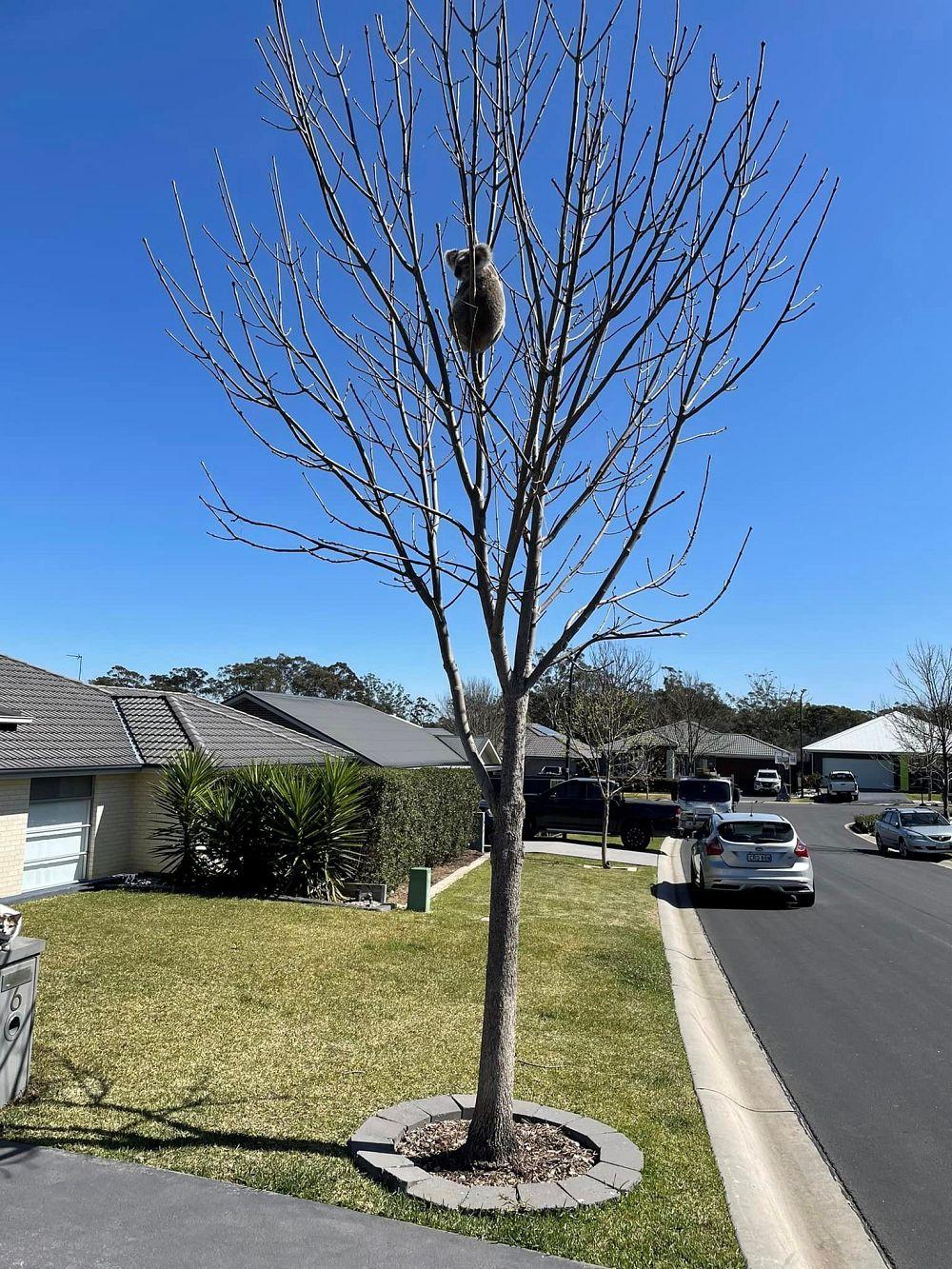 A koala trying to survive in the Appin precinct. Photo courtesy of Sydney Basin Koala Network.
On September 22, when many were on their Spring school break, the NSW Government announced $80 million is being invested by the NSW Government to protect koalas and secure their habitat in south-west Sydney.
The government stated the 2023–24 NSW Budget provided $48 million to help establish a new national park along the Georges River between Long Point and Appin, which will eventually cover up to 1,830 hectares. The suburbs of Long Point, Ingleburn, Minto Heights, Kentlyn, Airds, St Helens Park, Gilead and Appin will host the new park.
Gilead and Appin are where developers are after approvals to build a further 16,000 houses.

The government also stated the investment will accelerate the addition of more than 1,000 hectares of public land to the NSW national park system within the next 3 years and that the transfer and reservation of these lands will deliver long-lasting conservation benefits for Sydney's largest and one of the state's healthiest koala populations.
The NSW Government also stated it is providing $26 million to create koala-friendly crossings in south-west Sydney. Two of these will allow animals to cross below Appin Road, and a third will cross a canal. Lendlease had committed to deliver these with the Stage 1 Figtree Hill development, leaving those who have been campaigning for these since that build commenced clearing habitat wondering why the government is now helping them with taxpayer funded fauna crossings.
A further $5.7 million will go towards koala care in the Macarthur area, to look after local populations of the iconic animal.
A Save Sydney Koals spokesperson said, "On face value, this is a really important first step in the recognition and protection of South West Sydney's Koala population. We thank Penny Sharpe for the Georges River Koala National Park announcement.
We hope this National Park isn't intended as the "offset" to the massive, unsustainable development plans for south west Sydney, especially as the lands were mostly public anyway.
We still need the underpasses and overpass Lendlease promised with Stage 1 and we need to deliver 390-450 m wide corridors that connect along the landscape and we will continue to fight for these. Both Gilead Stage 2 and Cumberland Plain Conservation Plan need to be rejected for koalas to remain on the landscape here."
The $80 million dollar announced package for koalas in south-west Sydney is part the new $171.5 million investment announced by the NSW Government for the conservation of koalas where they live; in the bush where their food trees grow.
On September 19, the first delayed budget tabled by the new government, $80 million was announced as a downpayment for the Great Koala National Park, along with $88 million over 4 years to protect crucial koala habitat in south and south-western Sydney by creating the Georges River Koala National Park, building infrastructure to allow koalas to safely cross busy roads, creating a wildlife corridor in Woronora and funding the Koala Care Centre in Macarthur, with $3.5 million reserved for local koala care organisations.
So the Georges River Koala National Park is still 4 years away from realisation.
The announcements revealed that the Great Koala National Park won't be established until 2025 and while a stop work order on the logging in 5% in 106 koala 'hubs' of the park was announced on September 12, that may be lifted at any time.
The Government press releases didn't correlate that in June a Walker Corporation project to build 12,900 homes on a 1,378 hectare site in the Appin precinct in southwest Sydney was approved. Appin supports an important disease-free growing colony of koalas — the area is prime koala habitat.

The NSW Planning Department is currently reviewing the involvement of the former Secretary Michael Cassel in the approval of the Appin development rezoning. He joined the project's developer Walker Corporation shortly after resigning from the Department.

Gilead (Stage 2), an 876 hectare site, with 'land dedicated to several koala corridors' according the the Department of Planning, has been given Gateway approval, but is still being scrutinised with the Department of Planning stating the final assessment report and decision will publicly available on the NSW Planning Portal in 2023.
A third proposal for North Appin (part) was lodged in August 2023 and is expected to be placed on exhibition shortly.
All this before the Federal Environment Minister has approved the Cumberland Plain Conservation Plan - which is actually about NOT conserving anything according to 25 local organisations.
The Total Environment Centre states in the next six months the future of the critically endangered Cumberland Plain, encompassing 200,000ha on the western edge of the city will be decided and that the massive development push under the guise of a Cumberland Plain Conservation Plan (CPCP) must be radically changed.
''We are one of 25 national, state, and local groups that have joined forces to campaign for their protection. This means new conservation reserves, a wide-ranging regime of environment protection zones and permanent migratory Koala corridors.
So far, we have achieved a government commitment to review the CPCP, but still big developers are seeking to fast track their plans. It is essential that the 100 threatened plant and animal species and thriving Koala colony are preserved before any decisions on future development. ''
TEC's Jeff Angel, said: "Curbing the massive developments is now on the government's table, otherwise much of the $80m will be wasted. The key tool to do this is the Cumberland Plain Conservation Plan, which is on the desks of the Ministers for Environment and Planning right now. With effective environment protection zoning of critical habitat and corridors, we can give the colony the prospect of a better future.''
"The Cumberland Plain Conservation Plan covers 200,000ha framing the entire western edge of Sydney. It could curb Sydney's urban sprawl; protect endangered ecosystems; and help tackle killer urban heat for existing and new residents – while supplying new housing."
"The Plan should be amended to put conservation of threatened plant and animal species and new parks securely in place before new development. Bearing in mind the Plan is a 35-year projection of development and there is no infrastructure, environment protection amendments can be made quite quickly.'' Jeff added
Alongside 24 other organisations, the TEC are calling for reforms to the CPCP including permanent environment protection zoning (C2) of conservation lands, reservation of all Koala corridors, according to Chief Scientist criteria (425m width, no less than 250m at any point) a rapid delivery of the new national parks and reserves, a review of current development proposals and no translocation of Koalas.
They state that YouGov polling found 84% of NSW residents want Koala habitat protected from development, with 91% supporting a Koala Greenbelt around Sydney and are currently running a petition calling for changes to the CPCP.
The groups standing with the Total Environment Centre are a who's who of local champions for wildlife including the Nature Conservation Council of NSW, Humane Society International Australia, International Fund for Animal Welfare, Australian Wildlife Society, Australian Climate and Forest Alliance, Greater Sydney Landcare, Habitat Network, Australian Conservation Foundation, Greater Western Sydney Community Group, National Parks Association Macarthur Branch, Save Sydney's Koalas, WinZero (Wingecarribee Net Zero Emissions), Save Mt Gilead, Wilton Action Group, Rewilding Sydney Koalas Project, Hawkesbury Environment Network, Sutherland Shire Environment Centre, Hills-Hornsby Rural Koala Project, DoSomething Foundation, Lane Cove Bushland and Conservation Society, Hunter Community Environment Centre and the Oatley Flora and Fauna Society.
'And I dreamt of finding two koalas, one a young one, the other a baby – both clinging to me – both bereft at the loss of mothers – both starving; all their food trees gone.'
The Extinction of Koalas in Pittwater: John Illingsworth interview
from 2020