Inbox and Environment News: Issue 406
May 26 - June 1, 2019: Issue 406
Seawind 3000 On Station Beach
Photo by Paul Goulding, via Facebook - Friday May 24th, 2019
The Seawind 3000 is the second generation of the kit-built Seawind amphib family. It's a composite aircraft that carries four passengers and cruises at 169mph when powered by a +300hp engine.
One is currently for sale in the US - price; USD $139,000
Must
have
popped in for lunch - was seen earlier that day at North Head.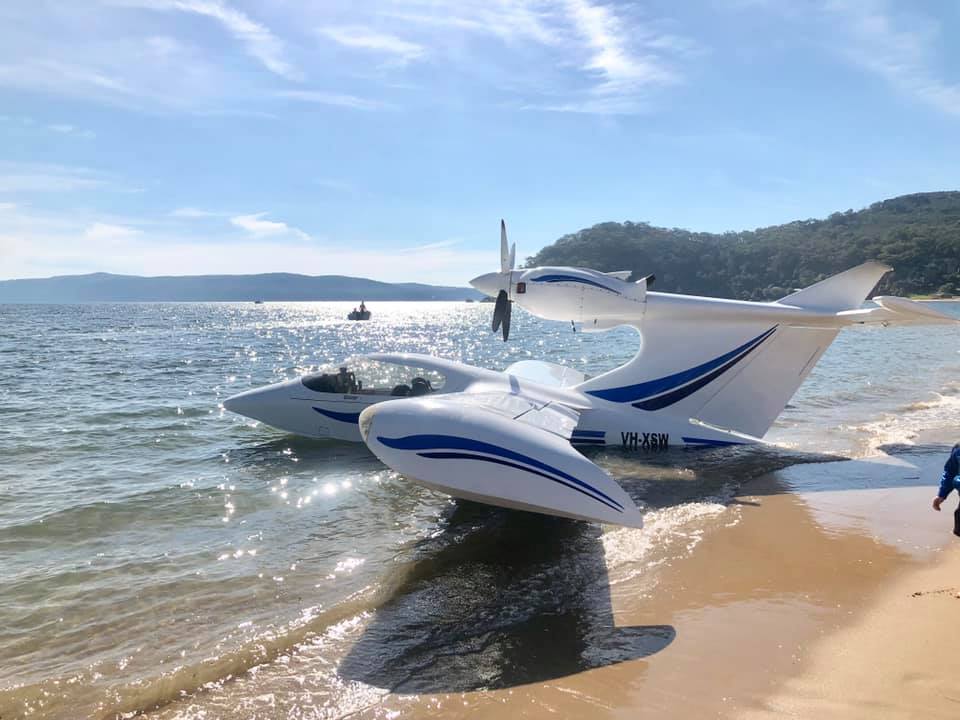 Coordinator-General To Set Adani Timeline
Wednesday, May 22, 2019:
Media Statement -
Premier and Minister for Trade,
The Honourable Annastacia Palaszczuk
Premier Annastacia Palaszczuk has instructed the Coordinator-General to set a timetable for the resolution of two outstanding approvals for Adani's proposed Carmichael mine.
While Adani has faced an approvals process just like any other resources project in Queensland free of political interference, it has become clear the process is taking too long.
"The community is sick of it, I'm sick of it, everyone is sick of the delays," the Premier said.
"Everyone has had more than enough time to resolve these issues and for some reason that has not occurred.
"That all ends now."
The Premier has instructed the Coordinator-General to:
Take a stronger oversight role across the Adani approvals process timeline;
Report back to her by the end of the week setting out a clear plan for timeframes for both the company and the regulator to adhere to; and
Seek to ensure neither party is responsible for unnecessary delays in the approvals process.
Once the Coordinator-General has established a timeframe it will be released to the public.
The Premier said the Coordinator-General's role is not to interfere in the independence of the approvals process but to ensure all parties know where they stand and adhere to their responsibilities.
The Coordinator-General does have a range of strong powers including prescribed project powers. These allow the Coordinator-General to step in on any approval processes to ensure timely decision making and certainty.
"I've asked the Coordinator-General to convene a meeting between Adani and the independent regulator tomorrow and to report back to me by Friday with a timeframe which I will release to the public," the Premier said.
"What this does is to hold Adani and the independent regulator to account and to give everyone clarity around who needs to do what and by when.
"Since I became Premier, we have processed $20 billion worth of mining projects providing 7,500 jobs.
"We want job-creating projects in Queensland but they need to stack up."
Since its election the Palaszczuk government has supported the creation of 199,000 jobs.
"I said we are about jobs, jobs, jobs and the numbers don't lie," she said.
"But we can never rest.
"Saturday's election result only added to the message we were already hearing from our local members and community leaders that jobs are the number one priority for Queenslanders."
Queensland Premier Highlights Resource Exports At Mackay's Hay Point Terminal
Wednesday, May 22, 2019:
Media Statement -
Premier and Minister for Trade,
The Honourable Annastacia Palaszczuk
Premier Annastacia Palaszczuk and Member for Mackay Julieanne Gilbert have met with workers at the Hay Point coal terminal today.
Hay Point is one of the largest coal ports in the world and was responsible for the majority of the $36 billion in coal exports that Queensland achieved in the year to March 2019.
"Between them, the Hay Point and Dalrymple Bay terminals played host to 1,176 bulk carriers in the last financial year," the Premier said.
"That's an average of over three ships every day for the entire year, and between them they carried over 120 million tonnes of coal – 10 million tonnes every month.
"Coal exports – largely metallurgical coal used in steelmaking – are the largest single component of Queensland's exports which in the 12 months to March 2019 reached another record of $84.3 billion, still larger than the total of New South Wales and Victoria combined.
"Last year marked 50 years since Queensland sent its first shipment of metallurgical coal to Mitsubishi in Japan, and for as long as the world needs steel, our major trading partners will want Queensland coal to produce it.
"That means there will be tens of thousands of coal mining jobs in Queensland far off into the future.
Since the Palaszczuk Government took office in 2015 it has facilitated more than $20 billion of investment in resource projects, supporting 7,000 jobs.
In the year to March 2019 Queensland exports of:
LNG exports rose by $4.8 billion
Metallurgical coal rose by $3.9 billion
Other minerals rose by $1.3 billion.
Recent highlights include:
Approval of an environmental impact statement for the $1 billion Olive Downs

coal mine

project* that will support 1,000 jobs during operation and 500 in construction.
Coordinated project declaration to reduce red tape for the $1 billion Winchester South project near Moranbah with another 950 jobs
Petroleum lease approval of Arrow Energy's $10 billion Surat Basin gas project that will support 1,000 jobs
First contracts sealed for gas for Australian manufacturers from Senex's Project Atlas
Coordinated project status for the $1.4 billion Sconi

nickel, cobalt and scandium mine

at Greenvale near Townsville, supporting 500 jobs
The start of operations at Rio Tinto's $2.6 billion Amrun

bauxite mine

Approval of mining leases for Fitzroy Australia Resources' Ironbark No. 1

coal mine

The opening of Jemena's $800 million Northern Gas Pipeline from Mount Isa to the Northern Territory, supporting 431 jobs
* The Olive Downs Coal Mine Project will start construction next year if (?!) the Federal Government gives it the go-ahead.
Around

55 square kilometres of koala habitat will be cleared

, with the coordinator-general recommending a significant offset to protect the vulnerable species.
The

mine site

, considered one of Australia's biggest, also

includes 11 highly significant wetlands

.
During the QLD Government's required public consultation process, not one environmental group made a submission.
Pembroke Resources' Olive Downs project is digging for coking, or metallurgical coal, which is a vital ingredient to make steel and not considered as harmful to the environment.
A Report Claims Koalas Are 'Functionally Extinct' – But What Does That Mean?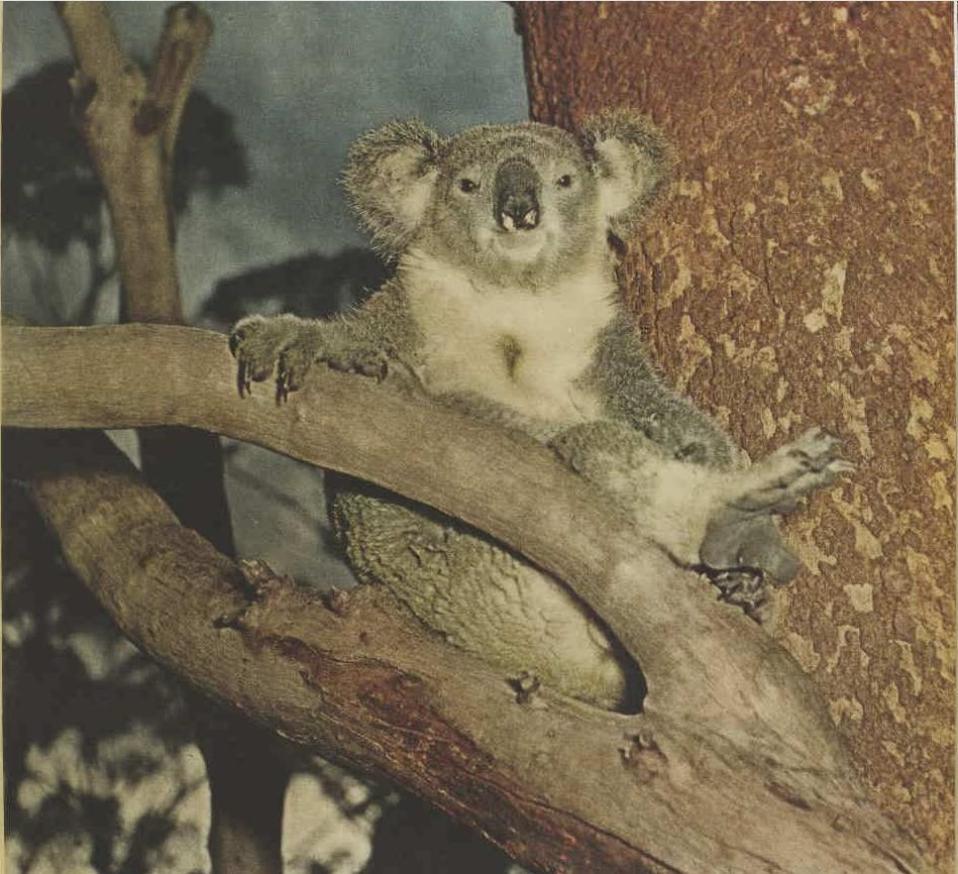 May 10, 2019
by Christine Adams-Hosking
Honorary Research Fellow, The University of Queensland
Today the Australian Koala Foundation announced they believe "there are no more than 80,000 koalas in Australia", making the species "functionally extinct".
While this number is dramatically lower than the most recent academic estimates, there's no doubt koala numbers in many places are in steep decline.
It's hard to say exactly how many koalas are still remaining in Queensland, New South Wales, Victoria, South Australia and the Australian Capital Territory, but they are highly vulnerable to threats including deforestation, disease and the effects of climate change.
Once a koala population falls below a critical point it can no longer produce the next generation, leading to extinction.
What does 'functionally extinct' mean?
The term "functionally extinct" can describe a few perilous situations. In one case, it can refer to a species whose population has declined to the point where it can no longer play a significant role in their ecosystem. For example, it has been used to describe dingoes in places where they have become so reduced they have a negligible influence on the species they prey on.
Dingoes are top predators, and therefore can play a significant role in some ecosystems. Our innocuous, leaf-eating koala cannot be considered a top predator.
For millions of years koalas have been a key part of the health of our eucalyptus forests by eating upper leaves, and on the forest floor, their droppings contribute to important nutrient recycling. Their known fossil records date back approximately 30 million years so they may have once been a food source for megafauna carnivores.
Functionally extinct can also describe a population that is no longer viable. For example in Southport, Queensland, native oyster reef beds are functionally extinct because more than 99% of the habitat has been lost and there are no individuals left to reproduce.
Finally, functionally extinct can refer to a small population that, although still breeding, is suffering from inbreeding that can threaten its future viability. We know that at least some koala populations in urban areas are suffering in this way, and genetic studies on the Koala Coast, located 20kms south-east of Brisbane, show that the population is suffering from reduced genetic variation. In South East Queensland, koalas in some areas have experienced catastrophic declines.
We also know that koala populations in some inland regions of Queensland and New South Wales are affected by climate extremes such as severe droughts and heatwaves and have declined by as much as 80%.
Exhaustive multi-disciplinary koala research continues apace in an effort to find ways of protecting wild koala populations and ensuring that they remain viable now and into the future. Habitat loss, population dynamics, genetics, disease, diet and climate change are some key areas being studied.
How many koalas are there?
Koala researchers are often asked "how many koalas are in the wild?" It's a hard question to answer. Koalas are not stationary, are patchily distributed throughout an extremely wide range encompassing urban and rural areas in four states and one territory, and are usually difficult to see.
To determine whether each population of koalas scattered across eastern Australia is functionally extinct would require a gargantuan effort.
In 2016, in an attempt to determine population trends for the koala within the four states, a panel of 15 koala experts used a structured, four-step question format to estimate bioregional population sizes of koalas, and changes in those sizes.
The estimated percentage of koala population loss in Queensland, New South Wales, Victoria and South Australia was 53%, 26%, 14% and 3%, respectively. The estimated total number of koalas for Australia was 329,000 (within a range of 144,000–605,000), with an estimated average decline of 24% over the past three generations and the next three generations.
Since May 2012, koalas have been listed as vulnerable in Queensland, New South Wales and the Australian Capital Territory because populations in these regions have declined significantly or are at risk of doing so.
In the southern states of Victoria and South Australia, koala populations vary widely from abundant to low or locally extinct. Although not currently listed as vulnerable, these koalas are also experiencing a range of serious threats, including low genetic diversity.
To date, the present "vulnerable" listing has not achieved any known positive results for koala populations in Queensland and New South Wales. In fact, recent research invariably shows the opposite.
This is because the key threats to koalas remain, and are mostly increasing. The primary threat is habitat loss. Koala habitat (primarily eucalyptus woodlands and forests) continues to rapidly diminish, and unless it is protected, restored, and expanded, we will indeed see wild koala populations become "functionally extinct". We know what comes after that.
This Article first appeared in The Conversation. Republished under Creative Commons licence.
Australian Koala Foundation Calls On The New Prime Minister To
Protect The Koala
May 10, 2019
The Australian Koala Foundation (AKF) believes Koalas may be functionally extinct in the entire landscape of Australia.
In letters to Prime Minister Morrison and Opposition Leader Bill Shorten, Deborah Tabart OAM, Chairman of the AKF said the Koala's fate is in their hands. The AKF has received no response.
"The AKF thinks there are no more than 80,000 Koalas in Australia. This is approximately 1% of the 8 million Koalas that were shot for fur and sent to London between 1890 and 1927," Tabart says.
Since 2010, the AKF has monitored the 128 Federal electorates that fall within the range of the Koala and it is shocking that 41 electorates have no Koalas; they are extinct.
Over 31 years the AKF has worked with 13 Environment Ministers, many which could be described as the 'Who's Who' of the political elite and nothing has happened except dead Koalas in the wild.
Deborah Tabart OAM expresses: "I am calling on the new Prime Minister after the May election to enact the Koala Protection Act (KPA) which has been written and ready to go since 2016. The plight of the Koala now falls on his shoulders."
"After 31 years I have worked with Ministers Richardson, Kelly, Faulkner, Hill, Kemp, Campbell, Turnbull, Garrett, Burke, Butler, Hunt, Frydenberg, and Price yet no support for the Koalas have been shown. I have heard every excuse under the sun to not step in and protect habitats. It is time they enacted the KPA and create change for our Koalas," says Tabart.
The Senate Inquiry in 2011 exposed the Koala was in trouble. Since then not enough has been done to protect their habitat. It is the AKF's view that politicians have abrogated their responsibilities. "While sitting in the Senate Inquiry you could hear industry pleading with the Senators to continue allowing them to have their way with habitats around the country" said Tabart.
Labor had the opportunity to establish a Koala Recovery Plan in 2012 before they lost power to the Coalition in 2013. No one has written anything to protect the Koala in the last six years of Government. A National Recovery Plan, mandated by law, has still not been written. The latest Senate Inquiry into Australia's Faunal Extinction Crisis has proved that the Environment Protection and Biodiversity Conservation (EPBC) Act is inadequate.
Tabart has written to all sitting members who live in Koala habitat and said that the Koala Protection Act could and must work closely with new proposed environmental laws, promised by Labor and the Greens. What happens if they don't win? Even if they do, these laws could take years.
"Unlike some of my younger conservation colleagues, I have seen the Koala betrayed before. I have heard many empty promises from members of Government pretending to protect the Koala. Look where we are now. The Koala Protection Act will work and it is ready to go" says Tabart.
The KPA was written to protect not only the Koala but also its trees. Good industry leaders, including farmers, should not be scared of a new approach.
Koalas and industry can work together like Koala Beach, the Koala friendly development.
Tabart expresses: "The most sickening thing about existing legislation is the fact that industry are given a permit 'to take' which is a nicer word for 'kill'.
All of the other species in those trees don't even get that permit and die in silence."
It is time for it to stop and it is time for Australian forests to be protected.
The new Australian Government could swiftly put the Koala Protection Act in place. "Both parties say they want to protect the environment. It would be a great way to start by protecting Koala forests which cover 20% of our continent," says Tabart.
The Koala Protection Act is based on the Bald Eagle Act which works with both the Federal Endangered Species Act and the Environment Protection Authority in the USA. The Bald Eagle Act was successful because there was political motive to ensure their icon did not go extinct. It is time for the Koala to be afforded the same respect.
Tabart says "I know the Australian public are concerned for the safety of Koalas and are tired of seeing dead Koalas on our roads. It is time for the Government to respect the Koala and protect its habitat."
Our tourist icon is ready to leave and no, zoos are not the answer. Saving their habitat is.
Find information about the habitats and Koala numbers in each Federal electorate at: www.savethekoala.com/our-work/act-or-axe
Tropical Pacific Variability Key For Successful Climate Forecasts
M
ay 21, 2019: Helmholtz Centre for Ocean Research Kiel (GEOMAR)
Our planet is warming up. This is documented consistently by all measurements that are carried out worldwide. However, this warming, which is mainly caused by the emission of greenhouse gases, is superimposed by natural climatic fluctuations on time scales from years to centuries. Climate forecasts for the future have to incorporate these variations.
A team of scientists from Australia and Germany has now found out that in particular the very strong natural climatic fluctuations in the tropical Pacific on decadal timescales are important how the climate develops in future.
"We know about strong natural climatic variations in the tropical Pacific for a long time," explains Dr. Mohammad Hadi Bordbar from the GEOMAR Helmholtz Centre for Ocean Research Kiel, lead author of the study, which has now been published in Nature Communications. "Furthermore, climate forecasts on time scales of decades show a relatively large spread. In our study, we wanted to find out to what extent there is a connection," explains the climate scientist from Kiel.
Together with Australian colleagues from the University of New South Wales, the researchers designed a study with three different climate models. They started the model simulations with different initial conditions that reflect the natural variations in the tropical Pacific region.
"The results clearly show that a significant fraction of the large spread in climate forecasts has its origins in this region," explains Dr. Matthew England from the University of New South Wales.
For the scientists, these results indicate that better information about the initial state of the ocean, in particular subsurface data, could improve their predictions significantly. "In the scenario we studied, the predicted spatial patterns of surface temperatures are very dependent on the initial state of the Pacific Ocean," explains Prof. Dr. Mojib Latif, co-author of the study from GEOMAR. "The available observation data from the Pacific are in many areas only patchy, therefore, the results of the various simulations show such a strong spread," Latif continues.
According to the scientists, in addition to improvements in the models significantly more and better observation data are needed in order to improve the quality of climate predictions.
Mohammad Hadi Bordbar, Matthew H. England, Alex Sen Gupta, Agus Santoso, Andréa S. Taschetto, Thomas Martin, Wonsun Park, Mojib Latif.
Uncertainty in near-term global surface warming linked to tropical Pacific climate variability.
Nature Communications, 2019; 10 (1) DOI:
10.1038/s41467-019-09761-2
Natural Environments Favour 'Good' Bacteria
May 23rd, 2019: University of Adelaide
A new study has shown that restoring environments to include a wider range of species can promote 'good' bacteria over 'bad' -- with potential benefits for human health.
University of Adelaide researchers report, in the journal Environment International, that degraded, low biodiversity land and soils tend to harbour more 'opportunistic' bacteria, while healthy, biodiverse ecosystems favour more stable and specialist bacteria.
They found that the bacterial communities more commonly found in degraded landscapes had "potential pathogenic character," with many in the same genera as prominent disease-causing bacteria Bacillus, Clostridium, Enterobacter, Legionella and Pseudomonas.
Restoring a more biodiverse ecosystem, however, changed the bacterial composition towards more potentially immune-boosting microbial diversity.
"There is a growing body of evidence associating human health with green space around people's homes, and environmental microbes provide a likely connection between a healthy ecosystem and human health," says lead author, Craig Liddicoat, PhD candidate with the University of Adelaide's School of Biological Sciences and Environment Institute.
"However evidence of tangible mechanistic links between human and environmental health is still lacking, although we know that soil microbes are an important part of airborne microbial communities generated from a particular environment.
"We wanted to see if there were particular bacteria that might be representative of ecological restoration, or the change from degraded state to a more biodiverse, natural state."
The researchers analysed soil bacterial communities from a restoration site with a progression of environments from cleared, degraded land to a restored, more biodiverse, natural reference ecosystem. They compared their findings with data from over 200 samples from across Australia which had been assigned as disturbed or natural soils, and found consistent patterns in the proportions of opportunistic versus stable bacteria.
"What this work has shown is the potential for reducing airborne pathogens around us by restoring city environments to be more biodiverse and natural," says senior author Professor Phil Weinstein, Professorial Research Fellow with the School of Biological Sciences.
"While we have not shown a direct link between increased abundance of these particular bacteria with increased human disease, more opportunistic bacteria in the environment is likely to bring more exposure to airborne pathogens and higher rates of infections in susceptible individuals. In healthy, biodiverse ecosystems this risk is reduced."
The researchers say their study also points to a new way of measuring soil and ecosystem health using groups of bacteria as summary biological indicators.
Craig Liddicoat, Philip Weinstein, Andrew Bissett, Nicholas J.C. Gellie, Jacob G. Mills, Michelle Waycott, Martin F. Breed.
Can bacterial indicators of a grassy woodland restoration inform ecosystem assessment and microbiota-mediated human health?
Environment International, 2019; 129: 105 DOI:
10.1016/j.envint.2019.05.011
Scientists Discover The Source Of New CFC Emissions
May 22, 2019 (May 23rd, Australia)
Since 2013, annual emissions of a banned chlorofluorocarbon (CFC) have increased by around 7,000 tonnes from eastern China, according to new research published in Nature today [Wednesday 22 May 2019] by an international team of scientists from the UK, South Korea, Japan, USA, Australia and Switzerland.
Last year, it was reported that emissions of one of the most important ozone depleting substances, CFC-11, had increased. This chemical was used primarily as a foaming agent for building insulation, refrigerators and other consumer products. The surprise finding indicated that someone, somewhere was likely producing and emitting thousands of tonnes of CFC-11, despite a global phase-out since 2010 under the Montreal Protocol.
Dr Matt Rigby, a lead author of the study and Reader in Atmospheric Chemistry in the School of Chemistry at the University of Bristol, explained: "Through global monitoring networks such as the Advanced Global Atmospheric Gases Experiment (AGAGE) and the National Oceanic and Atmospheric Administration Global Monitoring Division (NOAA GMD), scientists have been making measurements of chlorofluorocarbons (CFCs) in the atmosphere for over 40 years.
"In recent decades, we've primarily seen declining CFC emissions reflected in these measurements, because of the Montreal Protocol. Therefore, it was unexpected when it was reported last year that, starting around 2013, global emissions of one of the most important CFCs suddenly began to grow."
This finding was concerning because CFCs are the main culprits in depletion of the stratospheric ozone layer, which protects us from the sun's ultra-violet radiation. Any increase in emissions of CFCs will delay the time it takes for the ozone layer, and the Antarctic ozone "hole", to recover.
But where were these new emissions coming from? Until now, researchers only had an indication that at least part of the source was located somewhere in eastern Asia.
"Initially our monitoring stations were set up in remote locations, far from potential sources," said Ron Prinn, co-author of the new study, leader of the AGAGE network and professor at the Massachusetts Institute of Technology (MIT). "This was because we were interested in collecting air samples that were representative of the background atmosphere, so that we could monitor global changes in concentration and determine their atmospheric lifetimes."
To better pinpoint emissions sources, more recent measurement stations have been located closer to industrialised regions. In this case, the clue to the location of the new CFC-11 emissions came from an AGAGE station in South Korea and an AGAGE-affiliated station run by the National Institute of Environmental Studies (NIES) in Japan.
Professor Sunyoung Park from Kyungpook National University in South Korea, a lead author on the new study, who runs the South Korean Gosan measurement station, explained: "Our measurements show 'spikes' in pollution, when air arrives from industrialised areas. For CFC-11, we noticed that the magnitude of these spikes increased after 2012, indicating that emissions must have grown from somewhere in the region."
Similar signals had also been noticed at the NIES station on the Japanese island of Hateruma, close to Taiwan.
To establish which countries were responsible for the growing pollution levels at these stations, an international team of modelling groups at University of Bristol, the UK Met Office, the Swiss Federal Laboratories for Materials Science and Technology (Empa) and MIT ran sophisticated computer simulations that determined the origin of the polluted air samples.
"From the Korean and Japanese data, we used our models to show that emissions of CFC-11 from eastern China had increased by around 7,000 tonnes per year after 2012, particularly in or around the provinces of Shandong and Hebei.", said Dr Luke Western, post-doctoral researcher at the University of Bristol.
"We didn't find evidence of increasing emissions from Japan, the Korean peninsula, or any other country to which our networks are sensitive."
To investigate the possibility that the new emissions from China could be the result of a release to the atmosphere of CFC-11 that was produced before the ban, the team considered a range of possibilities.
Dr Rigby said: "CFC-11 was used primarily in foam blowing, so we looked at estimates of the amount of CFC-11 that could be locked up in insulating foams in buildings or refrigerators that were made before 2010, but the quantities were far too small to explain the recent rise.
"The most likely explanation is that new production has taken place, at least prior to the end of 2017, which is the period covered in our work."
Whilst the new study has identified a substantial fraction of the global emissions rise, it is possible that smaller increases have also taken place in other countries, or even in other parts of China.
Professor Park explained: "Our measurements are sensitive only to the eastern part of China, western Japan and the Korean peninsula and the remainder of the AGAGE network sees parts of North America, Europe and southern Australia. There are large swathes of the world for which we have very little detailed information on the emissions of ozone depleting substances."
Nevertheless, this study "represents an important and particularly policy-relevant milestone in atmospheric scientists' ability to tell which regions are emitting ozone-depleting substances, greenhouse gases, or other chemicals, and in what quantities," said Professor Ray Weiss, a geochemist at Scripps Institution of Oceanography at the University of California San Diego and study co-author.
Dr Rigby said: "It is now vital that we find out which industries are responsible for the new emissions. If the emissions are due to the manufacture and use of products such as foams, it is possible that we have only seen part of the total amount of CFC-11 that was produced. The remainder could be locked up in buildings and chillers and will ultimately be released to the atmosphere over the coming decades."
Previous reports by the Environmental Investigation Agency and the New York Times have suggested that Chinese foam manufacturers were using CFC-11 after the global ban. Furthermore, Chinese authorities have recently identified and closed down some illegal production facilities.
Whilst this new study cannot determine which industry or industries are responsible, it provides a clear indication of large increases in emissions of CFC-11 from China in recent years. These increases, likely from new production, account for a substantial fraction of the concurrent global emission rise.
M. Rigby, S. Park, T. Saito, L. M. Western, A. L. Redington, X. Fang, S. Henne, A. J. Manning, R. G. Prinn, G. S. Dutton, P. J. Fraser, A. L. Ganesan, B. D. Hall, C. M. Harth, J. Kim, K.-R. Kim, P. B. Krummel, T. Lee, S. Li, Q. Liang, M. F. Lunt, S. A. Montzka, J. Mühle, S. O'Doherty, M.-K. Park, S. Reimann, P. K. Salameh, P. Simmonds, R. L. Tunnicliffe, R. F. Weiss, Y. Yokouchi, D. Young.
Increase in CFC-11 emissions from eastern China based on atmospheric observations.
Nature, 2019; 569 (7757): 546 DOI:
10.1038/s41586-019-1193-4
Mapping The Global Distribution Of Phytoplankton
Researchers at ETH have charted the distribution of phytoplankton in the world's oceans for the first time and investigated the environmental factors that explain this distribution. They concluded that plankton diversity is only partially congruent with previous theories of biodiversity for the seas between the equator and the poles.
With some 10,000 to 20,000 different species in the world's oceans, the diversity of phytoplankton (phyto from the Greek for plant) species is extremely rich. These phytoplankton form a key element of ocean ecosystems and life on this planet, producing more oxygen than all the world's rainforests combined. They also serve as the fundamental basis of the marine food chain.
To date, however, very little has been known about the geographic and seasonal diversity of phytoplankton. Although many species of phytoplankton have been identified, the question of when and where they occur is largely unexplored; in light of the current biodiversity crisis, this represents a serious knowledge gap.
In early May, the Intergovernmental Platform on Biodiversity and Ecosystem Services stated in its latest report that a million of all known species on earth are under threat of extinction as a result of human activity and climate change. However, for many important species, especially species of the world's smallest form of marine life, plankton, our knowledge of their distribution and diversity remains inadequate or non-existent to this day.
Now, a team of researchers from ETH Zurich and the Swiss Federal Institute for Forest, Snow and Landscape Research WSL have filled in some of this knowledge gap. In a study published recently in the Science Advances journal, they modelled the spatial and temporal distribution of over 530 different species of phytoplankton. As the basis for their distribution charts, they used around 700,000 water samples from across the world's oceans.
Biodiversity in tropical seas
Their study reveals that tropical waters hold the richest diversity of species at all times of the year. Phytoplankton diversity is particularly high in the seas of the Indonesian-Australian archipelago, in parts of the Indian Ocean and in the equatorial Pacific Ocean. In the subtropics, biodiversity drops off markedly beyond 30 degrees latitude North and South, reaching its lowest values around a latitude of 55 degrees. Diversity then picks up again slightly towards the poles.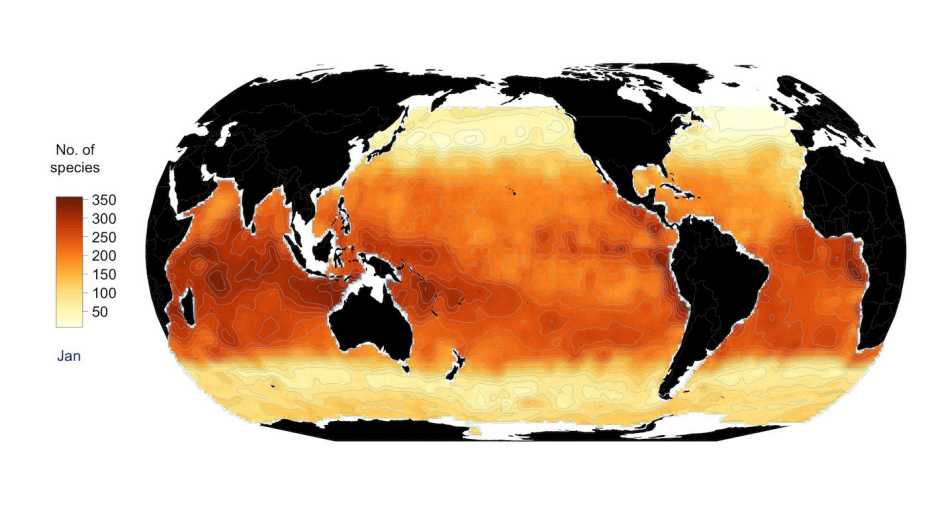 The global distribution of phytoplankton in January. Dark areas indicate a high biodiversity, light areas a low one. The number of species was not determined for the white areas. (Graphic: from Righetti et al. Science Advances, 2019)
"We were surprised to find that on a monthly basis, the polar seas present greater diversity than the mid-latitudes," says Damiano Righetti, the lead author of the study. He is a PhD student with ETH professor Nicolas Gruber and senior scientist Meike Vogt. "It's remarkable because global species distribution and diversity are normally closely linked to environmental temperature trends."
Species diversity typically decreases continuously towards the poles, where it is normally at its lowest. Temperature could plausibly be the direct driver of this decline. According to metabolic theory, higher temperatures accelerate metabolism, mutations of genetic material and speciation. This explains why the tropics are richer in species than the mid-latitudes and the polar regions, as would be expected.
Biodiversity surprisingly low at mid-latitudes
The study reveals that phytoplankton does not always behave in line with this theory. "Evidently, there are factors other than temperature affecting plankton diversity," Righetti says. Two of these might be the strong currents and turbulence, which are prevalent in the mid-latitudes, but less so in polar or tropical seas. "The seasonal fluctuations and ocean turbulence in these latitudes might suppress the development of biodiversity, even though the temperatures here are higher than in the polar oceans," the ecologist says.
Righetti and colleagues also found that phytoplankton diversity in the mid-latitudes, unlike in the tropics, varies greatly from season to season. Righetti explains that although the number of species in the mid-latitudes is constant over time, the species composition changes over the course of the year: "In contrast to tropical seas, the diversity here is dynamic throughout the year, but hardly any research has been done on this."
Samples collected on shipping routes
Working with ETH adjunct professor Niklaus Zimmermann and other colleagues from the WSL, Righetti developed a computer model to map the diversity distribution of phytoplankton. They fed this model with observational data and used it to project where each species occurs – with a temporal resolution of one month.
The observational data came from water samples collected during research trips as well as from normal shipping routes. Phytoplankton specialists subsequently studied the samples under the microscope to determine which species they contained. Over time, these research cruises amassed huge amounts of observational data on several thousand different species. Righetti and colleagues then gathered the data available into a database and analyzed it.
It must be noted, however, that sampling has not been evenly distributed across the oceans and, in many regions, has not spanned all seasons. Thanks to British researchers, the North Atlantic is very well represented, but very little data exist for large parts of the other oceans. The ETH researchers compensated for this distortion in their models.
Their work is significant in a number of respects. Not only are their distribution maps the first to chart phytoplankton; their models can also be used to predict how the diversity of phytoplankton could develop under changing temperature conditions. Warmer waters as a result of climate change could alter the distribution of phytoplankton. "In turn, this could have a serious impact on the entire marine food chain," Righetti says.
Righetti D, Vogt M, Gruber N, Psomas A, Zimmermann NE:
Global pattern of phytoplankton diversity driven by temperature and environmental variability.
Science Advances 15 May 2019: Vol. 5, no. 5, eaau6253. DOI:
10.1126/sciadv.aau6253
Urgent Call To Fill Big Gaps In Knowledge About Black-Throated Finch
May 17, 2019: James Cook University
A James Cook University-led review of the status of the Black-throated Finch has called for land-clearing to be slowed or halted to protect the endangered bird.
The finch is at the centre of controversy surrounding environmental consents for the proposed Adani coal mine in the Galilee Basin in central Queensland.
JCU PhD student Juan Mula-Laguna led the study. He said the southern subspecies has lost 80 percent of its historical range, is listed as extinct in NSW and is now primarily restricted to two main areas - around Townsville and central Queensland.
"We gathered everything known about the finch so we could outline necessary research to improve its conservation. But the study particularly highlighted the lack of ecological knowledge while the finch faces pressing threats," said Mr Mula-Laguna.
He said the paucity of information created uncertainty about best management practices for the finch.
"It's a scarce and inconspicuous bird and it lives over an extensive area in rarely surveyed places, which poses a significant challenge for the collection of biological data," he said.
Mr Mula-Laguna said what information there was suggested two remaining strongholds for the finch, with the main population in central Queensland. This area largely intersects the Adani Group's proposed Carmichael coal mine and separate commercial operations by other resource companies.
"There are ongoing signs of decline in the number of remaining Black-throated Finches, but the lack of systematic monitoring limits our capacity to give a total estimate. Also, we know more than half of the total habitat suitable for the finch now falls within resource extraction or exploration tenures and more than 120,000 hectares have already been slated for clearing for agriculture."
Mr Mula-Laguna said mining companies had proposed leaving some areas untouched as environmental offsets for the birds, but these measures fell short.
"The limited area of suitable Black-throated Finch habitat remaining, the poor condition of some of the selected offsets, and the lack of a specific cumulative impact assessment or a coordinated plan for development makes offsets unlikely to compensate for the losses caused by clearing," he said.
Mr Mula-Laguna said the scientists recommended focusing on close monitoring of the remaining populations and investigating the finch's ecology to improve management practices in pastoral land and ensure their survival.
"We need to understand better the needs of this bird to be able to manage it, but any research should be conducted while obvious threats are halted or minimised, the most prominent being habitat loss, whether that's for mining or agriculture. Without these measures we may be losing something irreplaceable," he said.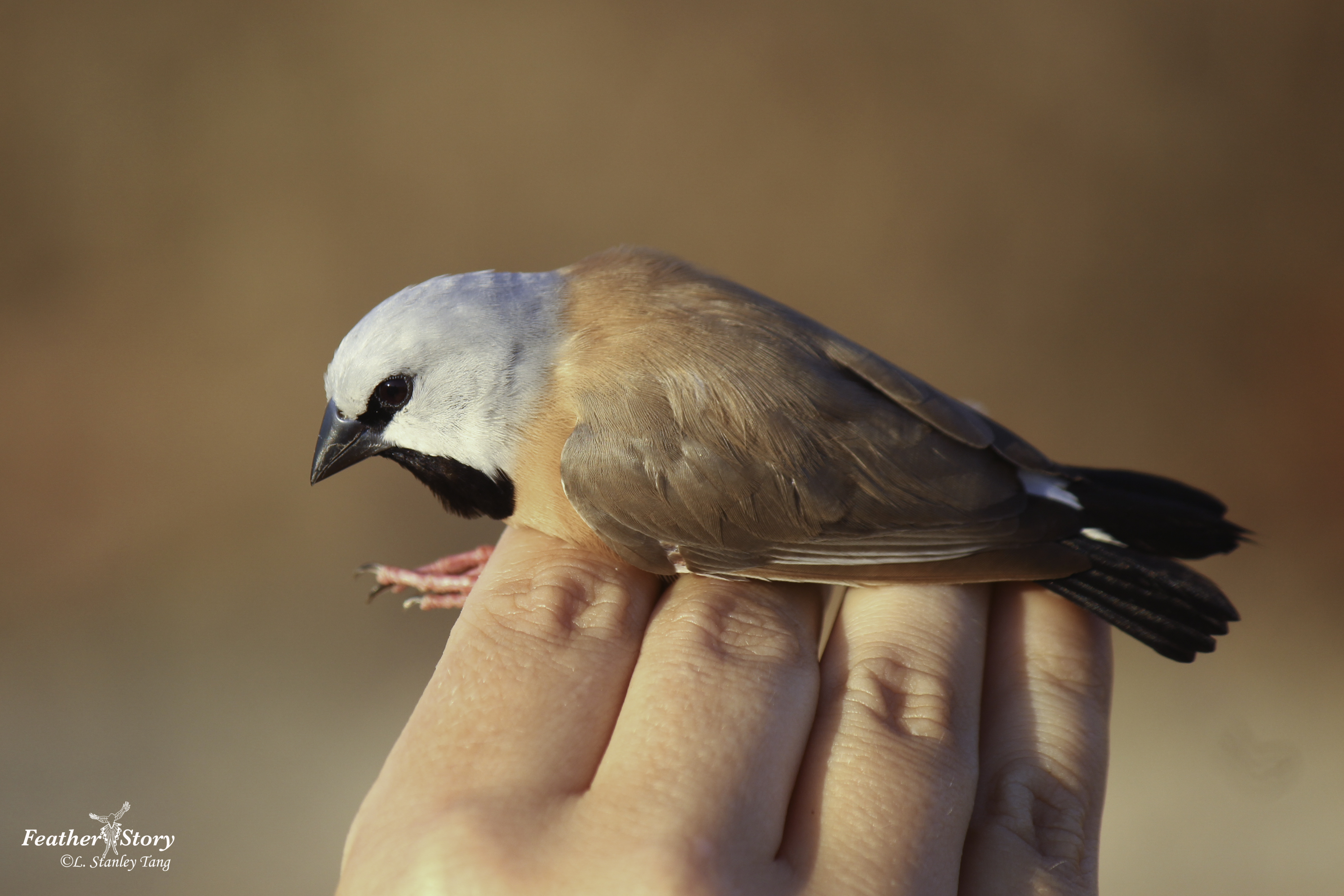 Juan Mula Laguna, April E. Reside, Alex Kutt, Anthony C. Grice, Peter Buosi, Eric P. Vanderduys, Martin Taylor & Lin Schwarzkop.
Conserving the endangered Black-throated Finch southern subspecies: what do we need to know?.
Emu - Austral Ornithology. Published online: 16 May 2019. Doi.org.
10.1080/01584197.2019.1605830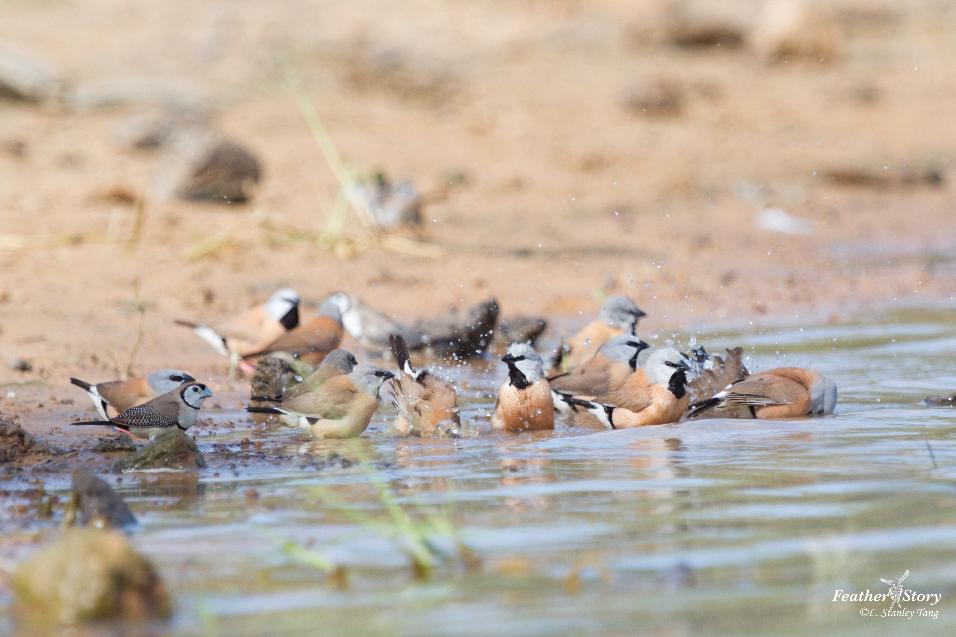 Free Worm Farms And Compost Bins Available For Northern Beaches Residents
Northern Beaches residents can register for a free worm farm or compost bin from Wednesday 15 May under a new Council initiative to support residents to get on board the war on waste.
"We all have a duty to reduce our footprint and compost bins and worm farms are a great way to avoid sending food scraps and garden waste to landfill," Mayor Michael Regan said.
"According to the EPA, more than a third of the contents of an average red lid garbage bin in NSW is wasted food - around $3,800 worth for every household.
"We can all shop better and reduce what we throw out but of course, there will always be some food waste that we can't avoid.
"A worm farm on your verandah or a compost bin in your backyard is a relatively easy way to help the environment plus it produces environmentally friendly, natural fertiliser that your garden and pot plants will love.
"And kids love a worm farm – and they can learn about how to help to better our environment literally in their own backyard, how good is that.
"With our new waste service coming on line in July and a concerted effort by our community to get on board the war on waste, this is a great time to introduce this initiative."
Choosing between a compost bin or worm farm often depends on the type of garden you have. The ideal location for a compost bin is somewhere with sun and good drainage. In contrast, a worm farm thrives in good shade and is suitable for courtyards, balconies and small gardens.
Residents
can register online
to receive a voucher, which can be used to redeem a free compost bin or warm farm from a convenient pick up location in Manly (52 Raglan St) or Mona Vale (1 Park St) during business hours.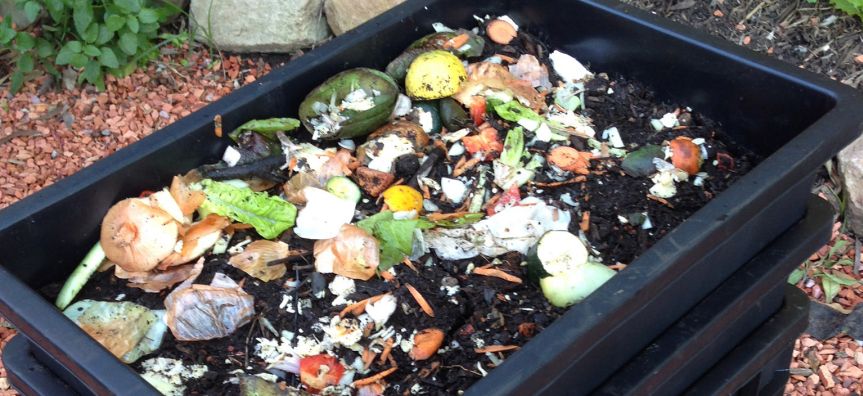 Have Your Say On: Pittwater Development Control Plan 2014 - Amendments (Environment Controls)
At a meeting on 16 April 2019, Council considered amendments to Pittwater Development Control Plan 2014 (DCP) in relation to Water Quality Management and Stormwater Detention Controls.
The purpose of the amendments are to improve and standardise requirements for:
water quality management
on-site stormwater detention systems
estuarine and coastal risk management
A comprehensive review of water management controls in existing Local Environment Plans (LEP) and Development Control Plans (DCP) will be undertaken in conjunction with the development of the Northern Beaches LEP and DCP, due to be completed in 2021.
In the interim, our Natural Environment and Climate Change team has identified the need to prioritise certain amendments to the Pittwater DCP.
In summary, the proposed amendments include -
consolidating requirements for different development types.
aligning stormwater quality requirements with Council's adopted Water Management Policy.
new water quality treatment requirements for land located in "coastal environment areas" identified under State Environmental Planning Policy (Coastal Management) 2018.
removal of requirements for sediment control pits for dwelling houses (given their failure to be maintained).
removal of on-site detention requirements in defined Flood Risk Precincts.
updating a range of terms and references to reflect recent changes to legislation.
in writing - marked 'Pittwater DCP amendments' to Northern Beaches Council PO Box 82 Manly NSW 1655
Submissions close Sunday 2 June
Classification Of Land - 18 MacPherson Street, Warriewood
Council obtained title to the subject land on 16 April 2019.
Council hereby gives Public Notice of its intention to classify the subject Council land as "Community Land".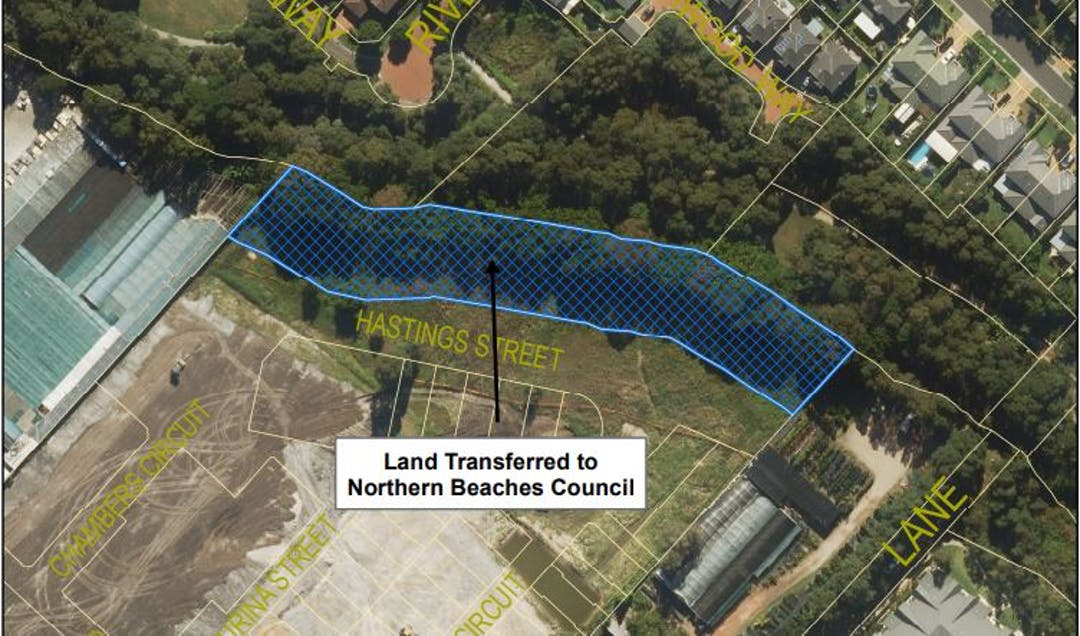 Enquiries: Council's Property Finance Officer: 1300 434 434
Submissions close: Monday, 17 June 2019
Organics Collections Grants Now Open
Applications are now open for Round 7 of the Organics Collections grants.
This eight-year, $27 million program funds new or improved local council household kerbside collection services for food and garden organics, including collection systems for garden only, food waste, or a combination of both.
Grants of up to $1.3 million are available for bins, kitchen caddies and education for councils (or groups of councils) to introduce new food and garden waste collection services. Funding is also available for trials and system roll outs for source separated organics collections in multi-unit dwellings.
Businesses and councils with projects that involve collection of food waste from businesses are also eligible for funding, with up to $500,000 available for 50% of the cost of collection vehicles, bins and expert advice.
Applications close at 3pm on 27 June 2019.
MANLY TO PALM BEACH
We hired a car and drove to Manly and visited some beaches on the way up to Palm Beach. We even managed to take the drone for a fly! We visited Manly Cove, Manly Beach, Shelly Beach, Freshwater Beach, Curl Curl Beach, Dee Why Beach, Narrabeen Beach, Birdwood Park, Turimetta Beach, Warriewood Beach and finally Palm Beach.
Join UNESCO To Celebrate Women In Ocean Science At World Oceans Day 2019
This
World Oceans Day, 8 June
, will be dedicated to gender and the ocean. To celebrate the day, UNESCO's Intergovernmental Oceanographic Commission and the World Heritage Centre are teaming up to honour all women whose scientific work is enhancing the conservation of the
49 marine sites
inscribed on UNESCO's World Heritage List. Join up and send us your short video by 31 May 2019.
Everyone can participate by submitting a short video of a woman scientist highlighting her invaluable work in support of the conservation of the 49 marine sites inscribed on UNESCO's World Heritage List. The best short films will be featured on World Oceans Day at UNESCO Headquarters, Paris, France, and through social media worldwide.
Deadline for submitting videos is Friday 31 May.
Guidelines for submission and other practical information is available
here
.
The United Nations celebrates World Oceans Day every year on 8 June
.
The 2019 theme "Gender and Oceans"
is an opportunity to explore the gender dimension of humankind's relationship with the ocean and to help drive World Heritage marine site conservation in the framework of the UN Decade of Ocean Science for Sustainable Development (2021–2030).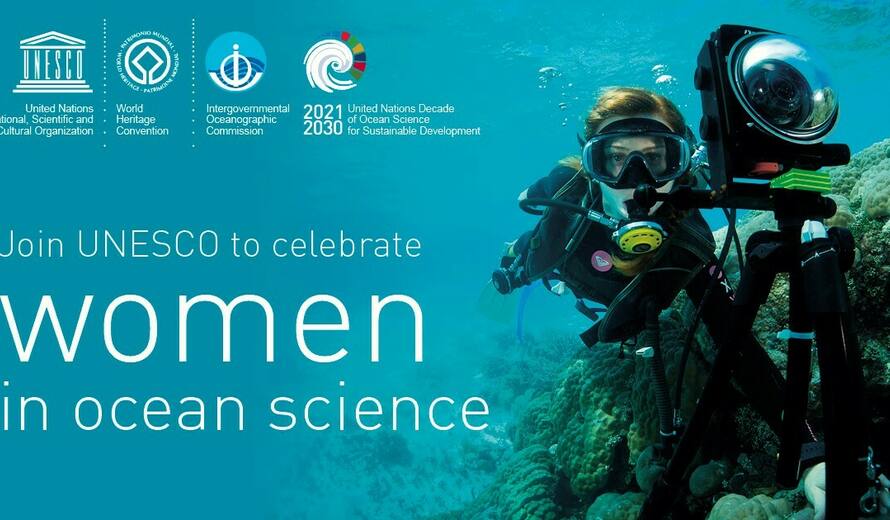 World Heritage List: Australia
Great Barrier Reef
Lord Howe Island Group
Shark Bay, Western Australia
Heard and McDonald Islands
Macquarie Island
Ningaloo Coast
A Brief History Of World Oceans Day
The international efforts at the origin of this global celebration of the ocean and its marine life.
By Judith Swan, formerly Executive Director of the Oceans Institute of Canada - Except from "History of World Oceans Day"
1992 Declaration of Oceans Day
Oceans Day was first declared as June 8th 1992 in Rio de Janeiro at the Global Forum, a parallel event at the United Nations Conference on Environment and Development (UNCED) which provided an opportunity for non-government organizations (NGOs) and civil society to express their views on environmental issues.
The Declaration was inspired by an event organized on that day by the Oceans Institute of Canada and supported by the Canadian Government: "OCEANS DAY AT GLOBAL FORUM – THE BLUE PLANET". The programme featured international experts, opinion leaders and those in a position to speak for the oceans' contributions to sustaining the Blue Planet.
Continuing the momentum – 2008 UN Designation of World Oceans Day
In 2008, led by Canada, the General Assembly resolved that June 8th would be designated by the United Nations as "World Oceans Day".
In the interim, observation of Oceans Day had broadened and deepened. The need and scope for this was reflected in the broad range of concerns expressed in 2008 by the UN Secretary-General, including implementation of the UN Convention on the Law of the Sea, maritime space, international shipping, maritime security, marine science and technology, marine biological diversity, the marine environment and sustainable development, climate change and regional and international cooperation. The awareness and action spurred by observation of World Oceans Day would be crucial in all these areas.
2017 United Nations Ocean Conference and World Oceans Day – Our ocean, our future
The Declaration of World Oceans Day in 2008 catalysed action worldwide. Twenty-five years after the first Oceans Day took place in Rio de Janeiro at UNCED, a special event on June 8th marked its celebration during the United Nations Ocean Conference held from 5-9 June 2017. The Ocean Conference was convened to support the implementation of Sustainable Development Goal (SDG)14 in the 2030 Agenda for Sustainable Development: Conserve and sustainably use the oceans, seas and marine resources for sustainable development.
Every 8th of June, we have an opportunity to raise global awareness of the benefits humankind derives from the ocean and our individual and collective duty to use its resources sustainably. Future generations will also depend on the ocean for their livelihoods!
Aquariums, science centers and research institutions, NGOs, communities and governments all around the world mobilize millions of people around events big and small.
Together with the United Nations Family and our partners, let's celebrate all that the ocean gives us every day: from the oxygen we breathe to the inspiration that moves our poets.
Our Ocean Is Our Future.
Pacific Marine Mammal Center Sea Lion Rescue
May 19, 2019 (May 20 Australian time)
Today was a special day as 13 of our California sea lions rescued and rehabilitated at @pacificmmc were released back to their ocean home.
Editor: Perhaps not a World Heritage Site but work that's worth noting!:
Gold-Coated Fungi Are The New Gold Diggers
May 24, 2019: CSIRO
Australian scientists have discovered gold-coated fungi near Boddington in Western Australia.
The thread-like fungi attach gold to their strands by dissolving and precipitating particles from their surroundings, in a process that could offer clues for finding new gold deposits.
There may be a biological advantage in doing so too, as the gold-coated fungi were found to grow larger and spread faster than those that don't interact with gold and play a central role in a biodiverse soil community.
The discovery was made by Australia's national science agency, CSIRO, and published in the journal Nature Communications.
"Fungi can oxidise tiny particles of gold and precipitate it on their strands – this cycling process may contribute to how gold and other elements are distributed around the Earth's surface," CSIRO lead author Dr Tsing Bohu said.
"Fungi are well-known for playing an essential role in the degradation and recycling of organic material, such as leaves and bark, as well as for the cycling of other metals, including aluminium, iron, manganese and calcium.
"But gold is so chemically inactive that this interaction is both unusual and surprising – it had to be seen to be believed."
Dr Bohu is undertaking further analysis and modelling to understand why the fungi is interacting with gold, and whether or not, it's an indication of a larger deposit below the surface.
Australia is the world's second largest gold producer, and while gold production hit record peaks in 2018, forecasted estimates show that production will decline in the near-future unless new gold deposits are found.
New, low-impact exploration tools are needed to make the next generation of discoveries. CSIRO is using innovative science and technology to solve the greatest challenges, like ensuring the world has a sustainable supply of resources.
"The industry is actively using innovative exploration sampling techniques, such as gum leaves and termite mounds, which can store tiny traces of gold and can be linked to bigger deposits below the surface," CSIRO chief research scientist Dr Ravi Anand said.
"We want to understand if the fungi we studied, known as fusarium oxsporum – and their functional genes – can be used in combination with these exploration tools to help industry to target prospective areas in a way that's less impactful and more cost-effective than drilling."
The researchers also highlight the potential to use fungi as a bioremediation tool to recover gold from waste.
While Fusarium oxsporum is commonly found in soils around the world and produce a pink mycelium or "flower" – it's not something prospectors should go foraging for, as the particles of gold can only be seen under a microscope.
The discovery was made possible thanks to collaboration between CSIRO, the University of Western Australia, Murdoch University and Curtin University.
The research involved a multi-disciplinary approach harnessing geology, molecular biology, informatics analysis and astrobiology.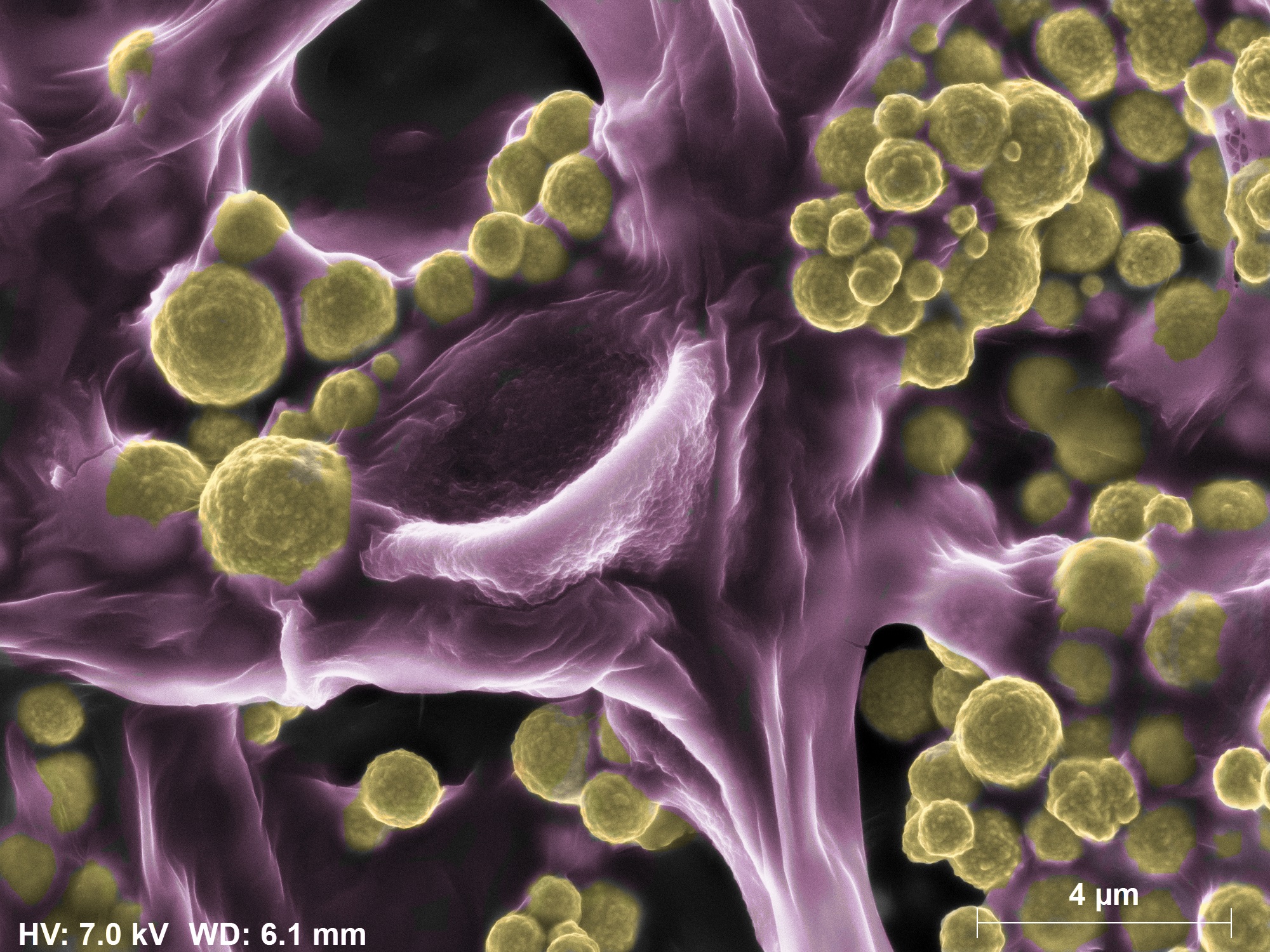 Coloured image of the gold-coated Fusarium oxsporum fungi.
Aussie High School Students Receive Prizes At International Science And Engineering Fair
Australian high school students Lucy Lake, Mitchell Torok, Ivy Brain, Macinley Butson and Callum Predavec have received multiple prizes at the Intel International Science and Engineering Fair (ISEF) in Phoenix, Arizona alongside over 1800 high school students from 75 countries.
All students were finalists at the national 2019 BHP Foundation Science and Engineering Awards, a partnership between the BHP Foundation, CSIRO and the Australian Science Teachers Association.
Barker College student Lucy Lake received the Engineering Mechanics Second Award and the Patent and Trademark Office Society Award for her project Phase 3.
The project was a new design of rowing oars that mimic the tubercles on the edge of a whale flipper which reduces aerodynamic drag and slippage on the blade through the water.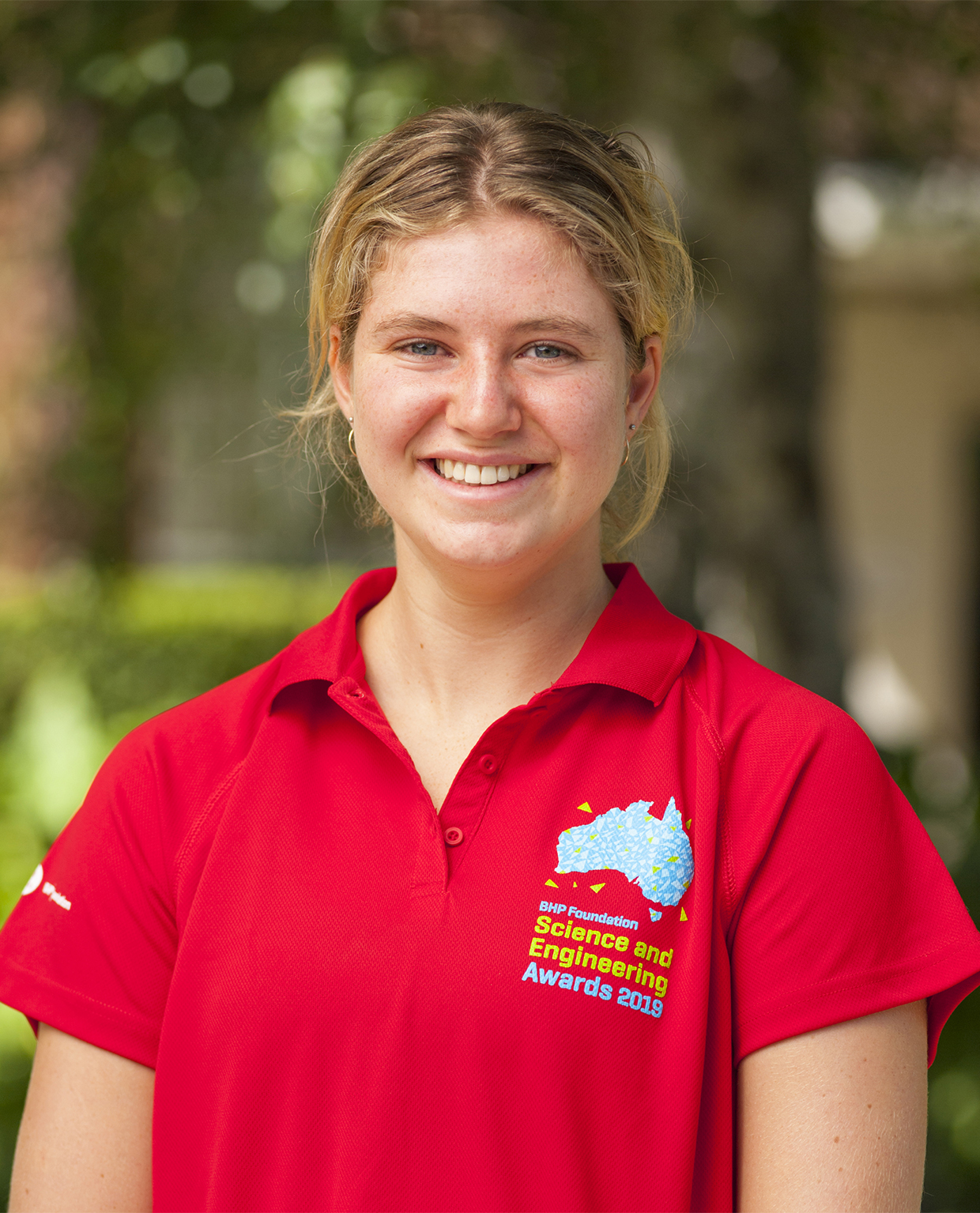 Lucy Lake.
Rosny College student Mitchell Torok and Launceston College student Ivy Brain received the Embedded Systems Fourth Award for their project, aWear which is a watch for people living in residential aged care or assisted living.
The watch features a button to send an alert and an accelerometer to facilitate fall detection and is connected to a database that can SMS nursing staff about residents' status and location in real-time.
Illawarra Grammar School student Macinley Butson received the Translational Medical Science Second Award and the China Association for Science and Technology (CAST) Award for her SMART System project.
The SMART System incorporates the use of two devices, the SMART Armour and SMART Magnetic Array to reduce collateral tissue damage during radiation therapy.
The SMART Magnet deflects the electron contamination away from the patient's skin towards the SMART Armour, which then absorbs it.
This prevents the patient's skin from burning and also reduces the patient's risk of developing another form of cancer in the long-term.
Mosman High School student Callum Predavec received the Mathematics Fourth Award for his project, Planetary Transfer Calculator which calculates the distance between any planet, moon or star in the solar system.
It is also web browser based making it more accessible to people interested in space.
CSIRO Education and Outreach Director Mary Mulcahy said Australian high school students had been recognised by Intel ISEF for their innovative projects over the last few years.
"The students in the Australian delegation have all shown outstanding commitment to their projects and it is an incredible achievement to have their work showcased alongside students from around the world," Ms Mulcahy said.
"I have no doubt we will see great things from all of these students in the years to come."
BHP Foundation Chief Executive James Ensor said the success of local students on an international stage was testament to their passion for STEM.
"Improving science, technology, engineering and maths outcomes for young people is at the heart of the Foundation's commitment to supporting innovative STEM programs in Australia," Mr Ensor said.
"We know there's a clear link between science, technology, engineering and math and our future prosperity so we're delighted to see this next generation of talented Australians recognised for their passion and commitment to solving some of the world's big challenges."
The BHP Foundation and Intel Foundation provide support for the BHP Foundation Science and Engineering Awards Australian delegation attending the fair.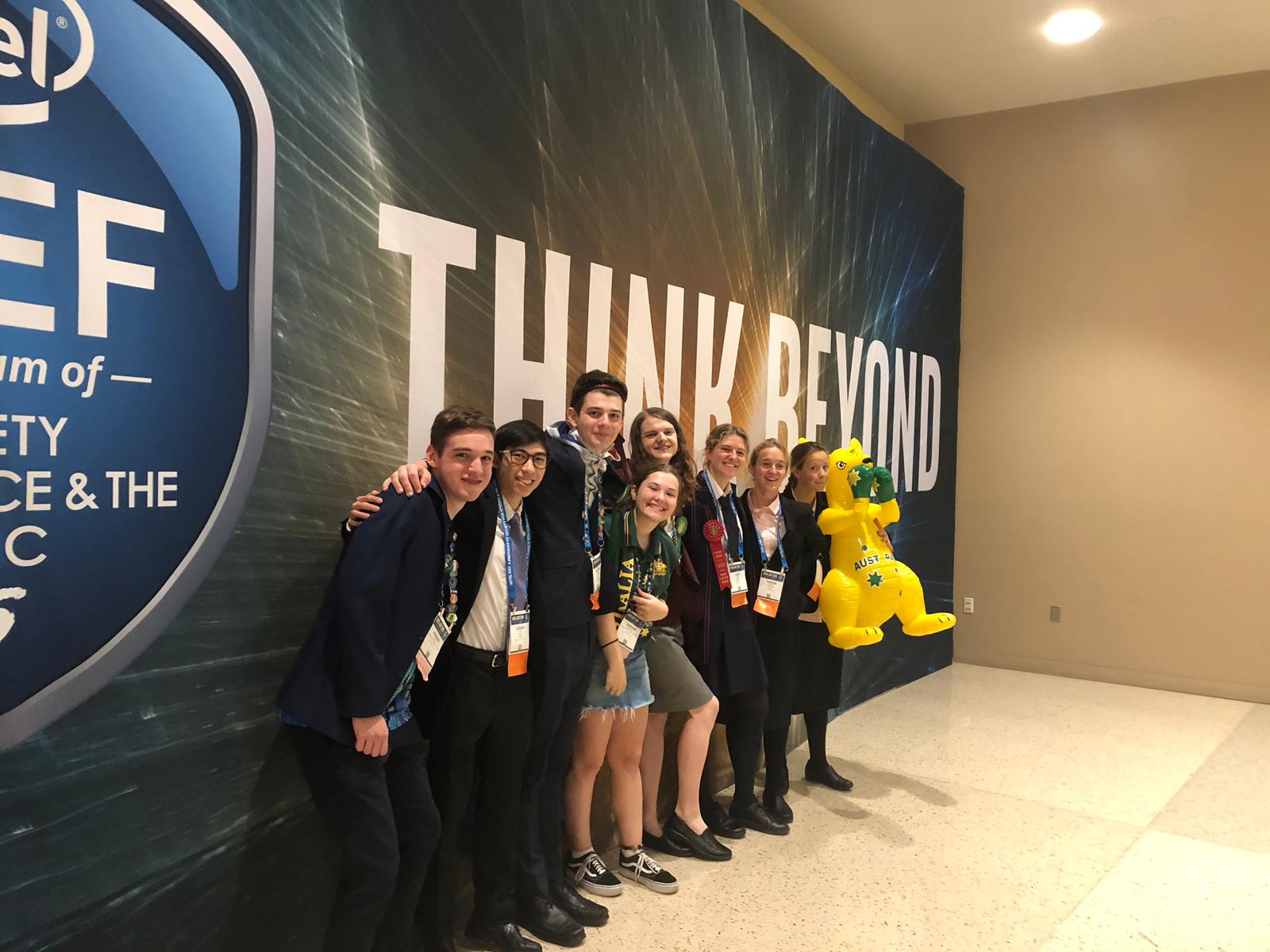 ISEF Awards Ceremony
Gum Boots - For Puddles! Where Did They First Come From?
The Peppa Pig compilation we've found for you this week reminds me of how much fun I used to have stomping around in puddles with my brothers when I was a fair bit shorter than I am today.
Our grandmother had a farm up the Derwent valley in Tasmania called 'Lawitta' (apparently this means 'peaceful place') and through this wended a creek that was great to explore and stomp through, in our gum boots as well.
In fact, during the colder months we would go there practically every weekend and have a great time watching the birds, taking long walks through dew sodden bush, 'baaing' back to the sheep and 'mooing' at the cows and what did we wear all weekend? Our Gum Boots!
Originally these stemmed from the Wellington boot, a type of leather boot adapted from Hessian boots. They were worn and popularised by Arthur Wellesley, 1st Duke of Wellington. Arthur Wellesley, KG, GCB, GCH, PC, FRS (1 May 1769 – 14 September 1852) was a British soldier who served twice as Prime Minister and is famous for his victory against Napoleon at the Battle of Waterloo in 1815.
The "Wellington" boot became a staple of practical foot wear for the British aristocracy and middle class in the early 19th century. The name was subsequently given to waterproof boots made of rubber that is no longer associated with a particular class.
The Duke of Wellington instructed his shoemaker, Hoby of St. James's Street, London, to modify the 18th-century Hessian boot. The resulting new boot was fabricated in soft calfskin leather, had the trim removed and was cut to fit more closely around the leg. The heels were low cut, stacked around an inch (2.5 centimetres), and the boot stopped at mid-calf. It was suitably hard-wearing for riding, yet smart enough for informal evening wear. The boot was dubbed the Wellington and the name has stuck in English ever since. In an 1815 portrait by James Lonsdale, the Duke can be seen wearing the more formal Hessian style boots, which are tasselled.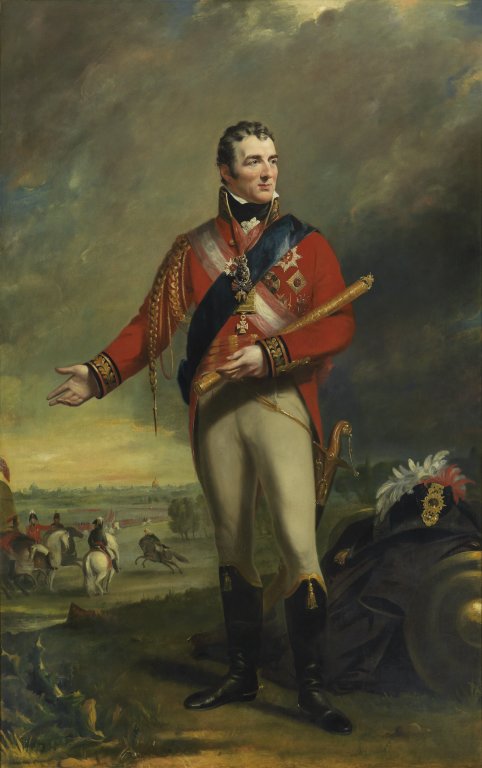 The Duke of Wellington at Waterloo. By James Lonsdale, 1815. Here he is portrayed wearing tasselled Hessian boots

Wellington's utilitarian new boots quickly caught on with patriotic British gentlemen eager to emulate their war hero. Considered fashionable and foppish in the best circles and worn by dandies, such as Beau Brummell, they remained the main fashion for men through the 1840s. In the 1850s they were more commonly made in the calf-high version, and in the 1860s they were both superseded by the ankle boot, except for riding.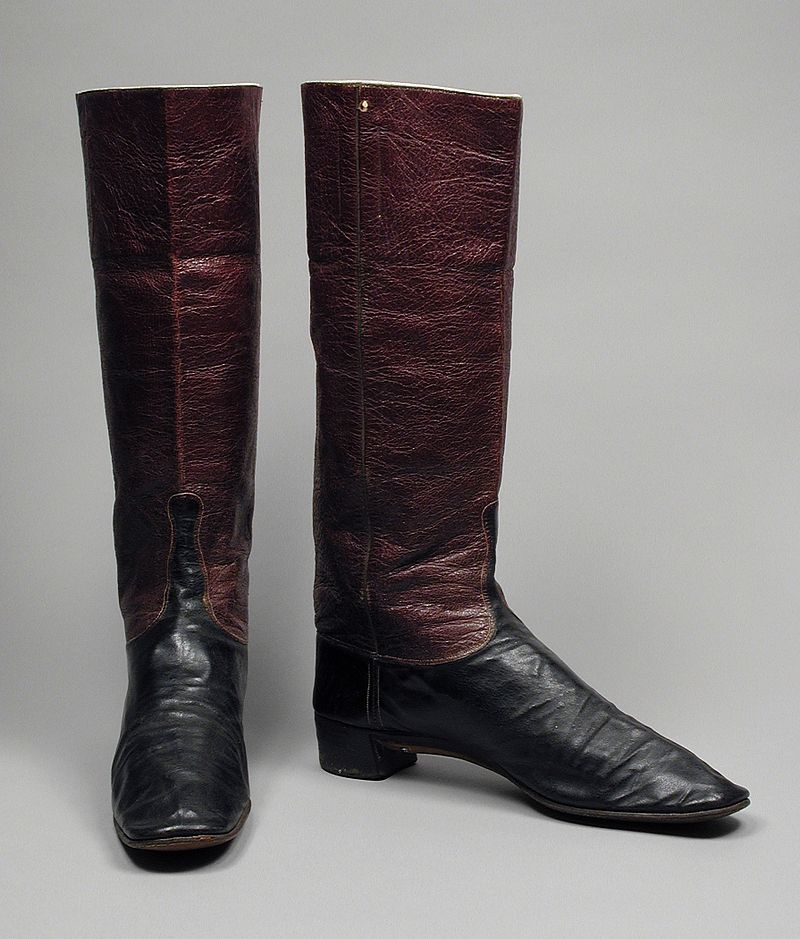 Dress Wellington boots, c. 1845

The Duke of Wellington is one of the four British Prime Ministers to have given his name to an item of clothing, the other being Sir Anthony Eden (known as the 'Anthony Eden hat') whilst Sir Winston Churchill gave his name to a cigar, and William Gladstone (four times prime minister between 1868 and 1894) gave his to the Gladstone Bag, the classic doctor's portmanteau!
Wellington boots were at first made of leather. Then in 1852 Hiram Hutchinson met Charles Goodyear, who had just invented the sulfur vulcanisation process for natural rubber. While Goodyear decided to manufacture tyres, Hutchinson bought the patent to manufacture footwear and moved to France to establish À l'Aigle ("to the Eagle") in 1853, to honour his home country. Today the company is simply called Aigle. In a country where 95% of the population were working on fields with wooden clogs as they had been for generations, the introduction of the wholly waterproof, Wellington-type rubber boot became an instant success: farmers would be able to come back home with clean, dry feet.

In the late 1940's the lower cost and ease of rubber "Wellington" boot manufacture, and being entirely waterproof, lent itself immediately to being the preferred protective material to leather in all forms of industry. Increased attention to occupational health and safety requirements led to the steel toe or steel-capped Wellington: a protective (commonly internal) toe-capping to protect the foot from crush and puncture injuries.

They have also been developed for use on the oceans - that being wet and decks being susceptible to being inundated with that water!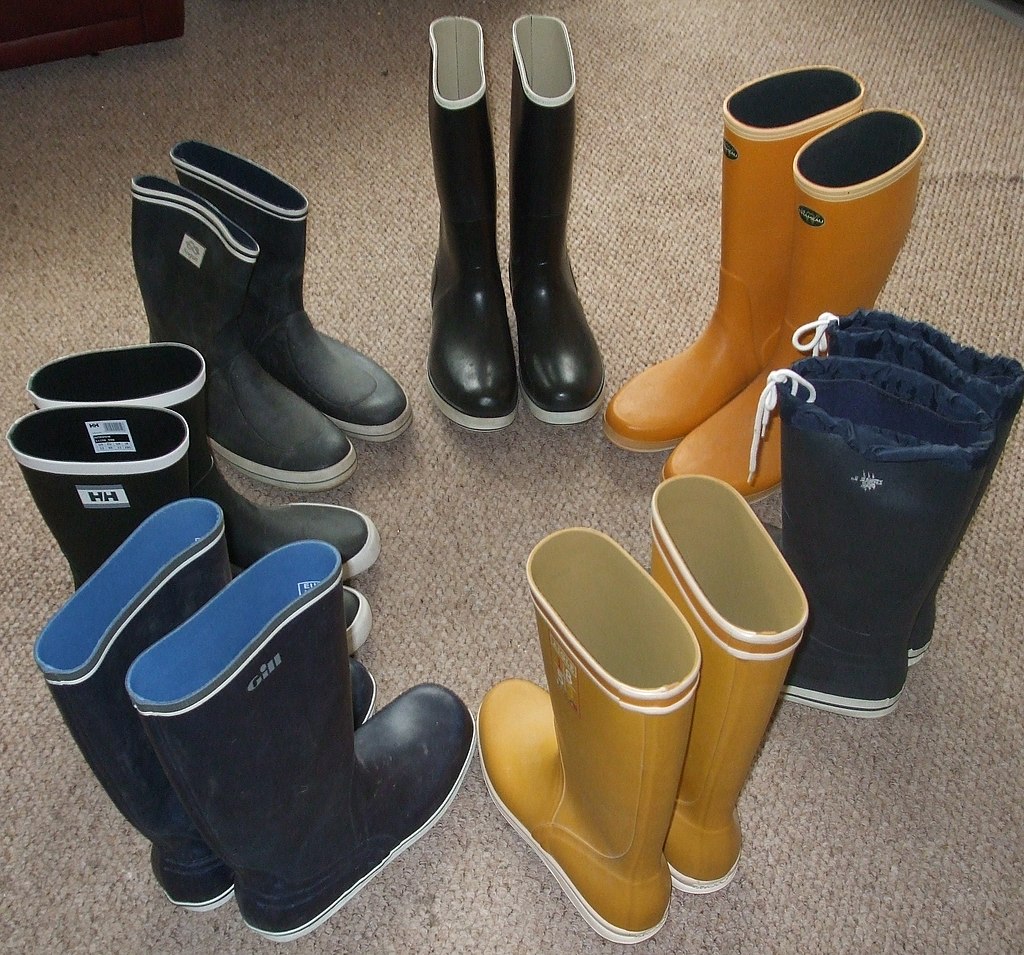 Ocean and Sailing Gum Boots Clockwise from top: Sperry Top-Sider, Le Chameau, Jeantex, Aigle, Gill, Helly-Hansen and Newport short and tall rubber 'sailing wellingtons'.

In Australia they are most commonly called "gum boots", although an alternative name, "Blucher Boot", was occasionally used by some older Australians. Blücher was Wellington's colleague at the Battle of Waterloo and there is speculation that some early emigrants to Australia, remembering the battle, may have confused a different design the Blucher shoe developed by Blucher.
To a Pair of Blucher Boots
Old acquaintance unforgotten,
Though you may be "ugly brutes",
Though your leather's cracked and rotten,
Worn-out pair of Blucher boots.
'Tis the richer man before you,
Dearer leathers grace his feet;
'Twas the better man that wore you
In the tramps through dust and heat!
Oft rebuffed by "super's" snarling,
When I asked him for a "show",
On that long tramp to the Darling
In the days of long ago;
Tell me, if you know it, whether,
As I sadly tramped away,
Bore I heavy on your leather,
Worn-out pair of Bluchers, say?
Though your leather's cracked and rotten,
Though you may be ugly brutes,
I'll preserve you unforgotten,
Worn-out pair of Blucher boots!
I hope we get some puddles to stomp around in soon - and that you have some great gum boots to keep your toes warm and dry while doing so!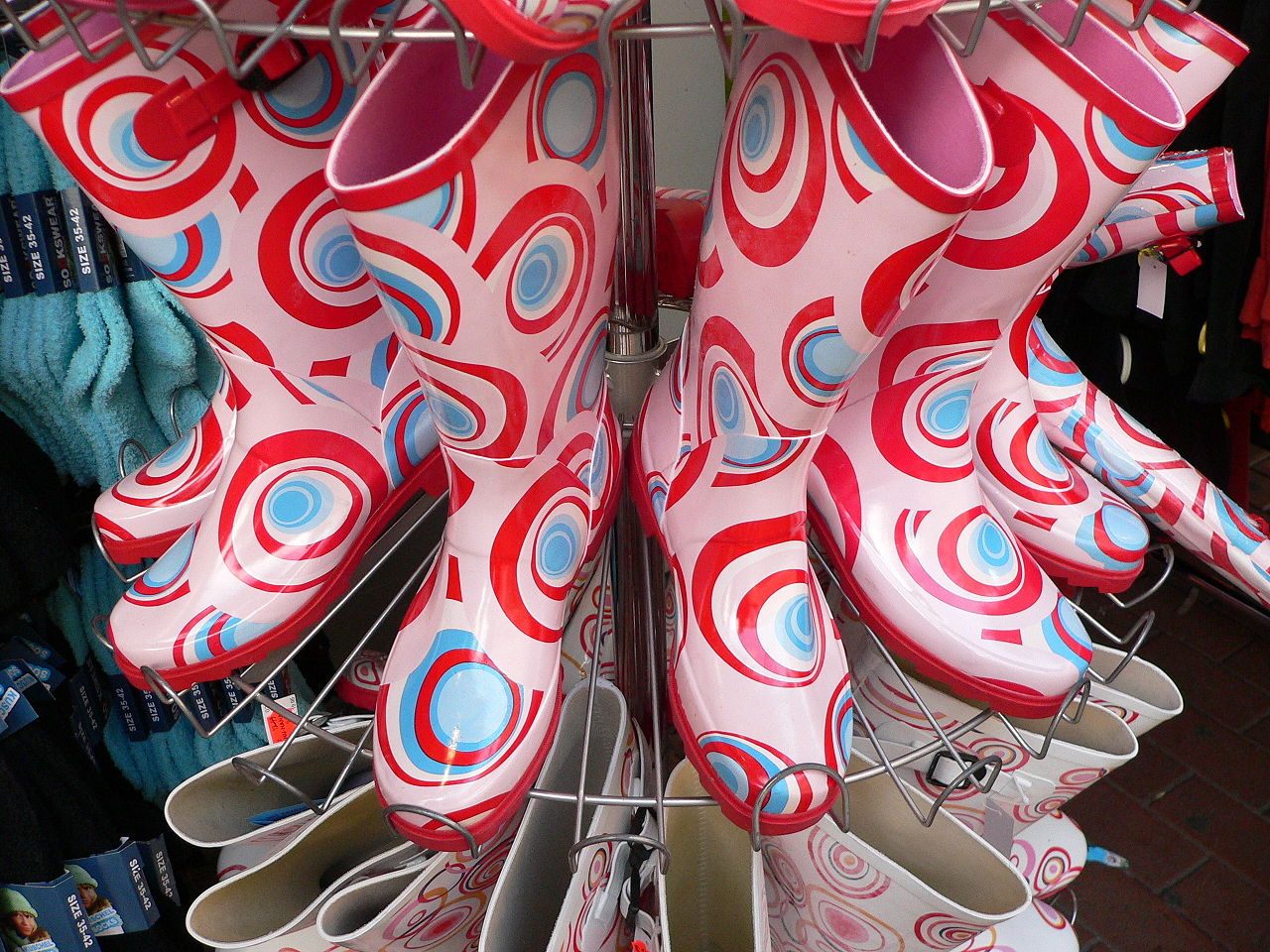 Know Your Risk: Take A Test And Help Eliminate HIV
NSW is continuing to progress towards the virtual elimination of HIV transmission, with the latest report finding 22 per cent fewer notifications in the first three months of 2019, than the average for the same period over the previous five years.
The NSW Health HIV Strategy Data Report shows in 2018, NSW had the lowest annual number of notifications on record. At the same time, HIV testing in NSW has continued to increase.
Dr Kerry Chant, Chief Health Officer said while the results are encouraging, there is evidence that a small number of cases of recent infections in NSW were linked.
"It is vital that people at risk of HIV infection, particularly men who have sex with men, take precautions to protect themselves. This includes taking Pre-Exposure Prophylaxis (PrEP) and using condoms" Dr Chant said.
"People who know they have a sexually transmitted infection also have an obligation under the law to take reasonable precautions to protect others from infection. For HIV the most effective precaution is taking treatment to suppress the virus so it can't be passed on to others, as well as using condoms.
"It's also important to get regularly tested. Men who have sex with men should get tested at least once a year and men with multiple partners, up to four times per year."
In the first three months of 2019, 52 men who had sex with men were diagnosed with HIV in NSW. 52 per cent had not had a test in the past 12 months and 17 per cent had never had an HIV test.
"A late diagnosis can be life-threatening and increases the chances of HIV being passed on to sexual partners. Testing is discreet, confidential and often free - being diagnosed early means you can receive treatment and live a long and healthy life," Dr Chant said.
The NSW Government has committed $21.9 million in 2018-19 to strengthen testing, treatment and prevention with 47 state-funded Sexual Health Clinics also making testing easily accessible.
Tests are available at your local GP or sexual health service. To find out where to go to get tested call the NSW Sexual Health Infolink on 1800 451 624.
Ride For Free On The Northwest Metro
May 22nd, 2019: NSW Government
Travel on the new Northwest Metro will be free on Sunday, 26 May 2019, when the turn-up-and-go rail line opens to the public.
The 13 Northwest Metro stations will open to the public at 11am on Sunday. The last metro train will leave Chatswood at 10:05pm and Tallawong at 9:35pm.
The Opal gates at all Northwest Metro stations will stay open all day, so customers travelling between metro stations only won't need to tap on and off.
Customers travelling on other public transport from outside the area or going beyond Chatswood will still need to tap on and off using their Opal card.
Transport Minister Andrew Constance said he expects large crowds to come and experience the new Northwest Metro.
"We are asking people to expect queues and large crowds, and spread their trips across the entire day," Mr Constance said.
"There will be buses stationed around the network to support the Metro as we bed in the new service, and more than 150 staff working in the field across the North West Metro line, at stations, roads and bus stops to help customers get around the network."
Northwest Metro stations
Tallawong station
Rouse Hill station
Kellyville station
Bella Vista station
Norwest station
Hills Showground station
Castle Hill station
Cherrybrook station
Epping station
Macquarie University station
Macquarie Park station
North Ryde station
Chatswood station.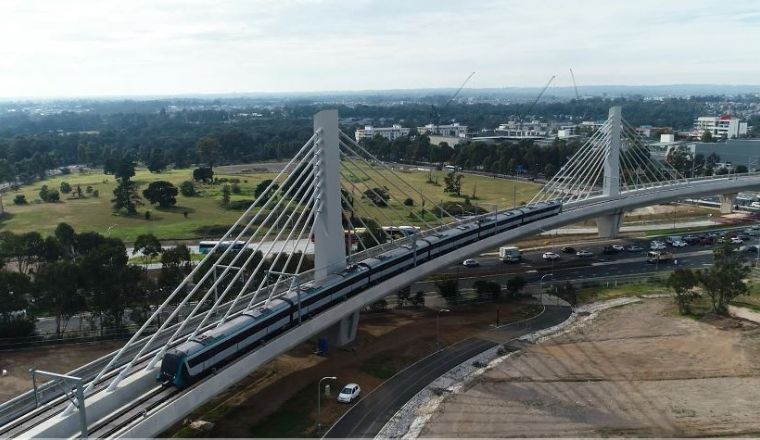 Optical Illusions Reveal Regular Waves Of Brain Activity Enable Visual Feature Integration
Rhythmic waves of brain activity cause us to see or not see complex images that flash before our eyes. An image can become practically invisible if it flashes before our eyes at the same time as a low point of those brain waves. We can reset that brain wave rhythm with a simple voluntary action, like choosing to push a button.
The new results come from experts who use optical illusions to understand human vision. Human sight involves activity both in the eyes and in the brain. Optical illusions are formed by playing tricks on any part of our complex visual system.
"This is the first record of rhythmic brain activity used to achieve integrated visual perception," said Associate Professor Isamu Motoyoshi from the University of Tokyo and co-author of the recent research article.
Reoccurring rhythms of attention and perception
Previous research identified that attention fluctuates six to eight times per second (6 to 8 Hertz), a rate researchers refer to as theta rhythms.
The recent investigation started when Motoyoshi and colleagues were studying the Gabor pattern illusion, in which a smoothly moving circle appears to jump across the screen.
Viewers saw jumps at a constant rhythm regardless of the actual speed of the illusion. The rhythm of jumps in the optical illusion was remarkably similar to the theta rhythm of brain waves related to attention.
"That led us to want to study rhythms of attention and visual perception in more detail," said Motoyoshi.
Binding form and color in conscious perception
In their recent experiments, researchers asked participants to push a button to begin each trial, whenever they felt ready. Then after some unpredictable wait time, two images would quickly flash on a computer screen, one after the other. Participants then reported which images they saw.
"These tests are considered high cognitive load tasks. You have to identify both the light intensity -- white or black color -- and the orientation of the image -- left or right diagonal lines," said Ryohei Nakayama, Ph.D., previously a project researcher in Motoyoshi's lab and a currently a researcher at the University of Sydney, Australia.
You can't see what you don't pay attention to
The wait time between the button push and the image flash was between 50 to 800 milliseconds long. In that length of time, theta rhythm brain waves can fluctuate four to seven times.
Participants were much more likely to report correctly which images they saw when the images flashed at the same time as a high point of their attention brain waves, as measured by an EEG (electroencephalogram). The opposite was also true: Participants were more likely to give an incorrect answer when the images were flashed at the same time as a low point of their attention brain wave.
Theoretically, an image could become functionally invisible if it always flashed in time with the low points of theta rhythm attention brain waves.
"Under certain conditions, attention is needed to achieve unified perception. That's the classical story," said Motoyoshi.
"But, it is unlikely that one specific brain region is important for attention. Instead, we think the new story is that periodic rhythmic waves of brain activity are required for both visual perception and attention," he continued.
Motoyoshi and Nakayama hope that their ongoing visual perception research will continue to reveal the complexities of consciousness.
Ryohei Nakayama, Isamu Motoyoshi.
Attention Periodically Binds Visual Features As Single Events Depending on Neural Oscillations Phase-Locked to Action.
The Journal of Neuroscience, 2019; 39 (21): 4153 DOI:
10.1523/JNEUROSCI.2494-18.2019
Public Hospital Admissions Growing Faster Than Private
Hospital admissions have risen faster than population growth, and last financial year saw a rise in influenza related hospitalisations, according to a new report from the Australian Institute of Health and Welfare (AIHW).
The
report
,
Admitted patient care 2017–18: Australian hospital statistics
, showed that 60% of the 11.3 million hospital admissions were to public hospitals, and that over the past 5 years, publicly funded admissions grew faster than admissions funded by private insurance (4.7% average growth per year compared with 3.6%). The total number of hospital admissions grew by an average of 3.8% per year over this period.
Admission for older Australians was a key driver of this growth. In the five years to 2017–18, hospital admissions increased by 6% per year for people aged 65–74 and 5% per year for people aged 85 and over.
'This increase was at a faster rate than population growth in both age groups (4.1% and 3.5%, respectively),' said AIHW spokesperson Dr Adrian Webster.
This growth has meant that, in 2017–18, people aged 65 years and older (who make up about 15% of the population) accounted for 42% of admissions and 49% of patient days.
The report also showed relatively high rates of admissions classified as potentially preventable in 2017–18.
Between 2016–17 and 2017–18, vaccine-preventable hospitalisations rose by almost 47%.
'This reflects large numbers of admissions for influenza and pneumonia in most states and territories,' Dr Webster said.
Today's report also showed that elective surgery waiting times have increased for both public and private patients in public hospitals, compared with waiting times previously reported.
'In 2017–18, the median waiting time for elective surgery in public hospitals was 41 days overall—public patients waited an additional 3 days and patients who used private health insurance to fund part of their admission waited 2 days longer, compared with 2013–14,' Dr Webster said.
Aboriginal and Torres Strait Islander people made up 4.9% of admissions (551,000) and were hospitalised at 2.6 times the rate for other Australians.
Study Identifies Dog Breeds, Physical Traits That Pose Highest Risk Of Biting Children
May 22nd, 2019: The Ohio State University Wexner Medical Center
New research at The Ohio State University College of Medicine and The Ohio State University Wexner Medical Center identifies dog breeds and physical traits that pose the highest risk of biting with severe injury. Doctors want parents of young children to use this information when deciding which dog to own.
The study, published in the International Journal of Pediatric Otorhinolaryngology, explores the risks of dog bite injuries to the face in children and bite severity by breed, size and head structure. Researchers found pit bulls and mixed breed dogs have the highest risk of biting and cause the most damage per bite. The same goes for dogs with wide and short heads weighing between 66 and 100 pounds.
"The purpose of this study was to evaluate dog bites in children, and we specifically looked at how breed relates to bite frequency and bite severity," said Dr. Garth Essig, lead author and otolaryngologist at Ohio State's Wexner Medical Center. "Because mixed breed dogs account for a significant portion of dog bites, and we often didn't know what type of dog was involved in these incidents, we looked at additional factors that may help predict bite tendency when breed is unknown like weight and head shape."
To assess bite severity, researchers reviewed 15 years of dog-related facial trauma cases from Nationwide Children's Hospital and the University of Virginia Health System. They looked at wound size, tissue tearing, bone fractures and other injuries severe enough to warrant consultation by a facial trauma and reconstructive surgeon and created a damage severity scale.
Researchers also performed an extensive literature search from 1970 to current for dog bite papers that reported breed to determine relative risk of biting from a certain breed. This was combined with hospital data to determine relative risk of biting and average tissue damage of bite.
"There's an estimated 83 million owned dogs in the United States and that number continues to climb," said Dr. Essig. "We wanted to provide families with data to help them determine the risk to their children and inform them on which types of dogs do well in households with kids."
According to the Centers for Disease Control and Prevention, 4.7 million people in the United State are bitten by dogs annually, and 20 percent of these victims require medical care for their injuries. Those who require treatment after dog bites are predominately children ages 5 to 9 years.
"Young children are especially vulnerable to dog bites because they may not notice subtle signs that a dog may bite," said Dr. Charles Elmaraghy, study co-author, associate professor of otolaryngology at Ohio State's College of Medicine and chief of otolaryngology at Nationwide Children's Hospital. "We see everything from simple lacerations to injuries in which there's significant tissue loss that needs grafting or other reconstructive surgery."
Dr. K. Craig Kent, dean of The Ohio State University College of Medicine said, "This research highlights a significant public health issue and provides a new decision-making framework for families considering dog ownership."
The circumstances that cause a dog to bite vary and may be influenced by breed behavior tendencies and the behavior of the victim, parents and dog owner.
"Children imitate their parents," said Meghan Herron, associate professor of veterinary clinical services at Ohio State's College of Veterinary Medicine. "Be a model for your child and avoid any confrontational or risky interactions that might trigger a fear or fear aggression response if the child were to mimic it. This includes harsh reprimands, smacking, pushing off of furniture and forcibly taking away an item."
Herron offers the following tips for dog owners:
Most bites to children occur from a family dog when the dog is resting and the child approaches. Try to provide and encourage resting places away from where children run and play.
Many bites to children occur even when an adult is in the room. If you can't devote your attention to the interactions between the dog and child, it may be best to have a physical barrier between them, such as a baby gate or crate for the dog. This is especially important for toddlers whose behaviors may be more erratic, unpredictable or frightening to a dog.
Teach children to let resting dogs lie and to stay out of dog crates, beds and other resting places that are designated for the dog. If the dog's favorite spot is on the couch, put a towel or blanket down to clearly delineate the dog space versus child space.
Children should not approach, touch or otherwise interact with dogs while they are eating. Provide quiet areas for dogs to eat away from areas where children run and play. Rawhides and other flavored chews should only be given when dogs are separated from child play areas.
Teach children to find an adult if a dog takes one of their toys or snacks. Children should never attempt to retrieve these items themselves.
Other researchers involved in this study were Dr. Cameron Sheehan, Dr. Shefali Rikhi and Dr. J. Jared Christophel.
Garth F. Essig, Cameron Sheehan, Shefali Rikhi, Charles A. Elmaraghy, J. Jared Christophel.
Dog bite injuries to the face: Is there risk with breed ownership? A systematic review with meta-analysis.
International Journal of Pediatric Otorhinolaryngology, 2019; 117: 182 DOI:
10.1016/j.ijporl.2018.11.028
How Ocean Melts Antarctic Ice Sheet
May 15, 2019: University of Tasmania
An innovative use of instruments that measure the ocean near Antarctica has helped Australian scientists to get a clearer picture of how the ocean is melting the Antarctic ice sheet.
Until now, most measurements in Antarctica were made during summer, leaving winter conditions, when the sea freezes over with ice, largely unknown.
But scientists from IMAS and the CSIRO, supported by ACE CRC, the ARC-funded Antarctic Gateway Partnership and the Centre for Southern Hemisphere Oceans Research (CSHOR), developed a novel mission that allowed year-round measurements to be collected near the Totten Glacier, a fast-melting glacier in East Antarctica.
They used instruments known as ARGO floats that are typically designed to drift with ocean currents and measure ocean temperature and salinity profiles.
For this mission, however, the floats were designed to "park" on the sea floor between profiles so they stayed in the region and did not drift away, and vital data collected during ice-covered winter months were stored and uploaded via satellite later in ice-free conditions.
The study published in the journal JGR Oceans revealed for the first time that deep water driving melting at the base of the Totten Glacier is warmer and in a thicker layer during winter and autumn than during spring and summer.
Lead author Alessandro Silvano, from IMAS, said this means the Totten Glacier might melt more rapidly in winter than summer, and that summer measurements might under-estimate the flow of warm water to the ice shelf.
"We had a nervous wait during the first winter, wondering if the floats would survive the icy winter conditions after being parked on the rough sea floor for long periods," he said.
"When spring arrived and the sea ice started to melt we were very excited to see that the floats returned and transmitted the winter data.
"We immediately noticed that the ocean was warmer in autumn and winter than found in our previous summer measurements. "The new measurements confirm that this part of East Antarctica is exposed to warm ocean waters that can drive rapid melt, with the potential to make a large contribution to future sea level rise.
"The floats also provided new measurements of ocean depth in the region, revealing a deep trough that allows warm water to approach the glacier year-round," Mr Silvano said.
CSIRO co-author Dr Steve Rintoul from CSHOR said the new measurements of ocean depth, temperature and salinity will help improve models used to predict the Antarctic's contribution to sea level rise.
"Crashing sensitive oceanographic instruments into the sea floor isn't generally recommended," he said.
"But these results show that profiling floats can be used in novel ways to measure the ocean near Antarctica, a critical blind-spot in the global ocean observing system.
"Much work remains to be done and more measurements are needed to assess the vulnerability of the ice shelf to changes in the ocean, including in the ocean beneath the floating Totten Glacier.
"New technologies, like the autonomous underwater vehicle (AUV) recently acquired by the University of Tasmania, will be needed to fill this gap," Dr Rintoul said.
Alessandro Silvano, Stephen R. Rintoul, Kazuya Kusahara, Beatriz Peña‐Molino, Esmee Wijk, David E. Gwyther, Guy D. Williams.
Seasonality of warm water intrusions onto the continental shelf near the Totten Glacier.
Journal of Geophysical Research: Oceans, 2019; DOI:
10.1029/2018JC014634
Disclaimer: These articles are not intended to provide medical advice, diagnosis or treatment. Views expressed here do not necessarily reflect those of Pittwater Online News or its staff.