August 27 - September 2, 2017: Issue 327

Australia: Place Of The Culling Fields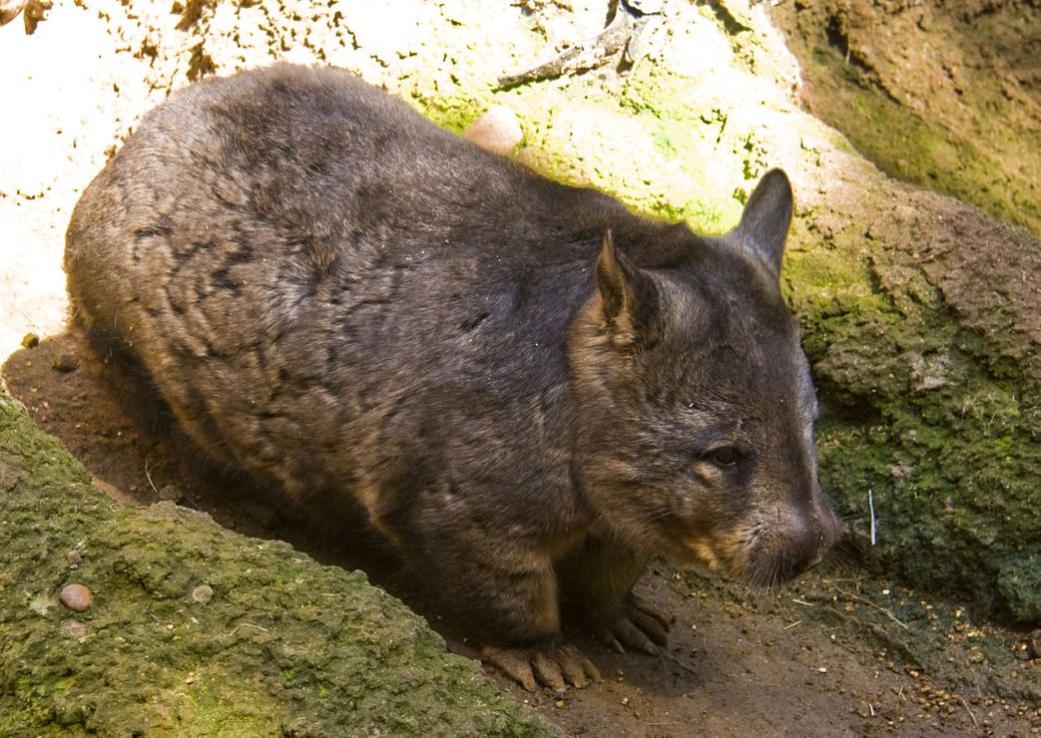 Southern Hairy-nosed Wombat - photo courtesy Jason Pratt
Hairy Nosed (Southern) Wombats 'Cull'
A property at Murraylands in South Australia has featured as the scene of one of the
largest
mass murders of Australia's
Hairy Nosed (Southern) Wombats this week
,

nearly two weeks after the Environment Department received a report they might have been buried alive.
Brigitte Stevens, from the
Wombat Awareness Organisation
, had raised concerns the animals had been entombed in their burrows at a Sandleton property, only to have it confirmed on Wednesday.
"I was out there watching them (departmental staff) go from burrow to burrow and I saw them picking up bodies," Ms Stevens said.
"Twelve days after I had reported it they were out there digging them out with shovels."
Ms Stevens said she alerted the department and the office of Environment Minister Ian Hunter about the incident on August 11, after she visited the property following concerns from a member of the public.
"There was at least 30 warrens that had been filled in and maybe eight to 10 dead bodies," she said.
"
In the news footage last night, the first wombat was still in rigamortis. I watched DEWNR dig him up.
He has died recently so their assumption they were killed then buried is incorrect."
"Today I watched DEWNR staff dig up just a few wombat bodies with a shovel and before they had finished inspecting all of the burrows, declare there is no evidence of them being buried alive so no freeing of the burrows
On August 22nd:
"As
every burrow on the property has been bulldozed he has killed every single wombat on the property
.
Wombats have been known to survive for 21 days after they have been buried alive, they cannot dig out as there is nowhere to place the tonnes of soil above them.
With at least 30 warrens filled in,
as many as 100 wombats are dying
."
Brigitte said "
The only magic moment from this was me catching one darling. He was struggling to move and going directly towards where his home was no more. I caught him in my jumper and swept him to safety.
He was taken to our vet and
he has lost his right eye and full body x-ray's showed he has two bullets lodged in his chest
. He is in a bad way but trying his hardest.
We have named him Bear."
The southern hairy-nosed wombat (Lasiorhinus latifrons) is one of three extant species of wombats. It is found in scattered areas of semiarid scrub and mallee from the eastern Nullarbor Plain to the New South Wales border area. It is the smallest of all three wombat species. The young often do not survive dry seasons.

It is the state animal of South Australia

.
Southern hairy-nosed wombats dig and live in burrows which they connect into warrens with many entrances.
These warrens are their prime refuges and are shared by up to 10 individuals.
The breeding of the southern hairy-nosed wombat occurs when their favoured food is at its peak growth rates. Between August and October
, when rainfall is sufficient, females enter ovulation and the males' testosterone levels and prostate gland sizes increase.
The southern hairy-nosed wombat was listed as Near Threatened by the IUCN in 2016
, because "many subpopulations are now isolated and may be non-viable".
In 2013 the University of Adelaide released a study showing the wombat in South Australia was literally starving to death across the Murraylands, from Murray Bridge to Blanchetown, due to land mismanagement and land degradation and invasive plants, including onion weed.
This weeks' incident is not the first report of wombat culls in South Australia. Tasmania too has featured as issuing 56 permits to kill the Noddys of the Australian bush in an
ABC report in February 2017
. In that article: "The ABC spoke to a deer farmer in southern Tasmania who was
recently granted a permit to shoot 50 wombats over a 12-month period.
He said culling was his only option after the animals had burrowed under his wallaby-proof fencing, which cost him hundreds of thousands of dollars, allowing his deer to escape."
The deer is not a native species of Australia
- the granting of permits at 56 x 50 adds a very high price to your slice of restaurant venison. Add to this that wombat populations in Tasmania are battling mange, as they are around Australia, which will kill, and
you have 'permit'-ted extinction.
In South Australia destruction permits to control wombat populations can be obtained, but the permits call for adults to be humanely shot, not buried alive where they may take up to 21 days for the furry ones to suffocate.
Landholders may only apply for destruction permits for wombats if non-lethal measures — such as marking the location of active burrows, installing wombat gates in fences and making changes to fencing — have been tried and have not been successful.
Farmers, who view the animals as pests, are giving other farmers a bad reputation - they are also missing their fellow farmers findings that wombats being present means less destruction than kangaroo populations(also open to 'cull' measures in Australia), that they eat less grass than sheep and keep rabbits and foxes away.
Given our history of 'koala culls', past and present, another iconic species that is rapidly approaching extinction, the numerous studies released that point out over 50% of our native species have become extinct since Europeans forcibly amalgamated Australia with so-called notions of being 'civilised', nay, even 'evolved', with
l
oss and degradation of habitat attributed as the largest single threat to land species,
you would be forgiven for wondering what it must take to make all this 'permit for culling' anything that moves or anything that grows to house and feed anything that moves, will cease.
The South Australian Department of Environment, Water and Natural Resources has released the following statement - wherein it becomes
apparent
that you may get a permit to murder the state animal - perhaps even en masse, as has happened in this case:
Wombats in the Murraylands
The Department of Environment, Water and Natural Resources is investigating allegations of wombat mistreatment at a property in the Murraylands.
Investigators have visited the property and have spoken to the owner. On the basis of evidence collected so far, investigators do not believe that any wombats are trapped underground.
Seven dead wombats have been collected from the property and the cause of death will be established as part of the investigation.
No other information can be provided while the investigation is ongoing.
The Department takes wildlife reports very seriously and investigates these under the National Parks and Wildlife Act 1972.
The maximum penalty for destroying a Southern Hairy Nose Wombat
without a permit
is $2,500 or 6 months imprisonment, with the court's jurisdiction to impose additional penalties if more than one animal is involved.
NSW Government Green-Lights New Wave Of Tree Clearing And Species Loss

As the leading conservation organisations in NSW, we reiterate our steadfast opposition to the NSW Coalition Government's new land management regime that weakens tree-clearing laws and takes effect tomorrow.
These new arrangements, imposed by the Coalition Government against the wishes of the general community, significantly erode hard-fought safeguards for native species, soils and water supplies, and represent the most significant backward step in nature conservation in NSW in a generation.
The NSW Coalition Government has introduced this package against the advice of well-informed professional and civic organisations, including scientific societies, legal bodies, local councils and regional local government organisations, conservation groups, farmers, and even one of the government's own key advisors on the reforms, Professor Hugh Possingham.
The government has also disregarded the wishes of the great majority of citizens who made their views known during the drafting and consultation process.
More than 5000 people made submissions opposing the weakening of environmental protections and warning of the increased risk the proposals posed for native wildlife and bushland, soils and water supplies.
The number of species in NSW listed as threatened with extinction now exceeds 1000, a list that includes the iconic koala and about 60% of our remaining native mammals.
Land clearing is one of the key threats to the long-term survival of many of these species, so any measures likely to increase this form of habitat destruction amounts to environmental vandalism and will be vigorously resisted.
Today we give a commitment that we will not rest until the protections removed or weakened by these deeply flawed laws are restored and strengthened.
_________________________________________
Conservation Groups Welcome The Senate's Call To Delay NSW Government's Tree-Clearing Laws
The Australian Senate has called on the Berejiklian Government to delay introducing new tree-clearing laws in NSW until regulatory maps are made public showing areas that will and will not require approval before clearing can occur. [1]
The NSW Government has committed to "switching on" its new tree-clearing laws on Friday next week (August 25) when codes and regulations supporting the new Biodiversity Conservation Act 2016 are due to come into force.
The Coalition last year abolished the Native Vegetation Act and Threatened Species Conservation Act, replacing them with the Biodiversity Conservation Act, which had weaker tree-clearing controls and diluted protection for native wildlife and threatened ecosystems.
Nature Conservation Council CEO Kate Smolski said: "Conservation groups been warning thousands of hectares of wildlife habitat could be lost under the new laws, as happened in Queensland when the Campbell Newman LNP government gutted that state's land clearing laws.
"It is clear the Australian Senate shares our concerns, which is why it has called on Premier Berejiklian to delay implementing these weaker laws until their effect is better understood and the regulatory framework is fully in place.
"We have already had reports that some unscrupulous agribusinesses have already begun clearing illegally in anticipation of the new laws, and it is widely expected that landholders will rush to clear in the weeks and months after these laws take effect.
"These laws are already going to do a lot of harm, but implementing them before all the regulatory protections are in place will simply multiply the damage they can do."
Total Environment Centre Director Jeff Angel said: "Despite the fact the previous land-clearing laws were working well – a new weaker act has been passed. It is a very complex system and we have been advised that key regulatory instruments will not be completed by the turn-on date of 25 August.
"This was noted by the Senate and importantly that the NSW offset scheme does not accord with the Commonwealth offset scheme which has stronger rules.
"Further, government officers who are supposed to administer the new system have not been fully trained on the new codes and regulations, because they are still being finalised. It is also clear there won't be enough staff to administer the new system. All up NSW will see a massive expansion in land clearing."
The Senate—
(a) notes that:
(i) earlier this year the NSW Government released a range of draft regulations and instruments to support two laws that cover how biodiversity, 'offsetting' and land-clearing are assessed in rural and urban areas,
(ii) the NSW Government plans for these biodiversity and land-clearing changes to commence on 25 August 2017, and
(iii) the NSW Environment Defenders Office in its submission to the NSW Government on this issue pointed out that:
(A) the Biodiversity Offsets Scheme will not meet federal standards in the Commonwealth Offsets Policy under the Environment Protection and Biodiversity Conservation Act 1999, and
(B) where Local Land Services (LLS) consider that proposed clearing may require Commonwealth approval, LLS will only certify the clearing after being reasonably satisfied by the landowner that Commonwealth approval is unnecessary or approval has been granted; and
(b)
calls on the NSW Government to delay setting a commencement date until all the mapping required to be able to make decisions about land-clearing and offsets is accurately and comprehensively completed
, and NSW offsets under the Commonwealth policy meet Commonwealth standards.
_________________________________________
I
n the final week of NSW Parliament in 2016, the Liberal/National Government rushed through the two bills that are the biggest step backwards in NSW's environmental history.
The Local Land Services Amendment Bill 2016 and the Biodiversity Conservation Bill 2016 will lead to a massive expansion of land-clearing, the release of millions of tonnes of greenhouse gases adding to the climate change emergency and an acceleration in the loss of already threatened species.
It will expand the flawed biodiversity offset system which is already failing the environment. For the first time, proponents can now just pay into a fund, instead of even locating offsets .
The environment is already under unprecedented threat from climate change and land clearing and these laws will irreversibly destroy what precious little we have left.
We demand that these laws be repealed and replaced with laws that actually protect wildlife, stop broad scale clearing and preserve and improve our environment.
A Few Examples Of Our Long History Of Killing Everything That Moves For Profit
The Koala's Extermination
THE koala, or native bear (Phascolarclos cinerrus), is in grave danger of extermination that is, if some-thing is not done, and speedily, too, to absolutely protect it. This lovable little animal possesses a thick, soft fur of commercial value, and many thousands are slaughtered annually and their skins exported. I use the word "slaughtered," knowing from experience — not personal, however—what a remarkably tenacious grip on life his inoffensive animal has, and when mortally
wounded and it takes killing — its piteous, heartrending, and almost human cries remain in one's mind for all time.
In Queensland alone, during the year 1919 and 1920, 1,000,000 koalas were slaughtered for commercial purposes.
The following figures give some idea of the enormous number of marsupial skins exported. At one sale held last year in America the skins offered totalled 377,500, made up as follows :—
ringtail opossums, 118,000:
the so-called wombat really being koala skins.
These figures speak for themselves, and prove emphatically that drastic action on the part of the authorities responsible for the safeguarding of our native fauna is imperative. —

N.W.C.
Surprising facts regarding trickery said to be practised by some sections of the skin trade, to cover the selling of skins of protected animals, says the Melbourne "Argus," have come under the notice of the council of the Wild
Life Preservation Society of Australia, according to the report of the
society
for 1925, which has been received.

For years large numbers of koala skins have been handled under the name of wombat, it is stated, and they are catalogued in both England and America under this name.

It is pointed out that no person with any knowledge of both skins could be deceived. Persons visiting Australia from America recently had asked to be shown specimens of the "wombat," as, they said, it supplied them with some of their finest furs. They were considerably surprised when they saw the coarseness of its fur, and astonished when they recognised the koala's coat as their "Australian wombat" fur. The report points out that the work of the society in securing the prohibition of the export of native birds for commercial purposes had been dis counted by the issuing of permits to individuals to take out ostensibly as pets, small numbers of birds, which in nearly every instance had been obtain ed from dealers. Export of birds had not been limited to small consignments;

recently about 2,000 cockatoos were sent to America in one lot.

AUSTRALIAN SKINS. (

1926, July 15

). Townsville Daily Bulletin (Qld. : 1907 - 1954), p. 6. Retrieved fromhttp://nla.gov.au/nla.news-article60920836
The Federal Minister for Trade and Customs (Mr. Pratten) at Sydney yesterday, expressed his grave personal concern at the recent great destruction of native bears.
He had caused a proclamation to be issued absolutely prohibiting export of the skins of the native bear after November 10.
Any attempts to circumvent the proclamation by skin dealers or others through illicit export of skins outld be rigorously dealt with by his department throughout Australia. Mr. Pratten added that he was in complete complete sympathy with the widespread movement throughout Australia for the preservation of bird and animal fauna. While the actual preservation of fauna was under the constitution a matter of purely state concern, the Minister was determined that, as far as possible, the department which he administered would co-operate to the full to prevent the untimely devastation of these unique fauna.
To the pioneers the "native badger" was far better known than to modern Australians, most of whom have never even
seen a wombat. The quaint marsupial

was much exported once,

and the early settlers used It as food. "Badger hams" were the roast pig of the pioneers, and used to be smoked In the wide colonial chimneys.
The wombat looks far more like a bear than the native bear does. It also looks like a monstrous rodent, and had rodent-like teeth. But it is a pouched marsupial, one of the strangest this country possesses.
Nowadays it is shot only for "sport." though some farmers in mountain country destroy it because it is accused of blundering into and damaging fences by loosening the posts. And there are always some trappers out to get wombats for the various zoos. They usually make use of pit traps at holes in fences. The wombat is the most independent and unsociable marsupial in Australia, found quite alone except In the mating season. It cares little for dog or dingo, and remains strangely unafraid when attacked. One swipe of the sharp, curved claws will send any ordinary dog howling, and an un-armed man will have to jump aside
as the heavy creature comes straight at him.
The animal is remarkably thickset, with very thick and short legs. It has been called a "furry pig." The neck is very short, the tail rudimentary. The stocky solid body
is about a yard in length.
The wombat is now restricted to unfrequented places, and it likes rough mountain gullies best. As the twilight deepens and silence settles over the land, it comes shuffling out on to the grassy flats for its night feeding. Now and then, if with a mate, it will give a brief growling grunt of reassurance. It loves to crop paspalum, but eats all sorts of grasses, and will stop to scratch up small shrubs here and there to get at the succulent roots. It also chews the inner bark of certain plants.
If set upon by men and dogs it will make straight for the great burrow, trundling along with surprising speed, moving strangely low over the ground on account of the stumpy legs. At such a time no human in the way will make it swerve aside.
It breeds always in winter, and for the burrow it likes to choose a spot far down a slope. It begins operations by taking a crouching attitude like an immense mouse; then It starts to tear out grassy clods, throwing them backwards down the incline into the creek bed. It seems a clumsy worker, but is marvellously efficient. It is the
biggest of all the burrowers, fashioned in every way for digging. The front limbs are extremely stout and strong, and each broad and solid front foot Is armed with five strong digging claws, which protrude from the fur. A tunnel will run into the bank for about 15 feet or so, and at the end is widened into a chamber. There a dry and cosy nest, or, rather, carpet, is made, bits of bark being carried in from the slopes outside.
Tunnelling often begins in early June, and there in the warm and secure darkness a single young one is born before the end of July. Wombats usually come out to their feeding before darkness sets in, but on dull and rainy days they will be abroad much earlier. They seem to judge by the light alone.

The lumpy baby is left behind till about December

, when it first comes out and sees the great world for itself. The burrow entrance is easy to find, but it is no joke trying to dig one out. I have seen picks and shovels noisily at work for half an hour among the stiff clay and boulders, after which the job was given up as quite hopeless, only about six feet of the hillside then being laboriously hacked away.
People often plug up an entrance securely with logs and large stones, but next morn
ing the fugitive will invariably be found to have dug Its way out with ease. In such a case a burrow Is always abandoned by the wombat.
The animal will probably become totally extinct, for everyone wants to shoot one

.

The skins seem to be
useless, but just because the animal is now rare it is hunted as a curiosity.
The psychology of the alleged "sportsman" is hard to fathom.
Wombats are being driven farther and farther afield, and the senseless slaughter continues

.
It seems strange that they have never reached the northern parts of Australia, especially as they seem to dislike very cold weather. They were thought to be confined to the southern States till as late as 1900, when a new species was found in South Queensland, just over the border. This is the Queensland hairy-nosed wombat, one of the largest. The common kind belongs to Victoria, New' South Wales, and South Australia. It has very harsh hair, while the Queenslander has a silky coat. South Australia has also a species of its own, but there are no wombats in West Australia. Two other kinds occur off the mainland — the Tasmanian wombat and a small species found on a couple of islands in Bass Strait.
All are at the mercy of the thoughtless gunman, in spite of Government protection, and Australians of the future will never have the opportunity of seeing this strange marsupial.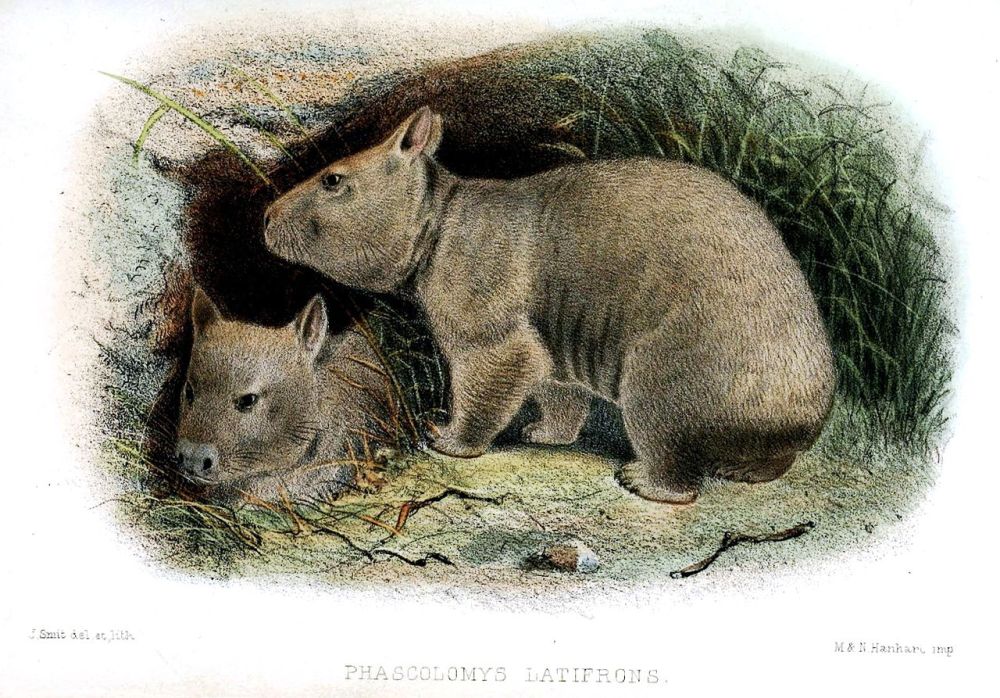 Phascolomys latifrons = Lasiorhinus latifrons- Illustration by Joseph Wolf - Proceedings of the Zoological Society of London 1865

"KOALA AN ASSET." Plea for Preservation.
Two of five koalas injured in bush fires at Newport on Saturday have died from exhaustion. The three bears which remain are being treated at Koala Park. The secretary of the Koala Club of Australia. Mr. Frank L. Edwards, said yesterday that, during 1937 and 1938, the club had participated in the rescue of nine maimed bears from the Pittwater district.
"At this rate," he added, "the animals will vanish from that district in three or four years. As there are not 200 of them left in New South Wales, this is a tragedy. Koalas, one of our best animal assets, are allowed to stray to their rapid destruction, as in the Pittwater district while the law requires that other stock be paddocked.
"If we lose them." Mr Edwards added, "twould be of little use to talk of stocking up with koalas from elsewhere. The States are already refusing to transfer koalas and, In any case, the Queensland and Victorian native bear's are different types from ours."
"KOALA AN ASSET.". (1939, January 17). The Sydney Morning Herald (NSW : 1842 - 1954), p. 10. Retrieved from http://nla.gov.au/nla.news-article27976025
The following article by Mr. Burnet is the most vital which "The Sunday Sun" has published for many months. It is so important that it replaces on this page to-day Tom Glover's cartoon and the Editor's "Out of The Basket" column.
IT tells a story of destruction; something which has meant a lot to Australia. It brings forcibly before the eyes of 300,000 readers and the Government the problem which has to be faced. "The Sunday Sun" is heartily in support of any scheme to retain Koala Park.
By NOEL BURNET, Of Koala Park
In 1927 the Queensland Government declared an "open season" for Native Bears resulting in the slaughter of 584,738 innocent Koalas, whose skins were exported mainly to America for making up fine leather goods
— ladies' bags, belts and shoes. Now, strangely enough, few American visitors would fail to give everything they possess to take back to the States a
real live "Teddy-bear," but, alas, that cannot be. As a national asset, the importance of the Koala is constantly being drummed into us by almost every visitor to our shores. What is a grateful country doing to save the Native Bear with that "plaintive face" which has so completely "sold" Australia to the rest of the world?
The answer is — NOTHING. Travel interests are not alone in the almost ruthless exploitation of the Native Bear, yet nothing is done this end — except talk — for the benefit of this dying genus.
'Gumleaf" was the name of that fascinating little Bear with boot-button eyes whose photograph was used by the National Travel Association
to produce an oversea poster. He was allowed to die — without a sob by anybody — because money was not available for medical research upon an eye complaint he was suffering, although n number of Sydney doctors voluntarily assisted. So passed the most charming Koala ever seen at Koala Park.
ANOTHER famous Bear, "Taringa," who made the world smile, died on the Park hospital floor (with six others) from pneumonia
— erstwhile dreaded scourge of Koalas — because the taxation commissioner had dragged the last penny from Park funds, leaving me without cash or credit to buy sufficient oxygen or supplies to fight the disease. The State has since relieved the Park from commercial basis taxation, but the Federal Government, after making some concessions, will continue to tax my work as a business enterprise. Nothing, however, can replace seven beautiful native Australians whose pelts are now deteriorating in poor preservative because I cannot obtain from the Customs Department pure spirit free of excise duty (55s per gallon) as other institutions can.
Following nine years of personal labor on behalf of the Koala, and assisted by several capable scientists, I say definitely, that failing immediate practical measures for its retention, this strange creature will be a thing of the past within a few years. Little is being done elsewhere. The Government is slow to realise that in this State, 30 years of "office chair" administration of the Birds and Animals Protection Act has seen the Koala reduced to vanishing point. Koala Park, in face of many difficulties, has made some attempt to save the Koala. It has lifted it from obscurity and despair; secured for it public affec
tion the world over, but now Koala Park itself is dying. Known but to a few only, this institution has for years struggled on — -now only to a point of collapse. ' I volunteered to save a dying race. To this end six years ago a suitable sanctuary was secured, fenced, equipped, thousands of eucalyptus trees planted, a staff was trained, and considerable biological research has since been conducted. Measure;: have been evolved to control several Koala diseases by preventive methods, and I demonstrated for the first time that the Koala can be successfully bred in modified captivity — all this at a 'cost of something like £10,000. Healthy stock being difficult to acquire, I had to he satisfied in many cases with degenerate stock and endeavor to build up from that. Having accomplished this much, the work is collapsing because of lack of capital, also lack of material, viz. Bears. It is impossible for me to provide for the future and pay now. Every penny I possess has been spent in the cause. Capital cannot be raised as few tangible assets have been created. Plainly, the Park revenue is insufficient to .maintain it owing to limited . means of obtaining funds. Transport interests alone, who convey people to the Park, jointly, gain three times more revenue than the Park itself; lliey carve off the lion's share, leaving me the crumbs. Mr. T. H. Kelly, the Park benefactor, has done more than his share and is not expected to do more.
FURTHER, there is no heed for, nor can I meet competition in Bears from Taronga Park, where the discrepancy over some years between the birth and death rates is dreadful. Feeding the Koalas within the Park is a problem, and now costs over £600 a year. Daily, suitable food in the bush becomes scarcer. Landowners are being paid to save their gum-trees for reserve food supply. No trees have been planted in the Park for 3 years; now, trees are dying in drought conditions because I cannot afford to, water, them. Preventive vaccines, obtained by years of. careful research at heavy cost, have been lost- as payment for incubator cultures cannot be met. ' " The laboratory is closed. Depreciation presents its ugly head— fences arc in disrepair and the grounds shabby; half my staff is on the dole. Koala Park is sick, but fortunately the health of the Bears is excellent. ; I have begged on several occasions for a little relief labor for small works to improve' the conditions for Bears,' and to permit my oversea visitors access to the animals in distant parts of the Park, but gangs of men chipping up grass and weeds along roads all over the district is apparently far more important.
FIFTEEN months ago, I placed the plight of Koala Park before the Premier, who, at my request, promptly appointed an investigation committee.- Following investigations, I understand, a majority report in very favorable terms was submitted —to which Cabinet, later, gave sympathetic consideration. Measures for relief were approved. Those referred back to the Premier's Department were put into effect immediately; that saved the Park collapsing all the time. Those provisions in the hands of the Chief Secretary's Department have dragged on for nine weary months without materialising. Fortunes have, ere this, been spent upon expeditions to the lands of the extinct to recover a few ugly bones or fragments of an ancient egg; taxpayers in other countries to-day are forking-out" millions for restoration and conservation; here, large sums can be outlayed for embellishments lo local and national parks of doubtful tourist interest, whilst the National Travel Association spends thousands of pounds of public and private money to "push" the Koala oversea — and the quaint Native Bear perishes at our very door. Koala Park, the background of this publicity, is unable to present the national pet under congenial conditions or, carry on its rehabilitation work. Oversea visitors come, having been "sold" the Koala by enterprising shipping lines over and over again. The Bears are mauled; these visitors do not realise that handling is the worst possible thing for a dying primitive race, nor do they understand my difficulties, but they expect me to justify their trip to Australia at the equivalent of n lean tip to a cabin steward. Everywhere, hundreds of thousands of people have keenly watched this Park grow up from a mere hobby, but its inhabitants belong to the nation. It is high time, therefore, that the public know of the sad plight of Australia's own "Teddy-bear,"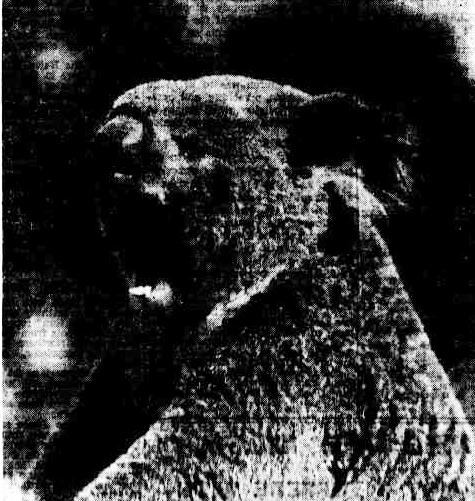 " Taringa " — the Koala that made the world smile-and perished for lack of attention.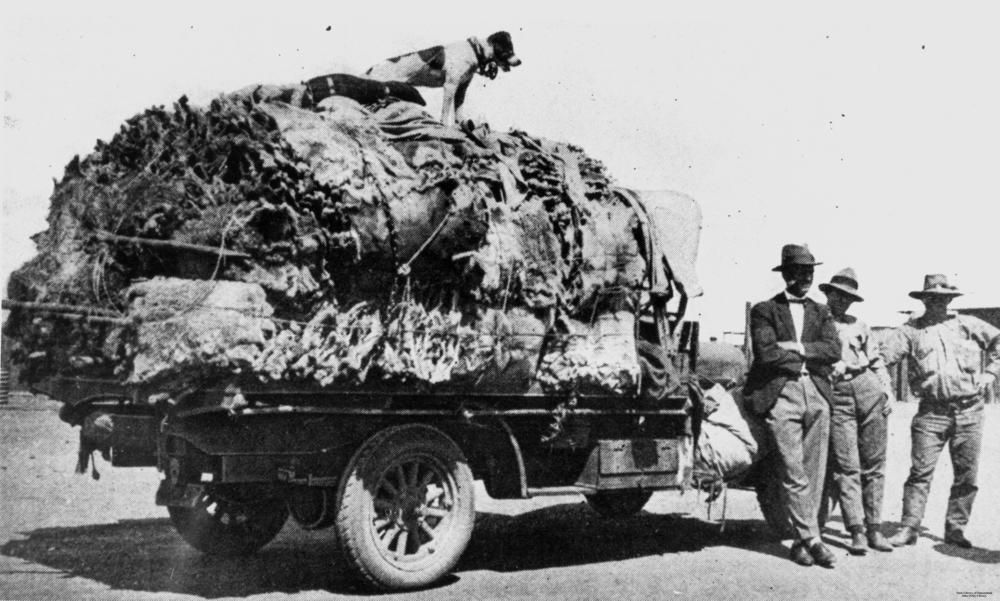 A lorry load of 3000 Koala skins obtained, by a party of men in the Clermont district ( Queensland ) in thirty days.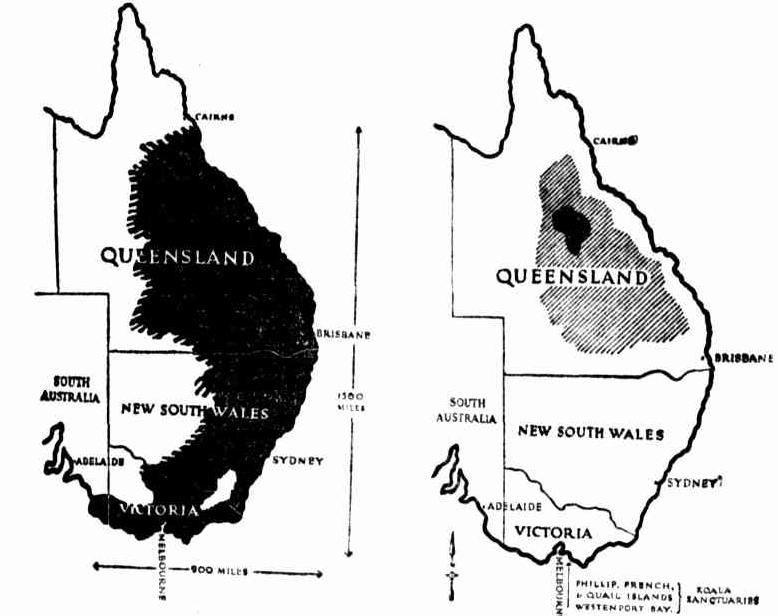 Map showing (left) approximate general former distribution of the Koala, and (right) present distribution.
THE KOALA DISAPPEARS! (
1936, September 13
).
The Sun
(Sydney, NSW : 1910 - 1954), p. 4. Retrieved from http://nla.gov.au/nla.news-article230016599
Decades on:
PROTECT KOALA FROM EXTINCTION
Koalas have been proclaimed "rare fauna" under the New South Wales Fauna Protection Act.
Announcing this, the Chief Secretary, Mr. Clive Evatt said:
This course appears to be the only way to protect the koala from extinction.
The koala population in New South Wales has fallen to 5000.
Yet i
n 1924, 2,000,000 koala skins were exported from the eastern States."
The declaration of animals or birds as "rare fauna" provides, in addition to the usual penalty of a fine not exceeding £50 for taking or killing a protected bird or animal, a term of imprisonment not exceeding six months.
"Take or kill" as defined in the Act includes hunting, shooting, killing, poisoning, netting, soaring, pursuing, disturbing, or injuring, Mr. Evatt explained.
A recent proclamation of koalas as rare fauna provides a maximum penalty of £50 for taking or killing this quaint and lovable marsupial, and also makes the offender liable to imprisonment for a period not exceeding six months.
While such a stringent protective measure is welcome, it will not be easy to save the koala from extinction in some States where it was once plentiful, because its numbers have been depleted to danger point by destruction of habitat, commercial exploitation, bush fires. and disease.
Estimates of the koala population in New South Wales range from
100 to 500.
There is general agreement that the prospects of survival in Victoria are slight. Queensland is the stronghold of this little "bear,"
but even there the effect of trapping nearly three million for their skins in three years is apparent
. It is now considered rare in some districts where it was once common. The koala was established on Phillip Island, Victoria, with Government aid--
£
3000 was granted towards enclosing the sanctuary with a fireproof fence. It was once common in south-eastern South Australia, but is not found in West Australia and Tasmania. Wherever the koala exists in its natural state, it is strictly protected by law. Better still, it is even more strongly protected by public opinion, for the memory of wrongs and cruelties inflicted upon this defenceless creature in the past, the diffusion of knowledge concerning its harmless habits and droll ways, and the prominence given to it in caricature and photographic and other newspaper features, have created for it a strong national sentiment. No zoo in Australia can keep a koala without a special licence. There is an absolute ban against export.
SETTLEMENT in a new land inevitably exacts a heavy toll of animal life. The koala has suffered severely because it is highly specialised for living in trees. It is also a very selective feeder. Only about 20 out of some hundreds of different kinds of eucalypts are suitable for its diet. The clearing of large areas of forest obviously reduces available food supplies. Being a slow-moving animal, too, the koala is at a sad disadvantage when bushfires sweep the country. Many thousands have been trapped by flames and burnt to death. Thousands more have succumbed to mysterious disease. Experience has proved that the koala is highly susceptible to lung, ophthalmic and intestinal troubles.
Australia was a vast sanctuary tor all kinds of animal oddities even long before the primitive aborigines made it their home. Its isolation preserved forms of life that had once been widely distributed, and excluded the later and more familiar types.When When the first white settlers arrived, they were naturally puzzled by the many strange animals 'they saw. They frequently solved the problem of naming them by prefixing the word "native" to any new animal that bore some kind of resemblance to another animal already well known to them. Thus the koala became a "native" hear. Even scientists found difficulty in classifying some of our unique animals. The argument whether the koala is related more closely to the wombat than the opossum has not been finally settled yet.
MEANWHILE, till the experts can settle the point, the koala has been put in a family all by itself the family known by the rather awe-inspiring title of phascolaretidac, which comprises two Greek words meaning "pouched bear." Although it is not a bear, the superficial resemblance has been an advantage, inviting the popular designation "Teddy Bear," and all the sentiment it invokes.
But why "koala?"
And pronounce it "ko-la" if you want to be fussily correct!
In 1798, the native name of "cullawine"
was mentioned in an anonymous account of a journey. In 1802, there was another reference to "portions of a monkey" called by the natives "colo." In 1803, it was "koolah," this name being
varied to "koala," an aboriginal word believed to mean "no drink."
It is applicable to this quaint little creature, which, rarely, if ever, drinks.
One of Australia's greatest attractions to overseas tourists is the
koala. These little native hears live in coastal forests from the south
eastern corner of South Australia to Cairns in North Queensland. Sure footed climbers, they come down to the ground only to move clumsily from one tree to another for their staple diet, the juicy tips of a dozen species of gum tree. In spring the young koala emerges after five or six months in his mother's pouch; the next
few months are spent clinging on to her back. Koala junior is about a year old before he ventures out on his own. Australia's koala population has been ravaged by disease and bushfires and exploited by trappers; in 1924, 2,000,000 koala pelts were exported from the eastern States. Now they are totally protected, and efforts are being made, especially in Victoria, to re-establish the species.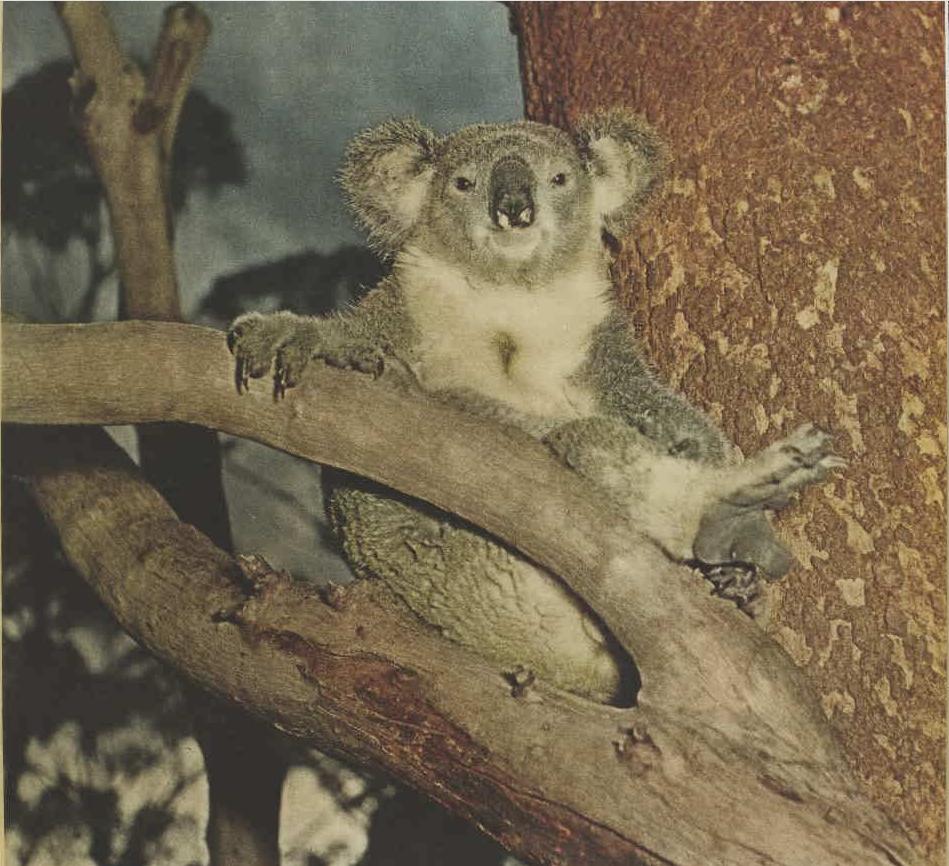 This young koala was photographed by Dr. Allen Keast at Mona Vale, N.S.W.
THE AUSTRALIAN YEAR (
1958, September 24
).
The Australian Women's Weekly
(1933 - 1982), p. 11. Retrieved from http://nla.gov.au/nla.news-article46231193
Extinction Crisis Looms In Oceania
Governments must act urgently to halt loss of habitats and invading species that are posing major threats to biodiversity and causing species extinctions across Australia, New Zealand and the Pacific Islands, according to a landmark new study.
Published in the international journal Conservation Biology, the report is the first comprehensive review of more than 24,000 scientific publications related to conservation in the Oceanic region. Compiled by a team of 14 scientists, it reveals a sorry and worsening picture of habitat destruction and species loss. It also describes the deficiencies of and opportunities for governmental action to lessen this mounting regional and global problem.
"Earth is experiencing its sixth great extinction event and the new report reveals that this threat is advancing on six major fronts," says the report's lead author, Professor Richard Kingsford of the University of New South Wales.
"Our region has the notorious distinction of having possibly the worst extinction record on earth. This is predicted to continue without serious changes to the way we conserve our environments and dependent organisms. We have an amazing natural environment in our part of the world but so much of it is being destroyed before our eyes. Species are being threatened by habitat loss and degradation, invasive species, climate change, overexploitation, pollution and wildlife disease."
Loss and degradation of habitat is the largest single threat to land species, including 80 percent of threatened species.




More than 1,200 bird species have become extinct in the Pacific islands and archipelagos.




In Australia agriculture has modified or destroyed about 50 percent of woodland and forest ecosystems, and about 70 percent of remaining forests are ecologically degraded from logging.




Invasive species, particularly vertebrates and vascular plants, have devastated terrestrial species of the Pacific Islands and caused 75 percent of all terrestrial vertebrate extinctions on oceanic islands.




More than 2,500 invasive plants have colonized New Zealand and Australia – representing about 11 percent of native plant species.




Many invasive weeds, vertebrate pests, and fishes were introduced by government, agriculturalists, horticulturalists and hunters.



Species deceases: global snapshot
Nearly 17,000 of the world's 45,000 assessed species are threatened with extinction (38 percent). Of these, 3,246 are in the highest category of threat, Critically Endangered, 4,770 are Endangered and 8,912 are Vulnerable to extinction.




Nearly 5,500 animal species are known to be threatened with extinction and at least 1,141 of the 5,487 known mammal species are threatened worldwide.




In 2008, nearly 450 mammals were listed as Endangered, including the Tasmanian Devil (Sarcophilus harrisii), after the global population declined by more than 60 percent in the last 10 years.




Scientists have catalogued relatively little about the rest of the world's fauna: only 5 percent of fish, 6 percent of reptiles, and 7 percent of amphibians have been evaluated. Of those studied, at least 750 fish species, 290 reptiles, and 150 amphibians are at risk.




The average extinction rate is now some 1,000 to 10,000 times faster than the rate that prevailed over the past 60 million years.



"Many people are just beginning to understand the full extent of these problems in terms of land-clearing, degradation of rivers, pest species and overfishing," says Professor Kingsford. "Climate change is a very important issue but by no means the only threat to biodiversity. The biggest problem seems to be that the policy challenges are just not being taken up by governments. Conservation policies are just seen as a problem for the economy."
For each of the major threats to biodiversity and conservation, the scientific team has proposed between three and five specific policy recommendations that should be adopted by governments around the region.
Many of these broad policies are being implemented but in a piecemeal way. For example, the scientists recommend setting targets for protected areas such as National Parks of at least 10 percent of terrestrial areas and up to 50 percent of marine areas but these may not be enough.
Dr James Watson, President of the Society for Conservation Biology and an author of the report, says: "There is a need for commitment to more protected areas and more effort into rehabilitation of major threatened ecosystems such wetlands."
The report's authors are particularly concerned about the impacts of destructive fisheries and the effects of by-catch from long-line fishing, bottom trawling, cyanide and explosive use in some Pacific nations.
"Our recommendations have clearly identified the need for more restrictions on harvesting and better ecosystem management of fisheries," says Professor Kingsford. "There is a real need to have better international mechanisms for protecting against unsustainable fisheries." Of particular importance is the overwhelming impact of burgeoning human populations in the region on the environment. Populations are set to increase significantly by 2050; for example Australia 35%; New Zealand 25%; Papua New Guinea 76%; New Caledonia 49%.
"The burden on the environment is going to get worse unless we are a lot smarter about reducing our footprint on the planet or the human population," says Professor Kingsford. As well, many Pacific Island states have a relatively poor information base for conservation. The study found that 88.5% of all scientific studies were from Australia (53.7%), New Zealand (24.3%) and Hawaii (10.5%). In most other countries in the region, there was relatively poor capacity to inform the community about the state of the environment.
There is a real need to invest in building the scientific and government capacity for conservation throughout the region. "Unless we get this equation right, future generations will surely be paying more in terms of quality of life and the environment we live in. And our region will continue its terrible reputation of leading the world in the extinction of plants and animals," says Professor Kingsford.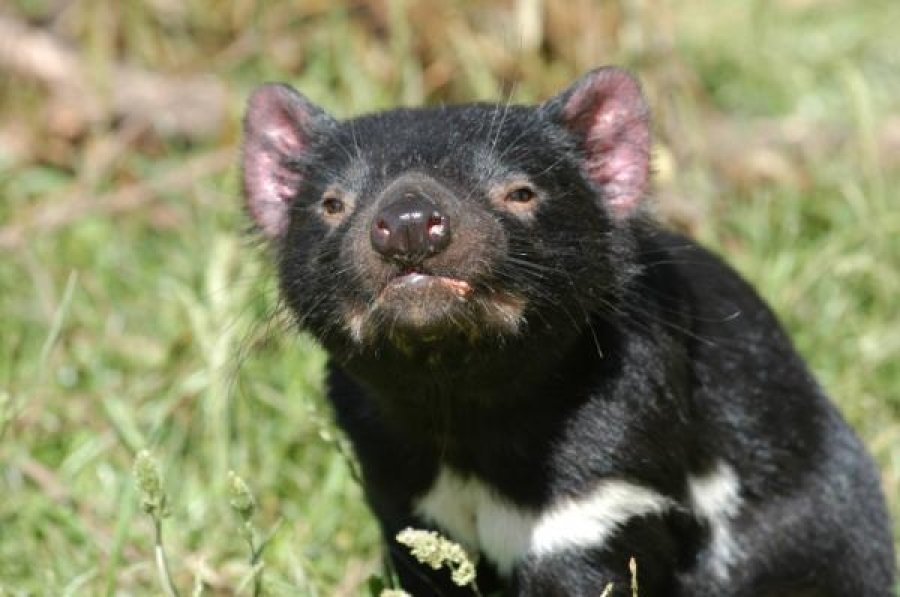 Tasmanian Devil in Southern Tasmania, Australia. In 2008, nearly 450 mammals were listed as Endangered, including the Tasmanian Devil (Sarcophilus harrisii), after the global population declined by more than 60 percent in the last 10 years.
Credit: iStockphoto/Michael Sacco
Ongoing Unraveling Of A Continental Fauna: Decline And Extinction Of Australian Mammals Since European Settlement
April 14, 2015
The highly distinctive and mostly endemic Australian land mammal fauna has suffered an extraordinary rate of extinction (>10% of the 273 endemic terrestrial species) over the last ∼200 y: in comparison, only one native land mammal from continental North America became extinct since European settlement. A further 21% of Australian endemic land mammal species are now assessed to be threatened, indicating that the rate of loss (of one to two extinctions per decade) is likely to continue. Australia's marine mammals have fared better overall, but status assessment for them is seriously impeded by lack of information. Much of the loss of Australian land mammal fauna (particularly in the vast deserts and tropical savannas) has been in areas that are remote from human population centers and recognized as relatively unmodified at global scale. In contrast to general patterns of extinction on other continents where the main cause is habitat loss, hunting, and impacts of human development, particularly in areas of high and increasing human population pressures, the loss of Australian land mammals is most likely due primarily to predation by introduced species, particularly the feral cat, Felis catus, and European red fox, Vulpes vulpes, and changed fire regimes.
Tasmanian Tiger: 'Permit'ted To Extinction
Numerous examples of thylacine engravings and rock art have been found dating back to at least 1000 BC. Petroglyph images of the thylacine can be found at the Dampier Rock Art Precinct on the Burrup Peninsula in Western Australia.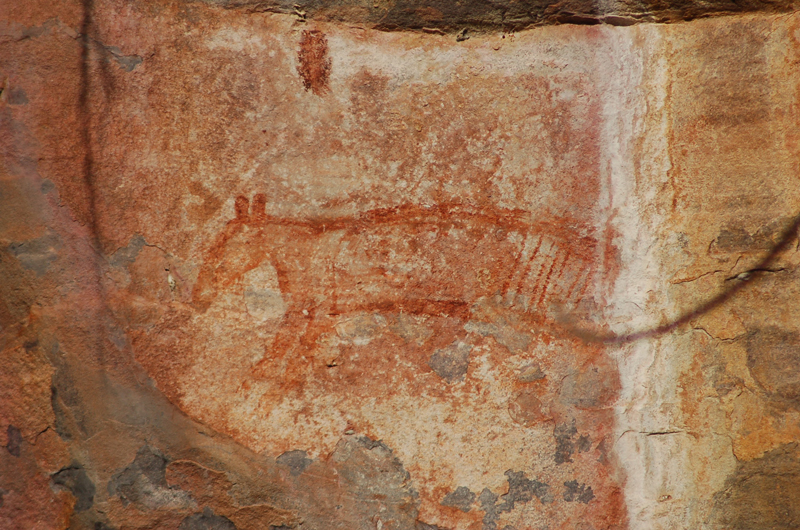 Thylacine rock art at Ubirr photo courtesy nettispaghetti

By the time the first European explorers arrived, the animal was already extinct in mainland Australia and rare in Tasmania. Europeans may have encountered it as far back as 1642 when Abel Tasman first arrived in Tasmania. His shore party reported seeing the footprints of "wild beasts having claws like a Tyger"
Although the thylacine was extinct on mainland Australia, it survived into the 1930s on the island state of Tasmania. At the time of the first European settlement, the heaviest distributions were in the northeast, northwest and north-midland regions of the state.
The Van Diemen's Land Company introduced bounties on the thylacine from as early as 1830, and between 1888 and 1909 the Tasmanian government paid £1 per head (the equivalent of £100 or more today) for dead adult thylacines and ten shillings for pups. In all they paid out 2,184 bounties, but it is thought that many more thylacines were killed than were claimed for.
It is likely that multiple factors led to its decline and eventual extinction, including competition with wild dogs introduced by European settlers, the excising and destruction of its habitat by settlers, the concurrent extinction of prey species, and a distemper-like disease that also affected many captive specimens at the time. The animal had become extremely rare in the wild by the late 1920s. Despite the fact that the thylacine was believed by many to be responsible for attacks on sheep, in 1928 the Tasmanian Advisory Committee for Native Fauna recommended a reserve similar to the Savage River National Park to protect any remaining thylacines, with potential sites of suitable habitat including the Arthur-Pieman area of western Tasmania.
The last known thylacine to be killed in the wild was shot in 1930 by Wilf Batty, a farmer from Mawbanna, in the northeast of the state.
The last captive thylacine, later referred to as "Benjamin", was trapped in the Florentine Valley by Elias Churchill in 1933, and sent to the Hobart Zoo where it lived for three years. The thylacine died on 7 September 1936. It is believed to have died as the result of neglect—locked out of its sheltered sleeping quarters, it was exposed to a rare occurrence of extreme Tasmanian weather: extreme heat during the day and freezing temperatures at night. The thylacine features in the last known motion picture footage of a living specimen: 62 seconds of black-and-white footage showing the thylacine in its enclosure in a clip taken in 1933, by naturalist David Fleay.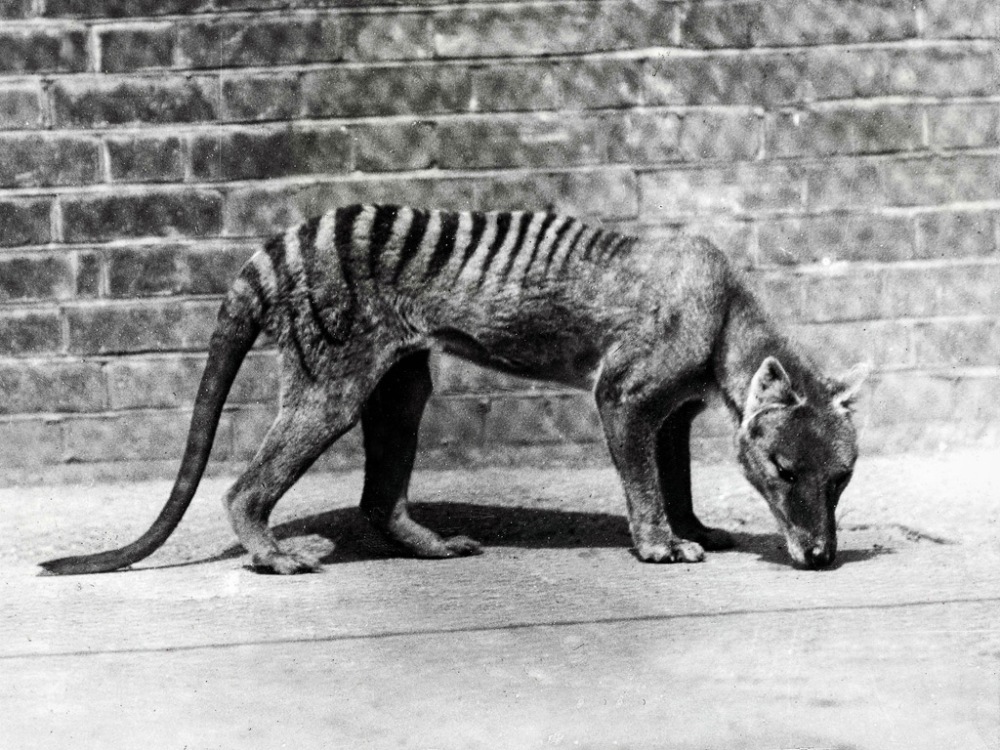 Australia: Place Of The Culling Fields by A J Guesdon, 2017.