Inbox and Environment News: Issue 385
November 25 - December 1, 2018: Issue 385
Destructive Logging Laws Slammed By Government Scientists
November 19, 2018: National Parks Association
Freedom of information documents reveal damning assessment of Berejiklian government's proposed new logging laws
As the NSW and federal governments are poised to sign off on 20-year extensions to controversial Regional Forest Agreements, documents acquired by the North East Forest Alliance under freedom of information show deep concerns within the Office of Environment and Heritage (OEH) about the impact of new logging laws on protected old-growth, rainforest and koalas.
OEH's concerns echo those of environment groups and illustrate clearly that the laws will destroy the natural values of our forests. Reminiscent of when Environment Minister Upton signed off on new land clearing laws despite departmental advice that 99% of koala habitat was at risk from clearing, the government is again ignoring OEH advice that koala deaths will increase and habitat quality decrease as a result of the new laws.
Further, the documents reveal that the recommendation by the Natural Resources Commission to allow logging of forest protected as oldgrowth forest, rainforest and stream buffers for the past 20 years was contrary to the recommendations of the Expert Fauna Panel and that the Panel's considerations of required protections were based on the erroneous assumption that all these important fauna habitats would be protected. OEH recommends many of the panel's recommendations for threatened species need to be revisited in light of the new logging proposals..
On top of recent revelations about the deep unpopularity of native forest logging in the broader community, the National Parks Association (NPA) and North East Forest Alliance (NEFA) are calling for the government to scrap the new laws (called Integrated Forestry Operations Approvals) and chart an exit out of native forest logging.
"The documents show that a keystone of Premier Berejiklian's draconian changes to the logging rules for public forests is that some 58,600 ha of High Conservation Value Oldgrowth and 50,600 ha of rainforest in north-east NSW may be made available for logging", said Dailan Pugh of the North East Forest Alliance.
"These forests were protected over 20 years ago as part of NSW's reserve system because they are the best and most intact forest remnants left on state forests. As logging intensity has increased around them their environmental importance has escalated.
"North East NSW's forests are one of the world's centres of biodiversity and now Premier Berejiklian wants to extend her increased logging intensity into the jewels that the community saved."
Dr Oisín Sweeney, Senior Ecologist with the National Parks Association of NSW (NPA) said: "It's no wonder the public is sick of native forest logging and that it has lost its social license.
"Here we have clear warnings from OEH that more koalas will die and more koala habitat will be lost. Yet the government's determined to plough on regardless.
"It's past time the federal government intervened to stop NSW knowingly driving koalas further towards extinction."
________________
Extracts from NSW Office of Environment and Heritage Conservation and Regional Delivery Division North East Branch (NEB) 'Submission to the NSW Environmental Protection Agency on the Draft Coastal Integrated Forestry Operations Approval remake' obtained through freedom of information
The Draft Coastal IFOA appears to enable boundaries separating the CAR reserve system and the harvest area to be amended by inter‐agency agreement with no public consultation. Further, amendments to the boundaries could occur at the scale of the local landscape or even individual compartment. Areas would be assessed in isolation, rather than at a regional scale, and thereby be susceptible to the incremental ecological impact that regional assessments were originally introduced to prevent. This is expected to significantly compromise the CAR reserve system over time.
…
The NEB therefore reiterates the recommendation from the Expert Fauna Panel for the 'permanent protection of current exclusion zones' (State of NSW and the Environmental Protection Agency 2018, p.8) and recommends that the Draft Coastal IFOA include specific provisions that protect all areas that have been protected by the FA, RFA and current IFOA over the last 20 years.
Intensive and selective harvest areas
The CAR reserve system was established in conjunction with selective logging regimes that maintained structurally diverse forest throughout the harvest area. The Draft Coastal IFOA appears to increase the area of public forests on the north coast that would be legally available for intensive harvest, with the risk that large areas of forest will be reduced to a uniform young age class that would take many decades for full ecological function to be restored.
In the intensive harvesting zone (the Coastal Blackbutt forests of the north coast hinterland), the Draft Coastal IFOA proposes to allow coupes of up to 45 ha to be logged with no lower limits on the number of trees retained in the harvest area.
…
This proposed minimum basal area retention of trees in the harvest areas is below the minimum threshold required to maintain habitat values advised by the majority of the Expert Fauna Panel.
The Draft Coastal IFOA proposes removing the existing requirement to protect habitat 'recruitment trees'. Over time, this will reduce the number of large habitat trees retained for ecological purposes in harvest areas, as trees die and are not replaced. Recruitment trees identified previously will now be available for harvesting, further reducing the persistent availability of larger trees as a critical habitat element for threatened and protected fauna.
High Conservation Value (HCV) Old Growth
HCV old growth was identified for protection as part of the CAR reserve in 1998. It was comprised of older forest (mapped as 'candidate' old growth) that also scored highly for irreplaceability (a measure of significance to biodiversity conservation) and threatened species habitat value. Under the Draft Coastal IFOA, biodiversity values of harvest area will be reduced as the area becomes progressively younger (potentially 21 years old or less). For threatened species, this places greater significance on adequately protecting existing HCV old growth areas.
…
The NEB recommends that areas of HCV old growth that have been protected for at least 20 years (NRC 2018) are not made available for logging. This will minimise impacts on threatened species.
Rainforest
The concerns raised above in relation to the treatment of old growth under the Draft Coastal IFOA also apply to protected rainforest. Combined, HCV old growth and rainforest form the cornerstone of the CAR reserve system on State forest. Adequate retention of these vegetation types is considered particularly critical in the context of proposed increased logging intensities.
Specific threatened species conditions
Identifying the species that required species‐specific conditions was a major task for the Expert Fauna Panel. However, the Panel's deliberations occurred prior to the proposals to allow logging access to HCV old growth and rainforest (NRC 2018). Therefore, many of the panel's recommendations need to be revisited in light of the new logging proposals. For example, some of the old growth dependent species (such as those that require hollows) were considered not to require species‐specific conditions because the existing HCV old growth was protected. Similarly, for many rainforest‐dependent species, and those dependent upon riparian habitats, species‐specific conditions were not proposed on the assumption that the habitat of these species was considered sufficiently protected.
Koala protection
There appears to be a reduction in protections offered to koalas under the Draft Coastal IFOA. Koalas are selective both in their choice of food tree species and in their choice of individual trees. The scientific basis for proposed tree retention rates in the Draft Coastal IFOA is not clear, and the rates are less than half those originally proposed by the Expert Fauna Panel.
While Koalas will use small trees, research has shown that they selectively prefer larger trees. In our experience, the proposed minimum tree retention size of 20cm dbh will be inadequate to support koala populations and should be increased to a minimum of 30cm dbh. Many Koala food trees are also desired timber species, so there is a high likelihood that larger trees will be favoured for harvesting, leaving small retained trees subject to the elevated mortality rates experienced in exposed, intensively‐logged coupes.
Koalas require large areas of connected habitat for long‐term viability. The increased logging intensity proposed under the draft Coastal IFOA is expected to impact Koalas through diminished feed and shelter tree resources. Animals will need to spend more time traversing the ground as they move between suitable trees that remain, which is likely to increase koala mortality.
These Two Koalas Lost Their Mothers To Deforestation
I call on you to urgently end the deforestation and land-clearing crisis by making potential koala habitat, threatened species habitat, and other high-conservation-value areas off limits to clearing, and by repealing the land-clearing codes.
I also urge you to invest in a restoration and conservation fund and deliver the world-class mapping, monitoring, and reporting the community expects.
Alliance Calls For ICAC Investigation After Mining Corruption Allegations
November 20, 2018: Media Release - LTGA

Community group Lock the Gate Alliance has today called for the NSW Government to refer mining corruption allegations from a whistleblower with the NSW Department of Planning to the Independent Commission Against Corruption.

The Newcastle Herald reported this morning a former manager with the Department of Planning had alleged that:

Mining industry payments had been made directly to a department employee's personal credit card

Confidential information had been leaked to the mining industry

There were serious conflicts of interest between department staff and the mining industry

Mining files were being modified by departmental staff working on mining titles


Carmel Flint from Lock the Gate Alliance said: "Reports today about alleged corruption in relation to the administration of mining in NSW need to be addressed as a matter of urgency.

"These are incredibly serious allegations which severely affect community confidence in the NSW Government and their management of mining in NSW.

"We're calling for the NSW Government to immediately refer the matter to the Independent Commission Against Corruption.

"If the Government does not refer this matter, we will consider referring it to the Commission ourselves.

"We'd like to see the processing of mining approvals and titles in NSW suspended until this matter has been fully addressed and the allegations investigated in detail" she said.

_____________________

NB: was also reported in the Sydney Morning Herald - November 19, 2018.

NSW Department of Planning Secretary Carolyn McNally referred the corruption allegations by sacked department whistleblower Rebecca Connor to the Independent Commission Against Corruption on November 21st.

Minister's Mistake: Vickery Public Consultation Must Not Be Fast Tracked
November 21, 2018: Media Relase - LTGA

North West NSW residents already under siege from the twin threats of drought and increased coal mining have been dealt yet another blow, according to community group Lock the Gate.

Lock the Gate has today slammed the NSW Planning Minister Anthony Roberts for giving the Independent Planning Commission (IPC) an absurdly short timeframe to conduct and complete its first public hearing for the proposed controversial Vickery Coal Mine expansion in the north west of the state.

The Minister imposed an arbitrary 12 week deadline on the Commission before guidelines for an untested new process had even been finalised, forcing the Commission to schedule the public hearing on 7 December and give local residents just over two weeks' notice.

Lock the Gate spokesperson Georgina Woods said Mr Roberts' decision had fatally compromised the Commission's consideration of the controversial mine.

"This is an absurd case of putting the cart before the horse and damages community trust in the planning process," she said.

"The Planning Minister has impinged on the IPC's independence and added unnecessary stress to people's lives when they should be winding down for Christmas after a tough year fighting the drought and this damaging new coal mine expansion.

"There is so much at stake here. If allowed to proceed, the mine expansion will have an irreversible impact on the historical property "Kurrumbede" – which inspired Dorothea MacKellar's iconic poem "My Country".

"Although they are not currently planning to bulldoze the homestead, it is at risk from damage due to mine blasting and air quality deterioration.

"A cottage on the property was also home to Australian freestyle champion Boy Charlton, who would swim in the nearby Namoi River during his time working as a jackaroo on the farm.

"The company planning the mine expansion, Whitehaven Coal, wants to build a rail line across the river near where Charlton swam, and have completely omitted the historical significance of Boy Charlton's time at the property from its Environmental Impact Statement.

"We condemn the Planning Minister for fast tracking a coal mine expansion that will also damage farmland and water resources. We call on him and the Department of Planning to extend the IPC's deadline for conducting its public hearing so farming communities around Boggabri have time to engage properly in a process that will profoundly impact their lives."

Link: www.ipcn.nsw.gov.au/projects/2018/11/vickery-extension-project

____________________

NB: Hearing is now on December 18th.

Read Statement from The Commission dated November 21, 2018 ; 'The Department has notified the Commission that its Preliminary Issues Report would be completed and provided early in the week commencing 25 November 2018.'

Public Hearing

09.00am Tuesday 18 December 2018

VENUE

Gunnedah Smithurst Theatre

152 Conadilly Street and Chandos Street Gunnedah NSW 2380

SPEAKER REGISTRATION DEADLINE


05.00pm Thursday 13 December 2018

The hearing will be open to the public to observe the proceedings; however, if you would like to apply to speak at the hearing you must register before 5 pm on Thursday 13th December 2018, by:

Completing the Registration Form and emailing it to ipcn@ipcn.nsw.gov.au. We will then notify you if your request to speak has been accepted.

Because we know some people find public speaking trying, and there will be others who cannot attend on the day, we will accept written submissions until the 11th January 2019. Written submissions are weighed the same as spoken presentations.

For further details, please see the Notice for the Public Hearing.

This public hearing will be recorded, and a written transcript published on our website. Speakers should familiarise themselves with the Commission's'Public Hearing Guidelines' prior to presenting to the Panel.

If you have any questions about the public hearing process or Commission's role with the project, please contact the officer assisting the Commission, David Way, on (02) 9383 2100.
Community And Koalas At Heart Of Greater Macarthur 2040 Plan
November 19. 2018: Media Release - The Hon. Anthony Roberts, Minister for Planning, Minister for Housing, Special Minister of State

Minister for Planning and Housing, Anthony Roberts, today invited community comment on plans for the future of Greater Macarthur, which propose well-planned communities, greatly improved roads, better transport connections, protection for koalas and jobs for local residents.

"The Greater Macarthur 2040 Interim Plan demonstrates how the NSW Government is planning for the future of this important region over the next 20 years," Mr Roberts said.

"Under the plan, future residents will be better connected with easy access to public transport, new parks, and recreation space, all accessible via walkways and cycle ways for a growing community.

"The protection of the koala population and habitat is a primary consideration, with a corridor proposed on government lands east of Appin Road for a koala reserve and plans to upgrade and install protective fencing to ensure koalas can move safely through the local area.

Minister for Roads, Maritime and Freight Melinda Pavey, said road improvements to Appin Road and the development of the Spring Farm Parkway will ensure the safety of road users and koalas.

"The creation of Spring Farm Parkway and the significant upgrade to Appin Road will ensure thousands of road users every day can use the road safely and efficiently, as well as protecting the local koala population," Ms Pavey said.

Mr Roberts said that Special Infrastructure Contribution (SIC) schemes for Greater Macarthur will ensure the necessary infrastructure is in place and paid for by developers.

"The SIC developed as part of Greater Macarthur 2040 will direct up to $1.58 billion towards infrastructure to provide funding for roads, schools, health and emergency services, and to make Greater Macarthur a highly desirable location for current and future residents," he said

The Greater Macarthur 2040 Interim Plan includes a $1 million grant program to ensure Koala friendly planning occurs in the area.

The funding will be released over the next two years to community groups, landowners and local council to undertake koala research, tree planting, pest management, and build greater community awareness about Koalas and their habitat.

The Interim Plan includes 12 precincts. A detailed plan for each precinct will show how new homes will be provided along with adequate open space, a variety of welldesigned housing options, transport connections, local employment, and shopping facilities.

The community is invited to have a say on the draft Plan and SIC until 8 February 2019. Visit: www.planning.nsw.gov.au/greatermacarthur
Upgrade Of Appin Road Between Ambarvale And Mt Gilead
Roads and Maritime Services will be displaying two Review of Environmental Factors' (REFs) for the proposed upgrade of Appin Road between Ambarvale and Mt Gilead and proposed Appin Road safety improvement work between Mt Gilead and Appin.

Appin Road is a busy state road which caters to thousands of vehicles each day, including many trucks carrying freight between Wollongong and Sydney's south-western suburbs so it's exciting to see progress on these projects.

The REFs will be on display until Friday 14 December, giving the community a chance to have a say on the proposed upgrade and safety improvement work.

Community Information Sessions

We will also host three community information sessions to provide you with an opportunity to ask the individual project teams questions and seek further information. A formal presentation will not be given so please feel free to drop in any time at one of the following sessions:

Saturday 24 November between 10am and 1pm
Appin Public School Hall
97 Appin Road, Appin

Wednesday 28 November between 5pm and 8pm
Hurley Park Community Hall
161 Dumaresq Street, Campbelltown

Wednesday 5 December between 5pm and 8pm
Rosemeadow Community Hall
5 Glendower Street, Rosemeadow

If you are unable to attend one of the information sessions, please contact the project team to discuss, or to arrange another time that is suitable to meet. To make a submission or to join the mailing list for either project please contact the relevant project team:

Phone: 1800 411 588


Appin Road upgrade

Email: appinroadsafety@rms.nsw.gov.au
Mail: Appin Road Upgrade

Roads and Maritime Services

PO Box 973 Parramatta CBD NSW 2124


Appin Road safety improvements



Mail: Appin Road Safety Improvements

Roads and Maritime Services

PO Box 973 Parramatta CBD NSW 2124


The REF documents can be viewed electronically, or you can view printed versions at the following locations:

Campbelltown Civic Centre
91 Queen Street, Campbelltown
Monday to Friday 8.30am to 4.30pm

Narellan Library
Corner Queen and Elyard Street, Narellan
Monday, Wednesday 9.30am to 8pm
Tuesday, Thursday, Friday 9.30am to 5pm
Saturday 9am to 3pm
Wollondilly Shire Council
62–64 Menangle Street, Picton
Monday to Friday 8.30am to 5pm

Camden Library
40 John Street, Camden
Monday, Wednesday, Friday 9.30am to 5pm
Tuesday, Thursday 9.30am to 8pm
Saturday 9am to 12pm

The Department of Planning and Environment will commence exhibition of a Voluntary Planning Agreement to fund more than $80 million of works for the first stage of upgrades to Appin Road. The proposed works are linked to the first 2,000 new homes to be constructed under already zoned lands at Gilead, the first stage of the broader Greater Macarthur Plan.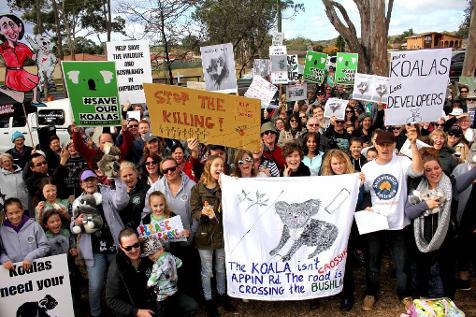 Mount Gilead (Lendlease Communities) Planning Agreement: Have A Say
Notification start date 20/11/2018
Notification end date 18/12/2018

The public is being notified of this VPA prior to its finalisation and execution. You're invited to make a submission using the form below. (Visit link;)


Have your say at: vparegister.planning.nsw.gov.au/index.job_id=9398
UNSW Launches Climate Change Tax Plan That Pays Revenue Back To Voters
November 21, 2018: by Julia Nichols, UNSW

The new Member for Wentworth, Kerryn Phelps, helped present the climate policy, which taxes carbon dioxide emissions and compensates all Australian households.

A UNSW Sydney plan released this week outlines a new smart policy to address climate change – arguably the greatest challenge of our time. The Australian Climate Dividend Plan (ACDP) involves a tax on carbon dioxide emissions with the revenue generated returned to all voting-age Australian citizens.

Developed by UNSW Economics Professor Richard Holden and Law Professor Rosalind Dixon, co-leads for the UNSW Grand Challenge on Inequality, the plan was officially presented at an event with the federal member for Wentworth, Professor Kerryn Phelps AM MP.

The plan outlines a comprehensive market-based approach to making energy in Australia more affordable and reliable, by an introduction of a universal carbon tax of $20-$50 per ton for all carbon emissions in Australia. The revenue generated would be returned to all adult Australian citizens, who would potentially see a tax-free payment of approximately $1300 each per annum.

Professor Holden says the ACDP is modelled on similar proposals developed in the US by the Climate Leadership Council.

"It's a method we know works – albeit sometimes a hard sell. The key to our proposal is that it not only provides strong market-based incentives to reduce our carbon emissions, it addresses the economic well-being of low-income Australians – previously a barrier to developing a meaningful policy response to climate change."

The report serves to address legitimate concerns about what effective action on climate change would mean for the economic well-being of low-income Australians, their access to affordable transport and energy, and the competitiveness of Australian industry.

"Our carbon dividend approach bridges the left-right divide on climate policy," says Holden. "It is at once conservative and progressive and provides a workable solution that will appeal to all sides of the political spectrum."

'The key to our proposal is that it not only provides strong market-based incentives to reduce our carbon emissions, it addresses the economic well-being of low-income Australians – previously a barrier to developing a meaningful policy response to climate change.'

One option canvassed in the ACDP is to phase in the carbon dividend, beginning at $20 per ton and increasing by $5 each year to $50. This would leave more than three-quarters of Australians better off financially, even if they did not change their consumption or energy use.

Under the plan Australian industry would remain competitive. Australian exporters to countries without a carbon tax would get a rebate for taxes paid. In addition, a fee would be charged based on the carbon component of exported goods to Australia from other countries that do not have a carbon tax – creating an incentive to produce less carbon or adopt a tax themselves.

The plan would also see the rollback of subsidies for renewables and similar measures, which are unnecessary with the tax on carbon. This could save the government more than $2.5 billion annually.

UNSW engaged new independent MP for Wentworth Professor Kerryn Phelps on the policy. Professor Phelps is focused and passionate about addressing climate change.

"The people of Wentworth – and I think Australia generally – want decisive action on cutting greenhouse emissions and a carefully considered plan to transition the economy from fossil fuels to renewables," says Phelps.

"At this stage, I'm not being overly prescriptive on the best pathway to achieve better climate change policy, but listening to the views of experts such as Professor Holden and Professor Dixon helps to inform me on developing the best policy settings to lead us to a clean energy future."

Read the full report, A Climate Dividend for Australians.

The UNSW Grand Challenges program aims to discuss and address the biggest issues facing humanity. The Grand Challenge on Inequality has previously developed policy reports on inequality and financial distress, including an innovative method for measuring the value of government expenditures. Explore more about UNSW's Grand Challenges.
Sonic Sea Screening At Avalon Cinema
Living Ocean has initiated a GoFundMe campaign to hire Avalon Cinema for a screening of Sonic Sea.




LO have initiated this campaign to raise awareness that seismic testing is mooted for early next year off our coastline and the public needs to be made aware asap to realise what is at stake.




They will have a balanced panel of experts to discuss the movie and also the issues for all life in the area from any effects of the testing. Also the reality of offshore gas fields and how it could impact fishing, tourism, whale watching plus the hazards that failure of any equipment resulting from the industrialisation of rigs just offshore could produce.




Living Ocean successfully campaigned with NOPSEMA against 2D testing offshore scheduled for peak northern migration of Humpback whales last year. However small scale 2D testing went ahead anyway early this year.




Please share and donate or if you wish to sponsor the screening please contact us.

We have charitable tax deductible status.



Commencement Of The Coastal Integrated Forestry Operations Approval
November 16, 2018: EPA Media Release
On 16 November 2018 the NSW Minister for the Environment and NSW Minister for Lands and Forestry updated the rules for how forestry operations must be carried out on State forests and other Crown-timber lands in coastal NSW.
The new Coastal IFOA improves the practicality and effectiveness of regulating native forestry. It provides greater enforceability and certainty of environmental outcomes, including protection of habitat and listed species, while reducing the regulatory burden on the forestry industry.
Further information about the new Coastal IFOA can be viewed
here.
Feedback from public consultation
From 15 May to 13 July 2018, the NSW Government undertook public consultation on the draft Coastal IFOA, including convening a series of regional workshops with peak stakeholder groups and inviting written submissions. 3,148 written submissions responding to the draft Coastal IFOA were received via post, email and the NSW Government's 'Have Your Say' web portal.
The EPA led the review and analysis of submissions and engaged an independent consultant to prepare a report summarising feedback received. The
Consultation Summary Report
integrates information received at the workshops and in written submissions. The published submissions and further information about the development of the Coastal IFOA can be viewed here.
The NSW Government carefully considered all feedback received and made changes to the Coastal IFOA to improve its clarity and operability. Other substantive changes increased protections for certain headwater streams, nectar trees and winter-flowing eucalypts, and hollow-bearing trees. Further changes relate to the management of biosecurity risks (pathogens and weeds), the management of ground protection zones, burning provisions and fire management, and the management of debris and damage to retained trees. A summary of the NSW Government response to key feedback received on the draft Coastal IFOA can be found here. The Coastal IFOA can be viewed here.
The commencement of the Coastal IFOA, and other reforms, are key components of the NSW Government's forestry reform agenda and fulfil commitments outlined in the 2016 NSW Forestry Industry Roadmap.
The Coastal IFOA delivers on the NSW Government's undertaking to not erode environmental values or have a net change to wood supply and it will be further supported by work undertaken by the Natural Resources Commission (NRC) to reassess old growth on State forest. Further information about the NRCs work can be viewed at www.nrc.nsw.gov.au/ifoa.
From Consultation Summary Report:
Forestry industry submissions
raised concerns that the conditions and protocols in the draft IFOA would have a detrimental impact on timber supply.
They felt that there was an imbalance in protecting environmental values over and above sustaining the forestry industry
.
Industry stakeholders also expressed significant concern that a rigid application of threatened fauna species protections would place too many restrictions on harvest yields. Industry submissions noted that currently mapped sensitive environmental zones are likely to be inaccurate and include forests that could be used for timber harvesting.
The need for flexibility in enforcing the IFOA provisions was raised by industry in relation to operational matters such as the management of debris around retained trees. They also commonly raised operational boundary mapping, GPS error and the transferral of operational risks associated with forestry operations from FCNSW to contractors as key issues. This was seen as particularly important due to enforceability of the draft IFOA provisions, and the increase in Penalty Infringement Notice (PIN) amounts up to $15,000 for errors in maintaining exclusion zones.
Campaign submissions by forestry industry employees and family and friends of forestry industry employees highlighted the importance of maintaining a sustainable industry for regional employment and for providing timber to the Australian market. Their submissions contended that the forestry industry maintains the social and economic fabric of rural and regional towns and employs up to 22,000 people in NSW.
Environmental stakeholders
predominantly raised issues with respect to
reduction of habitat protections for key species such as koalas, gliders, the Regent Honeyeater and the Swift Parrot
.
Other key concerns were:
»
Potential increased harvesting of environmentally sensitive forests due to proposed remapping/ rezoning of high conservation protection zones.
There were significant concerns that
new mapping would reduce old growth forest by 78% and rainforest by 23%.
» Loss of giant and hollow-bearing trees due to harvesting prescriptions.
»
Impact of doubling the intensity of forestry operations [by 50%] in the 'selective harvesting zone' on habitat complexity and connectivity,
as well as lack of adequate monitoring and mitigation measures.
» Potential for increased soil erosion, water pollution and weed growth due to allowing forestry operations on steeply sloping land (up to 30 degrees) and reducing stream buffers to 5m
Environmental Defenders Office New South Wales (EDO NSW)
The EDO NSW was the
only peak environmental group to participate in the draft IFOA briefing sessions. Other peak environmental groups declined to attend and queried the authenticity of the consultation process.
The EDO NSW
conveyed the concerns about the lack of genuine consultation
with broader community groups, including environmental organisations on the development of the draft IFOA. EDO NSW expressed the view that community groups have been excluded from meaningful discussions and their only opportunity for input is to comment on decisions that have already been made. Even then, there was the feeling that there is little evidence of the Government responding or changing proposals based on feedback received during consultation processes.
The
perception among the environmental stakeholders is that the forestry agenda is being driven primarily by industry.
It was noted that this appeared different to how the original IFOA was developed 20 years ago when there was widespread consultation with environment groups in developing the documents.
As part of the draft IFOA,
the NSW Government has incorporated the NRC proposal to undertake remapping of old growth forest with new technology to identify if it can be reclassified to support additional timber harvesting
. If there is to be a remapping process, the EDO believes there should be input from environmental stakeholders into developing and reviewing the maps. There is significant cynicism among environmental stakeholders about the remapping process, with the view that it will lead to the harvesting of old growth forests and rainforests.
Prior to the remapping process, the EDO believes that there should be a conversation about the potential areas that could become available for the forestry industry to obtain additional timber, and whether industry will receive wood supply from elsewhere, if the remapping process determines that areas of old growth forests are more extensive than currently mapped.
It was EDO NSW preference that this discussion is had now.
The EDO commented that the
environmental groups they work with are of the view that native forestry practices are unsustainable and there should be a greater focus on plantation timber to supply market needs.
Other issues raised by the EDO were
the need to have all current and future koala protection initiatives fully accommodated
within the new Coastal IFOA. In noting this it was emphasised that species protections were a much broader matter than the IFOA and requires additional consideration by the NSW Government.
Eleventh Hour CSG Rescue: Shooters, Fishers And Farmers' Commitments On Coal Seam Gas, Calls For National Party To Act
November 21, 2018: Media Release - LtGA
Lock the Gate Alliance has welcomed the NSW Shooters, Fishers and Farmers Party's statement that it supports a ban on coal seam gas "anywhere water supply could be threatened" and the party's promise to support the state opposition's Coal Seam and Other Unconventional Gas Moratorium Bill 2015 if it is brought forward in parliamentary business tomorrow, the last sitting day before the NSW state election next year.
The ALP's Bill was introduced three years ago, and Thursday is the last opportunity for private members' bills to be voted on in parliament.
The Shooters, Fishers and Farmers' Party has today issued a statement declaring its MLCs would vote for the Bill tomorrow if the opportunity arose.
Lock the Gate Alliance National Coordinator Phil Laird said: "There is growing political consensus that the Great Artesian Basin recharge should be made off-limits to coal seam gas.
"Today's commitment from the Shooters, Fishers and Farmers puts the ball firmly in the National Party's court as the only party in North West NSW with a pro-CSG position.
"We're calling on the National Party to listen to their constituents in north-west NSW and act now to stop the Narrabri gas project.
"Coal seam gas is a huge and unresolved issue in rural NSW and the community expects action to ensure the Great Artesian Basin is protected from risky gas projects.
"The community wants strong action from the NSW Government now to cancel expired CSG licences in the State's north west and form a unity ticket with political parties from across the spectrum in prioritising the protection of our precious water resources over high risk short-term gas grabs"
Polling Shows Major Concern In North Queensland Over Adani Water Impacts
November 20, 2018: Media Release - Lock the Gate
Reachtel polling conducted on 17th October has revealed more than two thirds of respondents in key Queensland regional electorates support action on the Adani mine in order to protect water resources.
The survey showed that in Herbert, Dawson and Capricornia in north Queensland, 70%, 65% and 73% of respondents agreed that 'Research recommended by Federal Government scientists should be completed before Adani are allowed to commence work on their mine'.
Results also showed the majority of those surveyed supported a Federal Government review into Adani's environmental approvals and the cancellation of the mining giant's water licences by the Queensland Government to safeguard water for Central Queensland farmers.
Support for these measures spanned the political spectrum, with notable support amongst minor party voters including One Nation and Katter Australia Party voters, as well as Labor and the Greens.
Central Queensland grazier Bruce Currie said "It's clear from these surveys that the production of healthy food and the provision of clean water are still the biggest priority for central and north Queenslanders.
"We don't accept a mining project that puts our future at risk, and we will not support a government who's prepared to jeopardise our water for no good reason.
"These poll results send a message to politicians, no matter who they are, that we expect them to protect our water.
"For the Federal Labor party, who have been ambivalent about the Adani project, it's time to support regional Queenslanders and step up against the project on water grounds" he said.
Carmel Flint, National Coordinator with Lock the Gate Alliance said "Adani have been spruiking that they are nearing financial close for the project, but they are still lacking a very crucial water management plan - the Groundwater Dependent Ecosystem Management Plan.
"The community clearly has major concerns about the impact of the Adani project on water resources and they want to see more research conducted.
"In light of this poll, we're calling on the Queensland Government to refuse the water management plan and ensure additional research that is needed is conducted as a matter of urgency" she said.
The poll results are available here.
Australian Mammals At Greatest Risk From Cats And Foxes
November 20, 2018: La Trobe University
New research led by the Threatened Species Recovery Hub has revealed which Australian mammals are most vulnerable to cats and foxes, and many much-loved potoroos, bandicoots and bettongs, as well as native rodents, are at the top of the list.
Jim Radford from La Trobe University led a team of over 20 scientists and conservation managers on a study to categorise every Australian land mammal for their susceptibility to predation by feral cats and red foxes. Dr Radford said cats and foxes have already played a leading role in at least 25 mammal extinctions and this study would help prevent more.
"Knowing which species are most at risk will help us prioritise where cat and fox control is most needed," Dr Radford said.
"It will also help conservation managers decide which species need the highest level of protection from introduced predators, which currently means being moved to islands or fenced conservation areas where they are out of reach of introduced predators.
"We found that 63 or about 1 in 3 surviving mammal species are highly susceptible to predation by cats and foxes.
The 12 surviving Australian mammal species most susceptible to foxes and feral cats (Australian conservation status in brackets):
Gilbert's Potoroo Potorous gilbertii (Critically Endangered)

Central Rock-rat Zyzomys pedunculatus (Critically Endangered)

Eastern Quoll Dasyurus viverrinus (Endangered)

Western Barred Bandicoot Perameles bougainville (Endangered)

Eastern Barred Bandicoot Perameles gunnii (Endangered on mainland Australia)

Rufous Hare-wallaby or Mala Lagorchestes hirsutus (Endangered on mainland Australia)

Banded Hare-wallaby Lagostrophus fasciatus (Vulnerable)

Djoongari or Shark Bay Mouse Pseudomys fieldi (Vulnerable)

Boodie or Burrowing Bettong Bettongia lesueur (Vulnerable)

Greater Stick-nest Rat Leporillus conditor (Vulnerable)

Tasmanian Pademelon Thylogale billardierii (Extinct on mainland, surviving in Tasmania)

Eastern Bettong Bettongia gaimardi (Extinct on mainland, surviving in Tasmania)

The study was recently published in Wildlife Research.
Dr Radford said that over the last 230 years, Australia has had the highest rate of mammal extinction in the world, losing one to two species per decade since the 1850s.
"Foxes and cats have been a primary factor in the majority of these extinctions. Our study shows that introduced predators remain a significant threat to numerous mammals, many of which are clinging to survival by a thread," Dr Radford said.
The Australian Government's Threatened Species Commissioner, Dr Sally Box, said the research would support improved conservation of our most vulnerable mammals.
"Under the Australian Government's Threatened Species Strategy, there are ambitious targets to tackle the impact of feral cats and we are working with partners from across the country to address this threat. This research will help us to better target our efforts for improved conservation outcomes."
James Q. Radford, John C. Z. Woinarski, Sarah Legge, Marcus Baseler, Joss Bentley, Andrew A. Burbidge, Michael Bode, Peter Copley, Nicholas Dexter, Chris R. Dickman, Graeme Gillespie, Brydie Hill, Chris N. Johnson, John Kanowski, Peter Latch, Mike Letnic, Adrian Manning, Peter Menkhorst, Nicola Mitchell, Keith Morris, Katherine Moseby, Manda Page, Jeremy Ringma. Degrees of population-level susceptibility of Australian terrestrial non-volant mammal species to predation by the introduced red fox (Vulpes vulpes) and feral cat (Felis catus). Wildlife Research, 2018; DOI: 10.1071/WR18008
Scientists Explain How And Why Wombats Drop Cubed Faeces
November 19, 2018: American Physical Society
Wombats, the chubby and beloved, short-legged marsupials native to Australia, are central to a biological mystery in the animal kingdom: How do they produce cube-shaped poop? Patricia Yang, a postdoctoral fellow in mechanical engineering at the Georgia Institute of Technology, set out to investigate.
Yang studies the hydrodynamics of fluids, including blood, processed food and urine, in the bodies of animals. She was curious how the differences in wombats' digestive processes and soft tissue structures might explain their oddly shaped scat.
During the American Physical Society's Division of Fluid Dynamics 71st Annual Meeting, which took place Nov. 18-20 at the Georgia World Congress Center in Atlanta, Georgia, Yang and her co-authors, Scott Carver, David Hu and undergraduate student Miles Chan, will explained their findings from dissecting the alimentary systems, or digestive tracts, of wombats.
"The first thing that drove me to this is that I have never seen anything this weird in biology. That was a mystery," said Yang. "I didn't even believe it was true at the beginning. I Googled it and saw a lot about cube-shaped wombat poop, but I was skeptical."
Yang and her co-authors studied the digestive tracts of wombats that had been euthanized following motor vehicle collisions in Tasmania, Australia. Carver, the biologist and Australian counterpart to the group of American mechanical engineers, supplied the wombat intestinal specimens.
Near the end of the intestine, they found that faeces changed from liquid-like states to solid states made up of small, separated cubes. The group concluded that the varying elastic properties of wombats' intestinal walls allowed for the cube formation.
In the built world, cubic structures -- sugar cubes, sculptures, and architectural features -- are common, and produced by injection moulding or extrusion. Cubes, however, are rare in the natural world. Currently, wombats are the only known species capable of producing cubes organically.
"We currently have only two methods to manufacture cubes: We mould it, or we cut it. Now we have this third method," Yang said. "It would be a cool method to apply to the manufacturing process -- how to make a cube with soft tissue instead of just moulding it."
So, why do wombats poop cubes? Wombats pile their faeces to mark their home ranges and communicate with one anotherthrough scent. They pile their faeces in prominent places (e.g., next to burrows, or on logs, rocks and small raises) because they have poor eye sight. The higher and more prominently placed the pile of faeces, the more visually distinctive it is to attract other wombats to smell and engage in communication. Therefore, it is important that their droppings do not roll away, and cube-shaped poop solves this problem.
Yang hopes that the group's research on wombats will contribute to current understandings of soft tissue transportation, or how the gut moves. She also emphasised that the group's research involved mechanical engineering and biology, and their findings are valuable to both fields. "We can learn from wombats and hopefully apply this novel method to our manufacturing process," Yang said. "We can understand how to move this stuff in a very efficient way."
Carver added, "There is much general interest from the public, both in Australia and internationally, about how and why wombats create cube-shaped faeces. Many ideas, some more entertaining than others, have been put forward to explain this, but until this study nobody had ever investigated the cause. This has been a fantastic collaboration which shows the value of interdisciplinary research for making new scientific discoveries."
Materials provided by American Physical Society.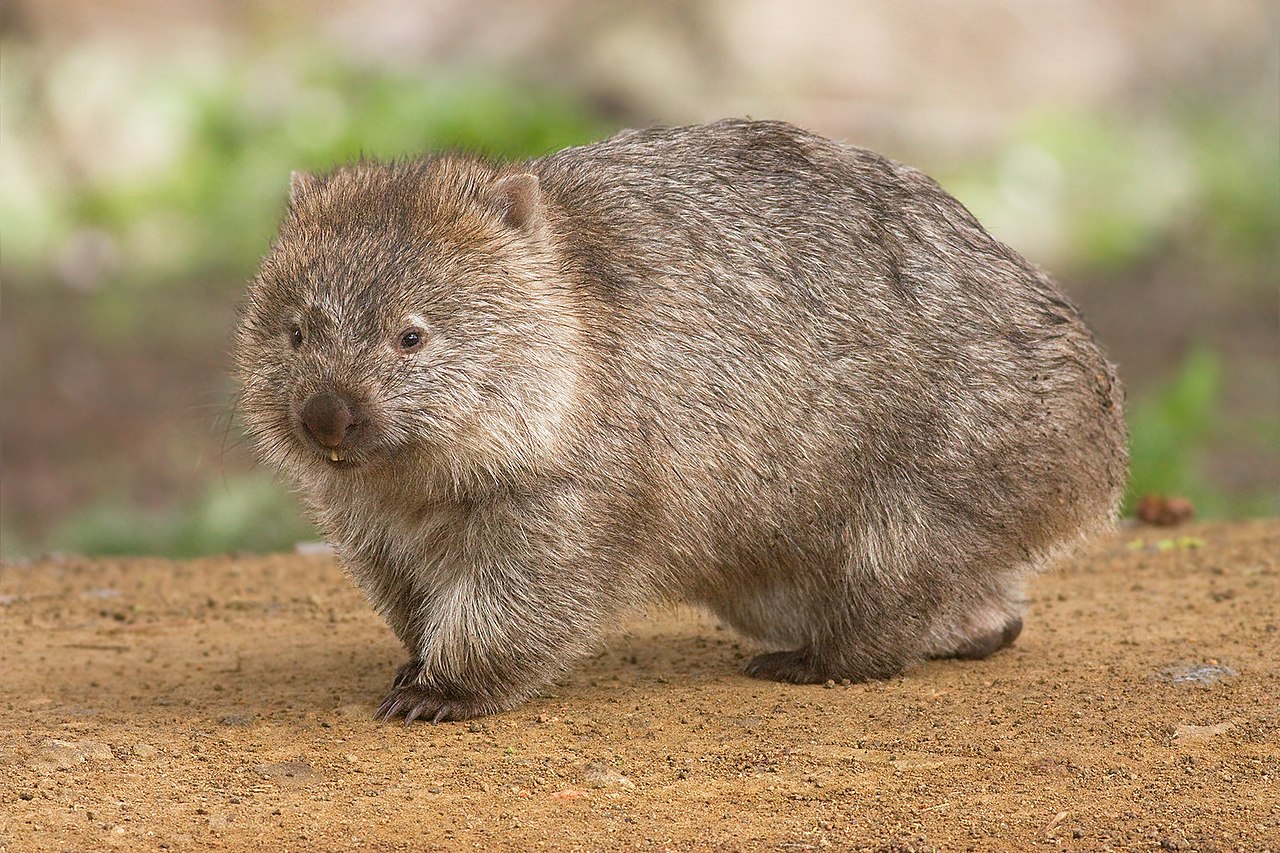 Common Wombat (Vombatus ursinus tasmaniensis) on Maria Island, Tasmania, Australia. The entire island is a national park, Maria Island National Park. The adult is just under a metre in length on average.

Iceland's Banned TV Christmas Advert... Say Hello To Rang-Tan.
Published by Iceland Foods
You won't see our Christmas advert on TV this year.
But we want to share our 'No Palm Oil' story with you this Christmas.
Say hello to Rang-tan.
Powerful Owl Release
March 18, 2018:

Avalon Preservation Association
PNHA's Jacqui Marlow has advised that a Powerful Owl chick has been released in Plateau Park following its recuperation in Taronga Park.
If you see it there being harassed, or even if you see it at all, can you please phone her on 0458 194 127.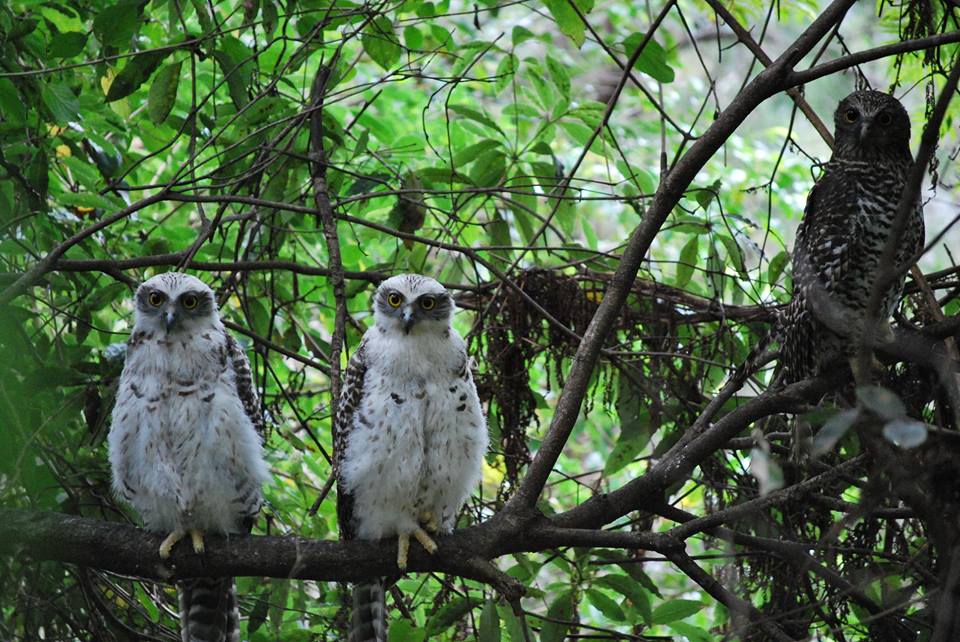 Powerful owl family - photo courtesy PNHA