Inbox and Environment News: Issue 433
December 15, 2019 - January 19, 2020: Issue 433
School Strike 4 Climate At Narrabeen: December 13, 2019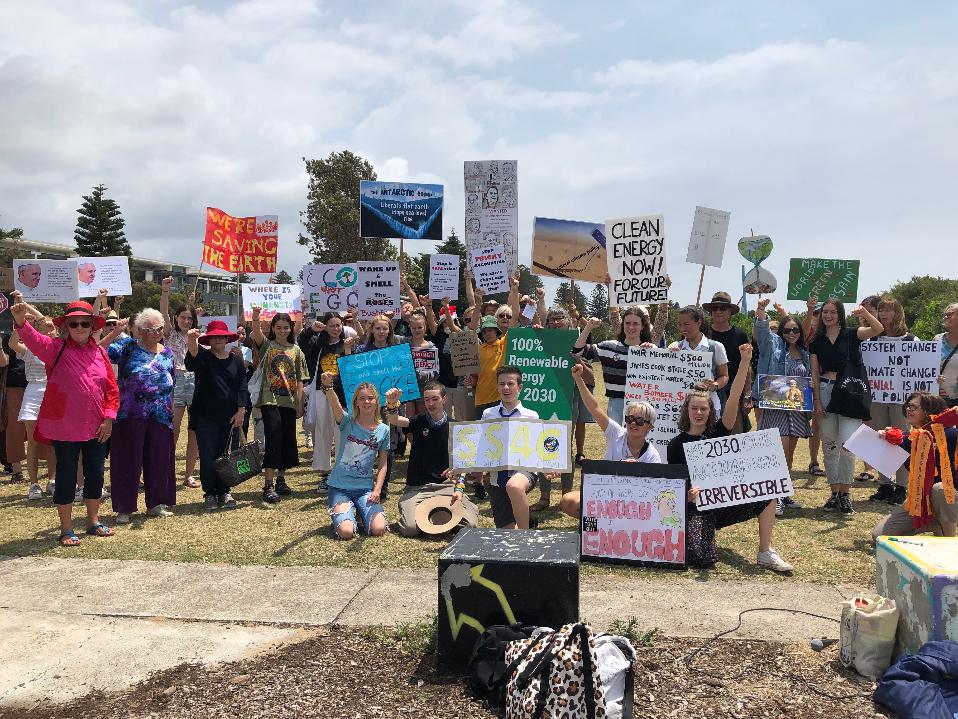 Pittwater residents who work in the CBD were called on to evacuate via smoke alarms going off in their buildings on Tuesday this week. The alarms, triggered by the thick haze of smoke from bushfires choking the city and not moving all day, added a surreal aspect to what has already been months of not being able to see the sky and a permanently red tinge to the sun. Some refused to leave their offices, stating the air outside was too thick with ash and smoke, citing months of already suffering from health problems triggered by the constant and incessant smoke.
They wondered how all the volunteer firies were coping and what irreversible respiratory problems they would be suffering from by now.
More than 7000 bushfires have raged across New South Wales since July, months before the official start of bushfire season, in what firefighters have described as the "most challenging bushfire season ever". Scientists say the size, of over two million hectares, and severity of this year's blazes are "unprecedented".
Wildlife Carers state thousands of koalas, kangaroos, possums, bats, birds and other native animals have died as a result of the fires. The the ash falling over Sydney and Pittwater is actually composed of their cremation along with millions of trees and hundreds of peoples homes. The ongoing dust storms from inland areas and that ash has settled over everything.
In the months leading into the fires these animals were already dehydrated and half starved due to prolonged drought conditions affecting their food trees and making nail hard the dirt they once cropped grass from or dug for worms. Coupled with the ongoing destruction of their habitats through land clearing, and bearing in mind a new report this week from the International Union for Conservation of Nature states that of our iconic keystone gum trees almost 25% of those 826 eucalypts species are threatened with extinction, the animal populations they support are now, also, on the brink of extinction.
Pittwater's first bushfire for the season was in Winter, commencing on August 18, at Longnose Point in the Ku-Ring-Gai Chase National Park. By August 20 they were still trying to put this fire out, with a number of RFS volunteer Brigades supported by National Parks staff and water bombing helicopters working to extinguish the fire.
Since then Pittwater Online has run weekly updates of the horrifying and frightening conditions all our local NSW RFS volunteer Brigades have sped to assist with, being deployed up and down the coast of New South Wales for days at a time.
As we go to press for the final Issue of the year one volunteer firefighter has published an open letter to the Prime Minister on the Facebook social media platform that has been shared over 5000 times:
Dear Prime Minister,

I am writing to you as a member of the Far South Coast of NSW community, and as a bush firefighter with our local RFS Brigade.
You need to listen to me.
I swore that if I heard the word, "unprecedented" one more time I would write to you. I heard it again tonight in comments by experts over the mega-fire around Sydney. So, here's your letter.
There is one more thing that is 'unprecedented'. It's your Government's complete INACTION over the current bushfire emergency in Australia. And please don't tell me about the pathetic response so far with more thoughts and prayers from Hillsong. This is a NATIONAL EMERGENCY not a minor weather event.
We are not frantically impressed with these platitudes down here. When I see my colleagues from my brigade jump into a plane or a bus to take them up north in a strike team to go into battle against an unprecedented enemy of catastrophic proportions, I wonder if we might ever see them again. And they are my friends and wonderful people.
When my RFS pager goes off in the middle of a hot, blustery severe fire danger day and I have to rush off to a bushfire, and as I am sitting in the truck proceeding under sirens and lights to the fire, I wonder if this might be my last day too.
We don't have time for you to sit on your hands and wish us platitudes and cricket news.
Here's what we need you to do:
Treat the situation as if it was a WAR being waged on Australia by an unpredictable enemy with considerable weaponry, capable of jumping front lines easily and attacking from several fronts simultaneously, with devastating results. It takes no prisoners.
Treat each event as a BATTLE and a part of the WAR.
Appoint a WAR cabinet with special powers to mobilise the country, the armed services and whatever resources are required to fight the battles to win the WAR.
The WAR is CLIMATE CHANGE, and the battles are fires, drought, intense weather events such as tropical cyclones and other climate-related phenomenon in the new normal of the climate-changed world.
The WAR is the long game - and will be fought over several decades into the future, so there needs to be planning and task forces and armies and technology and considerable ingenuity.
Support your people - the people of Australia: tell them the Government cares and is actually mobilising and doing something about it.
Do it, and let's worry about the platitudes some other day.
Yours sincerely
Chris Nicholls,
Merimbula, NSW
On Wednesday thousands rallied in Sydney to demand urgent climate action from Australia's government. The 'snap strike', (NSW is Burning, Sydney is Choking - Climate Emergency Rally!) saw people crowd Town Hall, with one police officer at the scene estimating the number of protesters may have exceeded 7,500. Pittwater residents were among them.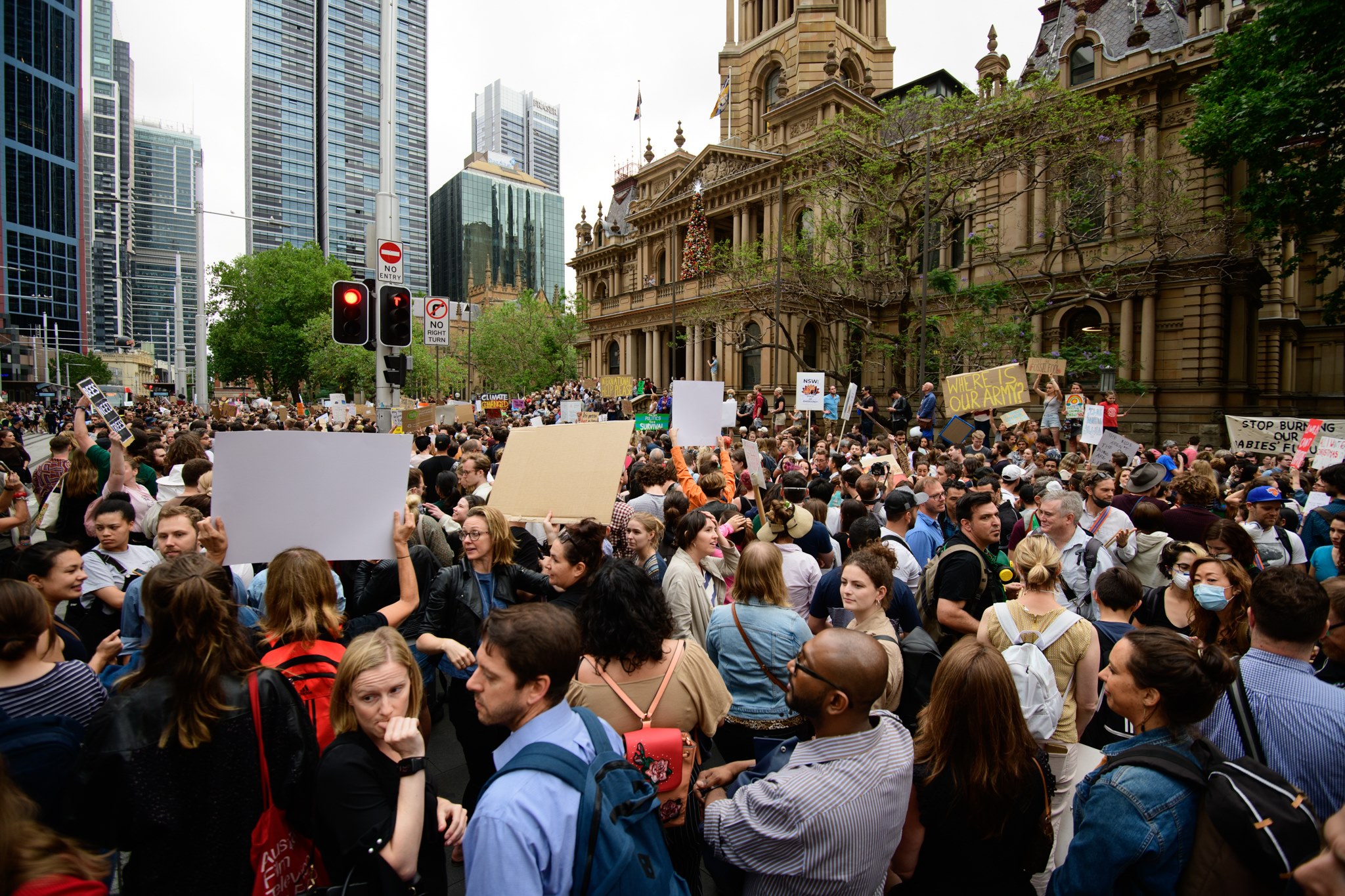 NSW is Burning, Sydney is Choking - Climate Emergency Rally!, December 11, 2019 - Photo credit: Little Raven Photography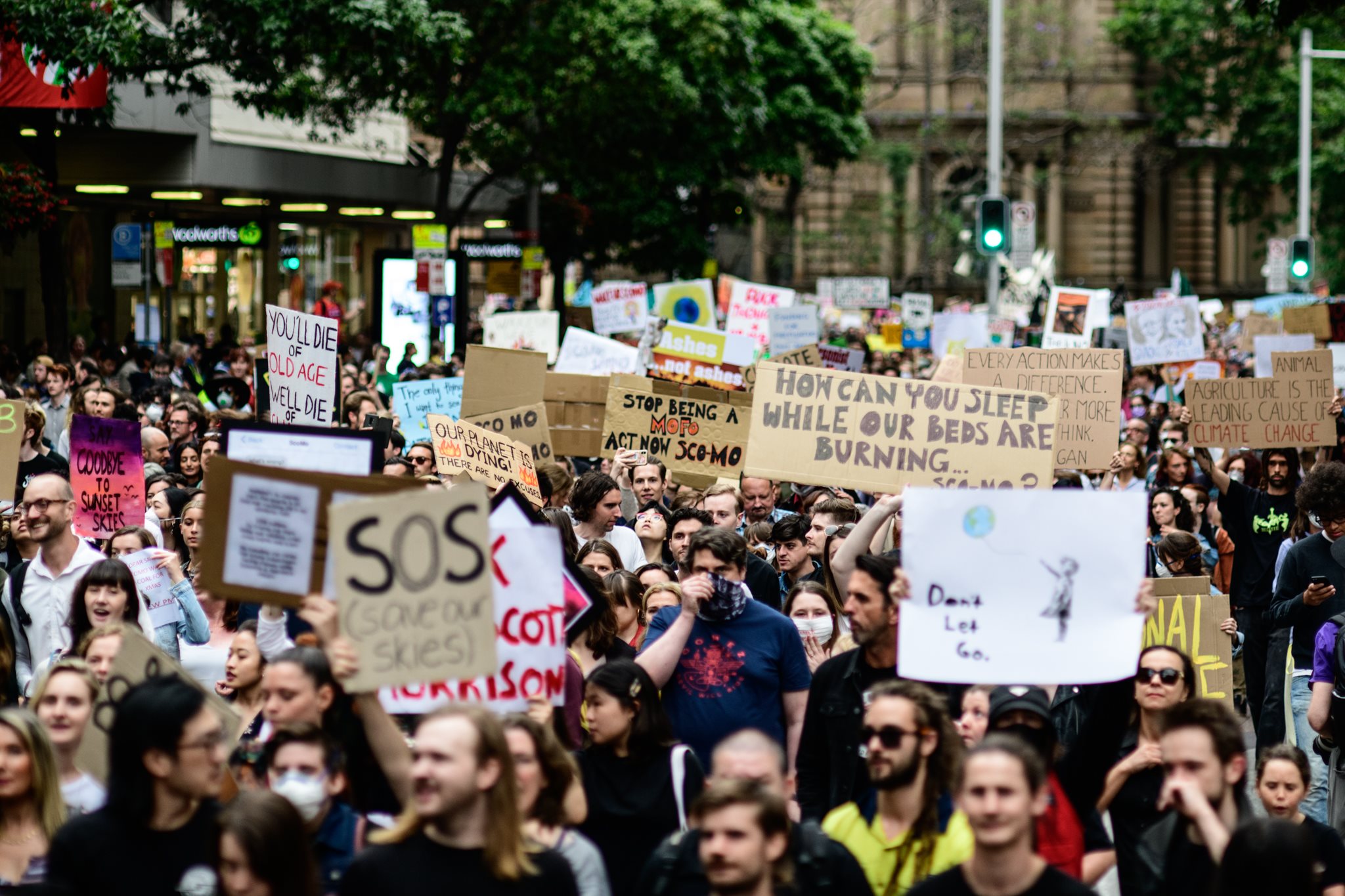 NSW is Burning, Sydney is Choking - Climate Emergency Rally!, December 11, 2019 - Photo credit: Little Raven Photography

On Friday December 13, 2019 the School Strike for Climate Change brought another of numerous protests that have taken place on the peninsula during this year to the office of our Federal MP.
This is what the Students had to say about climate change and Mackellar MP, Jason Falinski, at their rally outside his office on Friday: Full report HERE
Top: SS4CC at Narrabeen on Friday, December 13, 2019.
Hot Days Forecast: Please Keep Your Bird Baths Topped Up Or Put Out Shallow Dishes Of Water In The Shade For Local Fauna
During this Christmas - New Years break please be mindful of our local native animals and
place shallow dishes in the shade
with sticks or twigs to climb on. With BOM weather forecasts predicting soaring heat over the next few weeks we need to look out for and care for the original residents.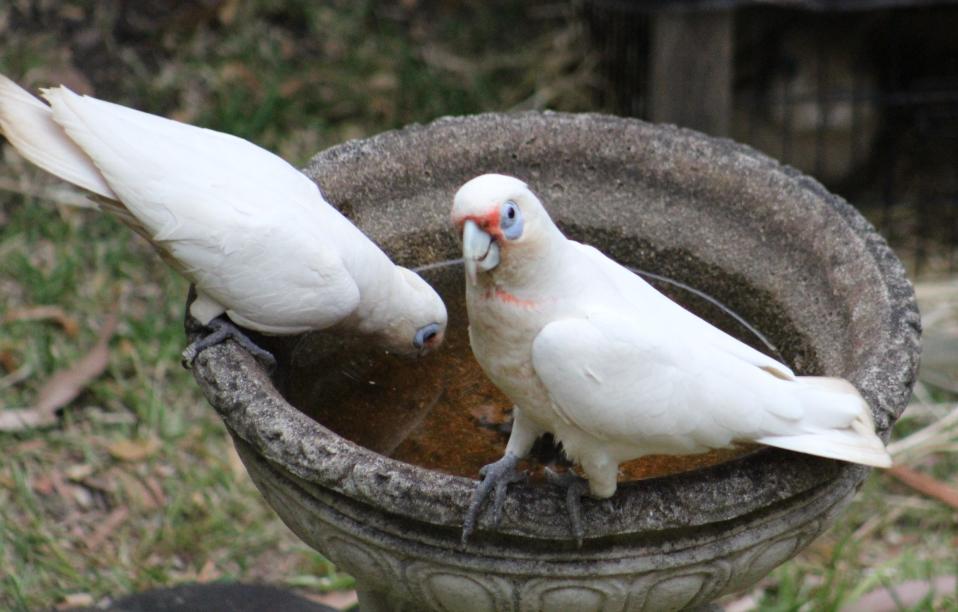 South West Lovett Bay Residents Form A Coastcare Group
The Lower Western Shores of Pittwater now has its first Coastcare group. The private properties in South West Lovett Bay sit between Ku Ring Gai Chase National Park and the shores of Pittwater. They also sit within a Pittwater Spotted Gum forest and on the edge of a coastal rainforest, both endangered ecological communities.
The group's objective is to get rid of the bamboo, and other invasive weeds such as cocos palms, asparagus fern and lantana as well as smaller invasive grasses on both public and private land; and to regenerate the bushland.
Resident support for the group is sky high with every property owner in SW Lovett Bay signing up.
Members of the 2 local bushcare groups have also joined so help maintain the work done on public land.
The first event planned by the group is a Weed Identification Workshop to be run by Northern Beaches Council Bushland Supervisor Michael Kneipp this weekend.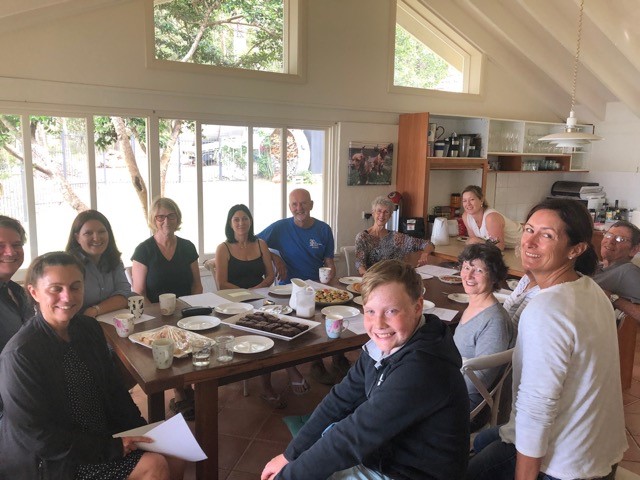 First meeting of SWLBC Committee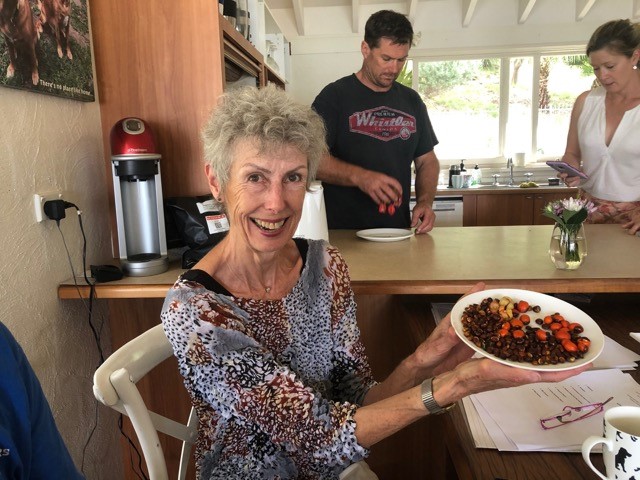 Seeds for propagation
Hawksbill Sea Turtle At Manly Dies With Stomach Full Of Plastic And Fishing Lines
A critically endangered Hawksbill turtle was found in a very poor condition at Manly beach on Tuesday, December 10th, 2019. Seabird Rescue Central Coast (that also specialises in turtles) did their best to give advice how to care for the turtle overnight but it sadly passed away.
Taronga Zoo performed a necropsy on the turtle and found the turtles stomach full of plastic and fishing lines.
Please always take your rubbish with you, reduce your single-use plastic footprint and dispose fishing lines safely. If you see any plastic discarded by others, please pick it up and dispose of it where it won't end up in the waters off our beaches, or in our lagoons and estuary. This turtle would have lived if it wasn't for irresponsible humans.
We need to do better than this in 2020.
Narrabeen Beach & Lagoon Clean Up 2020
Sunday, January 26, 2020 at 10 AM – 12:15 PM
Hosted by Northern Beaches Clean Up Crew
Our clean ups are always the last Sunday of every month at 10am and our next clean up is in Narrabeen. All welcome to this family friendly event! (We just ask you to leave your political messages at home) The more the merrier. We start on time and clean for about an hour and then we count all the rubbish and submit the data o a marine debris research data base. We have gloves, bags and buckets. Do a good deed for the planet and make new friends at the same time. No need to bring anything but a smile!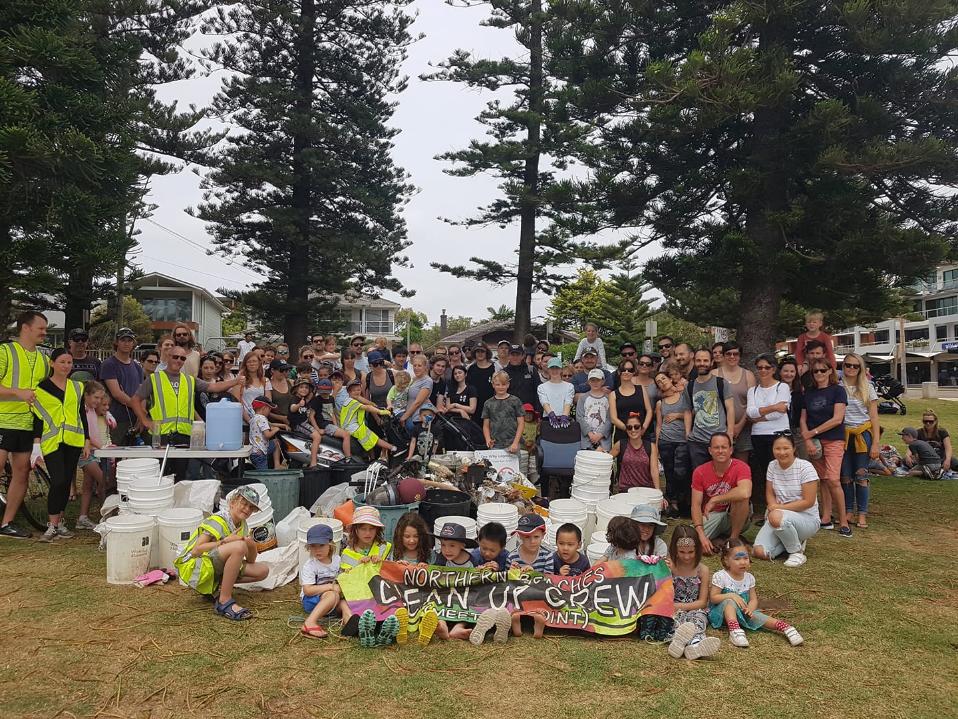 More Smoke Obscured Hills And Red Sun Water This Week
Pittwater has had a recurrence of still days filled with smoke from bushfires this week and red splashed waves at beach and bay. The only positive here has been cooler temperatures have assisted local NSW RFS brigade members deployed to fight fires outside the areas.
As we load the final Issue for 2019 and go to press there are 108 bush or grass fires burning across NSW, with 62 not yet contained. One fire, Ruined Castle (Blue Mountains LGA), remains at the Watch and Act alert level.
Tomorrow, and in the coming weeks, with widespread areas of Very High fire danger and areas under a Total Fire Ban, it is important that you report unattended fires immediately to Triple Zero (000) and know what you and your family will do if fire threatens.
A few photos from Joe Mills at Warriewood and one from our office, on the edge of the Pittwater estuary, where, for many mornings htis week the hills opposite have been obscured by dense smoke.
Joe's photos are of the Narrabeen Headland were taken on a very smokey morning. Visibility low, and health risks high for puffer people.
The storm photo was taken Friday December 13th looking from Narrabeen Headland towards Collaroy.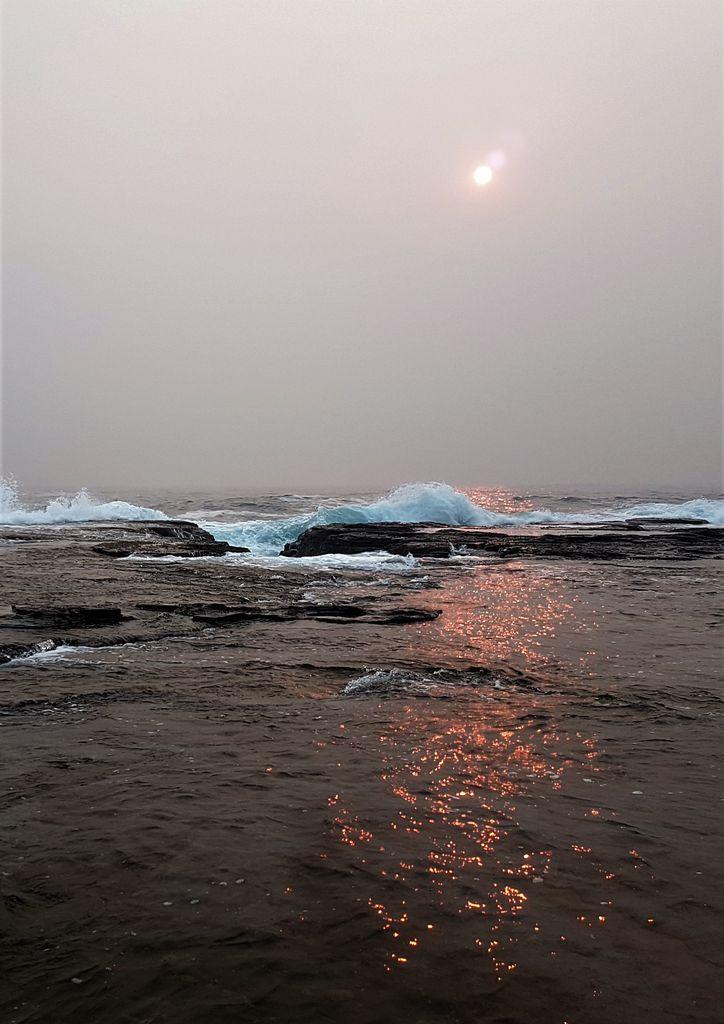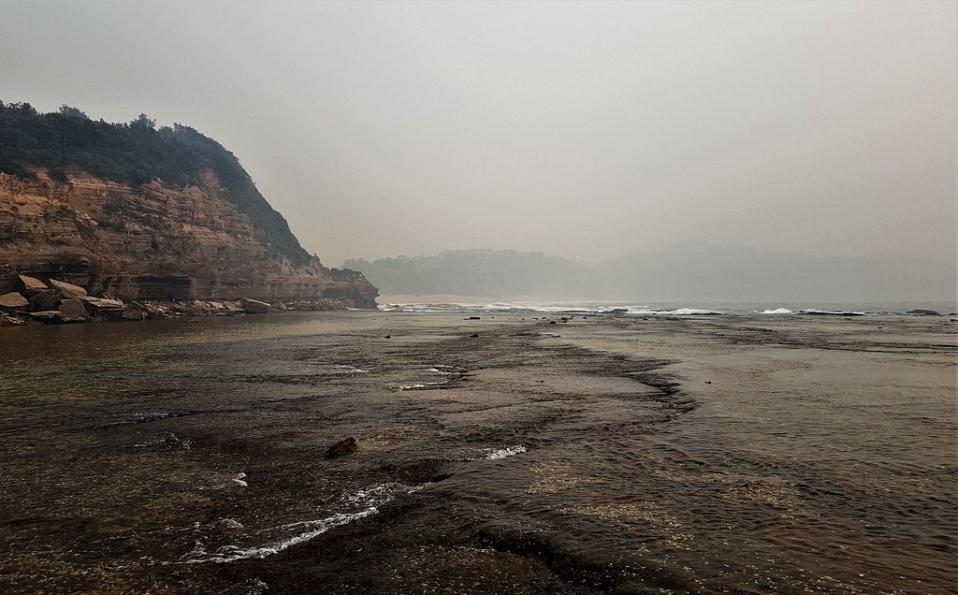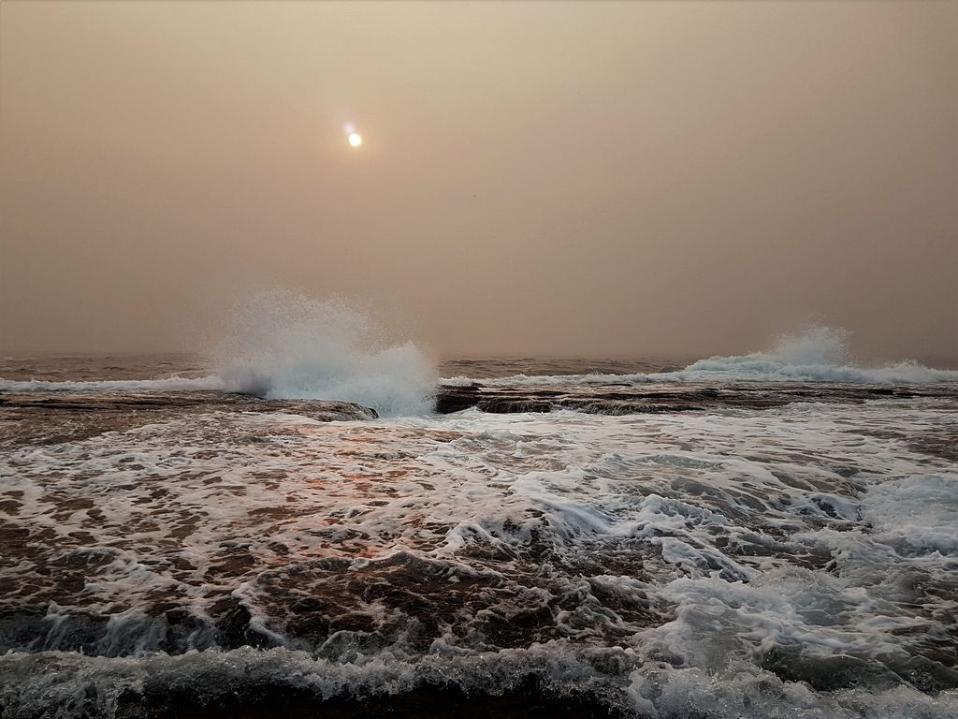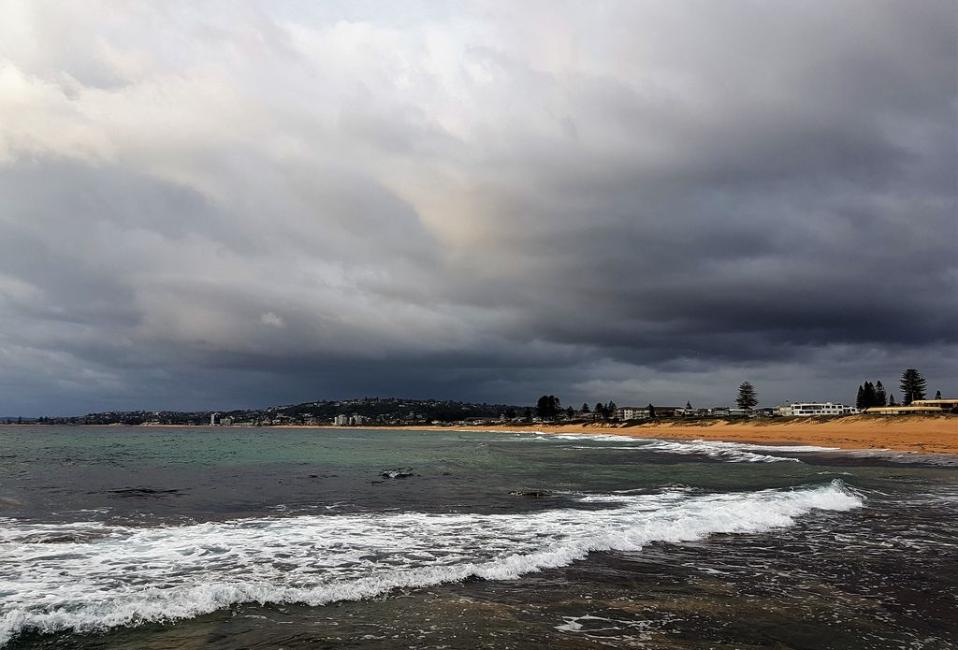 Impact Of Seismic Testing On Fisheries And The Marine Environment Inquiry
The Parliament of Australia is taking submissions on the effects of seismic testing in our oceans via a Senate Standing Committee on Environment and Communications.
The Impact of seismic testing on fisheries and the marine environment inquiry is
open to public submissions until December 16, 2019
(note: this was extended from Nov 21).
Terms of reference for the inquiry are:
the body of science and research into the use of seismic testing;
the regulation of seismic testing in both Commonwealth and state waters;
the approach taken to seismic testing internationally; and
any other related matters.
Investors Managing More Than USD 37 Trillion In Assets Urge Governments To Step Up Climate Ambition
631 institutional investors managing more than $37 trillion in assets urged governments to step up efforts to tackle the global climate crisis and achieve the goals of the Paris Agreement, in a joint statement issued today at the United Nations Climate Conference (COP25) being held in Madrid. The ​Global Investor Statement to Governments on Climate Change​, developed by the seven Founding Partners of ​The Investor Agenda​, urges governments to phase out thermal coal power, put a meaningful price on carbon pollution, end subsidies for fossil fuels, and ​update and strengthen nationally-determined contributions to meet the goals of the Paris Agreement.
"The global shift to clean energy is underway, but much more needs to be done by governments to accelerate the low carbon transition and to improve the resilience of our economy, society and the financial system to climate risks," the investors wrote. They warned the current government commitments leave an "ambition gap" that will not prevent global average temperature from rising beyond the 1.5 degree threshold that scientists warn could trigger catastrophic and irreversible effects of climate change.
The investor call to action was highlighted by United Nations Secretary-General António Guterres in his remarks to Heads of State and Government at COP25. "I see the business community and the finance community very active. We received...a letter by the leaders of asset management entities...asking political leaders to enhance climate action, to end subsidies to fossil fuels, to put a price on carbon," the Secretary-General said (text ​here​).
Signing the Global Investor Statement to Governments on Climate Change is an action item in the Policy Advocacy focus area of the ​The Investor Agenda​. Launched in 2018 by seven Founding Partners -- ​Asia Investor Group on Climate Change​, ​CDP​, ​Ceres​, ​Investor Group on Climate Change​, ​Institutional Investors Group on Climate Change​, ​Principles for Responsible Investment​and ​UNEP Finance Initiative​--The Investor Agenda is a collaborative initiative that aims to accelerate and scale up the investor actions worldwide, that are critical to tackling climate change and achieving the goals of the Paris Agreement with the aim of keeping global average temperature rise to no more than 1.5-degrees Celsius. It provides investors with a set of actions that they can take in four key focus areas: Investment, Corporate Engagement, Investor Disclosure and Policy Advocacy.
"Investors with $37 trillion in assets under management calling for our government leaders to act quickly and boldly on the global climate crisis is quite extraordinary," noted ​Mindy Lubber, Ceres CEO and President.​"With the immense influence that these investors hold in our economy, government leaders ought to respond to this collective call to action with the urgency and ambition required to power a net-zero emissions economy."
"Investors are clear that governments should be much more ambitious in addressing climate change," ​said Stephanie Pfeifer, CEO of the Institutional Investors Group on Climate Change (IIGCC).​"The science shows we need to achieve climate neutrality by 2050 at the latest. Several leading economies have already set net-zero emissions targets and other countries must now follow their lead."
"As investors in Asia and all regions are increasingly looking to allocate more capital into low carbon investments, they are urging governments and policy makers to unlock the barriers to enable the necessary transition to net-zero carbon economies," said ​Rebecca Mikula-Wright, Director, Asia Investor Group on Climate Change (AIGCC)​. "The Investor Agenda has a pivotal role to play as a platform for supporting investors to lead ambition and catalyse sustainable investment, while promoting engagement across all regions and jurisdictions."
"Global investors with US$37 trillion in assets under management are demanding that governments implement robust and credible climate change policy to reduce the costs of climate change for the global economy and for the communities we live in,'' said ​Emma Herd, Chief Executive Officer, Investor Group on Climate Change (IGCC)​. "Global investors could not be clearer, governments must step up and deliver the policy ambition needed to manage the costs of climate change. Without ambitious climate goals, supported by investable policy, climate change as a risk to financial stability will continue to ratchet."
"The Investor Agenda provides an unprecedented global forum for investors to accelerate action on climate change and drive transformation of capital markets to deliver a 1.5-degrees Celsius economy. To do that investors need to take further action themselves, but also require stronger incentives from governments," said ​Paul Simpson, CDP CEO.
"The Investor Agenda has a critical role to play in compelling investors to act and bring about lasting change around climate," said ​Fiona Reynolds, CEO of Principles for Responsible Investment (PRI).​"Ambition and meaningful action from governments, business and the financial sector is imperative to curb the current trajectory of global warming. These groups must act now to curb the climate emergency the world is facing by reaching the goals of the Paris Agreement to realise 1.5-degrees Celsius."
"There is a growing urgency for investors and corporations to act on climate change goals. As of today, temperatures have risen 1-degree Celsius above pre-industrial levels," said ​Eric Usher, Head of UNEP Finance Initiative.​"To keep the rise to within 1.5-degrees Celsius globally, leadership from within the investor community will be key. The Investor Agenda is a critical platform in supporting investors in their individual actions."
Nearly 1,200 investors have taken action in one or more of the focus areas of The Investor Agenda since 2018, according to The Investor Agenda 2019 ​ in September. More than 750 investors have engaged with or directly influenced companies to act on climate change, more than 400 investors have stepped up their own disclosure on climate change and more than 260 investors have set a climate target for their investments.
Marine Life Increasingly Threatened As The Ocean Loses Oxygen – IUCN Report
The loss of oxygen from the world's ocean is increasingly threatening fish species and disrupting ecosystems, a new IUCN report warns. Ocean oxygen loss, driven by climate change and nutrient pollution, is a growing menace to fisheries and species such as tuna, marlin and sharks, according to the report released today at the UN Climate Change conference in Madrid.
"With this report, the scale of damage climate change is wreaking upon the ocean comes into stark focus. As the warming ocean loses oxygen, the delicate balance of marine life is thrown into disarray," said Dr Grethel Aguilar, International Union for Conservation of Nature Acting Director General. "The potentially dire effects on fisheries and vulnerable coastal communities mean that the decisions made at the ongoing UN Climate Change Conference are even more crucial. To curb ocean oxygen loss alongside the other disastrous impacts of climate change, world leaders must commit to immediate and substantial emission cuts."
The review report, "Ocean deoxygenation: Everyone's problem", is the largest peer-reviewed study so far into the causes, impacts and possible solutions to ocean deoxygenation. Ocean regions with low oxygen concentrations are expanding, with around 700 sites worldwide now affected by low oxygen conditions – up from only 45 in the 1960s. In the same period, the volume of anoxic waters – areas completely depleted of oxygen – in the global ocean has quadrupled, according to the report.
"We are now seeing increasingly low levels of dissolved oxygen across large areas of the open ocean. This is perhaps the ultimate wake-up call from the uncontrolled experiment humanity is unleashing on the world's ocean as carbon emissions continue to increase," said Dan Laffoley, Senior Advisor Marine Science and Conservation in IUCN's Global Marine and Polar Programme and a co-editor of the report. "Ocean oxygen depletion is menacing marine ecosystems already under stress from ocean warming and acidification. To stop the worrying expansion of oxygen-poor areas, we need to decisively curb greenhouse gas emissions as well as nutrient pollution from agriculture and other sources."
Deoxygenation is starting to alter the balance of marine life , favouring low-oxygen tolerant species (e.g. microbes, jellyfish and some squid) at the expense of low-oxygen sensitive ones (many marine species, including most fish). Some of the ocean's most productive biomes – which support one fifth of the world's wild marine fish harvest – are formed by ocean currents carrying nutrient-rich but oxygen-poor water to coasts that line the eastern edges of the world's ocean basins. As naturally oxygen-poor systems, these areas are particularly vulnerable to even small changes in ocean oxygen. Impacts here will ultimately ripple out and affect hundreds of millions of people.
Species groups such as tuna, marlin and sharks are particularly sensitive to low oxygen because of their large size and energy demands. These species are starting to be driven into increasingly shallow surface layers of oxygen-rich water, making them more vulnerable to overfishing. Very low ocean oxygen can also affect basic processes like the cycling of elements crucial for life on Earth, such as nitrogen and phosphorous, the report warns.
The ocean is expected to lose 3–4% of its oxygen inventory globally by the year 2100 under a business-as-usual scenario, but the global average masks local changes that are predicted to be, for example, more severe in mid to high latitudes. Most of the losses are predicted to be concentrated in the upper 1000m of the water column, which is richest in marine biodiversity.
"Whilst we have known about dead zones in the ocean for many decades, ocean warming is now expected to further amplify deoxygenation across great swathes of the ocean. We need to work together to get the ocean oxygen budget back in balance", said Isabella Lövin, Minister for Environment and Energy and Deputy Prime Minister of Sweden, a major funder of the report. "With this report it is time to put ocean deoxygenation among our top priorities in order to restore ocean health."
The major drivers of ocean oxygen loss are climate change and nutrient pollution, with the latter affecting coastal areas. As the ocean warms, its waters hold less oxygen and become more buoyant, resulting in reduced mixing of the oxygen-rich water near the surface with the ocean depths, which naturally contain less oxygen. Nutrient pollution causes oxygen loss in coastal waters as fertiliser, sewage, animal and aquaculture waste cause excessive growth of algae, which in turn deplete oxygen as they decompose.
"Urgent global action to overcome and reverse the effects of ocean deoxygenation is needed. Decisions taken at the ongoing climate conference will determine whether our ocean continues to sustain a rich variety of life, or whether habitable, oxygen-rich marine areas are increasingly, progressively and irrevocably lost. World leaders will also come together in June 2020 at the IUCN World Conservation Congress in Marseille to drive action towards restoring ocean health – one of the key themes of the next IUCN Congress," said IUCN Global Marine and Polar Programme Director Minna Epps.
No Legal Basis For Australia's Use Of Kyoto Credits
According to a new report released today, rather than reduce its emissions today Australia is claiming it can rely on 'credits' generated decades ago under old accounting rules in a separate treaty that have no place in the Paris regime.
The report commissioned by the Australia Institute from Climate Analytics, examines the nature, scale and legal implications of Australia's proposed use of 'Kyoto carryover' credits to meet its obligations under the Paris Agreement.
Key findings:
There is currently no legal basis for the 'carryover' of pre-2021 units from the Kyoto Protocol for use under the Paris Agreement. The Kyoto Protocol and Paris Agreement are separate treaties.

Even within its own legal framework, the Kyoto Protocol does not permit the carryover of units or underlying reductions beyond the 2013-2020 second commitment period.



Most of the claimed 'overachievement' derives directly from the fact that Australia had substantial domestic deforestation emissions in 1990.

It would be perverse to reward Australia in 2030 for the existence of large-scale deforestation that took place forty years earlier.

So called 'overachievement' can also be said to come directly from Australia's decisions to allow itself an increase of 8% in its emissions in the first Kyoto commitment period compared to 1990 levels and a minimal 0.5% reduction for the second period. Having chosen far less ambitious targets than other countries Australia is now claiming to have 'overachieved.'
Efforts to seek recognition under the Paris Agreement for these historical artefacts as 'overachievement', in an effort to minimize future mitigation efforts,

would be antithetical to the goals and principles of the Paris Agreement

, to which Australia has itself subscribed as a Party.

Australia's exploits to water down its climate action through loopholes would only encourage other countries to follow suit.




Were Australia to succeed in using carryover credits in the way it has proposed

it would reduce Australia's 2030 target from 26% to only a 14.3% reduction below 2005 emissions levels using 2018 projections (the cut is even greater under 2019 projections)



"The Paris Agreement is a new and separate treaty, to start afresh to take ambitious climate action going forward and there seems to be no legal grounds to import questionable credits from past treaties" said His Excellency Anote Tong, former President of Kiribati.
"If Australia has overachieved, then it means it has the capacity to do more, not less.
"Australia is on fire due in large part to climate change and it is beyond me why the Australian Government is looking for ways to weaken the Paris Agreement so it and others can do less to solve the climate crisis.
"If Australia really believes it is a member of the Pacific family, and cares about its own people, then it should stand in solidarity to ensure the integrity of the Paris Agreement.
"This is about the real impact of what we are all trying to achieve here. Are we trying to work together or are we just shifting numbers?
"We are not even on track to limit global warming to 1.5, and it is not right that some countries are looking to do less. It is important that Australia shows leadership in the most challenged region in the world."
"Australia's emissions from electricity, transport and industrial production are still rising but Australia is claiming it will meet its Paris commitment to reduce emissions by 26-28 per cent by relying on a range of complicated accounting tricks" said Richie Merzian, climate & energy director at the Australia Institute.
"Australia has always demanded an easy ride at international climate talks. Back at Kyoto in 1997 Australia demanded what became known as 'the Australia clause' which redefined land clearing in a way that made Australia's emissions targets very easy to meet. And then of course back in Kyoto when other countries were committing to reduce emissions we set our target as an increase in emissions of 8 per cent. But our latest demands are our most outrageous.
"Having distorted the rules in the past, and having previously demanded some of the least ambitious targets in the developed world, the Australian Government is now arguing that because we 'overperformed' against past benchmarks we should gain some 'credit' for this in the future.
"This research makes clear that there is no scientific, moral or legal foundation for the Australian Government's determination to gain credit for its historic recalcitrance.
"Australia's determination to build new coal mines and ignore the link between enormous bushfires and climate change has already diminished its credibility at these talks, but demanding the right to use the land clearing practices of the 1990s as a substitute for burning less coal today is a bridge to far for the vast majority of the countries gathered in good conscience at this COP."
"It is a serious concern that the Australian Government continues to employ dodgy accounting in order to evade action and actually reduce its emissions," said Dr Bill Hare, report co-author and head of Climate Analytics.
"There is nothing to be proud of claiming credits for action that never happened under the Kyoto Protocol so that Australia can bludge off the efforts of others, nor, as the report shows, undermining the Paris Agreement by demanding legal recognition for emission units that do not belong to it."
Species Recoveries Bring Hope Amidst The Biodiversity Crisis - IUCN Red List
Conservation efforts have led to improvements in the status of ten species, according to today's update of The IUCN Red List of Threatened SpeciesTM. This includes the recovery of the Guam Rail, a bird previously listed as Extinct in the Wild.
Despite these improvements, the International Union for Conservation of Nature (IUCN) Red List now includes 30,178 species threatened with extinction, and there is increasing evidence of the negative effects of climate change. There are now 112,432 species on the IUCN Red List.
"This IUCN Red List update offers a spark of hope in the midst of the biodiversity crisis," said IUCN Acting Director General, Dr Grethel Aguilar. "Though we have witnessed 73 genuine species declines, the stories behind the 10 genuine improvements prove that nature will recover if given half a chance. Climate change is adding to the multiple threats species face, and we need to act urgently and decisively to curb the crisis."
"The results of determined conservation actions demonstrate that when governments, conservation organisations and local communities work together, we can reverse the trend of biodiversity loss," said Jane Smart, Global Director of the IUCN Biodiversity Conservation Group. "This update reveals the ever-increasing impacts of human activities on wildlife. The next year will be critical for the future of the planet, with the IUCN World Conservation Congress in June 2020 a key milestone set to define the conservation agenda needed to address the species emergency ahead of the decisions to be taken by governments at the Biodiversity Convention meeting in Kunming, China, in October 2020."
Conservation success stories
The latest IUCN Red List update reveals genuine improvements in the status of eight bird species and two freshwater fishes. Captive breeding, combined with careful management of wild populations, has been key to these conservation successes.
Among these improvements is the flightless, fast-running Guam Rail (Hypotaenidia owstoni) – the second bird in history to recover after being declared Extinct in the Wild, after the California Condor (Gymnogyps californianus). Once widespread on the Pacific island of Guam, its numbers declined after the Brown Tree Snake (Boiga irregularis) was accidentally introduced at the end of World War Two. In 1987, the last wild Guam Rail was killed by this invasive predator. Thanks to a 35-year captive breeding programme, the Guam Rail is now established on the neighbouring Cocos Island. However, the bird is still classified as Critically Endangered – one step away from extinction.
In Mauritius, the Echo Parakeet (Psittacula eques) continues its recovery thanks to conservation efforts, including a highly successful captive breeding programme. There are now more than 750 Echo Parakeets in the wild, and with this update the species has been reclassified as Vulnerable, following its improvement from Critically Endangered to Endangered in 2007.
Two freshwater fish species – the Australian Trout Cod (Maccullochella macquariensis) and Pedder Galaxias (Galaxias pedderensis) – have likewise improved, from Endangered to Vulnerable and Critically Endangered to Endangered respectively.
Decades of conservation action have focused on establishing additional subpopulations through reintroductions and wild-to-wild translocations. Both species face threats from invasive species and habitat destruction and degradation.
Increasing evidence of the effects of climate change
Climate change has contributed to the declines of species including several freshwater fishes and the reef-dependent Shorttail Nurse Shark. Assessments in this update show climate change affects species by, for example, altering habitats and increasing the strength and frequency of extreme weather events.
This Red List update reveals that 37% of Australia's freshwater fish species are threatened with extinction, of which at least 58% are directly impacted by climate change. Fish are highly susceptible to extreme droughts caused by declining rainfall and increasing temperatures. Climate change also compounds the threat from invasive alien species, which can move into new areas as water temperature and flow change.
Native to the Western Indian Ocean, the Shorttail Nurse Shark (Pseudoginglymostoma brevicaudatum) has declined by approximately 80% over 30 years. Simultaneously affected by unmanaged fishing and climate change, it has moved from Vulnerable to Critically Endangered. Living only in shallow waters where it has no refuge from fishing, the shark is losing its habitat due to coral reef degradation caused in part by ocean warming.
Climate change is also threatening Dominica's national bird, the Imperial Parrot (Amazona imperialis). While hurricanes naturally occur in the Caribbean, their increased frequency and intensity result in high bird mortality and habitat destruction, alongside devastating impacts on people. The species declined from Endangered to Critically Endangered after Hurricane Maria in 2017, the strongest hurricane on record to have struck the island. There are now estimated to be fewer than 50 mature individuals left in the wild.
Eucalypts assessed worldwide
All known eucalypt species worldwide have been assessed in this Red List update, revealing that almost 25% are threatened with extinction.
Of the 826 eucalypts – comprising the Eucalyptus, Corymbia and Angophora species groups – 812 occur only in Australia. As keystone species, they define the landscape of the entire Australian continent, and are culturally significant to its First Nations People.

Eucalypts including the Vulnerable Eucalyptus moluccana are the sole food source for the Koala (Phascolarctos cinereus),

which has declined significantly due to loss of eucalypt habitat.
Elsewhere in the world eucalypts can be highly invasive, but
in their native range in Australia they face threats from human use of land, especially agriculture and urbanisation.
This has resulted in population declines of at least 30% for 134 eucalypts
, such as the Endangered Rose Mallee (Eucalyptus rhodantha), which has declined by more than 50%.
Mining also threatens some restricted range species, such as the Critically Endangered Eucalyptus purpurata.
Critical habitat for conservation now remains in the areas between rivers and land, on roadside patches and in paddocks where lone trees often remain.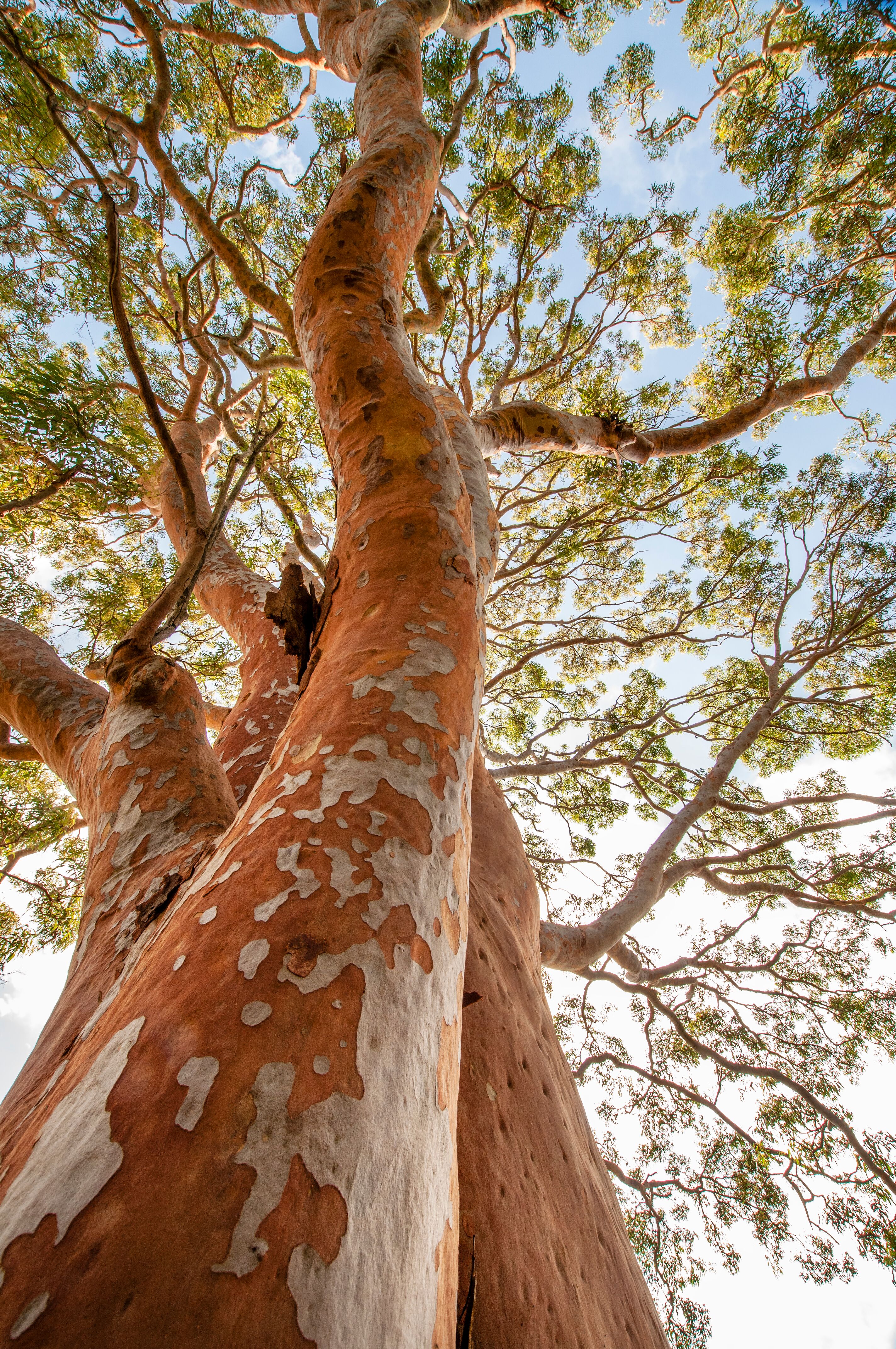 Angophora costata © Mayu Kataoka

Bushcare In Pittwater
For further information or to confirm the meeting details for below groups, please contact Council's Bushcare Officer on 9970 1367
BUSHCARE SCHEDULES
Where we work Which day What time
Avalon
Angophora Reserve 3rd Sunday 8:30 - 11:30am
Avalon Dunes 1st Sunday 8:30 - 11:30am
Avalon Golf Course 2nd Wednesday 3 - 5:30pm
Careel Creek 4th Saturday 8:30 - 11:30am
Toongari Reserve 3rd Saturday 9 - 12noon (8 - 11am in summer)
Bangalley Headland 2nd Sunday 9 to 12noon
Bayview
Winnererremy Bay 4th Sunday 9 to 12noon
Bilgola
North Bilgola Beach 3rd Monday 9 - 12noon
Algona Reserve 1st Saturday 9 - 12noon
Plateau Park 1st Friday 8:30 - 11:30am
Church Point
Browns Bay Reserve 1st Tuesday 9 - 12noon
McCarrs Creek Reserve Contact Bushcare Officer To be confirmed
Clareville
Old Wharf Reserve 3rd Saturday 8 - 11am
Elanora
Kundibah Reserve 4th Sunday 8:30 - 11:30am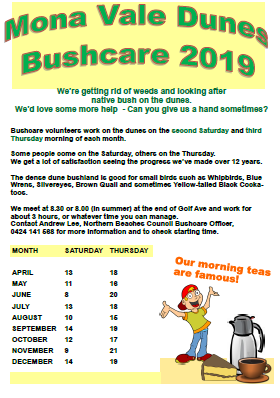 Mona Vale
Mona Vale Beach Basin 1st Saturday 8 - 11am
Mona Vale Dunes 2nd Saturday+3rd Thursday 8:30 - 11:30am
Newport
Bungan Beach 4th Sunday 9 - 12noon
Crescent Reserve 3rd Sunday 9 - 12noon
North Newport Beach 4th Saturday 8:30 - 11:30am
Porter Reserve 2nd Saturday 8 - 11am
North Narrabeen
Irrawong Reserve 2nd Saturday 2 - 5pm
Palm Beach
North Palm Beach Dunes 3rd Saturday 9 - 12noon
Scotland Island
Catherine Park 2nd Sunday 10 - 12:30pm
Elizabeth Park 1st Saturday 9 - 12noon
Pathilda Reserve 3rd Saturday 9 - 12noon
Warriewood
Warriewood Wetlands 1st Sunday 8:30 - 11:30am
Whale Beach
Norma Park 1st Friday 9 - 12noon
Western Foreshores
Coopers Point, Elvina Bay 2nd Sunday 10 - 1pm
Rocky Point, Elvina Bay 1st Monday 9 - 12noon
Grants Available To Reduce Climate Change Impacts
NSW communities are invited to apply for grants that will assist them reduce climate change impacts such as heatwaves, bush fires or floods.
The Increasing Resilience to Climate Change (IRCC) community grants program is providing $600,000 in the first round of grants. Grants between $10,000 and $30,000 are available for individual projects.
Community groups can partner with local councils in their applications for funding under the IRCC.
The grants are funded through the Climate Change Fund, which allows the NSW Government to better support the community in its response to the effects of climate change.
Environment Minister Matt Kean said these grants will help local communities plan, coordinate and take action to increase their resilience and adapt.
"IRCC grant funding has already benefited Western Sydney Regional Organisation of Councils for a cool suburbs rating tool and Bega Valley Shire Council to upgrade community halls to be more climate-resilient during extreme heat events," Mr Kean said.
Apply for round one funding by 31 January 2020
HERE
Aussie Bread Tags Collection Points
Collecting bread tags enables us to provide wheelchairs that change the life of disabled people in need, as well as keeping the tags out of landfill to help to preserve the environment.
Bread Tags for Wheelchairs was started in South Africa in 2006 by Mary Honeybun. It is a community program where individuals and organisations collect bread tags, which are sold to recyclers. The money raised pays for wheelchairs for the less fortunate which are purchased through a local pharmacy. Currently about 500kg of bread tags are collected a month in South Africa, funding 2-3 wheelchairs.
We have been collecting bread tags nationally in Australia since September 2018 and now have more than 100 collection points across the country. In February 2019 we started local recycling through Transmutation - Reduce, Reuse and Recycle in Robe, SA, where our tags are recycled into products such as door knobs and bowls. Tags from some states are still sent to South Africa where a plastics company called Zibo recycles them into seedling trays.
These humble bits of polystyrene can make a real difference so get your friends, family, school, workplace and church involved. Ask school tuck shops and boarding school kitchens, child care centres, aged care facilities, hospitals, cafes and fast food outlets to collect for you - they get through a lot of bread!
All the information and signage for collecting or setting up a public collection point is
on our website
.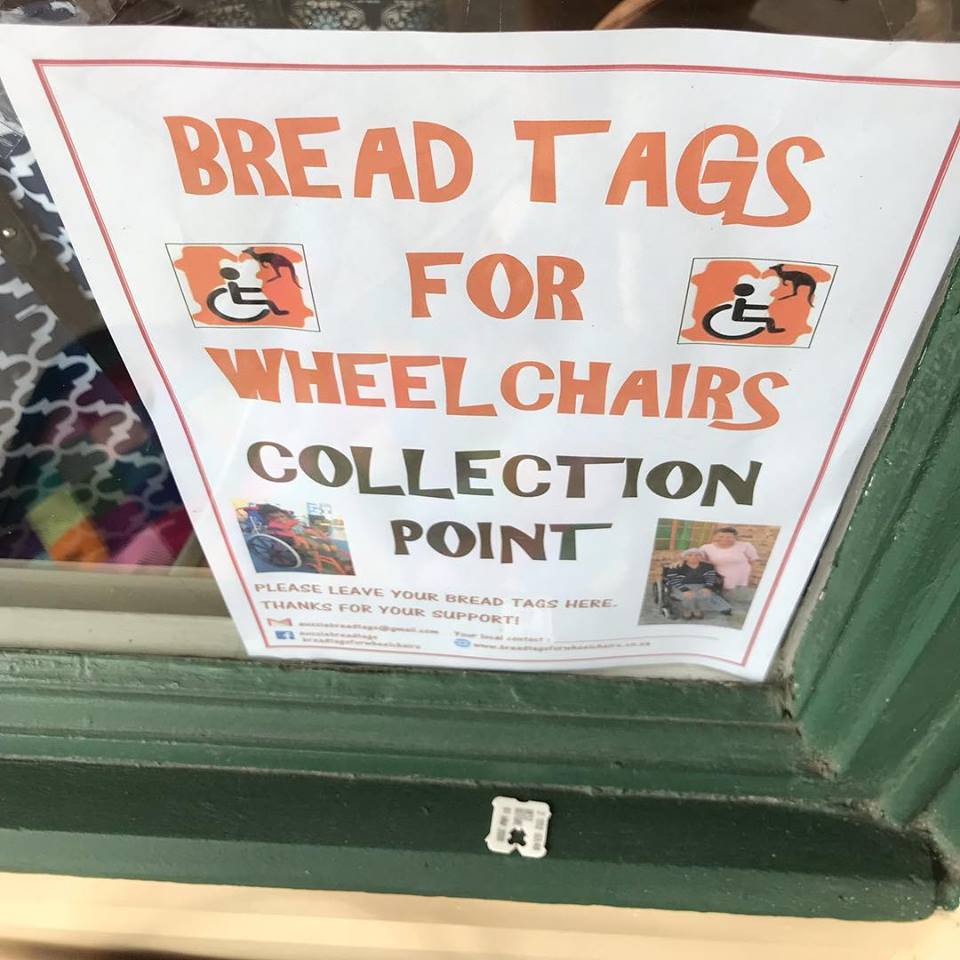 Ditch The Car To Improve Sydney's Liveability
An obsession with driving is undermining the liveability of Sydney, says a UNSW Built Environment landscape architect and urban designer.
Dr Mike Harris says the vehicle-centric ideology that dominates much of Sydney's planning policy is outdated and "simply doesn't work".
"Cars are the dominant form of transport in our city, not because it's the most efficient, but because the planning system has favoured them for so long … and continues to prioritise the model despite the damaging impacts," he says.
"You can ascribe a lot of the problems Sydney is experiencing in terms of liveability to the dominance of cars, such as commuter stress, cost of living, endemic rates of poor health, the urban heat island effect [of climate change], to name a few."
Shifting to people-based planning
The urban landscape designer investigates network planning and street design and champions a departure from auto-based planning to people-based-planning.
"Any time the pedestrian or the human experience in the public domain is lower on the hierarchy of importance, it negatively affects the quality of our city, and subsequently our attachment to it," he says.
"If we want our public domain to be sustainable and for the public good, we need to shift to designing for people, rather than cars."
He says Sydney needs to prioritise other forms of transport over cars to improve access to places of employment and education, and meet other daily needs.
"Designing cities around the experience of people will be essential to manage densification sustainably and lead to more positive community, health and economic outcomes," he says.
"The fewer cars we have, the more space there will be for everything else the community needs: better footpaths and gathering spaces, playgrounds, trees and small green spaces, habitat and cleaning stormwater."
Public transport let down
Landscape architects and urban designers understand the importance of people-based planning in principle, but they can be restricted by politics when it comes to executing the design, he says.
"Practitioners do shoulder that duty, but it does come down to how much the government is willing to set the agenda," he says.
"Continuing to fund multibillion-dollar motorway expansion projects like WestConnex only continues to incentivise the dominance of the car and undermine people-based city planning."
He says the state government's track record of mismanaging public transport projects results in the projects falling short of public expectations.
"Sydney falls down when it comes to metropolitan-scale thinking," he says, while acknowledging the creation of the Greater Sydney Commission is intended to address this. "Sometimes, even positive big projects reduce the quality of the public domain, which doesn't need to happen."
An example of this is the light rail, which he says should improve public transport carrying capacity and result in fewer cars on roads.
"What you would expect to happen, is the removal of car lanes, which aligns with the project objectives of reducing car use," he says. "This happened on George Street, but then extra car capacity was sought elsewhere in the network.
"Rather than reduce car traffic lanes in some locations, we lost the most well used separated cycleway in the city and a historic avenue of 130-year-old fig trees along Anzac Parade.
"Remodelled intersections are now huge traffic machines that have made it much more difficult for pedestrians to cross and cyclists to navigate."
Following the lead of world cities
Dr Harris says there are many examples around the world where road capacity has been reduced successfully in favour of public transport, bike lanes and improving the public domain.
"New York created a stack of new urban spaces by removing road space previously allocated to cars, including Times Square. Rather than grind the city to a halt, as some predicted, traffic actually improved," he says. "The same happened in Seoul when an elevated motorway was replaced with a stream and pedestrian boulevard."
"Copenhagen is an oft-quoted example as they have for the past three decades been steadily increasing their metro and separated bike lane network, while at the same time gradually reducing the amount of street space used for car travel and parking. While the city's population grew by 15% in 10 years, car use decreased by 3%."
While Sydney is behind when it comes to integrated urban planning, he believes the recent opening of the north-west metro line is a sign of improvement.
"A metro line is ideal for shifting people from cars to public transport and increasing equitable access across the city. It's a much faster and easier form of transport because it's largely underground, and it also presents more opportunities for creating community spaces around station hubs."
He says that means more opportunities for planting, more open and green spaces, and more human interaction.
"We are playing catch-up if you consider the century-old metro networks of cities such as New York, London and Berlin, and there is a lot of work to do to try and turn around the inertia of car-based planning.
"It is going to take some serious ambition and some big calls about what type of city we want. But the less we incentivise projects like WestConnex and the more metro-type projects we advance, the closer we'll get."
Vital Signs: Australia's Wafer-Thin Surplus Rests On A Mine Disaster In Brazil
by Richard Holden, Professor of Economics, UNSW
Charter of Budget Honesty aside, we can expect assumptions that stretch credulity so the Australian government can maintain its surplus forecast.
On Monday the Australian government will release the Mid-Year Economic and Fiscal Outlook (MYEFO). This will – as required by the
Charter of Budget Honesty
– provide an update on the key assumptions made in this year's budget, and track the implications of decisions made since the budget for the projected surplus.
There are two things you can count on about MYEFO.
First, the government will have to pare back its forecasts for economic growth, wages growth and employment growth.
Second, no matter what the economic reality is, the forecast for a budget surplus will remain.
The government has made economic management – as measured by the rather dubious criterion of budget balance – the central plank of its electoral strategy. As the Australian National University's
2019 Australian Election Study
revealed, voters preferred the government's economic policies to Labor's by a wide margin (47% to 21%, with 17% thinking there was no difference). On the management of government debt, the margin was 44% to 18%.
But the economy isn't doing very well. GDP annual growth is 1.7%, not the 2.75% forecast in the budget. The unemployment rate is 5.3%, compared to the forecast of 5.0%. Wage growth is 2.2%, not the 2.75% forecast.
The forecast budget surplus for the fiscal year to June 2020 will be made to hang together, thanks to a higher-than-forecast iron ore price.
That price – which determines the dollar value of Australia's biggest export and hence the tax revenue it generates – is not reflected in the GDP figure, which only takes into account volumes.
The iron-ore price is now US$92.50 a tonne. The budget assumed the average price would be $US88 for the 2020 budget year, thanks to a reduction in the international supply of iron ore caused by a tailings dam bursting in January at the Córrego do Feijão mine near the town of Brumadinho in southeastern Brazil.
The dam's collapse released a tsunami of sludge that destroyed farms, houses, roads and bridges, and killed 272 people.
Ensuing mine shutdowns reduced iron ore output from operator Vale (the world's biggest iron ore miner) by about a third. This in turn led to the price of iron ore this year being very high, as the following chart illustrates.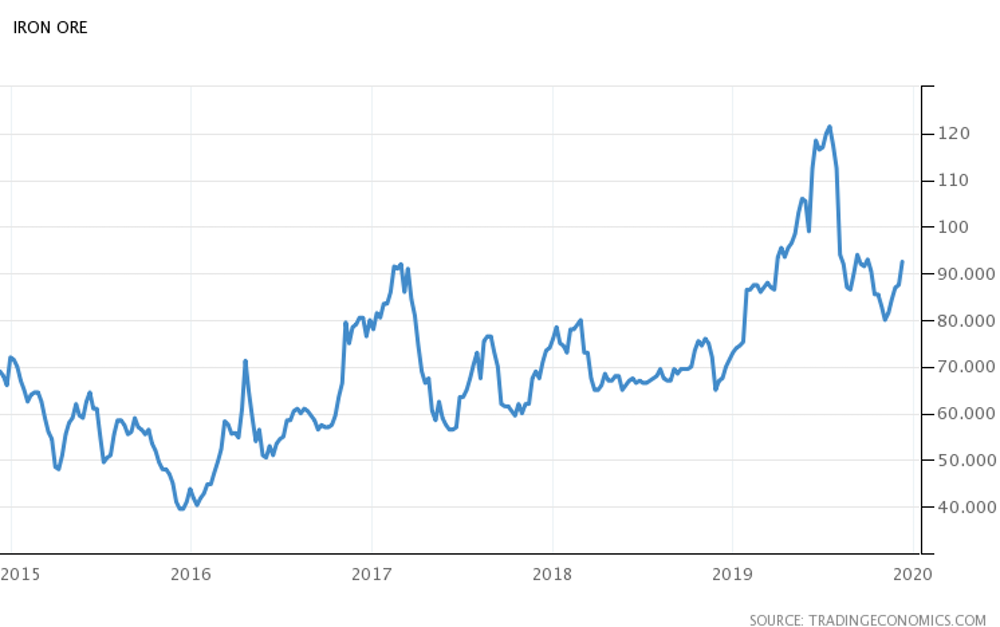 Iron ore price (US$/MT) tradingeconomics.com, CC BY-NC-SA
The Australian government sensibly assumed the Brazilian mine would come back online and the ore price would revert to $US55 per tonne by March 2020.
But just think about the 2020-21 fiscal year. The government's own sensitivity analysis shows for the full 2020-21 budget year a difference in the iron ore price of US$10 a tonne translates to a A$3.7 billion difference in the budget bottom line.
That has helped this year, but it also shows how dependent the budget's relatively small A$7.1 billion "underlying cash balance" is on a commodity price that's out of our control.
Yet, given the political non-negotiability of the surplus, we can expect assumptions that stretch credulity to maintain a surplus forecast.
This is all against a backdrop of calls for fiscal stimulus from the governor of the Reserve Bank of Australia, the Business Council, every mainstream economist and recently Australia's top chief executives.
But any stimulus meaningful enough to boost the ailing economy would blow the budget surplus. And the assumptions have already been stretched to breaking point, so there's very little room for the government to manoeuvre.
The government will probably announce some sort of "investment allowance" – where companies get a modest tax break for specific types of investments in the short term. As I have argued before, this will do something to boost investment and the economy generally, but not nearly as much as a full-scale reduction in the company tax rate to 25% for all businesses.
But the government can't afford to do a proper tax cut because of its devotion to a wafer-thin surplus.
The danger of too little action
In the end, what the government ends up announcing will really be an allocation of responsibilities. It will determine how much of the work of economic recovery it will do itself, and how much it will want to palm off to the Reserve Bank.
The downside of the former is losing the budget surplus.
The downside of the latter is that the Reserve Bank will have no choice but to cut the cash rate to 0.25% in early 2020 and then embark upon a bond-buying program – i.e. "quantitative easing" or "QE".
As even Reserve Bank governor Philip Lowe has himself admitted, more aggressive monetary policy brings with it the (further) risk of asset-price bubbles and financial instability.
Right now the government is putting all its chips on the surplus. Will that turn out to be a good bet? Time will tell.
2020 will reveal much about the future of the Australian economy and whether we manage to escape dramatic problems like a recession.
We live in interesting times – but perhaps more in the "Ancient Chinese curse" kind of way than any of us would like.
Spying On Hippos With Drones To Help Conservation Efforts
December 10, 2019: University of New South Wales
Drones with cameras might be a nuisance to privacy in the suburbs, but in Southern Africa they are helping a UNSW Sydney research team to save a threatened species: the humble hippo.
Wild numbers of the vulnerable Hippopotamus amphibius are declining because of habitat loss and hunting for meat and ivory, so monitoring their population is crucial for conservation management.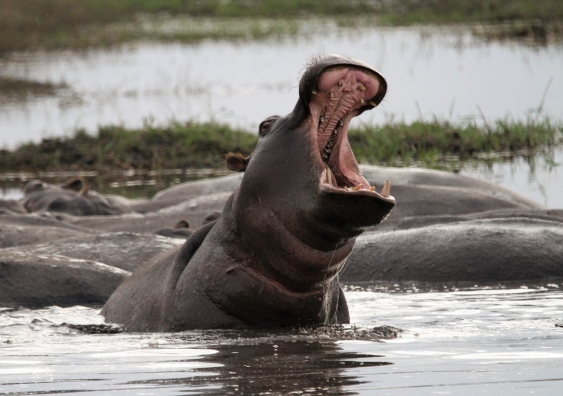 "Even though hippos are a charismatic megafauna, they are surprisingly understudied, because of how difficult it is to work with nocturnal, amphibious and aggressive animals," said lead author Victoria Inman, a PhD candidate at UNSW Science.
Traditional methods of counting hippos include unreliable aerial surveys and hazardous land and water surveys.
Ground-based observations are unsafe for surveyors because the hippo is one of the most dangerous animals in Africa and lives in inaccessible areas.
Hippos also prefer an aquatic lifestyle and regularly submerge themselves in water, further complicating efforts to keep an eye on their population.
These challenges inspired UNSW researchers, in collaboration with conservation organisation Elephants Without Borders, to take to the skies with drones to film hippo pods and thus, more accurately estimate hippo numbers.
Their research, published in the international journal PLOS ONE on Friday, compared hippo counts from drone footage to land counts at the same lagoon with a resident hippo population in the Okavango Delta, northern Botswana, across seven days.
The researchers found the drone method just as effective as land surveys in estimating hippo numbers.
Benefits of using drones to monitor hippos
Ms Inman said researchers used a relatively low-cost drone, the multirotor DJI Phantom 4, to film hippos from various heights.
"The bird's-eye perspective the drone gave us made it a lot easier to differentiate between individual hippos, even when they were crowded together," she said.
"Our successful method can be repeated easily and avoids the dangers associated with counting hippos from land.
"It was also great that the drone did not bother the hippos."
Ms Inman said the lower the drone flew, the more accurate the counting of the hippos because the video resolution was clearer.
"Counting hippos from 40 metres above was the best method and about 10 per cent more accurate than land surveys," she said.
"Interestingly, we found that early morning was the worst time to survey because hippos were active and often submerging, making them difficult to count -- this finding is counter to current advice.
"Another important advantage with the drone footage was our ability to measure hippos' body lengths in order to determine their ages."
Drones can help broader wildlife conservation efforts
Study co-author Professor Richard Kingsford, PhD supervisor and Director of the Centre for Ecosystem Science at UNSW Sydney, said their findings showed that drones are an increasingly valuable tool for observing wildlife populations.
"This method will be important for monitoring the age structure of hippo populations in different parts of Africa and to track breeding," Prof Kingsford said.
"Importantly, our surveys also effectively tracked changes in the hippo pod over time, as adults emigrated from the lagoon as it dried -- a typical response of hippos to changing water availability.
"Drones also provide a viable alternative to land-based counts and have low impact on hippos, offering further opportunities to survey inaccessible areas and, just as critically, collect this information safely."
Ms Inman said there was an urgent need to monitor hippo populations in Africa because of the species' long-term decline in many parts of the continent.
"Long-term statistics on animal populations are critical for understanding the nature and extent of species' declines," she said.
"Drone data could be routinely collected in different river systems, providing a guide to the numbers in hippo pods, seasonal changes and the ability to track the long-term status of hippo populations.
"Our study shows that small, commercially available drones are a simple, affordable and effective method for wildlife conservation organisations to monitor threatened species."
Victoria L. Inman, Richard T. Kingsford, Michael J. Chase, Keith E. A. Leggett.
Drone-based effective counting and ageing of hippopotamus (Hippopotamus amphibius) in the Okavango Delta in Botswana.
PLOS ONE, 2019; 14 (12): e0219652 DOI:
10.1371/journal.pone.0219652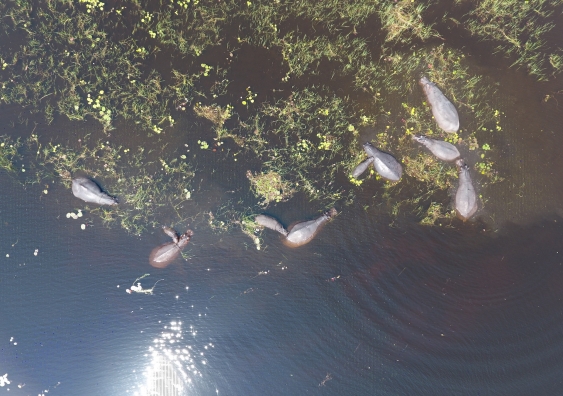 UNSW Science researchers flew a drone over hippos in Africa to effectively and safely count the threatened species' population. Picture: Victoria Inman

Dial-A-Frog - Researchers Develop The 'FrogPhone' To Remotely Call Frogs In The Wild
December 2019: British Ecological Society
Australian Researchers have developed the 'FrogPhone', a novel device which allows scientists to call up a frog survey site and monitor them in the wild. The FrogPhone is the world's first solar-powered remote survey device that relays environmental data to the observer via text messages, whilst conducting real-time remote acoustic surveys over the phone. These findings are presented in the British Ecological Society Journal Methods in Ecology and Evolution today.
The FrogPhone introduces a new concept that allows researchers to "call" a frog habitat, any time, from anywhere, once the device has been installed. The device has been developed at the University of New South Wales (UNSW) Canberra and the University of Canberra in collaboration with the Australian Capital Territory (ACT) and Region Frogwatch Program and the Australian National University.
The FrogPhone utilises 3G/4G cellular mobile data coverage and capitalises on the characteristic wideband audio of mobile phones, which acts as a carrier for frog calls. Real time frog calls can be transmitted across the 3G/4G network infrastructure, directly to the user's phone. This supports clear sound quality and minimal background noise, allowing users to identify the calls of different frog species.
"We estimate that the device with its current microphone can detect calling frogs from a 100-150m radius" said lead author Dr. Adrian Garrido Sanchis, Associate Lecturer at UNSW Canberra. "The device allows us to monitor the local frog population with more frequency and ease, which is significant as frog species are widely recognised as indicators of environmental health" said the ACT and Region Frogwatch coordinator and co-author, Anke Maria Hoefer.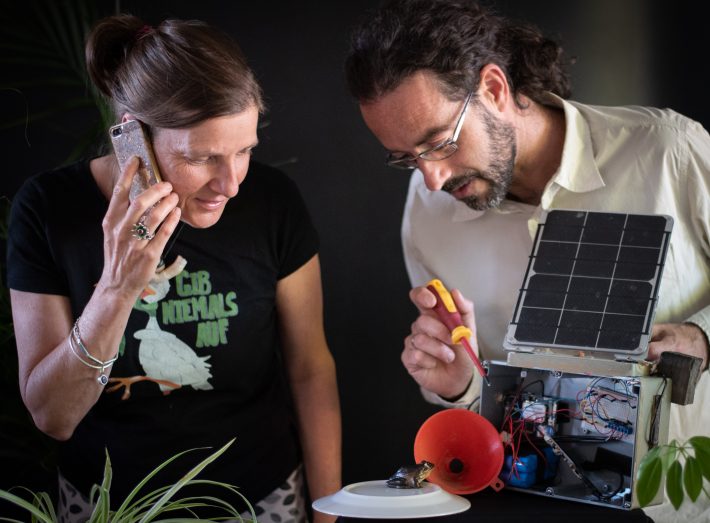 Researchers Anke Marie Hoefer and Adrian Garrido Sanchis test the FrogPhone. Credit: Marta Yebra Alvarez

The FrogPhone unifies both passive acoustic and active monitoring methods, all in a waterproof casing. The system has a large battery capacity coupled to a powerful solar panel. It also contains digital thermal sensors to automatically collect environmental data such as water and air temperature in real-time. The FrogPhone uses an open-source platform which allows any researcher to adapt it to project-specific needs.
The system simulates the main features of a mobile phone device. The FrogPhone accepts incoming calls independently after three seconds. These three seconds allow time to activate the temperature sensors and measure the battery storage levels. All readings then get automatically texted to the caller's phone.
Acoustic monitoring of animals generally involves either site visits by a researcher or using battery-powered passive acoustic devices, which record calls and store them locally on the device for later analysis. These often require night-time observation, when frogs are most active. Now, when researchers dial a device remotely, the call to the FrogPhone can be recorded indirectly and analysed later.
Ms. Hoefer remarked that "The FrogPhone will help to drastically reduce the costs and risks involved in remote or high intensity surveys. Its use will also minimise potential negative impacts of human presence at survey sites. These benefits are magnified with increasing distance to and inaccessibility of a field site."
A successful field trial of the device was performed in Canberra from August 2017 to March 2018. Researchers used spectrograms, graphs which allow the visual comparison of the spectrum of frequencies of frog signals over time, to test the recording capabilities of the FrogPhone.
Ms. Hoefer commented that "The spectrogram comparison between the FrogPhone and the standard direct mobile phone methodology in the lab, for the calls of 9 different frog species, and the field tests have proven that the FrogPhone can be successfully used as a new alternative to conduct frog call surveys."
The use of the current FrogPhone is limited to areas with adequate 3G/4G phone coverage. Secondly, to listen to frogs in a large area, several survey devices would be needed. In addition, it relies on exposure to sunlight.
Future additions to the FrogPhone could include a satellite communications module for poor signal areas, or the use of multidirectional microphones for large areas. Lead author Garrido Sanchis emphasised that "In densely vegetated areas the waterproof case of the FrogPhone allows the device to be installed as a floating device in the middle of a pond, to maximise solar access to recharge the batteries."
Dr. Garrido Sanchis said "While initially tested in frogs, the technology used for the FrogPhone could easily be extended to capture other animal vocalisation (e.g. insects and mammals), expanding the applicability to a wide range of biodiversity conservation studies."
Adrian Garrido Sanchis, Lorenzo Bertolelli, Anke Maria Hoefer, Marta Yebra Alvarez, Kumudu Munasinghe.
The FrogPhone: A novel device for real‐time frog call monitoring.
Methods in Ecology and Evolution, 2019; DOI:
10.1111/2041-210X.13332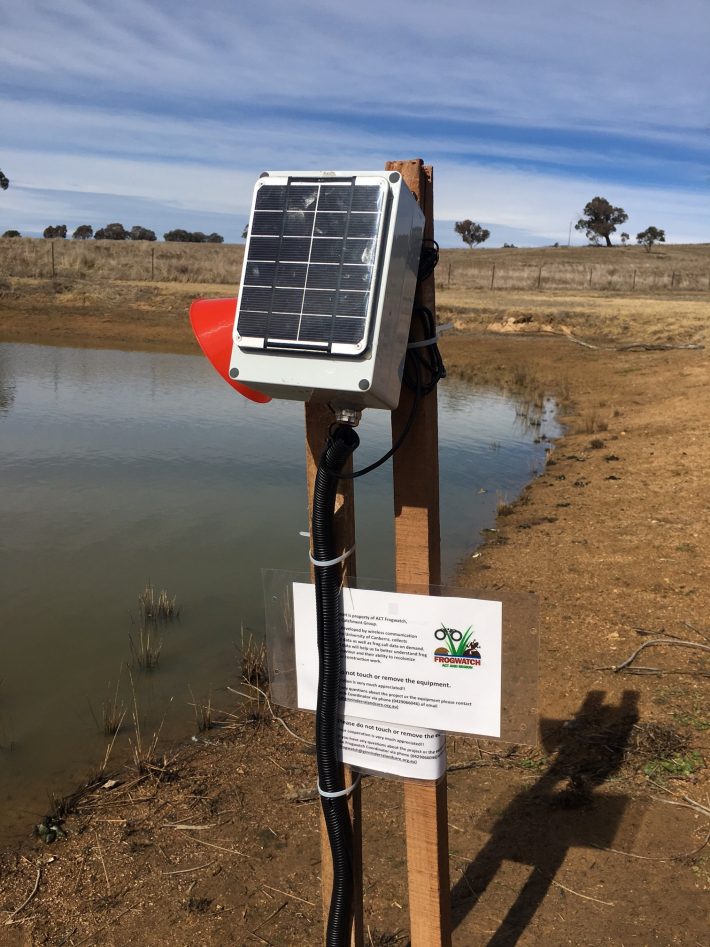 The FrogPhone installed at the field site. Credit: Kumudu Munasinghe

Ice In Motion: Satellites Capture Decades Of Change
December 10, 2019: NASA/Goddard Space Flight Center
New time-lapse videos of Earth's glaciers and ice sheets as seen from space -- some spanning nearly 50 years -- are providing scientists with new insights into how the planet's frozen regions are changing.
At the annual meeting of the American Geophysical Union in San Francisco, scientists released new time series of images of Alaska, Greenland, and Antarctica using data from satellites including the NASA-U.S. Geological Survey Landsat missions. One series of images tells illustrates the dramatic changes of Alaska's glaciers and could warn of future retreat of the Hubbard Glacier. Over Greenland, different satellite records show a speed-up of glacial retreat starting in 2000, as well as meltwater ponds spreading to higher elevations in the last decade, which could potentially speed up ice flow. And in Antarctic ice shelves, the view from space could reveal lakes hidden beneath the winter snow.
Using images from the Landsat mission dating back to 1972 and continuing through 2019, glaciologist Mark Fahnestock of the University of Alaska Fairbanks, has stitched together six-second time-lapses of every glacier in Alaska and the Yukon.
"We now have this long, detailed record that allows us to look at what's happened in Alaska," Fahnestock said. "When you play these movies, you get a sense of how dynamic these systems are and how unsteady the ice flow is."
The videos clearly illustrate what's happening to Alaska's glaciers in a warming climate, he said, and highlight how different glaciers respond in varied ways. Some show surges that pause for a few years, or lakes forming where ice used to be, or even the debris from landslides making its way to the sea. Other glaciers show patterns that give scientists hints of what drives glacier changes.
The Columbia Glacier, for example, was relatively stable when the first Landsat satellite launched 1972. But starting in the mid-1980s, the glacier's front began retreating rapidly, and by 2019 was 12.4 miles (20 kilometres) upstream. In comparison, the Hubbard Glacier has advanced 3 miles (5 km) in the last 48 years. But Fahnestock's time-lapse ends with a 2019 image that shows a large indentation in the glacier, where ice has broken off.
"That calving embayment is the first sign of weakness from Hubbard Glacier in almost 50 years -- it's been advancing through the historical record," he said. If such embayments persist in the coming years, it could be a sign that change could be coming to Hubbard, he said: "The satellite images also show that these types of calving embayments were present in the decade before Columbia retreated."
The Landsat satellites have provided the longest continuous record of Earth from space. The USGS has reprocessed old Landsat images, which allowed Fahnestock to handpick the clearest Landsat scenes for each summer, over each glacier. With software and computing power from Google Earth Engine, he created the series of time-lapse videos.
Scientists are using long-term satellite records to look at Greenland glaciers as well. Michalea King of Ohio State University analysed data from Landsat missions dating back to 1985 to study more than 200 of Greenland's large outlet glaciers. She examined how far the glacier fronts have retreated, how fast the ice flows, and how much ice glaciers are losing over this time span.
She found that Greenland's glaciers retreated an average of about 3 miles (5 km) between 1985 and 2018 -- and that the most rapid retreat occurred between 2000 and 2005. And when she looked at the amount of glacial ice entering the ocean, she found that it was relatively steady for the first 15 years of the record, but then started increasing around 2000.
"These glaciers are calving more ice into the ocean than they were in the past," King said. "There is a very clear relationship between the retreat and increasing ice mass losses from these glaciers during the 1985-through-present record. "While King is analysing ice lost from the front of glacier, James Lea of the University of Liverpool in the United Kingdom is using satellites data to examine ice melting on top of Greenland's glaciers and ice sheets, which creates meltwater lakes.
These meltwater lakes can be up to 3 miles (5 km) across and can drain through the ice in a matter of hours, Lea said, which can impact how fast the ice flows. With the computing power of Google Earth Engine, Lea analysed images of the Greenland ice sheet from the Moderate Resolution Imaging Spectroradiometer (MODIS) on the Terra satellites for every day of every melt seasons over last 20 years -- more than 18,000 images in all.
"We looked at how many lakes there are per year across the ice sheet and found an increasing trend over the last 20 years: a 27 percent increase in lakes," Lea said. "We're also getting more and more lakes at higher elevations -- areas that we weren't expecting to see lakes in until 2050 or 2060."
When these high-elevation meltwater ponds punch through the ice sheet and drain, it could cause the ice sheet to speed up, he said, thinning the ice and accelerating its demise.
It doesn't always take decades worth of data to study polar features -- sometimes just a year or two will provide insights. The Antarctic ice sheet experiences surface melt, but there are also lakes several meters below the surface, insulated by layers of snow. To see where these subsurface lakes are, Devon Dunmire of the University of Colorado, Boulder, used microwave radar images from the European Space Agency's Sentinel-1 satellite. Snow and ice are basically invisible to microwave radiation, but liquid water strongly absorbs it.
Dunmire's new study, presented at the AGU meeting, found lakes dotting the George VI and Wilkins ice shelves near the Antarctic Peninsula -- even a few that remained liquid throughout the winter months. These hidden lakes might be more common than scientists had thought, she said, noting that she is continuing to look for similar features across the continent's ice shelves.
"Not much is known about distribution and quantity of these subsurface lakes, but this water appears to be prevalent on the ice shelf near the Antarctic peninsula," Dunmire said, "and it's an important component to understand because meltwater has been shown to destabilize ice shelves."
For more information on Landsat and the upcoming Landsat 9 mission, visit:
When Penguins Ruled After Dinosaurs Died
December 9, 2019: Flinders University
What waddled on land but swam supremely in subtropical seas more than 60 million years ago, after the dinosaurs were wiped out on sea and land?
Fossil records show giant human-sized penguins flew through Southern Hemisphere waters -- along side smaller forms, similar in size to some species that live in Antarctica today.
Now the newly described Kupoupou stilwelli has been found on the geographically remote Chatham Islands in the southern Pacific near New Zealand's South Island. It appears to be the oldest penguin known with proportions close to its modern relatives.
It lived between 62.5 million and 60 million years ago at a time when there was no ice cap at the South Pole and the seas around New Zealand were tropical or subtropical.
Flinders University PhD palaeontology candidate and University of Canterbury graduate Jacob Blokland made the discovery after studying fossil skeletons collected from Chatham Island between 2006 and 2011.
He helped build a picture of an ancient penguin that bridges a gap between extinct giant penguins and their modern relatives.
"Next to its colossal human-sized cousins, including the recently described monster penguin Crossvallia waiparensis, Kupoupou was comparatively small -- no bigger than modern King Penguins which stand just under 1.1 metres tall," says Mr Blokland, who worked with Professor Paul Scofield and Associate Professor Catherine Reid, as well as Flinders palaeontologist Associate Professor Trevor Worthy on the discovery.
"Kupoupou also had proportionally shorter legs than some other early fossil penguins. In this respect, it was more like the penguins of today, meaning it would have waddled on land.
"This penguin is the first that has modern proportions both in terms of its size and in its hind limb and foot bones (the tarsometatarsus) or foot shape."
As published in the US journal Palaeontologica Electronica, the animal's scientific name acknowledges the Indigenous Moriori people of the Chatham Island (Rēkohu), with Kupoupou meaning 'diving bird' in Te Re Moriori.
The discovery may even link the origins of penguins themselves to the eastern region of New Zealand -- from the Chatham Island archipelago to the eastern coast of the South Island, where other most ancient penguin fossils have been found, 800km away.
University of Canterbury adjunct Professor Scofield, Senior Curator of Natural History at the Canterbury Museum in Christchurch, says the paper provides further support for the theory that penguins rapidly evolved shortly after the period when dinosaurs still walked the land and giant marine reptiles swam in the sea.
"We think it's likely that the ancestors of penguins diverged from the lineage leading to their closest living relatives -- such as albatross and petrels -- during the Late Cretaceous period, and then many different species sprang up after the dinosaurs were wiped out," Professor Scofield says
"It's not impossible that penguins lost the ability to fly and gained the ability to swim after the extinction event of 66 million years ago, implying the birds underwent huge changes in a very short time. If we ever find a penguin fossil from the Cretaceous period, we'll know for sure."
BACKGROUND: The new species is based on the fossilised bones of five partial skeletons. Another two specimens showed a second larger penguin species was also present on the main Chatham Island but there was not enough material to formally name it. All of the described skeletons were collected between 2006 and 2011 by a group led by Monash University palaeontologist Jeffrey Stilwell. Dr Alan Tennyson from Te Papa Tongarewa the Museum of New Zealand and Professor Julia Clark from University of Texas at Austin were in the group and are also-coauthors of the paper. The species is named after Associate Professor Stilwell with all specimens now cared for by Te Papa.
JC Blokland, CM Reid, TH Worthy, AJD Tennyson, JA Clarke and RP Scofield.
Chatham Island Paleocene fossils provide insight into the palaeobiology, evolution, and diversity of early penguins.
Palaeontologia Electronica, 2019 DOI:
10.26879/1009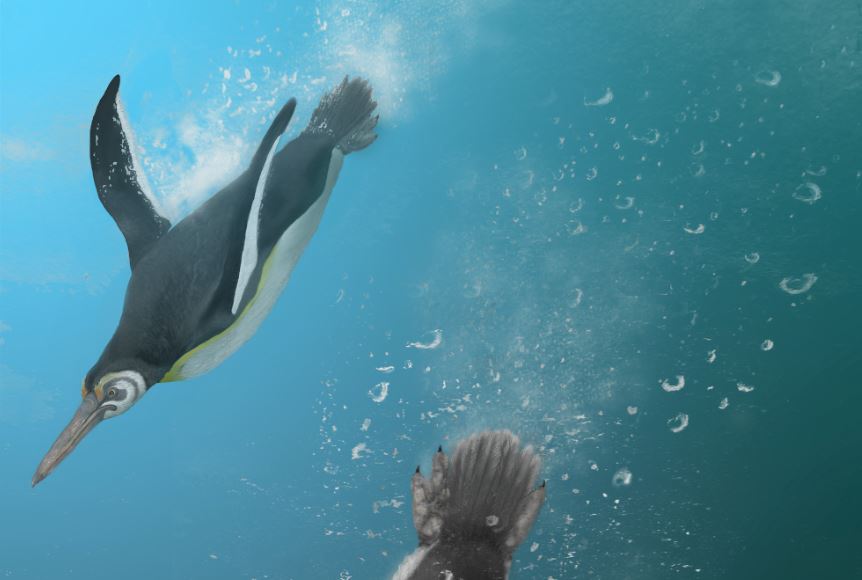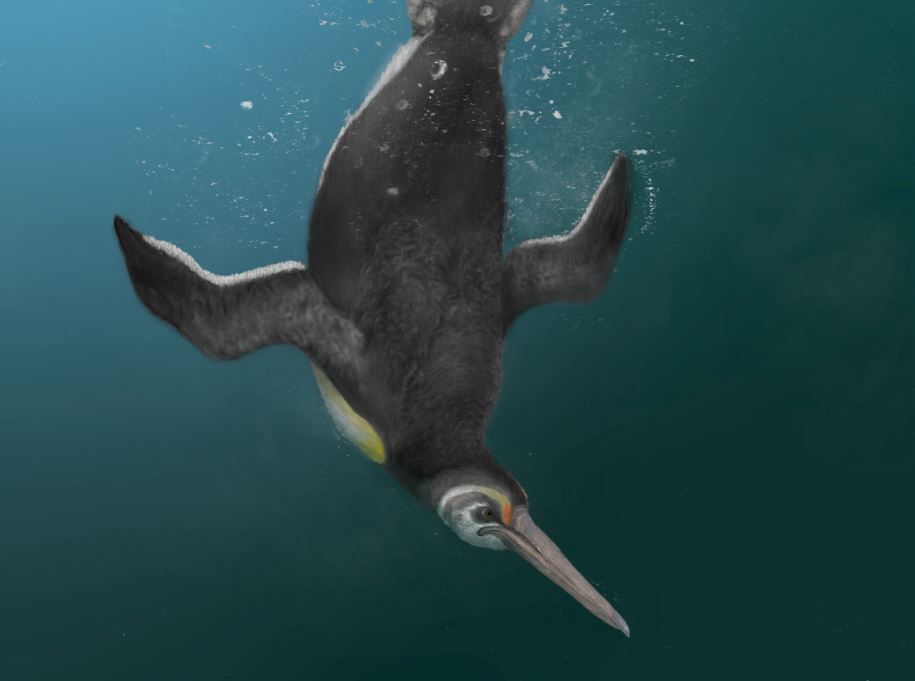 An artist's impression of Kupoupou stilwelli by Jacob Blokland, Flinders University

When Flowers Reached Australia
December 12, 2019: University of Melbourne
New research has revealed that Australia's oldest flowering plants are 126 million years old and may have resembled modern magnolias, buttercups and laurels.
Undertaken by University of Melbourne palynologist, Dr Vera Korasidis, the study also found that Australia's first blooms got their foothold in 'high southern latitude' regions like the Otway and Gippsland ranges.
Dr Korasidis' research, "The rise of flowering plants in the high southern latitudes of Australia," reconstructed our earliest flower-bearing forests, from 126-100 million years ago, to conclude that climate change prevented or slowed the expansion of flowers into Australasia with the temperatures at the high southern latitudes too cold to support the earliest flowering plants.
The research also established that the first flowers related to 72 per cent of today's living angiosperm species that first appeared in southern Australia about 108 million years ago -- 17 million years after the first flowers evolved in equatorial regions.
The world's oldest flower, Montsechia, is 130 million years old and was discovered in Spain.
"Our research, completed on dinosaur-bearing rocks throughout Victoria,suggests that warming temperatures allowed the first flowering plants to migrate to the cooler regions at the earth's poles," said Dr Korasidis.
"The true diversity of primitive flowers in southern near-polar settings has only just been discovered because 'sieving' practices resulted in pollen grains, produced by the earlier flowers, being 'rinsed down the sink' for over 50 years."
Dr Korasidis said the study would help to "piece together Australia's paleoclimate record and understand the interaction between climate, CO2 and the evolution of faunas and floras."
The age of southern Australia's polar vertebrates, including dinosaurs, has also now been determined and is 126-110 million years old based on this study and new research by fellow University of Melbourne palynologist and co-author, Dr Barbara Wagstaff.
Angiosperm pollen produced by the oldest flowers was recovered from numerous sites across Victoria indicating the large areal extent of flowers during the Early Cretaceous period. All material is housed in the Palaeontology collection at Museum Victoria in Melbourne.
Vera A. Korasidis, Barbara E. Wagstaff.
The rise of flowering plants in the high southern latitudes of Australia
. Review of Palaeobotany and Palynology, 2020; 272: 104126 DOI:
10.1016/j.revpalbo.2019.104126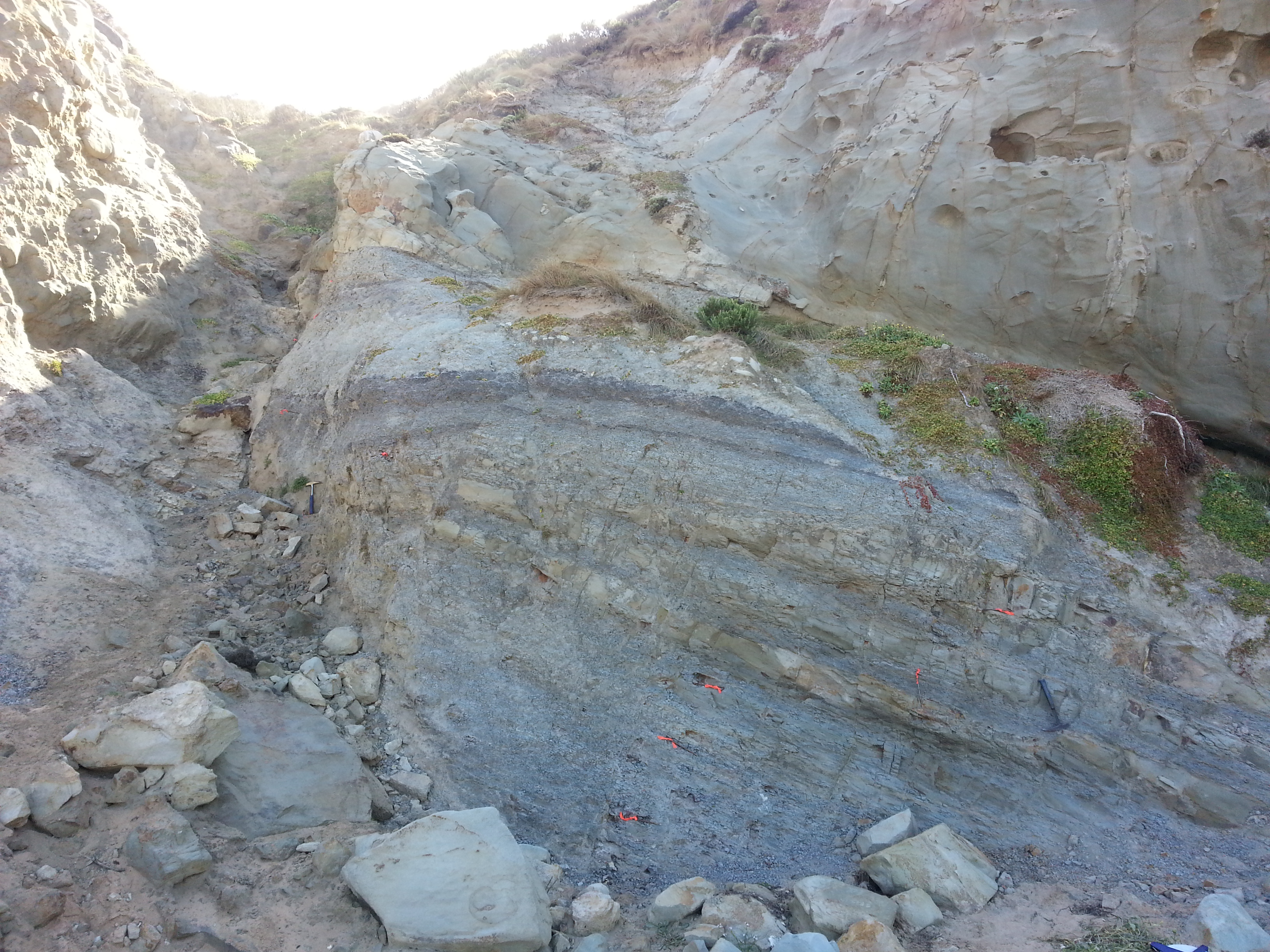 Rocks containing microscopic fossil pollen were collected to determine the age of fossil leaves from Castle Cove, Otway Ranges, Victoria. Image: Vera Korasidis
Disclaimer: These articles are not intended to provide medical advice, diagnosis or treatment. Views expressed here do not necessarily reflect those of Pittwater Online News or its staff.