March 11 - 17, 2018: Issue 351

Natasha Bryant And Annie Wilmot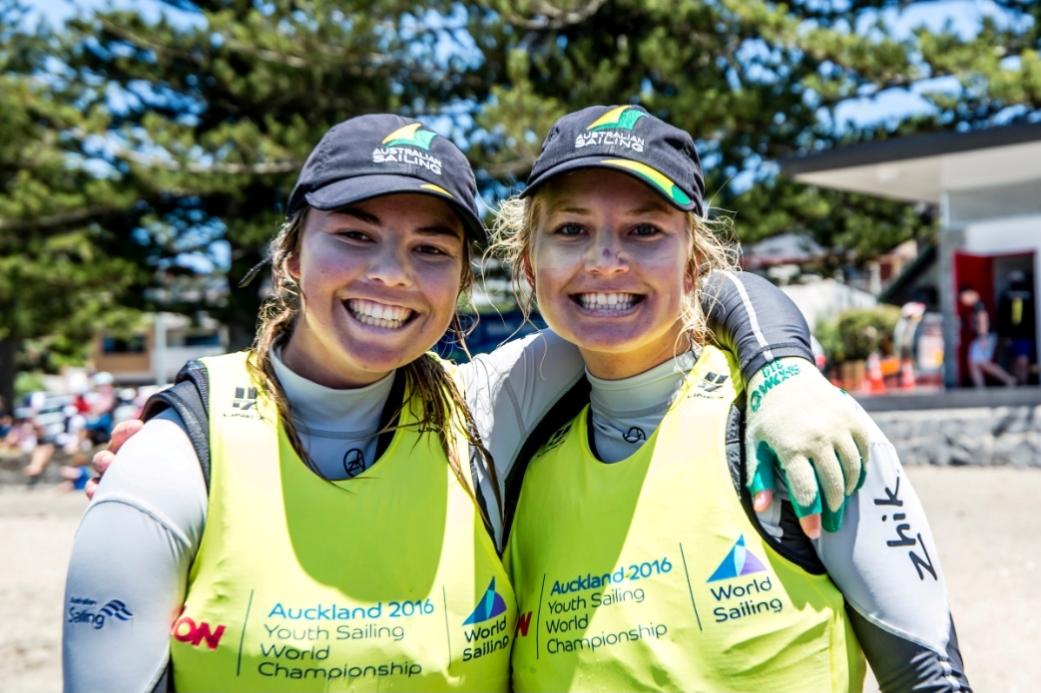 Annie Wilmot and Natasha Bryant - Photo by and copyright Marina Garcia/Sailing Energy/World Sailing
On International Women's Day 2018 we finally got to catch up with two young ladies we've been bringing you news about for a few years now.
Not shy about taking on a challenge, and with a momentum that is definitely building, Natasha Bryant and Annie Wilmot have excelled in their sport for years. They have the passion, the determination and resilience to go the distance in whichever direction they choose, and what's more they love what they do.
This week a small insight into two of Australia's great young women sailors;
When did you first starts sailing and where?
Tash: I first started sailing at Avalon sailing club in the Manly junior around 2010.
Annie: I started sailing on a Manly Junior out of Manly 16foot Skiff Sailing Club in 2004.
Tash; Our coach Traks introduced us when we had both finished sailing in our separate classes; I was in the Optimists and Annie was in the Hobie 16 by then. Traks introduced us and we started sailing the 29er together.
The Future Objectives program run through Objective Australia – what has this given you – what was Day 1 like?
Annie: Day 1 was really interesting because the boat that we were getting into was new and different for both of us and it was also the first time we met each other.
Our first sail was on Pittwater in pretty light winds of 5 knots and we capsized during this first run together.
That's a good christening. What was the first big regatta that you sailed in together as a team?
Tash: we did our first nationals together at Freemantle in 2015. we'd been in the boat about 8 months by then. That first competition was really really windy regatta so that was really tough for us. This was the first regatta for us for the Youth Worlds qualifications.
The
2015 Australian Youth Championship at Fremantle Sailing Club
came to a close on Saturday, 10 January after four days of racing, with the 2015 Australian Youth champions crowned in six boat classes.
The Championships are one of three events (Nationals, AUS Youth Championships, Queensland Youth Week) to select the 2015 Australian Sailing Youth Team to contest the 2015 ISAF Youth World Championships in Malaysia in December. Tash and Annie won the 29er female category and finished ninth overall.
Interestingly 2014 29er Open World Champion Kurt Hansen with 2014 Australian Sailing Youth Team new crew Jim Colley were also part of the finals. Jim, with brother Tom, sailing out of the Avalon Sailing Club in 2011, took the coveted NSW Manly Junior (MJ) State Championship at the same competition Annie Wilmot and crew Grace Powers were All-female crew winners in. Annie Wilmot, Manly 16ft Skiff Club, said then; "Having a strong competitive environment helps us continue to grow our sailing skills. The younger crews will develop this class and lay the foundation for future team success. It was so much fun getting out on the water and delivering this result ".
Annie and Tash competed in the July 2015 AUS Youth Championships, Queensland Youth Week, 2 of the 29 young RPAYC sailors who made the journey to Queensland. The regatta was considered a key race to determine the ISAF Australian Team to take on the world in the 2015 ISAF Youth World Championships held in Malaysia that year. The girls placed 8th in that regatta.
In August 2015 they were in the U.K. 2015 29er World Championships, placing 4th Youth Girls and they just keopt going.
In July 2016 Australian Sailing announced the 2016 Australian Sailing Youth Team, who would represent their country at the 2016 Youth Sailing World Championship from 14-20 December at Torbay Sailing Club in Auckland, and the girls were on the team.
You did win a place on the Youth Worlds Team in 2016, and just kept going with an amazing momentum – was that the plan?
Annie: we were always aiming to win a place on the ASYT and get to the Youth Worlds. To win the All Girls division in the Australian Youth Championships in January 2016 and then win the Youth Worlds in one year was pretty amazing ( for us).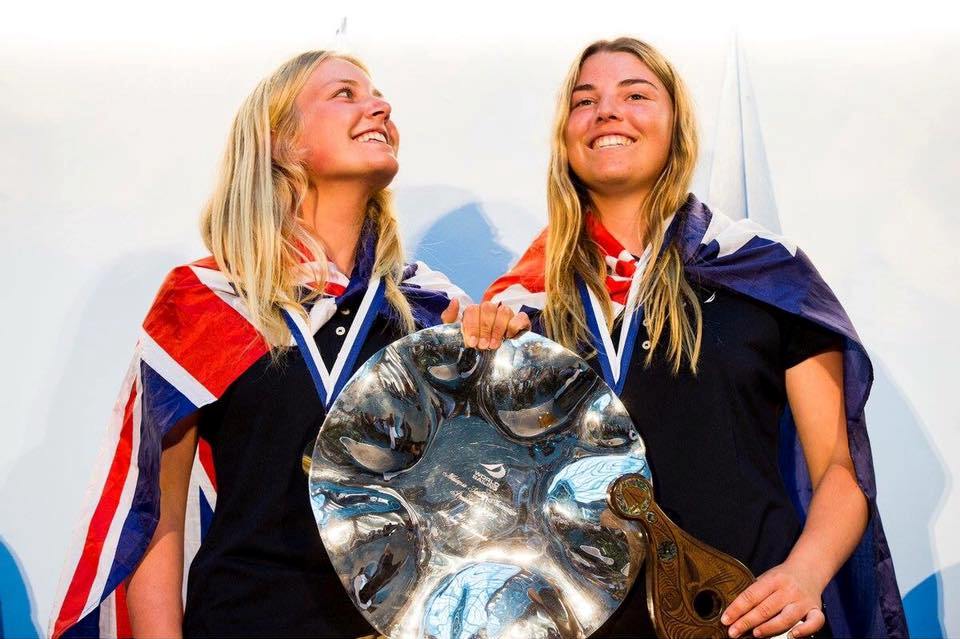 Annie Wilmot and Natasha Bryant - Photo by and copyright Pedro Martinez/Sailing Energy/World Sailing
What was it like from your perspective when you realised you'd won – you were so far ahead, so fluid, had such momentum – that moment you won, how did it feel?
Tash: It was a bit surreal; it was really hard work doing all those races but also a relief when we realised we'd actually done it.
Lisa Darmanin has been a mentor for your Team; what is it like having an Olympic Medallist giving you pointers?
Annie: it's pretty cool having a girl who is a really good sailor, a good person and a good all-round life coach. Lisa is pretty much the perfect role model. For me there's an added really awesome bonus as Lisa sailed out of Manly 16's as well, so I got to see her when she was younger too.
Over the past three years Lisa has mentored us in every aspect of balancing study, lifestyle and elite sports campaigning. She has played such an important role in inspiring and educating us towards achieving our goals.
Tash: It was pretty awesome – Jason came out and sailed with me while Lisa went out Annie on the 29er.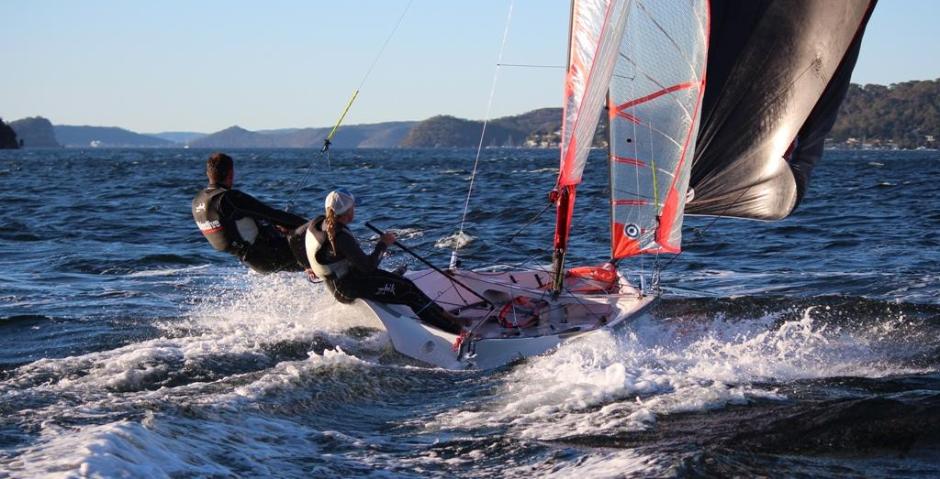 4 times World Champion and Olympic aspirant Jason Waterhouse completes a hot lap with Tash Bryant in gusty conditions - May 12th, 2015.
You have also become mentors yourselves, recently speaking at the Opti Chicks weekend held at the RPAYC – how was that?
One of the many things we enjoy about sailing is to be able to "give back" by mentoring younger sailors. We were given the opportunity to speak at the NSW International Optimist Dinghy Association's "Opti Chicks" event at our home club; the Royal Prince Alfred Yacht Club. It was a great pleasure to share our failures, successes and our passion for sailing with the next generation of superstars!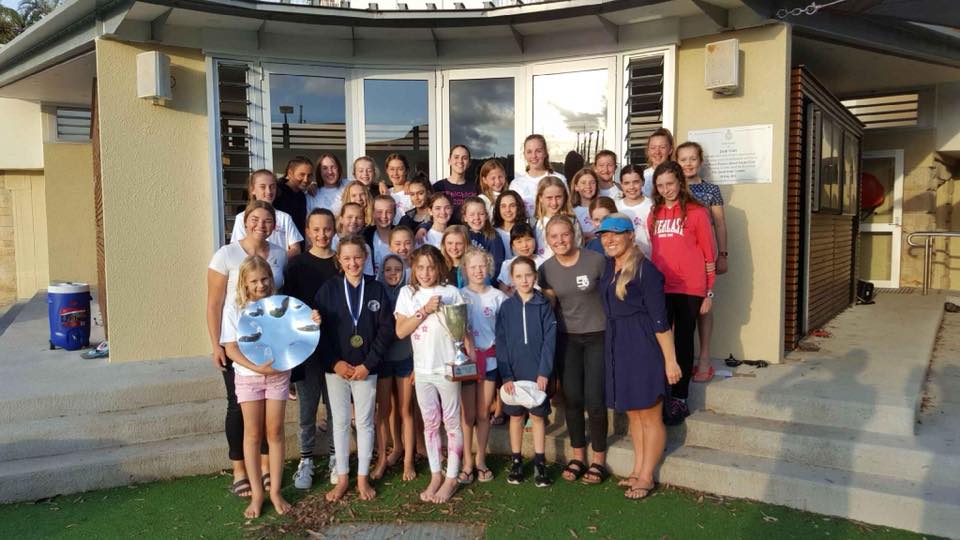 In September 2017 Australia's reigning Youth World Champions in the 29er class, Natasha Bryant and Annie Wilmot, announced they would forfeit their title defence to concentrate exclusively on pursuing a coveted place on the Australian Sailing Team for the Tokyo 2020 Olympic Games.
Bryant and Wilmot said they had "mixed emotions" about withdrawing from the 2017 Youth Sailing World Championship in Sanya, China in December. However, qualifying for the next Olympic campaign sailing 49erFX skiffs demanded their singular focus.
"We aspired to compete again to attempt to defend our youth title in Sanya, but it's become clear to us that our ultimate goal to represent Australia in Tokyo requires our total time and dedication," the pair told Australian Sailing.
"For the last three years we've aimed high and worked incredibly hard to qualify and represent Australia in the Youth Worlds. It was a goal that shaped every decision we made in our lives. Our Gold Medal, memories and friendships that were created will stay with us for a lifetime."
You're going full on, you have been down to Melbourne for a national training camp followed by Sail Melbourne. Then back to Sydney to compete in Sail Sydney and up to Brisbane for the 49erFX Nationals. Once you'd finished all those you headed over to Miami to compete in your first World Cup and are about to head overseas again?
Tash: Yes, in two weeks, less than that now, we're heading over tio Palma de Mallorca in Spain for our qualification races there before we head on to Hyères in France for the World Cup.
Will you be based in Europe that whole time?
Tash; yes, we're spending around six weeks in spain and then france.
How do you keep up with your school work Tash?
Lisa Darmanin has helped me a lot with that. she sailed while doing her university degree and also studied while sailing and travelling throughout her high school years.
Do you get homesick or is too much of an adventure at present?
Tash: Sometimes.
Annie: I think the times we get homesick aren't that frequent. We're always working or doing something when overseas, so you don't have much of a chance to get homesick.
Will you be taking your own boat over?
Tash: we have already shipped our boat over to Europe, it went in the middle of January. In Miami we didn't have our own boat, we just took our own sails over. This time our boat has been shipped there already and we're hoping we'll find it in one piece when we get there.
Are you going over early as you did in Miami to acclimatise yourself to the conditions?
Annie: Yes. In Spain we have two and a half weeks before our first competition to train in.
Tash: It's a bit cold over there at the moment. So we're packing our warm gear.
In September last year you gave up defending your Youth World Championship to shift to the 49er in order to pursue an Olympic dream – what are the steps planned there?
Tash: yes, that's what we're aspiring to, representing Australia in sailing in the 2020 Olympics. We have a solid plan to follow during the next couple of years.
Annie:
Our goal is first to qualify Australia for the Olympics, Australian sailors have to qualify Australia for a spot,. Then in 2019 we hope to qualify ourselves for a place on the Team, so this will mean doing as many regattas as we can to establish our consistency and hone our sailing skills.
I will be out of school by then, as Annie is now, and that will enable us to travel around a lot to meet our programme.
The year after that is 2020, the year of the next Olympic games, so we're going for it.
Winning the Female sailors of the Year, did you have any inkling, apart from being finalists, that you may be named and when you were, how did that feel?
Annie: There were some pretty amazing women named as finalist so we were a bit shocked I think. Receiving this award was particularly special to us as our mentor, friend, and Olympic Silver medalist Lisa Darmanin was the 2015 and 2016 Australian Female Sailor of the Year recipient.
It was pretty cool to be placed with her on that trophy.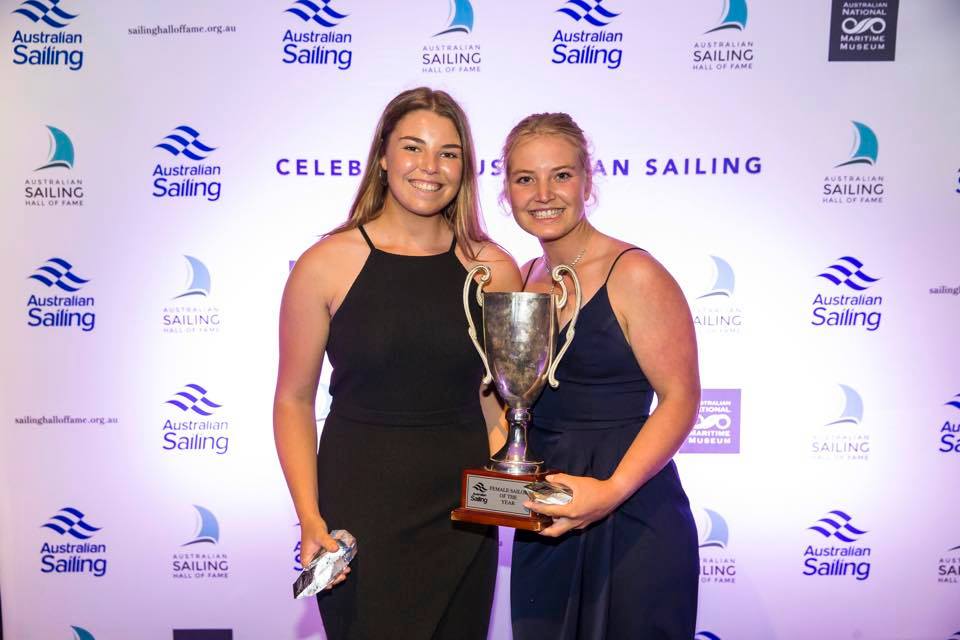 Annie and Tash win Australian Sailing's Female Sailor of the Year - photo by Andrea Francolini
What is it like sailing on Pittwater now that you have put in a few years solid training on the estuary?
Annie; we thrive in the tricky conditions you can sometimes get on the water out there as these make us better sailors.
Do you know where all the 'dead spots' are now?
Annie: yes, but we still seem too find ourselves in them regularly.
Tahs There is no place like home though, so after a long trip, coming back here with Annie and sailing around on Pittwater is what we love. Whenever we come home we always seem to sail in a really tricky direction, there will be a northerly, or sometimes a southerly, but it reminds us of why we love sailing so much.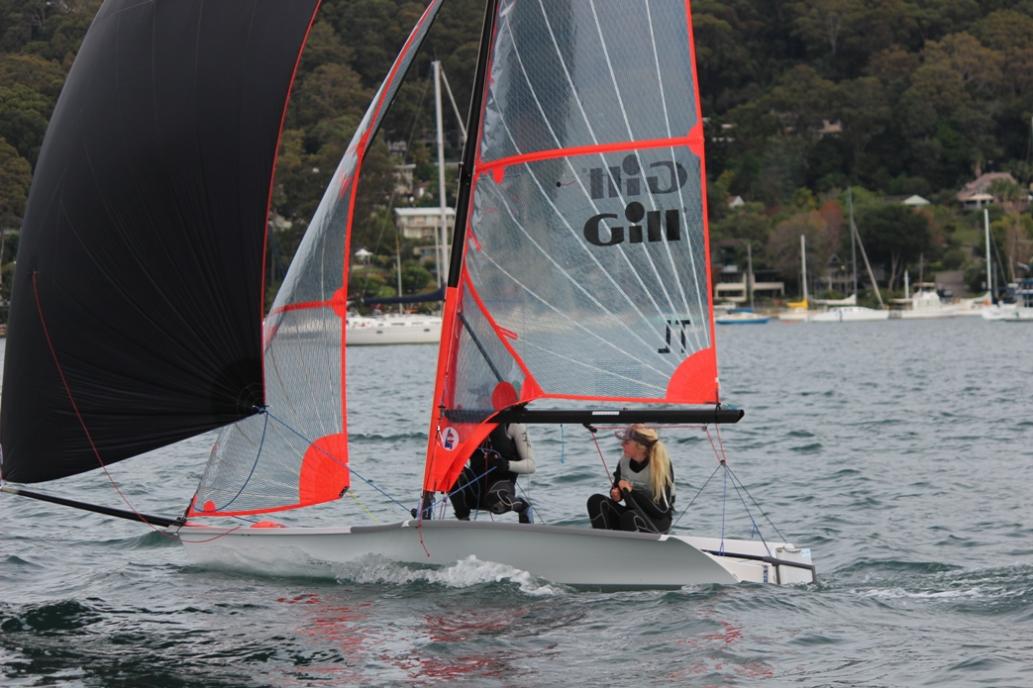 Natasha Bryant and Annie Wilmot on Pittwater - photo courtesy RPAYC
What are your favourite places in Pittwater and why?
Annie: the Royal Prince Alfred yacht Club; that's like a second home for us.
What is your 'motto for life' or a favourite phrase that you live by?
Annie Wilmot
"If you can't stop thinking about it, don't stop working for it"
Natasha Bryant
"Good things come to those who work their asses off and never give up."
Tash & Annie Go Fund Me: Fundraising Page-
Let's Help Our Girls Get There And Back Again
Hi! We are Tash and Annie and we make up the Bryant Wilmot Sailing Team.
We are currently three years into a seven-year campaign with the goal of representing Australia and securing the 49er FX class Gold Medal in the 2020 Tokyo Olympic Games.
Since joining forces three years ago we have trained incredibly hard, and along the way secured multiple Junior, Youth and Open Australian, National titles in New Zealand and Germany, and secured Gold in the 2016 Youth Sailing World Championships.
We are seeking financial assistance to help us obtain the international experience and results required to gain selection and secure Gold at the Tokyo 2020 Olympics.
Your donations help with:
Equipment purchase and development




Coaching




Domestic and International competition costs




International equipment shipping and charter fees



We thank you for taking the time to consider this request and sincerely appreciate any assistance you can provide.
If you would like to make an Australian Tax Deductible contribution and receive an immediate electronic tax receipt then please click here …
RESULTS
We teamed up in April 2014 and have rapidly set a very solid list of achievements in the 29er Class.
1st All Girl + 4th Overall 29er Australian Youth Championships 2017 (Adelaide)
1st All Girl + 3rd Overall 29er Australian Championships 2017 (Adelaide)
1st All Girl + 2nd Overall 29er Australian Youth Championships 2016 (Sydney)
3rd Overall 29er Australian Championships 2016 (Sydney)
1st All Girl 29er Australian Youth Championships 2015 (Perth)
1st Junior Team 29er Australian Championships 2015 (Perth)
1st All Girl Team 29er NSW Championships 2015
1st Junior Team 29er NSW Championships 2015
1st Youth Sailing World Championships 2016 (Auckland)
7th All Girl 29er World Championships 2016 (Medemblik)
1st All Girl + 12th Overall 29er German Championships 2016 (Medemblik)
1st All Girl + 3rd Overall 29er New Zealand Championships 2016
4th All Girl 29er World Championships 2015 (Pwllheli, Wales)
29er UK National Championships 2015 (Pwllheli, Wales)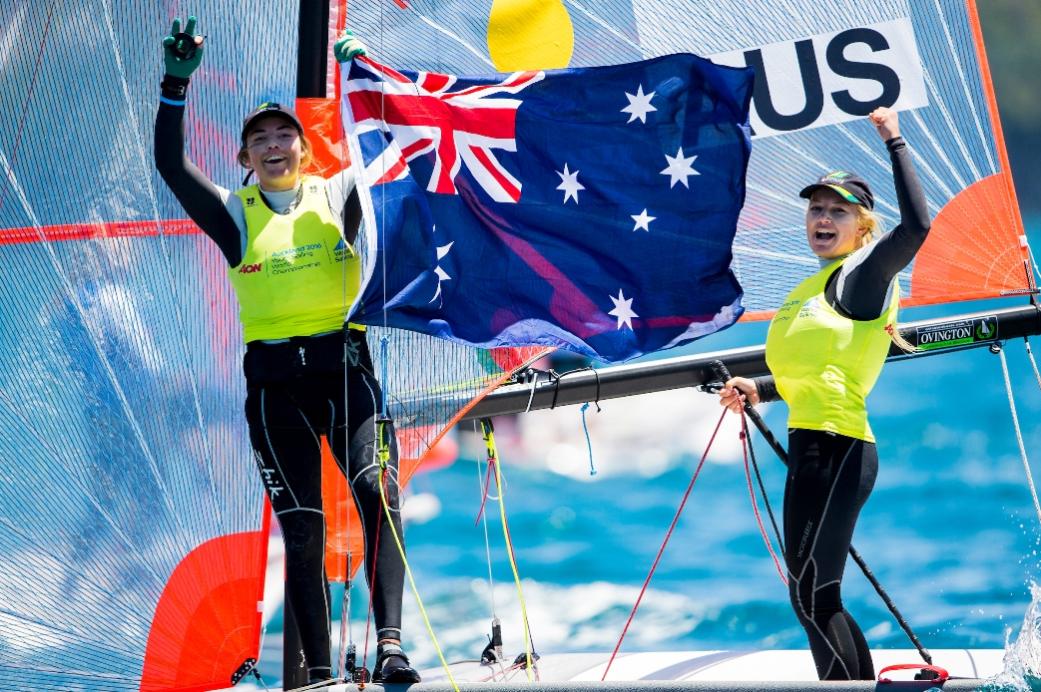 Annie Wilmot and Natasha Bryant - Photo by and copyright Pedro Martinez/Sailing Energy/World Sailing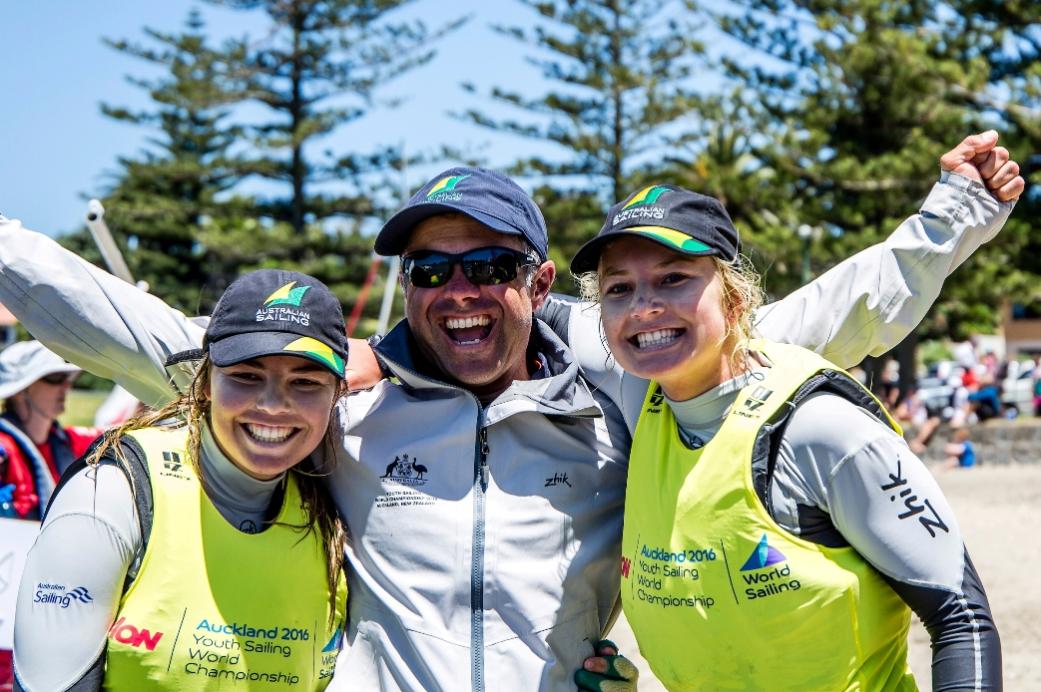 Annie Wilmot, coach Traks Gordon and Natasha Bryant - Photo by and copyright Marina Garcia/Sailing Energy/World Sailing