February 11 - 17, 2018: Issue 347

2017-18 NSW Hobie States Titles Hosted By Palm Beach Sailing Club: Day 1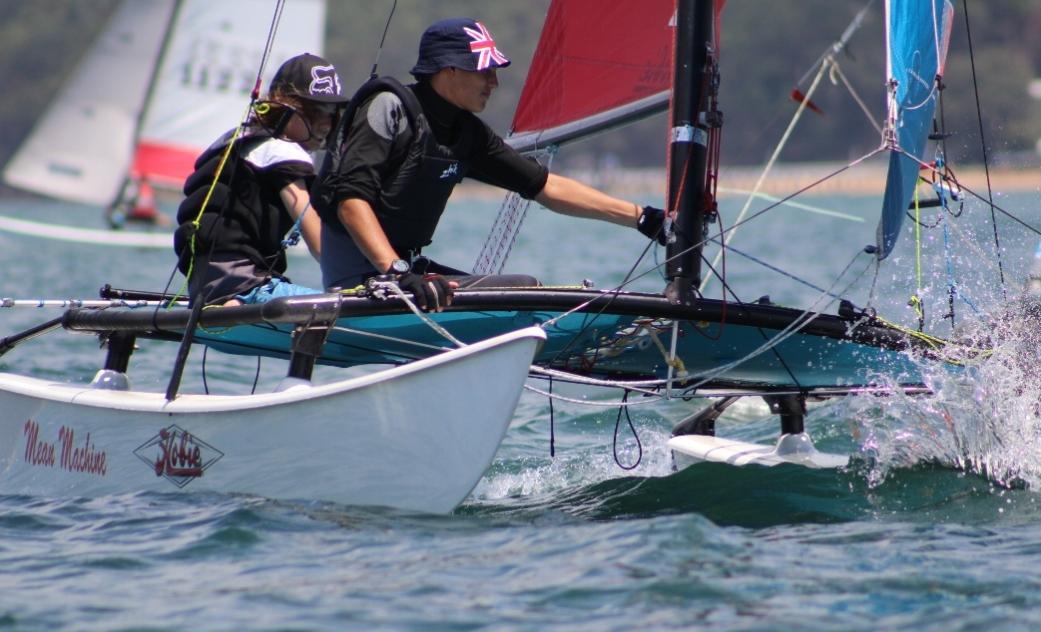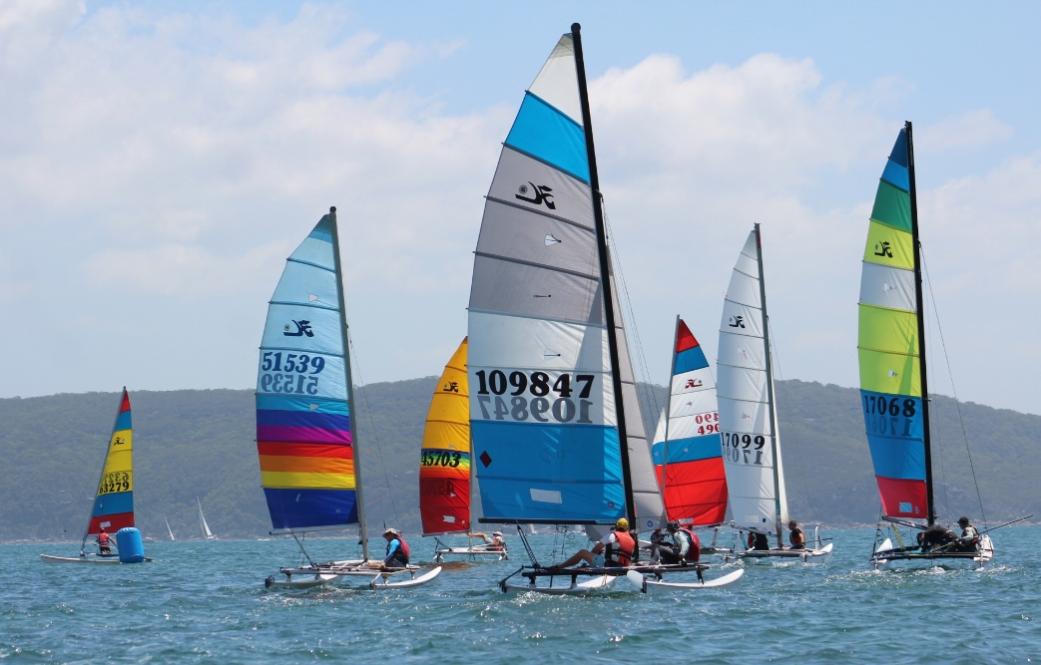 There were a grandmother and mother crew in the Kerry Waterhouse - Bridget Bolewski (nee Waterhouse) World Champions, an Australian Sailing Women Sailor of the Year and just those who love getting a day on the water sailing in the 2017/18 Hobie 14, Hobie 16 Women, Youth Hobie State Titles on beautiful Pittwater yesterday. Today, Sunday the 11th, is the last day for these titles.
Crews from all over the state, Vincentia, Toukley, Jervis Bay and more, and including fast on the water PBSC members, made the trip to Palm Beach to launch off Sand Point and race around a course that started off Mackerel Beach, swung east to a mark off Station Beach and down the estuary in light breezes that didn't seem to slow too many competitors down that much.
Last night members of PBSC and their guests were treated to an inspirational talk by Jason Waterhouse and Lisa
Darmanin that included a few insights on the Rio Olympians ethos and plans to become even better at what they're already excelling at.
Natasha Bryant, sailing with her brother Nathan, is in among the mix and told Pittwater Online News she's looking forward to a great weekend's racing and to a month's training out of the RPAYC before she and Annie Wilmot head over to Spain for the next World Cup event.
What stands out most with every Palm Beach Sailing Club event, whether hosting State Titles or just having a Fish and Chip run to Patonga, is how it's an all-in family effort. Bridget's husband, baby and father Rod were on beach duty, David Renouf, a stalwart of the club, was organising the boats, which including three safety boats and the start boat for this regatta, Andrew Nelson, who has again undertaken the Commodore's helm, seemed to know all of the
competitors by name, Richard Lacey, Commodore last Season was back and forth helping out visitors, and these gentlemen were backed up by Trevor Gourlay, Beau White, Upu Kila, Regina Renfree, Michael Henman, Maria Nelson, Alicia Rhoda and a host of other PBSC members.
It may have been the State Titles but with smiles everywhere, even when racing, you can understand why people love the Hobie and love coming back to Pittwater. With classic original boats like Banana Split, once owned by Stuart Appleby, as well as the fast modern fliers among the fleet, those not in the races had a Hobie spectacular unfolding before their eyes.
Final Results and Wrap in next week's Issue - Day 1 Results and some of Day 1's Action
HERE
Album of photos for competitors own Family Albums
HERE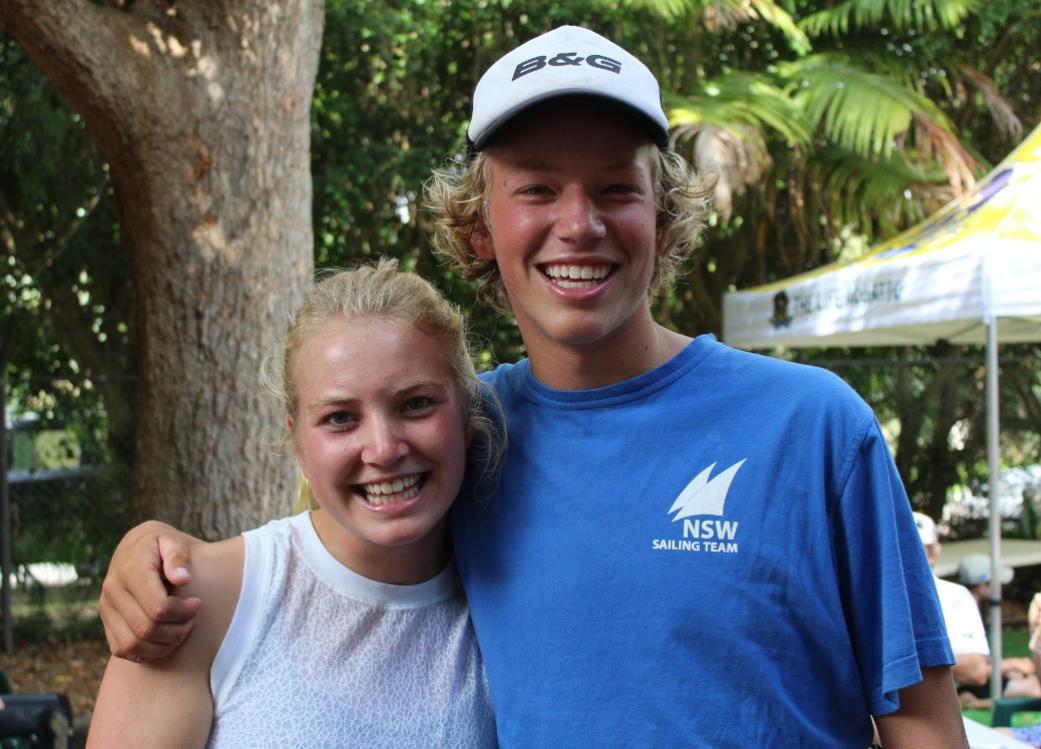 Natasha and
Nathan
Bryant - photos by A J Guesdon.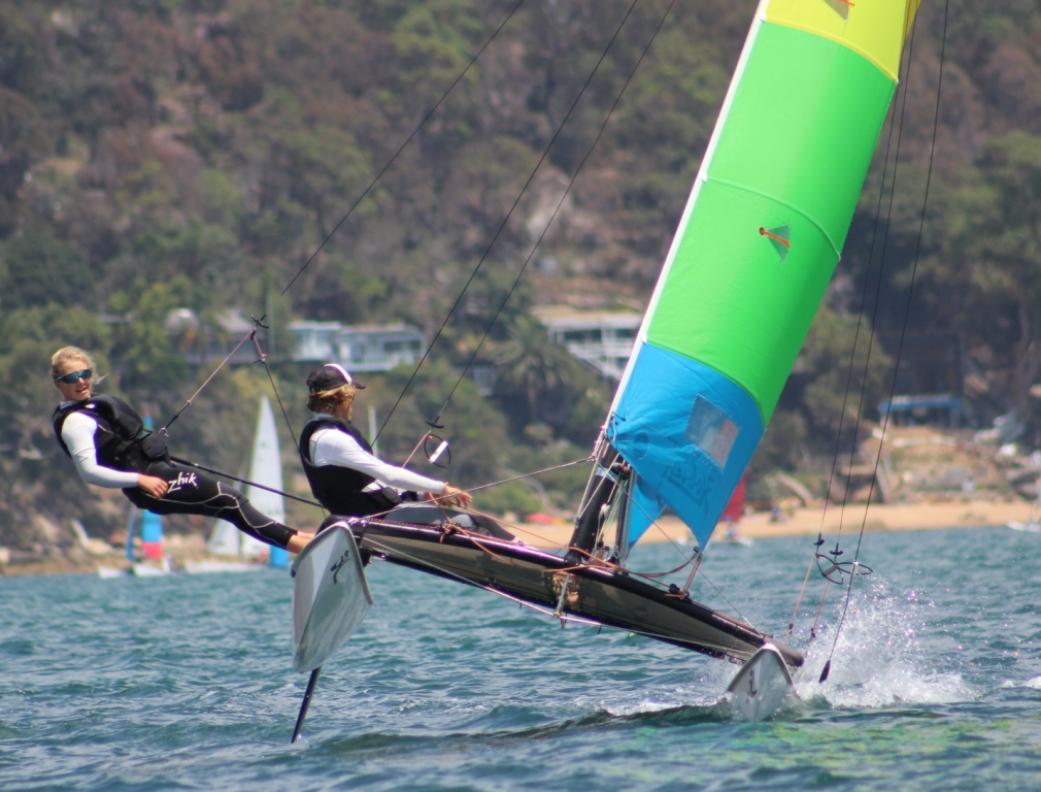 Vissla Great Lakes Pro 2018 Goes Off!
Holy Wawn WINS!!!!!!!!!!!!!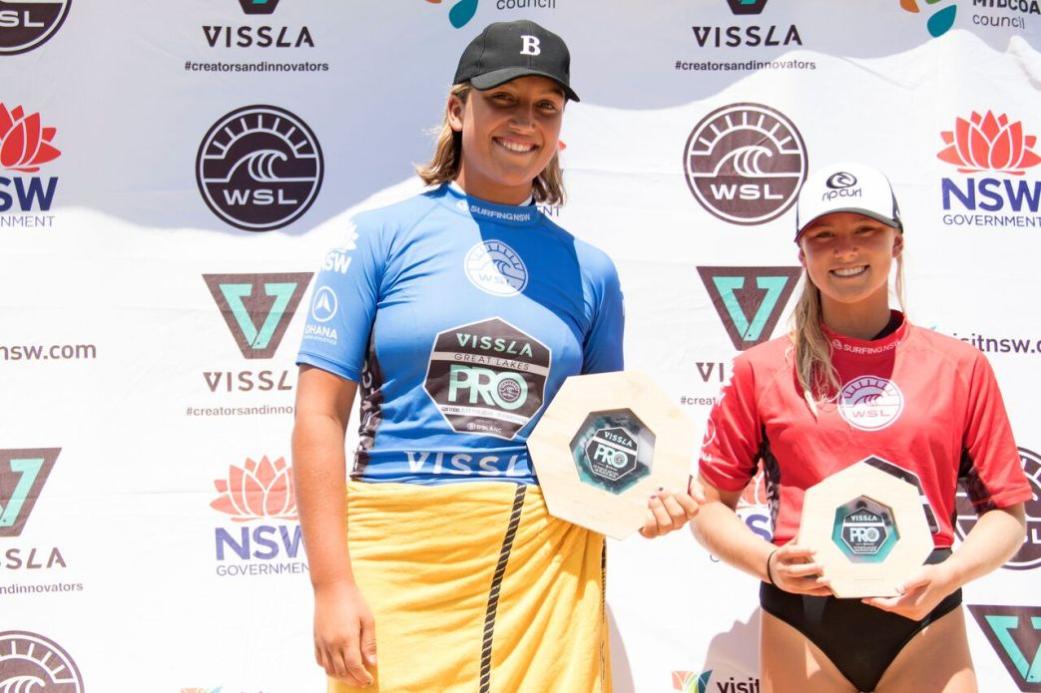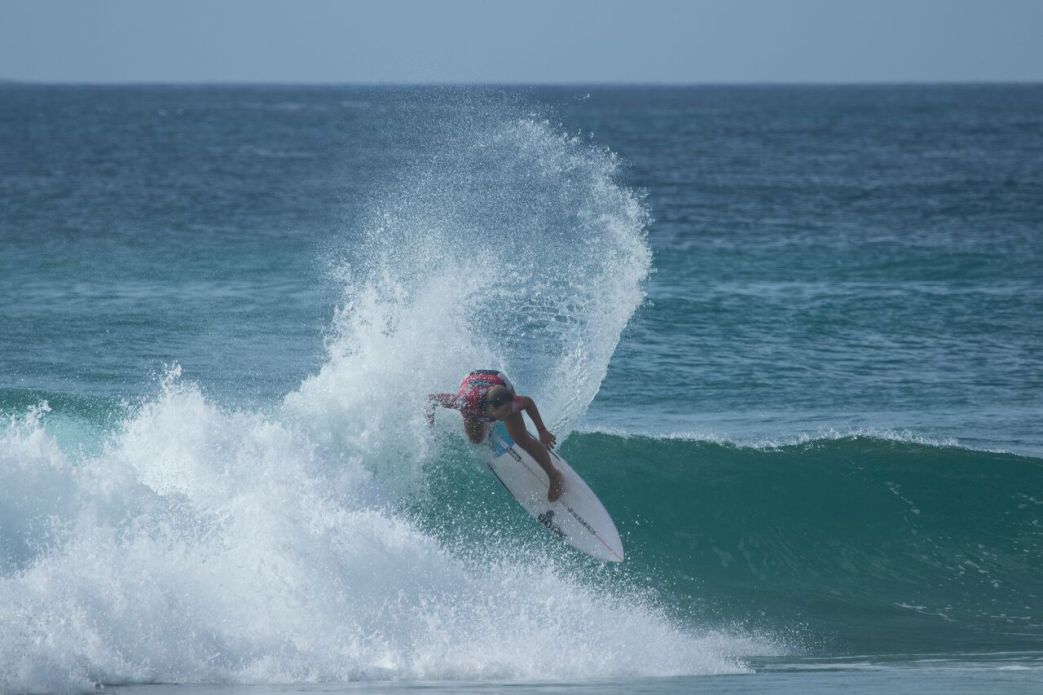 Holly Wawn took control of the final day to claim impressive wins and go into the up and coming QS6,000 events in red-hot form. Photos by Ethan Smith / Surfing NSW
The Vissla Great Lakes Pro pres. by D'Blanc QS1,000 event ran through a big day of action that saw top seeds and big names battle it out for a chance to feature on final's day today (Sunday February 11th). The wind swung around and blew in all directions today, but the competitors stepped up and put on a show with aerials, carves and ripping turns.
The finals were broadcast live at
www.worldsurfleague.com
and on the WSL App. Head here for more information, highlights and images.
Catch up with all the spectacular surfing local and overseas surfers have done this week
HERE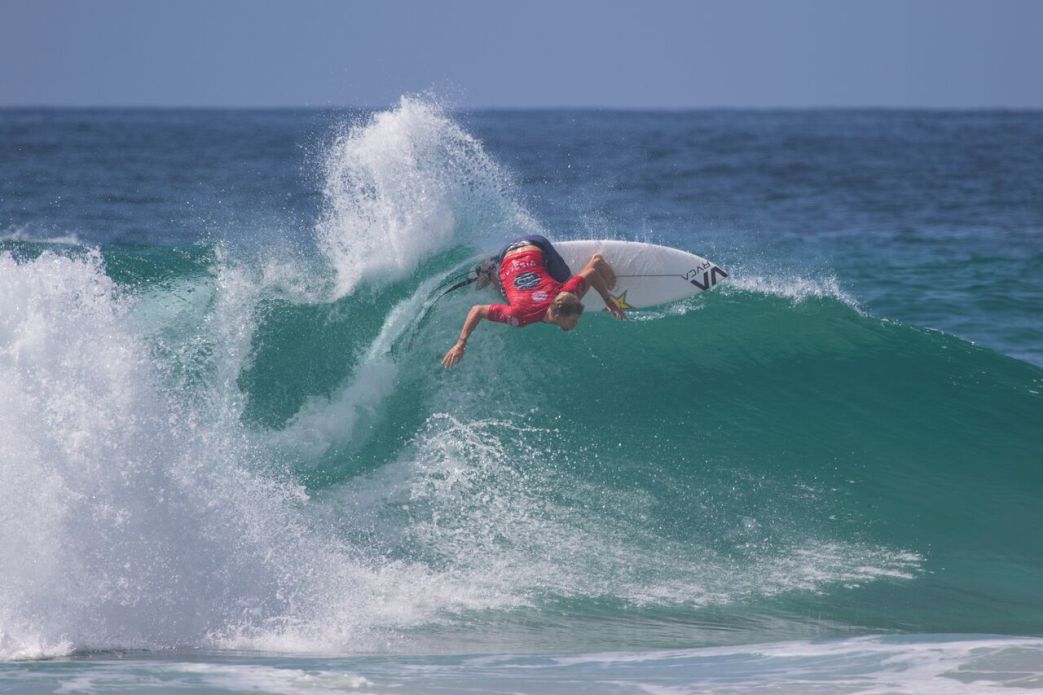 Day 3: North Narrabeen's Davey Cathels' competitive experience paid off on Saturday as he amassed one of the highest two-wave heat-totals of the event thus far 17.75 out of a possible 20. Photos by Ethan Smith / Surfing NSW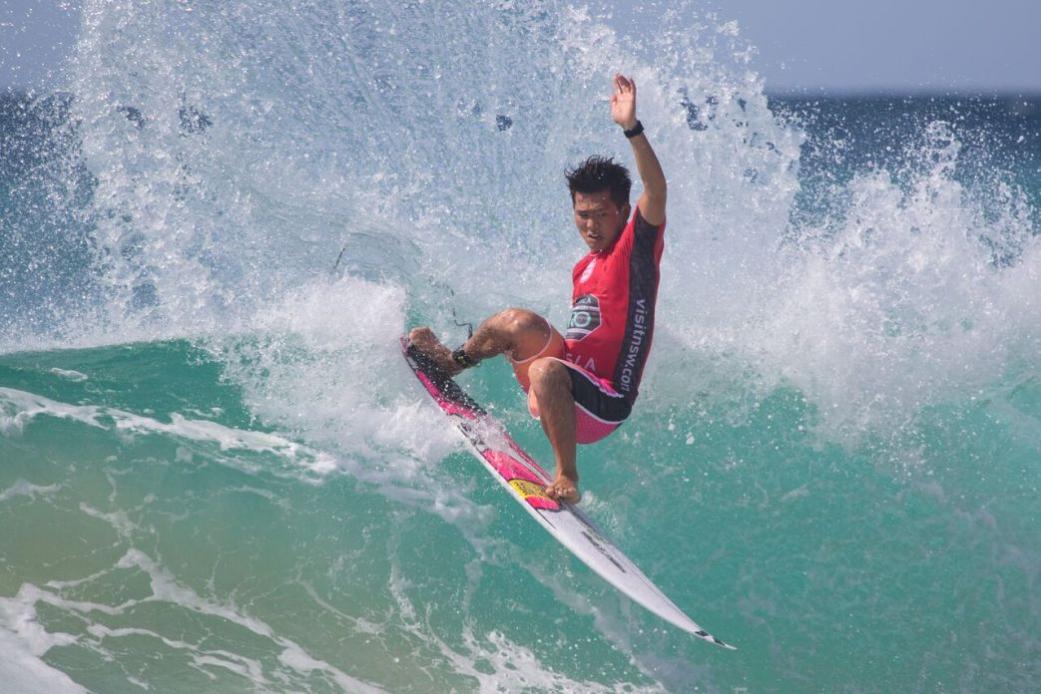 Day 3: Hiroto Ohhara, Japan - photo by Ethan Smith/Surfing NSW
Clare Costanzo WINS Hardy Cup 2018:
First Female Skipper - First All Female Team To Take Out Prestigious Match Racing Event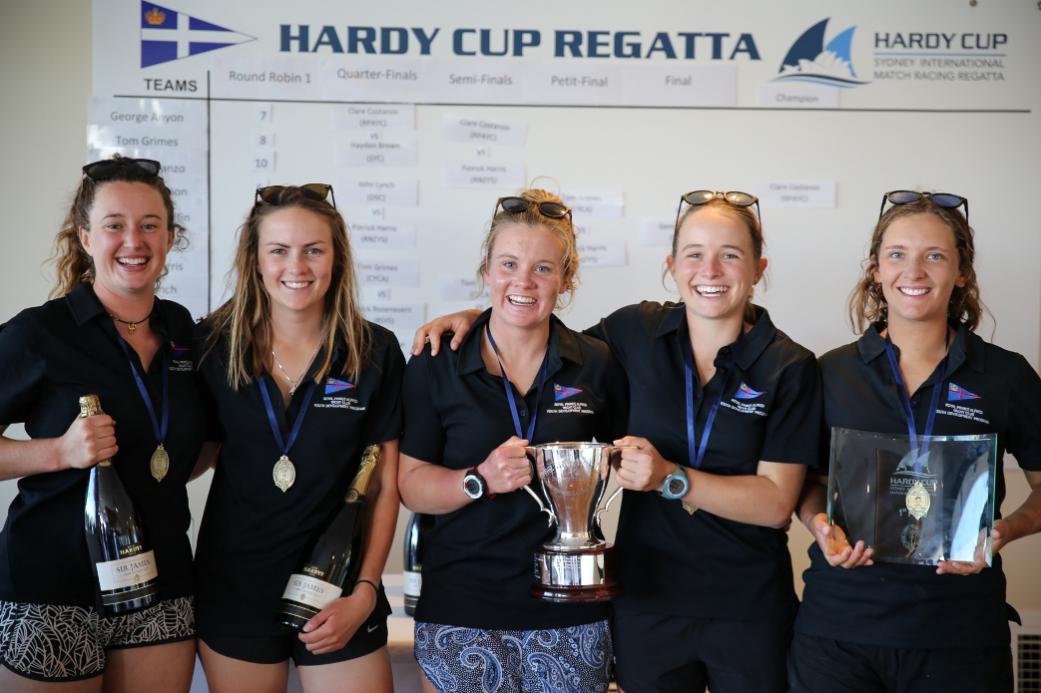 Hardy Cup 2018 Winners! Photo by Darcie Cottington, Darcie C Photography
Clare Costanzo and her team of Jess Angus, Ruby Scholten, Celia Willison and Hannah Lanz have won the 2018 Hardy Cup!

This is a historic win as not only has Clare become the first female skipper to get her name on the trophy, in addition the team is also the first all female team to do so since since its inauguration in 2001.
The Royal Prince Alfred Yacht Club (RPAYC) was represented by two teams at the Hardy Cup 2018 this week, both skippered by the Costanzo sisters Clare and Juliet.
On Clare's team was Jess Angus, Ruby Scholten, Celia Willison and Hannah Lanz. On Juliet's team was James Farquharson, Annalise Scholten, Sam Thomas and Rachel Bower.
Hosted by the Royal Sydney Yacht Squadron, and considered one of Australia's most prestigious match racing events, the Hardy Cup, is an Under 25 World Sailing Grade 3 International Event. The Hardy Cup was donated by Sir James Hardy (Event Patron), the America's Cup, World Champion and Olympic Yachtsman, and prominent RSYS member to promote the match racing helming skills and tactical skills of young sailors.
Last year Clare Costanzo and her Royal Prince Alfred Yacht Club teammates finished bridesmaids at the same event. On Thursday February 8, 2018 the RPAYC's five-strong youth team beat George Anyon's Royal New Zealand Yacht Squadron team 3-0 in the finals, sailed in 20+ knot nor'easters off the host club at Kirribilli.
In doing so Costanzo broke an 18-year run of gun male skippers taking out the grade 3 youth event, and with an all-female crew.
Costanzo, Jess Angus, Hannah Lanz, Ruby Scholten and Celia Willison celebrated with a swim and some champagne then official photos before three of the five dashed to the airport for a 7.30pm flight to New Zealand, where training for the final youth match racing regatta in the series of three begins today, Friday 9 February.
"We'll have to celebrate our win at the end of the next regatta, the Nespresso Cup," the 21-year-old winning skipper said from the airport, flanked by Angus and Lanz and a change of teammates for New Zealand's premier youth match racing event.
More HERE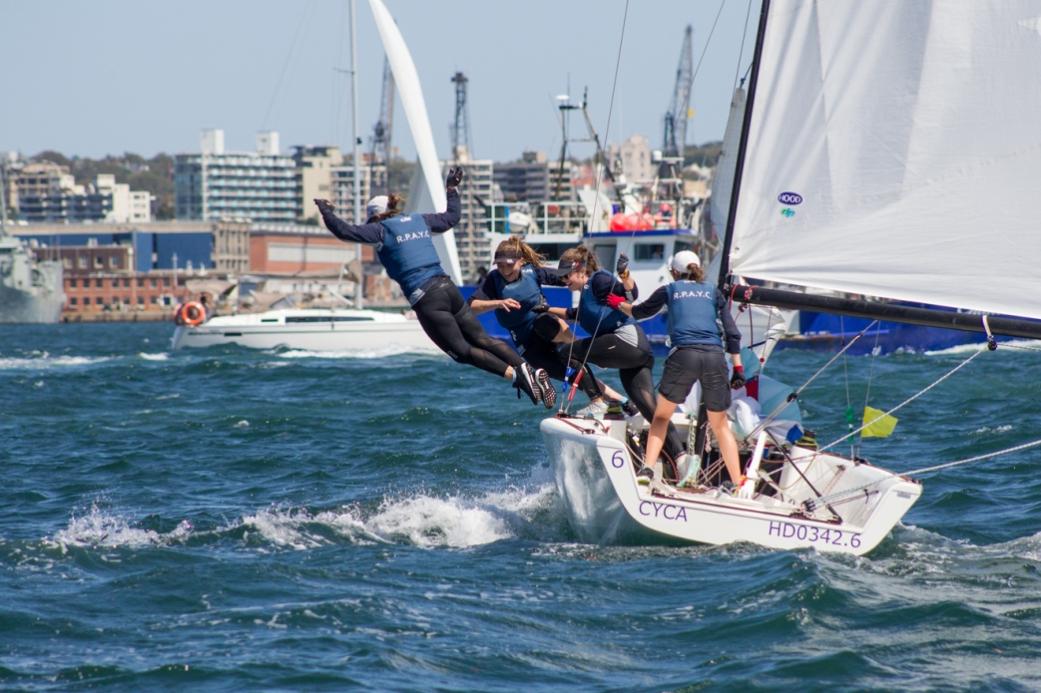 Victory Swim - Photo by Darcie Cottington, Darcie C Photography

Warringah Pittwater District RFS Brigades Volunteers: A Busy Spring And Summer Serving The Community Over 2017/2018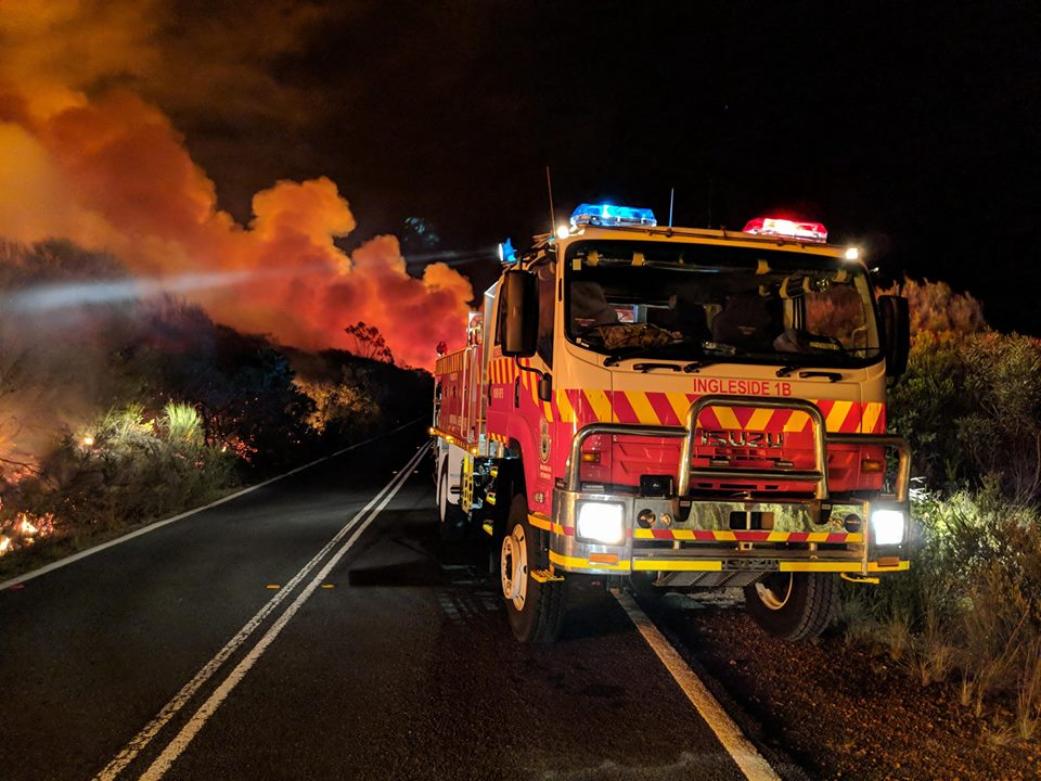 Royal National Park Fire, January 21, 2018 - photo courtesy Ingleside RFB

As we reach the middle of the last month of Summer, traditionally a high hazard month for bushfires as our parks dry out and on ground fuel may have increased, or be more available around the home garden and in our house gutters, a timely reminder of what can occur is seen in what has been done by
Warringah Pittwater RFS Brigades during recent months.
Over the past few months Warringah Pittwater District RFS Brigades have been putting in the hard yards looking after residents here and further afield.
On Thursday evening, while most of us slept, Ingleside NSWRFS attended Kimbriki Tip in Ingleside about 11.30pm for a General Waste fire about 3000m² in size. The RFS were on site until 2.45am. 7 heavy tankers from five volunteer Brigades were in attendance with RFS crews using Breathing Apparatus in the toxic smoke.
At midnight on Saturday January 20th, Warringah Pittwater RFS crews were activated as part of a Northern Beaches Rural Fire District strike team to assist NSW Rural Fire Service Sutherland Shire with a large bushfire burning within the Royal National Park in Sydney's South.
The Warringah Pittwater Rural Fire Brigades have conducted hazard reductions throughout Spring, checked fire trails were clear, responded to vehicle accidents on Mona Vale road and McCarrs creek road as well as cleaned up oil spills at these, cleared storm damage like large branches that have fallen on homes and roads, and responded to numerous Fire Alarms.
All brigades have attended or hosted numerous community events over the Spring-Summer of 2017-2018.
Warringah Pittwater District RFB volunteers also provide community education in everything ranging from their annual Open Days to familiarisation with local hazards and equipment as we headed into bushfire season.
The longevity of the local Rural Fire Service as a vital component in our community is also demonstrated through Long Service Awards for volunteer members and for brigades. In December 2017 Tumbledown Dick Rural Fire Brigade made a visit to Cottage Point Rural Fire Brigade to present a commemorative plaque from Tumble to Cottage Point RFB recognising the 60 years of community service Cottage Point RFB have provided to the community. A great achievement.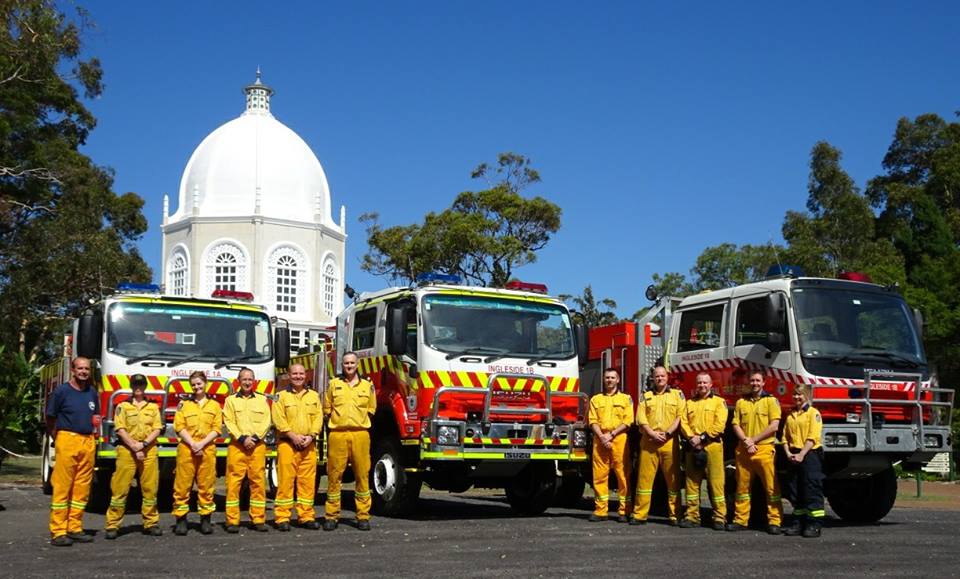 Ingleside RFB, December 16, 2017: Middle: Welcoming our new tanker - photo courtesy Ingleside RFB
Avalon Beach SLSC Launches A New Surf Boat - The Roland Luke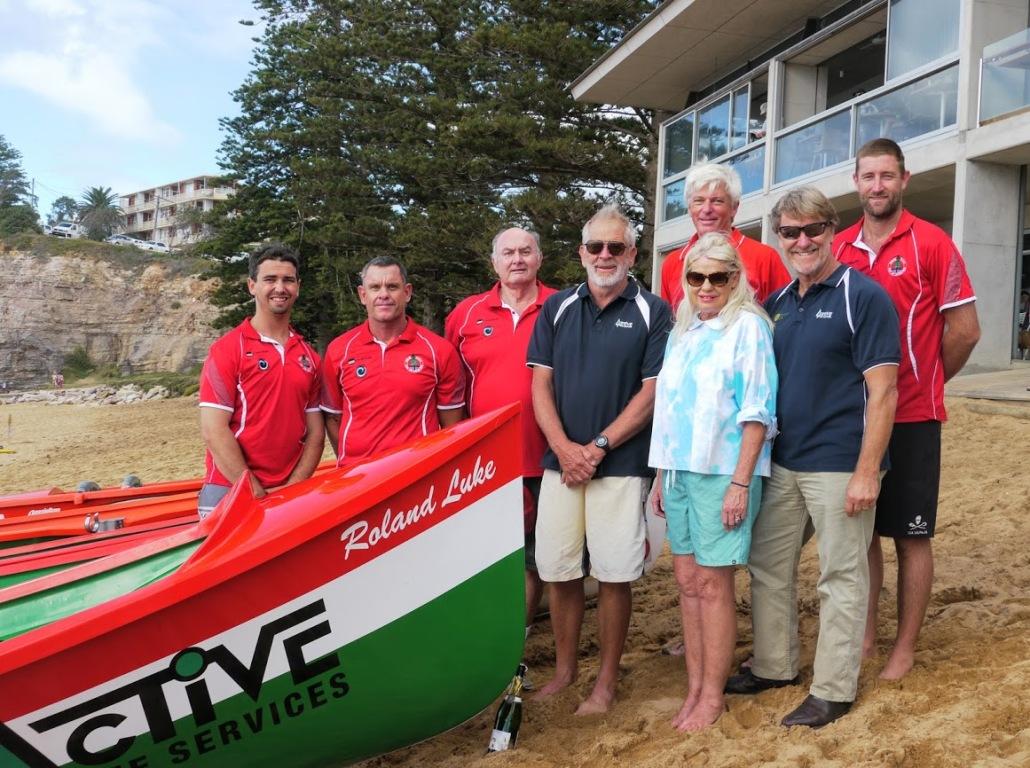 On Sunday February 4th Avalon Beach SLSC christened and launched their newest surfboat.
Named
to honour Life Member and Competition Manager Roland Luke, who is also active in many other parts of our community,
particularly
Avalon Soccer club, where he has been setting up the fields for training and game days for decades, the new boat is a welcome addition to the surf club's equipment.
"A huge thank you to our major sponsors Active Tree Services who have made the purchase of this new boat possible. Mark and Joanne Wilcocks, founders of Active Tree Services and John Tolmie, General Manager, were there for the christening." Richard Cole, President of Avalon Beach SLSC said last Sunday.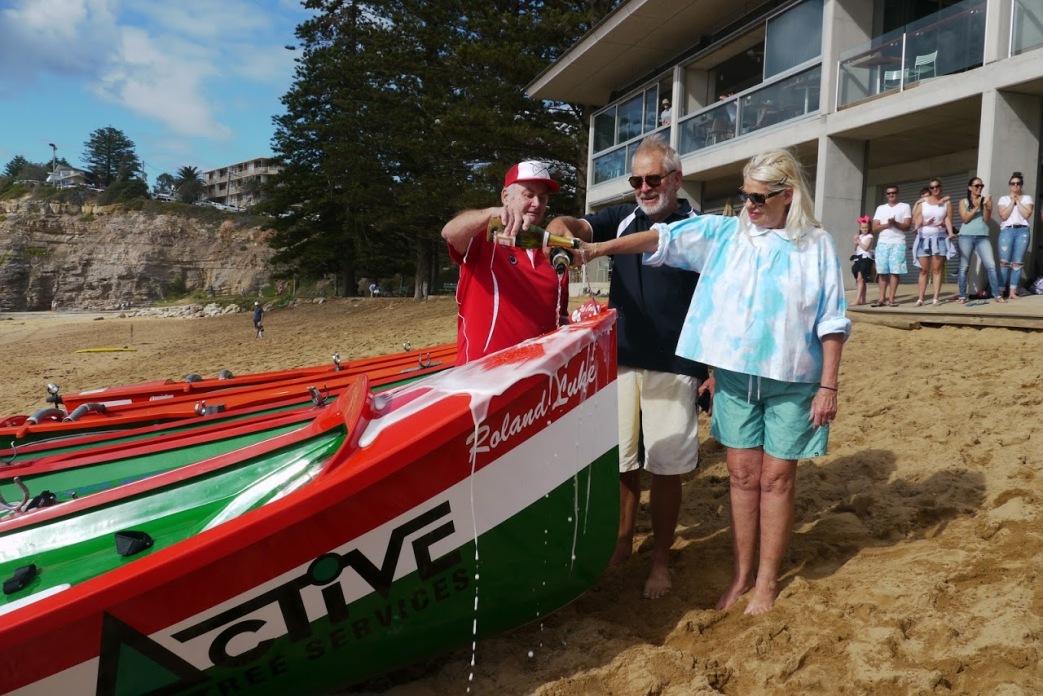 Mark and Joanne Wilcocks and Roland Luke christening Avalon Beach SLSC's new boat - photos by Warren Young OAM
Avalon Beach SLSC now has 15 surf boat crews. On Wednesday February 7th one of these was named to represent NSW in the Interstate
Competition
which begins on
Friday 16 February 2018 at Elouera SLSC. Avalon's
Reserve Women, the Avalon Beach Bandits;
Peter Carter, Sweep
Ash Norman, Stroke,
Rachel Strong, 2nd Stroke,
Rebecca Elliott, 2nd Bow and
Ellie Mackay, Bow will contest the other states Reserves teams.
On Saturday February 17th another Avalon Beach SLSC surf boat crew, the
U23 Women (Development Team); Sweep Nathan Wellings, Bow Ellie Di Biagio, 2nd Bow Lauren Petersen, 2nd Stroke Chloe Scott, Stroke Amelia Barber will represent Australia in the Trans Tasman Test against New Zealand's chosen U23 Women, the
Orewa Aces.
Palm Beach Longboarders 'Show Us Your Dooleys' Comp 2018 Opens A Great Year
Palm Beach wrapped up their first comp for 2018 last Sunday, February 4th.
It was the Day of the Dooleys again with patron
Mick Dooley
attending to enjoy some great waves and great surfing – all on Mr. Dooley's boards – ergo 'Show Us Your Dooleys'.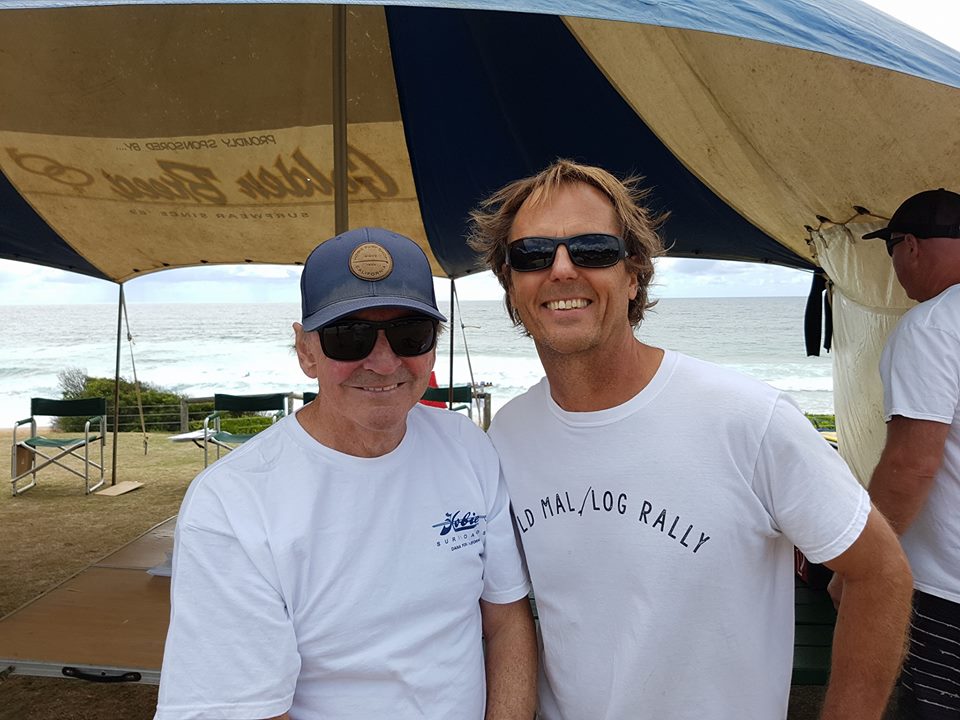 Mick Dooley and PBL VP Greg Nichols

There were a couple of legends, youthful and mature there. Young Jasper Derwent rode his bike to Palmy for our first comp of the year, Grant Samo Salmon lent him a board then he went out and ripped it!
Go Jasper!!
Congratulations to Blaze Roberts for winning the 4ths final!

Blaze took part in her first Palmy Longboarders comp in November 2017 by getting involved in their annual
Old Mal-Old Log Rally
- always a great festival of brilliant boards, great food and some classic vehicles on display.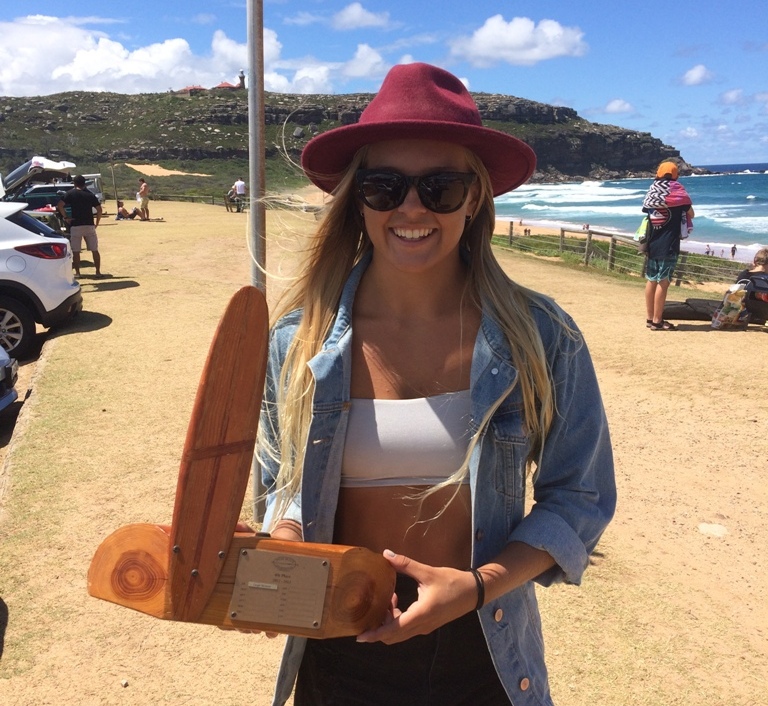 Blaze Roberts - a grinning winner!
Palmy Longboarders is a longboarding club of mature groms and grommets meeting beachside at 7am on the first Sunday of each month. At Palm Beach of course!
New members are always welcome so if you want to try out that great way of surfing get along to a Sunday meet or get in touch via their
facebook page
.
You can find out more about Palmy Longboarders in their
Profile page
Summer In Pittwater: 2018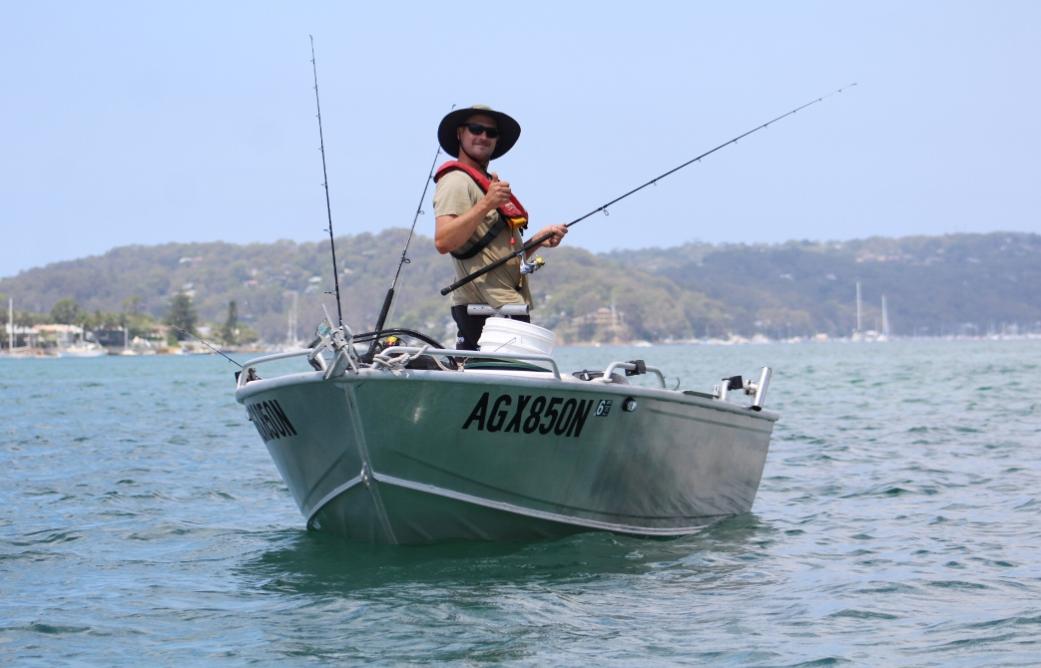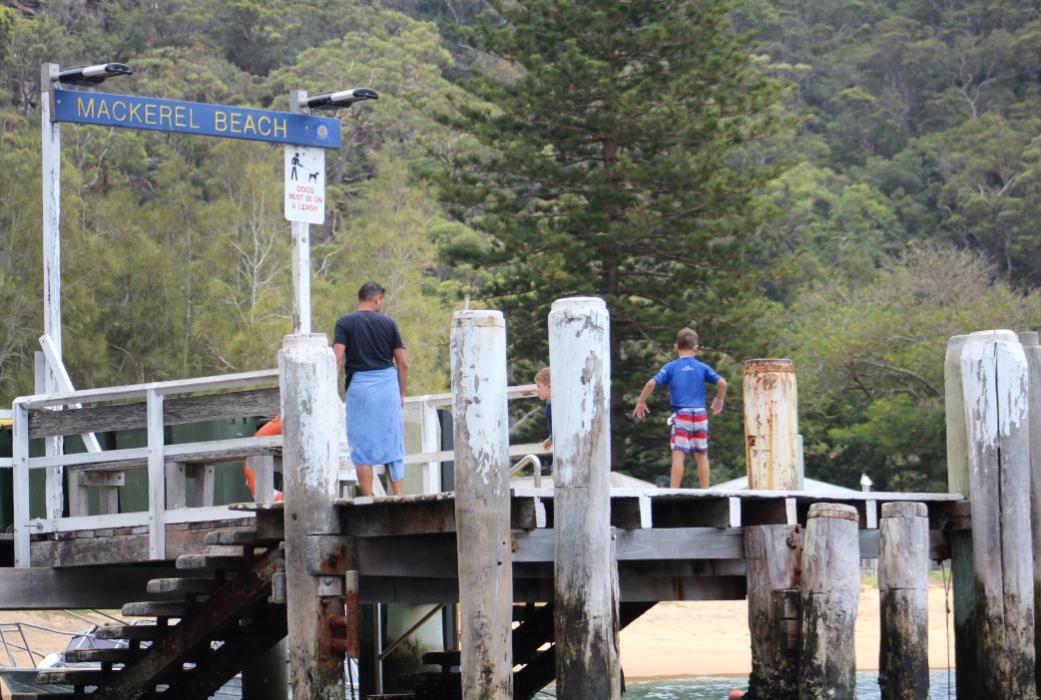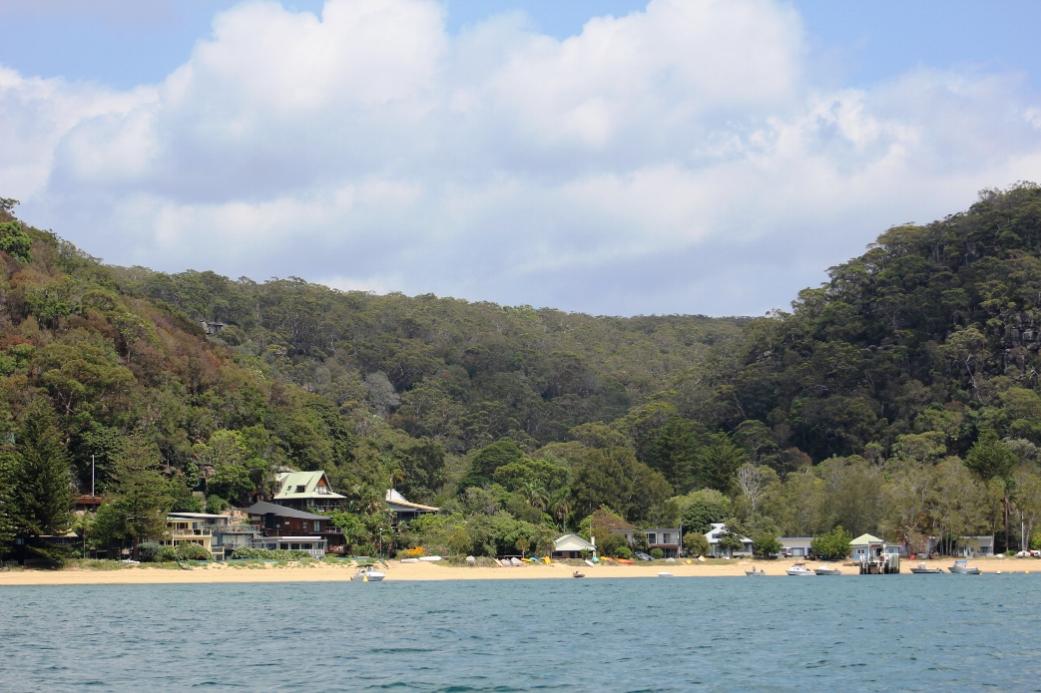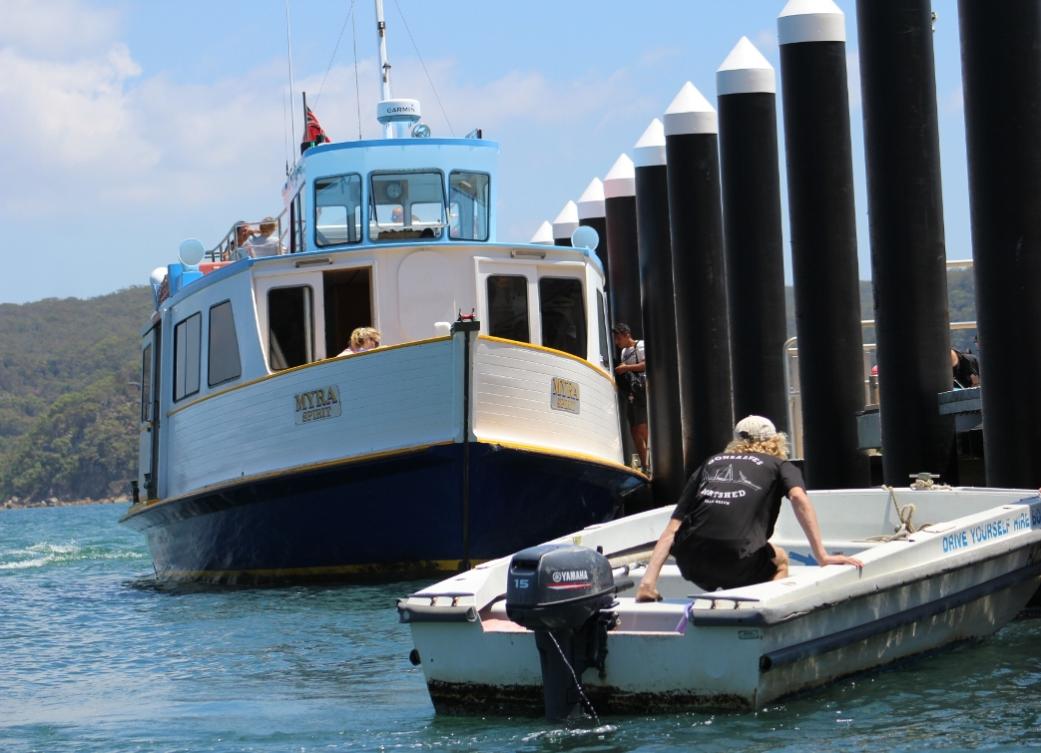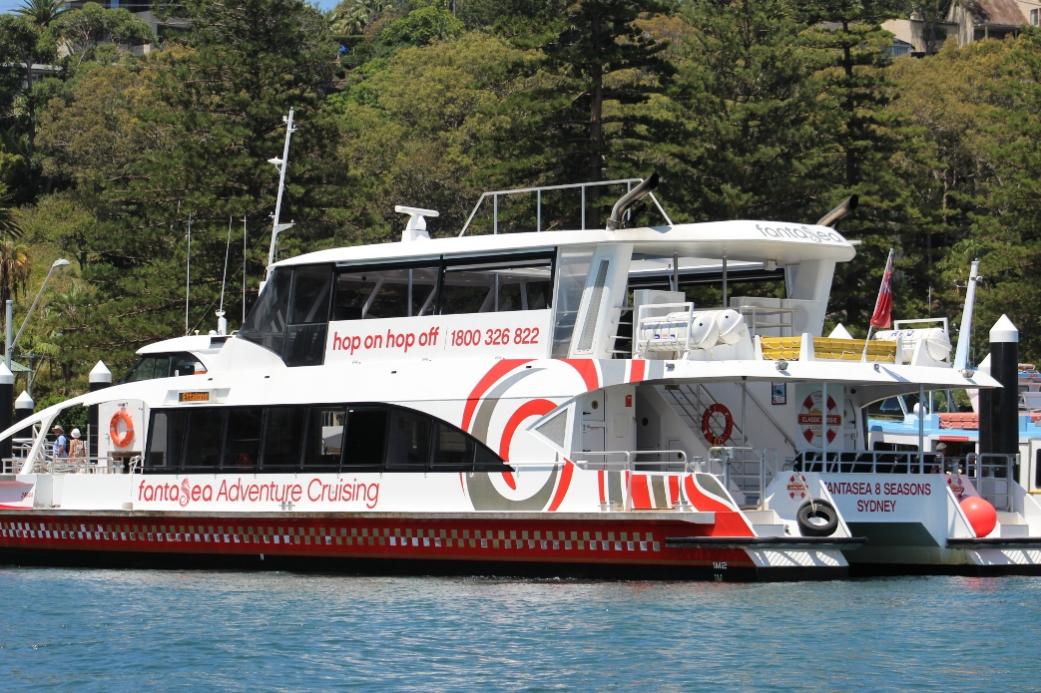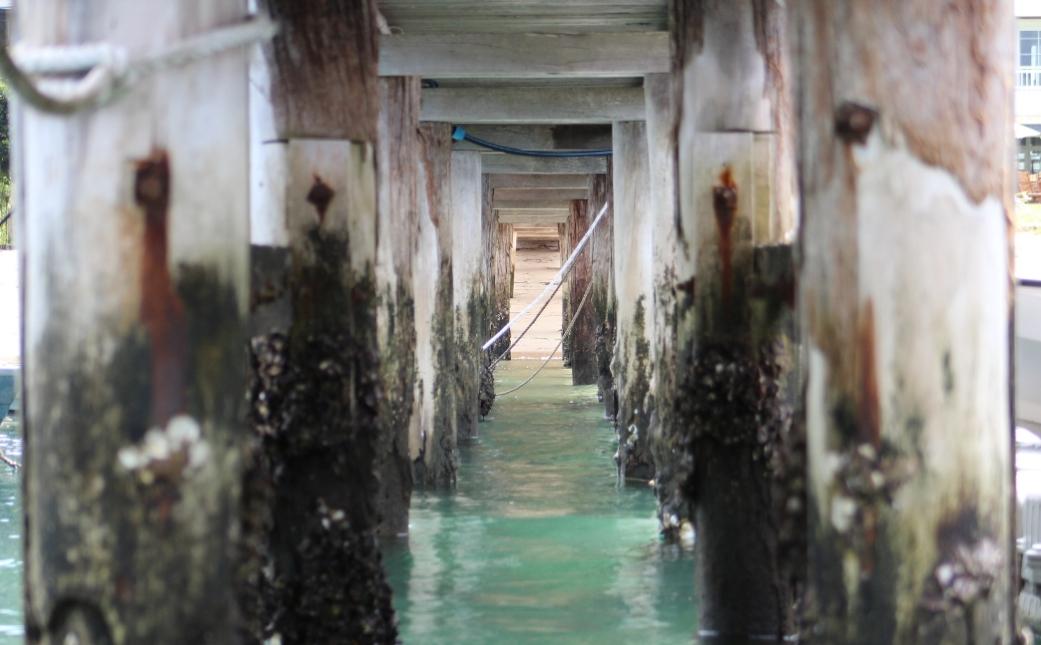 Summer In Pittwater photos Issue 347 by
A J Guesdon.
Past Features Archives (pre 2014)
Pittwater Online News was selected for preservation by the State Library of New South Wales and National Library of Australia. This title is scheduled to be re-archived regularly.
Archived Issues (2014 on) may be accessed here: pandora.nla.gov.au/tep/143700