November 5- 11, 2017: Issue 336
Australian Sailing Awards 2017: The Winners
Also: Australian Sailing Hall Of Fame Inducts Olympians, Paralympians, America's Cup Champions And Ocean Racers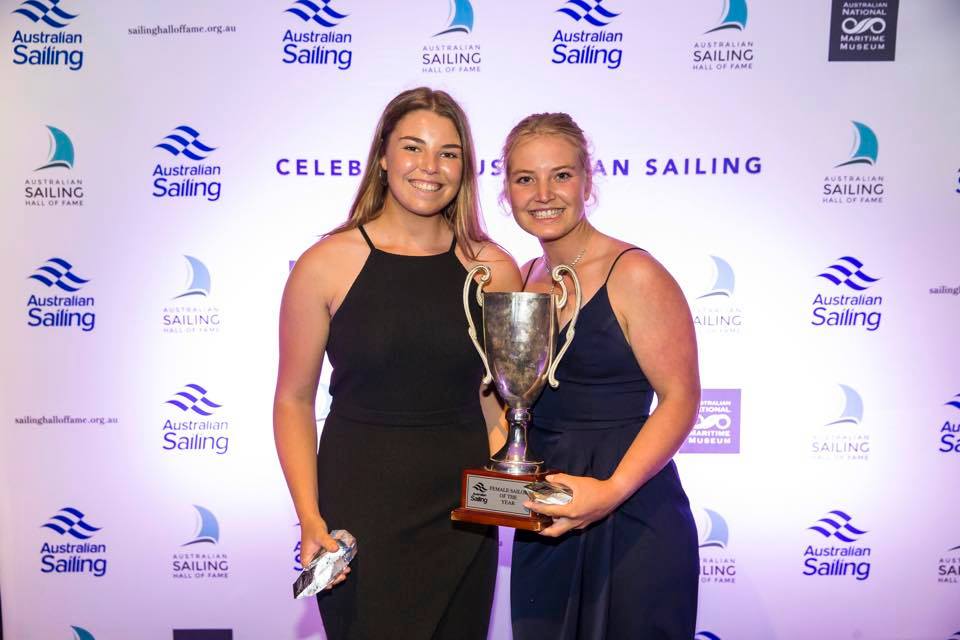 Annie and Tash win Australian Sailing's Female Sailor of the Year - photo by Andrea Francolini
Awards Show Australian Sailing's Diverse Strength
America's Cup-winning skipper Glenn Ashby and rising RPAYC stars Natasha Bryant and Annie Wilmot were named the nation's top sailors for 2017 at the Australian Sailing Awards in Sydney on Friday night.
Ashby was crowned Male Sailor of the Year and Natasha and Annie won Female Sailor of the Year at a festive ceremony which celebrated Australian Sailing's diverse strengths.
The awards were held in conjunction with Australian Sailing's inaugural Hall of Fame Inductions, which includes such Pittwater legends as Kay Cottee, the Team of Australia II, Daniel Fitzgibbon OAM and Liesl Tesch AM, and
Victor Kovalenko OAM, the brilliant coach who has inspired and guided local Olympic medal winners
.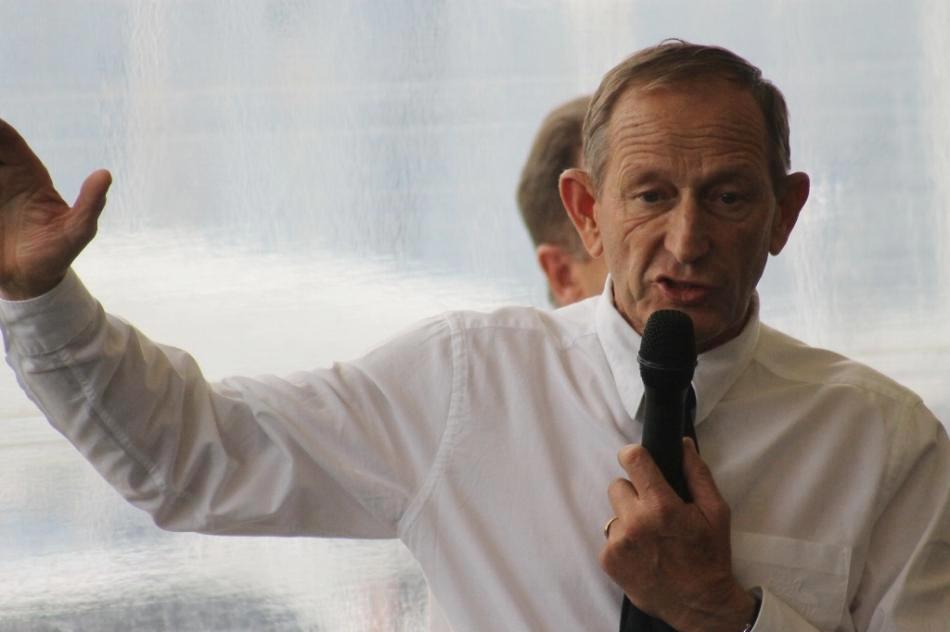 Ashby was rewarded for his expertise in guiding Emirates Team New Zealand to a comprehensive 7-1 series win over Oracle Team USA in the 35th America's Cup, in Bermuda in June. It was the latest and perhaps greatest of Ashby's illustrious achievements, which include a silver medal at the 2008 Olympic Games and 15 World Championships across three multi-hull classes.
"It's been a fantastic evening here in Sydney and I'm very humbled and honoured to receive the Australian Sailing Male Sailor of the Year," Ashby said.
"There was a fantastic array of nominees. It's been a big year in Australian sailing and it's been very nice to catch up with a lot of friends and our sailing community."
Ashby was last month named as one of four finalists in the prestigious Rolex World Sailor of the Year, which will be announced at the World Sailing Awards Ceremony in Puerto Vallarta, Mexico, on Tuesday.
Bryant and Wilmot have it all ahead of them, but they were recognised for their outstanding performance in
winning the Youth World Sailing Championship
in the 29er class
in New Zealand last December
. In a remarkable display of dedication to representing Australia at a higher level, the duo later declared they would not defend their world title in China this year and moved into the Olympic class 49er in order to focus on securing a coveted place on the Australian Sailing Team for the Tokyo 2020 Games.
"We're really honoured to be receiving this award and we'd really like to thank [2016 Olympic silver medallist] Lisa Darmanin for all that she's done for us and all her mentoring," Bryant said.
Wilmot thanked the many people she said had supported the pair, including their families and coach, Traks Gordon.
"Tonight has been amazing, being in this room with all these legends, it's just so inspiring for the young generation out there," she added.
Another high achiever at junior level, Finn Alexander, was named Youth Sailor of the Year after he convincingly defeated a strong fleet to win the Laser class Youth World Championship. Alexander has developed rapidly since then and captured a first-placing and fifth overall at the Australian Laser Championships after returning from New Zealand.
"I'm really stoked to pick up Youth Sailor of the Year against a really competitive bunch of young athletes," Alexander said.
"For the last few years it's been a pretty long journey for me to try to get to the top of the youths. I'm really happy to have kind of made it through that, with the help of a lot of really great coaches and mentors, my parents and friends.
"I've now fully launched into the Laser standard campaign, I've been racing overseas across this year and it's been really good, learning a lot and making lots of improvements."
Sailor of the Year with a Disability
Rio Paralympic silver medallist Matt Bugg was named Sailor of the Year with a Disability after snaring a silver medal in the 2.4mR class at the Para World Sailing Championships in Germany in June. Bugg had earlier won the 2.4mR Australian Championship and was named Tasmanian Athlete of the Year by the Tasmanian Institute of Sport. Bugg was part of the triumphant Australian Paralympic team which last year was named a group winner of this award.
Lifetime Achievement Award
In other awards, David Kellett AM received the Lifetime Achievement Award for his tireless dedication to participation in sailing, improving the sport's competitive infrastructure and service to its administration.
Kellett was vice-president of World Sailing between 1998 and 2008 and was involved in the management of sailing regattas at four Olympic Games. He has competed in 41 Rolex Sydney to Hobart Yacht Races and been involved in three America's Cup campaigns for Australia.
CYCA SOLAS Trusts Bravery Award
The CYCA SOLAS Trusts Bravery Award went to 18-year-old Simon Hoffman for his crucial role in saving the life of Irish competitor Johnny Durcan at the 29er World Championships in California in August. After hearing screams from an overturned boat, Hoffman jumped into the water, swam over and freed Durcan from a tangle of ropes. He then performed CPR on Durcan, who was unconscious, eventually reviving the 17-year-old. "He is the reason I'm alive to write this", Durcan wrote in a message to Australian Sailing.
Nicole Douglass took out the Sport Promotion Award for the second year running after she continued to expand her multi-platform communications coverage, Adventures of a Sailor Girl. Through her incredible enthusiasm and hard work, including travelling to 30 international events this year, Douglass has brought sailing to millions of people.
RPAYC Members Lisa Ratcliff and RPAYC
were both finalists and recognised for their outstanding support and promotion of Sailing.
RPAYC's Head Coach Thomas Spitill took out this year's Coach of the Year award continuing his winning streak from the top award at the YNSW awards. Tom was recognised for this dedication to the sport of sailing across all aspects of coaching, learn to sail, development, performance and especially for introducing and integrating non sailors into the sport, through his support of Soldier On, the
Invictus Games
and many other
community groups
.
Male Sailor of the Year
Glenn Ashby
Female Sailor of the Year
Natasha Bryant & Annie Wilmot
Sailor of the Year with a Disability
Matthew Bugg
Youth Sailor of the Year
Finn Alexander
Sport Professional Award
Jenn Suffield
Sport Promotion Award
Nicole Douglass
Club of the Year
Royal Freshwater Bay Yacht Club (WA)
Coach of the Year
Thomas Spithill (NSW)
Instructor of the Year
Kate Hyde (Vic)
Official of the Year
Barry Johnson (WA)
Volunteer Award
Jack Winning (NSW)
President's Award
Simon Hoffman
CYCA SOLAS Trusts Bravery Award
Simon Hoffman
Lifetime Achievement
David Kellett AM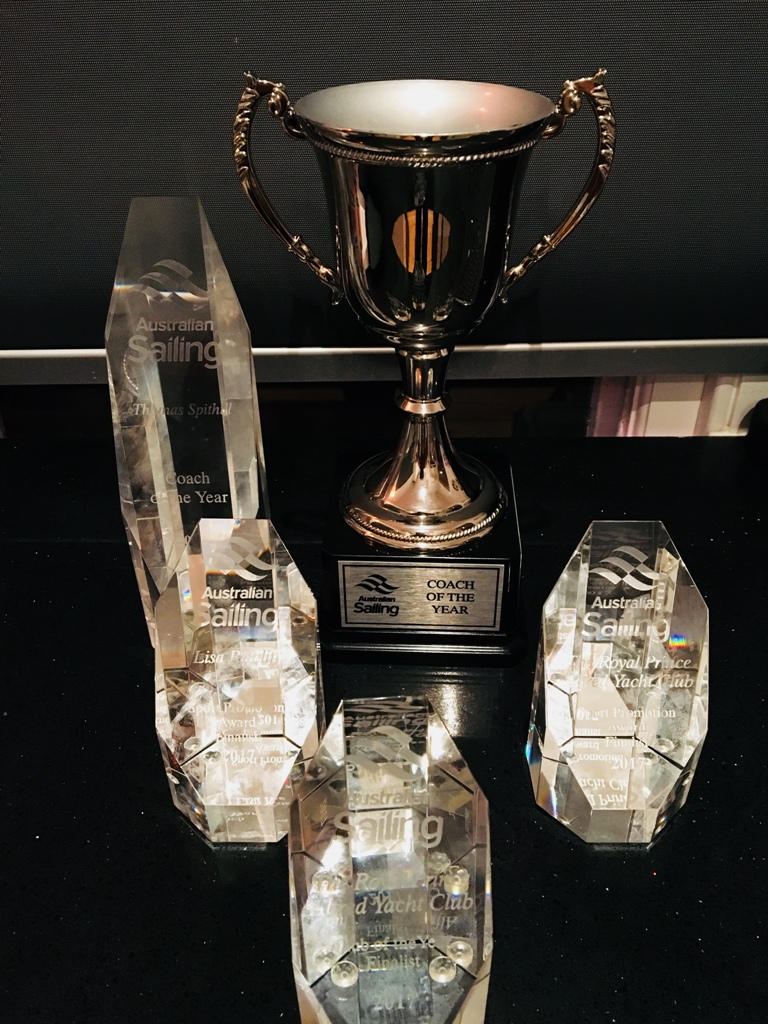 Australian Sailing RPAYC Awards 2017

Follow Australian Sailing:
Instagram: @austsail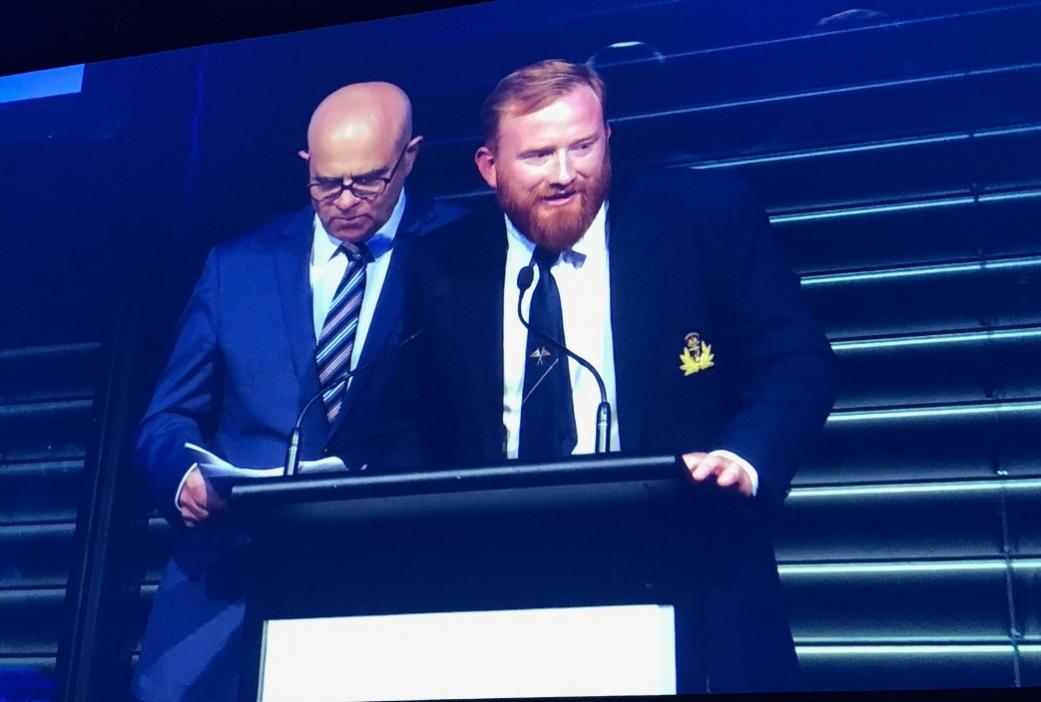 Coach of the Year -
Thomas Spithill, photo courtesy RPAYC
Australian Sailing Hall Of Fame To Induct Olympians, Paralympians, America's Cup Champions And Ocean Racers
Seven Australian Sailing 'greats' will tonight be inducted into the Australian Sailing Hall of Fame (ASHoF). In its inaugural year, the ASHoF will honour Olympians, Paralympians, round-the-world sailors, America's Cup champions and ocean racers.
Established earlier this year by Australian Sailing in collaboration with the Australian National Maritime Museum, the Australian Sailing Hall of Fame will recognise the greats of the sport of sailing – those who have inspired many and contributed so much to make the sport what it is today.
"Sailing has a long and wonderful history in Australia, and has been responsible for some of the most iconic sporting moments the country has ever seen," said Australian Sailing President, Matt Allen. "Recognising those who have been part of this history and acknowledging their contribution is at the heart of the Australian Sailing Hall of Fame."
"The Australian National Maritime Museum is delighted to be a part of this important new venture with Australian Sailing," said Kevin Sumption, Director of the Australian National Maritime Museum. "Our hope is that the Australian Sailing Hall of Fame program will promote greater recognition of the role of the sport in Australia's history and community life and encourage development of the sport in Australia."
The 2017 inductees for the Australia Sailing Hall of Fame are:
JENNY ARMSTRONG OAM & BELINDA STOWELL OAM
"As the first Australian women to win an Olympic Gold Medal in sailing, Jenny Armstrong & Belinda Stowell paved the way for Australia's female sailors." Selection panel
Jenny Armstrong and Belinda Stowell created history when they became the first Australian women to win an Olympic sailing medal, winning Gold in the 470 class at the Sydney 2000 Olympics Games. In doing so, they also broke Australia's 28-year sailing Gold Medal drought.
"The achievement of the Australia II team in winning the America's Cup in 1983 was one of the most remarkable feats in Australian sporting history." Selection panel
John Bertrand AO (skipper)
Colin Beashel OAM
Will Baillieu OAM
Peter Costello OAM
Damian Fewster OAM
Ken Judge OAM
Skip Lissiman OAM
John Longley AM
Brian Richardson OAM
Phil Smidmore OAM
Grant Simmer OAM
Hugh Treharne OAM
Rob Brown OAM
Sir James Hardy OBE
Scott McAllister OAM
Syndicate Chairman: Alan Bond
Syndicate Executive Director: Warren Jones AM
Designer: Ben Lexcen AM
Coach: Mike Fletcher AM
Australia II captured the hearts of a nation when it won the America's Cup in 1983, breaking America's 132-year winning streak in sport's oldest trophy.
Perhaps the most iconic of Australian sporting moments, the competition caught the attention of sailors and non-sailors alike, throughout Australia and around the world.
"Kay Cottee inspired generations of female sailors when she became the first woman to sail unassisted, non-stop around the globe." Selection panel
Kay Cottee is the first woman to perform a single-handed, non-stop and unassisted circumnavigation of the world by way of both hemsipheres. She performed this feat in 1988 in her 37 foot (11 m) yacht Blackmores First Lady.
DANIEL FITZGIBBON OAM & LIESL TESCH AM
"In 2016 Daniel Fitzgibbon & Liesl Tesch became the first Australian sailing team/crew to defend a gold medal at either the Olympics or Paralympics." Selection panel
At the Rio 2016 Paralympic Games, Daniel Fitzgibbon and Liesl Tesch created history when they become the first ever crew to win back-to-back Paralympic gold medals in Sailing. Their achievement of winning gold medals in both London and Rio also made them the first Australian sailing team or crew to defend an Olympic or Paralympic gold medal.
"Victor Kovalenko OAM has altered the course of Australia's achievement at the Olympic Games since coming to this country 20 years ago. The impact he has had on our Olympic sailing program will be forever admired." Selection panel.
Known as the "Medal Maker", Victor Kovalenko is renowned as the most successful Olympic sailing coach in the world. Since arriving in Australia in the lead-up to the Sydney 2000 Games, he has coached Australia's 470 athletes to five gold and one silver Olympic medal.
BILL NORTHAM CBE, PETER O'DONNELL & JAMES SARGEANT
"Sir William Northam CBE, Peter 'Pod' O'Donnell & James 'Dick' Sargeant achieved Australia's first Olympic sailing gold medal, winning the 5.5mR class at the Tokyo 1964 Olympic Games." Selection panel
Bill Northam CBE, Peter (Pod) O'Donnell and James (Dick) Sargeant won Australia's first Olympic sailing gold medal at the Tokyo Olympic Games in 1964, in the 5.5-metre class in Barranjoey. Northam, the skipper, was 59 and a grandfather of five, the oldest Australian to have ever won an Olympic gold medal.
"Australia's first sailing world champion, our first Olympic medallist and a highly respected ocean racer, Rolly Tasker AM has a sailing record that covered more distance than to the moon and back." Selection panel
Rolly Tasker won Australia's first Olympic sailing medal and first sailing world championship. He was a highly regarded and successful ocean racer who built one of the world's most successful yachting businesses.
Nominations were considered by a highly regarded Selection Panel, which was chaired by David Tillett AM. Mr Tillett has served as Chairman of the Jury at numerous Olympic Games and America's Cup events, in addition to serving on the World Sailing Council and Australian Sailing Board. He was joined on the Selection Panel by Amanda Lulham, Michael Spies, Karyn Gojnich, Greg Johns, David Staley, Matthew Allen (representing the Australian Sailing Board) and Kevin Sumption (representing the Australian National Maritime Museum).
The ASHoF acknowledges exceptional performance and contribution at the highest level, by an individual or a team, both past and present, and covers all disciplines of the sport.
The 2017 inaugural inductees will be inducted into the Australian Sailing Hall of Fame tonight, Friday, 3 November 2017 at the Hyatt Regency, Sydney.
A panel exhibition celebrating the greats of Australian Sailing. Opens 4 November 2017 – 31 January 2018 at the Australian National Maritime Museum.

Australia's America's Cup Win Of 1983 Full Story On ABC's Australian Story