February 4 - 10, 2018: Issue 346

Bayview Golf Club Development Proposal Reignites 'How To' Keep The Wildlife Corridor And Community Safe Questions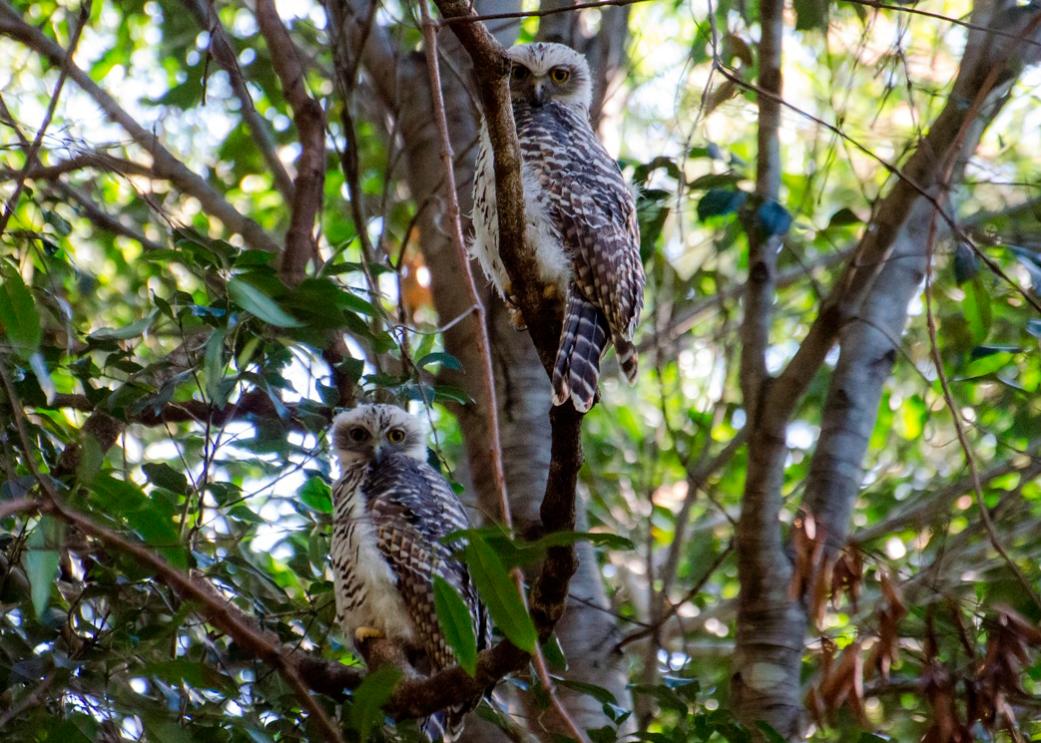 Powerful owl pair photographed at Bayview course perimeter - image supplied.
Ecologists and residents are concerned about the impact on local native fauna a prolonged construction period would have if the currently proposed Bayview Golf Club on course development is approved. At this stage the development has a build time of 18 months, with improvements to the golf course to take place first and then be subject to what will happen when any construction takes place.
The scheme to 'play through' is admirable and necessary if the club is to maintain 18 holes throughout the construction period as well as mitigate any flooding issues prior to any construction taking place - the course was built, after all, on reclaimed swamp and wetlands. However, most builds do the excavations, lay the ground slabs, put in the trenches for pipes and OSD's and then start lifting walls etc. first - landscaping, including outreaching perimeters of landscaping such as lawns (laying turf), are the last items to go in due to the muddy mess most building sites are during builds; one of the reasons it's Law to put in silt barriers and Law to fence off the perimeter of sites so people don't fall into a trench.
The club has been urging its members to make submissions on the proposal( which close on February 12th), many doing so and stating the proposal will '
Establish actual real corridors for wildlife that do not exist at present'.
The statement is echoed on the golf course's website under the
Waterbrook - Land Owner page
; 'T
he actual establishment of currently non-existent wildlife corridors
.'
This must refer to the plants slated to be established around the new construction and grounds after the build as the course and its perimeters are well established as rich in fauna and fauna habitat,
with the ecological report submitted with this Seniors Living DA confirming the area is a significant wildlife habitat, specifically of a pair of Powerful Owls and 2 owlets, listed as Vulnerable under the NSW Biodiversity Act and 7 vulnerable species of bats.
From the report : "
the Southern Myotis, Large-eared Pied Bat (Chalinolobus
dwyeri), Eastern Falsistrelle (Falsitrellus tasmaniensis), Little Bent-wing Bat (Miniopterus australis) and Eastern Freetail Bat (Micronomus norfolkensis).
"These threatened microbat species were recorded from echolocation call within the area encompassing the proposed seniors facility."
There were also 2 breeding colonies of microbats located.
From the report "Goulds Long-eared Bat (Nyctophilus gouldi) and the Little Forest Bat (Vespadelus vulturnus) although not threatened, the site supports breeding colonies of both species."
The creek line adjoining the site is a known breeding area for both resident and migratory bird species such as the Sacred Kingfisher, Channel-billed cuckoo, Lyrebirds and other birds.
The area is also regularly visited by Glossy black-cockatoos and Square-tailed Kites, both Vulnerable species too, and home to
resident fauna species including swamp wallabies, goannas, diamond pythons, tree snakes, lyrebirds, echidnas, possums and recorded sightings of over 80 bird species.
"Pairs of Powerful Owls demonstrate high fidelity to a large territory, the size of which varies with habitat quality and thus prey densities. In good habitats a mere 400 can support a pair; where hollow trees and prey have been depleted the owls need up to 4000 ha.
Avalon Quilters 2018 Exhibition Of Members Work And AMDF Raffle Quilt Touches Stras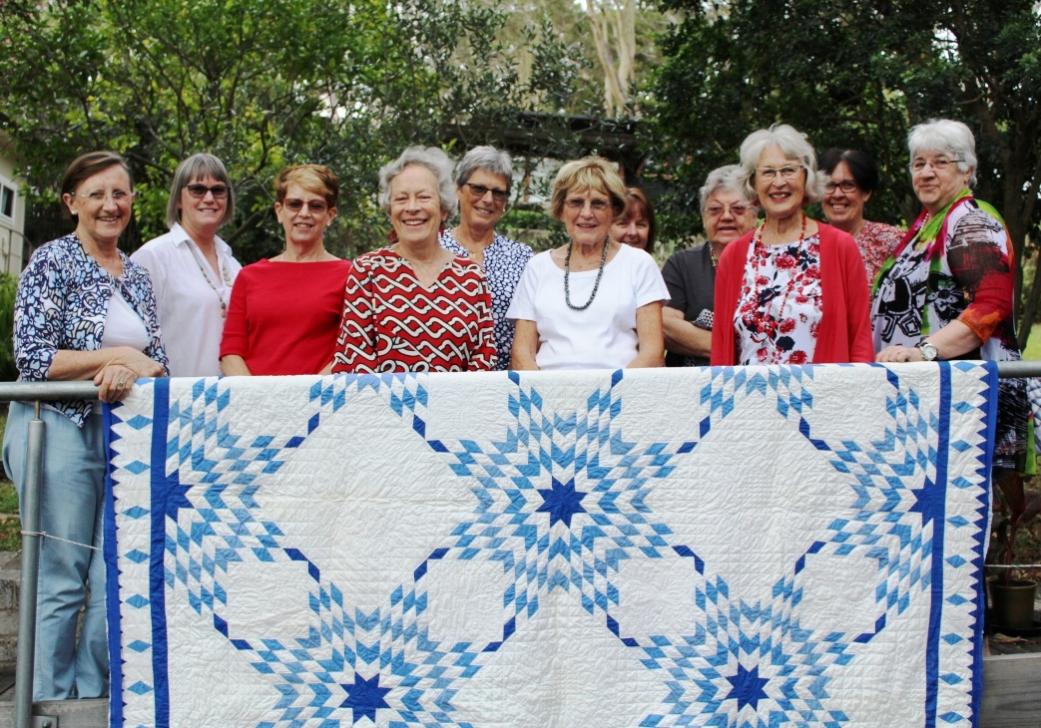 Avalon Quilters Members with "Touching Stars" - the 2018 AMDF Raffle Quilt
Friday 9th and Saturday 10th of March 2018
Proceeds to Australian Mitochondrial Disease Foundation
Avalon Quilters 2018 raffle quilt (Queen size), "Touching Stars" is a 1930's Vintage Quilt, made from material purchased in the U.S. and hand quilting done by members using traditional quilting patterns and YLI thread. Tickets for the 2018 Raffle Quilt ($2 each or 3 for $5) may be bought at Avalon Fabrics and Craft (4/24 Avalon Parade, Avalon Beach) or Cottage Quilts (Building 4, Quattro Corporate, 4 Daydream Street, Warriewood ) or at Patchwork on Pittwater (1 Mona Vale Rd, Mona Vale) – or from Avalon Quilters (Thursday in Avalon Uniting Church) or at the 2018 Exhibition of Members Work.
"Touching Stars" seems to have sparked a theme in the quilters 2018 works as many of the quilts will have lots of tiny stars. Funds raised from the 2018 Raffle Quilt will again be put towards the wonderful work being done by the Australian Mitochondrial Disease Foundation.
Pittwater Online spoke to the Avalon Quilters about some of the wonderful works you will see this year – all done by members, some Traditional and Modern takes on Quilts and Quilting.

One of these has been made into a pattern by member Marilyn and may be purchased at the 2018 Exhibition for $10, so those who are inspired may make their own version. There are a series of these that have been made by members using contemporary fabrics as well - a group co-ordinated by the pattern creator Marilyn - wonderful!: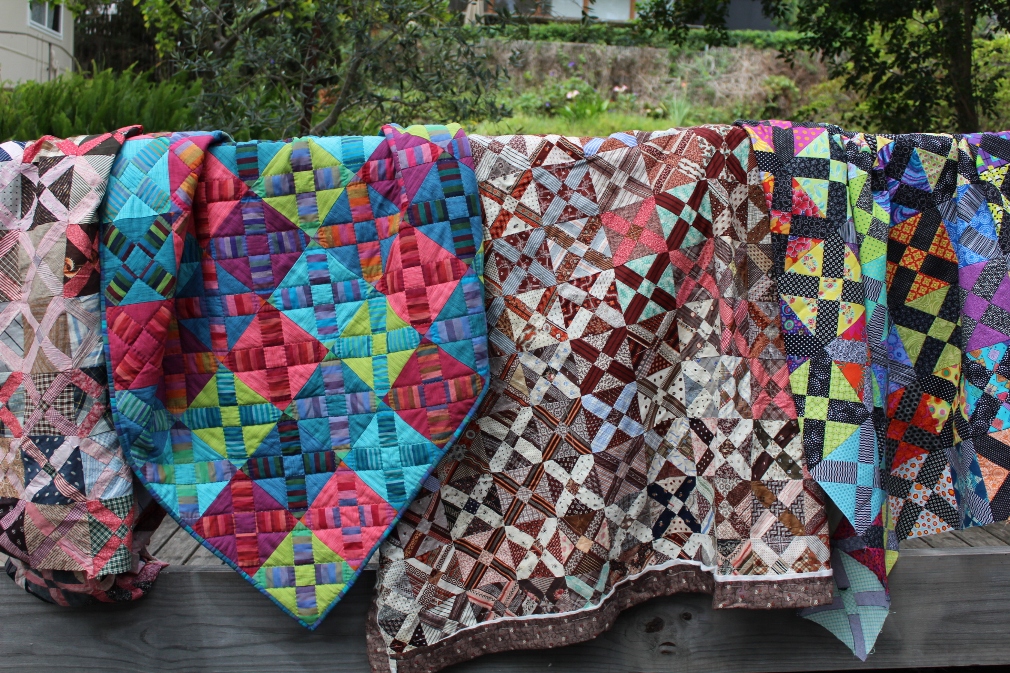 This also forms what will be the 2019 Raffle Quilt from the 1800's – with some reproduced 1860's fabrics. These were sourced from Dr. Annette Gero, one of Australia's and the world's leading quilt historians who generously sold some to the Avalon Quilters. More on Dr. Gero's most recent War and Pieced Exhibition, in New York, HERE.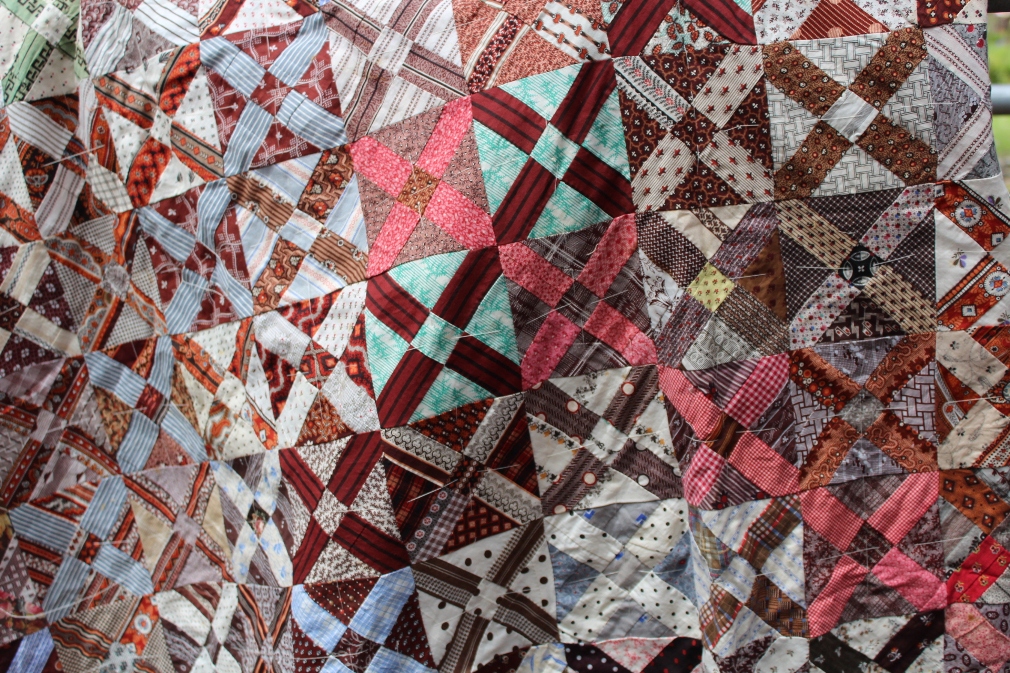 The 2019 Raffle Quilt from the 1800's – with some reproduced 1860's fabrics - a work in progress.

This wonderful Quilt is one the Avalon Quilters call the 'Op-Shop Shirt Quilt'. Members all had to form quilting blocks from shirts they found from Op-Shops or old shirts they had at home and all make blocks. The shirts are made of great fabrics and lend themselves to designing great block – this block, for instance had the lines in the pattern and was cut so they all came together thus.
The Quilters raffled it among themselves and Trish Bloomfield won, adding Hands and Hearts Quilting to the price as, as Trish points out, "It was made with lots of hands and hearts."
The Op-Shop Shirt Quilt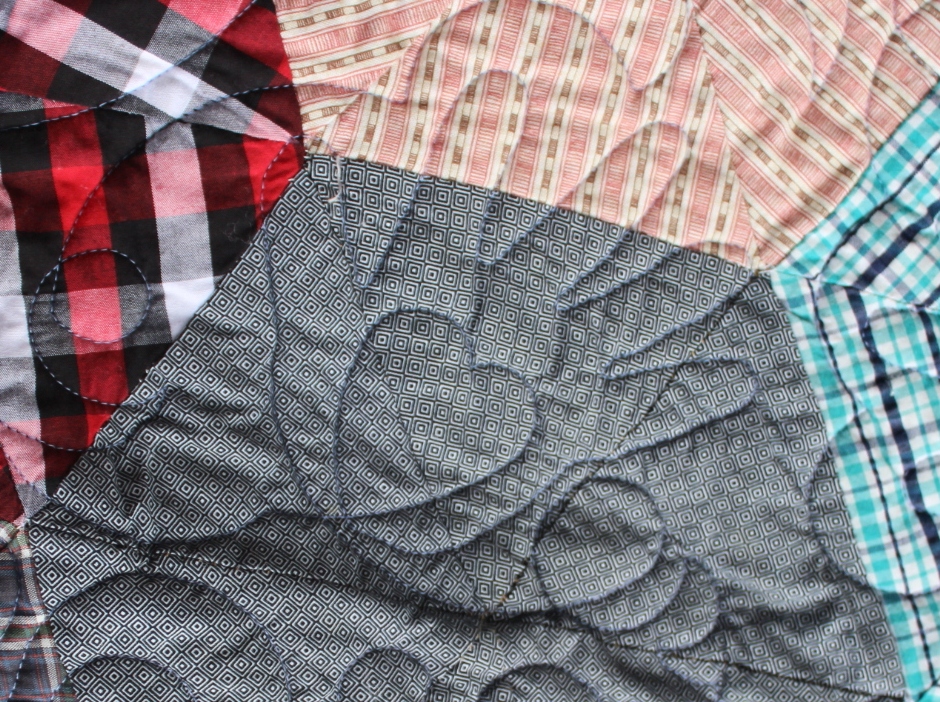 Enlarged Detail to show Hands and Hearts Quilting
More HERE
Local Sailors Excell At
2018 World Cup Series Miami: More Medals For Olympians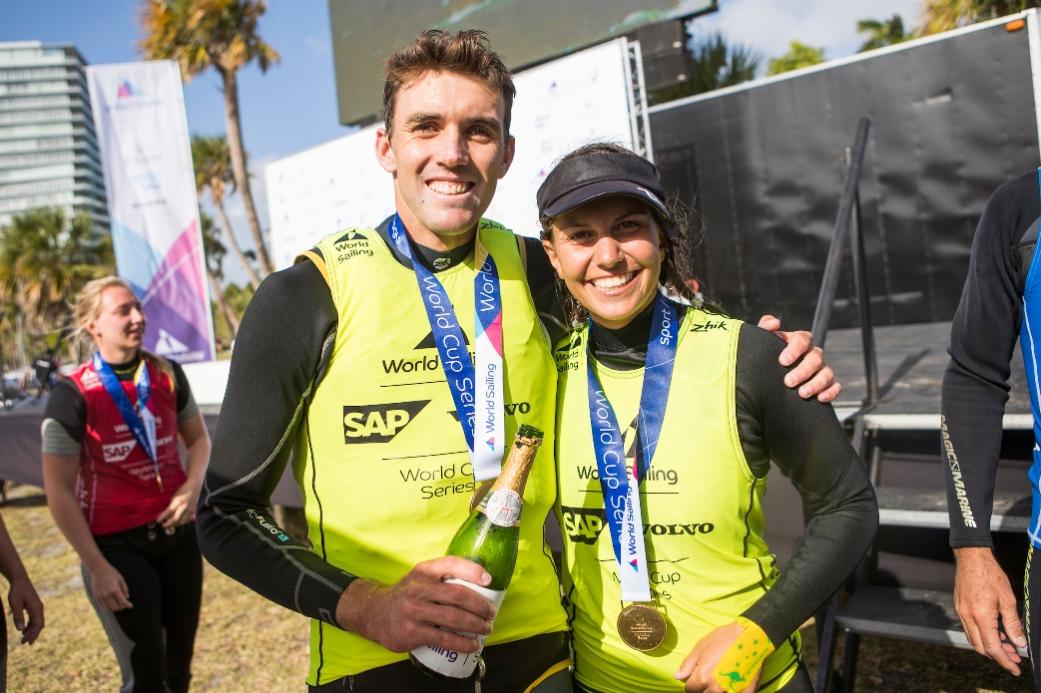 2018 World Cup Series Miami - Nacra 17, Jason Waterhouse and Lisa Darmanin have a positive 2018 start - photo © Tomas Moya/Sailing Energy/World Sailing
Australia sent a small but strong team to the 2018 World Cup Series Miami, with sailors many have seen flying over the waters of Pittwater among those competing.
Rio Olympics gold medallist Tom Burton headed the Laser contingent, which also features Australia's 2017 Laser World Championship bronze medallist Matt Wearn and former Laser Radial Youth World Champion Finn Alexander. Rio silver medallists in the Nacra 17, Jason Waterhouse and Lisa Darmanin, were first to arrive in Miami to prepare and were be joined in the class by Olympic hopefuls, Tayla Rietman and Lachlan White.
Talented duo Natasha Bryant and Annie Wilmot, the 2017 Australian Sailing female sailors of the year, arrived in Miami early in January 2018 and spent two days rigging up their chartered boat before competing in local warm up regattas. Tash and Annie were the 2016 Youth World Champions in the 29er but elected to move into the 49er instead of defend their title. The transition has been challenging but they believe they are on the right trajectory.
Tash and Annie did their best in challenging conditions but with with day four cancelled they missed the medal race by a small 3 points.
Pittwater sailing local heroes and Olympic silver medallists Jason Waterhouse and Lisa Darmanin have set the foundation for a big 2018 after capturing gold in the Nacra 17 class at the World Cup Series in Miami. The cousins held their nerve against the world elite, asserting dominance over Rio gold medallists Argentina's Santiago Lange and Cecilia Carranza Saroli to win the series by a sizeable 23 points.
Marcus Blackmore's Ammonite Wins The 2018 New Zealand Millennium Cup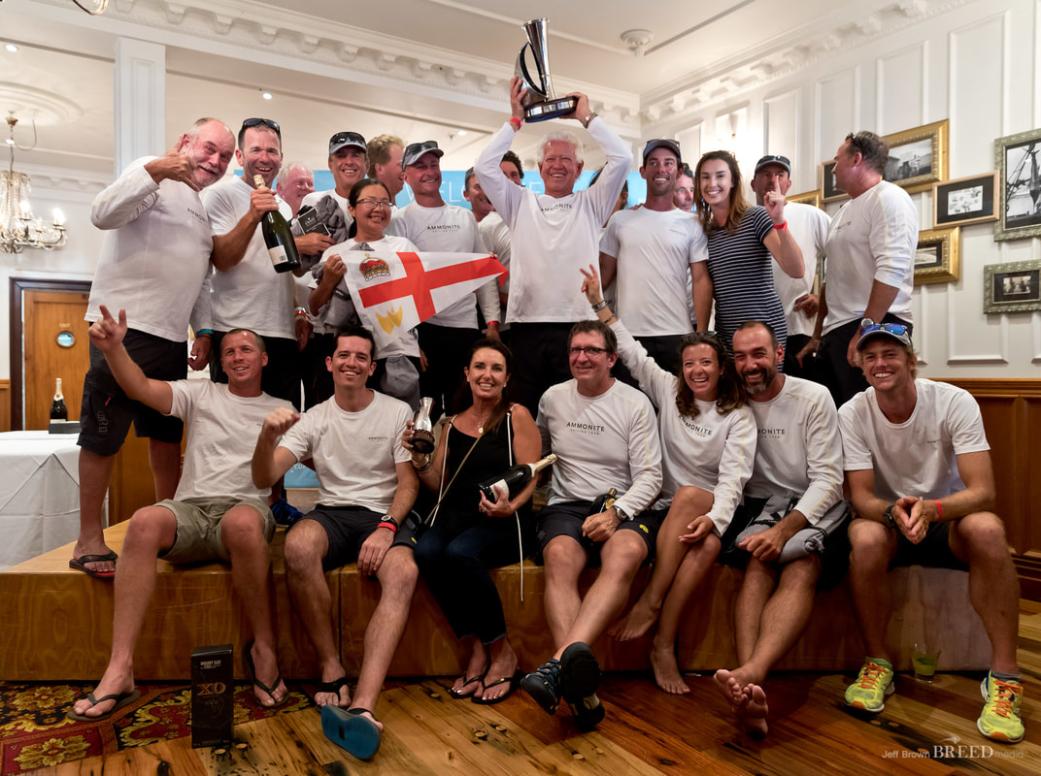 Australian Sailing Team members Mat Belcher, right of trophy-holder Marcus Blackmore, and Will Ryan, bottom right, celebrate the win - Caroline Blackmore holding the champagne!
Photo by and courtesy Jeff Brown, Breed Media
With four line honours in six races, the Southern Wind Shipyard built SW82 Ammonite captured the victory at the New Zealand Millennium Cup on Australia Day, January 26th.
The New Zealand Millennium Cup features three days of racing in one of the most picturesque cruising destinations in the world. With courses that thread through more than 140 sub-tropical islands. beautiful scenery and challenging navigation are assured at this popular and challenging regatta.
An innovative handicap system (ISYR) ensured for spectacular racing in the Bay of Islands, with competitors finishing within minutes of each other.
Even though it was her first time competing at the NZ Millennium Cup, there was no stopping Ammonite, who was representing the Royal Nomuka Yacht Club of Tonga. The SW82's tightly knit crew included Olympic sailors Mathew Belcher and Will Ryan in addition to her owner, Marcus Blackmore, a sailing force to be reckoned with in his own right.

Sailing strong in all of the six races that make up this three-day event, Ammonite was confirmed as the overall winner with four wins out of six races.
"There's no better place in the world to sail," said Ammonite's owner Marcus Blackmore at the prize giving ceremony. "Thanks go to all the sponsors and in particular Doyle Sails New Zealand's Mike Sanderson who helped us understand local conditions," he continued adding that Ammonite would enjoy defending the title next year if possible.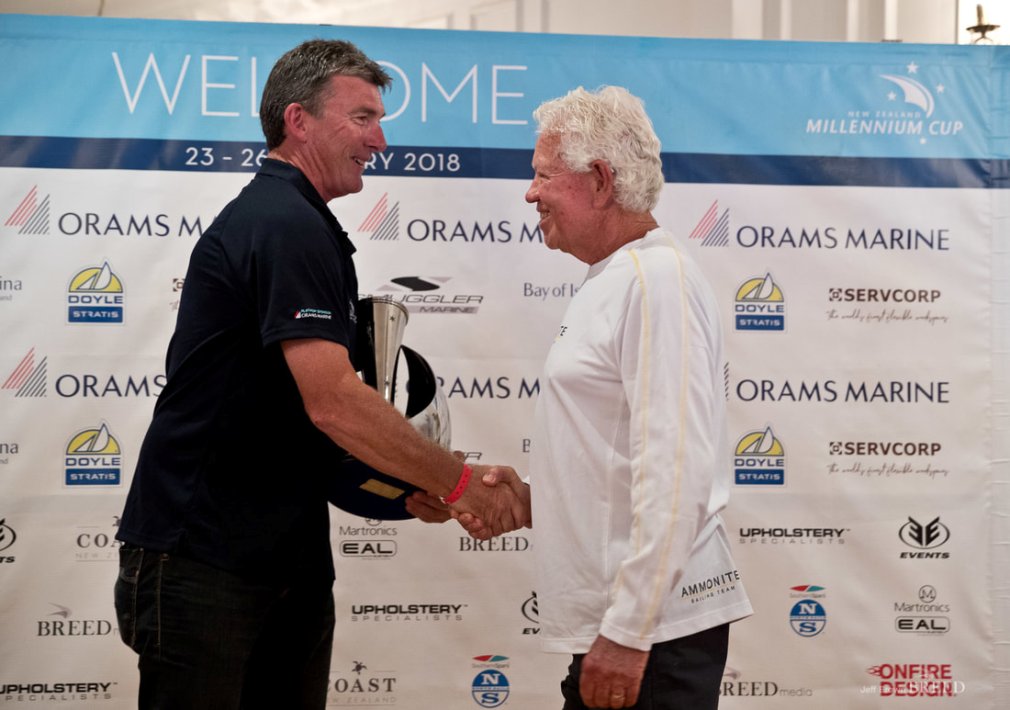 The Royal Nomuka Yacht Club of Tonga posted "AMAZING!... Ammonite sw82 with a world class crew representing the Royal Nomuka Yacht Club won the New Zealand Millennium Cup creating history for the Club and all the crew have now officially joined the RNYC and paid their membership fees 100% going into the Vaka Sailing trust!
Thanks so much owners and Life Members Marcus and Caroline Blackmore for giving us such an amazing time here in NZ. Will post a story later, but to the crew of Olympic Gold Medallists, multiple America's Cup sailors, multiple Volvo sailors, skippers and winners including the worlds BEST navigator and some crazy inspiring sailors and beautiful Italians...WOW!! THANKS...your all an inspiration!!!"
The Royal Nomuka Yacht Club of Tonga Charter…To reintroduce the lost art and traditions of Vaka sailing to the youth (15-25) of Tonga and then the Greater Pacific thought the establishment of a "Vaka" and "Vaka Voyaging Canoe" One Design class and implementation of Vaka training programs and sailing events. To support the formation of a Tonga Sailing Federation and to introduce the INTERNATIONAL OPTIMIST dingy to Tongans 9-15 years of age using a mobile training package of five optimist yachts to share with Tongan sailors throughout the island groups.
More HERE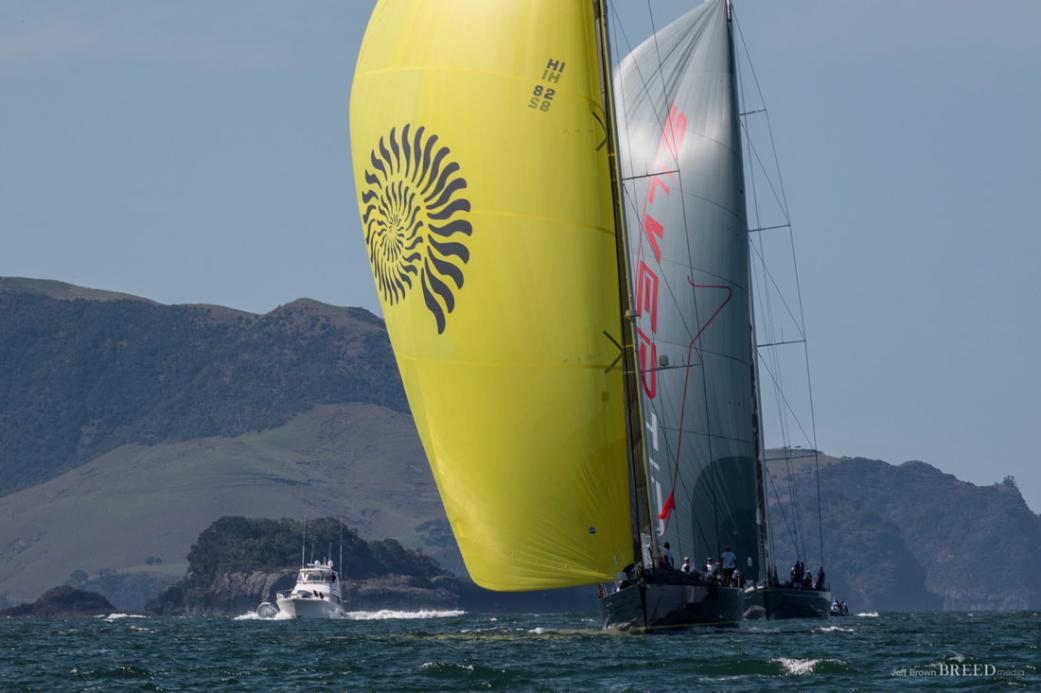 Ammonite
at the NZ Millennium Cup.
Photo by and courtesy Jeff Brown, Breed Media
Summer In Pittwater: 2018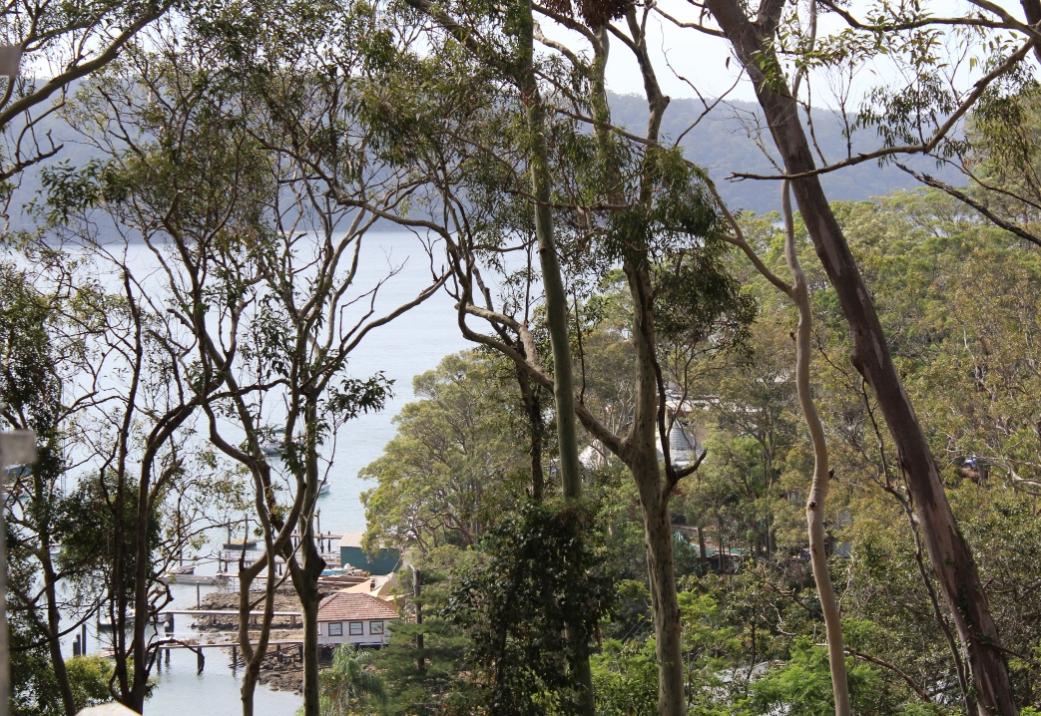 A Riverview View of the Pittwater Estuary - January 2018
Past Features Archives (pre 2014)
Pittwater Online News was selected for preservation by the State Library of New South Wales and National Library of Australia. This title is scheduled to be re-archived regularly.
Archived Issues (2014 on) may be accessed here: pandora.nla.gov.au/tep/143700