inbox and

environment

news: Issue 586
June 4 - 10 2023: Issue 586
Australia's Aged Care Sector: Mid-Year Report 2022-23
On 31 May 2023, the UTS Ageing Research Collaborative (UARC) released the third edition of its independent report Australia's Aged Care Sector Mid-Year Report (2022-23). This third edition of Australia's Aged Care Sector Report presents new evidence, analysis, and commentary.
Highlights include:
Warning signs of financial distress amongst approved providers
Adequacy of direct care funding in residential care depends on workforce availability.
Large staffing gaps to meet the minimum standards.
Losses grow for non-care services
Home care financial performance continues to decline.
Government spending on aged care far exceeds forecasts.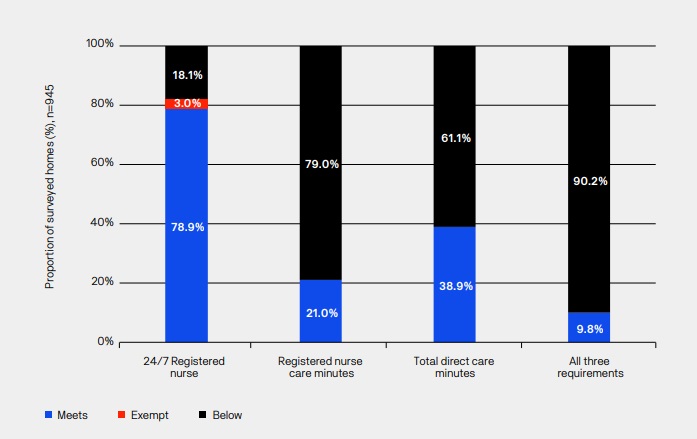 Fig: 5 Proportion of homes that meet the minimum staffing requirements – source: Australia's Aged Care Sector: Mid-Year Report 2022-23

The minimum standards will require providers to ensure that:
1. a registered nurse is on-site and on-duty 24 hours a day, seven days a week (from 1 July 2023);
2. residents receive, on average across the sector, at least 200 minutes of total care per day
(from 1 October 2023); and
3. a registered nurse provides at least 40 minutes of that care (from 1 October 2023).
Our analysis indicates that as of December 2022, only 9.8% of surveyed homes have sufficient direct care staffing to meet all three of the incoming requirements (the right column of Figure 5). Although this rate has improved since June 2022 (4.7%),18 it points to the acute workforce challenges providers face in recruiting and retaining direct care staff.
In terms of the first requirement (left column in Figure 5), most (78.9%) of surveyed homes have sufficient staffing to meet the 24/7 registered nurse on-duty requirement. As a further 3.0% of homes will likely qualify for the exemption, 18.1% of surveyed homes will need to increase their registered nurse staffing to meet the 24/7 on-duty requirement.
It is important to note that the 24/7 registered nurse results provide only an approximate measure of the adequacy of homes' staffing, as it relies on average staffing estimates across the period rather than singular instances when homes do not have a registered nurse on-site and on-duty. Furthermore, as this measure does not account for actual shifts worked, rostering constraints or any overlaps that may occur if two or more registered nurses are on-duty simultaneously, it is impossible to assess whether homes consistently provide around-the-clock care by a registered nurse.
Under the new legislation, homes will be required to report the total number of instances per month in which a registered nurse was not on-duty and on-site for every occasion of 30 minutes or more. Thus, these estimates likely overestimate the proportion of homes that meet the requirements. UARC anticipates that as homes' reporting of shift-level data matures, it will be possible to provide more precise modelling of homes' staffing throughout the day. The forthcoming full-year 2022-23 report will add further insight.
In terms of the two 'care minutes' requirements (the middle two columns in Figure 5), the December 2022 results show that most surveyed homes are still short of their service-level care minute targets for 2023. Only 38.9% have staffing sufficient to meet their service-level targets for total direct care minutes, and only 21.0% have sufficient staffing to meet their service-level targets for registered nurse minutes.
The report also includes detailed analyses of de-identified financial, workforce and other operational results, from datasets collected by StewartBrown from 1,138 aged care homes and 60,102 home care packages.
READ AND DOWNLOAD FROM UTS OPUS:
Find out more about the key findings by joining the webinar discussion on 21 June 2021, 3.30 - 4.30 pm (AEST) at https://zoom.uts.edu.au/j/87337076740
Study Highlights Vital Need For Specialised Aged Care For Older People Experiencing Homelessness
A new study has highlighted the growing need for dedicated services to support older people subject to homelessness.
Homelessness among older people is a growing issue in Australia, with many facing numerous challenges such as poor health, depression and limited access to healthcare services. In Australia, it is estimated that over 116,000 people are homeless of whom 16% are aged 55 and over.
Dr. Claire O'Connor, a member of the UNSW Ageing Futures Institute, has conducted a small-scale study that sheds light on the importance of specialised aged care for this vulnerable population.
The study which enrolled 35 residents in a purpose-built aged care home, found alarming statistics at the time of admission. Almost half the residents had scores suggestive of dementia, the majority were frail and at a high risk of falls, and many exhibited signs of depression.
However despite these initial findings, the research showed positive outcomes for residents enrolled in the aged care home. Over the first 12 months of living in the home, significant improvements were observed in the residents' personal well-being scores, with clinically significant enhancements in overall health-related quality of life. Certain aspects such as physical functional independence, frailty, and global cognition remained stable, while cognitive functional ability showed a decline over time. In addition, a smaller cohort of residents with complete data were also found to have an average saving to government of approximately $32,000 per resident over the 12-month period, compared to 12 months prior to admission.
"Whilst this was a small study, the positive outcomes contribute to the growing body of evidence highlighting the importance of specialised aged care for older adults subject to homelessness," said Dr. Claire O'Connor.
"These findings provide valuable insights that can inform policymakers and healthcare providers in addressing the unique needs of older adults subject to homelessness, promoting the development and expansion of dedicated services to support this vulnerable population."
Read the full Article:
O'Connor, C.M.C., Poulos, R.G., Sharma, A. et al.
An Australian aged care home for people subject to homelessness: health, wellbeing and cost–benefit
. BMC Geriatr 23, 253 (2023).
https://doi.org/10.1186/s12877-023-03920-3
Navigating Community-Based Aged Care Services From The Consumer Perspective
UNSW Aging Futures Institute members, including UNSW PhD student Ms Yuchen Xie and her supervisors, Myra Hamilton, Carmelle Peisah, Kaarin J Anstey, and Craig Sinclair, have conducted an international scoping review to investigate how older adults navigate complex aged care systems across different countries.
The shift to consumer-directed aged care means that older people need to play a more active role in navigating the system for adequate health and social services. However, navigating the system can be challenging and result in unmet needs and difficulty accessing available resources.
Institute members have carried out a recent scoping review that investigates how the aged care navigation concept is discussed in current literature and examines research on the experiences of older people navigating community-based aged care services with or without support from family carers.
The review paper published in The Gerontologist is part of Ms Xie's PhD project, "Navigating aged care services for older Australians and their families," funded by the UNSW Scientia PhD Scholarship. The project aims to understand the experiences and challenges of navigating aged care systems from an interdisciplinary perspective, bringing together researchers from Psychology, Geriatrics, Public Health, and Social Policy.
"Country-specific and culturally appropriate research are needed to address structural-level factors, such as complicated and fragmented aged care systems, that influence the navigation experience of older adults. This is particularly important for distinct groups such as people from Culturally and Linguistically Diverse (CALD) or Indigenous backgrounds, and those living with dementia or cognitive impairment," says Ms Xie.
"We hope our findings will inform the development of future interventions and policies that address the challenges faced by older adults and their families in accessing Community-Based Aged Care Services."
Read the research publication
here
Book Of The Month - June 2023: The riddle of the Raven : a sailing ship possessed by a ghost
By Jan De Groot
Jan De Groot describes his experiences aboard the Raven, a 140-foot gaff-rigged ketch he purchased in order to provide sailing adventures for underprivileged children in British Columbia, but which turned out to be haunted by the ghost of the ship's builder.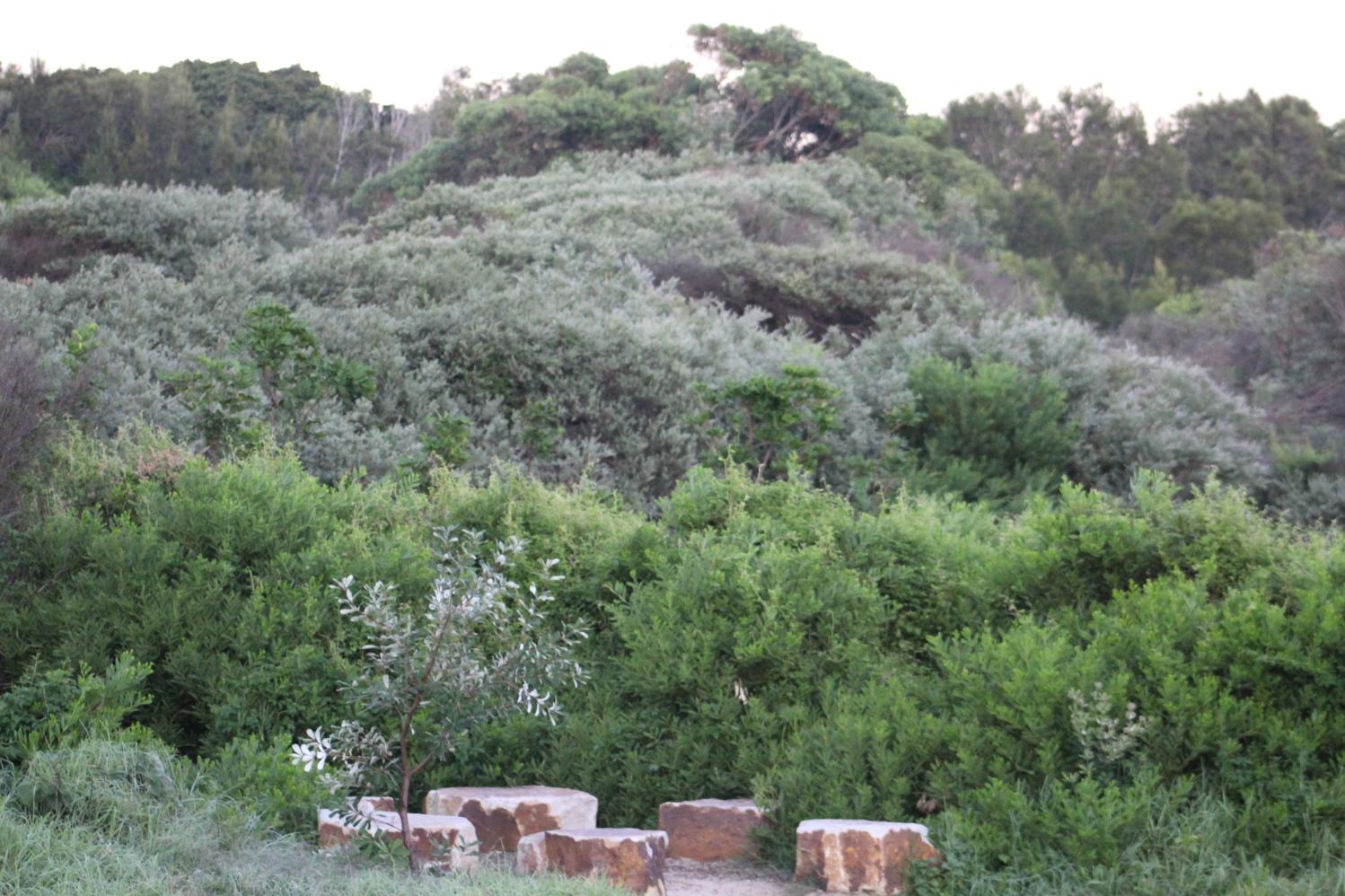 Mumma Moon Delivers - Part 1
Published by Surfing Visions (Tim Bonython) May 30 2023
In this edit we go to a place that not many surfers want to surf. Why, it's super powerful, if you wipeout your more than likely end up on the rocks plus its a long way from civilisation so if you get hurt you're long way to go to the hospital. This spot is your typical Aussie slab which means it breaks HARD on a shallow reef. If you can paddle it your normally a bodyboarder as breaks very quick.
But if you're Nathan Florence, Kipp Caddy or Moroccan legend Jerome Sahyoun then you're good enough to paddle it.
We were invited down to this location by a keen bunch of locals.They graciously offered me a jet-ski to shoot off to get that cinematic moment. Mind you, where you sit to get the shot is very precarious as on the big ones it tends to closeout so i was constantly looking over my shoulder to see if we were safe. Sometimes I felt like i was out at Nazare.(oh yeah, you fall off, you & your camera are on the rocks)
Also invited was my good friend & slab hunter Dylan Longbottom with his daughter Summa.
What went down over the three days at Mumma Luna's definitely wasn't your typical surf trip.
This one went down as one of the best Swell Chases ever.
Enjoy..
Winter Sports On Victoria's Mount Buffalo In 1947
From the Film Australia Collection. Made by The National Film Board 1947. Directed by Jack S Allan. At Mount Buffalo Chalet in the Victorian Alps tourists enjoy skiing, ice skating, snowball fights and snowmen
School Leavers Support
Explore the School Leavers Information Kit (SLIK) as your guide to education, training and work options in 2022;
As you prepare to finish your final year of school, the next phase of your journey will be full of interesting and exciting opportunities. You will discover new passions and develop new skills and knowledge.
We know that this transition can sometimes be challenging and the COVID-19 pandemic has presented some uncertainty. With changes to the education and workforce landscape, you might be wondering if your planned decisions are still a good option or what new alternatives are available and how to pursue them.
There are lots of options for education, training and work in 2022 to help you further your career. This information kit has been designed to help you understand what those options might be and assist you to choose the right one for you. Including:
Download or explore the SLIK here to help guide Your Career.
School Leavers Information Kit (PDF 5.2MB).
School Leavers Information Kit (DOCX 0.9MB).
The SLIK has also been translated into additional languages.
Download our information booklets if you are rural, regional and remote, Aboriginal or Torres Strait Islander, or living with disability.
Support for Regional, Rural and Remote School Leavers (PDF 2MB).
Support for Regional, Rural and Remote School Leavers (DOCX 0.9MB).
Support for Aboriginal and/or Torres Strait Islander School Leavers (PDF 2MB).
Support for Aboriginal and/or Torres Strait Islander School Leavers (DOCX 1.1MB).
Support for School Leavers with Disability (PDF 2MB).
Support for School Leavers with Disability (DOCX 0.9MB).
Download the Parents and Guardian's Guide for School Leavers, which summarises the resources and information available to help you explore all the education, training, and work options available to your young person.
School Leavers Information Service
Are you aged between 15 and 24 and looking for career guidance?
Call 1800 CAREER (1800 227 337).
SMS 'SLIS2022' to 0429 009 435.
Our information officers will help you:
navigate the School Leavers Information Kit (SLIK),
access and use the Your Career website and tools; and
find relevant support services if needed.
You may also be referred to a qualified career practitioner for a 45-minute personalised career guidance session. Our career practitioners will provide information, advice and assistance relating to a wide range of matters, such as career planning and management, training and studying, and looking for work.
You can call to book your session on 1800 CAREER (1800 227 337) Monday to Friday, from 9am to 7pm (AEST). Sessions with a career practitioner can be booked from Monday to Friday, 9am to 7pm.
This is a free service, however minimal call/text costs may apply.
Call 1800 CAREER (1800 227 337) or SMS SLIS2022 to 0429 009 435 to start a conversation about how the tools in Your Career can help you or to book a free session with a career practitioner.
Word Of The Week: Flibbertigibbet
Word of the Week returns in 2023 simply to throw some disruption in amongst the 'yeah-nah' mix.
noun
1. a silly flighty person. 2. a gossip/er. 3. a flighty or whimsical person, usually a young woman. In modern use, it is used as a slang term, especially in Yorkshire, for a gossipy or overly talkative person.

Flibbertigibbet is one of many incarnations of the Middle English word flepergebet, meaning "gossip" or "chatterer" (others include flybbergybe, flibber de' Jibb, and flipperty-gibbet).
It is a word of onomatopoeic origin, created from sounds that were intended to represent meaningless chatter. William Shakespeare apparently saw a devilish aspect to a gossipy chatterer; he used flibbertigibbet in King Lear as the name of a devil. This use never caught on, but the devilish connotation of the word reappeared over 200 years later when Sir Walter Scott used Flibbertigibbet as the nickname of an impish urchin in the novel Kenilworth. The impish meaning derived from Scott's character was short-lived and was laid to rest by the 19th-century's end, leaving us with only the "silly flighty person" meaning.

The word has been used by extension as a synonym for Puck.
Puck is also known as Robin Goodfellow, and was/is a domestic and nature sprite, or fairy.
The etymology of puck is uncertain. The modern English word is attested already in Old English as puca (with a diminutive form pucel). Similar words are attested later in Old Norse (púki, with related forms including Old Swedish puke, Icelandic púki, and Frisian puk) but also in the Celtic languages (Welsh pwca, Cornish bucca and Irish púca). Most commentators think that the word was borrowed from one of these neighbouring north-west European languages into the others, but it is not certain in what direction the borrowing went, and all vectors have been proposed by scholars. The Oxford English Dictionary favoured a Scandinavian origin, while a scholarly study by Erin Sebo of Flinders University argues for an Irish origin, on the basis that the word is widely distributed in Irish place-names, whereas puck-place-names in English are rare and late in the areas showing Old Norse influence, and seem rather to radiate outwards from the south-west of England, which she argues had Irish influence during the early medieval period.
The character Puck, also referred to as Robin Goodfellow, appears as a vassal of the Fairy King Oberon in William Shakespeare's 1595/96 play A Midsummer Night's Dream, and is responsible for the mischief that occurs.
The character also appears in Grim the Collier of Croydon (1660, but perhaps based on an earlier play). It is unknown how Shakespeare's Puck appeared on the stage; but the figure in Grim was costumed "in a suit of leather close to his body; his face and hands coloured russet-coloured, with a flail."
The nuns describe free-spirited Sister Maria as, "A flibbertigibbet! A will-o'-the wisp! A clown!" in the show tune "Maria" from the 1959 Broadway musical The Sound of Music by Rodgers and Hammerstein, and in the subsequent 1965 movie.
A new virtual museum reveals 600 million years of Australian fossils in unprecedented 3D detail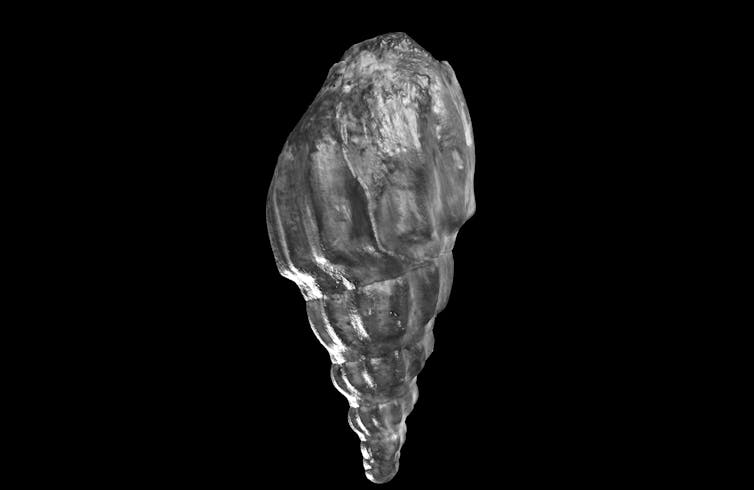 Alice Clement, Flinders University; Aaron Camens, Flinders University, and Jacob van Zoelen, Flinders University
Palaeontology is the study of evolution and prehistoric life, usually preserved as fossils in rocks. It combines aspects of geology with biology and many other scientific disciplines.
But a lot of palaeontology really is about rocks. For 200 years, hammers and chisels have been some of its most commonly used tools.
However, advances in modern scanning technology are revolutionising the way we do palaeontology. Precise scans of the internal and external features of fossils let us see them in new ways.
And these digitised scans can readily be made available to the public online. At the new Virtual Australian Museum of Palaeontology, we offer free access to 600 million years of digital Australian fossils, from enigmatic early lifeforms to gigantic extinct marsupials.
How Do Palaeontologists Learn About The Past?
There are many different types of fossils. For example, a dinosaur leg bone can become a fossil, but so can a leaf from a tree, the footprint of an extinct kangaroo, poo from a shark, or even geochemical traces preserved in ancient soils.
The field of palaeontology was formally solidified into scientific enquiry by people such as Georges Cuvier (1769-1832). Cuvier was a French naturalist and zoologist sometimes referred to as the "founding father of palaeontology". Others such as the Scottish geologist Charles Lyell (1797-1875) gave us the geological framework through which fossils could be classified and compared.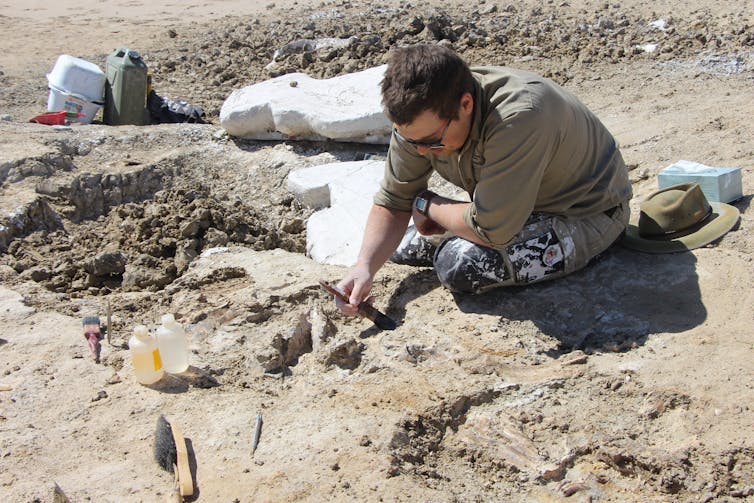 Palaeontology has come a long way in the past 200 years.
Records of long-extinct animals also survive in the rock art and oral traditions of First Nations peoples. These are increasingly being recognised as an important complement to traditional Eurocentric approaches.
How To Scan A Fossil
Different kinds of scanning technology are playing an increasing role in palaeontology. Computed tomography, or CT scanning, uses x-rays to create three-dimensional models of the internal and external features of dense objects.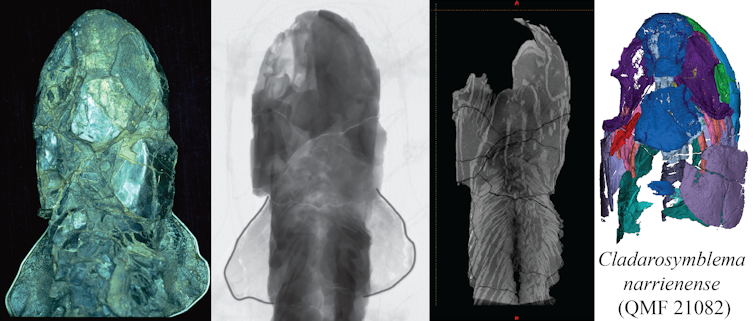 Other imaging methods include photogrammetry, or surface scanning using lasers or projected patterns of light. These methods capture the external three-dimensional shape of an object or site, sometimes with colour and textural detail. They also have the advantage of being more portable and can often be taken directly to the fossil.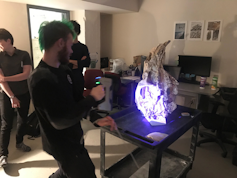 The most powerful scanning methods are the synchrotron and neutron imaging. A synchrotron works on the same principles as CT scanning, using radiation to look inside an object, but uses much stronger radiation. Neutron imaging uses neutrons instead of x-rays or other radiation, and it can be useful for particularly dense or large objects.
These advances in scanning technology are opening up whole new avenues for exploring, sharing and analysing Australia's unique fossils. Now what to do with all our digital palaeontology data?
That's where the Virtual Australian Museum of Palaeontology comes in.
About The Museum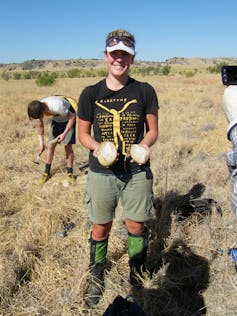 We are a group of researchers at Flinders University, working with the South Australian Museum, the Western Australian Museum, and the Museum and Art Gallery of the Northern Territory. Between us, we have spent many hours scanning, processing and uploading hundreds of three-dimensional virtual models.
Australia is geologically old with a rich fossil heritage. We are fortunate to have captured high-quality examples spanning nearly 600 million years of evolution on our continent.
We have scans of some of the earliest complex life from Ediacaran and Cambrian sites from over 500 million years ago. We have exquisite examples from the best ancient fish deposit in the world, and many amazing extinct megafauna not known from anywhere else.
Examples include the marsupial lion Thylacoleo, the giant wombat-like Diprotodon, and huge short-faced kangaroos such as Sthenurus.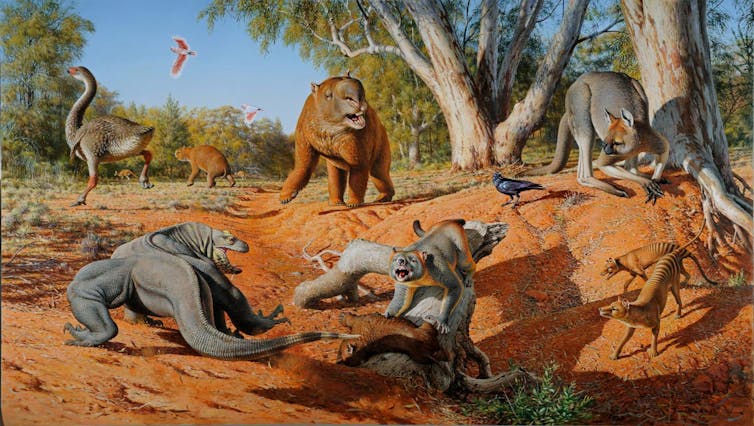 In the pilot phase of this project we have digitised more than 500 fossils across more than 30 genera. Some highlights include:
one of the world's most complete marsupial lion skeletons (almost every bone from the skull to the toe bones)
one of the only known bones of a pterosaur (flying reptile) from South Australia
scans of one of the oldest known sharks in the world
fossil mammal footprints that are now known only from our digital data, as the original trackways have been destroyed.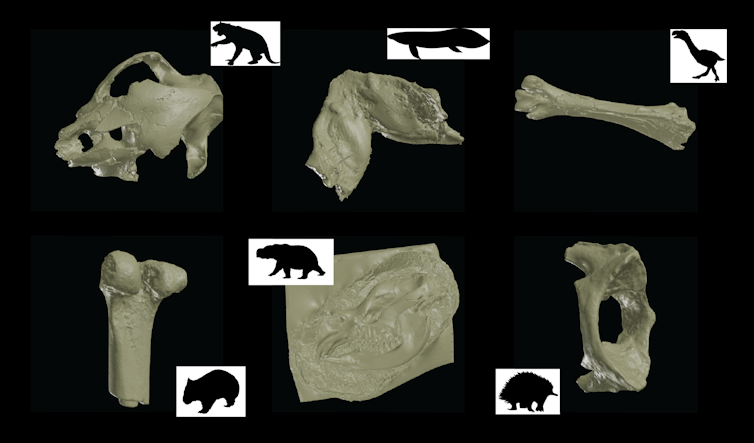 You can explore the VAMP website yourself. All you need to dig into a world of 3D fossil scans is a computer or a smartphone.

Alice Clement, Research Associate in the College of Science and Engineering, Flinders University; Aaron Camens, Lecturer in Palaeontology, Flinders University, and Jacob van Zoelen, PhD Candidate, Flinders University
This article is republished from The Conversation under a Creative Commons license. Read the original article.
Picnic In The Park At Avalon Beach A Great Success
Picnic in the Park, Dunbar Park on Saturday morning, June 3rd 2023, hosted by Northern Beaches Council, was a great success - they sold 1,500 tickets.
The Show seen here was The Busy Izzy and Friends show. Peppa Pigs 'Taking Turns' live show was on next!
Photos: Cr. Miranda Korzy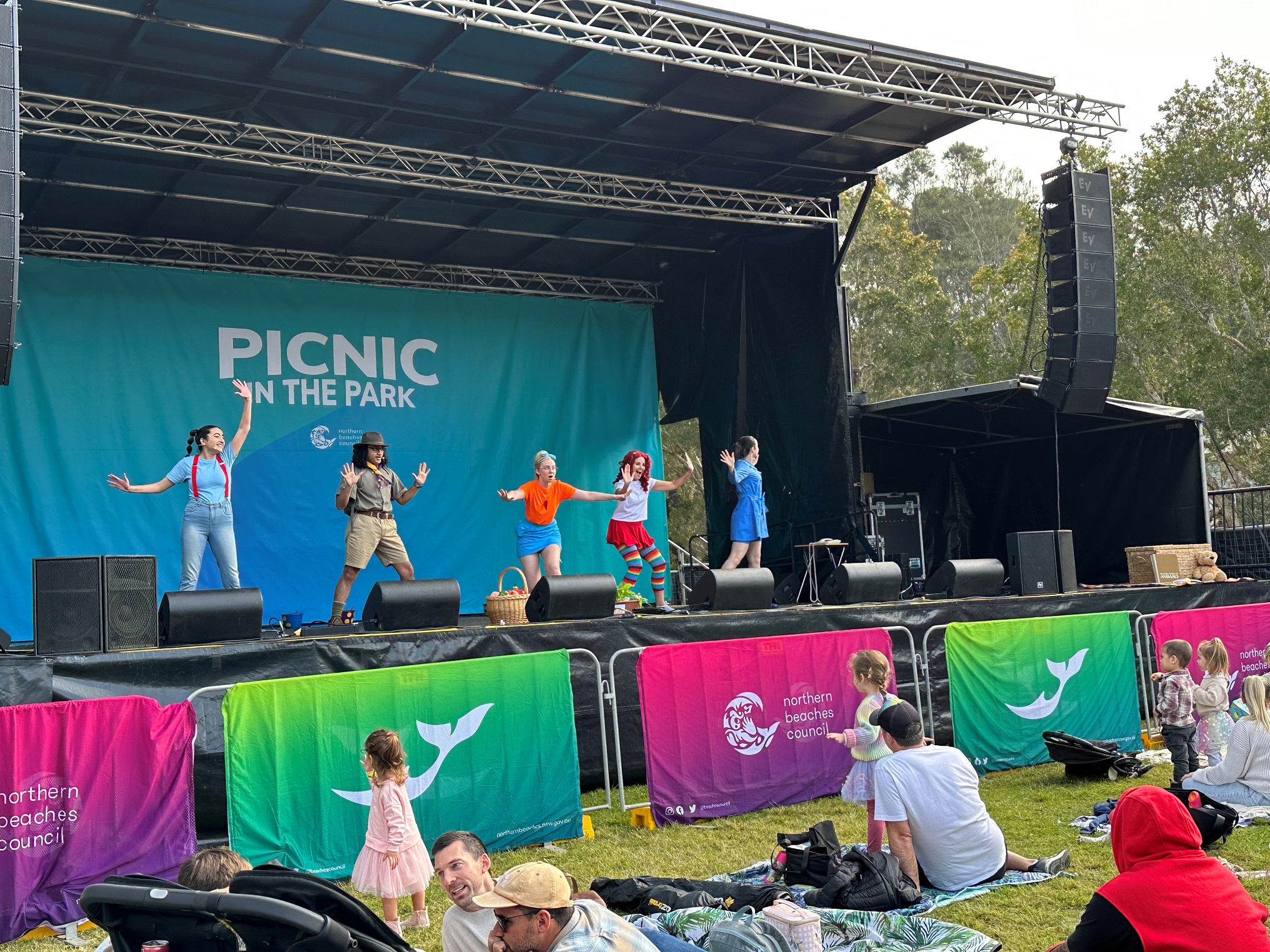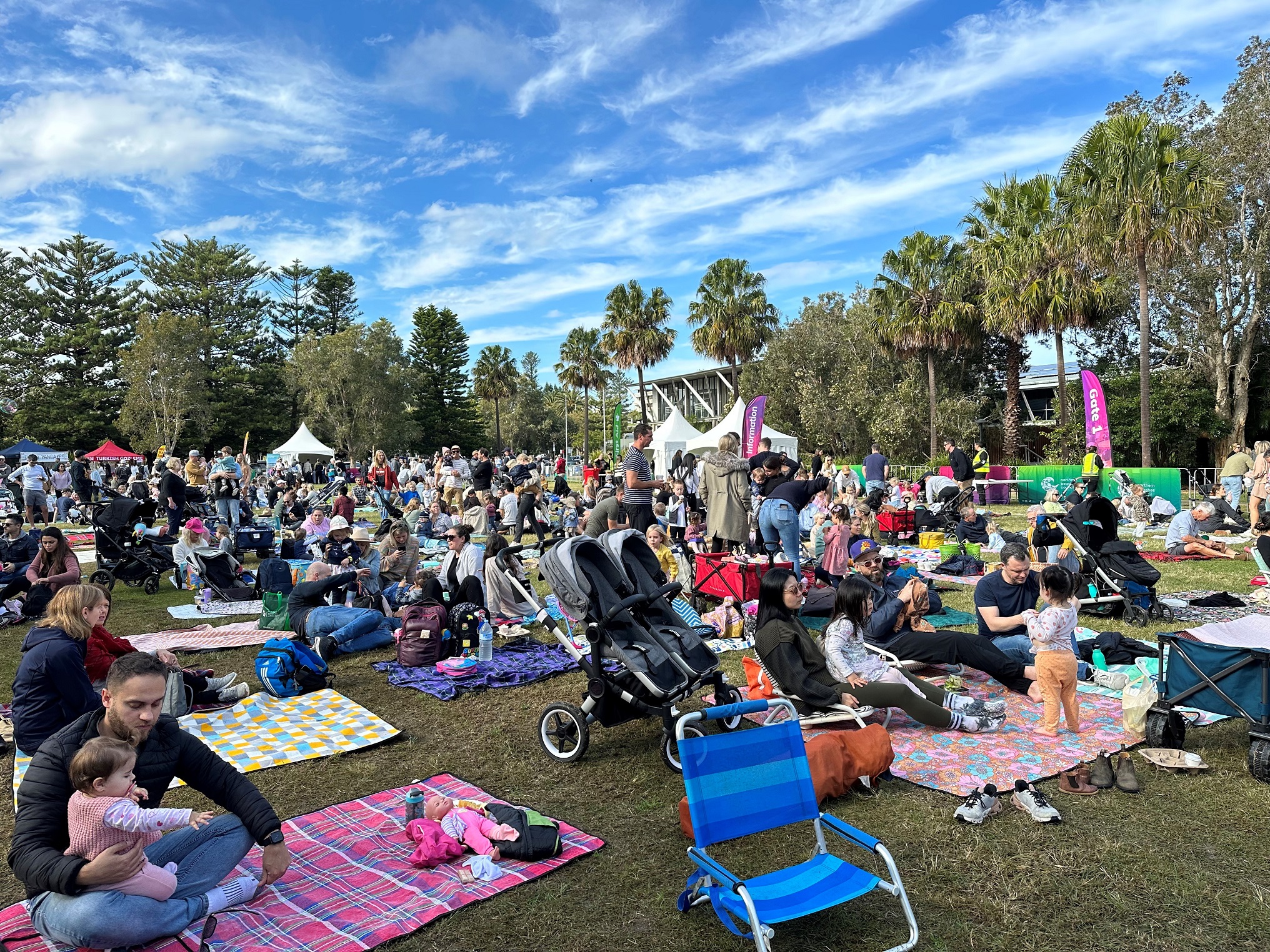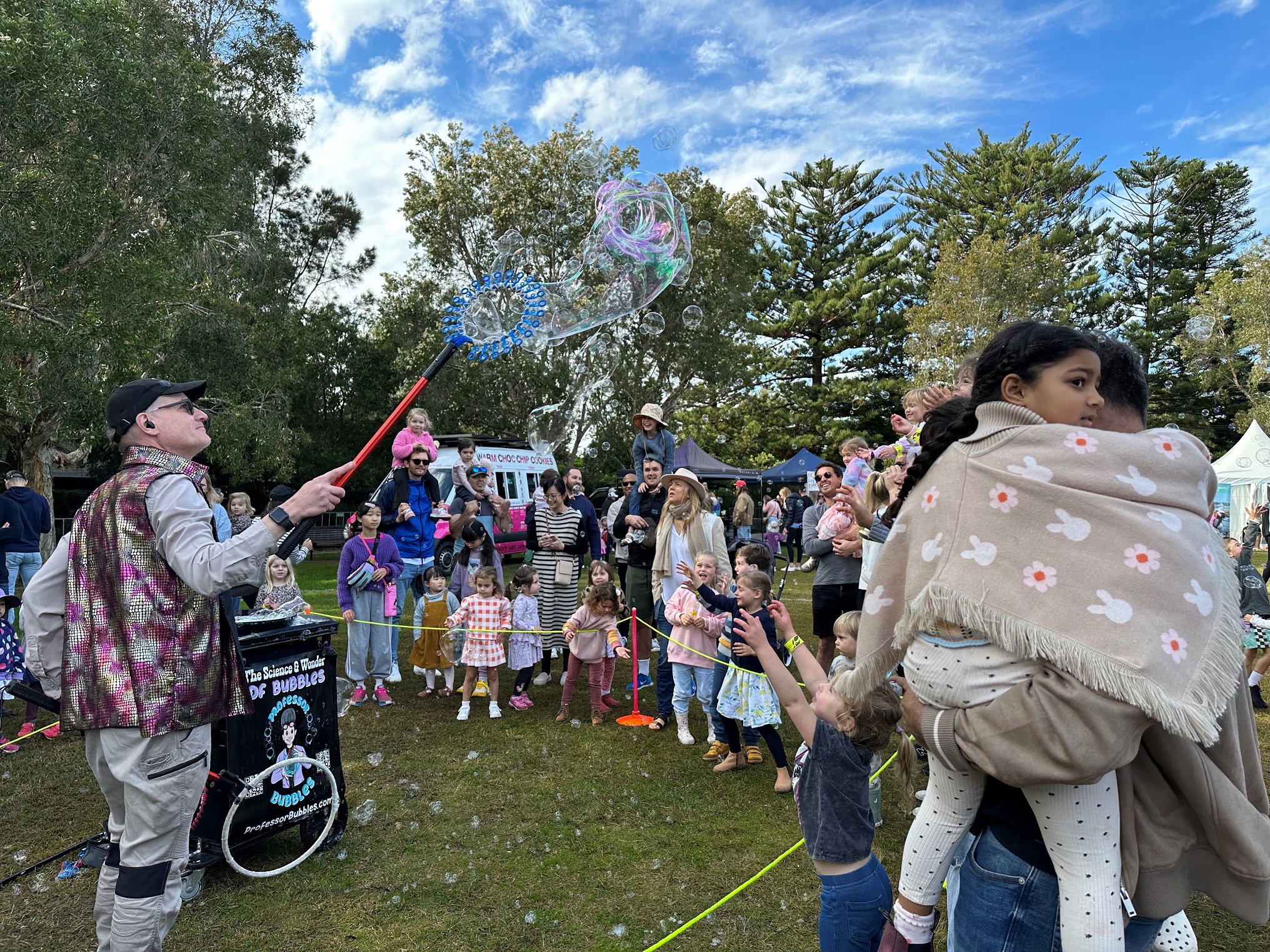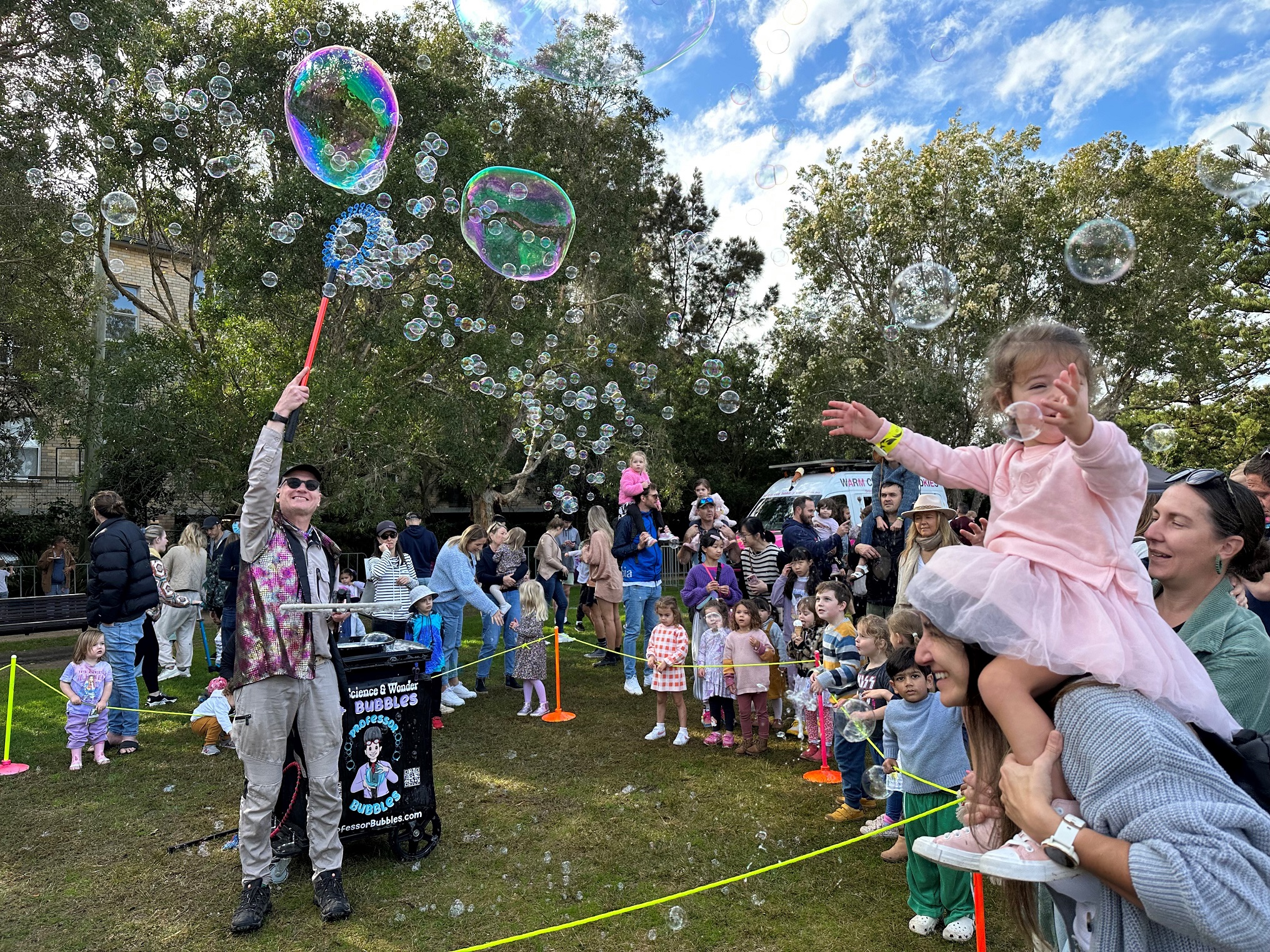 The STAEDTLER Secondary School Artists Of The Year Competition Is Back!
Open to all year 7 to 12 students, it's a chance for all up and coming artists to share their work for the opportunity to win 1 of 11 prizes. Entries open on 16th May and close 20th June.
With the help of our panel of 3 talented judges, we are searching for the STAEDTLER Senior (years 10-12) and Junior (years 7-9) Artist of the Year 2023.
Both first place winners will receive a $1,000 VISA gift card!
For more information on prizes, please click here.
How to enter
Create
Using your favourite STAEDTLER products, show us your creativity and produce a masterpiece you'd like to submit.
You can get your inspiration from anywhere; a favourite place, a person, animal or school art project – we can't wait to see your work of art!
Enter
Upload a photo of your artwork here and follow the prompts. If you are a Teacher, you can enter for your students and upload multiple entries at once. You will need to include artwork title, your name, school and year group.
Please ensure we can see the surface the artwork has been produced on eg. canvas or paper.
Note: digitally created or digitally enhanced artwork will not be accepted.
Win
Entries close on Tuesday 20th June and the judging and voting will then take pace.
You can vote for the People's Choice Award from 21st -28th June – just come back to this page.
Winners will be announced 7th July.
Enter here: https://au.competitions.staedtler.com/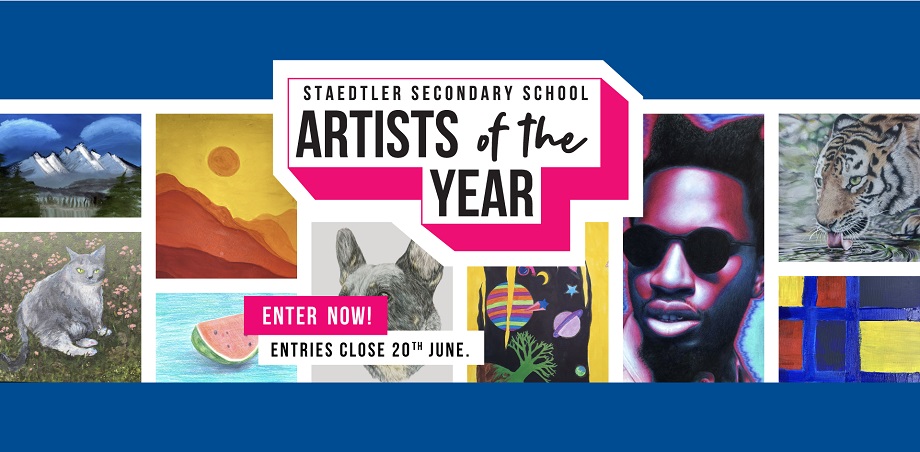 Dorothea Mackellar Poetry Awards 2023: Optional Theme This Year 'The Winding Road'
HOW TO ENTER: https://dorothea.com.au/how-to-enter/
PLEASE SEE HERE FOR A DETAILED PDF ON ENTRY INSTRUCTIONS FOR TEACHERS AND PARENTS.
ONLINE SUBMISSION
Primary school and secondary school entries can be submitted anytime during the competition period.
1. Teacher/parent register account online *If you have already created an account, skip to step 3 and log in*
2. Check email for link to verify account and create password
3. Log in to your account
4. Purchase tier of entries *Please note we're only able to accept credit card payments at this time*
5. Enter student details and submit poem(s) (cut and paste or type in poem content direct to the webpage)
6. Repeat step 5 for every student/individual poem.
*PLEASE NOTE: If you're registering as an individual student, put your HOME address in your personal details and not your SCHOOL'S address! The address you list is where your participation certificate will be posted!*
Please read our Conditions of Entry here before registering for the competition.
USEFUL TIPS
Have a read of the judges' reports from the previous year. They contain some very helpful advice for teachers and parents alike!
It is recommended for schools to appoint a coordinator for the competition.
Only a teacher/parent can complete the registration form on behalf of the student/child.
Log-in details: username is the email address and a password of your choice.
Log-in details can be given to other teachers/students for poem submission in class/at home.
Log-in as many times as necessary during the competition period.
Teachers can view progress by monitoring the number and content of entries.
Individual entries are accepted if the school is not participating or a child is home schooled. Parent needs to complete the registration form with their contact details. Please indicate 'individual entry' under school name and home postal address under school address.
Invoice for the entry fee will be sent to the registered email address within 2 weeks.
'Participation certificate only' option available for schools where pre-selection of entries has been carried out. Poems under this option will not be sent to judges, students will still receive participation certificate for their efforts.
Please read the Conditions of Entry before entering. Entries accepted: March 1 to June 30, results announced during early September.
NEED SOME INSPIRATION?
Check out our learning resources or browse the previous years' themes and winning entries.
For more information contact our Project Officer on 02 6742 1200 or email dorothea.mackellar@outlook.com.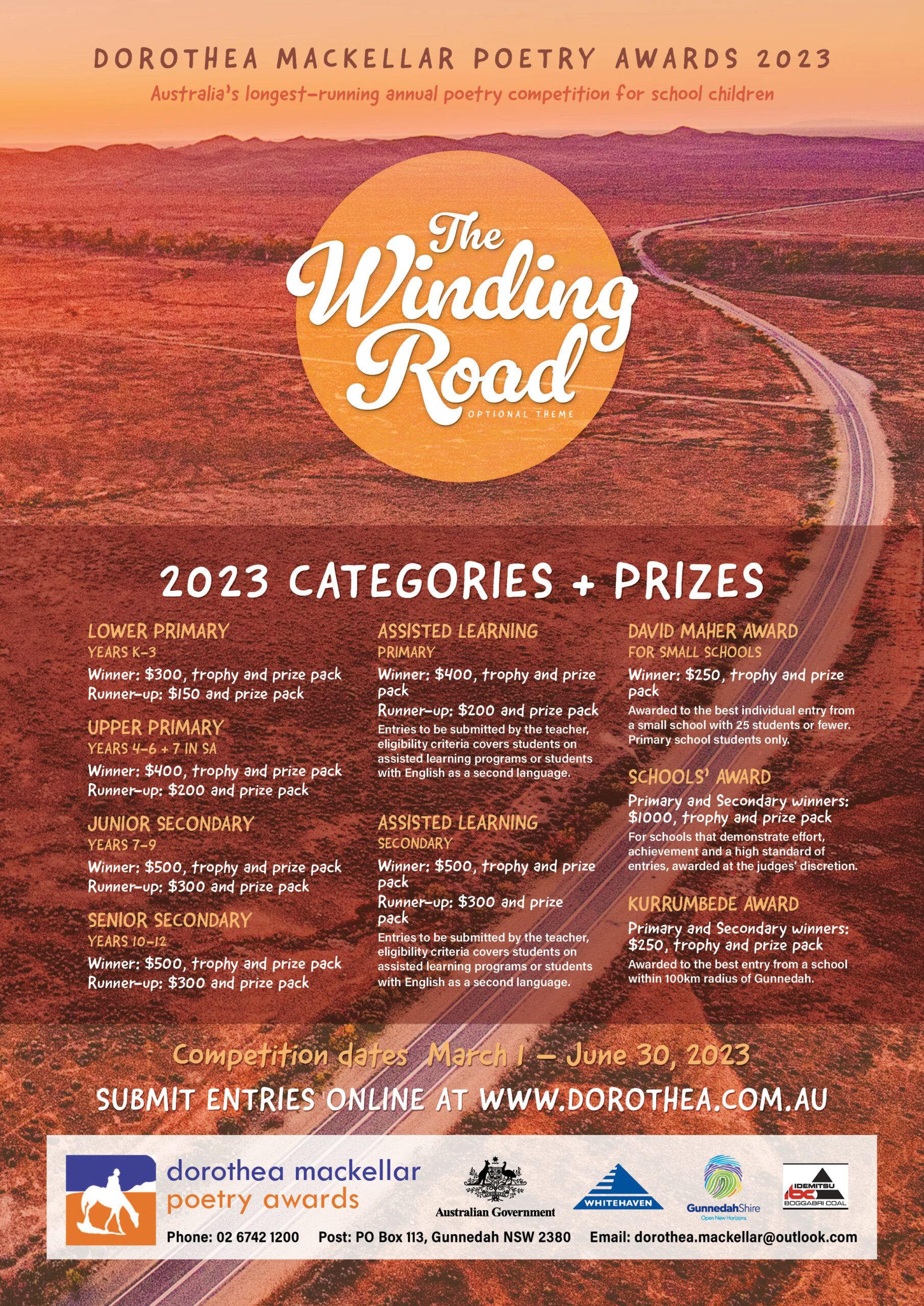 Pinpointing The Cause Of A Mysterious Heart Disease Affecting Women Under 50
Scientists from UNSW Sydney and the Victor Chang Cardiac Research Institute are working to shed light on the number one cause of heart attacks for women under the age of 50.
Spontaneous coronary artery dissection (SCAD) is a serious condition, mainly occurring in women, when a tear forms in one of the blood vessels of the heart. This can slow or block blood flow to the heart, leading to a heart attack.
Many people who develop SCAD are otherwise fit and healthy. Unlike traditional heart attacks, SCAD is not associated with a plaque build-up and a blockage of the arteries and until recently very little was known about this disease.
Now, a global collaboration including Conjoint Associate Professor Eleni Giannoulatou, Professor Robert Graham and Professor Jason Kovacic is working to pinpoint the cause of the disease and accelerate preventative treatments. These researchers lead cardiovascular research at the Victor Chang Cardiac Research Institute and UNSW Medicine & Health.
Identifying disease genes
The researchers are part of an international team that has just published research in Nature Genetics showing there are at least 16 genes associated with SCAD, with one gene called PHACTR1 thought to be a key driver.
By examining data from nearly 2000 patients, they discovered the genes involved in causing SCAD are mainly implicated in forming the matrix or scaffolding around the cells forming coronary arteries, as well as a gene involved in blood clotting. A deficiency in this clotting factor is thought to increase the likelihood of a spontaneous bleed into the artery wall, which reduces blood flow as it expands and leads to a SCAD heart attack.
"We have performed the largest study to date aimed at understanding the genetic basis of SCAD, discovering multiple genetic regions that confer susceptibility to SCAD," said A/Prof. Eleni Gionnulatou, who together with Prof. Graham and Prof. Kovacic led the Australian arm of the study.
"People who develop SCAD have subtle genetic changes that affect their blood vessels, putting them at a greater risk of a catastrophic tear or a spontaneous bleed involving the wall of the heart arteries. We now have a much clearer picture of the genetic risk of SCAD and how it is related to other cardiovascular diseases. Understanding these mechanisms should lead to new approaches to its management and treatment."
Prof. Kovacic's team is leading research into a gene called PHACTR1 which has been identified as having one of the strongest genetic associations with SCAD.
"SCAD is still a relatively little-known disease, but it has a huge impact and is behind a quarter of all heart attacks in women under the age of 50. We urgently need to learn more about this disease and discover what is causing it," Prof. Kovacic said.
"This disease can not only be life-threatening but in some patients, it can reoccur and without warning."
Leveraging global patient data
In addition, the researchers are the first research team outside of the USA to join the iSCAD Registry – the International SCAD registry - a global collaboration of researchers and patients investigating the features and pathophysiology of SCAD.
The iSCAD Registry contains the medical history of 1271 SCAD patients – who until now were all from the United States. Australian patients will soon be able to contribute their data to shed more light on this disease.
Sydney mother Lana Huntley, 52, will be the first Australian patient to be added to the iSCAD Registry. Like most survivors, Lana had no warning signs and was otherwise fit and healthy when she suffered her SCAD heart attack in 2022.
Lana's sister Annette has also suffered two SCAD heart attacks – the first of which was in 2002. Until recently it was not thought to be a disease that had a strong genetic predisposition and Lana had no idea she could be at an increased risk of having a heart attack.
"My sister and I are so lucky that we survived our SCAD heart attacks and it's vitally important to us both that we find out the cause and get preventative treatments in place. We were both relatively fit and healthy and had no warning signs when we had our heart attacks," Lana said.
"Given we have both had heart attacks, you'd assume it was in our genetics. This is why it's so vital we get answers so our daughters and nieces can be protected from this awful disease that hits without warning. I hope by being part of this registry I can make a difference."
4,000-Year-Old Plague DNA Found: The Oldest Cases To Date In Britain
Researchers at the Francis Crick Institute have identified three 4,000-year-old British cases of Yersinia pestis, the bacteria causing the plague -- the oldest evidence of the plague in Britain to date, reported in a paper published today in Nature Communications.
Working with the University of Oxford, the Levens Local History Group and the Wells and Mendip Museum, the team identified two cases of Yersinia pestis in human remains found in a mass burial in Charterhouse Warren in Somerset and one in a ring cairn monument in Levens in Cumbria.
They took small skeletal samples from 34 individuals across the two sites, screening for the presence of Yersinia pestis in teeth. This technique is performed in a specialist clean room facility where they drill into the tooth and extract dental pulp, which can trap DNA remnants of infectious diseases.
They then analysed the DNA and identified three cases of Yersinia pestis in two children estimated to be aged between 10-12 years old when they died, and one woman aged between 35-45. Radiocarbon dating was used to show it's likely the three people lived at roughly the same time.
The plague has previously been identified in several individuals from Eurasia between 5,000 and 2,500 years before present (BP), a period spanning the Late Neolithic and Bronze Age (termed LNBA), but hadn't been seen before in Britain at this point in time. The wide geographic spread suggests that this strain of the plague may have been easily transmitted.
This strain of the plague -- the LNBA lineage -- was likely brought into Central and Western Europe around 4,800 BP by humans expanding into Eurasia, and now this research suggests that it extended to Britain.
Using genome sequencing, the researchers showed that this strain of the Yersinia pestis looks very similar to the strain identified in Eurasia at the same time.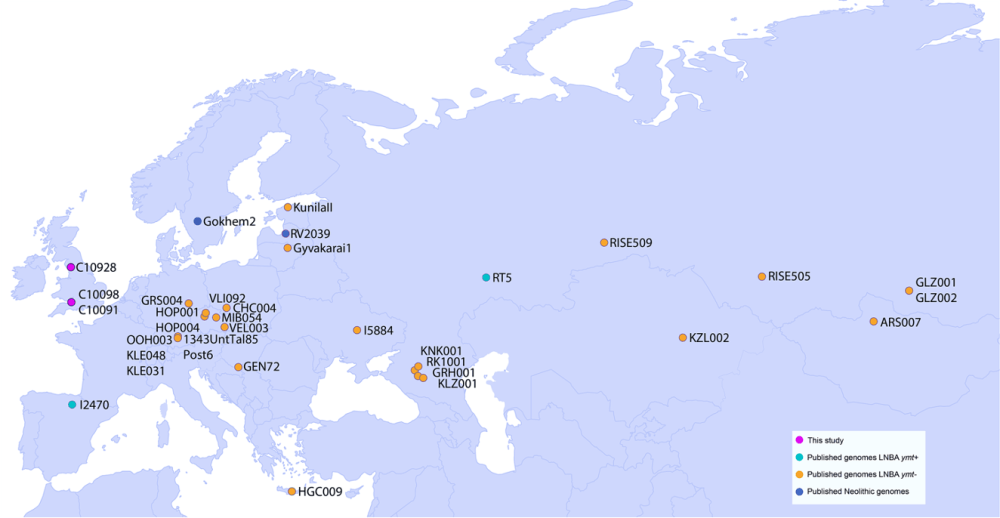 Map showing the distribution of LNBA Yersinia pestis strains. New genomes sequenced in this study are in purple. - Pooja Swali (2023), Nature Communications.

The individuals identified all lacked the yapC and ymt genes, which are seen in later strains of plague, the latter of which is known to play an important role in plague transmission via fleas. This information has previously suggested that this strain of the plague was not transmitted via fleas, unlike later plague strains such as the one that caused the Black Death.
Because pathogenic DNA -- DNA from bacteria, protozoa, or viruses which cause disease -- degrades very quickly in samples which might be incomplete or eroded, it's also possible that other individuals at these burial sites may have been infected with the same strain of plague.
The Charterhouse Warren site is rare as it doesn't match other funeral sites from the time period -- the individuals buried there appear to have died from trauma. The researchers speculate that the mass burial wasn't due to an outbreak of plague but individuals may have been infected at the time they died.
Pooja Swali, first author and PhD student at the Crick, said, "The ability to detect ancient pathogens from degraded samples, from thousands of years ago, is incredible. These genomes can inform us of the spread and evolutionary changes of pathogens in the past, and hopefully help us understand which genes may be important in the spread of infectious diseases. We see that this Yersinia pestis lineage, including genomes from this study, loses genes over time, a pattern that has emerged with later epidemics caused by the same pathogen."
Pontus Skoglund, group leader of the Ancient Genomics Laboratory at the Crick, said, "This research is a new piece of the puzzle in our understanding of the ancient genomic record of pathogens and humans, and how we co-evolved.
"We understand the huge impact of many historical plague outbreaks, such as the Black Death, on human societies and health, but ancient DNA can document infectious disease much further into the past. Future research will do more to understand how our genomes responded to such diseases in the past, and the evolutionary arms race with the pathogens themselves, which can help us to understand the impact of diseases in the present or in the future."
Pooja Swali, Rick Schulting, Alexandre Gilardet, Monica Kelly, Kyriaki Anastasiadou, Isabelle Glocke, Jesse McCabe, Mia Williams, Tony Audsley, Louise Loe, Teresa Fernández-Crespo, Javier Ordoño, David Walker, Tom Clare, Geoff Cook, Ian Hodkinson, Mark Simpson, Stephen Read, Tom Davy, Marina Silva, Mateja Hajdinjak, Anders Bergström, Thomas Booth, Pontus Skoglund.
Yersinia pestis genomes reveal plague in Britain 4000 years ago.
Nature Communications, 2023; 14 (1) DOI:
10.1038/s41467-023-38393-w
Astronomers Discover Last Three Planets Kepler Telescope Observed Before Going Dark
More than 5,000 planets are confirmed to exist beyond our solar system. Over half were discovered by NASA's Kepler Space Telescope, a resilient observatory that far outlasted its original planned mission. Over nine and a half years, the spacecraft trailed the Earth, scanning the skies for periodic dips in starlight that could signal the presence of a planet crossing in front of its star.
In its last days, the telescope kept recording the brightness of stars as it was running out of fuel. On Oct. 30, 2018, its fuel tanks depleted, the spacecraft was officially retired.
Now, astronomers at MIT and the University of Wisconsin at Madison, with the help of citizen scientists, have discovered what may be the last planets that Kepler gazed upon before going dark.
The team combed through the telescope's last week of high-quality data and spotted three stars, in the same part of the sky, that appeared to dim briefly. The scientists determined that two of the stars each host a planet, while the third hosts a planet "candidate" that has yet to be verified.
The two validated planets are K2-416 b, a planet that is about 2.6 times the size of the Earth and that orbits its star about every 13 days, and K2-417 b, a slightly larger planet that is just over three times Earth's size and that circles its star every 6.5 days. For their size and proximity to their stars, both planets are considered "hot mini-Neptunes ." They are located about 400 light years from Earth.
The planet candidate is EPIC 246251988 b -- the largest of the three worlds at almost four times the size of the Earth. This Neptune-sized candidate orbits its star in around 10 days, and is slightly farther away, 1,200 light years from Earth.
"We have found what are probably the last planets ever discovered by Kepler, in data taken while the spacecraft was literally running on fumes," says Andrew Vanderburg, assistant professor of physics in MIT's Kavli Institute for Astrophysics and Space Research. "The planets themselves are not particularly unusual, but their atypical discovery and historical importance makes them interesting."
The team has published their discovery today in the journal Monthly Notices of the Royal Astronomical Society. Vanderburg's co-authors are lead author Elyse Incha, at the University of Wisconsin at Madison, and amateur astronomers Tom Jacobs and Daryll LaCourse, along with scientists at NASA, the Center for Astrophysics of Harvard and the Smithsonian, and the University of North Carolina at Chapel Hill.
In 2009, NASA launched the Kepler telescope into space, where it followed the Earth's orbit and continuously monitored millions of stars in a patch of the northern sky. Over four years, the telescope recorded the brightness of over 150,000 stars, which astronomers used to discover thousands of possible planets beyond our solar system.
Kepler kept observing beyond its original three-and-a-half-year mission, until May 2013, when the second of four reaction wheels failed. The wheels served as the spacecraft's gyroscopes, helping to keep the telescope pointed at a particular point in the sky. Kepler's observations were put on pause while scientists searched for a fix.
One year later, Kepler restarted as "K2," a reworked mission that used the sun's wind to balance the unsteady spacecraftin a way that kept the telescope relatively stable for a few months at a time -- a period called a campaign. K2 went on for another four years, observing over half a million more stars before the spacecraft finally ran out of fuel during its 19th campaign. The data from this last campaign comprised only a week of high-quality observations and another 10 days of noisier measurements as the spacecraft rapidly lost fuel.
"We were curious to see whether we could get anything useful out of this short dataset," Vanderburg says. "We tried to see what last information we could squeeze out of it."
Vanderburg and Incha presented the challenge to the Visual Survey Group, a team of amateur and professional astronomers who hunt for exoplanets in satellite data. They search by eye through thousands of recorded light curves of each star, looking for characteristic dips in brightness that signal a "transit," or the possible crossing of a planet in front of its star.
The citizen scientists are especially suited to combing through short datasets such as K2's very last campaign.
"They can distinguish transits from other wacky things like a glitch in the instrument," Vanderburg says. "That's helpful especially when your data quality begins to suffer, like it did in K2's last bit of data."
The astronomers spent a few days efficiently looking through the light curves that Kepler recorded from about 33,000 stars. The team worked with only a week's worth of high-quality data from the telescope before it began to lose fuel and focus. Even in this short window of data, the team was able to spot a single transit in three different stars.
Incha and Vanderburg then looked at the telescope's very last, lower-quality observations, taken in its last 11 days of operation, to see if they could spot any additional transits in the same three stars -- evidence that a planet was periodically circling its star.
During this 11-day period, as the spacecraft was losing fuel, its thrusters fired more erratically, causing the telescope's view to drift. In their analysis, the team focused on the region of each star's light curves between thruster activity, to see if they could spot any additional transits in these less data-noisy moments.
This search revealed a second transit for K2-416 b and K2-417 b, validating that they each host a planet. The team also detected a similar dip in brightness for K2-417 b in data taken of the same star by NASA's Transiting Exoplanet Survey Satellite (TESS), a mission that is led and operated by MIT. Data from TESS helped to confirm the planet candidate around this star.
"Those two are pretty much, without a doubt, planets," Incha says. "We also followed up with ground-based observations to rule out all kinds of false positive scenarios for them, including background star interference, and close-in stellar binaries."
"These are the last chronologically observed planets by Kepler, but every bit of the telescope's data is incredibly useful," Incha says. "We want to make sure none of that data goes to waste, because there are still a lot of discoveries to be made."
This research was supported, in part, by MIT, NASA, and the University of Wisconsin Undergraduate Academic Awards.
Elyse Incha, Andrew Vanderburg, Tom Jacobs, Daryll LaCourse, Allyson Bieryla, Emily Pass, Steve B Howell, Perry Berlind, Michael Calkins, Gilbert Esquerdo, David W Latham, Andrew W Mann.
Kepler's last planet discoveries: two new planets and one single-transit candidate from K2 campaign 19.
Monthly Notices of the Royal Astronomical Society, 2023; 523 (1): 474 DOI:
10.1093/mnras/stad1049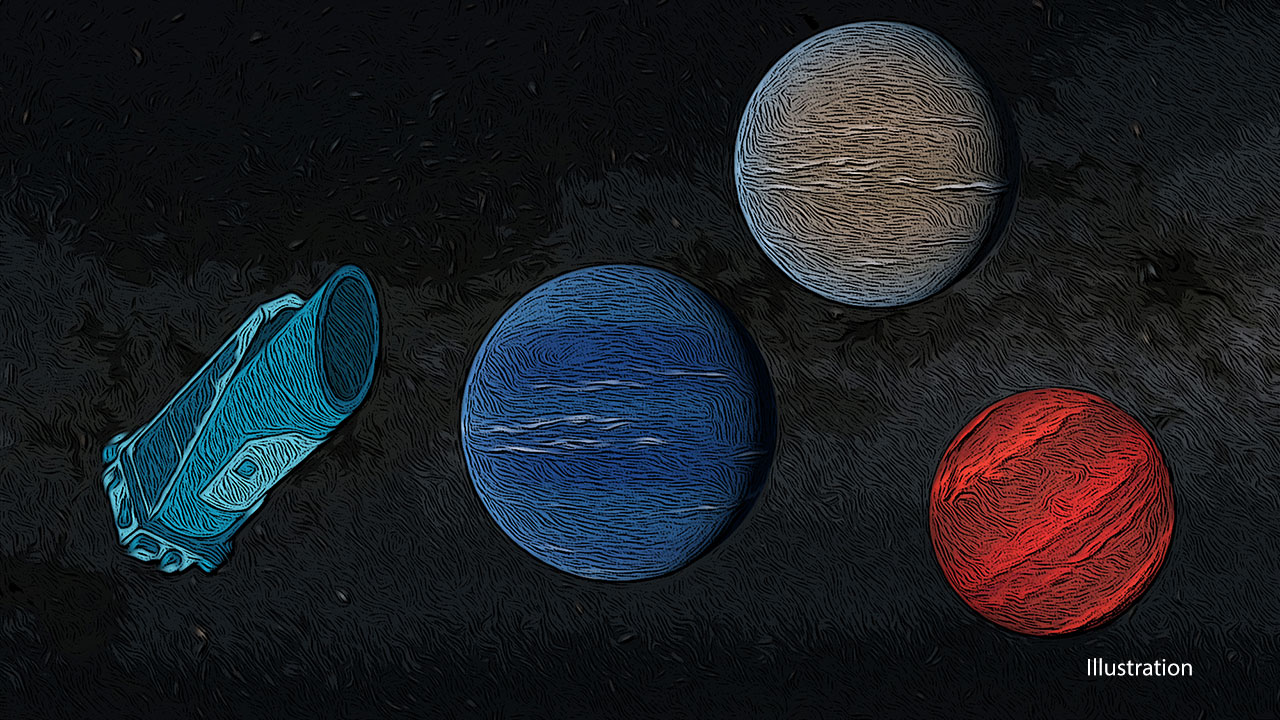 The final observing campaign of NASA's Kepler Space Telescope lasted only a month. As the spacecraft began to run low on attitude control fuel, it couldn't maintain its position long enough to collect useful observations. In the end, astronomers only had about seven days of high-quality data. A research team worked with a group of citizen scientists and professional astronomers and found three planets in the last bit of data. Credit: NASA/JPL-Caltech (K. Walbolt)

Plants Remove Cancer Causing Toxins From Air
A ground-breaking study has revealed that plants can efficiently remove toxic gasoline fumes, including cancer causing compounds such as benzene, from indoor air.

The study was led by University of Technology Sydney (UTS) bioremediation researcher Associate Professor Fraser Torpy, in partnership with leading Australian plantscaping solutions company Ambius.
The researchers found that the Ambius small green wall, containing a mix of indoor plants, was highly effective at removing harmful, cancer-causing pollutants, with 97 per cent of the most toxic compounds removed from the surrounding air in just eight hours.
Poor indoor air quality is responsible for 6.7 million premature deaths globally, according to the World Health Organisation. Most people spend 90% of their time indoors at home, school or the workplace, so adopting new strategies to improve air quality is critical.
Ambius General Manager Johan Hodgson said the research presented new evidence into the critical role played by indoor plants and green walls in cleaning the air we breathe quickly and sustainably.
"We know that indoor air quality is often significantly more polluted than outdoor air, which in turn impacts mental and physical health. But the great news is this study has shown that something as simple as having plants indoors can make a huge difference," Mr Hodgson said.
Previous studies on indoor plants have shown they can remove a broad range of indoor air contaminants, however this is the first study into the ability of plants to clean up gasoline vapors, which are one of the largest sources of toxic compounds in buildings worldwide.
Offices and residential apartment buildings often connect directly to parking garages, either by doors or elevator shafts, making it difficult to avoid harmful gasoline-related compounds seeping into work and residential areas. Many buildings are also exposed to gasoline fumes from nearby roads and highways.
Breathing gasoline fumes can lead to lung irritation, headaches and nausea, and has been linked to an increased risk of cancer, asthma and other chronic diseases from longer term exposure, contributing to decreased life expectancy.
Associate Professor Torpy said the study results, based on measurements from a sealed chamber, had far exceeded their expectations when it came to removing gasoline pollutants from the air.
"This is the first time plants have been tested for their ability to remove gasoline-related compounds, and the results are astounding.
"Not only can plants remove the majority of pollutants from the air in a matter of hours, they remove the most harmful gasoline-related pollutants from the air most efficiently, for example, known carcinogen benzene is digested at a faster rate than less harmful substances, like alcohols.
"We also found that the more concentrated the toxins in the air, the faster and more effective the plants became at removing the toxins, showing that plants adapt to the conditions they're growing in," Associate Professor Torpy said.
Mr Hodgson said the findings confirmed feedback they'd received after installing plants in hundreds of office buildings across the nation.
"At Ambius, we see over and over again the effects plants have in improving health, wellbeing, productivity and office attendance for the thousands of businesses we work with. This new research proves that plants should not just be seen as 'nice to have', but rather a crucial part of every workplace wellness plan.
"The bottom line is that the best, most cost effective and most sustainable way to combat harmful indoor air contaminants in your workplace and home is to introduce plants," Mr Hodgson said.
Fastest Industry Standard Optical Fibre
An optical fibre about the thickness of a human hair can now carry the equivalent of more than 10 million fast home internet connections running at full capacity.

A team of Japanese, Australian, Dutch, and Italian researchers has set a new speed record for an industry standard optical fibre, achieving 1.7 Petabits over a 67km length of fibre. The fibre, which contains 19 cores that can each carry a signal, meets the global standards for fibre size, ensuring that it can be adopted without massive infrastructure change. And it uses less digital processing, greatly reducing the power required per bit transmitted.
Macquarie University researchers supported the invention by developing a 3D laser-printed glass chip that allows low loss access to the 19 streams of light carried by the fibre and ensures compatibility with existing transmission equipment.
The fibre was developed by the Japanese National Institute of Information and Communications Technology (NICT, Japan) and Sumitomo Electric Industries, Ltd. (SEI, Japan) and the work was performed in collaboration with the Eindhoven University of Technology, University of L'Aquila, and Macquarie University.
All the world's internet traffic is carried through optical fibres which are each 125 microns thick (comparable to the thickness of a human hair). These industry standard fibres link continents, data centres, mobile phone towers, satellite ground stations and our homes and businesses.
Back in 1988, the first subsea fibre-optic cable across the Atlantic had a capacity of 20 Megabits or 40,000 telephone calls, in two pairs of fibres. Known as TAT 8, it came just in time to support the development of the World Wide Web. But it was soon at capacity.
The latest generation of subsea cables such as the Grace Hopper cable, which went into service in 2022, carries 22 Terabits in each of 16 fibre pairs. That's a million times more capacity than TAT 8, but it's still not enough to meet the demand for streaming TV, video conferencing and all our other global communication.
"Decades of optics research around the world has allowed the industry to push more and more data through single fibres," says Dr Simon Gross from Macquarie University's School of Engineering. "They've used different colours, different polarisations, light coherence and many other tricks to manipulate light."
Most current fibres have a single core that carries multiple light signals. But this current technology is practically limited to only a few Terabits per second due to interference between the signals.
"We could increase capacity by using thicker fibres. But thicker fibres would be less flexible, more fragile, less suitable for long-haul cables, and would require massive reengineering of optical fibre infrastructure," says Dr Gross.
"We could just add more fibres. But each fibre adds equipment overhead and cost and we'd need a lot more fibres."
To meet the exponentially growing demand for movement of data, telecommunication companies need technologies that offer greater data flow for reduced cost.
The new fibre contains 19 cores that can each carry a signal.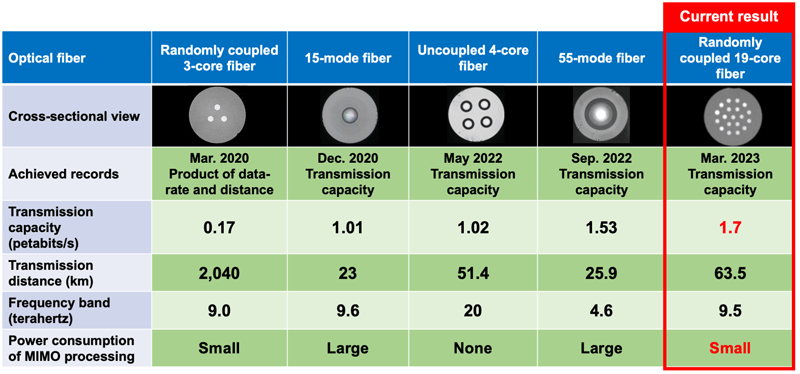 Table 1 New optical fibres with a standard cladding diameter, and world records achieved by NICT.

"Here at Macquarie University, we've created a compact glass chip with a wave guide pattern etched into it by a 3D laser printing technology. It allows feeding of signals into the 19 individual cores of the fibre simultaneously with uniform low losses. Other approaches are lossy and limited in the number of cores," says Dr Gross.
"It's been exciting to work with the Japanese leaders in optical fibre technology. I hope we'll see this technology in subsea cables within five to 10 years."
Another researcher involved in the experiment, Professor Michael Withford from Macquarie University's School of Mathematical and Physical Sciences, believes this breakthrough in optical fibre technology has far-reaching implications.
"The optical chip builds on decades of research into optics at Macquarie University," says Professor Withford. "The underlying patented technology has many applications including finding planets orbiting distant stars, disease detection, even identifying damage in sewage pipes."
Georg Rademacher, Menno van den Hout, Ruben S. Luís, Benjamin J. Puttnam, Giammarco Di Sciullo, Tetsuya Hayashi, Ayumi Inoue, Takuji Nagashima, Simon Gross, Andrew Ross-Adams, Michael J. Withford, Jun Sakaguchi, Cristian Antonelli, Chigo Okonkwo, Hideaki Furukawa.
Randomly Coupled 19-Core Multi-Core Fiber with Standard Cladding Diameter.
Proceedings of the 46th Optical Fiber Communication Conference, 2023 DOI:
10.1364/OFC.2023.Th4A.4
Disclaimer: These articles are not intended to provide medical advice, diagnosis or treatment. Views expressed here do not necessarily reflect those of Pittwater Online News or its staff.